Some posts on this site contain affiliate links. If you book or buy something through these links, I earn a small commission (at no extra cost to you). Take a look at my privacy policy for more information.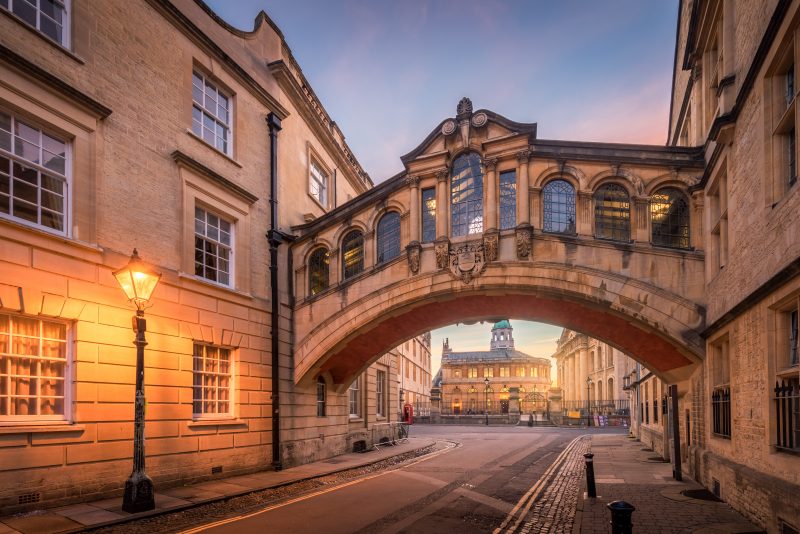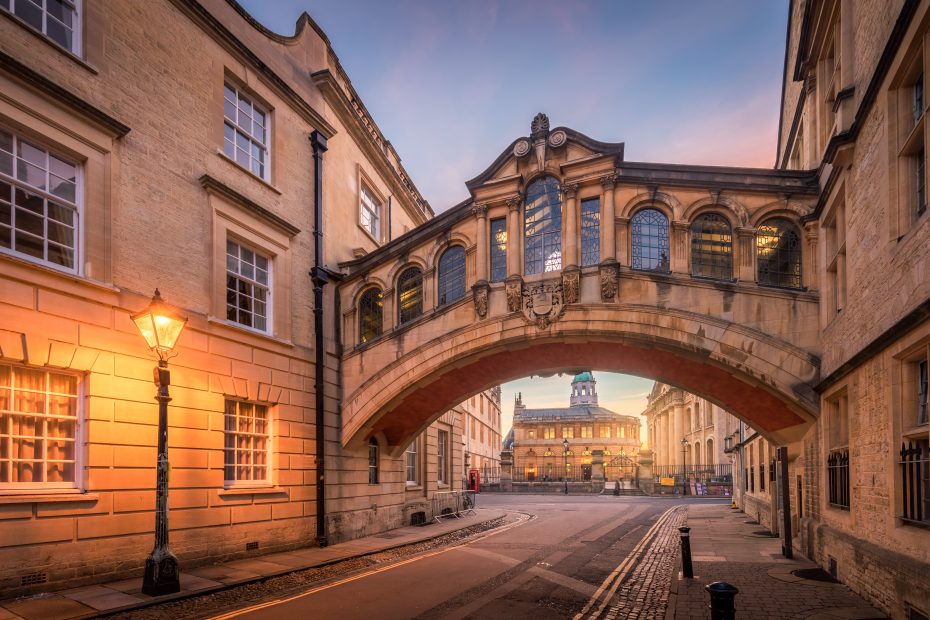 Dazzling architecture, historic streets, and postcard-worthy sights… these are some of the most beautiful cities in England.
England is full of stunning locations. From the iconic buildings of the capital to hidden gems like the country's smallest city… there are a lot of bewitching beauty spots to explore!
Some of these cities are special for their historic architecture: from ancient Roman walls to regal Georgian cityscapes. Discover Medieval castles, half-timbered Tudor buildings, and dramatic Norman cathedrals dotted around these enchanting city centres.
Others are built on the banks of magnificent rivers, or surrounded by picturesque countryside. But all of them are exceptionally beautiful and filled with incredible photo ops!
Whether you're looking for a dreamy city break destination or a simple day trip, these picture-perfect English cities could provide the perfect setting. Enjoy…
15 Most Beautiful Cities in England
Don't have time to read the whole post? There's a quick version of the list, and a map, at the end of the page!
1. Bath, Somerset
With its dazzling, UNESCO World Heritage city centre filled with honey-coloured Georgian architecture, the spa city of Bath is truly one of the most beautiful places in England.
The city's protected centre is home to some 5,000 listed buildings, so looks-wise, Bath has changed very little since the Georgians were here "taking the waters". Those historic, 18th-century streets have been the setting for dozens of period movies and TV shows – most recently the hit Netflix show Bridgerton.
As well as stunning architecture, Bath is famed for its natural thermal springs, which have been used for their restorative and supposed healing properties for centuries. The ancient Romans founded a spa town here in the 1st century AD, and you can still visit their brilliantly preserved bath house today.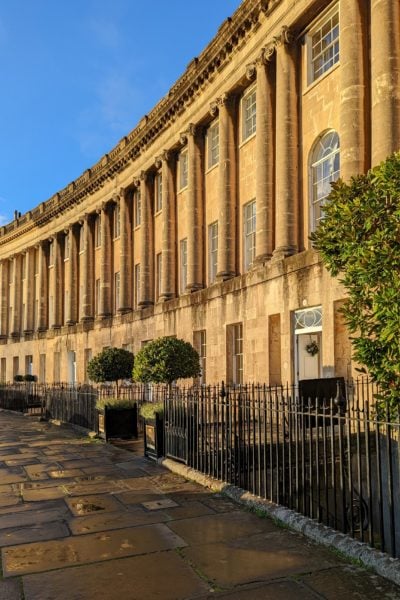 Beautiful sights in Bath
The Royal Crescent – a crescent-shaped row of 18th-century terraced townhouses.
Roman Baths – some of the best-preserved ancient Roman architecture in the world.
Pulteney Bridge – an attractive Palladian-style bridge overlooking a horseshoe-shaped weir in the River Avon.
Bath Abbey – a medieval abbey with a striking tower and gorgeous fan-vaulted ceilings.
RECOMMENDED TOUR: Hop-On Hop-Off Bus Tour (from £22.50pp)
READ MORE: Plan the Perfect Weekend in Bath
2. City of Westminster, London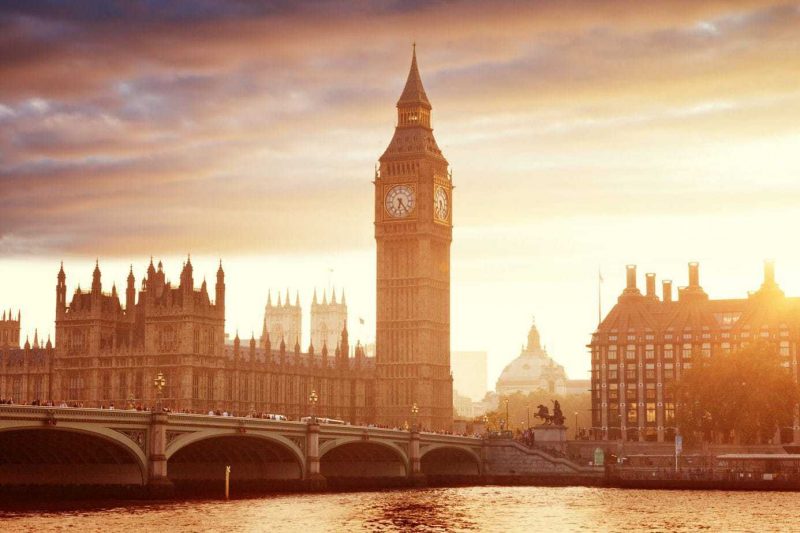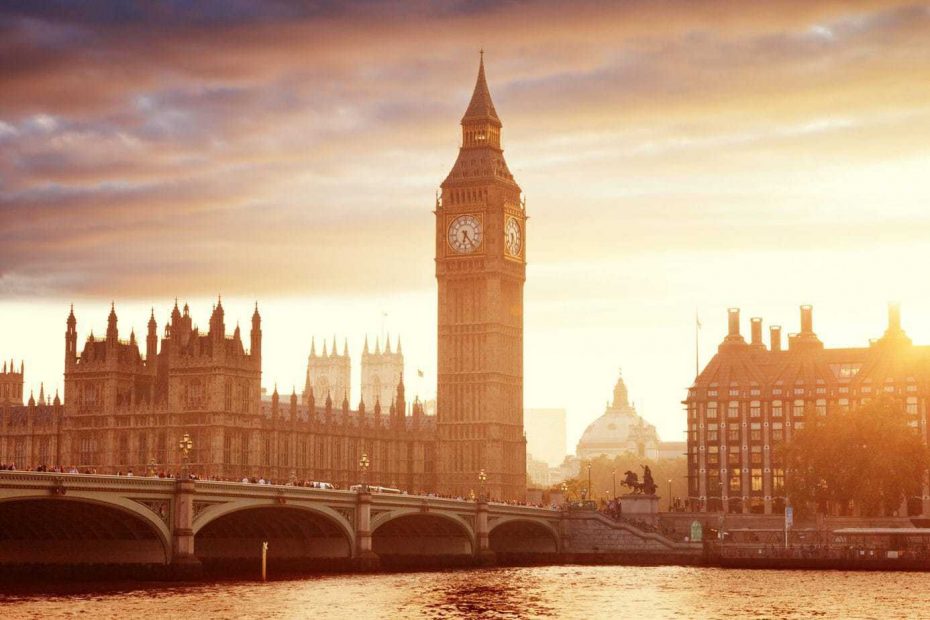 It was tempting to include London as a whole on this list of the most beautiful English cities. The capital is, after all, our most famous city, and is filled with elegant buildings – from the glittering skyscrapers of the city centre to the tranquil parklands in further-out boroughs like Greenwich and Richmond.
But many of London's most iconic and magnificent buildings are found within the City of Westminster. Right at the heart of London, Westminster is actually a city in its own right – as well as being a London borough.
Although it's a fairly small borough, Westminster is filled with dazzling historic architecture and instantly recognisable sights. So you could easily spend a few days exploring.
Beautiful sights in Westminster
Buckingham Palace – the Royal residence. Click here to check ticket prices for visiting the State Rooms.
The Palace of Westminster – the Houses of Parliament – and the famous clock Big Ben alongside them.
Westminster Abbey – where royal coronations and weddings are held.
READ MORE: Things to do in Westminster
3. York, Yorkshire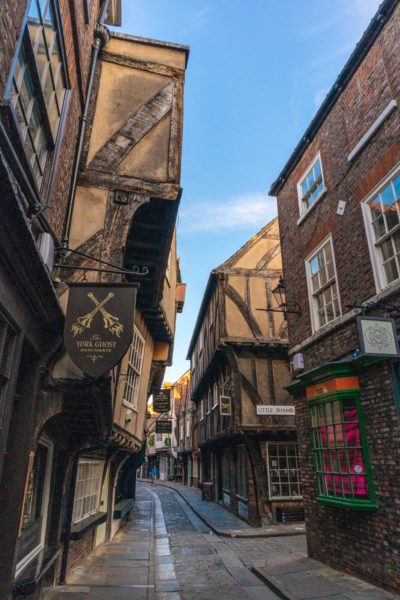 A small, quirky city in the north of England, York is full of history and culture. It's also a vibrant, lively city with two universities, regular festivals, and an estimated 365 pubs – one for every day of the year!
Surrounded by Medieval city walls – the longest in England – the compact and leafy city centre is filled with historic buildings. There are Roman ruins, Medieval halls, and Norman castles – as well as many fantastic examples of Georgian and Victorian architecture.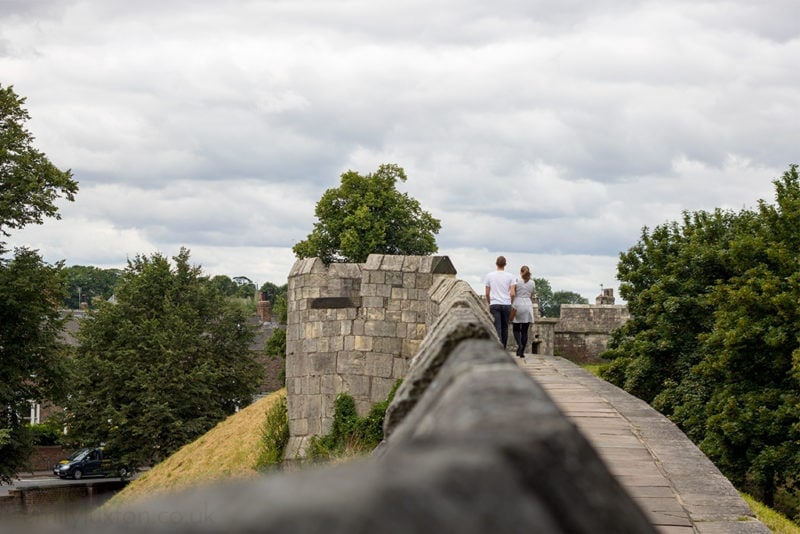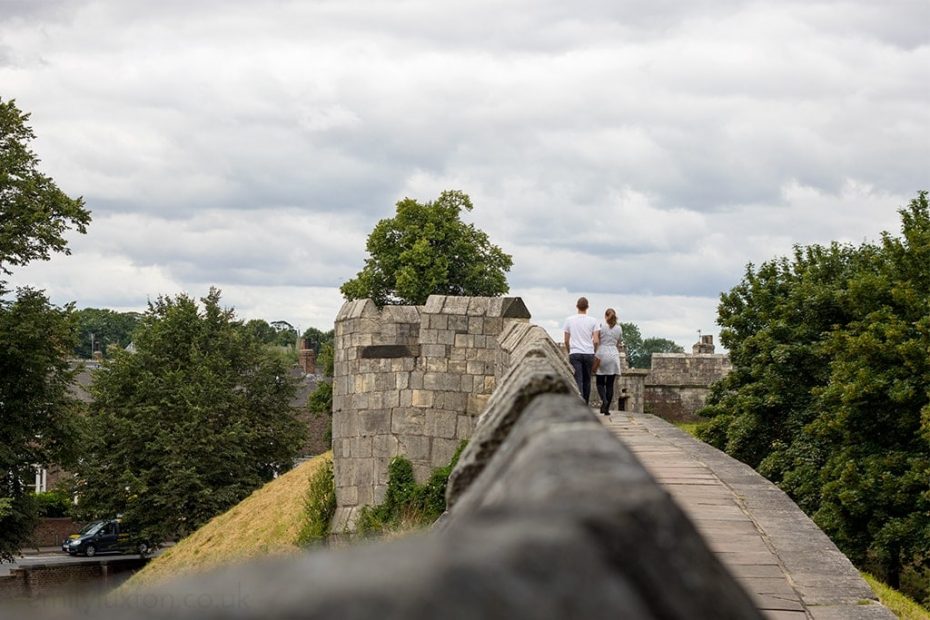 Beautiful sights in York
York Minster – a Gothic cathedral built between the 12th and 15th centuries.
The Shambles – a narrow, flagstone street lined with tiny, unique shops.
Museum Gardens – a pretty city centre park home to the evocative ruins of St Mary's Abbey.
River Ouse City Cruise – from £14pp.
READ MORE: Top Things to do in York (a local's guide)
4. Oxford, Oxfordshire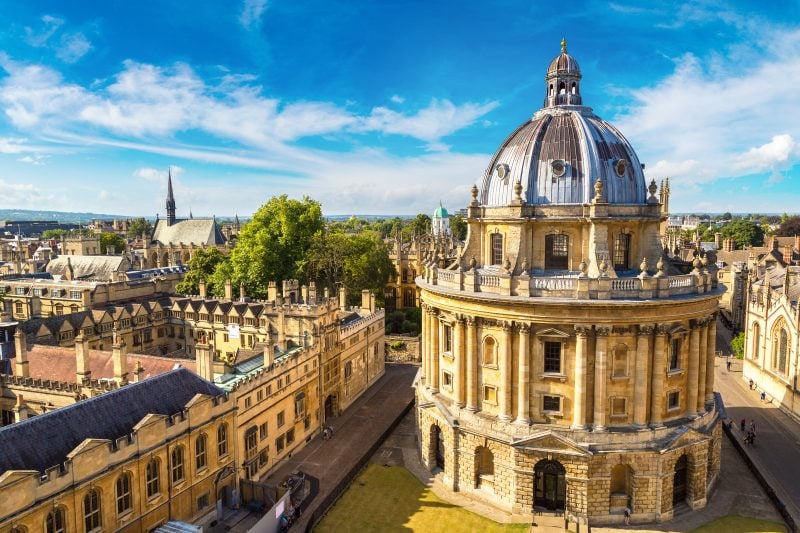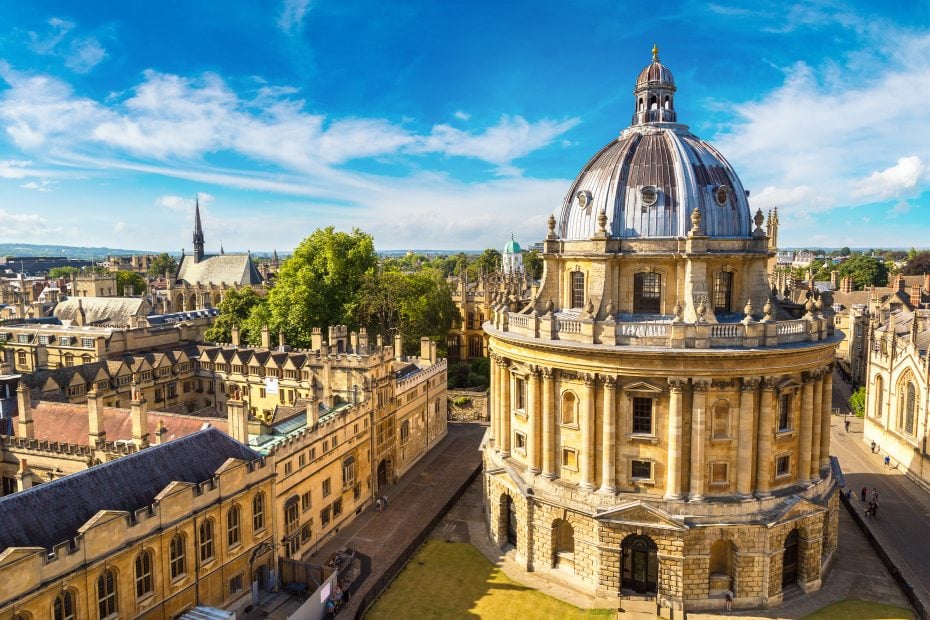 A historic town known for its world-famous colleges, Oxford feels like the quintessential British city. Nicknamed the "city of dreaming spires" by Victorian poet Matthew Arnold, Oxford is a peaceful city of honey-coloured architecture, picturesque streets, and gently flowing rivers.
Classes began at Oxford University in 1096 – with the college officially forming in 1200 – making it the second-oldest university in the world. Discover the city's historic college buildings and iconic libraries, explore the river on a traditional punt (a gondola-like, flat-bottomed boat) or take a Harry Potter walking tour (click here for prices) to see locations used in the movies.
With its blend of stunning architecture, rich history, and contemporary town centre filled with some fantastic bars and eateries, Oxford makes for a fantastic English city break.
Beautiful sights in Oxford
Colleges of the University of Oxford – the oldest of these historic college buildings dates back to the 14th century. Guided tours start from £19.95 – click here for prices.
Oxford Botanic Gardens and Arboretum – pretty, peaceful gardens.
River Cherwell – hire a traditional punt to explore this tranquil waterway.
Bodleian Library – one of the oldest libraries in Europe, opened in 1602.
READ MORE: Best Things to do in Oxford
5. Cambridge, Cambridgeshire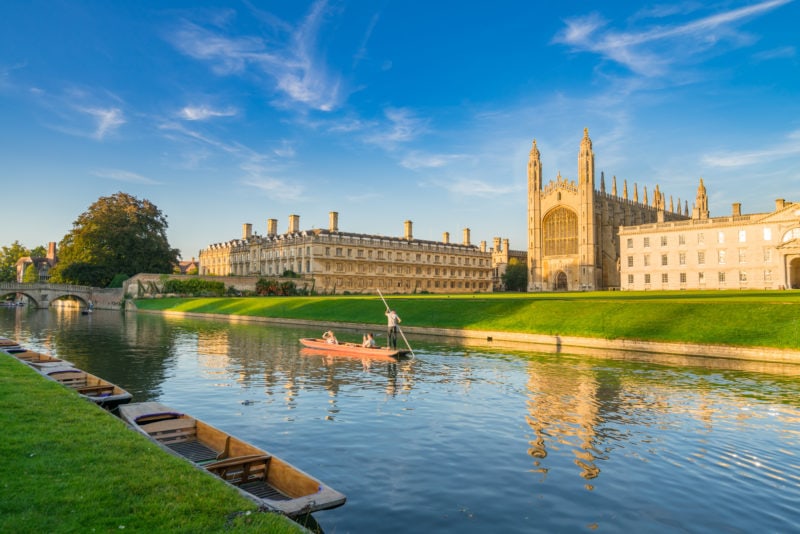 With its wonky laneways, handsome Gothic architecture, and serene river dotted with wooden punts, the gorgeous university town of Cambridge is easily one of the most beautiful cities in England.
Founded in 1209 by scholars who left Oxford for political reasons, the University of Cambridge is one of the oldest and best in the world. Both universities share many traditions – including their famous annual Boat Race – and the two cities share a number of traditions.
The most spellbinding part of Cambridge is The Backs – a large swathe of green, cut by the River Cam. Punting on this tranquil waterway affords sublime views of the iconic buildings that make up the historic colleges.
Beautiful sights in Cambridge
King's College – the most famous college building, known for its striking Gothic tower.
The Backs and the River Cam – a lovely green area behind the university buildings.
Bridge of Sighs – a covered stone bridge over the river at St John's College.
RECOMMENDED TOUR: Walking & Punting Tour, from £60pp
6. Canterbury, Kent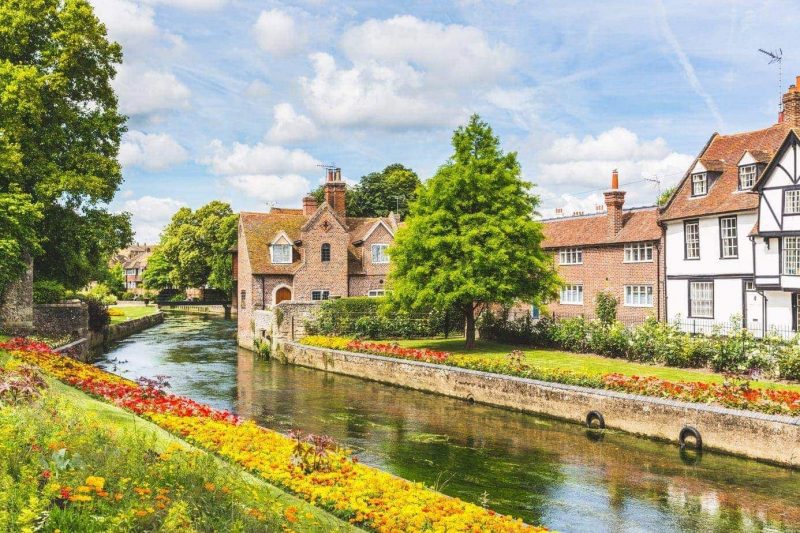 The picturesque streets of Canterbury are steeped in history dating as far back as the Roman times. Divided in two by the tranquil River Stour – one of England's most historic waterways – Canterbury is known for its beautifully preserved Medieval architecture and Roman city walls.
This is a city of quaint cobbled streets lined with timber-framed buildings, quirky independent shops, and historic pubs. Like Oxford and Cambridge, Canterbury is also famous for punting on the river. These flat-bottomed wooden boats offer a unique way to explore the city centre.
Beautiful sights in Canterbury
River Stour – take a river cruise or go punting on this tranquil city centre waterway.
Canterbury Cathedral – one of the most famous cathedrals in the world and seat of the Archbishop of Canterbury.
Old Weaver's House – a half-timbered 16th-century building overlooking the river.
Guided Walking Tour of Canterbury – from £15pp
READ MORE: Things to do in Canterbury (a Local's Guide)
7. Chester, Cheshire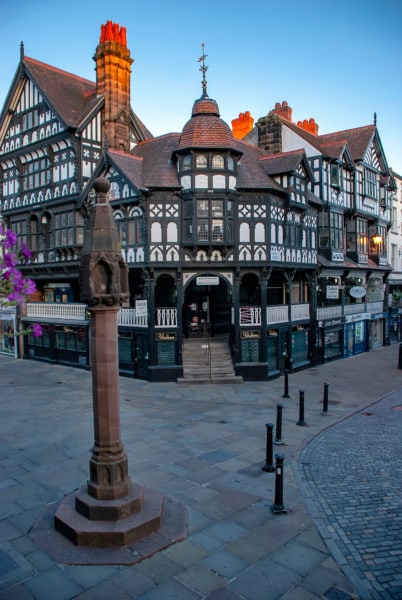 First founded as a Roman fortress in Northwest England, near the border with northern Wales, Chester is a pretty, lively city with a very historic centre. It's also a fairly small English city, affording easy access to the surrounding Cheshire countryside.
Many traces of the 1st-century Roman city remain, such as the extensive city walls built from local red sandstone. The city centre is also home to the largest Roman amphitheatre in Britain.
Beautiful sights in Chester
The Rows: a 700-year-old shopping district filled with Tudor half-timbered buildings and covered arcades.
Chester Cathedral – home to Europe's finest example of medieval carvings.
RECOMMENDED TOUR: Half-Hour City Cruise – from £8.50pp
8. Durham, County Durham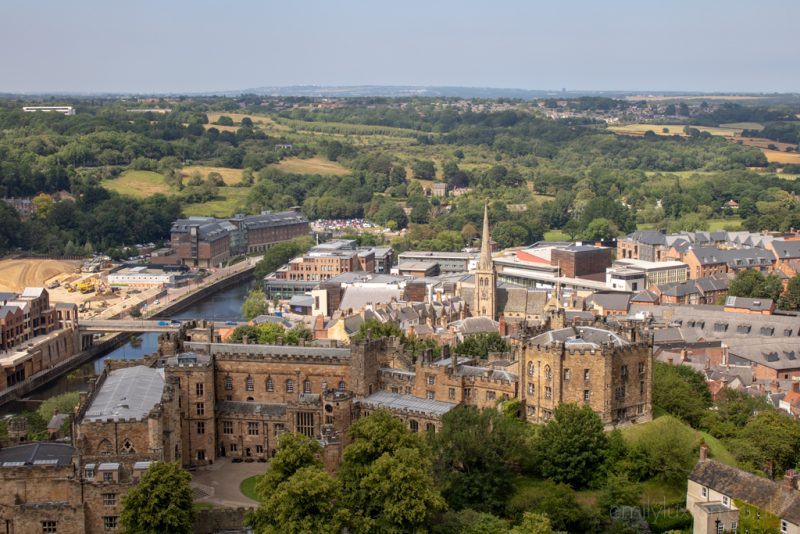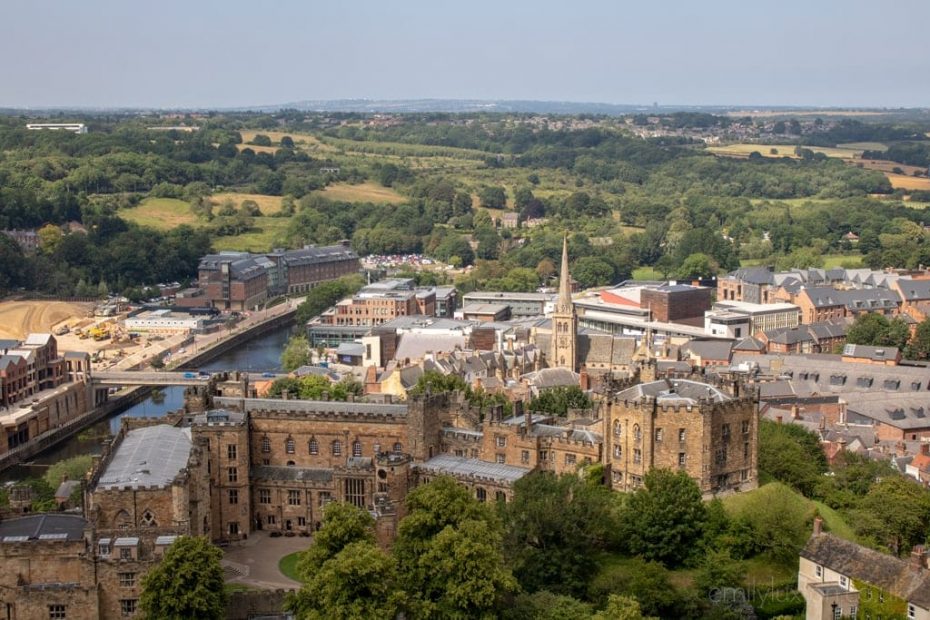 A small, pretty city in the North East of England, Durham is surrounded by rolling English countryside. The Cathedral here is said to be one of the best in England, overlooking the scenic River Wear which flows through the city centre on its way from the Pennines to the North Sea.
In the 19th century, County Durham was a hub of coal mining activity, and that industry left a strong mark on the city. The historic Durham Miners' Gala is still held every year on the second Saturday of July, celebrating the area's proud mining heritage.
Beautiful sights in Durham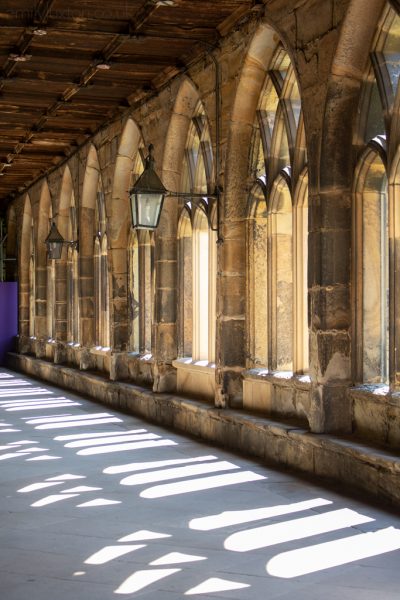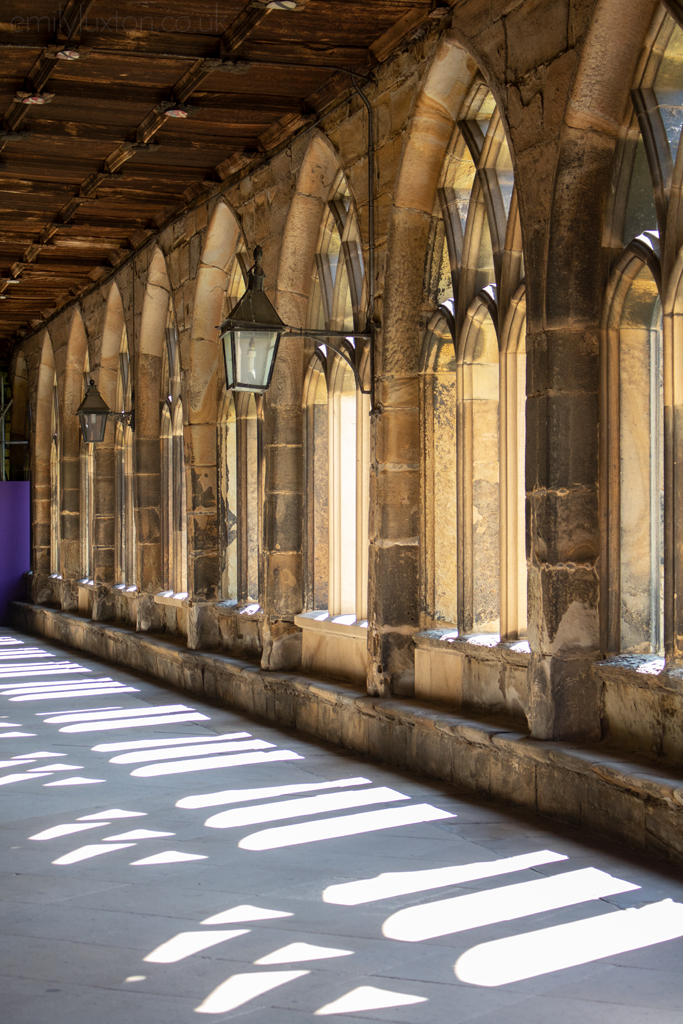 Durham Cathedral – gorgeous Norman cathedral which was used as a filming location in the first two Harry Potter films.
Durham Castle – you can actually spend a night in this historic castle, which is part of Durham University.
READ MORE: Things to do in Durham
9. Ely, Cambridgeshire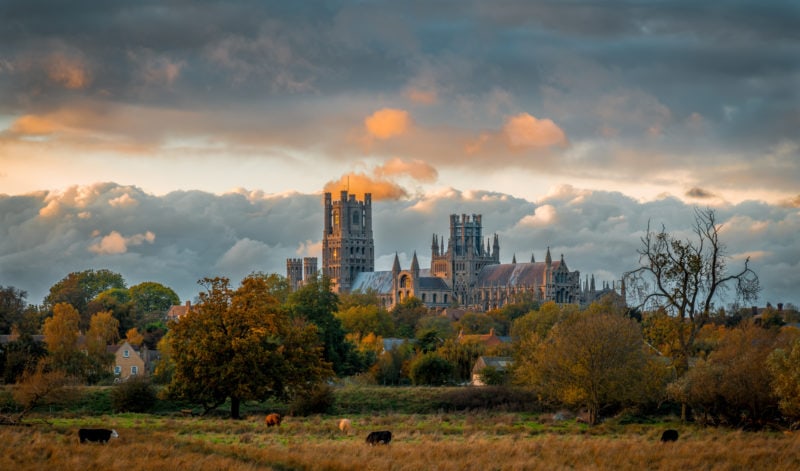 Lying just northeast of Cambridge, Ely is much lesser known but equally as pretty. This small, quiet city on the banks of the River Great Ouse is ideal for a relaxing getaway.
Take a riverside stroll to spot traditional narrowboats sailing past, explore the historic architecture of the city centre, and discover a vibrant independent food scene.
It's not just the city which is beautiful: Ely is also known for the peaceful countryside which surrounds it. The city sits on a clay "island" at the heart of The Fens: a flat, marshy region in Eastern England known for its rich wildlife. There's also an extensive river network – perfect for canoeing and sailing trips.
Beautiful sights in Ely
Ely Cathedral – a wonder of medieval engineering completed in 1342.
Oliver Cromwell's House – the oldest part of this half-timbered historic home dates from around 1215.
Wicken Fen Nature Reserve – a large wetland area just south of Ely with rich birdlife.
10. Exeter, Devon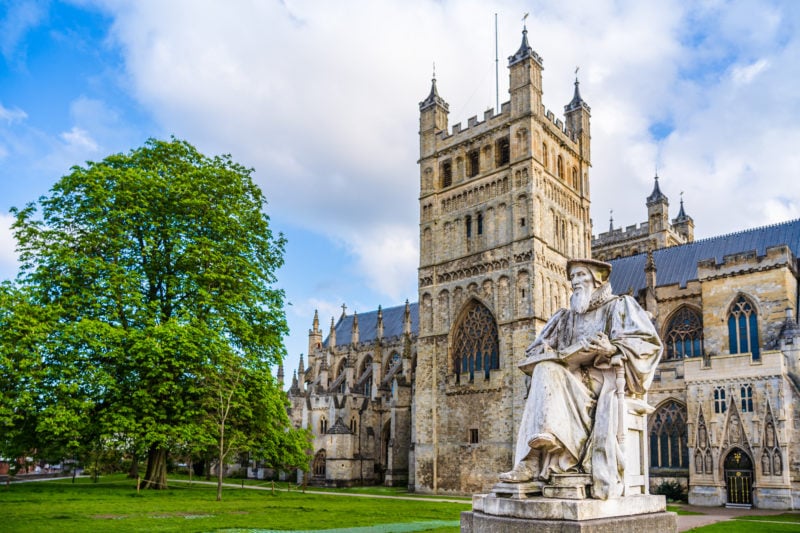 While many of the cities on this list were founded by the Romans, Exeter pre-dates their arrival. But it was the Romans who truly shaped this ancient city on the banks of the River Exe.
Surrounded by Roman City Walls, the capital of Devon is a tranquil riverside city with a thriving independent scene and a charming, leafy centre.
Don't miss the chance to explore the waterways while in Exeter. Take a scenic cruise along Exeter Canal, or kayak down to the popular Double Locks Pub. Alternatively, cycle the Exe Estuary Trail through countryside and riverside towns as far as Dawlish Warren.
Beautiful sights in Exeter
Exeter Cathedral – eclectic Norman and Gothic-style cathedral. Don't miss the carved image screen on the facade, dating from the 1340s – or the world's longest medieval stone vaulted ceiling inside.
The Quayside – redeveloped waterside area on the canal, where independent shops are tucked into historic warehouse cellars.
Gandy Street – a narrow, cobbled shopping street known for its independent boutiques and eateries.
11. Worcester, Worcestershire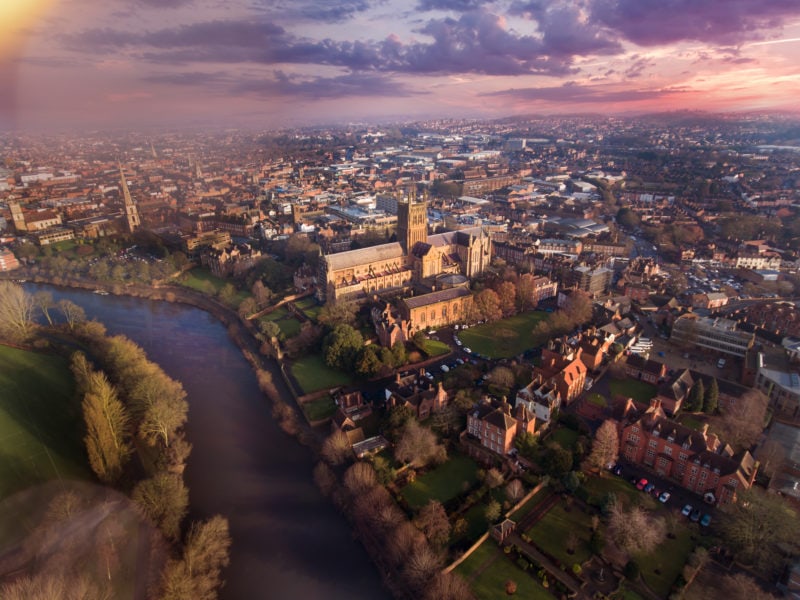 The home of Lea & Perrins Worcestershire sauce, composer Edward Elgar, and the iconic Royal Worcester Porcelain, Worcester is a vibrant and proudly independent city on the River Severn.
There are many wonderful heritage sights and historic buildings to explore – including several historic pubs, such as the 14-century Cardinal's Hat! As well as fascinating architecture abounding with British history, there's a rich programme of events and festivals showcasing Worcester's thriving cultural scene.
Beautiful sights in Worcester
Worcester Cathedral – an attractive 11th-century cathedral on the banks of the River Severn.
Worcester City Art Gallery and Museum – a free museum housed in an elegant Victorian building.
Medieval and Tudor timbered buildings – such as The Commandery, Greyfriars House, and the Tudor House Museum.
12. Norwich, Norfolk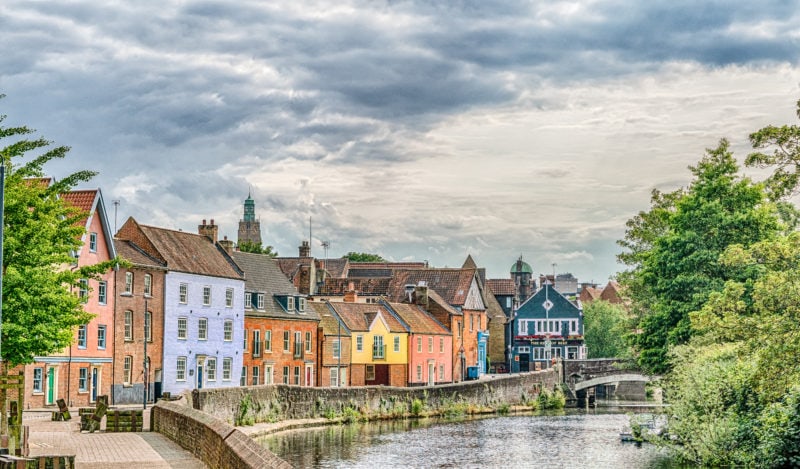 An ancient city with roots going back to the Iron Age, Norwich is filled with history. Discover Norman, Medieval, Georgian, and Victorian architecture in this quirky, culture-rich city.
Due to its literary background, and the high number of graduates from the local University of East Anglia's creative writing courses, Norwich was listed as England's first UNESCO City of Literature in 2012.
Not only is Norfolk one of the most beautiful cities in England, it's also the only city in a National Park. The Broads National Park is a water-filled area of rivers, broads, and lakes – as well as ancient monuments and more than a quarter of Britain's rarest wildlife.
Beautiful sights in Norwich
Norwich Castle – built by the Normans as a royal palace over 900 years ago.
Norwich Cathedral – a magnificent, Romanesque cathedral set within attractive grounds.
The Lanes – a maze of narrow alleys and cobbled pedestrian streets filled with independent eateries, coffee shops, and bars.
13. Salisbury, Wiltshire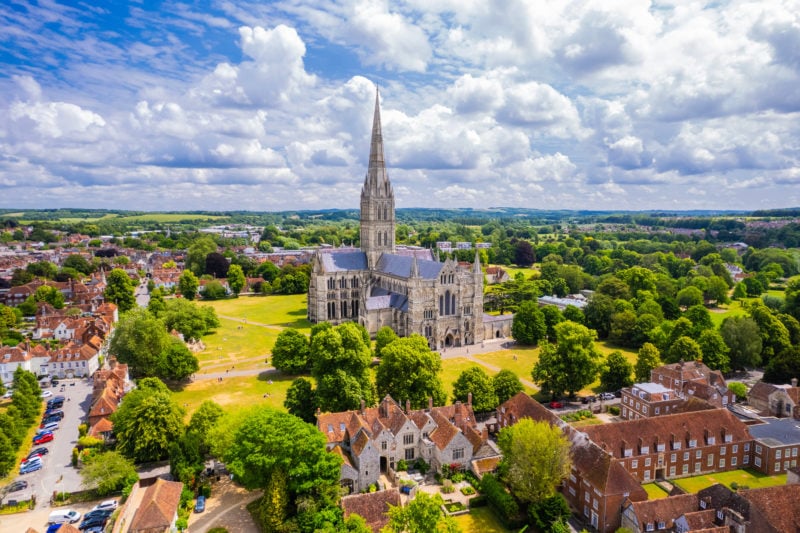 A medieval city with a stunning 13th-century cathedral, Salisbury is a peaceful place that feels more like a countryside village than it does a city! Don't miss the charming, historic high street lined with boutique shops and independent eateries.
Salisbury is surrounded by incredible historic sights. The most famous landmark in England, Stonehenge, is a short drive away and a must-visit while you're in the city. But there's also Old Sarum, the ruins of the original city of Salisbury, which was built on top of an Iron Age hillfort.
Most beautiful sights in Salisbury
Stonehenge – the iconic, 5,000-year-old stone circle shrouded in mystery. Click here to check admission prices.
Salisbury Cathedral – home to Britain's tallest spire.
Mompesson House – an attractive 18th-century townhouse which featured in the film Sense and Sensibility.
14. Winchester, Hampshire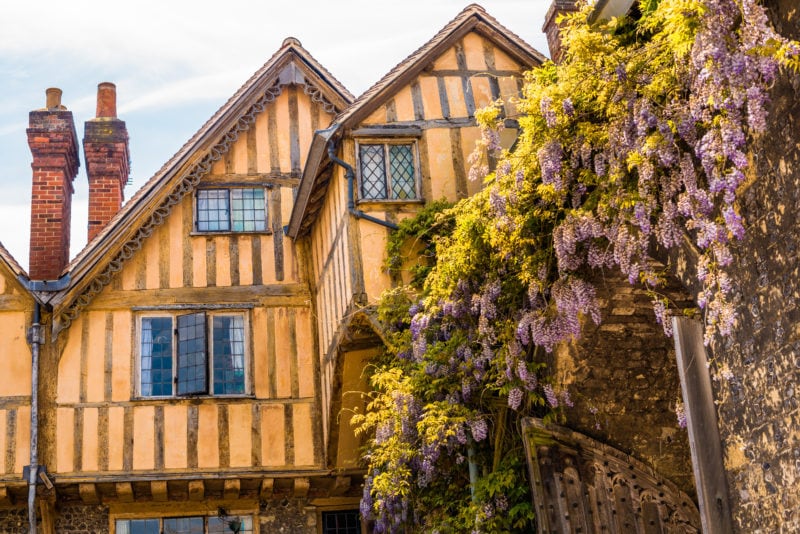 About an hour south of London, Winchester is a small and charming city on the edge of the picturesque South Downs National Park.
The High Street in Winchester is one of the oldest – and prettiest – in the country, lined with beautifully preserved Medieval and Tudor half-timbered buildings. The medieval Chesil Rectory dates back to 1425 and is the oldest commercial building in the city.
Winchester's town centre is also known for its independent businesses. Spend time browsing boutique shops, or stop for coffee in one of the many independent cafes.
Beautiful sights in Winchester
Winchester Cathedral – this imposing Norman cathedral is surrounded by historic sights, such as the 15th-century timber-framed Cheyney Court.
The Great Hall – all that remains of a stone castle constructed for William the Conqueror in 1067. It's also home to a replica of King Arthur's Round Table.
Winchester City Mill – a restored water mill on the River Itchen.
RECOMMENDED TOUR: Historic Castles and Cathedrals Walking Tour – from £12pp
15. Wells, Somerset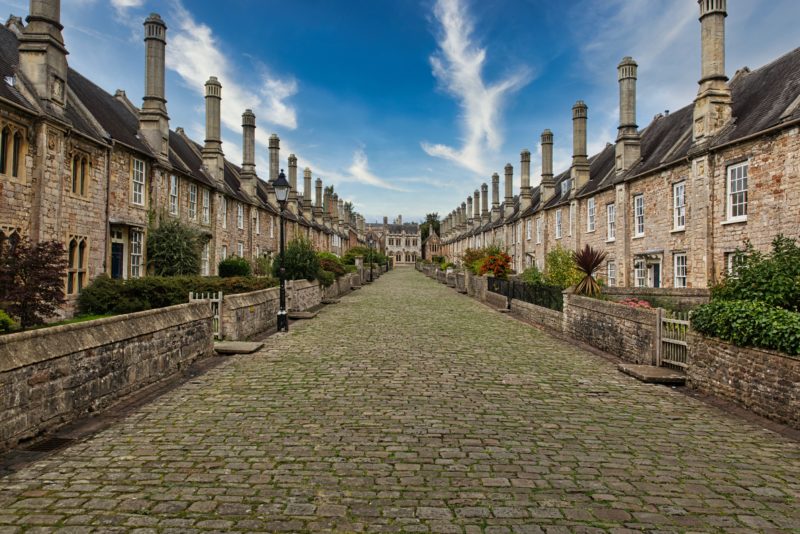 Tucked away in scenic Somerset, Wells is England's smallest city. With its cobbled streets lined with tearooms, pubs, and antique shops, this feels more like a countryside town than it does a city!
Sitting right on the edge of the stunning Mendip Hills AONB, this is another city that's well-positioned for countryside explorations. Be sure to get out into the Hills to explore the rolling countryside and peaceful woodlands – as well as dramatic gorges and caves like the ones at Cheddar and Wookey Hole.
Beautiful sights in Wells
Wells Cathedral – part of an important British Pilgrimage route.
The Bishop's Palace & Gardens – 800-year-old Medieval palace surrounded by 14 acres of charming gardens.
Cheddar – a cute village in a dramatic rocky gorge dotted with caves, just northwest of Wells.
Map of England's Beautiful Cities
Most beautiful cities in England: the Quick Version
Bath
City of Westminster
York
Oxford
Cambridge
Canterbury
Chester
Durham
Ely
Exeter
Worcester
Norwich
Salisbury
Winchester
Wells
Visiting England's Most Beautiful Cities
So, there you have it: your guide to the most beautiful cities to visit in England. Whether you're planning a day trip, a romantic UK getaway, or a quick city break, any of these glorious English cities would be the perfect setting!
Most have train stations, so can easily be reached by public transport. If you're coming by car, look for Park and Ride carparks instead of parking in the city centre. These are usually found on the edge of the city and provide free car parking if you take the bus into the centre. This will save you money and help you avoid congested city centres – as well as helping alleviate pollution problems.
If you're coming from overseas, you can use RailAir to get from Heathrow Airport to Woking or Reading train station – and from there it's easy to reach these beautiful English cities by public transport. Check out my review for more info.
I also strongly recommend you to explore as many independent businesses as you can. Not only will supporting local businesses help real people in the cities you visit, but it will also make your trip MUCH more interesting. There are always unique shops, fabulous eateries, and quirky coffee shops to discover!
Have I missed one of the most beautiful cities in England off this list? Scroll down to share your favourites in the comments!