Some posts on this site contain affiliate links. If you book or buy something through these links, I earn a small commission (at no extra cost to you). Take a look at my privacy policy for more information.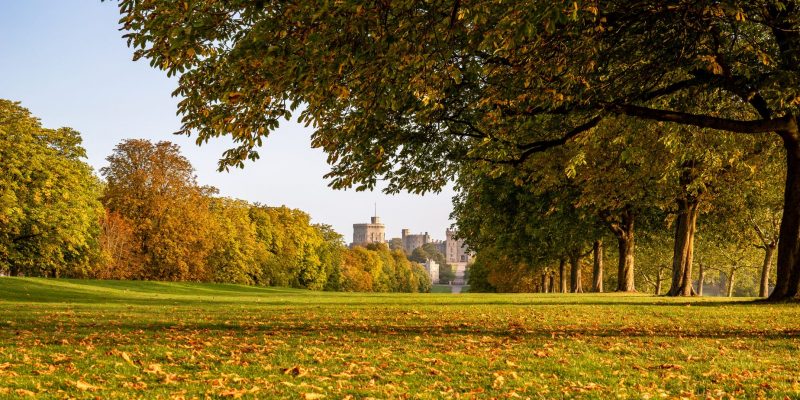 The weather has officially turned, the leaves are changing, and Autumn has hit England with full force! But that doesn't mean it's time to stop exploring.
There are hundreds of amazing places to explore around the country. Like our amazing national parks, made all the more beautiful by autumn colours. Or our culture-rich cities, historic towns, and incredible heritage buildings. Or how about hitting the English coast for a windswept clifftop walk?
I've gathered recommendations from some top bloggers to create this list of the best destinations to enjoy autumn in England. From haunted Halloween destinations and quirky autumnal festivals, to glorious landscapes for hiking and adventure… there's plenty to keep you busy this season!
RELATED POST: Autumn Packing List for England
Best England Autumn Destinations
There's a map and a short version of this list at the bottom of this page. In the meantime, keep reading to discover the best Autumn destinations in England…
Dorset AONB
The Dorset Area of Outstanding Natural Beauty (AONB) is one of the most spectacular places to visit during autumn in England. Few other regions can boast quite such an amazing range of landscapes.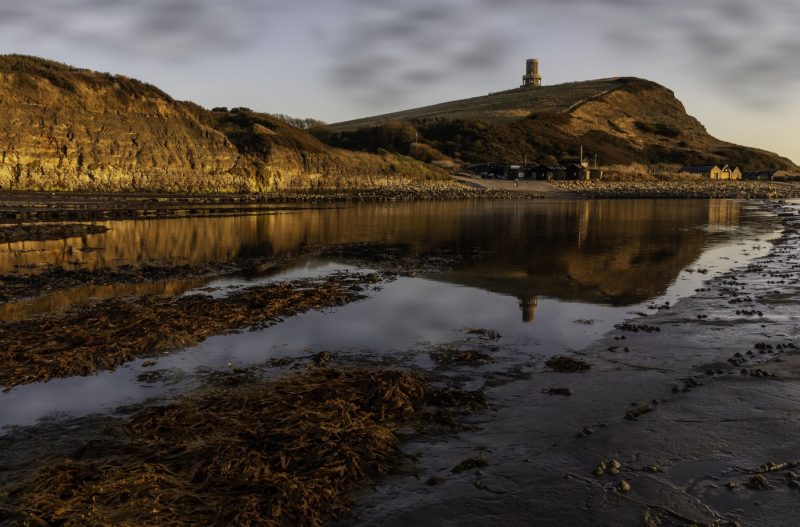 Head to the rugged and wild Jurassic Coast for windswept hikes. Or to any of the historic seaside towns for cosy pubs and amazing seafood! Further inland, you can enjoy the autumn colours of the stunning Dorset countryside. Puddletown Forest, near Dorchester, is a brilliant choice! And nestled amongst the rolling hills of Purbeck, Corfe Castle is another fabulous place for an autumn hike.
The New Forest
Recommended by: Mal, Raw Mal Roams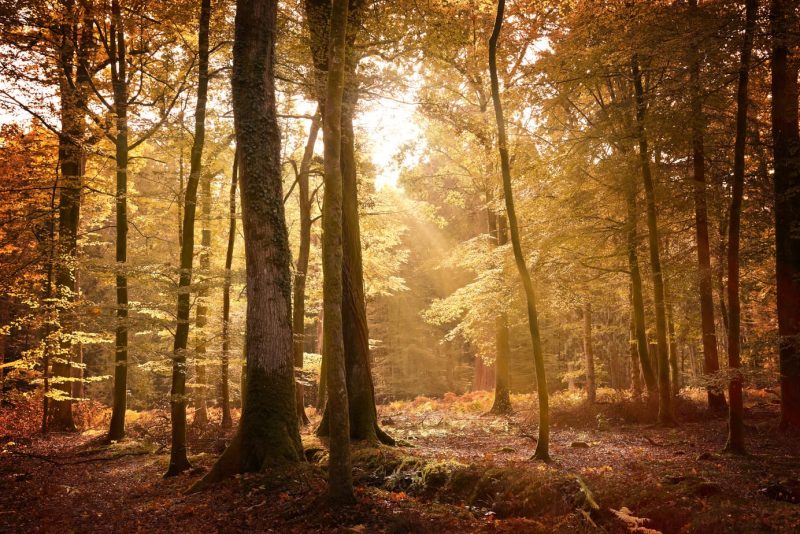 The New Forest is a National Park situated in Hampshire in the south of England. The New Forest is a great destination all year round, but visiting in Autumn can be particularly rewarding.
There are vast areas of gorgeous heathlands that in September turn pink and purple, creating a beautiful contrast with still, green pastures. The New Forest also has a large population of cute wild ponies. These live within the boundaries of the park and can be spotted in many locations.
A visit in October and early November will be rewarded with picturesque scenery. Enjoy the rich red and golden colours of trees shining in the autumn sun. The park has hundreds of different walking and cycling trails to choose from for every level. And when you get cold, head to Lymington. There, you can warm up with a hearty roast dinner in one of the cosy traditional pubs.
North Coast of Cornwall
Recommended by: Suzanne from Meandering Wild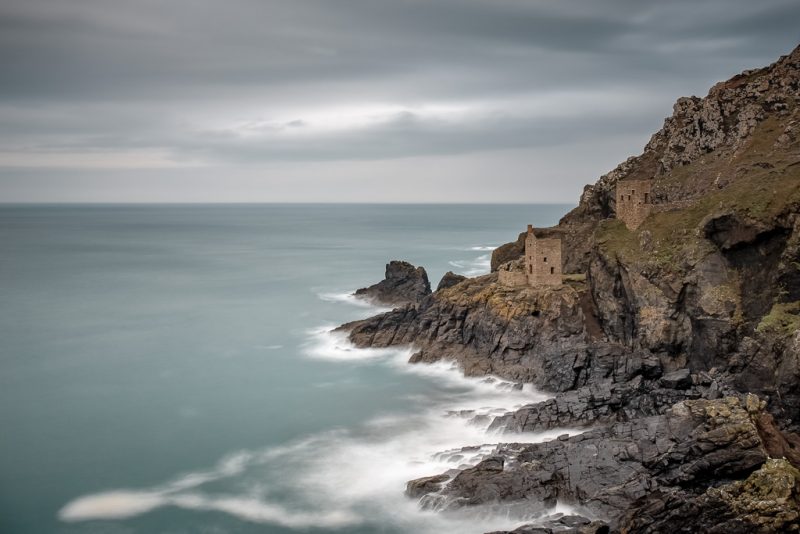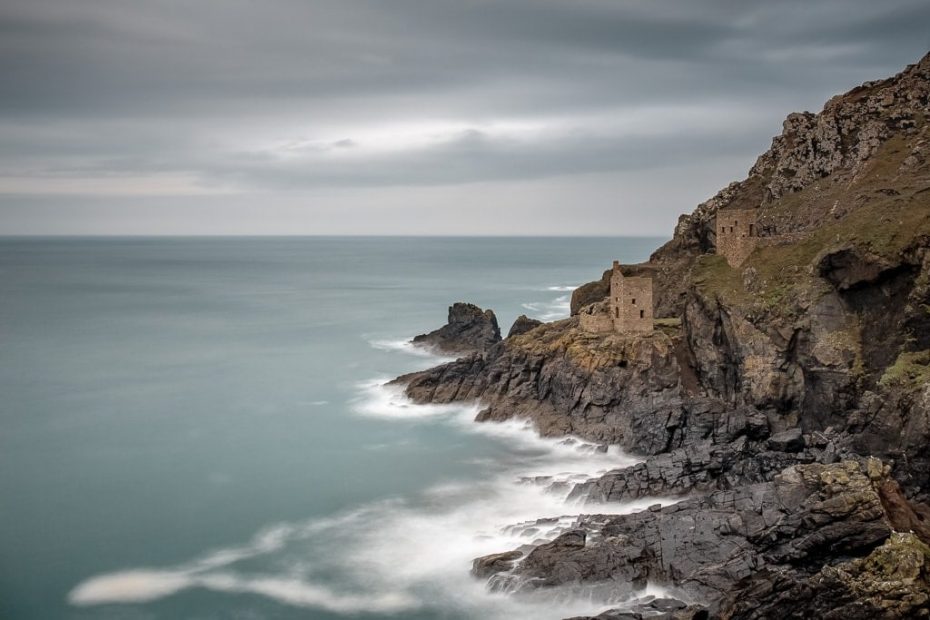 In autumn Cornwall becomes a serene and calm place. After the bustle of the summer months, exploring the north coast is the perfect way to spend the autumn.
The surf beaches in Bude and Newquay are quieter but the waves continue to be as good as they are in the summer. The autumn storms make clifftop walks invigorating. Waves crash up the steep cliff faces and break over the harbour walls, a stunning and imposing force of nature. Inland, the small villages start to have a more cosy feel with pubs welcoming visitors with open fires.
As with other places the tourist spots are less visited. In autumn, Tintagel Castle, Geevor Tin Mine and Lands End are often a more pleasant experience where you can take your time to explore.
READ MORE: How to Spend 4 Days in St Agnes and the North Coast of Cornwall
Westonbirt Arboretum, Cotswolds
Recommended by: Cath – Travel Around Ireland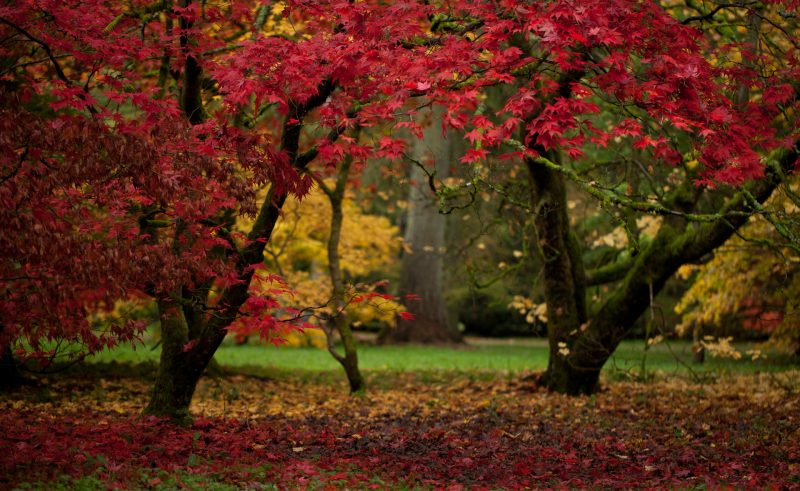 The Cotswolds area of England is a beautiful place to visit in Autumn. There is an abundance of woodlands and forests to wander through and enjoy the colourful spectacle that is autumn in England. Rivers meander alongside splashes of yellow, orange, red and brown.
Along with the natural woodlands, you can also visit some arboreta in the area. None are more beautiful than Westonbirt Arboretum. Located near the picturesque town of Tetbury, Westonbirt delights visitors with autumn colours from late September to early November.
In the Old Arboretum, visitors can see stunning colours from oaks, horse chestnuts and acers. While over in the Silk Road part of the arboretum, the landscape is awash with colours from trees, shrubs, and plants from around the world. Make sure to visit the Maple Loop to see the stunning Japanese Acers.
Hadrian's Wall Country
Recommended by: Monique at tripanthropologist.com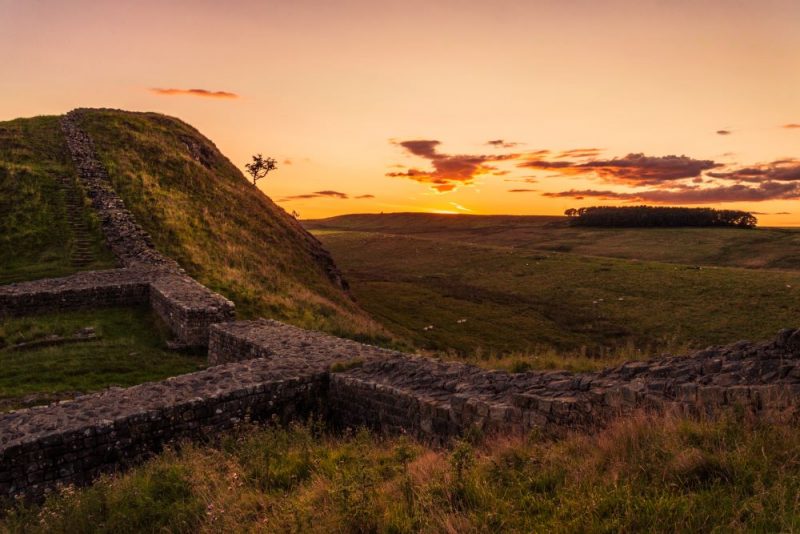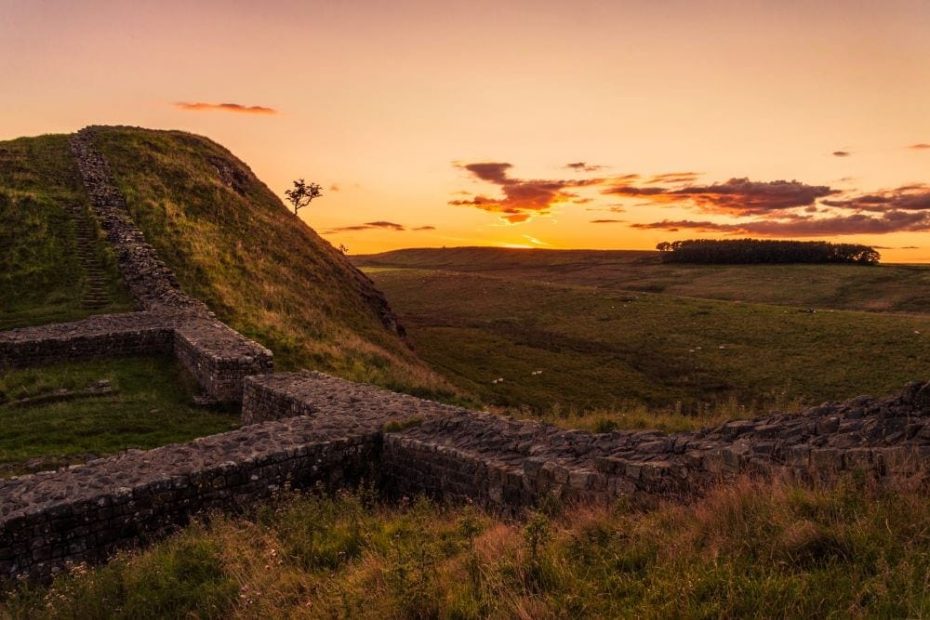 Hadrian's Wall extends for 73 miles (or 80 Roman miles) across northern England from Bowness-on-Solway on the west coast, to Wallsend in the east. Northern England in the shadow of the wall is known as Hadrian's Wall Country. You know you've arrived when you start driving on the extremely straight Roman roads!
The moors turn golden in Autumn and the hordes of hikers completing the whole, or just sections, of Hadrian's Wall Path National Trail, are much reduced from their peak summer numbers. It's hard to explain the remote feeling in the Scottish borderlands. It's just you, the wind, and the sheep, following this ancient Wall built as the most northern outpost of Roman Britannica.
Cycle, camp, and explore the forts along the Wall (such as Housesteads and Birdoswald). Take one of the many Hadrian's Wall walks, and hike the National Trail among the stunning Autumn foliage in northern England!
Peak District
Recommended by: Jenny, Peak District Kids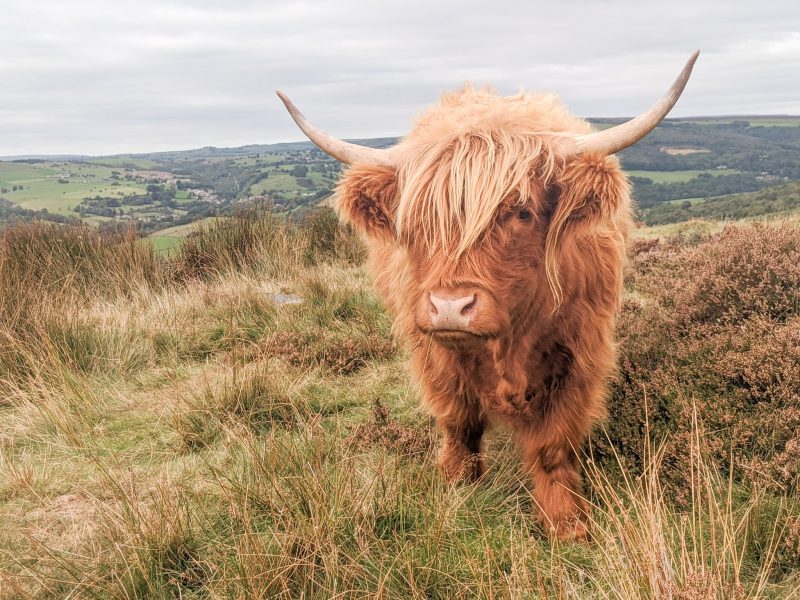 The Peak District is a beautiful destination all year round with its green rolling meadows and dramatic escarpments. But come Autumn, the heather moors and woodlands turn to their rusty hues and the morning chill brings impressive cloud inversions in the valleys.
On those crisp blue-sky days, there's nothing better than a long walk in the hills or along an escarpment to appreciate the season. Followed, of course, by a hearty home-cooked meal next to a roaring log fire in a cosy village pub.
Our favourite walks for this time of year are Baslow Edge or Padley Gorge. Or perhaps stroll the impressive Chatsworth Estate (it's free to walk through). Alternatively, hop on your bike and enjoy one of the many traffic-free cycle trails along disused railway tracks.
Matlock Bath
Recommended by: Steph & Lewis from Book It Let's Go!
Matlock Bath in Derbyshire is a great Autumn destination in England. Starting mid-September and running until the beginning of November is the annual Matlock Bath Illuminations.
The illuminations date back to 1897, when they were first held to celebrate Queen Victoria's Diamond Jubilee. There are lights strung around the town and Derwent gardens. There's also a fantastic, illuminated model boat parade along the River Derwent. To this day the parade still features one 'candle-lit' boat in the traditional Victorian style.
The boat parade and shows are open every weekend from 6pm on Saturday and Sunday. Other attractions include a live band, craft stalls and a firework display. It can get very busy, especially on Saturdays, so we recommend booking tickets in advance. Matlock Bath has a few accommodation options and you must try the fish and chips during your visit.
Bristol
Recommended by: Nichola, Globalmouse Travels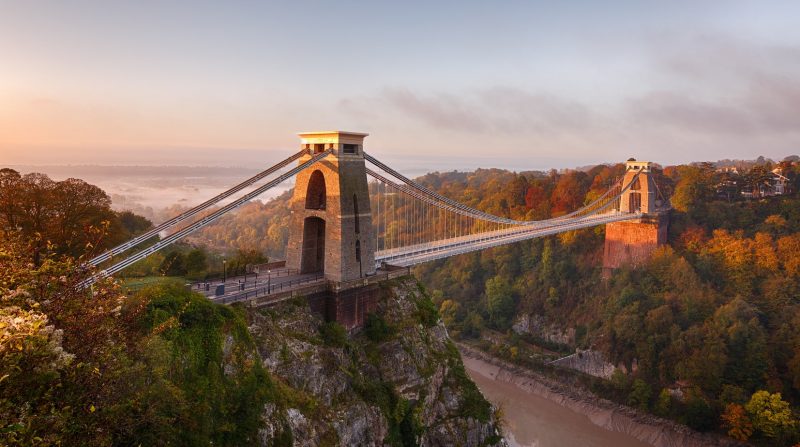 Bristol is the perfect Autumn destination in England. The city has delightful outdoor walks, an iconic skyline, and tree-lined boulevards which look perfect as the days shorten and the leaves turn red and yellow.
Start your visit by exploring the Georgian streets of Clifton Village. Enjoy a stroll across the world-famous Suspension Bridge, and grab a bite to eat at the tranquil Clifton Lido. Don't forget to take a little shopping trip around the independent shops in the historic Victorian Arcade.
Head into the city centre, passing Banksy's unmistakable art on Park Street. If you're looking for things to do in Bristol with kids make sure that you pop into We the Curious. This interactive hands-on science museum is perfect for rainy days. There's also an aquarium nearby. If you're peckish don't miss Za Za Bazaar, a huge world street food restaurant all under one roof.
Oxford
Recommended by: Rose, Where Rose Goes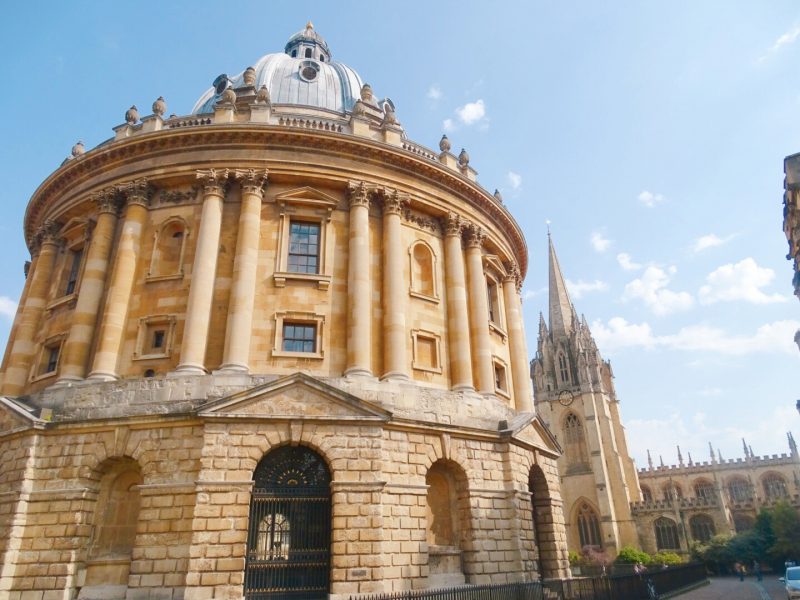 Oxford is a lovely destination to visit any time of year. However, the red leaves against golden stone are particularly Instagrammable in autumn. There are also many cosy cafes, like Georgina's Cafe in the Covered Market. Perfect for curling up with a cuppa or hot chocolate with marshmallows!
Whether you're visiting as a day trip or spending a weekend in Oxford, there's plenty to keep you busy. Even if you have bad weather, you can nip out to explore the main Oxford attractions. Most of these are conveniently close together like the Radcliffe Camera, Bodleian Libraries and Bridge of Sighs.
The many museums like the Ashmolean and Pitt Rivers are fantastic places to shelter from the cold and learn about Oxford in days gone by. At the Pitt Rivers, you can see the world's only dodo tissue remains. It's thought these inspired Charles Dodgson (pen name, Lewis Carroll) to write the Alice in Wonderland books.
London
Recommended by: Dymphe, Dymabroad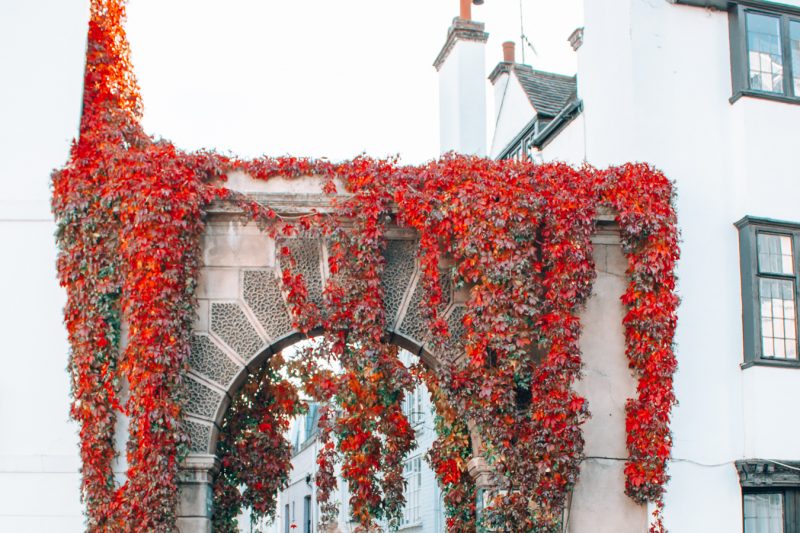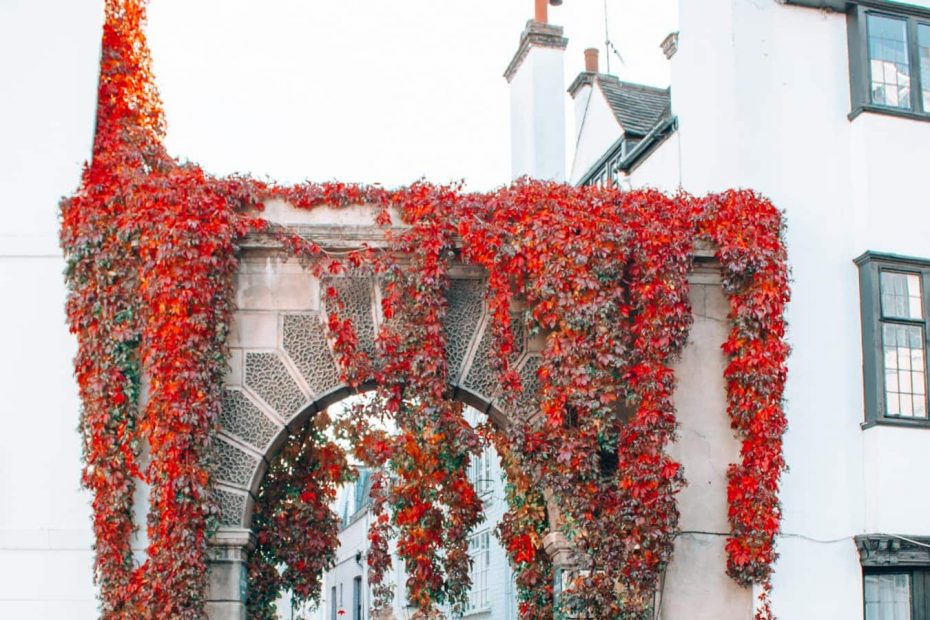 London is a great city to discover, especially in autumn! There are plenty of places for a great autumn experience, as you can see beautiful autumn colours everywhere.
One of the best places for this is Kynance Mews. This is a street with a stunning entrance gate that's covered by many red leaves in autumn. Kynance Mews is one of the best photo spots in London as well!
Another beautiful place to visit is Hyde Park, where thousands of trees create incredible autumn scenery. Going to Kew Gardens is also a fun thing to do. This is a beautiful botanic garden – and the colours at Kew Gardens are gorgeous during autumn!
Forest of Dean
Recommended by: Richard, RJ on Tour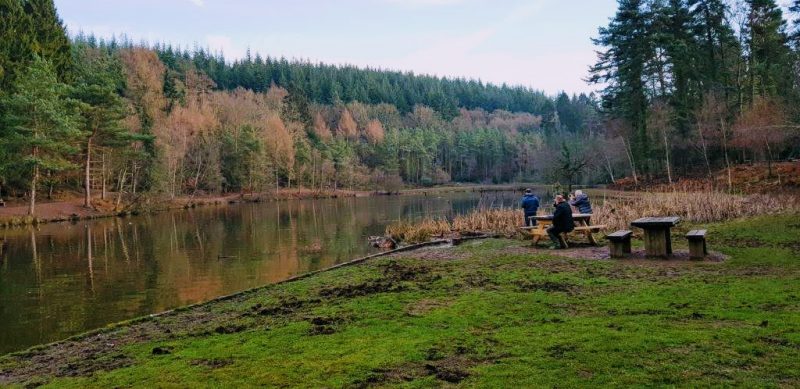 Located towards the west of Gloucestershire is the stunning ancient woodland of The Forest of Dean. It comprises of 100 square kilometres of mixed woodland to explore on foot or riding a bike. Autumn is special in the Forest of Dean due to the fantastic colours of the trees. This is also a great time for spotting wildlife, as creatures are busy preparing for the winter months.
York
Recommended by: Maja, Away with Maja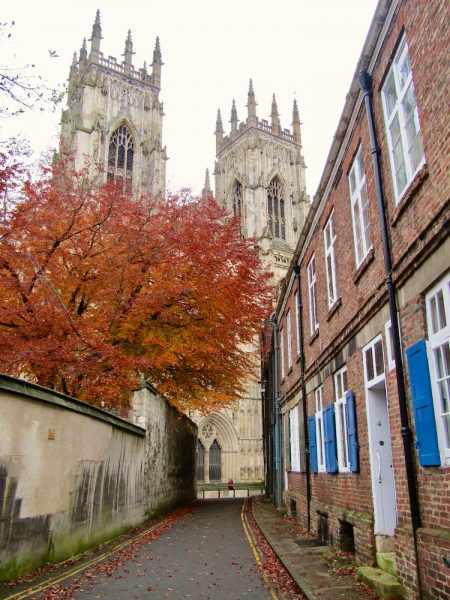 York is a fantastic destination in England to visit in autumn. While the city is beautiful year-round, seeing the leaves change colour as you stroll around the City Walls or through Museum Gardens is a must!
There are also several fantastic festivals that take place in York during this time of year. The York Food and Drink Festival brings together some of the best foodie experiences in the area. The York Beer and Cider Festival takes place over a September weekend at the racecourse. And the York Balloon Fiesta is a completely free multi-day festival in the autumn as well!
Sometimes called the "Most Haunted City in Europe," York is great for visiting around Halloween, too. Attractions like the York Dungeon and York Maze are ideal. Or exploring the city on a ghost tour will spook both adults and kids alike.
READ MORE: A Local's Guide to York
Stratford-upon-Avon
Recommended by: Michele, The Intrepid Guide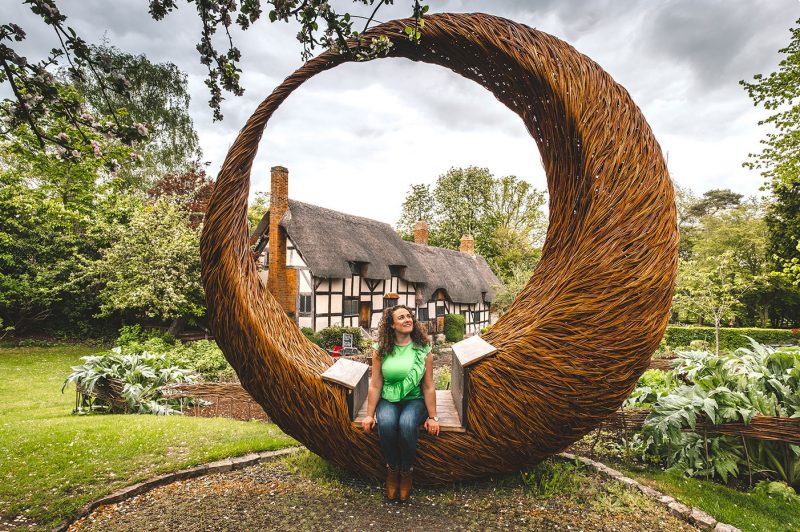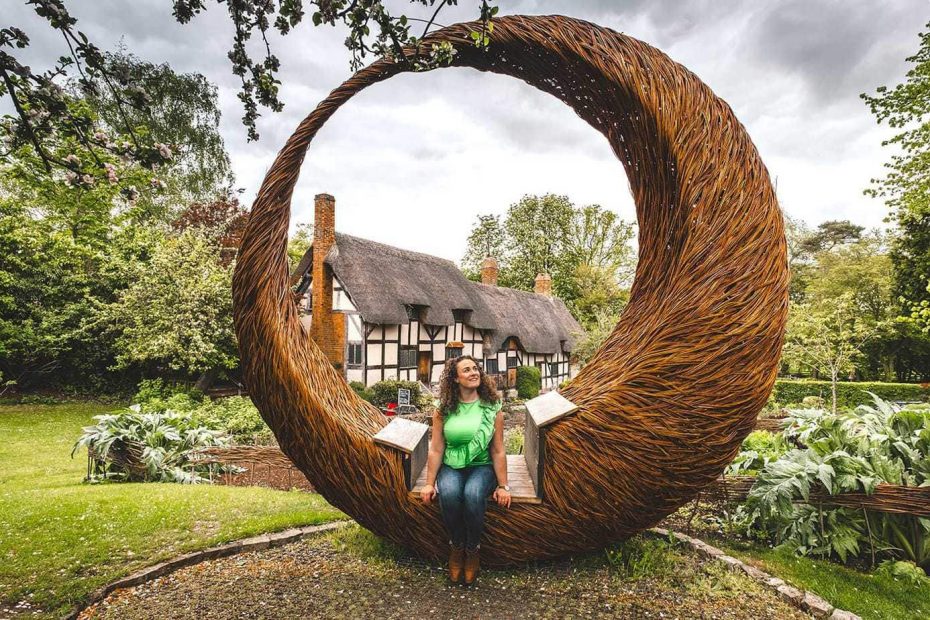 What makes Stratford-upon-Avon so wonderful is that you can literally walk in the footsteps of Shakespeare. From where he was born, where he was educated, and where he lived, through to his final resting place. The perfect time to visit Stratford-upon-Avon and explore its country gardens is in Autumn. Not only have the crowds died down, but the trees are covered in electric red, orange, and yellow leaves.
Some of the best things to do in Stratford-upon-Avon include a canal tour along the River Avon and a visit to Shakespeare's Birthplace. You should also visit Shakespeare's New Place for its extensive gardens decorated with Shakespeare-inspired sculptures.
Anne Hathaway's Cottage is also a must-see for its gorgeous Tudor building set in a quintessential English garden. To complete your Shakespearean experience, see one of Shakespeare's plays. These are regularly performed at the Royal Shakespeare Theatre located in the centre of town. Before the show, head up to the terrace of a riverside dinner.
RELATED POST: Most Romantic Places in Britain
Grizedale Forest
Recommended by: Nisha and Vasu from Le Monde, the Poetic Travels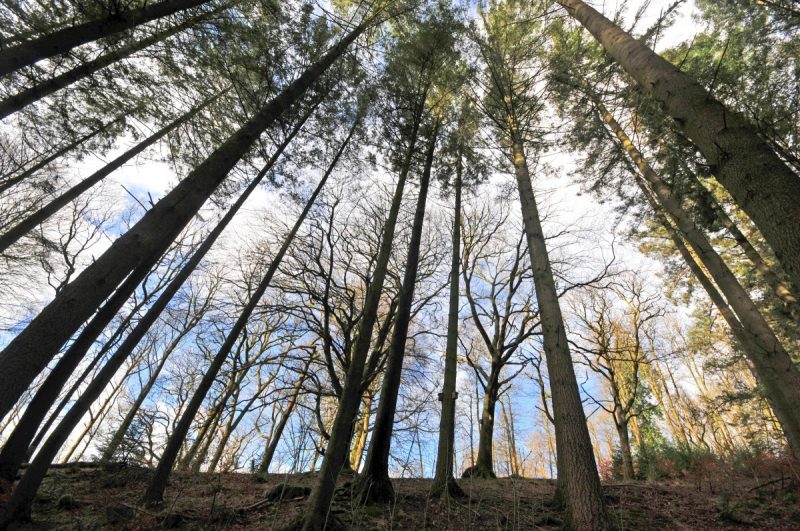 The sight of leaves changing colours, the shining golds and browns cloaking the ground and the smell of fresh-scented air; there's something about autumn that makes everything magical. Grizedale forest is no different when it comes to Autumn in England's Lake District. The forest is made up of a number of hills, small tarns, and tall trees.
The well-marked walking trails vary in length from 1.5km to 16km. You can find child & elderly-friendly ability trails, as well as more strenuous ones. An ability trail has a mostly flat surface, plenty of sculptures, cafe and many resting places. They also have some beautiful views of the Grizedale valley!
Strenuous walks take you to the highest point with spectacular 360-degree views. I recommend the Carron Crag walk and the Tarn walk. There are also cycling trails varying from 3.5km to 23.5km. These are away from vehicular traffic and still have lots of sculptures along the way.
Windermere
Recommended by: Kenny, Knycx Journeying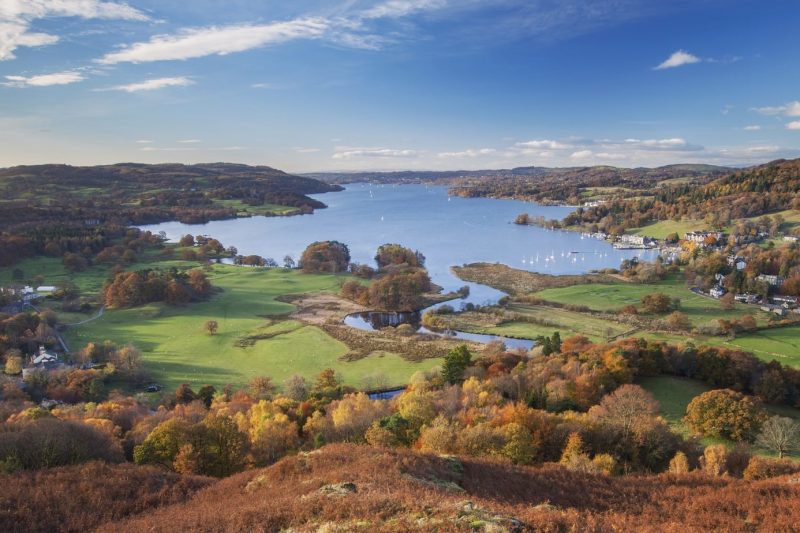 England's Lake District has long been a popular destination for those looking to get away from their busy schedules. It's the perfect place to just kick back, unwind, and enjoy the beautiful natural scenery.
Windermere is the largest natural lake in England. Its town is usually crowded in summer as there are many summer homes in the area. It quiets down a little bit in autumn, however, and the weather is perfect for visitors to explore the area with less crowds.
Hop on a sightseeing cruise to Ambleside, go hiking to the Hill Top, or take a scenic train ride on Lakeside's Haverthwaite Railway. All that will also be rewarded under the backdrop of incredible foliage that's hard to forget.
South Downs Way
Recommended by: Claire, Stoked to Travel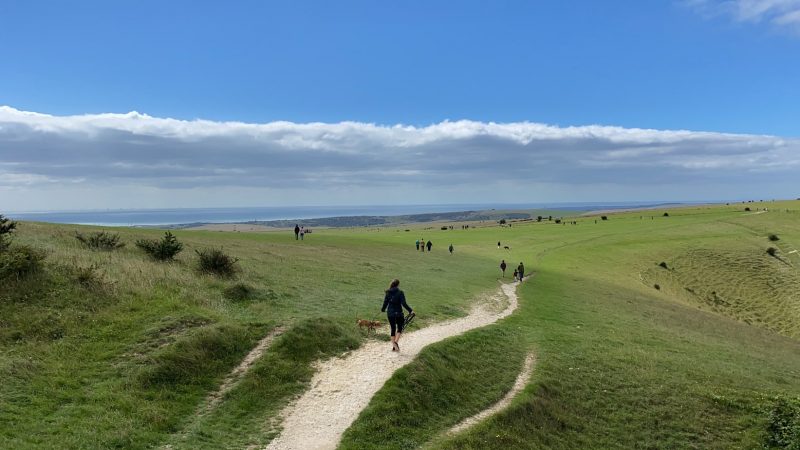 The South Downs Way is a 100-mile-long National Trail stretching from the charming cathedral city of Winchester to the beach town of Eastbourne. Whilst you could of course hike or bike the trail in its entirety, you could also opt to walk sections of the route.
For example, the section from Lewes to Alfriston. This is my personal favourite part of the South Downs Way as it leaves the bustling and historic market town of Lewes, before winding its way through the gorgeous British countryside to the quaint village of Alfriston. This is the perfect place for a spot of afternoon tea and a warm-up.
You can also stop by the beautiful orchard at the Alfriston Clergy House to pick one of the English varieties of apple grown here. Or why not collect a pumpkin from their annual crop and take home to cook up a tasty, hearty autumn soup!
Marlow, Buckinghamshire
Recommended by: Darek and Gosia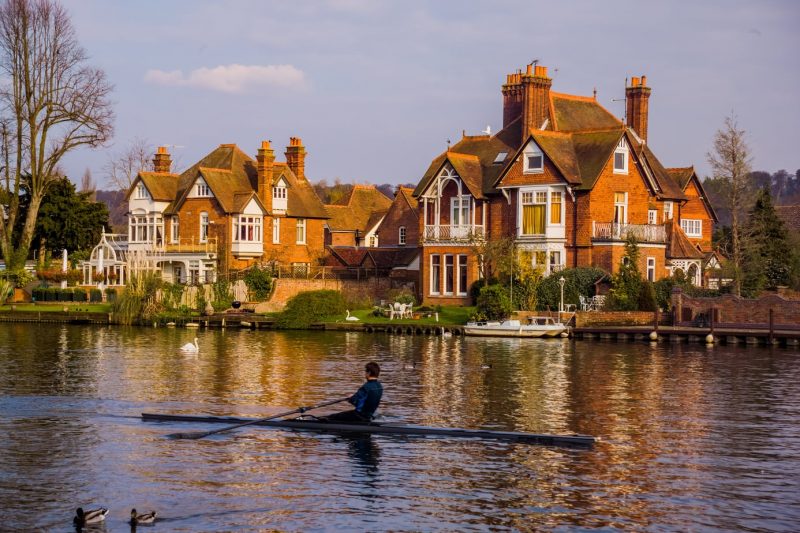 Autumn in England doesn't have to be grey and gloomy. In fact, there are many sunny days, which are just perfect for planning a trip to see some of the most beautiful English towns. One of our favourite destinations in autumn is Marlow in Buckinghamshire.
From walking alongside the River Thames to visiting Marlow Locks – there is so much to see in this little town. If you fancy exploring the river on your own, then you can hire a boat from the Little Green Boat Company. It's a great experience and it will give you a different perspective of the town.
Midsomer Murders fans will definitely recognise some of the spots from many episodes of the crime drama. Including the beautiful Two Brewers pub. So, there is no better time to visit the town than this autumn!
Lincoln
Recommended by: Emily, London City Calling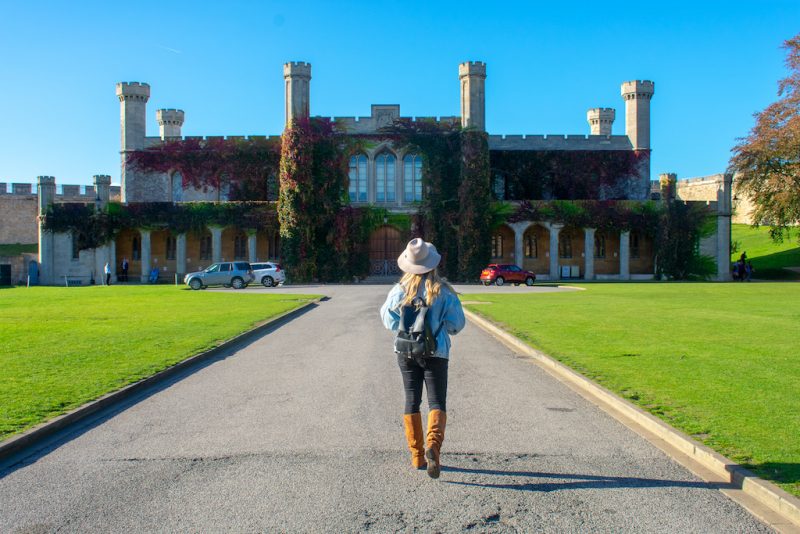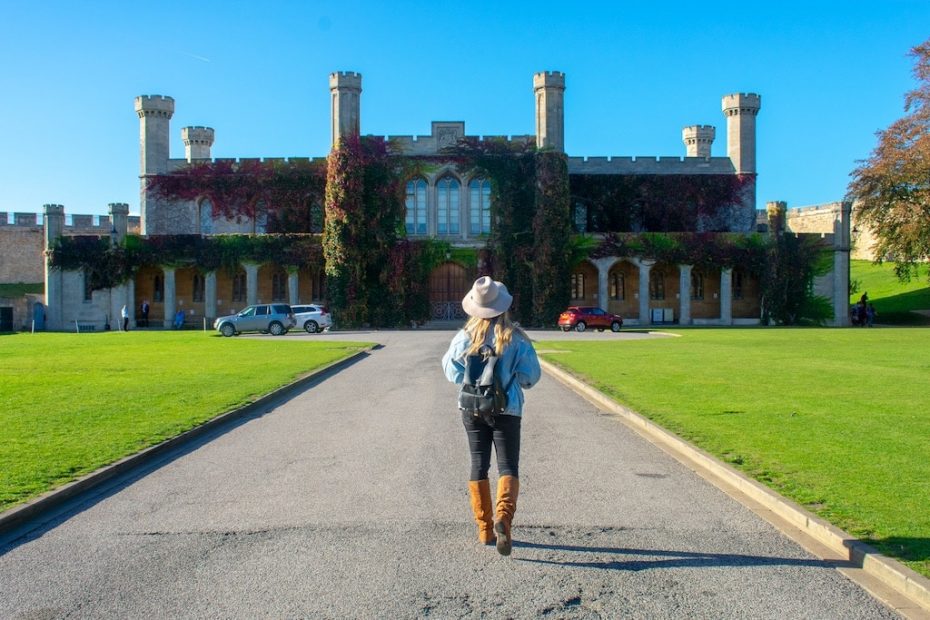 Lincoln is a small English city in the east Midlands known for its striking medieval Cathedral, an impressive castle and many narrow cobblestone streets.
Lincoln makes a great autumn destination in England. Not only does the charming city look beautiful shrouded in autumnal colours, but there are also plenty of things to do in Lincoln both indoors and outside. You can visit the stunning Lincoln Cathedral and wander around the city's many charming independent shops. Be sure to explore Lincoln Castle, home to a Victorian prison and a copy of the Magna Carta. And if the rain does happen to hit, there are plenty of cute cafes and cosy pubs around the city. So you can step inside for a drink while you wait for the weather to pass.
Plus, to really get into the autumnal spirit, there are several pumpkin patches close to Lincoln including the beautiful Maxeys Farm Shop.
Windsor
Recommended by: Joanna, The World in my Pocket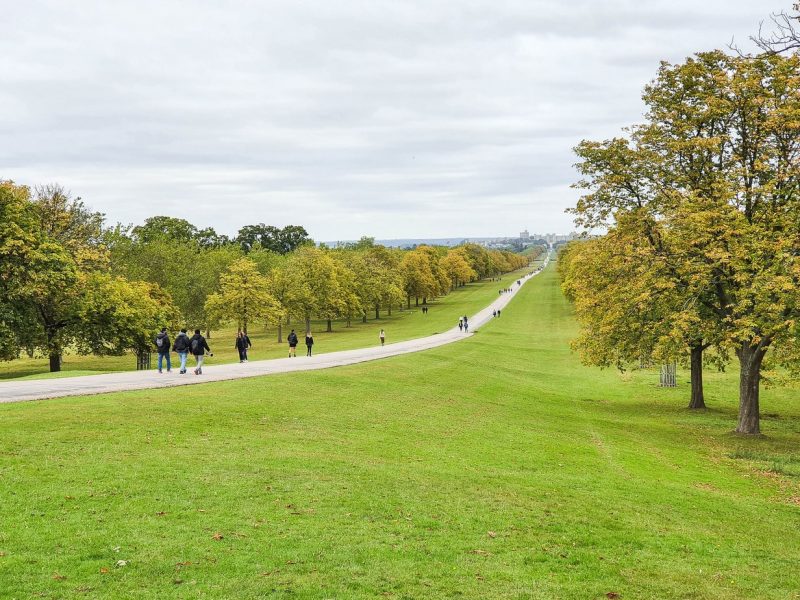 Windsor is a great destination to visit year-round if you are passionate about the Royal family. However, when autumn hits England, it becomes even more charming because of the beautiful warm colours of Windsor Park.
There are quite a few things to do on a day trip to Windsor, but in autumn you shouldn't miss the Long Walk. This is a 3km avenue connecting Windsor Castle to the Copper Horse Statue of King Charles II on his horse.
Mostly unchanged since the 11th century when it was a hunting ground, the long walk is divided between Windsor Park and the Deer Park. The latter is home to around 200 red deer. These are used to people walking up and down the avenue and are easily spotted among the yellow leaves of the hundred years old oak trees.
Bourton-on-the-water, Cotswolds
Recommended by: Anu, Country Hopping Couple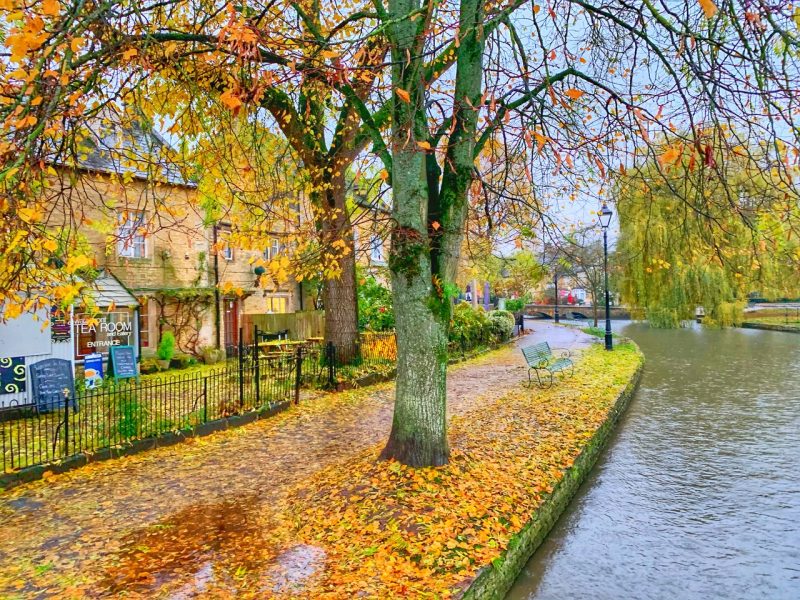 Bourton-on-the-water is one of our favourite spots to visit during autumn. A classic Cotswold village, Bourton-on-the-water is also known as Venice of the Cotswolds, because of its picturesque stone bridges and gently flowing River Windrush. On a crisp autumn day, take a stroll along the river admiring the quaint limestone houses. Or stop by at one of their famous tea rooms.
Bourton-on-the-water has a plethora of things to do, considering how small the village is. One of the finest ways to enjoy the autumnal scenes is to take a hike. Perhaps the one from Upper Slaughter via Lower Slaughter, following along River Eye.
Alternatively, you can visit the Cotswold Motoring Museum or Model Village, a miniature version of Bourton-on-the-water. For a sweet treat, head to The Den. This mighty little cafe serves the yummiest cakes and muffins!
Whitby
Recommended by: Amy, The Travel Fairies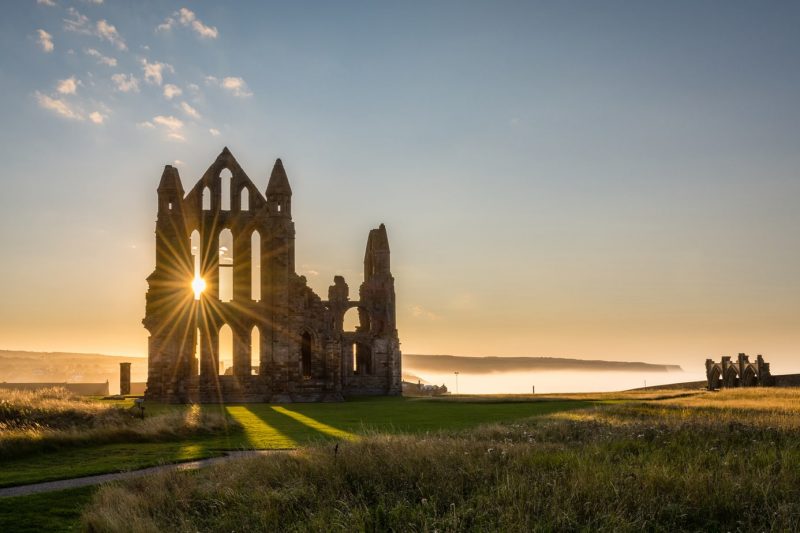 Whitby is the perfect place to visit in Autumn because of its association with the story of Dracula. Not only did a visit to Whitby inspire Bram Stoker's book, but it's also a setting within the story itself. There's nothing like seeing Whitby Abbey dominating the town on an overcast Autumn day to truly feel the Dracula vibe.
Ghost walks, Paranormal Nights and Dracula experiences can be found in Whitby around Halloween. The Abbey is also illuminated to make it even more dramatic.
If you're not into all that spooky stuff, the coastline is perfect for feeling the brisk Autumn wind. The nearby forest and moorland are alive with the changing colours and whales can even be spotted migrating to warmer climates.
Cambridge
Recommended by: Diana, Travels in Poland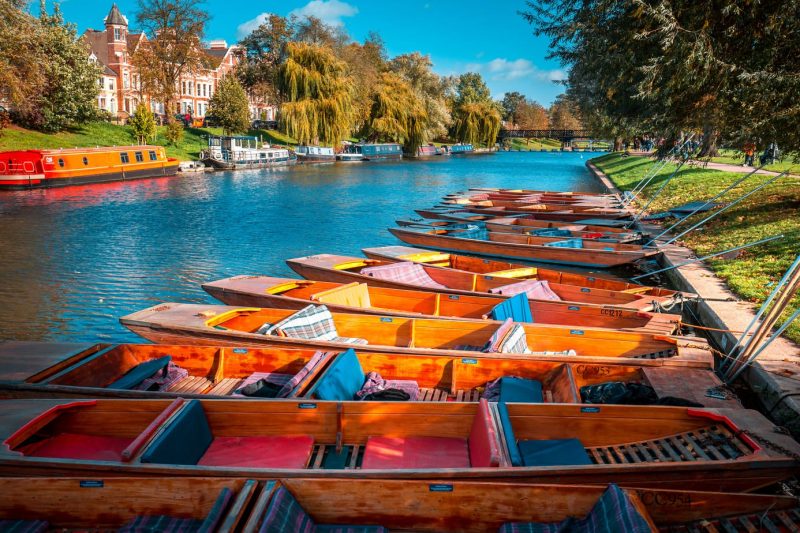 Between beautiful chapels, a university or two, a botanical garden and a quintessential autumn feel, Cambridge is an ideal autumn destination in England.
Some of the most beautiful fall foliage can be found at the Cambridge University Botanical Garden. With over 16 hectares, visitors can spend several hours wandering the trails, visiting the humid interior greenhouses or simply enjoying a picnic on the grounds. Visiting King's College Chapel or St. John's College brings you to some fantastic grounds where you can easily follow up with some season-end punting. Pop in and out of some great local establishments for dessert or dinner and walk the chilly evening air in the lit streets of Cambridge.
Bath
Recommended by: Me!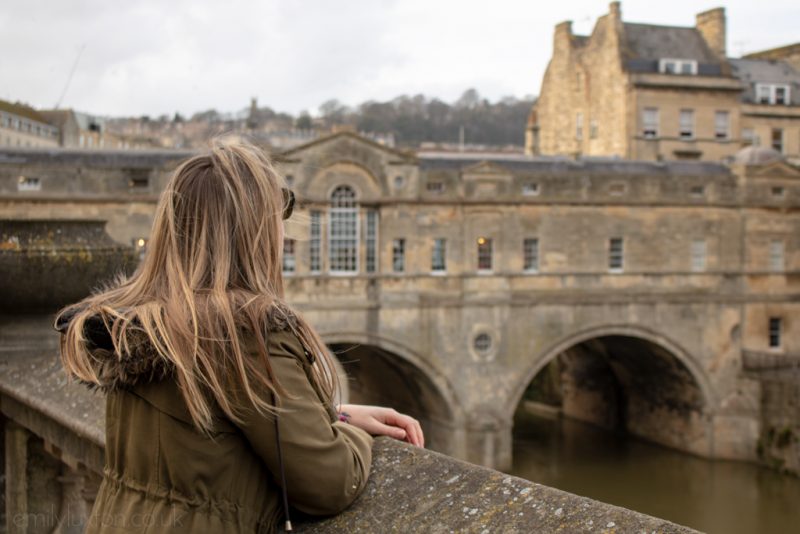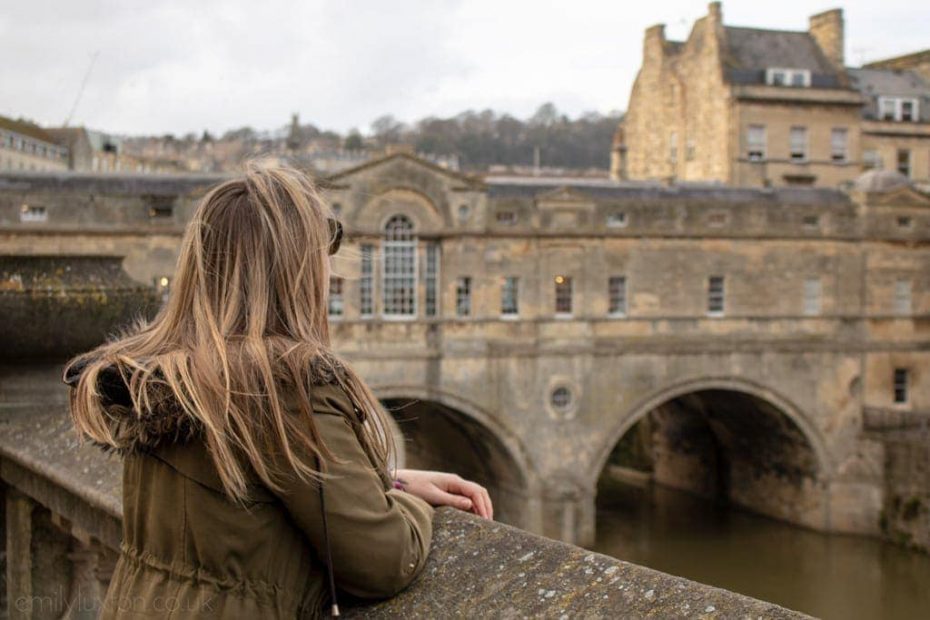 Bath is beautiful all year round, but when autumn hits in England this stunning little city is an ideal destination. The honey-coloured stone of the city centre looks gorgeous against the red and gold leaves, especially along the banks of the River Avon.
There are plenty of indoor things to do, too – such as the iconic Roman Baths. So even if it rains the whole time you can still enjoy a weekend in Bath! And, of course, this is a spa town which means plenty of opportunities to relax and unwind. Soak up the healing waters – and the city views – from the toasty comfort of the Thermae Spa rooftop pool!
England Autumn Destinations: Map
Autumn in England: the Quicklist
Dorset Area of Outstanding Natural Beauty (AONB)
The New Forest, Hampshire
North Coast of Cornwall
Westonbirt Arboretum, Cotswolds
Hadrian's Wall Country
Peak District
Matlock Bath
Bristol
Oxford
London
Forest of Dean
York
Stratford-Upon-Avon
Grizedale Forest
Windermere
South Downs Way
Marlow, Buckinghamshire
Lincoln
Windsor
Bourton-on-the-Water, Cotswolds
Whitby
Cambridge
Bath
Are there any more great places to visit in England during Autumn? Scroll down to share your favourites in the comments!