Some posts on this site contain affiliate links. If you book or buy something through these links, I earn a small commission (at no extra cost to you). Take a look at my privacy policy for more information.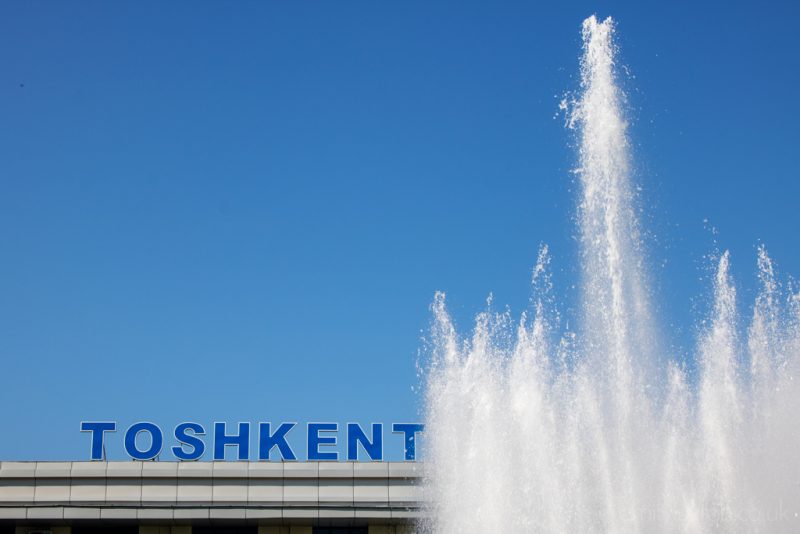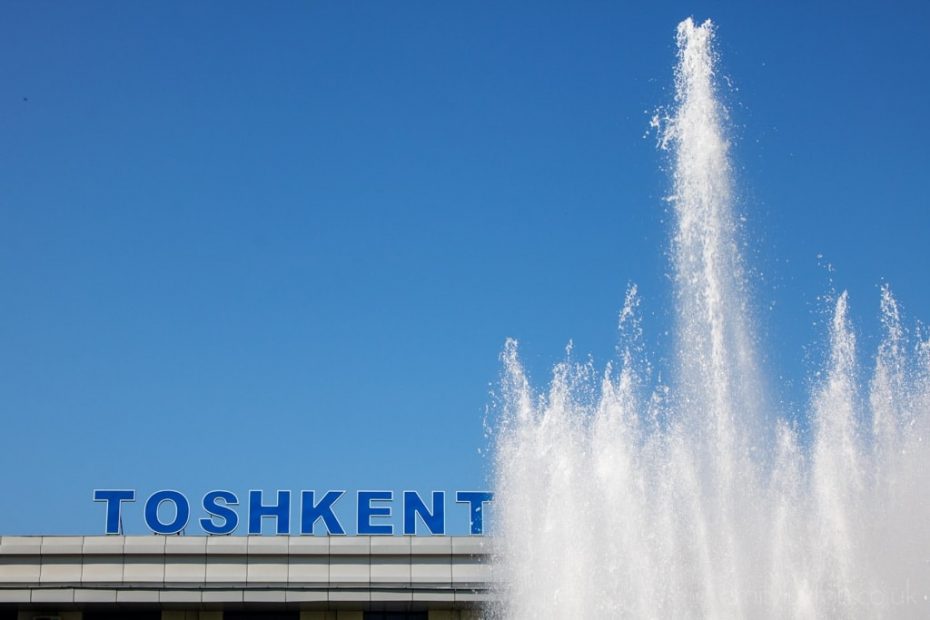 Tashkent, Uzbekistan. It's not a city that's front and centre on every travellers wish-list, but it's a fascinating place with a lot to uncover. And with travel there getting easier all the time, as the country rapidly opens up to tourists, there's never been a better time to visit. Following my recent trip, I've rounded up some of the best things to do in Tashkent to help get your planning started!
A fascinating mish-mash of brutalist Soviet buildings, neatly restored Islamic sites, and classical Russian architecture, Tashkent is like no other city I've visited. The centre is incredibly green, full of leafy squares and pretty parks, and every street seems to be lined with trees. Neat, clean, and well-laid-out, at first glimpse it feels as if Tashkent is lacking in personality. But delve a little deeper and you'll uncover all sorts of hidden gems and interesting quirks. There are pockets of colour, amazing crafts, and dazzling architecture in unexpected places (wait till you see the metro!). This is my mini Tashkent travel guide, covering everything you need to see and do while you're visiting.
Skip Ahead:
Good to Know – Background to Tashkent
Top Things to do in Tashkent
Where to Stay
Best Restaurants in Tashkent
How to Get to Tashkent
My trip to Uzbekistan was supported by Air Astana. There are also some affiliate links in this post. But, as always, all words and opinions are my own!
RELATED POST: Uzbekistan Travel Guide
A Bit of Background Before You Go
Tashkent Uzbekistan can trace its history back 2200 years, to the 2nd century BC, but it looks surprisingly modern! The centre is like a lesson in sensible city planning: wide, well-laid-out roads, modern buildings, and a lot of parks. It's also one of the greenest cities I've ever explored. The reason for all this modernity? Tashkent is prone to earthquakes, and in 1966 there was a pretty huge one. It destroyed around 75% of the city, so the majority of Tashkent was rebuilt by the Soviet Union in the late sixties and seventies.
That means a lot less Islamic monuments then you'll see in other cultures, and a lot of Soviet architecture. There are some really amazing buildings to discover – and even if architecture isn't really your thing, it's hard not to be impressed by some of the more imposing buildings! If you want to delve into Tashkent's history and culture more, you'll have to go beyond the surface of the city. Thankfully, there are plenty of hidden details to uncover – some of which are included in the below list of things to do in Tashkent. Keep reading to find out the best things to do in the city…
RELATED POST: Travelling Uzbekistan, A Glimpse of Central Asia
11 Things to do in Tashkent
Tour the Metro Stations
One of my favourite things to do in Tashkent was also one of the most simple; ride the metro! Tashkent's metro was built in the seventies, and an array of Uzbekistan's leading architects were invited to design the different stations. Each station is an original work of art, designed to reflect its name. So Kosmonavtlar, the "Cosmonaut Station" is a futuristic, bright blue design, with portraits of famous cosmonauts lining the walls, for example. Of the stations I saw, I thought Mustakillik, Alisher Navoi, and Kosmonavtlar were the most impressive.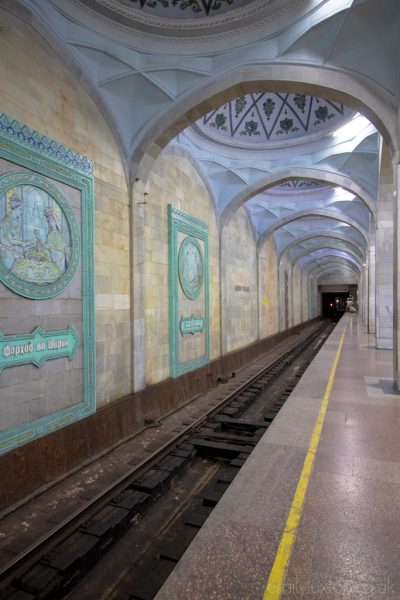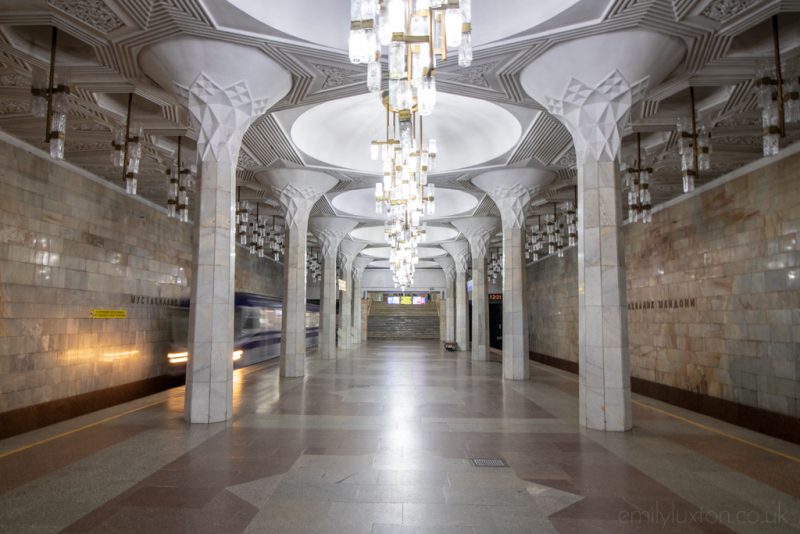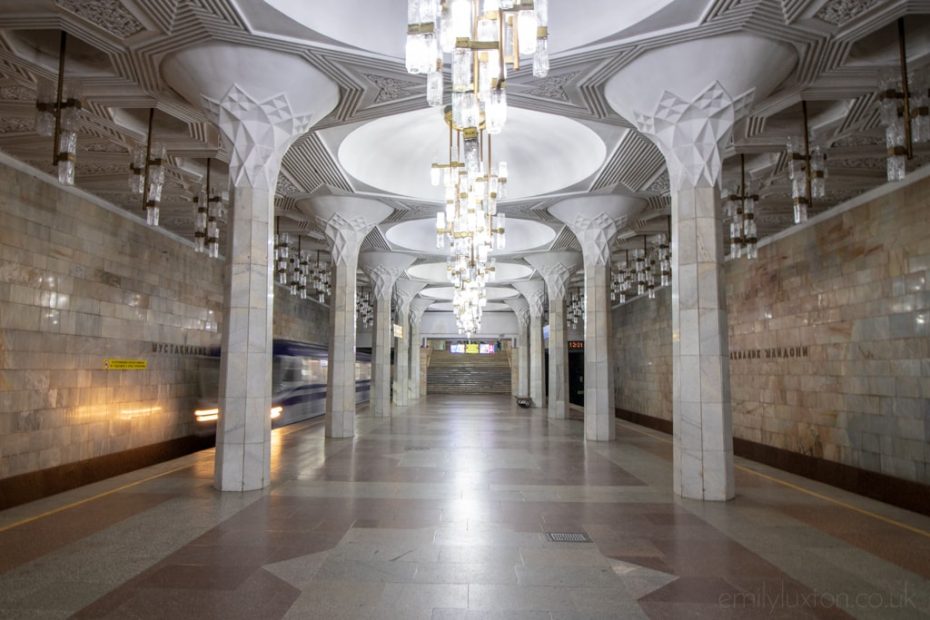 Info: It costs 1200 soum (roughly £0.10) to ride the metro anywhere. You buy your ticket at the cashier desk (cash only) and they'll give you a circular plastic token. You pop this in the barrier to open it, and that's that. If you want to get good photos of the stations, I suggest going mid-morning on a weekday. Rush hours and weekends might be a little busy! If you're really serious about getting a great shot, you should also take a tripod. The stations are dimly lit so a slow shutter speed is handy – plus you can get that great blurred motion effect as a train arrives.
Khast-Imam Complex
The Khast-Imam Complex is a historic square in the old part of Tashkent, and it's the religious heart of the city. Although the site dates from the 16th century, it was largely rebuilt in 2007. So today it's a surprisingly clean and modern space, and not as spiritual-feeling as other Islamic sites.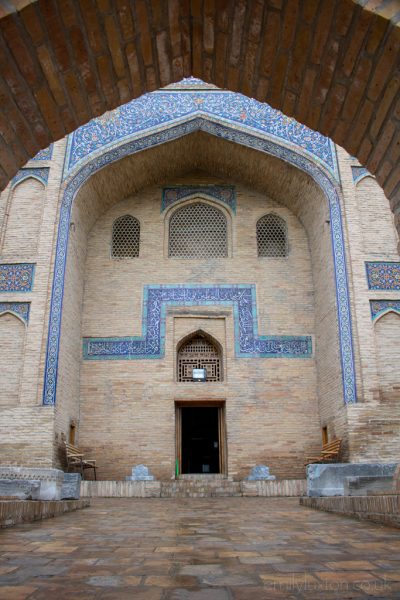 Fronting the square is the Hazrat Imam Mosque, which is flanked on either side by towering, 50m-high minarets. There are several other important mosques, madrasahs (schools) and mausoleums dotted around the square and the neighbouring park. But the most significant thing to see here is inside the Teleshayakh Mosque, where the world's oldest koran is displayed. It's a massive book dating from the 7th century. You're not allowed to take photos of it, though!
FYI – the square is also called Hazret Iman, Hast Imam, and a bunch of other variations, just to confuse things!
Museum of Applied Arts
Museums are not usually my favourite places, as I prefer a more hands-on insight into local culture. But I'm including the Musuem of Applied Arts on this list of the best things to do in Tashkent, because it's genuinely really interesting. It's housed inside a grand mansion, which was once the home of wealthy Russian diplomat and businessman Alexander Polovtsev, who lived in Tashkent before the 1917 Revolution.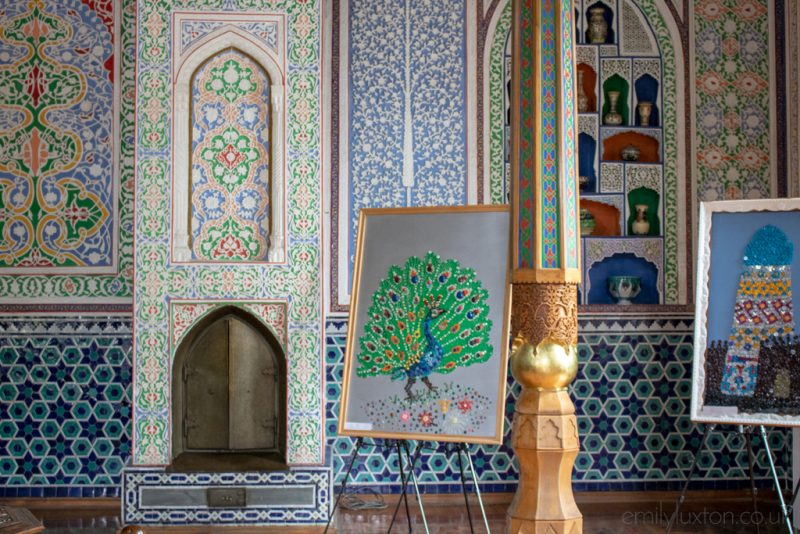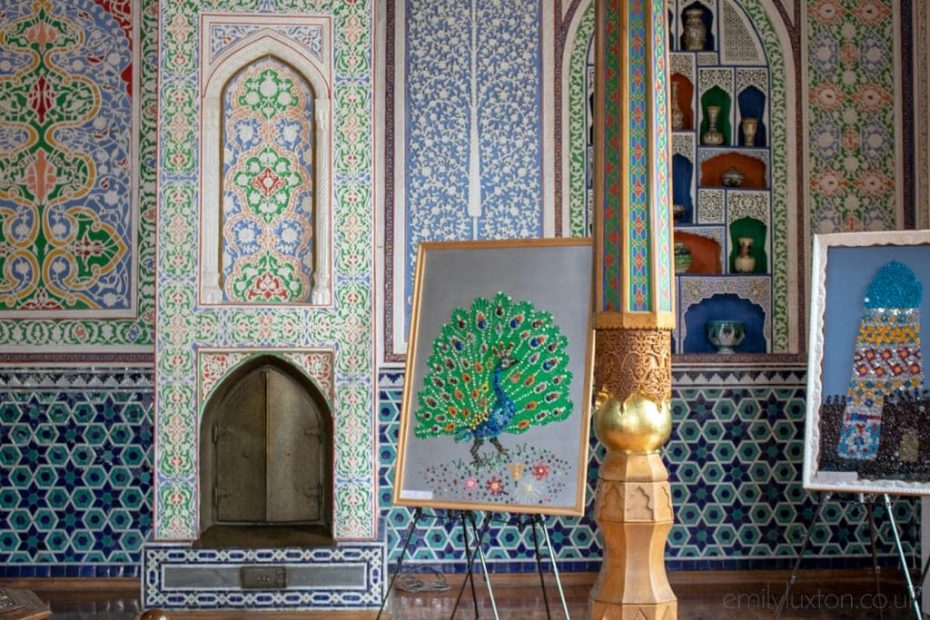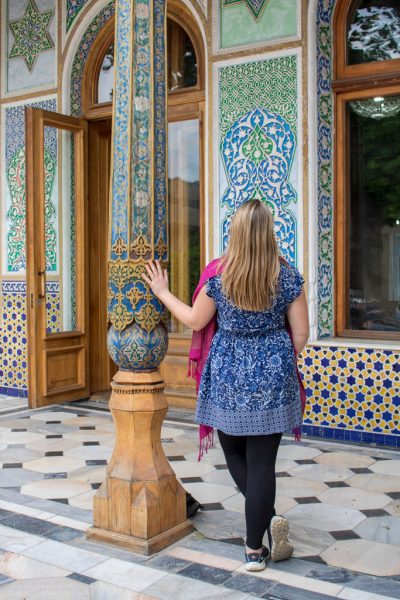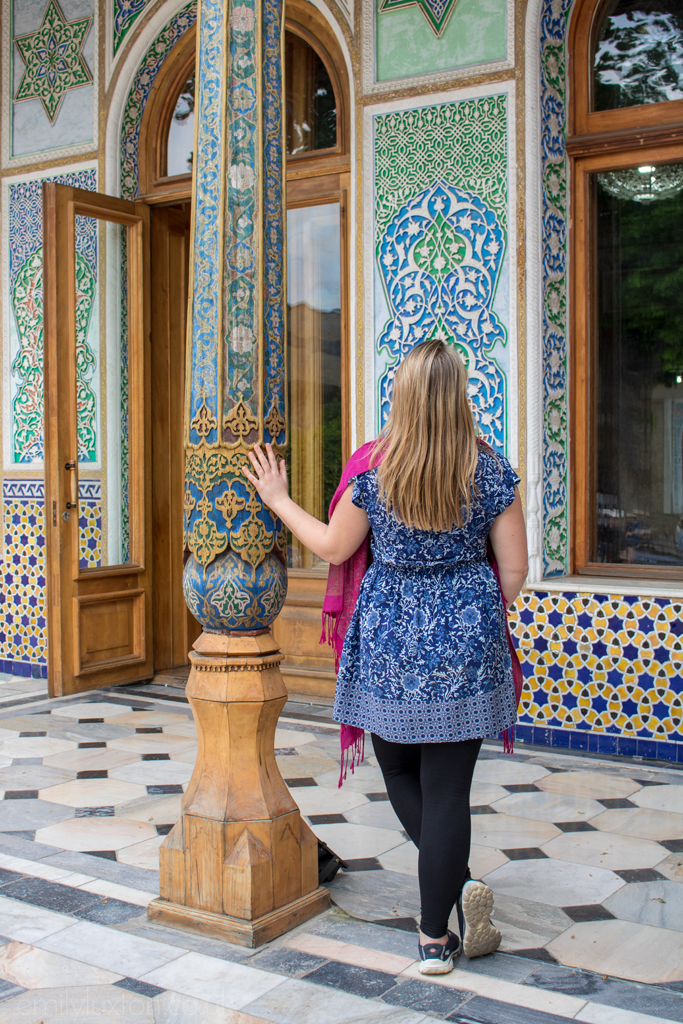 Today, it's a museum dedicated to Uzbekistan's iconic art and craft styles. Painting, weaving, ceramics, wood-carving, and traditional instruments are all represented. What I loved in particular about the museum was the colour – it's a real pocket of the most colourful aspects of Uzbek culture. The central room is covered in ceramic tiles, both inside and out, and is a gorgeous example of traditional Uzbek design. It's worth visiting the museum for this alone!
Plov Centre
For a true taste of traditional, everyday life in Tashkent head to the Plov Centre. Plov is Uzbekistan's national dish; rice with meat, fruit, onions, and carrots. At the Plov Centre you can see chefs preparing plov in huge, steaming cauldrons – called kazans. Inside, you can also order a plateful. Don't miss the chance to experience plov like a local!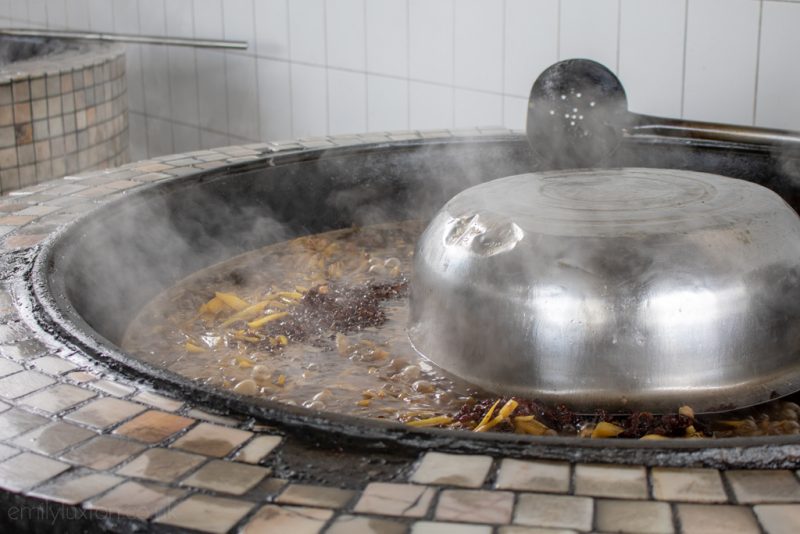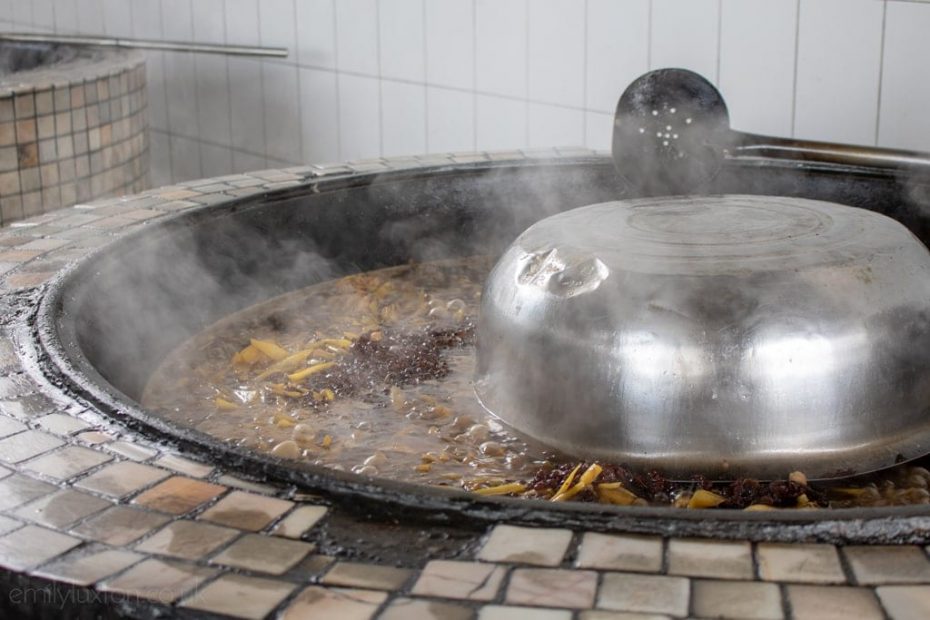 Chorsu Bazaar
A market is always a great place to explore a city's traditions and culture, and Chorsu Bazaar is definitely no exception! This enormous, traditional bazaar in the centre of the old town is housed inside a turquoise domed building, and it's where you'll find pretty much all the local produce you could possibly want.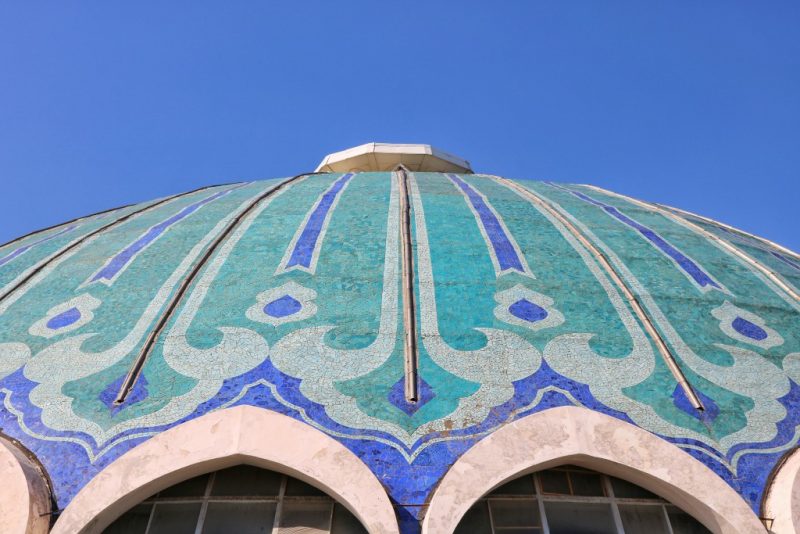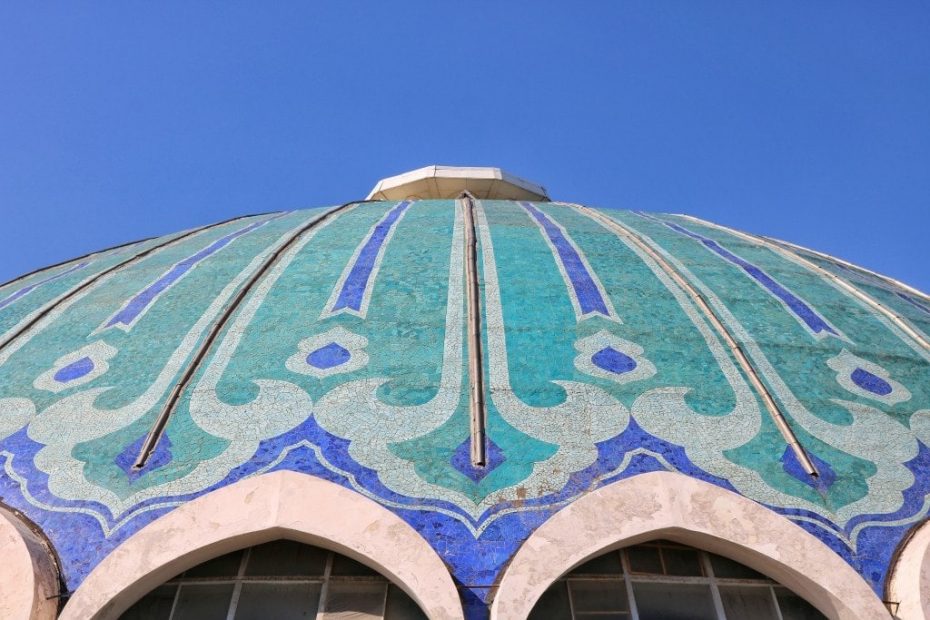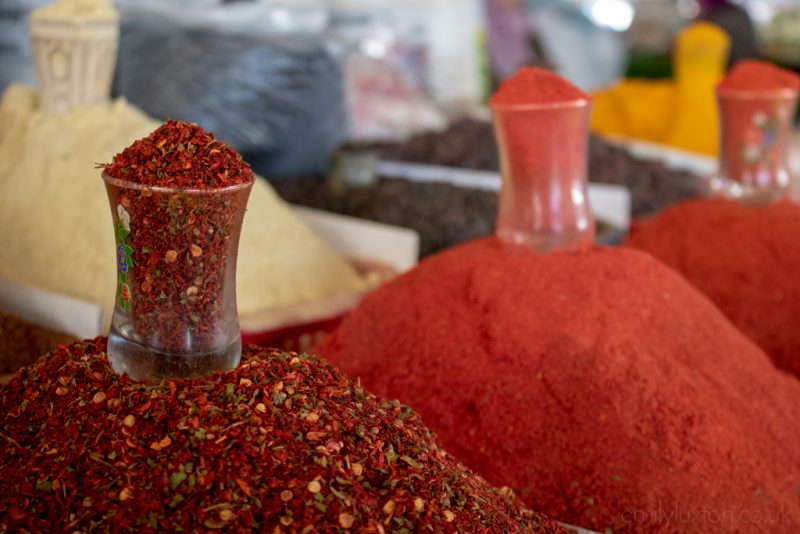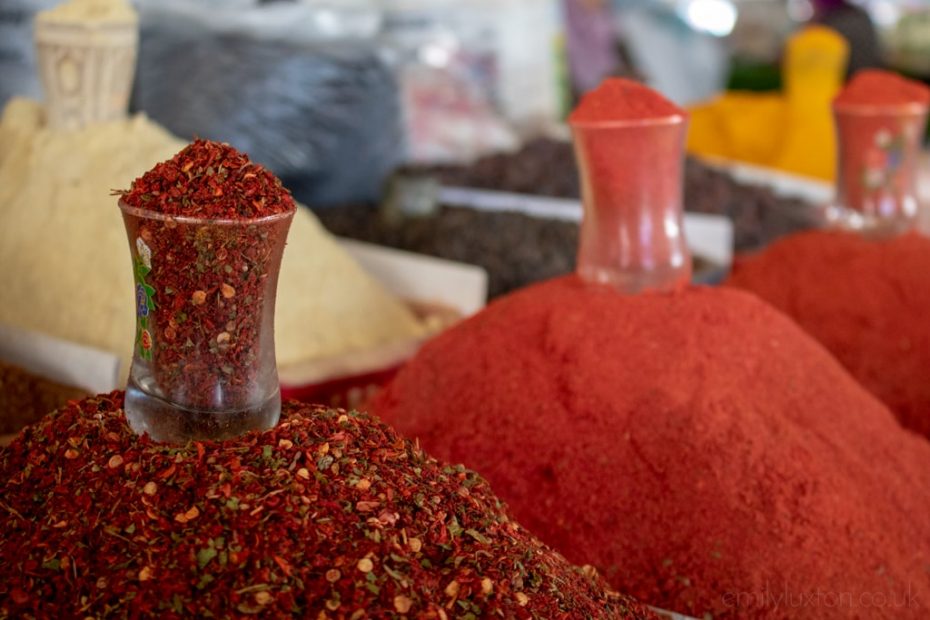 Saffron, spices, vegetables, bread (oh, that delicious Tashkent bread), pomegranates, juicy Uzbek apples, whole sheep hanging by the ankles… you can buy just about anything at Chorsu Bazaar. Uzbekistan is known for it's dried fruit, so be sure to try some – you'll find this section on the upper level of the central dome. Most vendors will let you try a piece for free, without any pressure to buy, so you can wander around tasting samples from every stall! If you have a sweet tooth, pick up some nougat or halva while you're there, too!
TV Tower
One of the most popular things to do in Tashkent is to visit the TV Tower. At 375m, it's the tallest structure in the city – and the 11th tallest tower in the world! You can visit the observation deck on the 6th floor for great views of the city. On the 7th floor there's a revolving restaurant with a pretty distinctive decor – although I've read mixed things about the food. But if you want a view of the city and have time to spare, a visit to the observation deck at least is definitely worth it!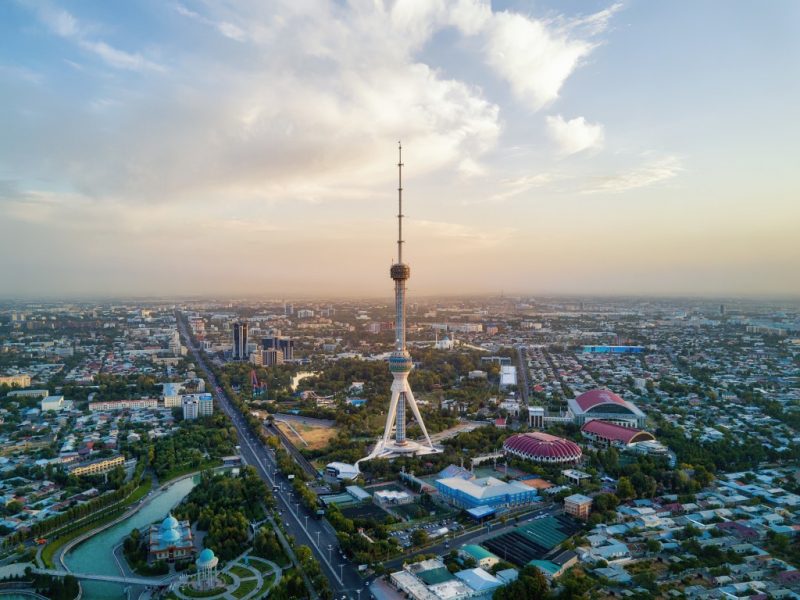 Info: the TV Tower is open from 9am to 6pm and costs 40,000 soum (roughly (£3.60).
Visit Hotel Uzbekistan
A classic example of 1970's Soviet Architecture, the imposing Hotel Uzbekistan towers over the city centre. Anyone who watched the BBC's Race Across the World this year will probably recognise the monstrous structure.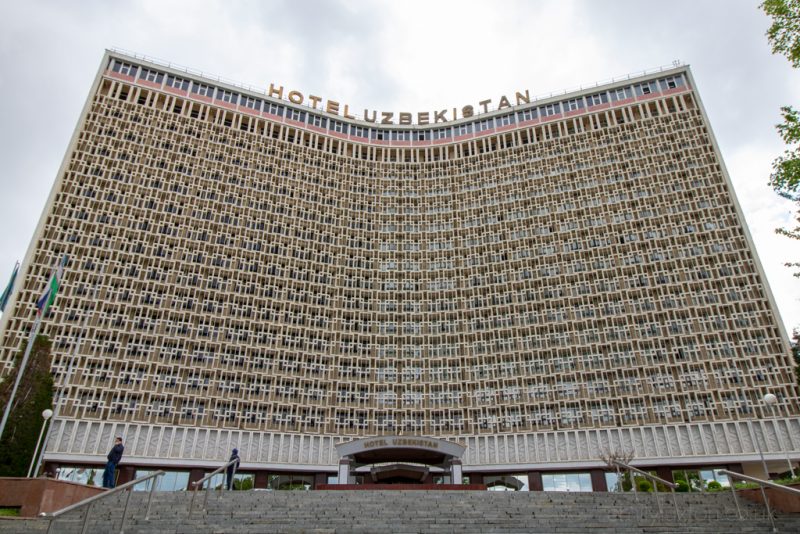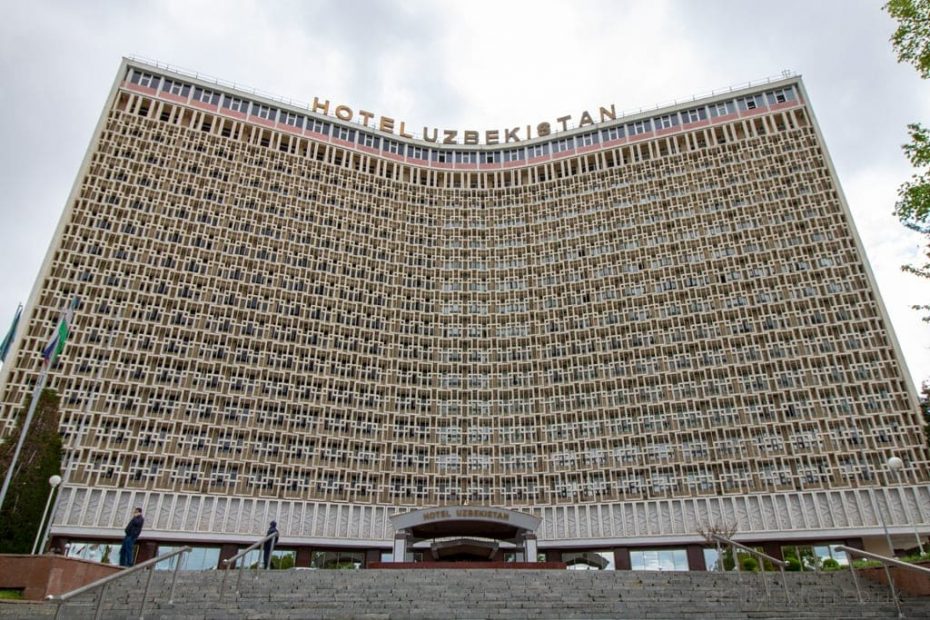 The brilliantly descriptive name of the architectural style is Brutalist, and the Hotel Uzbekistan certainly looks brutal, looming above Amir Timur Square. In its heyday, this was the place to stay in Tashkent. But today the hotel's glamour has faded, leaving behind a fascinating relic. A cool place to stay, or just to pop by for a photo of the impressive facade.
Explore Tashkent Old Town
A small part of the original Tashkent, from before the earthquake which shaped the city we see today, still stands. Close to the Khast-Imam Complex, you'll find a warren-like maze of cobbled streets and traditional houses. These are one-storey buildings built with clay walls, and painted in an array of pretty pastel colours. In Uzbekistan, it was traditional to build houses with no windows at the front of the property, so the street-facing walls look oddly plain. Instead, the doors are often intricately carved wood, or painted in bright colours, to draw the eye. It's a brilliant area for photography, or for catching a glimpse of traditional everyday life in Tashkent.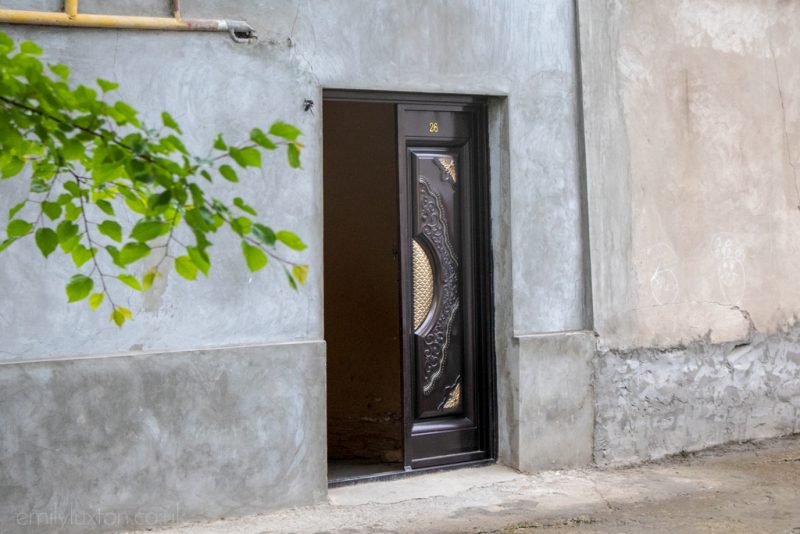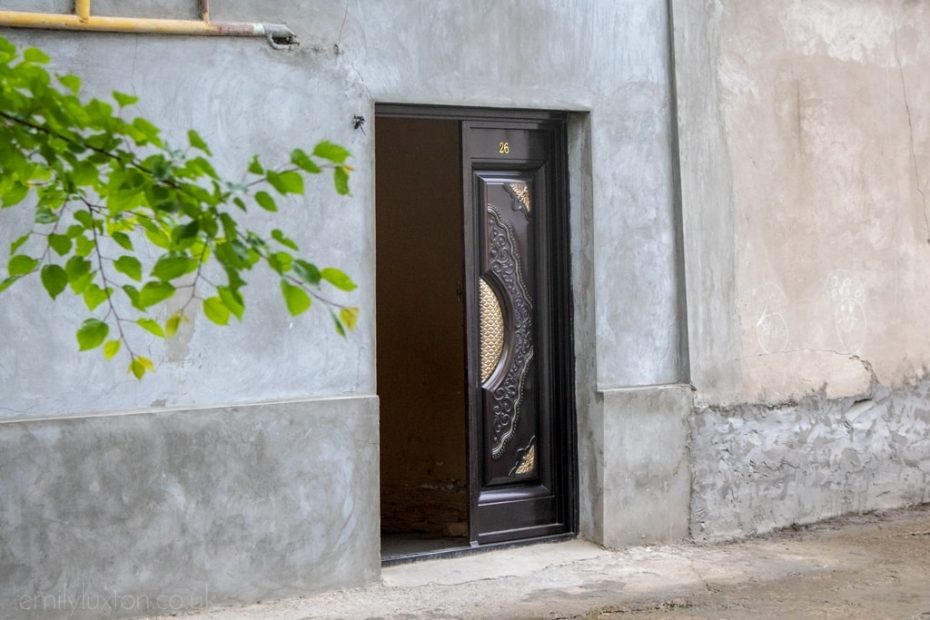 Visit the Artisans at Abulkasym Madrassah
The Abulkasym Islamic school, close to Friendship Square, is now an amazing creative space. The rooms surrounding its central courtyard have been given over as studios and workshops for local artisans. You can watch wood carvers, painters, and ceramic makers at work, browse their wares, or make a few purchases. Be warned – there are some really amazing talents here, so temptation is rife!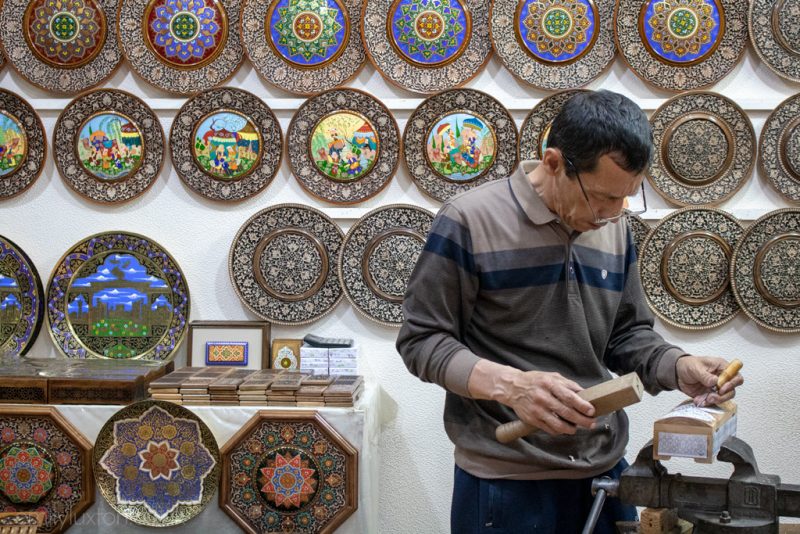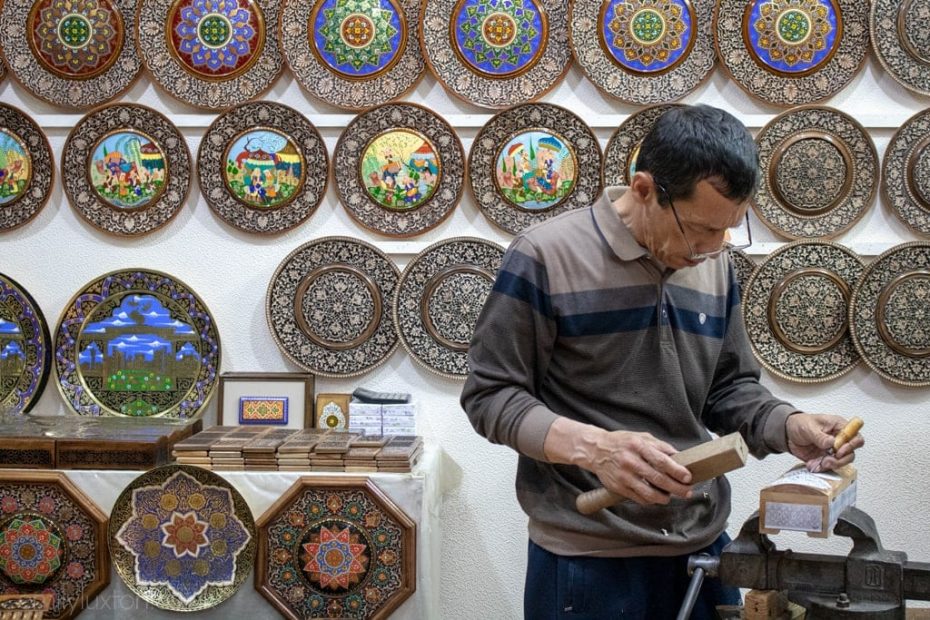 Earthquake Monument
I've mentioned the earthquake a few times, because it really did have a huge effect on what Tashkent is like today. Pay your respects at the Monument of Courage earthquake memorial, which also happens to be a great example of Soviet sculpture.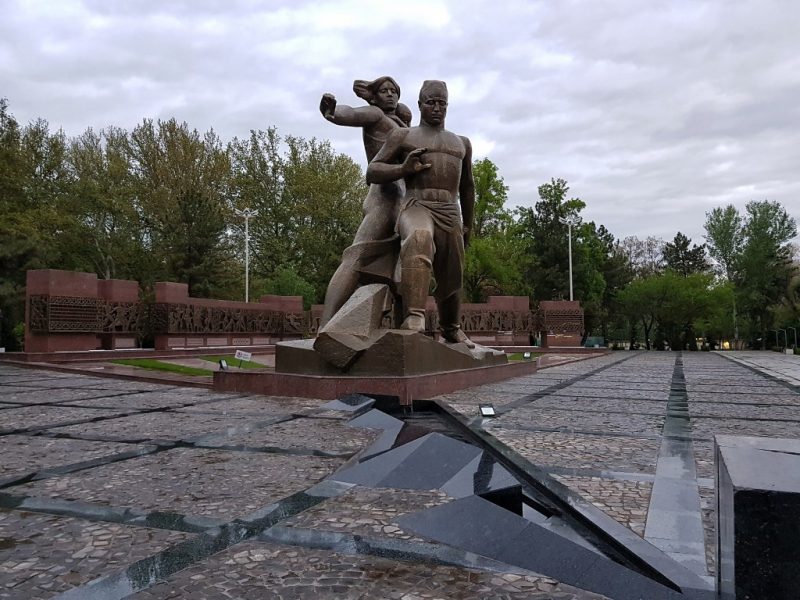 It depicts the earthquake itself: a huge crack in the floor running from a clock frozen at the time that the disaster started. A statue of a man and woman shielding their child from the quake towers over the square. But more interesting is the sculpted frieze running around the square behind the statue. This shows all the nationalities – from various parts of the Soviet Union – who helped rebuild Tashkent, each represented in their country's traditional dress. It's a super nationalist monument that smacks of soviet pride, but it's still very interesting, and a must for anyone interested in Tashkent's history.
Tashkent Nightlife on Broadway Street
After dark, head to Sailgokh Street for some charming Tashkent nightlife. Every night, Tashkent's centre is illuminated with colourful light installations. And Sailgokh Street – aka Broadway Street – is lined with funfair-style games and street performers.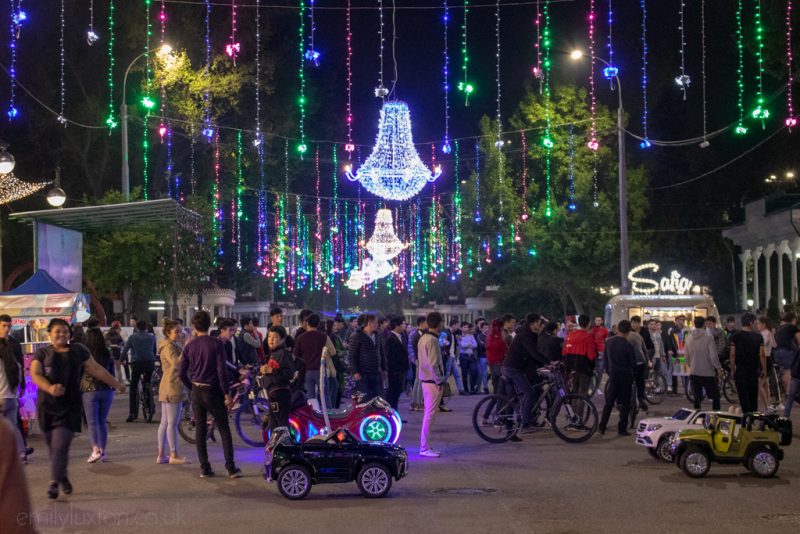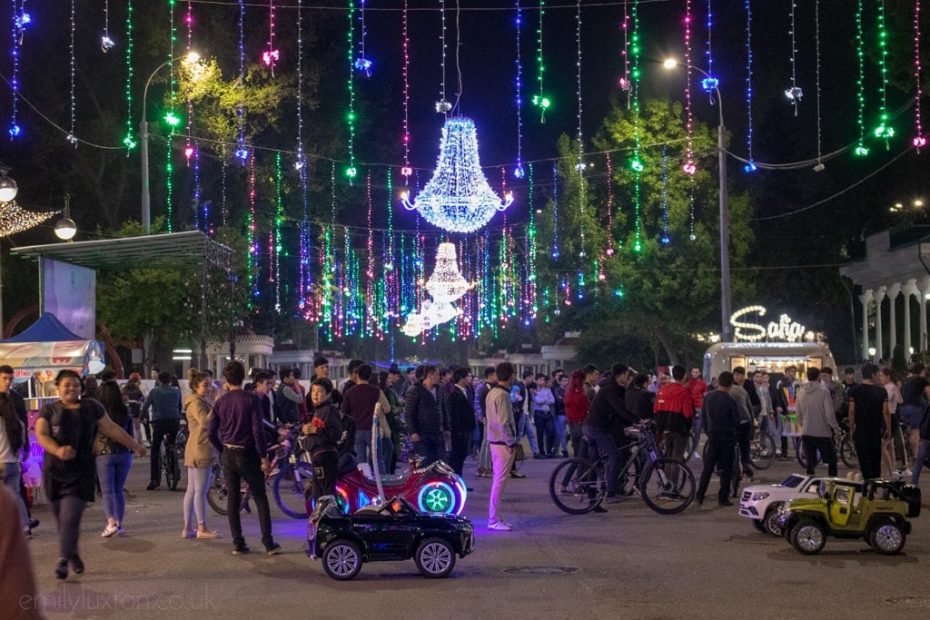 You might catch some local kids having a dance battle, or a local artist selling their work. Rent a bike for an hour, or settle down with some street food to watch the world go by. It's one of the best things to do in Tashkent at night, and if nothing else it's perfect for a spot of people watching.
Where to Stay in Tahskent Uzbekistan
I stayed at the LOTTE City Hotel Tashkent Palace and would happily recommend it. The hotel is in a historic building, one which survived the earthquake and has been designated part of the city's cultural heritage. It's a really grand building in an amazing location, right in the city centre. Service was amazing, the food was great, and my room was super comfortable (if a teeny bit on the old-fashioned side).
If you're looking for more mid-range accommodation, renting an apartment often works out more a budget-friendly option. Take a look on AirBnb for some options (you'll get £25 off your first booking when you click on my referral link). Alternatively, there are plenty of guest houses and standard hotels to choose from. Sunrise Caravan Boutique Guest House comes highly recommended and looks lovely!
For backpackers, there are plenty of hostels in Tashkent to choose from. I like the look of Topchan Hostel and Art Hostel, both of which come really highly recommended on Hostelworld. 
Best Restaurants in Tashkent
If you want to learn more about WHAT to eat in Uzbekistan, check out my bumper guide to the 16 Uzbek dishes you must try! But for WHERE to eat in Tashkent, here are some of my favourite restaurants…
Caravan
One of the best restaurants in Tashkent, certainly my favourite, is Caravan. It's a really cosy, traditional restaurant with an amazing menu. The decor is fab – and a lot of the pieces are actually for sale, so if you spot something you love you can take it home! But the food is what makes this place amazing.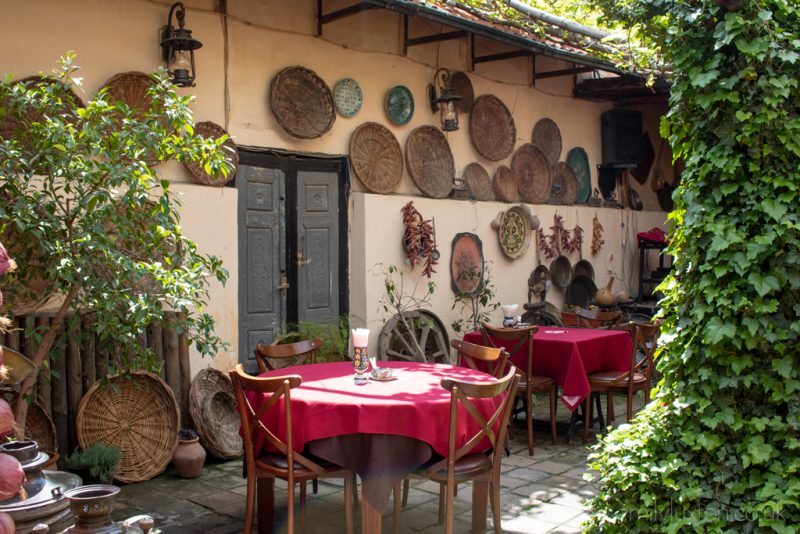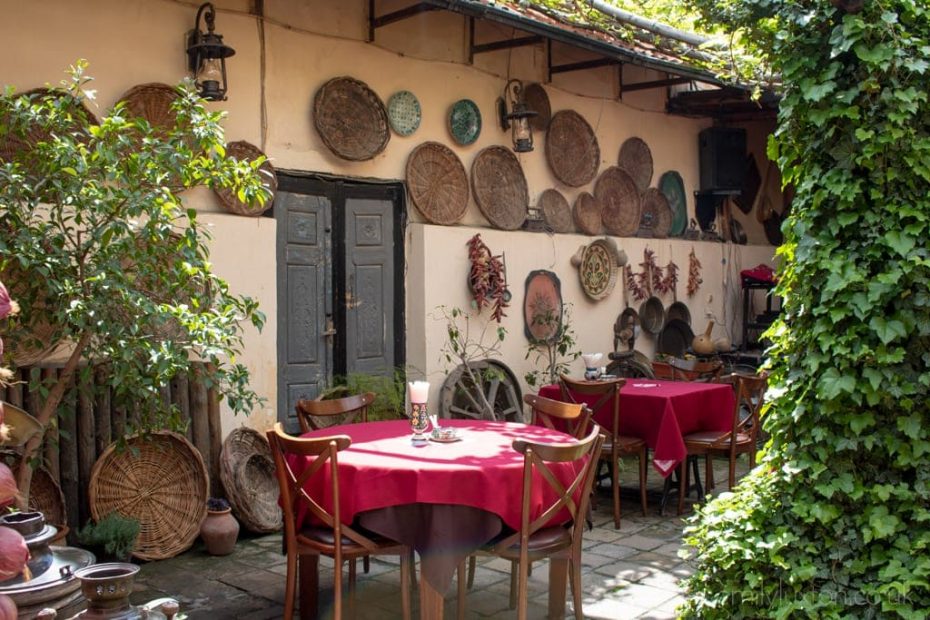 You can try all the traditional Uzbek dishes here, such as manti (steamed dumplings), guzlama (bread stuffed with cheese, lamb, and spinach), and lentil soup. Don't miss the restaurant's signature dish, Lavash Caravan. It's a soft flatbread stuffed with cheese and tomato and grilled – so good!
Chorsu Bazaar
If you want a super traditional meal in Tashkent, head to one of the small local restaurants surrounding Chorsu Bazaar. I ate at Especialidad Pinchos – plastic furniture under a tarpaulin shade, kebabs being grilled over an open flame behind us, the smoke and smells wafting over our table. Good, affordable food in a prime people-watching location. And the bread comes fresh from the market so it's absolutely amazing! What more could you want?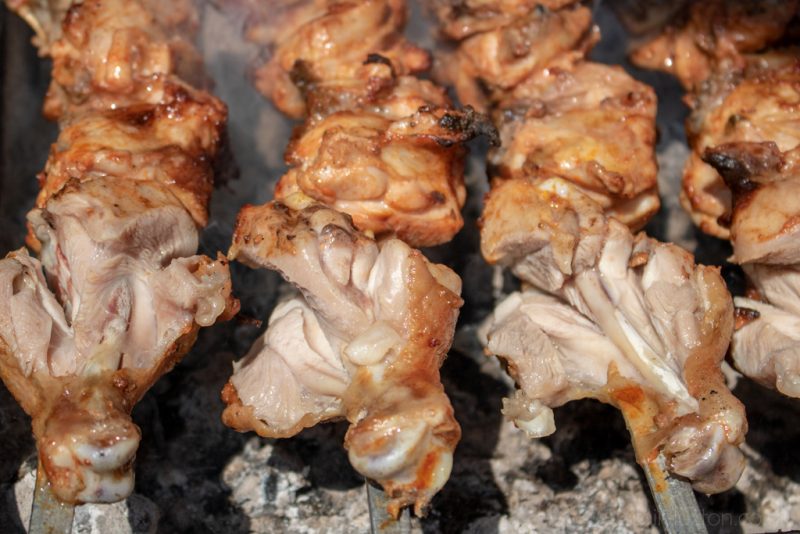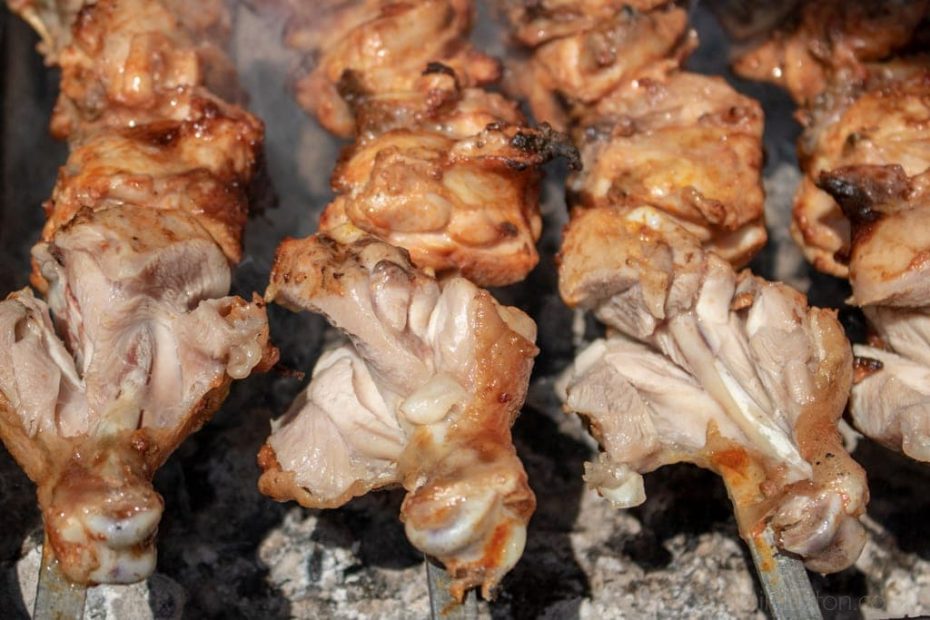 Sato
Sato is another of the best restaurants in Tashkent. It's owned by the same people who run Caravan, so it's another cosy restaurant with amazing decor. Again, you can try lots of traditional food here, like plov or somsa (small, meat-filled pastries similar to a Cornish pasty!).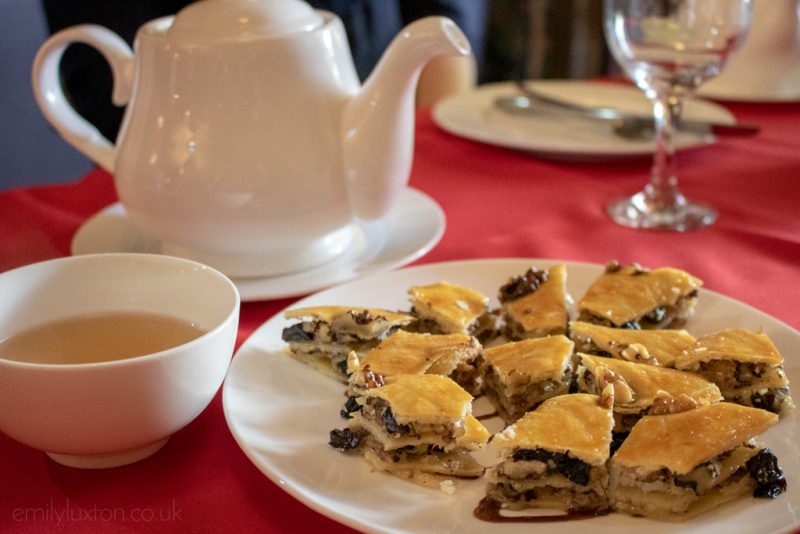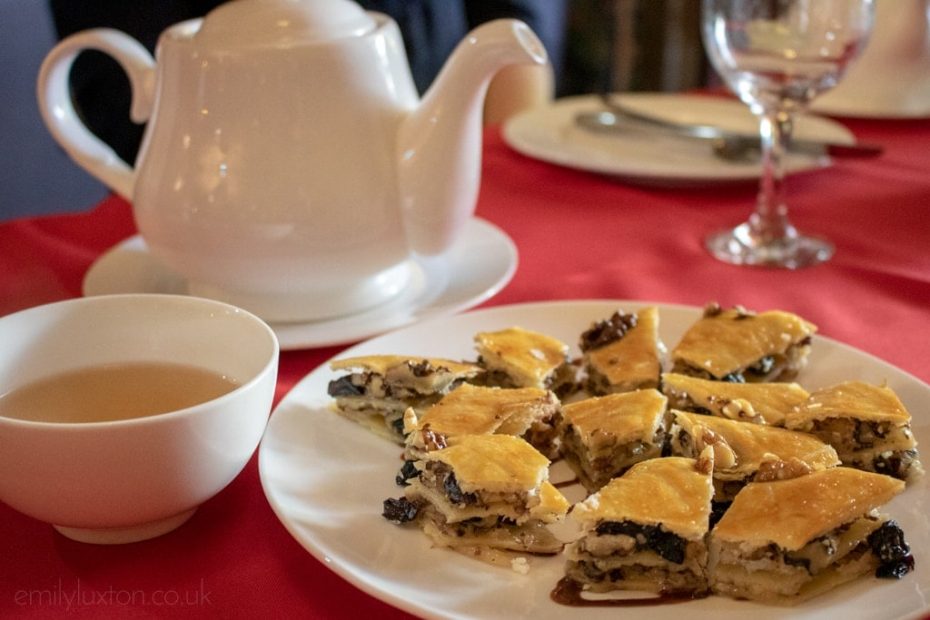 Vinaryba
For a more contemporary Tashkent restaurant, head to Vinaryba. It's a huge restaurant space that doubles up as a deli and wine shop, so your table will probably be surrounded by impressive racks of wine and spirits. The decor is really funky, with big street art murals in the entrance and a very cool axe-handle loo door! Food at Vinaryba was really good, especially the salads. Go for the local fish – especially if you want a break from all the meat and bread you'll be eating around Tashkent.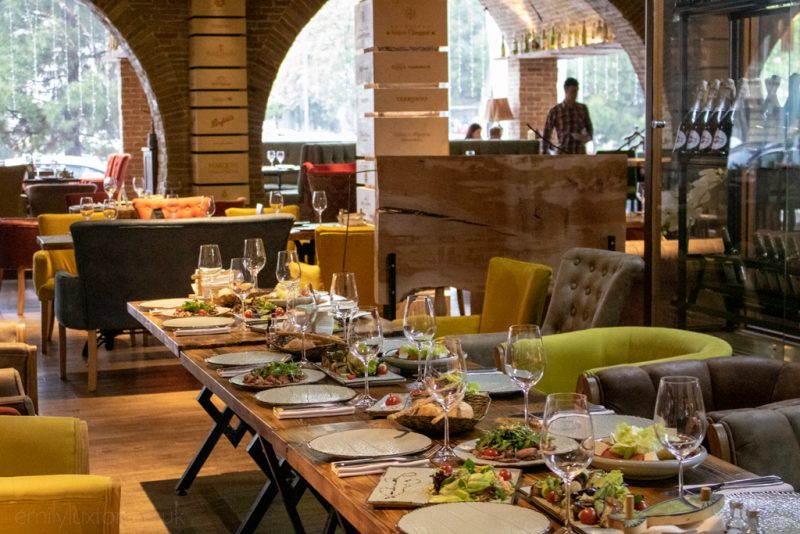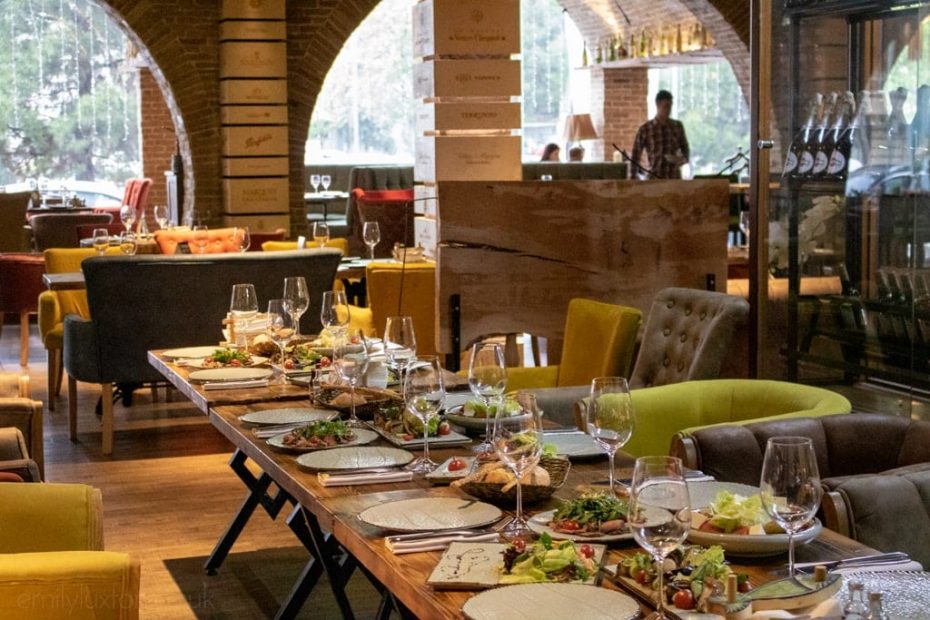 SalSal
Another more contemporary restaurant in Tashkent is SalSal; a grand setting with fresh, light decor. It's traditional Uzbek cuisine again, but with a bit of a twist. And the salads here were amazing! Be sure to try the samsas here, they were probably the best I tasted!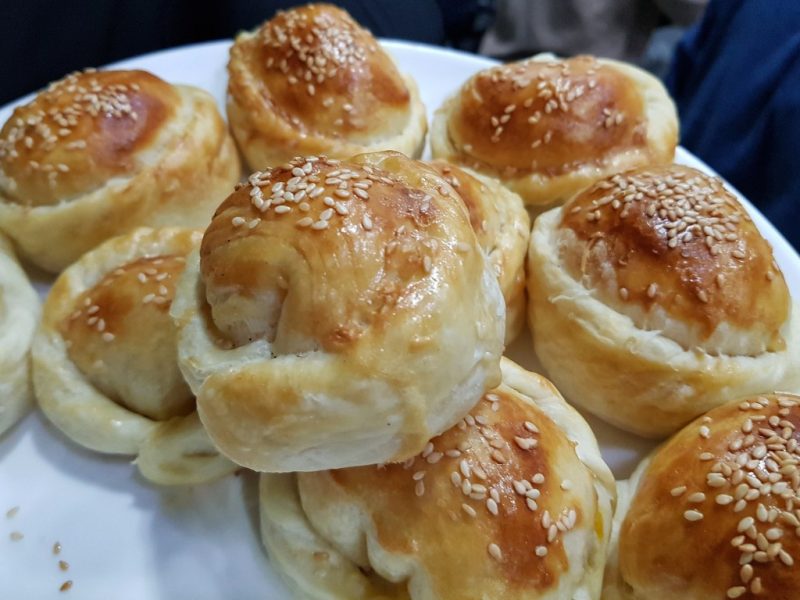 How to Get to Tashkent
Air Astana fly to direct Tashkent from Astana in Kazakhstan – their main hub. The flight takes two hours. Fly direct to Astana with Air Astana (6 hours 25 minutes), stay for around two hours, then hop a connecting flight to Tashkent. Couldn't be simpler!