Some posts on this site contain affiliate links. If you book or buy something through these links, I earn a small commission (at no extra cost to you). Take a look at my privacy policy for more information.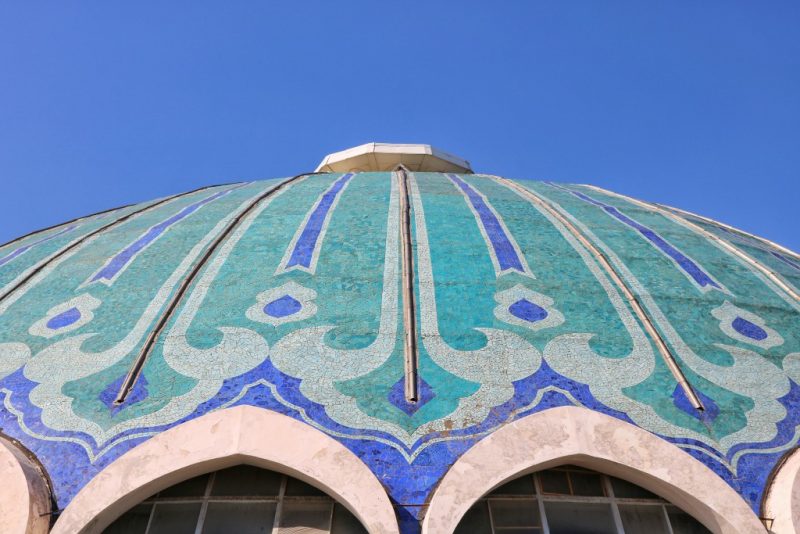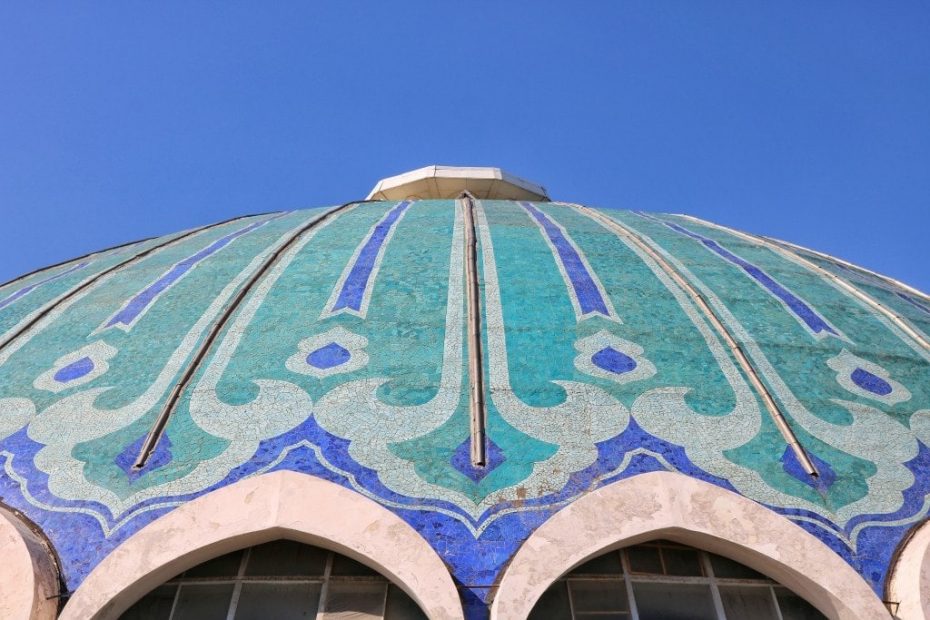 Welcome to my Uzbekistan travel guide! Before and after my recent trip to the country, I did a lot of research – and learned a lot while I was there. So, I wanted to put it all together in a nice easy guide to help other travellers explore one of my new favourite countries.
Still relatively unexplored compared with more popular Asian destinations, and with a ton of amazing historic cities to explore – not to mention some gorgeous landscapes – Uzbekistan has a lot to offer visitors. The country is also really starting to open up to tourists – especially since introducing visa-free travel (more on that in a mo). So there's never been a better time to go!
Getting There
Do You Need a Visa?
Uzbekistan Travel – How to Get Around
When to Go and Weather?
Places to Visit in Uzbekistan
Things to do in Uzbekistan if you Have More Time
What to Eat and Drink
Is Uzbekistan Safe (and Can You Solo Travel There?)
What to Wear in Uzbekistan)
Other Useful Info (and FAQ Answers)
Disclaimer – this was written following a press trip to Uzbekistan supported by Air Astana. The following post also contains affiliate links to my trusted partners. If you buy something I've recommended, I'll make a small commission without affecting the price you pay at all.
Getting There
At the moment, there's no direct flight from London to Uzbekistan. But you can easily reach the country from neighbouring Kazakhstan with Air Astana. Who are, incidentally, one of the best airlines I've ever flown with. Both their economy and business class service was phenomenal. In a world where airlines seem to be cutting every corner possible, it was nice to see that a snack and drink are included on even short economy flights.
Fly to Astana, Kazakhstan direct in 6 hours 25 minutes from London Heathrow, stay for around 2 hours, then connect to Tashkent on a 2 hour direct flight. Luckily, Astana Airport is a really nice one so a layover there isn't too bad! Astana itself (now Nur Sultan after the city was renamed last month!) is also a really lovely place to explore, so if you want to break the trip up a bit, you could spend a night or two there at the start or end of your trip.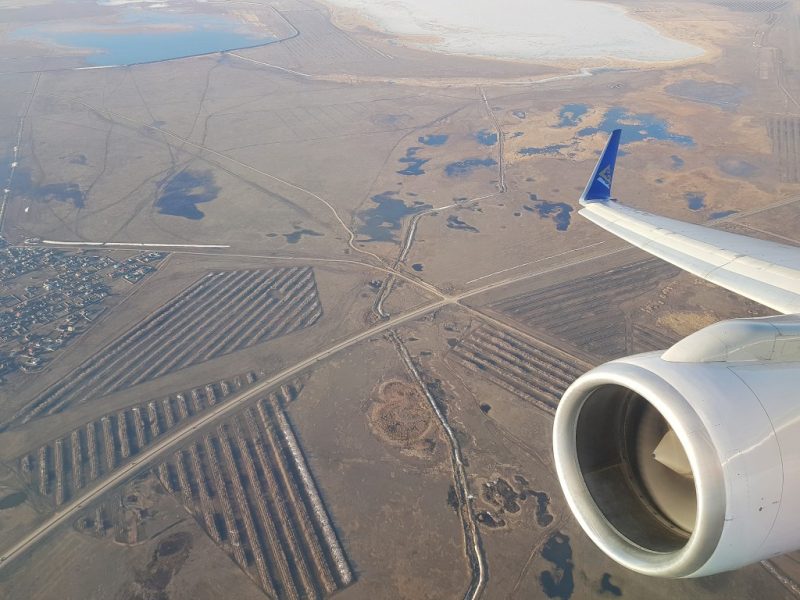 And yes, Air Astana sponsored my trip – but I was under no obligation to praise them! It's genuinely the best airline service I've had in a long while.
Do You Need a Visa to Visit Uzbekistan?
The simple answer to this question is a big fat NO! As of February this year (2019), visitors from 45 countries – including the UK – do not need a visa to visit Uzbekistan. This is for up to 30 days, so if you want to visit for longer you should check entry requirements on the UK government's website (or in your native country if you're not British).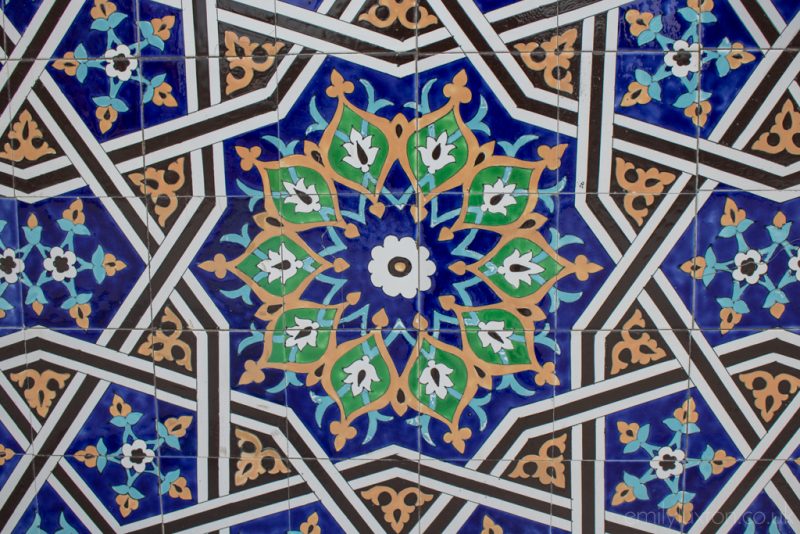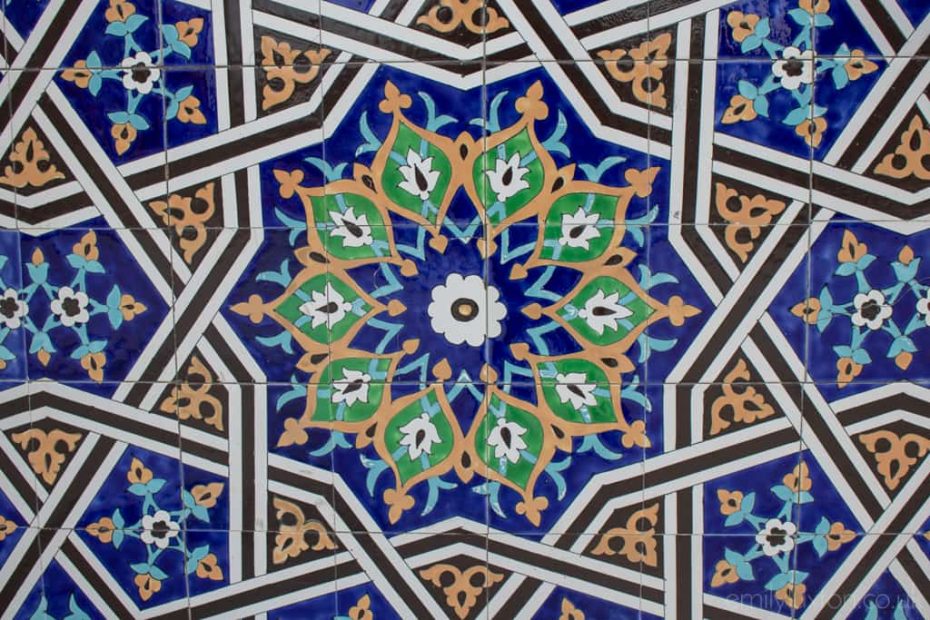 Since the new president took over two years ago, Uzbekistan has become increasingly more open. The introduction of visa-free Uzbekistan travel this year is the latest progression. The country is opening up to visitors and it's easier than ever to visit, so now really is the time to go!
Uzbekistan Travel – How to Get Around
Uzbekistan is big, which means travel there can be a little difficult if you want to see a lot of places.
Luckily, there's a really decent rail system which is safe and comfortable. It connects most of the major cities, including Tashkent, Samarkand, Bokhara, and Khiva. Get more info about the trains and timetables here.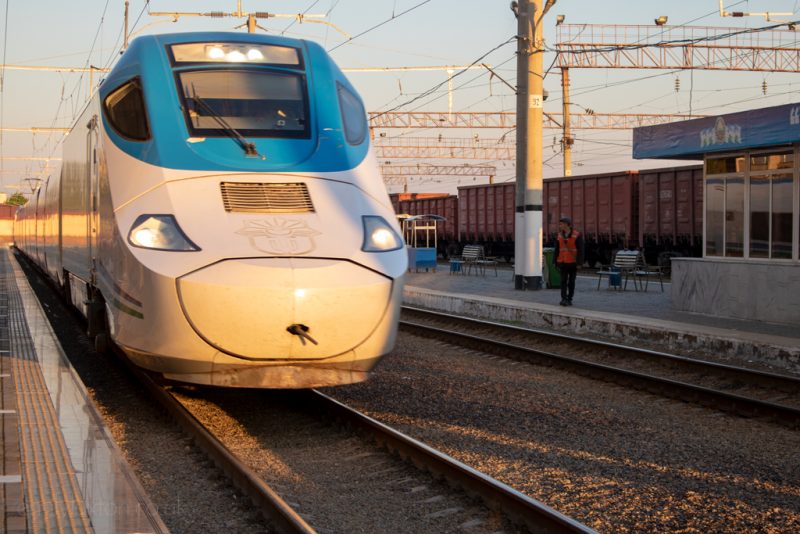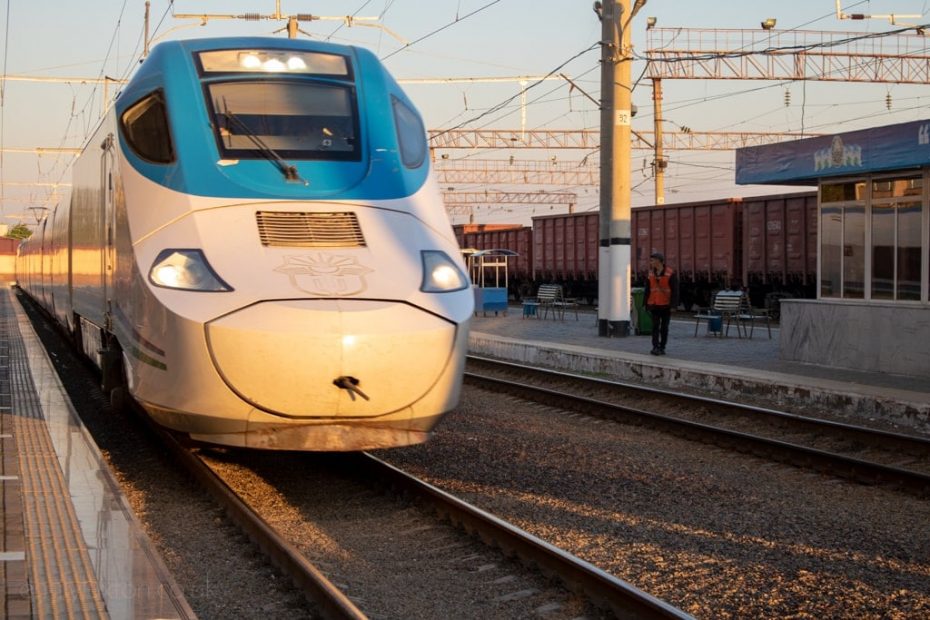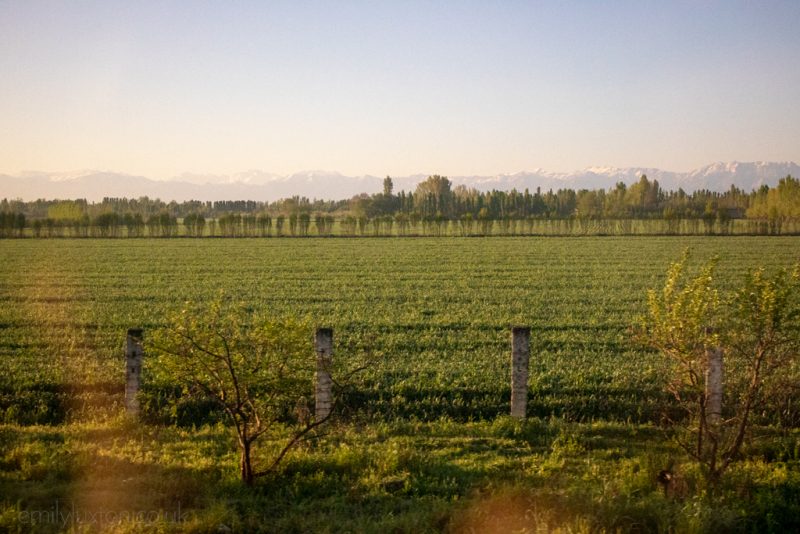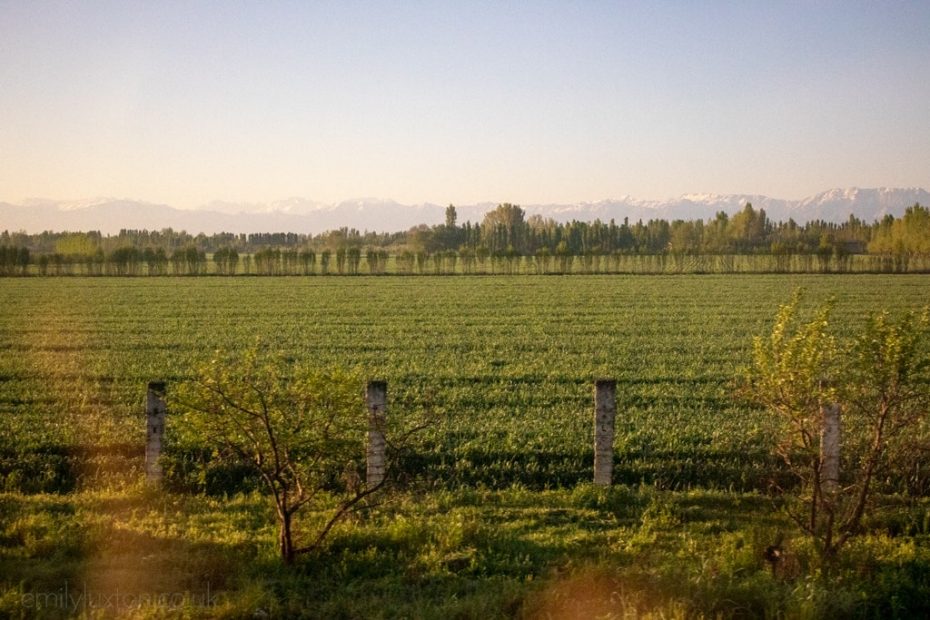 On my trip, I flew from Tashkent to Samarkand, and took the train on the return leg of the journey. Since the high-speed train between the two cities takes just two hours, you don't actually save any time by flying. So for views – and to avoid airports – I'd definitely recommend the train through Uzbekistan. It's also much more cost effective; a VIP seat on the train from Tashkent to Samarkand costs around 87,917 som (about £8).
Top tip, though – if you get to choose your seats when booking, avoid the middle of the carriage. The four seats in the centre of the first class carriage face each other, but there's no central table. Really annoying if you buy a coffee, or want to work! All the other seats have fold-down tables so try to book one of those.
When to Go and Weather
The best time to visit Uzbekistan is during spring or autumn (April to June, and September to early November). During these months the temperature is generally warm, and rainfall is typically low. Springtime also means a lot of greenery and colourful flowers, so it's a particularly lovely time to visit.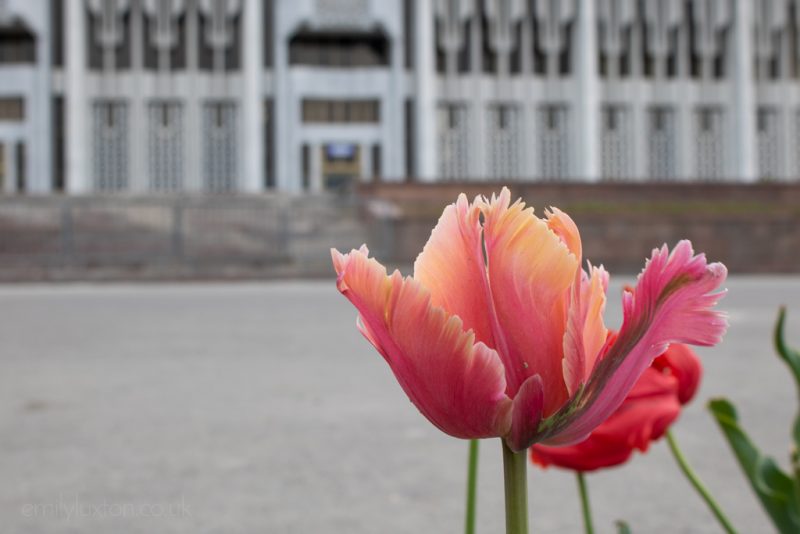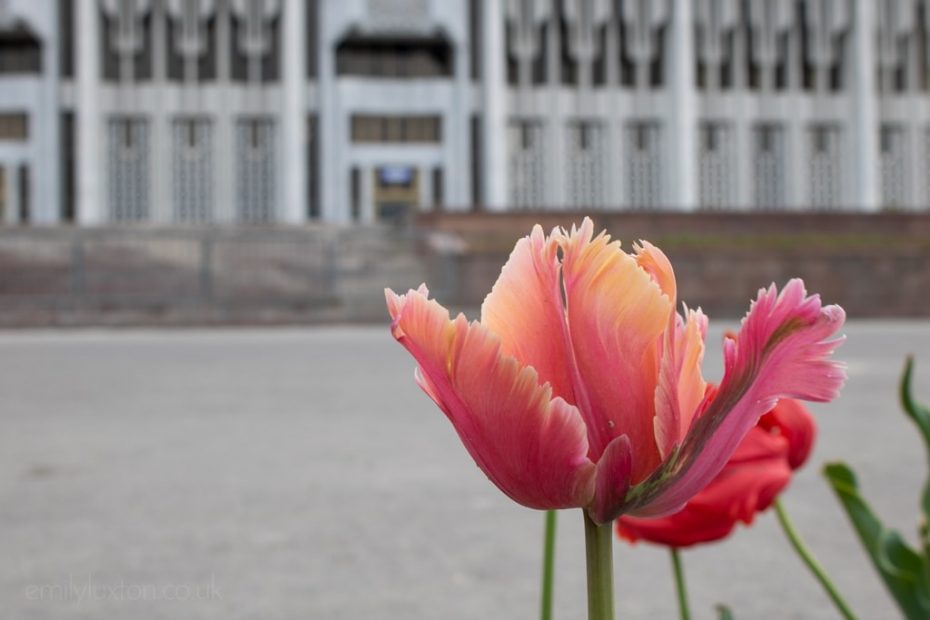 Uzbekistan is a desert region, so summertime gets HOT! In July and August, temperatures can reach up to 40°C, although they generally sit around the mid to high thirties. Likewise, wintertime can be very cold, with temperatures dropping to around 5°C in January. However, December through to February are also the quietest months for travel in Uzbekistan. If you don't mind wrapping up warm, this could be the perfect time to go to have some of the popular sites all to yourself!
March and April are also fairly quiet times for tourism in Uzbekistan, as temperatures are getting warmer but weather is less predictable. Rainfall tends to be a little higher, too. I went in April and we had light rain showers on just one day, the rest of the time was pleasant and warm! So this shoulder season is another good time to visit if you prefer quieter sights and lower prices.
Places to Visit in Uzbekistan
Tashkent
Recommended Days: 2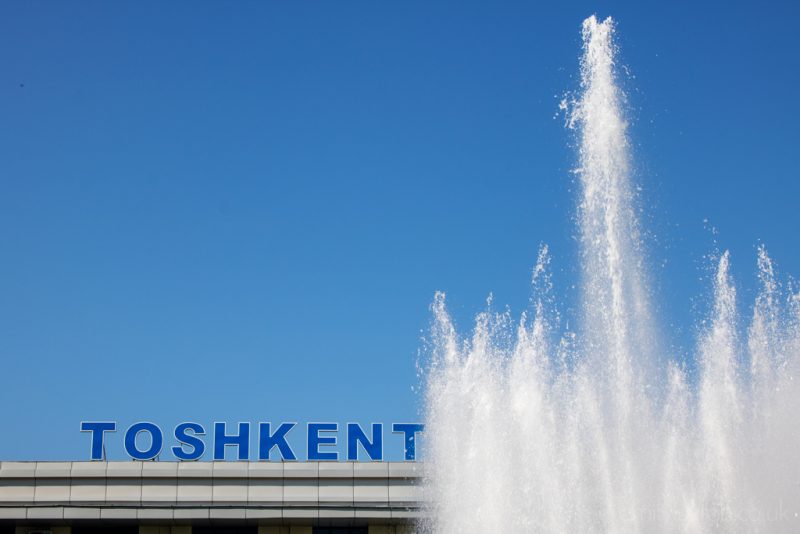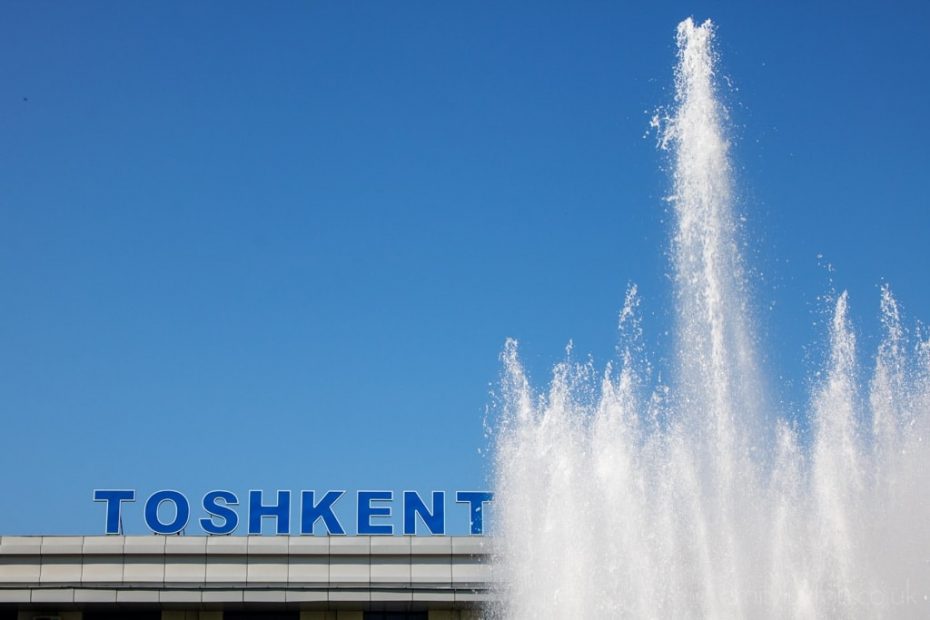 Uzbekistan's capital, Tashkent is usually the first port of call for visitors arriving by plane. It's a modern, leafy city with one of the greenest centres I've ever seen! Seriously – there were parks and flower gardens everywhere, and the wide streets in the new part of the city were lined with
If I'm honest – I found Tashkent a little dull compared with Samarkand, which felt like it had more personality. But if you're looking for clean, contemporary, and comfortable, Tashkent is a dream. Just bear in mind when planning your Uzbekistan travel that it's worth spending less time in Tashkent, and more time in the rest of the country!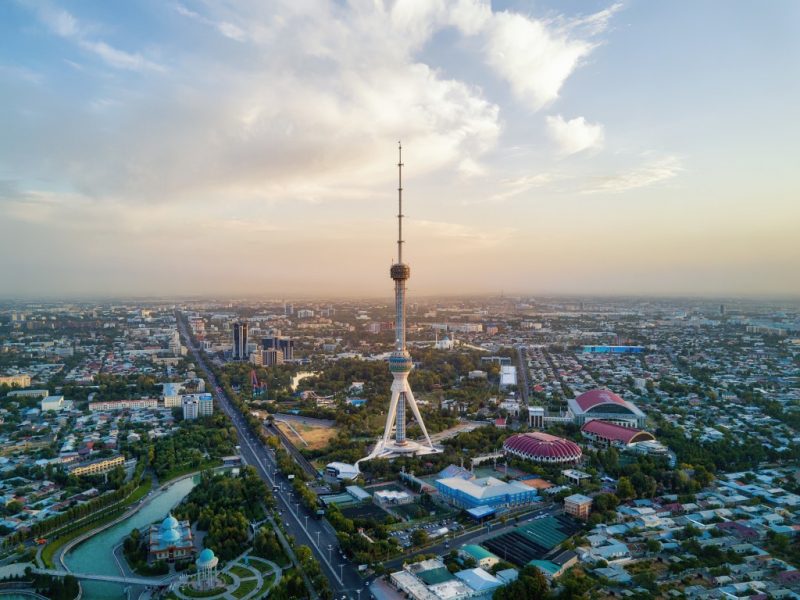 You can climb the TV tower – the tallest in central Asia – for an awesome view, or just eat your way through some of the city's amazing restaurants. If you're looking for culture, I really recommend visiting the Plov Centre and Chorsu Bazaar – perfect places to try traditional food and get a glimpse of everyday life. Plus there are loads of museums and historic buildings where you can get a taste of Tashkent's history and traditions. I've got a whole post on the best things to do in Tashkent, so check that out for more info.
Samarkand
Recommended Days: 3-4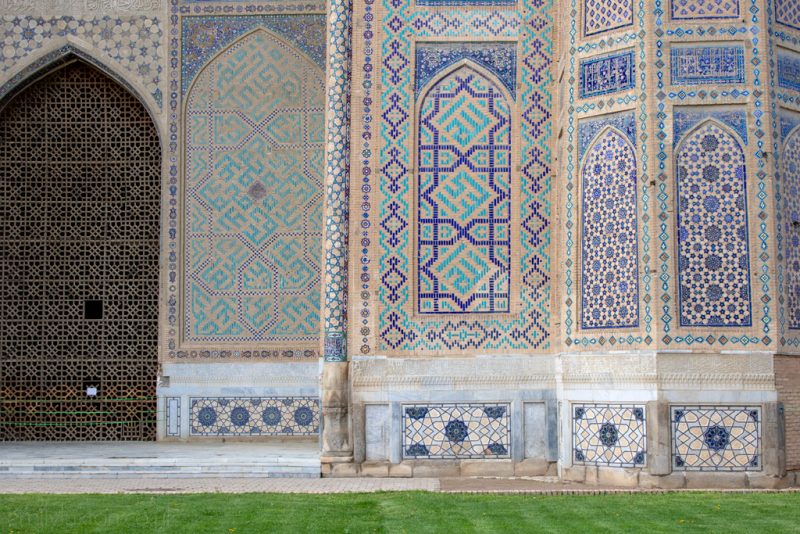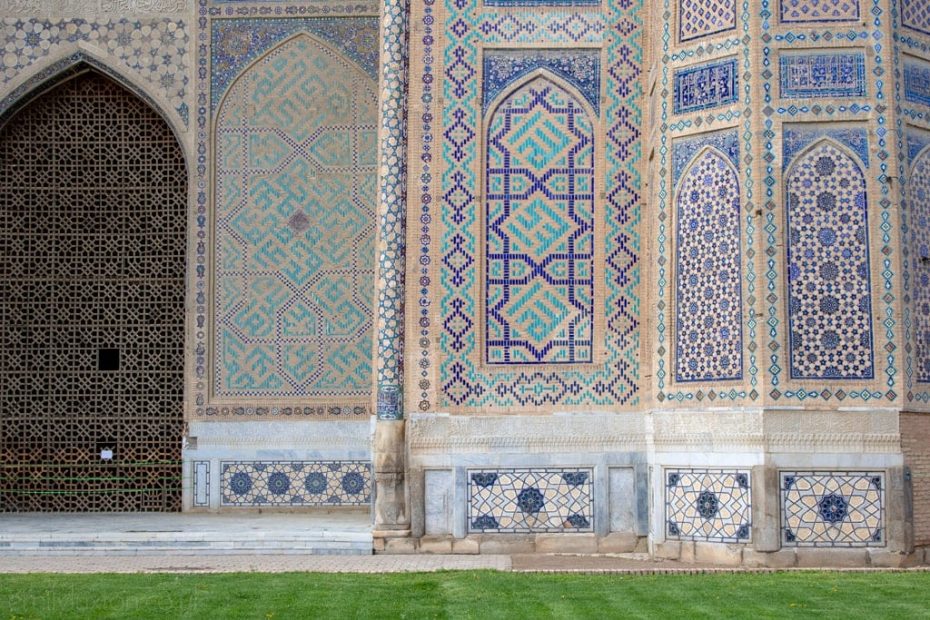 Samarkand is the midway point along the historic Silk Road, so it's very much where East meets West. Historically the crossroads between two world cultures, you can see the different influences that make Samarkand the remarkable city it is today.
I loved the hustle and bustle of Samarkand, as well all the beautiful buildings. If you want stunning architecture, lively markets, and a rich tapestry of culture and history, Samarkand is for you.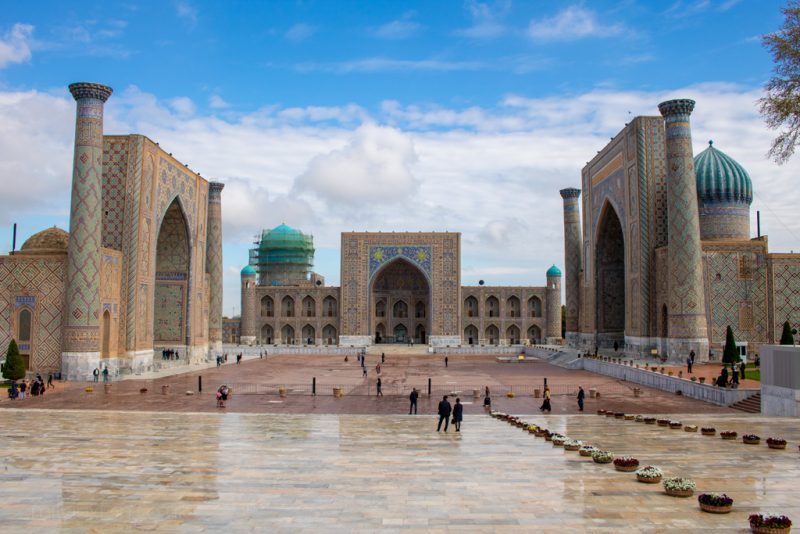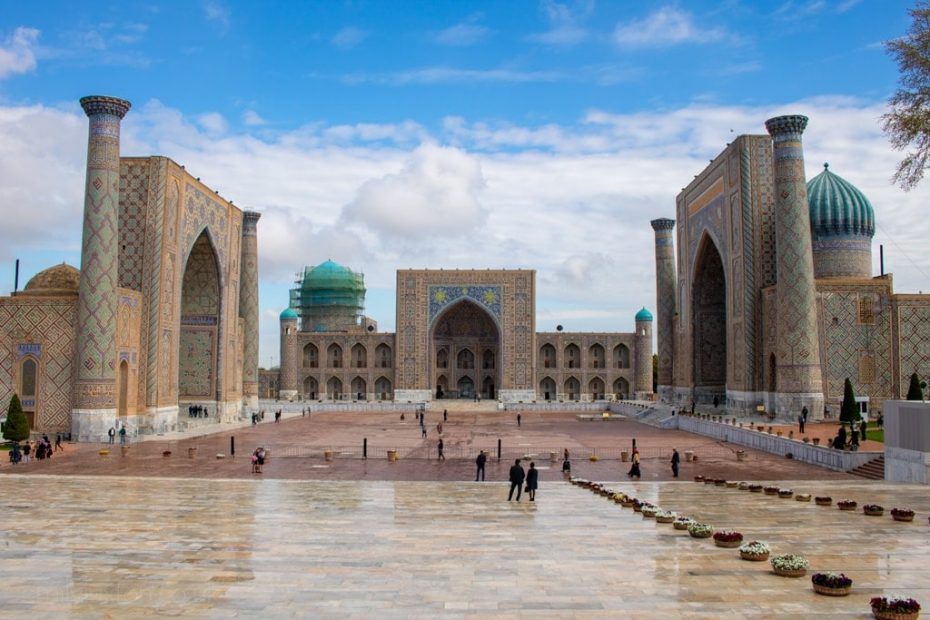 Explore the remarkable Registon Square, a huge marble square with three mosques surrounding it. And don't miss a trip to the nearby Bibi-Khanym Mosque, which was one of my favourite buildings in the city. If you're craving some green spaces, head to Afrasiab, the site where the original city once stood before it was raised to the ground by Ghengis Khan. Finally head to Samarkand Bhukara Silk Carpets to take a tour of the factory and watch hand-made carpets being created.
RELATED TOUR: One Day Crossroad of Cultures Tour in Samarkand, on Viator.
Bhukara
Recommended Days: 2-3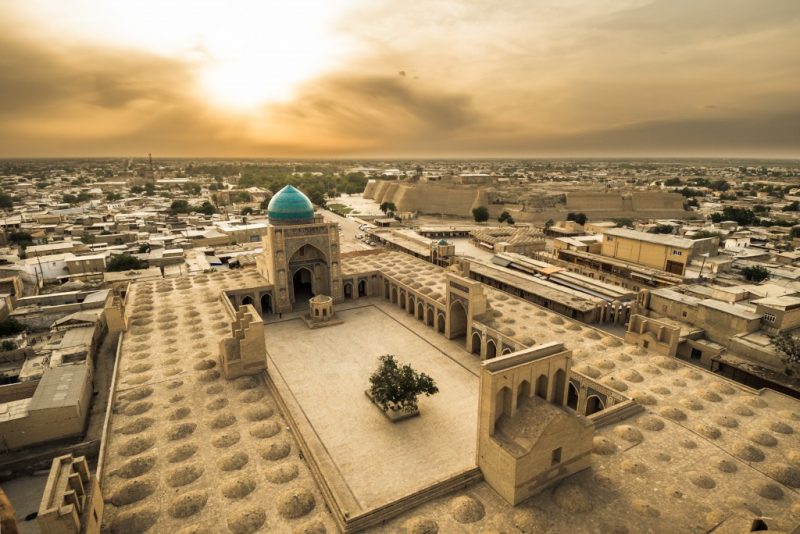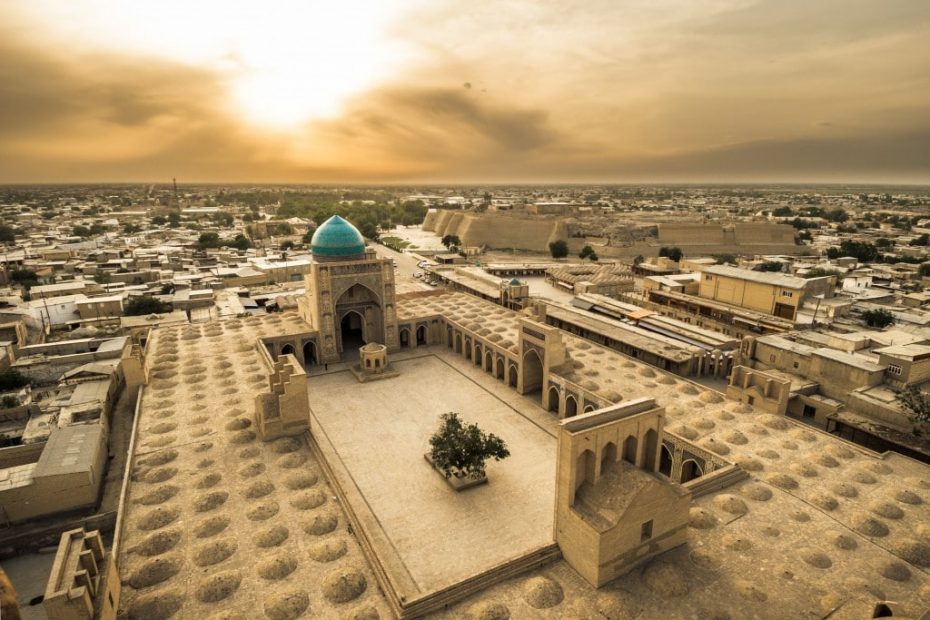 Just down the road from Samarkand is the city of Bhukara, another prominent stop along the Silk Road. At over 2,000 years old the city is the "most complete example of a medieval city in Central Asia" according to UNESCO. Sadly, I didn't make it there this time around, but several travellers I spoke to have sung its praises!
Start by exploring the incredible historic buildings, such as mausoleum of Ismail Samani, which is considered a masterpiece of 10th century Muslim architecture. And there's the Kalon Minaret. At 47m high this carved minaret was probably the tallest building in Central Asia when it was built in 1127!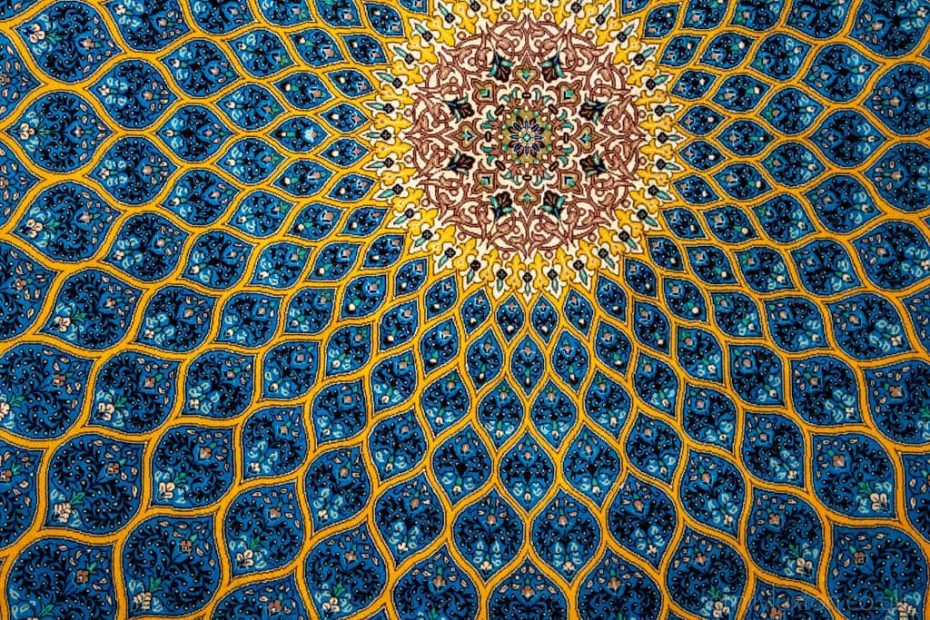 Bukhara's oldest structure is the Ark, which dates from the 5th century and was the residence of the emirs of Bukhara right up until 1920. If you're looking for stunning architecture and tons of history, Bukhara is the place for you. Read more in this fab blog post I found about Bukhara by Annees de Pelerinage.
RELATED TOUR: Two Day City Tour in Bukhara, from Viator
Khiva
Recommended Days: 2-3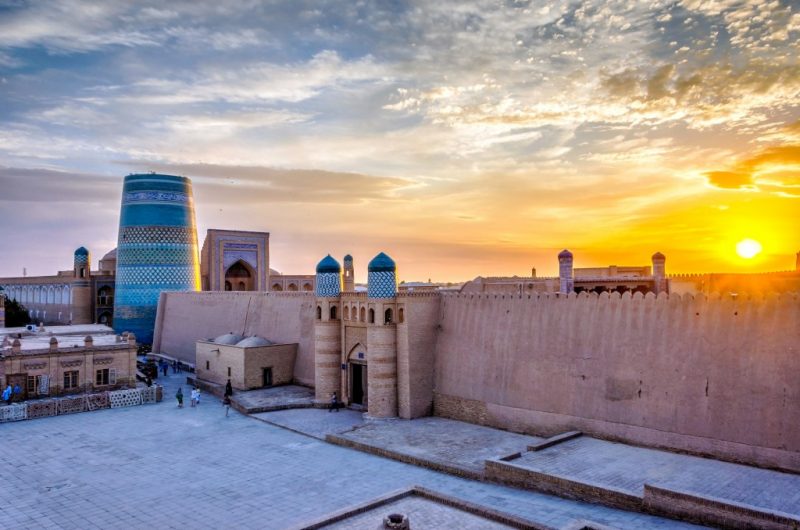 Khiva is top of my wish-list for my return visit to Uzbekistan! It's a beautiful city, and yet another vital silk-road hotspot. Right up in the north-west of the country, it used to be pretty hard to reach. But you can now take a high-speed train to Khiva from Bukhara in just under 6 hours.
Khiva is a small, walled city with labyrinthine alleyways and dazzling turquoise-domed mosques. Highlights here include the Kunya Ark, the Pahlavon Mahmoud Mausoleum, and the 10th century Juma Mosque. Since I didn't go myself, check out this fab blog post all about Khiva by The Sandy Feet.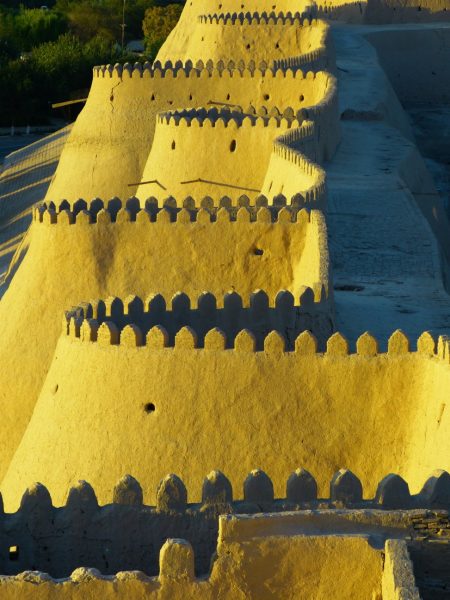 Fun Things to do in Uzbekistan if you Have More Time
I've done a bit of research into some other fun things to do in Uzbekistan, because I'm already planning my return trip! I'll add to this section as I find out more, because there are loads of amazing things to see and do in this gorgeous country…
Camp in a Desert Yurt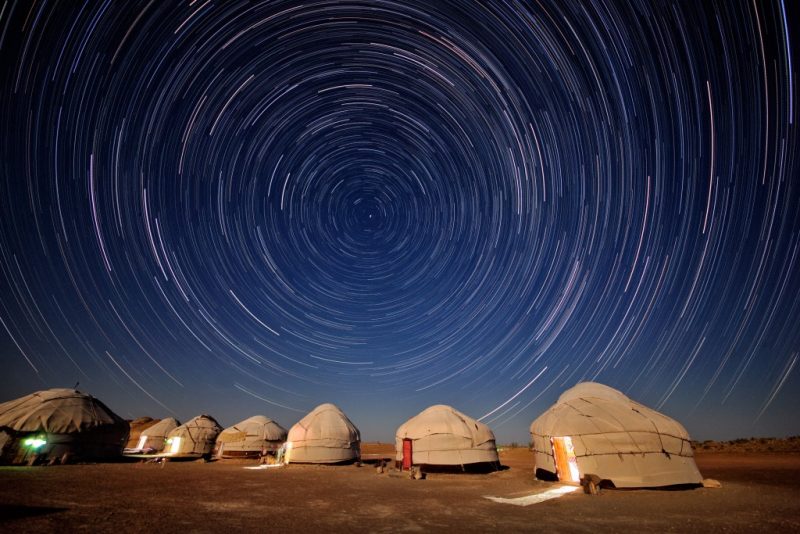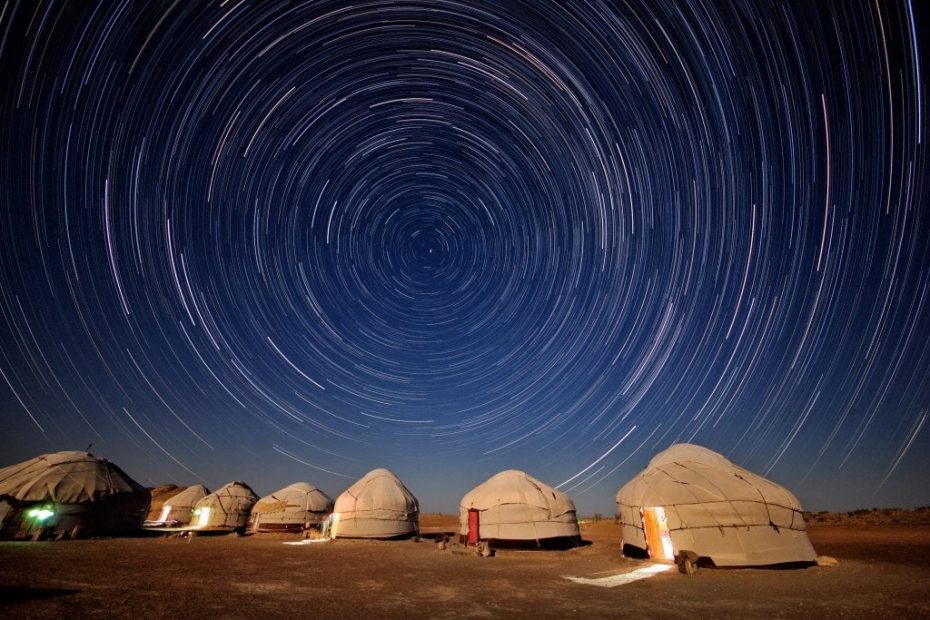 For a true insight into the historic, nomadic culture of Central Asia's tribes, try camping in a desert yurt. Stay at a traditional campsite in the desert, ride a camel, or hike around the dunes. After dark, listen to traditional music around a campfire and watch the stars. Sounds like my perfect trip!
RELATED TOUR: 2 Days Desert Yurt Camp Tour from Viator, starting from £121.61
Visit the Aral Sea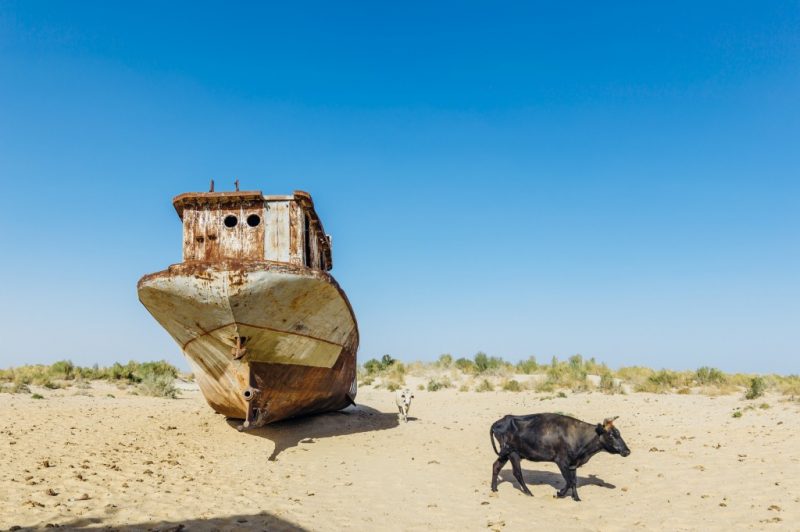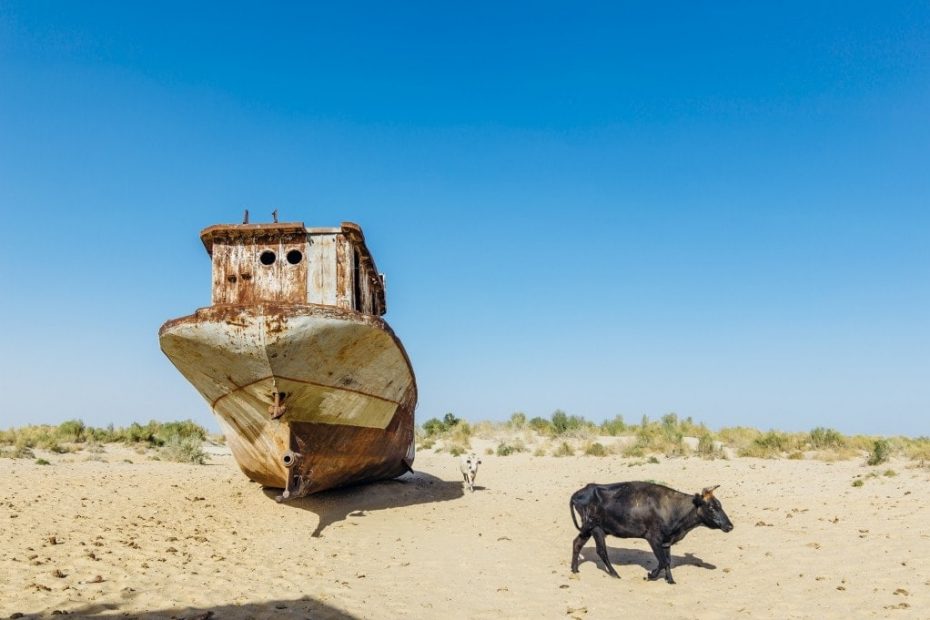 The Aral Sea was once the fourth-largest inland sea. Now, it's a giant desert bed full of rusting ships. What happened? In the 1960s the Soviet Union diverted water from two of the region's major rivers to help irrigate their cotton crops. Although the project made the desert bloom, it also caused the Aral Sea to dry up. Today, there's almost nothing left – and the rusting skeletons of abandoned fishing ships litter the eerie desert landscape. 
This might all sound like a fairly macabre reason to visit, but the bleak landscape is a hauntingly beautiful one. You can also try traditional homestays, yurt camping, and trekking in the area. More importantly, with the fishing industry gone the region could really use a tourism boost.
Explore the Mountains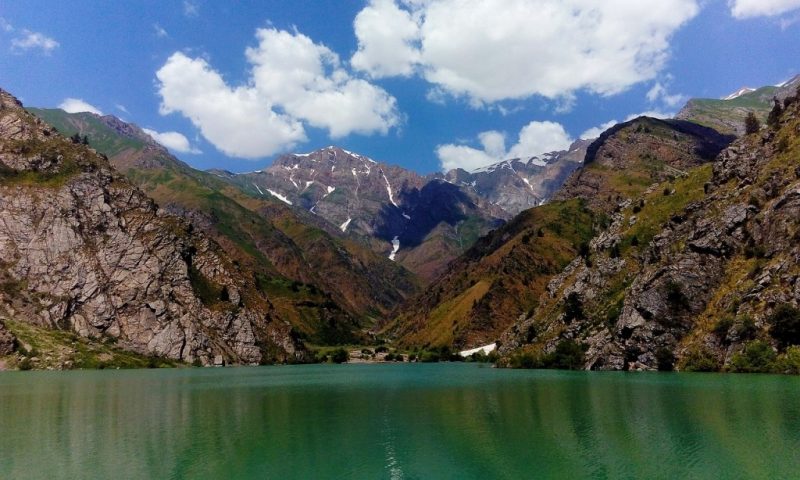 Uzbekistan really has it all! Once you're done exploring historic cities and arid deserts, head to the hills for another total change of pace. You can visit small mountain villages to see a more rural side of Uzbek culture, or take on a trekking challenge like this 3-day trek tour in the Western Tian Shan Mountains. Yet another incredible addition to the long list of things to do in Uzbekistan! 
What to Eat and Drink
As I always love to say, if you want to understand a country, you have to eat its food. As much as possible! Luckily, Uzbekistan has a really amazing cuisine so exploring it is great fun. I've put together a separate post on the best things to eat in Uzbekistan, so check that out for more info. In the meantime, here's a check-list of the must-try dishes.
Plov – a rice dish with raisins and meat in a light broth-style sauce, which comes in up to 35 different varieties. It's the most common dish in Uzbekistan and a must-try, but be warned, it's pretty heavy! Best eaten for lunch or even breakfast, as the locals do, rather than dinner.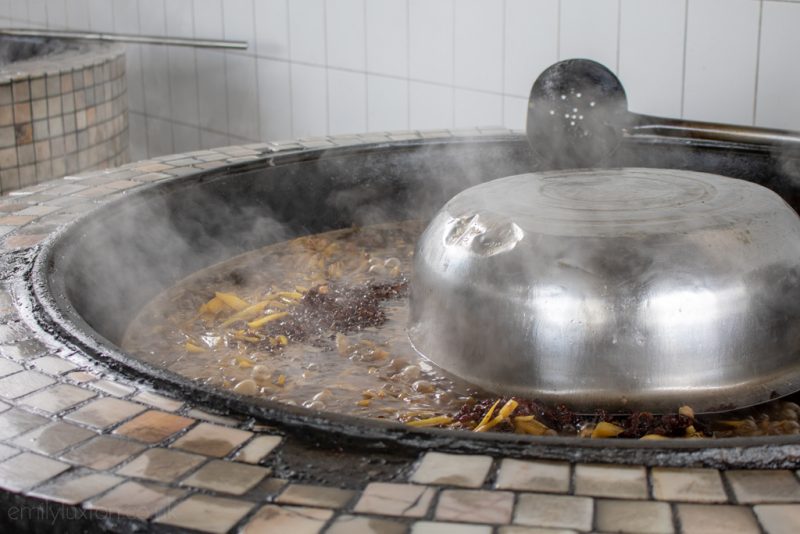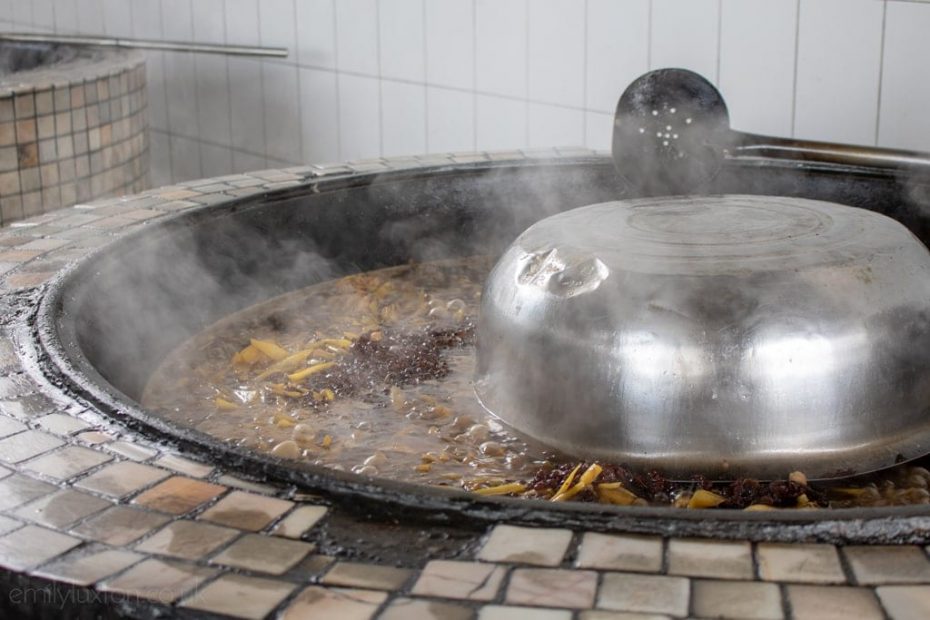 Somsa – pastry filled with meat and potato, or vegetables and/or cheese. Very similar to a Cornish pasty!
Shurpa Soup – a light broth with potatoes, lamb, and vegetables.
Manti – steamed dumplings, similar to momos or dim sum.
Lagman – noodles with meat and veg, either served in a light broth, or a thick, sticky sauce.
Kazan Kebab – meat cooked on a kazan (a cast iron casserole) then fried.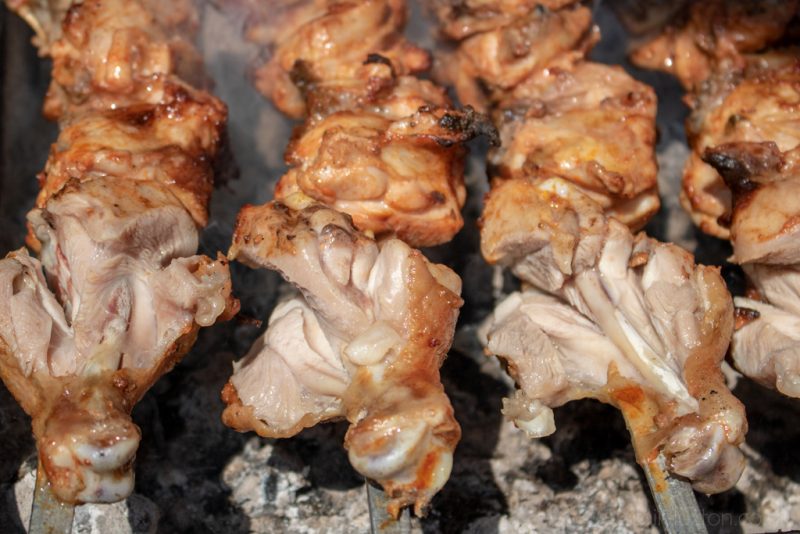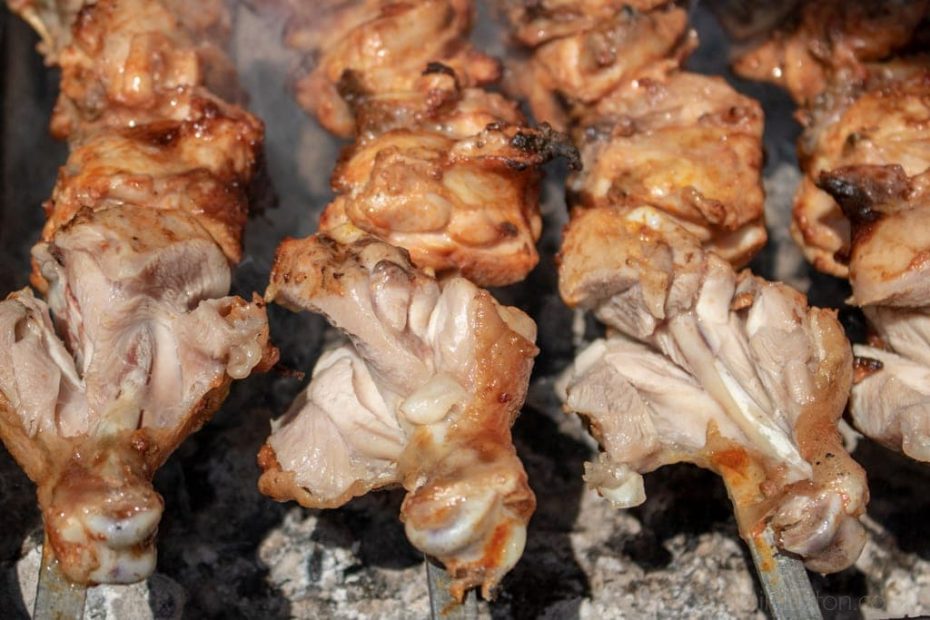 Sheesh Kebab – skewered meat and/or vegetables grilled, usually over an open flame.
Bread – Uzbekistan bread, called non, is absolutely amazing! It's round with a flat middle to create a sort of squashed doughnut shape, and is baked in a tandyr (clay oven). I ate it about three times a day – couldn't get enough!
Is Uzbekistan Safe for Solo Travellers?
Before my Uzbekistan travel, I was a little nervous. I had no idea what to expect, from what I should wear to what the weather would be like. Is Uzbekistan safe? I had absolutely no idea!
But my nerves were totally misplaced. In my experience, Uzbekistan is a really modern and progressive country, and it felt completely safe to me. Granted, I was mostly in a group, but I did have a few solo adventures (like my morning exploring the Tashkent metro station). I never felt threatened, and I found all the people I met to be super welcoming. Hospitality is really important to Uzbeks so they'll always show a warm welcome to tourists. I will 100% be returning and would happily visit as a solo traveller.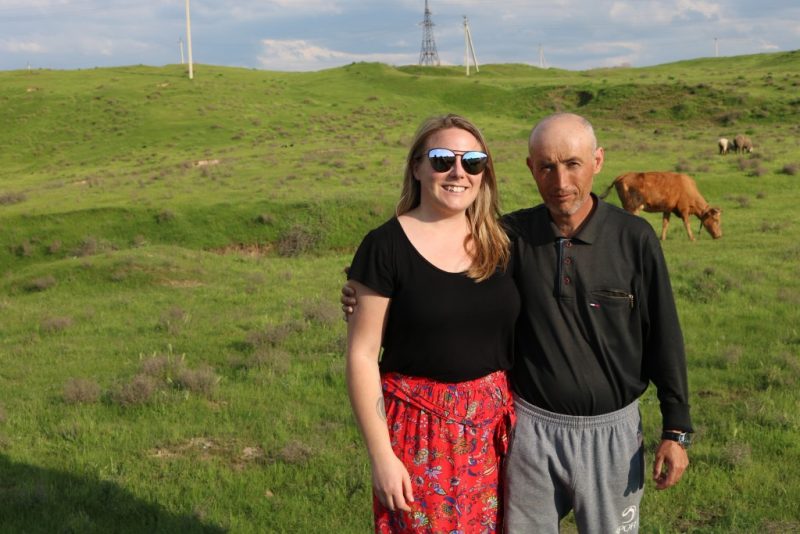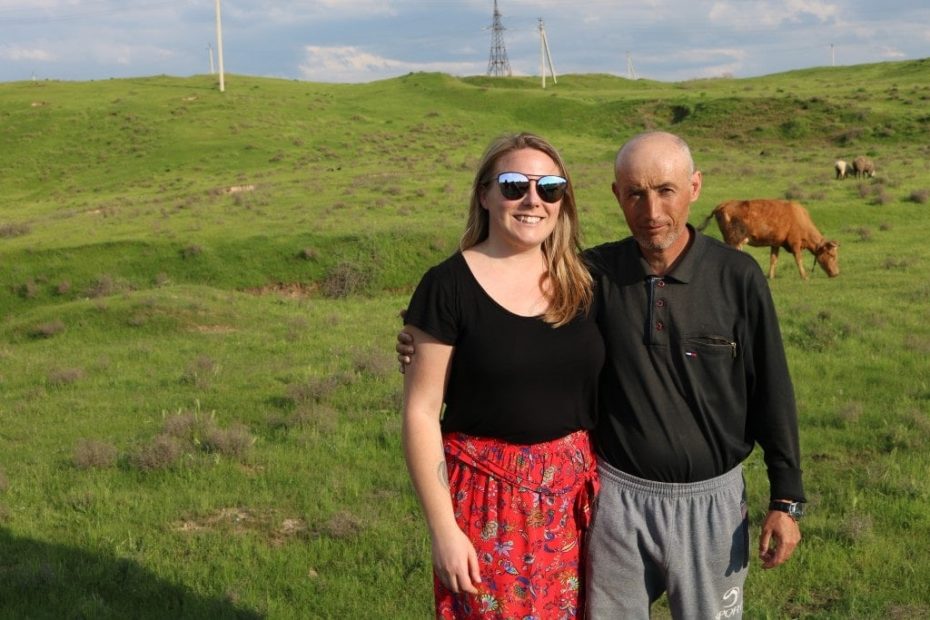 Again, this is all my opinion, so I've also checked the stats and advice on the Uzbekistan page of the UK Government's official travel site. They say that while certain border areas are best avoided, most of the country is relatively trouble-free for tourists and the political situation in Uzbekistan is currently stable. Always check the latest info with your government before you travel, though!
What to Wear in Uzbekistan
Uzbekistan is a traditionally Islamic country, but according to my guide only about 30% of those who identify as muslim are actually practising muslims. While some still favour traditional dress and modest clothing, the country is pretty open-minded, and many locals dress in a much more western fashion than I was expecting. I never felt out-of-place for anything I was wearing, but I did make sure to show respect when visiting religious sites by covering up a little.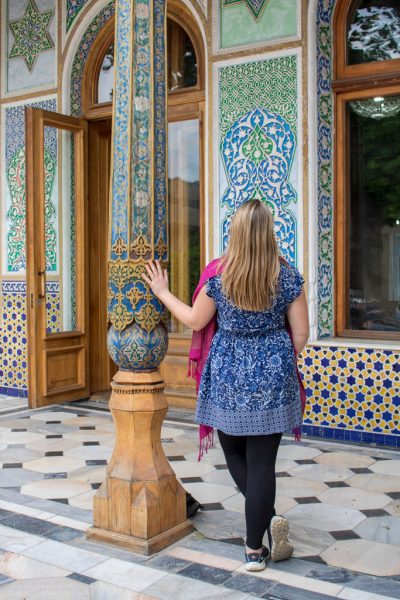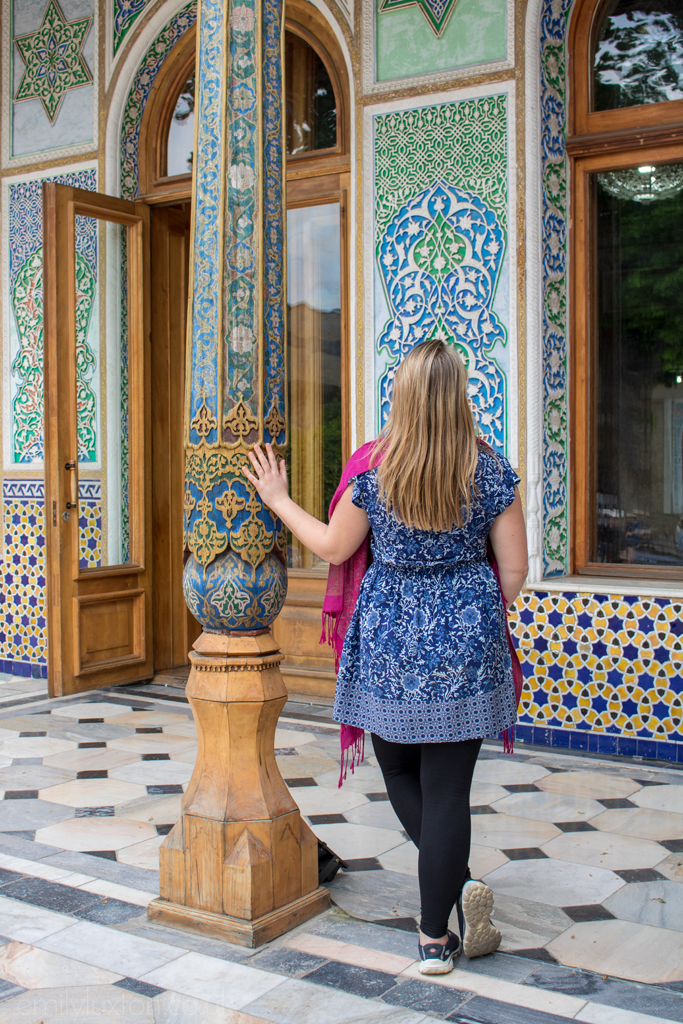 It was spring when I visited, so not too hot or cold. Just lovely and warm, with the odd rain shower! I mostly wore dresses (cut above the knee) with ankle-length leggings and a scarf. I always had my shoulders covered, and used a scarf to cover my head when appropriate. Maxi skirts or long harem-style trousers are also perfect. My advice is to avoid tight-fitting stuff like yoga pants, and low-cut tops, if you don't want to attract too much attention. But it certainly didn't feel like I needed to restrict my normal dress sense!
Take comfy shoes for walking – I swear by my Skechers GoWalk sneakers – and hiking boots if you plan to hit the countryside.
Double-check the weather for your trip, and take a light rain jacket if it looks like it might rain – especially if you're travelling in March/April. I love the North Face Sangro jacket which can fit at the bottom of a bag nicely, and keeps the wind off well too.
Winter can be really cold, I'm told, so dress appropriately if you're travelling between October and March.
Other Useful Info (and FAQ Answers)
Tipping in Uzbekistan. A reader got in touch via email to ask "do you need to tip in Uzbekistan?" and how much etc. I checked in with the British tourism ambassador for Uzbekistan to find out. She told me that tipping isn't expected in Uzbek culture, but it is always appreciated in restaurants etc. So just use your best judgement!
Read More
Check out the rest of my posts about Uzbekistan travel if you want to learn more…
Travelling Uzbekistan – A Glimpse of Central Asia
A Cowboy, a Shepherd, and a Proposal in Samarkand
So, that's the end of my Uzbekistan travel guide. If you're planning a trip yourself and have any questions at all, feel free to reach out in the comments below. I'm always happy to help!
Pin This Post: