Some posts on this site contain affiliate links. If you book or buy something through these links, I earn a small commission (at no extra cost to you). Take a look at my privacy policy for more information.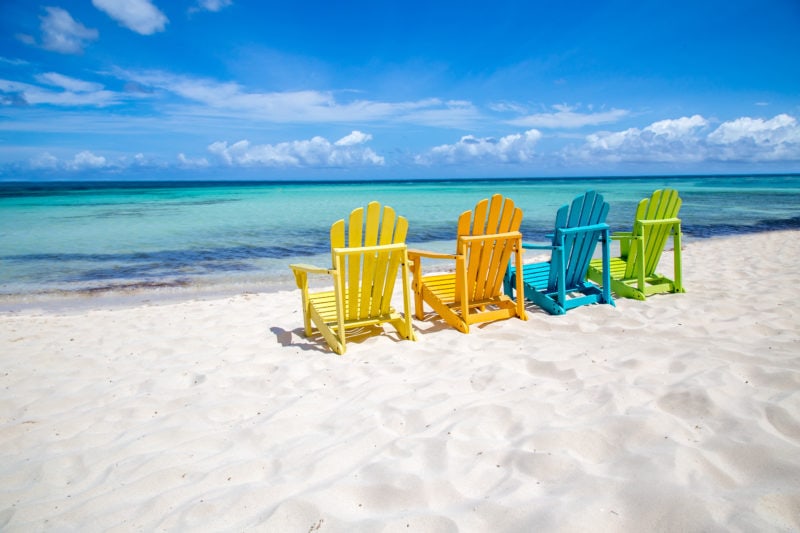 Add some adventurous thrills and unique twists to your Aruba holiday with these fab, fun things to do.
Aruba is the perfect Caribbean island for those who, like me, get a little bored of only lazing on beaches!
Don't get me wrong: there are PLENTY of gorgeous, white sandy beaches to laze on. If you want to chill out in the sunshine all day, you absolutely can. Especially since Aruba gets less rainfall and more sunny days than any other Caribbean island – sitting outside the hurricane belt and offering year-round sunshine.
But if you like to mix things up on holiday then Aruba is ideal. For a small island, there's a lot to do here – and quite a few different landscapes. The desert-like, cactus-strewn interior of the island feels like the setting for a Wild West film (perfect for adventure), while around the edge of the island you'll find everything from white sand beaches to wild and windswept rocky coastline.
Adventure lovers will find no shortage of fun things to do in Aruba. And if you prefer a gentler pace, there's everything from yoga and meditation to luxurious beach picnics. So if sitting still isn't really your thing – you're in luck!
READ MORE: 10 Reasons to Visit Aruba
My trip to Aruba was supported by the tourist board, but all words and opinions are my own!
Unique and Fun Things to do in Aruba
Leave the beach behind and set out on one of these awesome Aruban adventures…
1. Experience a Rollercoaster Jeep Safari!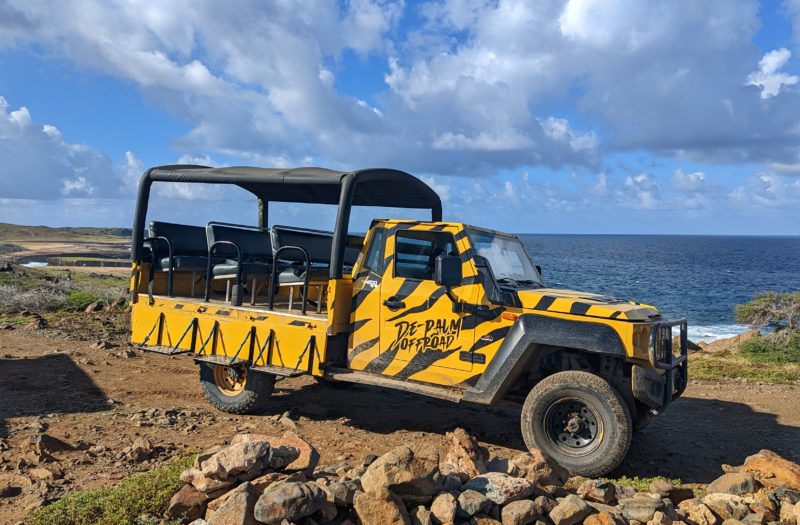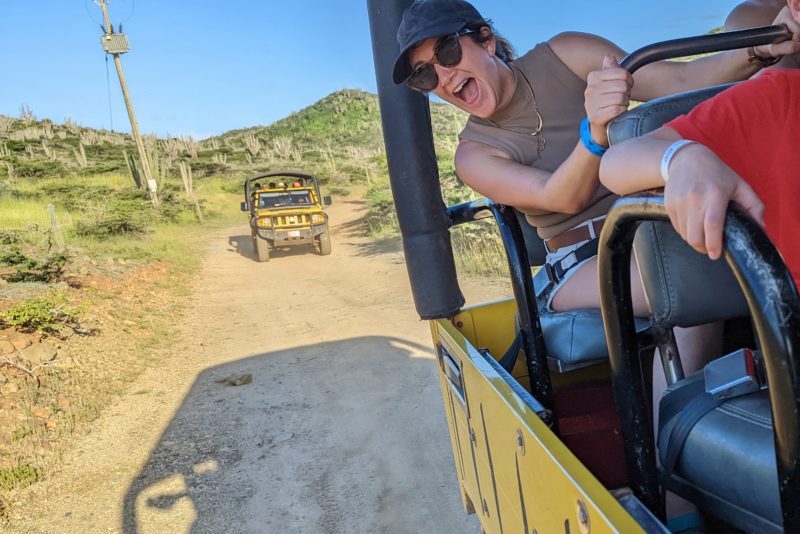 Hop aboard a bright yellow safari jeep for a seriously fun adventure exploring Aruba's incredible landscapes with De Palm Tours. This was one of my favourite activities in Aruba – such a fun and thrilling way to discover the island.
I took the Off-Road Natural Pool Safari: a 4.5 hour tour which takes you to some of the top attractions in Aruba. The guides were a lot of fun (and amazing drivers), and I loved the experience of bouncing over bumpy dirt roads with the wind in our hair. Flying up and down the hills of the National Park felt like a rollercoaster!
CLICK HERE to check prices and availability for this tour!
2. Take a Snorkelling and Sailing Trip
Hands down, one of the best things you can do in Aruba is to pop on a snorkel and experience the marine life within the island's crystal-clear waters!
I was hoping to take the 3-hour Boat Trip with Snorkelling and Open Bar with De Palm Tours, but unfortunately had to cancel as there simply wasn't time to do everything! However, I have experience with De Palm Tours and know they're a fantastic company – and I did get a chance to snorkel elsewhere in Aruba.
This snorkelling and sailing trip is one of the most popular tours on the island. It includes an open bar and looks like a lot of fun – but if you don't fancy a party atmosphere there are other options available too!
3. Go Kayaking in Crystal Clear Waters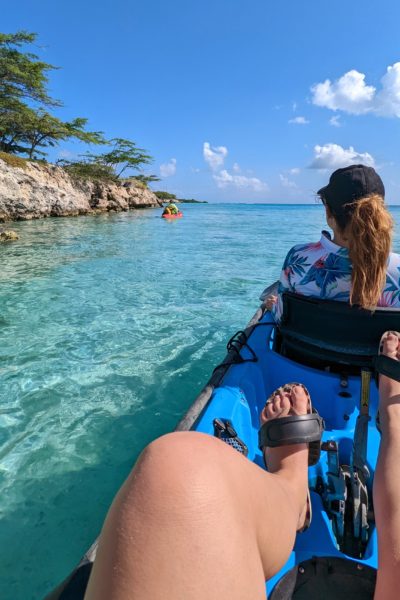 Thankfully, I did get a chance to go snorkelling in Aruba's dazzlingly clear waters – on a fantastic kayaking tour with RJ from Aruba Outdoor Adventures.
These were pedal kayaks, so there's no paddling involved: you do all the work with your legs instead! It felt much easier than paddle kayaking, but still nicely active – the perfect relaxed exercise for a holiday!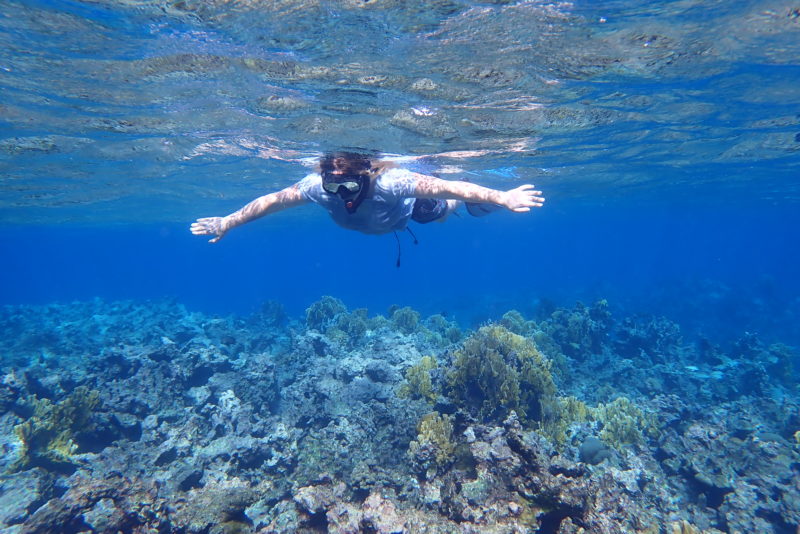 There are quite a few kayaking tours to choose from. You can explore the mangrove trees around the Spanish Lagoon, paddle out to remote beaches, and visit a sunken boat. We paddled out to the Reef Barrier at the Spanish Lagoon, one of the best snorkelling spots in Aruba. It was an amazing experience, spotting marine life amongst the colourful coral. We even spotted a lionfish and a huge lobster hiding amongst the rocks.
4. Enjoy a Luxurious Beach Picnic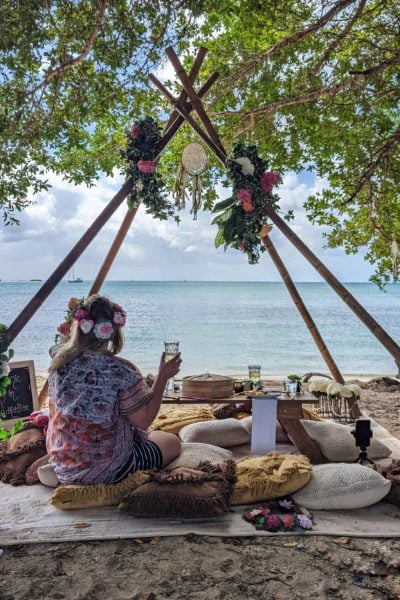 If you want an extra-special treat for your trip to Aruba, you HAVE to book a beach picnic with Picnic Aruba. They set up luxurious, boho-chic picnics on the sand, with beautifully decorated wooden teepees covered in flowers and dreamcatchers.
This was one of those experiences where the reality is actually as good as it looks on social media! The setup may be pure photoshoot heaven (you'll struggle to put your camera down!) but the food and setting are fantastic too. All the thoughtful details – like a Bluetooth speaker and personalised welcome sign – make for a really amazing experience.
I highly recommend upgrading the experience to include a bottle of bubbly or some cocktails for the ultimate treat!
Click here to watch a video of my experience.
5. Visit Arikok National Park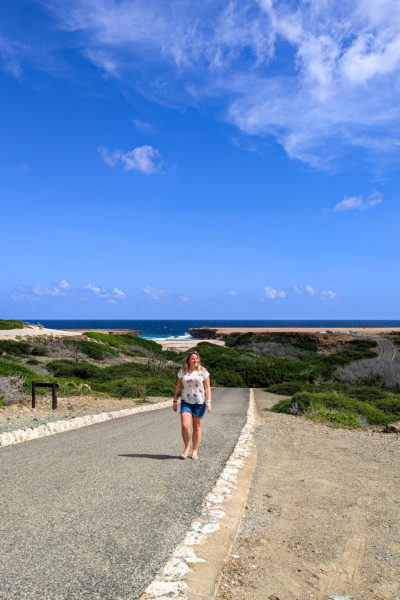 Aruba's incredible nature was different to any other Caribbean island I've been to before. It felt more arid and almost desert-like in places, especially in the Arikok National Park, which covers around 20% of the island.
The rolling, sandy hills here are covered in cacti – mainly tall candelabra cactus plants, but also aloe, ball cactus and other succulents. Although it looks like quite an unfriendly landscape at first glance, it's a very beautiful one – and home to lots of wildlife, including birds, lizards and the endemic Aruba rattlesnake.
Day tickets for non-residents cost just $11 USD (which goes towards the conservation of the park). There's a lot to discover inside here: caves, dramatic coast and unusual rock formations. I recommend booking one of the organized tours run by the park rangers for the best experience!
6. Explore Aruba's Dramatic Caves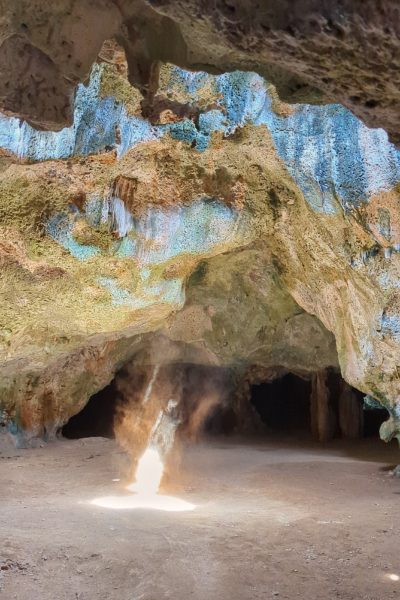 Did you know most of Aruba was once under the sea, until a volcanic eruption forced the island above water millions of years ago? Traces of this underwater past can be witnessed in the form of coral fossils along the rocky coastline and within the limestone caves of the National Park.
The two most famous caves here are Quadirikiri Cave and Fontein Cave. In Fontein Cave, you can see rock drawings left behind by Aruba's indigenous peoples. Inside Quadirikiri Cave, the rocky chambers are lit by shafts of light which fall through holes in the roof, catching on the swirling dust. It's also home to huge colonies of harmless fruit bats.
7. Try Meditation on a Butterfly Farm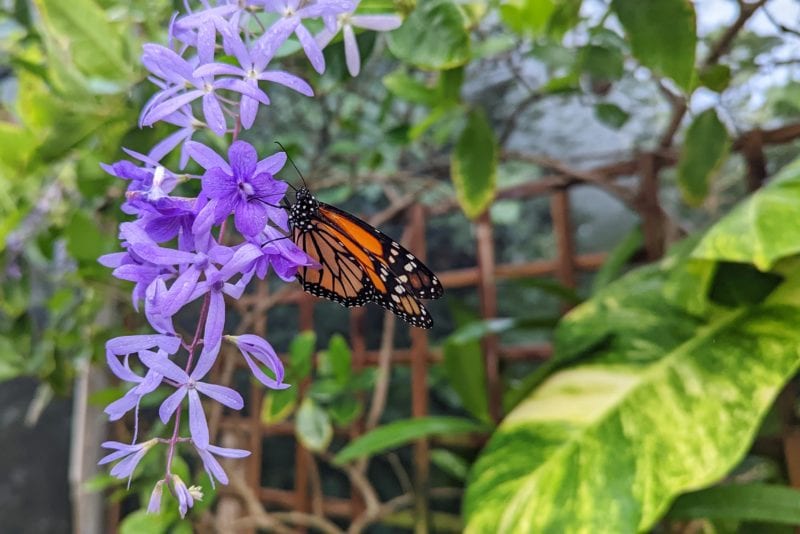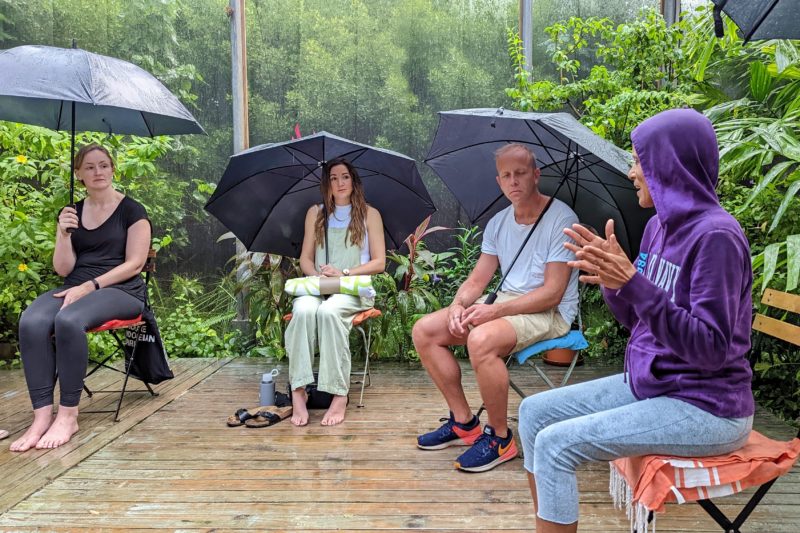 For something a little different, try a meditation session and mindfulness walk on a butterfly farm. This is definitely one of the most unique things to do in Aruba!
The session is run every Wednesday morning by Shanti, a local yoga and meditation teacher, and is such a calming way to start the day. You'll start with a guided meditation in the garden, surrounded by tropical plants and flitting butterflies, then take a meditation walk alone through the gardens. A great way to connect with nature and find your inner zen.
If you don't make it to the session (or you feel zen enough already after lazing on Aruba's beautiful beaches) the Aruba Butterfly Farm is still well worth a visit.
8. Discover the Colourful Street Art in San Nicolas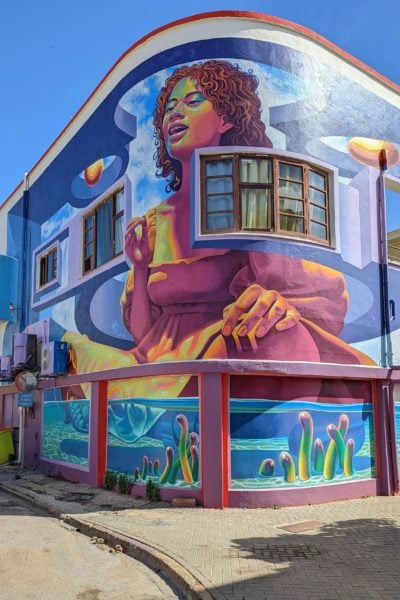 Aruba's second-largest town, San Nicholas, is perhaps less well-known than the colourful capital of Oranjestad, but it's definitely worth visiting. A quiet coastal town on the southern tip of the island, San Nicolas feels like a more "authentic" side of Aruba compared to the resorts around Palm Beach.
But the main reason to visit is for the San Nicolas Art Murals. The streets of the downtown area are covered with colourful murals and unique street art created by both local and international artists – all organised by the annual Aruba Art Fair.
9. Find your Balance with SUP Yoga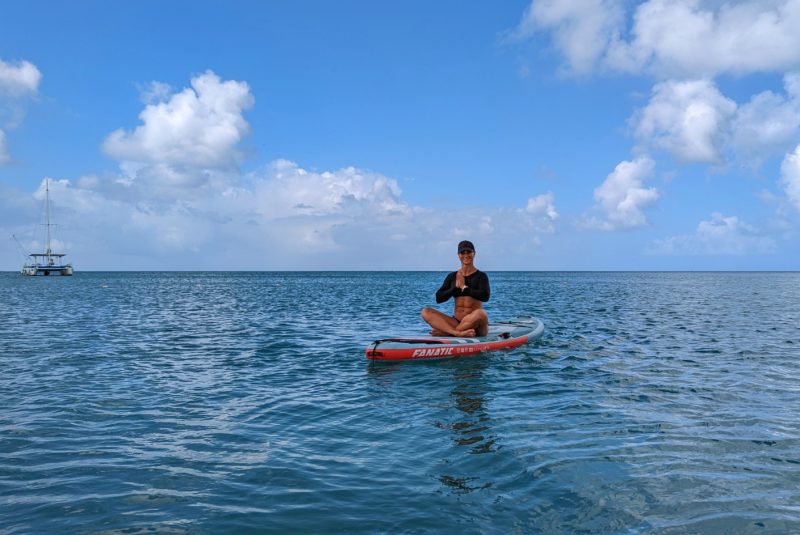 The calm, warm seas around Aruba's gorgeous beaches are ideal for paddleboarding! They're also the perfect place to try out paddleboard yoga – especially because you won't mind falling off!
We took a SUP Yoga class with Vela Aruba, a watersports shop right on the beach near the Ritz Carlton resort. Practising yoga poses while balancing on the board adds a really unique twist to the session – and the ocean is the ultimate serene setting. I loved attempting my wobbly downward dog whilst being watched by a couple of curious pelicans, surrounded by the sounds of the ocean!
10. Go Mountain Biking in a Cactus Forest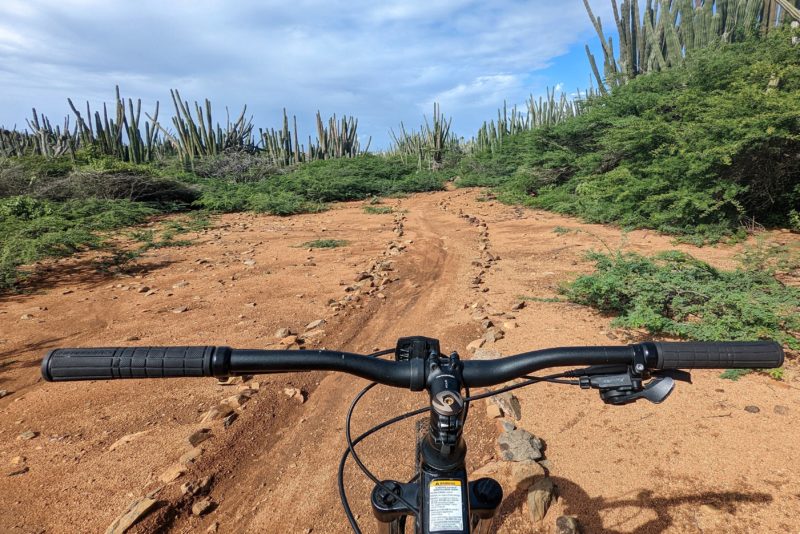 If you're in the mood for a land-based adventure, hop on a mountain bike and explore some of the island's incredible trails. Cycle through cactus forests and along the rugged coastline in search of epic views!
We took a mountain biking tour with Aruba Active Vacations. I'd say this is probably better suited to more experienced riders. The trails aren't too hilly, but they are dirt tracks and can be rocky in places. If you're not great at off-road biking, you may prefer to stick to the roads or coast paths.
However, your guide should be able to tailor things to your abilities, and the off-road trails offer a great chance to get up close to Aruba's cactus-studded landscapes. Just watch out for the thorns – my legs looked a little worse for wear once I'd finished!
11. Swim in a Natural Pool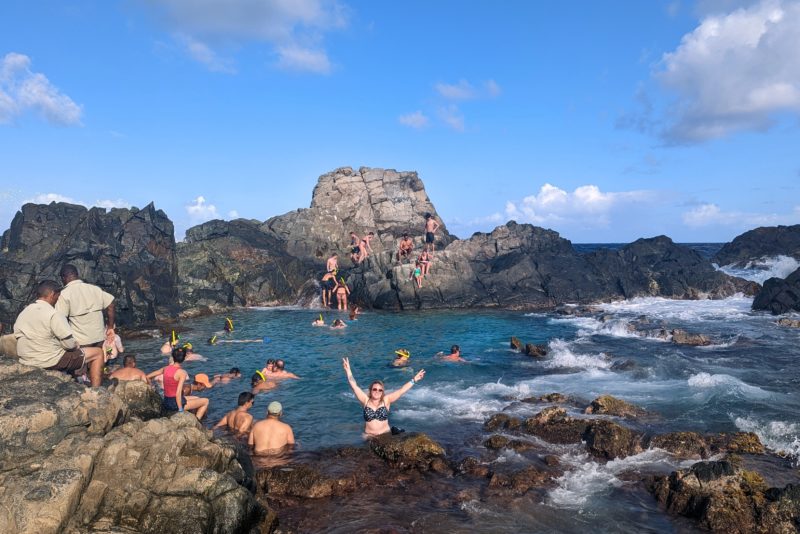 Aruba has many gorgeous white sandy beaches and sheltered, warm bays for swimming. But for a really unique swimming experience, you need to head to the Conchi Natural Pool.
Off the rugged, rocky coast of the Arikok National Park, this remote spot features a small depression which is encircled by volcanic stone. These huge boulders keep out the rough sea, creating a sheltered natural pool where you can swim while watching huge waves crash against the nearby rocks!
12. Master a Watersport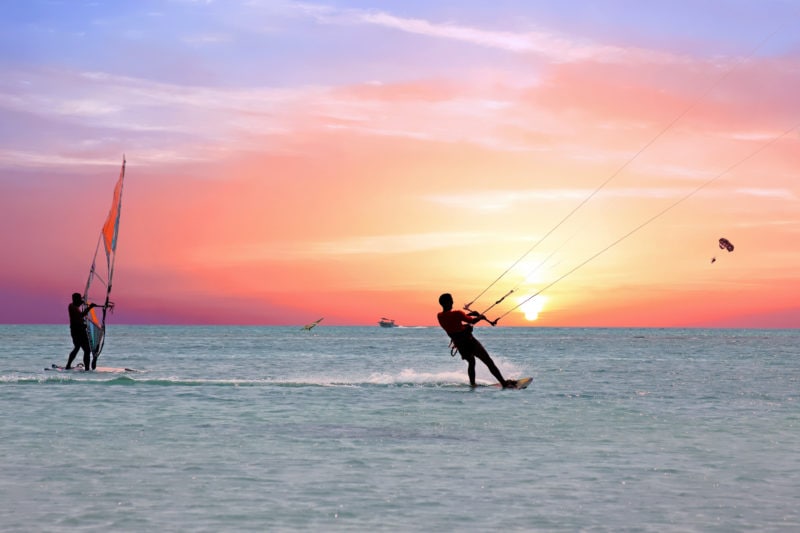 The reliable trade winds that once made Aruba so appealing to colonists now make the island an ideal location for watersports. I've already mentioned kayaking, paddleboarding and snorkelling – but there are even more thrilling sports for ocean lovers to try.
You could learn windsurfing, kitesurfing, wing foiling, or sailing while on your holiday in Aruba. Already mastered one of these? Rent equipment and hit the waves! Vela Sports Aruba and Aruba Active Vacations offer both lessons and rentals.
13. Explore Aruba on Horseback
While we were exploring the island on our epic jeep tour, I spotted a few horseriding groups. This would be such a fun way to discover Aruba – especially because those cactus-filled landscapes look like something out of a Wild West movie! Ride through the incredible countryside or along the beaches with the wind in your hair for a true taste of adventure.
14. Try an Off-Road UTV Adventure
These UTV tours are one of the most popular adventure activities in Aruba. I saw tons of them while I was on my trip and it looked like a lot of fun. But I also saw a lot of signs asking people not to drive on the dunes, and I know that UTVs can be bad for the environment, so book with care. The tourism board have said they're trying to get the routes regulated in order to prevent damage to the coastal ecosystem.
15. Relax with a Spa Day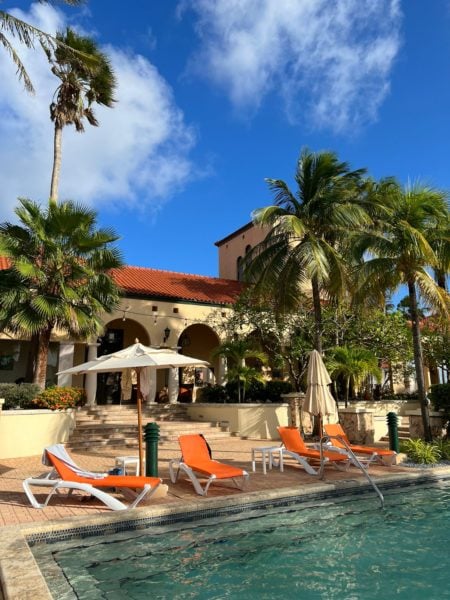 Once you've tired yourself out with all these fantastic Aruban adventures, it's time to unwind! Book a day pass for the spa and pool at Tierra del Sol Resort and Golf Club and get ready to relax. You're on holiday, after all!
We visited for a massage, a quick sauna session, and lunch on our last day in Aruba. I wish we could have stayed the whole day! The spa is small but well-equipped, and they have a few different package options available. It's a great way to add a little hit of luxury to your holiday if you're not staying in one of the high-end resorts.
Where to Stay in Aruba
Boardwalk Boutique Hotel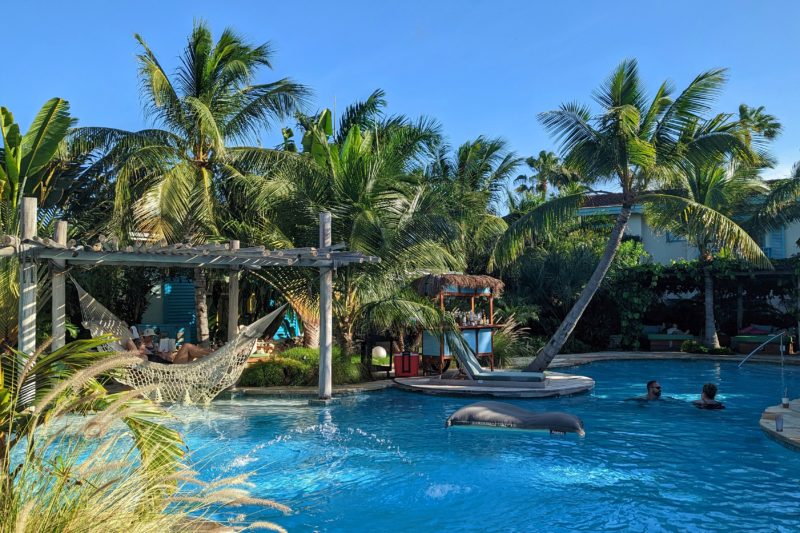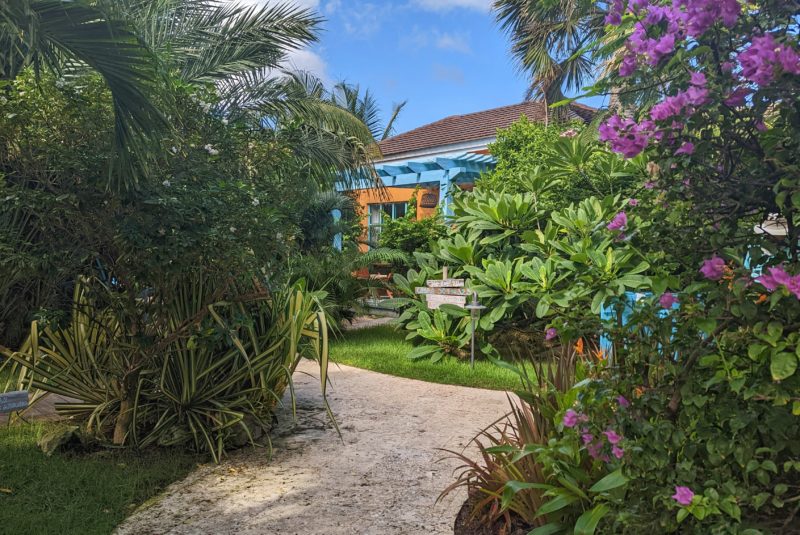 I stayed at the Boardwalk Boutique Hotel Aruba and honestly, it's one of my favourite hotels ever.
It's actually more of a boutique resort, with multiple "Casitas" (little houses) instead of rooms. These are all dotted around the resort in a gorgeous tropical garden, so it feels almost like staying in a jungle. And with all that foliage blocking out the other guests, it feels incredibly private.
All the Casitas include a small kitchen, so you have the option to self-cater if you want to. Or just keep some snacks in the fridge! The rooms are beautiful: light and airy but also colourful and fun. There's a small but gorgeous pool, again surrounded by palms and tropical plants. Boardwalk Hotel is the perfect setting for a dreamy Caribbean escape: luxurious but not stuffy, relaxed but not too casual, and absolutely, stunningly beautiful. Can't recommend it enough!
High Rise Resort Hotels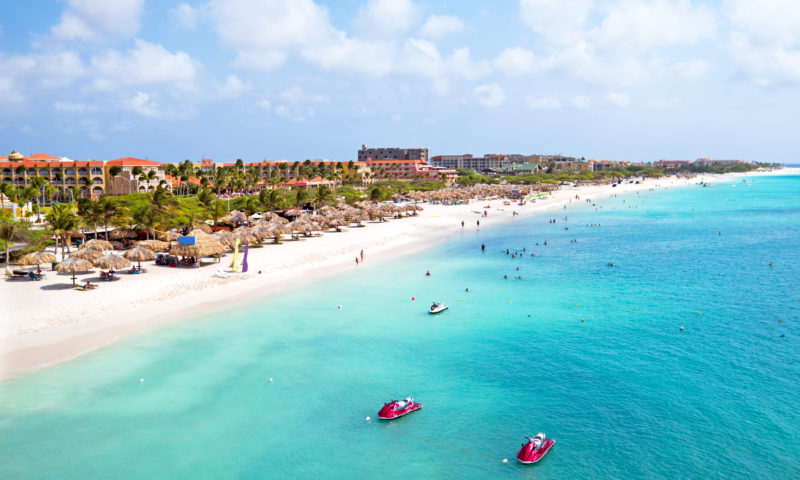 Prefer somewhere a little bigger, with lots of facilities and restaurants? The Palm Beach and Eagle Beach areas of Aruba have several high-rise hotels and big resorts that should have everything you need.
While I was exploring Aruba I also visited two of the most popular high-rise hotels: the Ritz Carlton and the Aruba Mariott Resort. Both were excellent: great service, lots of good facilities, and direct access to the beach.
AirBnb
Alternatively, there are a range of AirBnbs across the island to suit all tastes and budgets. These are particularly good for families who prefer self-catering (and a bit of privacy), as well as those visiting on a budget. You can cook for yourself a few times to cut dining costs. If you'll be renting a car during your stay in Aruba, you can stay outside of the main areas to save a bit of money.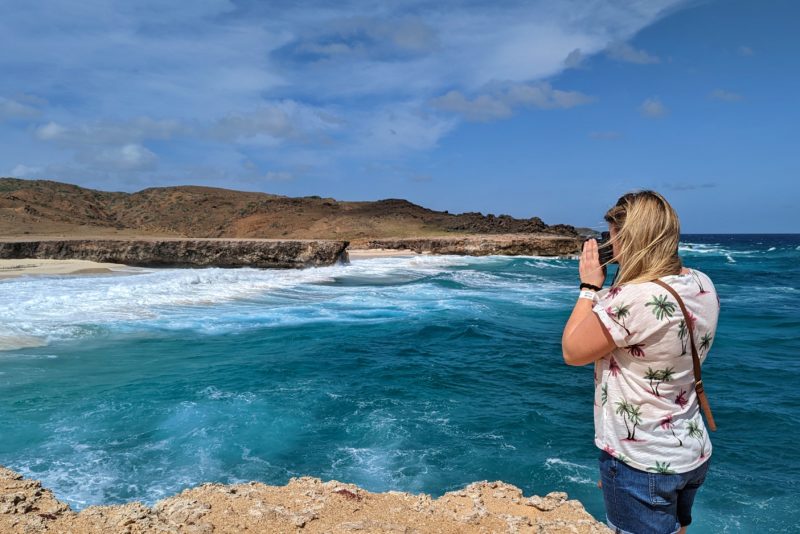 More Fun things to do in Aruba
Check availability and prices on some of the most popular tours and activities in Aruba…
More on the Caribbean
Unique Things to do in Puerto Rico
Discover Island Life on St Lucia
Are there any other fun or unique things to do in Aruba that I've missed from this list? Scroll down to leave a comment!