Some posts on this site contain affiliate links. If you book or buy something through these links, I earn a small commission (at no extra cost to you). Take a look at my privacy policy for more information.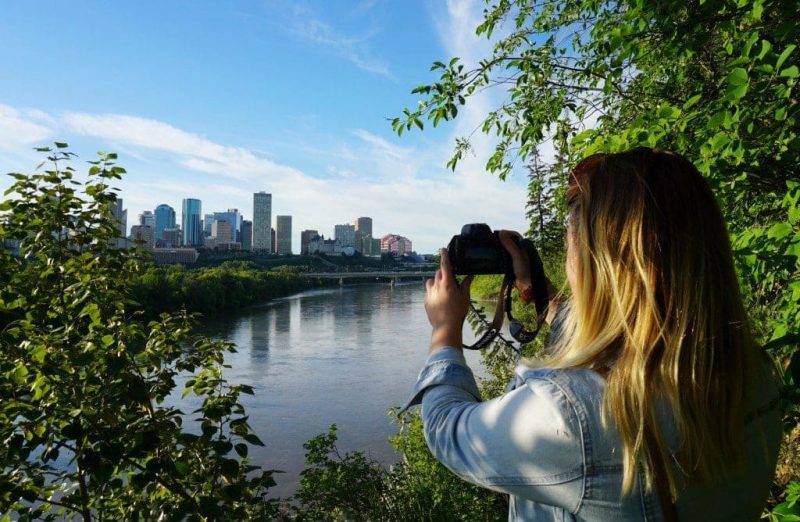 Are you looking for the best things to do in Edmonton? I've got you covered with my action packed travel guide! From fun stuff, to food, to shopping, to culture… this post has something for everyone.
When I told people I was going to Edmonton, they either assumed it was to get to Jasper National Park, or they simply asked "why?". Even a few of the locals seemed puzzled that me and Wanderlust Chloe were spending six whole days in their city. Edmonton seems to have a bit of a reputation – but one that's totally undeserved, as I discovered on my visit. There's so much going on, thanks to new investments and passionate new startups, and there are plenty of reasons to work a few days in Edmonton into your trip to Alberta. Especially if you're combining the lively food and fun of the city with a trip to the mountains.
After six days exploring Edmonton, I've got a pretty good list going on. In fact, this is more of a mini city guide, so I'm hoping you find it useful. Enjoy…
6 Fun Things to do in Edmonton
Segway Tour of Edmonton
Probably the most fun I had in Edmonton was on our Segway Tour with River Valley Adventure Co. I'd never done it before and it's such a cool way to get around. Plus, it's probably the closest I'll ever come to my Back to the Future style hoverboard (unless Mattel ever get around to making me one).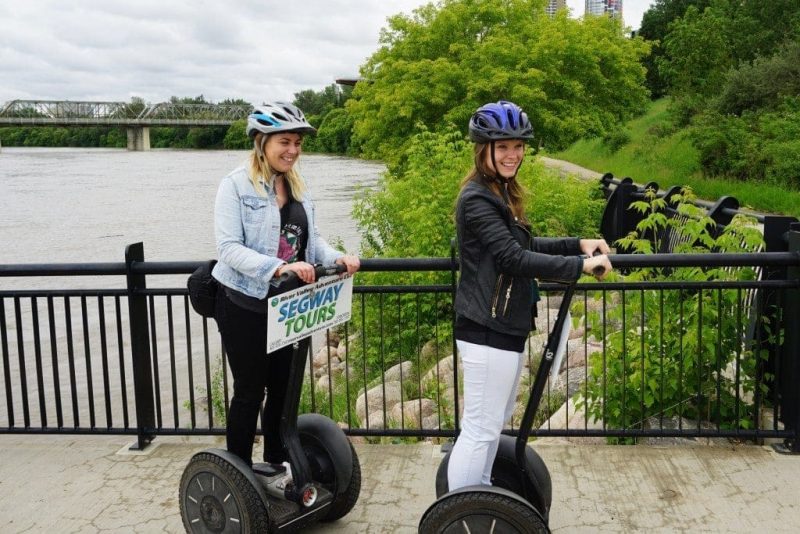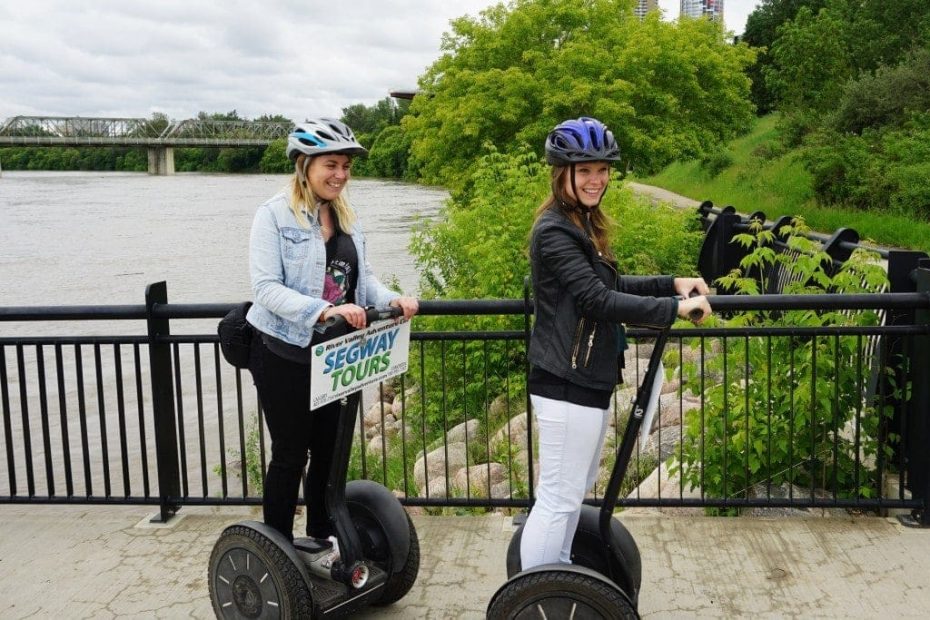 The guides at River Valley are great teachers and it's a really fun company. This is a great way to explore the river valley, where you can go pretty fast along the beautiful river and practice your slaloms (as long as no one else is around). A tour will also take you into the city, too. Roads in Edmonton seemed to be pretty quiet most of the time and the pavements (sidewalks) are nice and wide, so this is a great city to Segway round. Seriously, if you only do one thing in Edmonton, make sure it's this.
Price: from CA $59.99.
9735 Grierson Hill NW, Edmonton, AB T5N 1J9
Elk Island National Park
Forty minutes down the road from busy Edmonton, you can escape into a tranquil world of nature. Whispering aspen forests, herds of bison, and glinting lakes await at Elk Island National Park. Perfect for hiking and water sports in summer, or skating and snowshoeing in winter. And amazing if you fancy a spot of camping.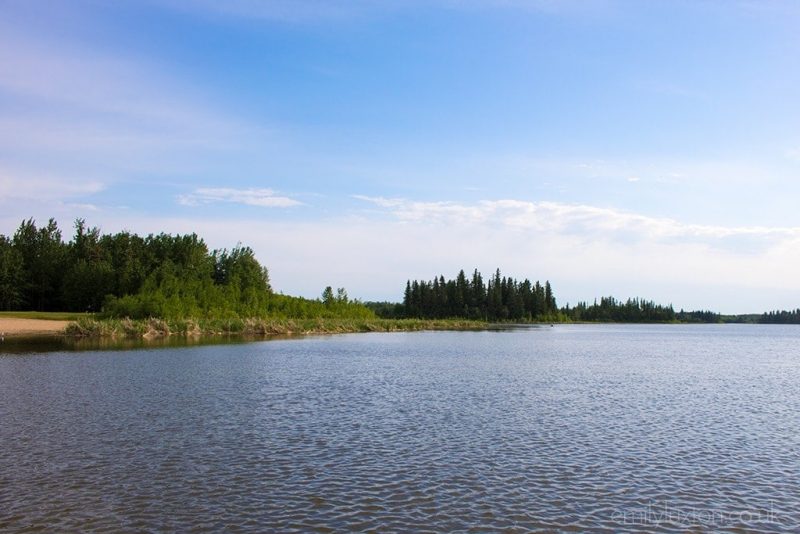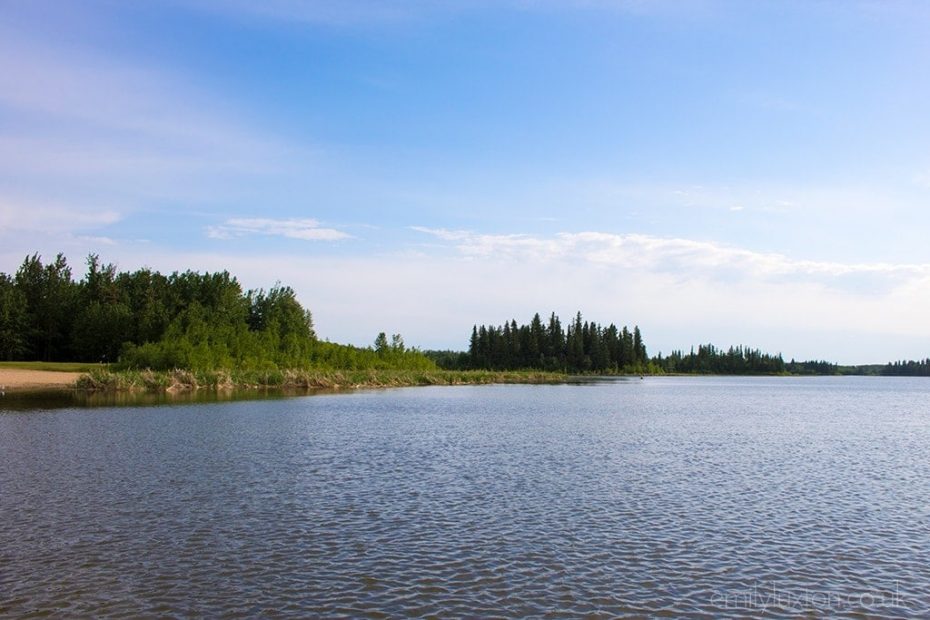 Elk Island is so good, I wrote a whole post about it. Check out my mini guide to Elk Island National Park here.
Price: free admission in 2017.
1 – 54401 Range Road 203, Fort Saskatchewan, AB T8L 0V3
Edmonton Food Tours
If you really want to get to know a city, you have to eat it. Especially the local produce. And with so much rich, fertile land surrounding it – as well as a melting pot of cultural influences – Edmonton has a ton of fabulous food on offer. There's no better way to explore it all than with Edmonton Food Tours, a fab company focusing on the very best local food. As the lovely Thea from Meat Street Pies put it: "Edmonton is a fabulous city for supporting local".
The 104th Street Feast Tour starts with a private brunch at Kitchen by Brad. Local chef Brad Smoliak is well known in Edmonton, and his focus is on Edmontonion comfort food, making this a great place to start. Next up comes a tour of the 104th Street Farmer's Market, stopping by some of the best stalls and food trucks to discover the very best of Edmonton. From urban farm Reclaim's fresh greens to tasty cookies at Confetti Sweets (twice used in the Oscar goody bags) to Caramia Caramels – you'll stuff your face and then some!
I loved learning about not for profit jam company Fruits of Sherbrooke, who collect unwanted fruit from gardens around the city to make their jams – and to feed local schools and the city's most vulnerable. There's so much to discover in Edmonton so don't miss a trip with Edmonton Food Tours. I can't recommend them highly enough!
Price: CA $115.
West Edmonton Mall
North America's largest shopping mall may not sound like your ideal travel experience. It certainly wasn't really on my radar to visit. Until I saw pictures of Galaxyland indoor theme park, that is! West Edmonton Mall is home to the world's largest indoor three loop rollercoaster – among other fab rides and a heaving games arcade. Me and Wanderlust Chloe were pretty nervous about that intense looking coaster, but it was crazy fun.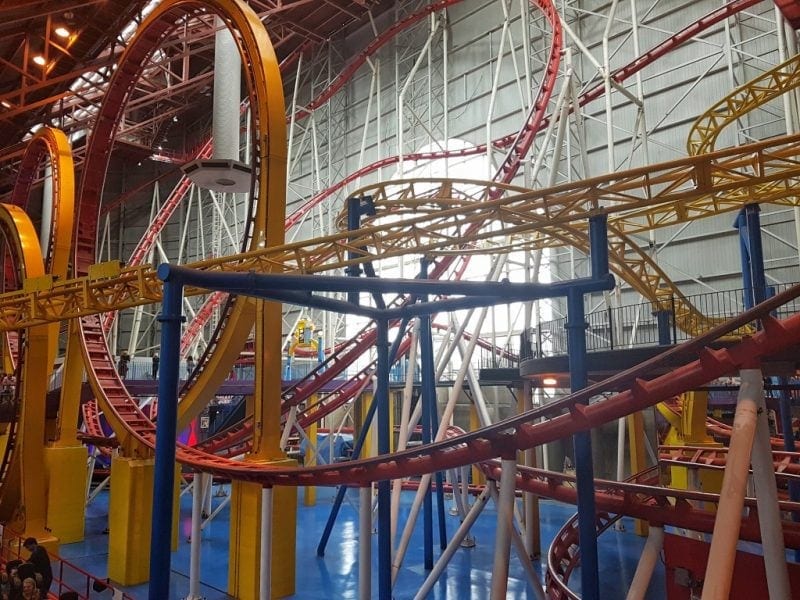 There's also an indoor ice rink, a water park, and one hell of a food court at West Edmonton Mall. Not to mention shops. A lot of shops! Definitely worth a visit if you're at a loose end on a rainy afternoon, if you're a shopaholic, or if you fancy an adrenaline rush.
Price: admission free. Galaxyland all day ride pass from CA $45.
8882-170 Street, Edmonton, AB
Muttart Conservatory
On the south side of the city, the bizarre-looking Muttart Conservatory is a really intriguing landmark. Four glass pyramids glinting in the sun from the centre of a swathe of grass, it's pretty striking. Inside, the pyramids are actually conservatories which house beautifully designed gardens.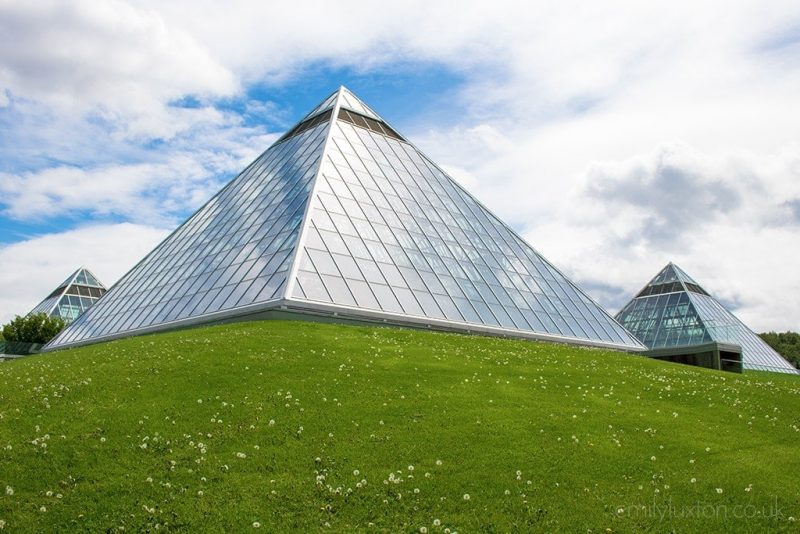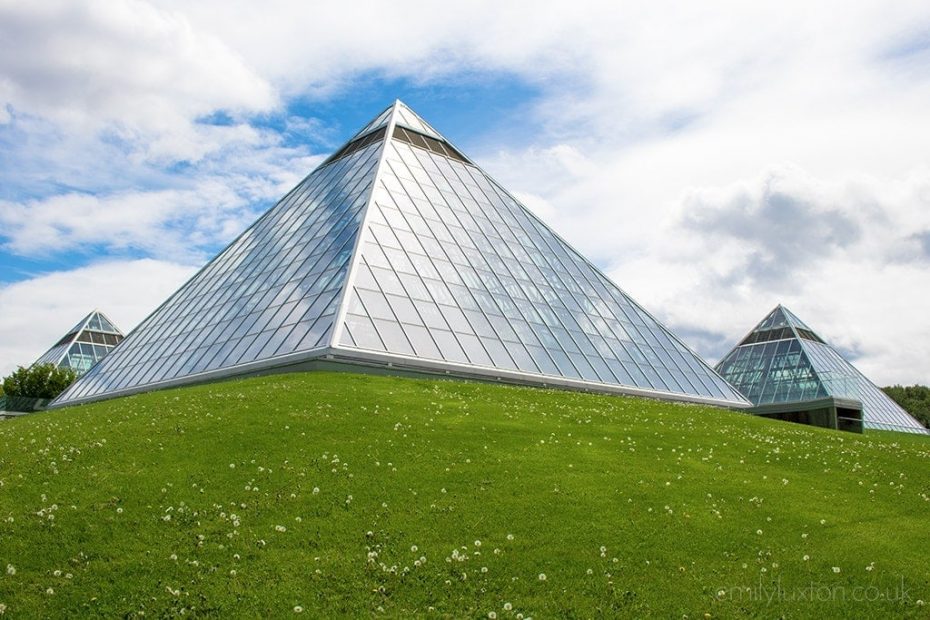 Each one has a different concept; arid, tropical, temperate, and the feature pyramid which changes every few months. It's a great way to discover the plants of the world, and to get some pretty photos. Muttart is worth visiting just for the Culina Café, though, which is way better than your average museum café!
Price: $12.50*.
9626-96A Street, Edmonton, T6C 4L8.
Edmonton Streetcar
For what might be one of the best views in Edmonton, hop on board the spectacular vintage High-Level Bridge Streetcar over the river. Running every forty minutes or so, the streetcar goes from Strathcona to Jasper Plaza across the North Saskatchewan River – with amazing views of the city.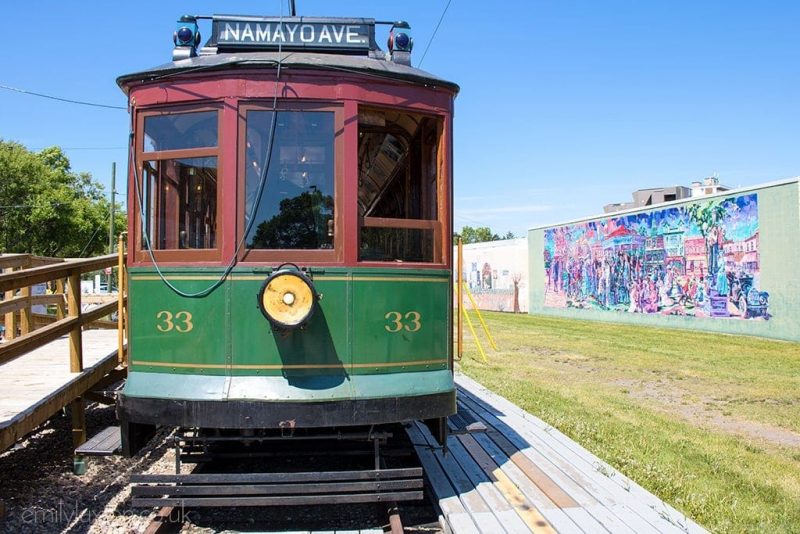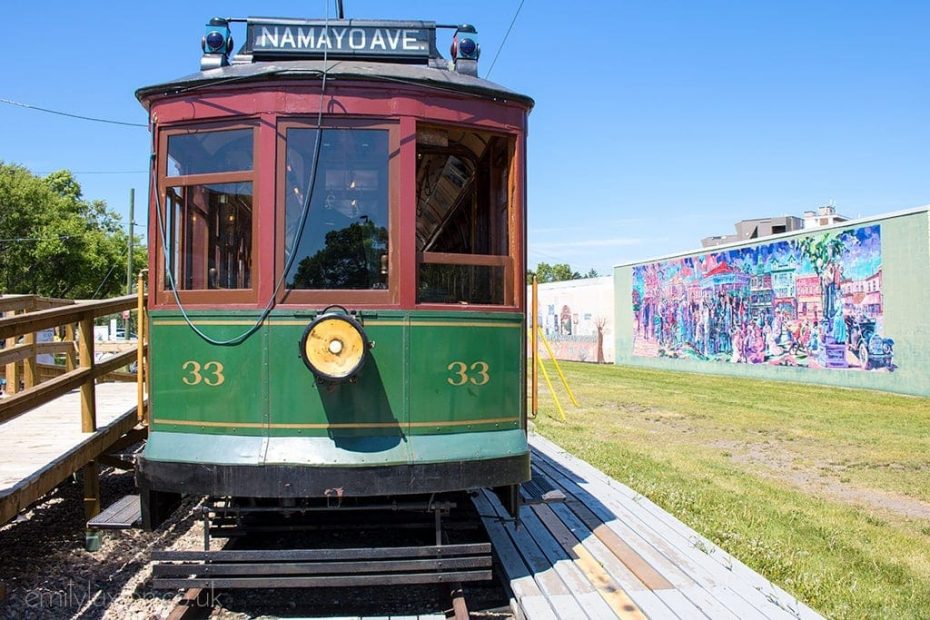 The wooden street car has been beautifully restored and riding it is a real experience. Plus, tickets cost just $6 for a round trip making this a great way to take a trip downtown. Service is seasonal, running from May to October, and you can check the schedule here.
Price: $3 each way.
Trains depart from Alberta Arts Barn (Gateway Boulevard and 84 Ave) to Jasper Plaza (109 Street and 100 Ave) and vice versa, every forty minutes.
Shopping in Edmonton
Edmonton is a great city for hitting the shops. Not only is there the West Edmonton Mall outside of town for all the branded stores you could possibly need, the city centre has its fair share of great shopping options too.
Along 124th Street you'll find tons of cute boutique shops, antiques stores, and independent galleries. I loved Old Strathcona district for shopping, too. There are loads of quirky gift shops and clothing boutiques, with plenty of weird and wonderful things to discover. Don't miss the fabulously odd Gummi Boutique – a candy store for your inner child – and hit Junque Cellar for a fascinating mishmash of eclectic antiques.
Bars and Restaurants in Edmonton
Speaking of Old Strathcona, this is also where you'll find some of the best bars in Edmonton – and some of the coolest restaurants. The area around bohemian Whyte Avenue is seriously cool and rammed full of great places to eat and drink in Edmonton. Don't miss MEAT if you're a lover of just that (the ribs are amazing), or head to Ampersand 27 for some slightly healthier comfort food.
Downtown Edmonton is another up and coming neighbourhood thanks to the newly built arena. I loved our dinner at the ultra trendy, ultra delicious Baijiu – nouveau Asian cuisine at its best (plus amazing cocktails). From food trucks to amazing restaurants, Edmonton is a great city for foodies and has a really exciting food scene.
Check out Wanderlust Chloe's guide to the best places to eat in Edmonton for loads more great recommendations.
Cultural Things to do in Edmonton
Edmonton has a lot of culture to offer if you go looking for it. In town, there's the Alberta Art Gallery, an amazing looking building with some really great collections and temporary exhibitions. Just across the road is City Hall, as well as the big "Canada 150" sign for the 150th anniversary this year.
Throughout the city are numerous smaller galleries (124th Street is perfect for this), as well as theatres galore. Edmonton is big on theatre and festivals, and their Fringe Festival is the second biggest in the world after Edinburgh's. We were there during Pride and the celebrations were huge!
For a true insight into the local culture, though, you should check out the Ukranian Heritage Village. A living museum complete with restored buildings, working farms, and actors who never break character, the village offers a bit of insight into Edmonton's early days. More info in this post.
For more modern culture, don't miss the street art – especially around Old Strathcona district. And you can head to the Neon Sign Museum, where the signs of old or demolished buildings are on permanent display on the 4th Street Promenade (free of charge).
Where to Stay in Edmonton
Crash – Perfect for party-goers, Crash Hotel is in a fab location in Downtown Edmonton and it's a seriously fun place to stay. A rowdy hotel with hostel vibes, a packed-out bar, and thumping music, this is not a place to come for an early night. But its vintage-chic cool décor and fun vibes are sure to win over those looking for a stay with a social life. Nice touches include a drinks token for the bar on arrival and "hangover-curing" pills in the rooms.
CHECK PRICES: Hotels.com | Booking.com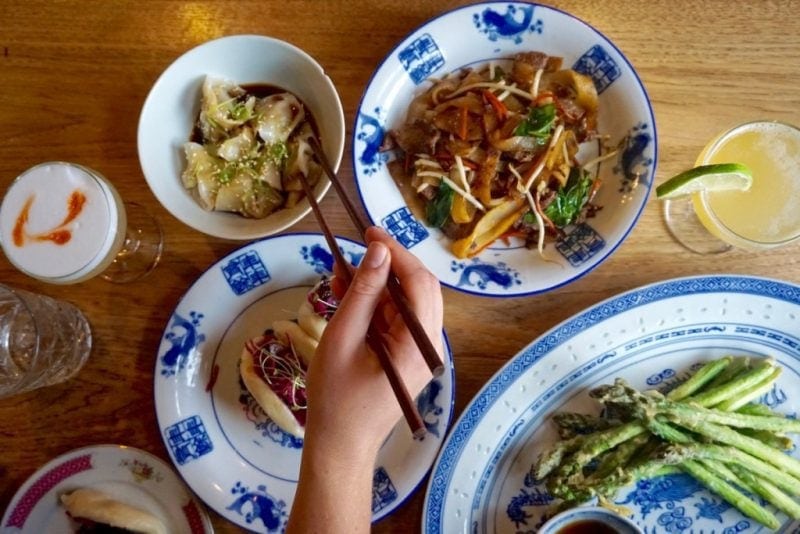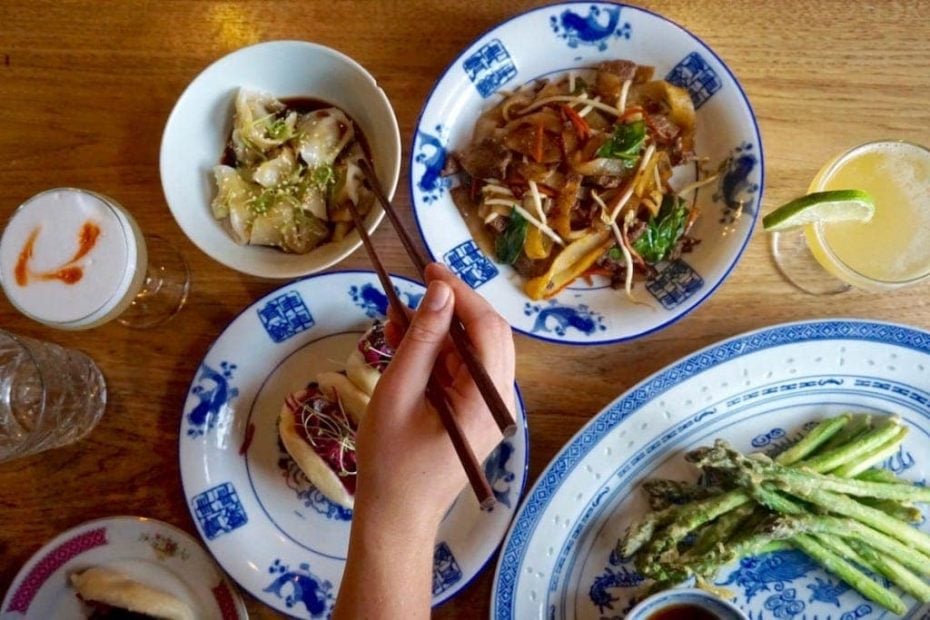 Dinner at Baijiu. Image credit: Wanderlust Chloe.
Metterra Hotel – Over in Old Strathcona, Mettera is an ideal option for those who want a quieter stay. It's still right next door to some of the best bars and restaurants in the area if you fancy a night out, but the rooms are quiet and super comfortable. It's a little less funky, but luxurious and really welcoming. Nice touches include free wine served for guests for an hour every evening, and the huge terraces in the executive level (?) rooms.
CHECK PRICES: Hotels.com | Booking.com
Need to Know
Getting There
WestJet flies direct from London Gatwick to Edmonton several times a week, while  Icelandair offers flights via Reykjavik.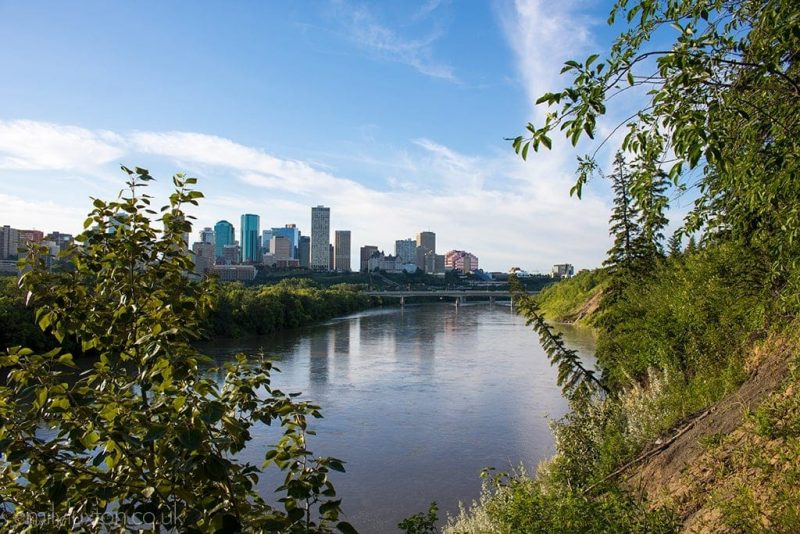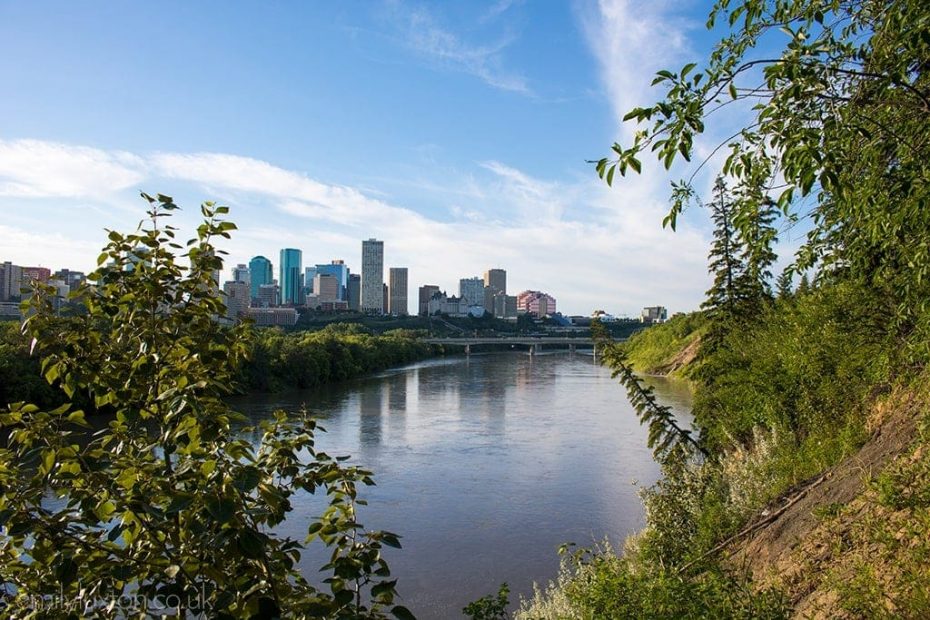 The airport is about 40 minutes drive from downtown. You can take a taxi (approx. CA $45 – $55 to the city centre, depending on where you're headed), or hire a car and self-drive (check the latest prices here).
Alternatively, pre-book a chauffeur-driven car. Blacklane starts from £85 / CA $144, and you can get 15% off using my reader discount code 8QGSZNQL. Read my Blacklane review for more info.
And if you're visiting Edmonton on a budget, you can take public transport to the city centre. Hop on the 747 bus (CA $5 one way*) at the airport to the Century Park Transit Centre. Here, you can transfer to an LRT train, bus or taxi to reach your final destination.
*(Cash only. Exact change required. Change will not be made)
Do You Need a Visa?
Visitors from the UK (and certain other countries) have to get an eTA before flying to Canada. It costs CA $7 (about £4) and takes a few minutes to apply online. Find out more here.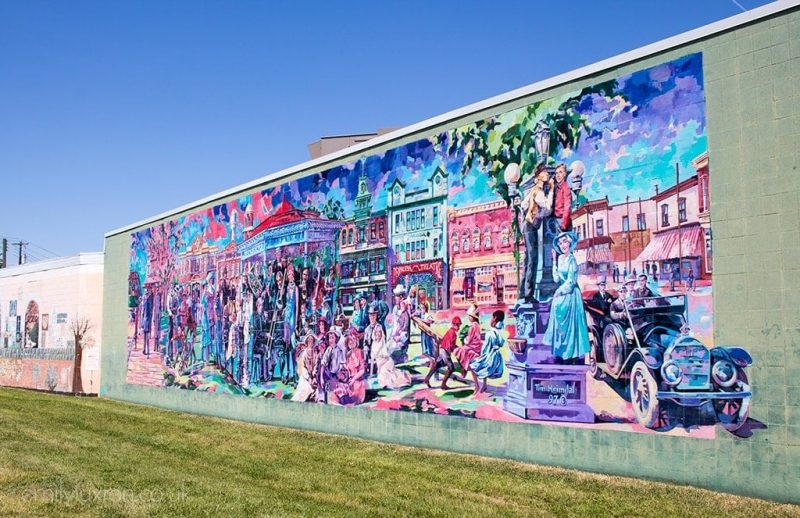 Getting Around
Getting around Edmonton is pretty easy. Taxis aren't super cheap but they're also not too expensive; we generally paid about $10-15 for a 20-minute journey. There's a pretty good network of buses too and since the city is a grid layout it should be fairly easy to navigate.
Read More
A few more posts about Alberta, in Canada…
14 Fun Things to do in Calgary
Adventures on the Icefields Parkway in Alberta
Fossils, First Nations, and Frontiers – A Southern Alberta Road Trip Itinerary
Got a question about visiting Edmonton, or a tip of your own that could help fellow travellers? Share in the comments!
*All prices shown in this post are for an adult single and were correct as of June 2017. Prices are in Canadian dollars (unless otherwise stated).
My visit to Edmonton was a press trip organised by Edmonton Tourism, but absolutely all words and opinions are my own (except quotes).