Some posts on this site contain affiliate links. If you book or buy something through these links, I earn a small commission (at no extra cost to you). Take a look at my privacy policy for more information.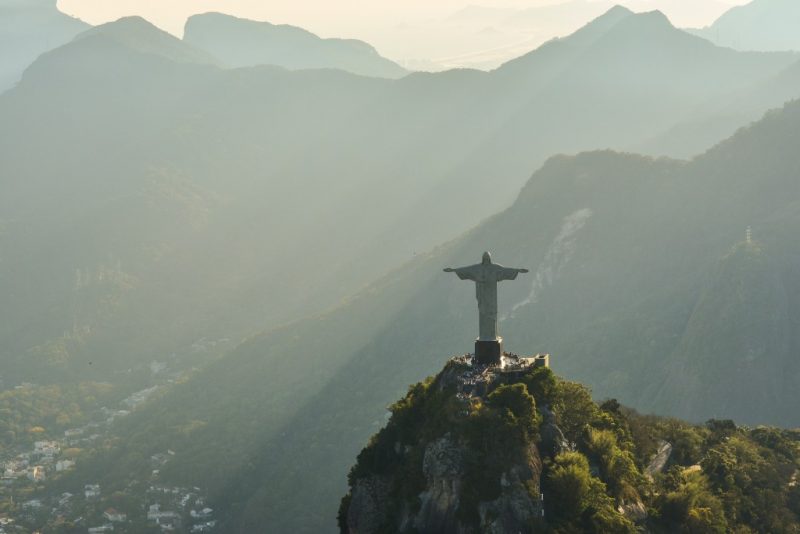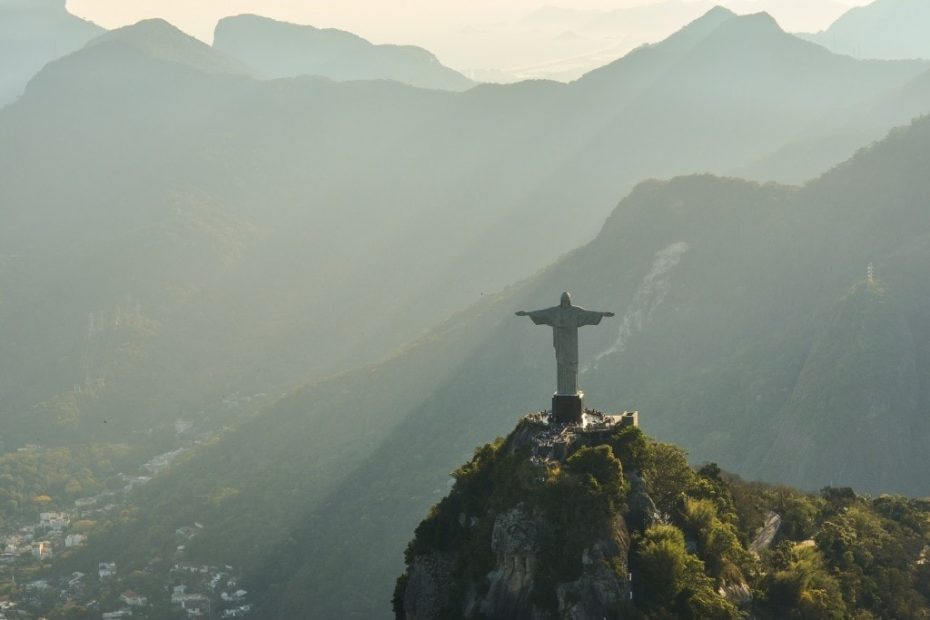 The final week of our five-month South American Adventure was spent in Rio de Janeiro, one of the most colourful, fascinating, and enticing cities I've yet discovered. We were there over the weekend of the World Cup Final. Rio's normal party atmosphere was overwhelmingly amplified by the football fans who had gathered in their hundreds of thousands to watch the game.
Over our week in Rio, we managed to explore a fair bit of the absolutely enormous city, from the chaotic slums of Rocinha favela to the glossy city centre and those famous white-sand beaches of the seafront.
Hitting the Beach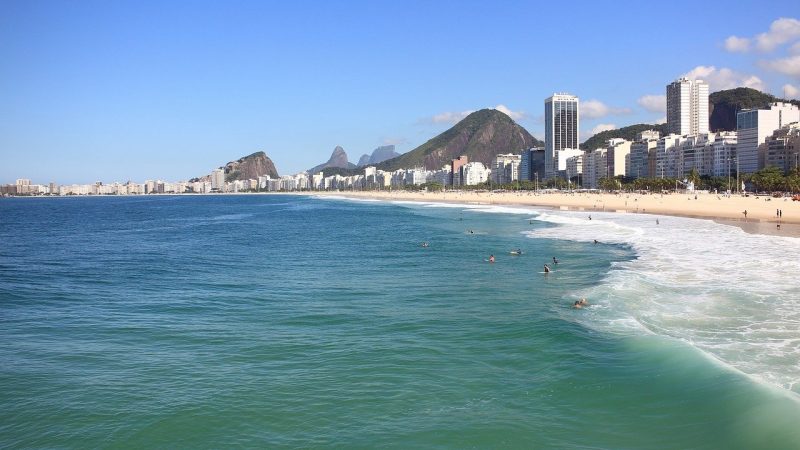 Copacabana Beach was rammed with both tourists and football fans. As soon as I arrived, I spotted the unmissable FIFA Fan Fest which dominated the serene stretch of white sand. The nearby FIFA souvenir store felt like Disneyland and housed an explosion of plush toys, baseball hats, football shirts, as well more obscure souvenirs like cheese boards and the official World Cup wine. Even if the prices had been a bit more affordable, there is no way I would have braved the impossibly long queue to buy anything. I couldn't even find the end of it!
We spent the rest of that day strolling along the esplanade, marvelling at the crowd-dodging joggers and the crazy-fit guys doing pull-ups at the outdoor gyms. Eating lunch at one of the many cafés lining Copacabana beach, it struck me what a contrast this luxurious, modern district made with our experiences in the favela, where we were staying. Rocinha Favela was only an hour by bus from Copacabana, but it might have been a different world.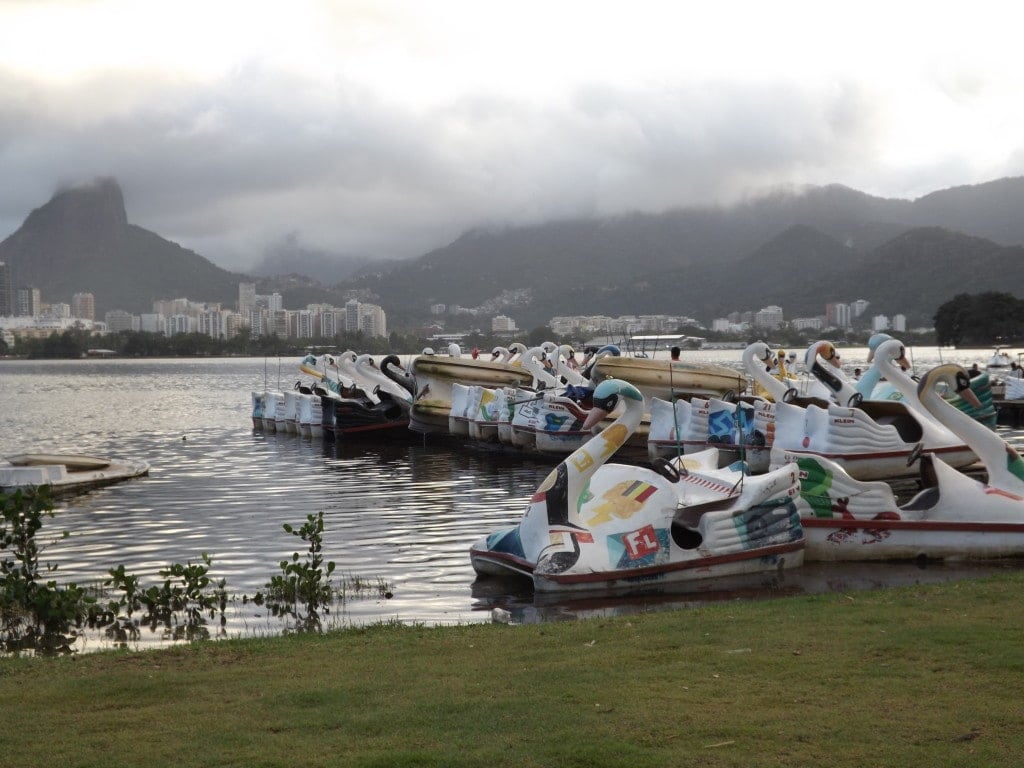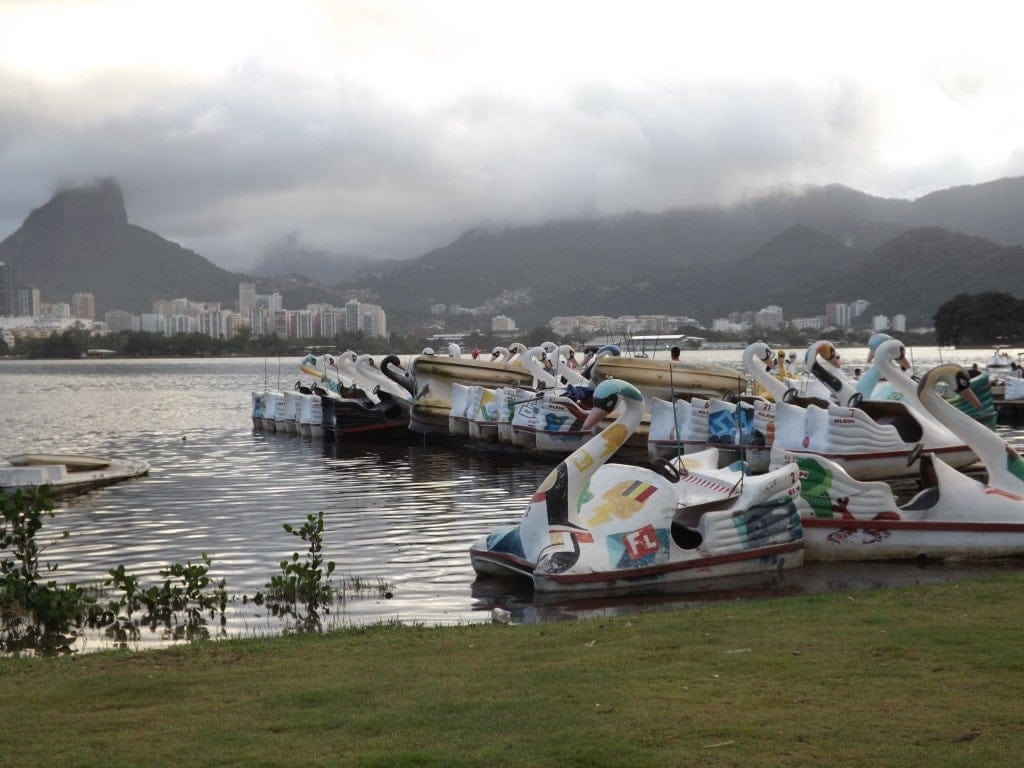 World Cup in Rio
On Sunday, we were back on Copacabana for the 2014 World Cup Final. That day, the beach was so overrun we could barely see the sand around the FIFA Fan Fest area. We arrived early and managed to secure a fairly good spot with a view of the second screen.
I was surprised to see an absurdly long queue for the fenced-in area housing the first screen. Both screens were the same size, so there was no real reason to get inside the Fan Fest to watch the game, other than the prestige of saying "I was there". For me, being in front of the big screen on Copacabana beach was exciting enough.
The atmosphere was incredible. We were completely surrounded by Argentinian fans, all of them wild with excitement; chanting and screaming as the game went on. I'm not a lover of football, but I can get involved when I'm watching a match with passionate fans. It also helped that at the start of the World Cup I'd placed a small bet on Argentina to win.
Some of the Argentinian fans near us had procured a cardboard cut-out of Neymar, Brazil's star player, and dressed him up in an Argentina shirt. They held him high above the crowd. Everyone was in really high spirits… but of course it didn't last.
Until the very end of the game, positivity and joy rang through the air. The thrill and pride of the Argentinian fans was palpable. The volume of it reverberated through me, along with their shouts and cheers. I couldn't help but feel as crushed as they did when Germany won.
Santa Teresa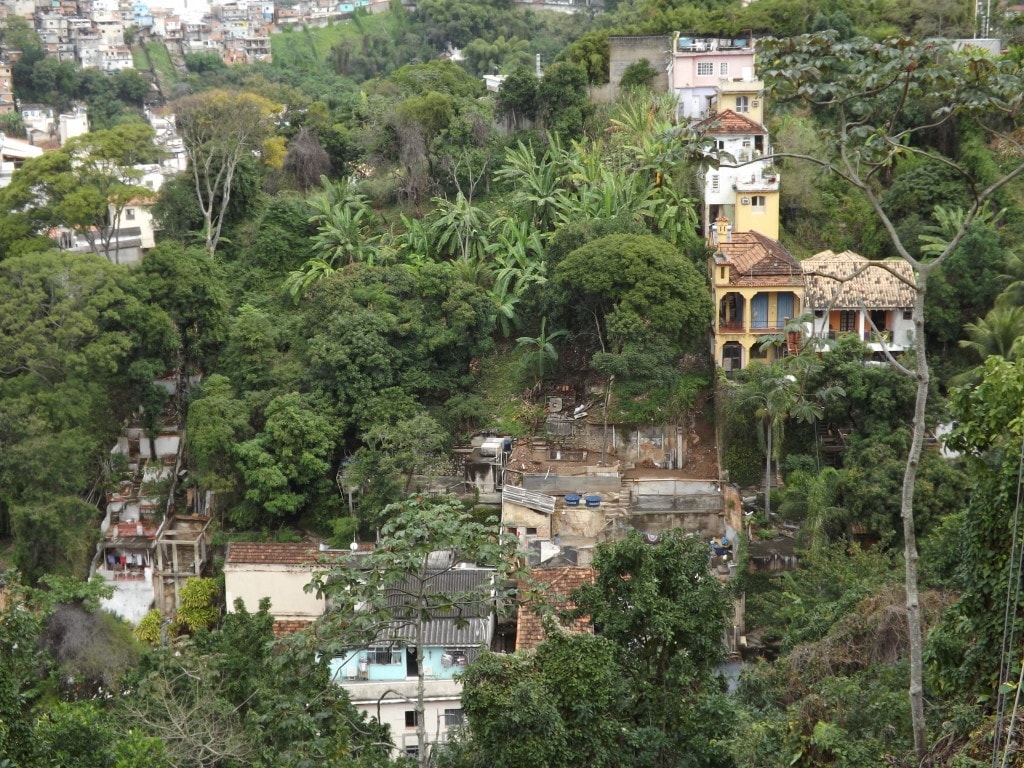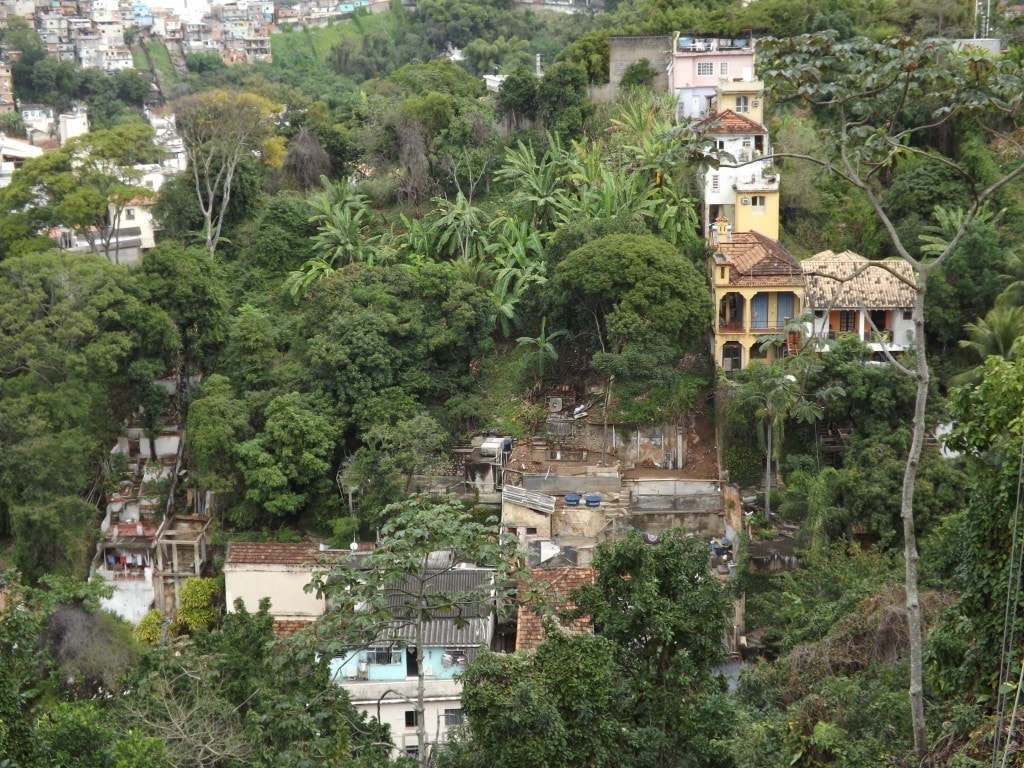 Rio de Janeiro, we discovered, is an absolutely enormous city with dozens of different districts to explore. One of my favourites had to be the historic and bohemian Santa Teresa district up behind the city centre.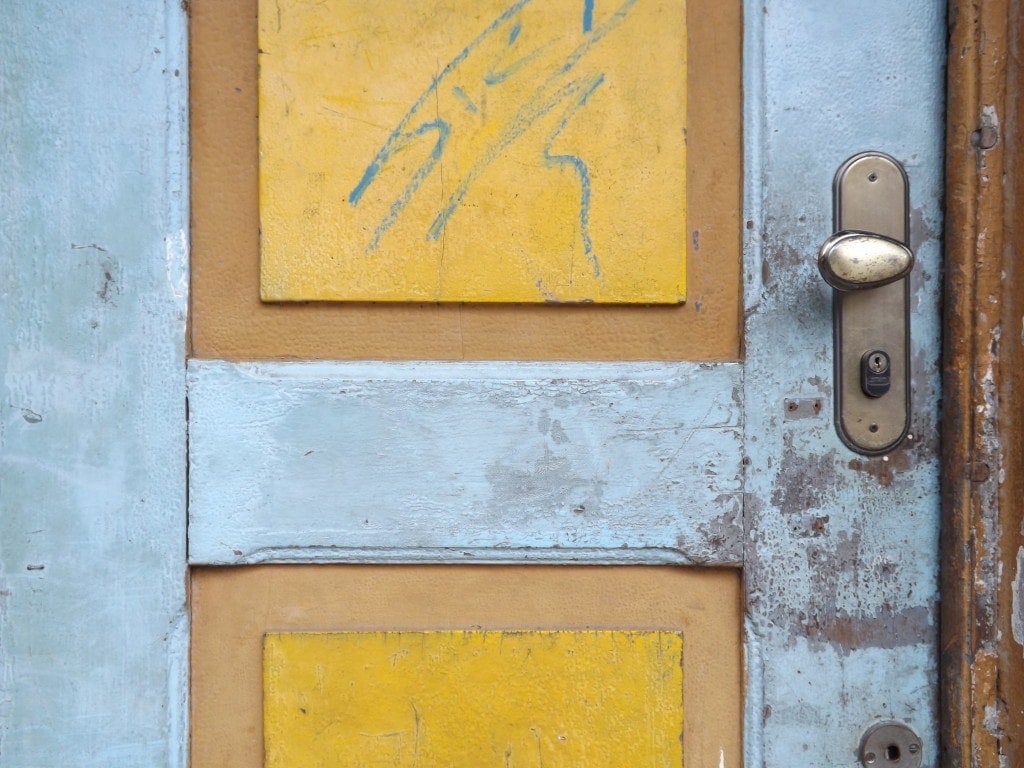 For one thing, the views were incredible. Once we'd made it, panting, to the top of the steep hill the neighbourhood is perched on we saw the enormity of Rio sweeping away beneath us to the sea, Sugarloaf Mountain towering in the middle of it all. We also had a great view of a nearby favela, surrounded by towering white apartment buildings, yet another example of the stark contrast between rich and poor that seems to run throughout Rio.
Once a glamorous upper-class neighbourhood, Santa Teresa is strewn with nineteenth-century mansions that have seen better days. We passed dozens of shabby, faded, but brightly-painted mansions and villas, many of them covered by trailing vines and flowers.
When the slums crept a bit too near, Rio's rich and famous moved away from the city centre and Santa Teresa fell into disrepair. Dilapidated houses meant lower rent, so during the 1960s and 70s the area was claimed by the city's artists, writers and musicians. As a result, Santa Teresa has a vibrant and bohemian reputation as an arts district.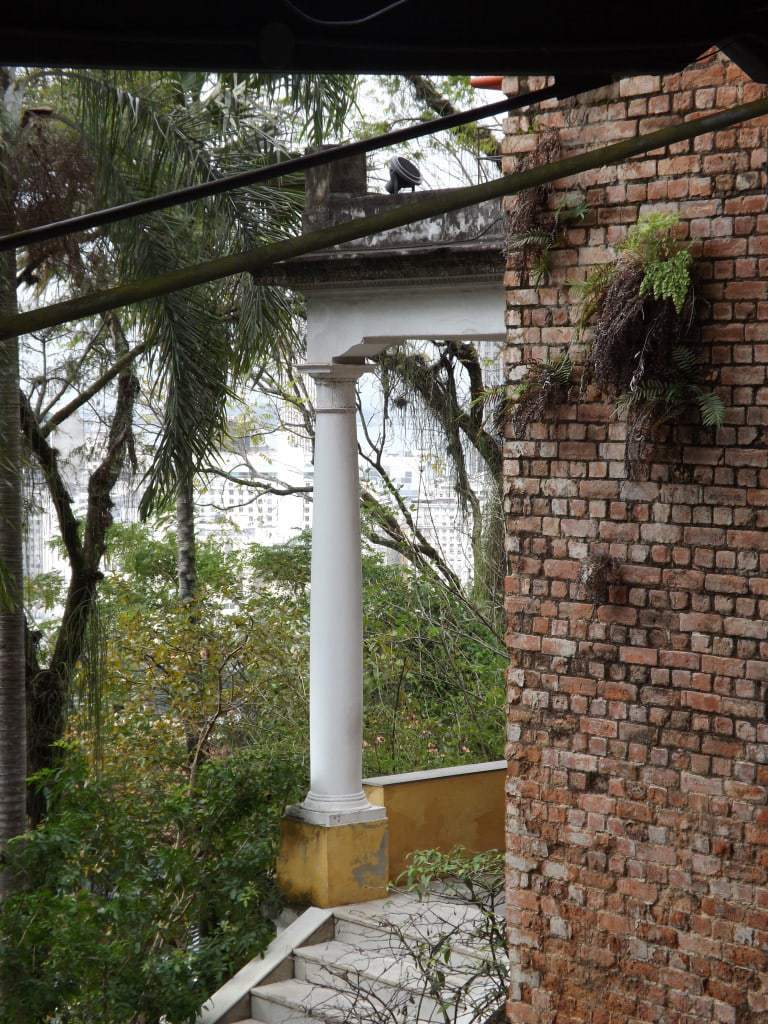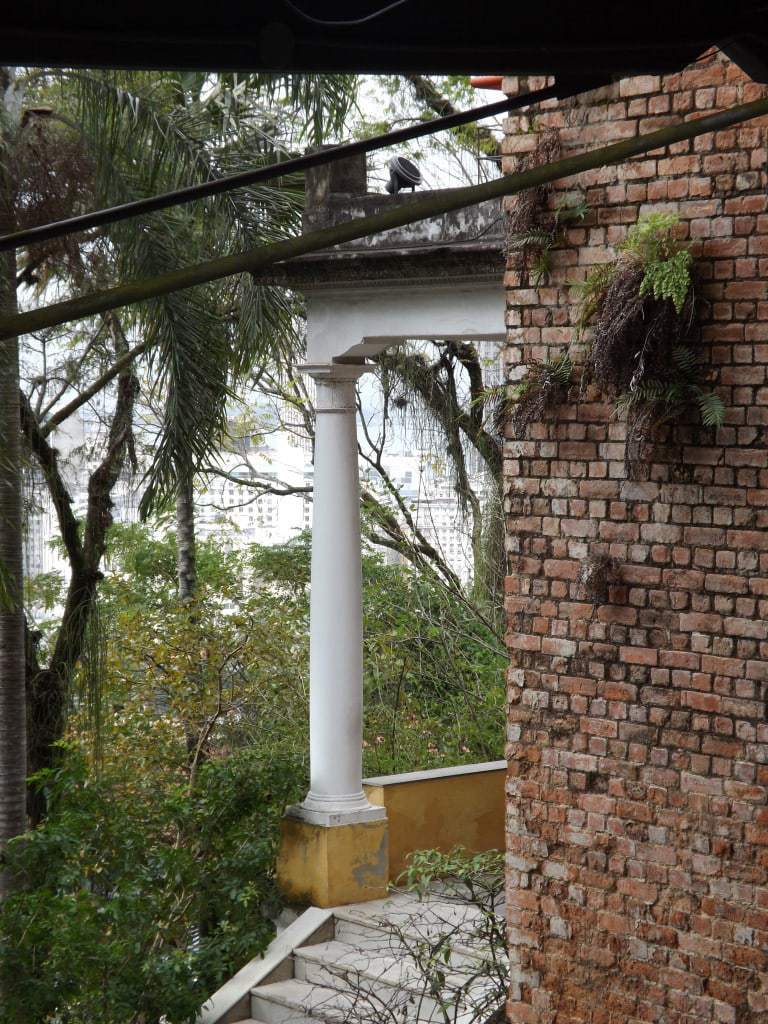 Many of the buildings have been lovingly restored, with numerous mansions now housing cool restaurants or shabby-chic bars, and there are dozens of art shops tucked into the pretty townhouses.
Sightseeing and Street Art
One old mansion that has remained untouched is the one-time home of Brazilian heiress Laurinda Santos Lobo, whose house was a salon for Rio's artists and intellectuals in the 1920s and 30s. This stands in what is now known as the Parque das Ruinas, alongside the art museum Museu Chacara do Ceu. Today, Santos Lobos' home houses art installations and open-air concerts in honour of its former role as Rio's artistic hub. The gardens were rich and shady, and between the lush greenery we caught still more glimpses of the incredible views from on high, but sadly when we visited both the museum and the Parque das Ruinas (where the best views of Rio can be had) were closed.
Instead, we visited another ruin, the station of the old Bonde, Rio's last remaining tram car system. It ran from Lapa to Santa Teresa until 2012. Today, the old station has been coated in street art recalling its glory days. Even up here, in this serene and stately neighbourhood far from Copacabana, World Cup fever had made its mark. A huge mural showed the Brazilian team riding away in a restored yellow tram car… while Messi (Argentina's star player and Brazil's arch-enemy) sobbed in the corner.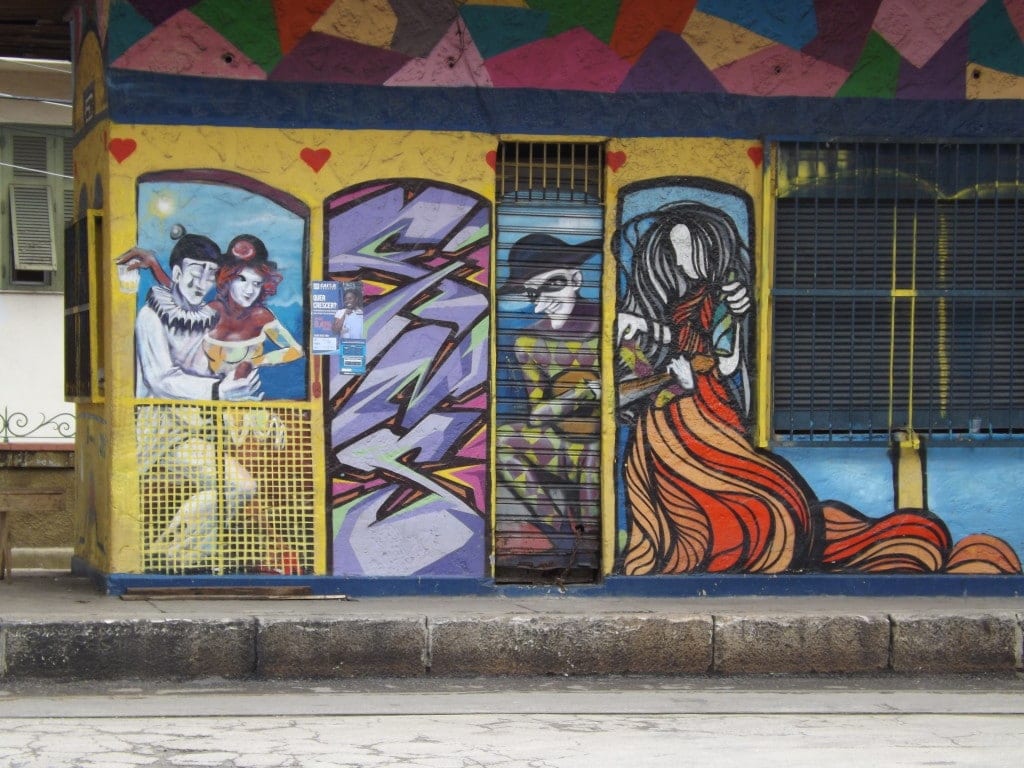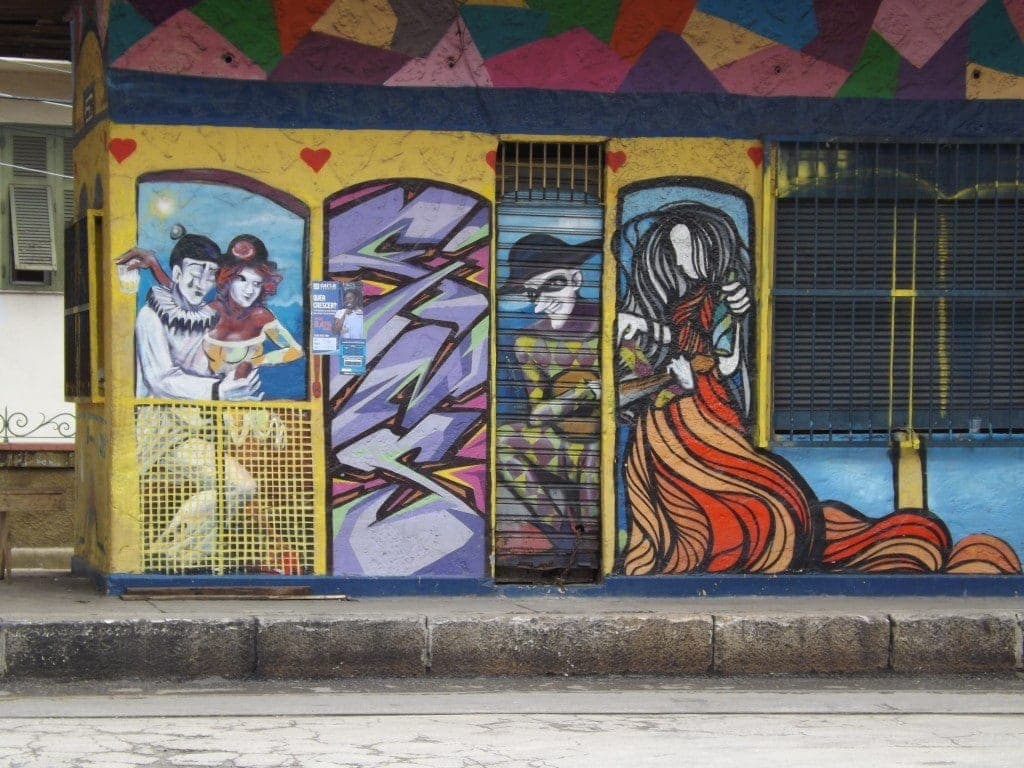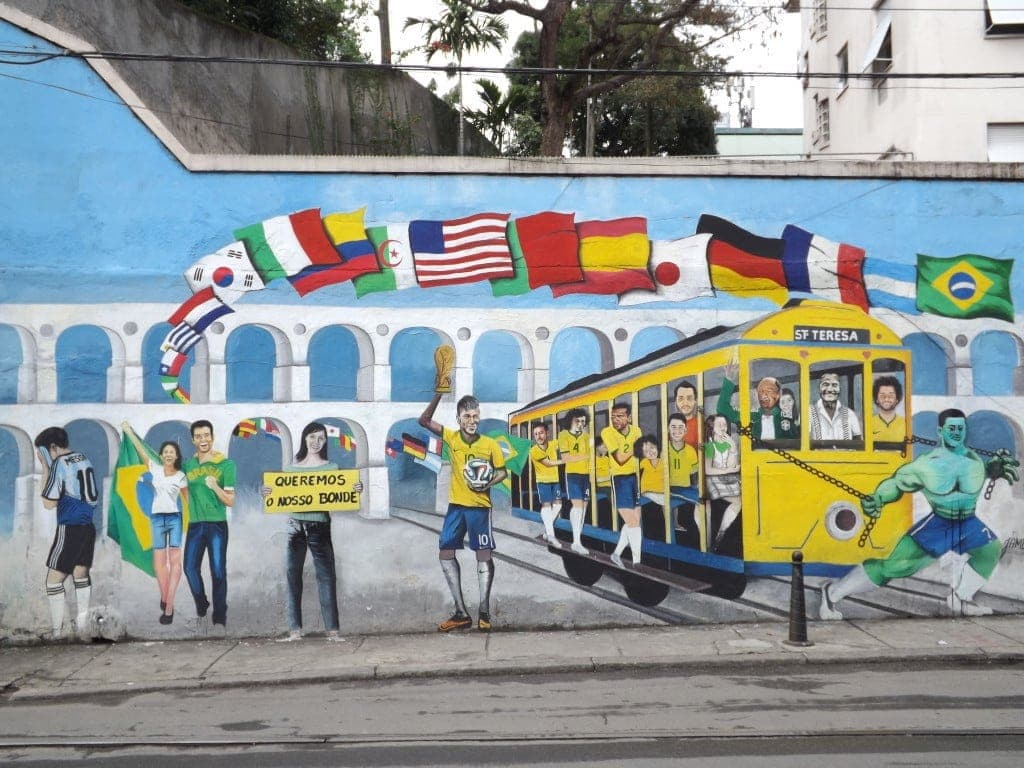 Lapa
We may have spent our first four nights in Rio slumming it in the Rocinha favela thanks to the hugely inflated World Cup accommodation prices, but thankfully right after the weekend of the final match prices returned to normal. So we switched to a more reasonably priced hostel in the very centre of the city.
Lapa was a world apart from the hectic slums of Rocinha, and even more so from the glossy high-rises of Copacabana and Ipanema. A world of its own, Lapa was a beautiful, colourful neighbourhood of old buildings, lively bars and amazing street art.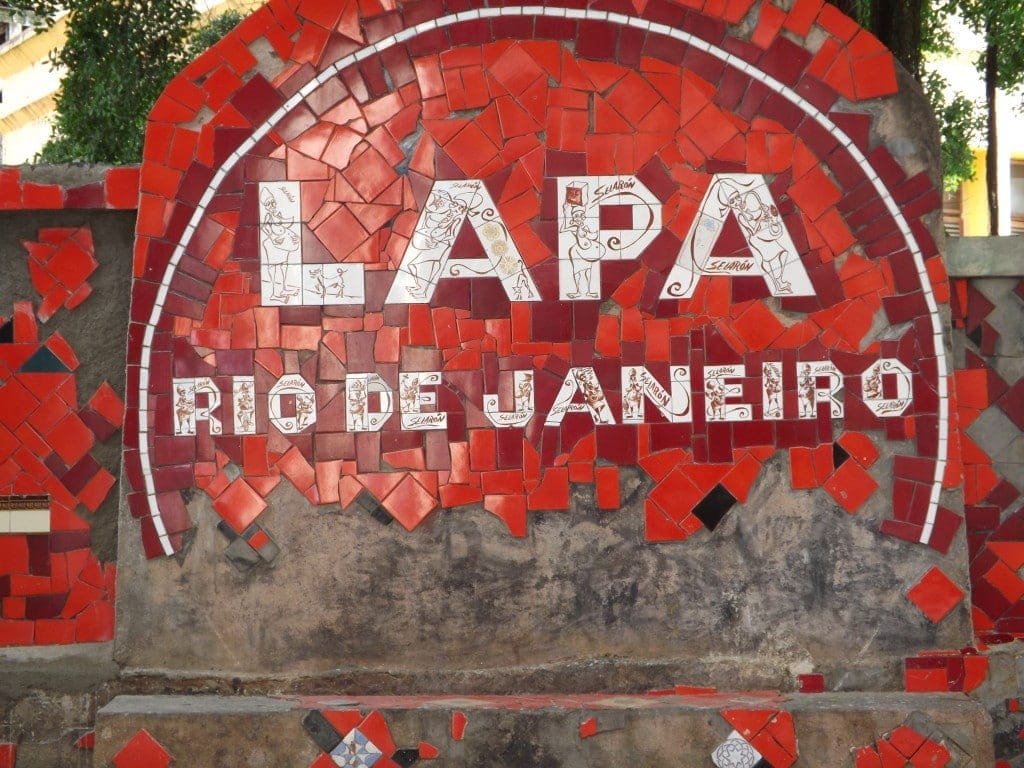 Lapa is also home to two of Rio's most iconic sites. First the incredible Arcos de Lapa, an 18th-century aqueduct which once carried water to the city centre from the Carioca River.
This huge construction sits bizarrely between an ordinary office district of glass-clad high-rises and Lapa's shabby-chic shuttered mansions, dividing two very different districts. Eye-achingly white in the dazzling sunshine, the Arcos de Lapa tower above a multi-lane highway, looking wonderfully out of place.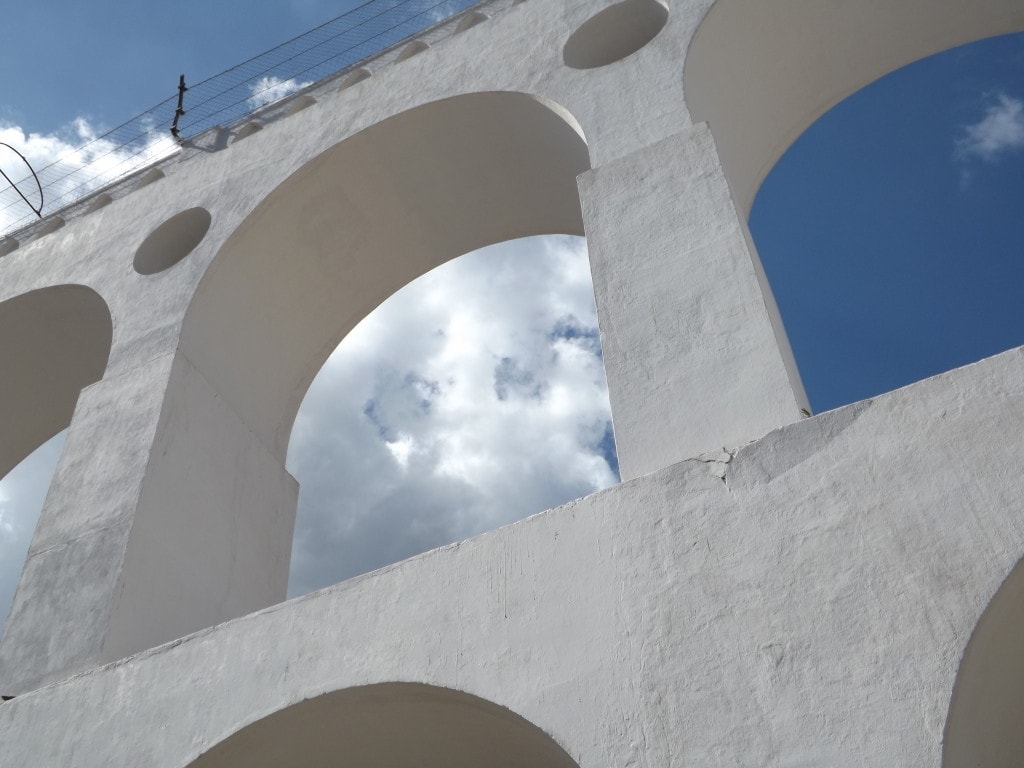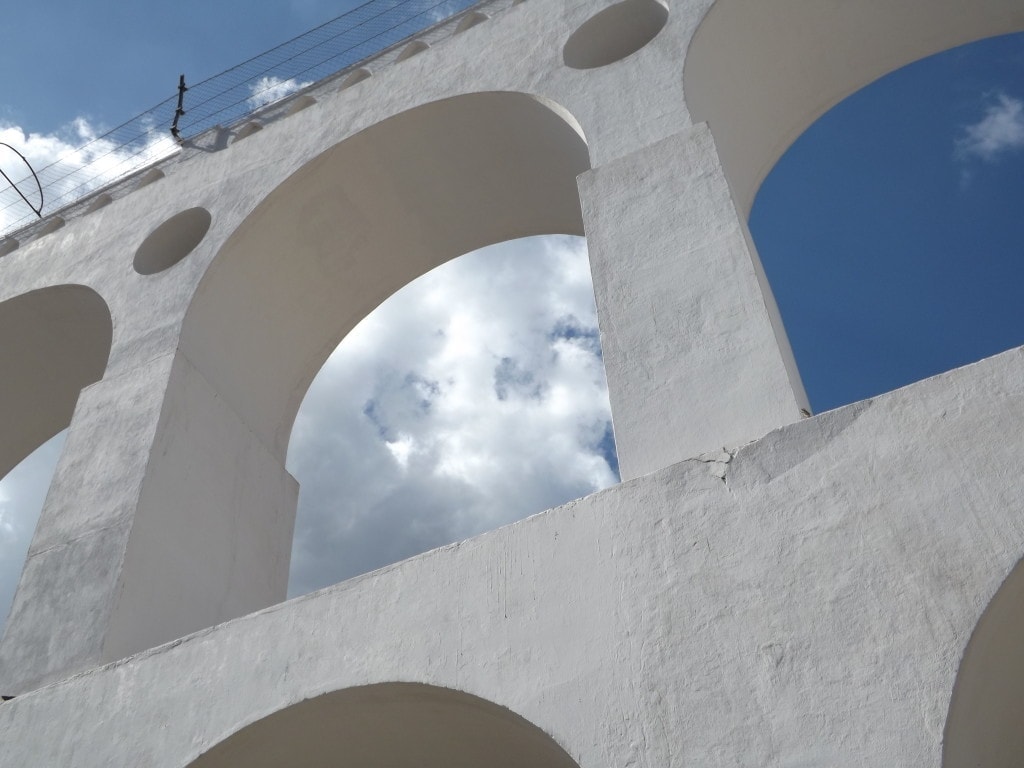 Selaron Steps
Not too far from the arches is Lapa's main attraction, the popular Escadaria Selarón or Selaron Steps. This colourful and ever-changing piece of street art was the work of Chilean-born artist Jorge Selarón.
It occupies an entire staircase – as well the houses lining it – between Joaquim Silva street and Pinto Martins street. The whole staircase is covered in brightly coloured tiles, with the fronts of the steps clad in yellow, green and blue (the colours of the Brazilian flag) and the surrounding walls largely post-box red.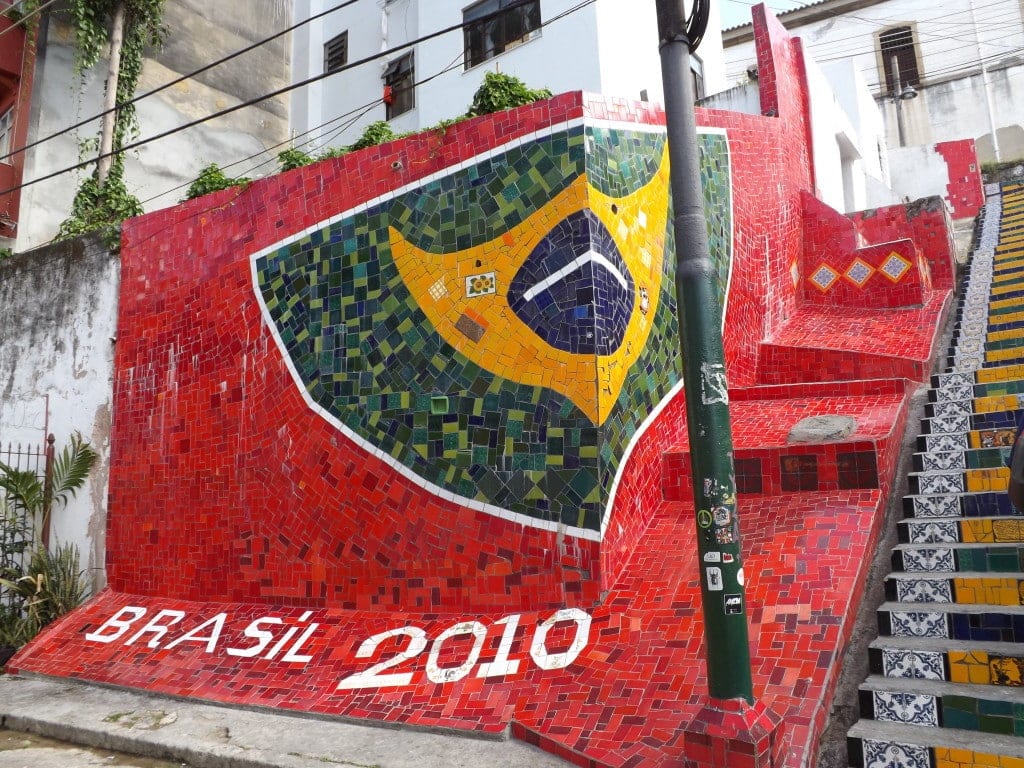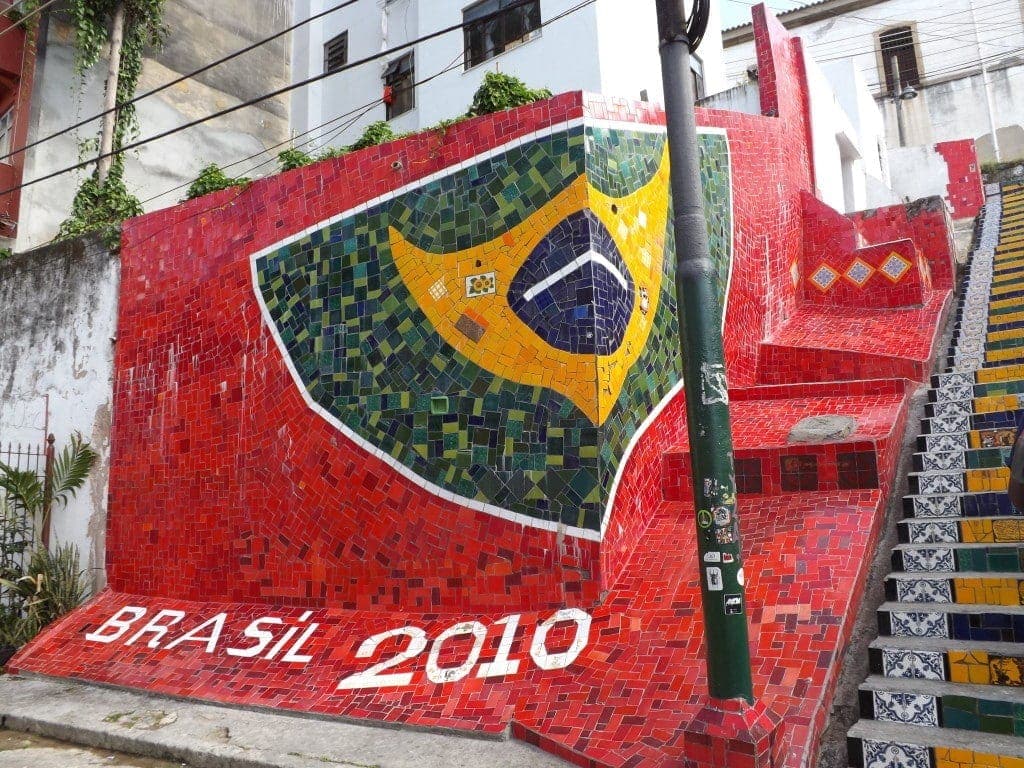 Selarón called the staircase his "tribute to the Brazilian people". With 250 steps covered in over 2000 tiles, it's a pretty big tribute. And he still hasn't finished. Selarón regularly updates and reworks sections of the staircase so that the artwork is constantly evolving. Mixed amongst the coloured tiles are printed and hand-painted tiles from around the world. Some are painted by the artist himself, others were bought in shops, scavenged from construction sites, or donated by visitors. The overall result is delightfully eclectic, bringing together little pieces of art and culture from all over the world.
We originally visited the steps in the afternoon, fighting a huge crowd for photos in the burning midday heat. But, wanting to get just one shot of the staircase itself without a bunch of people posing for Instagram shots, we decided to return a couple of days later before breakfast. At 8am, the shiny tiles were dazzling in the morning sun, and we had almost had the steps to ourselves.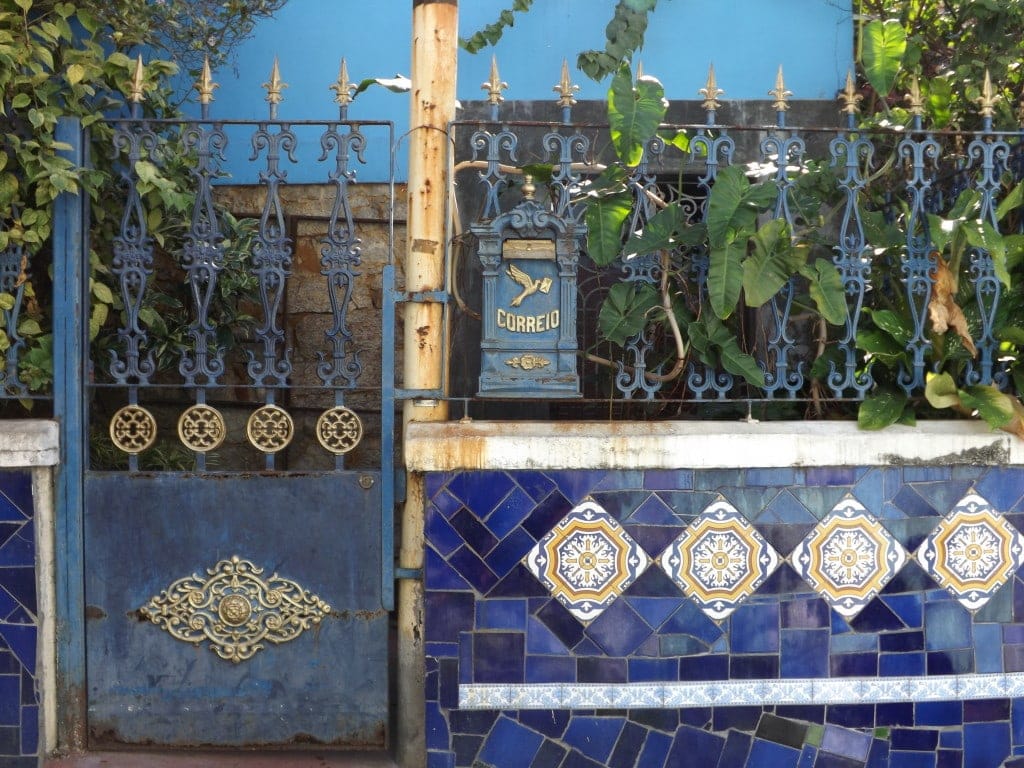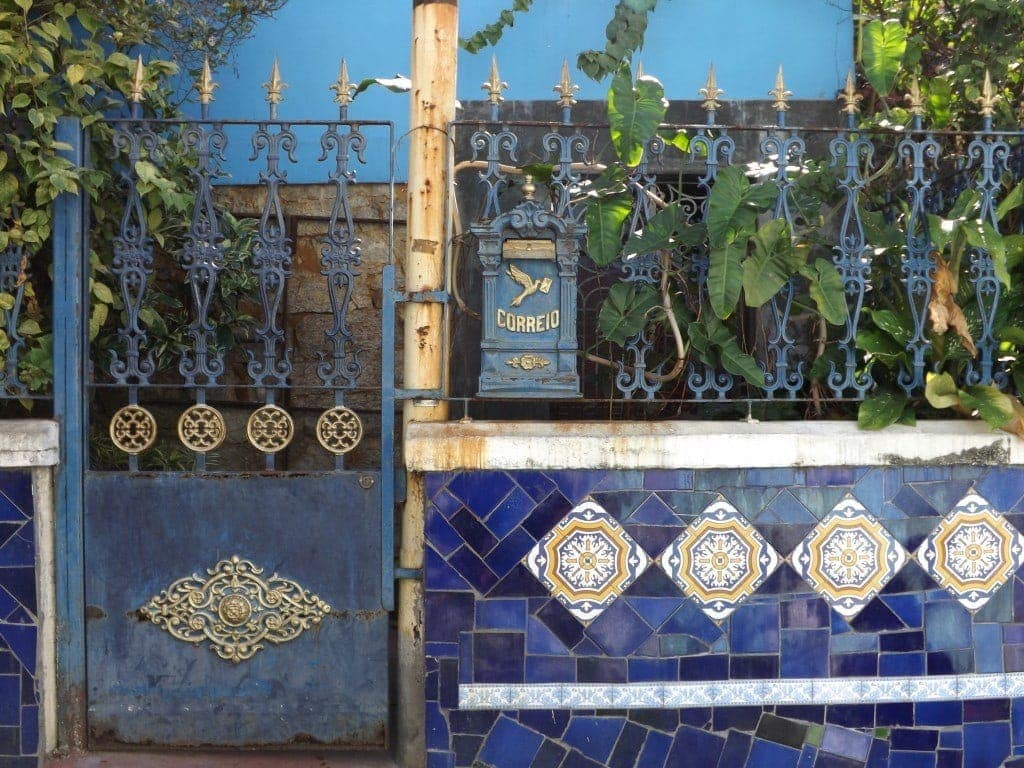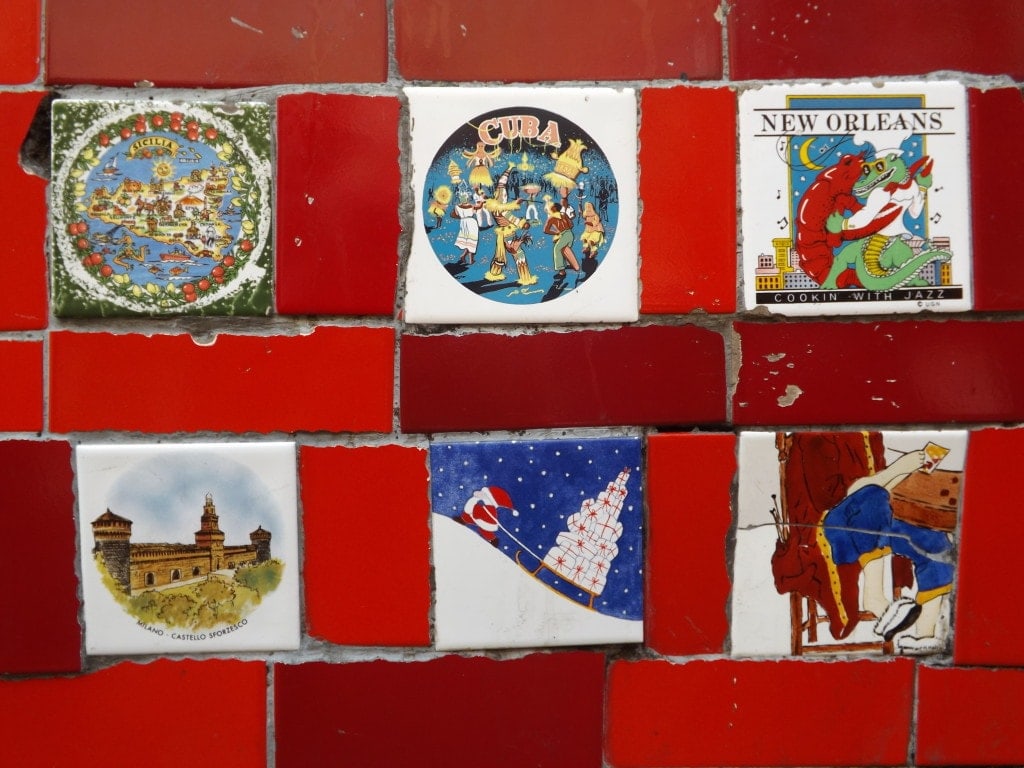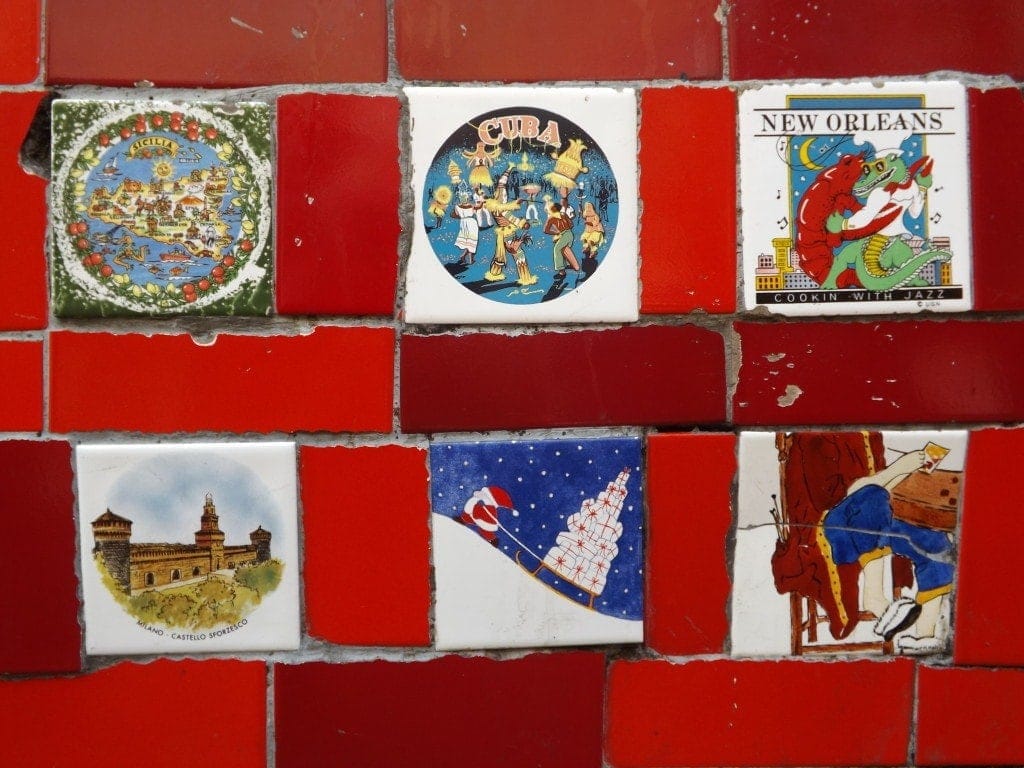 Parque Campo de Santana
One other place we visited in Lapa was the Parque Campo de Santana, the perfect place for a quiet walk just before sunset, where we could escape the hectic city traffic behind high fences. Inside, we found a huge, beautiful park with enormous willow trees and a pretty lake.
Historically, the park is pretty significant. It was the scene of the proclamation of Brazil's independence from Portugal on 7th September 1822. But for us, the highlight was the park's inhabitants: huge, hamster-like rodents called agoutis. These cute animals, native to Brazil, were all over the park, crowding in big, scurrying circles around piles of food which had been left out for them. The noise of their quick teeth working on the crunchy seed was surprisingly loud, and a rapid tapping seemed to fill the park.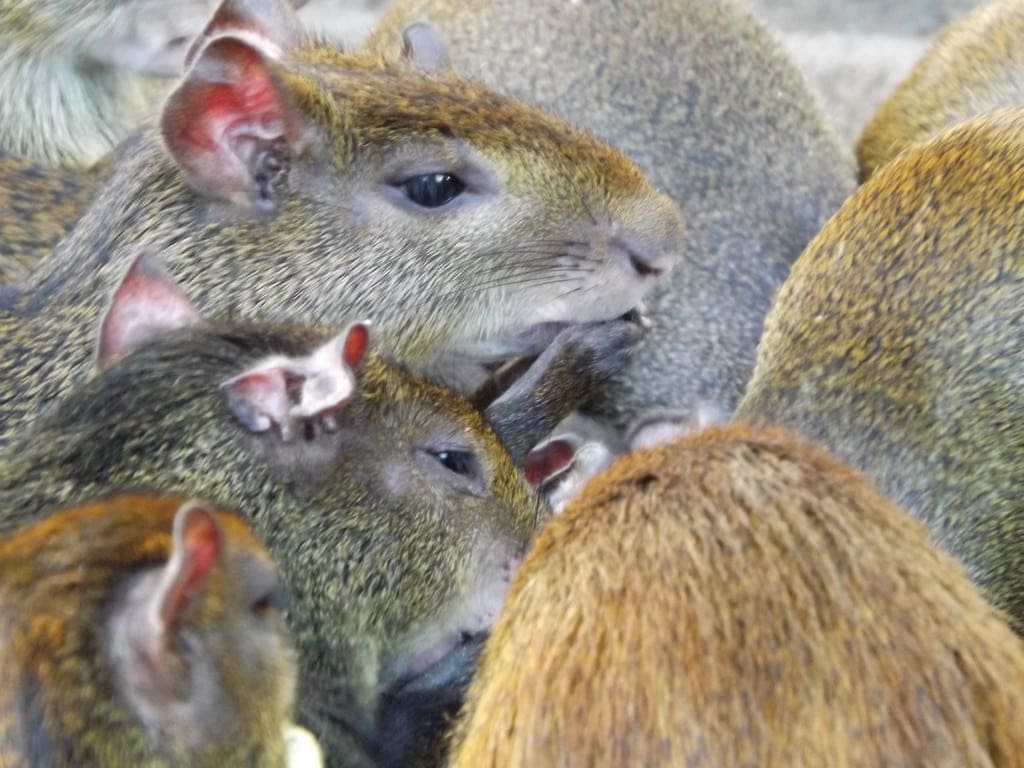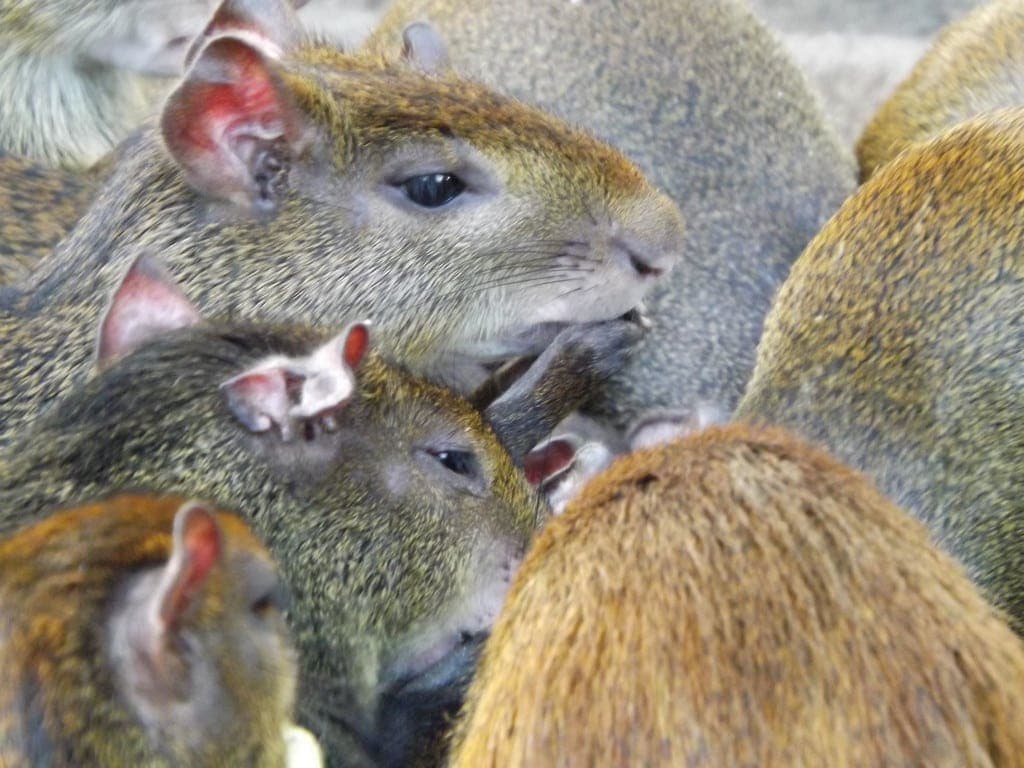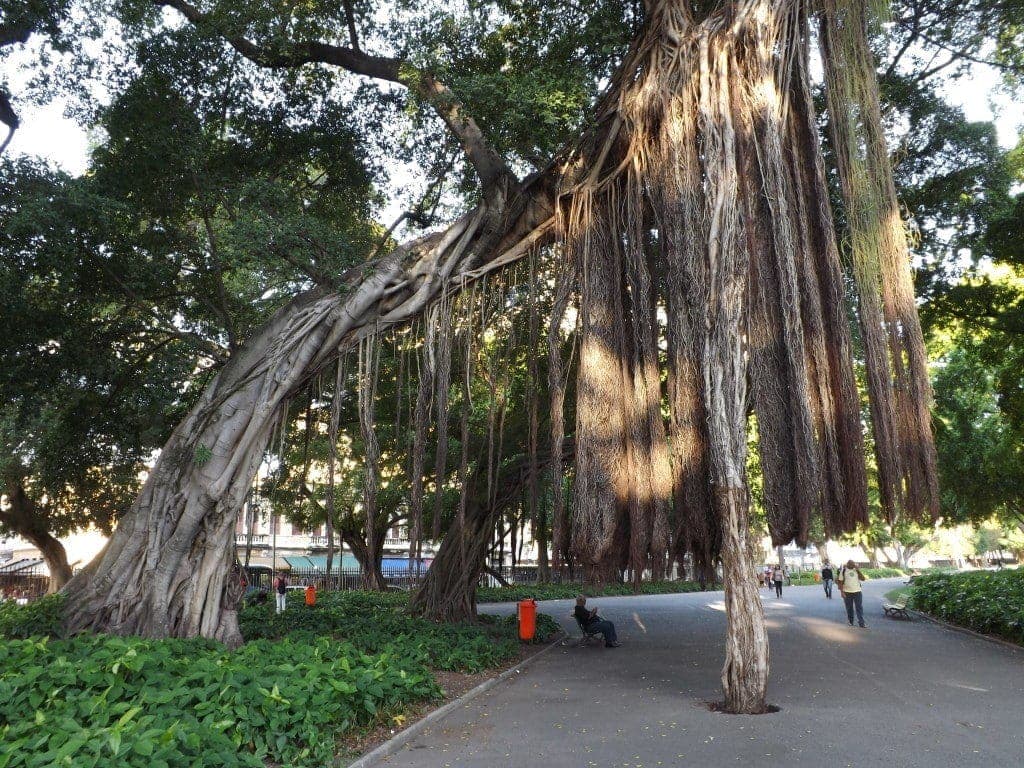 Lapa has a reputation as a party district, thanks to its heaving bars and late-night street parties, but it also had loads to offer during the daytime. Although it did feel a little dodgy in some areas (the neighbourhood boasts quite a large community of prostitutes), it was a really cool district with dilapidated but pretty mansions, great bars and restaurants, and so much amazing street art. It was an awesome place to spend the last few nights of our trip!
Christ the Redeemer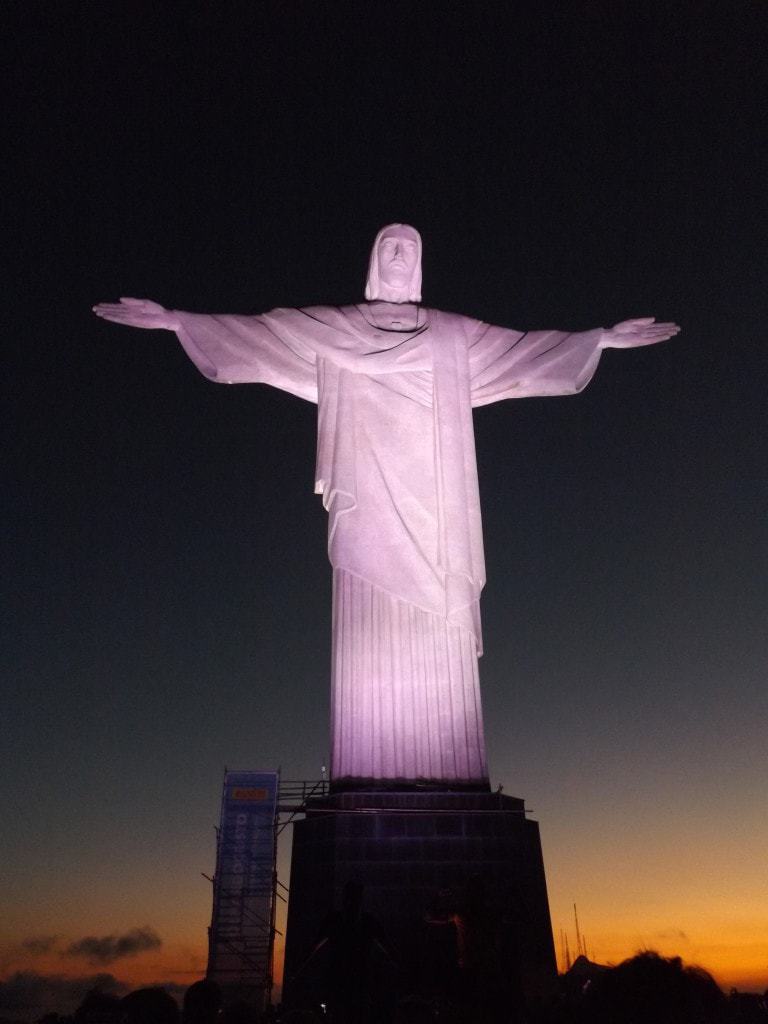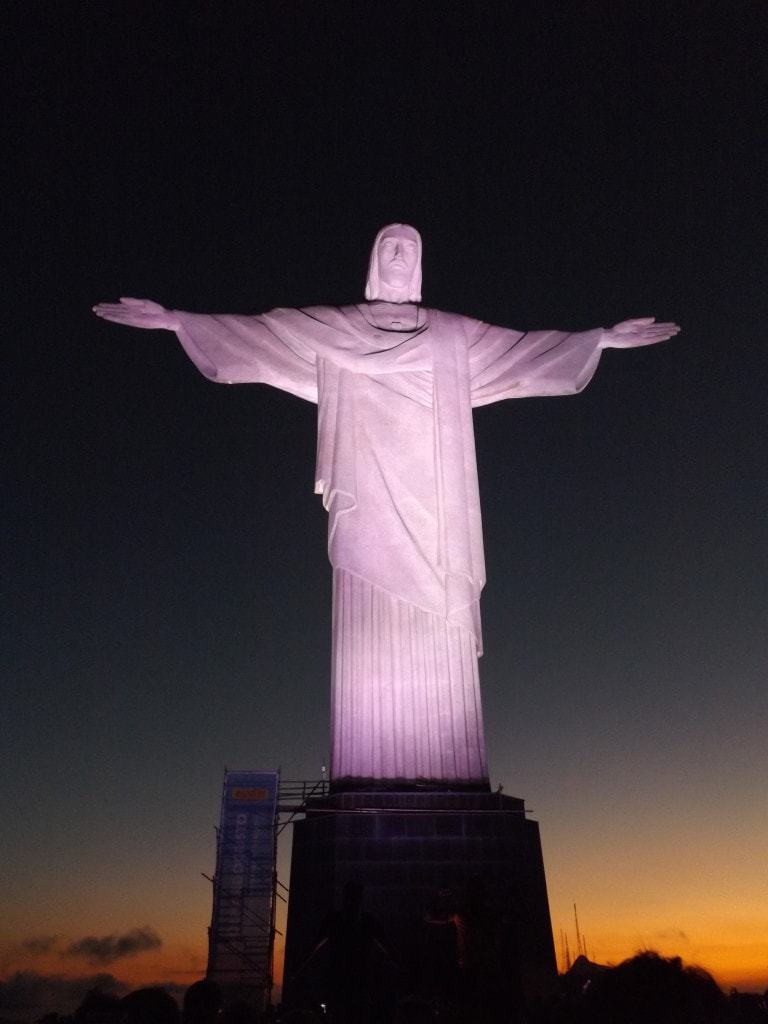 One of our final stops in Rio before heading back to the UK was the iconic Christ the Redeemer statue at the top of Corcovado. This is a serious tourist trap; overcrowded, overpriced and very over-done, but it also felt like the one thing we couldn't miss in Rio de Janeiro.
We took the most popular route to the top; the very busy tourist tram. The Trem do Corcovado is so popular that we had to book our tickets a couple of days in advance (thankfully we could do that online, albeit slowly and with great difficulty).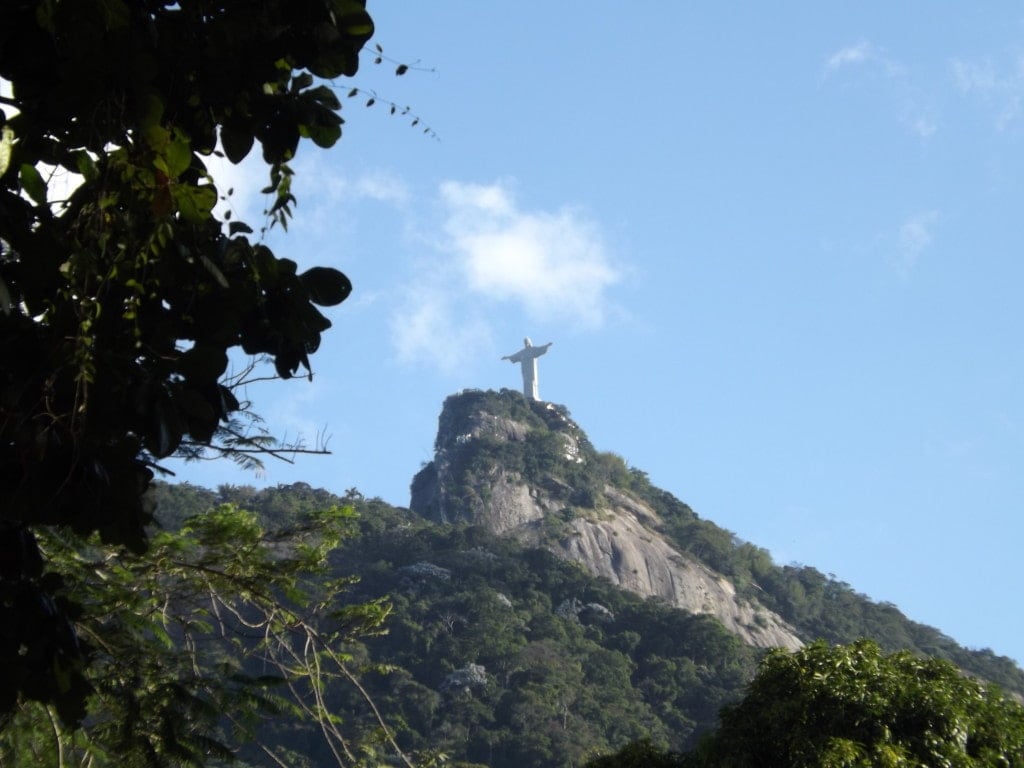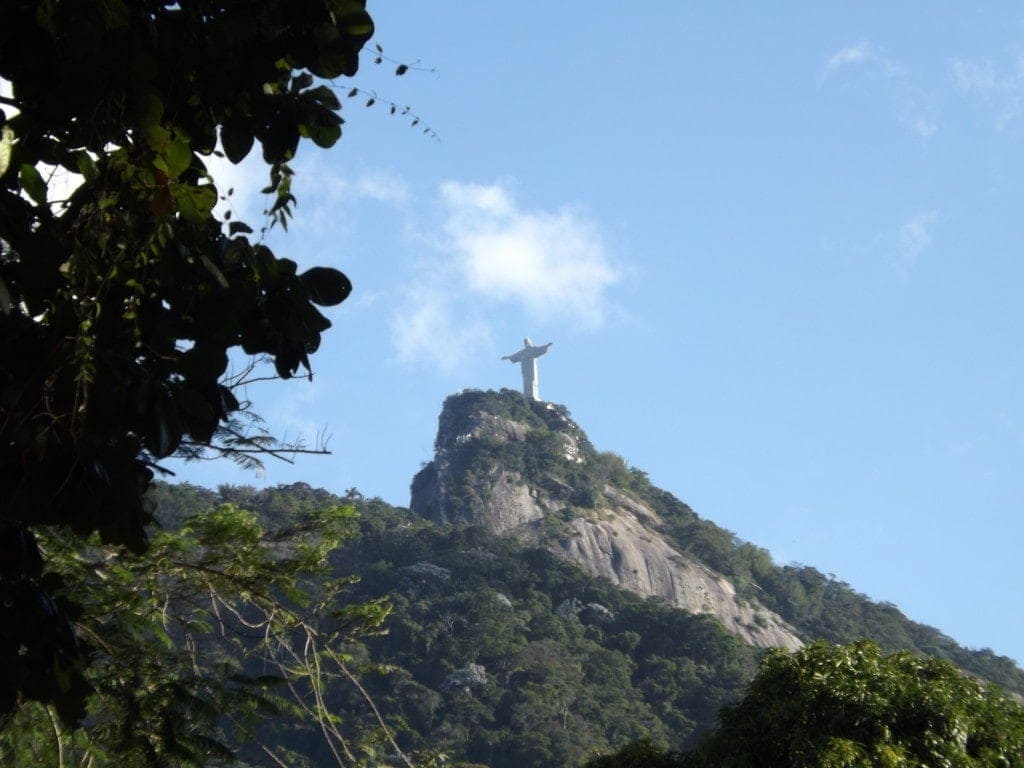 Inspired by that stunning sunset shot of Christ from the World Cup final coverage, I thought it might be nice to be up there to watch sunset. So we booked a train which should arrive just in time for sunset. Clearly, five months of experience in South America had taught me nothing. I failed to factor in "Brazil time"!
The sunset, which I suspect was another spectacular one, took place behind the trees covering the Corcovado mountain while we crawled uphill in the delayed train, unable to catch even a glimpse between branches thanks to the swarm of tourists and their smartphones crowding at the windows.
Darkness had already fallen by the time we arrived. Instead of a glorious sunset viewed from the best vantage point in the city, we got a dazzling view of Rio by night; spectacularly lit up and loomed over by a purple-tinted spotlit Christ. Sunset – or the lack of it – wasn't our only disappointment. I'd been expecting crowds, I'd been expecting a stressful, busy, packed-out viewpoint with cameras and stupid poses everywhere. But even so, I was in no way prepared for just how horrendously crowded it was.
Christ by Night
The viewpoint around Christ the Redeemer is a lot smaller than you'd think. It was so tightly rammed with bodies that I physically couldn't stand anywhere without touching at least three other people. Just making our way through the throng – a perfect depiction of that clichéd phrase "a sea of bodies" – was almost impossible, taking ten minutes to cross a distance of as many feet.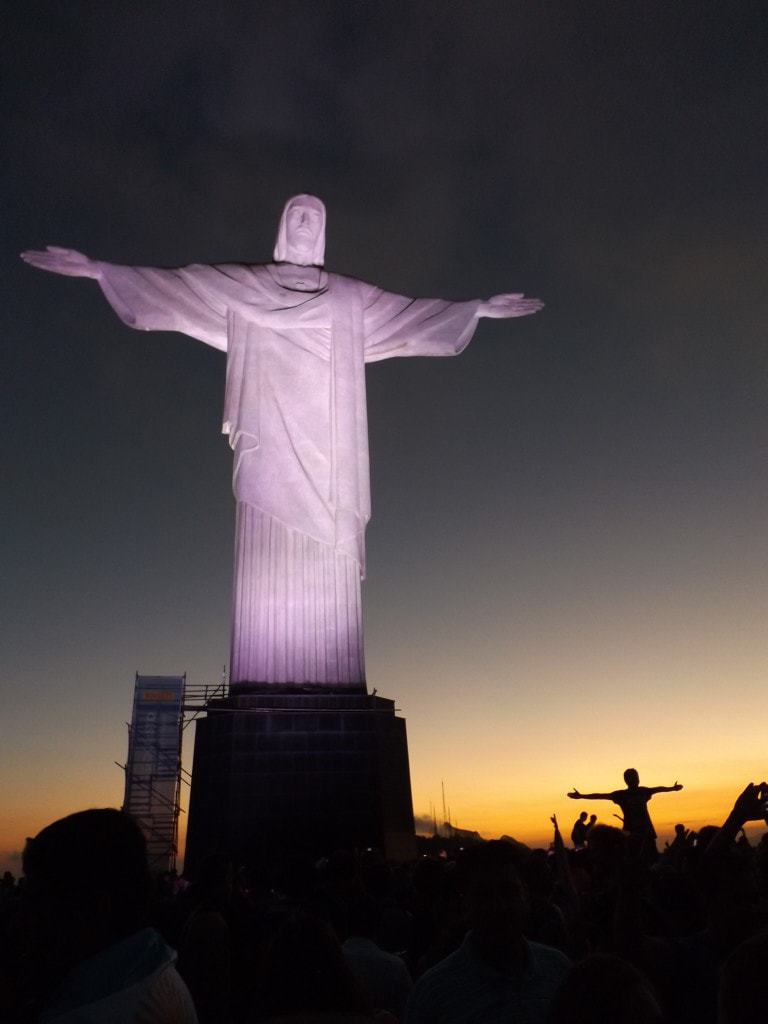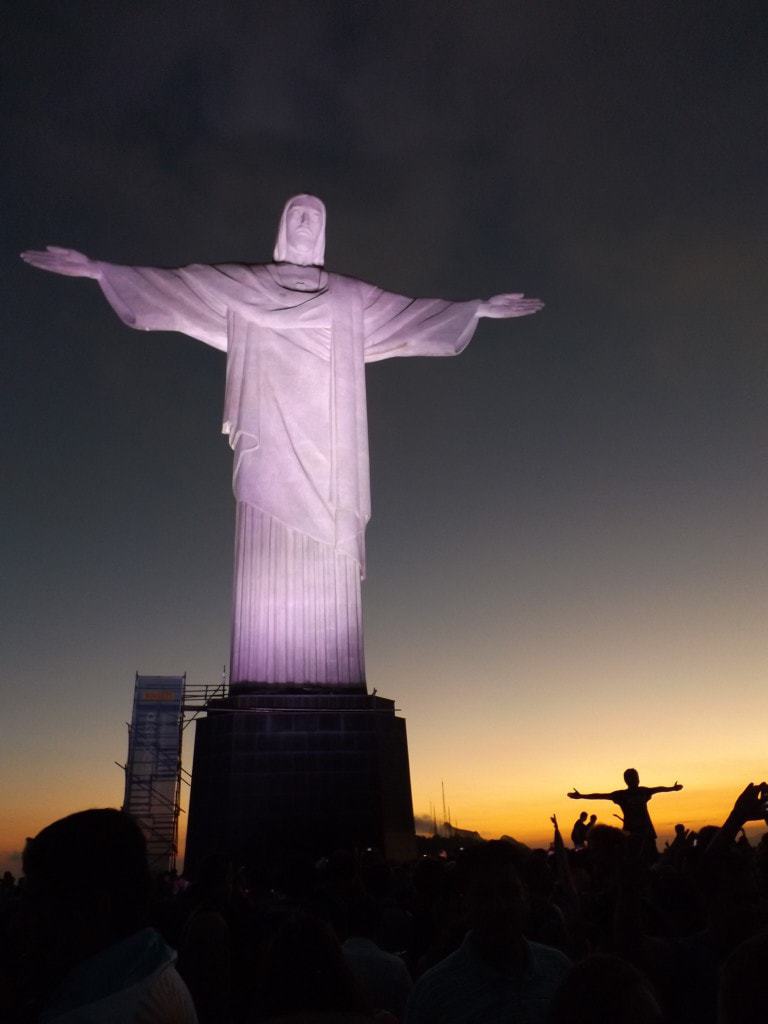 Disappointments aside, a couple of things redeemed our experience (pun shamelessly intended, I'm afraid). The site of Christ glowing white against an electric blue sky still lined with a vibrant, fading orange, is something I'll remember forever.
The triumph, though, was the view of Rio. From our towering vantage point, we could make out a shimmering, watery blanket of tiny lights. Twinkling apartment buildings surrounding that enormous lake in the middle of the city. Minuscule cars crawling up and down neat little roads between street lights. It was an arresting sight, all that light and motion squashed up against the inky darkness of the Atlantic Ocean: the chaos and noise of Rio reduced into a miniature, pulsing lightscape.
Even though we missed the sunset, and had to battle a rib-crushing crowd for the right to look at a sight we had paid to see, and even though we had to queue for almost two hours in the cold to get back down the mountain… I'd say it was all worth it.
Christ the Redeemer is iconic for a reason, and there's a reason it's one of the best things to do in Rio de Janeiro. It was one of my absolute highlights of what was – for me – an unexpectedly wonderful city. A perfect ending to our time in Brazil, and to our five-month trip in South America.