Some posts on this site contain affiliate links. If you book or buy something through these links, I earn a small commission (at no extra cost to you). Take a look at my privacy policy for more information.
Lesvos – it's not the most well-known of the Greek islands, or the most popular, but that just adds to its appeal! Situated in the North Aegean sea, close to Turkey, it's actually the third largest Greek island, with over 300 km of beautiful, unspoilt coastline. Its size, variety and the authentic Greek vibe here make it an ideal location to explore during your 2022 travels! There are direct flights from the UK in peak holiday season and it is easy to fly via Athens all year round.
Lesvos has something for everyone – here's the top reasons why Lesvos should be on your Greek islands travel list.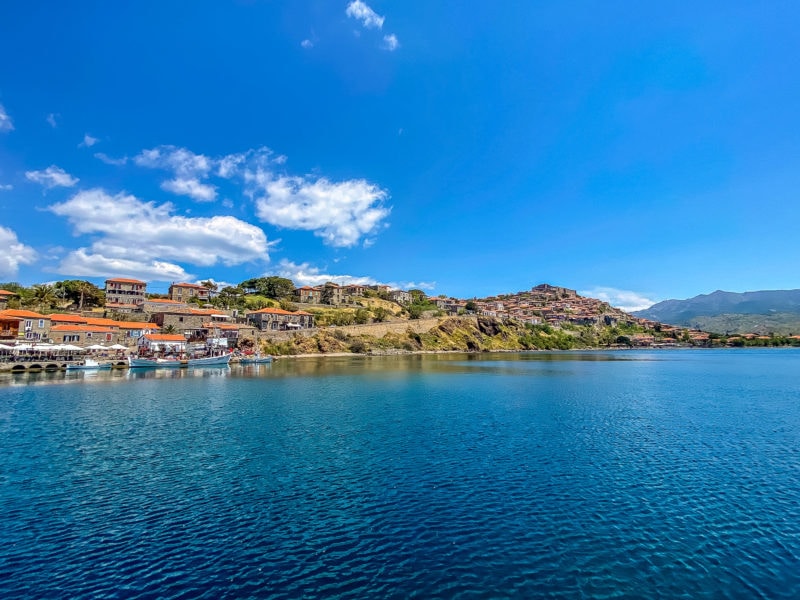 1. It's the Island of Ouzo
Yes, the famous Greek spirit is from Lesvos and over 50% of the Ouzo produced worldwide is made here – there are over 15 distilleries on the island. Ouzo is a sweet and strong alcoholic drink made from the by-products of wine-making, and distilled into a drink, flavoured with anise, mastic and various herbs. Different brands taste subtly different so make sure you try a few varieties. How you drink it is important to the Greeks – sip it slowly, with ice or cold water (and don't do shots!), it's meant to be savoured! You can visit the distilleries and Ouzo museums on the island, and take home a few samples to try at your leisure…
2. Lesvos is home to the Petrified Forest
No, not scared trees, but a forest of trees turned to stone by a volcanic eruption. This awe-inspiring lunar landscape is one of only two petrified forests in the world and is a UNESCO Heritage site. Remnants of huge tree trunks, flowers and plants are fossilised where they fell over 20 miliion years ago – it has been called the 'Pompeii of the Plant world!' You can book a tour round the park (don't forget to take water as it's very hot and there's no shade) and visit the new modern museum in Sigri to learn more about this amazing geological phenomenon.
3. Amazing Beaches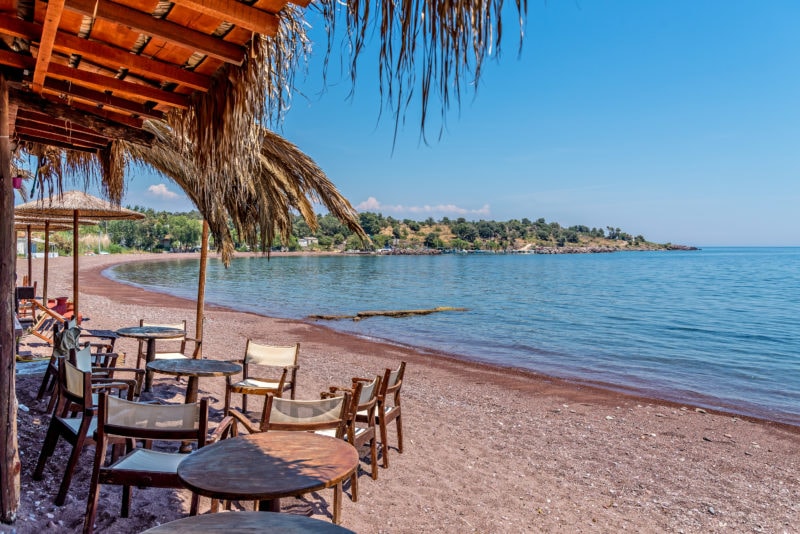 It's not possible to talk about Lesvos without mentioning the amazing beaches, and on this island there's something to do for everyone! If you like organised beaches with sun umbrellas and loungers, then you are well catered for all over the island from Molyvos and Anaxos, to Agios Isidoros, Skala Eressos and Skala Kalloni. If you like seclusion and peaceful isolation then try Tsonia, Chroussos or Antissa. Petra and Gavathas are so gently shelving that they make ideal places to visit with small children and non-swimmers. There are white sandy bays at Tokmakia, which can be reached best by boat, but also shingle beaches, red sand beaches, rocky coves perfect for snorkelling, beaches ideal for watersports, and hidden spots for nudists. With crystal clear, turquoise waters, everyone is able to find their happy place here!
4. Picturesque, authentic villages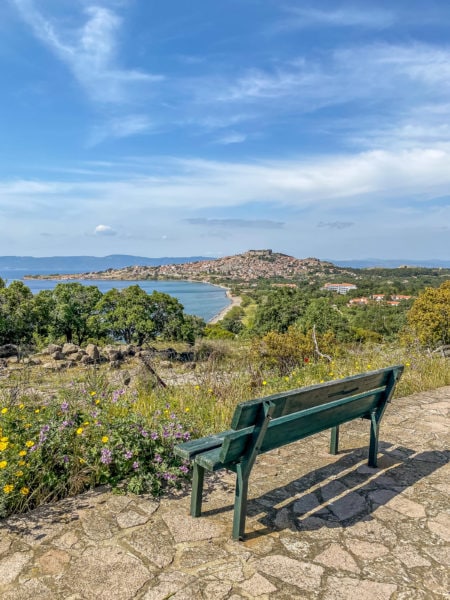 The traditional villages of Lesvos should definitely be on your travel list. The buildings are stone with red roofs, but there's a mix of architecture reflecting the island's past with Byzantine, Roman, Ottoman and Turkish influences. The most famous village is Molyvos, with its winding cobbled streets, castle and pretty harbour. It's protected so there's no high rise buildings or over development here. Petra, with its church on the rock is worth a visit and don't miss Plomari with its colourful harbour and Matamados with its famous monastery and traditional handmade, painted pottery. Wherever you stop, you are sure to find the most hospitable local people, great Greek coffee and a welcoming Greek atmosphere, so make sure you get out and about to explore.
5. Gastronomy
One of the best ways to immerse yourself in Greek culture is to sample Greek food, and with the location of Lesvos, between east and west, plus the favourable climate, the food here is unforgettable. If you're keen on travelling sustainably too, this has to be one of the places with the lowest food miles – you can eat amazing local food, grown and produced right by where you are eating it, from local olives, honey and cheese, to freshly caught fish or seafood (Kalloni is famous for sardines!) and kitchen gardens bursting with tomatoes, aubergines and courgettes. The locals are rightly proud of this local produce and are always happy to tell you the providence of whatever you order – ask what's fresh today and you'll probably hear what was picked that morning from the family's gardens! There's plenty for all tastes including vegetarians and vegans as well as meat and seafood lovers.
6. Interesting things to see and do
As a larger island, there's much more to Lesvos than simply beautiful beaches – it's famous for bird-watching. Even if this isn't your idea of fun, there is something magical about seeing pink flamingos on the plains near Kalloni! You can snorkel and scuba dive in the azure Aegean sea, and for those of you who like to be active there are hiking trails and mountain biking routes galore. Some of the most breathtaking waterfalls in Greece are here on Lesvos – if you're up for a short hike, try visiting the one at Vathylimno – it's breathtaking. And if you need some relaxation, try the one of the five natural thermal springs on the island, with waters reaching 40 degrees celsius. There are said to be numerous health benefits, especially when you combine dipping in the hot mineral water with cooling off in the sea!
7. History and Culture
There are ruins in Lesvos that date back to 2100 BC – read more about the rich and varied history here. One of the best sites to visit during your stay is the Temple of Mesa – apparently built for the Greek Gods, Dionysus, Hera and Zeus in the 4th century BC – it's surrounded by nature and you can almost feel the years of history as you walk round the ruins. Molyvos, Mytilene and Sigri all have ancient castles worth visiting. The one in Mytilene is one of the largest in the Mediterranean and has been destroyed and rebuilt by the Romans, Byzantines, Venetians and Turks. Nowadays Molyvos and Mytilene castles are used for culture and the open air concerts are simply amazing in such historic settings! There's also a Roman Aquaduct, a large ancient theatre and impressive mosques and temples for the culture vultures among you!
So if you want to visit an authentic Greek island, with beautiful beaches, lots of history and plenty of things to see and do, then make sure Lesvos is part of your holiday planning. It might not be as well known as other Greek islands but that's part of its appeal – and means it is much better value and much less crowded, even during peak holiday season!