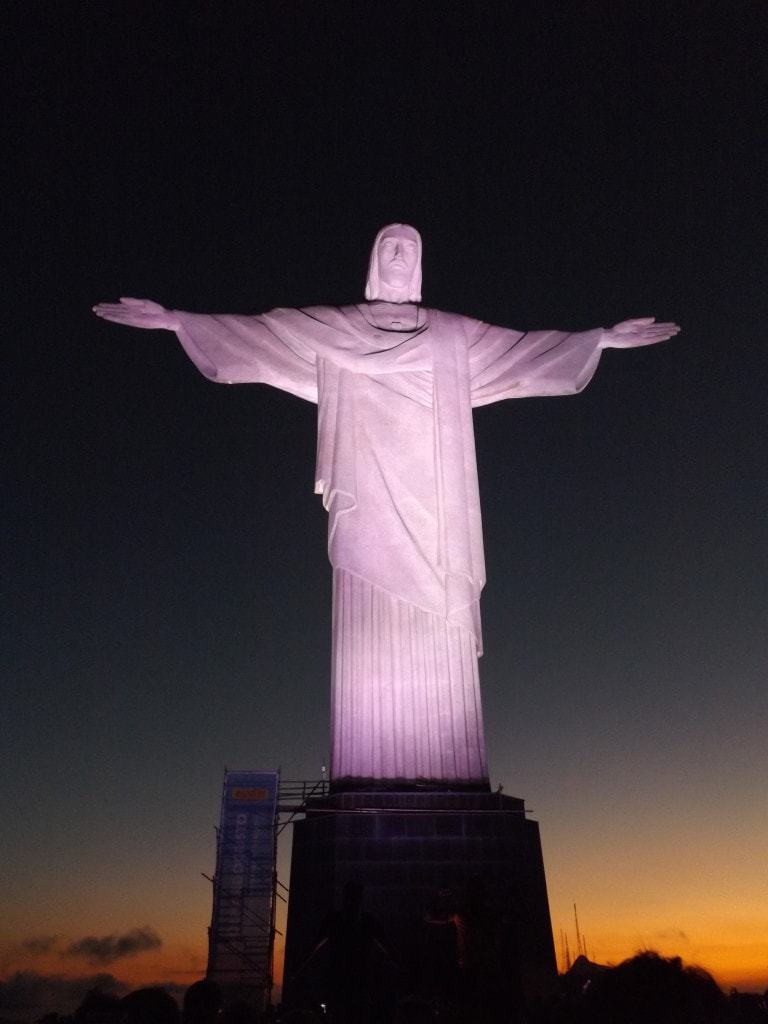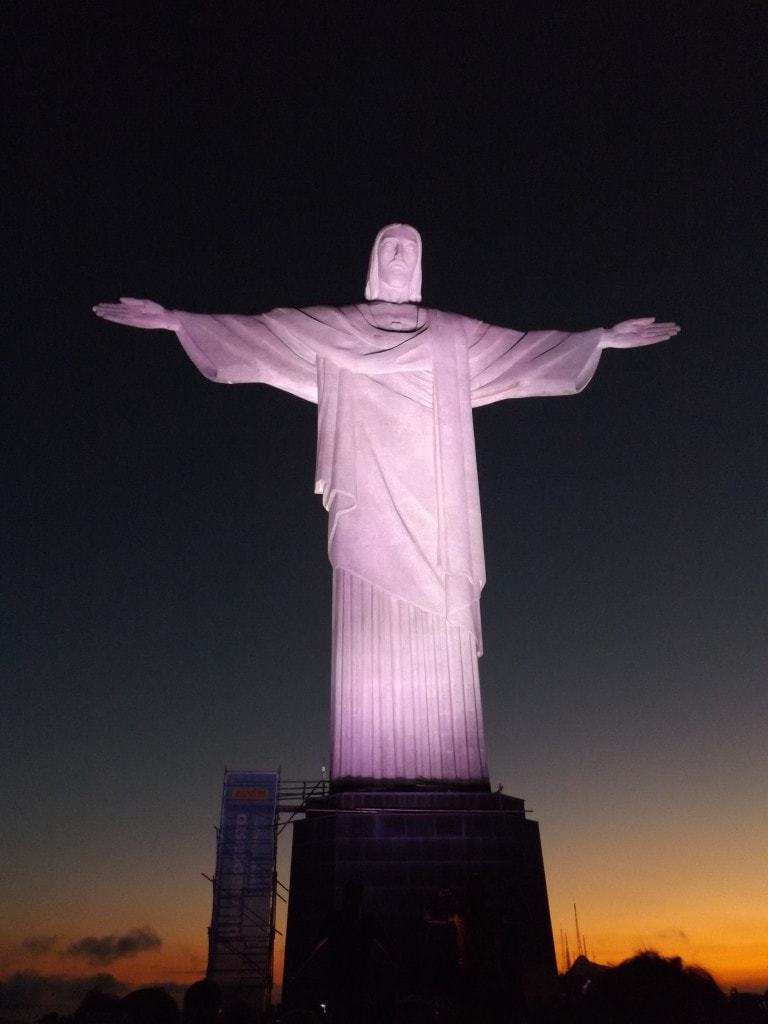 15th July
One of our final stops in Rio before heading back to the UK was the iconic Christ the Redeemer statue at the top of Corcovado. This is a serious tourist trap; overcrowded, overpriced and very over-done, but it also felt like the one thing we couldn't miss in Rio de Janeiro.
We took the most popular route to the top; the very busy tourist tram, the Trem do Corcovado, which is so popular that we had to book our tickets a couple of days in advance (thankfully we could do that online, albeit slowly and with great difficulty). Inspired by that stunning sunset shot of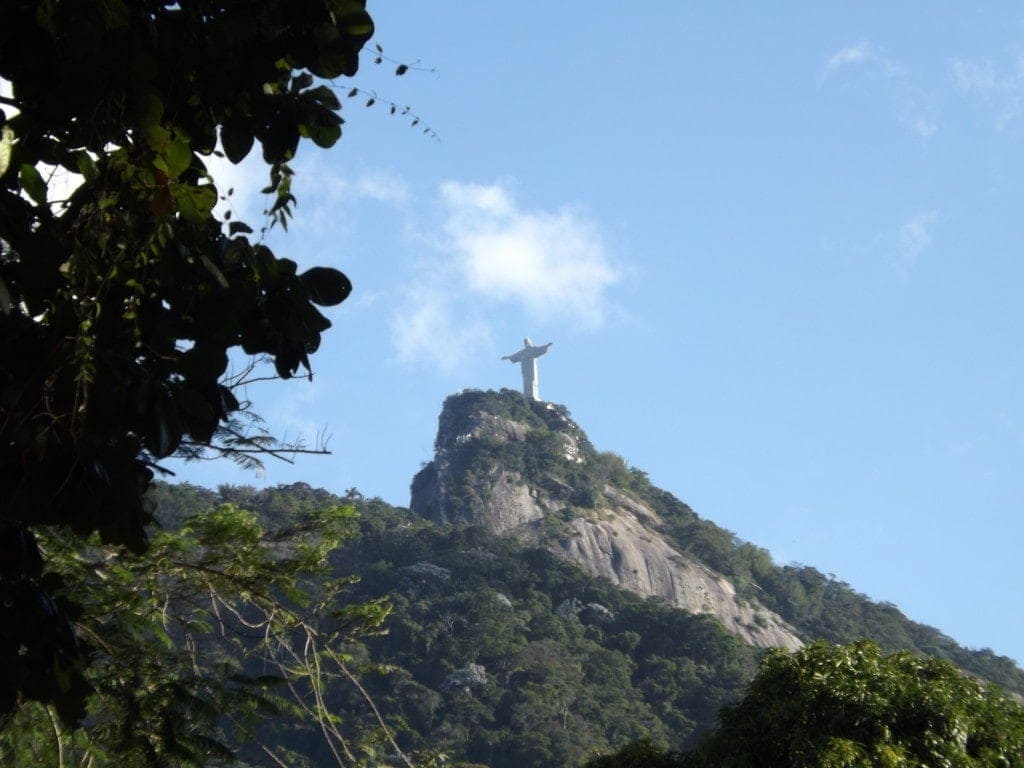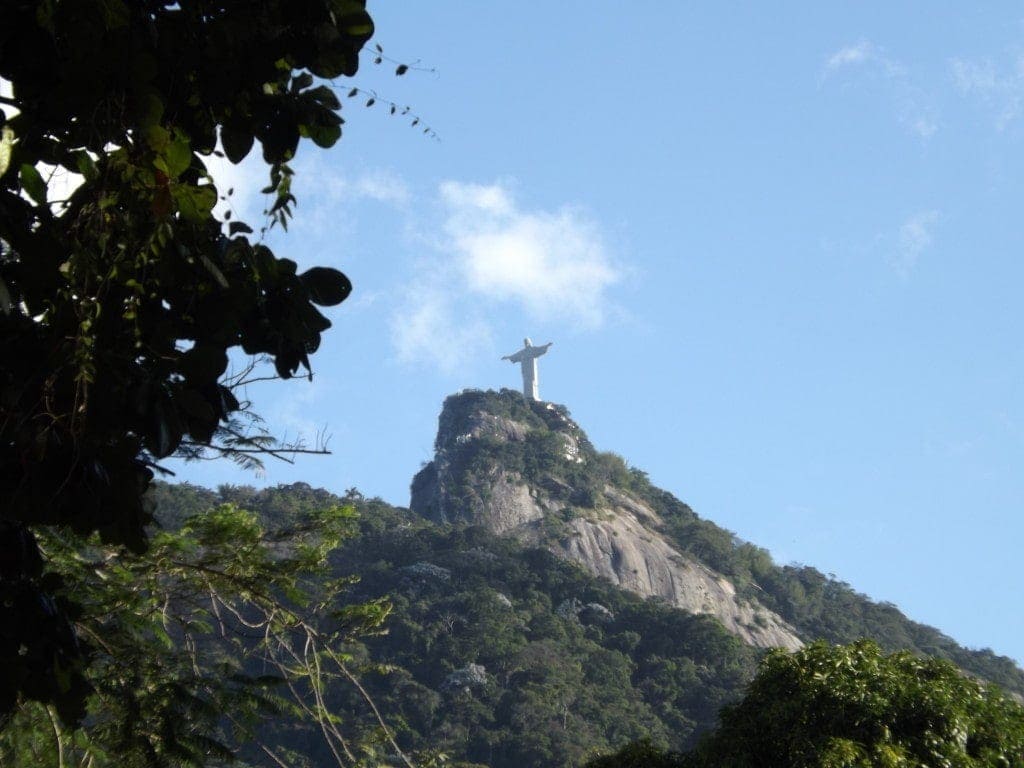 Christ from the World Cup final coverage, we thought it might be nice to be up there to witness the sunset over the city, so booked a train which should have gotten us up to the top about 15 minutes beforehand. Of course, five months of experience in South America had still taught us nothing, so we didn't factor in "Brazil time". Silly us. The sunset, which I suspect was another spectacular one, took place behind the trees covering the Corcovado mountain while we crawled uphill in the delayed train, unable to catch a glimpse even between branches thanks to the swarm of tourists and their smartphones crowding at the windows.
Darkness had already fallen by the time we arrived, so instead of a glorious sunset viewed from the best vantage point in the city, we got a dazzling view of Rio by night; spectacularly lit up and loomed over by a purple-tinted spotlit Christ. Sunset – or the lack of it – wasn't our o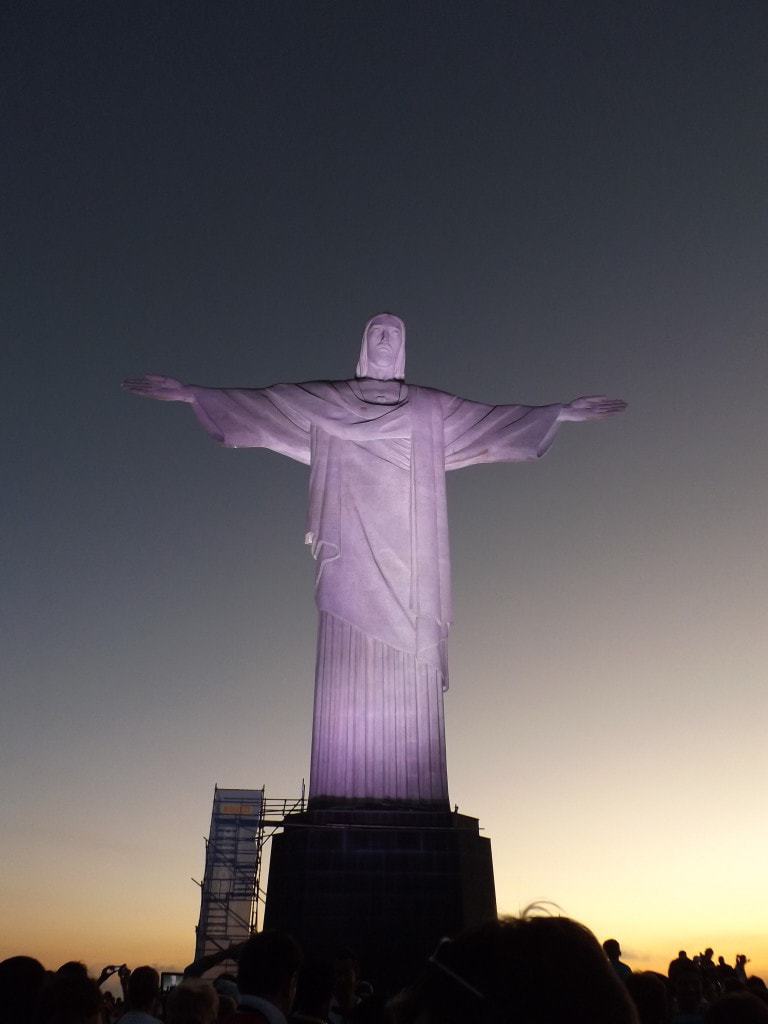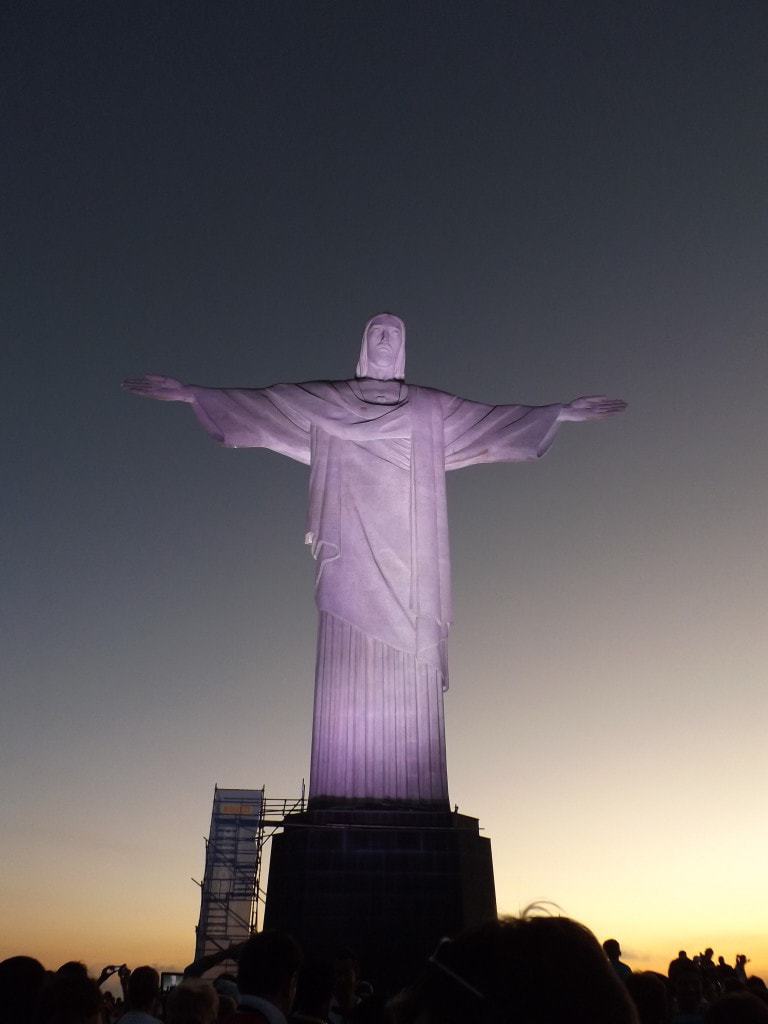 nly disappointment with the Christ experience. I'd been expecting crowds, I'd been expecting a stressful, busy, packed-out viewpoint with cameras and stupid poses everywhere, but I was not in any way prepared for just how horrendously crowded it was. The viewpoint around Christ the Redeemer is a lot smaller than I'd imagined, and it was tightly rammed with bodies, so that I physically couldn't be stood anywhere without touching at least three other people. Just making our way through the throng – a perfect depiction of that clichéd phrase "a sea of bodies" – was almost impossible, taking ten minutes to cross a distance of as many feet.
But, disappointments aside, there were a couple of things that redeemed our experience (pun shamelessly intended, I'm afraid). The site of Christ, for one, glowing white against an electric blue sky which was still lined with a vibrant, fading orange, is something I'll remember forever. And that same sky, da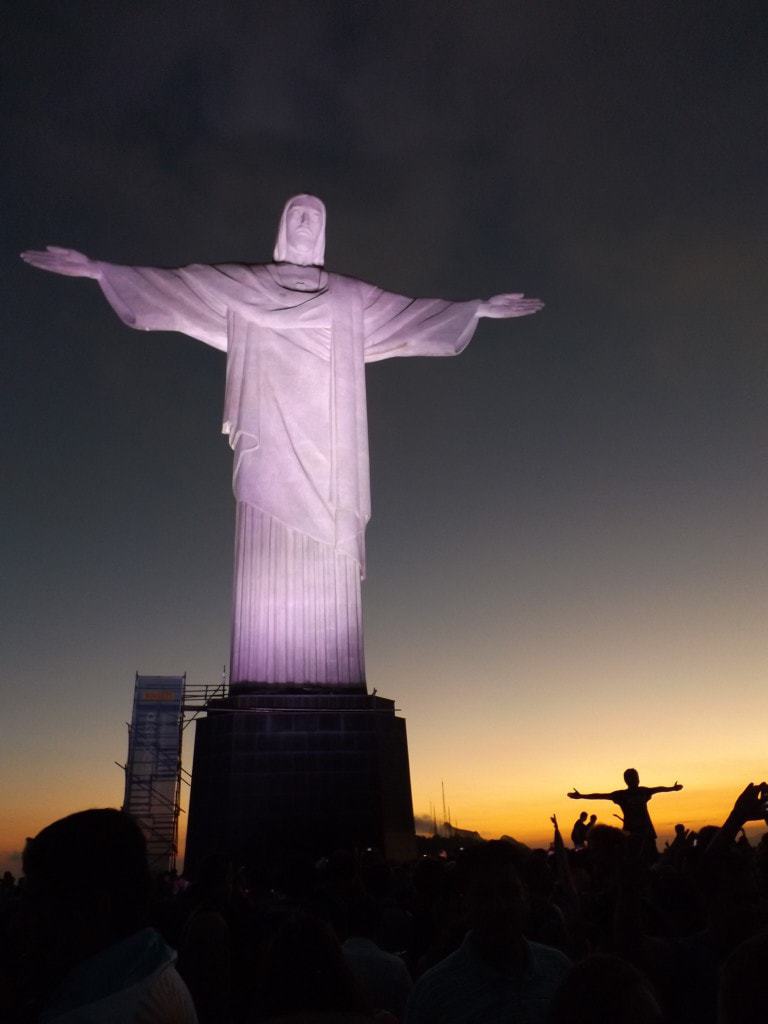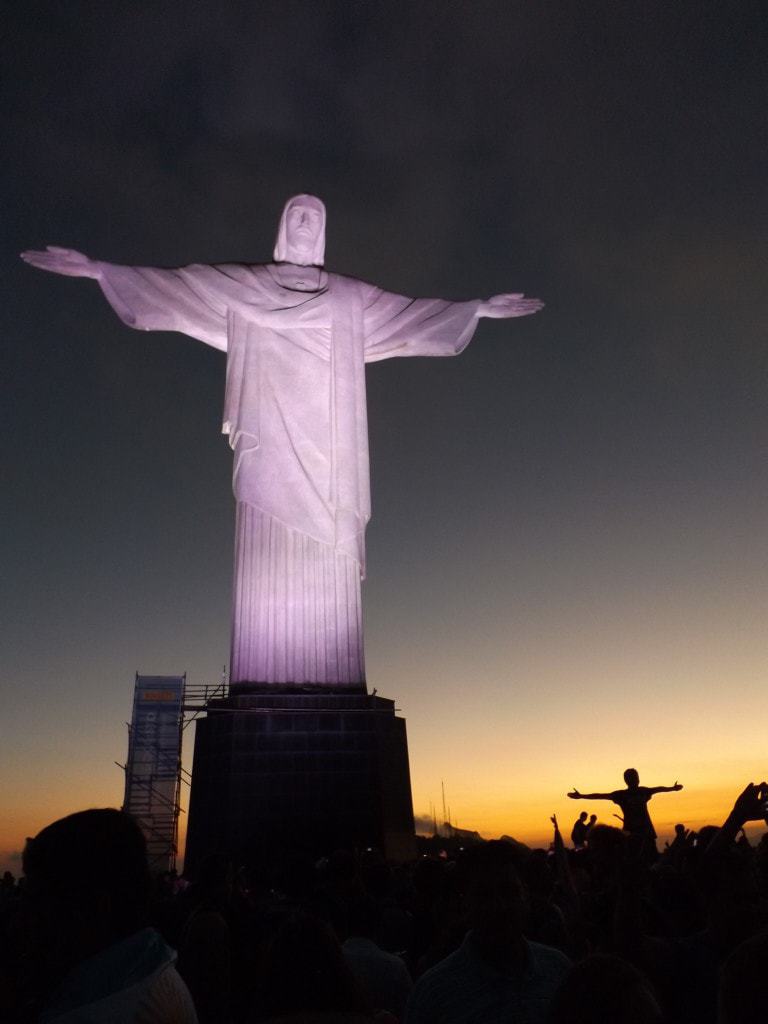 rkening but still vividly bright, provided a gorgeous background to the silhouetted crowd, especially those endless posers raising themselves up above the others to stick out their arms in imitation of the statue and grab the classic Christ the Redeemer tourist photo. I found those silhouetted, anonymous posers almost more appealing subjects than Christ himself, sharply contrasted against the band of orange sky. The triumph, though, was the view of Rio; from our towering vantage point we could make out a shimmering, watery blanket of tiny lights, twinkling apartment buildings surrounding that enormous lake in the middle of the city, minuscule cars crawling up and down neat little roads between street-lights. It was an arresting sight, all that light and motion squashed up against the inky darkness of the Atlantic Ocean, the chaos and noise of Rio reduced into a miniature, pulsing lightscape.
Even though we missed the sunset, and had to battle a rib-crushing crowd for the right to look at a sight we paid to see, and even though we had to queue for almost two hours in the cold to get back down the mountain, I'd say it was all worth it. Christ the Redeemer is iconic for a reason, and there's a reason it's one of the best things to do in Rio de Janeiro. It was one of my absolute highlights of what was – for me – and unexpectedly wonderful city. A great way to finish off our time in Brazil, and to end our five month trip in South America.