It was the very first day of the final week of our five month trip, so of course, everything had to go wrong. We arrived in Rio after a slow and uncomfy bus ride from Paraty which took a fair amount longer than the scheduled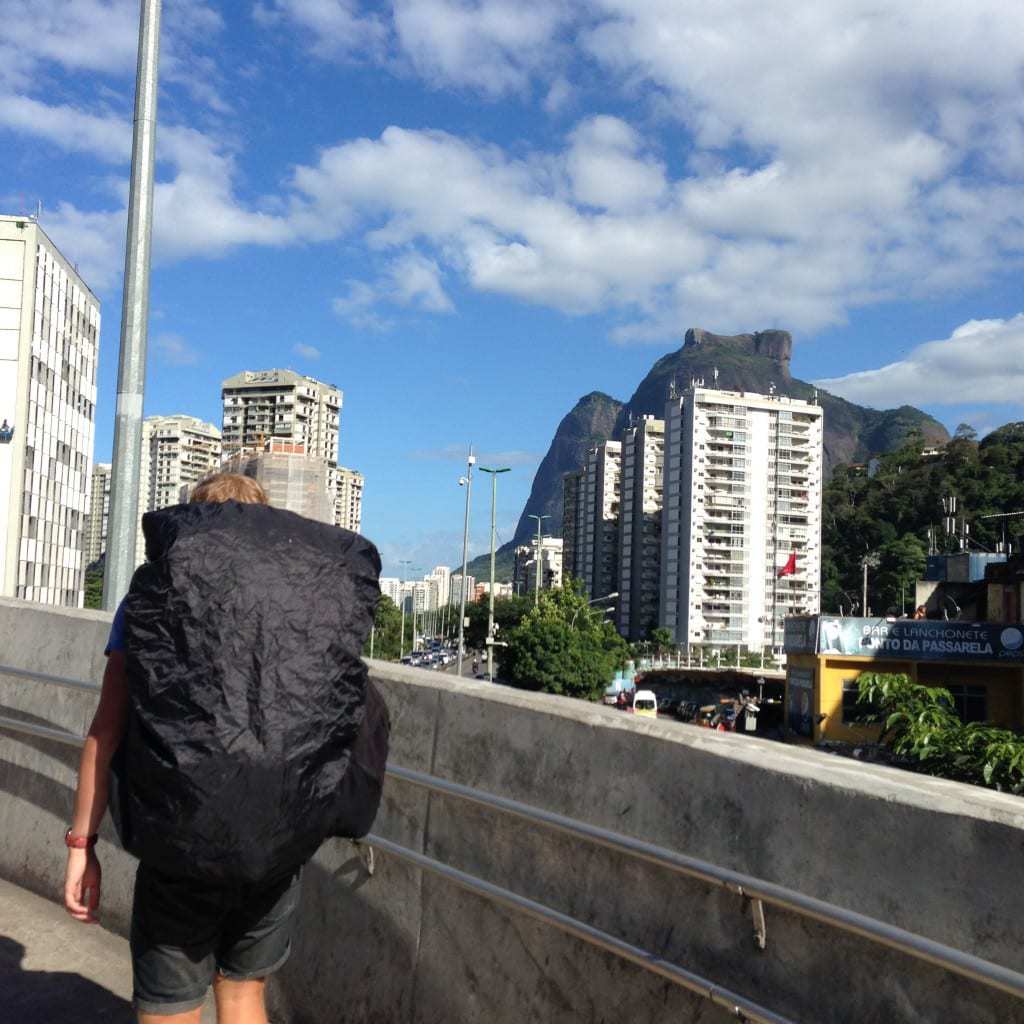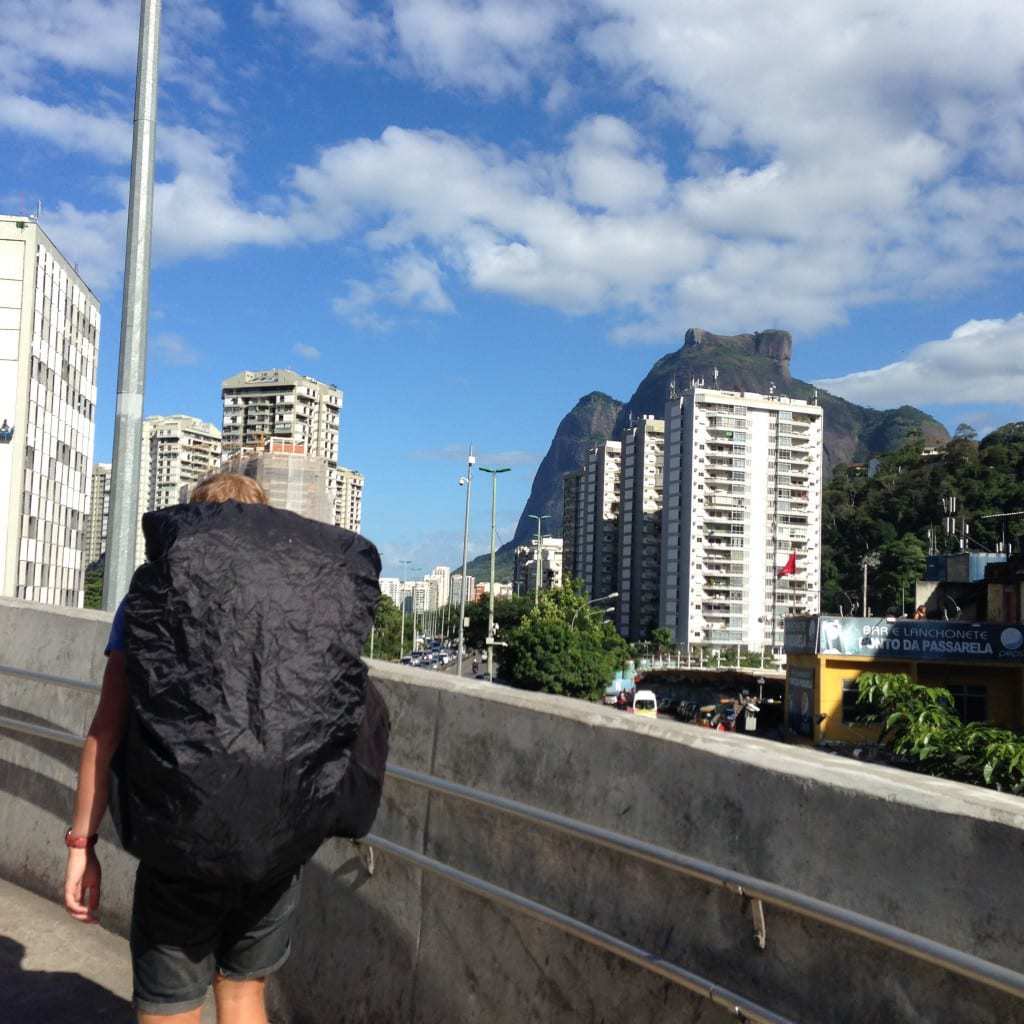 four hours; I slipped in and out of sleep amongst endless queues of traffic streaming into the capital of Brazil ready for the World Cup Final in two days time. It was pouring with rain, thick and tropical, and the grey skies clung to the tops of Rio's mountains, closing us in.
Our first attempt at a taxi ride was a disaster. We loaded the boot, scrambled in, and handed over the hostel address – only for the driver to quote a price which much more than we could afford for a taxi. We scrambled back out and hurried away from a very unhappy looking driver, then – following directions from the helpful but uncertain tourist advice desk in the bus station – hopped on a bus which would take us as far as Leblon, where we could take another taxi to our hostel.
The reason for all this hassle? Our hostel for the World Cup Final weekend was the only remaining affordable one in the city – Hostel Rocinha, located in the Rocinha favela on the outskirts of the city. This turned out to be not only far away from the centre, but almost impossible to get to. After spending nearly two hours crossing the city through flooded streets, we finally managed to hail a cab which then sat still in traffic, taking about half an hour to travel a distance we could have walked in ten minutes. When the cab f
inally reached the right road, it dropped us at the very edge of the favela and refused to keep driving. A second cab driver, clearly under the influence of one substance or another, hurtled us round the narrow and tightly winding streets of the slum – occasionally slowing to check out girls walking along the street – and finally dropped us at the right place; a very unappealing looking building tucked behind a mess of apartment buildings and filthy cafes. By now it was dark, and behind the still bucketing rain the favela could not have looked less pleasant.
Rocinha Hostel itself wasn't too bad, considering it was smack in the middle of a slum and very cheap (for the World Cup); everyt
hing was pretty new and we had friends staying there which made it better. We did have to wait three hours for them to build a new room for us, but although the paint was still wet, the beds were new and we were the only ones in a room which was clearly to small to be turned into a dorm.
How wrong we were! At 3am we were woken up by someone pounding the door and shouting in urgent Portuguese. It being such a badly restored old building, the key snapped off inside the lock when we tried to let the hostel receptionist in, so she had to get the handyman to smash the door down. Once inside, he set about hammering together a new set of bunk beds for two Argentinian brothers that were checking in – so much for a good night's sleep!
Our experience of the actual hostel didn't improve too much over the next few days – during which time another set of bunk beds was crammed into our tiny 'dorm' room – but our opinion of the favela itself did. We had done our research before booking a hostel in a slum, of course, and found that R
ocinha didn't match the usual image of a favela and was, reportedly, pretty safe. Everytime we went out, we were so careful of our stuff – only taking the bare minimum of cash, and almost no valuables – but I didn't feel any more endangered than anywhere else we went in Rio. Rocinha favela was hectic, busy, crowded and dirty, laid out in a scramble around winding roads on the side of a hill, with houses built almost on top of each other, buildings sporting scrap metal and corrugated iron, and hundreds of small shops squeezed into almost any available space, reminding me of the souqs in Marrakech. But it was also colourful, lively, and friendly, with some very cheap, delicious food available at restaurants tucked into tiny properties along the alleyways.
We spent four nights in the favela, and actually really enjoyed it. It was much easier to get in and out once we knew where we were going and which busses to get – although it still took at least an hour to get into the centre of Rio – and staying in Rocinha felt like a much better way to get a glimpse of what life in Rio is like. It was a fascinating cultural experience and a great way to experience Rio de Janeiro!