Some posts on this site contain affiliate links. If you book or buy something through these links, I earn a small commission (at no extra cost to you). Take a look at my privacy policy for more information.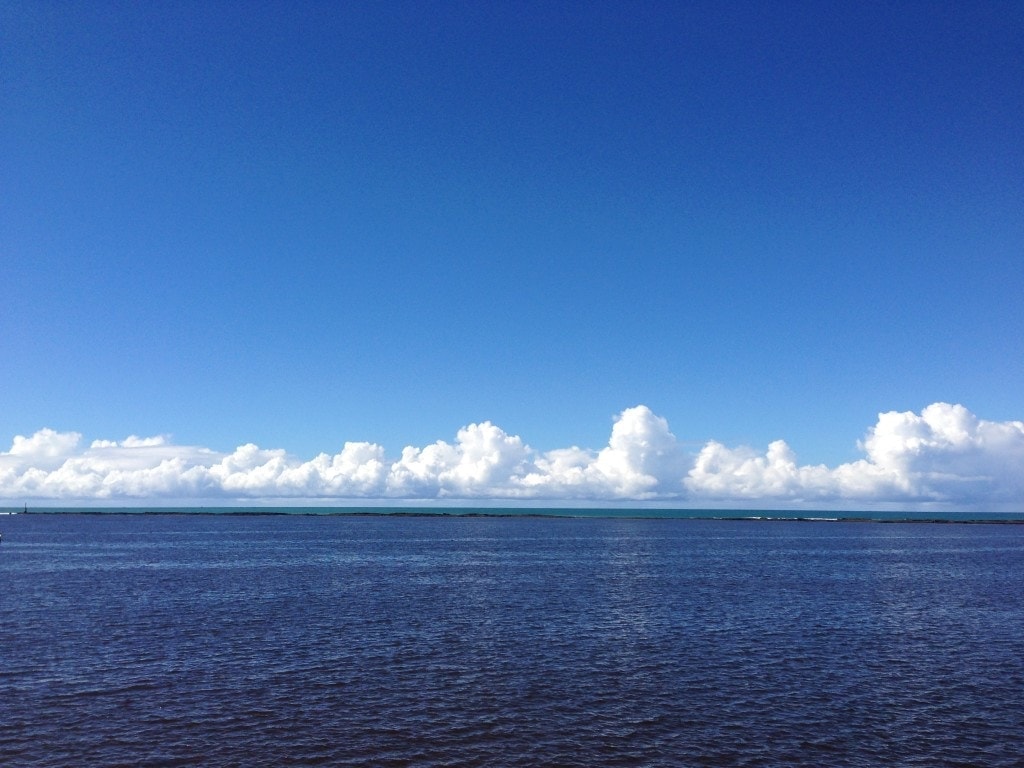 I've already mentioned that one side effect of the World Cup in Brazil this year was the stadiums driving visitors to towns which previously weren't major tourist hotspots, like Belo Horizonte. Another effect was that the huge inflation of prices – particularly accommodation prices – in these cities drove backpackers like us out of the big towns and forced us to seek out smaller, less well-travelled destinations.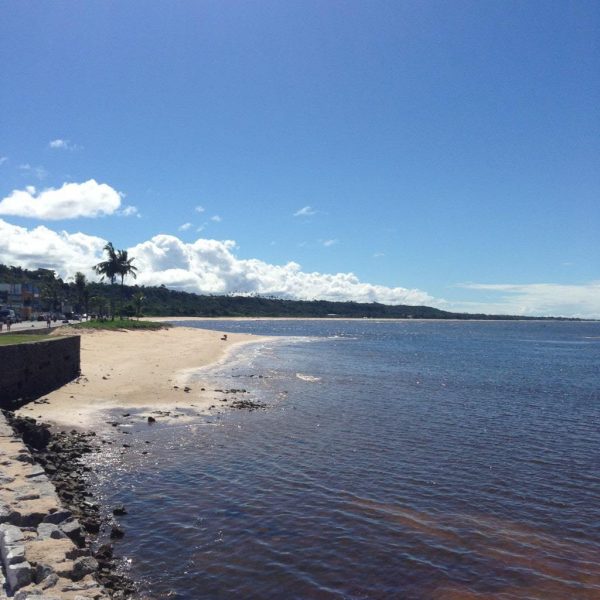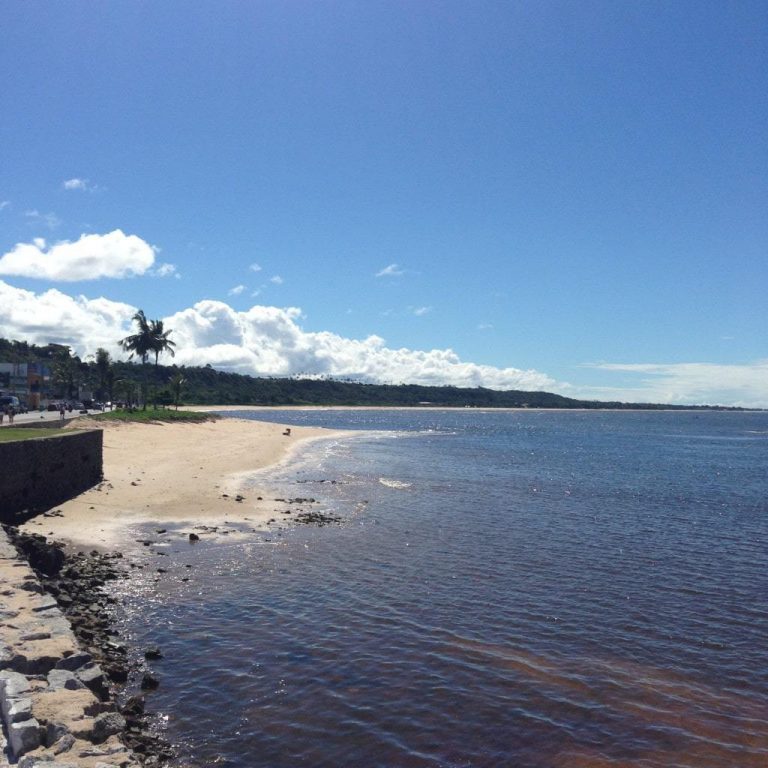 Where all our previous decisions about our route through South America had been based on previous knowledge or recommendations on the road, in Brazil our slightly misshapen route simply sought out the towns which had the lowest accommodation prices. The first such destination was Porto Seguro: far enough away from any World Cup towns to be affected, this popular tourist destination for inland Brazilians was experiencing a winter lull – meaning that we were able to stay in a private room at a reasonable hotel for less than £15 per night. It was chosen by a fluke; simply because out of the list of coastal destinations within bussing distance of Belo Horizonte it had the cheapest hotel rates I could find online.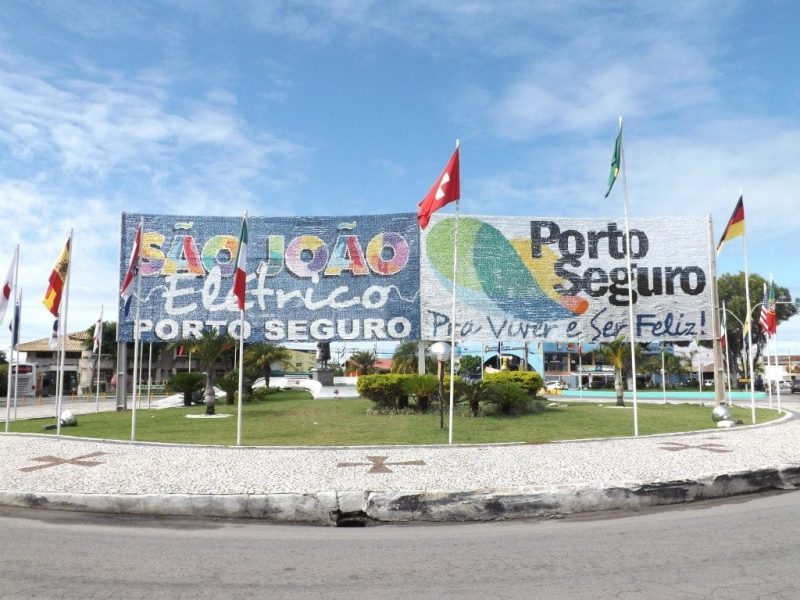 We arrived to a sleepy town which looks colourfully and pleasantly rundown, and which was celebrating the World Cup with a fervour that we didn't see anywhere else in Brazil, even Rio. Aside from the world flags and huge banners welcoming visitors at the town's entrance, the whole of Porto Seguro was completely covered in fluttering, coloured bunting which formed a ceiling over every street. Patterns, World Cup country flags, and words were depicted in the colours of the triangular flags, and given the constant sea breaze my strongest memory of Porto Seguro is of an unending, whispering sound like hundreds of birdwings.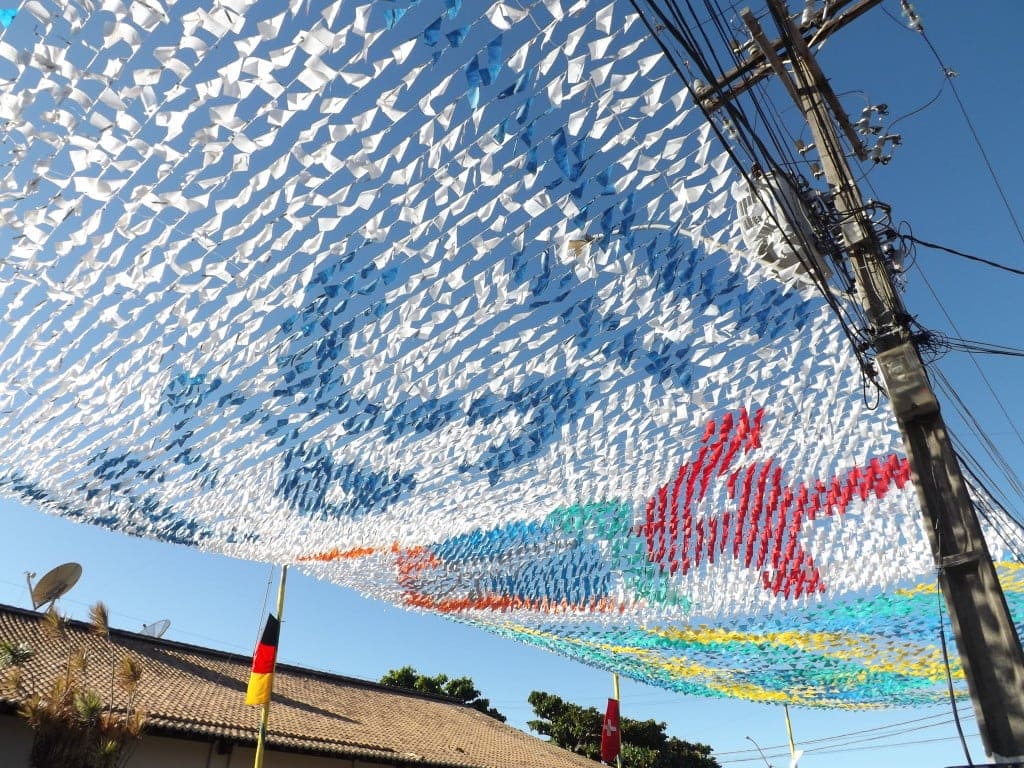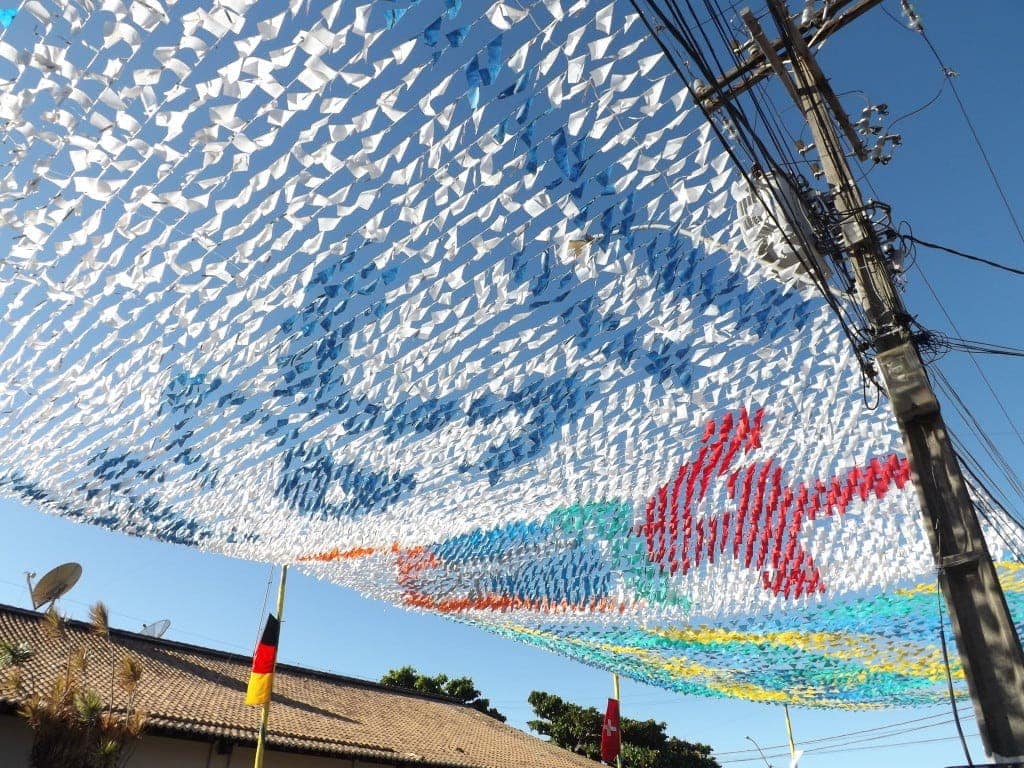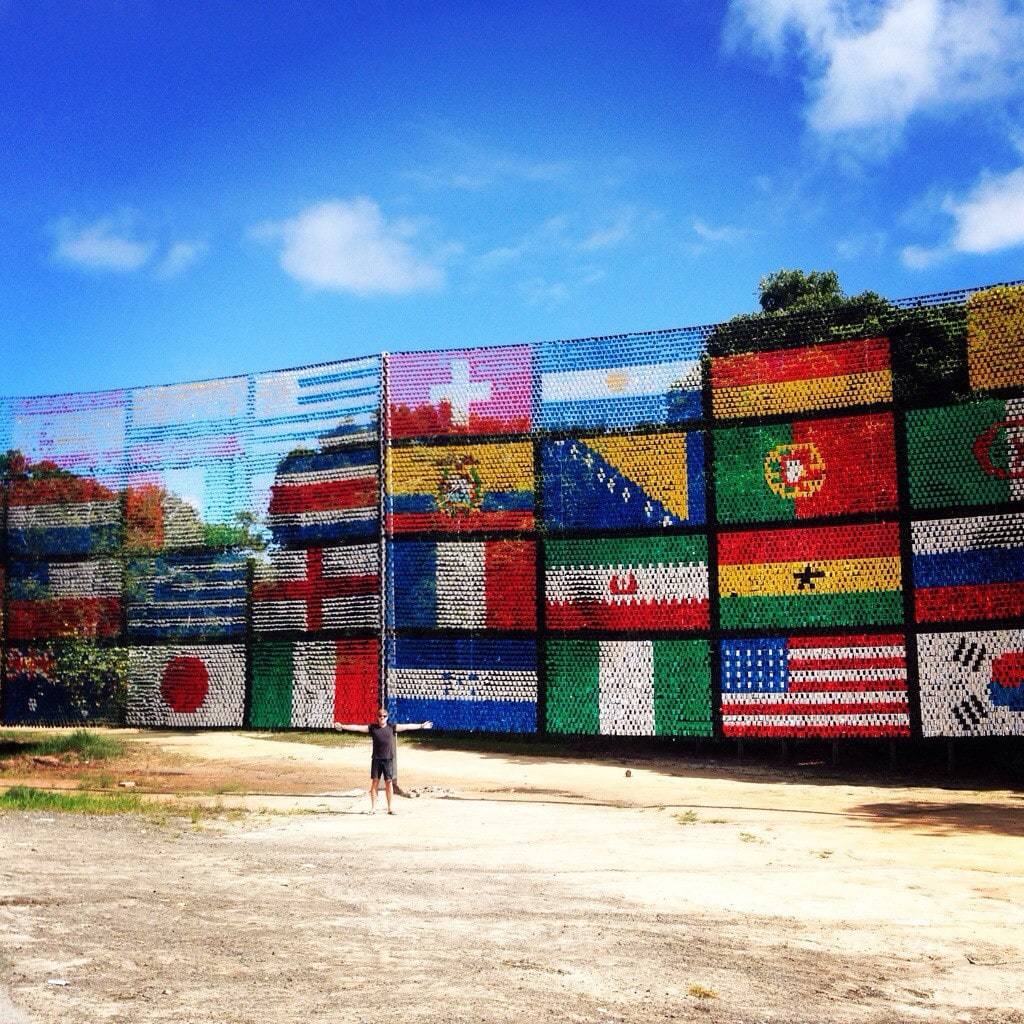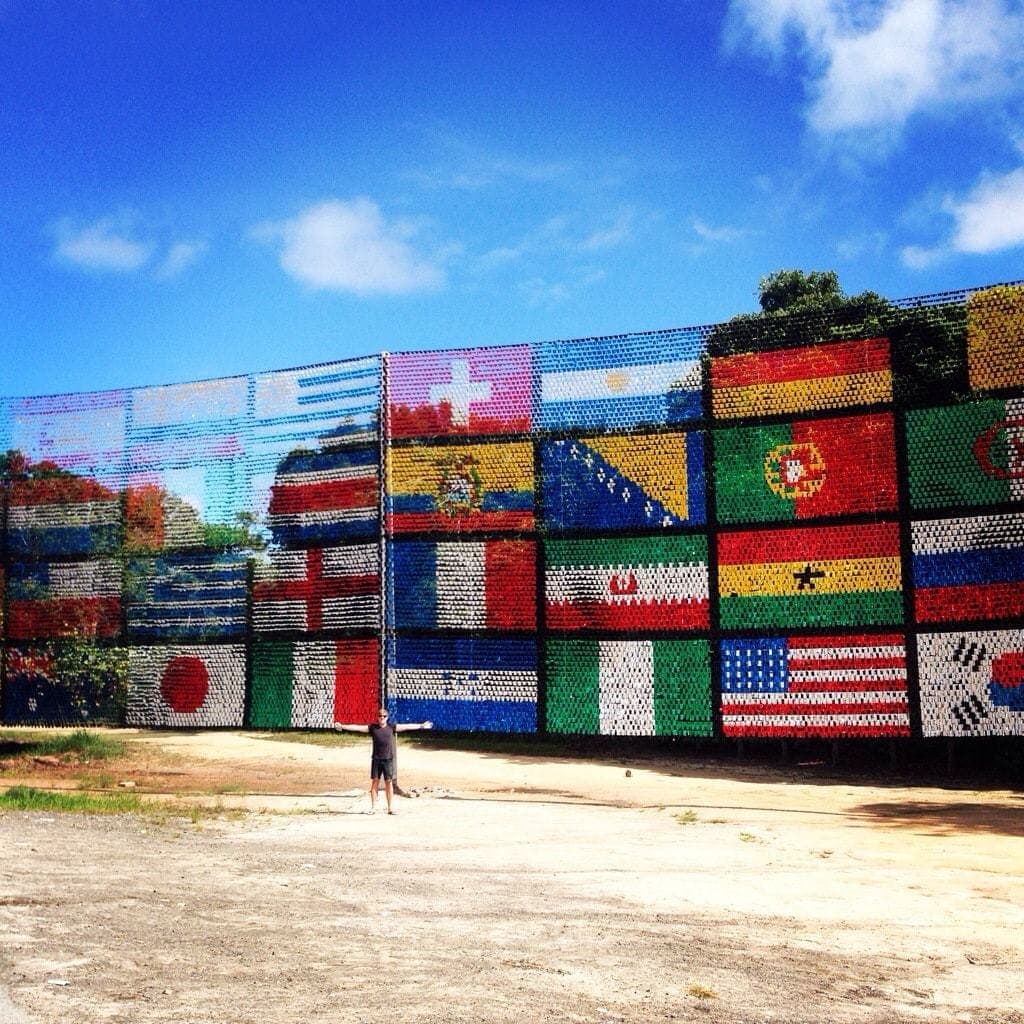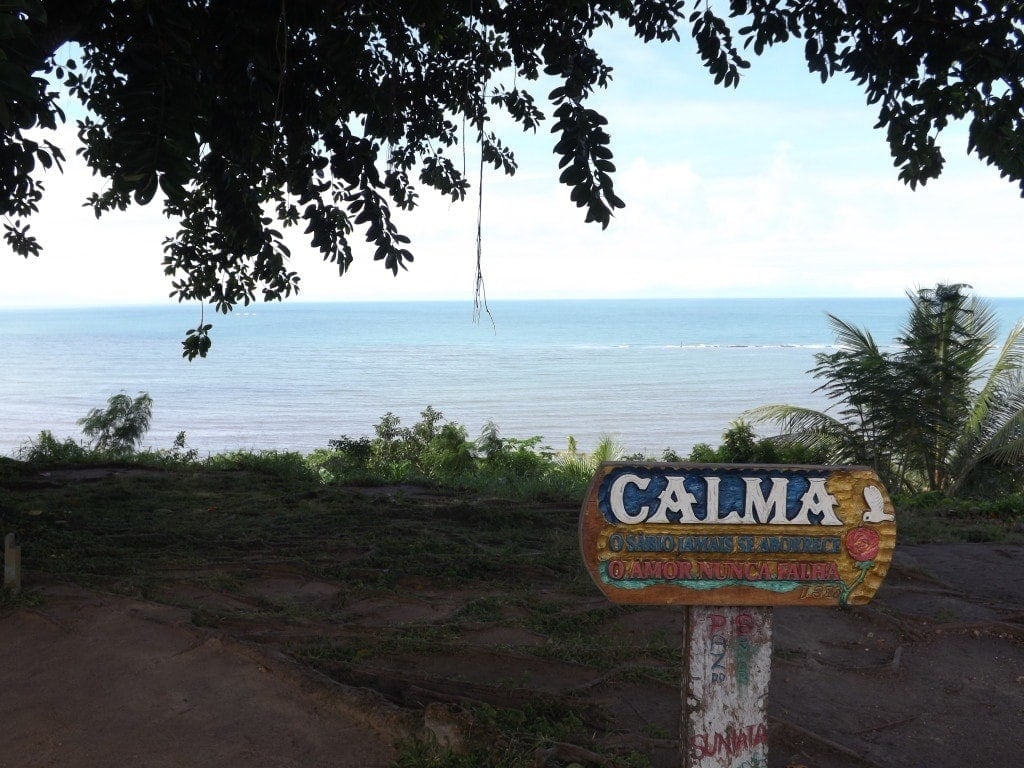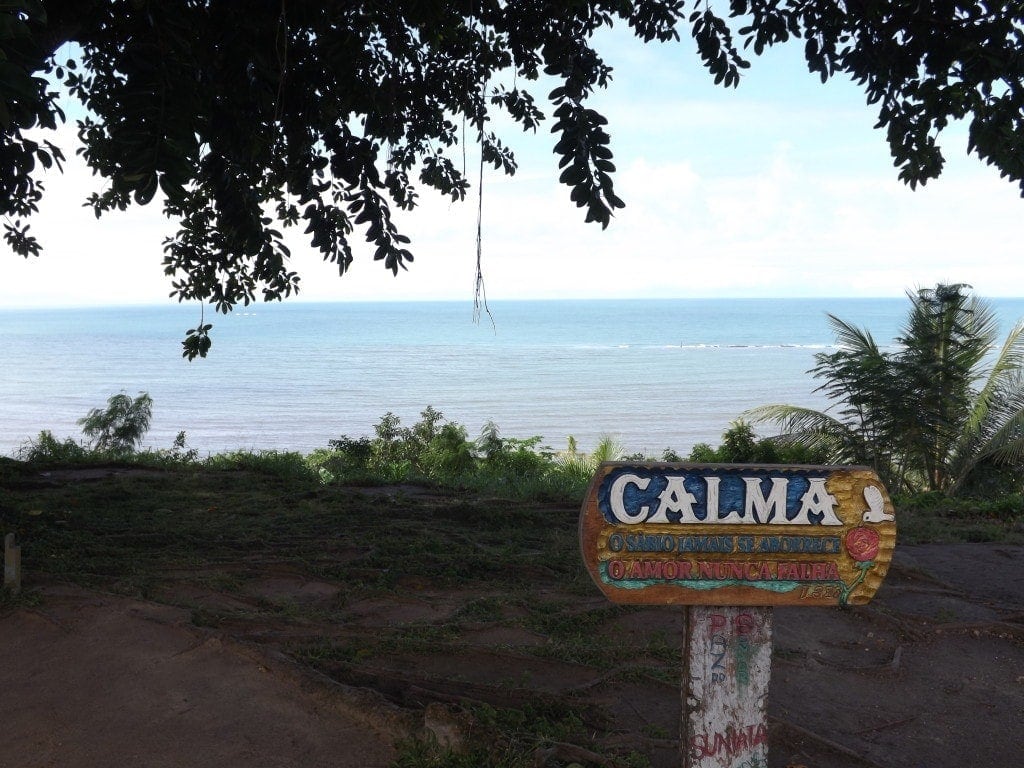 Without realising it, Sam and I had wound up in one of the more historically significant parts of the country. Porto Seguro marks the spot where Portuguese explorers landed on the continent and founded what would later become it's biggest country. Just outside of town we discovered a small, half-forgotten memorial which included a model of the discovery ship, marooned at the foot of rich, reddish cliffs amid tropical trees and a narrow beach dotted with small rivers feeding into the sea. On our first afternoon we walked along the coast as far as this memorial, taking in the gloriously empty beaches and beautiful scenery which made us fall completely in love with Porto Seguro.
We also walked around the town, between the shabby, pastel coloured buildings whose peeling paintwork and faded wooden trim looked like a conscious design choice. The Lonely Planet's online guide to the town has a particularly evocative description: "Due to the city's raucous nightlife, the streets are quiet and even rundown during the day, as though the whole city is experiencing a hangover the morning after the party".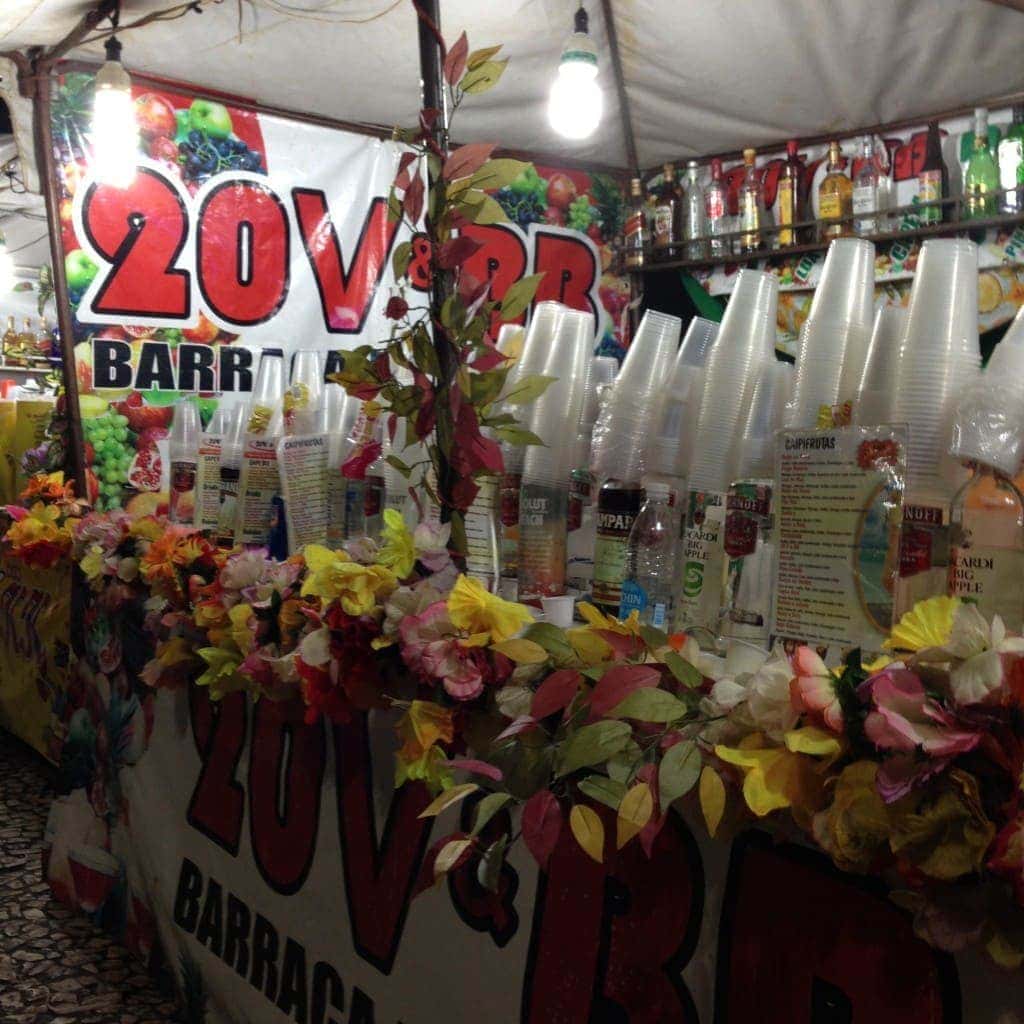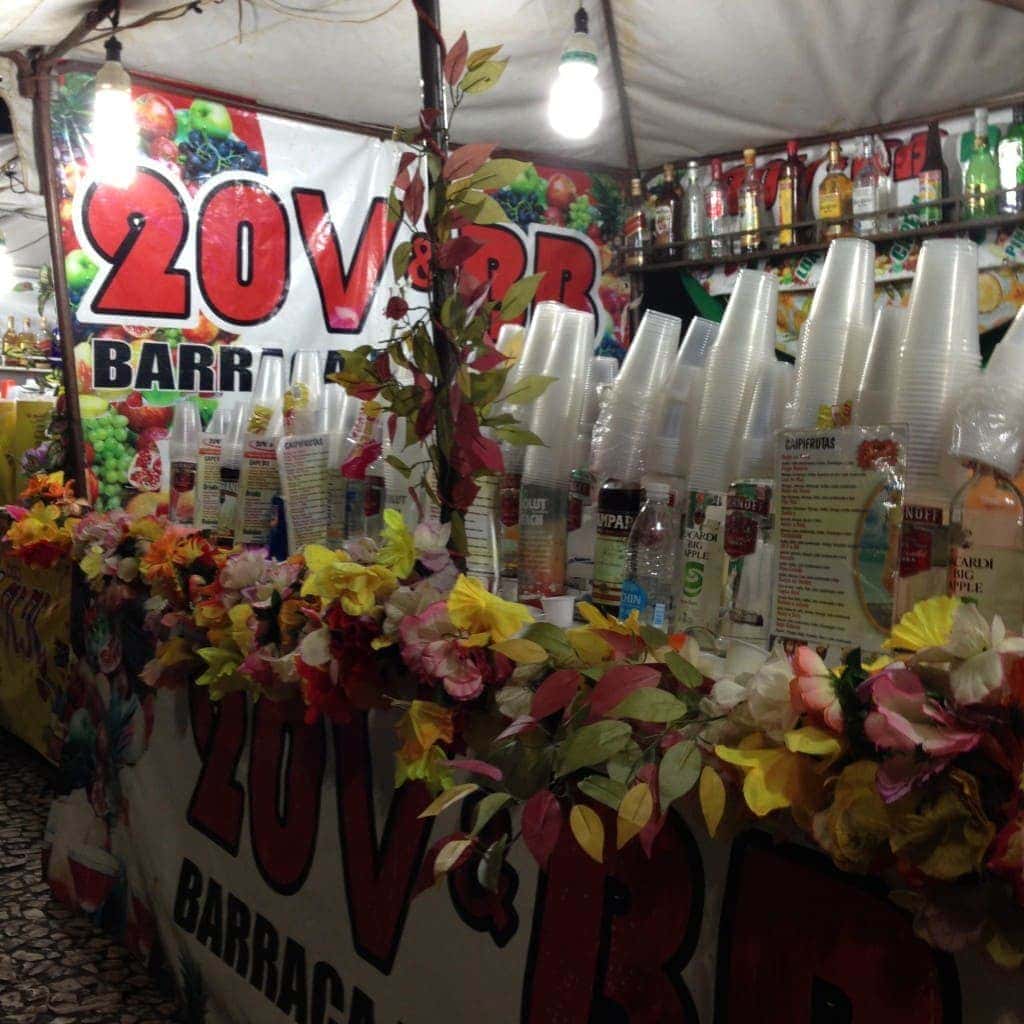 It being off-season, we didn't get to experience too much of the nightlife, but luckily for us Porto Seguro's star attraction runs year round, come rain or shine. The Passarela do Alcool, which roughly translates as 'Alcohol Alley', is exactly what it sounds like; a long strip of stalls along the sea front acting as miniature cocktail bars. There are souvenirs, handicrafts and plenty of food stalls in the marketplace too, but the highlight are the bars, which sell – among a full and varied list of concoctions – dozens of flavoured variations of Brazil's signature drink, caipirinha. No one can make it through the alley without being coerced by one of the many women proudly stood in front of their stalls with a tray of tasters into at least trying a sip of one of the various cocktails on offer, and once tasted it's also pretty impossible not to sit down and order one or two (or three, or four…). The stalls are lined in front of touristy restaurants which often provide live music, so our open-air bar had a running soundtrack. Although we spent a couple of nights on Alcohol Alley, sampling creamy cocktails and browsing the market, we didn't see too much evidence of "raucous nightlife".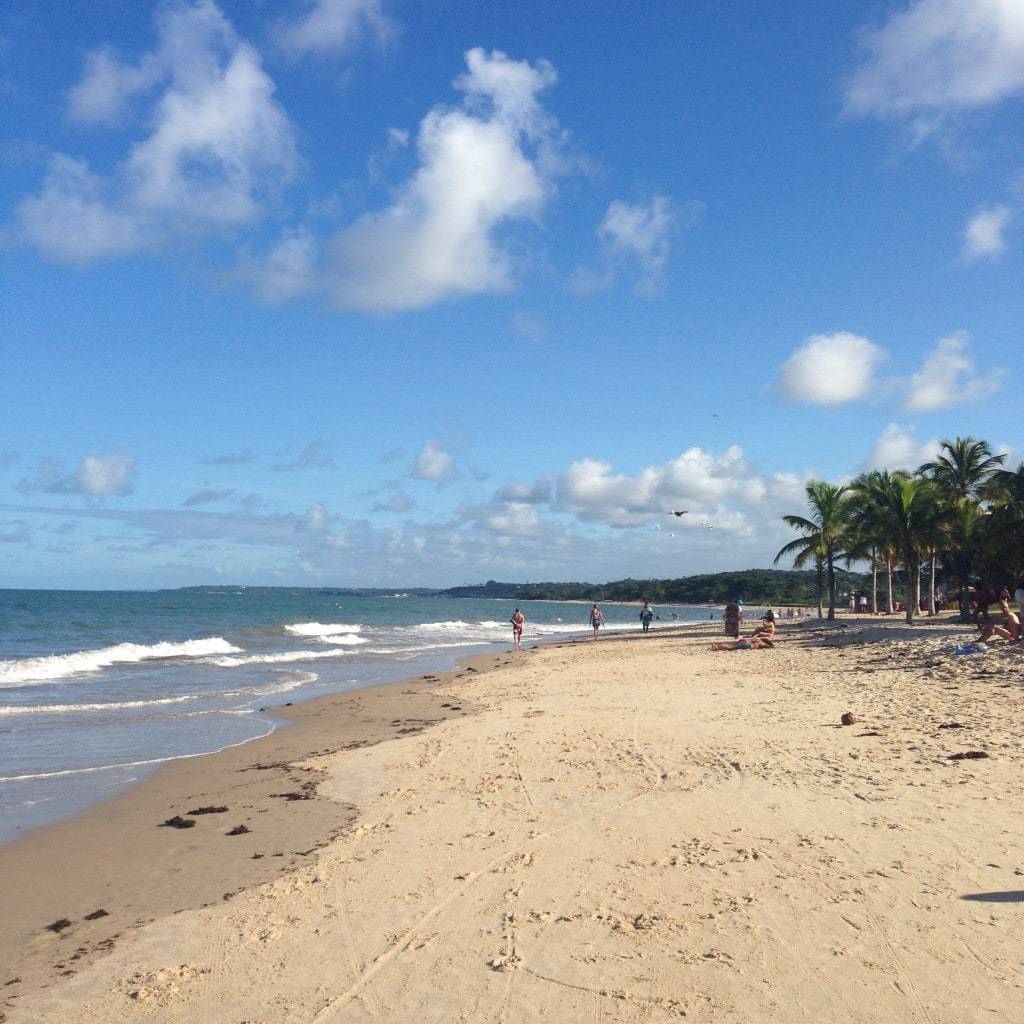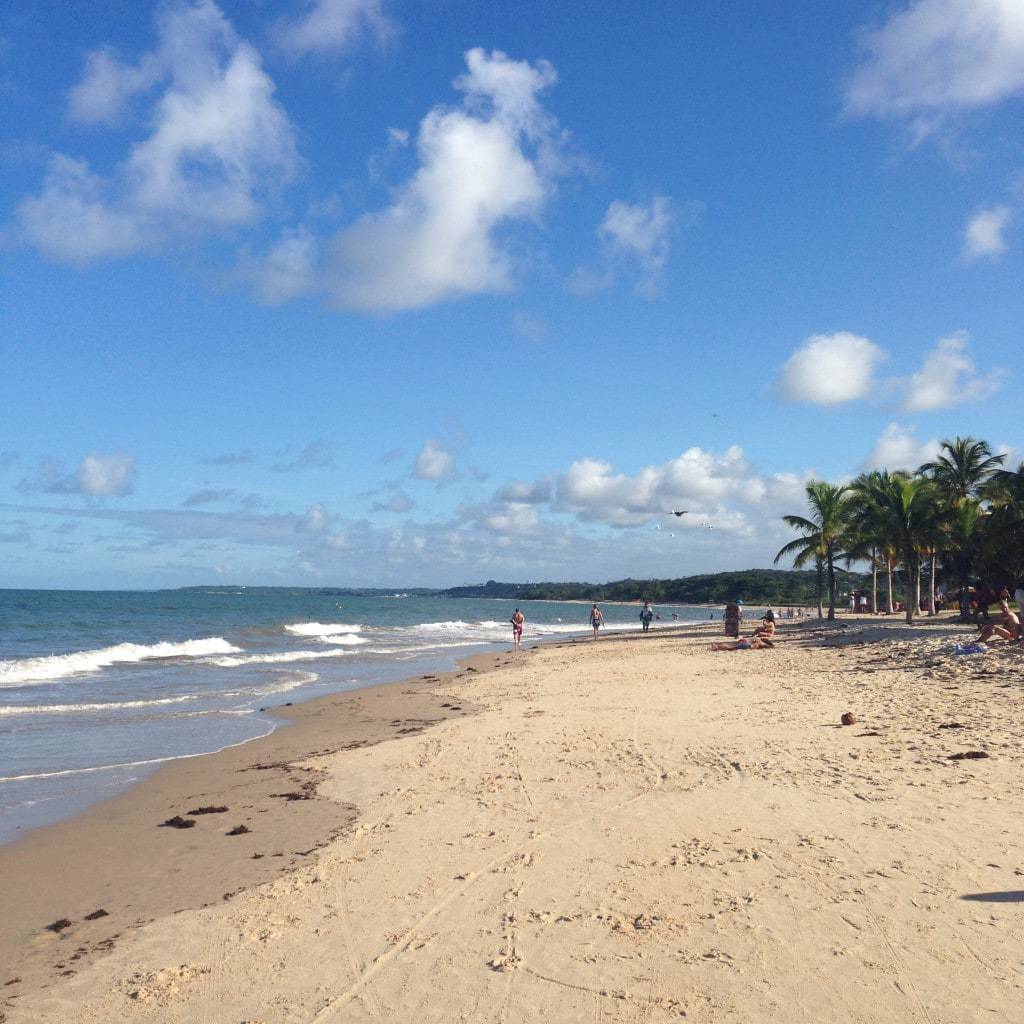 Our time in Porto Seguro was mostly whiled away exploring the incredible beaches which stretch along the Atlantic coastline on both sides of the town. A short ferry across the river took us to Arrairal D'Ajuda, just south of Porto Seguro, where we found a gorgeous stretch of beach. Pale sand, clear water and palm trees, backed by lush green hills. Close to the ferry port, the beach was covered in seaweed and the rocky water didn't look great for swimming, while much of the beach further on is unofficially owned by the hotels which back onto it – meaning that those stretches are heaving with tourists, restaurants and bars – but we kept walking for about an hour or so until we reached a relatively secluded corner just across a small steam from the nearest hotel.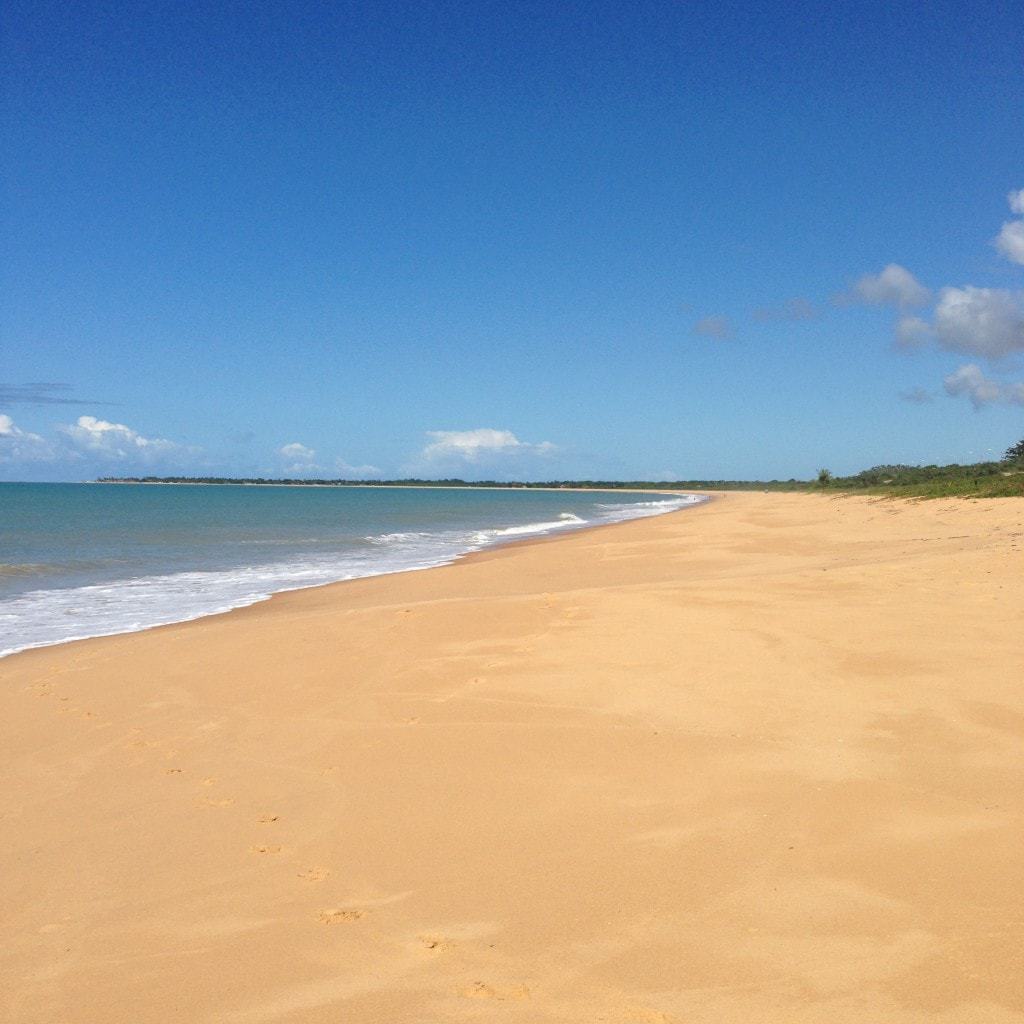 On the northern side of town, a 25km stretch of coastline between Porto Seguro and Cabralia has dozens of pristine beaches. We visited Mundaí twice, enjoying the lively beachside resort which showed World Cup games on a big screen and played music – or cheesy, Butlin's style live entertainment – the rest of the time. But the absolute highlight was Mutarí, which we found after taking a bus up the coast and getting off at random seemingly in the middle of nowhere, and which we had almost entirely to ourselves. In fact, there were no other humans in sight for at least a mile in either direction, and we were so secluded that all we could hear was the wind and the crashing waves.
It being an Atlantic coastline, these waves were pretty big at all the beaches we went to, meaning we had a fantastic time burning off the enormous, cake-filled breakfast our hotel provided every morning by leaping over the crashing surf and trying not to get completely rolled over.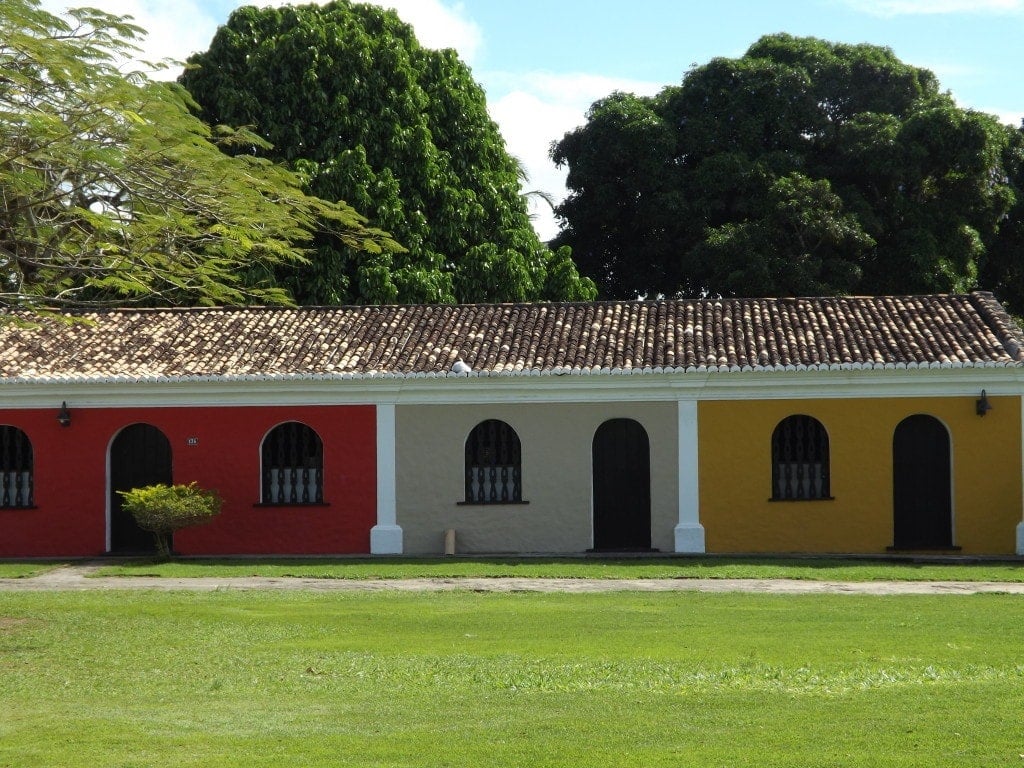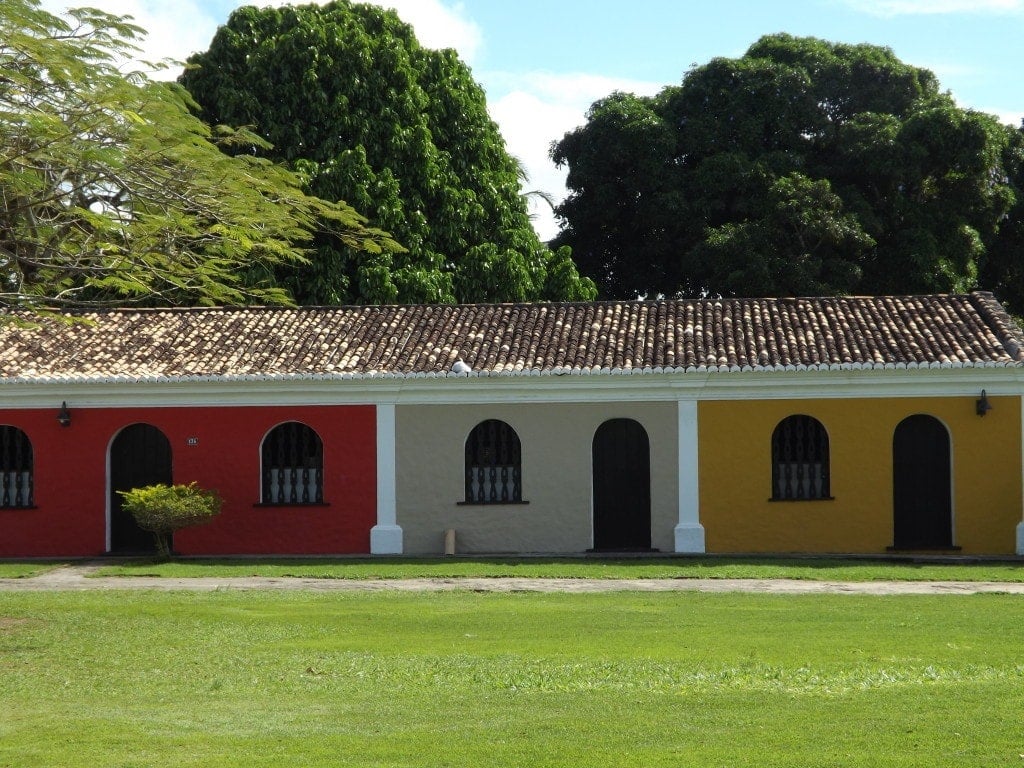 Beaches aside, there wasn't a whole lot to interest travellers in Porto Seguro other than the pretty, colourful Centro Historico – a very touristy strip of brightly painted buildings and white colonial churches, which sits at the top of the green hill overlooking the town. But, after months of travelling we were in dire need of a place to rest our weary bodies – and even wearier finances – plus we were starting to wind down as we drew ever closer to the end of our trip; so we found ourselves holed up in Brazil's first town for over a week, doing little other than swimming, eating, relaxing, and drinking.