Some posts on this site contain affiliate links. If you book or buy something through these links, I earn a small commission (at no extra cost to you). Take a look at my privacy policy for more information.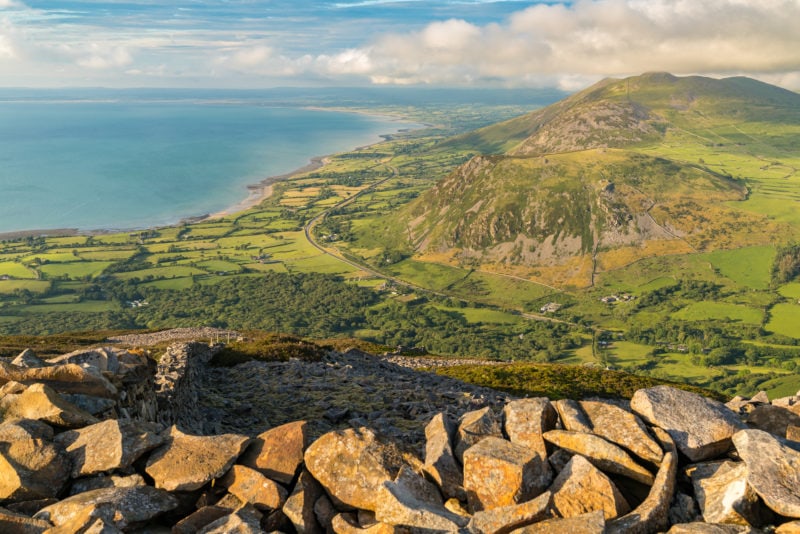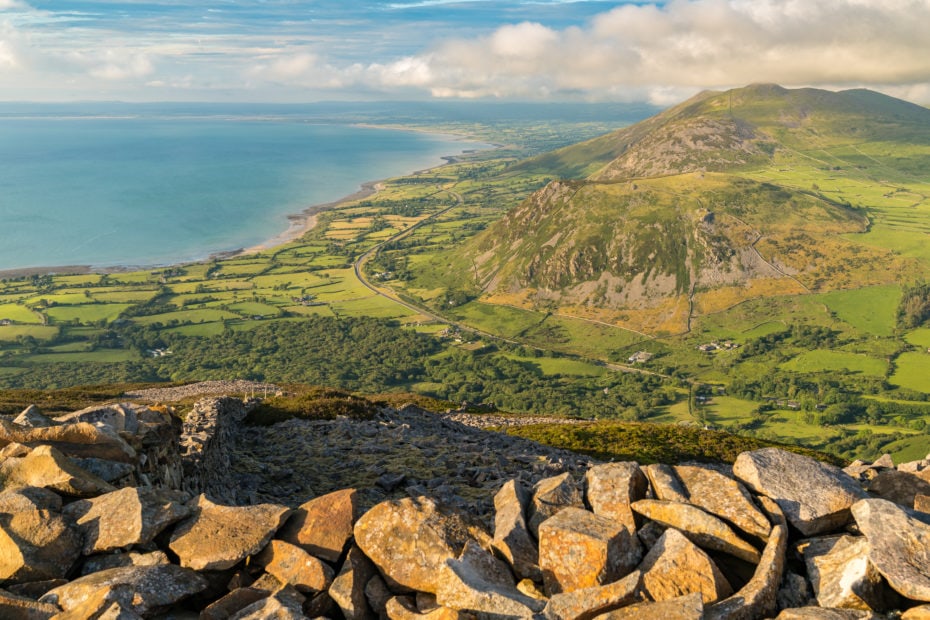 A fantastic travel guide to the best things to do on the Llŷn Peninsula – by a local writer who grew up there!
If you're looking for a coastal break in the UK that's both peaceful and activity-filled, head to the charming Llŷn Peninsula – known in Welsh as Pen Llŷn.
This stunning corner of the Welsh coast pairs rugged cliffs with pearly coves and sandy beaches. There's a timeless, enchanting feel to the area – and it's packed with Welsh history and culture.
Pen Llŷn is a phenomenal part of north Wales, often compared to Cornwall for its appeal to surfers and watersport enthusiasts. The coast is also a protected 'Area of Outstanding Natural Beauty', as well as a popular section of the incredible Wales Coast Path. 
Historically, Pen Llŷn is a very rural area. The luscious rolling farmlands, dramatic sea cliffs, and timeless ports make the peninsula unlike anywhere else in Wales. You'll also find the Welsh language to be widely spoken on the peninsula.
From things to do, when to visit and where to stay, follow this guide to get to know the Llŷn Peninsula. Time to start planning your epic Welsh seaside getaway!
Llŷn Peninsula Travel Guide: Getting There
The Llŷn Peninsula makes up the "arm of Wales". This is the stretch of land jutting out from the North-West region of Wales, just on the perimeters of Eryri National Park (Snowdonia).
The area is best accessed by car, as public transport is rather limited in North Wales. That said, public buses do run a few times a day. The Pen Llŷn coast is only a 40-minute drive from Caernarfon, or 30 minutes from Porthmadog. 
There are two main entry points onto the peninsula. You can either take the A497 towards Pwllheli, or follow the country lanes through Llithfaen towards Nefyn. The peninsula is made up of narrow country lanes, but is small enough to drive in its entirety in a couple of hours.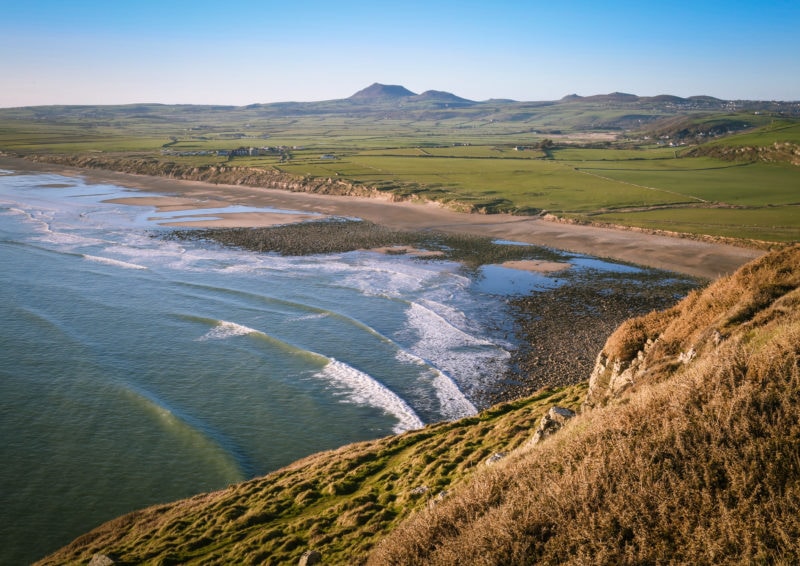 Best time to visit the Llŷn Peninsula
Pen Llŷn is blessed with pristine natural beauty all year-round. Its beaches, bays and cliffsides can be enjoyed in all weathers, and local businesses generally run throughout the entire year.
Many tourists descend on Pen Llŷn every summer. The school holiday period can get extremely busy, particularly in popular areas like Abersoch. For the rest of the year, you'll find the area to be fairly quiet.
Winter can be a wonderful time to enjoy the crisp, ocean breeze along the Llŷn coast. Spring is the best season for exploring the incredible wildlife on the peninsula. As things warm up towards the end of May, you'll have the glorious beaches to yourself before the busy summer season.
In summer, you'll certainly be blessed with a few sunny days on the peninsula, in spite of the unpredictable British weather. Summer is a great time to explore the blue coves and renowned watersports activities that are unique to the area. Pen Llŷn truly has the power to transport you to the likes of the Mediterranean on a sunny day.
Autumn can also be a great time to catch some golden sun on the coast. This is arguably the best season for walking in the area. 
Things To Do On The Llŷn Peninsula
For such a remote area, Pen Llŷn packs a punch in family-friendly activities and fun things to do. Nature lovers, thrill seekers, surf enthusiasts and more can find solace on the Llŷn coast. This is a place with a bit of something for everyone. 
1. Watersport Activities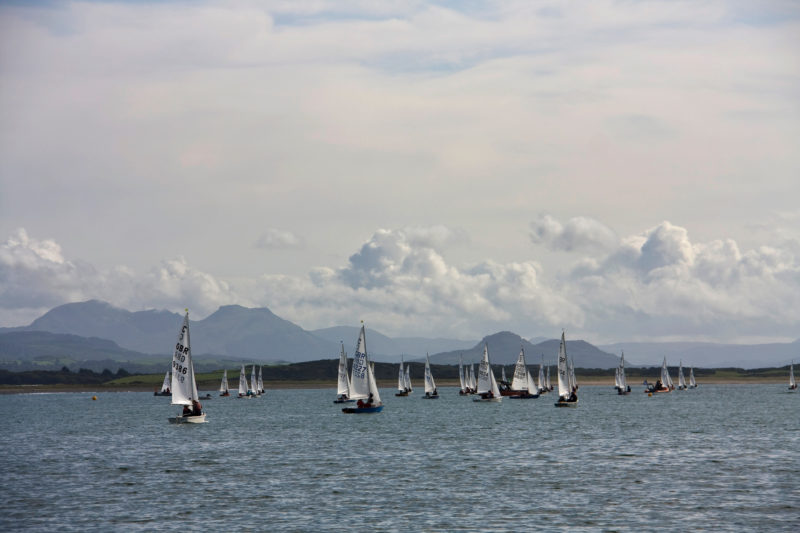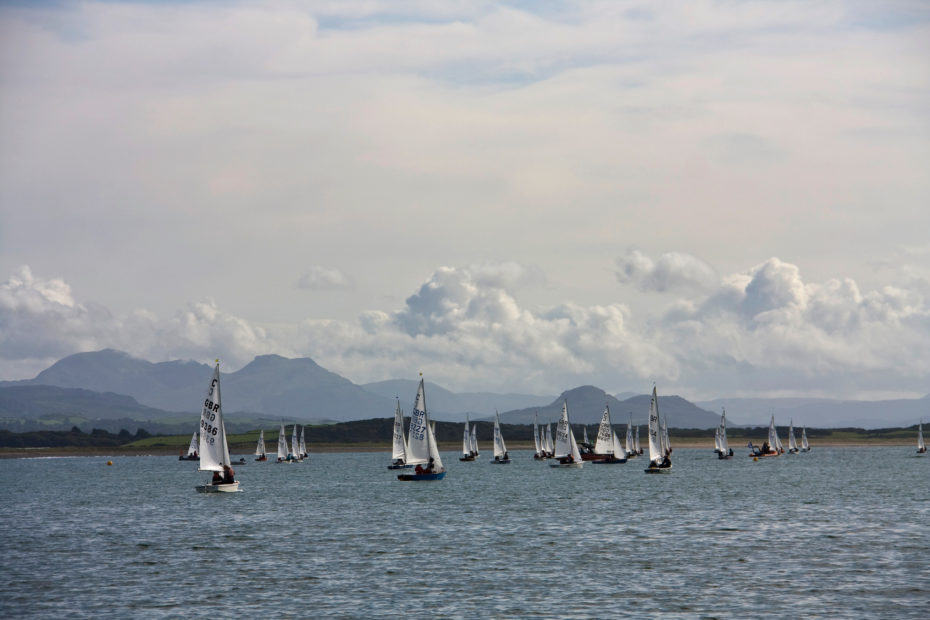 Rivalling Cornwall with feisty swells and clear blue waters, surfers can take on the best of the Welsh waves at hotspot Porth Neigwl (Hell's Mouth). A short drive from Abersoch, this vast, sandy bay is a desirable spot for wave-chasers, as well as those looking to relax on the shore.
Pen Llŷn has some of the best watersport activities in Wales, from coasteering and SUP tours, to jet ski hire and more! In the summer, some of the most popular beaches in the area provide rentals and lessons right on the shorefront. Abersoch and Pwllheli are also great sailing hubs, with renowned clubs and marinas that draw in many enthusiasts each year. 
2. Walking And Wildlife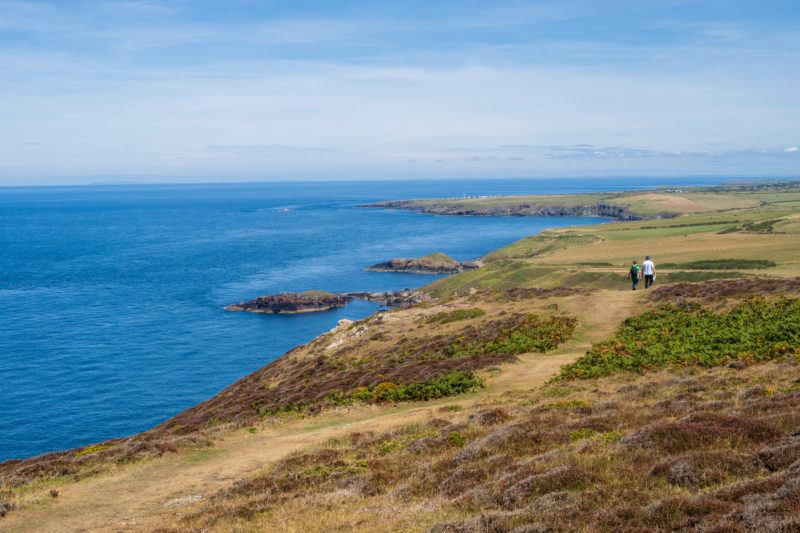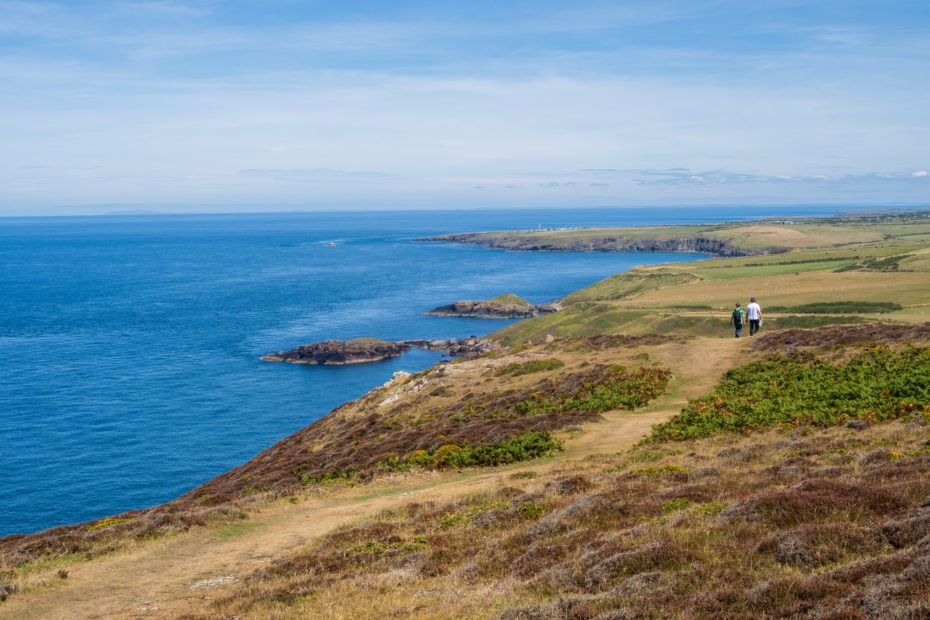 Pen Llŷn's magnificent beaches are linked by the Wales Coast Path – a 91-mile-long path along the perimeter of the peninsula.
For those daring to complete it in its entirety (from Caernarfon around to Porthmadog), it takes seven days in total to complete. But the path can be completed in sections. As you walk, there are opportunities to spot some incredible wildlife, such as grey seals and even bottlenose dolphins.
Hikers can take on the remarkable Garn Fadryn mountain for 360-degree views over the peninsula, truly one of the best walks to do in Pen Llŷn. Eager bird watchers can also head over to Porth Meudwy for sightings of buzzards, puffins and more!
Off the tip of the peninsula, adventure seekers can catch a boat to Ynys Enlli (Bardsey Island), known as the 'Island of 20,000 Saints' and Europe's first International Dark Sky Sanctuary. The island is open to visitors from March through October, through day trips or even weekly stays for those brave enough to go off the grid a few miles away from the coast!
3. Beach Hopping on the Llŷn Peninsula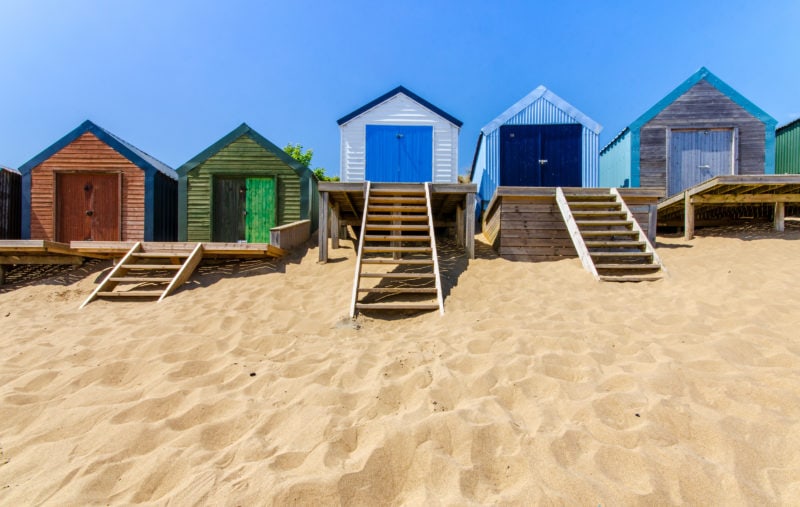 Pen Llŷn is arguably best known for its beaches. From turquoise coves to long sandy bays, the  Llŷn coastline certainly doesn't disappoint. To choose your perfect spot, check out our local expert guide to the best beaches on the Llŷn Peninsula.
4. Discover Welsh culture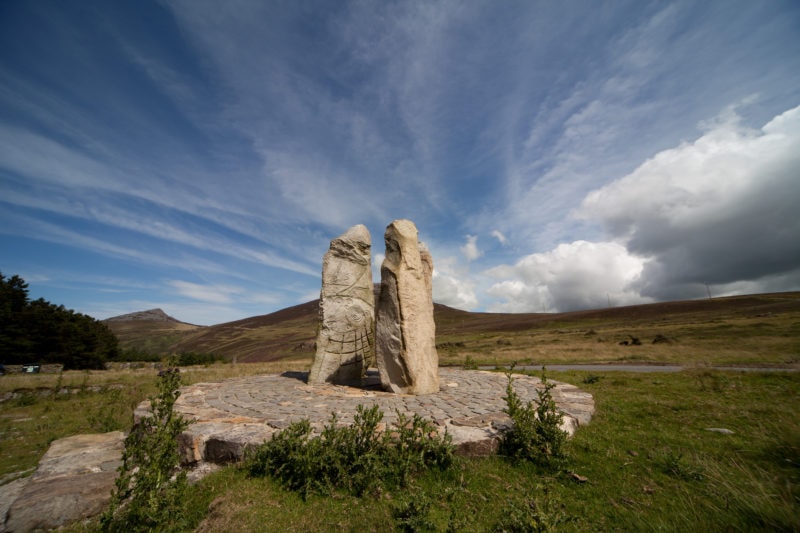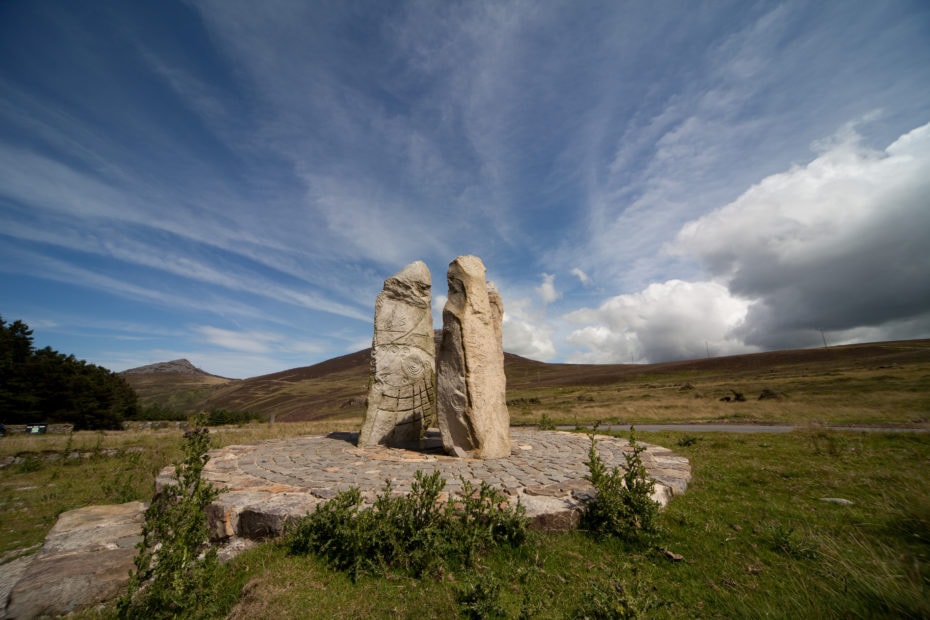 On the peninsula, you'll find plenty of opportunities to get to know Welsh history and culture. Museums, galleries and more are peppered along the coast.
From uncovering Welsh mythology at an enchanting old quarry in Nant Gwrtheyrn Heritage Centre, to learning about sustainable living at Menter Y Felin Uchaf, there is much to discover on Llŷn.
The small, seaside village of Llanbedrog is also home to the famous Oriel Plas Glyn-y-Weddw, one of the oldest and most beautiful galleries in Wales.
And why not get to know the herring fishing history of the ever-popular fishing village of Porthdinllaen? This was once a bustling port for routes between Dublin and London.
Best Places To Visit On The Llyn Peninsula
Pwllheli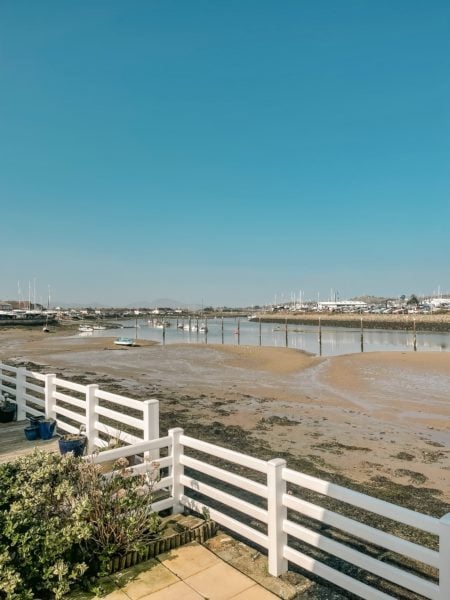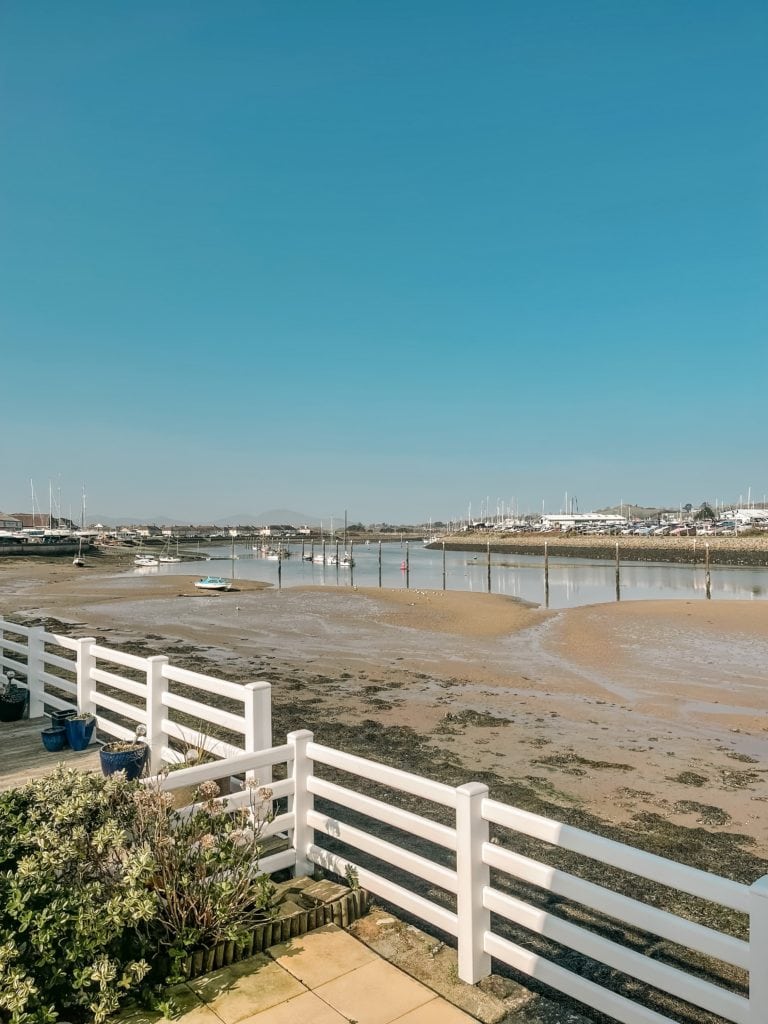 Unofficially the 'capital' of Pen Llŷn, Pwllheli is a bustling seaside town that fills many purposes. It is the main gateway to the peninsula, with the largest selection of stores, markets and restaurants in the area.
Historically, Pwllheli is also a hub for sailing and watersport activities, with a large, modern marina at its centre. Here you'll also find a selection of accommodations, outdoor clothing stores and tourism centres. 
Be sure to grab a drink at the local's favourite pub, Penlan, known for their incredible sunday roasts and occasional live Welsh music gigs.
Abersoch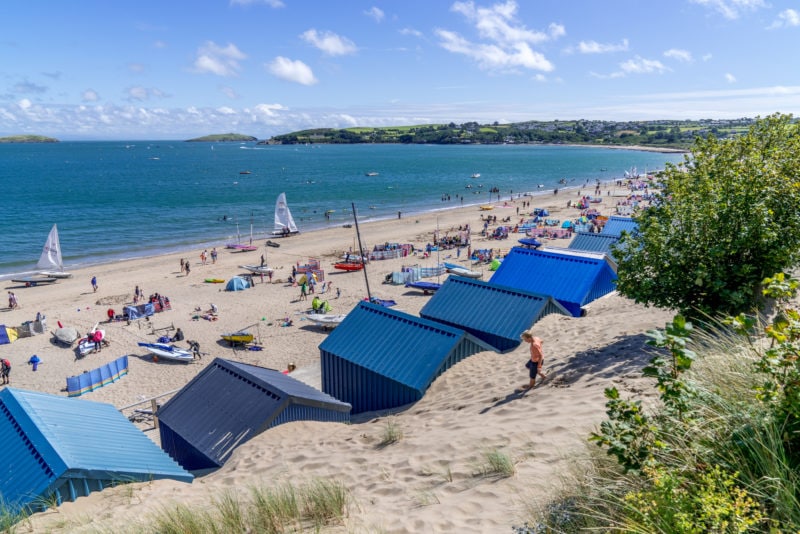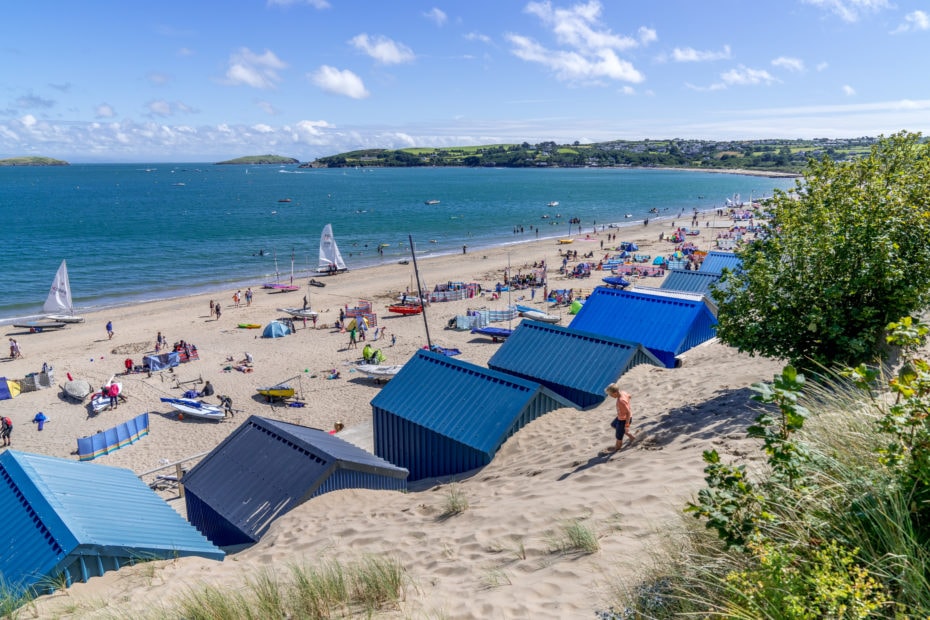 The favoured spot of tourists in the summer is without a doubt the stunning coastal village of Abersoch. This often crowded, albeit beautiful, village is known for its watersports and surf shops, as well as its classier bars and restaurants. Top tip: these are booked up weeks in advance in the summer!
In fact, Abersoch is often referred to as the 'Welsh Riviera', for its luxury appeal and reputation for sailing. Outside of the busy summer season, it is a peaceful paradise for those seeking a break by the coast.
Nefyn
In the quaint village of Nefyn on the Northern coast, you'll find the delightful Llŷn Maritime Museum. Nefyn is also home to the Cwrw Llŷn distillery, a small independent Welsh brewery that produces delicious, characterful ales that are an absolute must-try in the area! 
A stop at local's favourite, Y Bryncynan Inn, is a must during a visit to Nefyn for some home-cooked meals and a great selection of ales. 
Porthdinllaen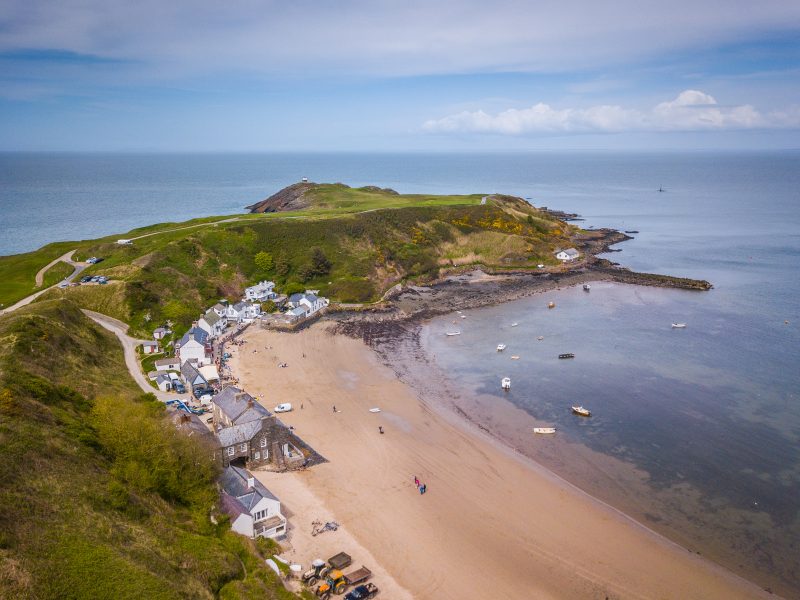 One of the most popular places to visit in Pen Llŷn is the famous Tŷ Coch Inn pub on Porthdinllaen beach.
Accessed from Morfa Nefyn by foot, this pub is a picturesque red stone pub overlooking the clear blue bay of Porthdinllaen fishing village. It is a must-do in Pen Llŷn. If you're lucky, you may even spot seals and dolphins from the cliff edge leading down to the beach.
Aberdaron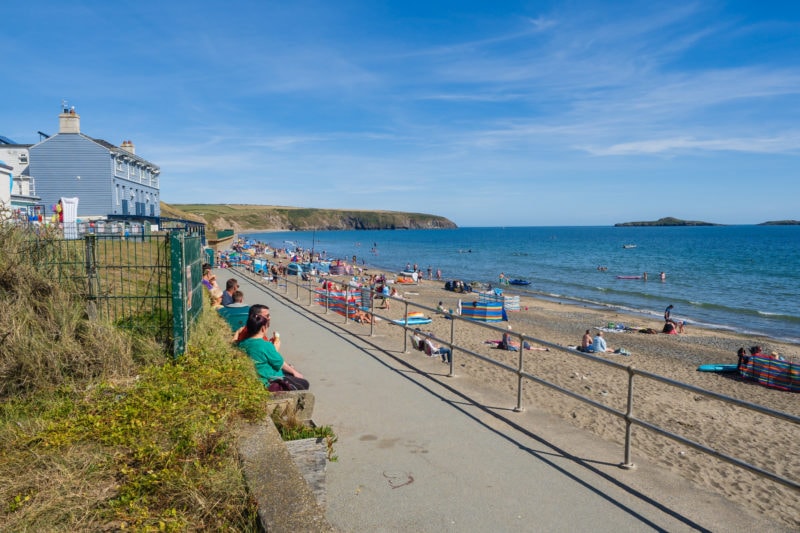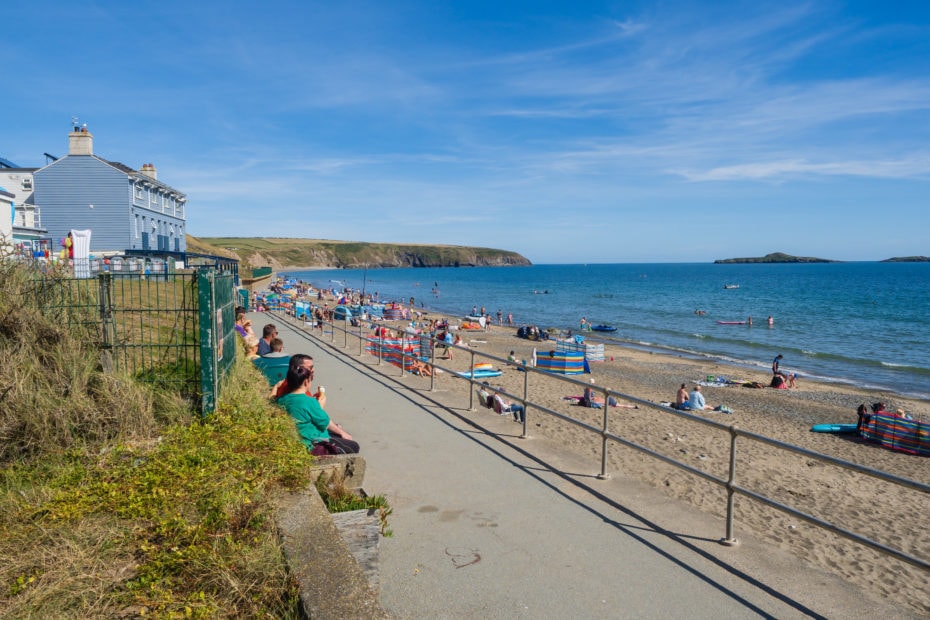 The idyllic old fishing village of Aberdaron is a local's favourite. Gloriously situated at the furthest tip of the peninsula, Aberdaron is the best place to watch the sunset in Pen Llŷn (whether that's from the terrace of the renowned Gwesty Tŷ Newydd restaurant, or from the shore of the mile-long sandy stretch of beach).
For such a remote location, this village is almost always bustling with life. Gwesty'r Llong (Ship Hotel) is one of the most popular pubs in Pen Llŷn. You can also find a fish and chip shop, cafe and ice cream parlour in the heart of the village. Be sure to grab some Crasu Coed wood-fired pizzas on your drive back from Aberdaron, an incredible hidden gem in the area!
Uwchmynydd
Known by locals as the 'edge of the World', Uwchmynydd is a short and steep drive up from Aberdaron that exposes an incredible viewpoint out towards Ynys Enlli (Bardsey Island). There are a number of cliffside walks that are accessed from Uwchmynydd, all of which provide some of the best views out to the Irish Sea.
Criccieth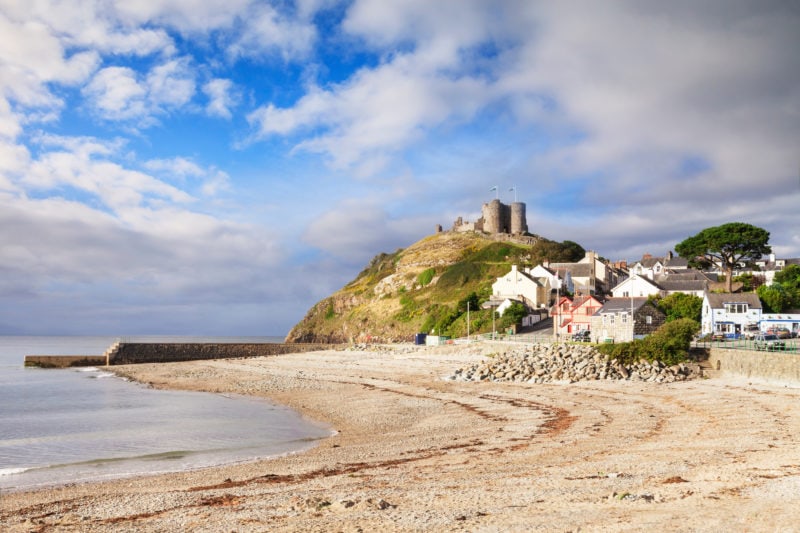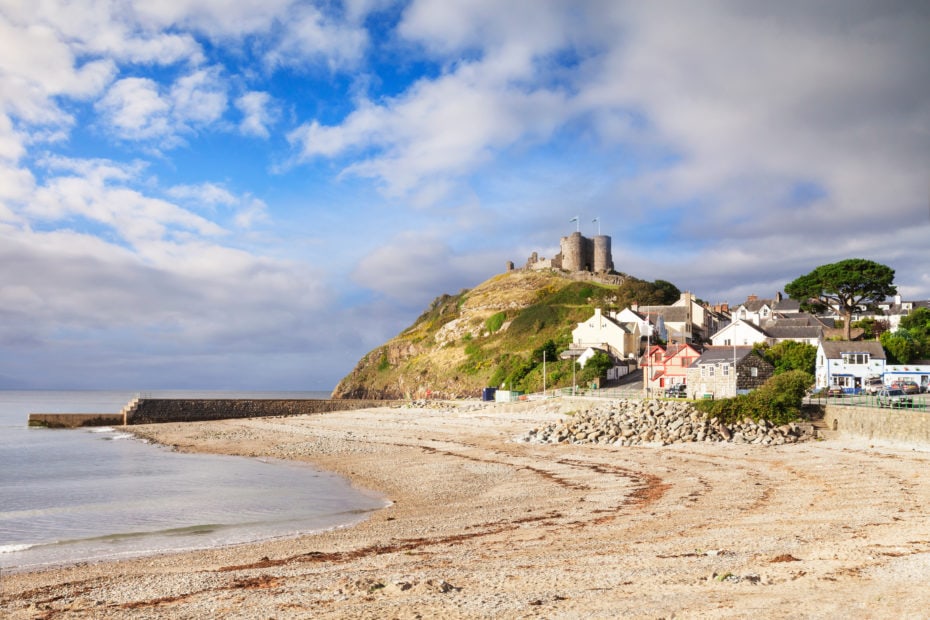 Along the outlier edges of the peninsula, you'll find the charming village of Criccieth – known for its majestic medieval castle and rocky beachfront. The village boasts an array of Victorian architecture, and has some spectacular views over Cardigan Bay.
Here, you can also find the ever-popular Cadwaladers Ice Cream cafe, as well as a host of other great eateries. Amidst some quaint Welsh galleries and antique stores in Criccieth, you can also find a traditional Welsh clogmaker workshop in the village centre.
Where to stay on the Llŷn Peninsula
Nanhoron Arms Hotel
A stunning, timeless hotel on the Northern coast of Llŷn near Nefyn and Porthdinllaen.
Ty Coch Inn
A remote hotel in the famous red pub in Porthdinllaen. Ty coch Inn is only accessible on foot – and provides incredible views of the ocean. 
The Ship Hotel
A pleasant hotel in the stunning village of Aberdaron at the tip of Llŷn.
Nant Gwrtheryn
An incredible base to explore some Welsh culture with glorious views of the coast.
Gwesty Ty Newydd
Luxurious rooms at a renowned location in the desirable village of Aberdaron.
The Warren, Abersoch
A luxury caravan site with a tennis court and private beach access. Some of the chalets are rented out on an individual basis – like this three-bedroom chalet – so shop around before booking.
About the Author
This guide to the best things to do in Caernarfon was written by local travel writer Megan Tomas.
I'm a travel writer and content creator from a small village outside Caernarfon in North Wales. After graduating with a journalism degree from Cardiff University, I worked for 4 years as a digital producer at a Welsh production company. Last year I left my 9-5 to pursue freelancing writing full-time, and am now slow-travelling the world (currently in Bali) as a digital nomad.