Some posts on this site contain affiliate links. If you book or buy something through these links, I earn a small commission (at no extra cost to you). Take a look at my privacy policy for more information.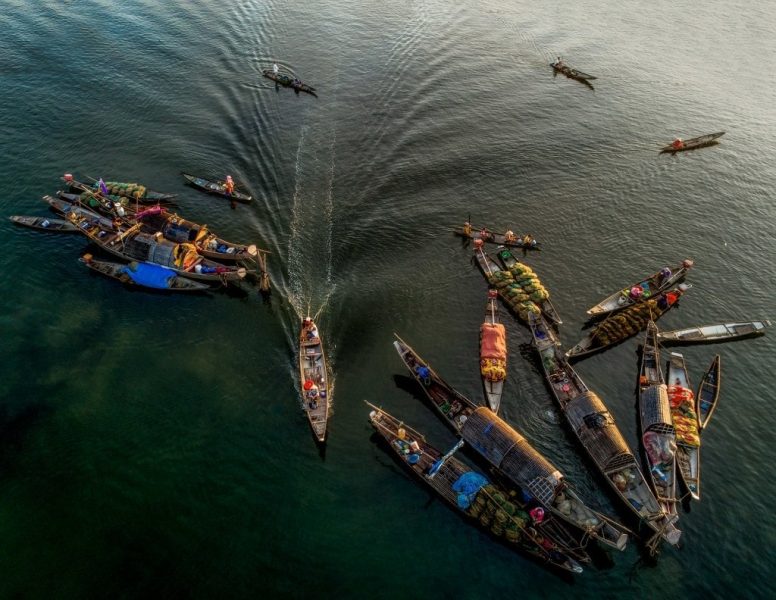 Welcome to my Hue food guide! If you love Vietnamese food, you will love Hue. This peaceful, ancient city in central Vietnam has a distinctive cuisine, a ton of great restaurants, and some seriously unique dishes. It's one of my favourite foodie destinations in the world, and there's so much to discover.
Vietnamese food varies a lot from region to region and from city to city. The differences between northern, southern, and central Vietnamese food are particularly noticeable, and Central Vietnam has one of the best cuisines. Even within the central region, individual towns and cities have their own iconic food dishes, and Hue is no exception. Below, I've rounded up 14 must-try Hue foods, and some of the best restaurants to try them in. Enjoy…
READ MORE: 12 Awesome Things to do in Vientam
Hue Food Guide
14 Iconic Dishes You Have to Try in Hue
Best Hue Restaurants for Local Food
Where to Try Bun Bo Hue
Hue Food Tour Recommendations
14 Iconic Dishes You Have to Try
1. Bun Bo Hue
Bun Bo Hue is the most famous dish in the city, and should be top of any Hue food guide! It's similar to the more famous Vietnamese noodle soup, Pho. But Bun Bo Hue is quite a bit spicier, and it's also pretty unique! It's made from a light, spicy broth heavily fragranced with lemongrass. Inside, you have sliced beef, vermicelli noodles, and crab balls.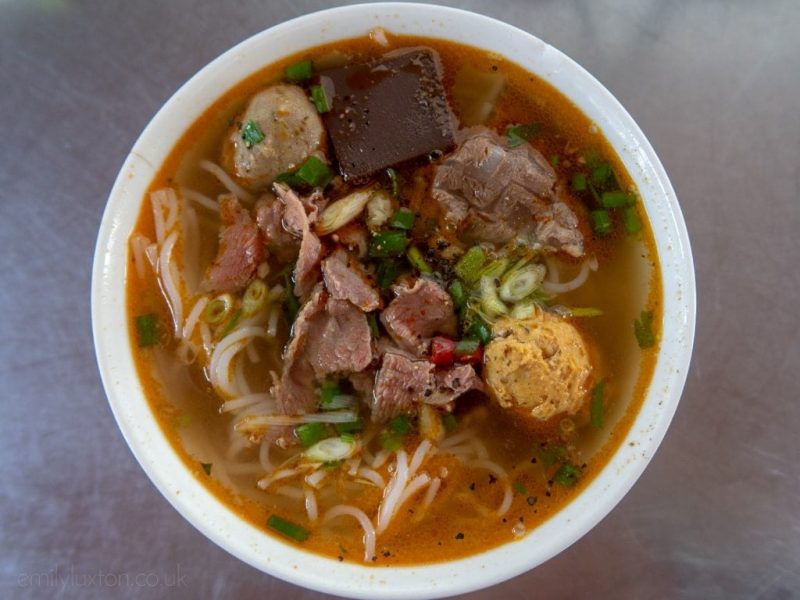 Every restaurant has it's own variation of the recipe, and many also add in offal meatballs, or cubes of congealed pig's blood. These extras are a bit of an aquired taste, but the resulting flavours are amazing. If you're in town for a while, try to sample the dish in a few different places to get some different varieties.
Skip ahead: Where to Try Bun Bo Hue
2. Banh Beo
Banh Beo are one of the three "cakes" of Hue Royal Cuisine. They are also not the most appetising looking things, but don't let appearances fool you. The circular, savoury cakes are made from a rice flour batter that looks like an opague jelly. They're served in tiny bowls, topped with shrimp flakes, crispy pork skin, and chilli sauce, and they're absolutely delicious!
Where to Try: Hang Me Me, or Ba Do.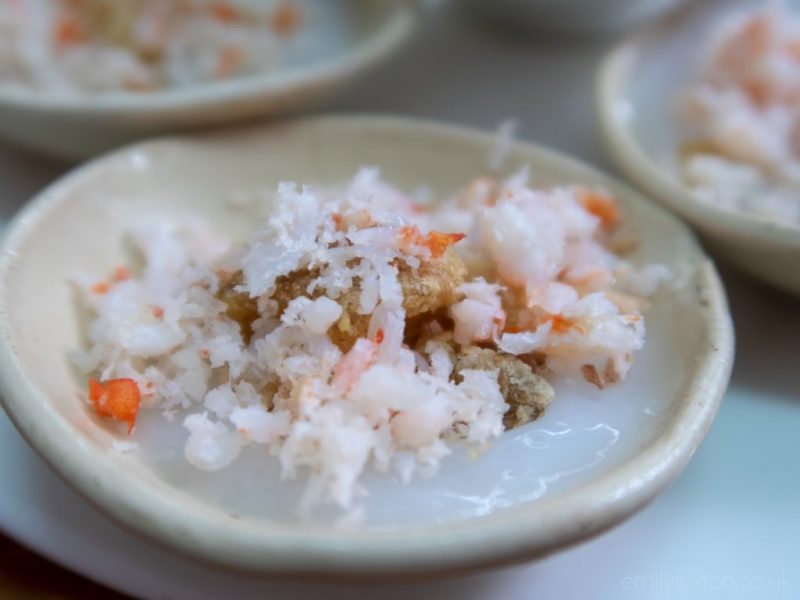 3. Hue Pancake – Bánh Khoái
If you're a big fan of Vietnamese cuisine, chances are you've heard of Banh Xeo. The Vietnamese savoury pancake is a well-known dish, but did you know that it's possibly a variation of a popular Hue food? Bánh Khoái is the Hue pancake – very similar to Ban Xeo, but with a few differences. I tried it last time I was in Hue, and couldn't wait to get back to have it again!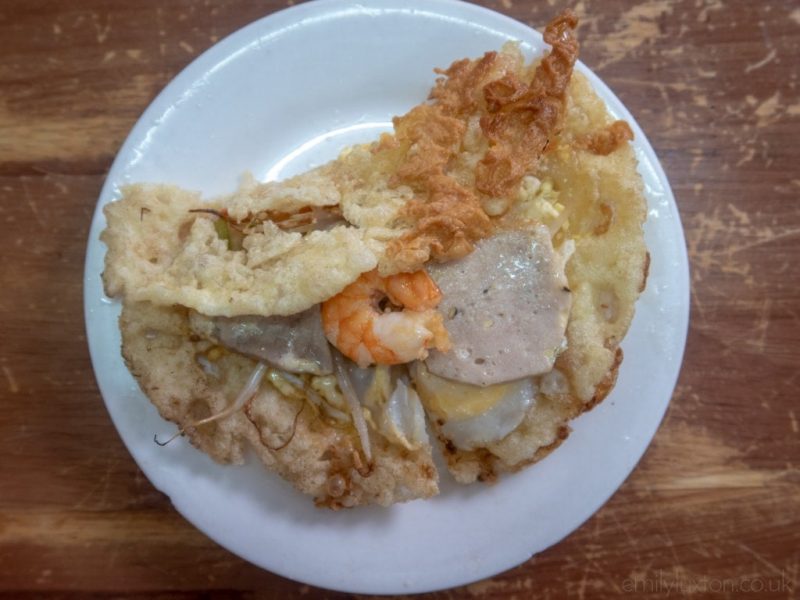 Banh Khoái is a crispy pancake filled with shrimp, pork, egg and beansprouts. There's also a unique way to eat the Hue pancake. You tear it into strips, place them onto rice paper with some fresh veggies, and wrap them as you would a spring roll. Next, you dunk the pancake-roll into a special sauce. The dipping sauce is unique to Hue, and is usually made from soy sauce, pork, peanuts, and sesame – although every restaurant seems to have their own version.
Where to Try: Quan Hanh
4. Hue Grilled Pork Noodle – Bun Thit Nuong
Bun Thit Nuong, or grilled pork noodle, is popular all over Vietnam, but again the Hue version is slightly different. The pork is marinated in salt, sugar, pepper, and lemongrass, then grilled over charcoal. It's served cold with cold rice noodles, green herbs, fresh salad, pickled green papaya, and fried peanuts. In Hue, the dish is also served with a special peanut sauce which is unique to the city. You won't find bun thit nuong like it anywhere else in Vietnam!
Where to Try: Tai Phu, Lac Thien, or Huyen Anh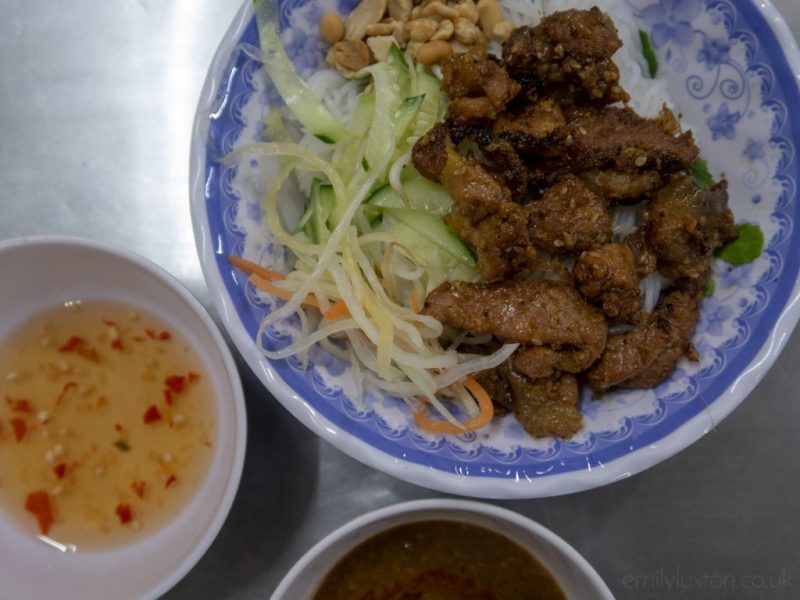 5. Hue Lemongrass Skewer – New Lui
Another unique Hue food that every visitor needs to try is New Lui; lemongrass skewers. This simple finger food is made from flavoured ground pork, which is made into a sausage-like shape. The pork is then skewered onto stalks of lemongrass and grilled. New lui is usually served with rice paper and fresh salad, so you can wrap it like a spring roll to eat.
Where to Try: Quan Hanh, Chi Tuyen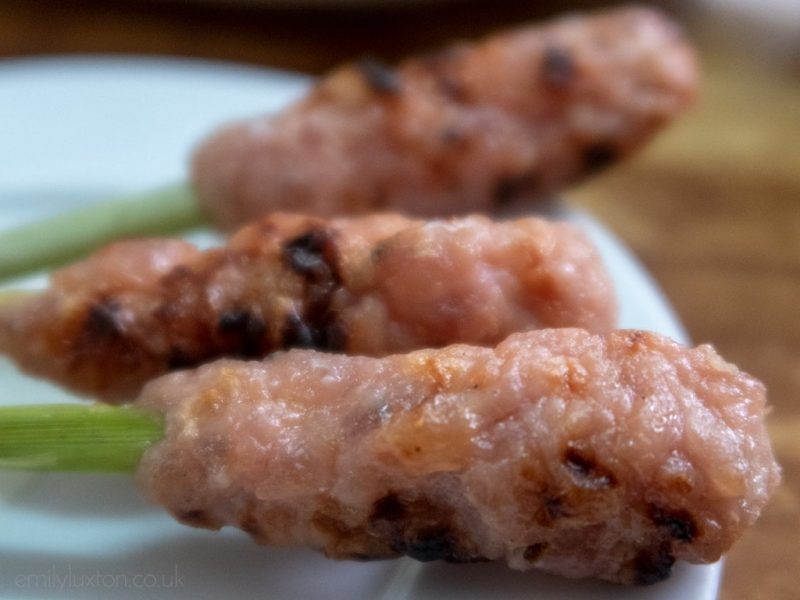 6. Com Hen
Cơm hến is another popular dish that originated in Hue. It began life as a peasant's dish, made to use up leftover rice, but became well known for its intricate flavours and is now a popular Hue food. Baby mussels, clams, and clam broth are combined with fried pork fat, roasted peanuts, crispy rice crackers, chilli peppers, star fruit, and shrimp sauce. The result is an interesting balance of sweet, salty, sour and spice. It's served with room-temperature rice and herbs such as mint and Vietnamese coriander.
Where to Try: Com Hen at 17 Ð Han Mac Tu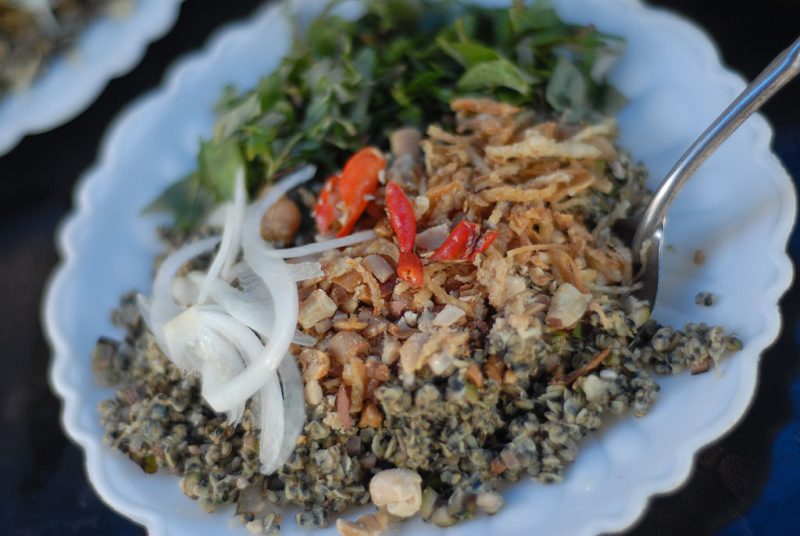 7. Banh Ep
Banh Ep is another savoury pancake from Hue. In fact, it comes from the beach town of Thuan An in the east of Hue. A very thin pancake made from tapioca flour batter, banh ep is normally topped with egg, scallions, and minced marinated meat or dried beef.
Where to Try: Banh Ep Quan 20
8. Banh Khot
Along with Banh Beo, there are two more kinds of savoury cake found in Hue food: Banh Khot and Banh Loc. Banh khot are similar in appearance to banh beo, but these mini pancakes are crispy. The batter is made from tapioca flour and coconut milk, and the pancakes are topped with shrimp and diced green onions.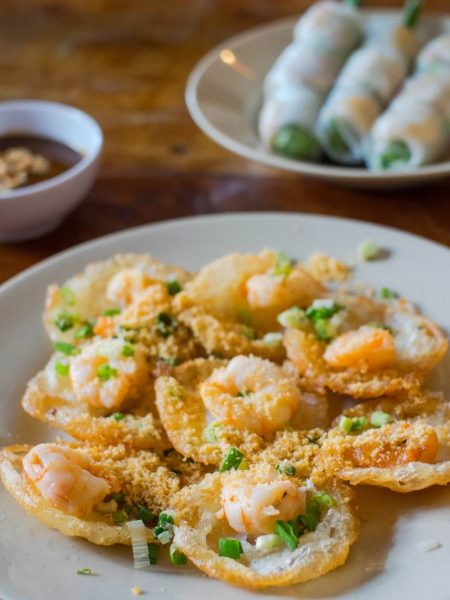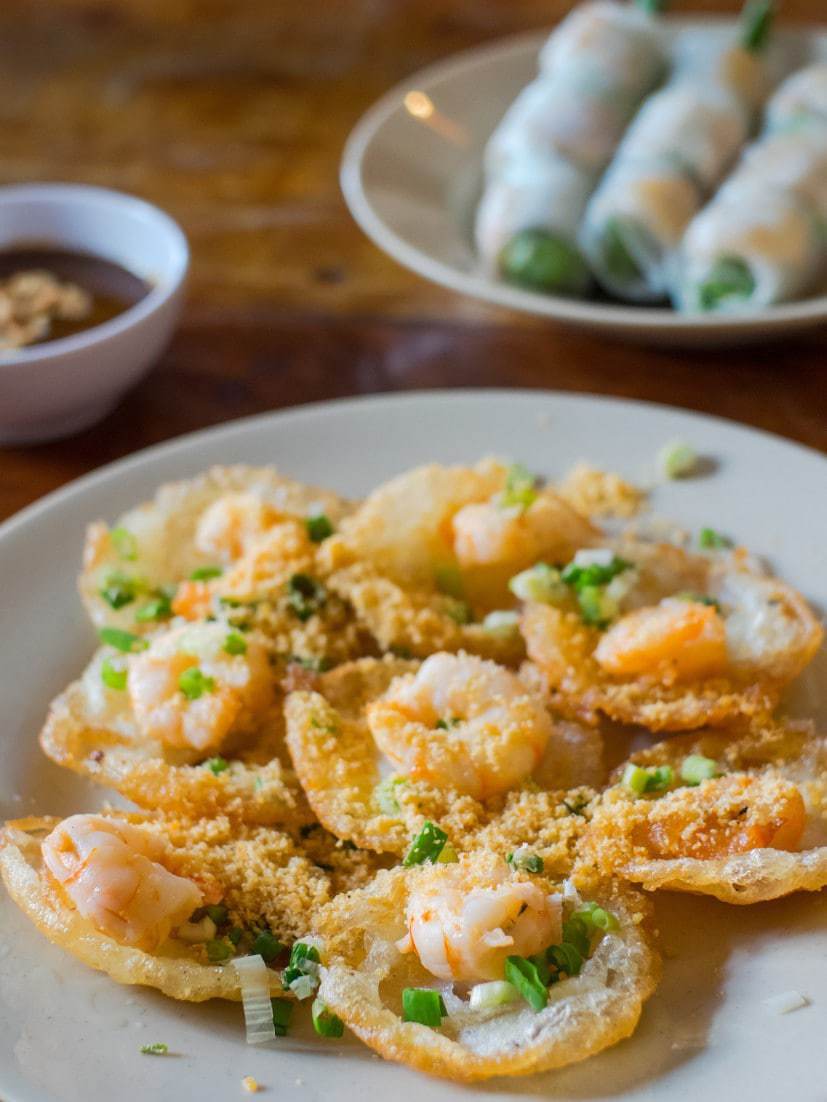 9. Banh Loc
Banh Loc are more of a dumpling than a pancake, made from a clear, chewy tapioca batter. The dumplings are usually filled with shrimp and pork belly, and they're topped with fried shallots, with sweet chilli fish sauce to serve.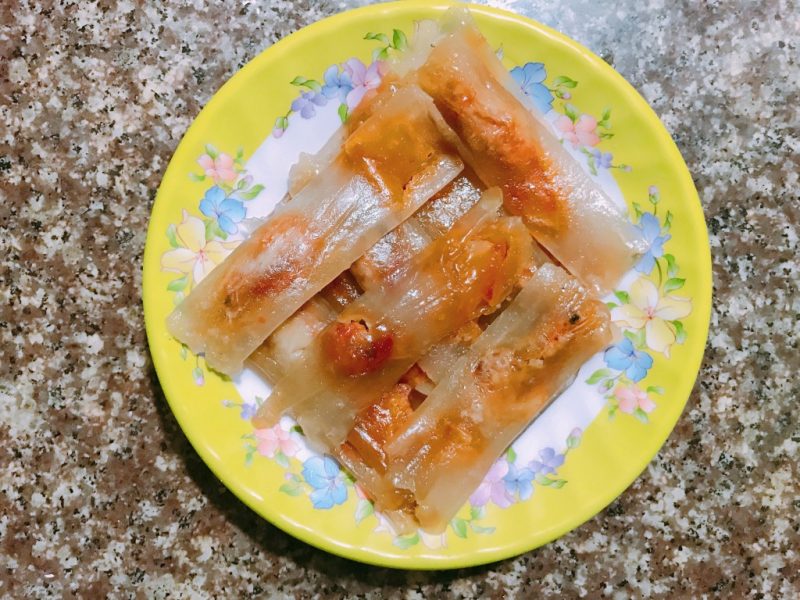 10. Banh Nam (Nam cake)
Banh nam dumplings are similar to banh loc, but made from a rice flour batter. Like much of Hue's cuisine, they were originally invented to serve the emperors in the Imperial City. Rice flour batter is spread onto a banana leaf with ground shrimp, scallions, and sometimes pork. These flat dumplings are wrapped in a banana leaf and steamed.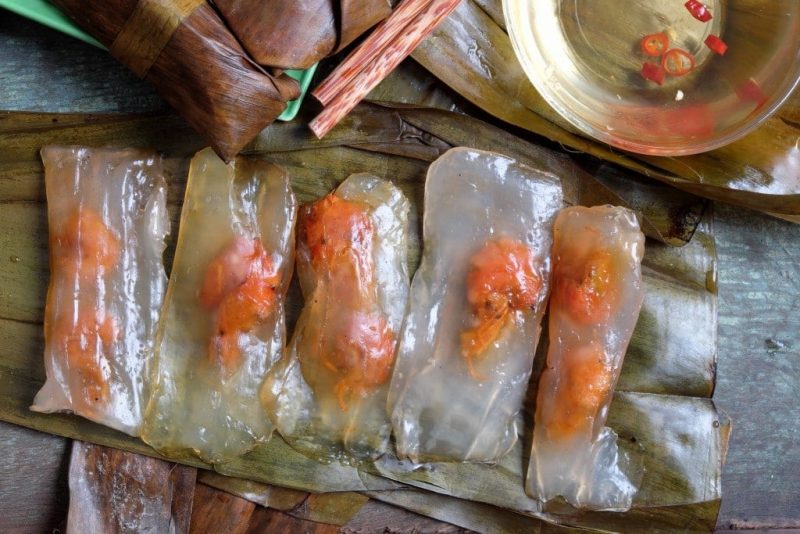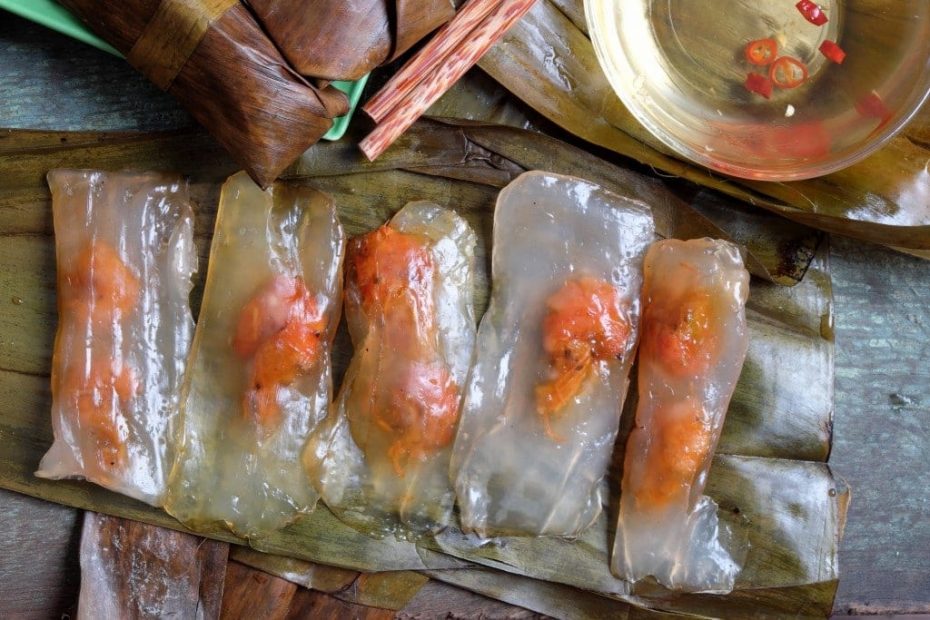 11. Banh Trang Trung
Banh trang trung is a relatively new Hue food. The so-called Vietnamese pizza is a popular street food dish, especially with younger locals. It's made from a circle of rice paper, topped with a variety of ingredients such as egg, ground meat, spring onions, and cheese. The "pizza" is then grilled over charcoal.
Where to Try: An Vat Chi Nho, Quan Mo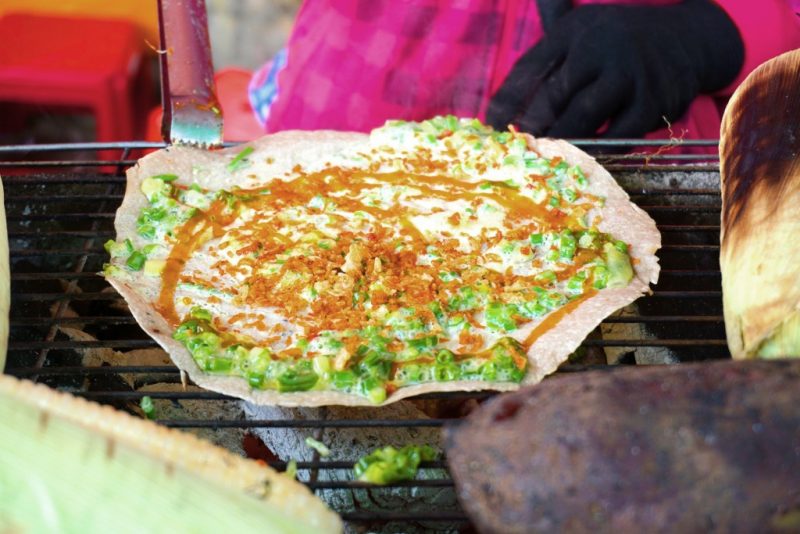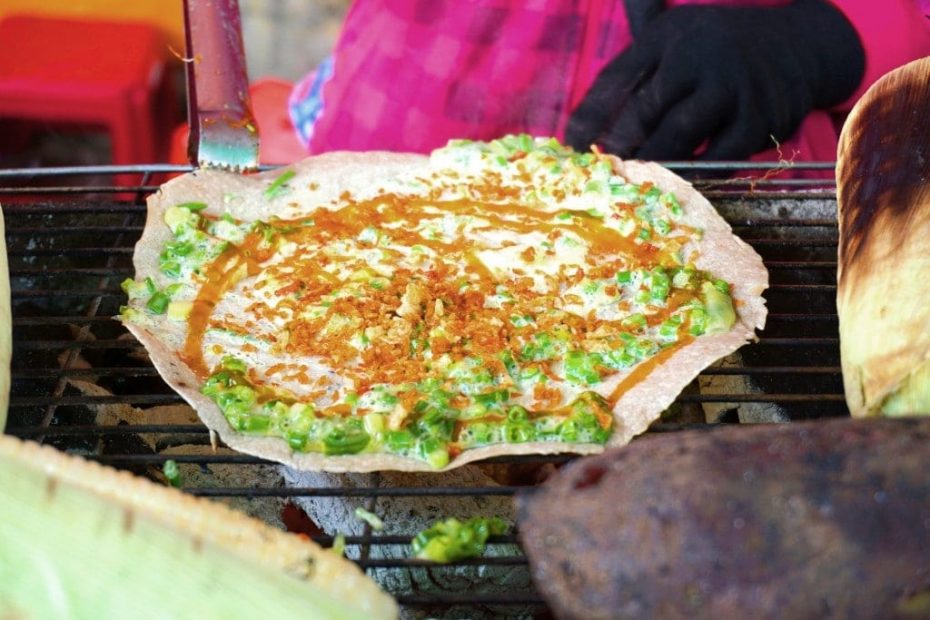 12. Cuon Hue – Hue Spring Rolls
Gỏi cuốn are the famous Vietnamese fresh rice noodle rolls, and are by no means unique to Hue. However, the old capital puts it's own stamp on the dish. Hue spring rolls often contain sweet potato, which is one of the region's most popular ingredients. They are also often served with the peanut dipping sauce which is so common amongst Hue's cuisine.
Where to Try: Hang Me Me
13. Banh Ram It
One more Hue food speciality is the lesser-known dish called banh ram it. Fried sticky rice cakes, called banh it tran, are popular throughout Central Vietnam. Banh ram it is a very similar dish; fried sticky rice dumplings filled with shrimp, pork belly, and bean paste. But they're served on crispy, fried dough circles for an extra crunchy texture.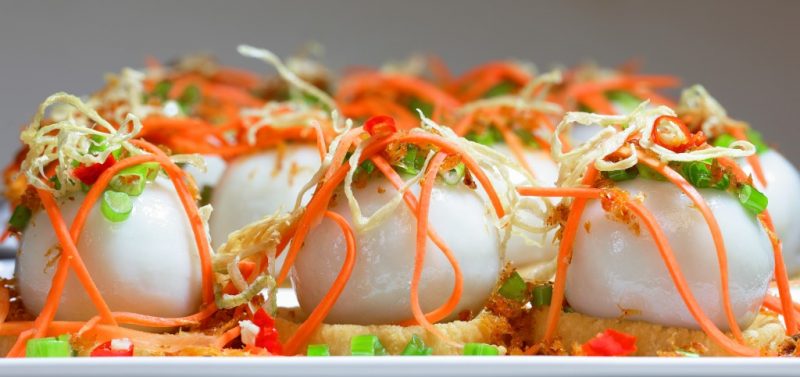 14. Hue Salty Coffee – Ca Phe Muoi
One of my favourite foody discoveries in Hue was ca phe muoi; salty coffee! It sounds gross, but don't be put off. This is such a tasty coffee drink.
Ca phe sua is Vietnamese drip coffee served with sweetened condensed milk. At Hue coffee shop Ca Phe Muoi, they add a little salt to the milk to offset the sweetness. Think salted caramel; the coffee doesn't taste salty, but it's not too sweet either. Hue salty coffee is a must-try when you're in the city – and with two branches it's easy to find the coffee shop.
Where to Try: Ca Phe Muoi has two locations in Hue, at 142 Đặng Thái Thân and 10 Đường Nguyễn Lương Bằng.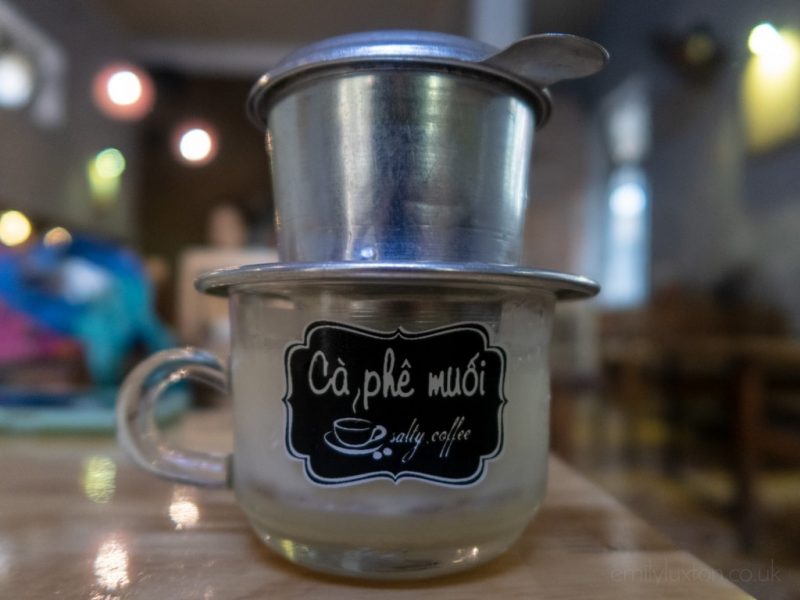 Best Hue Restaurants to Try Local Food
Quan Cam
One of the best places to try Bun Bo Hue! Quan Cam is a super casual eatery that's VERY popular with locals – there's a queue most mornings. But the wait is worth it for a tasty bowl of hot noodle soup.
Address: 45 Lê Lợi
Quan Hanh
This is a great place to try a variety of local dishes. Quan Hanh offers a reasonably priced tasting menu featuring many of the Hue food dishes you need to try. For 120,000 VND (around £4) per person, you can try banh beo, banh khoai, nem lui, grilled pork noodles, and spring rolls.
Address: 11-15 Phó Đức Chính
Hang Me Me
This was recommended by 2 Food Trippers in their guide to Central Vietnamese cuisine – which I studied religiously during my trip as I trust them implicitly when it comes to food! Hang Me Me is one of the best restaurants in Hue to try banh beo , banh cuon, and banh ram-it.
Address: 14 Võ Thị Sáu
Tai Phu
Tai Phu is one of the best restaurants in Hue to try the famous grilled pork noodles. It's a very simple establishment, and more popular with locals than with tourists. Definitely one to add to the list!
Address: 02 Điện Biên Phủ
Com Hen Ti Hon
Another simple-looking establishment, Com Hen Ti Hon is one of the best places in Hue to eat the iconic dish com hen. The clue is in the name – and the restaurant does its signature dish very well!
Address: 3 Dương Hàn Mặc Tử
Hoan Tien Stall
The Hoan Tien stall on Nguyen Hue Street is recommended by the awesome I Love Hue tour company as one of the best places to try banh khot. Head here for your mini pancake fix!
Address: 2/85 Nguyen Hue Street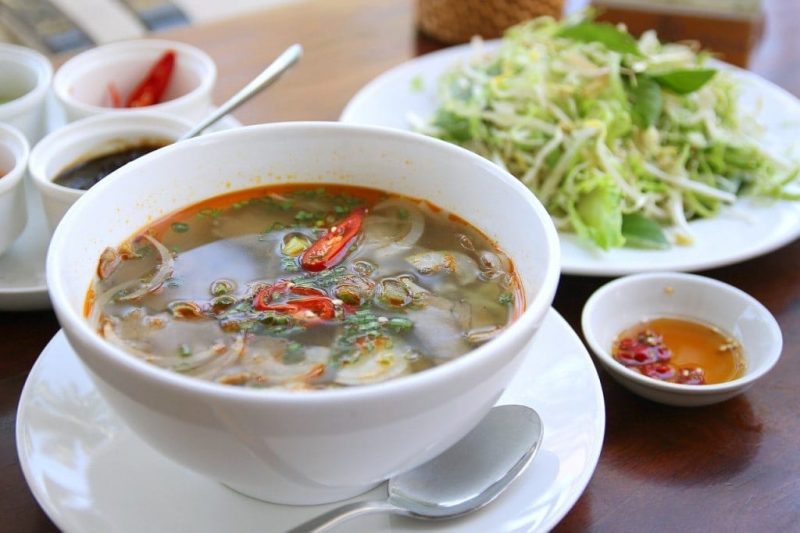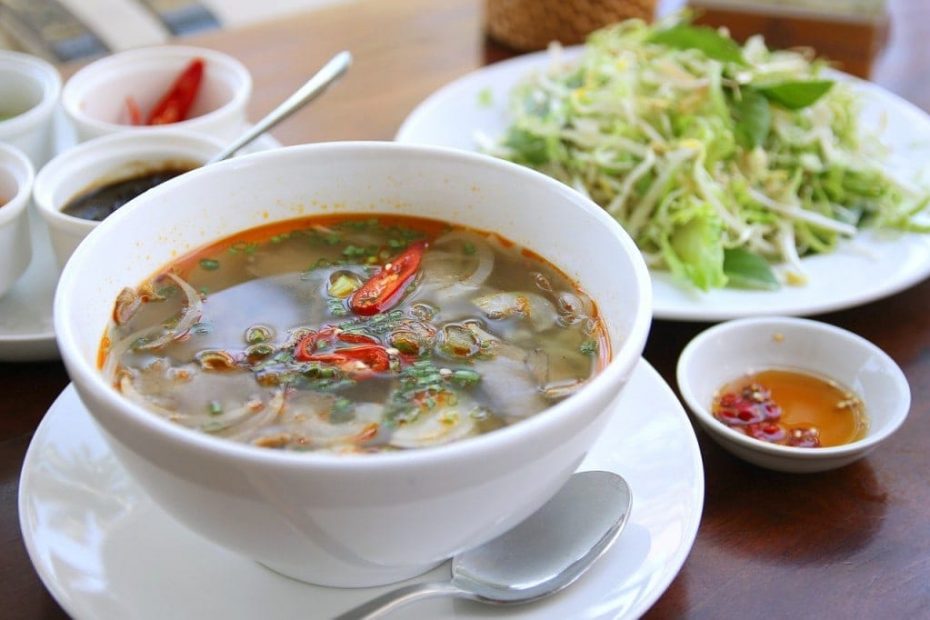 Best Places to Try Bun Bo Hue
I headed to Bun Bo Hue Quan Cam following a recommendation from two of my favourite food bloggers – 2 Food Trippers. This is considered one of the best places to try Bun Bo Hue, and it did not disappoint. They only open for a few hours in the morning, and when the soup runs out, they stop serving! So go early if you can – I arrived at about 9am and got one of the last bowls.
Below, I've gathered recommendations for some of the best places to eat bun bo hue…
Bun Bo Hue Quan Cam. 38 Tran Cao Vân.
Dong Ba Market. 2 Tran Hung Dao. See if you can find the stall Anthony Bordain uncovered!
Bun Bo Hue Ba Xuan. 17 Ly Thuong Kiet. Popular with locals on TripAdvisor!
Bun Bo Kinh Moi. 17 Ly Thuong Kiet. Recommended by I Love Hue tour.
Bun Bo Hue O Cuong Chu Diep. 6 Tran Thúc Nhan.
Bun Bo Di Bup. 68 Tran Quang Khai to 7.
Bun Bo Ba Nga. 105 Đuong Xuân 68.
Bun Bo Ong Vong. 07 Nguyen Du, Phú Cát.
Hue Food Tour
If you want to learn more about the cuisine in Hue, or just have some fun and meet new people, why not take a food tour or a cooking class? These are always such a great way to discover a new side of a destination.
I've rounded up a few of the best-looking food tours in Hue from my preferred company, Get Your Guide. If you book anything I recommend in this section, I'll make a small commission – without affecting the price you pay at all.
Have you been to Hue or Central Vietnam? Let me know in the comments – and feel free to share any iconic dishes I've missed!
Pin and Share this Post