Some posts on this site contain affiliate links. If you book or buy something through these links, I earn a small commission (at no extra cost to you). Take a look at my privacy policy for more information.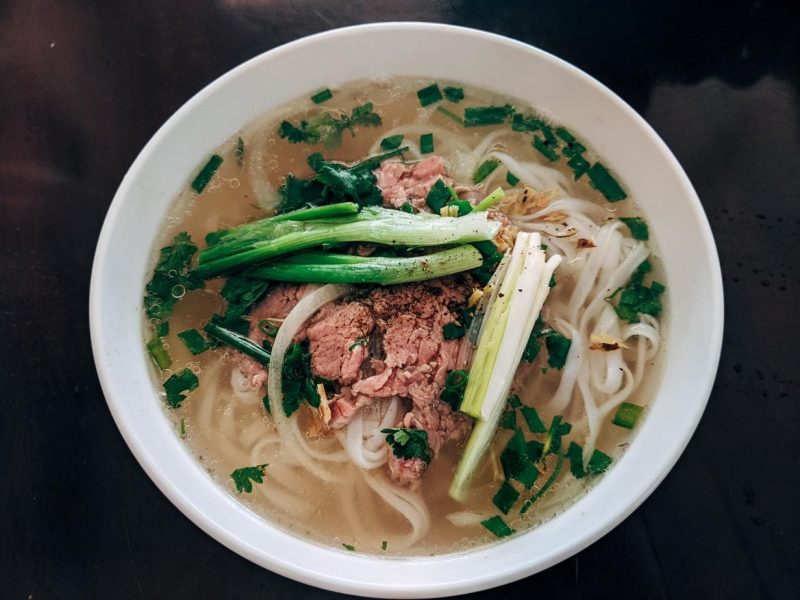 Hanoi's food scene is arguably one of the richest ones in Asia. There are so many world-class dishes from Hanoi like Pho, Banh Mi. However, the city has more than that to offer for any foodie.
If you fancy experience the authentic Vietnamese cuisine in Hanoi, these are the top Hanoi foods you must try.
RELATED POST: What to Eat in Hue, Vietnam
What to Eat in Hanoi
Pho – Vietnamese Noodle Soup
Originally, Pho did not originate from Hanoi but the city has made this soup famous worldwide. Traditional Pho includes rice noodles and broth. The most complicated part of Pho is its delicious, juicy and aromatic soup.
Depending on what you prefer, the add-on varies from each bowl of Pho. For example, Pho Tai – served with rare beef, Pho Chin – served with cooked beef.
Do not be surprised if a well-known Pho restaurant has no one speaking English!
Here are some of the best places to eat Pho in Hanoi:
Pho Thin – 13 Lo Duc Street, Hai Ba Trung district
Pho Gia Truyen – 49 Bat Dan street, Hoan Kiem District.
Pho Ly Quoc Su – 10 Ly Quoc Su street, Hoan Kiem district
Pho Cuon
Although it is also named as Pho, the difference is really clear. The noodle paste that people use for Pho Cuon is larger. Pho has soup but Pho Cuon does not.
To make Pho Cuon, a restaurateur must use the very good part of the beef then stir with spices to make a very juice beef then roll them with lettuces inside the rice paste.
Ngu Xa street has a wide range of Pho Cuon restaurants to sample this food.
Bun Cha – Barbecued Pork with Rice Vermicelli
Those who love to have something fresh and typical Hanoi, you`ll be tempted by this dish. Bun Cha consists of grilled pork strips served over a bed of rice vermicelli noodles. It comes with a plate of fresh herbs and a bowl of dipping sauce made of Nuoc Mam ( fish sauce ) mixed with sugar, garlic, chilli and vinegar. Do not mind to ask to remove the spicy element if you can not afford it.
Bun Cha is a perfect mouth-watering dish in summertime.
To enjoy the original Bun Cha, you can visit one of these 2 restaurants:
Bun Cha Dac Kim – 1 Hang Manh street, Hoan Kiem District
Bun Cha Sinh Tu – 57 Nguyen Khuyen street, Hai Ba Trung district
Bun Cha Huong Lien – 24 Le Van Huu street, Hai Ba Trung district
Nem – Spring Roll
It is said that there is no Vietnam Tour is complete without trying Nem – the signature dish of Vietnam. And there is no better place to try Nem than in Hanoi – the home of this food. Nem is considered to be the collection of spring – all the herbs, vegetable, mushrooms that push in the spring adding to the sweet from meat and egg.
These are some recommended dress for Nem in Hanoi:
Nem Nuong – 10 Au Trieu street
Nem – 44 Yen Phu, Tay Ho district
Nem Cua Be – Crab Spring Rolls
You can describe Nem Cua Be as a mix of fried rolls filled with sea crab and vermicelli noodles. These lightly fried rolls are often eaten as an appetizer while waiting for any other meal, or you can dip them into the tasty bun cha soup.
Where to try Nem Cua Be:
Nem Vuong – Dao Duy Tu street.
Bun Ca – Fish Noodle Soup
The combination of vermicelli and fish makes this dish outstanding. This light broth made from fish bones and golden white fish is more common in northern Vietnam. It comes with a bed of rice vermicelli noodles and topped with a combination of spring onions and bean sprouts which are mixed with dill herbs.
For easy access, try Bun Ca Sam Cay Si in 57 Trung Liet street.
Cha Ca – Grilled Fish with Dill and Tumeric
The Hanoian started eating Cha Ca in early 20th century. Grilled fish (mudfish or snake-head fish), peanut, noodle are the main ingredient for Cha Ca. It is served hot and you can mix with fennel, special Hanoi menthe.
At the beginning, it was a luxury dining experience since the fish used to make Cha Ca was rare and freshly caught from the Red River.
Nowadays, you can go to Cha Ca Thang Long for such a good eating experience.
Add: 31 Duong Thanh street.
Banh Cuon – Steamed Rice Rolls
Made of a thin rice sheet rolled and filled with minced mushrooms and ground pork meat, Banh Cuon is another try in Hanoi. As it is for Bun Cha, Nuoc Mam is used as a dipping sauce for these steamed rice rolls. The most interesting bizarre thing with Banh Cuon is an additional drop of Ca Cuong, an extra flavour which gives off a taste similar to scallops.
The best time to eat Banh Cuon is in the morning where all people leaving their house for breakfast.
Suggestion for Banh Cuon shops:
Banh Cuon Thanh Van – 12 Duong Thanh street.
Lau – Hot Pot
For those who are travelling in a group, Lau is the best dish to order for your incredible culinary adventures in Hanoi. Mostly preferred in the cooler months, this large pot usually consists of cooking beef, chicken, simmering soup, fish, veggies and noodles.
Depending on what type of food you prefer, you`ll find certain kind of hotpot for your own : goat hotpot, chicken hotpot, mushroom hotpot and even vegetable hotpot.
The most common area that people head out for Lau is Phung Hung street.
Fruit Salad
Hanoi's fruit salad has its own flavour. It has a creamy mixture of seasonal fruits which often you do not see in your country like dragon fruit or jack fruit.
To sweeten the salad and boost the aroma, people use condensed milk and coconut milk.
To Tich is a dedicated street for Fruit Salad.
Banh Mi – Vietnamese Sandwich
A food that combines French cuisine signature and Vietnam influence, Banh Mi is just a perfect sandwich which is mentioned in most of Hanoi Food Tours. It is tasty enough as being stuffed with cured ham, pork, vegetables like cucumber, carrot, slices and coriander to bring out a delectable product that is worth to taste.
There are some variations that you can select: Banh Mi with beef sauce, baked Banh Mi with egg.
Notable Banh Mi restaurants are: Thien Su, Tram which are not far from each other in Cua Nam street.
RELATED POST: Best Times to Visit Vietnam
Top Hanoi Restaurants
Ngon Restaurants
Some people may think about food chains as some places that are lack of identity but Ngon restaurants may surprise you. These restaurants appear in almost every district with warm, authentic Hanoi decoration and certainly good foods.
They offer a wide range of dishes from Banh Cuon to fried crabs.
Sen Buffet
Sen is considered as a favourite trademark for buffet in Hanoi. Their foods are just remarkably tasty. You`ll be served by welcoming staff, food corners are bright and well arranged. There are spaces to surprise every member of your family with food demonstration.
Little Hanoi Restaurant
If you ask any tour guide, where they often bring their customers to inside the Old Quarter, the Little Hanoi is their answer. The restaurant locates right at the heart of the city, providing well-selected foods which are mostly typical from northern Vietnam.
Add: 9 Ta Hien street
Green Tangerine
Those who love to experience a different dining style, Green Tangerine has something for you. The restaurant boasts beautiful decoration inside an old French colonial style villa. Their menu is very creative with fusion foods.
Add: 48 Hang Be street