Some posts on this site contain affiliate links. If you book or buy something through these links, I earn a small commission (at no extra cost to you). Take a look at my privacy policy for more information.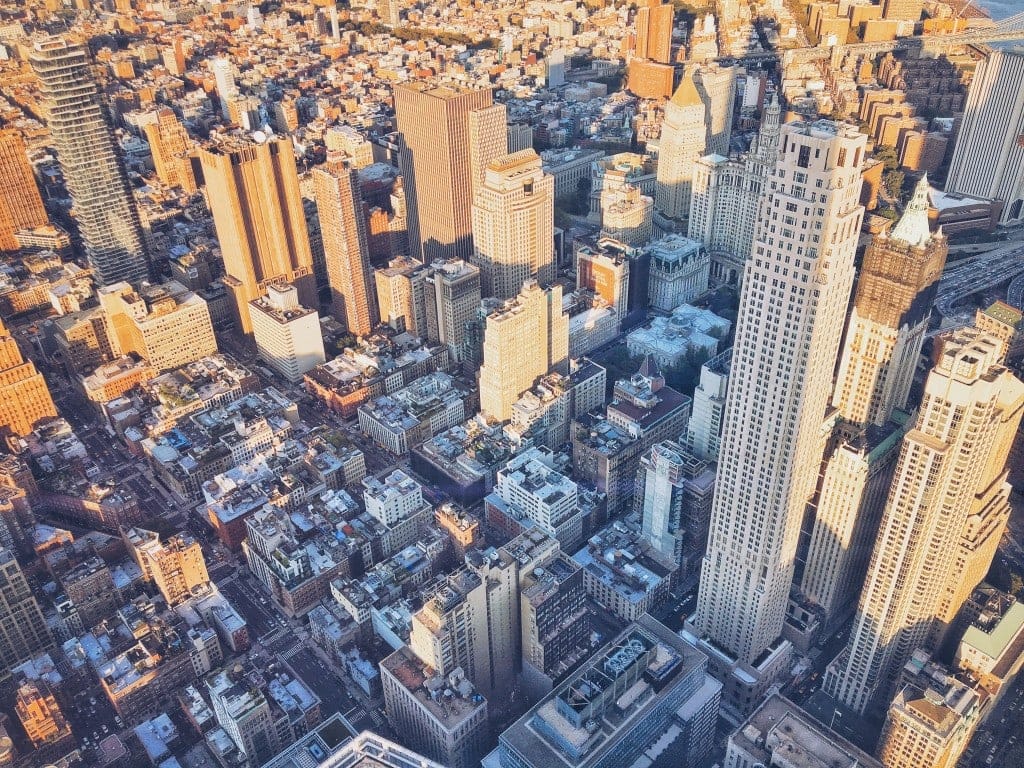 Looking for some fun, cool and unusual things to do in NYC? This is the post for you…
New York is one of the coolest cities I've ever visited, and one which just seems to constantly have something going on.
I've been several times and every time I go, it's like visiting a whole new city. There's just always something new and exciting to discover!
After my latest trip, I wanted to put together this list of cool things to do in NYC – to help you go beyond the tourist hotspots and discover the city's personality. 
I'll be updating the post every time I discover something new, so check back from time to time to see if anything new has made the list. And if you have a great idea for something cool, quirky, or alternative to do in New York – let me know and I'll add it to the list! 
Cool Things to do in NYC
Catch a Broadway Show
On my last trip, I finally made one of my travel dreams come true and watched a show on Broadway. This is definitely one of the coolest things to do in NYC. Although it's not exactly "off the beaten track", a lot of visitors think it's too expensive or too difficult to get tickets for Broadway shows and don't bother. 
Well, I can tell you it's a lot easier than you might think! I got mine from Vivid Seats (gifted), a website dedicated to sourcing tickets for live events. That includes not only theatre but concerts and sports as well.
This site is one of the safest and most secure ways to buy tickets online – it even comes with a 100% buyer guarantee. So you can book your tickets way in advance of even getting to New York if you want to, or you can book them a day or two before like I did, and you'll have peace of mind knowing you've got legit tickets for an awesome Broadway show.
And if you're looking for some show inspiration – I can massively recommend Dear Evan Hansen, which is what I saw. The soundtrack is amazing, the show is really well produced, and the whole experience is super uplifting!
Or Watch Something a Little More Obscure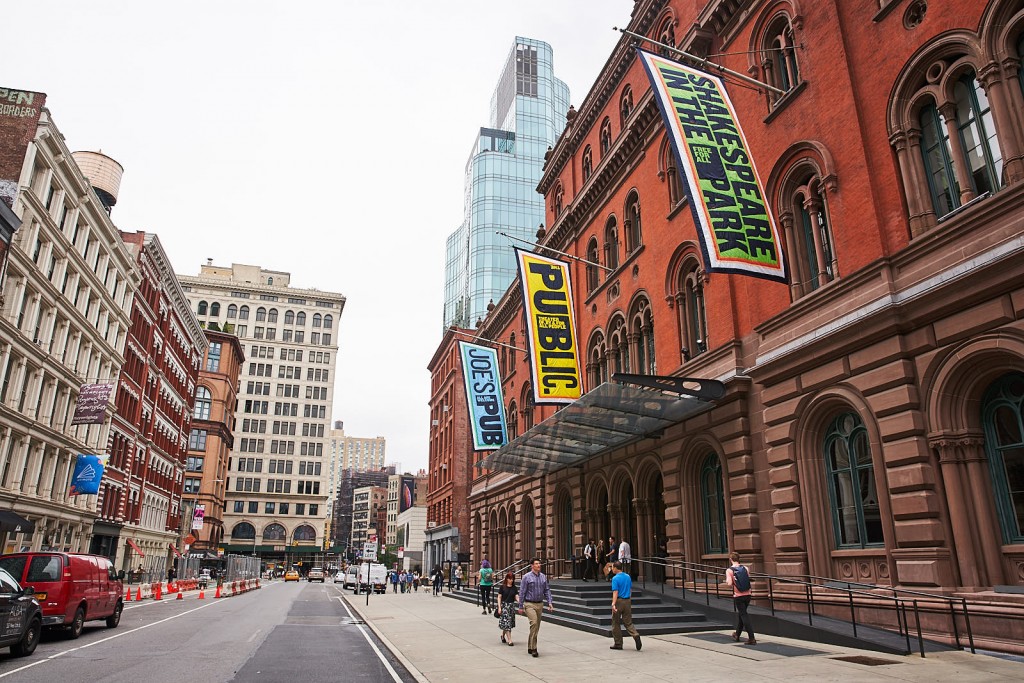 If you want to get even more off the beaten track in NYC, head to an Off-Broadway show. You can find some fantastic entertainment for the quintessential NYC evening of dinner, drinks, and theatre. Places like The Public Theater and Saint Anne's Warehouse offer a wide range of shows, featuring new work and productions of classics. You might even see the next big thing; Hamilton premiered at The Public Theater before it was transferred to Broadway!
Walk the High Line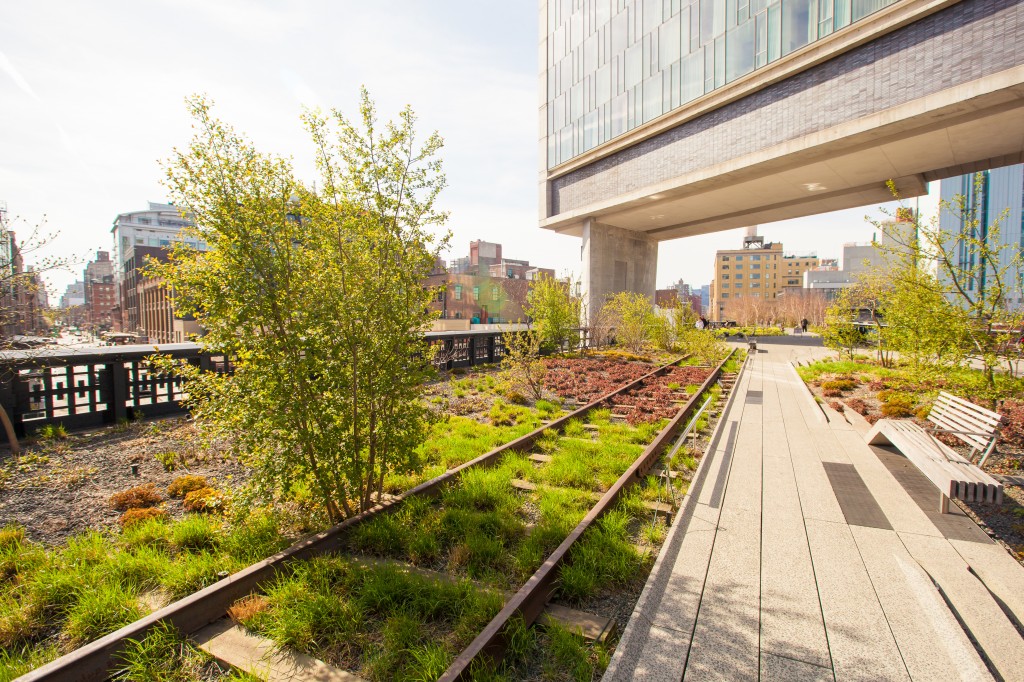 Over in Chelsea, the High Line is one of my favourite cool things to do in NYC. It's a 1.45-mile linear park, built along a disused high-rise railway line above the city, so it has some awesome views. This completely free, non-profit public space provides a touch of tranquillity in a busy city! The High Line also plays host to a variety of events, festivals, and art projects – so there's almost always something different to see when you visit.
Take a Superhero Tour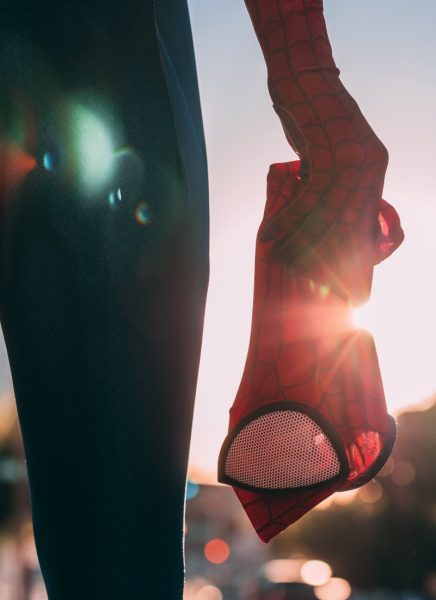 NYC is a real star. After all, the city is the backdrop to a HUGE number of movies. In fact, 7 of the 10 most frequently used movie locations are in NYC! Fans of superhero movies, like the Marvel franchise, will probably recognise quite a few spots around the city, so this Superhero Tour from Get Your Guide is a great way to delve a little deeper.
You'll check out iconic superhero movie sites, as well as where the writers and artists created your favourite characters. This is a great way to go beyond the usual sightseeing tours and try something a little different. Especially if you're a fan of superhero movies or comic books!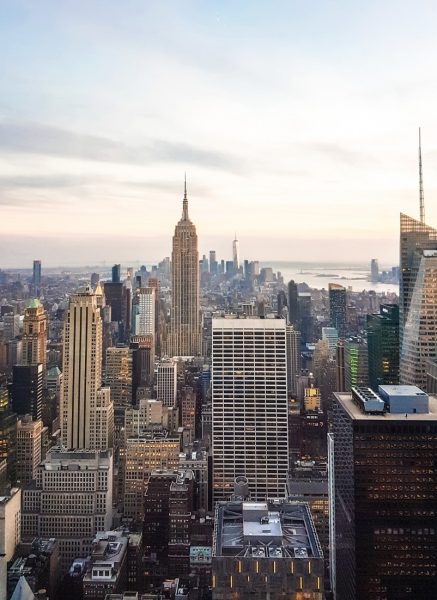 Visit the Smallest Museum in the City
When I visited New York the first time, I hit most of the city's more famous museums and art galleries. But there are also dozens of awesome smaller museums dotted all over the city, and they make for some really cool things to do in NYC. Like Mmuseumm – a teeny, tiny little gallery housed in a freight elevator! Mmuseumm specialises in the "overlooked, dismissed, or ignored". It's obscure, quirky, and brilliantly off the beaten track!
READ MORE: Check out my list of the coolest museums in NYC for more inspo!
Explore The Vessel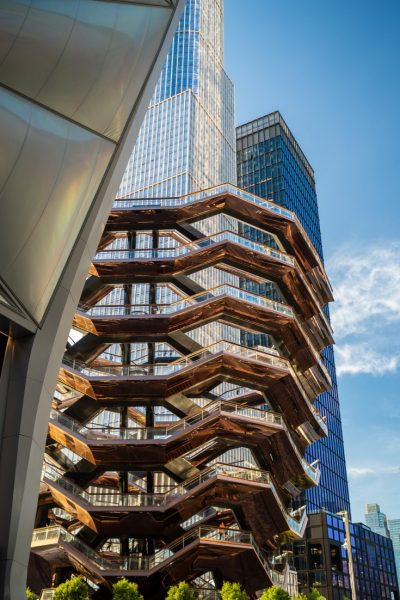 On my most recent trip to NYC, I headed to the city's newest landmark, The Vessel at Hudson Yards. Comprised of 154 intricately interconnecting flights of stairs, The Vessel is an interactive artwork designed by Thomas Heatherwick and Heatherwick Studio. The idea was to provide a variety of heights, angles and vantage points, to offer a whole new perspective on the city. It's also a seriously cool looking piece of architecture! Don't miss it.
Take a Graffiti Lesson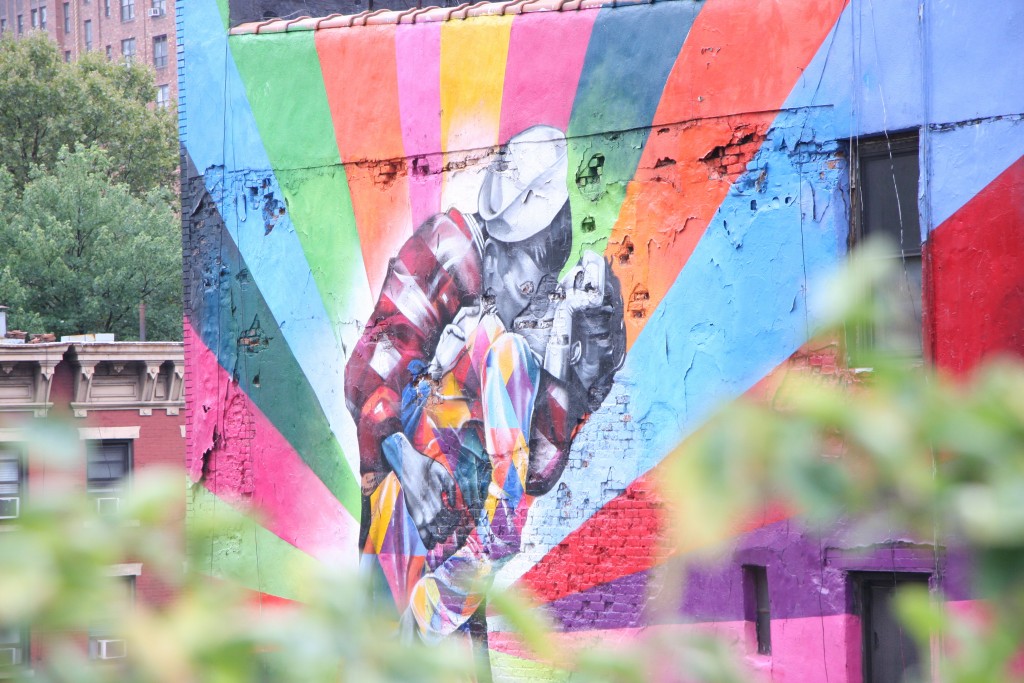 You may have noticed that street art is one of my favourite things to discover in a city. In NYC there are dozens of awesome tours that help you discover the best street art in the city. Or, you could go one step further and actually make some! Book onto a graffiti workshop to channel your inner Banksy with an authentic New York graffiti artist. Definitely one of the coolest things to do in New York!
RECOMMENDED TOUR: Brooklyn Graffiti Lesson
Cool Foodie Things to do in NYC
Time Out Market New York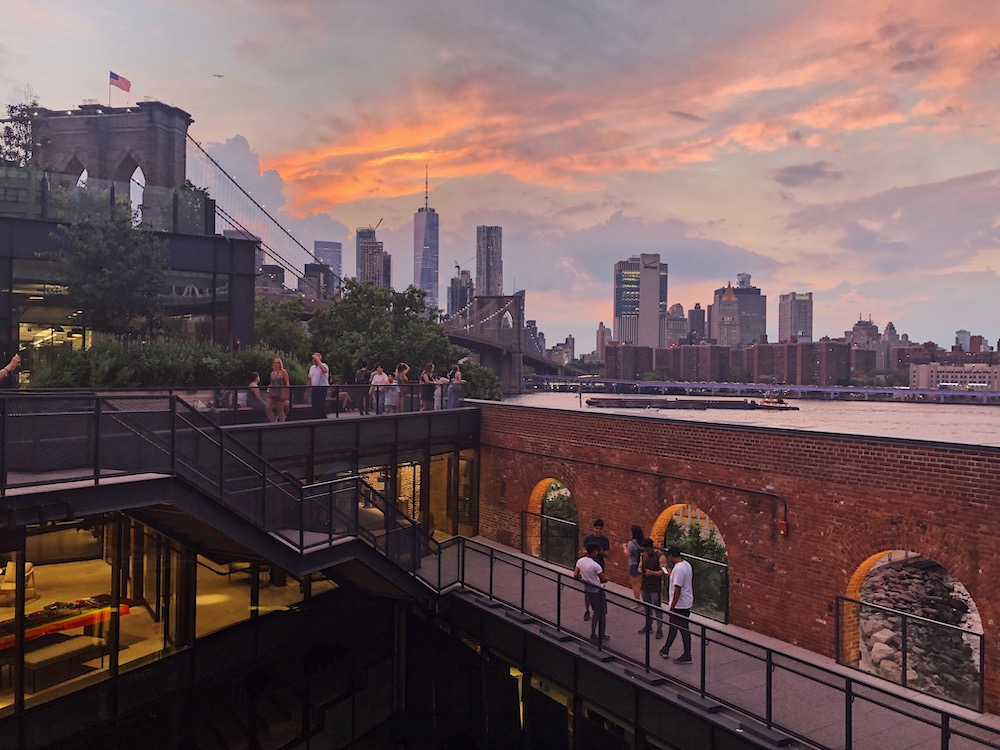 Recommended by: Jayne from Girl Tweets World, who recently spent six weeks living in the city and discovered some seriously cool things to do in NYC! Check out her guide to the best food halls in NYC for some more amazing foodie hotspots!
Brand new to NYC this summer is this food market, bar and showstopping rooftop terrace in Empire Stores DUMBO. Nestled between the Manhattan and Brooklyn Bridges, this market offers epic views – AND a selection of some of New York's best foods. Top picks include Juliana's Pizza (famous Brooklyn pizzas by the original owner of Grimaldi's) and Cookie Do – big globs of edible cookie dough in flavours such as cake batter and brookie dough.
DeKalb Market Hall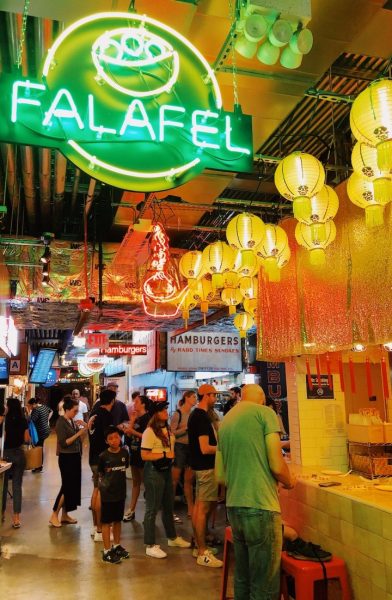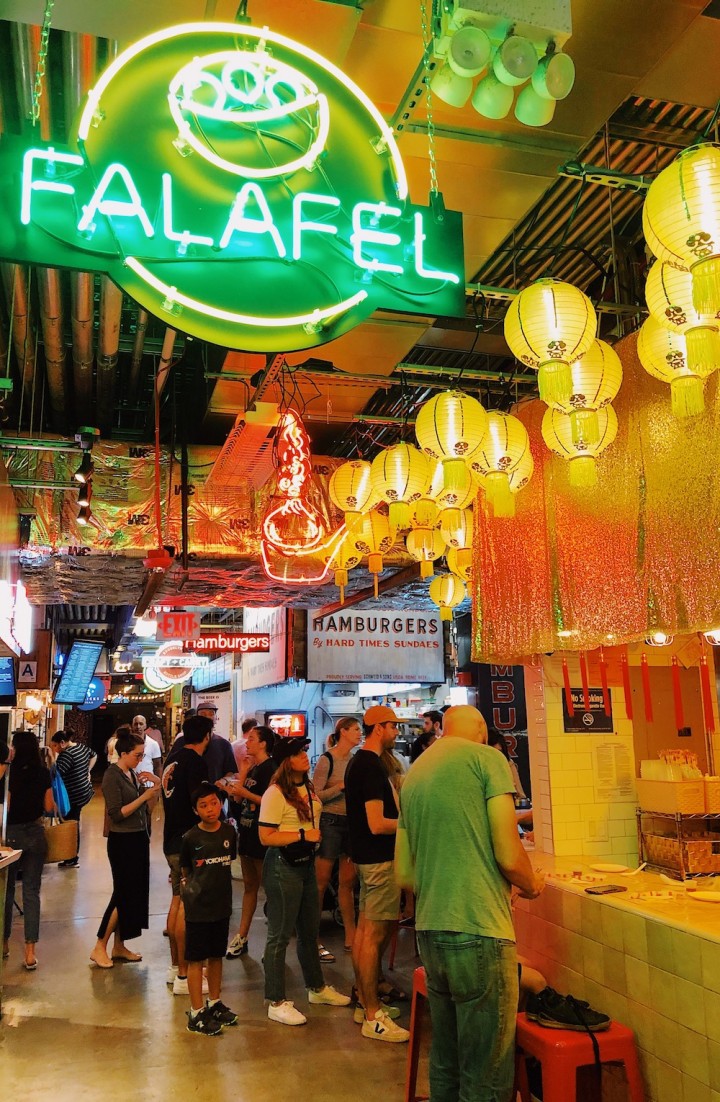 Recommended by: Jayne from Girl Tweets World
DeKalb is a funky food hall hidden in a basement under a Brooklyn shopping centre. Over 40 vendors cooking a range of burgers, falafel, bbq and more. The best bit is you can get a taste of New York institution Katz Deli – without queuing.
Take a Dessert Tour!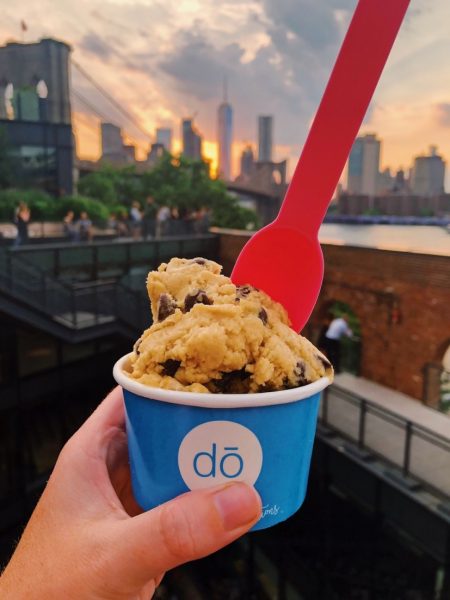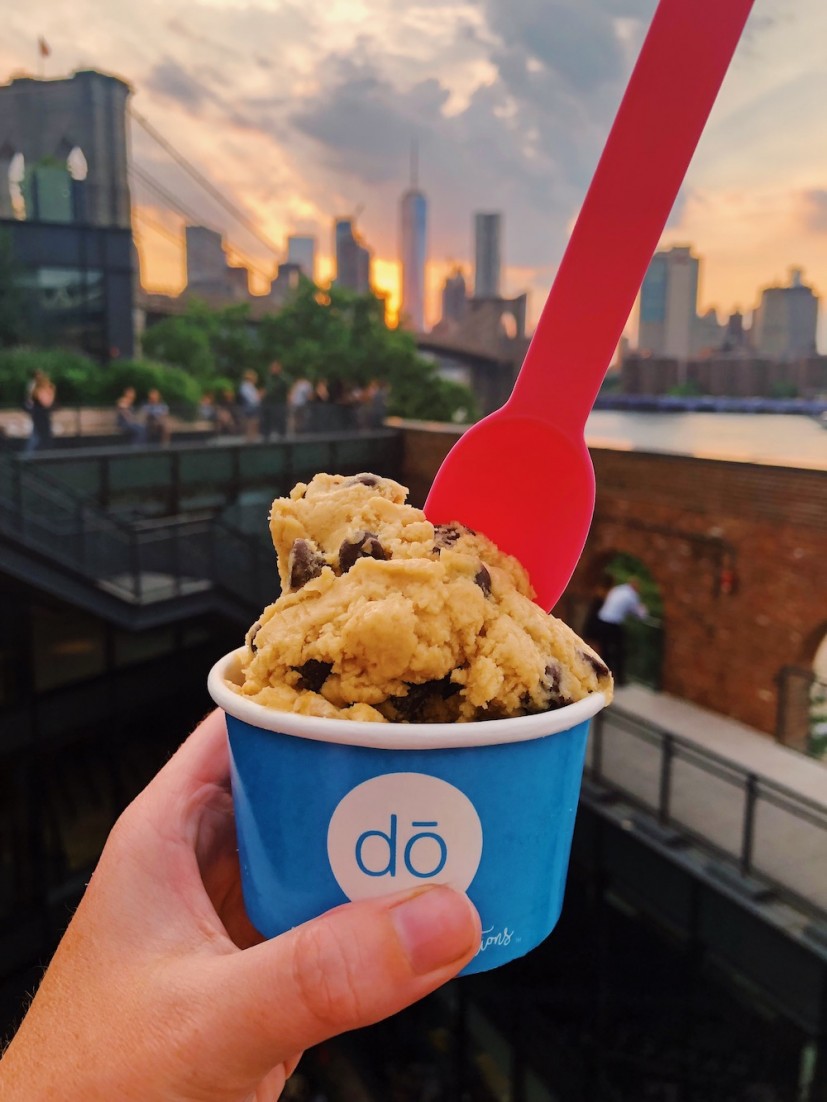 My favourite travel buddy Wanderlust Chloe has an amazing post about the best desserts in New York. I genuinely want to eat everything on that list – but the one place that really stands out is DŌ.
It's a cookie dough shop in Greenwich Village where you can get a delicious blob of cookie dough served up on a colourful ice cream cone, along with plenty of tasty toppings. Terrible for you? Probably. Do we care? Definitely not!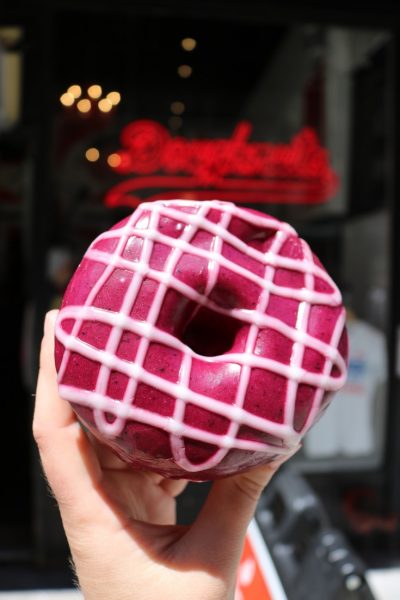 If you have as much of a sweet tooth as I do, eat your way through Chloe's post on a self-guided food tour. Or, better still, you could book yourself onto an actual dessert tour like this one from Viator – which starts from £40.62.
Dine with a Local
One of my favourite ways to discover a new city is to meet locals, and what better way to do that than over dinner? Airbnb Experiences bring travellers and locals together for authentic foodie experiences! There are loads of cool foodie things to do in NYC on Airbnb, so I've linked a few of my favourites below:
Prices are often much better than local restaurants, and you'll be getting a far more authentic experience with a chance to meet locals and get to know the "real" side of NYC.
Visit a Secret Speakeasy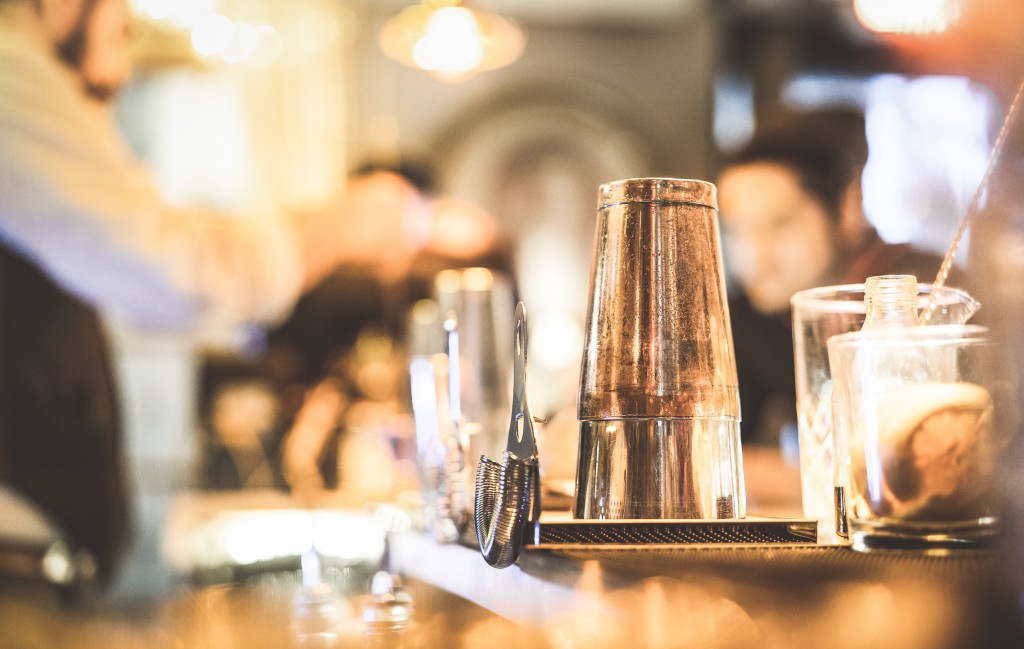 Prohibition-era New York speakeasies are all the rage these days, but is there anywhere in the world better to visit one than in actual New York City? Step back in time to the roaring twenties at The Back Room, a hidden bar disguised as the Lower East Side Toy Company. This is a genuine, original speakeasy that operated back in the actual Prohibition, so there's a lot of history in this secret bar.
Speakeasies are definitely really cool things to do in NYC! There's a whole list of the best ones on the tourist board's website, so check that out for more inspiration.
Step Back in Time at Lexington Candy Shop
Luncheonettes were small, informal restaurants that once filled the streets of New York. Today, they're far less common, but the Lexington Candy Shop is one of them.
It's not a candy shop in the way you're imagining, but if you want something sweet you can grab a slice of pie and a milkshake or a traditional egg cream. The owners still use the shop's original coffee urns, and serve pretty much the same menu as they did in the forties! So sit yourself down on a padded stool at the bar, and travel back into New York's history. 
READ MORE: 10 of the Best Coffee Shops in NYC
Cool NYC Shopping Experiences
Visit a Flea Market
One of my favourite things to do in NYC is to delve into the city's flea markets. On my first trip, when I was still a penniless photography student, I had a great time hunting for vintage treasures. I also purchased a collection of fifty-year-old used postcards which is still one of the coolest things I've ever bought! If you looking for some quirky shopping in NYC, head to any of these flea markets and see what you can uncover.
Browse the Indie Book Stores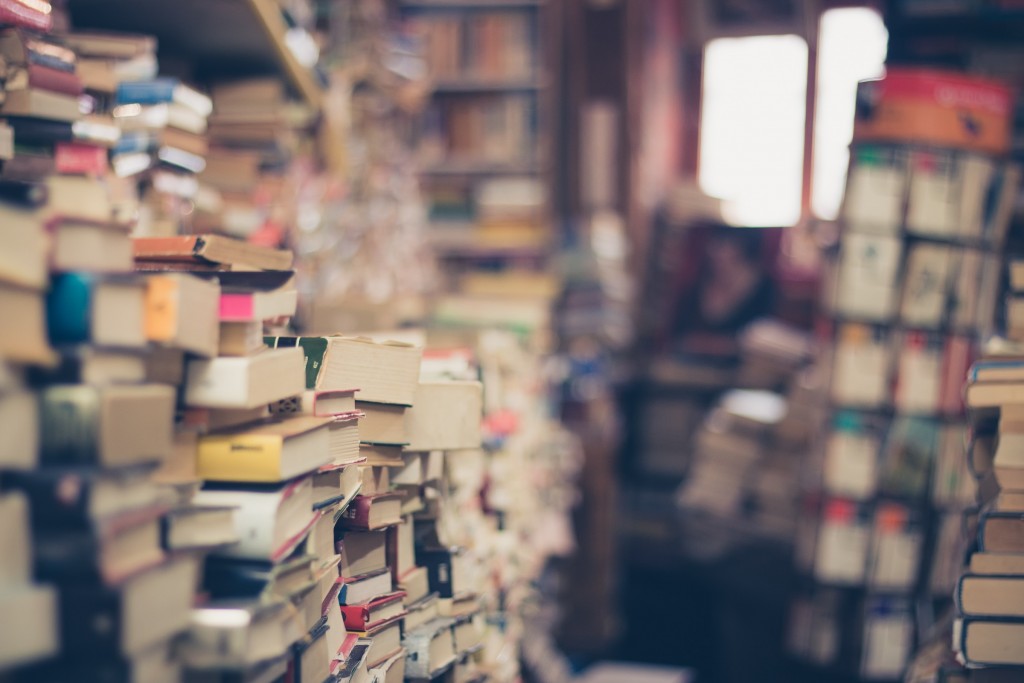 NYC has an amazing collection of independent booksellers, with shops specializing in just about everything, from rare and old books, to poetry, to feminist works, to African American literature… to pretty much any other specialism you can imagine.
McNally Jackson, Astoria Bookshop, and Brooklyn's Books Are Magic are a few of the best. Then there's Brazenhead Books, a "speakeasy" bookstore located inside a private apartment that can be visited by appointment only!
There's also the Mysterious Bookshop – the world's oldest and biggest bookstore focusing on mystery, crime fiction, espionage, and thrillers. Fans of the Netflix show You might also be pleased to learn that Mooney's bookstore, Joe's place of work, is actually a real shop – Logos Bookstore in Yorkville.
Unusual NYC Tours
Is there anything you'd add to my list of cool things to do in NYC? Help other travellers go beyond the obvious by leaving a comment – I'll add any awesome suggestions into this post!
Pin This Post!