Some posts on this site contain affiliate links. If you book or buy something through these links, I earn a small commission (at no extra cost to you). Take a look at my privacy policy for more information.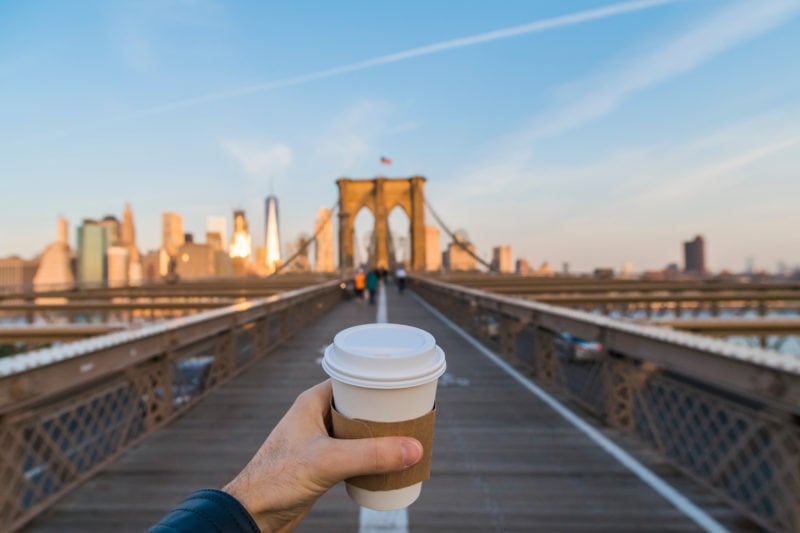 Local blogger Alisa shares the very best coffee shops in NYC, whether you're looking for a quick coffee break, a boozy brunch or a great place to work remotely!
In a city as big as New York, with so much to do and see, it can be hard to find the best places to stop for a coffee break!
Starbucks or Dunkin Donuts can easily become your default for a cup of coffee. But why not branch out and explore the NYC coffee scene? Maybe even try some coffee cocktails?
We've compiled a list of the ten best coffee shops in NYC. So whether you're looking for a place to work or just relax, these spots will definitely satisfy your cravings for some great coffee. Let's jump in…
What Are The Best Coffee Shops in NYC?
Address: 193 Meserole Avenue, Brooklyn, NY 11222
Café Grumpy is a cozy and inviting coffee shop located in the heart of Greenpoint, Brooklyn. It has been around since 2005 and is a favorite among locals.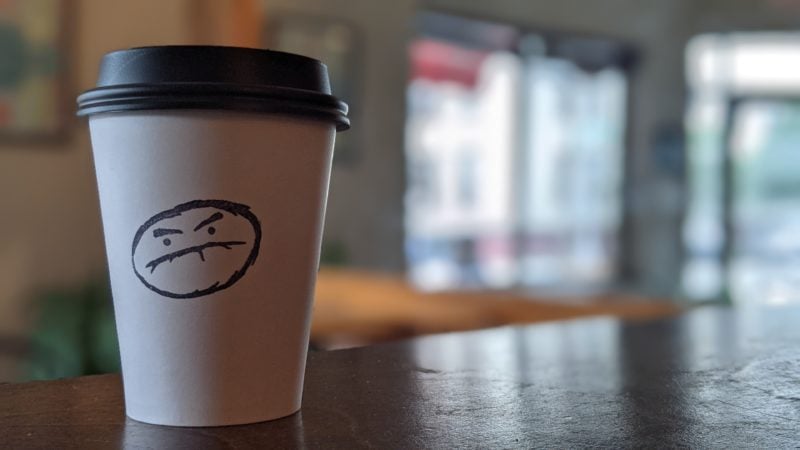 The atmosphere is laid-back and friendly, with plenty of seating options. The walls are covered with artwork from local artists, giving the cafe an eclectic vibe that reflects its neighborhood.
The menu offers a wide selection of coffee drinks and pastries, with both vegan and gluten-free options available.
Additionally, Café Grumpy offers creative craft beverages like chai lattes and speciality tea drinks.
For those who work remotely or just need some peace to get things done, Café Grumpy has plenty of outlets spread throughout the café as well as fast wifi access.
With its welcoming atmosphere, great food offerings, and convenient amenities (like free wi-fi), it's no wonder why this beloved destination has become one of Greenpoint's most popular spots!
Cafe Grumpy has multiple locations throughout NYC, but the Greenpoint coffee shop is my favorite.
Ace Hotel location: 18 West 29th Street, New York, NY 10001
If you're looking for a quality cup of coffee, Stumptown Coffee Roasters is the place to go. My favorite location is in the Ace Hotel in Midtown Manhattan.
Founded in 2009, Stumptown Coffee Roaster has been at the forefront of the speciality coffee movement, producing high-quality coffees sourced directly from sustainable growers across the world.
Stumptown's emphasis on quality and sustainability has led them to become one of the most popular roasters in New York City and beyond.
The core lineup of their own coffee includes single-origin coffees from Ethiopia, Colombia, Honduras, Guatemala, and more. These are all carefully processed by their team.
Speciality blends like Hairbender and Cold Brew Reserve represent the result of their commitment to sourcing only top-tier green coffees from around the world combined with expert roasting techniques.
Aside from their signature espresso drinks, you can also enjoy delicious food. These include pastries from Ovenly and Pain D'Avignon and Austin-style breakfast tacos from King David Tacos.
Whether you're enjoying a morning cup or trying out their latest roast release, Stumptown offers something special for all coffee lovers alike.
3) Best-designed Coffee Shop: Blue Bottle
Address: Blue Bottle has multiple locations across NYC
Blue Bottle Coffee shop in NYC is a beautifully designed cafe chain that takes coffee seriously. The atmosphere here is serene and inviting, with chic modern decor. It's perfect for those looking to escape the hustle and bustle of the city.
The menu is full of delicious coffee drinks made with freshly sourced beans from around the world. From light-roasted single origins to bold blends, there's something for everyone. They also offer an array of specialty drinks to choose from.
For foodies, there are plenty of options too – anything from sweet pastries to savory sandwiches can be found here. Everything on the menu is made with fresh ingredients to ensure every dish is top-notch.
No matter what time you come by Blue Bottle Coffee shop in New York City you'll be welcomed warmly by friendly baristas who can help you decide what to order.
If you're looking for a nice gift, this is also a great place to purchase some travel mugs or roasted coffee.
4) Best Coffee Shop in the Financial District: Black Fox
Address: 70 Pine St, New York, NY 10005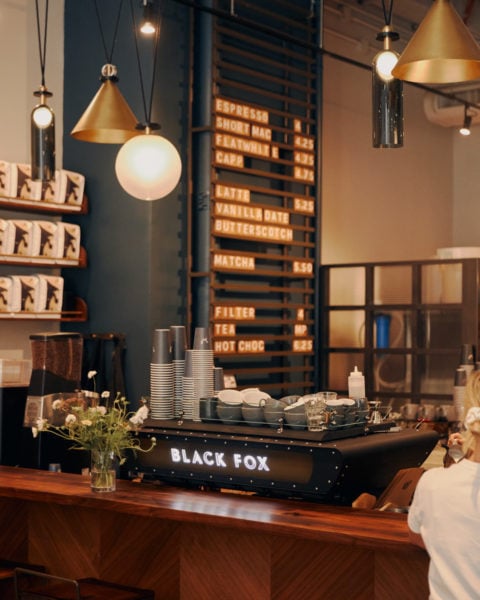 Black Fox Coffee is a speciality coffee shop located in the Financial District of New York City.
The cafe was founded by Daniel Murphy and Gary Hardwick, two passionate coffee lovers who wanted to bring a better, more meaningful cafe experience to their local community.
They opened Black Fox with the mission to make remarkably good coffee experiences accessible to all.
The interior of Black Fox was designed as an homage to the traditional European espresso bar. Upon entering, you can expect to find a warm and welcoming atmosphere that invites conversation, engagement, and community. The seating areas offer plenty of space for gatherings, while the carefully curated selection of global coffees appeals to both novices and experts alike.
The team at Black Fox are experts in crafting custom espresso blends as well as providing advice on brewing methods such as pour-over, French press brewing, as well as cold brew coffee and tea infusions.
You'll also find an expansive selection of grab-and-go snacks and beverages like freshly baked pastries, yogurt parfaits, smoothies, hot teas, iced teas, and more.
Black Fox Coffee stands out among other speciality cafes because it not only provides an excellent cup of coffee but also fosters a sense of connection between customers and employees along with providing education about coffee-making techniques across all skill levels.
This is, without a doubt, one of my favorite New York City coffee shops. A visit to this chic Financial District shop is certain to be a memorable one!
5) Best Nicaraguan Coffee: Cafe Integral
Address: 149 Elizabeth St, New York, NY 10012
Café Integral is a small but impactful coffee shop located in New York City's Soho district. It was founded in 2012 with the mission of bringing exceptional Nicaraguan coffees to American culture. Café Integral has earned a reputation for its high-quality, carefully sourced beans from four of Nicaragua's finest regions.
At Café Integral, you can expect to find a menu featuring a variety of coffee drinks and freshly baked pastries.
From classic espresso-based beverages like cappuccino and macchiato to speciality options like Affogato – an Italian treat made with espresso and ice cream – there's something to please everyone.
The atmosphere at Café Integral is quite inviting. It's bright and modern, making it an ideal spot for the perfect cup of coffee or tea accompanied by great conversation or just some quiet time with yourself.
The staff is friendly and knowledgeable, always happy to discuss their brewing techniques, which range from pour-over to French press. Their passion for coffee beans is evident in every sip—each one tastes more brilliant than the last! If you're in the Soho / East Village area visiting NYC's museums or galleries, definitely stop by.
6) Best Place to Also Have Brunch: Vineapple Cafe
Address: 71 Pineapple St, Brooklyn, NY 11201
Vineapple Cafe has been a popular spot in the Brooklyn Heights / Downtown Brooklyn neighborhood for some time now. The cafe offers delicious and inventive breakfast and brunch offerings, perfect for a lazy Sunday or to catch up with friends during the week. With its cozy atmosphere, friendly staff, and delicious food you can't go wrong!
The menu is full of exciting options – including their famous Eggs Benedict, which has a unique twist. Their Shakshuka is also quite popular, though it can be a bit too spicy for some tastes. You must try their Cinnamon Crunch French Toast – this delicious dish will have you coming back again and again. Brunch cocktails are generously portioned and have just the right amount of kick!
This local coffee shop has a very inviting atmosphere. The walls are decorated with colorful artwork, giving it an artistic vibe. You can easily spend hours here chatting with friends over brunch or sipping on your favorite beverage.
Overall, Vineapple Cafe is an enjoyable experience that will keep you coming back for more. From their creative dishes to their fun atmosphere, you're sure to find something that will make your visit memorable!
7) Best for on-the-go Coffee: La Colombe
Address: Multiple locations throughout NYC
La Colombe is an iconic coffee shop chain found throughout New York City. These shops are known for their delicious selection of coffees, teas, and pastries. The atmosphere at La Colombe is modern, yet inviting with its clean design and tasteful decor.
The menu at La Colombe offers a wide variety of hot and cold speciality drinks such as their famous draft latte. This smooth, creamy caffeinated drink made with oat milk has become a hit among customers looking for something different. If you're short on time, you can also grab one of their canned beverages.
In my experience, the staff at La Colombe are friendly but not too chatty. They'll give you all the necessary information about their offerings and make sure your drink order is processed swiftly.
All in all, La Colombe offers an upscale experience while maintaining the convenience that comes with having several locations throughout the city.
Address: 184 Duane St, New York, NY 10013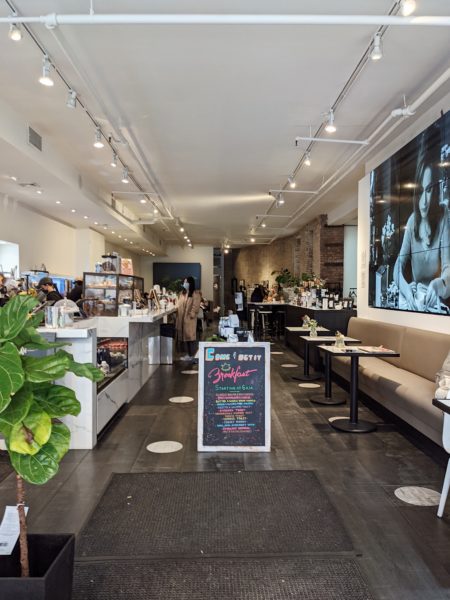 Laughing Man Café is a cozy coffee shop tucked in Tribeca, NYC. It opened its doors in 2011 and has since then been a local favorite among coffee lovers and tourists alike.
Here, the atmosphere is both warm and inviting with plenty of natural light to brighten up your day. The café offers delicious coffee blends from around the world that each has its own character and flavor profiles.
Their baristas take great pride in crafting individualized drinks using only the finest beans sourced directly from small-scale farms. In addition to coffee, they also offer tea varieties, pastries, breakfast items, sandwiches, and salads.
The Laughing Man Coffee Company also believes in making a difference through its work. They have created the Laughing Man Coffee Foundation which invests its profits into various aspects of the farmers' life such as health care, education, growth, and success. By shopping at their cafe or online store you are contributing to this cause helping communities around the world be happy.
For those who prefer a more relaxed experience, the Tribeca location also offers an outdoor seating area. Here, you can enjoy one of their signature drinks by the fire or under the stars while taking in all the neighborhood has to offer.
9) Best for Getting a Pastry With Your Coffee: Fabrique Bakery
Address: 348 W 14th St, New York, NY 10014
Fabrique Bakery in NYC is a truly exceptional place. From the warm and cozy atmosphere to the delicious scents and sounds of baking, it's hard to resist the allure of this traditional bakery. Located in one of Manhattan's oldest neighborhoods, Fabrique offers customers the perfect combination of classic Swedish pastries, artisanal bread, cakes, tarts, and other treats.
The bread at Fabrique is made using natural ingredients and traditional methods. Their signature sourdough is made with freshly ground flour, water, and natural yeast – no commercial yeast or preservatives are used. The resulting loaves are flavor-packed and deliciously fragrant. They also offer a variety of unique bread including rye, whole wheat, and their scrumptious cardamom rolls.
Their signature pastries are just as impressive. No matter what your tastebuds crave, you'll find something at Fabrique that will please them.
In addition to its delicious range of products, Fabrique Bakery also has an extensive selection of drinks – both hot and cold – for those seeking something extra special. Whether it's a warm cup of spiced almond latte or a refreshing glass of elderflower sparkling cider, you will be delighted.
All of the deliciousness offered by Fabrique comes with prices that are typical for NYC bakeries. But it's well worth it for a such high-quality products. Everything they make is guaranteed to be fresh with no added preservatives or artificial flavors. They only use real butter, sugar, and eggs in all their creations – so you can feel good about indulging in any treat from Fabrique Bakery!
Address: 71 Irving Pl, New York, NY 10003
Irving Farm New York on Irving Place is an iconic cafe that has established itself as a leader in NYC's coffee industry since 1996. Located in the heart of the city, Irving Farm offers a cozy and inviting atmosphere to anyone who visits.
The cafe is warmly decorated with wood paneling on the walls and vintage art pieces. There are also multiple seats inside, as well as little tables outside for you to take advantage of the sunshine or work on your laptops.
At Irving Farm, you can order from a wide selection of delicious coffees, from light roast espressos and cappuccinos to creamy lattes and cold brews. You can also purchase freshly roasted beans from their extensive selection of beans from all over the world. The coffee here has been described as smooth and bright with no bitterness – perfect for any discerning coffee lover!
In addition to its cafe on Irving Place, Irving Farm also has additional cafes throughout Manhattan and even a 7500 sq/ft roasting facility near the original carriage house in Millerton, New York. Through these facilities, they strive to provide authentic NY coffee while staying true to their hometown roots since 1996.
Conclusion
No matter what your preference for coffee is, New York City has got you covered! With its array of classic institutions, modern upstarts, a pour-over bar, and old-fashioned drip coffee, there's something out there to satisfy any cravings.
Whether it's artful espresso drinks at La Colombe or tasty breakfast treats with your coffee from Fabrique Bakery, or a cozy atmosphere to linger in with Irving Farm New York, there's something for everyone here.
So grab your mug and explore the amazing coffee culture that New York City has to offer!
What are your favourite coffee shops in NYC? If there's one missing from this list, let us know in the comments!
---
About the Author
Alisa Goz is a digital nomad, travel blogger, and passionate life-long learner. Join Alisa at AlisaGoz.com for the best tips for stress-free travel. Before starting her blog, Alisa worked as a non-profit fundraiser at top New York cultural institutions. She carries her passion for building community through everything she does.
More on NYC