Some posts on this site contain affiliate links. If you book or buy something through these links, I earn a small commission (at no extra cost to you). Take a look at my privacy policy for more information.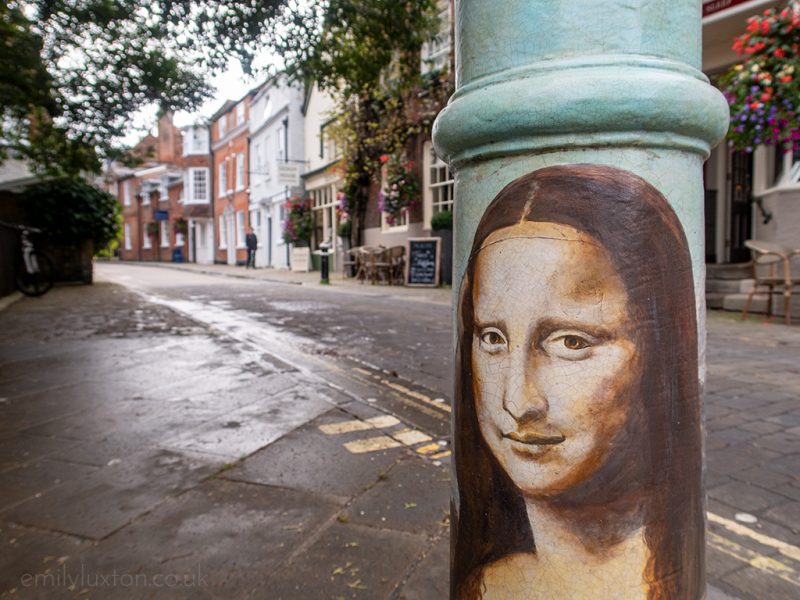 Yesterday, I hopped on a National Express coach and headed out for a Winchester day trip, in the hopes of blowing out the Autumn cobwebs and busting myself out of the rut I've been in recently. I wanted to embrace the new season, and reignite my passion for exploring the UK.
For me, the beginning of Autumn has launched a period of hibernation. September brought rain, a new freelance project, and that uncertain British weather where it's too warm for a jacket but too cold not to have one. These have all felt like brilliant excuses to indulge my lazy side and stay indoors. Or perhaps I've simply been in the right frame of mind to let them.
But I've turned myself into a bit of a recluse – and I can feel myself getting stir crazy. So this week, I decided to force myself out of it, and boarded a coach to Winchester in search of a mini-adventure.
My trip to Winchester was supported by National Express, who asked me to write an honest account of the day. As always, all words and opinions are my own.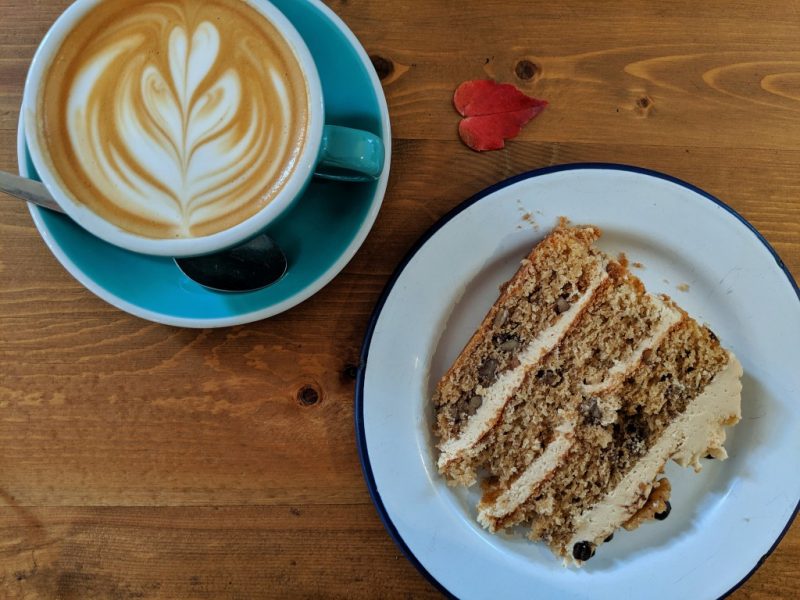 How to Get to Winchester
From London, you can hop aboard a National Express coach at Victoria coach station. The journey takes just 1 hour 45 minutes and starts from as little as £8 each way. Coaches stop right by Winchester city centre, outside the Abbey Gardens – about a 5-minute walk from the cathedral.
If you're coming from elsewhere, check the National Express site to plan your journey. Coach travel is the most environmentally friendly form of public transport so it's a great way to explore the UK. It's also cheap, comfortable, and super easy! I was particularly impressed by National Express' commitment to reducing their carbon footprint.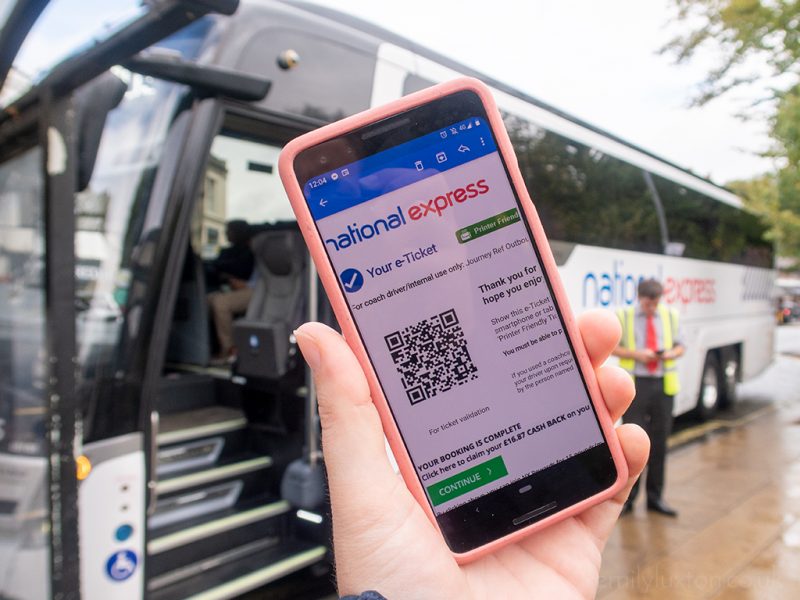 My Winchester Day Trip
Winchester is one of those wonderful, inviting cities that looks good in any weather. The ancient cathedral and the imposing castle – home to Arthur's round table, allegedly – looked even more dramatic against a grey sky.
My day out began at Portsmouth's The Hard Bus Station, a stone's throw from the creaking boats of the harbour. I'm used to Fratton's dingy train station, and The Hard felt far more fitting for the start of a journey.
We cruised comfortably to Winchester, and I watched Netflix from the comfort of my leather seat, making the most of the in-seat USB charger. The bus dropped me smack in the city centre. Right next to the statue of King Alfred the Great, thrusting his sword towards a grim, rain-swollen sky. The perfect first glimpse of a city so full of legend and dramatic history.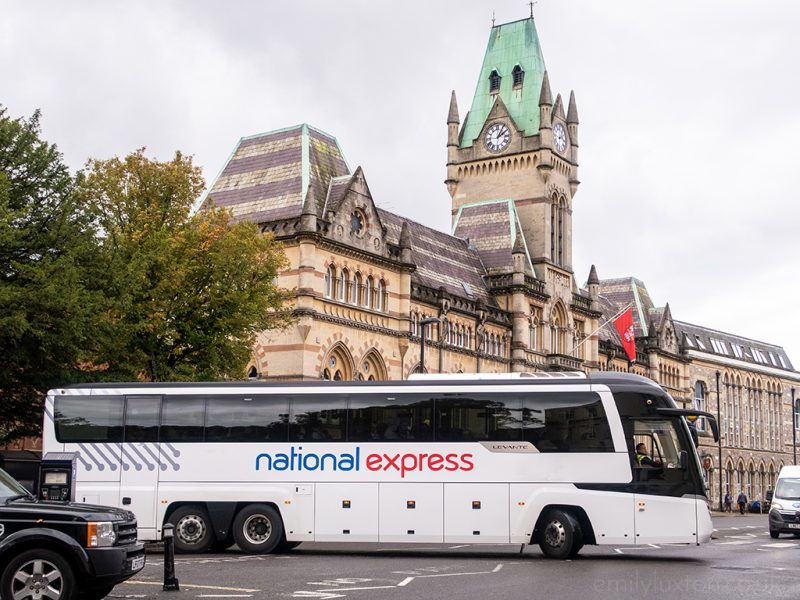 Lunch at Frieda's
I wandered Winchester's historic High Street, with its lopsided Tudor buildings and crumbling Westgate, and delved into a few picturesque side streets until I found what I was looking for. A cute tea rooms – a must on any day out in England.
Frieda's Tearoom is a local hidden gem; I tried their Afternoon Tea Bus in Bournemouth earlier this year and wanted to visit the newer Winchester branch of the shop.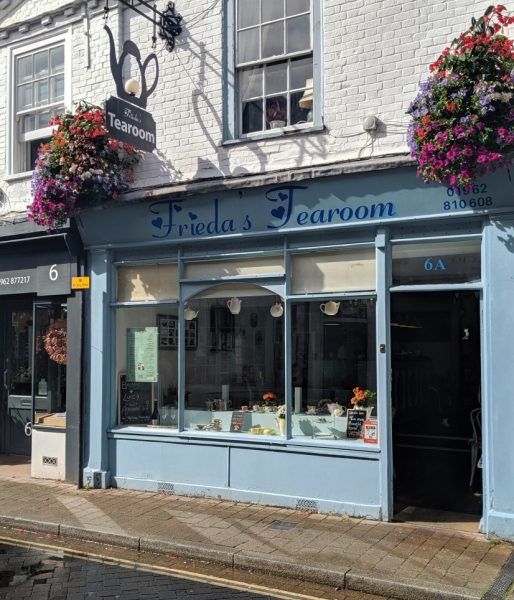 No Winchester day trip is complete without a good trip to a tearoom! Frieda's is perfect; great sandwiches and simple lunch options, as well as plenty of amazing cakes.
The Great Hall
This was my first trip to the city in a long time, so I decided to play tourist again and head to some of the must-see places in Winchester. A proper little day trip!
Winchester is one of the oldest cities in the UK – predating records. Before even the Romans came to England, there were settlements here. Legends and history are everywhere you look, pulsing in the flagstones of the high street and the crooked walls of ancient buildings.
In The Great Hall – all that remains of a castle dating from 1067 – myth and history combine. For hundreds of years, a huge, round, wooden tabletop has hung on the wall of the hall. According to legend, and popular belief, this is King Arthur's Round Table.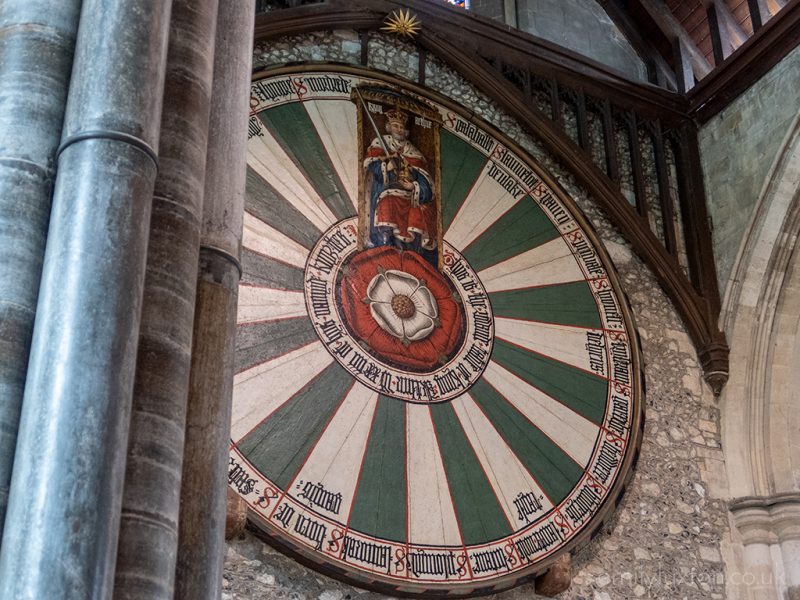 Winchester is one of many contenders for the possible real-life location of Camelot (assuming Arthur ever existed in real life at all). Carbon dating and history suggest that the Round Table probably isn't the same one Arthur and his Knights sat around, but the fact that it's been dated to around the 13th century is impressive enough on its own.
Arthur may never have lived at Winchester Castle, but other kings did. Since it was built by William the Conqueror the castle has had a long and fascinating history. Alongside the hall you can also visit Queen Eleanor's Garden. The peaceful, green setting was on fire with autumn colours when I visited.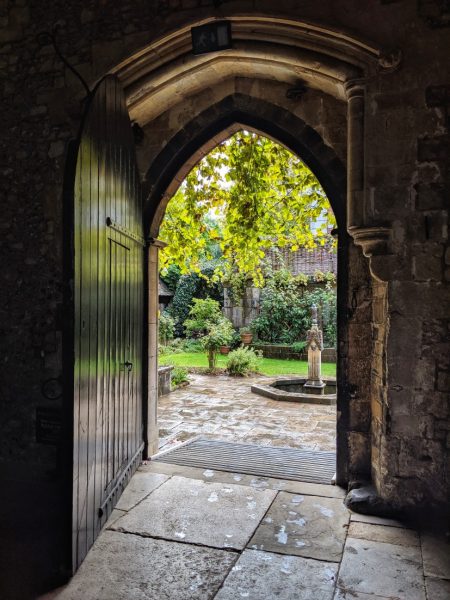 Winchester Cathedral
No day trip to Winchester is complete without a trip to the Cathedral. I've been to the city several times, but the cathedral never fails to impress me.
With fifteen centuries of history behind it, kings buried within its walls, and endless legends circulating around it, the cathedral is an inseparable part of Winchester's heritage.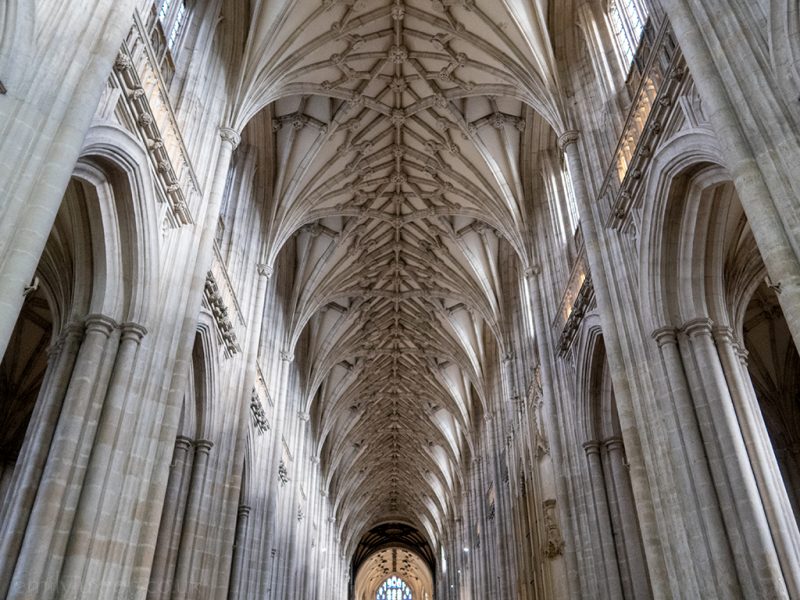 I wandered through the stunning interior to Jane Austen's grave. One of my favourite authors, she spent her last days here in Winchester and was laid to rest in the cathedral.
Finally, I headed down into the crypts. These are not as creepy or as morbid as you'd think. The cold basement of stone archways are home to a sculpture by Anthony Gormley – keeping the cathedral's links to art very much alive.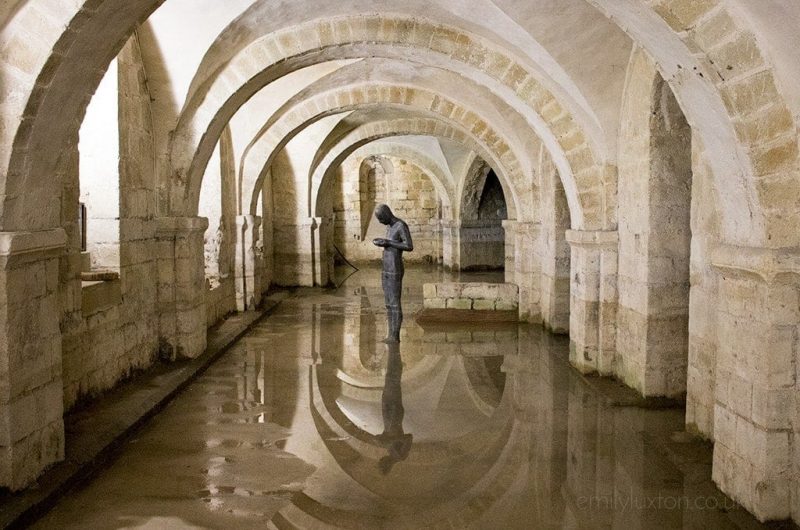 Coffee, Cake, and Vintage Shopping
I whiled away the rest of my day out in Winchester simply wandering and enjoying. Thanks to a recommendation from a friend, I stopped at Coffee Lab (an independent local chain) for a mid-afternoon pick-me-up. The chain's founder, Dhan Tamang, was 6 times UK Latte Art champion and also runs a coffee academy. So I knew I could trust this spot for a brilliant cup of coffee – and I wasn't disappointed.
Just around the block, The Square revealed a new discovery. All the bollards along the street here have been painted in different designs by local art studio group The Colour Project. Some are recreations of recognisable artworks, like the Mona Lisa and Henri Matisse's Beasts of the Sea. Others were designed by local artists and the wider community. Almost unnoticeable, these are everyday objects made wonderful.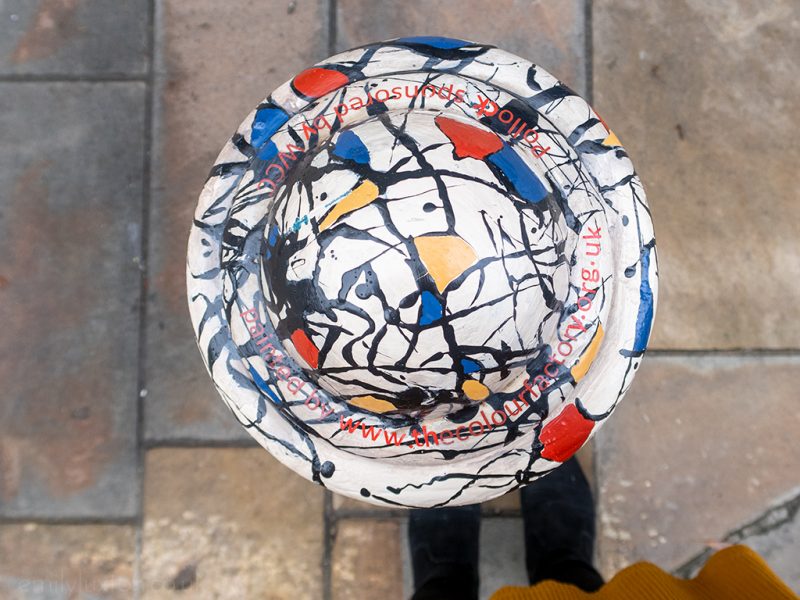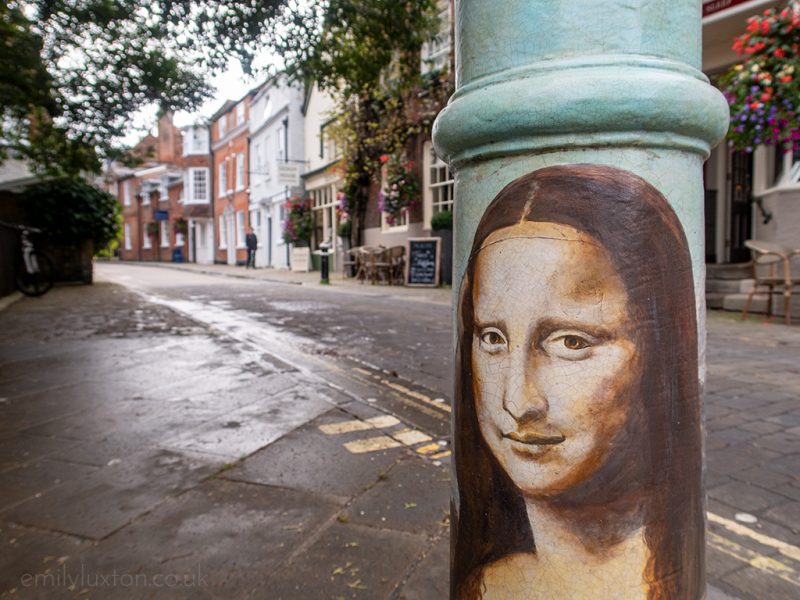 The rest of my afternoon was spent shopping. Winchester's ancient high street is such an impressive place to shop – some of the buildings here date from the 11th century, and it's often called the oldest high street in Britain. Old was what I was in search of; browsing the vintage shops in search of something a little different.
I loved exploring all the unique independent shops that can be found along the sidestreets in Winchester. My self-control mostly won control of my wallet – although I almost spent a lot of money on a leopard print jacked I would almost definitely never wear.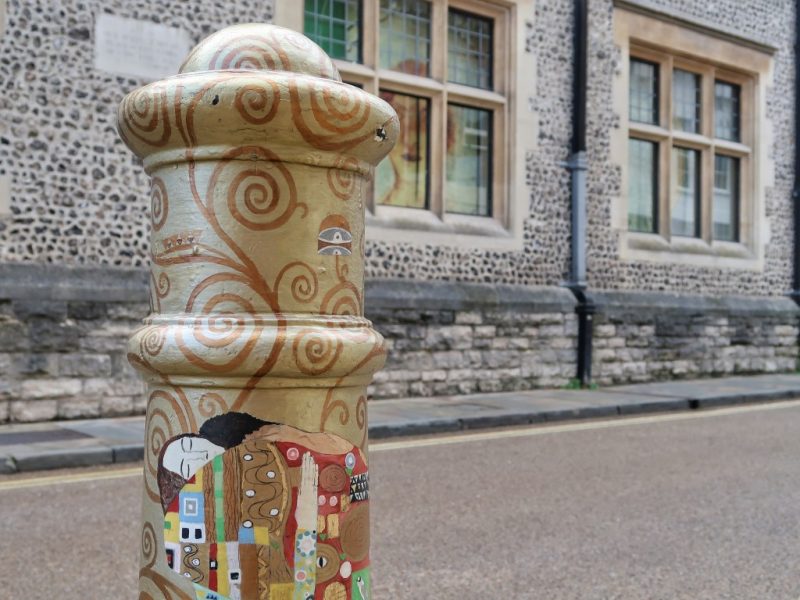 Solo Adventures are Great
I always forget that solo travel is entirely possible in my own country. For some reason, spending a month traversing SE Asia alone seems much more natural than heading up the road for a day trip on my own.
But my day trip to Winchester reminded me that solo adventures are great for brushing off the cobwebs and getting a change of scenery. After turning myself into a bit of a recluse, shuddering at the grey sky and barely leaving the house, it was so nice to wake myself up a bit with a mini-adventure.
Sure, the weather wasn't great – but I had a raincoat, I could shelter in tearooms, and most of the attractions in Winchester are indoors. So I won't be letting a bit of Autumn drizzle stop me from exploring even more of the UK!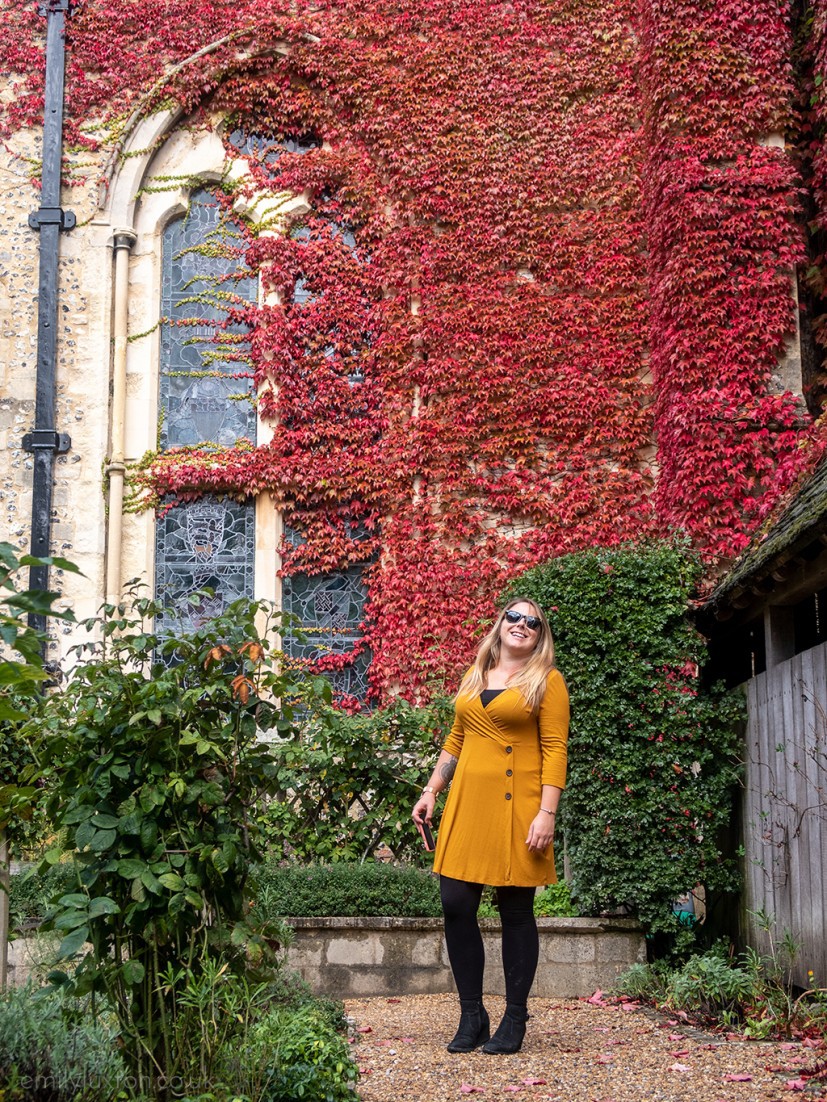 What to do in Winchester if you Only Have a Day
If you're visiting Winchester on a day trip, as I was, these are the top things you can't miss:
King Alfred the Great Statue
Winchester Cathedral
The Great Hall
The West Gate
National Trust Winchester City Mill
Winchester High Street
Abbey Gardens
If you have time, a walk to the top of St Catherine's Hill offers some lovely views of the nearby countryside. Or you can walk along the Itchen River to the Water Meadows, flooded pastures crisscrossed with clear streams and bursting with wildlife.
Pin or Share This Post!