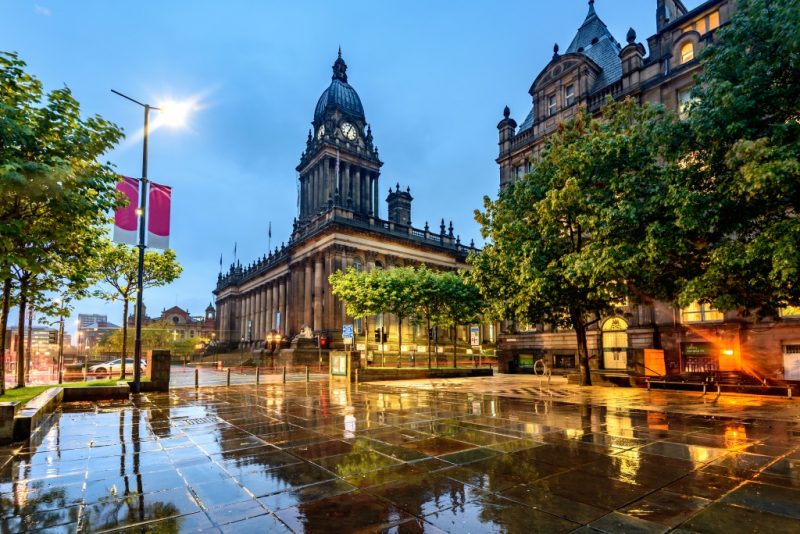 Here's a rundown of the best things to do in Leeds, the largest city in Yorkshire. This post comes from a born-and-bred Loiner (someone who comes from the city), so you know it's a source you can trust!
The place has changed quite a bit since my childhood. Like many of the UK's northern cities, Leeds suffered from the loss of much of its manufacturing and textiles industries in the late 20th century.
But significant investment from the 1990s onwards turned the city into a bustling metropolis of commerce – it's now a thriving financial centre – and culture.
Here, then, is my pick of the best this city has to offer.
Best Things to do in Leeds
Unusual/Alternative Things to do
Places to Eat
Things to do at Night
Shopping
Festivals and Events
Where to Stay
This post was written by local Chris Young. Chris is the owner of EnglandExplore – a blog for those looking to travel to England, or who just love this gorgeous country, its people, history and culture.
Best Things To Do In Leeds
Royal Armouries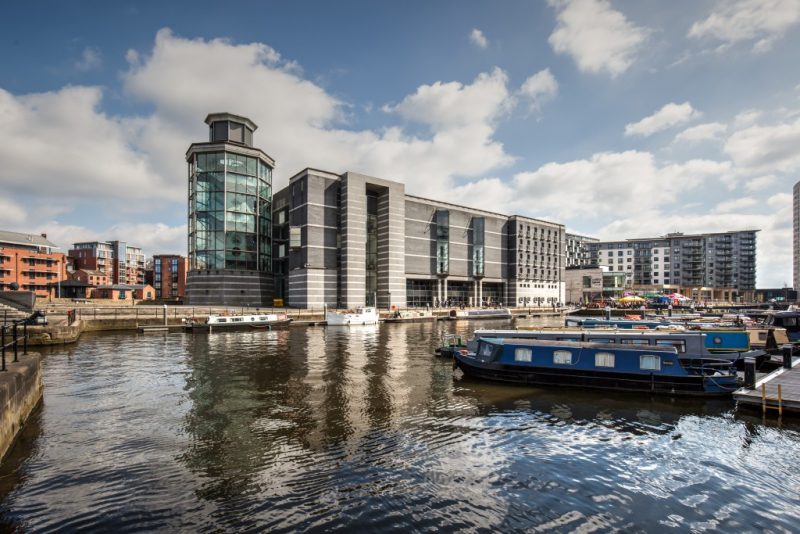 In 1996 much of the Tower of London's collection of armour, weaponry and the like was shipped to Leeds, to be displayed in the purpose-built Royal Armouries Museum in the city centre.
Like most museums in the UK, entry is free. So if knights, suits of armour, or Napoleonic muskets are your kind of thing, this makes a great day trip.
Canal Waterfront
Another of the best things to do in the city is to visit the canal waterfront. Along the refurbished area of the Canal, there are tons of bars and restaurants to explore. This is also where you'll find the armouries, and it's one of the most exciting parts of the city to explore.
The canal is the longest in the UK built as a single waterway, and it's possible to follow it all the way to Liverpool – if you're so inclined! If you don't fancy quite such a long walk, there are plenty of shorter ones to choose from. Or you can simply relax in one of the waterfront bars and watch the canal boats sail by.
Unusual/Alternative Things to do in Leeds
Tick Tock Escape Games
The city centre is home to one of two venues of Tick Tock escape games. These are best described on their website:
"Tick Tock escape games are a fun activity for groups of friends, colleagues and families where they must work together to find clues and solve puzzles to escape from a room within a certain period of time."
So if you've ever wanted to puzzle your way out of an Egyptian tomb or escape the asylum (two of the actual games) then this might be the perfect thing for you and a bunch of mates.
Places to Eat in Leeds
This city is a foodie heaven. You can sample cuisine from around the world – all within walking distance of the centre of town.
The city is particularly proud of its fine dining restaurants in the canal area of the city – home of several refurbished warehouses – such as Michelin starred 'Man Behind the Curtain'.
But our first choice of the best place to eat is a much humbler place:
The Corner Café
A city institution, this Indian eatery is, on the surface, a far cry from the Michelin stars and £100/bottle wine lists of its city centre cousins.
With its Formica tables and out-of-the-way location – on the Burley Road in the west of the city – you'd be forgiven for not thinking much of the place.
But that would be a mistake as The Corner Café has been serving the best Indian food since 1976, tapping the large sub-continental community in the area. It's particularly popular with the many students living nearby – especially as a sumptuous feast can be had for less than £20/head.
Whitelocks
Another great local attraction is Whitelocks, the oldest pub in the city.
Opened in 1715 to cater to merchants at the local market, the pub has been a central watering hole since that time. The poet John Betjeman called it "the very heart of Leeds".
It's managed to retain its charm and caters to beer drinkers, so the pub offers a range of craft beers and real ales. It's also a great place to eat. Whitelocks serves locally-sourced traditional meals, such as black pudding and steak and ale pie.
A great place to eat well, whilst enjoying a beer or two!
Harry Ramsdens
You can't get more English than fish and chips, so why not sample some of best on offer at Harry Ramsden's? After all, this was once holder of the world record for the biggest fish and chip shop in the world.
It's still situated on its original site in the suburb of Guiseley, nearly 100 years after it first opened. This is one of the best places to stuff yourself with cod or haddock (from the nearby North Sea) and thick-cut chips.
Top tip: Join the locals and have a side order of mushy peas with your fish and chips. Famously mistaken by southern politician Peter Mandelson as avocado dip (supposedly), this is actually boiled peas.
Things To Do at Night
Student Life
Leeds has one of the largest student populations in the UK – it has three universities – and has a reputation for some of the best nightlife.
The Headingly region in the west of the city is the student area of town – and where many of the best pubs and clubs are to be found.
Leeds Playhouse
One of the top theatres in the UK, the Leeds Playhouse (formerly the 'West Yorkshire Playhouse) has just been redeveloped at a cost of over £15m.
It has two stages and runs everything from Shakespeare and Greek Tragedies to modern comedies and plays. A must for all theatre lovers out there.
Shopping in Leeds
Harvey Nichols
The opening of this northern outpost of the famous London store in 1996 is seen as the start of the city's revival, putting the city on the map style-wise.
The Arcades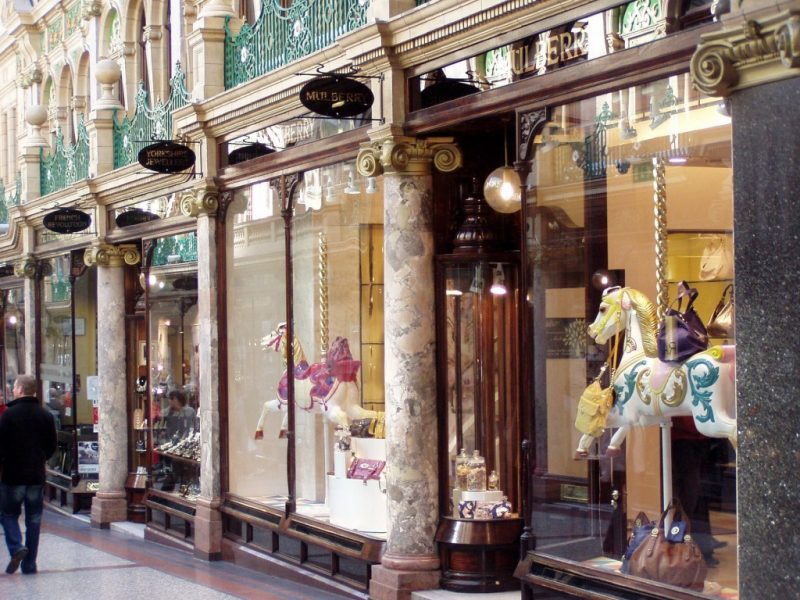 These Victorian arcades – brightly decorated alleyways between shops – were refurbished as part of the city's facelift. Today, they house some of the most stylish boutique stores in the north of England, including the likes of Louis Vuitton, Mulberry, and Michael Kors.
Corn Exchange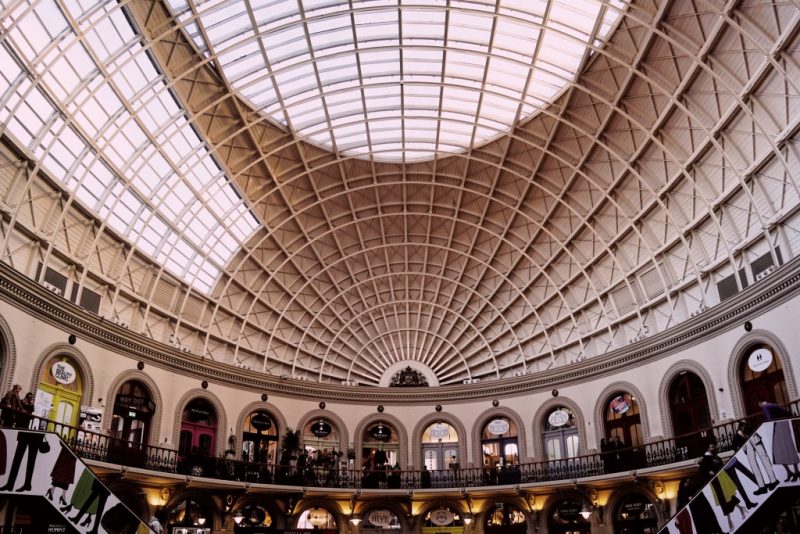 The old wool exchange – where much of the area's wool was bought and sold in the eighteenth and nineteenth centuries – has been turned into a gorgeous shopping arcade. Here you'll find still more boutique shops and pretty cafes, such as Tiffin Coffee and Cafe W.
Festivals and Events in Leeds
Leeds Festival
The Leeds Festival, with its cousin Reading festival, is one of the main music festivals of the year in the UK.
Usually taking place in late August, at Bramham Park, the festival has attracted bands as such as Nirvana, Oasis, Metallica and Radiohead in the past. The Foo Fighters are the headline act in 2019.
Thought Bubble Comic Art Festival
Thought Bubble is the UK's largest annual festival of 'sequential art', held every November at the Harrogate Convention Centre. If you're into superheroes, manga, or comics – or you just want to geek out – then this festival is for you!
Where to Stay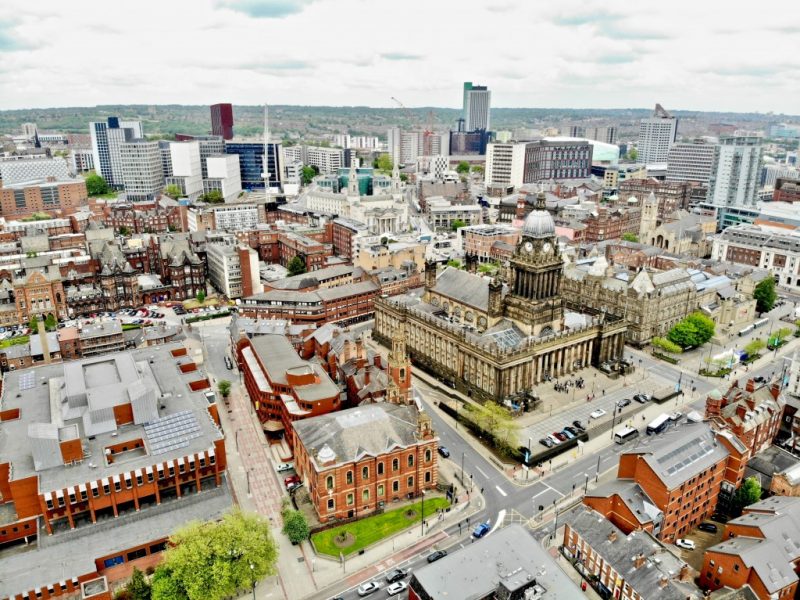 I always stay with my parents when I visit, so don't really have any hotel recommendations! But the Queen's Hotel next to the station is in an ideal location in the centre of town. It's pretty upmarket, but would be perfect for a luxurious weekend.
Emily's input: The Dakota is a luxurious boutique hotel with some of the highest ratings on Booking.com, so that's another winning option. The decor looks fab and recent reviews have all been really positive, so this would be my choice for a city break.
Or, if you're on a budget, there are plenty of hostels and guesthouses to choose from. There's definitely accommodation to suit every budget, so shop around a bit and see what you can find.
(This section contains affiliate links. Click here for more details.)
Read More
Extend your trip with some of these fab suggestions, or find all my UK blog posts here.
Best Things to do in York – A Local's Guide
Best Things to do in Sheffield – A Local's Guide
This post was part of a series of "locals guides" to UK cities I'm running on my blog. My goal is to promote tourism all over my home country, and to help people discover the best of a city with the help of a genuine local. If you'd like to take part with a post all about your own city, please get in touch. I'd love to grow the section to cover every destination in the UK!
Do you have any recommendations for the best things to do in Leeds – or nearby? Scroll down to leave a comment or shoot me an email!
Pin This Post!