Some posts on this site contain affiliate links. If you book or buy something through these links, I earn a small commission (at no extra cost to you). Take a look at my privacy policy for more information.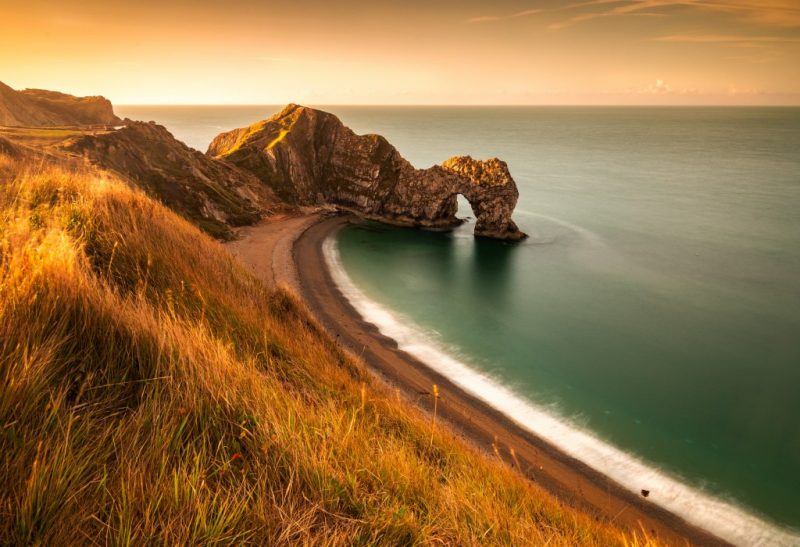 Looking for all the best things to do in Dorset for your next British staycation? I've got you covered.
If you want to discover the BEST sights, the more unique and unusual activities, and some of the lesser-known secret places in Dorset… you need to ask a local.
I grew up right here, in Weymouth, and now live in the "county town" of Dorchester. I've spent my whole life exploring the whole county, so I like to think I know all the best places to visit, the best cliff walks, and the most fun things to do.
If you're looking for the top attractions in Dorset, click here to check out a shorter overview on my Dorset Travel Guide website. But if you're after the more unusual activities, and things only locals know about, read on!
Along with my lovely dad, who is possibly the most patriotic Dorseter (Dorsetonian?) in the world, I put together this fab list of unique things to do in Dorset. A proper insider's guide!
Not all of them are completely exclusive to Dorset, but they are all pretty unusual. And while some are new discoveries for me, most are old favourites – so this is a tried and true local's guide to Dorset! Enjoy…
50 Unique Things to do in Dorset
Without further ado, here's my list of unique and unusual things to do in Dorset – packed with local's tips and fab recommendations.
The list is in no particular order, as the idea is to inspire. Simply scroll through and see what jumps out at you!
LAST UPDATE: Dates and details were last updated in January 2023.
RECOMMENDED TOUR: Lulworth Cove and Durdle Door Coach Trip – from £30
1. Durdle Door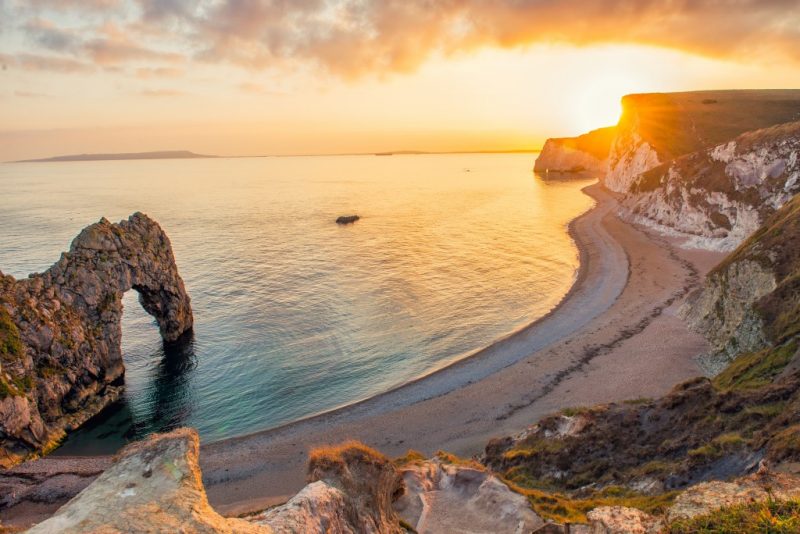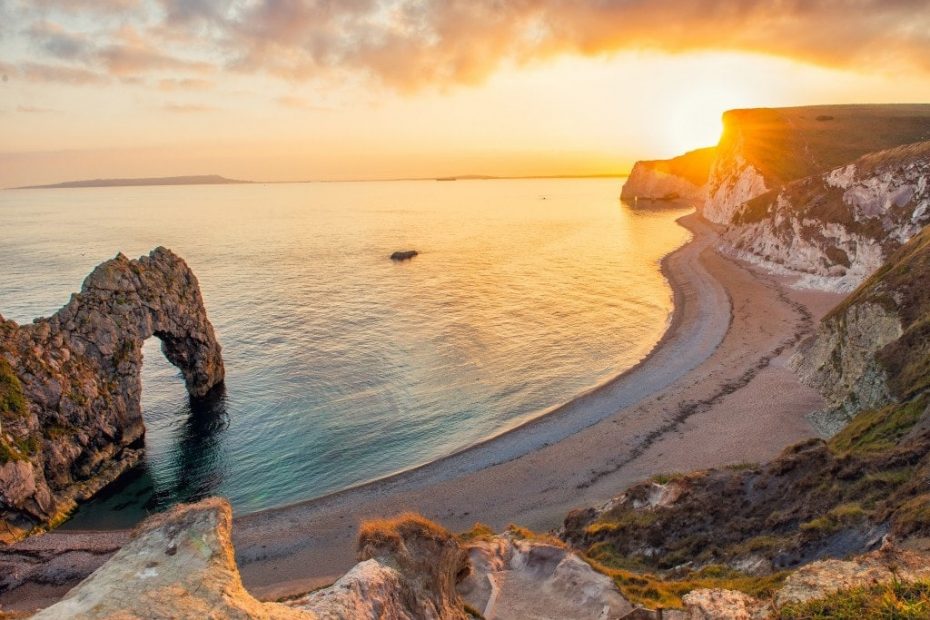 This geographical wonder is possibly one of Dorset's most iconic attractions. A massive rock archway over the sea, Durdle Door was created by erosion some 140 million years ago. It's part of Dorset's famous Jurassic Coast, a World Heritage Site famous for its geographic marvels (like Durdle Door), fossils, and stunning landscapes.
RELATED POST: 19 of the Best Dorset Beaches
2. Spend a Night in Clavell Tower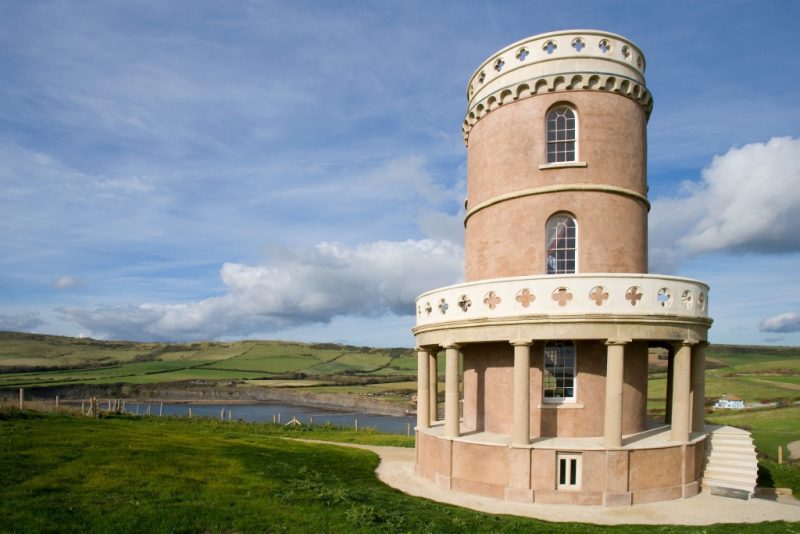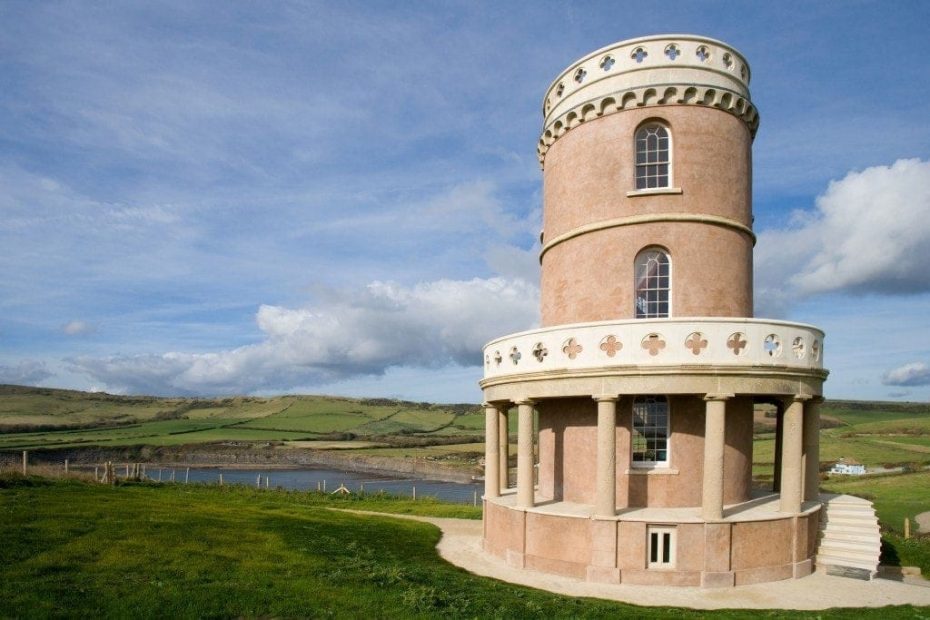 If you're looking for the most unusual place to stay in Dorset, Clavell Tower could well be it. Also known as Clavell Folly or Kimmeridge Tower, it's a Tuscan-style tower which was built in 1830 on top of a cliff overlooking Kimmeridge Bay. It's a Grade II listed building with four stories, and it can be booked as a whole property on a self-catering basis. Awesomely extravagant!
Check out my guide to the best places to stay in Dorset for some more fab recommendations!
3. Watch a Movie on a Castle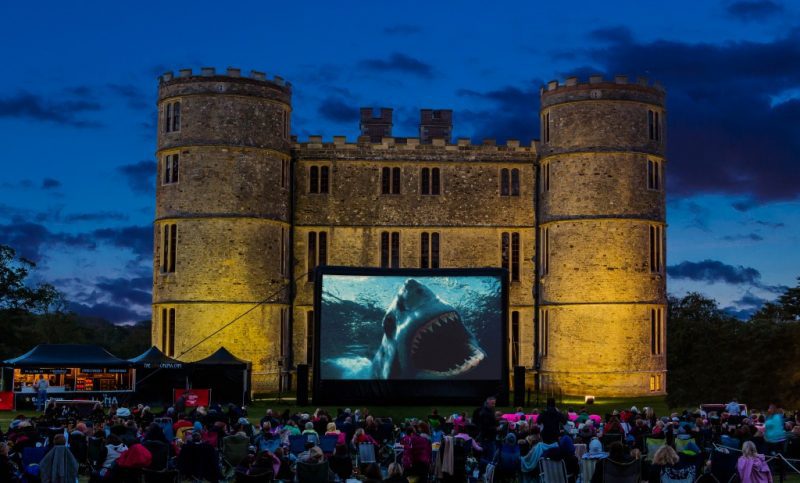 Dorset's outdoor cinema at Lulworth Castle, courtesy of the Luna Cinema, might be the coolest cinema experience imaginable. Classic movies are projected onto a big screen in front of a 17th-century stone castle. I mean, what could be cooler than that?
Next Dates – TBC
4. Kayak the Jurassic Coast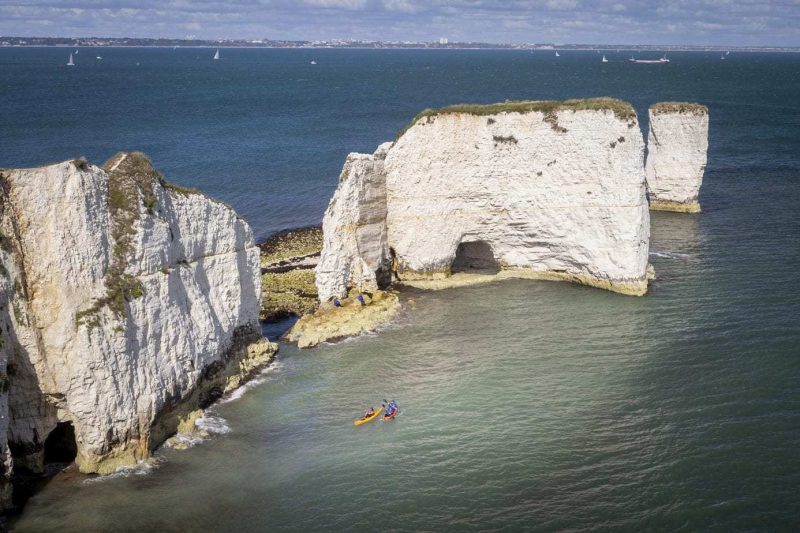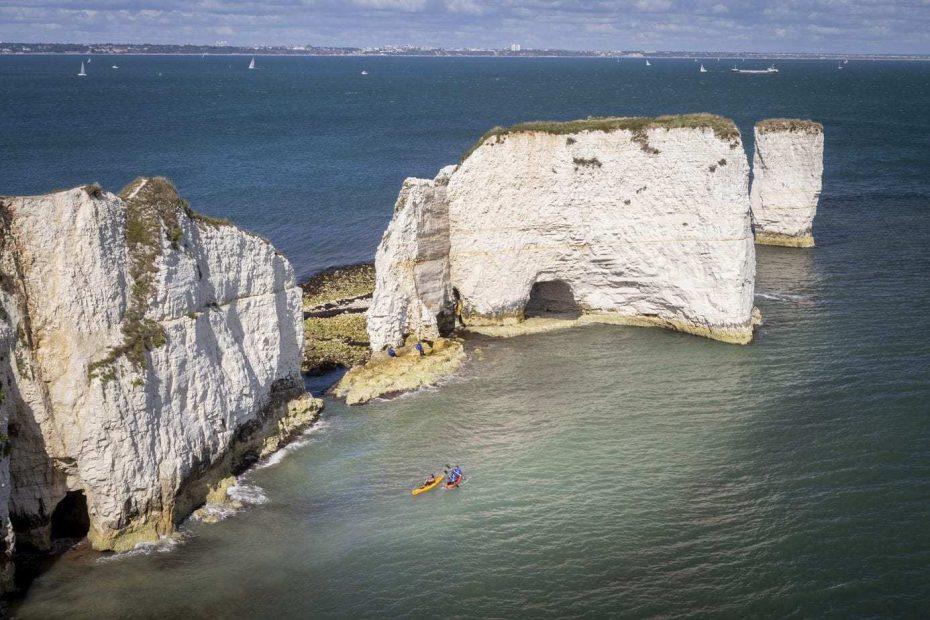 Our Jurassic Coast is completely unique. It's a 95-mile stretch of coastline running from East Devon to Dorset, where the rocks and fossils reveal 185 million years of history, and where unusual rock formations and dramatic cliffs tower above the sea. Could there be a more epic setting for a kayaking trip? Rent a kayak and explore solo, or book yourself onto one of the numerous kayaking tours along Dorset's Jurassic Coast.
5. Hunt for ghosts at Knowlton Church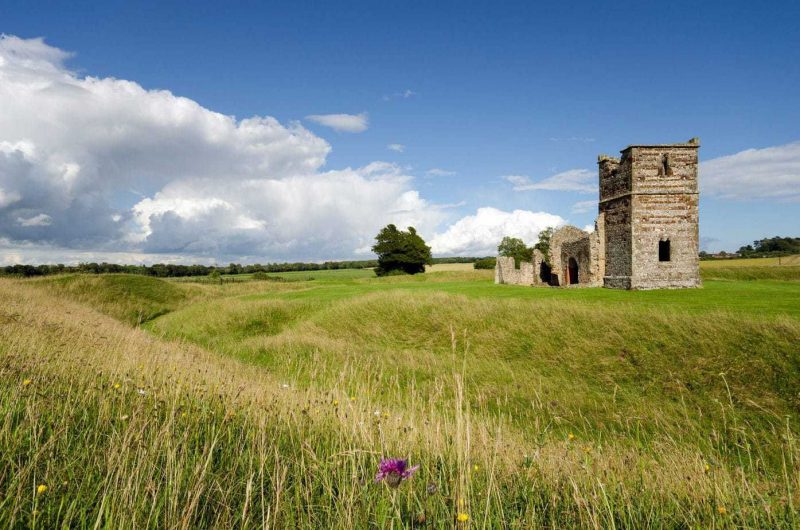 Reputedly one of Dorset's most haunted spots, Knowlton Church is a ruined stone church at a lonely site near Wimborne. The Norman church was built in the 12th century at the centre of a Neolithic ritual henge earthwork (earth and stone circles, like Stonehenge).
There have been numerous ghost sightings at Knowlton: the most common ones include a cloaked figure, a weeping nun, and a phantom horse and rider. Ghosts or not, it's a pretty area and one with spiritual significance, since the Christian church was built on a Pagan site in an effort to stamp out the Pagan beliefs.
6. Crack Open a Conker Gin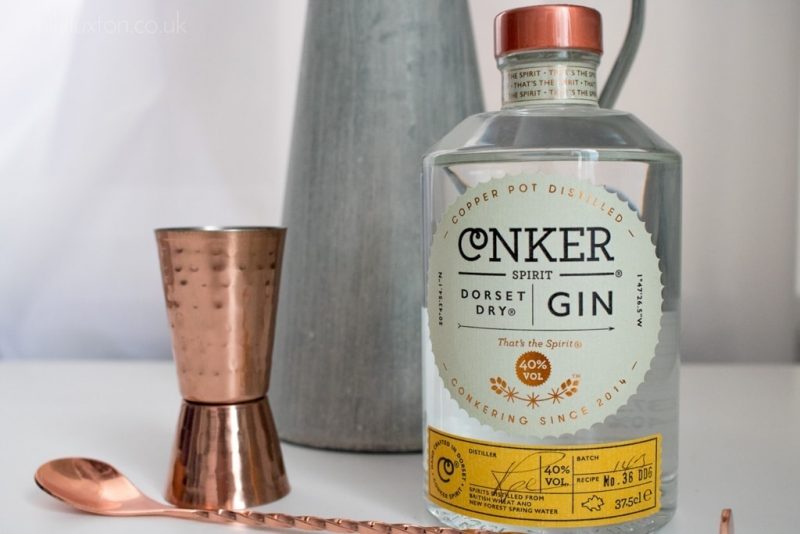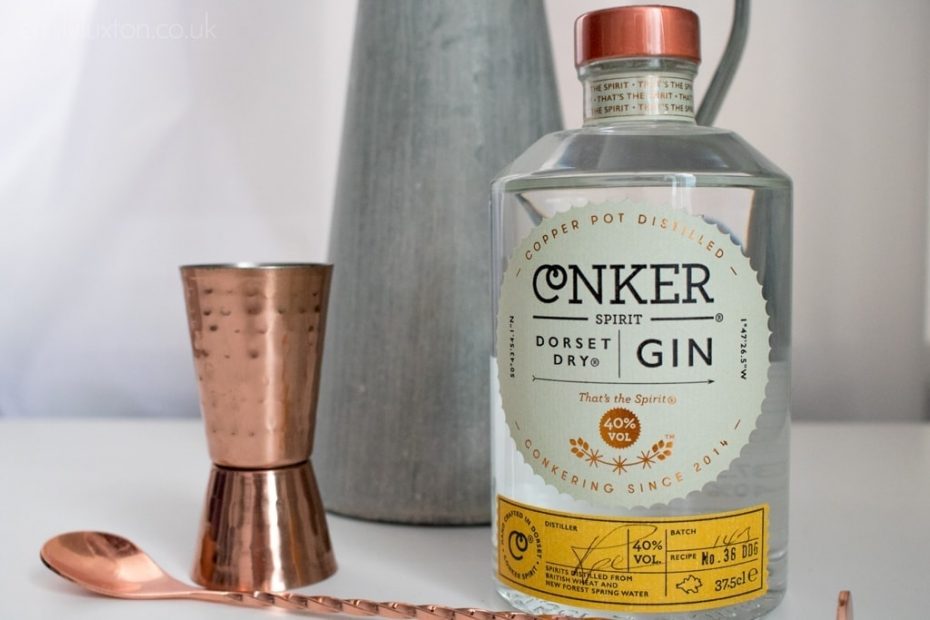 I was ecstatic to discover that Dorset now has it's own gin distillery. Established in 2014, Conker Spirit was the first Dorset gin distillery, and it has plenty of local notes. The botanicals include local elderberries, samphire, and handpicked New Forest gorse flowers – infusing the gin with the spirit of Dorset. Gin fans should also try to make it to Dorset's upcoming Gin festival on 5th – 7th May in Bournemouth. Check prices here. 
7. Get a Massage in a Shepherds Hut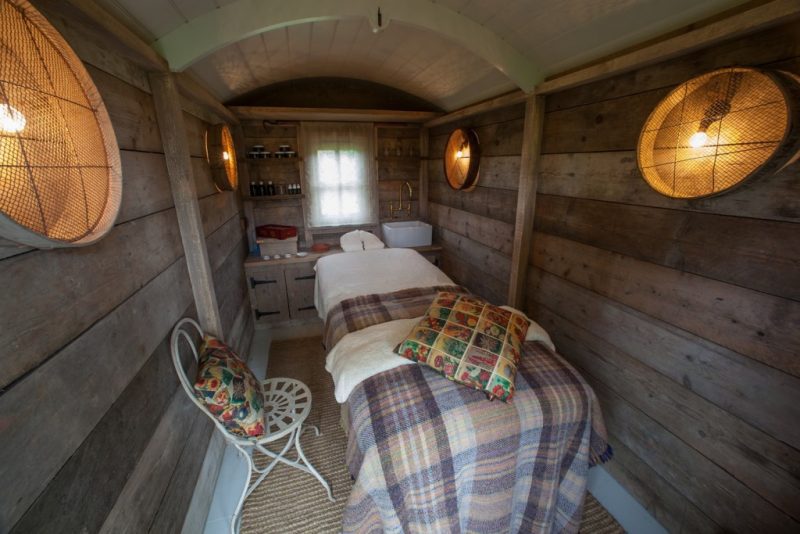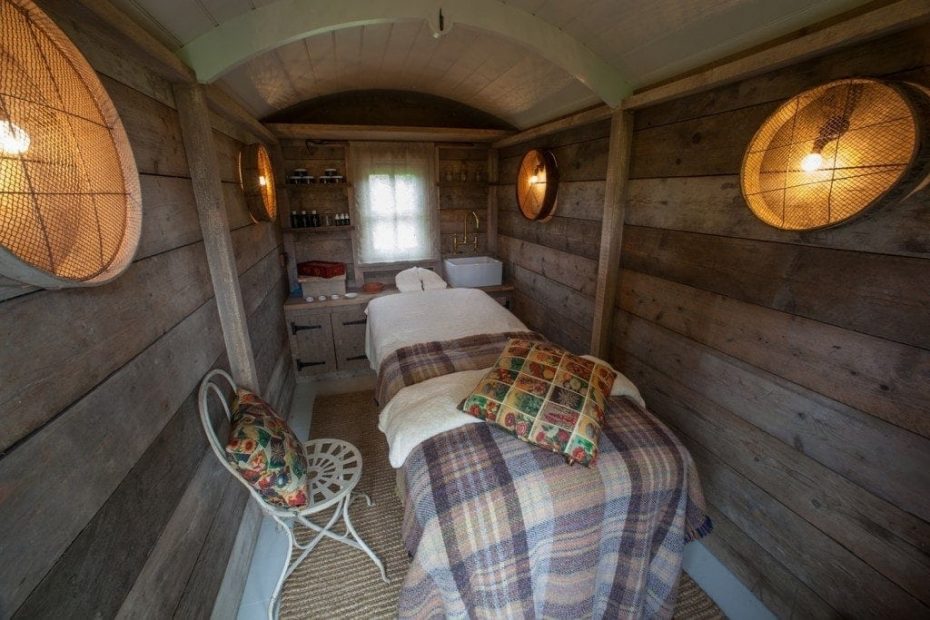 At Studland Bay's THE PIG on the Beach, there are plenty of unique experiences to keep you busy. You can sleep in a converted dovecote or in a luxurious glamping hut with stunning sea views. You can eat from a "25-mile menu" that changes by the minute depending on what the forager finds or what's fresh in the kitchen garden. Or, you can get a massage in one of the two cosy shepherd's huts on a clifftop location overlooking Harry's Rock.
8. Fossil Hunt at Lyme Regis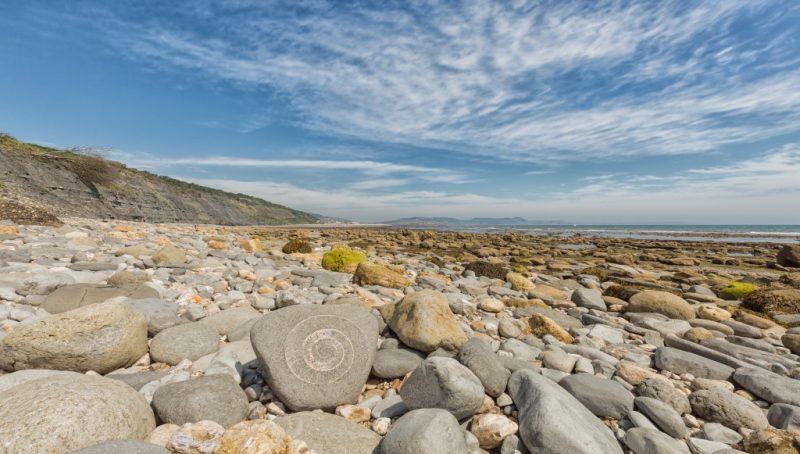 Lyme Regis is really the birthplace of British fossil hunting. Local lady Mary Anning collected and sold fossils from the local beaches, and became famous after discovering the first complete ichthyosaur to be found in England. Large fossils and the remains of sea creatures like plesiosaurs are still found today – although it's more likely that you'll find an ammonite, which are more common here.
Don't Miss the Lyme Regis Fossil Festival – TBC (usually April/May)
9. Follow Enid Blyton's Footsteps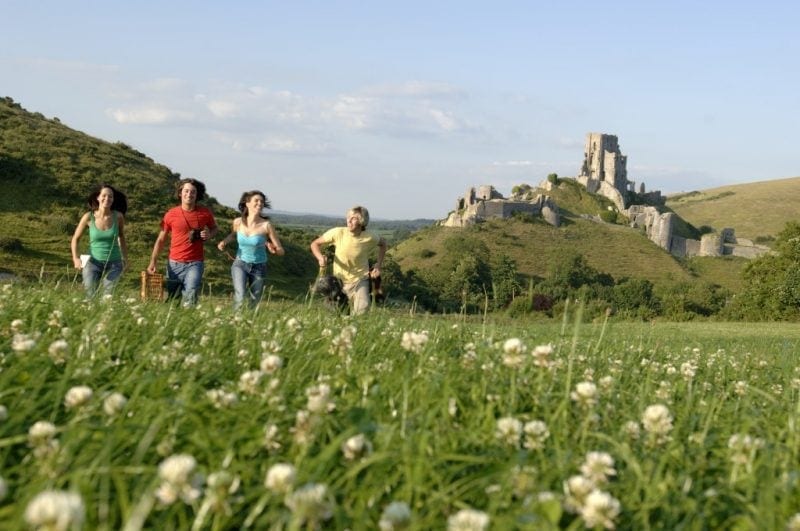 Did you, like me, grow up listening to the stories of the Famous Five, the Faraway Tree, and Noddy? The author of those beloved children's stories, Enid Blyton, spent her life holidaying in Dorset and adored the area. She used many of our local landscapes as inspiration for scenes in her novels, especially the Famous Five. The ruined Corfe Castle became Kirran Castle, while Brownsea Island became Whispering Island and Mystery Moor was supposedly based on the heath between Stoborough and Corfe. So pack a picnic with some spotted dick and lashings of ginger beer, and go have yourself an adventure!
10. Spot Red Squirrels Brownsea Island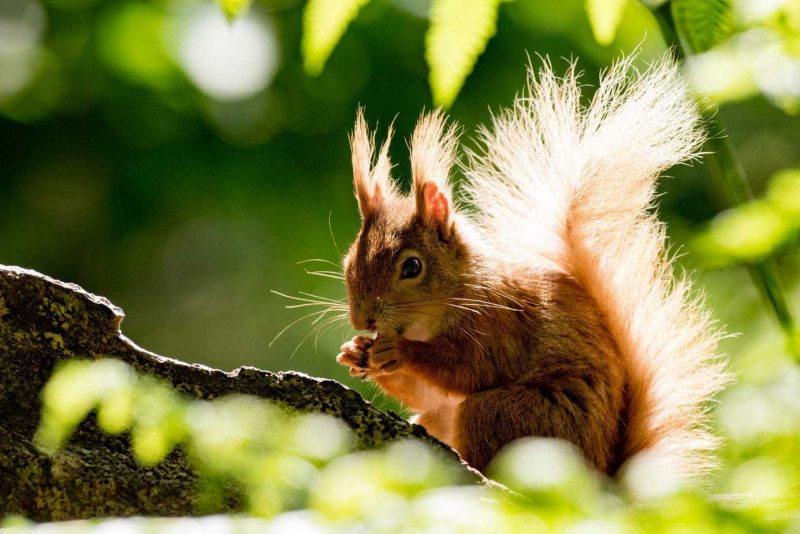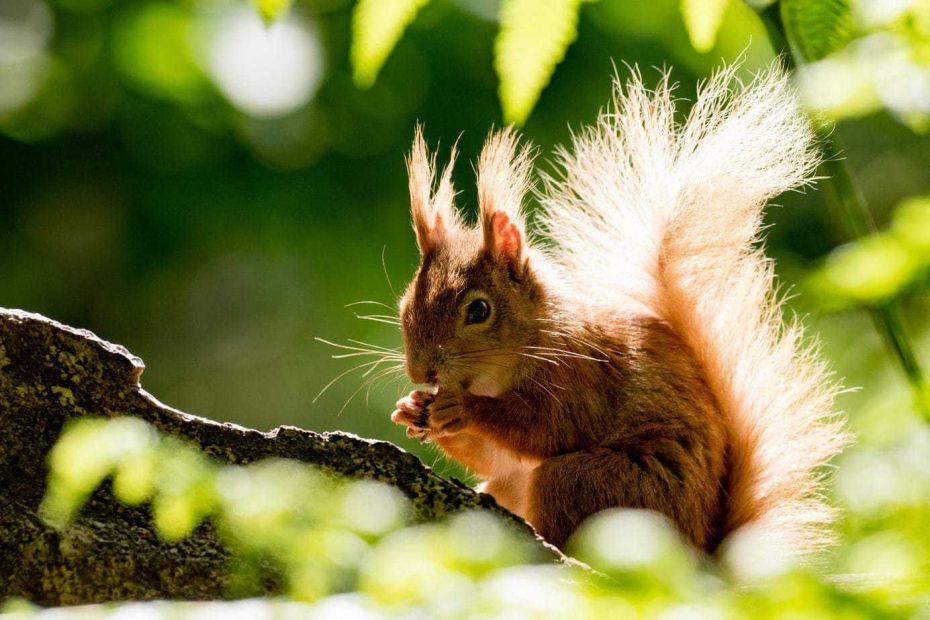 Speaking of Brownsea Island, it's worth a mention in its own right. The island can be found inside Poole Harbour – which is one of the largest natural harbours in the world – and is one of the top things to do in Poole. It's now a nature reserve and National Trust site, and one of the only places in the UK where you can still spot red squirrels, which are almost extinct on the mainland.
RECOMMENDED TOUR: Poole Harbour and Islands Cruise
11. Gorge Yourself at the Dorset Seafood Festival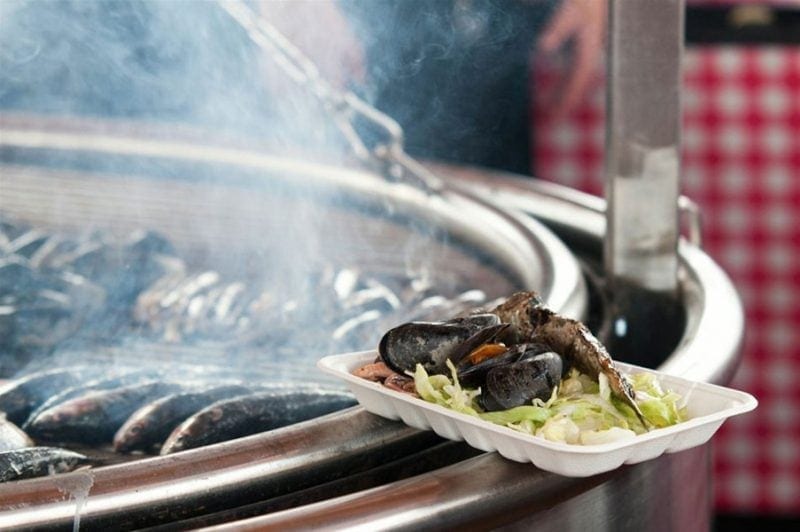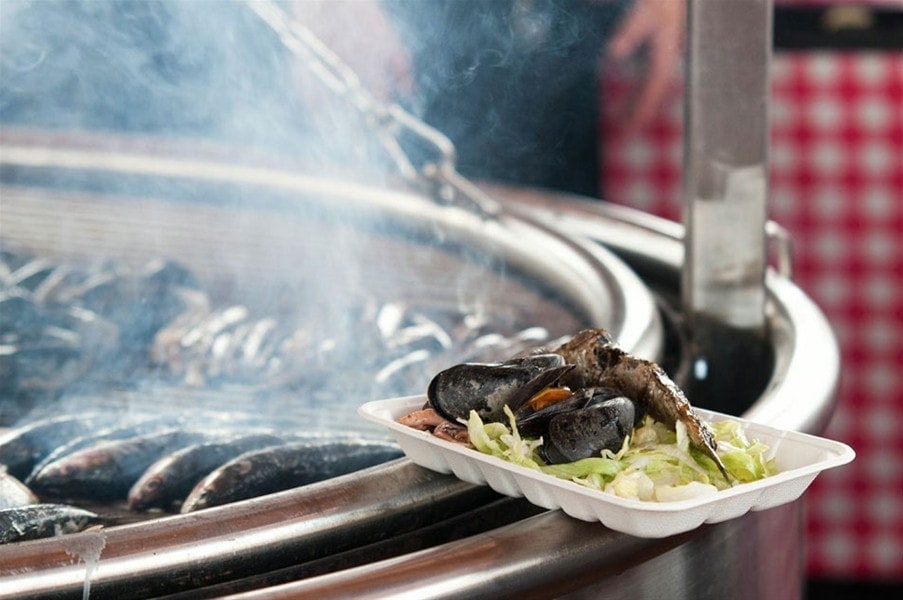 Now for something from my hometown of Weymouth – and it's one that combines seafood with champagne! The annual Dorset Seafood Festival is my favourite local event and it's a great way to discover our amazing local food and drink. That's where I found out about Conker Spirit last year!
For two days, Weymouth harbour is lined with bustling stalls selling local produce, and there are usually plenty of events on too. It's not just seafood, there's something for everyone, from locally made cheeses and chutneys to Thai curry. But the seafood is king here so don't miss it. Bring an appetite and plenty of cash!
Next dates – September 2023 (exact dates TBC)
READ MORE: Check out these 50 unique things to do in Weymouth to help plan your visit!
12. Visit "Broadchurch" at West Bay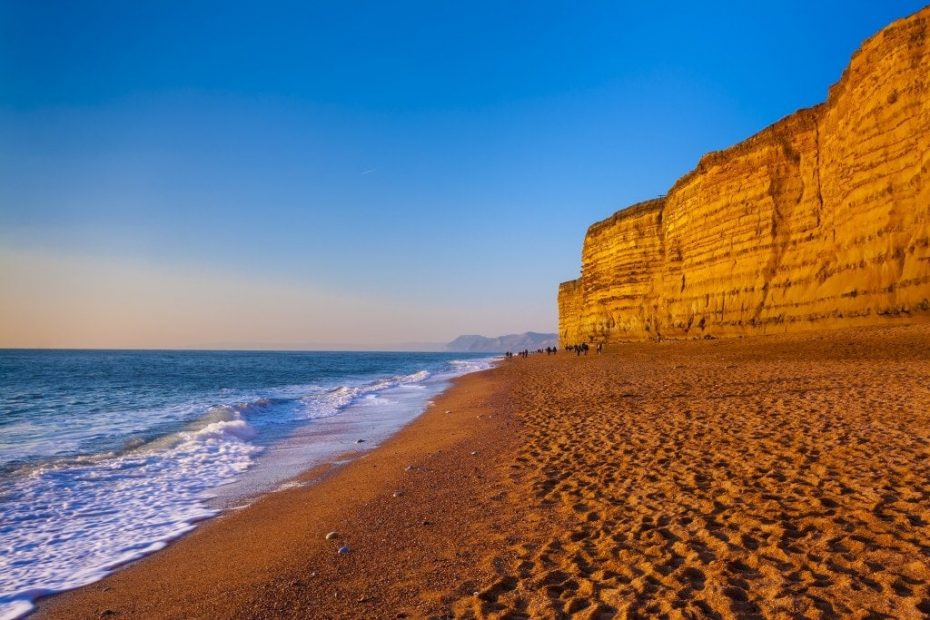 Broadchurch was one of the most successful British TV shows of recent years, and all three seasons won several BAFTA awards. Almost all of the show was shot on location in Dorset's West Bay and the surrounding coastline. Download the Broadchurch Trail route map here.
13. Swanage Railway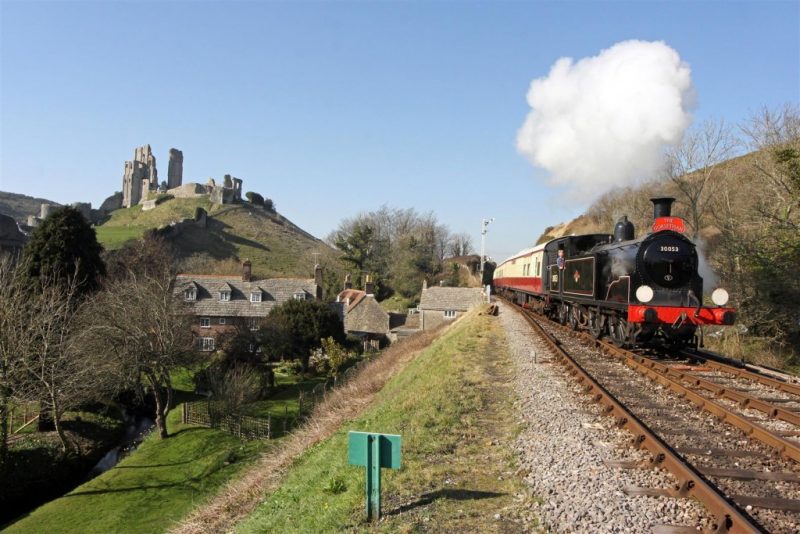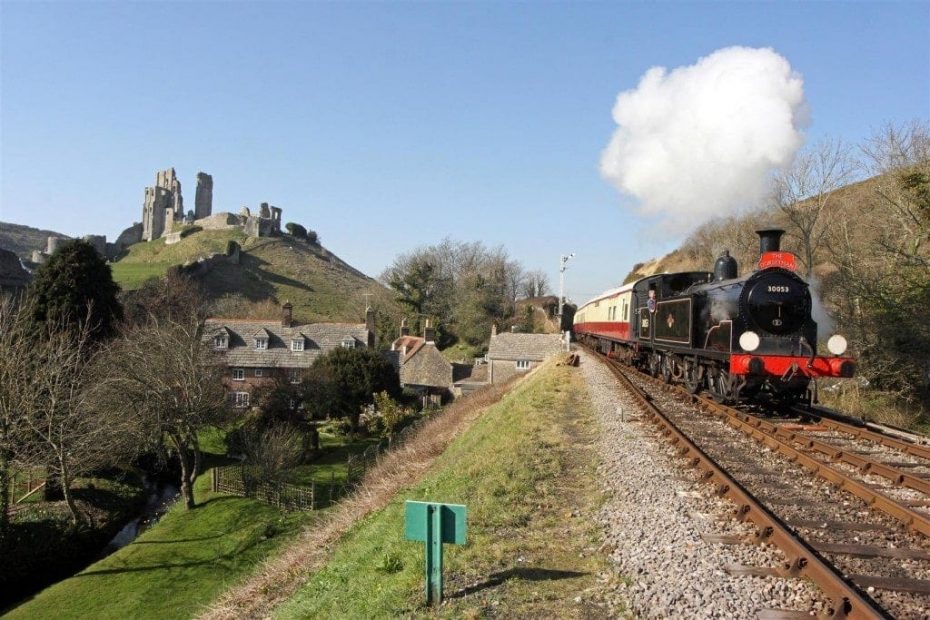 If you're looking for a bit of nostalgia, you really can't beat a ride on the gorgeous Swanage Railway, which is one of the best and most frequent preserved steam railways in the country. The historic station at Swanage has been beautifully restored to give the full vintage experience, and the trains run through the heart of the idyllic Purbeck countryside, passing Dorset's iconic Corfe Castle on the way.
RECOMMENDED TOUR: Steam Train and Sea Cruise Adventure
14. Visit the "Colour Changing" Blue Pool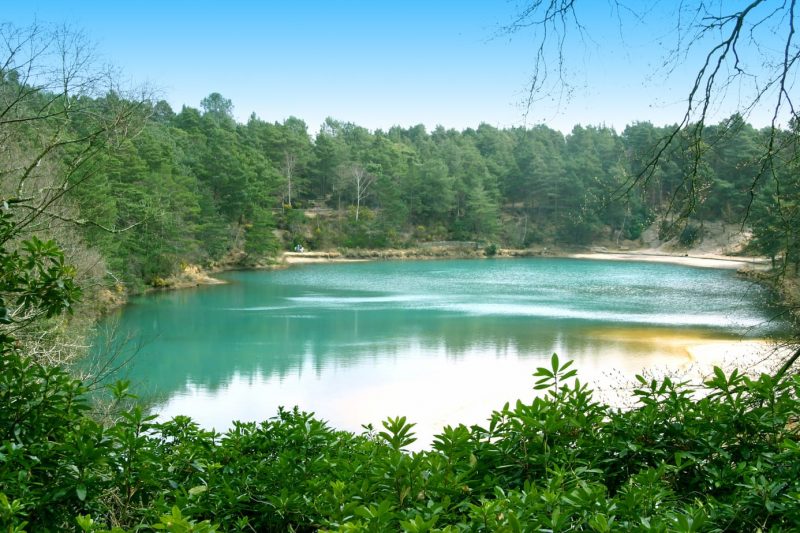 One of Dorset's less-known attractions, Blue Pool is a peaceful and incredibly beautiful spot where the water changes colour as if by magic. It's actually because of very fine clay suspended in the water. This diffracts light in different ways, causing the colour of the pool to vary as a result. Sometimes it's blue, sometimes green or turquoise, but it's always beautiful.
15. Meet the Chimps at Monkey World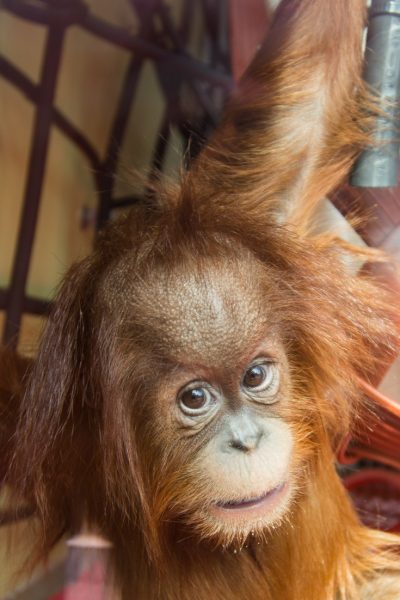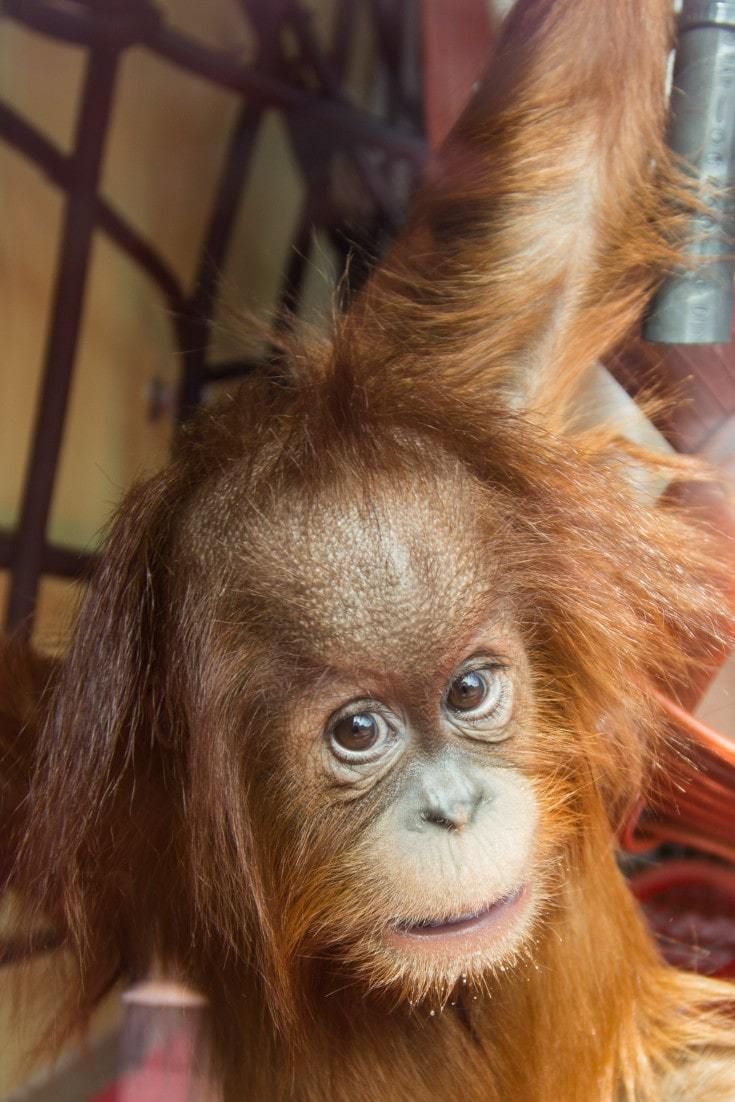 Monkey World in Dorset is one of the UK's only ape rescue and rehabilitation centres, and it's a true sanctuary for over 250 adorable primates. Originally founded to provide a refuge for tourist beach chimps rescued from Spain, the park is now home to more than twenty species and all of them have been rescued – from labs, circuses, pet shops, or TV.
Visiting isn't just a chance to learn more about monkeys and apes, or to get cute photos of baby orangutans at the nursery. You'll also be supporting Monkey World's important rescue and rehabilitation work – as they rely on ticket sales to fund this.
16. Stay at a Vineyard
English wine has really started to take off in recent years, and Dorset is home to several fantastic vineyards that are well worth a visit. If you really want to get stuck in, you can even stay on a working vineyard with an on-site winery at Melbury Vale Vineyard on the edge of Cranborne Chase. From here it would be easy to explore the other local vineyards, which include Langham Wine near Dorchester, Furleigh Estate in Bridport, and English Oak Vineyard near Poole.
17. Tackle Some of England's Best Climbing Routes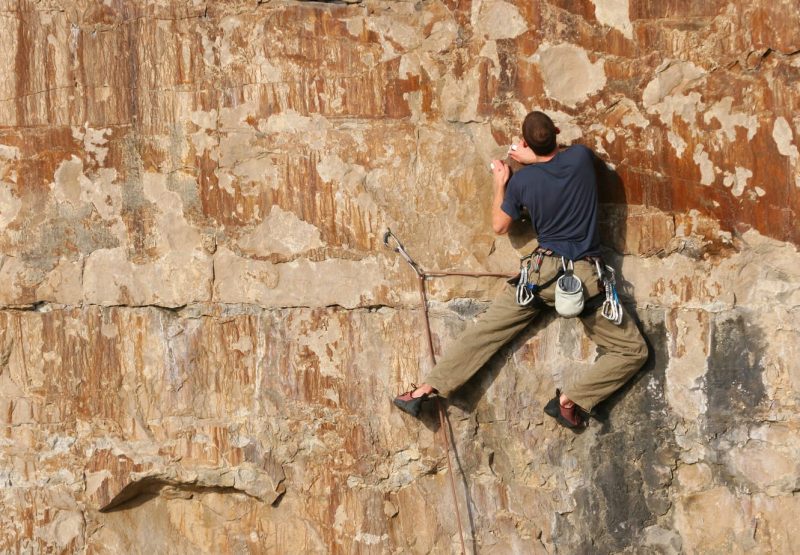 The isle of Portland, connected to the mainland by a barrier beach, is considered one of the best sports climbing locations in the UK. Perfect for climbers of all levels, Portland has over 4,000 routes. And inland crag The Cuttings is possibly its most popular climb, especially for beginners.
18. Discover Dorset's Iron-Age Hill Forts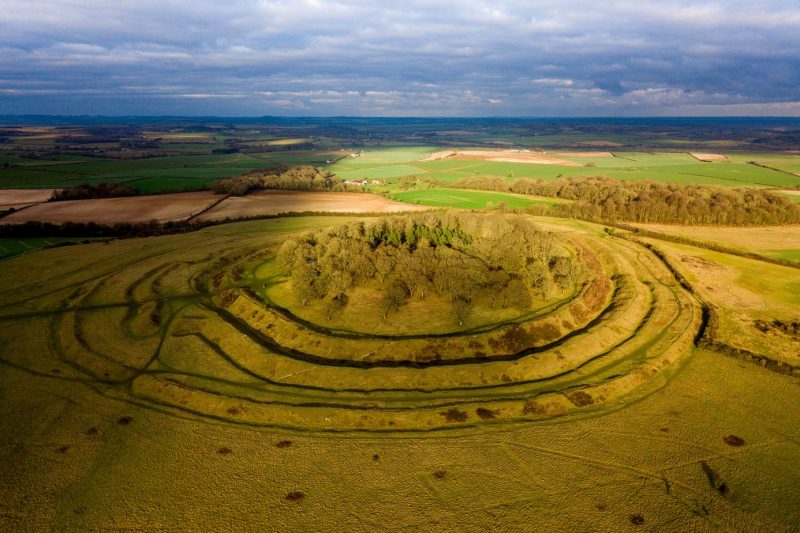 With over a thousand iron age hill forts in England, these are hardly unique – but each one is totally different. Dorset is home to several hill forts, and as well as being historically interesting they're also very pretty places for a walk – Eggardon Hill, in particular, is known for its incredible views.
Other forts worth a visit:
Maiden Castle
Hod Hill (largest in Dorset)
Badbury Rings
Hambledon Hill
19. Spend the Night in a Lighthouse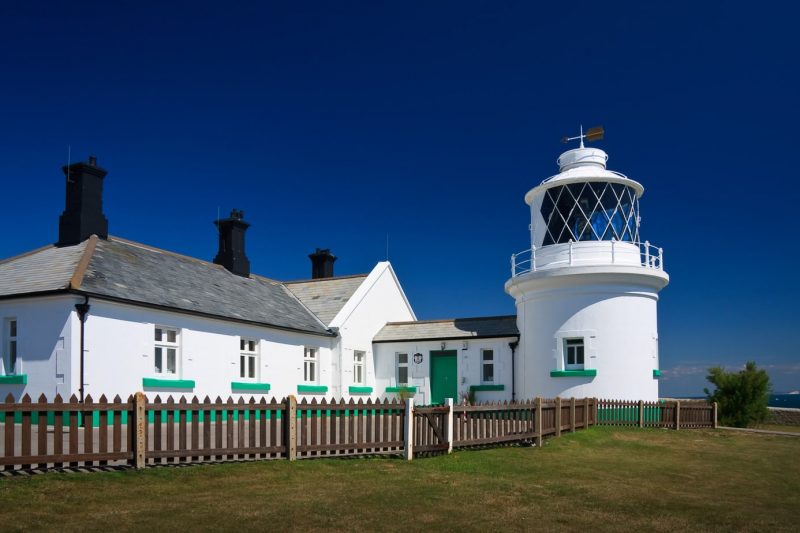 Another pretty unique place to stay in Dorset would be in a lighthouse. There are two lighthouses in Dorset where you can book to spend a few nights. On the Isle of Portland, there's the 19th-century Old Higher Lighthouse, a Grade II listed building with amazing views. And down the coast in Swanage, there are two holiday cottages at the pretty Anvil Point Lighthouse.
20. Explore Lulworth Cove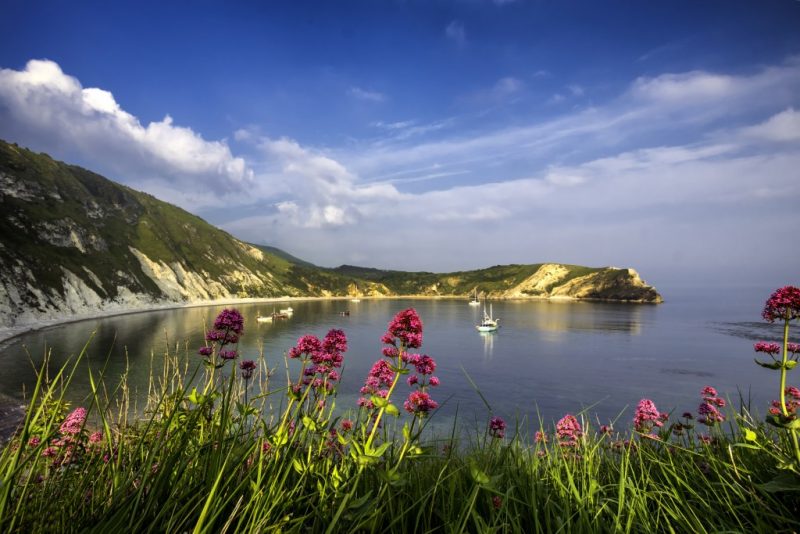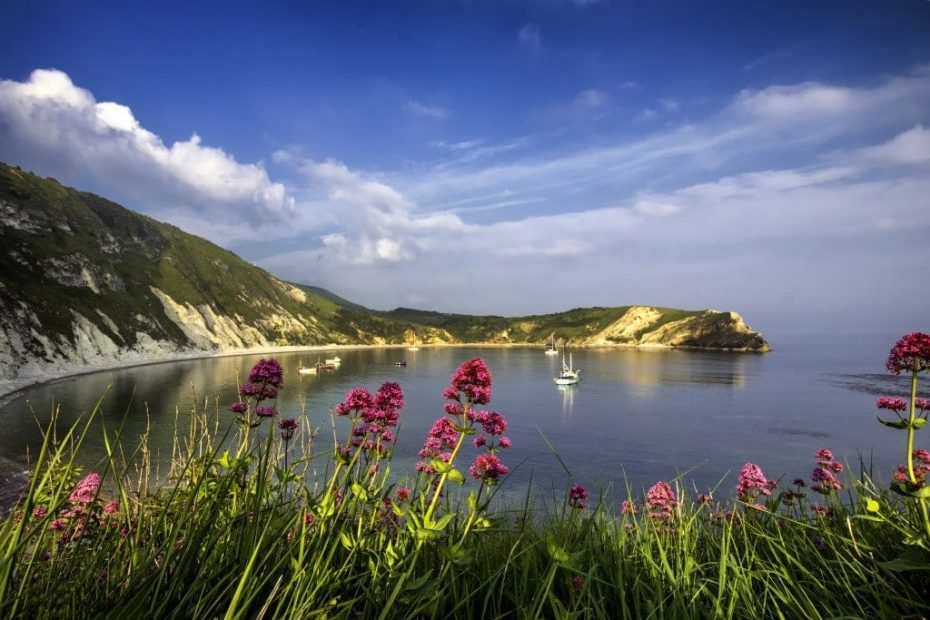 Another of the Jurassic Coast's geographical wonders, Lulworth Cove is a gorgeous bay with a pretty little village and a white pebble beach. A short but steep cliff path leads west to Durdle Door, while to the east you can find a unique fossil forest. Don't miss the tasty homemade fudge from the Doll's House sweetshop!
Where to stay – I love Lulworth Cove Inn (read my review) which is about a minute's walk from the beach. Check prices here.
READ MORE: My Perfect Dorset Weekend Road Trip Itinerary
21. Visit Thomas Hardy's House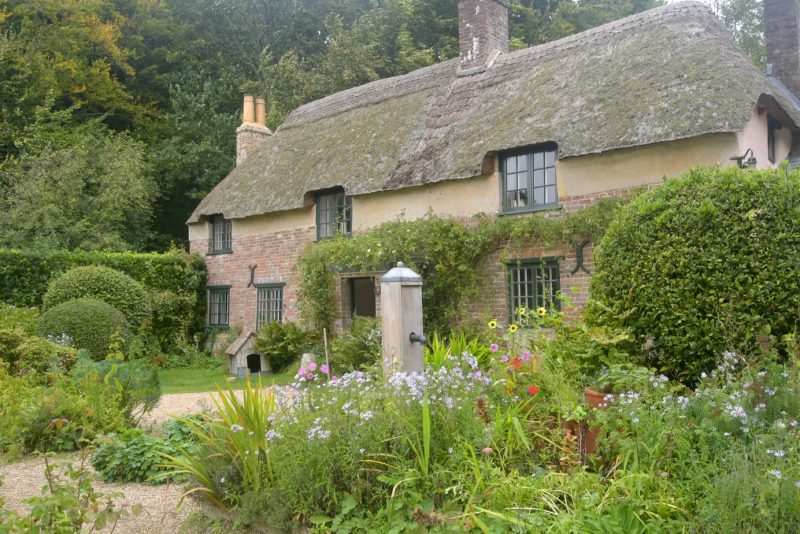 Enid Blyton isn't the only famous author to ever write about Dorset. Plenty of novelists have set scenes around here, and one of the best-known is Thomas Hardy. Just outside of Dorchester, you can visit the cottage where he was born, and in the surrounding countryside, you can explore the landscapes that feature so heavily in his works.
For example, Tess of the d'Urbervilles was set largely in South Wessex, a fictional county based on Dorset, as was Far from the Madding Crowd.
.22. Check out the Views From the "Other" Hardy's Monument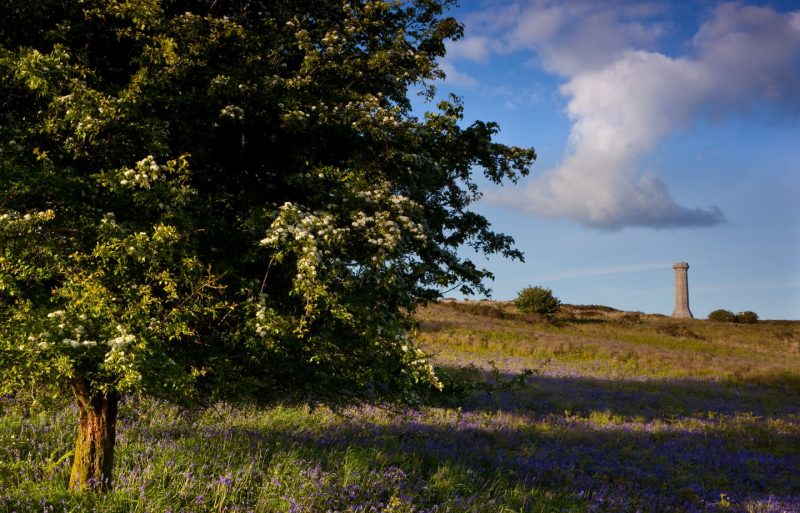 Dorset was home to not one but two famous Thomas Hardy's. There's the author, and then there's Admiral Thomas Hardy, the one from Nelson's famous last words ("kiss me, Hardy"). Also not far from Dorchester is Hardy's Monument – erected to honour the admiral's service in the Battle of Trafalgar. It's not the most exciting building in the world, but it's on a hill with some amazing views. On a clear day, it's possible to see all the way to St. Catherine's Point on the Isle of White, about 90km away.
23. Deer Spotting at Arne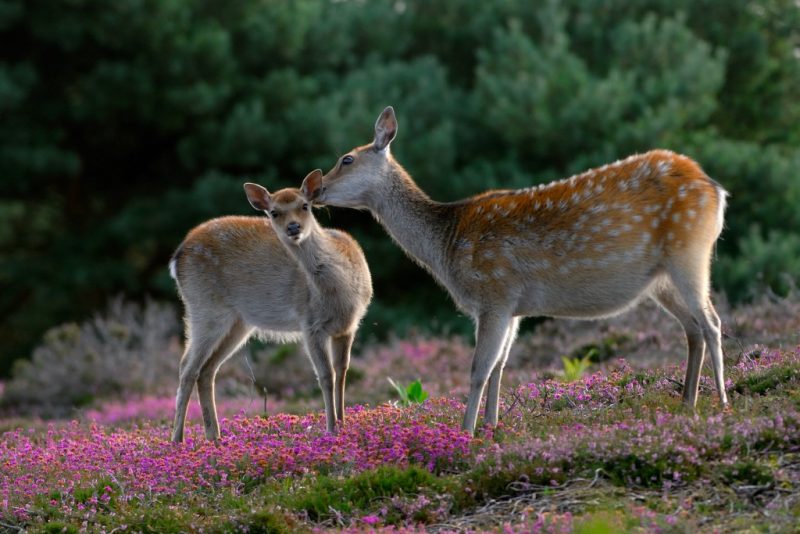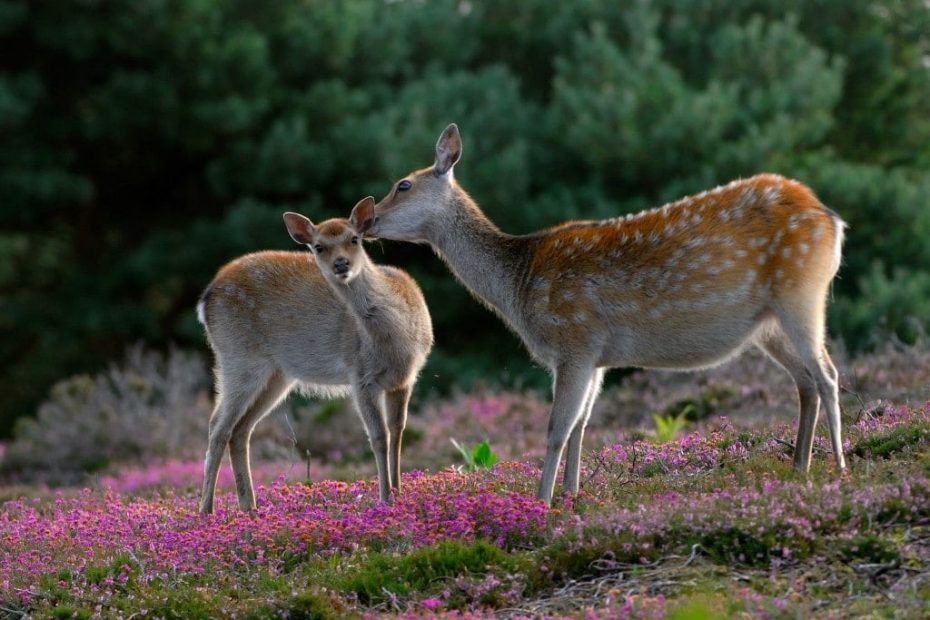 The RSPB nature reserve at Arne is Dorset countryside at it's best. Heather, gorse, and ferns cover the gently rolling hills and cliffs overlooking Poole Harbour. The reserve is also one of very few places in England where it's possible to see sika deer in the wild.
24. Meet Britain's Largest Eagle!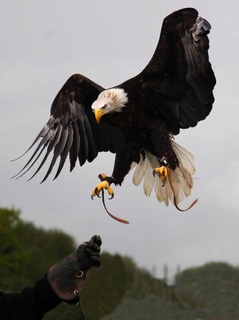 Just outside of Dorchester in Lewell you'll find the only falconry park in Dorset. At Dorset Falconry Park you can meet a huge variety of birds of prey – including Britain's largest eagle. The park is also home to vultures, falcons, owls, hawks and other eagles.
It's a lovely, family-run park with lots of outside space to enjoy, as well as a small cafe. They run daily shows where you can watch birds of prey being exercised, flown and trained in the meadow. It's an incredible show, very popular with the kids in my family, and offers a rare chance to see some magnificent birds up close.
25. Try a sip of Piddle
Dorset has its fair share of breweries, so if beer's your drink of choice make sure to check out some of the local brews while you're visiting. Name-wise, you really can't beat Piddle Brewery, named after the River Piddle near Dorchester.
Other Dorset breweries worth a visit:
Hall and Woodhouse, home of Badger Beer – Blandford St Mary
Dorset Brewing Company, makers of Jurassic Beer – Dorchester
Poole Hill Brewery, Bournemouth
Lyme Regis Brewery – Lyme Regis
Corfe Castle Brewery – Corfe Castle
26. Explore a Ghost Village at Tyneham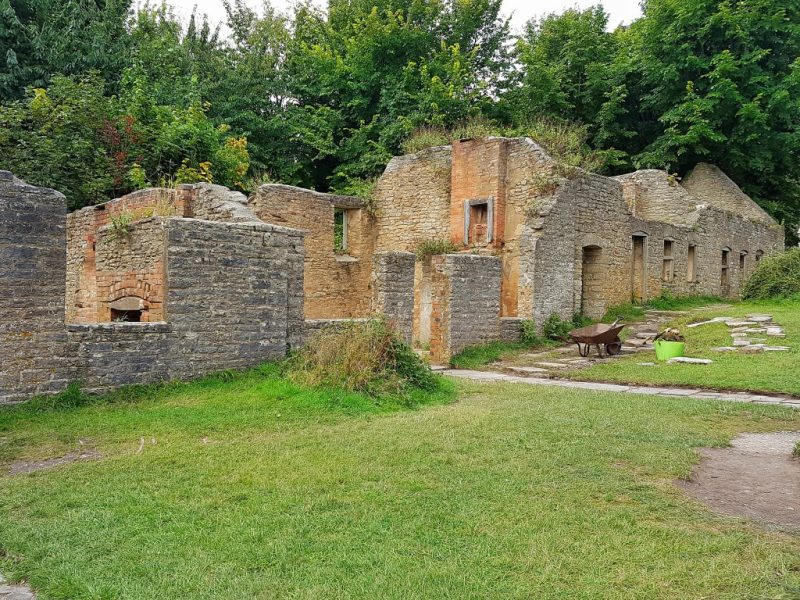 One of my personal favourite places in all of Dorset, Tyneham is a fascinating little place. The village was taken over by the military in 1943 to use for training during the Second World War, and all the residents had to leave their homes as a result. Sadly, they were never allowed to return, so the village was eventually left abandoned. Most of the homes are ruins which can be explored freely. Others, such as the tiny schoolhouse, have been restored to show what country life would have been like before WWII.
27. Take a Walk on the Cerne Giant's Willy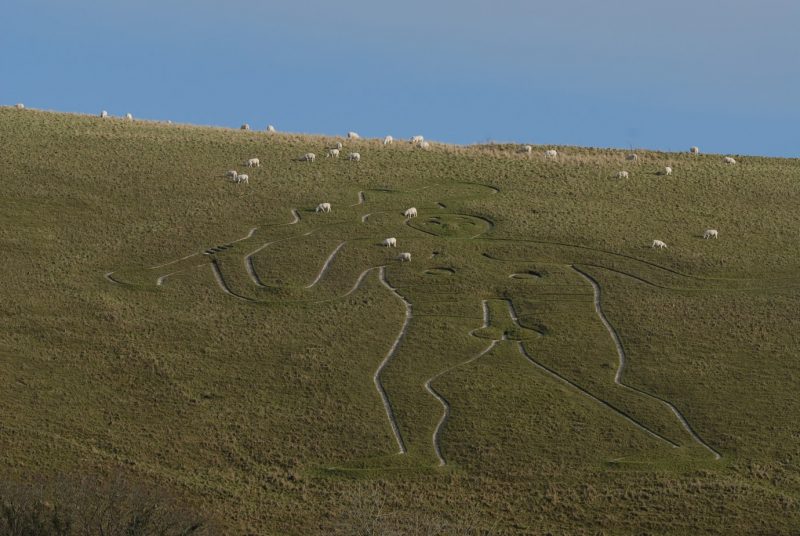 It's hard not to be a little bit childish when you're confronted with the Cerne Abbas Giant, standing proudly to attention on the side of a hill. The origins and age of the chalk figure are uncertain – it might be a Celtic version of Hercules, a Saxon god, or 17th-century political satire, depending on which historian you believe. Either way, it's worth a peep!
28. Meet the Tolpuddle Martyrs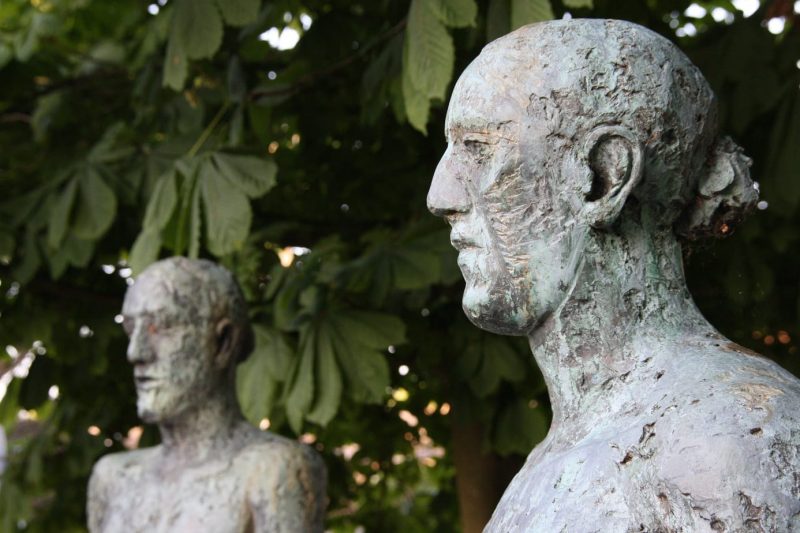 The village of Tolpuddle, near Poole, was the home of one of Britain's first trade unions. In 1834, six local workers formed a union in order to protest their pay – which was the equivalent of 30p a week in today's money. They were arrested, tried, and exported to Australia under terrible conditions.
After the trial, Britain's working classes rose up in a campaign of demonstrations and petitions which eventually freed the six men, now known as the Tolpuddle Martyrs. Today there's an annual festival marking the historic events, as well as a small museum and a Martyr's trail through the village to learn more.
Annual festival – 14th to 16th July 2023
29. Throw Yourself off a Jurassic Cliff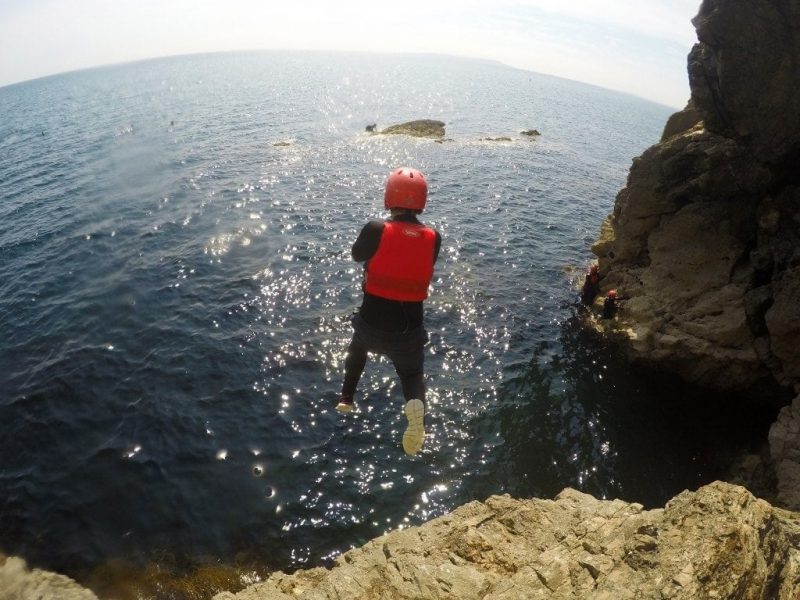 If you fancy a more adrenaline-pumping way to explore the Jurassic Coast, why not try throwing yourself off it? There are loads of coasteering companies in the area which offer a whole new perspective on the rocks, cliffs, and waves of the coastline – by completely immersing you in them!
I did this with Lulworth Outdoors and had an amazing time. We climbed along cliffs, jumped into the water from various heights, and explored caves and tunnels that you'd never see any other way. I'd do it again in a heartbeat – so I highly recommend it!
30. Visit "Postcard England" on Gold Hill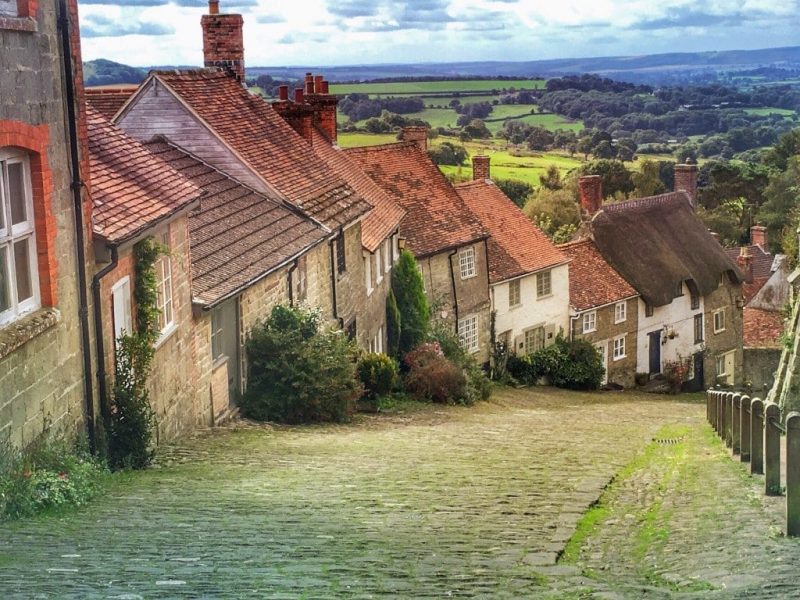 In the small village of Shaftesbury is one of Dorset's most attractive streets. Gold Hill is a steep cobbled street lined with stone cottages, and it's considered one of the prettiest sites in the county. You might also recognise it from the famous Hovis ad! This really is picture-postcard England.
31. Attend a Festival in a Castle
For the last few years, the legendary summer festival of Bestival has been held in Dorset's very own Lulworth Estate. Could there be a more epic setting for a festival than the grounds of a 17th-century castle?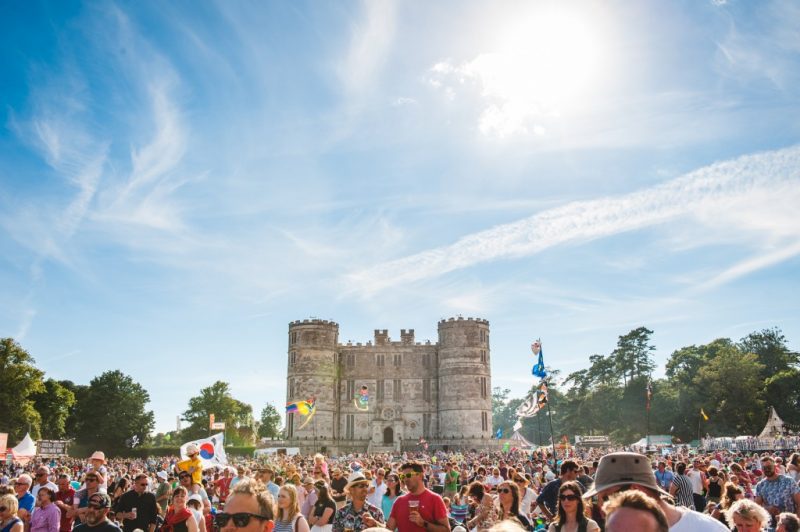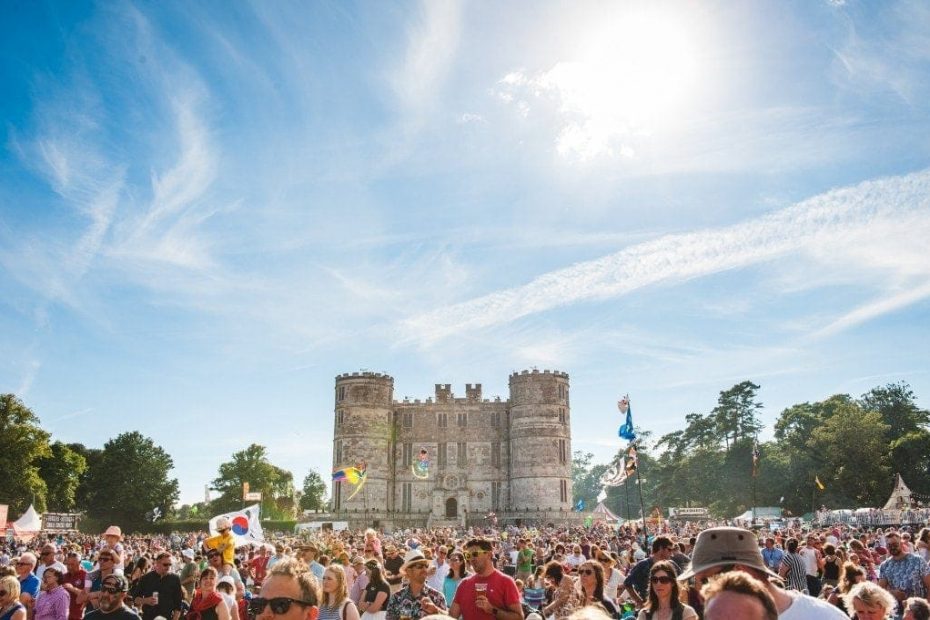 Camp Bestival, has always been held at the castle and it's one of the top family-friendly festivals in England. The festival always features a host of entertainment such as comedians, kid's TV presenters, fairground rides, and fireworks. They also have the World's Biggest Bouncy Castle (yes please).
Bestival – Bestival is no longer held in Dorset, but Camp Bestival is still on every year.
Camp Bestival – 27th – 30th July 2023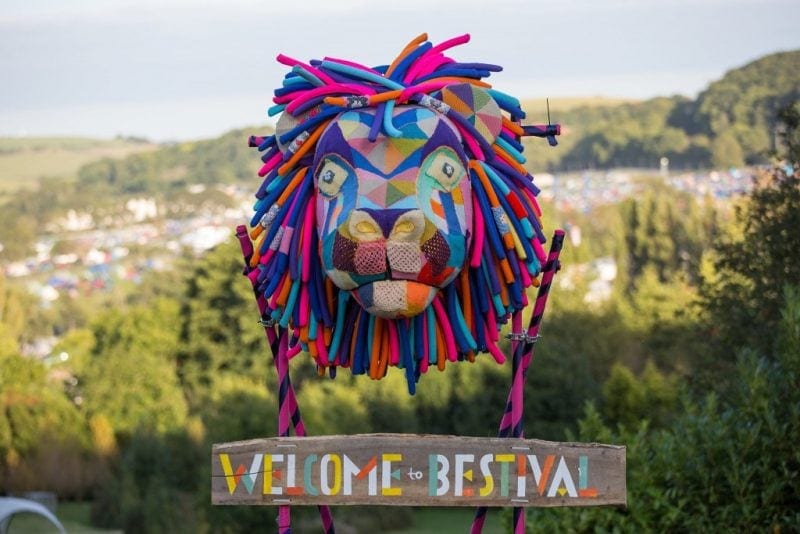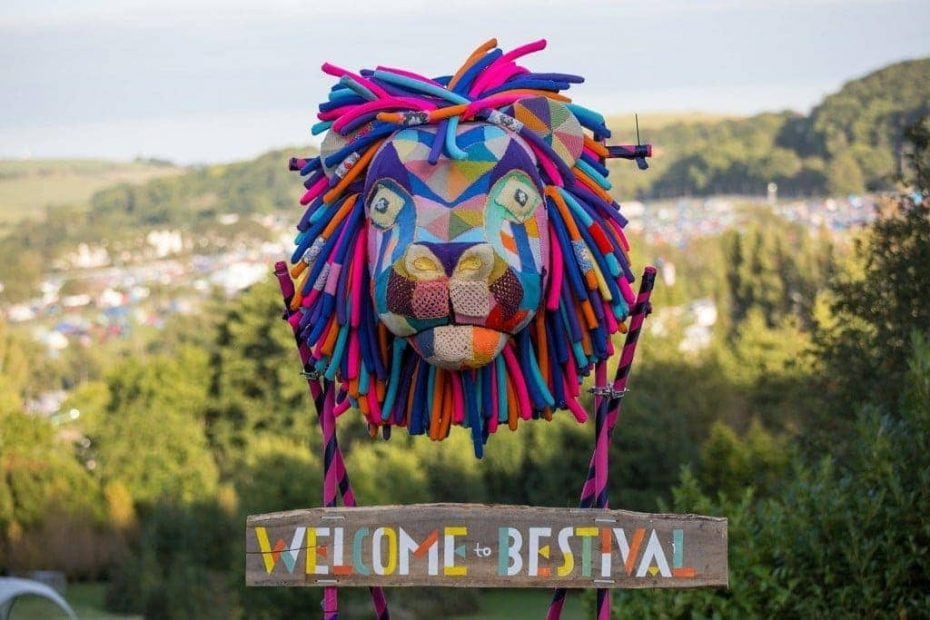 32. Climb the Highest Point on the South Coast
Yet another amazing feature on the Jurassic Coastline is the Golden Cap. This striking, gold-coloured cliff is the highest point on the south coast of England. Despite being about twice the height of the White Cliffs of Dover, very few people have heard of it, which means you have a pretty good chance of having the Golden Cap's stunning coastal views all to yourself.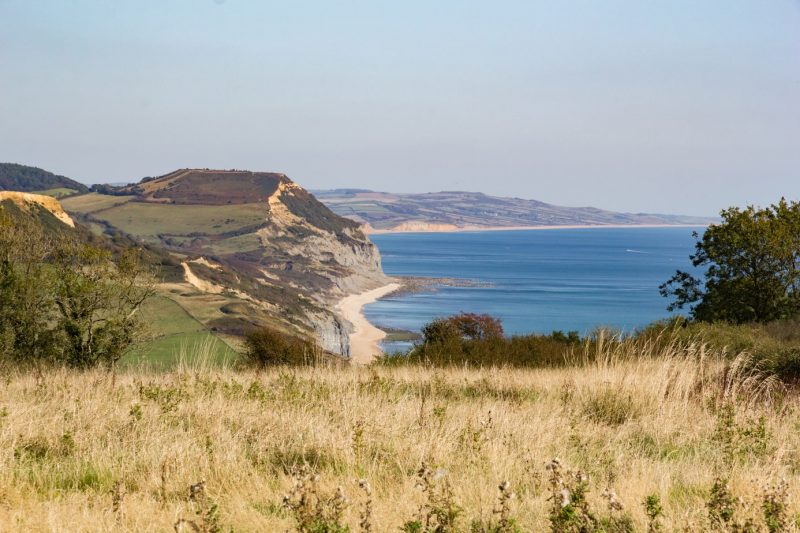 33. Buy Something Totally Unique at Poole Pottery
Poole Pottery is a famous brand of English pottery. The factory and outlet store used to be found on the Quay in Poole, but unfortunately, these closed a couple of years ago. However, Studio at Poole is still found on the Quay and is the largest independent retailer of Poole Pottery. As well as a wide range of stunning ceramics and homewares, they also have a "Have-a-Go" painting area of bisque-ware animals or plaques. Perfect for a rainy day activity! Browse the range here.
34. Explore Corfe Castle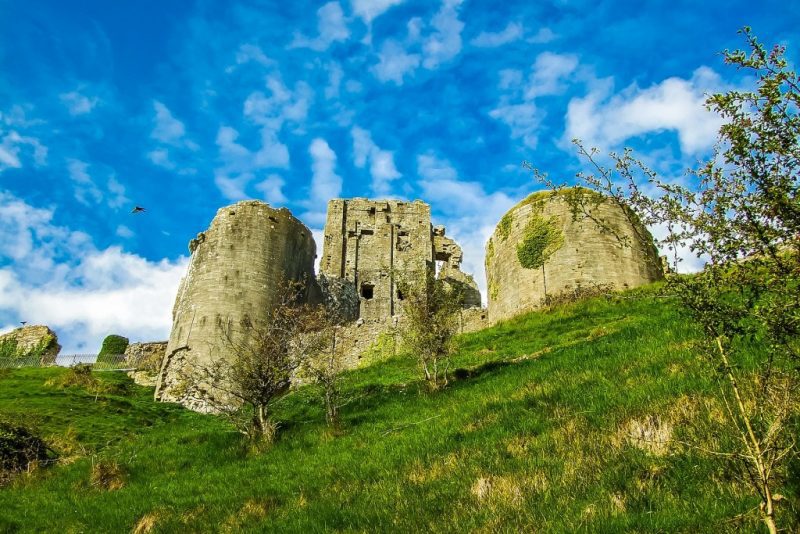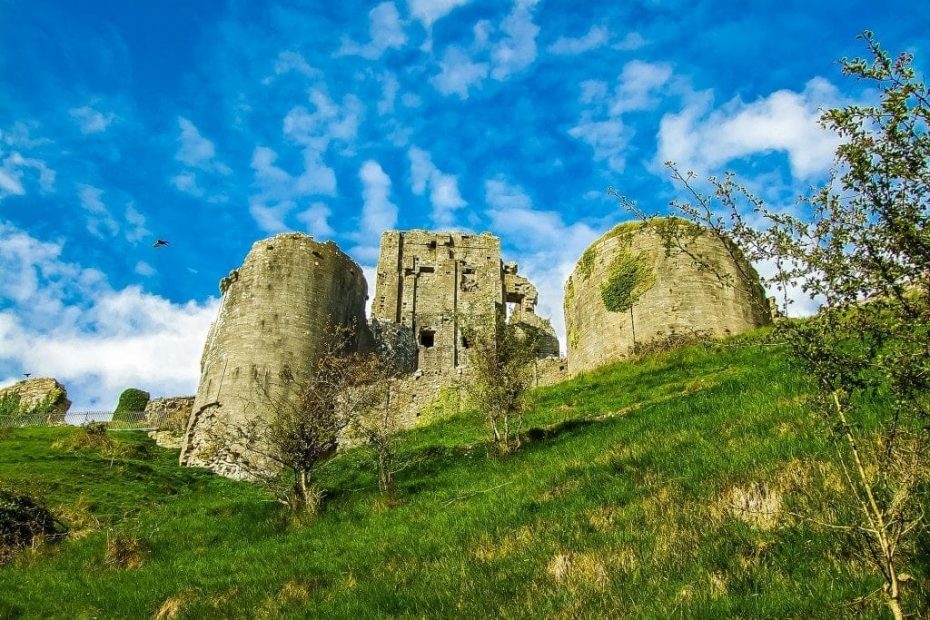 I've already mentioned it in this post as the inspiration for Kirran Castle, but Corfe Castle is definitely worth exploring. The thousand-year-old ruined castle is one of the most iconic survivors of the English Civil War – so it's a great place to brush up on your history. Keep an eye on the regular events for fun days out, like battle re-enactments and archery demonstrations.
35. Sleep in the UK's Fanciest Treehouse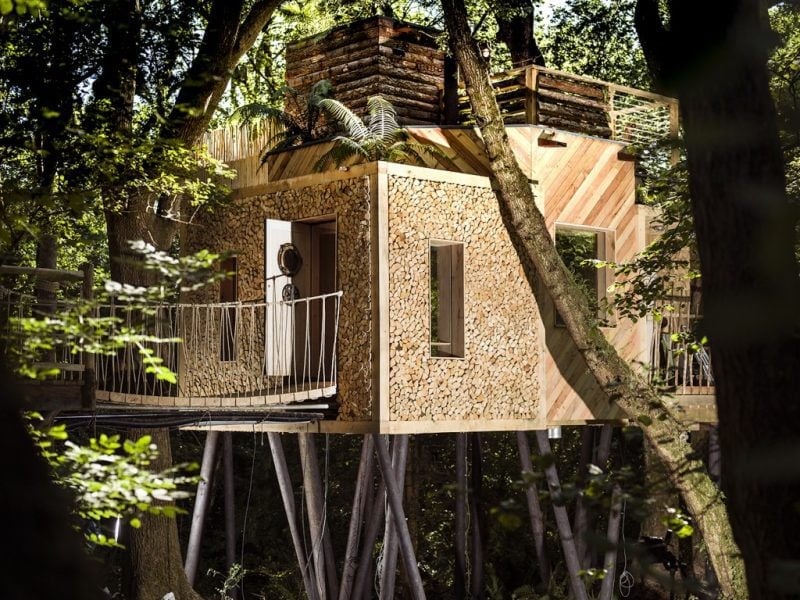 Crafty Camping's Woodman's Treehouse might just be the poshest treehouse in the country, and it's definitely one of the most unique places to stay in Dorset. Featured on George Clarke's Amazing Spaces, the treehouse has been built around a huge oak tree, and offers a truly luxurious experience in the tranquil woodland. Think outdoor showers, a wood-burning stove, and a copper hot tub on your balcony. Dreamy!
36. Sturminster Newton Mill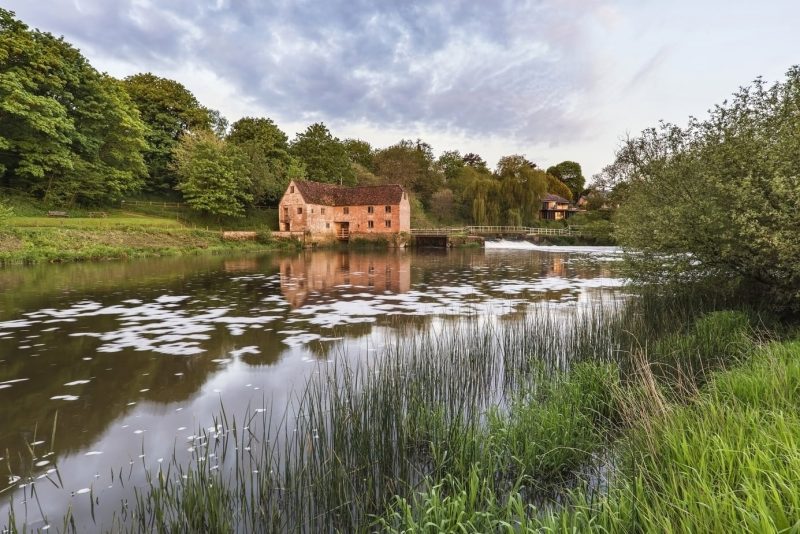 One of the few remaining working mills in Dorset, the old flour mill at Sturminster Newton is a really pretty spot on the River Stour. Worth a visit purely for the tranquillity and beauty of the surrounding countryside.
37. Explore the UK's Most Expensive Seaside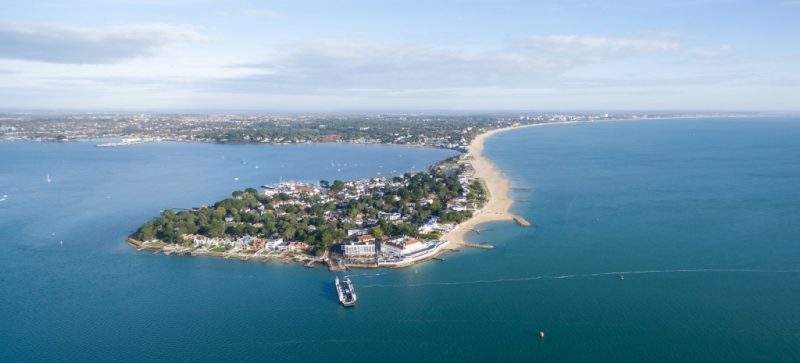 Sandbanks, near Bournemouth, is Britain's most expensive seaside town, and by area, the tiny peninsula has the fourth highest land value in the world! It's been nicknamed "Britain's Palm Beach" because of the area's insane property prices and golden sands. When you're done ogling at the mansions, the beach is one of the most beautiful in the area, or you can take the ferry over to Studland for the quieter, dune-ridden Knoll Beach.
READ MORE: Ultimate Dorset Coast Road Trip
38. Russell Coates Museum in Bournemouth
A Grade II listed building just steps from Bournemouth Beach, the Russel Coates museum is a lavish seaside villa which was bought in 1901 by Merton Russell-Cotes as a (rather extravagant) birthday present for his wife Annie. Over the years they filled it with an eclectic collection of art and exotic items from around the world, creating a weird and fascinating museum.
39. Hunt the Whistling Gunner at Nothe Fort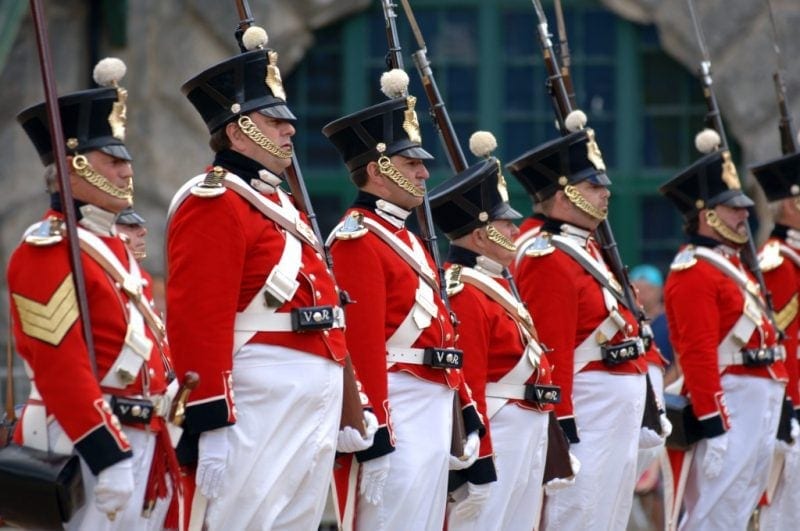 Possibly haunted and full of dimly lit underground passageways, the Victorian fort overlooking Weymouth harbour is one seriously fascinating place to explore. It's also been voted as one of the spookiest places in Britain!
The Nothe Fort was built in 1872 and played an important role in WWII, and today it's a lovely museum with lots of creepy passageways to explore. The fort is apparently home to the "Whistling Gunner", a restless spirit who haunts the underground passageways of the fort with his eerie whistling.
READ MORE: 50 unique things to do in Weymouth and Portland
40. Dorset Water Park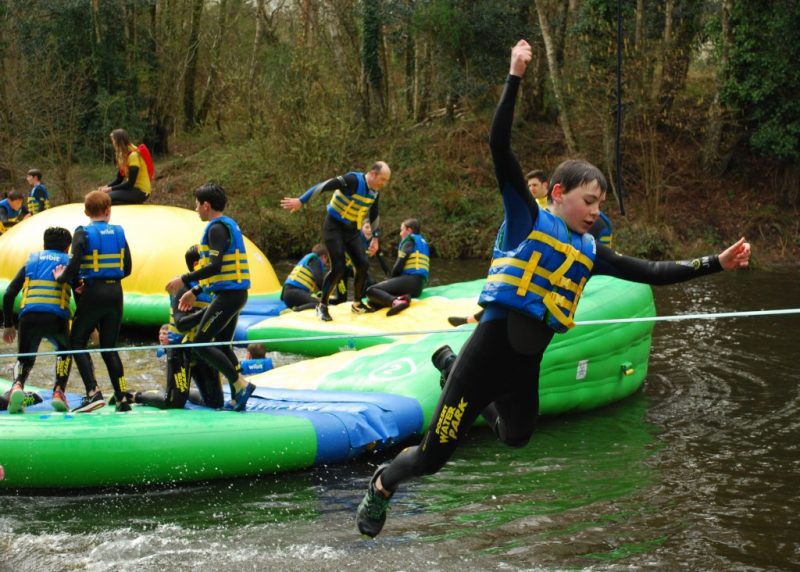 Dorset Waterpark is a wet and wild woodland waterpark set in the stunning surrounding of the Purbeck countryside. This aqua-based, fully lifeguarded obstacle course is perfect for any weather – you don't have to worry about rain if you're planning on getting drenched anyway!
41. Cheese Festival at Sturminster Newton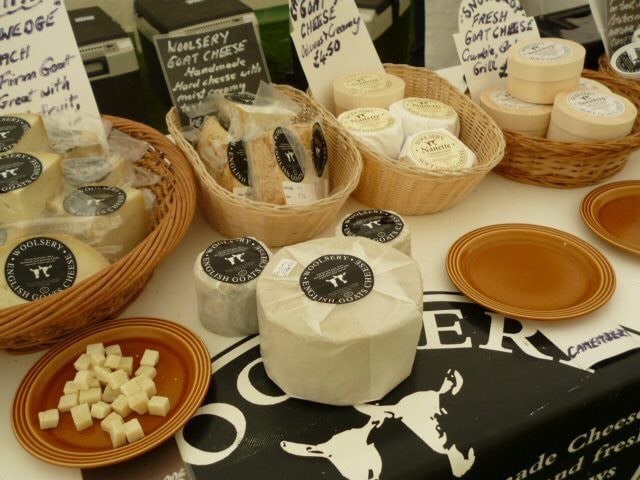 Dorset has plenty of food festivals on offer. But one of the most appealing is the Sturminster Newton Cheese Festival. Founded in 1998 to promote local cheesemakers, the festival is a huge event and features a vast array of cheese. There's other food too, with a real emphasis on local produce. But it's really all about the cheese!
Next Dates – 9th-10th September 2023
42. Chocolate Making Workshop at Chococo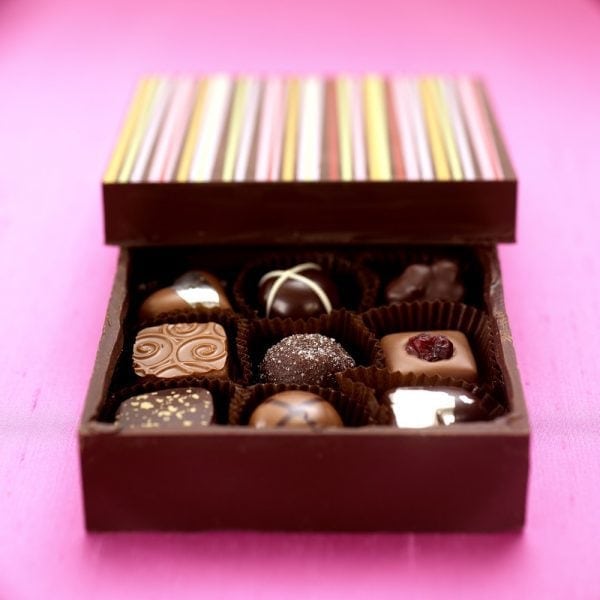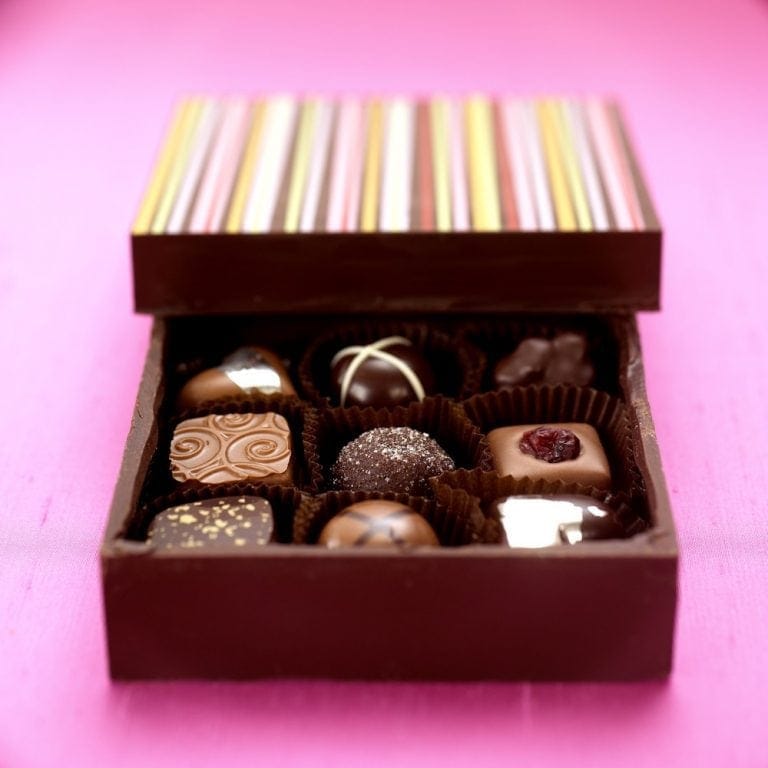 Gorgeous chocolate shop Chococo in the seaside village of Swanage were one of the first UK artisan chocolatiers. Using locally sourced, seasonal ingredients where possible, they're producing some amazing handmade chocolates. And you can have a go at making your own at one of their fab chocolate-making workshops in Dorset.
43. Walk Chesil Beach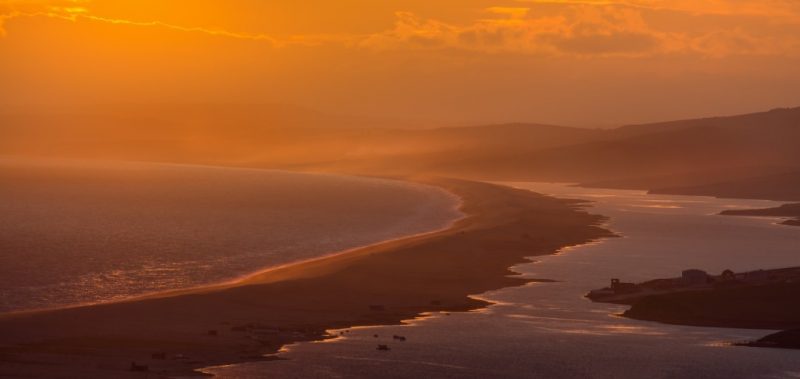 If you went to school in England, there's a pretty good chance you'll have seen Chesil Beach in your geography textbooks. It's one of three major shingle structures in Britain, a barrier beach that connects the Isle of Portland to the mainland. Geographically it's important, but more importantly, it's a really pretty place for a walk! Starting at Portland you can walk all the way to Abbotsbury, where the 29km long beach connects with the mainland.
44. Bournemouth Air Show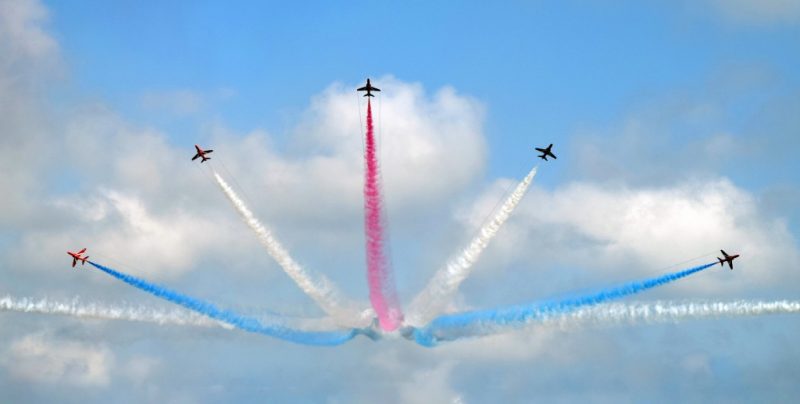 One of the most popular Dorset festivals, the internationally renowned Bournemouth Air Festival is now in its tenth year. There are events all over the town, with fly-bys and demonstrations in the air, and plenty to see at ground level too. The highlight is the display from the RAF Red Arrows, who are a British institution and always put on a great show.
Next dates – 31st August – 3rd September 2023
45. Meet Mr Bankes at Kingston Lacy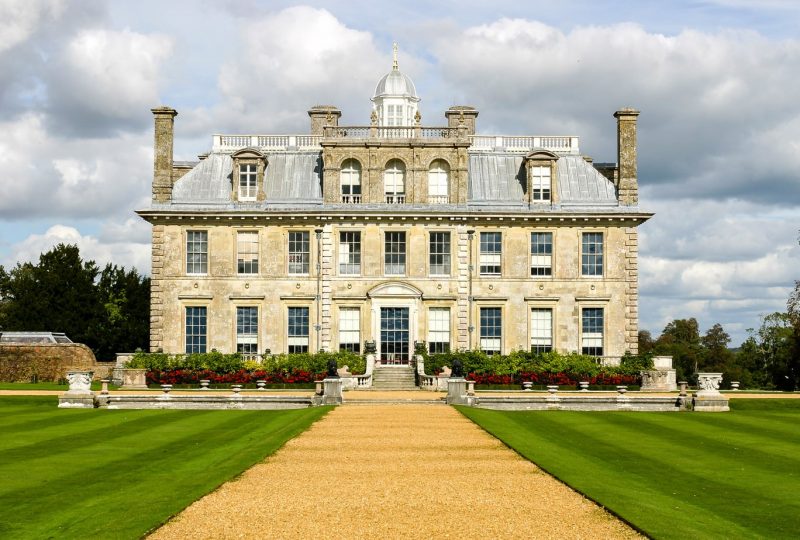 Who doesn't love snooping around an English country manor house? One of the best in Dorset is Kingston Lacy, and it has fairly unusual decor thanks to one of the home's earlier owners, William John Bankes. After being caught in an "illicit act" with a guardsman at a time when being gay was punishable by death, he was forced to exile himself and spent the last 14 years of his life abroad. While he travelled, William John collected art and furniture and had it all sent back to the family home in Dorset, creating a fabulous collection with a surprising history.
46. Watch a Joust at Sherborne Castle
Dorset's Sherborne Castle is a great place for a day out at any time of year. But throughout the year the castle hosts plenty of special events, and one of the best is the Jousting Tournament. Archery, falconry displays, jester workshops, and – of course – the action-packed tournament itself. A fab way to make history fun!
Next dates – TBC (check the site for announcements).
47. Visit the Church from Moonfleet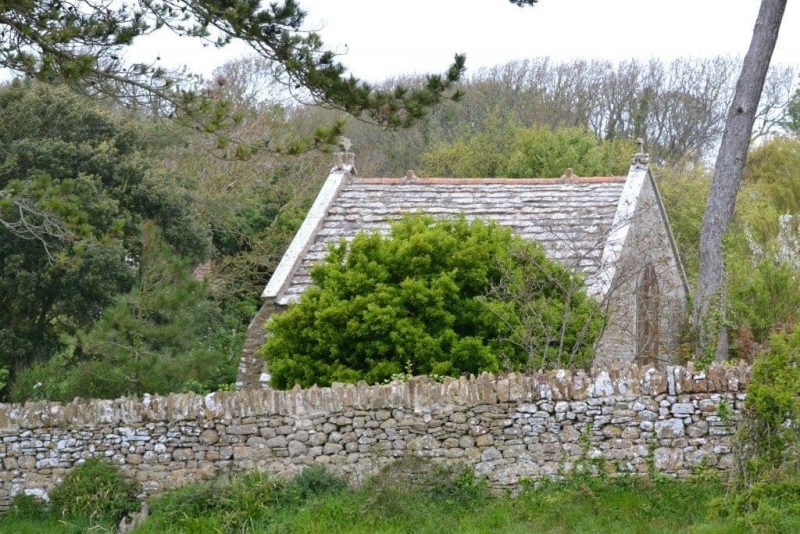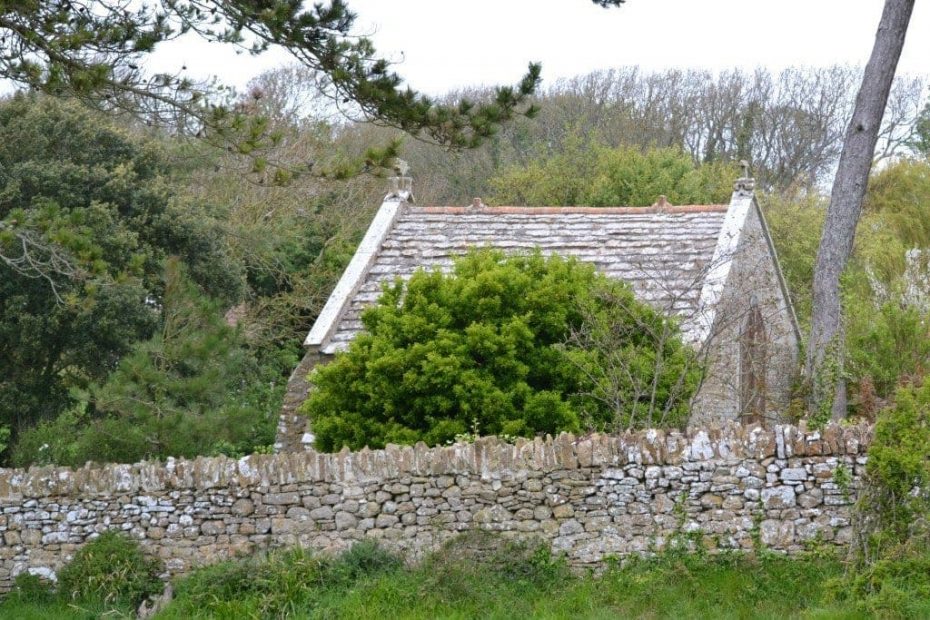 Some of the most interesting aspects of Dorset's history are the dark and dramatic stories of our smuggling past. And one of the more famous smuggling grounds was at The Fleet near Weymouth, an area immortalised in the novel Moonfleet. The tale of smugglers and treasure is set around The Fleet, and you can visit the tiny church that features significantly in the book.
48. Stay in an Old Smuggler's Inn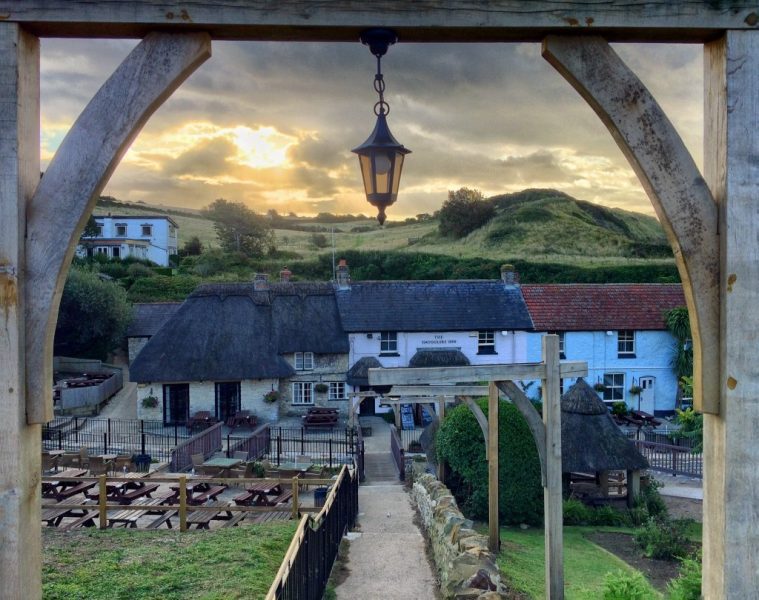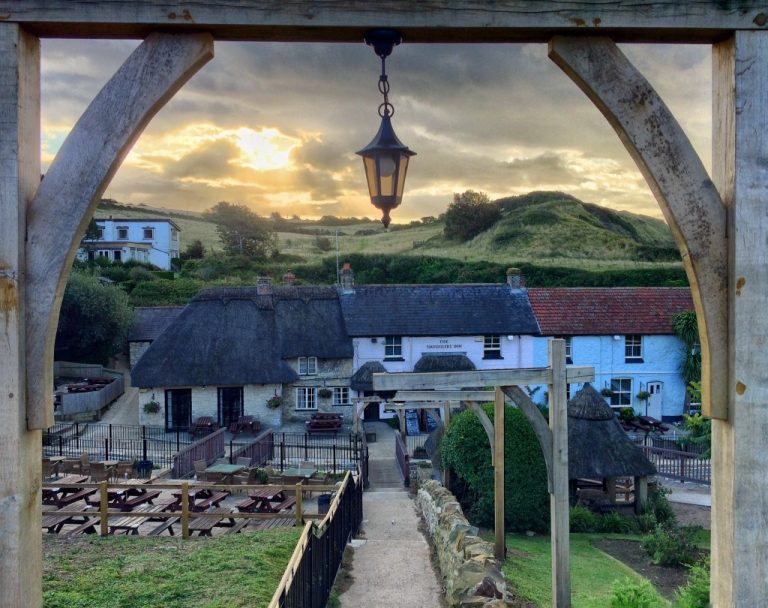 Speaking of Dorset's smuggling history, why not stay in the same historic inn they used to drink at? Centuries ago, the Smuggler's Inn at Osmington Mills was a hangout for some of Dorset's most notorious smuggling gangs. Smugglers with names like French Peter drank at the pub, and the leader of the infamous Charles gang owned the inn for a time.
These days, it's a cosy pub with a few lovely rooms and a fab restaurant. Great food, plenty of local beers, and gorgeous views of the dramatic cliffs. Check prices here!
49. Old Harry Rocks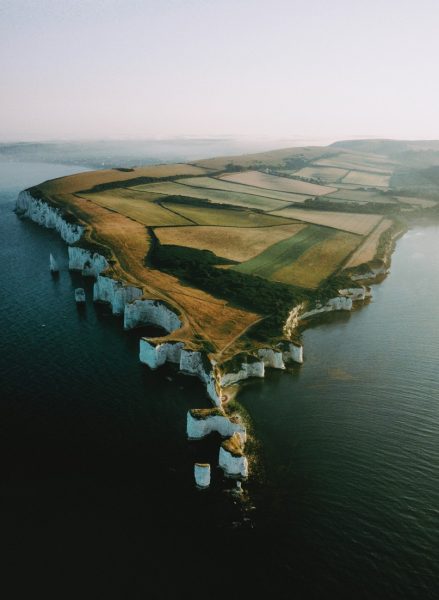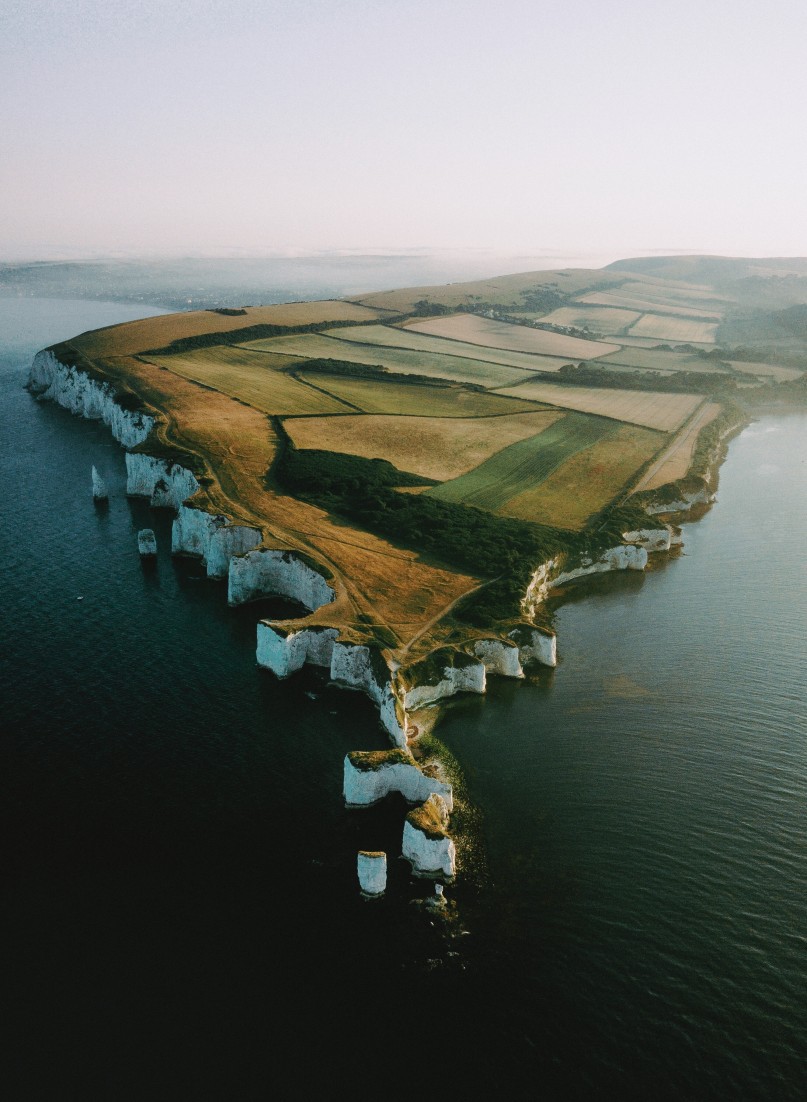 You can't get a more local recommendation for things to do in Dorset than from my dad – who helped me come up with this list. And Old Harry Rocks in Purbeck is one of old Daddy Luxton's favourite places on the south coast. The three white chalk formations at Handfast Point form the most easterly point of the Jurassic Coast, and they're pretty astonishing to look at. Perhaps one of the best views in Dorset.
50. Try Your Hand at Knob Throwing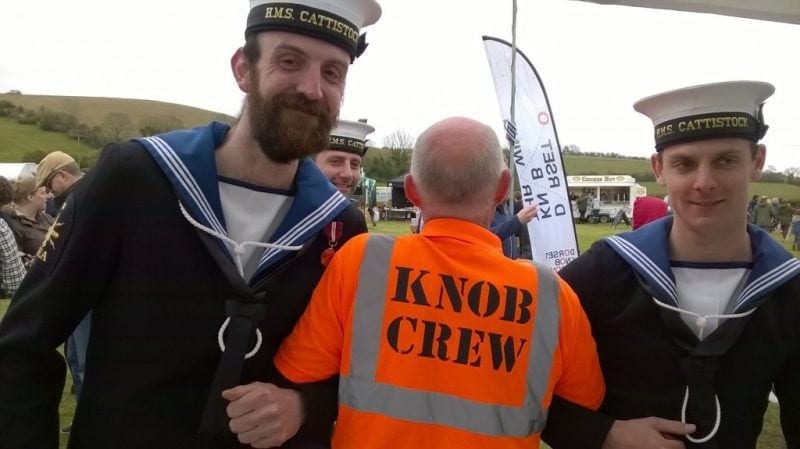 The Dorset Knob Throwing Festival might have the best name of any festival, ever. It's one of those wonderfully weird British festivals (like the cheese rolling thing) that's kind of hard to explain to an outsider. It's also not what you think!
A Dorset Knob is a kind of biscuit made by historic local biscuit company Moore's, and the Knob Throwing Festival is a really bizarre way to celebrate that local company by, erm, throwing their biscuits as far away as possible.
There are other games too, like Knob and spoon racing or "guess the weight of the big knob" (I swear I'm not making this up). And there are plenty of stalls selling Moore's biscuits, as well as other locally produced treats.
Next Knob Throwing: TBC – usually every 2 years, so around May 2024
Planning Your Trip to Dorset
Check out my new site, Dorset Travel Guide, for more information, including helpful tips, what's on guides, inspiration, and more.
Hotels in Dorset – There are hundreds of excellent hotels in Dorset to choose from! I've recommended some of my favourites in this post, but there are many more. As always, I recommend searching on hotels.com to find the best price. I love their rewards programme.
READ MORE: Best Places to Stay in Dorset
Also, don't miss my Dorset gin round up if you want to try some local distilleries!
Festivals – There are tons more festivals on in Dorset than the ones mentioned here. From village fetes and seaside carnivals to music and film festivals, there's so much on offer. Don't miss the spring/summer food festivals for some fab local food too. Get the full lineup of festivals and events here to help plan your trip to Dorset!
Weymouth – Need some more inspiration? Check out my list of things to do in Weymouth and Portland, the sister to this post!
If you think something is missing from my list, please share it in the comments! Whether you're a Dorset lover or a born-and-bred local, I'd love to hear from you. Scroll right down to leave a comment.
Pin this post for later!