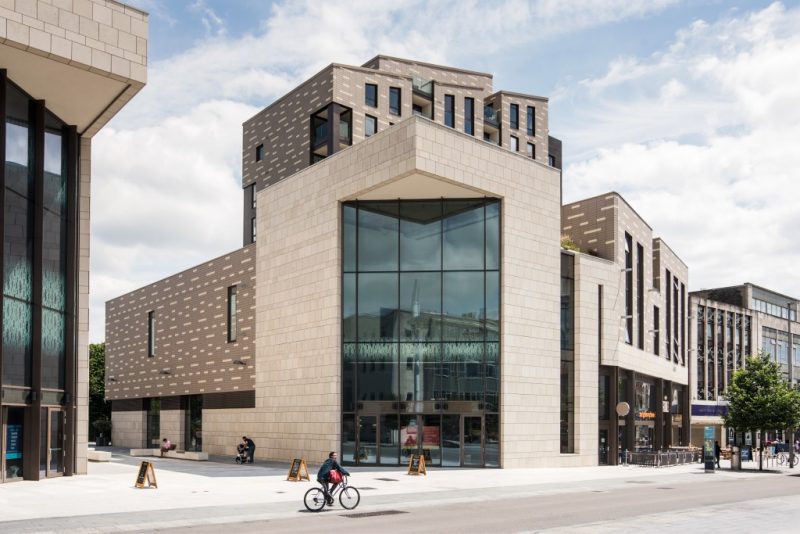 Southampton has gotten much cooler since I left! I went to uni there and I've always had a soft spot for the city. But on my recent trip with the Southampton Cultural Development Trust, I was shocked to discover how much has changed in the last five years – and how many improvements have been made.
As Godfrey, our tour guide from See Southampton, put it – this city is constantly reinventing itself. It's been a prominent medieval port, a Georgian spa town, and was almost completely flattened in the Blitz. These days it's known for the cruise port, which is the UK's largest, and as a shopping hub. But now Southampton is working hard to build itself a new reputation, and the city is focusing hard on developing it's cultural side. Here's what I discovered on my recent trip…
Image credit: Thierry Bal.
Titanic Story at SeaCity Museum
One of the biggest and most famous peace time tragedies in British history is the story of the Titanic. Although built in Belfast, the Titanic set sail for her maiden voyage from Southampton, and the crew was hugely made up of local workers. You can uncover some of their fascinating individual stories at Southampton's Titanic Story. It's a permanent exhibition at the SeaCity Museum, which is housed in the old court rooms.
It's a great, interactive museum where you can find out all about the disaster that rocked the city. There are traces of the Titanic's history all over town, too. My favourite is a memorial dedicated to the ship's musicians, who famously kept playing as the Titanic sank to keep passengers calm. Follow the Titanic Trail through town to see it and several other important sites.
Dancing Man Brewery
If there's one thing I love about UK travel, it's discovering a local business that's run with passion and creativity. Although I'm not much of a beer drinker, I loved our tour and tasting at Dancing Man Brewery. Mostly because head brewer Aidan Lavin is so full of passion and pride for his business.
Founded in 2014, Dancing Man is housed in a 14th century wool mill and is possibly Southampton's prettiest bar. Certainly its most atmospheric. Exposed timbers, stone walls, fairy lights and quirky furnishings abound. As does excellent quality craft beer – all brewed on site and with a big focus on local ingredients. The bar itself is so popular that the brewery can't produce enough beer to export it. So if you want to try some, you'll have to visit!
Nuffield Southampton Theatres
The Nuffield Theatre in Southampton Uni's campus was there when I was at Solent (the "other" uni!). But it's soon to be expanding, with a brand new theatre opening later this year in the city centre (more on that in a mo). This isn't your typical am-dram uni theatre, either! The Nuffield hosts a really exciting range of entertainment, including plays, dance shows, and well known comedians. I saw Joe Lycett there a few years ago! On this trip, we were lucky enough to watch the spectacular (and totally terrifying) West End show The Woman in Black. So simple, but so spooky – I can't recommend it enough!
Hidden History Tour
Who knew you could live in a city for seven years and still not really know it? On a two hour "Hidden History" walking tour with See Southampton, we visited loads of places I'd never been to before. Or, like the Bargate on the High Street, I'd passed them hundreds of times without ever really registering their significance. I'd definitely never been inside the medieval Bargate before – I didn't even know you could go in – so it was pretty exciting to have a look around.
I knew almost nothing about Southampton's history before the tour, but it's very much hidden in plain site. The ancient city walls and old gatehouses can still be seen, I'd just never paid them any attention. And I had no idea that underneath the city are dozens of medieval wine vaults – until we went inside one. Definitely a great tour for anyone wanting to find out a little more about the city's history.
Tudor House and Gardens
Speaking of Southampton's history, I loved the Tudor House and Garden. One of the oldest properties in the city, it's been turned into a really lovely museum with some great interactive exhibits. A fantastic way to get a glimpse into the history of Southampton, and find out what life was like in Tudor Times. There's a Blitz-era bomb shelter in the cellar and some 16th century graffiti in the Trade Room. Plus, there's a dress up box (as there should be in all good museums)!
Great Food and Drink
One thing I've always loved about Southampton is the food scene, which is awesome. From lunch at the gorgeous boutique hotel The PIG in the Wall, to dinner at one of the trendy chain restaurants around the new West Quay development, there's something for everyone. I enjoyed the new local cafe chain Mettrick's, and I've always had a soft spot for the Rockstone pub. Plus there are all the really cool bars along Oxford Street and around the marina in Ocean Village. There are way too many amazing places to eat and drink for me to list them all, but you're sure to find something amazing!
New Cultural Hub
As I mentioned earlier, later this year Southampton will be opening a really exciting new cultural development. Set across the road from Guildhall Square, where you can already find the SeaCity Museum and the City Art Gallery, the soon-to-be-opened Studio 144 is set to turn the top end of town into a real cultural hub.
Studio 144 is a brand-spanking new arts complex across two specially designed buildings. I was lucky enough to get a behind-the-scenes glimpse of the building sites so I have an idea of just how cool they're going to be. In one building will be a theatre with two stages, some studios, and a huge bar on the top floor. the other will contain a new branch of the John Hansard Gallery with multiple spaces – they're almost ready to open and it's looking really good.
Upstairs in the gallery, there's also a new office space for City Eye, a local organisation aimed at promoting and supporting film and video culture in Southampton. They'll have spaces for regular film screenings as well as editing rooms. Passionate people supporting local passion – it's such a great initiative.
Where to Stay
We stayed at Ennio's boutique hotel near Ocean Village. It was really comfy and very friendly, with enormous bedrooms! If you want something a bit more upscale, there's The PIG in the Wall. Quirky, comfy, and tucked right into Southampton's old city walls. Cosy rooms and a great atmosphere!
Have you ever been to Southampton? I'd love to hear what you thought of my old stomping ground! And if you have any top tips – share in the comments!
On this trip I was a guest of Southampton Cultural Development Trust. As ever, all words and opinions are mine.
Pin this post and share the love: