Some posts on this site contain affiliate links. If you book or buy something through these links, I earn a small commission (at no extra cost to you). Take a look at my privacy policy for more information.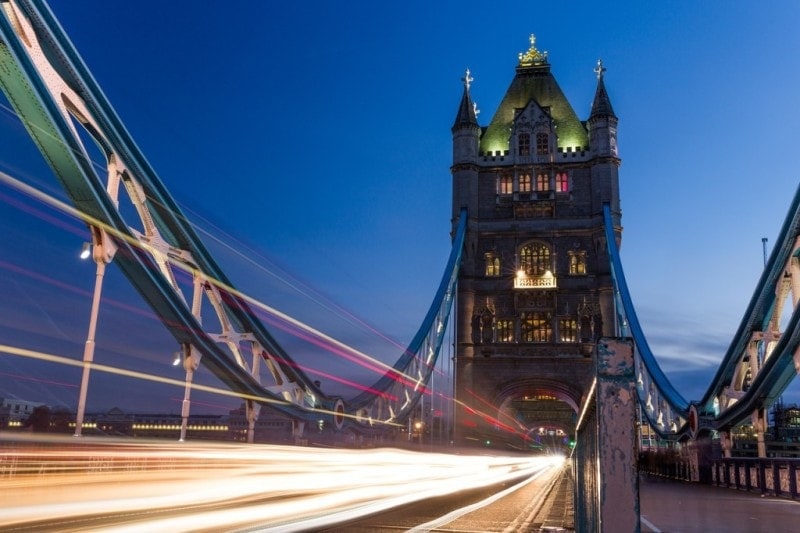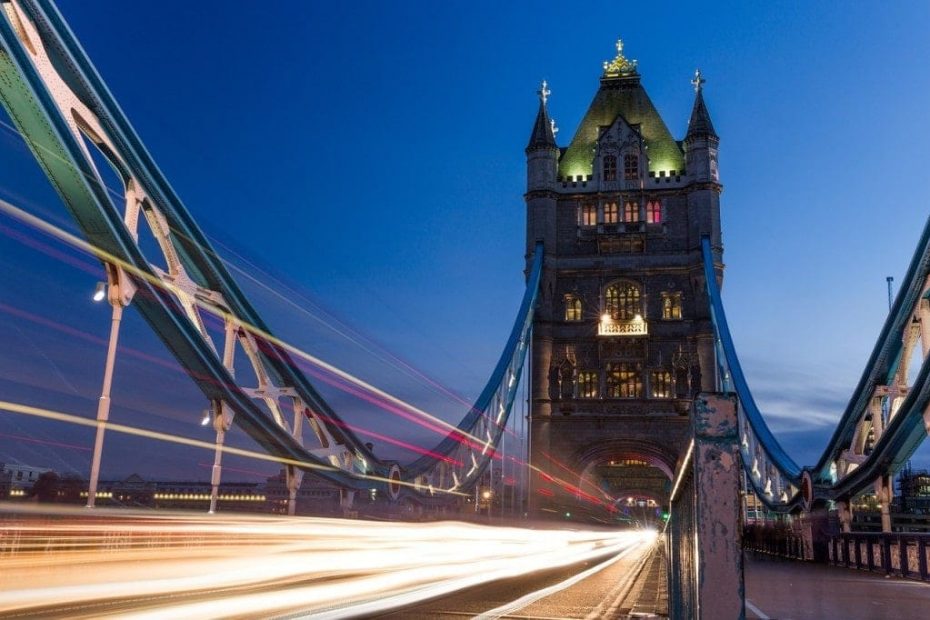 My trip to London last month really made me realise how much I miss the place. I've been up and down to the Big Smoke a few times since I moved to Portsmouth and I've loved both revisiting some old favourites and discovering new gems. There's just so much to discover in that city!
Buckingham Palace, the London Eye, St Paul's, the museums… they're all worth visiting, but those tourist sites are only a fraction of what London is all about. The real beauty of London is just soaking it up. Heading to the amazing bars, delving into the fabulous food scene, and finding all the hidden gems that are dotted throughout every neighbourhood. To help you truly explore London like a local, I gathered tips from all my Londoner friends and blogger buddies and put together a bit of a guide. Since the capital is simply too huge to fit it all into one post, this is a guide to the best places to stay, eat, and drink in South East London.
Where to Stay in South East London
On my latest trip, I stayed at the Bermondsey Square Hotel and I think I've discovered a real hidden gem. The location is ideal; walking distance to both London Bridge Station and Bermondsey underground station for the Jubilee Line. Easy to see why this is considered one of the best areas to stay in London if you're on a budget. You're also perfectly placed to head to some of South East London's top attractions. Tower Bridge, The Shard, and Borough Market are all less than a twenty-minute walk away.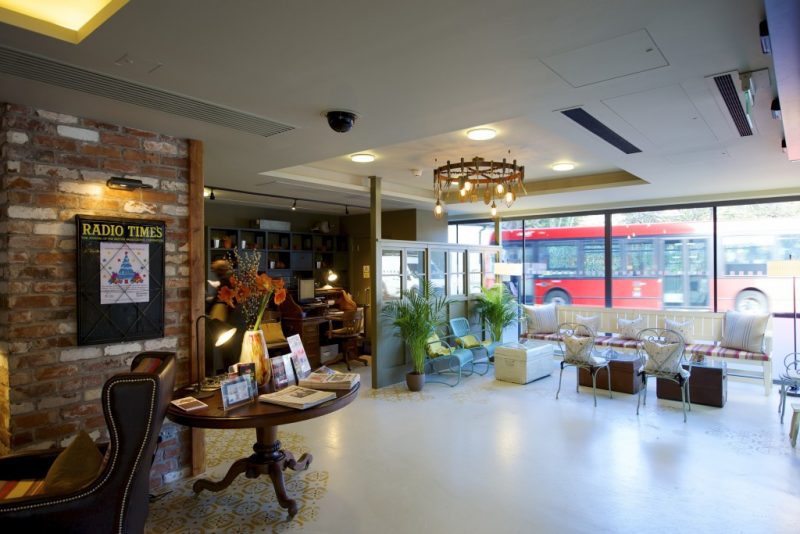 Although it's aimed primarily at business customers, Bermondsey Square Hotel isn't your boring, bog-standard business hotel. The decor, especially in the downstairs areas, is a quirky mixture of vintage and contemporary, with exposed brick walls, comfy leather sofas, and funky light fittings. The public spaces and bedrooms had real personality, unlike a lot of hotels, and they were nice and chilled out too – making this a great place to unwind.
I stayed in one of the Terrace rooms on the first floor. That meant I had access to my own private terrace overlooking Bermondsey Square. That was definitely the selling point of the room, which was was huge and really comfortable. Interestingly, the bed was in the middle of the room, facing the patio doors. The desk tucked behind the bed made it feel like there were two completely separate spaces in the room – perfect if you're a blogger getting some work done! It was a really well thought out room with lots of clever touches like that. I loved that the glass shower door had a small hole in it so you could reach through and turn the shower on before getting in – why aren't they all built like that?!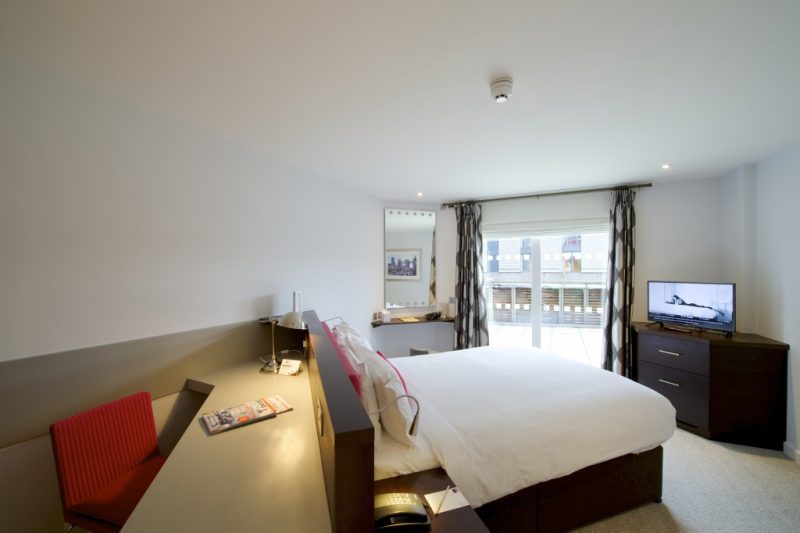 Whether you're in town for business or pleasure this is definitely a great place to stay. Well located, comfortable, and fun – with some pretty fantastic views across London.
CHECK PRICES: Booking.com | Hotels.com
Things to do in South East London
South East London is where you'll find Southbank, Tower Bridge, and Shakespeare's Globe theatre. But there are dozens of posts out there about the main tourist attractions, so this blog isn't about those. These are some of the alternative things to do in SE London…
Bermondsey Beer Mile – A bunch of breweries within a mile of each other? Yes please! Some of London's biggest names in beer are located in Bermondsey, including Fourpure Brewing Co. and Brew by Numbers. Hop from tap room to tap room on Saturdays, when all locations are open (get a map here). Some open for a bit on Fridays and Sundays, too, including The Bottle Shop, where beer is available to enjoy in or takeaway from their 12 taps and over 400 bottle varieties. Recommended by the lovely Kelly from A Pair of Passports.
Borough Market – SE London has heaps of excellent markets to explore. Borough Market is probably the best known, and it's well worth a visit. Don't miss The Colombian Coffee Company! (8 Southwark St)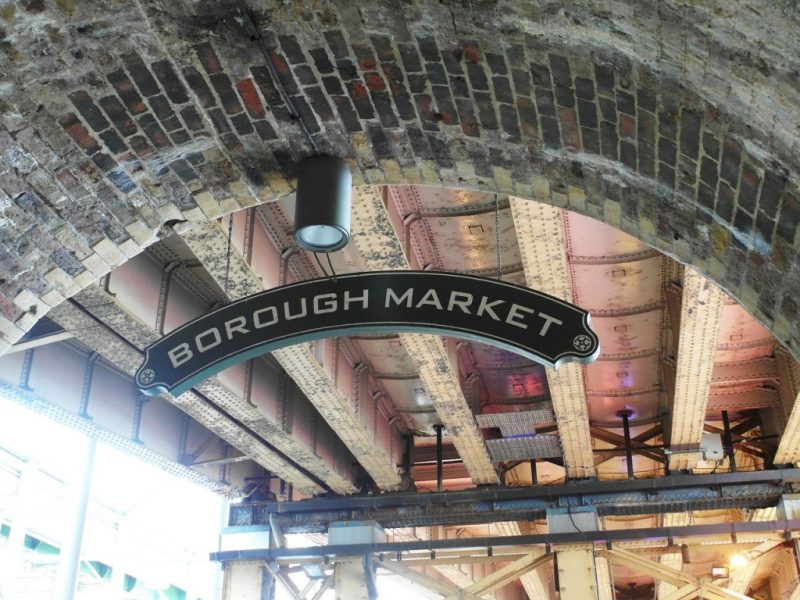 Bermondsey Market – For vintage goodies head to Bermondsey Square's Antiques Market. Goods from Georgian, Victorian and Edwardian times – every Friday morning from 4am to 1pm. (Bermondsey Square)
Maltby Street Market – "Like Borough, but more local – and with really good food" says Wanderlust Chloe, one of my favourite travel bloggers. Don't miss it! (Ropewalk)
Neal's Yard at Borough Market – "It's not the original but it may be the best" says Mindi (2 Food Trippers) of this skincare store and therapy rooms. Perfect if you need to relax after all that sightseeing! (12 Stoney St)
Shortwave Cinema – A small, independent cinema in Bermondsey Square with a great mix of classic, arthouse and indie movies. (10 Bermondsey Square)
Menier Chocolate Factory – It's not just the West End that's good for theatre. Southwark's Menier Chocolate Factory is a 180 seat theatre housed in a 19th-century factory. (53 Southwark St)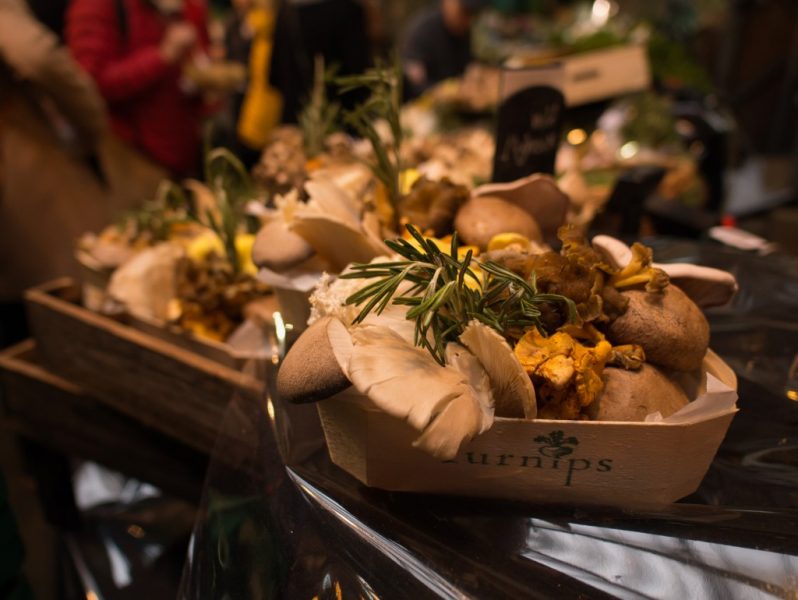 South East London Top Restaurants
If London has one thing really nailed, it's food. There's just so much to choose from in our funky, multicultural capital. I've gathered up all my favourite London locals to bring you this list of the best places to eat in South East London…
Southwark
Bala Baya – Recommended by the fabulous Angie from Silverspoon London, who says this upscale Tel Aviv–style eatery is "great for brunch". Read more in her Bala Baya review. (Arch 25 Old Union Yard Arches)
The Lord Nelson (243 Union St) – According to Michael, the man behind Traverse, this is where you'll find the best burgers in London. Big words. I'll have to try it before I contest, but…
Peckham
Honest Burgers – According to me, these are the best burgers in London. I liked the original pop-up in Brixton Market back when I used to live around there, but the company have since expanded so you'll find two branches in South East London. (12-16 Blenheim Grove, Peckham or 8 Nelson Rd, Greenwich).
READ MORE: Your Apartment Brixton Review
Frank's Cafe – Recommended by my most London of London friends, Mark, Frank's Cafe is a summer-only venue (opens 19th May for the 2017 season). A non-profit rooftop cafe bar on the top of Peckham multi-storey carpark. Trendy, casual, great views. (10th Floor, Peckham Multi Story Carpark)
Camberwell
Mark also had a few more recommendations for his home neighbourhood of Camberwell. Enjoy…
FM Mangal – A cosy, laid-back Turkish restaurant serving up classic dishes and fresh kebabs. (54 Camberwell Church St)
Silk Road – A simple restaurant with a strong focus on Northern Chinese cuisine – especially dumplings and stews. (49 Camberwell Church St)
THEO'S – Funky, light-filled pizzeria known for it's sourdough pizzas, which are cooked in a wood-fire oven. (2 Grove Ln)
Bermondsey
Fully Charged Electric Bike Shop – One of my favourite travel bloggers, Macca (An Adventurous World) says this place does cheapest coffees in the morning. It's also a bike shop. Nice and random! (37 Bermondsey St)
Fuckoffee – Macca also recommends Fuckoffee; "a lovely little coffee shop" with organic coffee and cake.(163 – 167 Bermondsey St)
Antico – A nice Italian place specialising in delicious pasta! Antico in Bermondsey is another top tip from Macca. There's also a great gin bar downstairs called 214 Bermondsey. (214 Bermondsey St)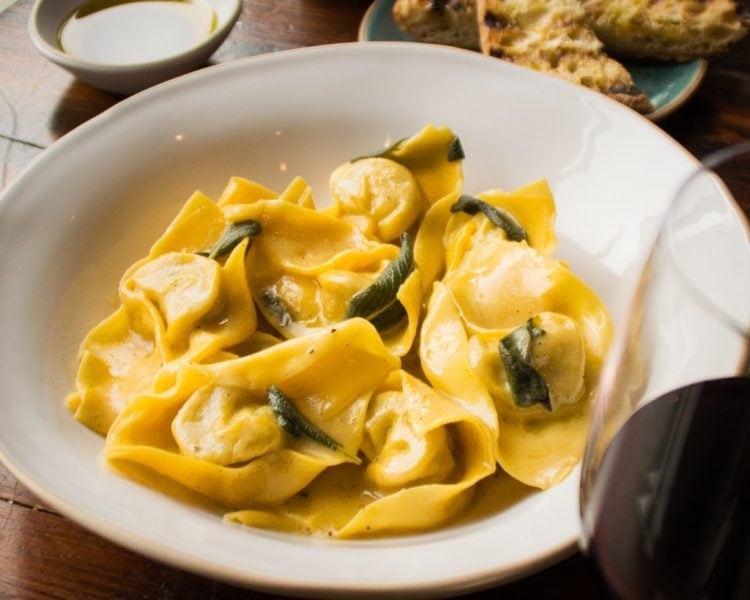 Casse Croute – An all-day bistro bringing French classics to the streets of South East London. The menu changes everyday, so you'll never be eating the same dish twice. Recommended by Nathan from thetrvlblog.com. (109 Bermondsey St)
Canada Water and Surrey Quays
The Moby Dick Pub – Another local blogger, Claire from Curious Explorers, recommends this authentic style English pub in Surrey Quays. "Situated next to the relaxing waters of Surreys Quays, this is the perfect place to get some traditional English pub food". (6 Russell Place)
Leadbelly's Bar and Kitchen – An old school friend of mine, also named Emily, tipped me off to Leadbelly's. "The manager Annemarie is a legend, great food and drink options anytime of day". (Montreal House, Market Square)
Cocktail Bars in South East London
The Hide, Bermondsey – Another top tip from the lovely Macca, who says The hide "is great for cocktails, but very spenny". For anyone who, like me, has no idea what that means, spenny = expensive. (39-45 Bermondsey St)
Rye Wax, Peckham – This subterranean vinyl store doubles up as a coffee shop by day and a cocktail bar and live music venue by night. They also sell comics and books. (133 Rye Lane)
Bar Story, Peckham – "Bar Story is one of the coolest bars in Peckham" says Julianna, the blogger at thediscoveriesof.com. "Grabbing one of their expertly-made cocktails sitting out on their terrace is one of my favourite ways to spend summer evenings. As if that's not enough, there's a great happy hour on weekdays from 6-7pm." (213 Blenheim Grove)
Pubs in South East London
Fourpure Brewing Co. Tap Room, Bermondsey – "This stylish bar is the perfect place for beer lovers to try a variety of freshly brewed beers." So says the lovely Claire about this popular local brewery. (Bermondsey Trading Estate)
Camberwell Arms, Camberwell – Another recommendation from my pal Mark! A cosy pub with a nice atmosphere and fab comedy nights. (65 Camberwell Church St)
The Bear, Camberwell – Chill local pub with great craft beers and a nice atmosphere. (296A Camberwell New Rd)
Stormbird, Camberwell – Simple, unpretentious, and cosy – with a fab selection of global craft ales. (25 Camberwell Church St)
The Bridge Lounge, London Bridge – Another recommendation from the lovely Macca, this is a modern bar with a contemporary menu housed within a historic dock pub. (186 Tooley St)
The Mayflower, Rotherhithe – Reena, from Lifestyle Enthusiast, says the Mayflower is "a hidden gem that few know of" on the river in Rotherhithe Village. "It's the oldest pub on the River Thames, and is said to have been established in the 1600s!" (117 Rotherhithe St)
Gypsy Moth, Greenwich – My Indonesia travel buddy Tay recommends this small pub in Greenwhich, which "has a lovely massive beer garden where I've enjoyed a cider or five!" (60 Greenwich Church St)
More Posts on London
I've written quite a bit about London on my blog, so if you're looking for more info you can check out the following posts. I've included a few from my favourite bloggers, too…
Walks – If you head a little further afield, there are some fab woodland walks in South East London which are the perfect way to escape the city. Especially if you're travelling with kids!
Hostels – If you're a backpacker or visiting London on a budget, check out my round-up of the best hostels in London. From party hostels to chic converted mansions, there's something for everyone.
Alternative London – I've got a great guide to some of the more alternative things to do in London for those who want to try something a bit different!
Street Art – I have two great self-guided street art walks on my blog. Check out my Slums and Street Art tour of East London, for history and arty hotspots, as well as my Brick Lane Street Art Tour.
Free Stuff – Who doesn't love a freebie? One of my favourite London based bloggers, Macca, has a great guide to the top free things to do in London so don't miss it!
Events and What's On – The ever-fabulous Wanderlust Chloe publishes a round-up of the top things to do in London every month. Just click on the most recent post in the section to find out what's on when you visit.
Do you have a top tip for the best things to do in South East London, or the best places to eat and drink? Scroll down and share in the comments!
Love this post? Pin it for later…