Some posts on this site contain affiliate links. If you book or buy something through these links, I earn a small commission (at no extra cost to you). Take a look at my privacy policy for more information.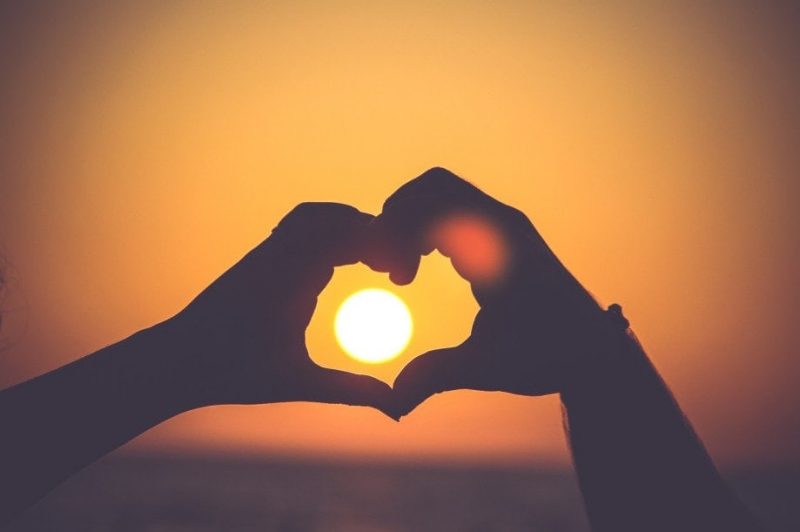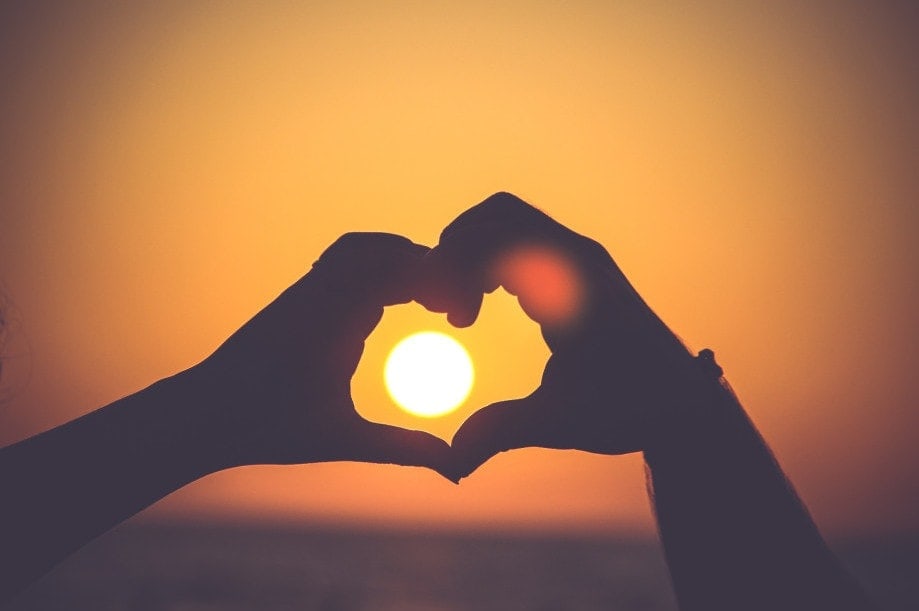 Looking for your next couples getaway or intimate weekend escape? These are some of the most romantic places in the UK!
Britain is a nation of cosy countryside getaways, lively city escapes, stunning country manor hotels, and crumbling castles. So there are plenty of opportunities to get away from it all with your other half!
Discover historic towns full of culture, great restaurants, and intimate bars to explore. Outdoorsy couples will fall in love with the sweeping landscapes that inspired some of the nation's most famous poets and authors.
Get away from it all with a countryside ramble. Unwind with a relaxing couple of days soaking up the summer sun on a picturesque beach. Or delve into the culture and history of some of the UK's prettiest cities. Whatever you love doing, you're sure to find the perfect holiday to suit your relationship!
I've teamed up with a few of the country's top travel bloggers to compile this list of the most romantic places to visit around the UK. So get ready to find your perfect couple's holiday in Britain…
40 Romantic Places in the UK: Map
26 Romantic Places in England UK
The Lake District, Cumbria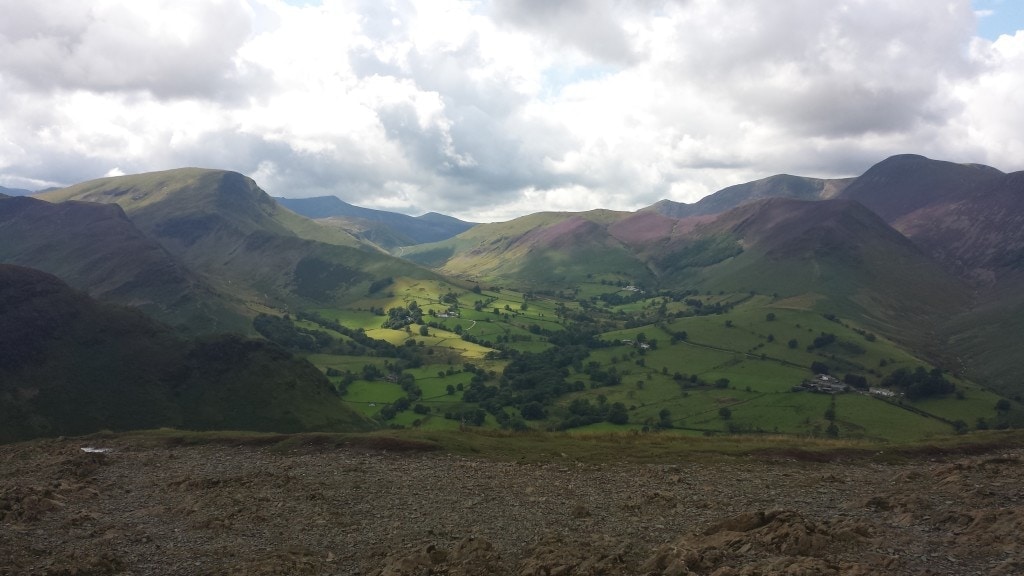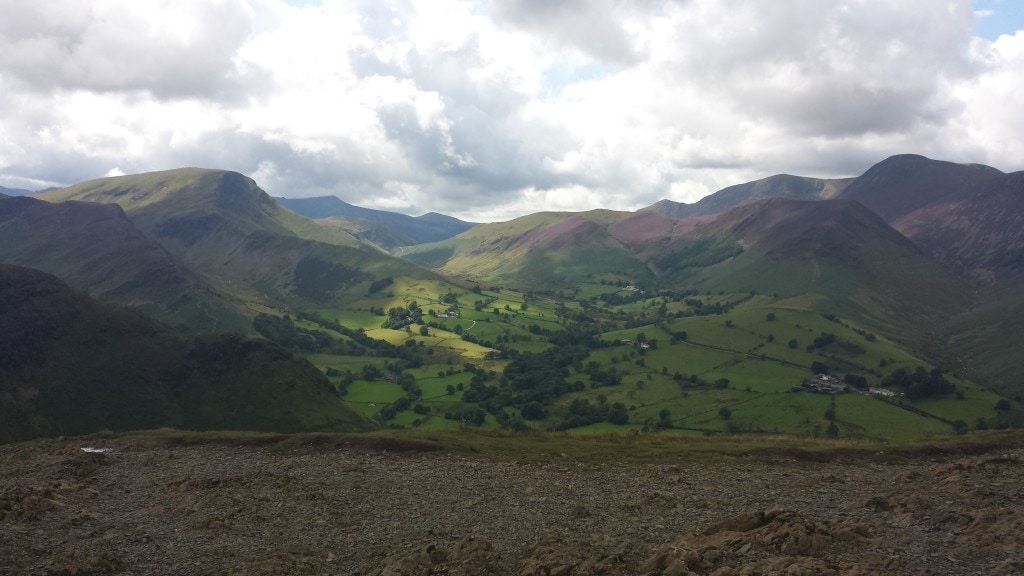 The Lake District is perfect for a couple's getaway. These are the landscapes that inspired Wordsworth, as well as many other Romantic poets. It's also home to the third most romantic hotel in the world!
Home to some of Britain's best scenery and most spectacular views, plus picturesque villages, gorgeous hotels, and some of the best food in the country – this wonderfully British setting lends itself beautifully to romance. Rent a cosy log cabin or book into a luxury boutique hotel, head out for long walks in the countryside, and round off each day cuddled up by the fireplace. Bliss!
RECOMMENDED TOUR: Ten Lakes Full Day Tour (8-9 hours)
Stratford Upon Avon, Warwickshire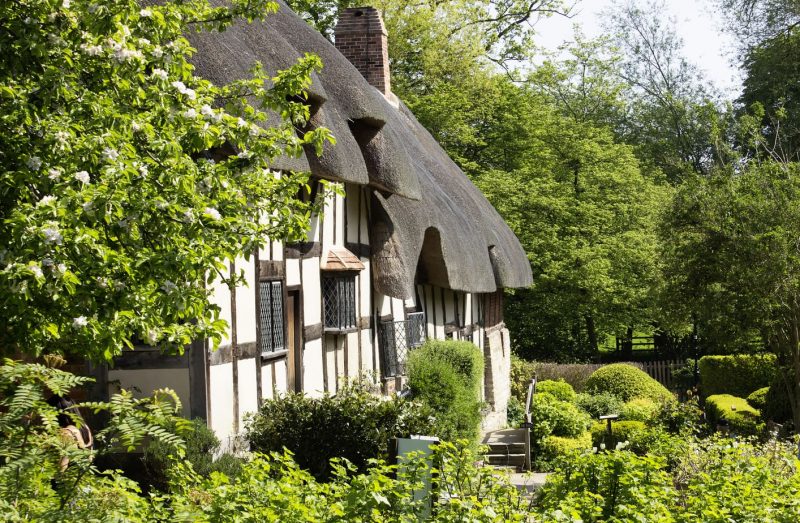 This charming, historic town on the River Avon was the birthplace and home of Shakespeare. As a result, it has long been a place of pilgrimage for British literary greats, including Keats, Dickens, Tennyson and Hardy.
Perhaps it's the spirit of Shakespeare and his famous romances that make Stratford Upon Avon an idyllic lover's getaway. Stroll along the canal and watch the many riverboats passing by – you could even rent one for a unique escape. Could there be anything cosier?
Bath, Somerset
Stunning Georgian buildings, oodles of history, Britain's only natural thermal spa, and the setting of one of my favourite Jane Austen novels… Bath is definitely one of the most romantic places in the UK. Make the most of the many exceptional antique tea rooms to indulge in the quintessentially British ritual of afternoon tea. Don't miss historic Sally Lunn's, the oldest shop in Bath.
This is a town that has built its success on wellness and leisure. Especially romantic is the gorgeous Thermae Bath Spa, where couples can cuddle up in the rooftop pool, which offers fabulous views of the city and surrounding countryside. Check out my review of the spa here for more info.
RECOMMENDED TOUR: Sightseeing Boat Cruise with Prosecco
Jurassic Coast, Dorset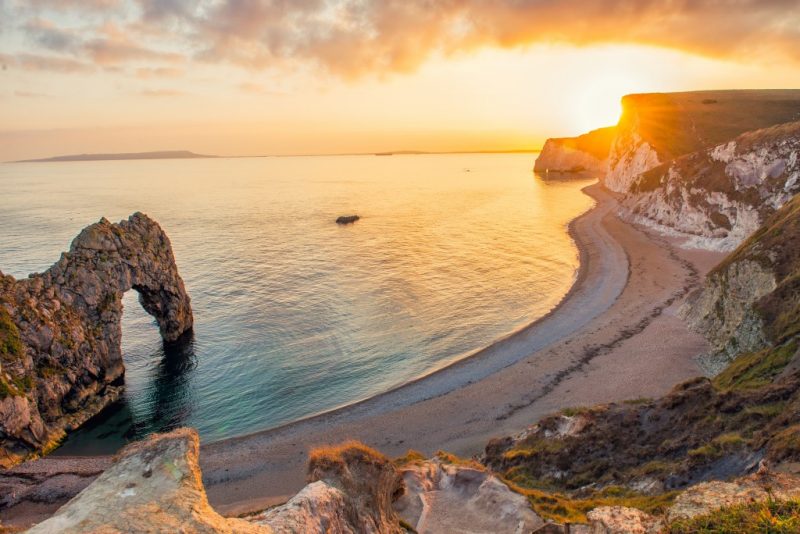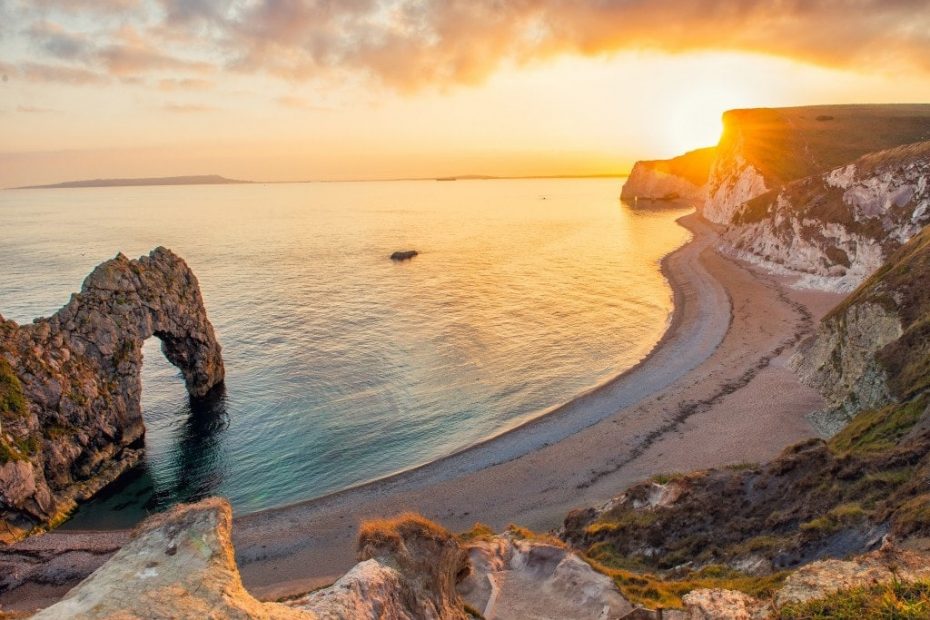 Arguably one of the most romantic places in all of the UK has to be Dorset's Jurassic Coast. Boasting 185 million years of history, this 96-mile stretch of coast is justifiably famous. It's full of geological marvels – and, more importantly, it's also insanely pretty!
Long cliff walks, cosy country pubs, picturesque villages, and dozens of stunning beaches make this part of England perfect for a romantic getaway. Set the mood by renting a pretty stone cottage, or try glamping in a fancy yurt or rustic log cabin.
Scilly Isles, Cornwall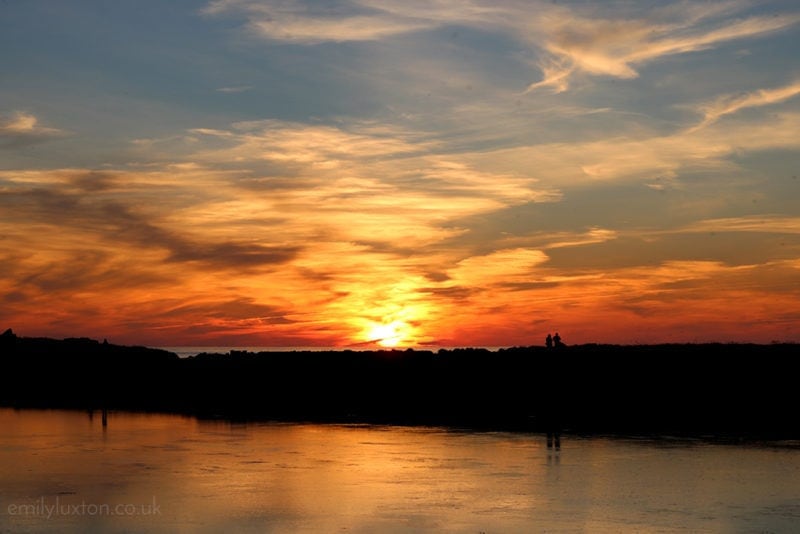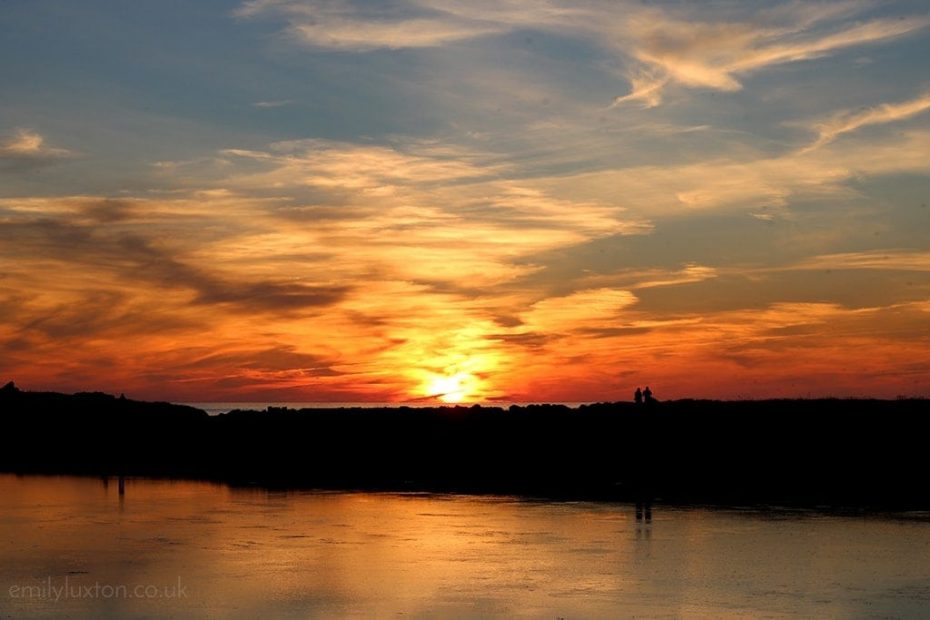 Just off the coast of Cornwall, the Scilly Isles are another of the most romantic places in the UK. Although popular, the islands are nowhere near as busy as better-known Cornish destinations. So you have a pretty high chance of finding a beach all to yourself!
Island life is slow-paced and relaxed. Spend the day at the beach, exploring on foot or by bike, or island-hopping by ferry. In the evening there are dozens of amazing restaurants to choose from, perhaps while you enjoy a coastal sunset. Importing goods is expensive so there's a big focus on locally-grown produce and fresh, local seafood! Don't miss the Crab Shack on Bryher Island – although you might have to be prepared for your other half to see you making a mess of yourself!
Peak District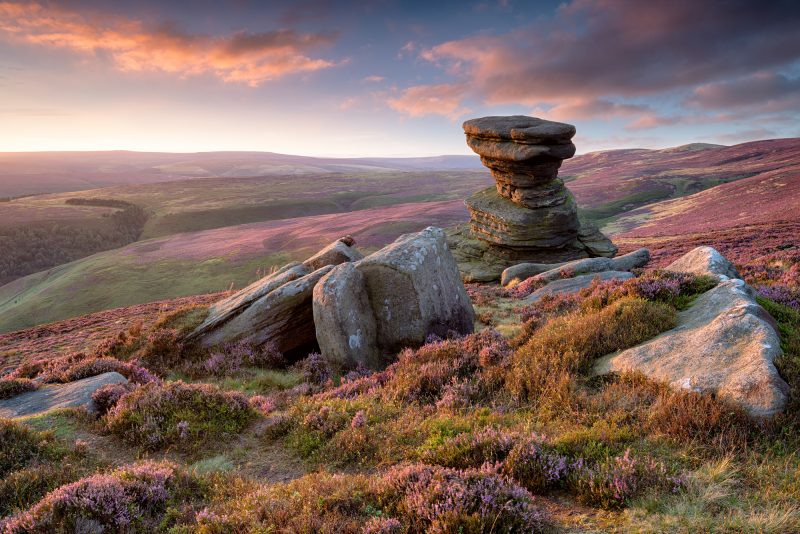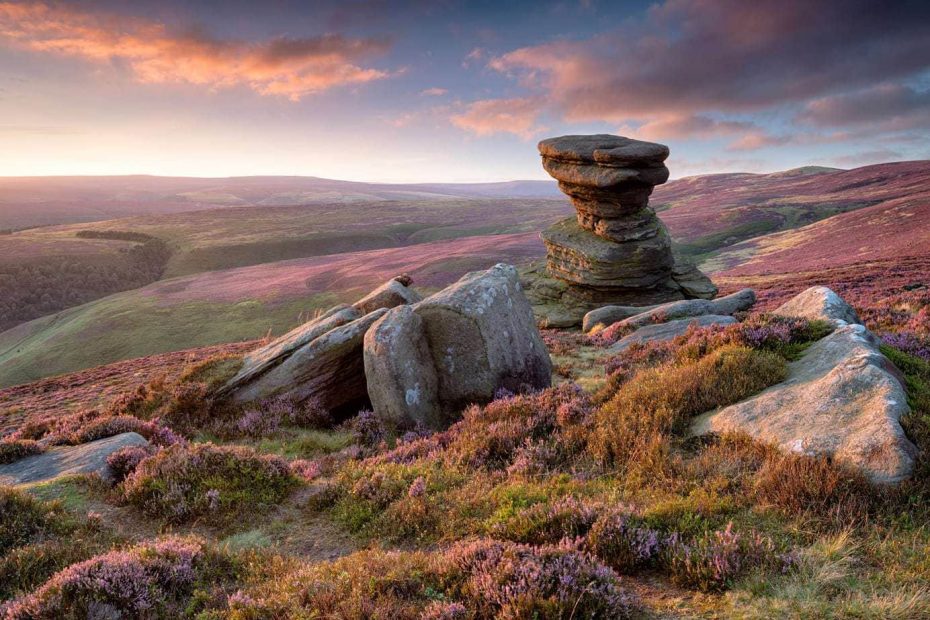 Recommended by: Jenny, Peak District Kids
If you're an outdoorsy couple, maybe your idea of romance is a hike across the open hills with no one in sight bar the two of you. Indeed, the Peak District in England's Midlands has been the backdrop for many an adaptation of Pride and Prejudice.
Spend your days taking in the views at Stanage Edge or Monsal Head. Or you could head to Chatsworth House to picnic like Elizabeth Bennet and Mr Darcy. You may also want to declare your love by adding a lock to Bakewell's Lovelock Bridge.
But the real romantic treat of the Peak District is the dark night skies, creating the perfect conditions for stargazing. Grab a bottle of wine and some blankets, and head to Surprise View, near Hathersage.
Cheddar Gorge, Somerset
Recommended by: Darek, Darek and Gosia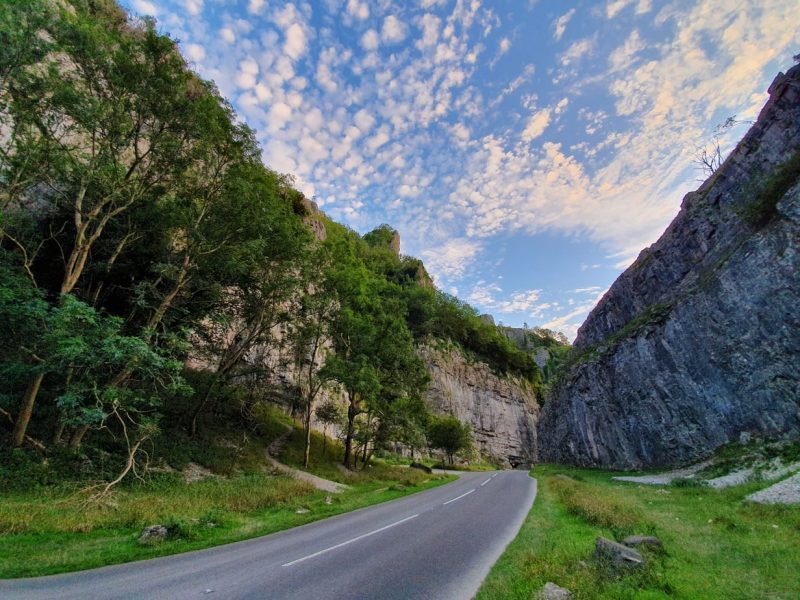 Located in Somerset, Cheddar Gorge is one of the most spectacular natural landmarks in this part of Great Britain. It is also known as a very romantic spot. Couples, who love hiking, can spend time together while walking the loop. A picnic on top of the limestone gorge is also highly recommended.
In the evening, there is nothing better than a romantic night with wine & cheese tasting. The Cheddar Gorge Cheese Co. has an amazing selection of the only real cheddar cheese in town!
If you plan to spend a weekend around Cheddar Gorge, make sure to book your stay at Cheddar Woods Resort & Spa. A relaxing treatment together will add a bit more romance to your trip! Alternatively, glamping in the nearby Somerset countryside could be the perfect addition to your romantic getaway.
Oxford, Oxfordshire
Recommended by: Umang, Travelmax.in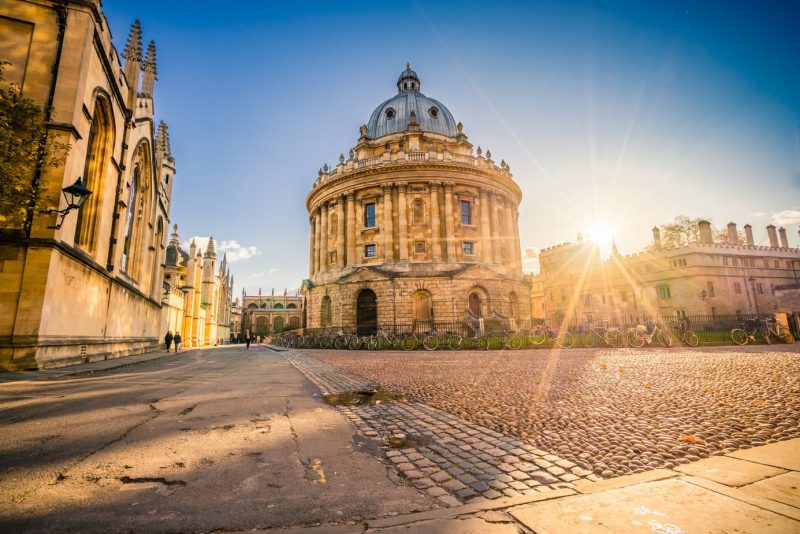 Home to the famous Oxford University, Oxford is a very quaint little town. To explore the town, you can either walk around at leisure, opt for the hop-on hop-off bus (from £16.50pp) or simply cycle around. Oxford University also has a few tours which offer a glimpse of what this Victorian town has to offer.
Oxford town has a lot of lanes. The labyrinth of these cobbled lanes can extend an impressive indulgence in Victorian vibes. While exploring Oxford, you can consider stopping by The Alchemist, well known for its Sushi. Around sunset, the Isis River, another name for the Thames, offers some beautiful views. The entire vibe can turn romantic as the river bathes in soft sunlight and the sky turns orange.
The Cotswolds
Recommended by: Wendy Werneth of The Nomadic Vegan
The Cotswolds area is full of picturesque villages surrounded by natural beauty, so a stay in a private Cotswolds cottage really is the perfect romantic getaway. Take a lovely stroll hand in hand between the villages of Lower Slaughter and Upper Slaughter. (Vegetarian and vegan travellers can relax, the word "slaughter" just means "marsh" or "wetland" in Old English).
If you're not feeling too active, a scenic drive along Broadway Road is a great alternative. You'll pass by some beautiful hillside villages along the way. If you're in the Cotswolds in the summertime, be sure not to miss the purple lavender fields in bloom. The Snowshill Lavender Farm is a great place for a photoshoot.
RELATED POST: Lords of the Manor Hotel Cotswolds Review
Canterbury, Kent
Recommended by: Demi, Around the World with Her
Perched on the River Stour in Kent, Canterbury is a beautiful, historic city. The city is a UNESCO world heritage site, and is well known for its stunning cathedral. The cobbled streets, independent shops, and historic walls with excellent viewpoints all give Canterbury a very romantic feel. There are plenty of boutique hotels in Canterbury, making it perfect for couples.
The city is famous for "punting" on the river. A great afternoon activity, as you can relax in a traditional boat and have someone gently float you down the river. Punting is not only quirky, but sailing through the narrow river past lush gardens and cute bridges is very romantic. Finish any day with a traditional afternoon tea at Tiny Tim's famous Tea Room. If you're lucky, someone will be playing old love songs on the piano that sits in the centre of the cafe!
READ MORE: Best Things to do in Canterbury
Tintagel, Cornwall
Recommended by: Kat, Wandering Bird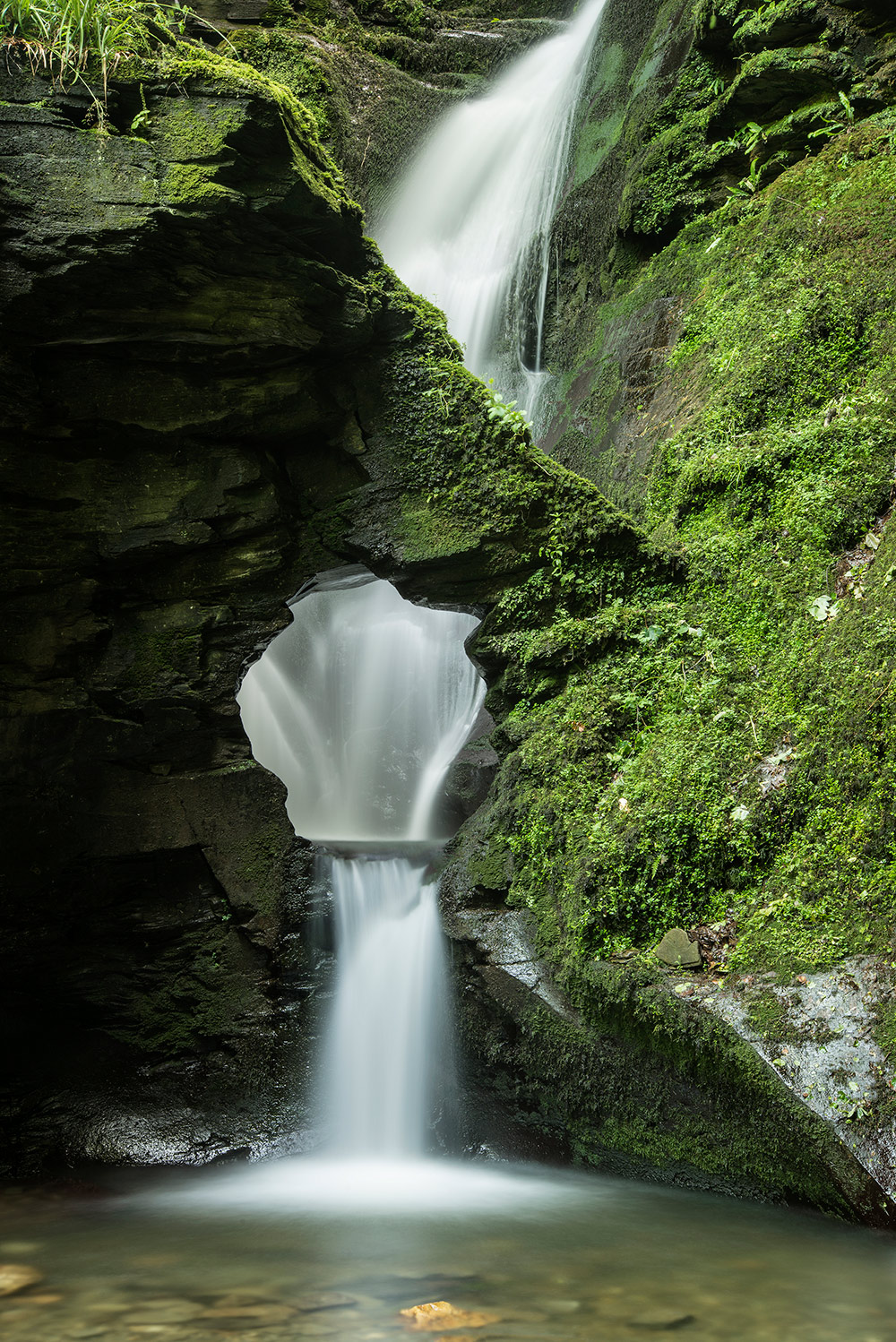 One of the most romantic places in the UK has to be Cornwall. In particular, Tintagel Castle and the secret waterfall nearby.
We've all heard stories of the love between King Arthur and Guinevere and visiting the castle where the legend is based is definitely worth your time. On a sunny day, the views are breathtaking.
However, if you want romance, head down the road and visit St Nectan's Glen. This waterfall trail winds through a beautiful forest, along the banks of a bubbling stream, passing several small waterfalls until you reach the cascade where the water cascades through the rock.
It's the perfect place for a romantic picnic or an afternoon stroll (although if you want the best photos get there early!)
Lindisfarne, Northumberland
Recommended by: Tracy, UK Travel Planning
The Holy Island of Lindisfarne is a tidal island located off the Northumberland coast in the North East of England. It is a wonderful destination, especially in the summer months when the days are long and warm.
Stay a few nights on the island and wander the tiny village exploring the quaint lanes and ancient ruins of Lindisfarne Priory or Lindisfarne Castle. The island is tidal so you can be cut off from the mainland too, which makes it even more special and secluded. Views from Lindisfarne over to Bamburgh Castle are stunning so I recommend a sunset stroll along the beach to enjoy the views.
Knaresborough, Yorkshire
Recommended by: Nell, Adventures with Nell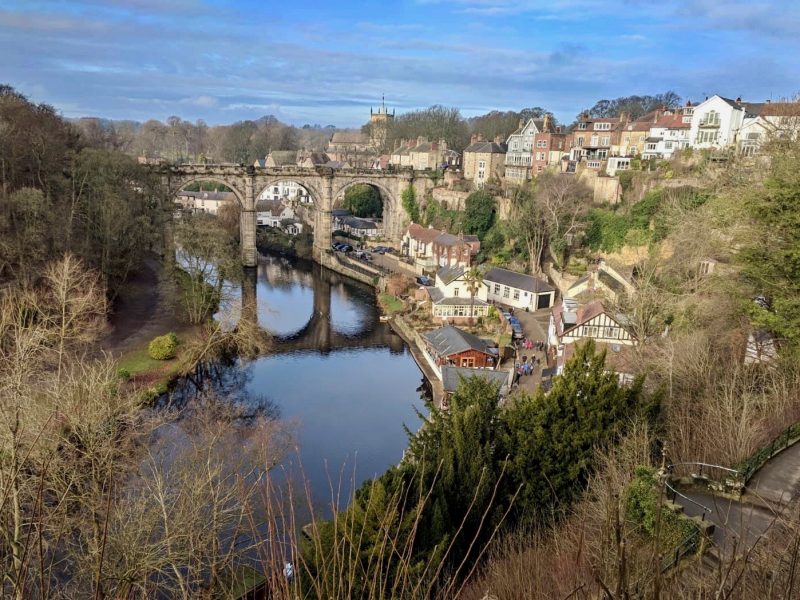 Knaresborough is a quaint market town in North Yorkshire, not far from Harrogate. Its cobbled streets, stone steps, hidden alleyways, tea rooms and tranquil riverside make it perfect for a day out or a weekend away with your loved one.

There are plenty of romantic things to do in Knaresborough, from strolling through the Bebra gardens to admiring the views from Knaresborough castle, exploring Mother Shipton's Cave or simply enjoying the riverside with an ice cream in hand. But the ultimate romantic activity is to hire a rowing boat. Take turns to row each other along the river, passing under the iconic Victorian viaduct.
Mersea Island, Essex
Recommended by: Sarah, A Social Nomad
Mersea Island is an estuary Island in Essex accessible by an ancient Roman causeway, which is also covered by the tide several times a month. Here you'll find glorious romantic hideaway cottages and fabulously colourful (and fully equipped) beach huts to hire by the day.
Mersea Island is home to some seriously good foodie options. It is home to the world-famous Colchester Native Oyster, so visiting either the Company Shed or West Mersea Oyster Bar is one of the best things to do on Mersea Island. Both provide amazingly good oysters and seafood right on the beach. As well as Oysters, Mersea Island has a vineyard, which is the perfect place for wine tasting in a picturesque courtyard.
Rivington, Lancashire
Recommended by: Jenni, Choose Veganism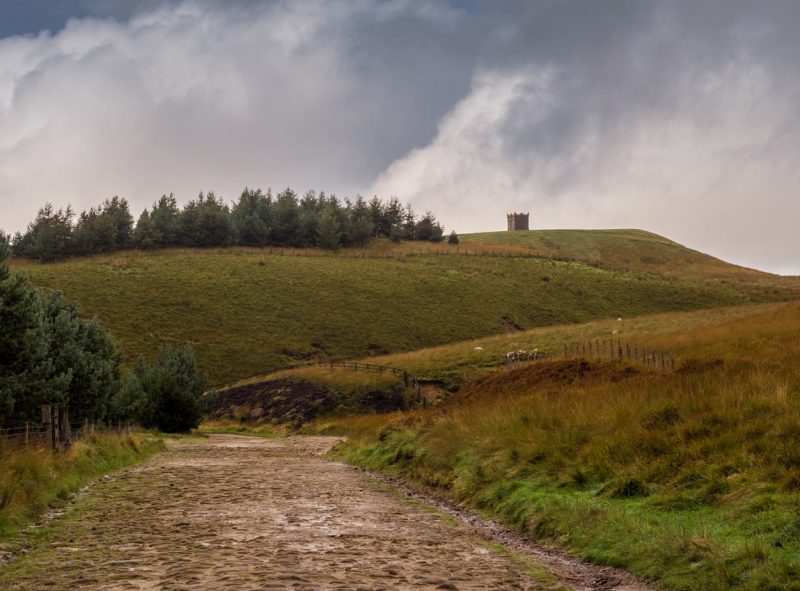 Rivington in Lancashire is like a miniature version of the Lake District and the perfect place to go for a romantic walk in the North West of England. As well as lots of natural beauty, the area has fascinating man-made features which date back over a hundred years, including the Japanese Garden, Italian Lake, and terraced gardens.
At the top of the hill, 1191 feet above sea level is Rivington Pike, an ancient beacon which was built in 1733. Here you can enjoy a romantic picnic accompanied by spectacular views. On a clear day, you can see the sea, 25 miles into the distance. It's not uncommon to spot deer, rabbits and other wild animals in the area and there are some lovely little tea rooms where you can sit outside and enjoy the countryside.
Shrewsbury, Shropshire
Recommended by: Ania from The Travelling Twins
There are a hundred reasons to call Shrewsbury one of the most romantic places in the UK. From evening riverside walks, to wandering amid mediaeval timber buildings, jettied out over steep stone pavements. Shrewsbury has quaint little alleys and colourful streets lined with classy independent shops, as well as numerous cafes and restaurants.
For us, the romance of the place is embodied by the Market Square. Standing literally over the central square on an arcade of stone columns, the Old Market Hall is home to an arts cinema with a stylish cafe bar. It's a great place to wind up the day with a snack and a drink before or after a movie. Check in advance though, as the theatre is small and it is often booked solid.
York, Yorkshire
Recommended by: Dave Chant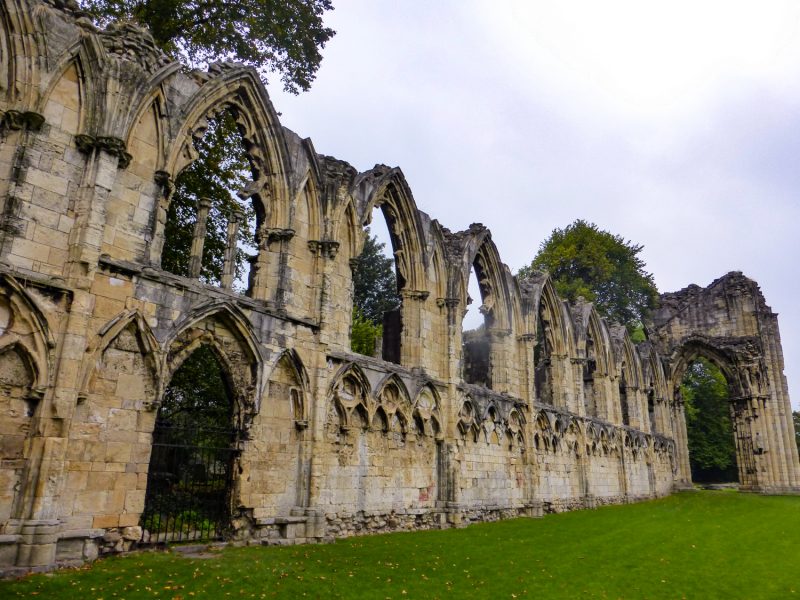 York is a beautiful cathedral city located in North Yorkshire. There are numerous charming B&Bs, or posh spa and luxury hotels. The medieval centre is home to the delightful Shambles lane oozing with cafes, making a nice stop for afternoon tea. You can watch the sunset from the City Walls and walk a full loop of the centre.

Other attractions include York Minster, the cathedral with its Heart of Yorkshire window where people believe a kiss seals a lifetime together. There are picnic spots in Rowntree or Dean's Park where you can lie in each other's arms. A trip to York Castle Museum is also a good stop, or you can visit York Dungeons if you like jumping terrified into the arms of your lover!
RECOMMENDED TOUR: River Ouse City Cruise
Cambridge, Cambridgeshire
Recommended by: Anisa, Two Travelling Texans
When you think of Cambridge, you probably think of the University and its students. But it can be a romantic place too. Cambridge has an interesting combination of gorgeous architecture (i.e. King's College Chapel) and green spaces. It also has some world-class museums.
The area called The Backs is especially scenic and romantic. You can go for a walk hand in hand or go punting on the Cam. Punting uses a boat similar to a gondola, where you stand on the back to paddle, but you use a pole instead of an oar. If you're not brave enough to try it on your own, you can hire someone else to do the punting or go on a punting tour. When you're done, you can go for an afternoon tea in Cambridge to round off the perfect romantic day out!
RECOMMENDED TOUR: Guide Punting Tour on the Cam
Yorkshire Dales
Recommended by: Daniel, Urban Abroad
When looking for the most romantic places to visit in the UK you can't ignore a visit to Yorkshire! What more could you ask for than a picture-perfect countryside retreat snugged away in the Yorkshire Dales National Park?
Whether you are looking for a quiet picnic spot to woo your other half, or just fancy a hand-in-hand stroll whilst you and your loved one contemplate some of the UK's finest viewpoints.
This makes an excellent choice – and as one of the more refined destinations in the north of England you can expect to breathe in some of the cleanest air as the conservation, biodiversity, and heritage of this park is second to none.
RECOMMENDED TOUR: Yorkshire Dales Day Tour from York
Brighton, East Sussex
Recommended by: Mansoureh, Travel with Mansoureh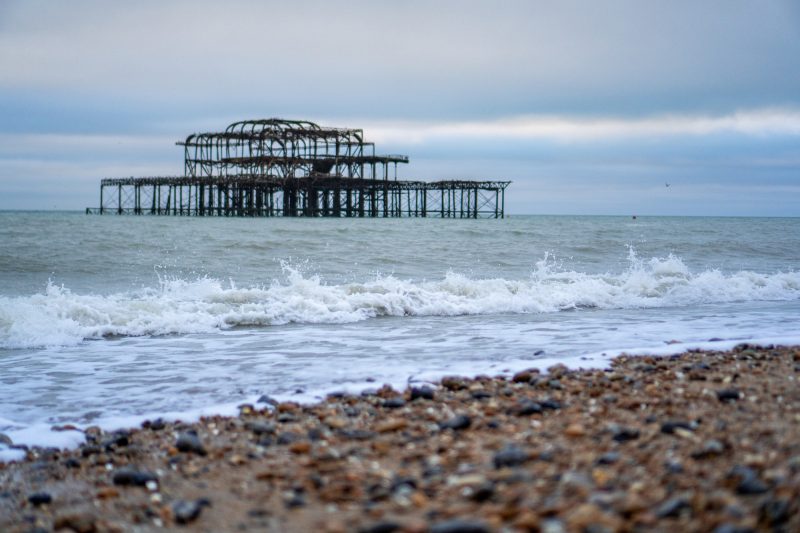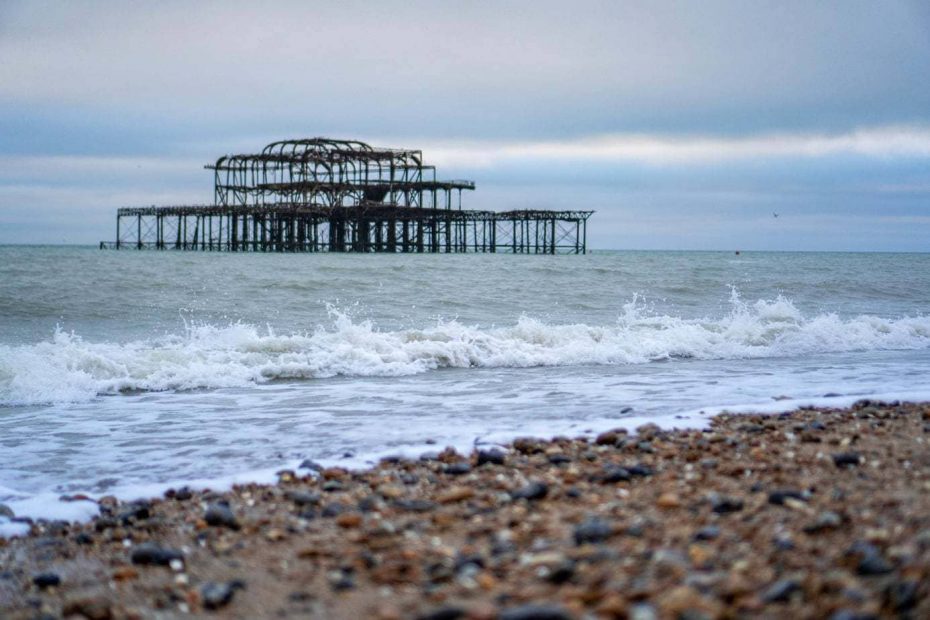 The charming seaside city of Brighton on the southern coast of England is a great spot for a romantic break. The city is less than an hour train ride from London so it's very convenient for a weekend gateway.
Going to the beaches is one of the best ways to enjoy a sunny day in Brighton. But if you want to have an astonishing panoramic view of the English Channel and the city, you can hop on the British Airways i360 observation tower. From the top, you'll be able to see the white cliffs of Beachy Head on a clear day.
Strolling around the city centre and eating in one of the seaside restaurants are must to do when you are in Brighton. This is also known as one of the best cities in the UK for nightlife, so if you fancy a party, you're in luck!
Windsor, Berkshire
Recommended by: Marco from Travel-Boo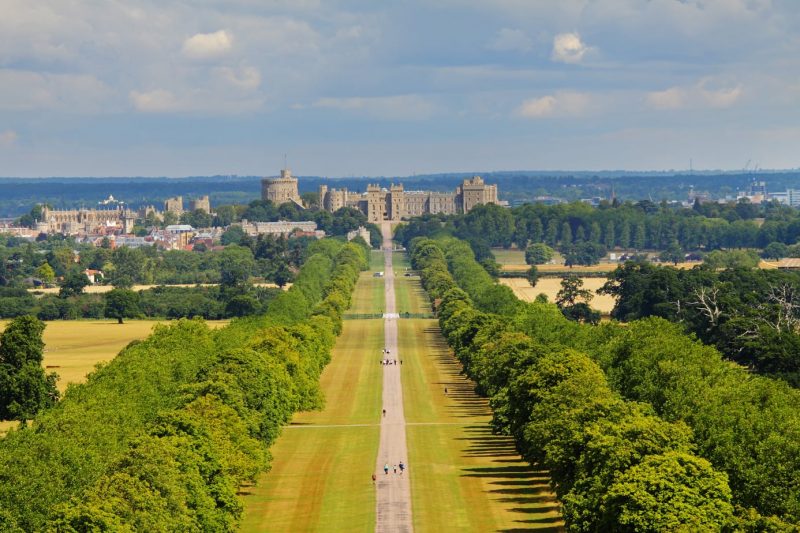 Windsor, only an hour by train from London's Waterloo station, has certainly been in the spotlight in recent years, thanks to the numerous royal weddings of late. Whilst it is known to be the Queen's preferred residence away from London, Windsor has so much more going for than just its royal connection.
Quintessentially English and exuding loads of charm, Windsor is undoubtedly one of the most romantic places in the UK. Visit Windsor Castle, or explore the quaint town centre. Make sure to pass by The Crooked House of Windsor, an oddly leaning building dating back to 1687.
You may also want to head down to the river to enjoy a romantic boat ride along the Thames, taking in the gorgeous lush-green scenery, as the swans swim by. To round off a romantic visit to Windsor, book an overnight stay at the luxurious Castle Hotel Windsor, set in the heart of lovely Windsor.
Staithes and the North Yorkshire Coast
Recommended by: Ella, Many More Maps
The entirety of the North Yorkshire coast is one of the most romantic places in the UK. Expect wild, wind-swept cliffs, secluded coves and remote fishing villages.
Basing yourself in Staithes, North Yorkshire, start by taking a secluded coastal walk. The Staithes to Runswick Bay route is enchanting, and trails along clifftops and sandy beaches. Spend the evening warming up in front of a cosy, open fire in an atmospheric pub. As Staithes is a fishing village, you'll be able to dine together on some of the most delicious seafood in the UK.
To extend your trip, take a short drive to one of the other popular areas of the North Yorkshire coast such as Whitby or Robin Hoods Bay, or hit the cliffs to spot Yorkshire puffins and other wildlife.
Penwith Peninsula, Cornwall
Recommended by: Simona, Travel OFF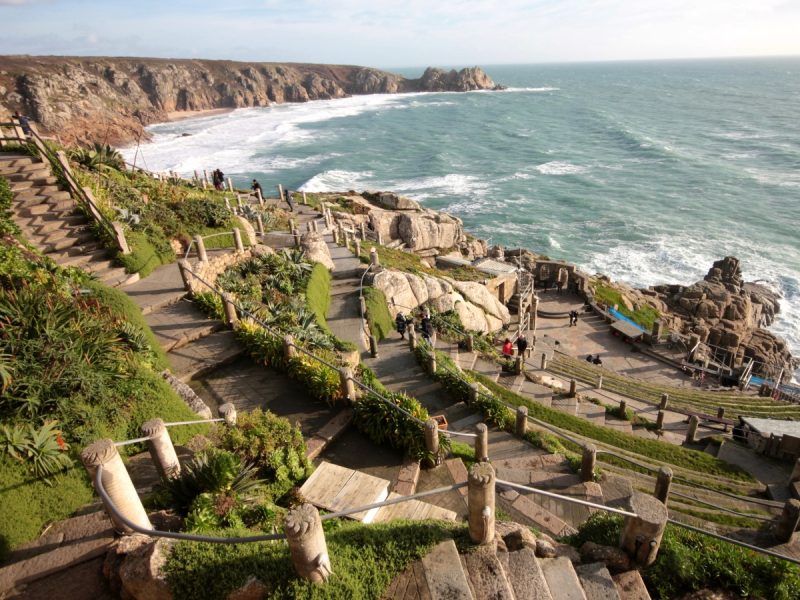 The Penwith Peninsula is an area of Cornwall stretching from St. Ives to Land's End, the most westerly point of the British mainland.
Its rugged coastline, characterized by granite cliffs overlooking the Atlantic ocean, and quaint fishing villages preserving the atmosphere of past times, make this area one of the most romantic places we have visited in the UK.
A must-see is the charming Minack Theatre, perched on a cliff in Porthcurno. This theatre was built in the 1930s by Rowena Cade, a passionate woman in love with art, and still operates today, hosting plays during the summertime in one of the most incredible and romantic settings we have ever seen.
Norfolk Broads, Norfolk
Recommended by: Mandi, East Anglia Family Fun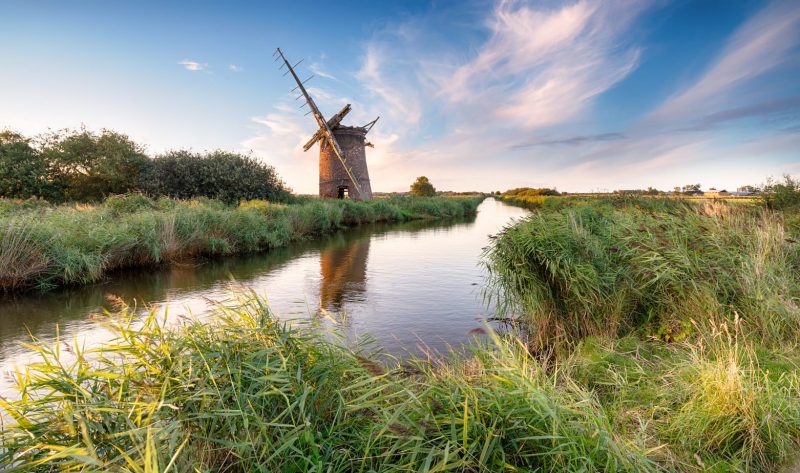 There is nothing more romantic than taking a stroll along the Norfolk Broads, watching the sunset across the calm still water, listening to the various wildlife, or catching a glimpse of a Barn owl or Heron flying just above your head.
The Norfolk Broad houses some of the most quaint villages in the UK, surrounded by fields and farms. So if you're looking for peace and tranquillity to share a romantic weekend then this is the place for you.
Fancy exploring the area, then why not hire a dayboat and go cruising along the Broads, stopping at the various pubs and restaurants along the way.
Haworth, Yorkshire
Recommended by: Helen on Her Holidays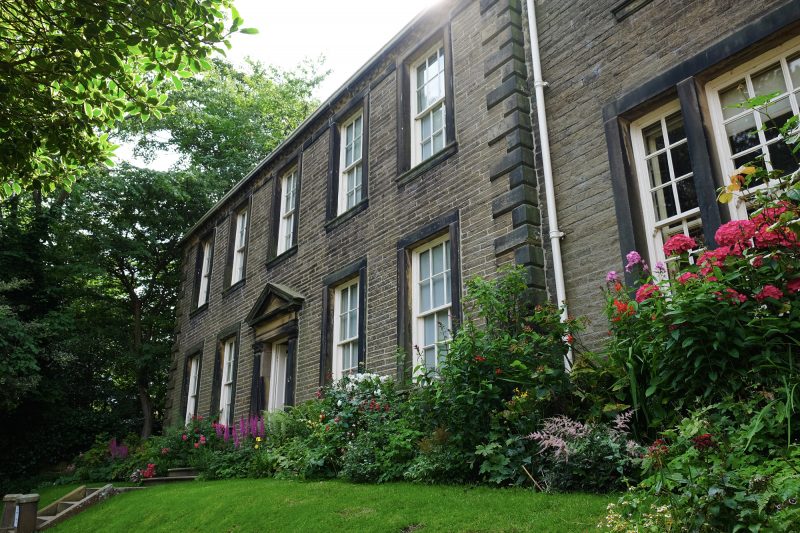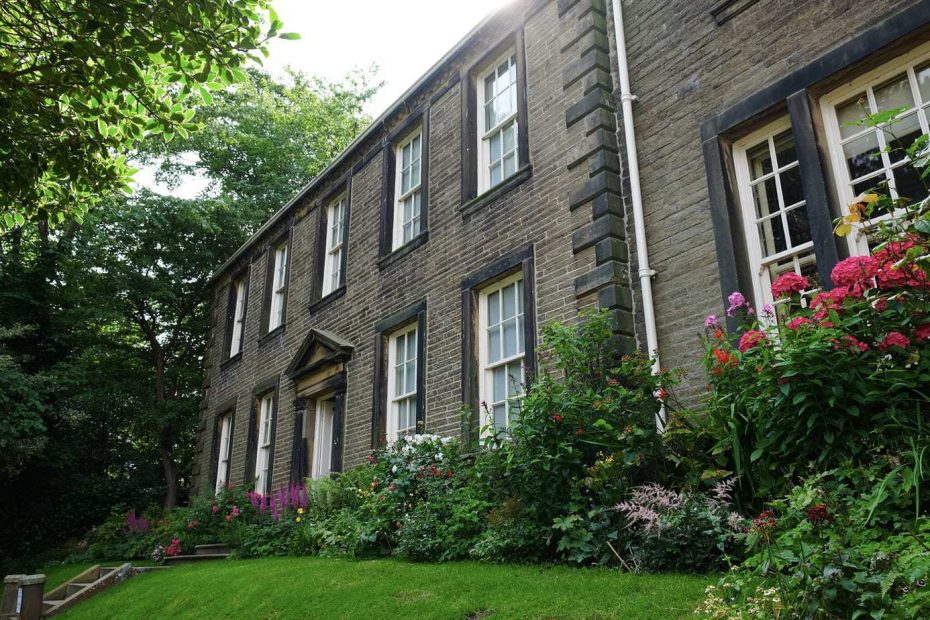 Haworth in West Yorkshire is a pretty mill town. Independent shops line the steep main street, a steam railway runs through the valley, and it's set in a stunning landscape. But what makes Haworth particularly romantic is its three former residents – Charlotte, Emily and Anne Brontë.
Haworth was home to the Brontë sisters from 1820 until their tragically early deaths. Their intensely passionate novels including Jane Eyre and Wuthering Heights were all written in Haworth, in the dining room of the Brontë family home (now the Brontë Parsonage Museum).
Visitors can see the places that inspired the sisters' romantic tales; windswept moorland walks, pretty waterfalls and ruined farmhouses are all easily accessible from one of Haworth's cosy B&Bs.
London
Recommended by: Sophie, We Dream of Travel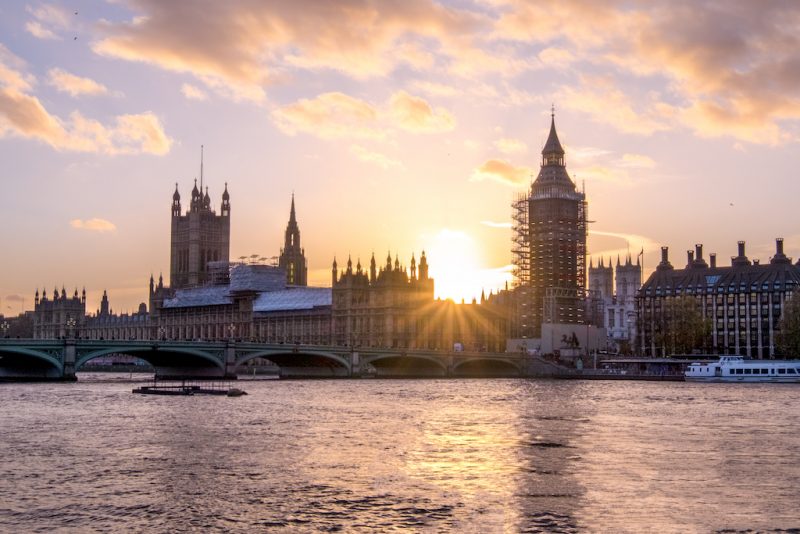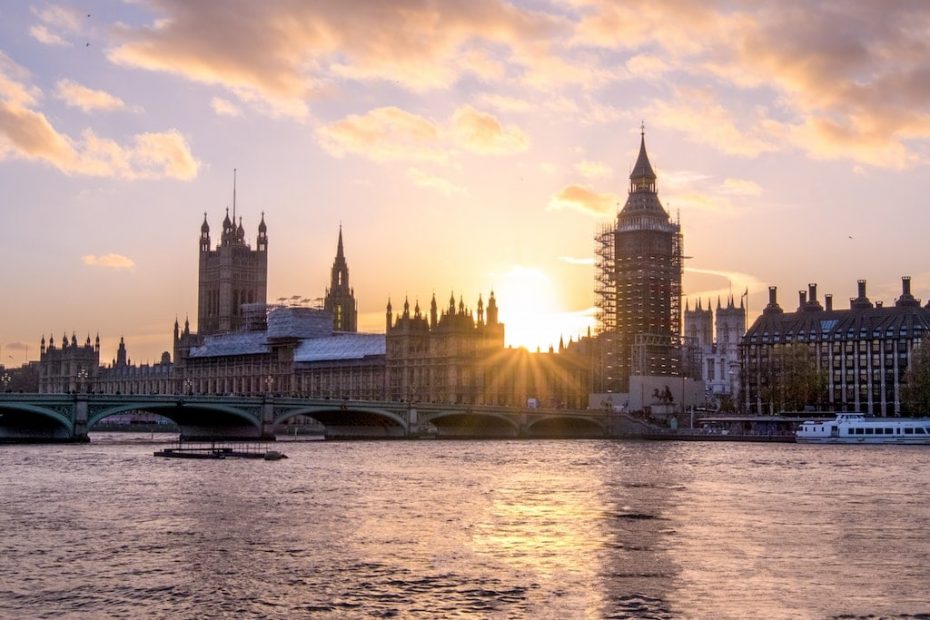 The capital city is truly one of the most romantic places in the UK. Often overlooked as a romantic destination, London has everything you could possibly want for an intimate date! Think picnics in one of the five royal parks. Or evening riverside strolls and hand-in-hand walks through some of London's most famous streets as the city lights twinkle.
Looking for a quirkier date? Try junkyard golf, a themed dinner, afternoon tea on a double-decker bus, or even spend the night in a museum.
Prefer upscale? There are plenty of excellent fine dining options, and you can even combine these with a more alternative experience in London. Try Dans le Noir for dinner in complete darkness. A great way to get to know someone in a different way!
8 Romantic Places in Scotland UK
Edinburgh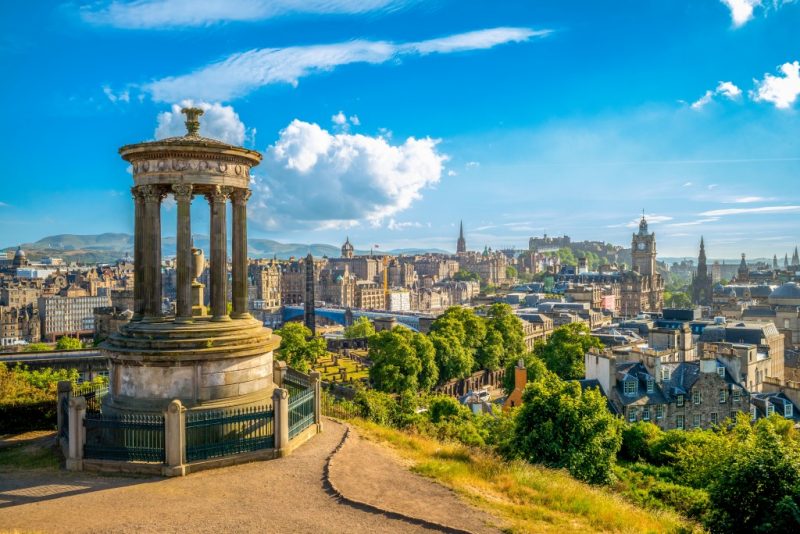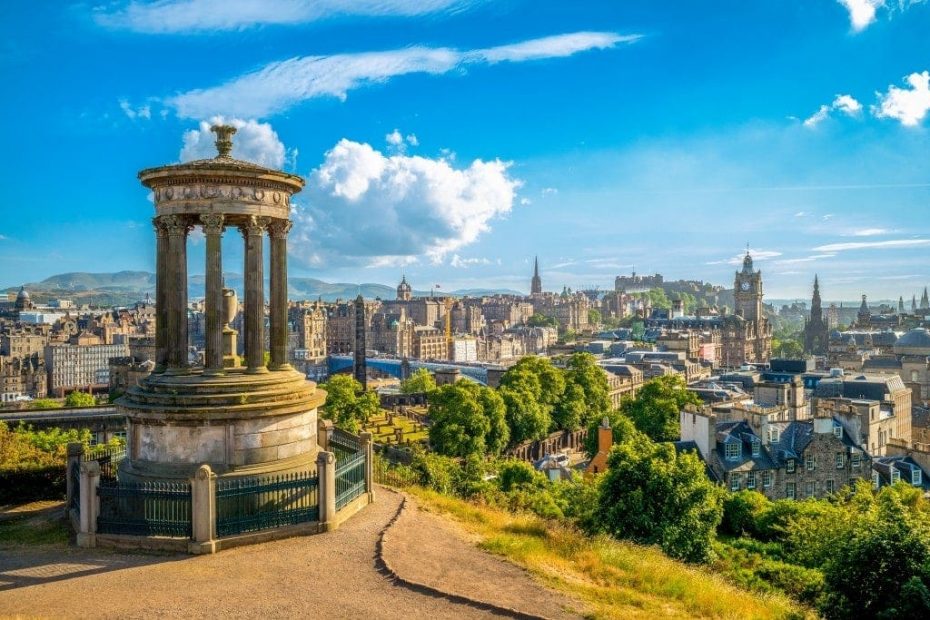 Many of Britain's most romantic destinations have strong literary connections, and beautiful Edinburgh is no exception. The inspiration behind many well-known works of literature – including, most recently, Harry Potter – this truly gorgeous city is easily one of the most romantic places in the UK.
Culture, history, art, music and more mean there's plenty to keep a couple busy here. Don't miss this list of quirky suggestions for more unusual things to do in Edinburgh.
Loch Lomond
Recommended by: Stephen Schreck of A Backpackers Tale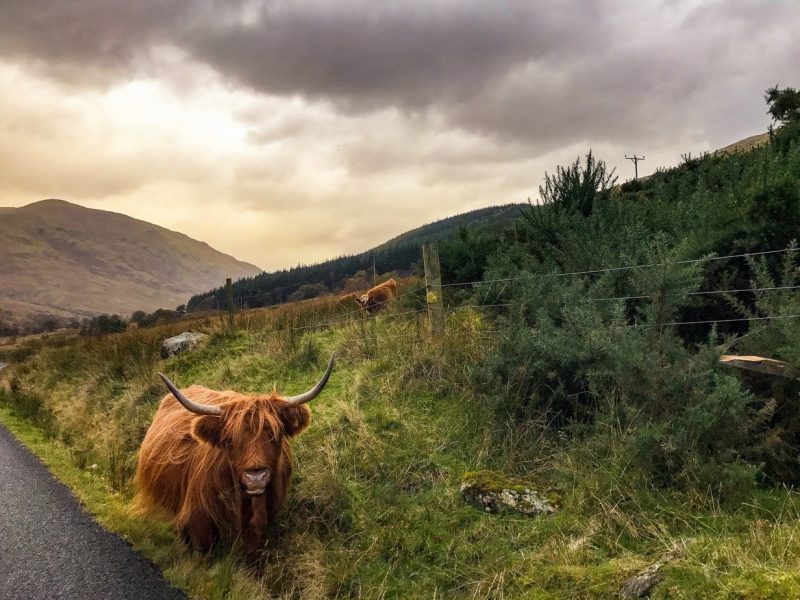 Loch Lomond combines untouched nature with a charming romantic setting. Surrounded by windswept hills, and the verdant forest of the Trossachs National Park. This nature-rich area acts as a lush boundary between the Scottish lowlands, and highlands. Dotted around the Loch are pint-size townships, like the village of Luss, which are perfect for a quaint stay at bed-and-breakfast.
Loch Lomond has numerous outdoor activities including hiking, horseback riding, boat tours across the lake, canoeing, and even a couple of beaches. So travellers seeking a romantic getaway in the UK should – without question – add Loch Lomond to your Scotland Itinerary.
RECOMMENDED TOUR: Loch Lomand Scottish Highlands Sightseeing Tour
Isles of Lewis & Harris
Recommended by: Sonja from Scotland For Families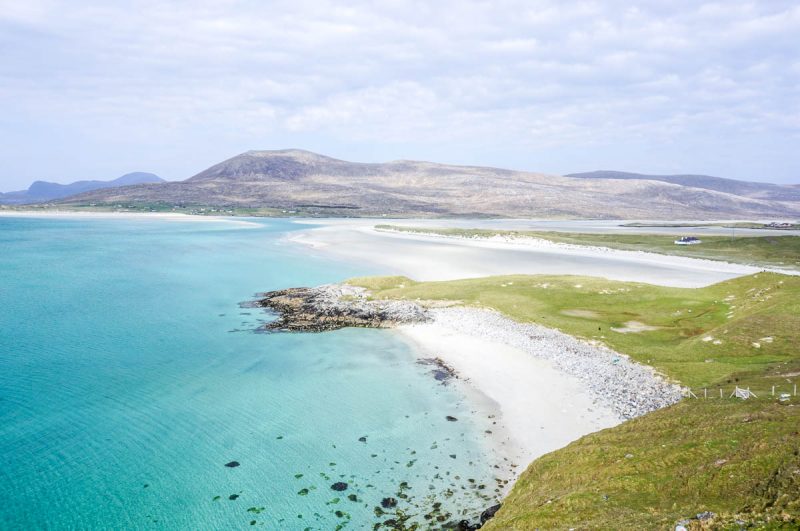 The Isles of Harris & Lewis are located in the remote Western Isles, off the coast of Scotland. The location adds to the romance of the islands, as it's likely you'll have many areas to yourself – or at least share them with fewer other tourists than the more popular Scottish destinations.
You can step back in time at the towering standing stone circle at Callanish and the Blackhouse Village in Lewis, before taking a wander along beautiful beaches in Harris that would have you thinking you were in the Caribbean – if it weren't for the chillier weather! These islands are a fantastic place to just get away from it all and spend time together exploring a beautiful location.
Scotland's Castle Trail
Recommended by: Kathi from Watch Me See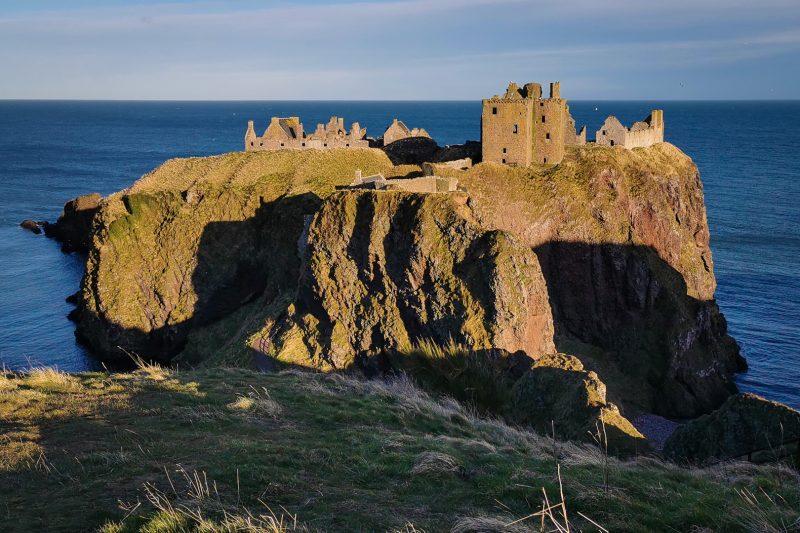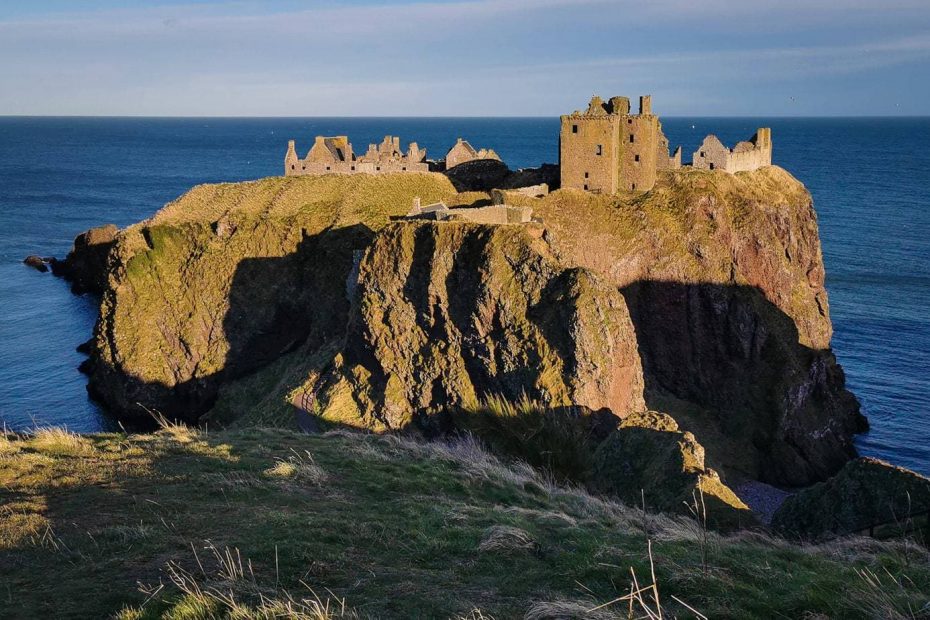 Few places are as romantic and beautiful as Scotland's Castle Trail in Aberdeenshire. From pink turrets to impressive fortresses, the castles on the trail are among the most famous in Scotland. The trail connects 19 fairytale castles, ruins and stately homes, and is steeped in Scottish history. Stories of kings and queens, alliances and vendettas – as well as more than one romantic tale – are waiting.
The absolute highlight for couples is a trip to Dunnottar Castle in Stonehaven, a stunning ruined castle that sits atop a dramatic cliff. Many even chose to renew their vows here, but watching the castle light up in the golden light of sunset is just as romantic!
Glasgow
Recommended by: Gemma, Two Scots Abroad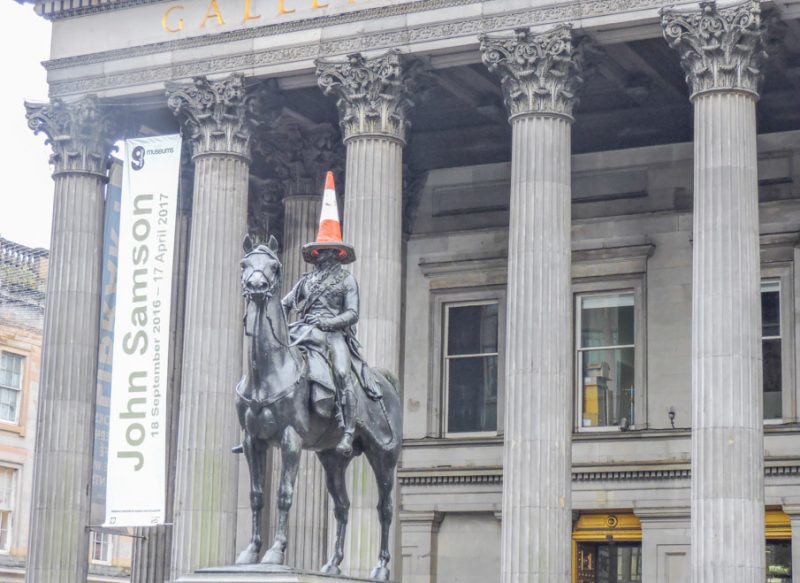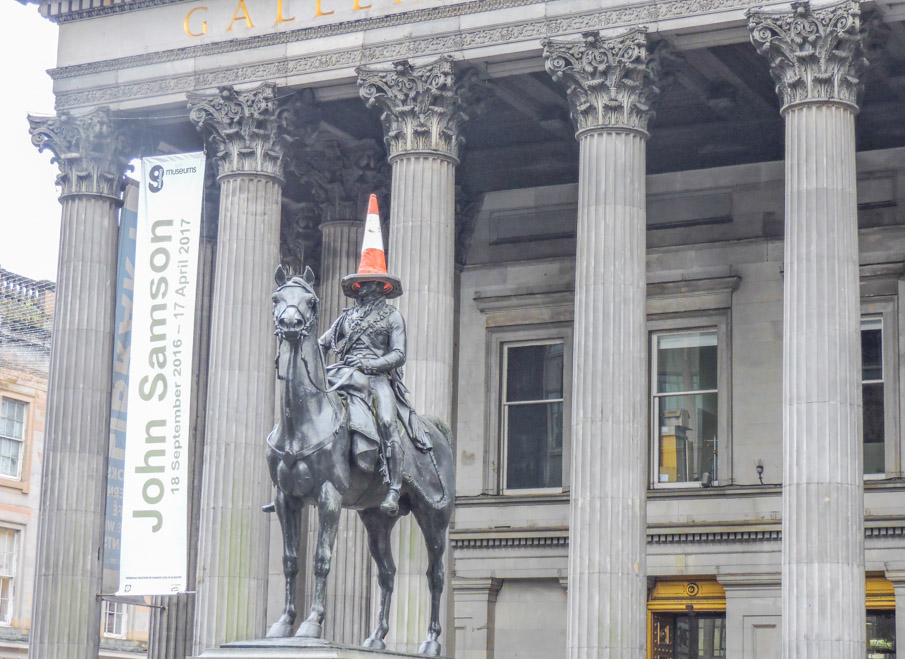 Here's how to fill a Glasgow itinerary for a couples getaway:
Brunch in the Merchant City: The Wilson Street Pantry is a stylish cafe with a variety of egg plates. Hit the shops to buy an outfit for the big night out or book an afternoon at Blythswood Square spa.
Glasgow's food scene is strong so depending on what type of meal you're after, you'll find it in the city centre of West End. Follow up with a distillery tour and whisky tasting (from £15pp).
There are a couple of options for drinks and partying. Bar hop across the cute cobbled street of Ashton Lane, enjoy a drink and a movie at Everyman Cinema or join in a ceilidh at Sloans (Friday). Prefer live bands? Glasgow is a UNESCO city of music, check out the intimate King Tuts or vintage Barrowlands.
Fort William
Recommended by: Nicole from Nicole LaBarge Travel Blog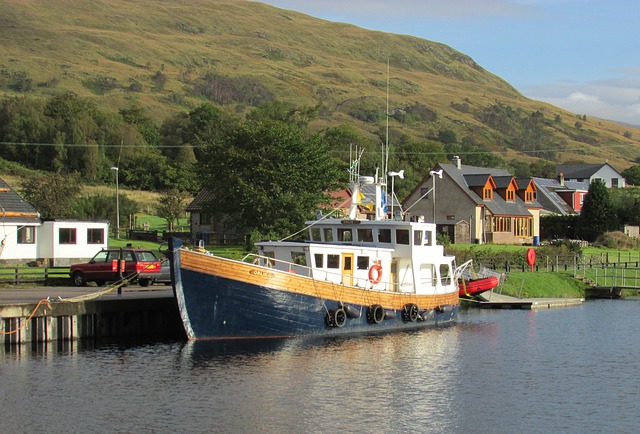 Fort William is a quiet place to stay in the Scottish Highlands and the perfect addition to any Scotland Itinerary. Located on Loch Eli, Fort William is the jumping-off point for climbing Ben Nevis, visiting Glen Coe and the Lochaber Geopark.
The landscape around Fort William is breathtaking. The Jacobite Steam Train also runs to Fort William if you want to ride the train that is described as one of the great railway journeys of the world.
I stayed at Glencoe House, a five-star hotel in a beautiful mansion in Fort Williams. This hotel was beautifully done, charming and cosy. You are sure to have a wonderful weekend getaway in Fort William.
READ MORE: Check out my review of the gorgeous Black Sheep Hotels, the perfect spot for a romantic getaway in the Highlands!
Fort Augustus and Loch Ness
Recommended by: Skye Class from SkyeTravels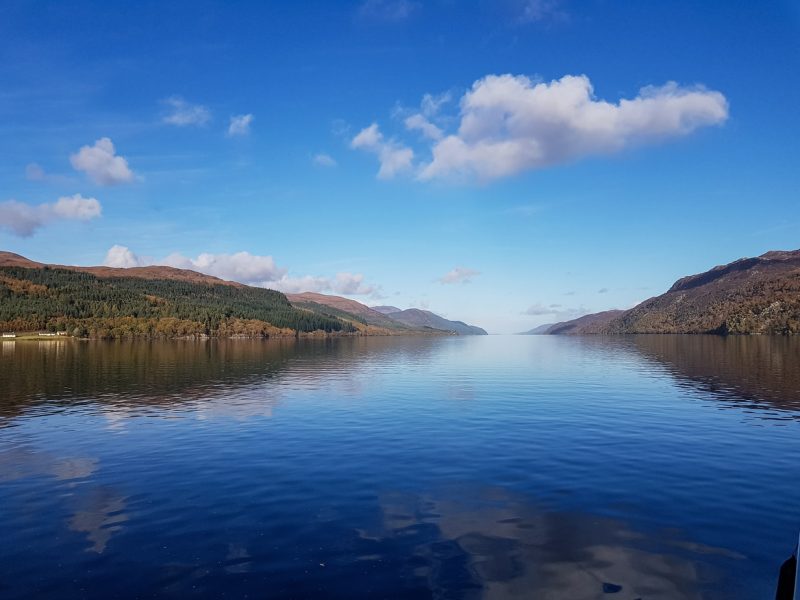 There are few places in Scotland more iconic and romantic than Loch Ness. This lake is the largest body of water in the UK, and there are plenty of attractions around its shores, not to mention the fabled Loch Ness Monster deep in its depths. Along the western side is Urquhart Castle from the 13th century.
At the southern end of the lake lies the quintessentially Scottish town of Fort Augustus. You'll find some romantic B&Bs there, each serving a homemade Scottish breakfast in the morning. But better yet, Fort Augustus is where you can take a cruise on Loch Ness (from £18pp). Book one around sunset/evening for what is perhaps one of the most romantic activities in Scotland.
The Isle of Skye, Scotland
Recommended by: Daniela, Grumpy Camel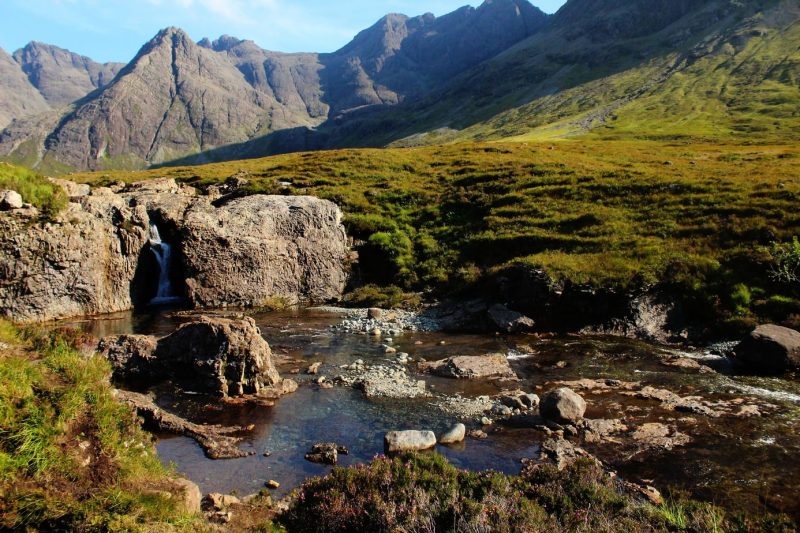 Known for its dramatic landscapes and ancient Celtic myths, the Isle of Skye is one of the most romantic places in Scotland. This Scottish island is an ideal destination for couples who enjoy road trips and hiking.
There are many things that make the Isle of Skye a romantic place: atmospheric lochs and mountains, castles that are steeped in legend, and quaint, colourful towns, like Portree.
Some must-visit spots on the island include the Fairy Glen, the Fairy Pools and the Old Man of Storr. You could also visit a whisky distillery or go on a boat trip along the coast, where you may spot some seals, otters, puffins and perhaps a couple of whales, too!
Romantic Spots in Northern Ireland
Belfast
Recommended by: Allan, It's Sometimes Sunny in Bangor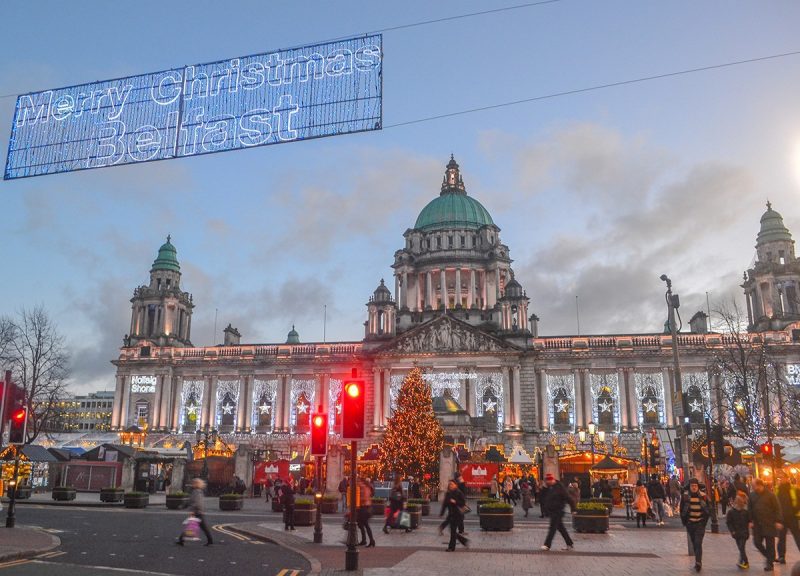 The sleepy wee capital of Northern Ireland was at one time a city to avoid. But in post-Troubles times, this reputation now works to its advantage, because it is overlooked by the mass tourist trails. And while it doesn't quite share the same romantic cliché of Europe, it instead has this loveable rapscallion charm in Belfast City Centre. It's an Irish thing.
The city is quieter and more serene than most, with river walks along the Laganside, the Titanic Quarter, and the cobbled streets of the old Cathedral Quarter. But the comforts and romance are more found indoors, with local Irish pubs, drinks in cosy 'snugs' (private pub compartments), live traditional music, and an authentic and undisturbed local scene.
RECOMMENDED TOUR: Political Taxi Tour of Belfast
Causeway Coastal Route
Recommended by: Sarah, Live Dream Discover
Cruising the Causeway Coastal Route in Northern Ireland has all the components for a romantic UK getaway. Imagine, driving along with the rugged Irish coastline on one side and iconic fields of green on the other. But the drive is just part of the experience. Taking a walk on the beach with the sound of crashing surf and your hair tossed by the sea breeze is a must.
You'll also be drawn to wander the cliffside ruins of Dunluce Castle, admire the stunning views at Carrick-a-Rede, and walk the mysterious Giant's Causeway. No doubt you'll be tired and hungry at the end of the day but luckily there are plenty of romantic B&B's and cosy cottages to rest up for the next day's adventures.
Don't want to drive? There are plenty of fab day tours, like this Giant's Causeway and Game of Thrones Tour (from £22.50pp)
4 Romantic Locations in Wales
Portmeirion, Gwynedd
Recommended by: Charlotte, The Millenial Runaway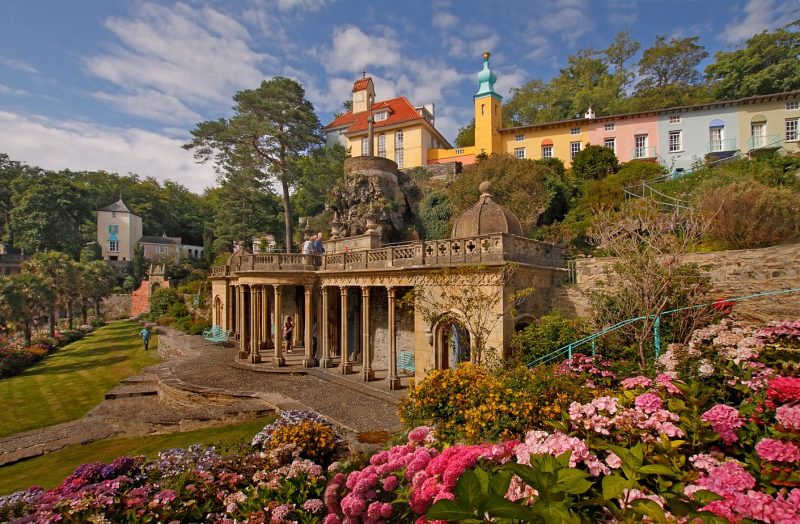 Portmeirion Village is one of those places you just can't believe is in the UK. This magical Welsh village is so exclusive it requires a day ticket to access its village, gardens, beaches and estuary. Those willing to fork out the £12pp will be rewarded with an enchanting Italianate-style village with its own private peninsula on the southern shores of Snowdonia.
So whether it's a romantic stroll through the 70-acre sub-tropical forest, reliving Titanic moments on the famous Stone Boat of Portmeirion, or simple a candlelit dinner over Italian favourites, Portmeirion Village is the perfect romantic getaway for a true feeling of elopement.
Llanddwyn Island, Anglesey
Recommended by: Dylan, Shoot From the Trip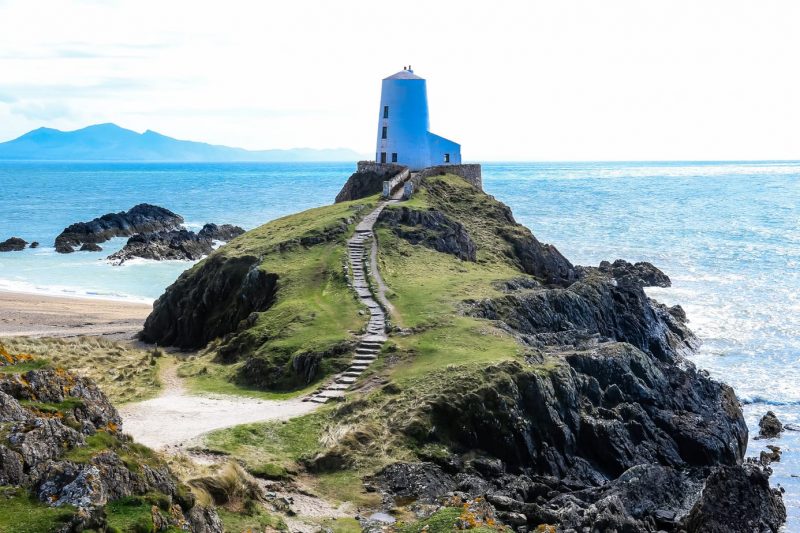 What could be a more romantic destination in North Wales than the origins of St. Dwynwen – Wales' patron saint of lovers? Llanddwyn Island, located to the southwest of the Isle of Anglesey is the perfect place for a romantic coastal stroll.
Accessed from the beautiful expanse of Newborough Beach, Llanddwyn Island is accessible at all times apart from high tide. There's a network of walking paths along the Island where you can take in views of the ruins of the 16th-century St. Dwynwen's church and two iconic lighthouses at the tip of the headland. Take a seat and soak in the views from this magical spot.
Gower Peninsula, Glamorgan
Recommended by: Ben Holbrook from Driftwood Journals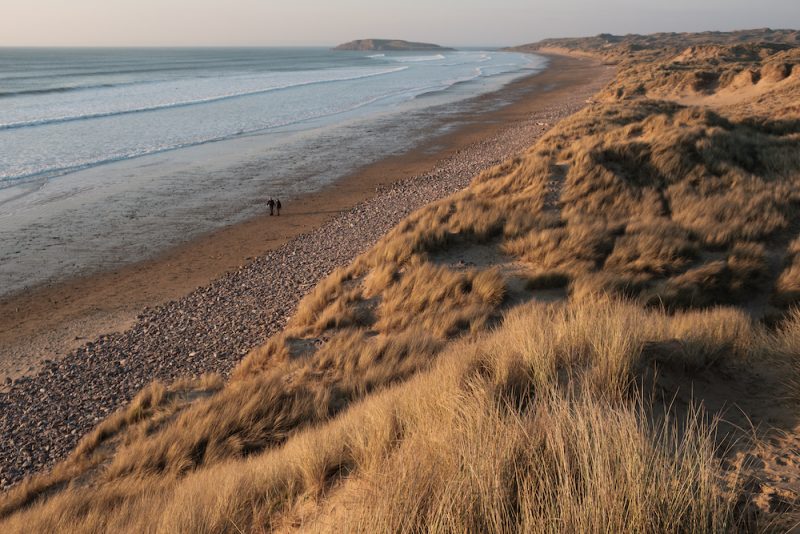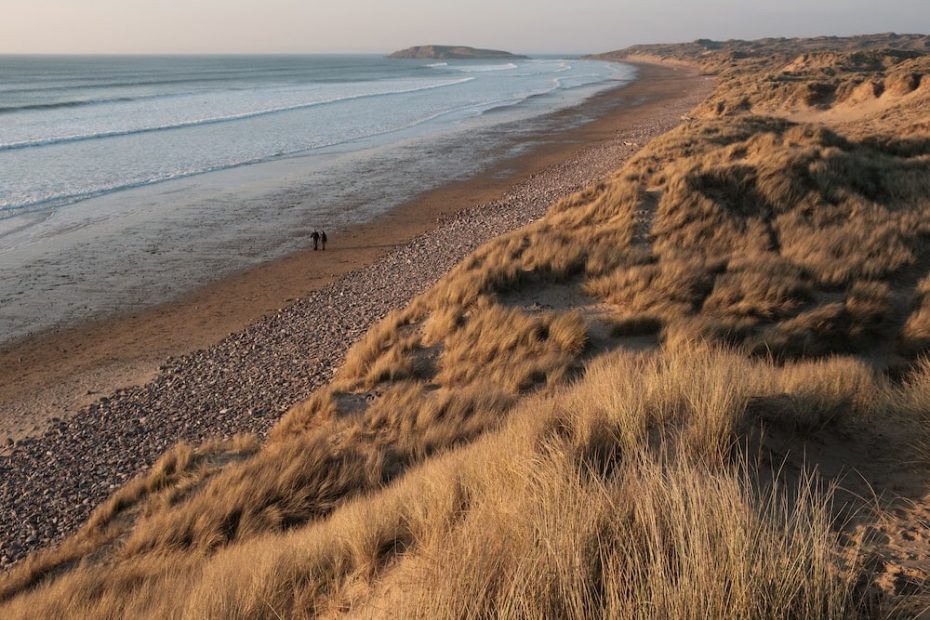 Nestled away on South Wales' unspoilt south coast, the Gower peninsula was named as the UK's first-ever official Area of Outstanding Natural Beauty. Celebrated for its blissful beaches and cosy country pubs, it is a ruggedly romantic destination for couples in search of some quality time in the great outdoors.
Stroll with wild ponies along the cliffs of Rhossili Beach to Worm's Head, spotting seals and dolphins dancing in the waves below. Head to Llangennith for a surf lesson in some of the UK's best waves, followed by a few pints of Gower Brewery ales at the King's Head.
And when you're feeling peckish, explore the cafes, ice-cream parlours and pubs in the historic seaside town of Mumbles, or simply stretch out in your rural rental with Welsh cakes, wine and a good book. As the old saying goes, Wales never fails!
Lake Vyrnwy, Powys
Recommended by: Pauline, Bee Loved City. Read more in her post on the best things to do in Welshpool.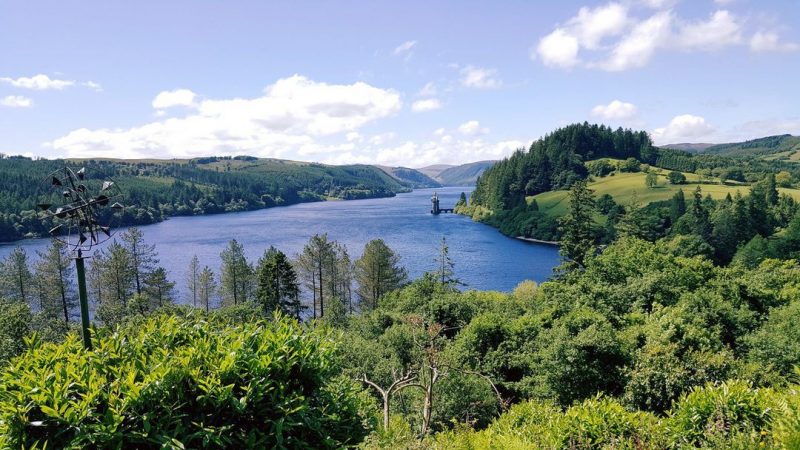 Located on the edge of Snowdonia National Park, Lake Vyrnwy is one of the most beautiful reservoirs in the UK. This secluded and hidden lake is the perfect place for a romantic getaway! You can go on a walk around the lake or to the various waterfalls. It's also ideal if you like cycling or horse riding.
To enjoy the beauty of the lake, head to the pub at Lake Vyrnwy Hotel & Spa. Perfectly located at the top of a hill, it offers some of the most beautiful views over Lake Vyrnwy. You can get a glass of wine and eat on the terrace of the pub. It's also important to mention that the food is both delicious and affordable. If you fancy going to the spa, they also offer several romantic spa packages.
Is there anywhere you'd add to this list of romantic places in the UK? Scroll down to leave a comment!
Pin this Post!