Some posts on this site contain affiliate links. If you book or buy something through these links, I earn a small commission (at no extra cost to you). Take a look at my privacy policy for more information.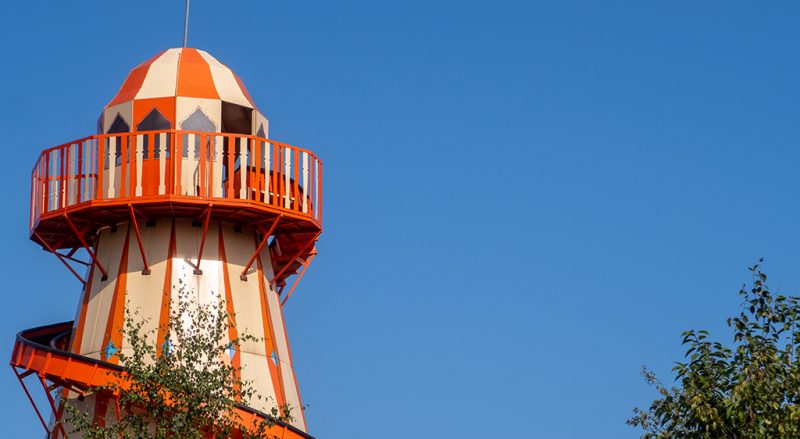 Looking for the ultimate seaside day trip from London? Dreamland in Margate should definitely make the list! The cute seaside town of Margate has a dreamy beach, cute boutique stores to give Brighton a run for its money, and Dreamland – a super fun, super colourful, historic funfair.
Last week I teamed up with one of my blogger besties, Wanderlust Chloe, to indulge our inner children and have a day of vintage seaside fun. We LOVED our day out at Dreamland Margate. From thrill-seeking on the scary rides, to throwing it back to childhood on the Gallopers, to Instagramming all the colourful photo ops in the park… it was everything we could have wanted from a seaside day out. Here are my 7 reasons to add Dreamland in Margate to your UK summer bucket list…
Disclaimer – this was a press trip organised by Dreamland Margate. But as always, all words and opinions are my own.
Where is Dreamland Margate?

Dreamland amusement park is on the seafront in Margate, Kent, on the southeast coast of England. Although on the smaller side, it's one of the UK's best theme parks and well worth a visit.
From London, the train only takes an hour and a half on Southeastern Rail's high-speed route. So Dreamland and Margate are a seriously easy seaside day trip from London. If you're coming from elsewhere, driving may be easier. You can park all day at Arlington Car Park for £7. That's what I did and I thought the price was pretty fair given how long I was parked there. Also, the carpark is steps from Dreamland – there's even an entrance right into the park!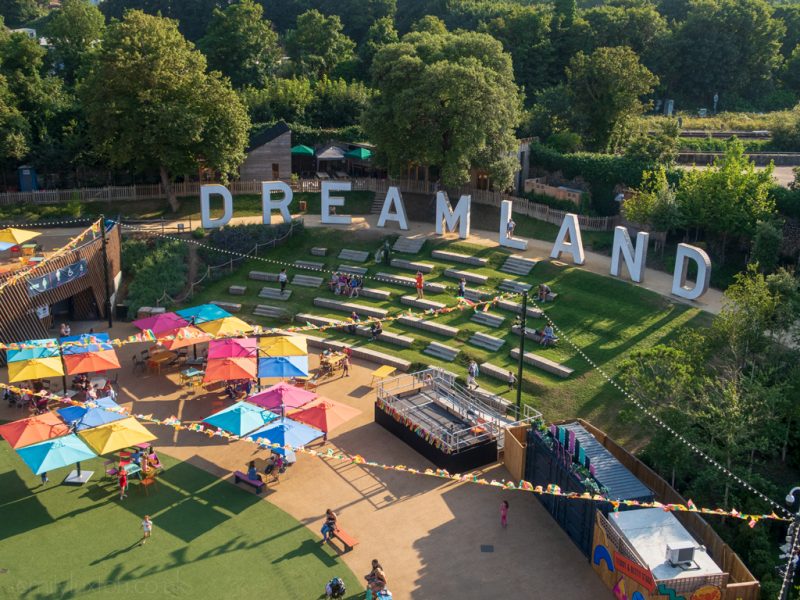 RELATED POST: Check out my round-up of awesome things to do in Ramsgate, which is right next door!
Reasons to Visit Dreamland in Margate
1. All the Vintage Seaside Fun
Dreamland in Margate has been around since 1920, so it's about to turn 100 next year. That means there's tons of history to this vintage park.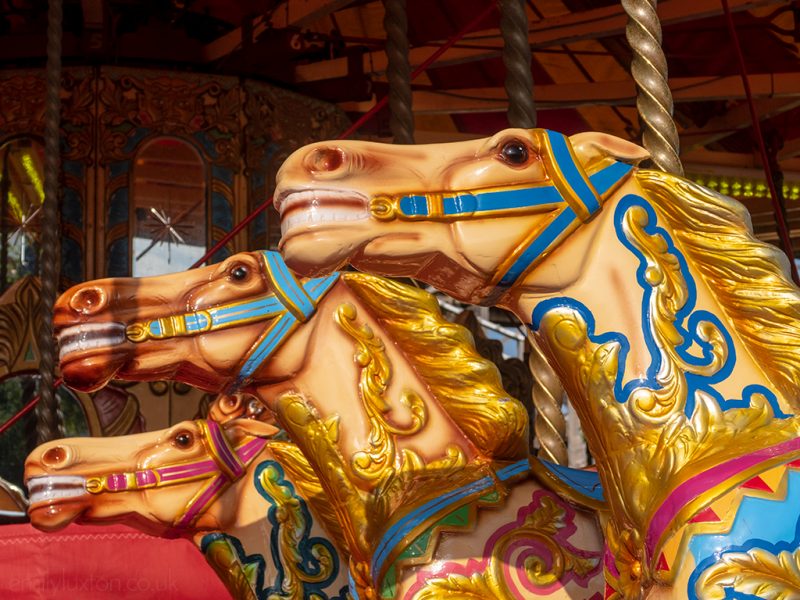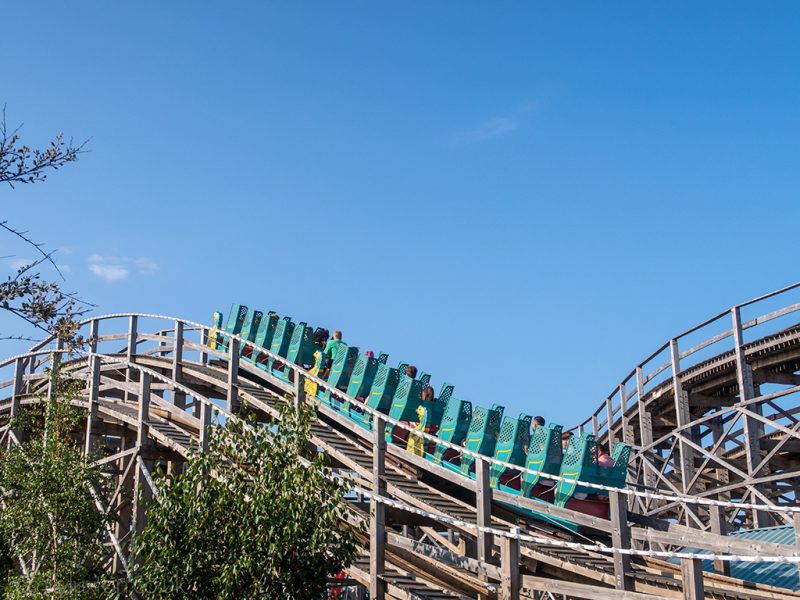 Many of the rides are historic – like the Speedway motorcycle carousel, which dates back to 1934! The oldest ride is the wooden Scenic Railway, which also happens to be the UK's oldest rollercoaster. Before it was a funfair, the site was a pleasure grounds, then a circus, and there are still traces of both to be seen. Especially in the remains of the pleasure ground walls, with stone towers containing cages that once held lions and bears for the circus!
Today, Dreamland Margate is one of the biggest and best free amusement parks in the UK. It's been revamped in the last few years, but still has a fab retro feel. All the nods to the park's history and the vintage rides add a lovely nostalgic feel to a day at Dreamland. Plus you have all the traditional funfair things – like Gallopers, candyfloss, ice cream, and amusement arcades – to help you take a trip down memory lane and indulge your inner child!
2. For the Thrills and Awesome Rides
So the main reason you're heading to Dreamland in Margate is probably for the rides, right? That's why I went – and I wasn't disappointed!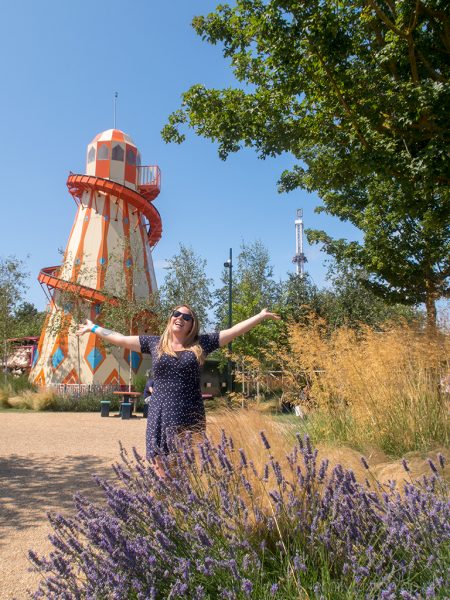 Dreamland has 25 rides to choose from. There are all the funfair staples here, like Gallopers, swing boats, trampolines, a 35m high Big Wheel, waltzers, and teacups!
Then there are more thrilling rides. I loved Pinball X, a super fun coaster which pings you around like a giant silver pinball! Dreamcatcher is a really spinny ride that made me suuuper dizzy – not for the faint-hearted. And since drop rides are always my favourite, I had to drag Chloe on the Dreamland Drop. You get some awesome views from the top.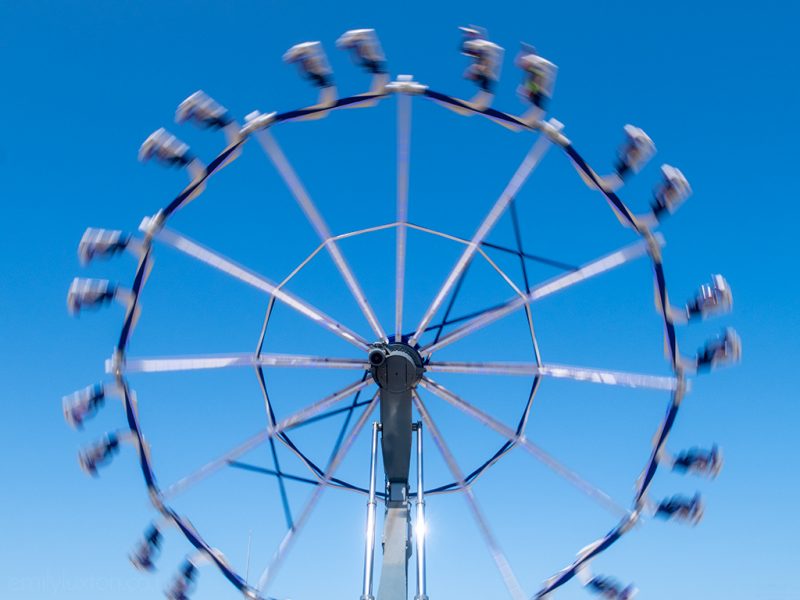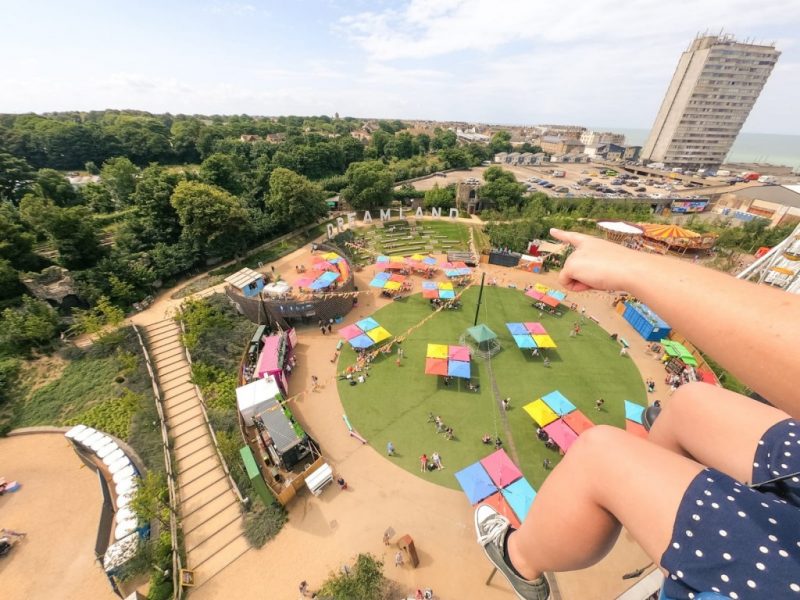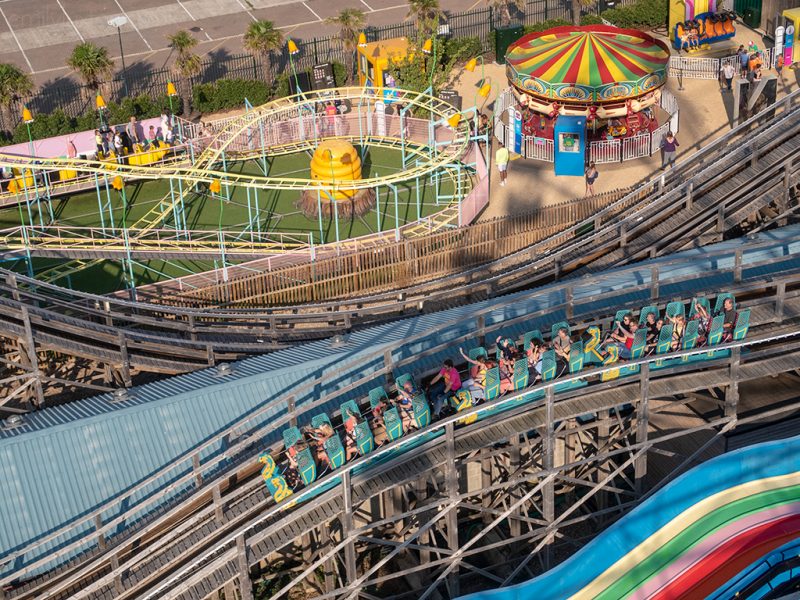 But my absolute highlight of the day was the dodgems! These bad boys have been around since the seventies, so they look really cool and retro. Plus this is one of the biggest tracks in the UK. So much fun!
Tickets for the rides start from just £1.50, or you can buy a wristband for the day which may work out at better value. Especially if you buy in advance and save 25%.
3. For the Gram!
Dreamland is probably one of the most Instagrammable places in Margate, if not the whole of England! The retro rides have been given brightly coloured paint jobs, there are unique photo spots all over the park, and the grounds are full of colourful flowers and lavender. Although I'd never do anything just for the 'gram, the awesome photo ops all over Dreamland Margate are just an added bonus to an already fun day out!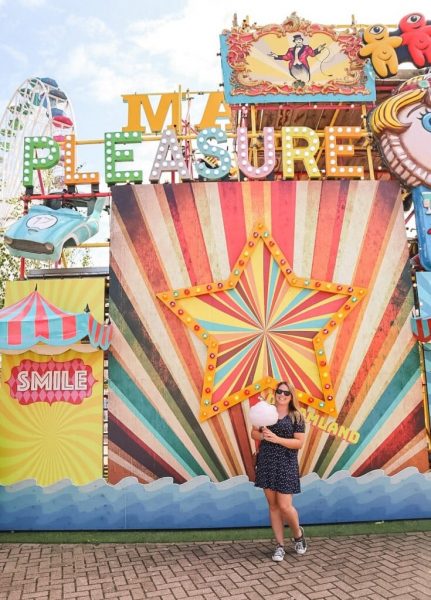 4. So. Much. Street Food.
There is so much great food on hand at Dreamland Margate, most of it served from funky street food stalls. Think funfair classics, but taken up a notch! From fish n chips to vintage ice cream vans to tasty Jamaican BBQ – there's a lot of choice! There's also a really cool diner inside, decked out in pink and blue neon. Here are my highlights…
Pizza – hand-rolled sourdough pizza cooked to order. We had ours with a couple of glasses of prosecco. Yes please!
Lucky Chip Burgers – that's right, I had two lunches at Dreamland Margate. The food is too good not to! Lucky Chip have been called the "best burgers in London" and their street food truck at Dreamland is a MUST for burger lovers.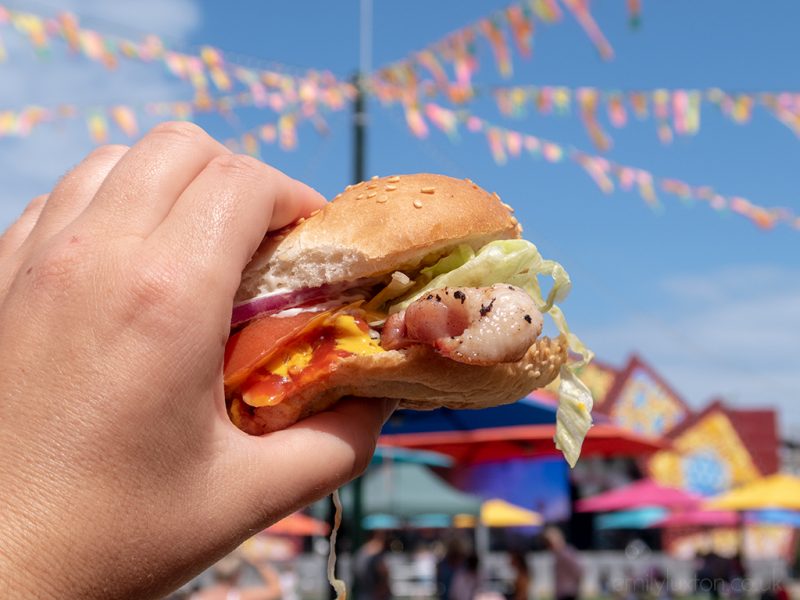 Naughty Floss – definitely one of the highlights of my day. They have some really funky candyfloss options. I had the Berry Poppins – a huge pink cloud of candyfloss, topped with sprinkles and popping candy, with a colourful parrot on the top. Chloe's was mango and coconut flavour! So fun, so colourful, soooo sugary…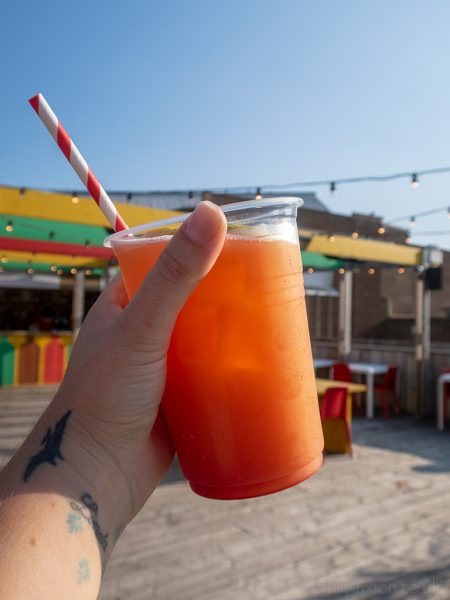 5. Margate Beach is Right Next Door
You can see the sea from the top of the taller rides – and it really is just a few steps from the park. Since there are no fees or queues to get in at Dreamland, you can come and go as you please – giving you plenty of time to make the most of one of the best beaches near London.
So you can alternate between the rides and the beach, or spend a day chilling by the sea, before popping in for a few thrills before dinner. See? This really is the perfect seaside day out!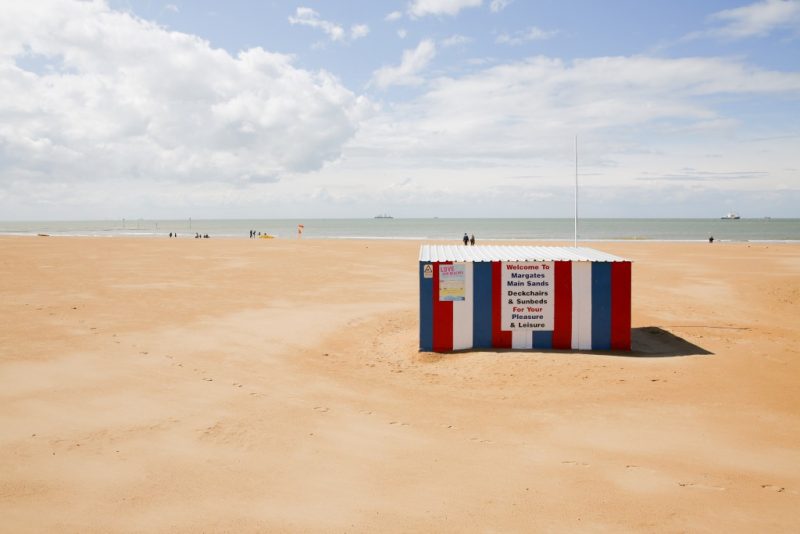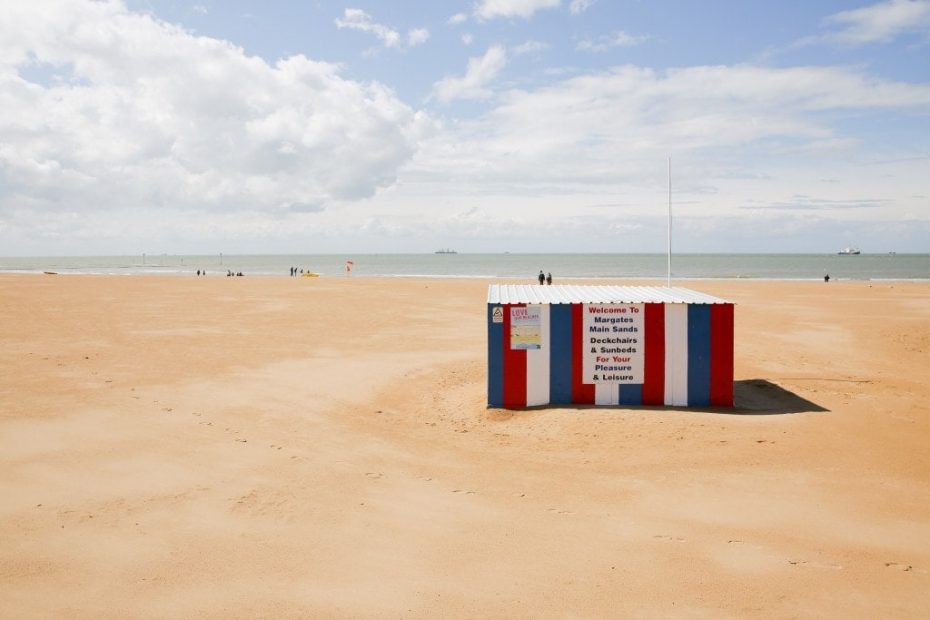 6. There's a Roller Disco!
Yep – not only are there rides and amusement arcades to keep you busy, but Dreamland Margate also has an all-day roller disco. The Roller Room is another kick of nostalgia, with proper retro skates, neon lights, and a great range of music. There's even a glitter ball!
The Roller Room costs just £4 per person, including skate hire.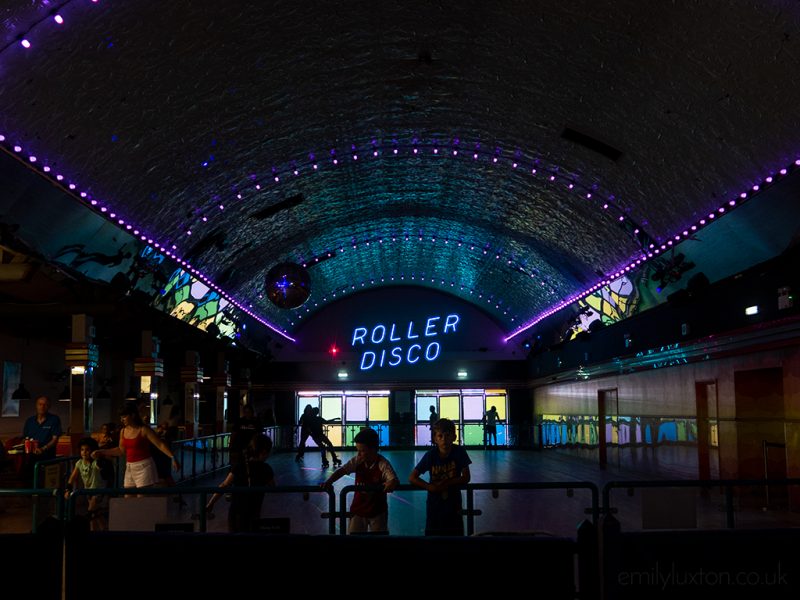 7. Awesome Events
As if you needed any more reasons to visit Dreamland while you're in Margate, the park also hosts regular events and music! These range from open-air movie screenings, to festivals, to family fun events. There are also some pretty big music names hitting the park's main stage over the next few months, with the likes of Melanie C, Reel Big Fish, and Jo Whiley all coming up.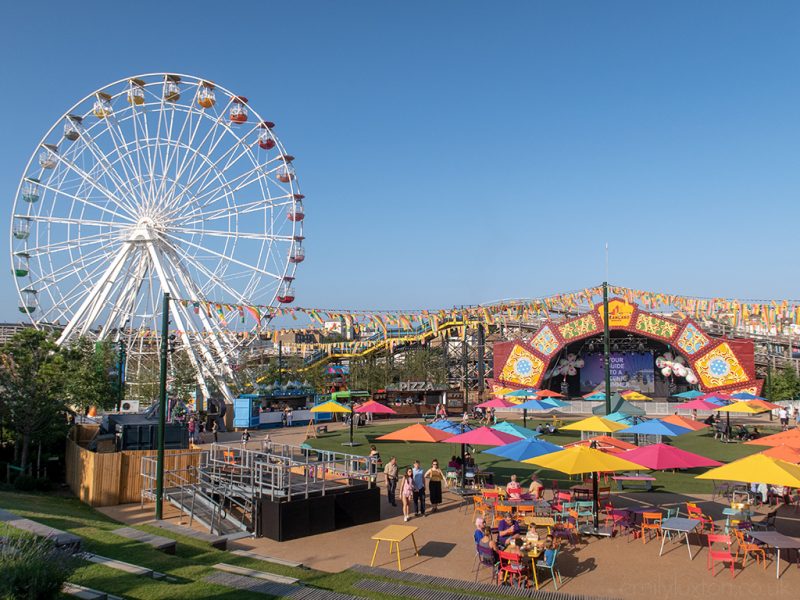 Right now, it's the Rollercoaster Festival (5th August – 1st September), as well as Rainbow Week (5th – 11th August) to celebrate Pride. Coming up soon there's Eat Drink Margate (7th-8th September), the park's first food festival, and Screamland (18th October – 1st November) for Halloween! But there's plenty more on, so check the Dreamland events listing to see what's on when you're visiting.
Read More
More posts to help you plan your trip to Kent (and beyond)
Things to do in Canterbury – A Local's Guide
Pin This Post