Some posts on this site contain affiliate links. If you book or buy something through these links, I earn a small commission (at no extra cost to you). Take a look at my privacy policy for more information.

Bath is the perfect city for a mini-break in the south of England. Whatever you're looking for, this gorgeously historic city has it all: luxury, relaxation, fun, history, and great food! So I rounded up recommendations from some top travel bloggers to create this list of all the best places to stay in Bath.
Whether you're simply looking for the best hotels in Bath, or you want to combine city and country by staying just outside the city, or you want to find a quirky self-catering option… I've got you covered. There are even some budget-friendly options towards the end of this post. Enjoy…
Best Places to Stay in Bath
Use the contents menu to skip ahead, or just browse through the whole post. I've also included a map below to help you figure things out.
Best Hotels in Bath
Royal Crescent Hotel and Spa
For the ultimate in luxury, relaxation, and Regency vibes… it HAS to be the Royal Crescent Hotel and Spa.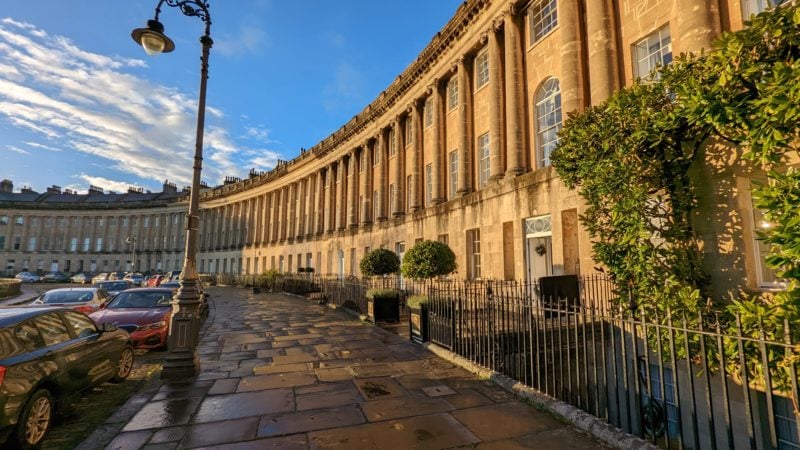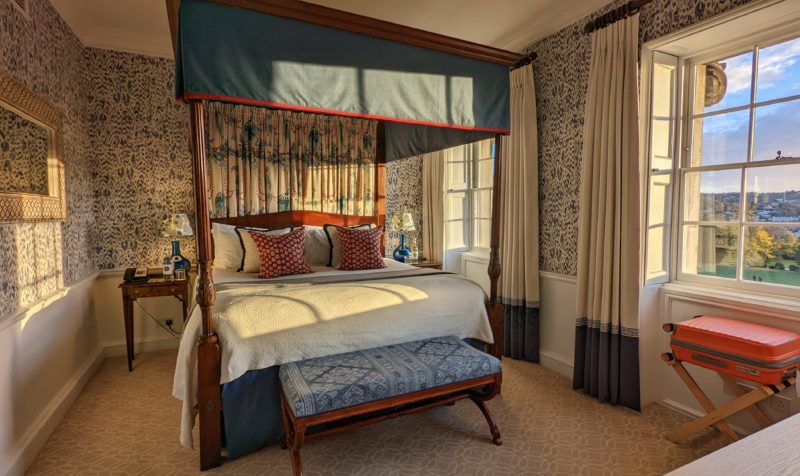 Housed within several townhouses at the very heart of the iconic Royal Crescent, this beautiful hotel truly treats guests like royalty. This is the perfect setting for a treat getaway. Enjoy fine dining in the restaurant, tranquil restoration in the beautiful spa, and serenity in the picturesque gardens.
The rooms are beautiful, the service impeccable, and the food is amazing. This gorgeous property truly captures the spirit of Bath – I adored it!
Read my review of the Royal Crescent Hotel HERE for more information and pictures.
CLICK HERE to check prices.
Gainsborough Bath Spa
Recommended by: Carol Perehudoff, Wandering Carol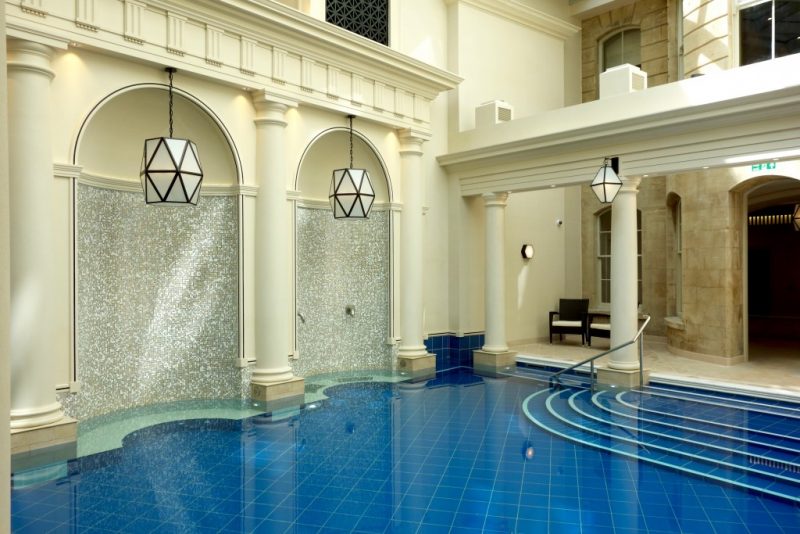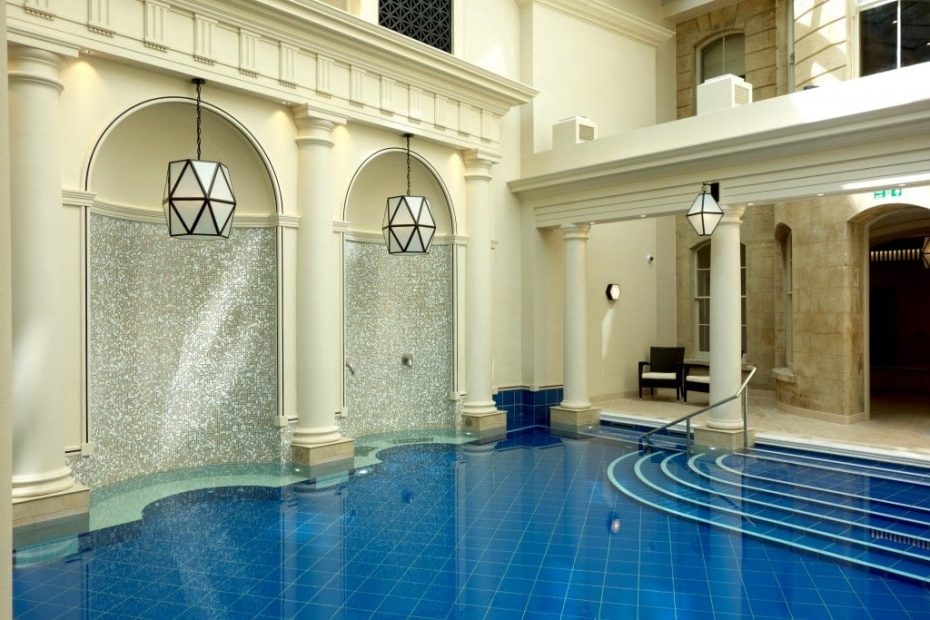 It's a seductive steamy stay. The luxury Gainsborough Bath Spa hotel, a 5-star property where sleek design meets heritage architecture, has tapped into the long spa tradition of Bath. It's the only hotel in the city that offers a thermal springs spa. The hot mineral-rich water fills the bathing pools of their elegant Spa Village, a tranquil wellness retreat with an airy atrium, white pillars and a Roman-baths feel.
The only other place to soak in the healing hot springs is at the public Thermae Bath Spa, which is right next door. Such a central location in historic Bath is hard to beat. So is the hotel's curb appeal. Named after the renowned artist, Sir Thomas Gainsborough, who had a lucrative business painting the portraits of the aristocratic visitors that used to flock to Bath, the hotel consists of three connected heritage buildings on Beau Street, and is a Leading Hotel of the World.
CHECK PRICES: Booking.com | Hotels.com
Queensberry Hotel
Recommended by: me!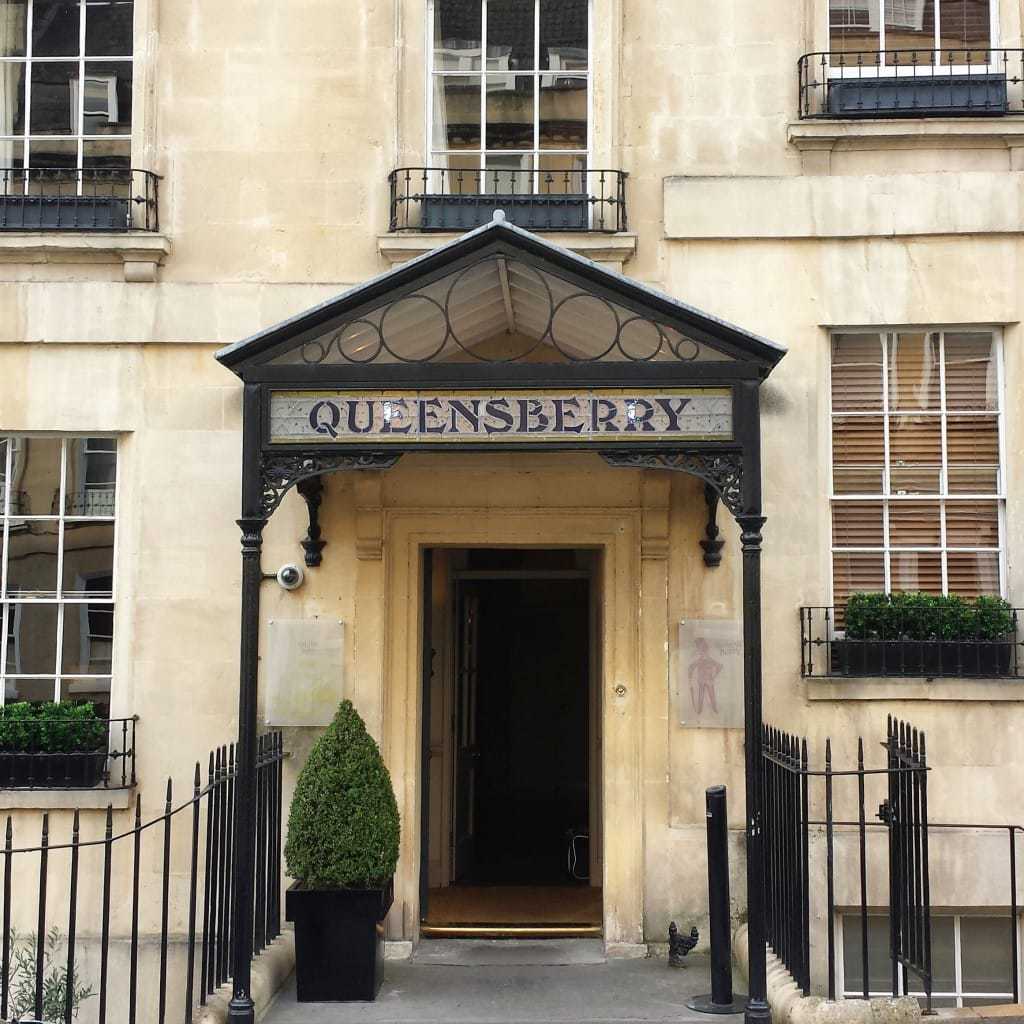 One of my favourite places to stay in Bath was the gorgeous Queensberry Hotel. Not only is it fabulously quirky and totally luxurious, but it also has one of the best restaurants in the city.
You can read my Queensberry Hotel review for more info. The location is ideal; a stone's throw from the Royal Crescent. With quintessentially British decor and lots of eccentric little twists, the Queensberry feels like staying in a very cosy National Trust home. There's a serious focus on the finer things in life. And every room has been individually decorated with its own theme, such as the horse riding themed room I stayed in!
CHECK PRICES: Booking.com | Hotels.com
Abbey Hotel Bath
Recommended by: me!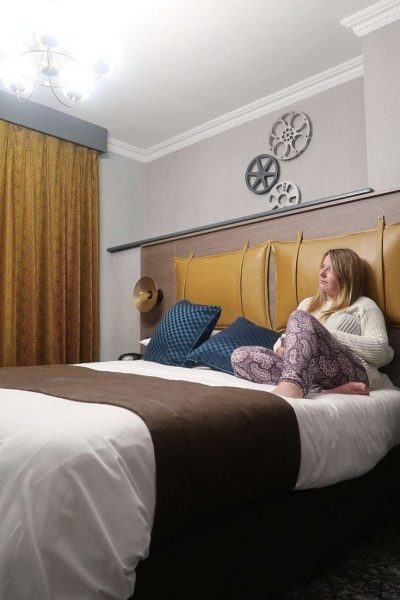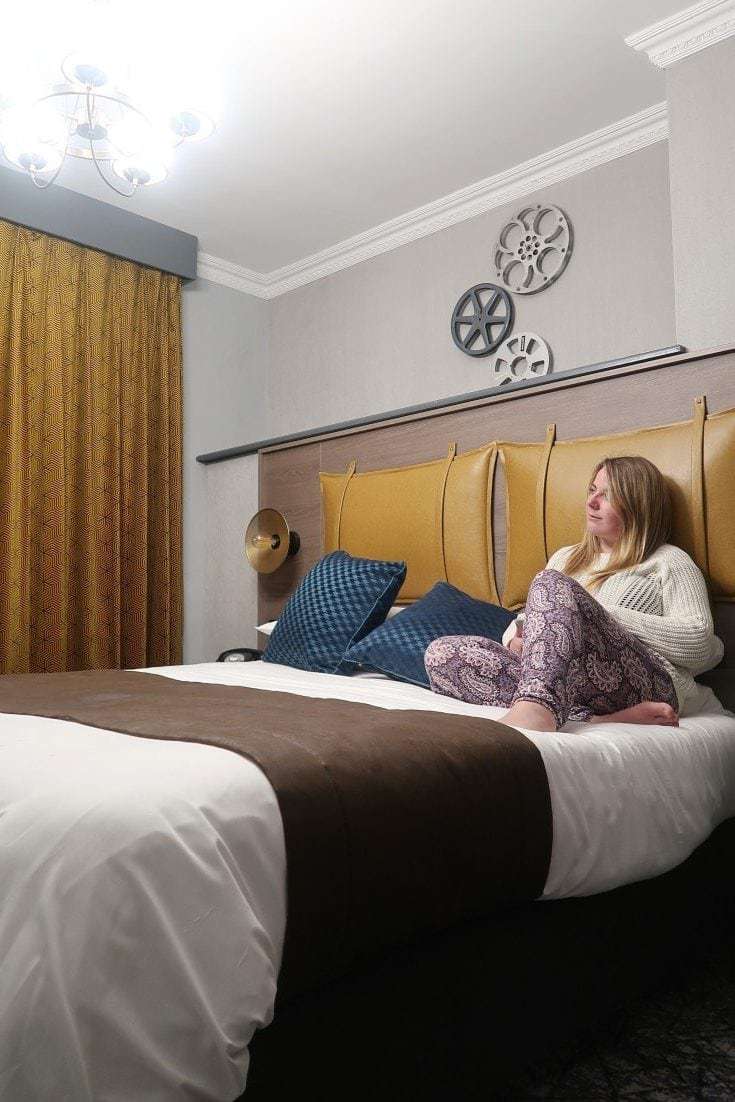 On my most recent trip, I stayed at the lovely Abbey Hotel Bath. Housed within three of those classic Georgian townhouses the city is famous for, the Abbey is smack dab in the city centre. So it's ideal for exploring!
Although the inside is still a little dated in spots, the hotel has been undergoing an extensive refurb over the past year. The newly decorated rooms are fab. Think stylish, classically British decor; with rich leather and sleek brown tones. And the bathroom was amazing, too – I loved the funky geometric tiles and huge rainforest shower.
CHECK PRICES: Booking.com | Hotels.com
Lansdown Grove Hotel
Recommended by: Laura, WhatsHot Blog – check out her post on the best bookshops in Bath for some more inspo!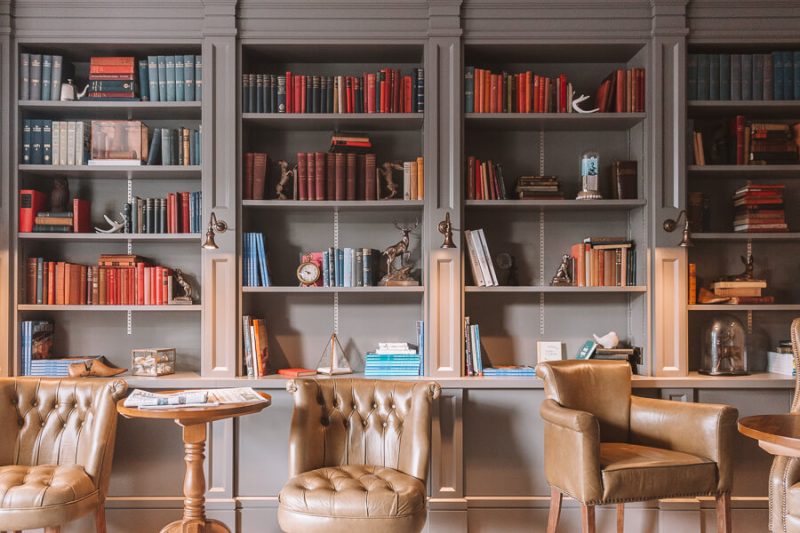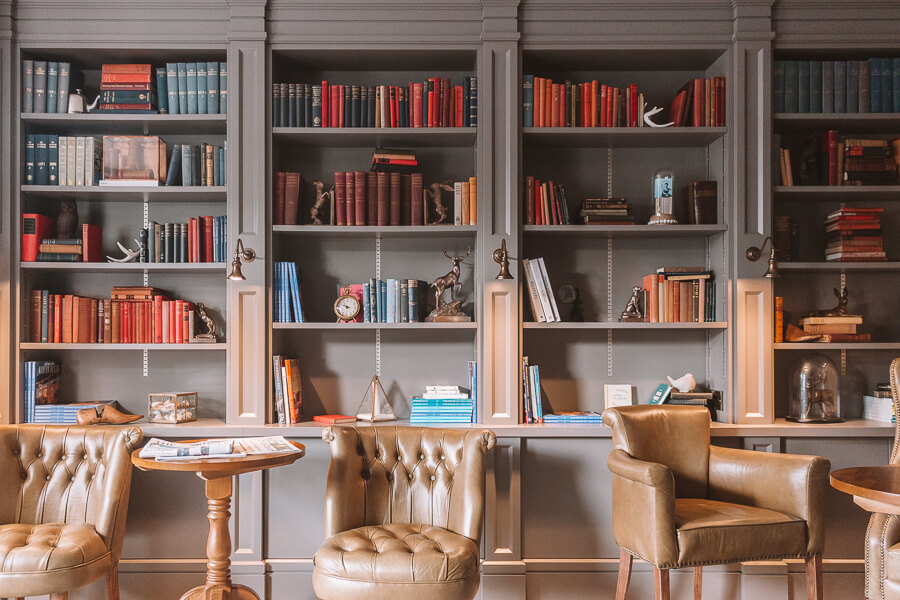 Lansdown Grove Hotel in the north of Bath is a beautiful hotel located a short walk out of the centre of the city. It's one of the oldest hotels in the city and has made its home in a Grade II listed building, with beautiful architecture matching the rest of Bath. It sits atop a hill so there are brilliant views from the restaurant, rooms and terrace.
The hotel is quintessentially English and there are lots of places to relax or curl up with a good book. There's a terrace outside for sunny days and a beautiful library inside where you can read the morning newspaper and a variety of magazines.
CHECK PRICES: Booking.com | Hotels.com
No 15 Great Pulteney
Recommended by: Henry & Zory, This Life of Travel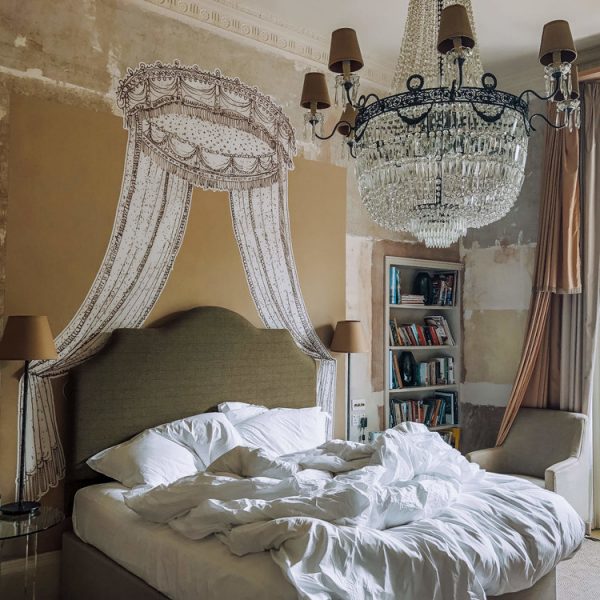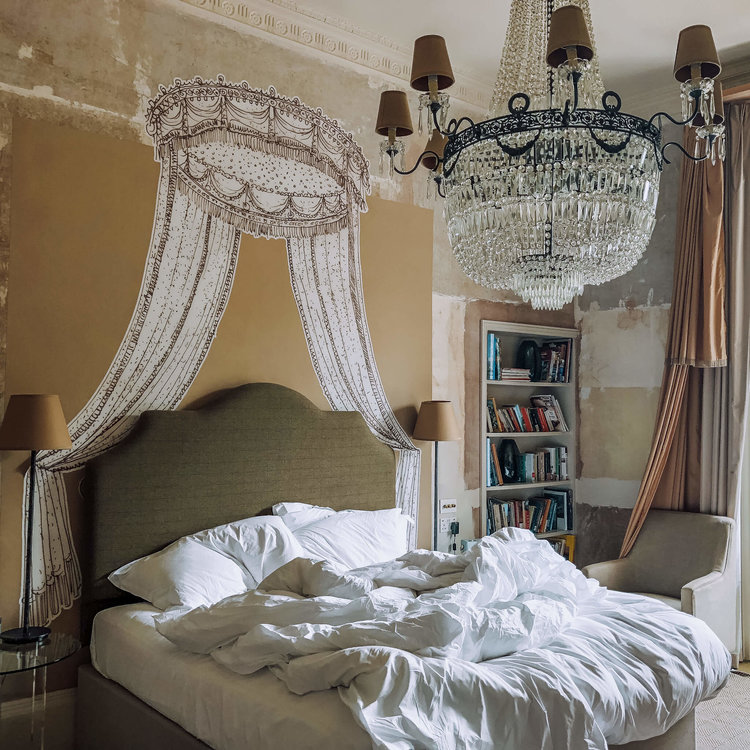 One of the most unique design hotels in Bath – No 15 serves up some of the best food, drink, and spa treatments in the area. It's also centrally located in Bath, so you'll never be too far from any of the main attractions. Every room has a unique collection of pieces curated from art fairs, which contribute largely to the hotel's quirky charm. All the funky decor will have you exploring every nook and cranny. We loved everything, from the secret candy snack room to the tropical wallpaper and the inventive decor in Cafe 15.
Cafe 15, the hotel restaurant, had some lovely food that was imaginative as the decor. Some of our favourites included the Panko king prawn and squid with miso mayo, gochujang chilli sauce, and burnt lime, as well as the sticky toffee pudding. After dinner, it was hard to turn down a drink at Bar 15, with its extensive and creative cocktail list.
But the main draw of this hotel is the outstanding spa! There is a cedar wood hot tub along with a Swedish sauna next to it, which you can use in preparation for the most exquisite and relaxing massage you'll ever get. The masseuses here are highly trained with the magical touch and just the right pressure.
CHECK PRICES: Booking.com | Hotels.com
Gray's Boutique B&B
Recommended by: Bella, Passport and Pixels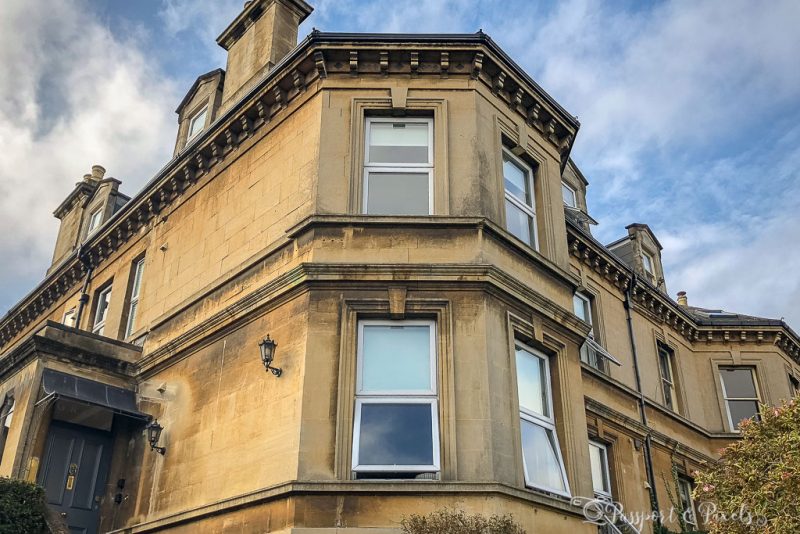 Named one of the coolest hotels in the UK by the Times newspaper, Gray's is like a poster-girl for boutique B&Bs. Boasting a dozen elegant rooms with big, comfy beds, all tastefully-decorated in shades of pastel and grey, Gray's wouldn't look out of place in a fashionable interior design magazine.
The building itself is a large Bath stone Victorian house, set on a hillside just a 15-minute walk uphill from the train station with gorgeous views over the city. It's within walking distance from all the main sights, and some of the rooms even have views of the Royal Crescent in the distance. But best of all is the mouth-watering breakfast – with eggs any way you like freshly prepared to order. It's not the cheapest place in town, but with so much to offer Gray's books up fast, so get in early to avoid disappointment.
CHECK PRICES: Booking.com | Hotels.com
Cool and Unique Self Catering Places to Stay in Bath
Boating in Bath
Recommended by: Rae from Wide Eyed Views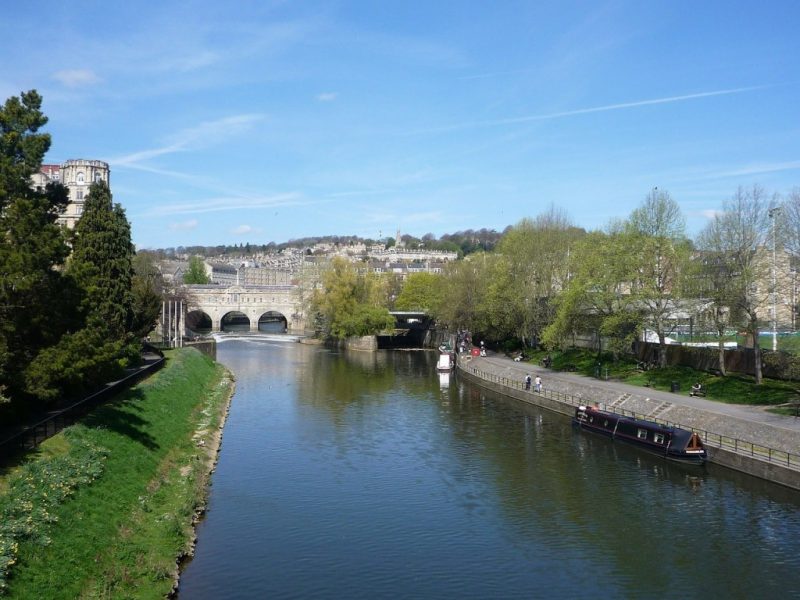 A far cry from the boutique hotels in Bath; time spent slowly meandering up the waterway to Bathampton or Bradford-on-Avon whilst staying in a Bath narrowboat will provide a unique and restful experience as well as beautiful views. Watch wildlife flap and scurry through lush foliage along the banks, and spend a couple of nights mooring up along the towpath or beside a traditional canalside pub
If the desire is for nights out in the city's numerous bars and pubs, then the waterways are only 10 minutes walk from the city centre, and boats can be moored so close that there is time for both bars and boating!
The accommodation is basic on these hire boats, but can easily be upscaled to gloriously cosy or romantic levels with a little imagination. Perhaps by bringing picnic equipment, candles, flowers, and bottles of bubbly to pop as you sit on the deck, watching the reflections of the setting sun in the water and fantasising about selling up and disappearing over the horizon.
CHECK PRICES: Book direct with Bath Narrowboats. Alternatively, check out these houseboats on AirBnb:
Circus House
Recommended by: Abi, Inside the Travel Lab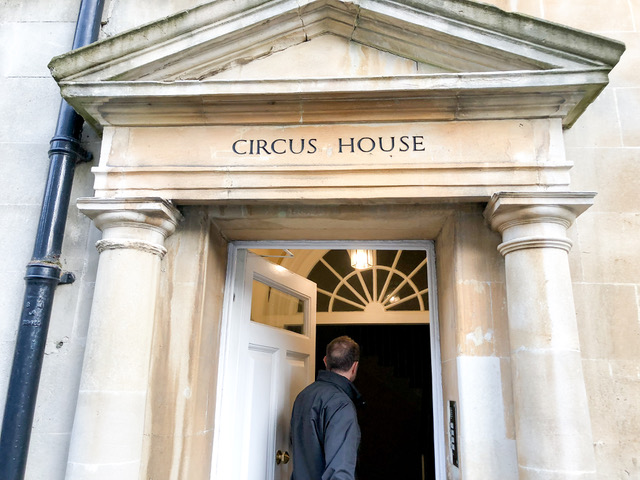 Circus House has an enviable address – and a view to match. This gorgeous self-catered apartment overlooks one of the highlights of Bath: the Georgian circular sweep of honey-stoned houses called The Circus. And it's practically within it, making it easier than ever to navigate the city's sights and still have time to stop back in for a cuppa.
Decorated in bright white and calming grey with splashes of purple, it's a two-bedroom flat on the top floor (there's no lift, it keeps you fit!) The kitchen is compact but contains everything you'd need.
The lounge contains comfy sofas, a dining table and an overall sense of high glamour. It's the perfect place for a romantic getaway – with kids, as a cot, toy box and high chair are provided. The location also means you can pop back for nap time or to let little ones rest before heading right back out to see the sights.RELATED POST: 40 of the Most Romantic Places in the UK
CHECK PRICES: AirBnb – but don't forget to click here first for £25 off your first booking!
Mr Darcy Apartment
Recommended by: Chloe, Wanderlust Chloe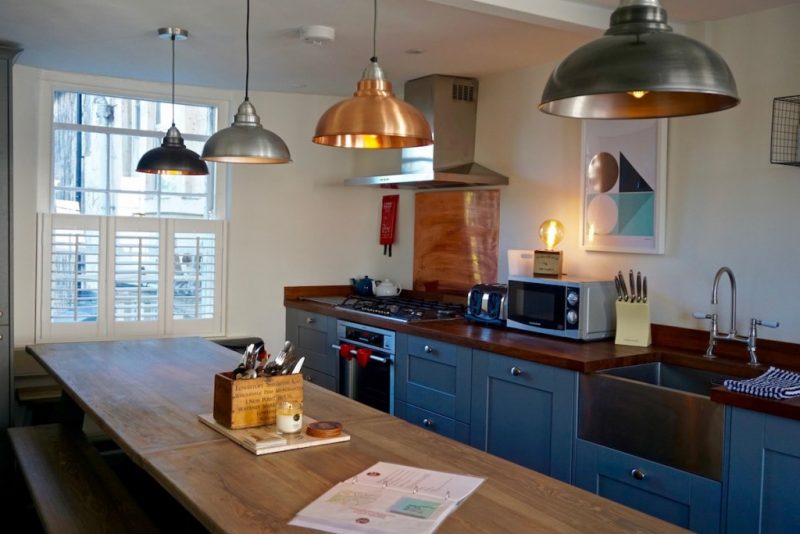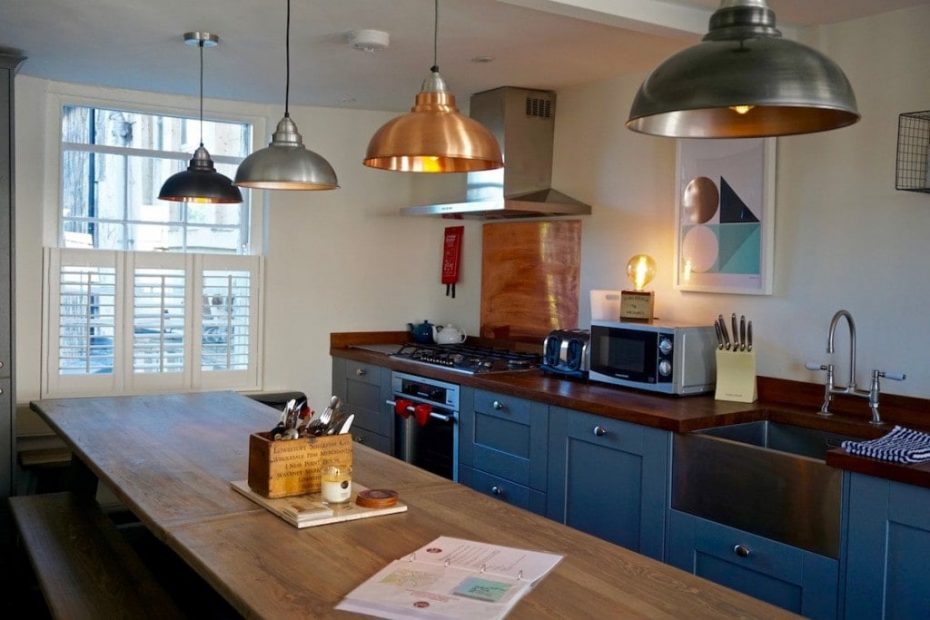 If you need space to spread out, or you're travelling in a large group, this stunning townhouse apartment could be perfect. My blogging friend Chloe stayed here a while ago and loved it – her Instagram stories of the property looked amazing!
It's part of Bath Boutique Stays, who are experts in providing amazing self-catering accommodation in Bath. Mr Darcy's Apartment is named after one of the best known Jane Austen characters, so it's ideal anyone wanting to indulge their inner Lizzie Bennet! Chloe says the townhouse " has super-cool décor including lots of fun Mr Darcy references (I loved the lights!)", and it really looks like one of the most fabulous places to stay in Bath.
CHECK PRICES: AirBnb
The Old Crescent Bakery
Recommended by: Ania from The Travelling Twins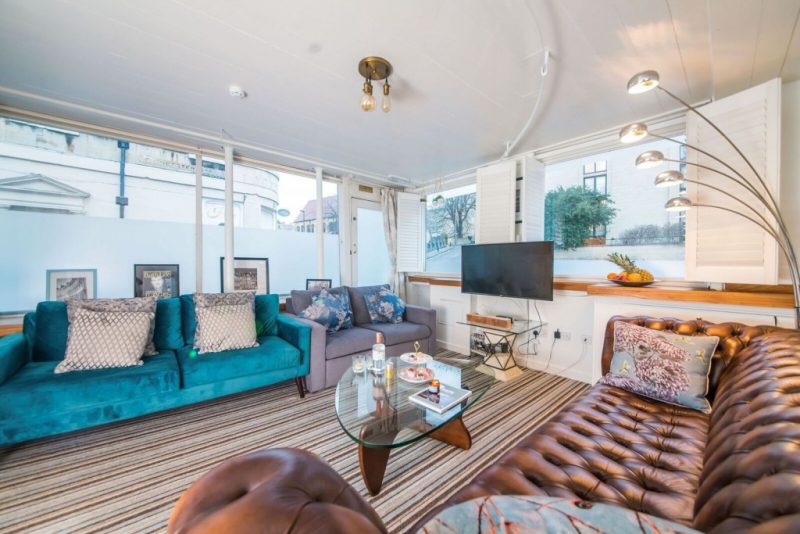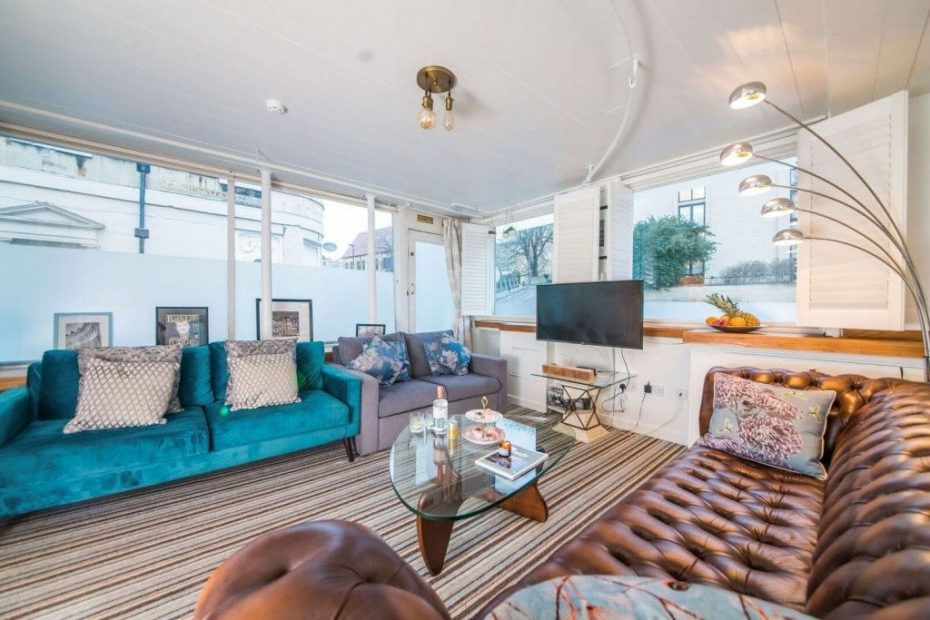 If you're visiting Bath in a group for a hen party, or maybe for a wedding with your extended family, the best place to stay is The Old Crescent Bakery. You can take the whole of this 200-year-old Georgian townhouse – including four bedrooms, living room, luxury bathroom and kitchen. The Old Crescent Bakery can accommodate from 2 to 12 or more people, with or without a dog or two. There are two WCs and two showers, and some bedrooms have extra bunk beds.
After long days on your feet absorbing Bath culture, chill out to Netflix and explore the secret safe bar with its selection of craft Gins. Then luxuriate in the roll-top bath. Linen and towels are included, as are complimentary Cowshed bath products.
The Old Crescent Bakery is right in the middle of Bath, just 100 metres from the Royal Crescent, and a ten-minute walk from the baths. You don't need a car for exploring the city, but if you have one you can reserve a parking spot right in front of the house.
CHECK PRICES: Airbnb
Best Hotels NEAR Bath
Bailbrook House Hotel
Recommended by: Deeptha, The Globe Trotter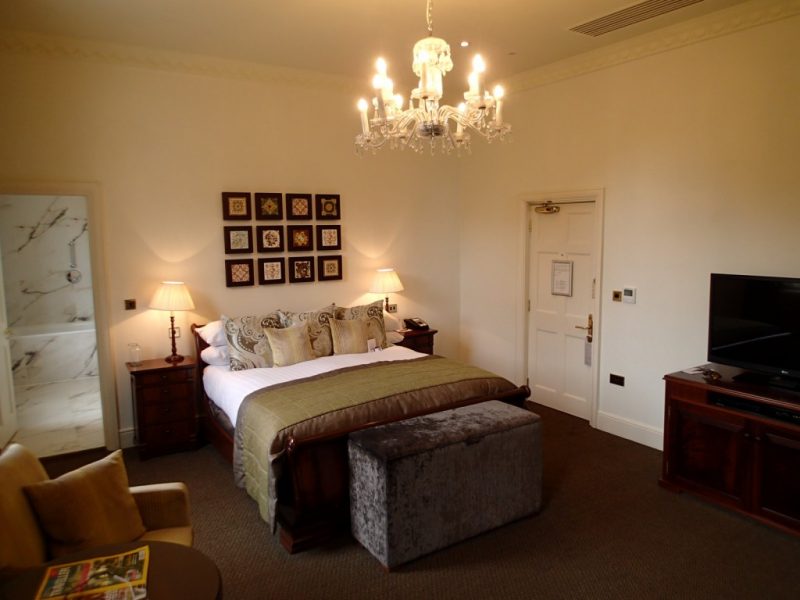 If you're looking for a beautiful country house hotel to stay in Bath, then Bailbrook House Hotel is just the place. Set in 20 acres of grounds, the Grade II listed hotel is a short drive from the centre of Bath. The 4-star hotel has a number of beautifully styled bedrooms, a 2 AA Rosette restaurant (Cloisters), a Conservatory bar and three lounges.
We stayed in one of their feature bedrooms and it was superb: well furnished, exceptionally clean and very comfortable. The dining facilities at the hotel are top notch too and the staff a delight – always happy to help. But the best thing about the hotel is its location – around 15 minutes (by car) from the centre of Bath yet it feels like an oasis; a perfect hideaway when one needs to break out of the city's hustle and bustle.
CHECK PRICES: Booking.com | Hotels.com
Homewood Park Hotel
Recommended by: Me!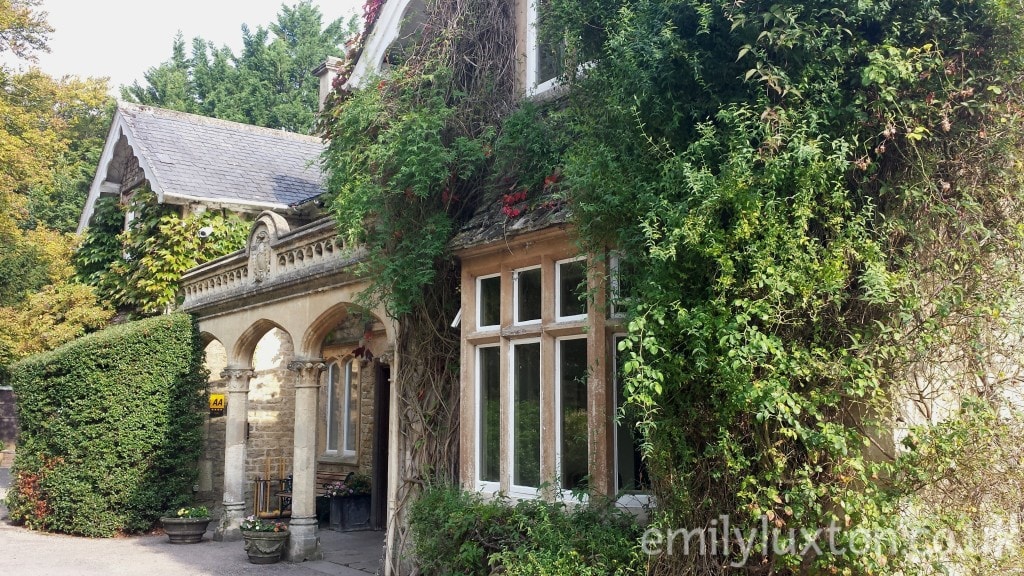 One of the absolute best places to stay near Bath has to be the stunning Homewood Park Hotel. I stayed here a couple of years ago and had the most fabulous weekend.
A gorgeous, ivy-clad country house just 15 minutes from Bath, the Homewood Park Hotel is dreamy. As well as gorgeous rooms and sweeping landscaped grounds, there's a fantastic spa. Oh, and the restaurant is AMAZING too. This is the perfect hotel for a weekend of indulgence and relaxation. You can get to town nice and easily, but the nearest train station is at Freshford, a 25-minute walk from the hotel. So you'd be better off driving or taking a cab.
CHECK PRICES: Booking.com | Hotels.com
Bath Mill Lodge
Recommended by: Angela, The Life of Spicers – find out more in her review of Bath Mill Lodge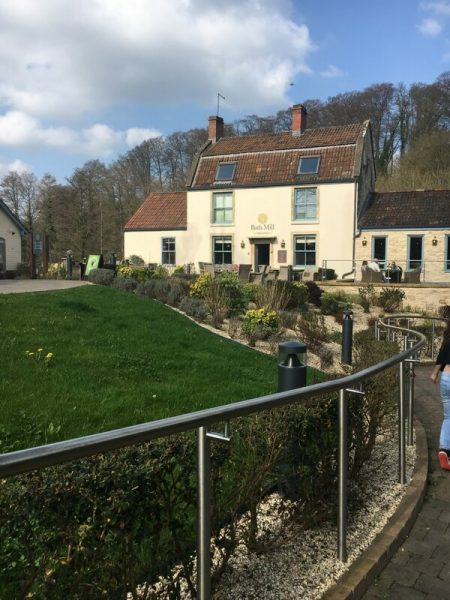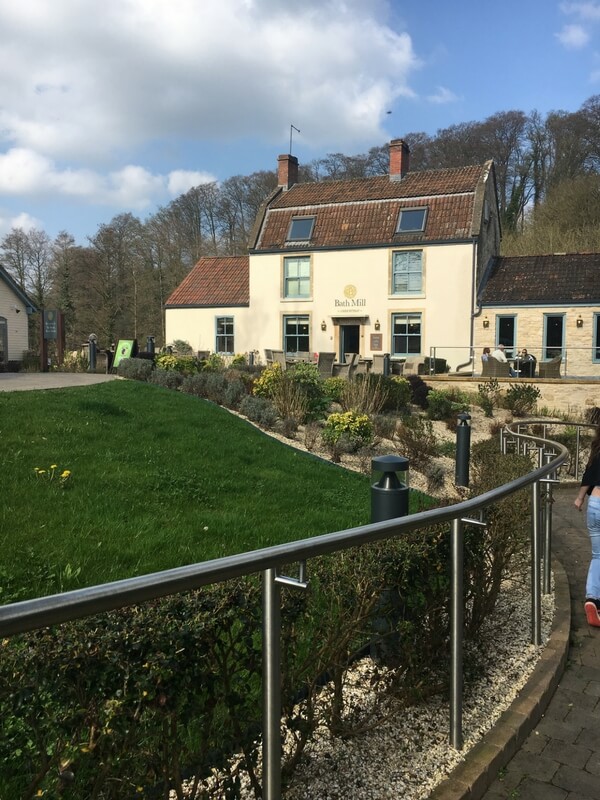 If you're thinking of a place to stay near Bath but away from it all, we can recommend Bath Mill Lodge Retreat. With just 64 lodges on the site, you really do get a sense of calm when you stay. The lodges contain everything you could possibly want or need for a self-catering stay.
However, there is a lovely pub and restaurant on site that also has a pretty outside seating area next to a babbling brook if you prefer not to cook. Getting into the City Centre is quick and simple via the park and ride facilities, which are just a few minutes drive from Bath Mill Lodge.
CHECK PRICES: Booking.com
Thornbury Castle
Recommended by: Amber from Food And Drink Destinations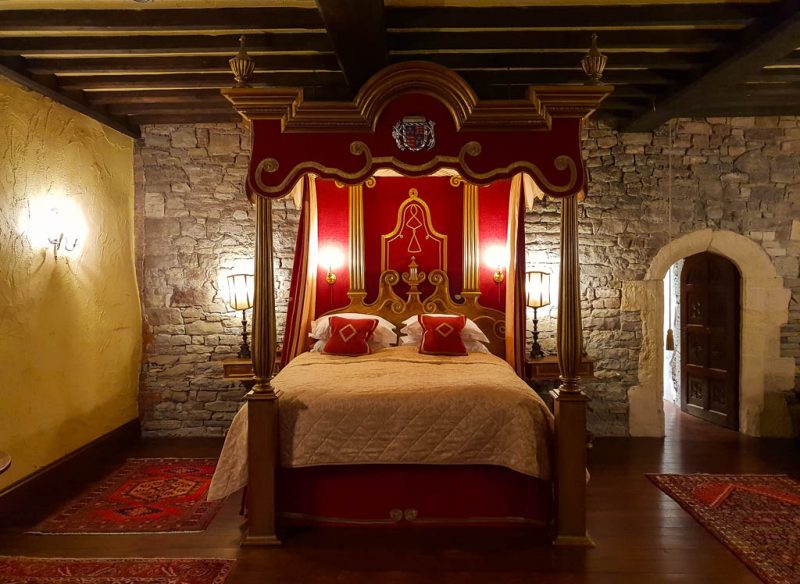 If looking to feel like royalty for a weekend, Thornbury Castle, just outside of Bristol, England, is the perfect place to step back in time and feel like a member of the Royal family. Once owned by Henry VIII and dating to the 10th Century, Thornbury offers individually decorated rooms containing four-poster beds and period furniture.
The rooms make any guest feel like an extra on the TV series The Tudors. Evening cocktails are served in a grand sitting room and library, while dinner can be arranged in the castle's dungeon.
The property has its own vineyard and guests can even try their hand at archery. There's no spa on-site, but the hotel can arrange for a range of treatments and massage services to be offered in the guest bedchambers. Thornbury is located about a 40-minute drive northwest of Bath.
CHECK PRICES: Booking.com | Hotels.com
Budget Accommodation and Best Hostels in Bath
YHA Bath
Recommended by: me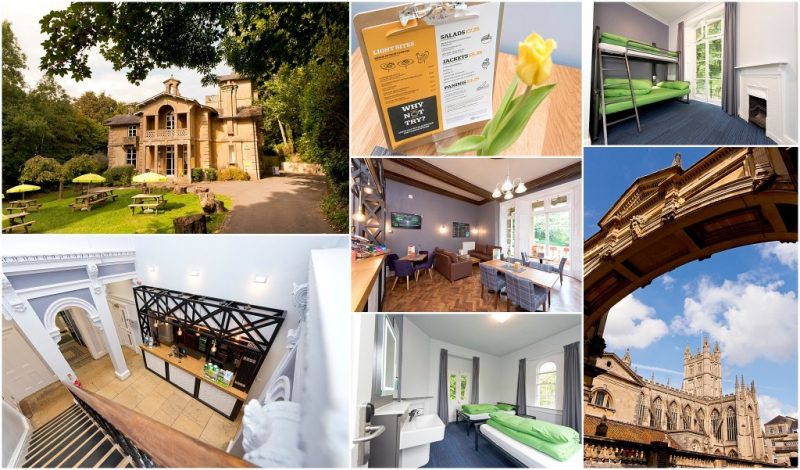 The YHA Bath does not look like your typical hostel! I stayed here a couple of years ago, and it was amazing. The hostel had a £2.5 million refurb this year, so it's even better than when I stayed! The decor was lovely then, and it looks even better now.
It's housed inside a gorgeous mansion on Bathwick Hill, so there are some fab city views. I loved the wide, leafy grounds – and the quiet setting meant getting a good night's sleep was easy. This isn't just a youth hostel; it's also the perfect budget option for families and couples, as well as backpackers. There are dorms and private rooms, as well as some gorgeous social areas, such as the inviting reception/cafe lounge area. This is definitely one of the best places to stay in Bath if you're on a budget, but don't want a rowdy backpacker hostel!
CHECK PRICES: Book Direct
St Christopher's Inn Bath
Recommended by: me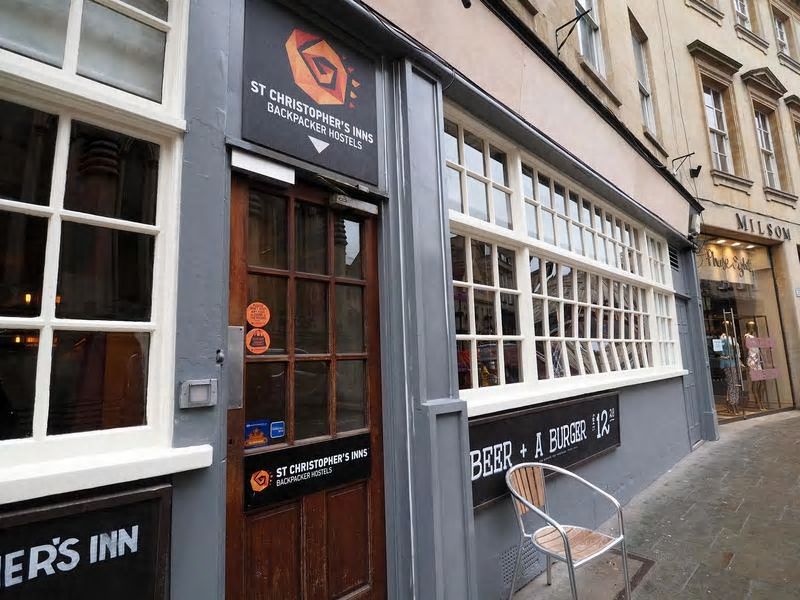 I've not actually stayed at this hostel, BUT I have stayed at several St Christopher's Inns before and they're an amazing hostel brand. If this branch is anything like the other St Christopher's Inn hostels I've visited, it's sure to be a great budget accommodation option in Bath.
Unlike the YHA mentioned above, St Christopher's Inns tend to have a bit more of a party/social atmosphere. So they're perfect if you're travelling solo and looking to make friends. The Bath hostel hosts loads of events, like beer pong and happy hours. It's also in a fantastic location for exploring the city, smack in the centre. A few of the reviews mention that the hostel can be loud at weekends, though. It's good to note that the bar is underground so the rooms shouldn't suffer too much from its noise.
CHECK PRICES: Hostelworld
Read More
If you want a bit more info about planning a trip to Bath, I've also got these great posts.
Planning the Perfect Weekend in Bath
Can you recommend any more great places to stay in Bath? Scroll down to leave a comment or reach out on social media. I'll add the best suggestions into this post so you could be really helping out your fellow travellers.