Some posts on this site contain affiliate links. If you book or buy something through these links, I earn a small commission (at no extra cost to you). Take a look at my privacy policy for more information.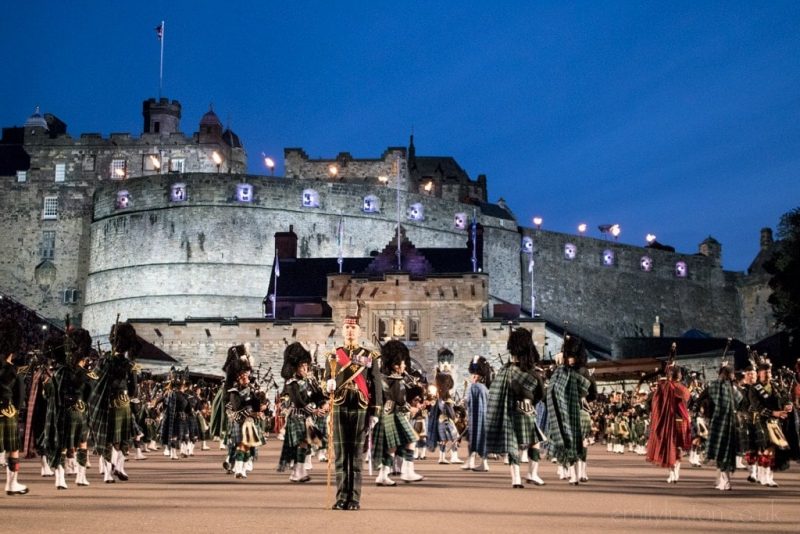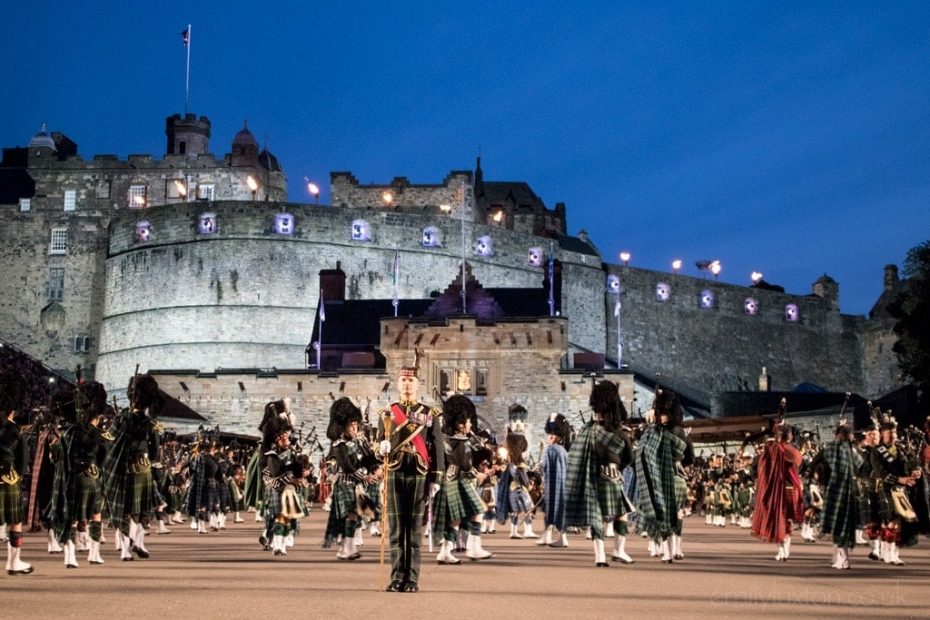 A review of the Royal Edinburgh Military Tattoo: what it is, why you need to go, and some tips for visiting…
Maybe it's just a sign that I'm getting old, but this year I've had more than a handful of travel moments that have genuinely moved me to tears. And most recently, that was at the finale of The Royal Edinburgh Military Tattoo.
It was the last night of our whirlwind trip to Edinburgh for the Fringe Festival, and I was tired. That's my excuse. Right before the finale, we hustled upstairs to the very top of the bleachers for the best views in the house.
Usually, the area is off-limits, but we were there as press, so we got the chance to brave the cold and watch the show from on high. Sometimes my job is just too cool!
And that's what set me off. Watching as a sea of humans moved with spectacular precision in formation below us and someone sang the most beautiful rendition of Amazing Grace, knowing I was getting a view most people would never see, impressed – no, astonished – by the amazing performances… it all just felt too special.
So I had a little private sniffle and discretely wiped my eyes like it was just the icy wind making them water, and it all felt wonderful.
When is the Next Edinburgh Military Tattoo?
The next Royal Edinburgh Military Tattoo will run from 4th – 26th August 2023. Add it to your bucket list!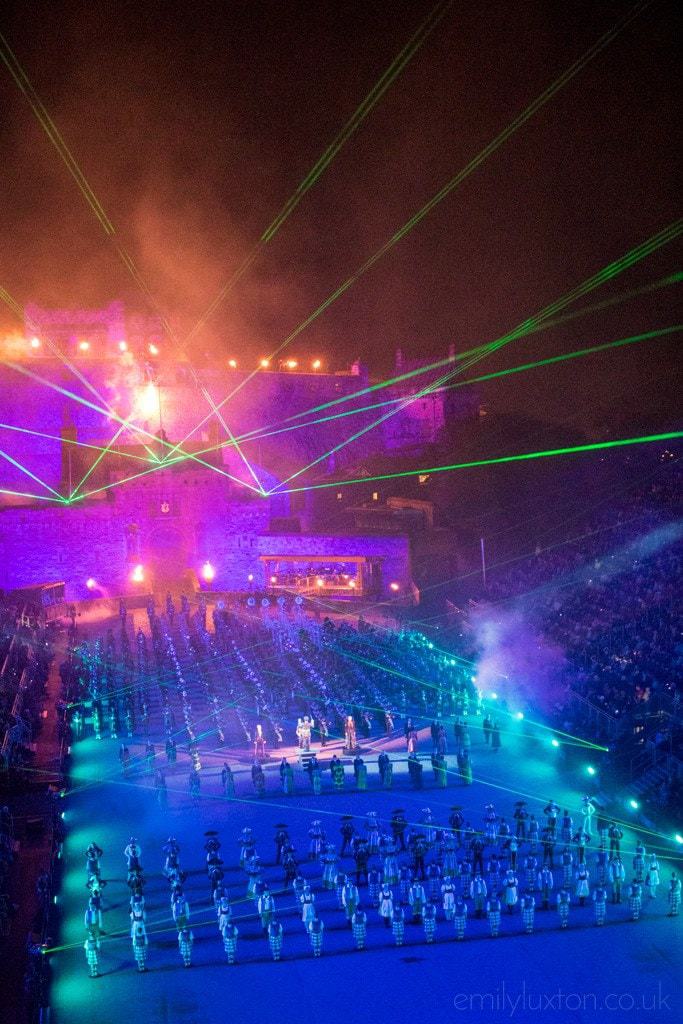 Why You Need to Watch The Royal Edinburgh Military Tattoo
Even if you don't get the view I did, The Tattoo is enough to make you well up. It's just so bloody impressive. Marching bands and dancers from all over the world come together to create the most spectacular show I've ever seen.
With seating for almost 9,000 people, the atmosphere is always electric and there's a distinct festival feel. As we stood shivering the press area, with the stands filling up around us, you could feel the buzz of excitement building. Maybe it was the epic castle setting, in front of that ancient fortress that seems like such a symbol of Scottish spirit. Or maybe it was the announcer hyping everybody up, getting all the different nationalities in the audience to cheer so we could see just how big a global reach the Tattoo has.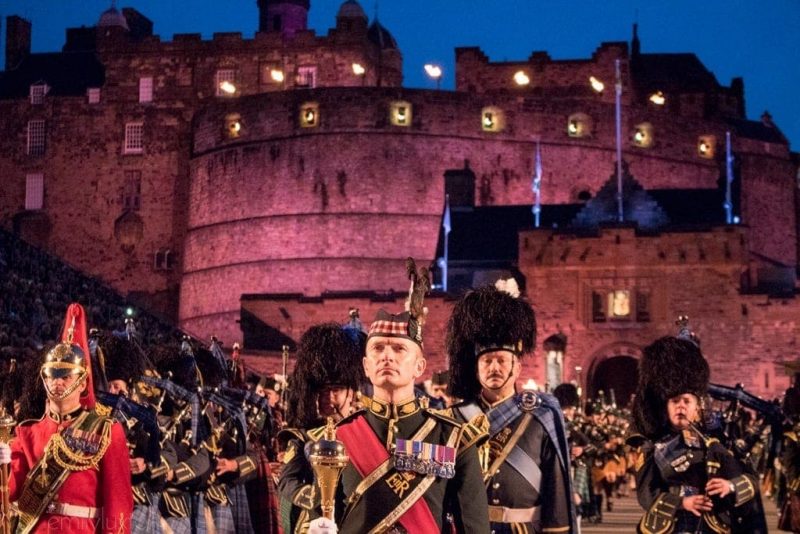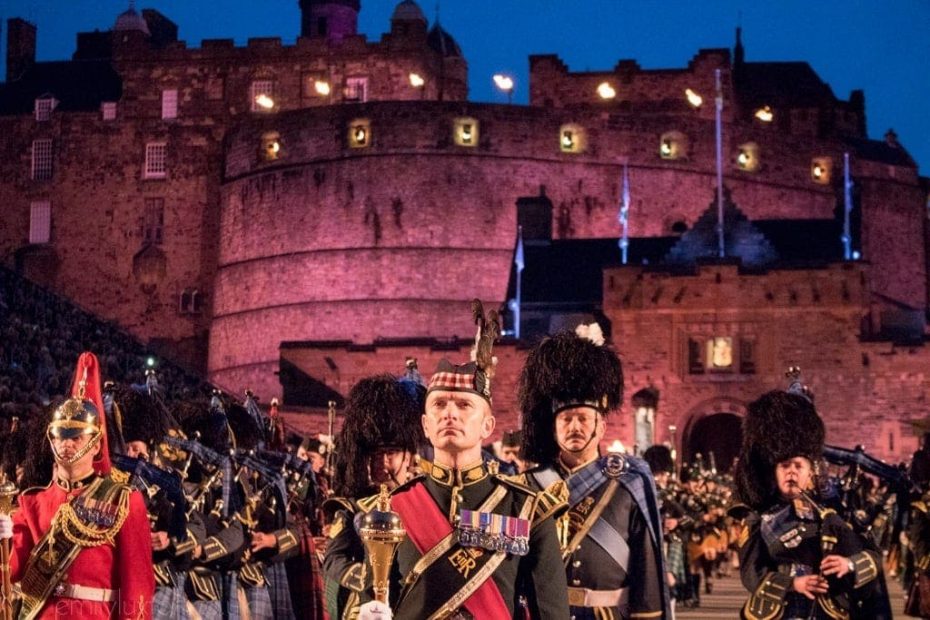 Talent from Around the World
But what actually is The Royal Edinburgh Military Tattoo? It's a spectacle that happens every year throughout the month of August, with dozens of military bands and dance groups performing within the castle grounds.
If you're thinking it's one big marching band, the kind you sometimes see in British carnival processions, you're way off. For one thing, this month-long sell-out show is far, far bigger than that. But for another, this incredible 100-minute-long show features talent from around the world. Performers from as far as Australia and Oman team up with those from closer to home, creating a show of enormous scale. It all feels like a massive, extravagant celebration of the world's diversity – and I loved it!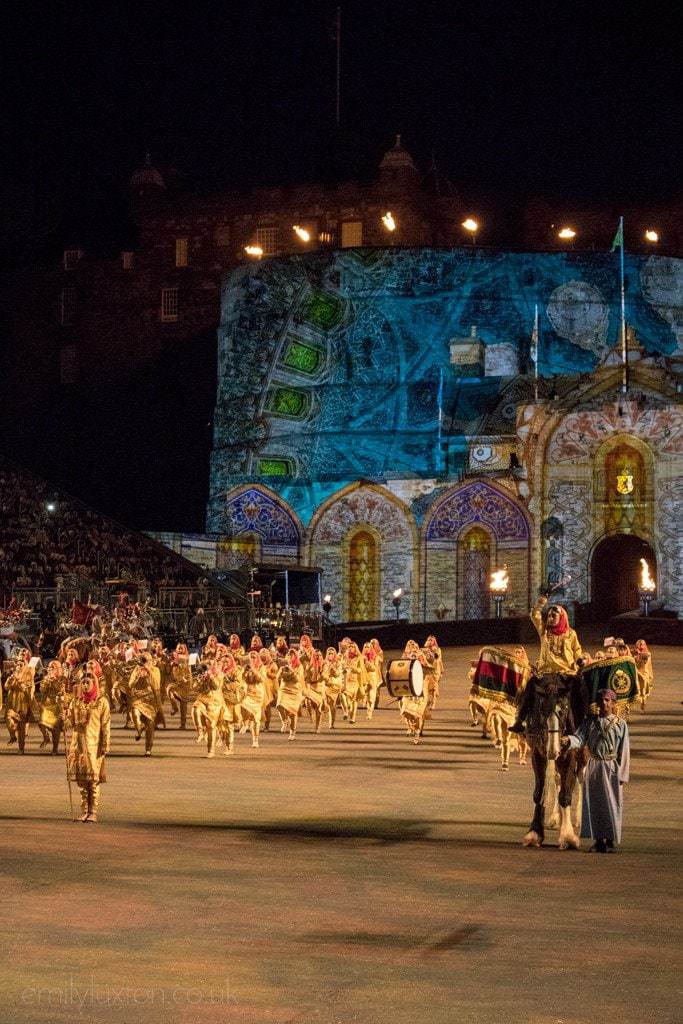 To date, more than 40,000 performers from over 50 countries have taken part – and the 2018 show featured around 1,200 military and civilian performers from around the world. Highlights included the Royal Cavalry of the Sultanate of Oman, an all-female military band complete with horseback pipers. Then there were the fiesta-vibes of the Banda Monumental de Mexico; complete with mariachis, traditional folk dancers, and a cover of Luis Fonsi's Despacito*.
Then there was the jaw-droppingly, ridiculously incredible Top Secret Drum Corps from Basel in Switzerland. Seriously, go watch them on YouTube. They moved with the most frighteningly perfect precision, it was mesmerizing. I don't think I blinked for a whole five minutes!
*Hands-down one of my all-time favourite songs. Sorry not sorry.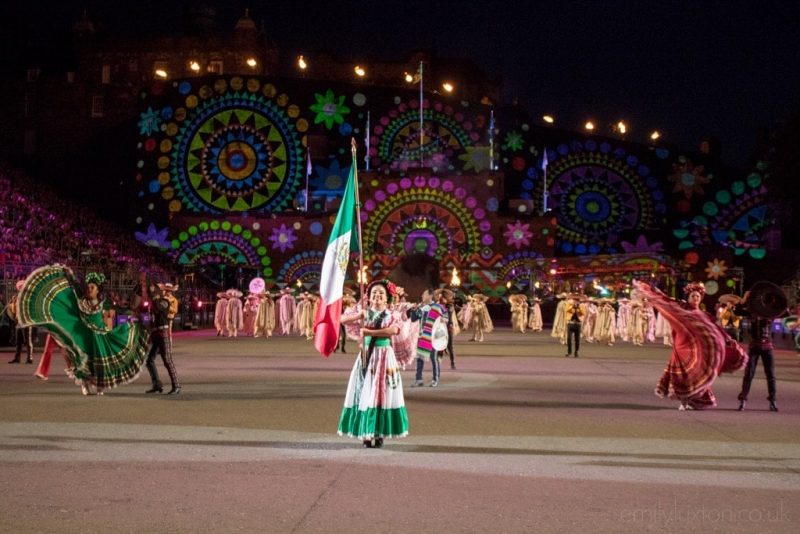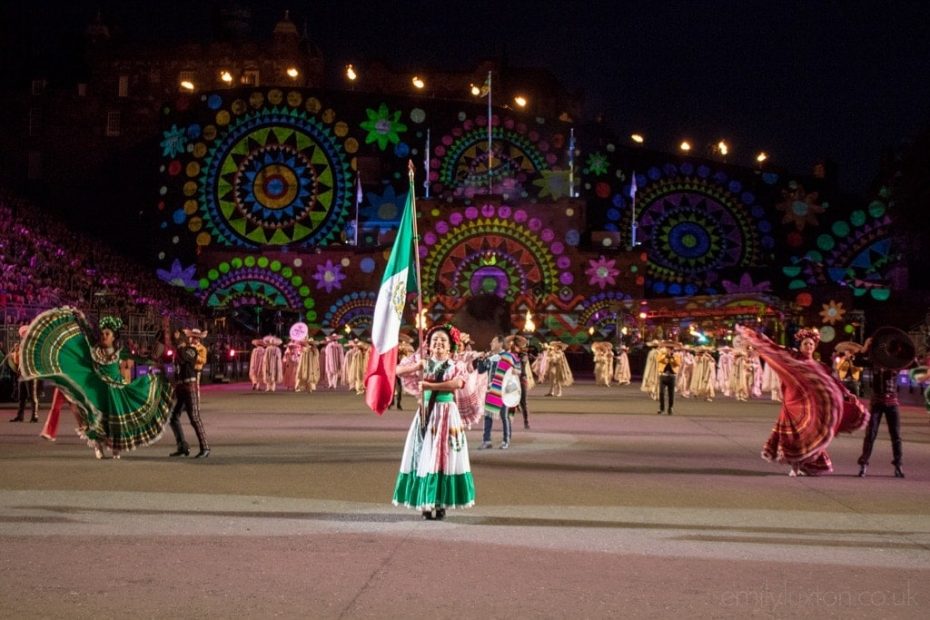 Storytelling at the Royal Edinburgh Military Tattoo
Every country tells a story with their performance. Whether it's a celebration of their heritage and culture, like the Central Band of the Czech Armed Forces and Ondras Military Army Ensemble, with their dancers in traditional skirts, or a more vague concept, like the Hjaltibonhoga Shetland Fiddlers who focused on the seabirds of Scotland's islands. It was all so diverse and vibrant.
Alongside the dances and the music, lighting and images were projected onto the castle walls, making it as much a part of the performance as any of the military bands. From colourful Mayan designs for Mexico, to the Arabian night skies for Oman, to a giant Scottish flag. The effect was staggering!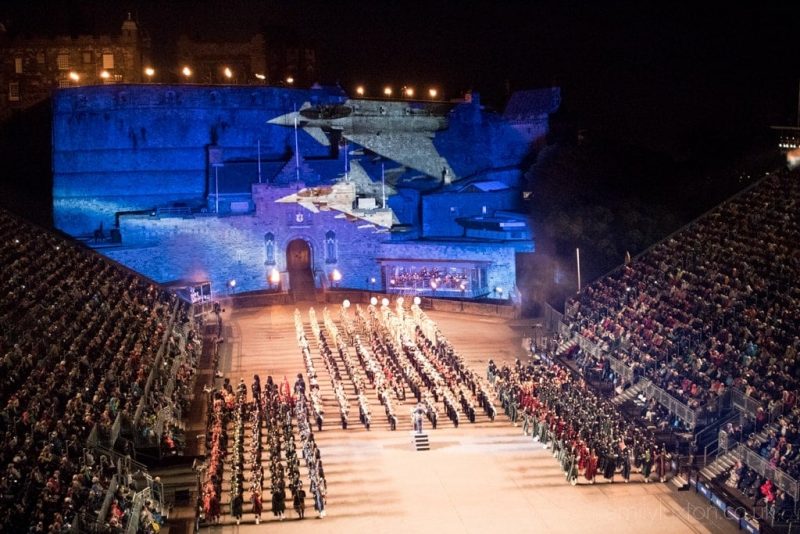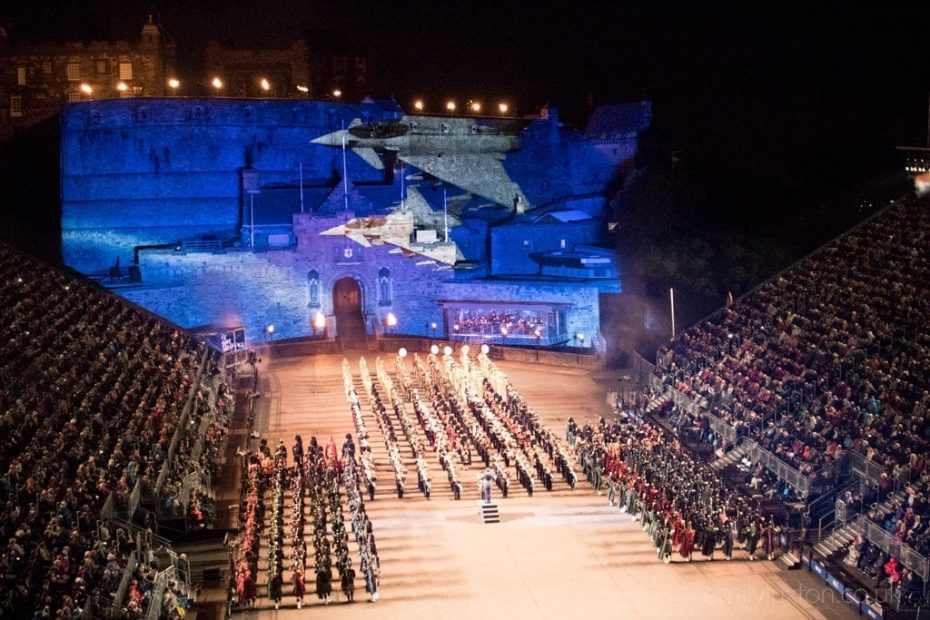 Is the Edinburgh Military Tattoo Expensive?
The short answer is that it doesn't have to be! Tickets start at just £25, which isn't really too bad compared with normal show prices in the UK. Though it's worth paying a bit extra for a front-on view, in my opinion. There are no bad seats in the house, but from the front, you really get to see the best of the show. Be sure to book tickets your tickets in advance, as The Royal Edinburgh Military Tattoo has sold out every year!
If you want to make it an experience to remember, you can splurge on tickets that include hotel stays or even meals at the castle before the show.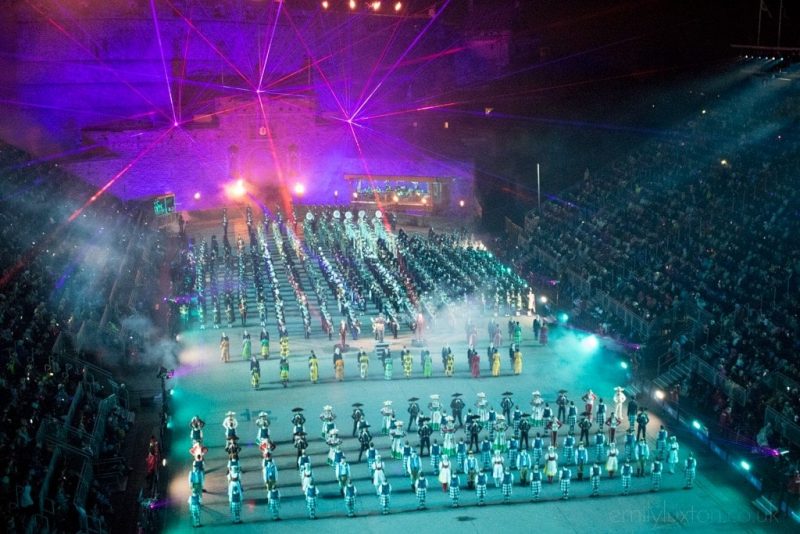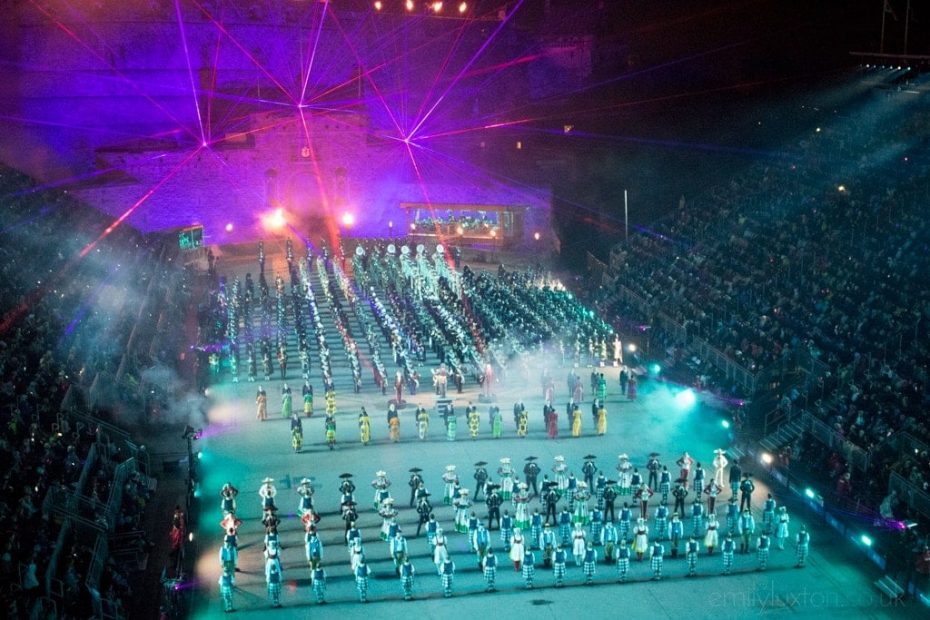 Top tip – It can get pretty chilly up on that hill in the evenings, even in August. So I recommend you wrap up warm – or buy one of the wool blankets for sale at the castle gift shop!
Read Next
Tips for your first Edinburgh Fringe Festival
How to Plan a Weekend in Edinburgh
25 Unusual Things to do in Edinburgh
Exploring the Scottish Highlands with Rabbies Tours
19 Epic World Festivals for your Bucket List
My trip to Edinburgh was supported by Edinburgh Festival City. As always, all words and opinions are my own.