Some posts on this site contain affiliate links. If you book or buy something through these links, I earn a small commission (at no extra cost to you). Take a look at my privacy policy for more information.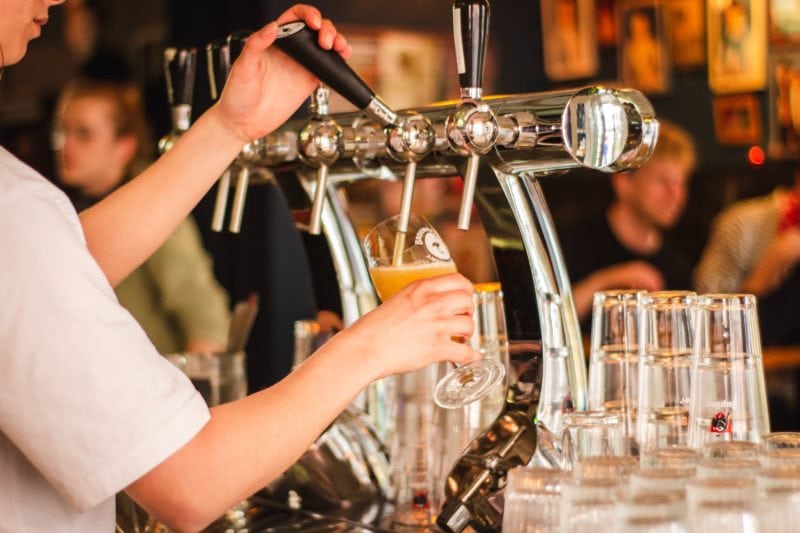 A quick guide to the biggest and best Oktoberfest celebrations in the UK for 2023…
One of Europe's favourite celebrations, Oktoberfest, is almost upon us – so it's time for all you beer lovers to start making some plans!
Often called the world's largest funfair, Oktoberfest is a 16-day festival held annually in Munich.
Although the festival involves amusement rides, funfair games, and vast amounts of German food including sauerkraut, pretzels and sausages, we most associate it with Oktoberfest Beer – with over seven million litres of the stuff being served across the event.
If you can't make it over to Munich this year, don't fret, as there are loads of fun Oktoberfest celebrations throughout the UK! So grab your Lederhosen or Dirndl and get ready for some traditional Bavarian fun…
Best Places to Celebrate Oktoberfest in the UK
Your guide to the best Oktoberfest events in the UK…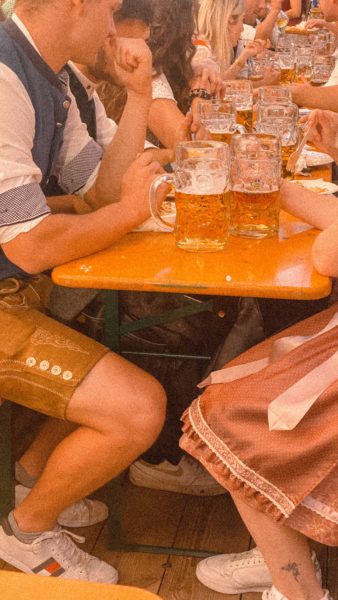 Oktoberfest in London
This year's official London Oktoberfest is held across three weekends at two different venues. But there are also smaller events being held at individual venues across the city.
London Oktoberfest: Ealing
Dates: 19 – 21 October 2023
Location: Walpole Park (closest station Ealing Broadway)
Price: from £5
More info
London's legendary Oktoberfest has been running since 2011 and has grown into the biggest in the UK, with over 30,000 attendees every year!
Expect a huge beer tent filled with long, communal-style tables and decorated in the traditional Oktoberfest blue and white colours. Staff will be dressed in Dirndl and Lederhosen – and dressing up among participants is very much encouraged.
There will be bands all the way from Germany, and giant Bavarian beer specially made for Oktoberfest in a small brewery close to Nuremberg. This is one of the most authentic Oktoberfest experiences in the UK, so don't miss it!
London Oktoberfest: City Centre
Dates: 26 – 28* October 2023 and 2 – 4 November 2023
Location: Finsbury Square (closest stations Moorgate and Liverpool St)
Price: from £5
More info
*28 October is Halloween Oktoberfest
The same Oktoberfest experience mentioned above takes over Finsbury Square in Moorgate for the following two weekends. All details are as above – but there's also a special Halloween Oktoberfest on Saturday 28th.
Bierschenke Bierkeller, Covent Garden
Dates: 20 September – 4 November 2023
Price: FREE
More info
The Bierschenke Bierkeller in London's Covent Garden have been throwing authentic Oktoberfest parties for over 12 years!
Expect proper German beers, live Oompah music, a warm Munich welcome, and hearty helpings of traditional German food such as schnitzel and sausages. This is a great way to experience an authentic Oktoberfest experience in London.
Camden Oktoberfest
Dates: Saturdays, 30 September & 7, 14, 21, and 28 October 2023
Price: from £20
Location: Electric Ballroom
More info
London's premier Oktoberfest is back at Camden's Electric Ballroom, blending the best traditions with a new school London twist to create an unforgettable day-into-night party.
After dark, the Oktoberfest turns into a rowdy party with Bongo Bingo's Matty Powers hosting games, prize giveaways, dance-offs, and wild challenges, all soundtracked by the legendary eight-piece No Limit Street Band.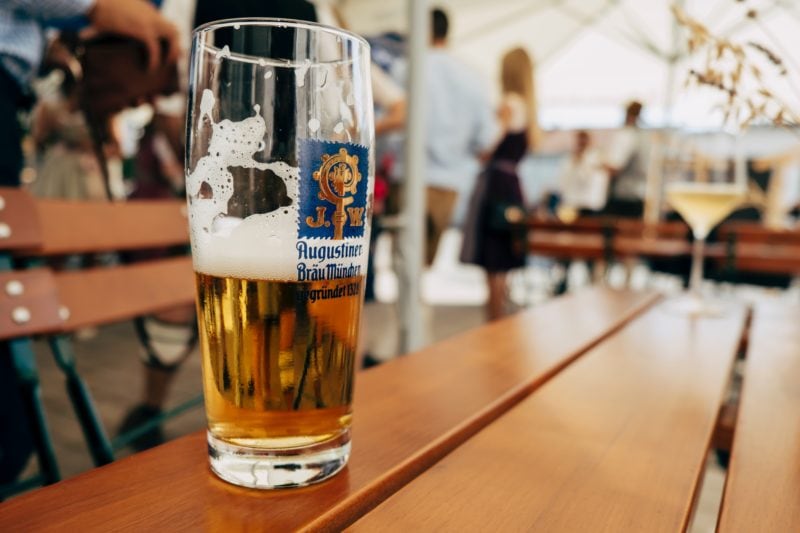 Best Places to Celebrate Oktoberfest in England
Manchester
Dates: 13 – 14 October 2023
Location: Platt Fields Park
Price: from £10
More info and booking
With more than 10,000 guests each year, Manchester's Oktoberfest is one of the biggest in the UK. The event will take over Platt Fields Park in Manchester, with a giant beer tent in full Oktoberfest decoration. Expect live music, traditional food, and giant Bavarian beer made especially for Oktoberfest.
This year it's the 10th anniversary of Manchester Oktoberfest – and according to the website, this year will be "more fun, more party and more Oktoberfest than ever before".
Dartmoor, Devon
Dates: 6 – 8 October 2023
Location: River Dart Country Park
Price: camping pitches from £21.50
Down in south Devon, you can head to the River Dart Country Park in Ashburton for a unique spin on the Oktoberfest celebrations, combining Bavarian traditions with camping and a Volkswagen show.
Camp (or bring your campervan) at River Dart Country Park to enjoy the show. The campsite is packed with fantastic facilities, including an adventure playground, zip wires, high ropes, and a BMX pump track.
There are some great walks in the area and all the attractions of Dartmoor National Park are within easy reach. So you can plan a whole holiday around your Oktoberfest weekend!
Bristol
Dates: 6 – 7 October 2023
Location: Lloyd's Amphitheatre
Price: from £8
More info and booking
The South of England's biggest party city, Bristol also hosts the region's biggest Oktoberfest. Bristol's Amphitheatre hosts over 6,000 people across 3 sessions with food, drink, entertainment, and the UK's best Oompah band.
Butlins – Skegness and Minehead
Dates: Skegness: 6 – 9 October 2023 / Minehead 13 – 16 October 2023
Location: Butlins
Price: from £48pp (includes three nights accommodation)
More info and booking
Butlins is a chain of cheap-and-cheerful holiday parks in the UK. While they might be best known as a family holiday weekend, their adults-only Big Weekender festivals are also legendary. And their annual Oktoberfest Big Weekenders are perfect for a party-heavy Bavarian experience!
These weekends combine all the aspects of a traditional German Oktoberfest (beer tents, oompah bands, traditional food) with Butlins' unique Big Weekenders experience. That means things like pool parties, silent disco, fairground rides, live music, and fantastic DJ sets. This year's special guest DJ's include Pat Sharp and Paul Chuckle!
Best Places to Celebrate Oktoberfest in Scotland
Edinburgh
Dates: 5 – 8 October 2023
Location: West Princess Street Gardens
Price: from £5
More info
Edinburgh Oktoberfest is a huge event held in a tent right in the middle of the city. West Princess Street Gardens will be transformed into a traditional Oktoberfest with live music and great atmosphere. This year it's the 10th anniversary, so expect an even bigger event than ever!
Glasgow
Dates: 30 September – 30 October 2023
Location: Bavaria Brauhaus
Price: free
More info
Glasgow's most authentic German beer hall, the Bavaria Brauhaus is hosting a month-long Oktoberfest celebration. Their resident Oompah band will be playing at 6pm on Friday evening and from 8pm on Saturday's. Expect great German beer and fantastic food.
Oktoberfest Costume Inspiration
Whether you're hosting your own Oktoberfest party, or heading to an event in your hometown, you should get stuck in and wear the traditional costume.
Traditionally, women wear dirndl dresses while men wear leather lederhosen shorts with suspenders over a white shirt. But there are also dirndle dresses for men and lederhosen for women, so you can really dress as you want!
There are LOADS of great Oktoberfest outfits on Amazon. I've included some photos below for inspiration, or click here to do a search.
Do you know about any other great Oktoberfest events in the UK? Scroll down to share in the comments!