Some posts on this site contain affiliate links. If you book or buy something through these links, I earn a small commission (at no extra cost to you). Take a look at my privacy policy for more information.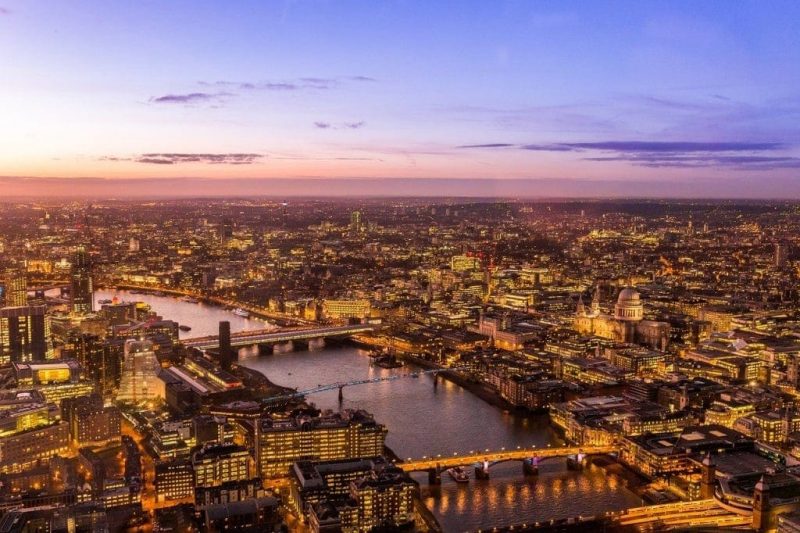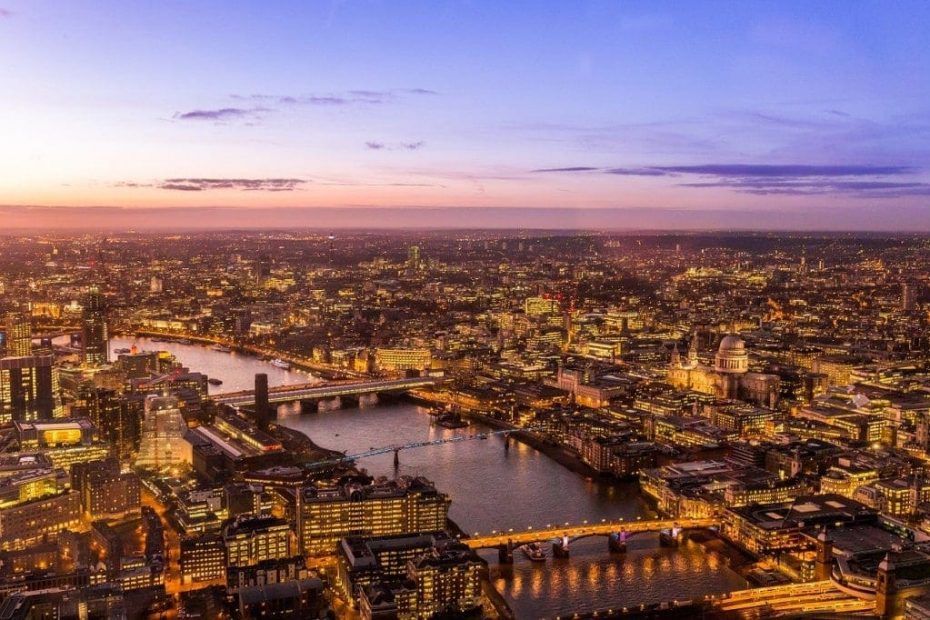 Welcome to my guide to the best hostels in London! I rounded up a bunch of travel bloggers to get recommendations, as well as including some of my own personal favourites.
If you're travelling to London on a budget, a hostel could be the perfect accommodation option. But with so many to choose from, it's hard to know where to start. I've divided this post into four sections to make life easier…
Historic Hostels, housed in listed buildings or crazy conversions which ooze character.
Social Hostels for folks who want to make friends or party (but still get an unbroken night's rest).
Premium hostels for those who like the finer things in life.
Use the contents list below to skip ahead to the section that suits you best, or scroll through the whole post for inspiration. There's also a map to help you find all the best London hostels.
Wherever you end up staying, you're sure to have a fab trip in the UK's beautiful, historic capital…

Best Hostels in London: Map
The map below shows where all these fab London hostels can be found.
Remember, London has a lot of different districts, each with its own personality. So you don't need to stay right in the city centre, as every part of London has great things to see and do.
Historic Hostels
Looking to soak up a little of London's atmosphere in a hostel with a bit of history? These character-filled London hostels in converted properties could be right up your street…
RELATED POST: Unusual Things to do in London
Clink 78, Islington
A converted courthouse with cells for rooms!
Recommended by: James, World Travel Chef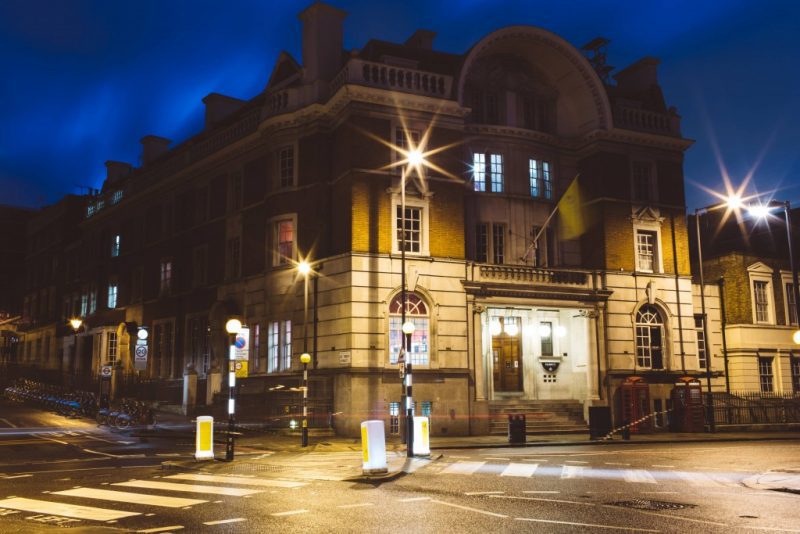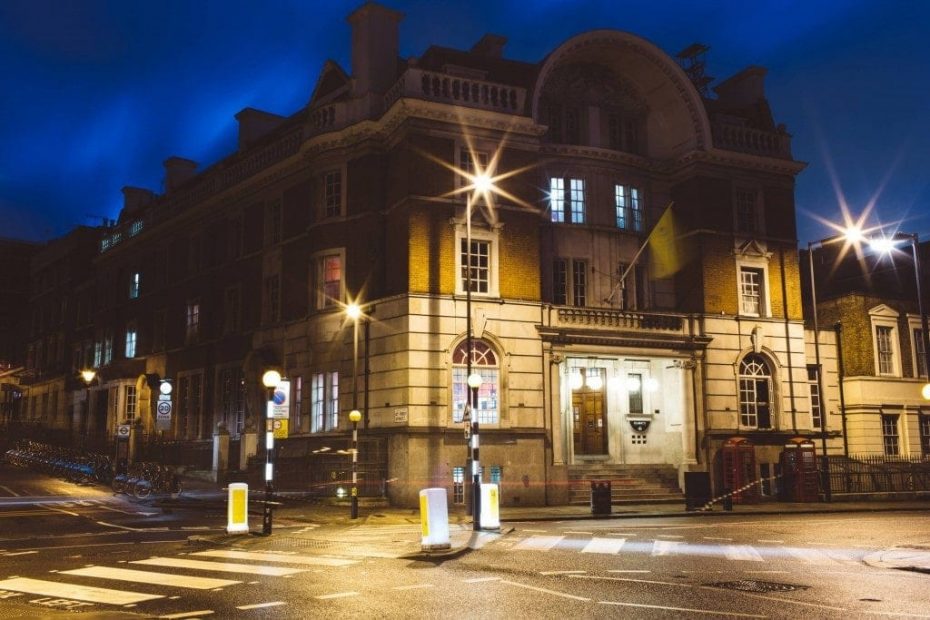 The hostel I always stay in and swear by is Clink78, an old courthouse that has been converted into a hostel. It was the old Clerkenwell Magistrates Court.
From the moment you check in and get your free drink voucher, Clink 78 is buzzing with atmosphere. There is a funky bar downstairs with pool table and dance floor. A large kitchen area with ample seating is adjacent. The unique part that no other hostel has is that both courtrooms remain unchanged – including the judge's chair – and you can now do computer work in one and watch TV and movies in the other.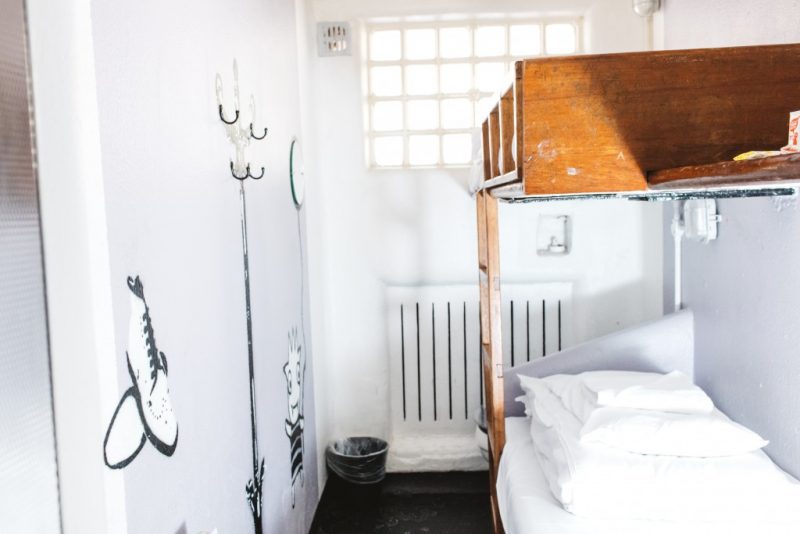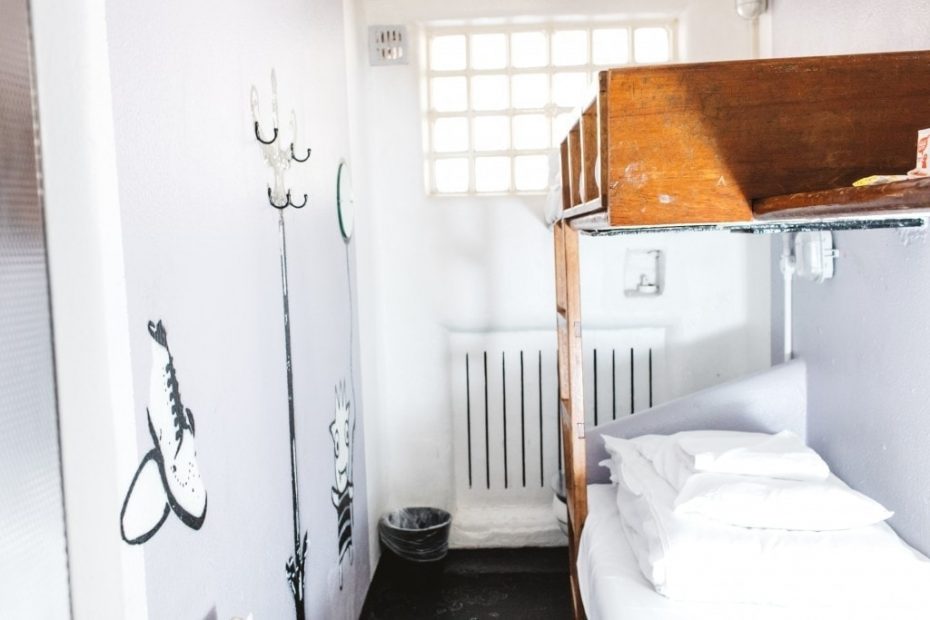 For a little extra the old cells have been turned into double rooms complete with original doors (they do now open from the inside). For me this is a home away from home. The staff make you welcome from the moment you check in until you leave and the hostel is run as well as any 5 star hotel. I love the old Victorian building and how it has been kept as is with the hostel conversion. To unwind you can't beat the courtrooms or Clashbar (cheap drinks) after a hard days work or sightseeing.
Book now: Booking.com
(Both images courtesy of Clink Hostels)
Astor Hyde Park, South Kensington
A converted Victorian mansion with a great social vibe
My personal recommendation!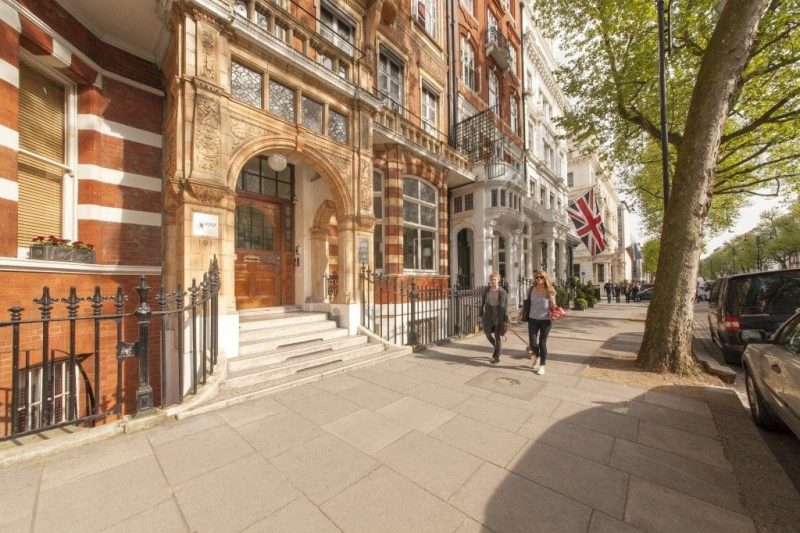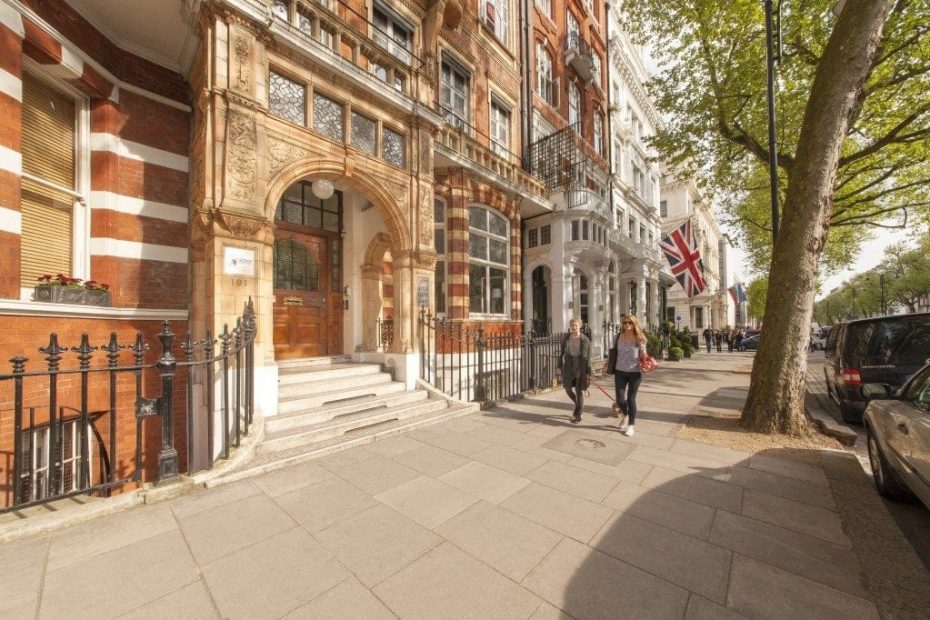 I first discovered the Astor brand when I did a review stay with them, but since my first stay at Astor Hyde Park this is always my first choice when I'm visiting London on a budget. In upscale South Kensington, and housed in a converted Victorian mansion, this is a surprisingly glamorous hostel option – and I love it!
Location is a huge selling point at Astor Hyde Park. It's two minutes from Hyde Park and within walking distance of South Kensington's museums, as well as less than an hour's walk to Oxford Street and Southbank (or you lazy folk can just take the tube!). Many of the original features are still found throughout the building, and those high ceilings make a world of difference in the dorm rooms, which are big, light, and airy.
This is a great hostel for socialising. There are plenty of comfy common areas, as well as daily activities including tours, pub crawls, and drinking games. But it's in a huge building, and the room where all the action takes place is housed in the basement – which means no noise up in the rooms. It's the perfect balance!
Book now: Hostelworld | Booking.com
Safestay London Holland Park, Kensington
Magical location in one of London's beautiful parks
Recommended by Kathi, Watch Me See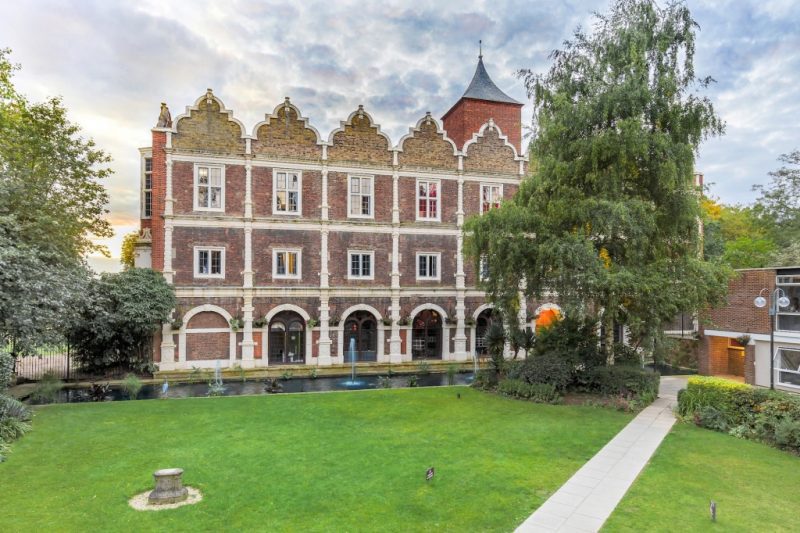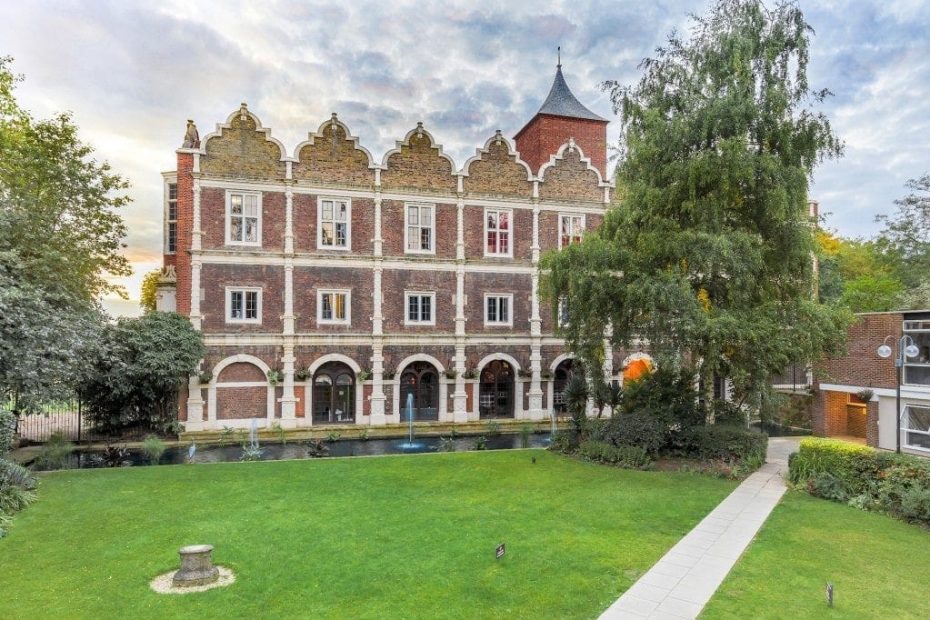 Even though the Safestay Holland Park only opened its doors a few years ago, it's a hostel with great history. Located in a listed mansion in the middle of Holland Park, it connects beautiful architecture with a rich local history and a great opportunity to explore Kensington with style. It is a perfectly quiet getaway; close to nature and yet very well connected to city life and sights. I loved waking up in the mornings and listening to the park's peacocks' calls before heading out.
Book now: Hostelworld | Booking.com | Hotels.com
Social Hostels
Want to make friends, get your party on, or join in some top-notch social activities? These social hostels in London are known for their great atmosphere…
St Christopher's Oasis, London Bridge
Tranquil, female-only hostel in the city centre!
Recommended by: Jeanette Cheney, Traveling Honeybird
There's nothing quite like a smiling face when you walk into a hostel in a wonderfully new and strange city. This was the first thing I saw when I walked into St Christopher's The Oasis Hostel in London.
RELATED POST: Local's Guide to Bermondsey and South East London
I had a small inkling that I was in good hands with the ease of booking myself a private room and the superb directions to get from the airport to the hostel via the tube. After a day waltzing around London in a jet-lagged haze, I came back to my room and was immediately impressed by the cleanliness of the room and facilities, as well as the additional safety for female travellers. The staff here went above and beyond, with their local knowledge and tips to see most of London on a budget.
The Oasis really was exactly that. An oasis away from the hustle and bustle of London Street life. My room came complete with fresh linen, towels, excellent wifi and in the morning a breakfast fit for a hostel queen. Read more.
Book now: Hostelworld | Booking.com | Hotels.com
St Christopher's Inn, Liverpool Street
The best private rooms, in an ideal location!
Recommended by: Tara, Where is Tara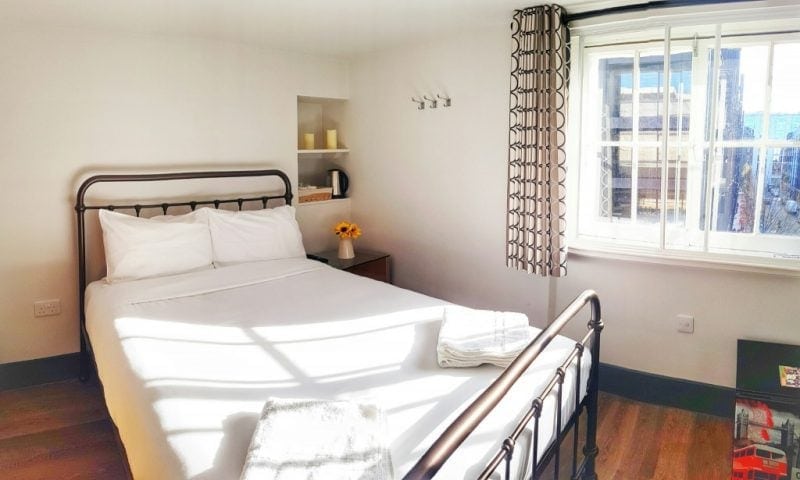 I love the St.Christopher's Inns chain of hostels. However, it's their newest hostel, just minutes away from Liverpool Street station, that I've really fallen for. The location was so unique. The hostel is located above "The Flying Horse" pub in the financial/business district of East London. So, unlike most parts of London, the streets are relatively quiet. You'll be sleeping like a baby!
RELATED POST: East London Street Art Walk
It feels A LOT less touristy than other parts of London. And only a ten-minute walk away are the Spitalfields Markets full of quirky vintage clothing, great food (red velvet brownie anyone?!) and colourful art. Plus you're not far from Shoreditch's famous street art, and trendy Boxpark, the shipping container mall.
If you're too tired to leave the hostel that's not a problem, as the pub below serves food and hostel guests get 25% off as well as 2 for 1 on spirits. The bar is super popular with locals but closes at 11pm so can still get a good night's sleep. I stayed in a private room and it was gorgeous. The bathroom has a rainfall showerhead, not a common fixture in London hostels! The room also has a TV, great WiFi, a fridge, a/c and tea/coffee making facilities. If it wasn't for the reasonable prices and the fun vibe I'd almost forget that I was in a hostel completely!
Book now: Hostelworld | Booking.com | Hotels.com
Safestay Elephant & Castle
Couldn't be in a better location for sightseeing, partying and shopping
Recommended by: Kathi, Watch Me See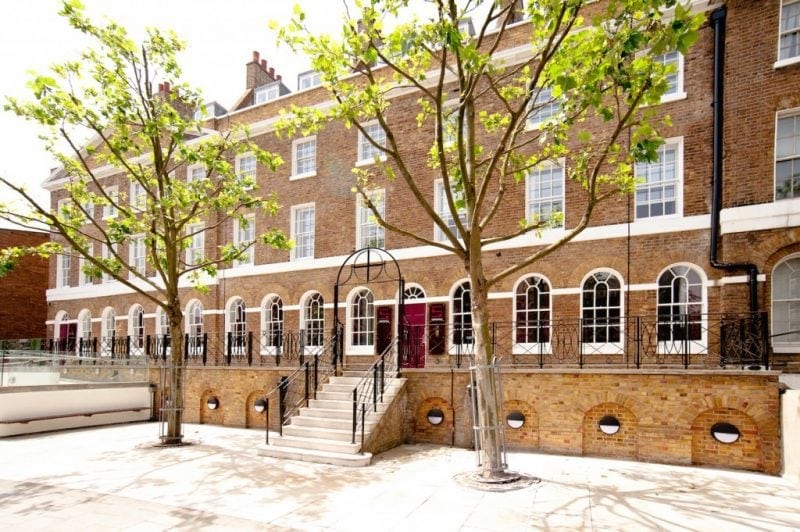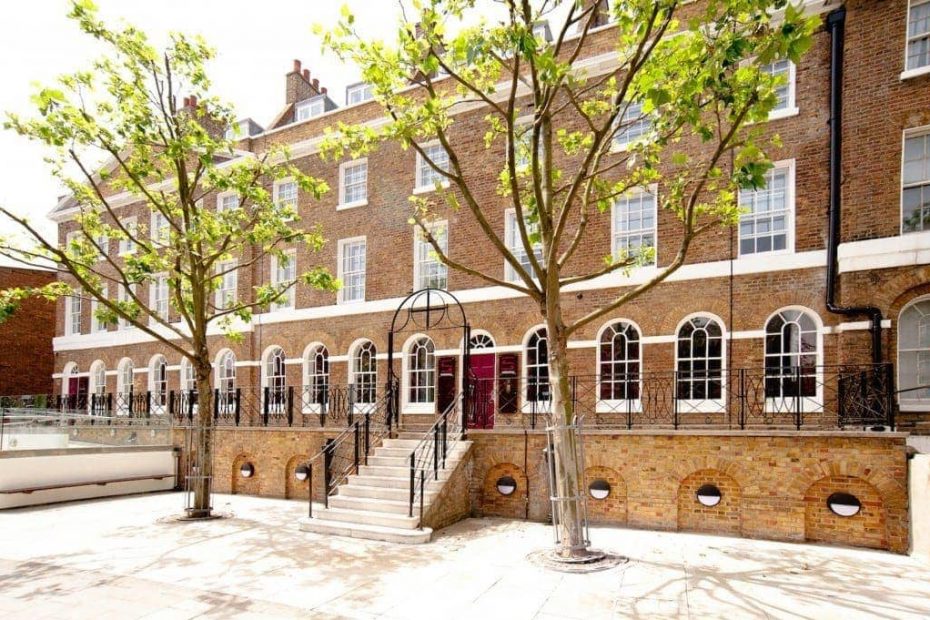 The Safestay Elephant & Castle is a huge hostel, specifically catering to groups, but also great for individual travellers, as there are loads of social areas, a bright bar and an outdoor lounge. The immediate neighbourhood gives you London off the beaten track (visit the Electric Elephant Cafe!), but by public transport, you're in West or East London within half an hour!
Book now: Hostelworld | Booking.com | Hotels.com
Wombats Hostel, Whitechapel
Awesome underground bar – that won't disturb your sleep
My only experience at Wombat's London was at a party in the bar. However, a friend of mine was staying there so I did get to nosy around the dorms and take a peek at the view from the top floor balcony (which is incredible, by the way). I also know that it's in an ideal location for exploring East London.
There's a lot of history in this building, which has been a hostel for over 150 years – it was originally opened as a hostel for seamen in 1865. Today the design is sleek and well thought out, with plenty of modern touches – including an all-important lift!
Downstairs is a huge bar which is perfect for socialising, and usually has a lively party atmosphere. But because it's down in the basement, the noise doesn't creep up into the rooms – so you can still get a good nights sleep if you don't feel like partying.
Book now: Hostelworld | Booking.com
Astor Victoria, Victoria
Friendly hostel with daily social activities
Recommended by: Joanna, The World in My Pocket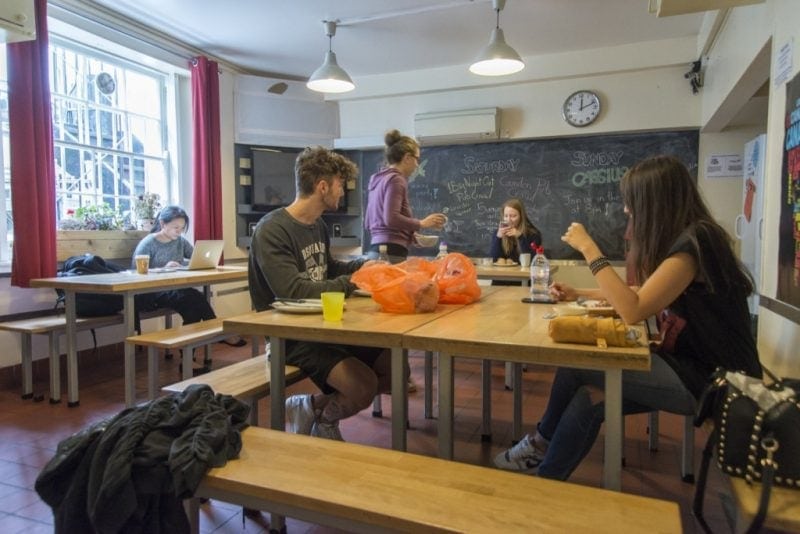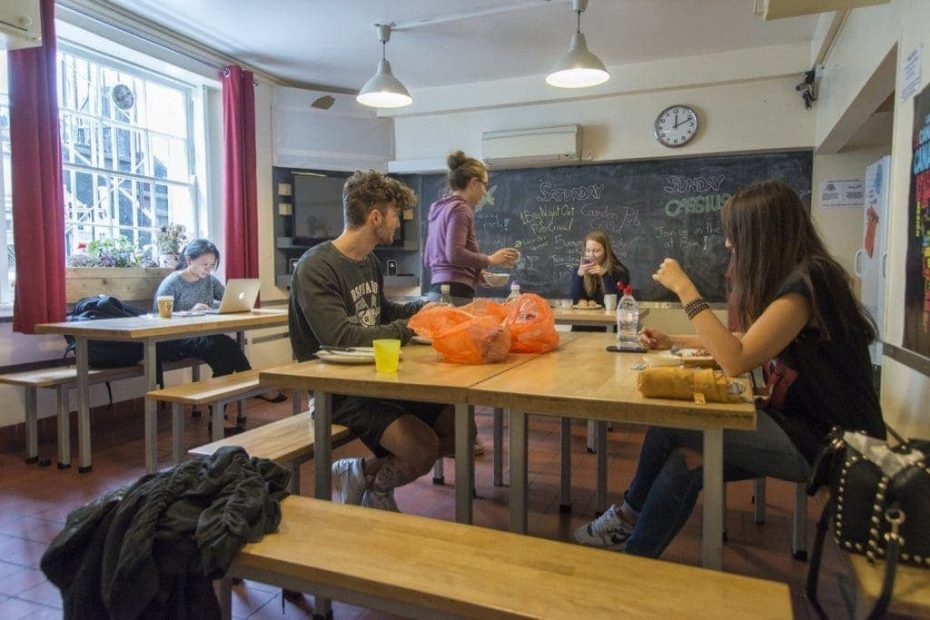 The first ever hostel I stayed at was Astor Victoria, in London. It was at the beginning of my travelling "journey", and I was very excited to include London in a one month trip through Europe. I remember reading first about Astor Victoria on the Lonely Planet website. That's actually where I also booked my stay.
What I love about Astor Victoria is that is a very friendly hostel, with volunteer staff always there to give you advice. Since I moved to the UK I have stayed at Astor Victoria more than a dozen times. I like it here because being in a residential area, the nights are usually very quiet and you can get a good night's sleep. Each bed comes with a very large storage box underneath where you can easily fit a big case or backpack. An advantage is the included breakfast and the free WiFi.
Also, the location of the hostel couldn't be more perfect, merely 15 minutes' walk from both Victoria train and coach station. Bus number 24, which goes into Westminster and central London, stops across the street from the hostel. There are plenty of supermarkets nearby, and the hostel has a large kitchen where you can cook if you don't want to eat out.
Book now: Hostelworld | Booking.com
Generator London, Kings Cross
Design-led party hostel from my favourite brand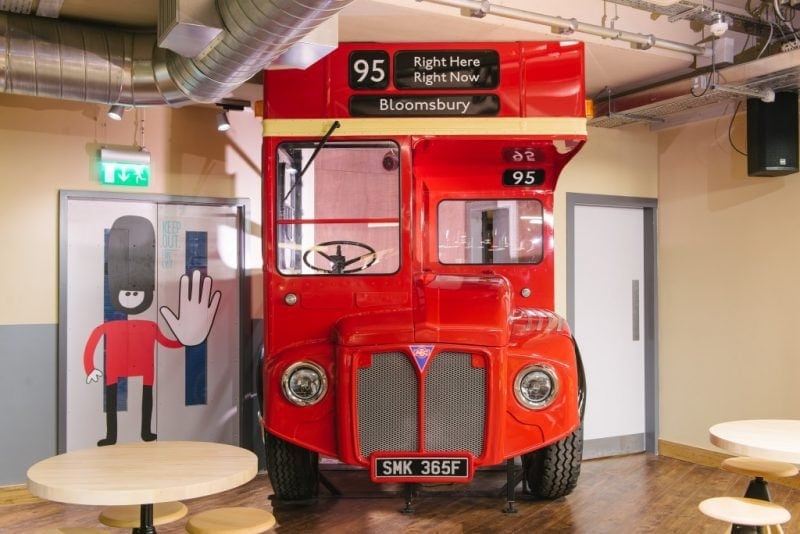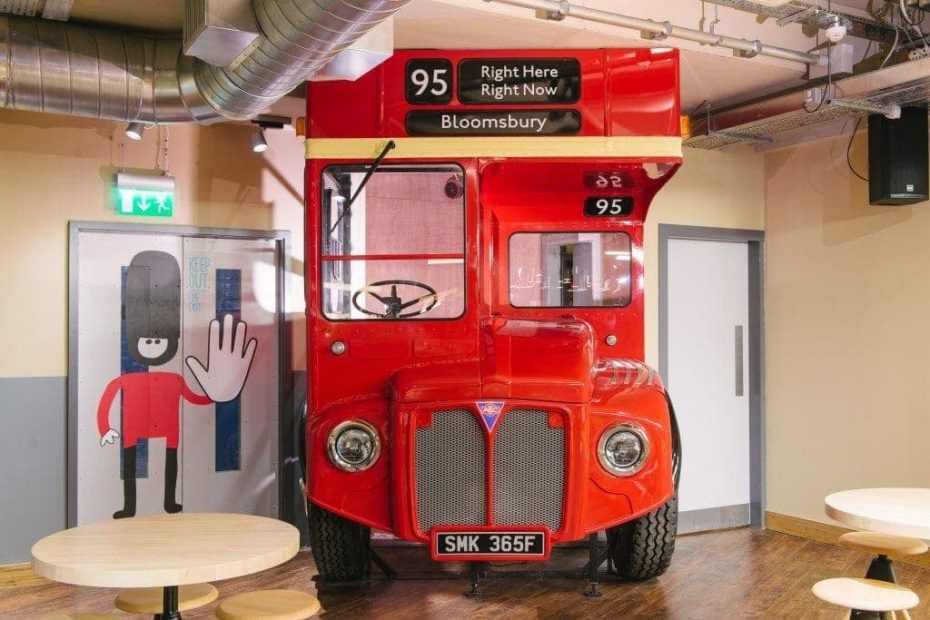 I love the Generator brand hostels – I've stayed in a few across Europe now and always have a great experience. Like all Generators, the dorms and Generator London are super clean, modern, and really well thought out. The idea behind the brand is to create affordable luxury rooms, and the ones in London are no exception.
This is one of London's coolest hostels. Industrial-chic design in the common areas, tons of unique events, and quirky furnishings that Shoreditch would be proud of! If you're looking to socialise, the bar has a huge party scene. I've heard a few (unconfirmed) reports that the bar noise can creep into some of the rooms at night, so ask for a room on a higher floor if necessary.
Book now: Hostelworld | Booking.com | Hotels.com
London's Premium Hostels
Luxury hostels, poshtels, or premium hostels… whatever you call them, stylish, design-led hostels are the new big thing in budget accommodation. These are some of the coolest hostels in London, where design is everything…
Palmers Lodge, Swiss Cottage
A renovated mansion labelled as a five star hostel by Hostel Geeks
Recommended by: Matt, Hostel Geeks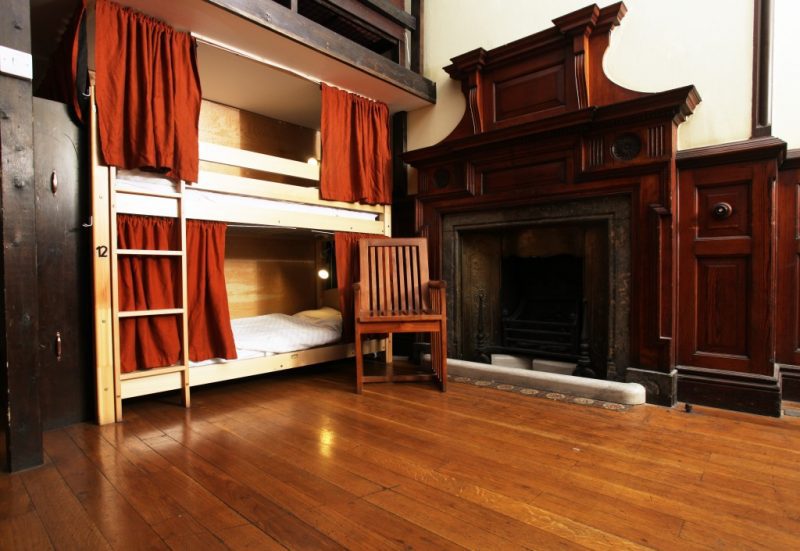 10% Promo Code: thank-you-hostelgeeks, valid for 2017
Our top hostel in London is without a doubt the Palmers Lodge family. The Palmers Lodge Swiss Cottage is an absolute charming hostel with lots of character – in and outside. The building is a renovated Victorian mansion with lots of space and different common areas to enjoy. The biggest room, the living space, comes with different sofas to chill and computers for free usage. Downstairs you can get a drink and some delicious and reasonably priced food, and play a round of pool. The rooms are also high-quality. Every single bed in the dorm features a privacy curtain, a plug to charge your phone, and a light.
What about the location? We love the area of Palmers Lodge Swiss Cottage. You are withing two minutes of the metro stop Swiss Cottage with direct access to downtown. The infamous Camden Market is also in walking distance. The area itself offers plenty of options to spend some quality time, including bars, cafés and restaurants for locals.
Book now: Booking.com | Hotels.com
Palmers Lodge, Hillspring
A converted police academy with a great social vibe
Recommended by: Matt, Hostel Geeks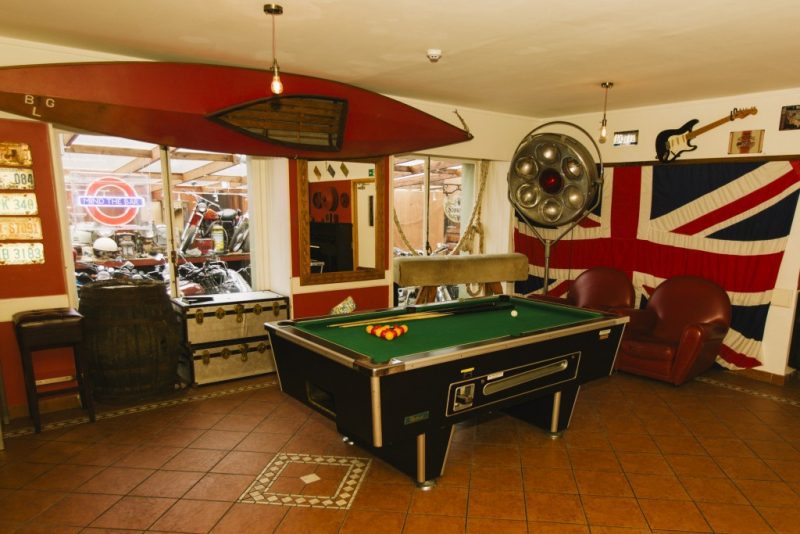 The bigger brother of Palmers Lodge Swiss Cottage is located in a former police academy and hotel. Stylish common areas combined with a cool social atmosphere make the Palmers Lodge Hillspring a unique and fun place. The bigger common area comes with an on-site bar and a pool billiard table. Together with Palmers Lodge Swiss Cottage, the hostels offer free walking tours and even pub crawls for those looking for a long night out.
In the beginning, we had our doubts if the hostel may be too far out of the city. But in fact, Hillspring Hostel is well-located in the neighbourhood of Willesden Green. It is close to a direct metro connection to the very heart of London. Famous Big Ben is a short 13-min train ride away.
Book now: Booking.com | Hotels.com
Budget Hostels
Trying to make the pennies go further? Being a generally more expensive city, it's hard to travel London on a budget. Luckily, there's still some pretty decent accommodation to be found that won't break the bank. These are a few of the better budget hostels in London…
Keystone House, Kings Cross
Ideal location for Eurostar travellers.
Keystone House hostel is in the perfect location for rail travellers. It's right across the road from Kings Cross and St Pancras, so it's ideal for getting the Eurostar in the morning. I found the staff really friendly, and the building felt very secure!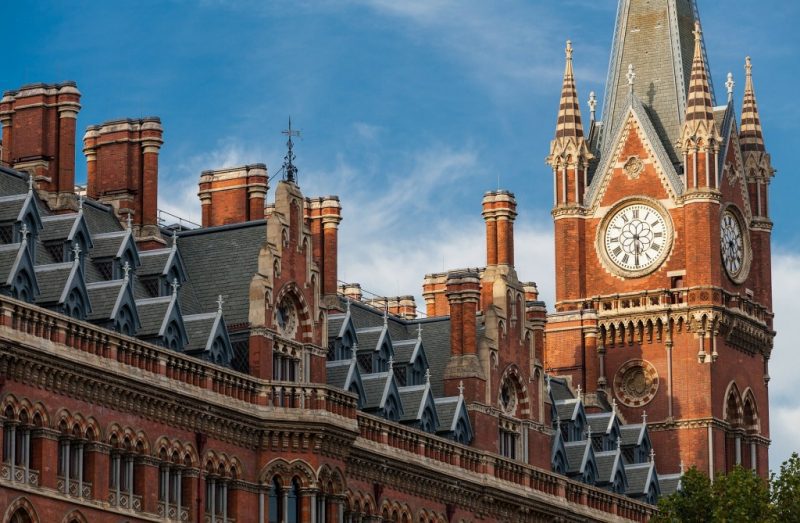 The building is tall and narrow, with lots of floors and no lift, so be wary if you're bringing a lot of luggage. Rooms were basic but comfy enough, and they were very quiet at night. There's not as much of a social vibe at Keystone House as other hostels, probably because there aren't many common areas and a lot of travellers are only here for one night because of the closeness to the Eurostar.
Book now: Booking.com
Via Limehouse, Limehouse
Modern, clean hostel not too far from the city centre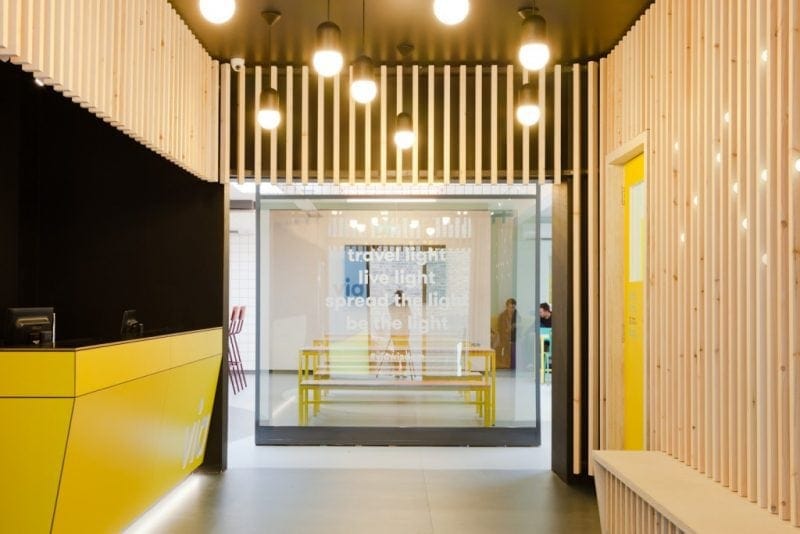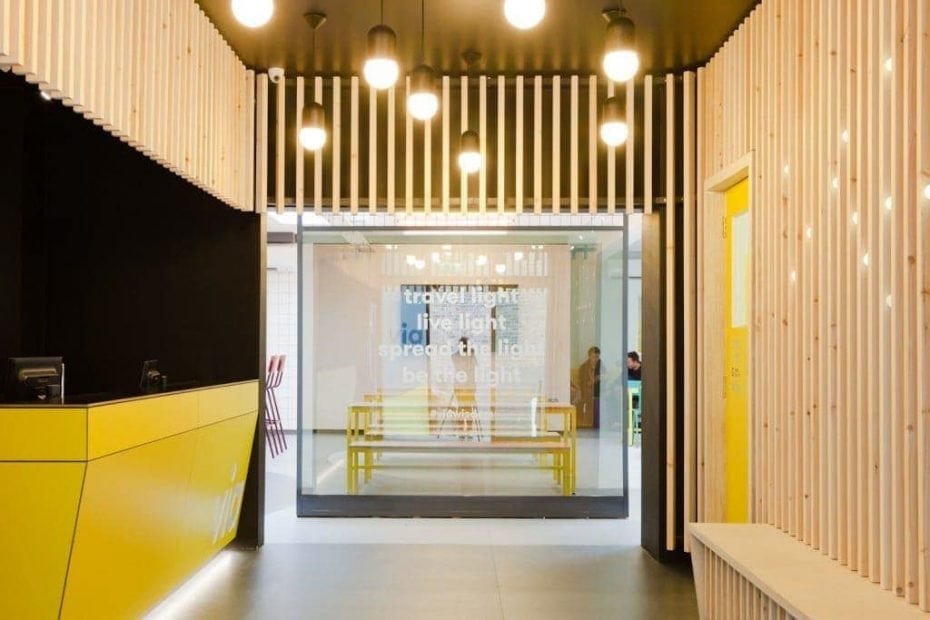 Rebranded as a "poshtel", Via Limehouse is still one of the cheaper hostels in London – probably because it's a little further from the city centre than many would like. However, it's just across the road from Limehouse DLR station so you can be in Bank or Tower Gateway within 10 minutes – so the location really isn't a problem.
Design is sleek and modern throughout, and I loved the big common areas and chillout zone. There's also food available 24 hours a day. The main downside is the size of the dorms, which can feel a little crowded – some have triple bunks! But if you don't plan to spend much time in your room, this hostel is ideal, and the huge common areas make up for the poky dorms in my opinion.
Book now: Booking.com | Hotels.com
What's your favourite hostel in London? If I've missed it from this list, drop me a comment below with why you love it. I'll see if it deserves to be added!
Got a question about this post or travelling London on a budget? Feel free to get in touch or leave a comment below.
Love this post? Pin it for later!