Some posts on this site contain affiliate links. If you book or buy something through these links, I earn a small commission (at no extra cost to you). Take a look at my privacy policy for more information.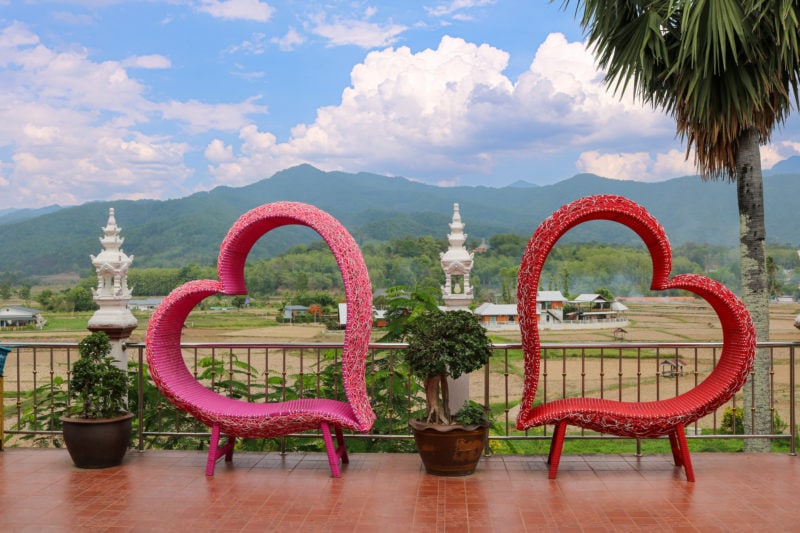 From the top sights to the must-try dishes, here's my guide to exploring Nan Province in northern Thailand…
In the far north of Thailand, tucked away on the border with Laos, the province of Nan is a true hidden gem. Peaceful, underrated, unique, and rich with heritage – this very special region has plenty to entice visitors.
Historically, Nan was part of the Lan Na (or Lanna) Kingdom, along with most of Northern Thailand (including nearby Chiang Mai). The entire region has a very different feel to the rest of Thailand – something that's particularly evident through the local food and culture.
The name Lan Na means "Kingdom of a Million Rice Fields". Looking around the rural province of Nan you can quickly see why! Agriculture is still the biggest industry here – creating the quiet, slow pace of life which makes this province such a wonderful place to relax and unwind.
If you want to discover a whole new side of Thailand, delve into the north's unique culture and heritage, or simply get away from it all and out into nature – be sure to add Nan Province to your Thailand itinerary. Happy travels…
Disclaimer – my trip to Nan Province was supported by the Tourism Authority of Thailand. As always, all words and opinions are 100% my own.
Why Visit Nan Province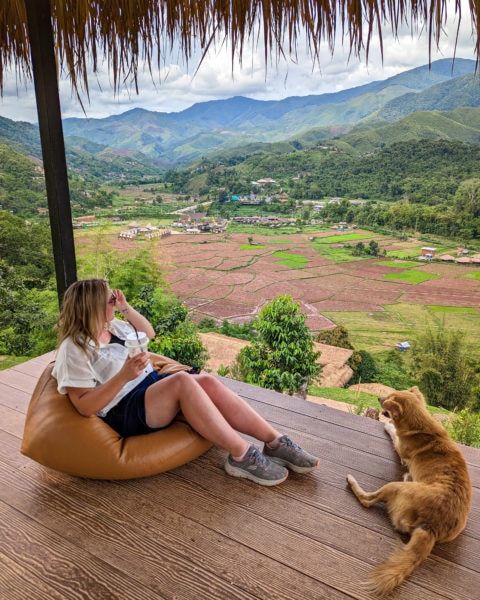 The main attraction of this sparsely populated and largely rural area is its stunning natural beauty. Nan is an area of emerald green mountains, lazily snaking rivers, and seemingly endless rice paddies. All that peaceful countryside is dotted with rustic villages and tiny towns, the biggest of which has a population of just 20,000. No big cities or chaos here: just calm, sleepy vibes and lush, green nature.
Although not as remote as it looks on the map (it's only an hour's flight from Bangkok), Nan is pretty off the radar for most visitors to Thailand. The tourist market is mainly domestic – so for foreign visitors, the province still feels fairly "off the beaten track".
Not only does this mean Nan Province is quieter and far less crowded than other parts of Thailand – it's also more affordable. And with so many incredible things to see and do throughout the region, there really are a lot of reasons to visit Nan.
Where is Nan Province?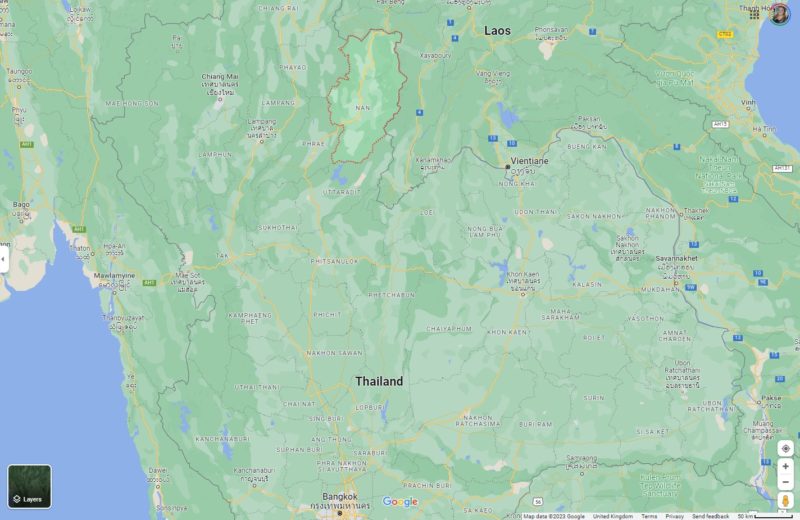 Nan Province lies in upper northern Thailand, right next to the border with Laos. The province is around 350 miles (560km) north of Bangkok and around 115 miles (185km) east of Chiang Mai.
The capital of the province is also called Nan: it's a small town of around 20,000 people. This is the main transport hub for the province, home to a small airport – so it's where most visitors arrive.
Nan makes a great stop off on an overland journey to Laos from Chiang Mai. Check out these things to know before travelling to Laos to plan the next step of your journey!
How to Get to Nan Province, Thailand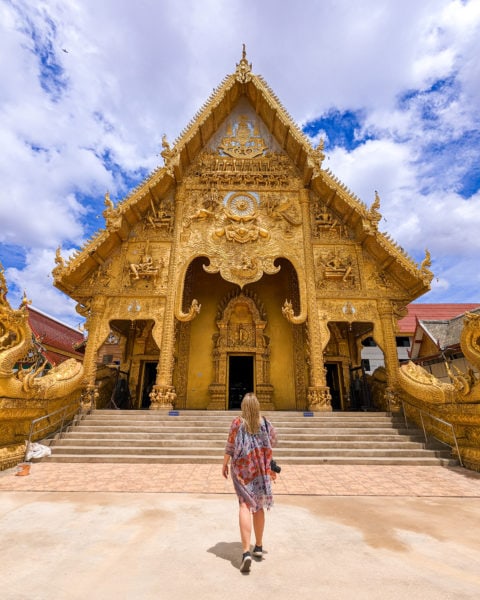 By Air: Nan has a small domestic airport, so one of the easiest ways to reach the province is by air. AirAsia currently operates two direct flights a day from Bangkok Don Muang Airport (DMK) to Nan (NNT). From any other destination, you'll have to connect via Bangkok.
By Bus: There are several options to reach Nan by bus. From Chiang Mai, it takes around 6h 25m and costs 330-450 THB ($9-13). From Bangkok, buses to Nan Bus Terminal take between 9 and 12 hours and start from 620 THB ($17). I recommend using 12Go Asia to search for bus times and ticket prices.
By Train: Unfortunately, there is no train station in Nan.
7 Things to Do in Nan Province
A quick overview of the top things to do in Nan and the surrounding province. I've gone into more detail in a separate post, so click here for a longer list of all the best things to do in Nan. Otherwise, keep scrolling down for the shorter version…
Explore the City of Nan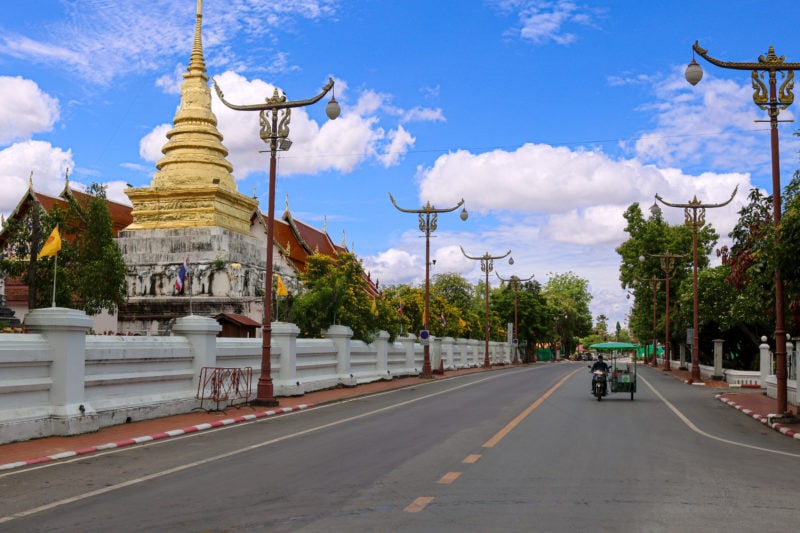 If you're visiting Nan province, chances are you'll start with the city of Nan. It's the main travel hub for the region and makes a good base for exploring the rest of the area.
Nan is also a beautiful city with plenty to entice visitors. Divided in half by the slow-moving Nan River, this small, peaceful town is a world away from the better-known northern Thai cities like Chiang Mai and Chiang Rai.
But just like those bigger, busier cities, sleepy Nan is rich in history and culture. Come for the stunning temples and fascinating heritage – but stay for the tranquil vibes and slow pace of life…
Top Things to do in Nan City
Take a tram tour of the Old Town. These cute little trams are a great way to see the highlights of Nan's compact Old Town centre in a single afternoon. They depart from the tourist office (opposite Wat Phumin) twice a day at 10.30am and 3.30pm. The tours are only in Thai, but it's still a fun way to explore the town centre.
Learn local history at the Nan National Museum. Don't miss the smallest temple in Thailand, a tiny shrine at the foot of a large fig tree on the grounds of the museum. There's also a beautiful frangipani tunnel walkway in front of the museum.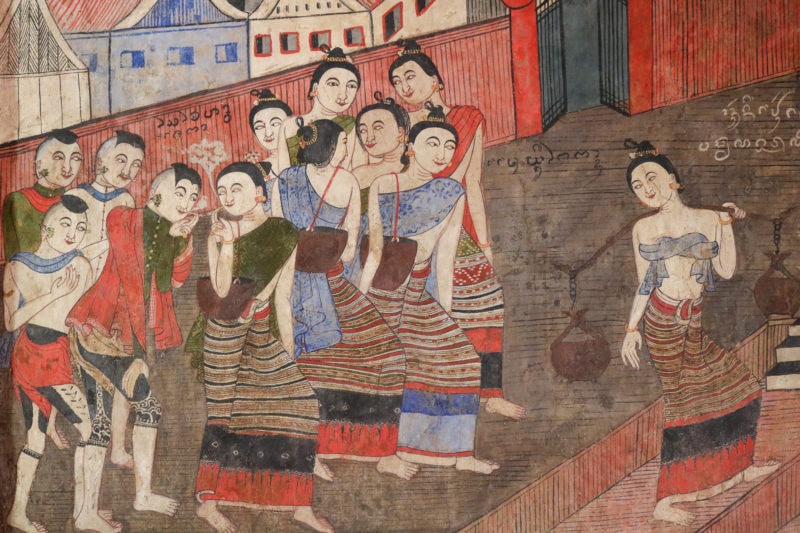 Visit Wat Phumin Temple to see the intricately detailed 19th-century murals which cover every interior wall. The most famous part of these murals is the "Whisper of Love", which shows a man whispering into his lover's ear. You'll see copies of this picture ALL over Nan Province, from wall decorations to cute cartoon versions on t-shirts – so it's worth checking out the original.
Don't miss the stunning gold temple of Wat Sri Panton. The entry steps are flanked by two statues of seven-headed nagas (mythical dragon-like creatures). In the courtyard in front of the temple, you can see one of the traditional long boats used in the annual Nan Long Boat Festival.
Take a Chocolate Workshop at Cocoa Valley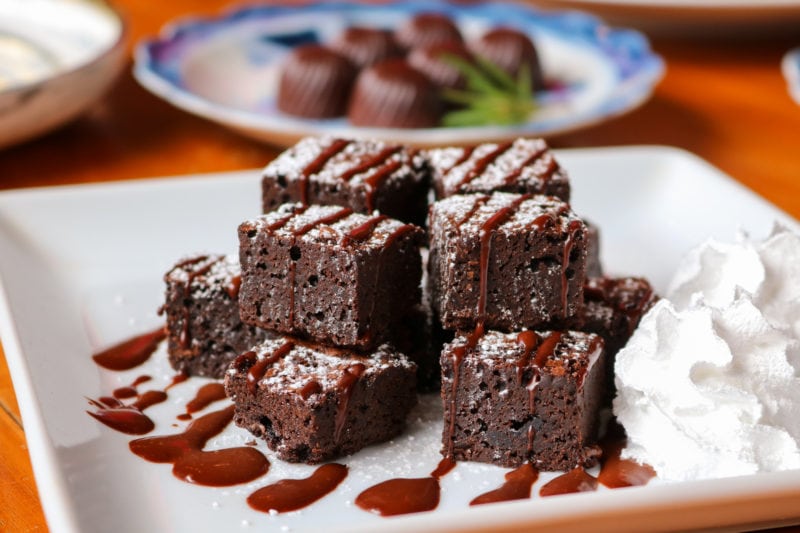 Calling all chocolate fans! One of the absolute HIGHLIGHTS of my trip in Nan was visiting Cocoa Valley Resort in the Pua district, about an hour from the city of Nan.
This is a gorgeous hotel and resort that sits on its very own cocoa farm. Visit the farm to see how cacao is grown, taste the fruit that the beans come from, and have a go at hand-sorting the dried cocoa nibs from the husks. Next, head indoors for a workshop to craft your own bespoke chocolate bar!
Don't miss the restaurant for more chocolatey treats (the brownies are epic) and the small shop for cocoa butter beauty products and other chocolatey treats!
You can even spend a night or two at Cocoa Valley! The rooms are stunning, with epic views of the lush tropical countryside. Some even have a bathtub on the balcony so you can unwind under the stars… perhaps with a bar of chocolate or two?!
Get Lost in Nature at Doi Phu Kha National Park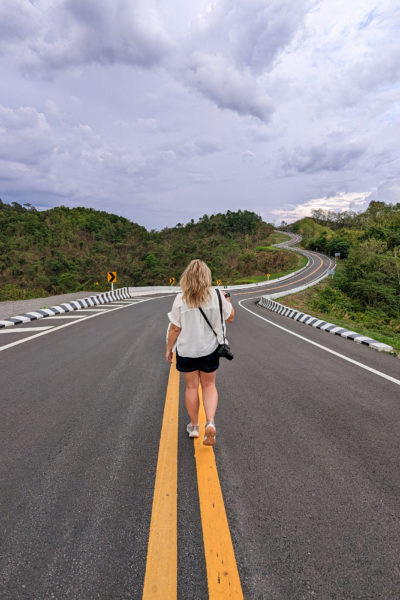 I've already mentioned that it's the province's stunning natural landscapes that make Nan so special. And one of the best places to appreciate them is in the mountainous Doi Phu Kha National Park.
Sitting right on the border with Laos, this sprawling national park is home to the tallest mountain in Nan Province: Phu Kha, at a height of 1980m above sea level. The park is also the only place in Thailand where you can see Chomphu Phu Kha, an incredibly rare pink flower after which both the mountain and the national park are named!
Things to do in Doi Phu Kha
Road trip along Doi Phu Kha's winding mountain roads* to appreciate the park's different landscapes.
Stop off at viewpoints such as the 1715 Viewpoint on the side of Phu Kha Mountain, or the popular photo spot on the snaking Street Number 3.
Spend a night and go stargazing after dark. There are several campsites within the park so you can make the most of the area's fantastically dark skies.
Visit the village of Bo Kluea, where you can view an 800-year-old rock salt well and see salt being made in a traditional way: boiling pans of water over an open fire. You can also buy salt and salt-based beauty products in the village – I picked up some lime-scented bath salts for an at-home Thai-style foot spa!
*if you get travel sick, I recommend taking motion sickness tablets before heading into the park.
Visit the Sleepy River Town of Pua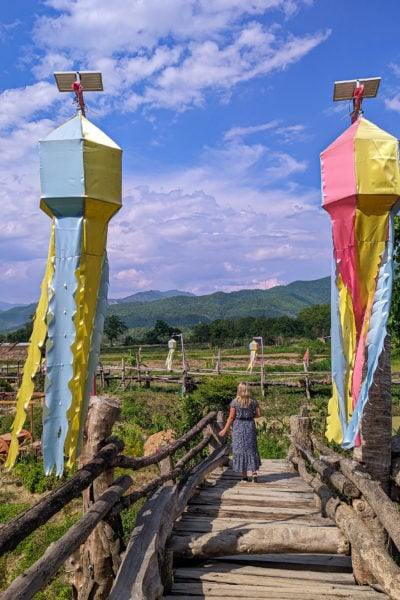 About an hour's drive north of Nan lies the sleepy, sprawling district of Pua, at the point where two rivers – the Pua and the Khwang – meet. Surrounded by tranquil countryside and lush green farmland, this is a charming little river town with several top attractions…
Things to do in Pua:
Wat Phuket – a hilltop Buddhist temple with incredible mountain views.
Doi Silver Museum – a small museum attached to a silver workshop. Discover the history of the Yao people in northern Thailand and the significant role silver plays in their culture. Don't miss the shop to pick up gorgeous silver jewellery at excellent prices.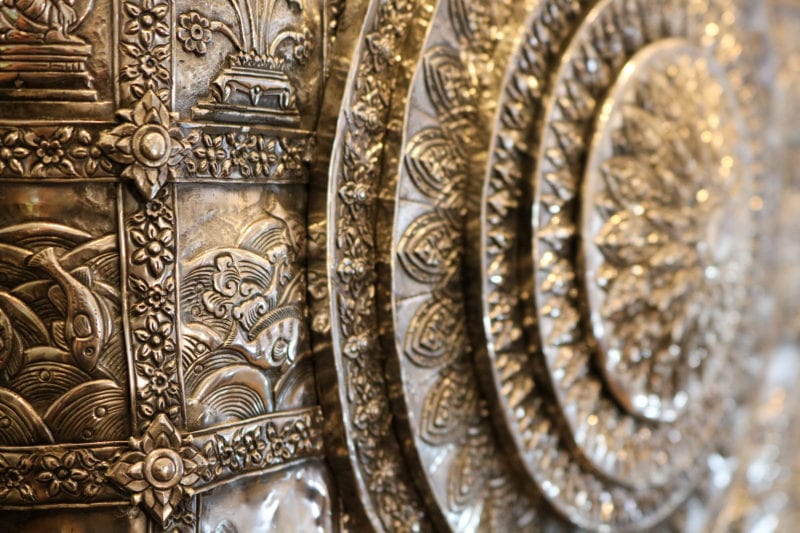 Ban Tai Lue Cafe – sip a coffee at this shabby-chic riverside cafe whilst enjoying views of the peaceful countryside and distant mountains of the Doi Phu Kha National Park. The iced coconut latte is delicious!
Phuket Walking Street – a short shopping street running alongside a small river from the base of Wat Phuket temple. The street is lined with shops and market stalls so it's a great place to browse for souvenirs.
Unwind in Sapan Village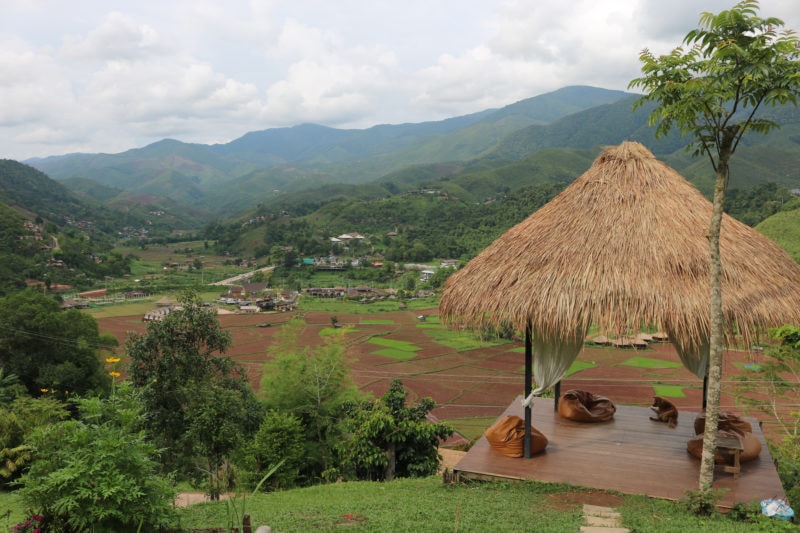 On the far side of the Doi Phu Kha National Park lies the sleepy riverside village of Sapan, surrounded by rice paddies and rolling green mountains. If you've been to Pai, near Chiang Mai, it's a similar vibe – but without the crowds of drunk backpackers!
One of the biggest draws is Sapan Waterfall – a short hike of about 20 minutes or so from the village. The summer rains hadn't kicked in yet when we visited, so it wasn't its usual spectacular self, but in the rainy season (usually May to October) this waterfall is well worth the walk through the forest.
If you want to truly get away from it all, there are several glamping resorts and homestays dotted around Sapan village. I particularly loved the look of Sapan Dee View, where cute safari tents were tucked around a small rice paddy.
If you visit Sapan – DON'T miss Yud Wela Cafe, a fabulous hilltop coffee shop overlooking the village and surrounding farms. There's even a perfectly Instagrammable wooden terrace. Flop on a beanbag with your coffee to enjoy what might just be the best coffee shop view I've ever seen on my travels!
Try Northern Thai Cuisine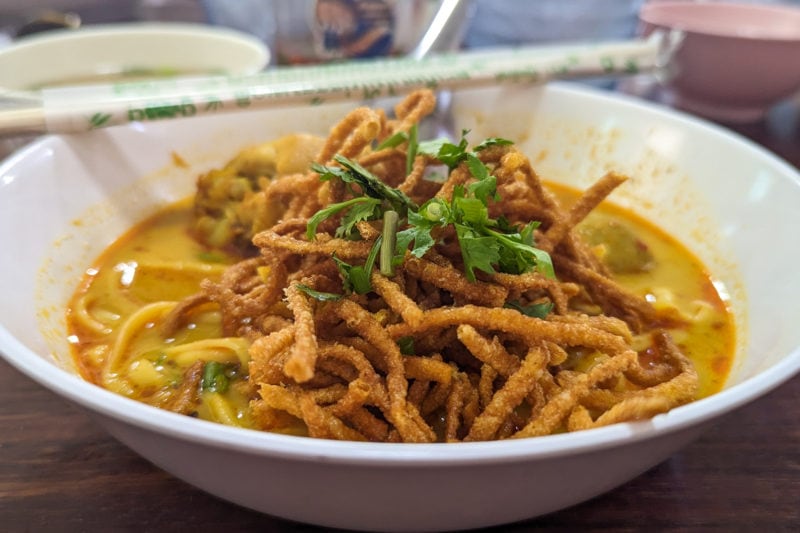 Fans of Thai cuisine will absolutely love Nan Province! The cuisine in the north of Thailand can be quite different to the south – so there are a lot of new discoveries to be made. These are a few of the top dishes to look out for…
Khao soi – egg noodles and chicken (or pork) in a coconut curry broth, topped with crispy fried noodles. A must-try when you're in Northern Thailand.
Lan Na-style Laab – a Lan Na take on an iconic Lao dish: a chopped meat salad flavoured with ground chillies and other spices such as cumin, star anise, and cinnamon. There's also a raw meat version called laab dib, made using chopped raw beef, blood, and chilli.
Sai Oua – a spicy pork sausage flavoured with red curry paste and chilli.
Nam Prik Noom Kab Moo – pork crackling served with a green chilli dip.
Freshwater shrimp – seafood may not be easy to find in landlocked Nan, but the abundance of rivers means you can find lots of freshwater fish and shellfish dishes. King River Prawns are a popular choice – and, as the name suggests, they're pretty huge.
Freshwater fish – popular fish in northern Thailand include catfish, trout, and the bizarre-looking snakehead fish (I have to confess: I wasn't a fan of that last one!).
Experience the Thai Ritual of Giving Alms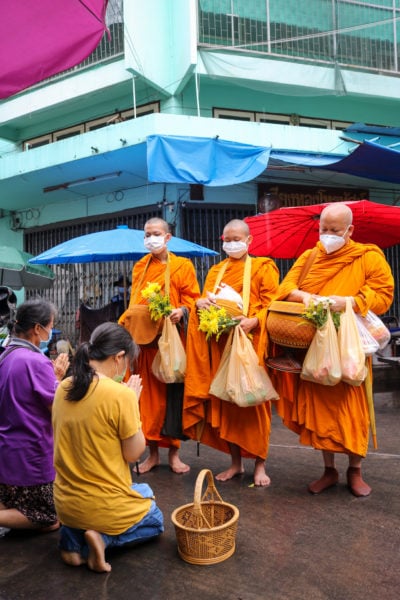 Be sure to get up early one morning to observe the Thai Buddhist ritual of dawn Alms-Giving. Buddhist monks in saffron robes walk barefoot through the streets so that locals can make offerings of food, flowers, and other useful items.
According to tradition, this ritual dates all the way back to the time of the Buddha. The idea is that by getting support from the community, monks don't have to work, so they can focus all their attention on the pursuit of enlightenment. For the alms-givers, the offering is a way to make merit in this life and earn some good karma. They'll often receive a blessing from the monks in exchange for their gifts.
The best place to observe this ritual in Nan Province is at the morning market in Nan town centre (between 5am and 7am). Locals assure me that foreign visitors are welcome to participate: the monk I gave alms to was very friendly. He asked where we were all from and what religion we practised (and didn't seem to mind at all that none of us was Buddhist).
Where to Stay in Nan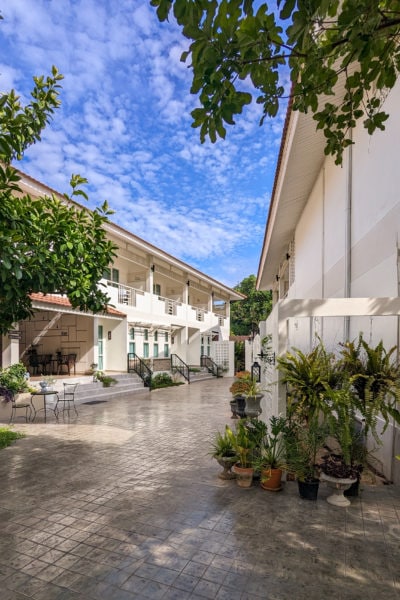 Although it's a small city, there are plenty of accommodation options throughout Nan province. I would recommend basing yourself in the city of Nan – at least initially – as this is the easiest place to reach from the rest of Thailand. It's also quite central, so is well-positioned for exploring the rest of the province.
Nan Boutique Hotel is quite possibly one of the best hotels in Nan town centre. I stayed three nights here and absolutely loved it!
It's a beautiful, quiet property surrounded by gardens – with tinkling fountains and colourful floral displays around every corner. This hotel is a perfect pocket of tranquillity for a relaxing stay. Rooms were spacious, quiet, and clean, and there was a delicious, fresh breakfast served on a covered roof terrace every morning. This is one I'd be happy to recommend.
For budget travellers, there are a few hostels in Nan. Paknap Hostel and Yindee Travellers Lodge both have good reviews and low prices. There are also several reasonably priced guesthouses, homestays, and budget hotels. Hop Inn Nan has good reviews and very affordable room rates.
For more unique experiences, there are homestays in the hills around Pua and rustic glamping options in the mountain village of Sapan.
Places to Eat in Nan Province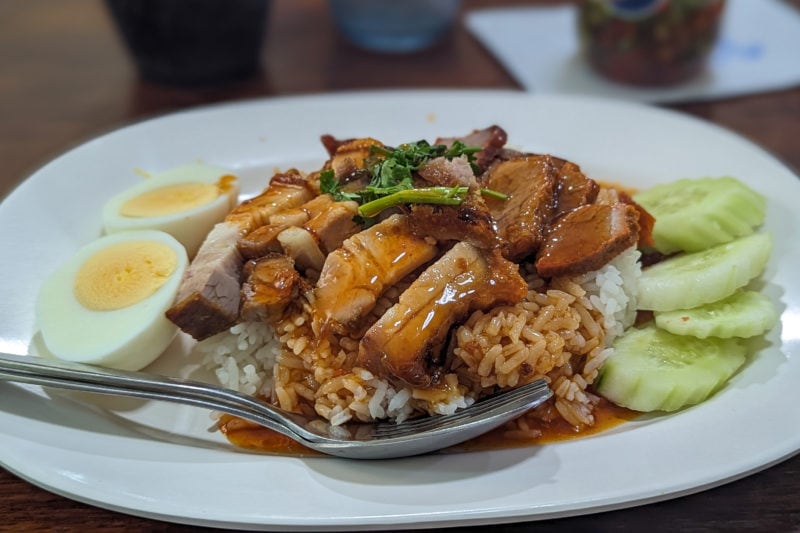 A few of my favourite foodie discoveries around Nan city centre…
Huen Chao Nang – a semi-outdoor riverside restaurant with a great selection of traditional cuisine.
Huan Phuka Restaurant – a cosy restaurant filled with so many plants it almost feels like dining in a garden! Again, a great selection of local cuisine.
Suriya Garden Restaurant – a trendy restaurant in a large, converted glasshouse with slightly industrial vibes, river views, occasional live music, and some outdoor seating.
Khao Soi Nat – casual local eatery serving up the BEST khao soi (noodle curry) in town! Try the khao moo dang (roast pork with rice) too – it's delicious.
Also worth the trip is Pongza Restaurant at Bo Kluea View, on the edge of the Doi Pha Kha National Park (near the Bo Kluea rock salt well). As well as gorgeous views of the rolling green mountains, this hidden gem serves great, traditional cuisine made using fresh, local ingredients. Don't miss their signature fried chicken dish, flavoured with local herbs.
Don't Miss Phrae
If you have plenty of time to explore Northern Thailand, combine your trip to Nan with a visit to the neighbouring province of Phrae.
Pronounced like "prayer", this remote-feeling region is another fairly off-the-beaten-track spot for Western tourists. It's also a great place to discover northern Thailand's rich heritage and traditional crafts – such as Mo Hom indigo dye, bamboo hat making, teak buildings, and textile weaving.
Nan Province Travel Guide: Final Thoughts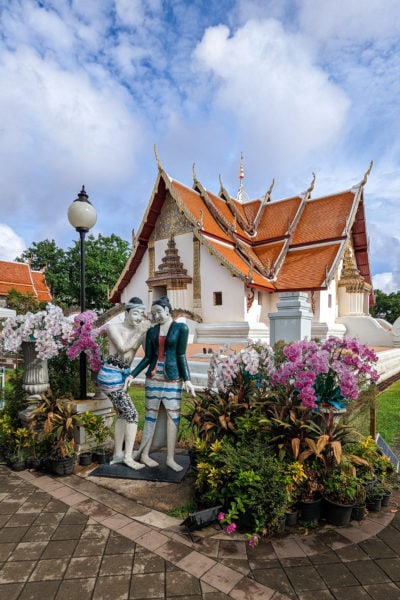 I absolutely loved my visit to Thailand's lesser-known northern provinces of Nan and Phrae.
Easily reached from Bangkok or Chiang Mai, rich in culture and heritage, and full of gorgeous natural landscapes… these two chilled-out provinces are perfect for anyone who'd like to see a bit more of Thailand and discover a different side to the country's fascinating culture.
Read More…
What to Eat in Chiang Mai Old City
17 Things to do in Nan Province Thailand
12 of the Best Things to do in Phrae Thailand
Have you ever been to Nan Province in Thailand? Scroll down to share your experiences in the comments!