Some posts on this site contain affiliate links. If you book or buy something through these links, I earn a small commission (at no extra cost to you). Take a look at my privacy policy for more information.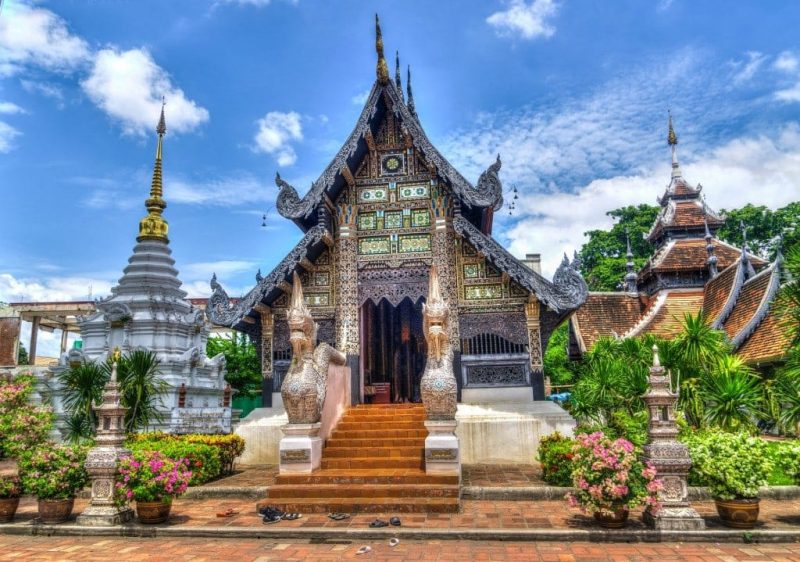 People are full of varying accounts of prices in Thailand – while some rave about how dirt cheap everything is, others lament how much more expensive it is these days. So, how much does travel in Thailand cost? Especially in Chiang Mai, a city famed as a haven for "digital nomads" due to its comparatively low prices.
I kept track of everything I spent whilst I was travelling in Thailand. Chiang Mai was the cheapest city I found by far. Up in the north of Thailand, it's a chilled-out, temple-filled city which makes an awesome stop on any Thailand itinerary. The cost of living in Chiang Mai is fairly low, but it's also a modern city with great internet and plenty of coffee shops and co-working spaces making it an expat and digital nomad haven. Whether you're there to stay, or just passing through as I was, it's a pretty affordable city. Here's my guide to Chiang Mai prices – essentially a list of everything I spent in the city – to help give you an idea…
For reference, 100 Thai Baht = £2.00 (or $2.84 USD) as of March 2016.
Accommodation Costs
Getting Around
Laundry
Activities and Tours
Massage
Food and Drink Prices
Shopping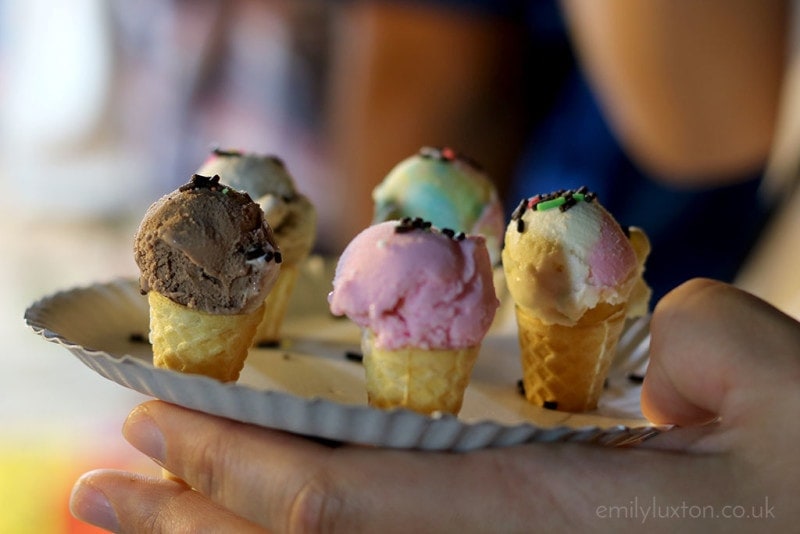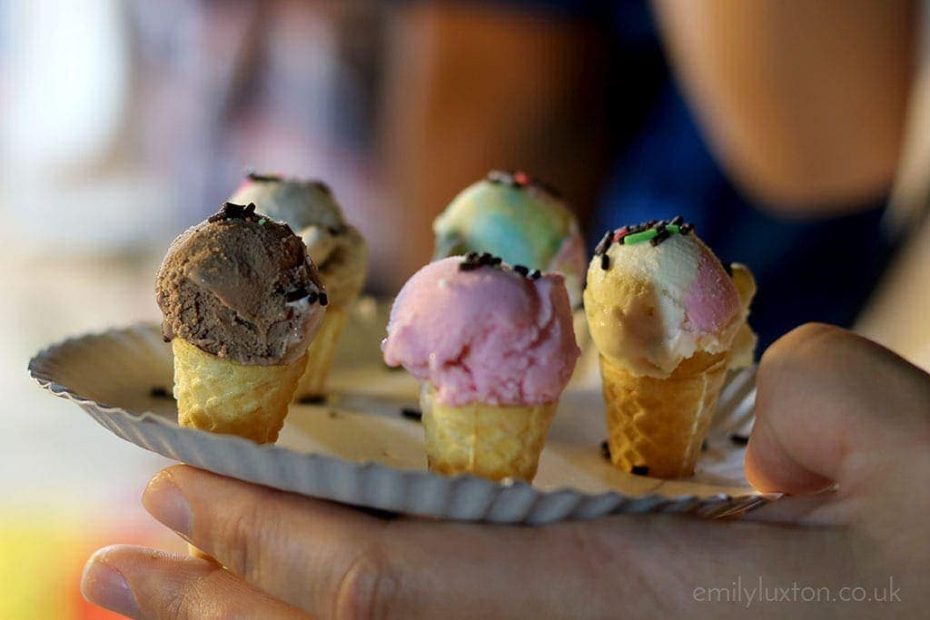 Accommodation Costs Chiang Mai
In the course of about ten days, I actually stayed at four different places around Chiang Mai, because my plans kept changing. I was travelling solo in Chiang Mai (with the exception of a few nights sharing a twin with a fellow blogger while she was in town). To give you an idea of how I travel, my budget is generally higher than most backpackers and I'm happy to pay a little extra for a bit more comfort. Plus, I tend to divide my time between dorm rooms and privates as I often need to get work done and like to avoid distractions.
I'd happily recommend any of the below accommodation options as I stayed in them all and found them all fine. All of these are low-cost, quiet hostels and hotels, not party hostels or luxury hotels. If you're looking for a hostel to meet other backpackers in, Deejai Backpackers has been highly recommended to me.
FYI – I almost always use hotels.com to search for hotels, because I love their rewards scheme which works like a loyalty card giving you one night free for every ten nights you book through the site. The other site I use is booking.com for when I want to book but pay cash on arrival.
Nimman Area
2230 Hostel – Private twin room (sort of a "pod" room, basically a cupboard with a bunk bed in it) in a very nice, quiet hostel. 500 Baht per night.
Nimman Boutique Resort – Twin room in a lovely, quiet hotel with free breakfast. 960 Baht per night.
Old City Area
Eden Walking Street Hostel – Bunk in a four-bed mixed dorm in a clean and trendy hostel right by Wat Phra Singh and the main strip of Walking Street. £6.55 per night.
Suan Dok Kaew Hotel – Private double in a very quiet hotel on the outskirts of the old city. £10.69 per night.
Getting Around
To get from Bangkok to Chiang Mai, you can fly to the local airport in around 1 hour 15 minutes. Alternatively, you can take the bus (10-12 hours) or the overnight train (between 11 and 14 hours).
Getting around Chiang Mai is easy. It's a pretty small city, so the majority of the centre – especially the walled old town – is very walkable. For more freedom or to get further out you can rent a scooter very cheaply, and unlike much of Asia driving here is a little more relaxed; the highways even have an outside "lane" for scooters so you can drive as slowly as you like – everyone else will just overtake you. Check out what I did on my scooter adventure in Chiang Mai.
If you don't fancy taking a scooter, the cheapest way to get around Chiang Mai is by taking a Songteaw, a shared red taxi. Tuk tuks are quicker but a journey will cost 100-200 Baht vs 20 Baht in a Songteaw. Simply flag one down, tell the driver where you want to go, and if he's going that way he'll nod (if not another will be along in about 30 seconds so just wait!). Journeys are almost always 20 Baht, unless you're taking the driver a long way out of his way (for example, I took one to the outskirts of town to reach Dhara Devhi for afternoon tea. Taxis are the most expensive option, although still not all that bad compared to European taxis.
Here are a few of my travel expenses to give you an idea…
Scooter rental – 300 Baht per day plus 80 Baht fee for petrol. Rented from Nimman Boutique Resort, prices can be much lower if you're renting for longer periods.
Songteaws (shared red taxis) – 20 Baht within the old city.
Songteaw to Dhara Devhi resort – 100 Baht.
Bus to Pai (shared mini bus, four hour journey) – 180 Baht.
Taxi to the airport (15 minute journey from near Wat Suan Dok) – 200 Baht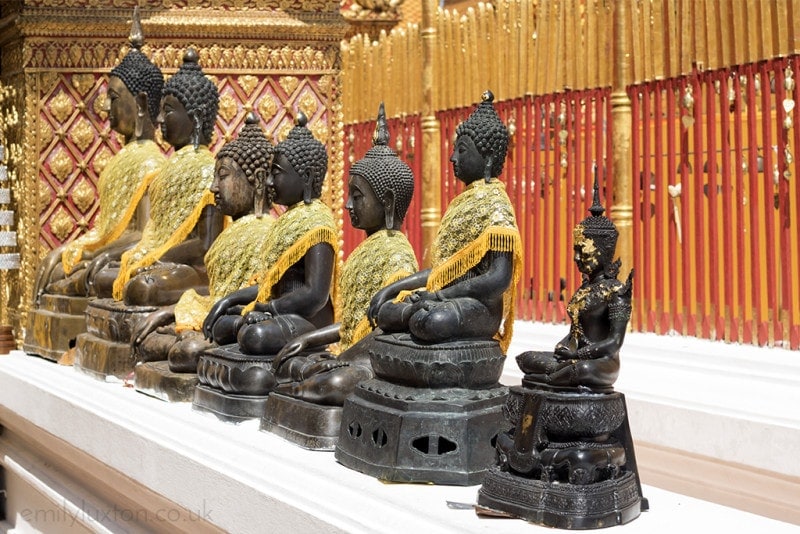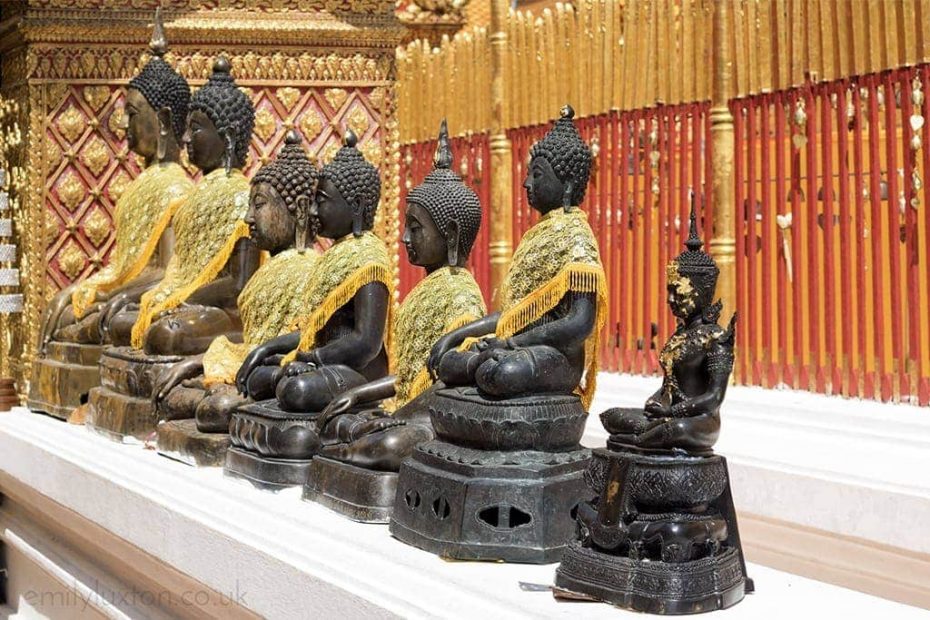 Laundry in Chiang Mai
Getting your laundry done in Chiang Mai is dirt cheap. Most hotels will do it for you, but they'll probably send it to a place a few doors down the road and then charge you maybe double or triple the price. The cheapest way to get laundry done in Chiang Mai is to find a place with coin-operated washing machines, like the Backpacker shop on Rachadamnoen Road (next door but one from It's Good Kitchen). Here I paid 10 Baht for a bag of laundry powder (which lasted two washes), 20 Baht to use the washing machine, and then 60 Baht to use the dryer – 90 Baht in total. Plenty of shops around the city offer the same service, and they'll all have signs up, so it's easy to find.
Activities and Tours
Chiang Mai is famous for its temples, which are mostly free or very cheap to enter, so sightseeing doesn't have to cost you much here. There are plenty of other activities and tours in the area, though. Here's a list of everything I did in Chiang Mai, and what the price were…
Monthathan Waterfalls on Doi Suthep Mountain – 100 Baht entry plus 20 Baht per scooter.
Chiang Mai Grand Canyon (swimming hole in an old quarry in Hang Dong, read more here) – 50 Baht entry.
Wat Phra Singh – 20 Baht entry. One of the largest and most famous temples in Chiang Mai old town.
Wat Phra That Doi Suthep – 30 Baht entry. A colourful temple at the top of Doi Suthep Mountain, known for having one of the best views in Chiang Mai.
Wat Sri Suphan – free, although donations are appreciated. Also known as the Silver Temple, this beautiful Buddhist temple is completely coated in intricately carved silver.
Food Tour with Chiang Mai Street Food Tours – 750 Baht for around three hours and at least seven dishes.
Chiang Mai World of Insects (museum) – 200 Baht entry (+100 Baht donation if you want to take lots of photos).
Greenhill Pool (nice outdoor pool in a residential complex inside a residential complex) – 80 Baht for non residents.
Afternoon Tea at Dhara Devhi Cake Shop – 1350 Baht for two people. Read more in this post about the best cakes in Chiang Mai!
Nimmanhemin ("Nimman") Area – Free (unless you hit the shops!). Walk around the trendy Nimman area of Chiang Mai for great shopping, trendy coffee shops, and the awesome Maya Mall.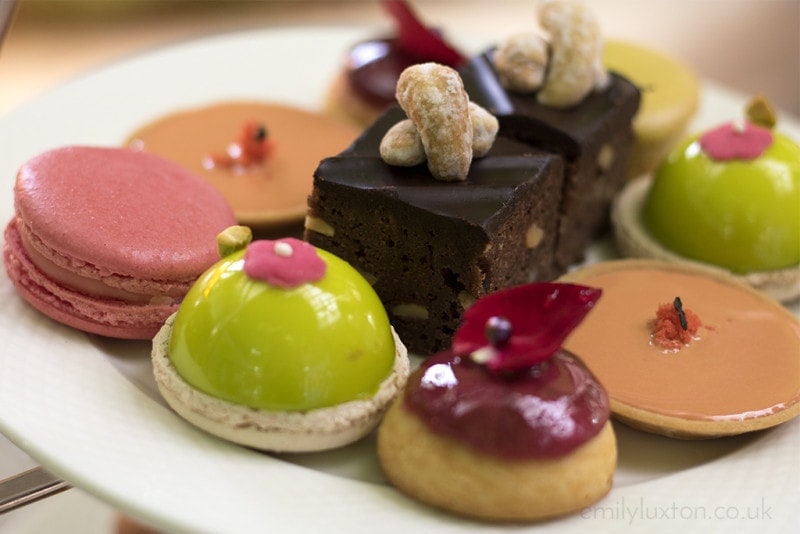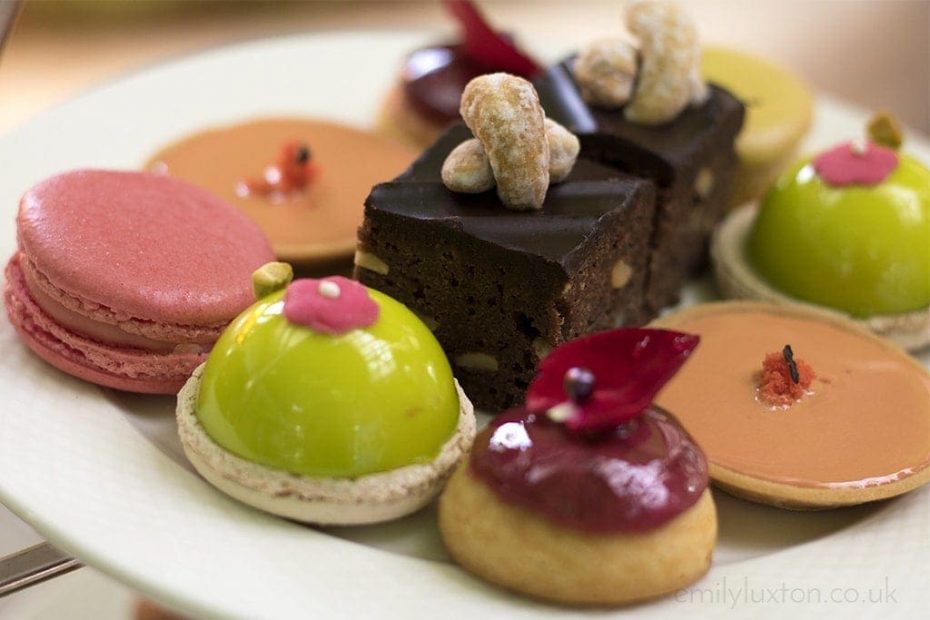 Massage Prices in Chiang Mai
Of course, the question on everybody's lips is how much do massages cost in Chiang Mai? I mean, isn't that why people come to Thailand? The good news is, massages can be found very cheaply. Be aware, though, that the cheapest option, Thai Massage, is a traditional Thai massage – this means no oil, a mattress on the floor, and a lot of twisting, bending, and some manoeuvres that may actually hurt. It's my favourite kind of massage, but it's not for everyone. If that doesn't appeal, seek out a fancy spa-like Oasis Spa for a more expensive, but more gentle, treatment.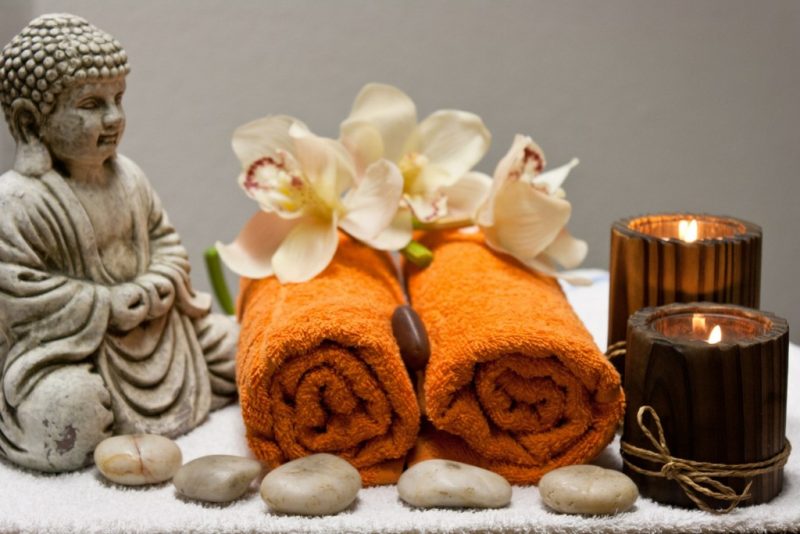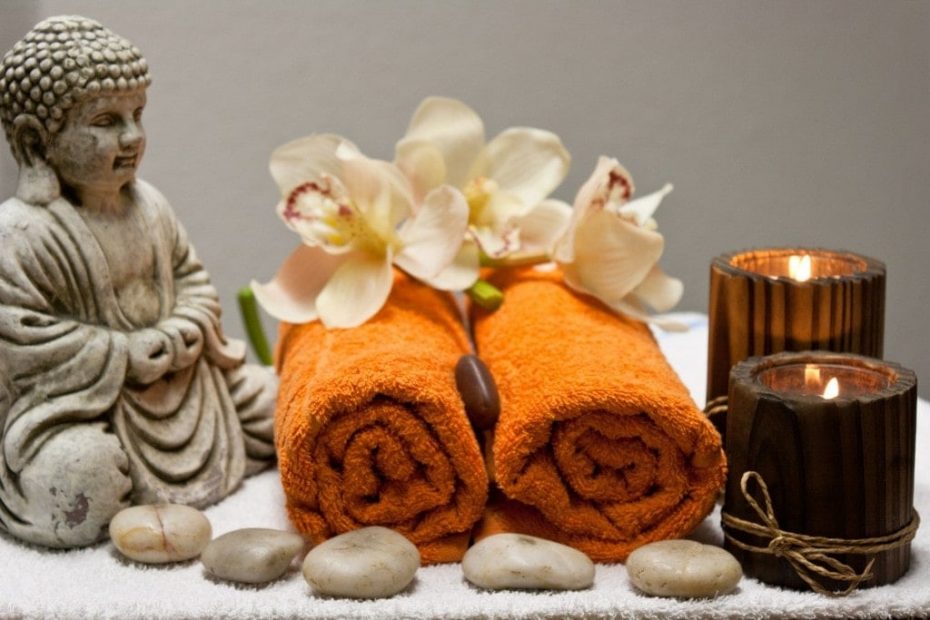 Traditional Thai Massage at Lanna Massage ( on Nimmanhaemin road at the end near Maya shopping centre) – 200 Baht. Loose-fitting clothes are provided and worn throughout the massage.
Oil Massage at a small parlour in Nimman (next to Wine Lover) – 400 Baht. (Normally 350 Baht but it was after 10pm). Prices for oil massages at the lower-priced massage places were all more or less the same. Be prepared – you'll be nude (except for pants) and these ladies massage everywhere.
Foot Massage at Lila Massage* – 200 Baht (one hour).
Pedicure and manicure at Lila Massage* – 400 Baht.
*This place costs a little more than some of the other massage parlours, but it's worth it. Not only is the interior gorgeous and the standard high, but Lila Massage is a brilliant concept which offers employment to newly released inmates of the Chiang Mai Women's Prison. Inmates can receive training at the Chiang Mai Women's Correctional Institution in the old city, where you can also get treatments to help the ladies practice, and when they leave they can find employment at Lila without having to deal with discrimination.
Food and Drink Prices in Chiang Mai
The food in Chiang Mai is absolutely incredible, and there's something to suit any budget. Check out the night markets at the North and South Gates of the old city, or the stalls lining Nimman Road, for amazing street food at seriously budget prices. Then, there are cheap and cheerful local restaurants like It's Good Kitchen where you'll pay about double what you would at the market – but you'll get to eat indoors, with air-con and drinks served cold!
Around trendy Nimman area there are tons of great restaurants serving both local and international food, with slightly higher prices again (but still pretty reasonable). This is also where you'll find some of the best coffee shops in Chaing Mai! At the high end of the scale are the more upmarket restaurants and hotel resorts, places like Dhara Dhevi where you can get a pricey (but superb) afternoon tea! Here are some sample prices to give you an idea of how much food costs in Chiang Mai…
Street Food Prices Chiang Mai
Pork Pad Thai at South Gate Market – 40 Baht
Khanom Krok (coconut milk and rice flour dumplings) at South Gate Market – 10 Baht
Sausages at the Sunday Night Market – 5 Baht each.
Khao Kha Moo (stewed pork leg with rice) at the famous Khao Kha Moo Chang Phueak in the North Gate Night market – 50 Baht. Find out more in this post.
Mango Sticky Rice at the North Gate Night Market – 40 Baht.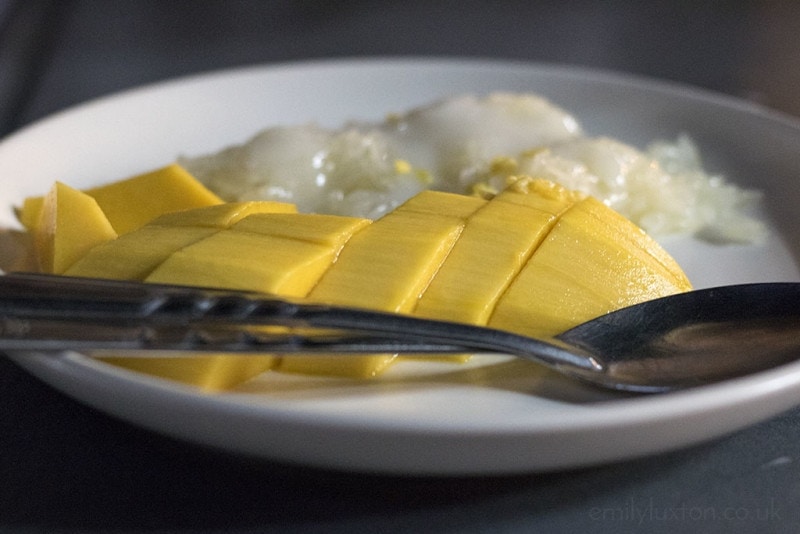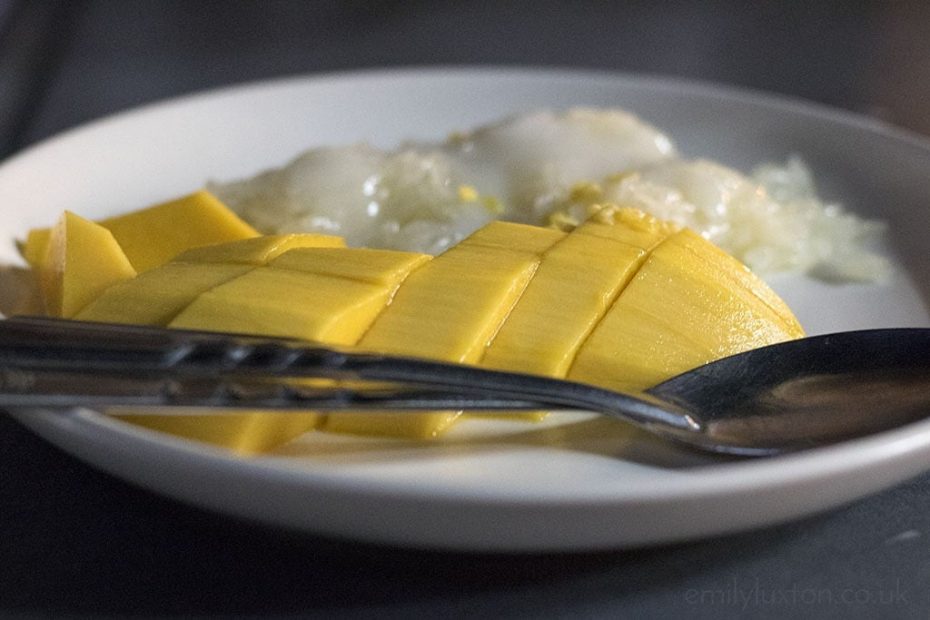 Old Town Area
Sangsom (Thai rum) and coke at THC Rooftop Bar (?) – 80 Baht
Thai Green Curry at It's Good Kitchen on Ratchadamnoen Road – 80 Baht.
Red curry at Cooking Home Thai on Ratchadamnoen Road – 135 Baht.
Read More: What to Eat in Chiang Mai Old Town.
Nimman Area
Yakisoba at MuSushi – 80 Baht. (Sushi platters from 140 Baht).
Large dinner for two at King's of Larb (a plate of larb, morning glory, grilled chilli pork, spicy tomato dip, rice) – 250 Baht.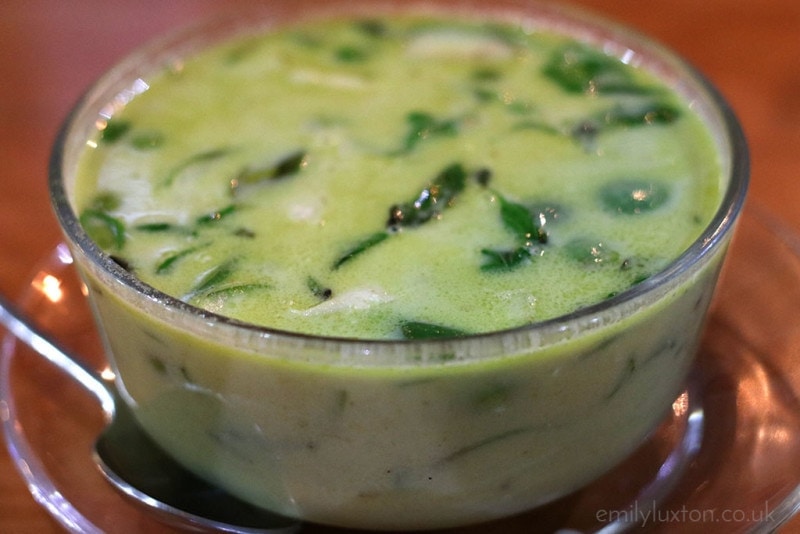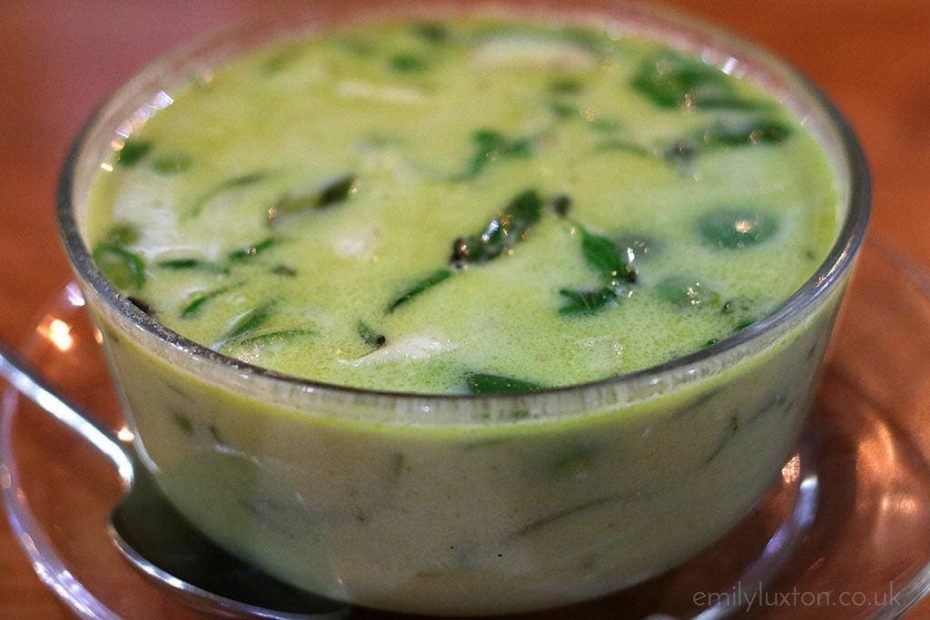 Coffee
Coffee shops are everywhere in Chiang Mai. And I mean everywhere. Good coffee is easy to find – I like Akha Ama and My Secret Cafe in Town in the old city, but the real place to hunt for a coffee shop is on Nimman Road, where you cannot avoid them. The cost of coffee in Chiang Mai is pretty high, though, expect to pay at least 100 Baht – which is more than most meals cost!
Chiang Mai Shopping
I did a lot of shopping in Chiang Mai! There are several night markets and night bazaars dotted around the city, plus the weekly Sunday Night Market on Walking Street in the old city, which is epically big and full of some really cool finds. One of the best things about Chiang Mai's markets is how many of the stalls have fixed prices – meaning you don't have to haggle. You probably can still haggle, but the prices were so low that I couldn't be bothered.
Another great thing about the Chiang Mai night markets is that there's a lot more to be found than the standard tourist tat. You can still find all the elephant trousers and T-Shirts printed with the Chang beer logo, but there's way more on offer, including vintage clothing, handmade jewellery, and products from local artists.
There are also some really cool boutique stores around, especially in the Nimman area and along Ratchadamnoen Road in the old city, where you can pick up some really cool unique souvenirs. Head to the plaza opposite Maya shopping centre to find some really trendy local designers showing off their wares, or into Maya itself for some more upmarket local brands.
To give you a rough idea of what Chiang Mai Shopping might cost, here are a few of the things I picked up and what I paid…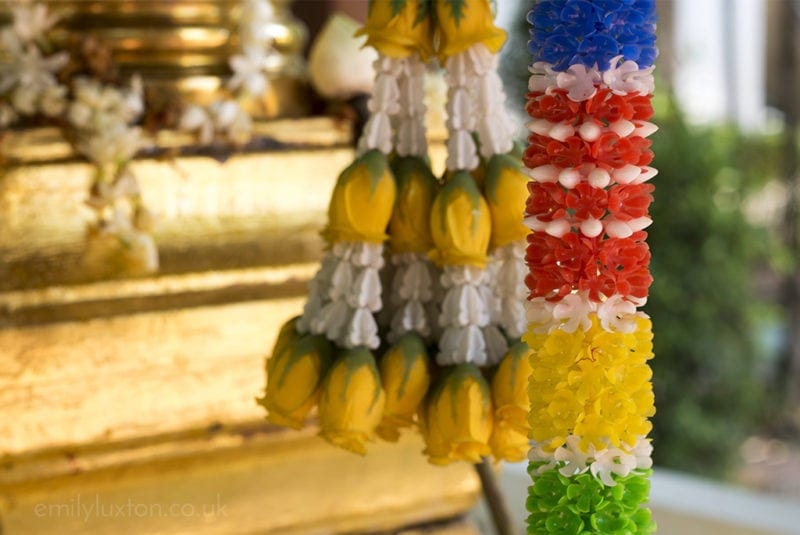 My Shopping Prices
Elephant trousers at the Night Bazaar – 120 Baht
Elephant print vest top at the Night Bazaar – 100 Baht.
Thin silk scarf at the Night Bazaar – 100 Baht.
Set of three loofahs bought at the Sunday Night Market on Walking Street – 30 Baht
Printed canvas bag from a shop on Ratchadamnoen Road – 100 Baht.
Printed T-Shirt at the Sunday Night Market on Walking Street – 100 Baht
Fake Havianas flip flops from Backpacker, a shop on Ratchadamnoen Road near Wat Phra Singh – 100 Baht
Sandals from a sportswear shop in Maya Shopping Centre – 200 Baht.
More Around Northern Thailand
I really hope this post helps you planning your trip to Chiang Mai and the rest of Northern Thailand!
Speaking of that region – have you ever heard of Nan Province? About 6 hours from Chiang Mai, this underrated and under-visited province is a true hidden gem. There are LOADS of great things to do in Nan Province – as well as the even more underrated neighbouring Phrae province.
If you have any questions about Chiang Mai prices and travel costs, or you want some recommendations, then please feel free to get in touch!
Don't forget to share your top tips and recommendations for Chiang Mai in the comments!