Some posts on this site contain affiliate links. If you book or buy something through these links, I earn a small commission (at no extra cost to you). Take a look at my privacy policy for more information.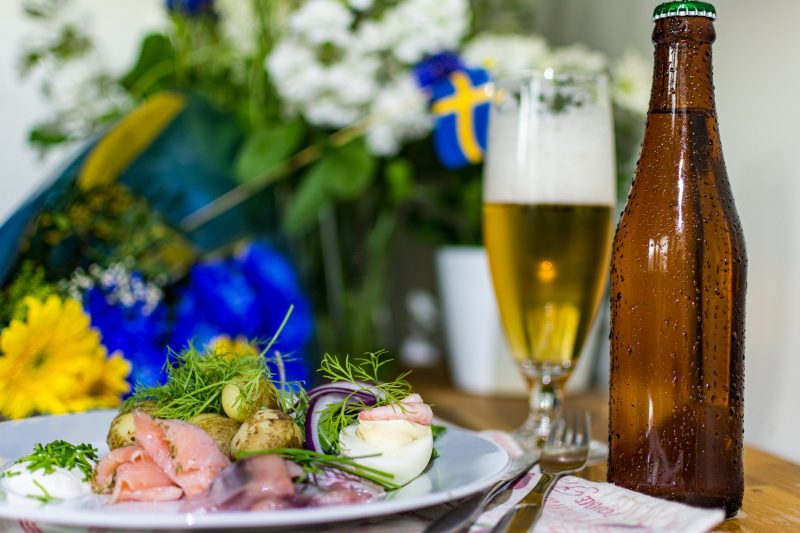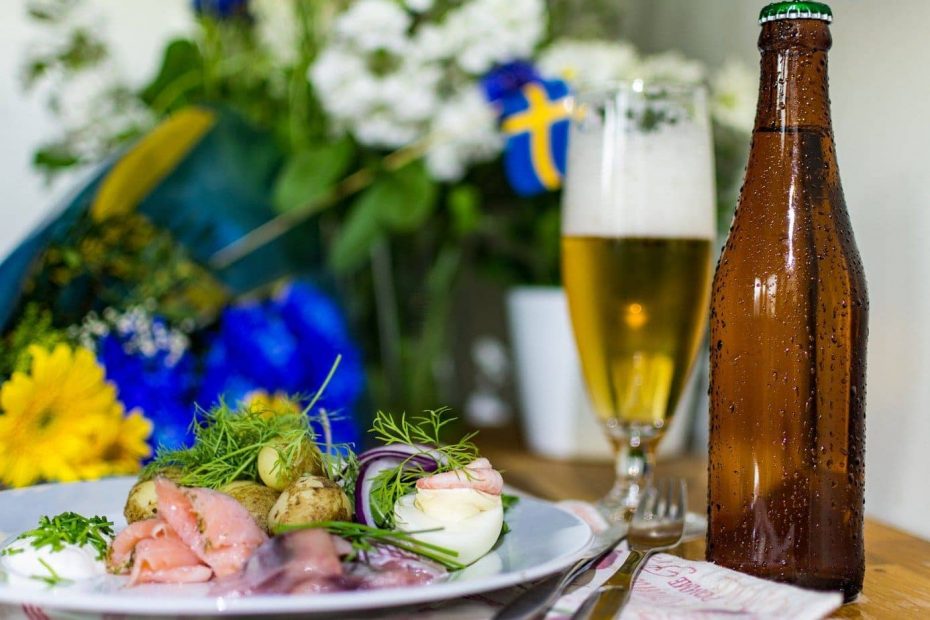 Is there any better way to discover a country than through its food? If you want to eat your way through all the very best traditional Swedish food, you've come to the right place.
Much like the rest of Europe, there's a strong trend at the moment in Sweden for reviving traditional Swedish dishes. Classic recipes and old-school cooking practices are being given modern twists by Sweden's top chefs. So there's never been a better time to indulge in the local food scene.
There's also a strong focus on sustainability, and on using high-quality local produce. As a result, Sweden can boast a pretty exciting food scene. There are also some seriously high-quality new restaurants, especially in the capital of Stockholm. So, it's with an emphasis on traditional eating that I've put together this Swedish food guide. Enjoy…
Traditional Swedish Dishes You Have to Try
Swedish Snacks and Starters
Swedish Desserts
Food Tours and Experiences in Sweden
Traditional Swedish
Food: Dishes You HAVE to Try!
1 – Köttbullar / Traditional Swedish Meatballs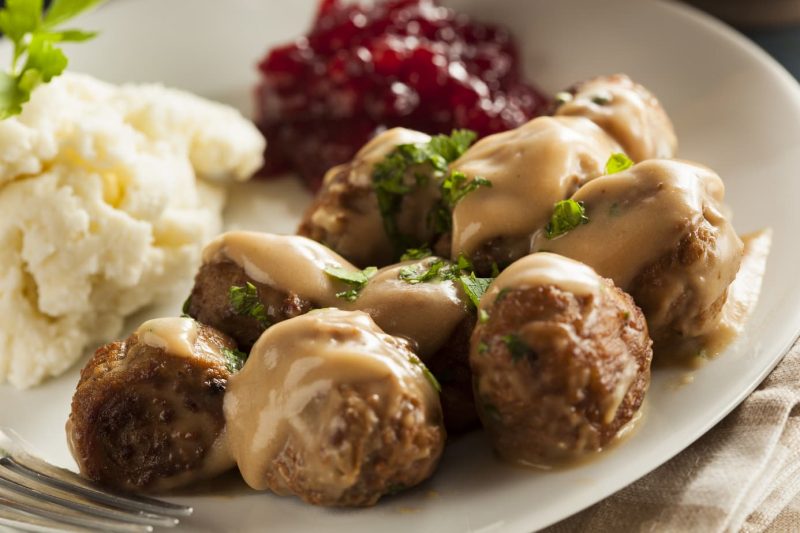 You can't write a list of the must-try traditional Swedish food and not include köttbullar – Swedish meatballs. These were brought to the world's attention by IKEA, so you may have already tried them!
Swedish meatballs are fairly simple, usually made from ground beef and breadcrumbs, broth, onions, and a little cream. Traditionally, köttbullar are served with gravy, boiled potatoes, and lingonberry jam. These are definitely one of Sweden's most iconic dishes.
2 – Sill & Potatis / Herring and Potatoes
Sill & potatis (herring and potatoes) is one of the most iconic dishes in Sweden, one that's often served up at family gatherings. It's another simple dish, and was once classed as poor man's food. However, these days it's been elevated by famous Swedish chefs into a must-try local dish.
3 – Smörgåsbord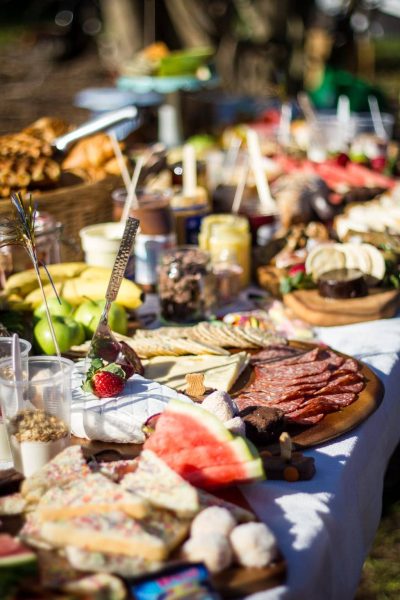 A smörgåsbord is a Scandinavian buffet made up of variety of hot and cold dishes, such as cured meats and sandwiches. In Sweden, no smörgåsbord is complete without pickled herring. These fish are abundant in both the North and Baltic seas, so they're common throughout the country. And Swedes have been pickling them since the Middle Ages, as this was the best way to preserve herring for storage and transportation.
4 – Raggmunk / Potato Pancake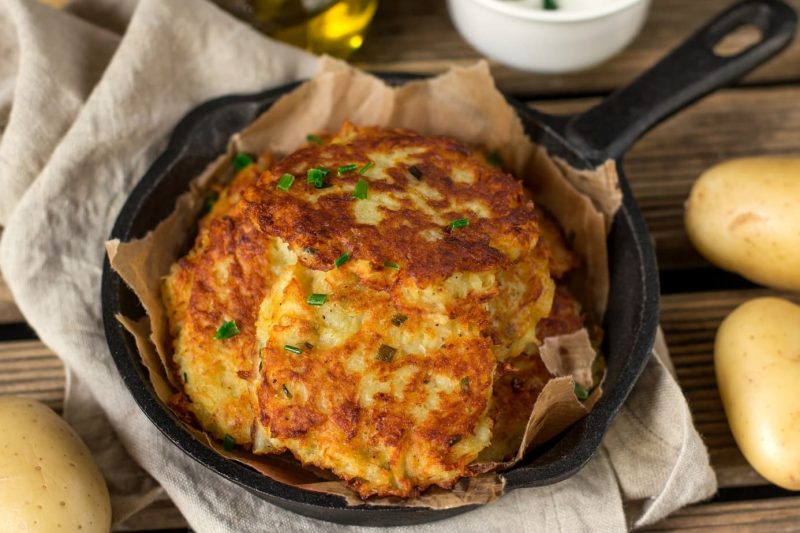 Raggmunk is a very traditional Swedish dish so be sure to try it on your trip! Essentially, this is a simple potato pancake. It's fried in butter and is often served with fried pork of bacon. As well as the ubiquitous lingonberries, of course!
5 – Wallenbergare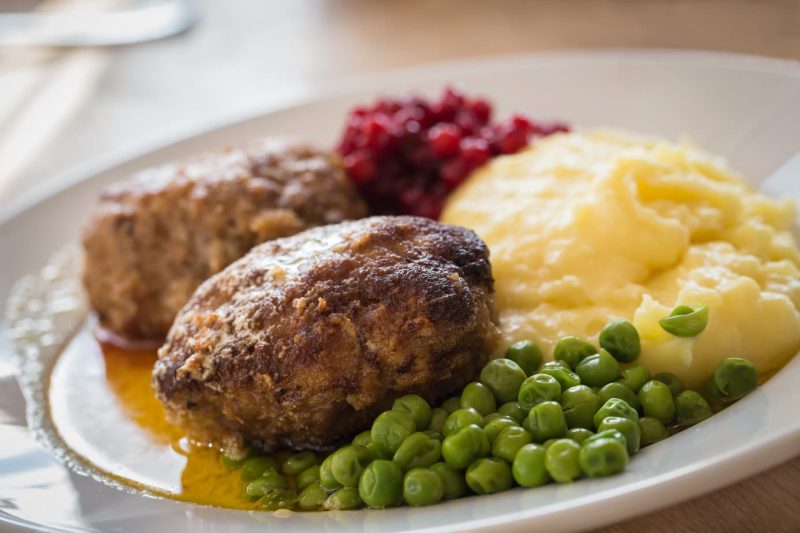 Supposedly named after the Wallenbergs – one of the wealthiest families in Sweden – wallenbergare is a kind of meat pattie made using ground veal, cream and egg yolks, coated in breadcrumbs. It's generally served with mashed potatoes, green peas, and – of course – lingonberry jam.
6 – Smörgåstårta / "Sandwich Cake"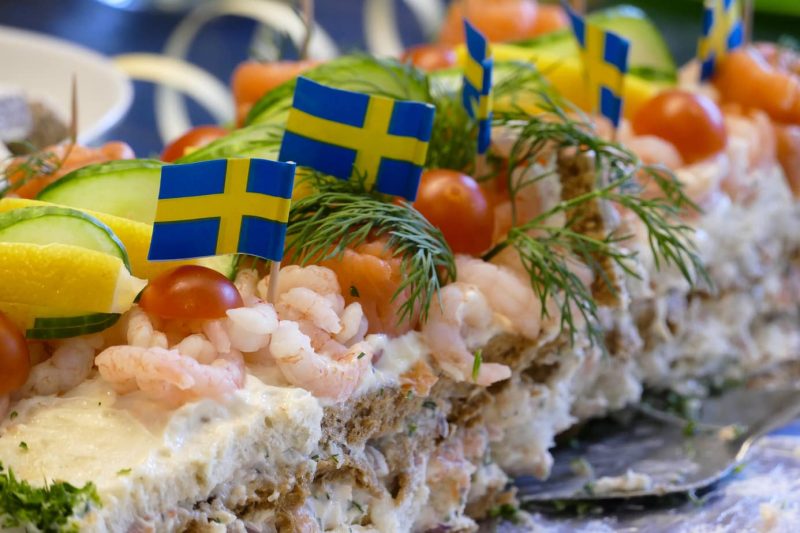 The name smörgåstårta translates to "sandwich cake" – which is essentially what this slightly bizarre Swedish dish is! It's a savoury cake made using layers of bread and filling, topped with plenty of garnish. There are lots of varieties so keep an eye out for one that appeals!
7 – Smörgås / Open Sandwiches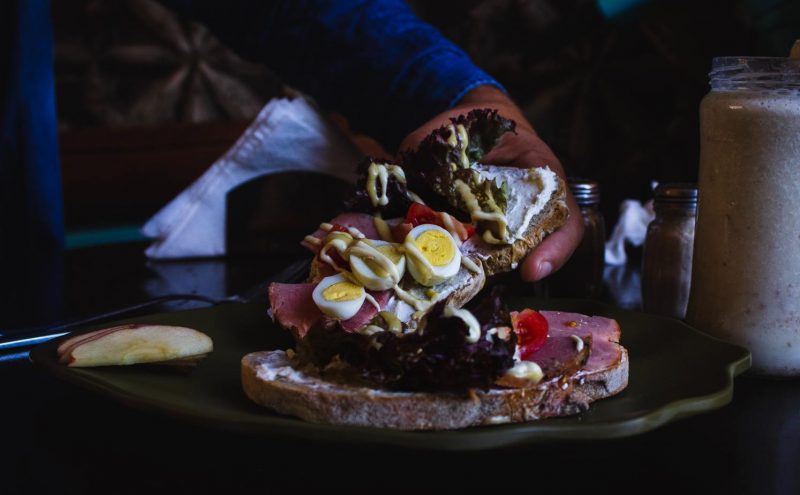 Speaking of sandwiches, another traditional Swedish food trend is the smörgås, or open sandwich. It's basically just a slice of bread topped with your filling of choice – for example, shrimp. Simple, yet very delicious!
8 – Ärtsoppa och Pannkakor / Pea soup and Pancakes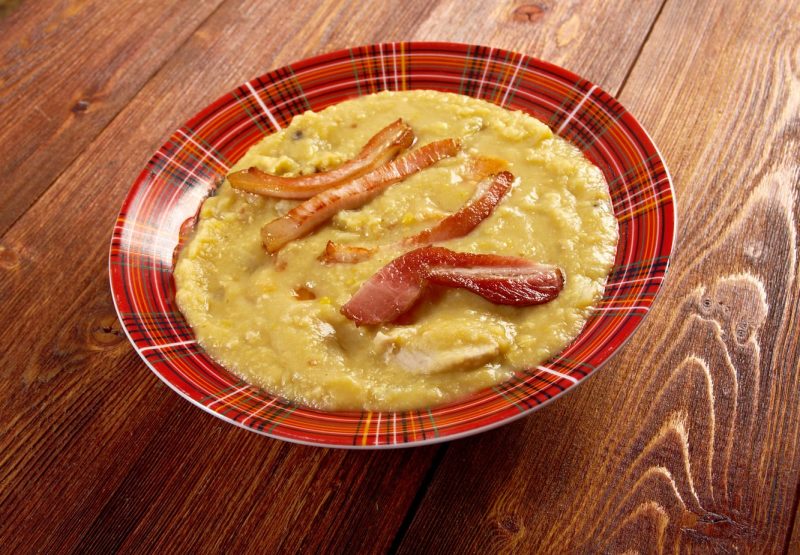 Ärtsoppa is a super traditional Swedish food which used to be served for lunch every Thursday in schools and the military. It's yellow pea soup, usually served with bacon. The tradition is to follow the soup with pancakes and lingonberry jam.
9 – Kräftskivor / Crayfish Parties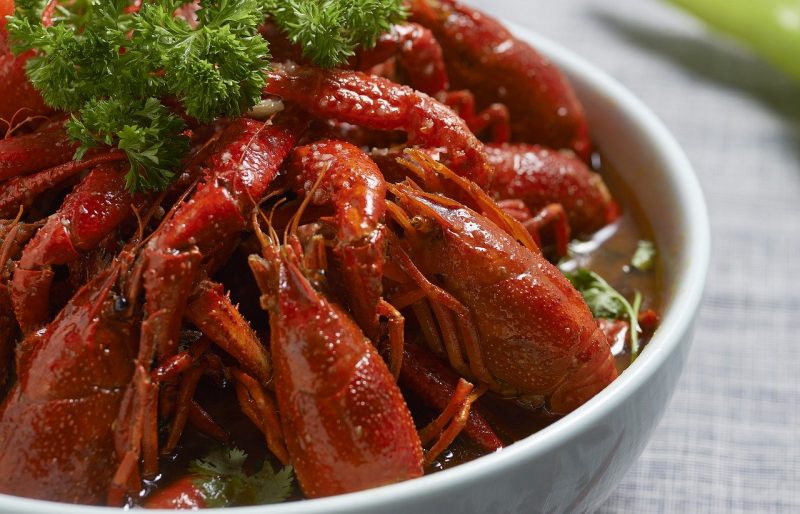 The month of August in Sweden is the month of kräftskivor, "crayfish parties". The season for these bite-sized freshwater fish is August – September, so warm summer evenings are spent feasting on crayfish. Traditionally, they are cooked in brine with a bit of dill, and eaten cold with Västerbotten cheese – as well as beer of schnapps. Perfect for a party!
Traditional Swedish Food: Snacks and Starters
10 – Knäckebröd / Crispbread
The Swedish history of knäckebröd (crispbread) dates back a thousand years, so its undoubtedly one of the most traditional Swedish foods! Crispbreads come in a variety of shapes, thicknesses and flavours. They can also be paired with all manner of toppings – from plain better to caviar!
11 – Gravlax / Dill-Cured Salmon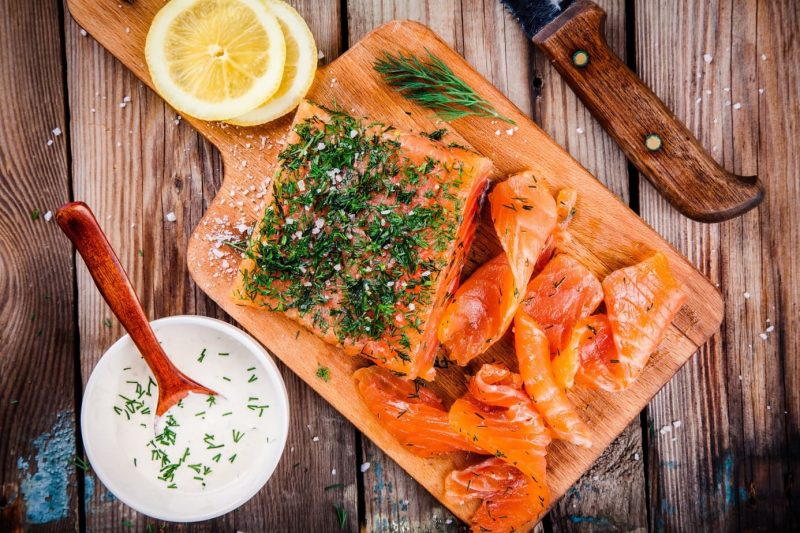 Gravlax is salmon cured using salt, sugar, and dill. In Sweden, it's usually served as an appetizer – although it can also be found as part of a smörgåsbord. It's most commonly served with a dill and mustard sauce called hovmästarsås, either on bread or with boiled potatoes.
12 – Toast Skagen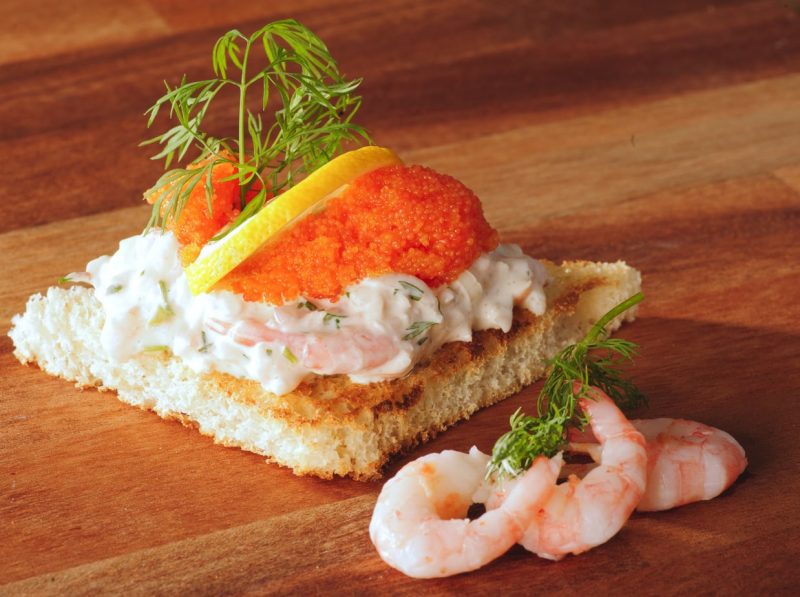 The final savoury item on this list of traditional Swedish food is toast skagen. This dish consists of sautéed bread topped with prawns in a sauce made of Dijon mustard, mayonnaise and fresh dill. Löjrom (whitefish roe) is often added on top of that for a fancy twist.
Traditional Swedish Desserts
13 – Prinsesstårta / Princess Cake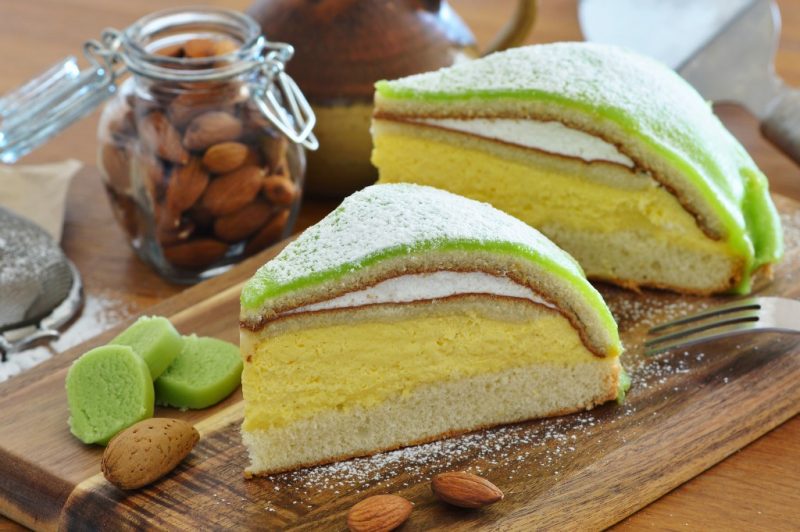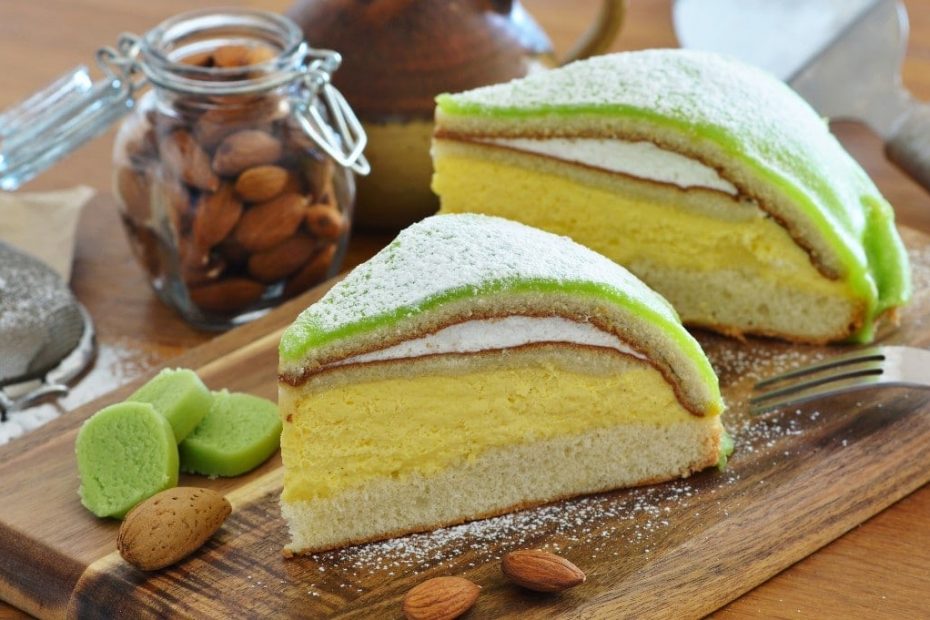 Prinsesstårta (princess cake) is every bit as extravagant as you might expect. This Swedish dessert is a cream-filled sponge cake coated with bright green marzipan and topped with a floral decoration. It's traditionally a celebration cake – because it's a tad too decadent to eat on a regular basis. (Although I can't see that stopping me!).
14 – Kanelbulle / Cinnamon Buns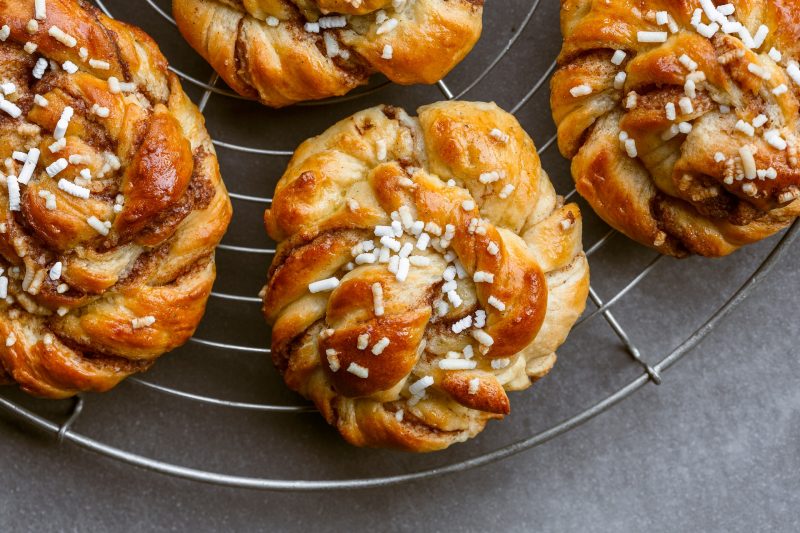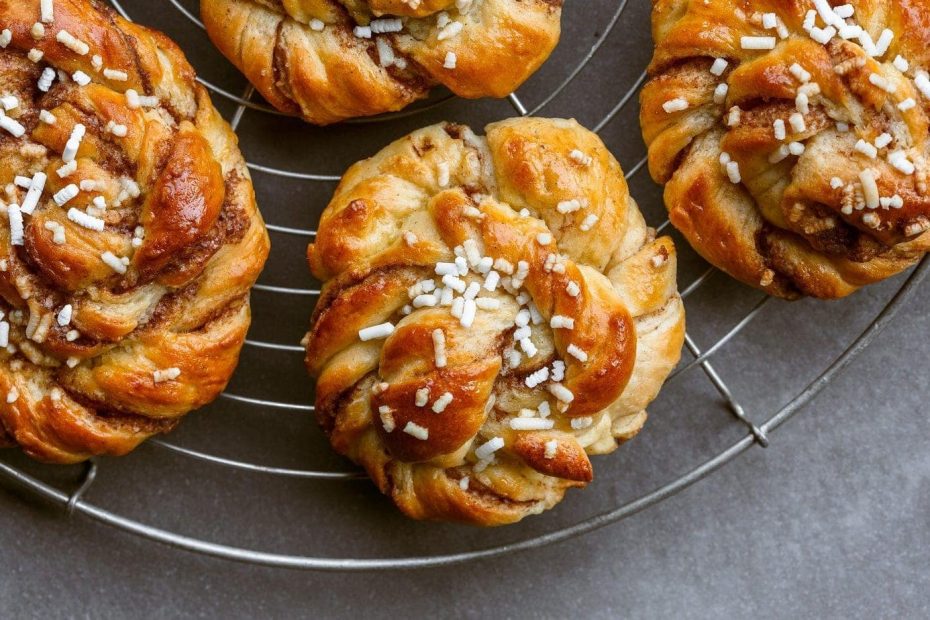 You can't have a list of traditional Swedish food without mentioning kanelbulle, or cinnamon buns. These delicious spiced rolls can be found in every cafe, bakery and food shop in the country! Don't miss them!
15 – Dammsugare / Punsch-roll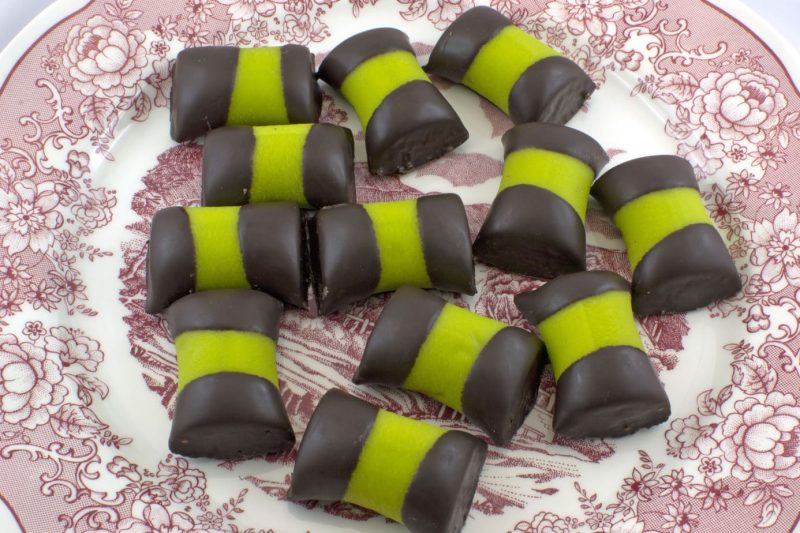 Dammsugare, aka punsch-roll, is a super traditional Swedish dessert. These are small cylindrical pastries filled with crushed biscuits, butter, and cocoa, flavoured with punsch liqueur. They're covered in green marzipan with the ends dipped in chocolate, so they're instantly recognisable.
16 – Pepparkakor / Gingerbread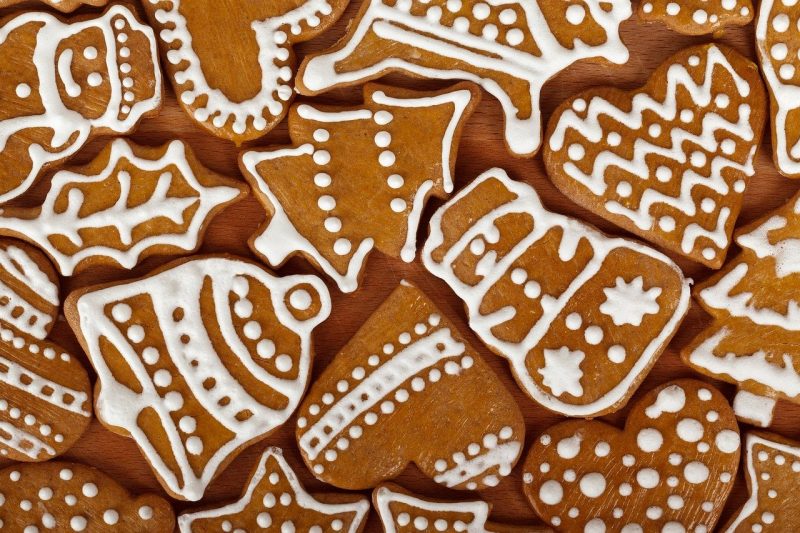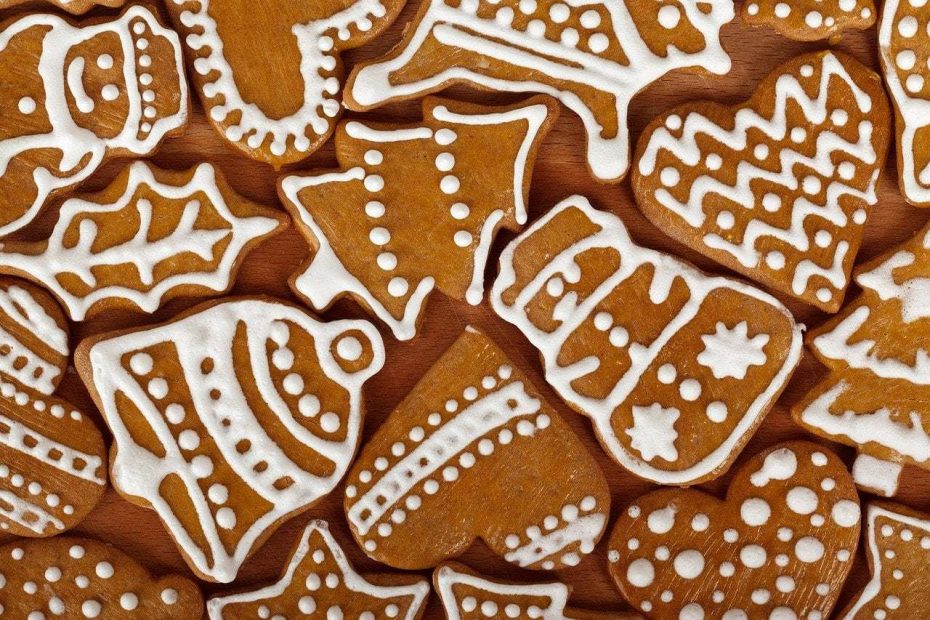 Pepparkakor translates to "pepper cookie", but the name actually refers to gingerbread biscuits. Although gingerbread isn't exclusive to Sweden, it's exceptionally popular there. Especially at Christmas time, when the markets are filled with shaped pepparkakor. They're also often hung up as decorations.
17 – Chokladbollar / Chocolate Balls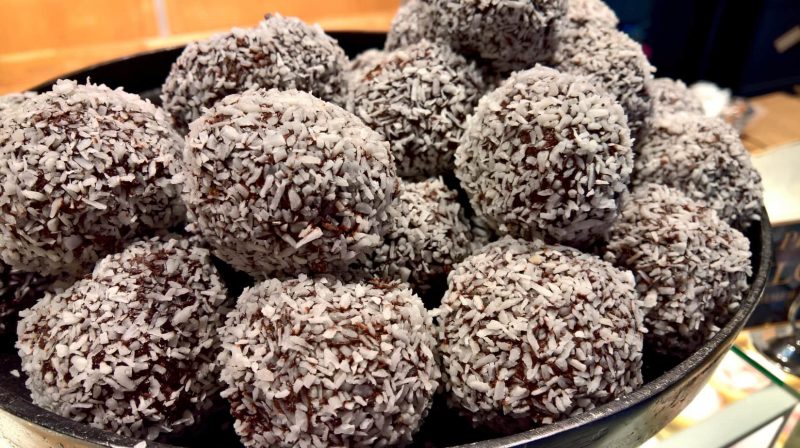 Chokladbollar are simple chocolate balls made using oatmeal, sugar, coffee, cocoa and butter.
18 – Semlor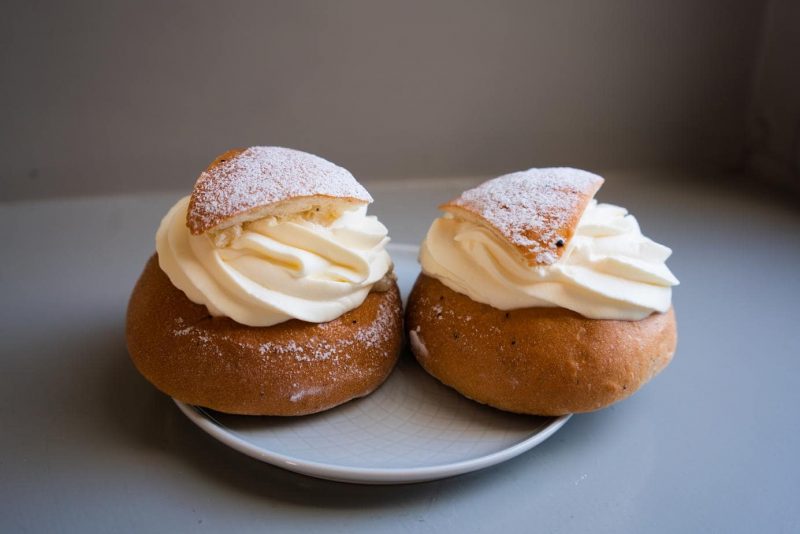 Traditionally eaten on Shrove Tuesday, semlor (also called semla) are another traditional Swedish dessert. A semla is a sweet bun, flavoured with cardamom. The top is cut off and the bun is stuffed with a mixture of milk and almond paste, topped with whipped cream, then the cut-off top serves as a lid.
19 – Lördagsgodis / Pick-and-Mix Candies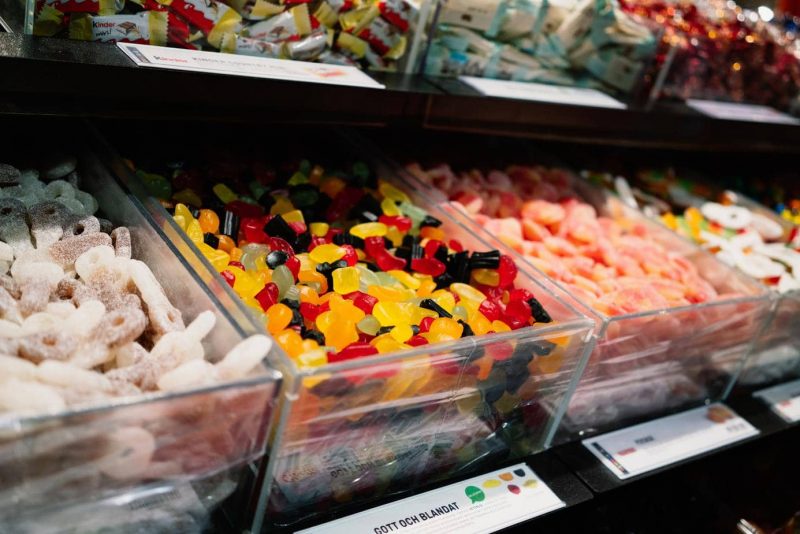 Apparently, the Swedes eat more sweets* per capita than any other nation – consuming about 50% more than the average EU citizen. These are my people! In Sweden, supermarkets have entire aisles dedicated to pick-n-mix, and Saturdays are a day for indulging in lördagsgodis (literally "Saturday sweets"). This was born when the Swedish Medical Board launched a campaign to curb candy consumption to just one day a week. But, by all accounts, it's now a huge tradition in Sweden.
*Sweets = candies for any North American readers.
Food Tours and Experiences in Sweden
In my experience, the best way to get to know a country's food scene is by taking a food tour! So I've listed a few of the top foodie experiences below. You could take a cooking class with a local chef, or a street food tour with tastings to give you a quick overview of the local food scene. There's plenty to choose from, so these are just a few to get started:
Suggestions for any traditional Swedish food I've missed will be much appreciated. Scroll down to leave a comment!
Pin This Post: