Some posts on this site contain affiliate links. If you book or buy something through these links, I earn a small commission (at no extra cost to you). Take a look at my privacy policy for more information.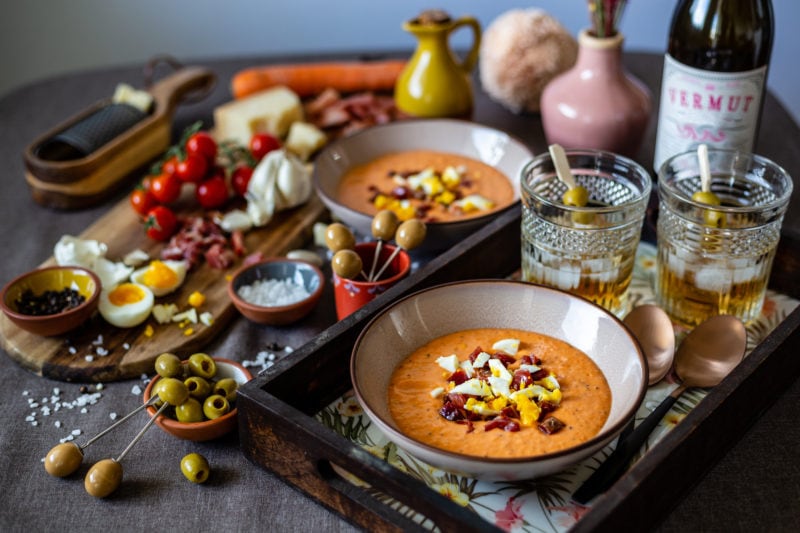 If you're visiting Seville for the first time, you want to make sure you try all the best food, right? After all, food is always one of the best parts of a trip – ESPECIALLY in Spain!
When I visited Seville recently, I made it my mission to eat as much food as possible. And I did a pretty good job! Before the trip I did tons (and I mean tons) of research, making a shortlist of all the must-try food and best restaurants in the city.
I didn't want all that hard work to go to waste, so I thought I might as well turn it into a blog post. At least this way, all those calories I consumed are worth something!
Even if it's not your first visit to the city, my Seville food guide may have a few dishes you've not tried yet.
There are still hundreds more dishes I could have included on the list, but you have to stop somewhere. So this is a "highlights reel" of 16 must-try foods and drinks for your first visit to Seville.
I hope you're hungry…
Seville Food Tours
I highly recommend taking a food tour on your first day or evening in Seville. It's a great way to get an overview of the city and try some of the main dishes. You can also take the opportunity to press your guide for some recommendations for the rest of your trip – both for dishes to try, and great restaurants.
There are loads of food tours in Seville to choose from. I booked this 3 hour evening Tapas Crawl through Get Your Guide (from £55.42pp) because it had some great reviews. I LOVED IT! The tour was great, our guide Angela was amazing, and I ate and drank a LOT. Highly recommend.
16 Food and Drinks to Try in Seville
Jamón Ibérico (from Huelva)
One food you absolutely HAVE to try in Seville – in fact, in Spain in general – is Jamón Ibérico. Specifically, Jamón Ibérico de Bellota (from acorn-fed Iberico pigs).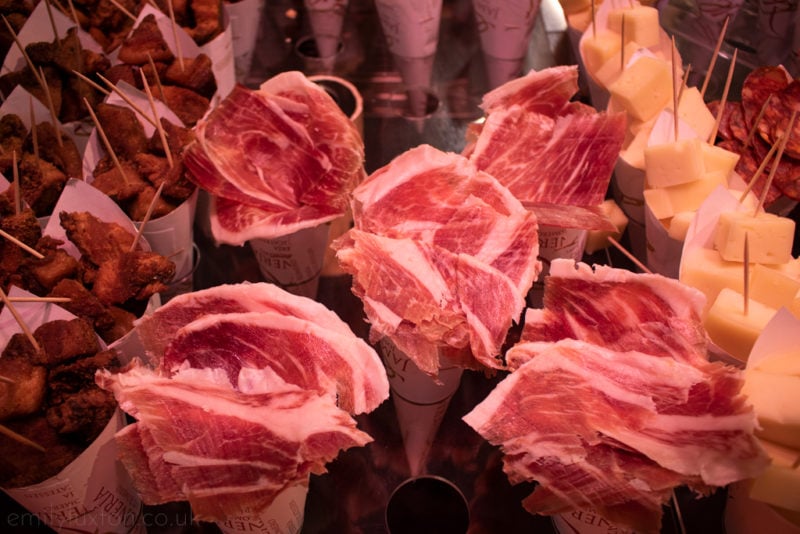 Seville is just a short drive from the Andalucian province of Huelva, one of just four areas that produce true Ibérico ham. Jamón Ibérico de Bellota from Helva is known as some of the most flavourful in the country, so it's a must-try in Seville!
You can also take a day trip to Aracena from Seville to get an in-depth look at the artisanal ham-making process there.
Where to Try: at Seville's markets! I loved Jamoneria Jose Luis Romero in Triana Market, just across the river from the city centre.
Salmorejo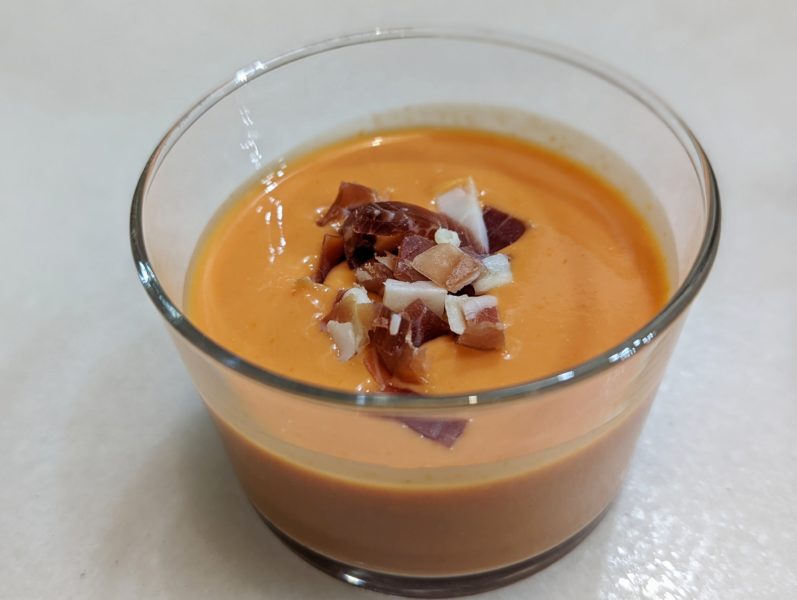 If you're familiar with Spanish food, you may well have tried gazpacho before. The traditional Andalucian dish Salmorejo is similar to gazpacho, in that it's also a cold tomato soup. But this Andalucian speciality is quite a bit thicker and creamier.
Salmorejo is made using tomatoes, garlic, and bread crumbs. This last ingredient may sound unusual, but apparently, quite a few traditional dishes in Andalusia are beefed up using bread. It was a cost-effective way of thickening up soups and stews by using up stale bread.
This tasty cold soup is usually topped with jamón, and sometimes slices of boiled egg – although you can ask for a vegan/vegetarian option if you prefer.
Montadito de Pringá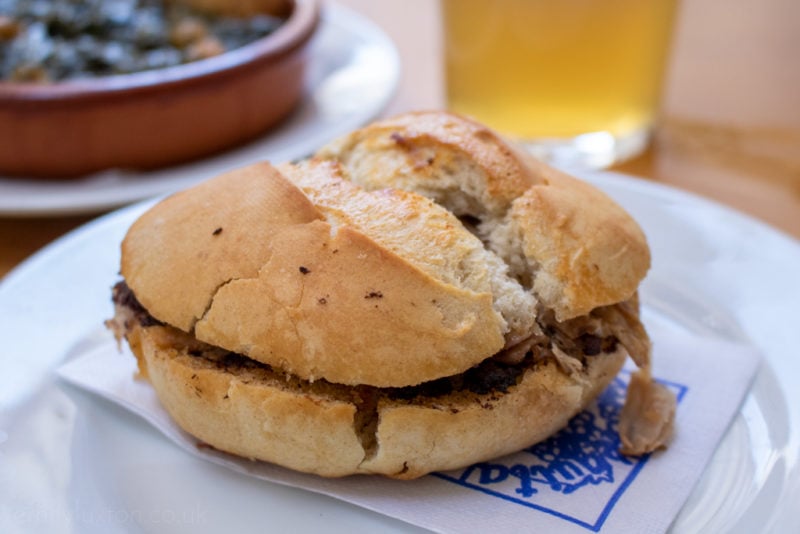 A montadito is a kind of small, tapas-sized sandwich made using a crusty roll or small baguette. And pringá is a very typical Andalusian dish made from slow-cooked pork, chorizo, fat and morcilla (blood sausage, similar to black pudding). It's a deliciously soft, juicy filling for a hot sandwich – and a must-try in Seville!
Where to Try: You can find montaditos de pringá all over Seville. I recommend Bodeguita Romero (10 Calle Harinas) or the Taberna Peregil (12-14 Plaza Padre Jerónimo de Córdoba).
Andalucian Cheeses
One of the best foods to try in Seville is the wide variety of traditional Andalucian cheeses. There are lots to choose from! Andalucia is the main region in Spain for goat's milk production, so goat cheese is the main variety. One of the most popular ones is Payoyo Cheese, so keep an eye out for that.
Espinacas con Garbanzos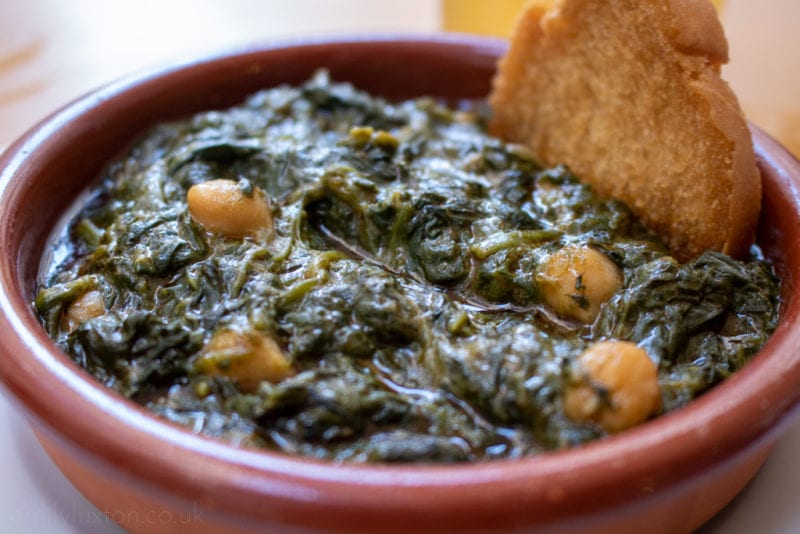 Espinacas con Garbanzos, spinach with chickpeas, is a super traditional food in Seville. They're usually served as a tapas dish, but you could also order them as a side if you want some extra veggies!
Presa Ibérica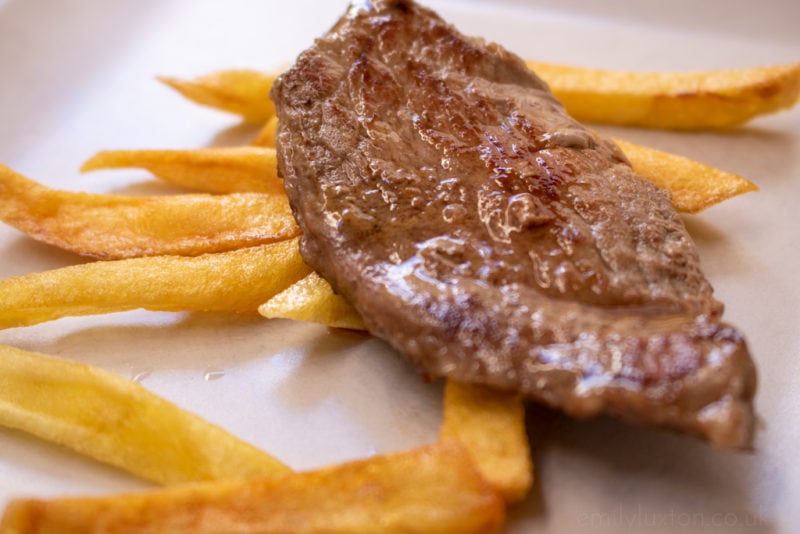 Iberico pork isn't just about ham! Presa Ibérica is pork shoulder, and it's considered one of the best cuts of meat.
Generally, it's served grilled (a la plancha), perhaps with a few papas fritas (french fries). It's often served as a tapa, but a larger version can also be ordered as a main.
Cazón en adobo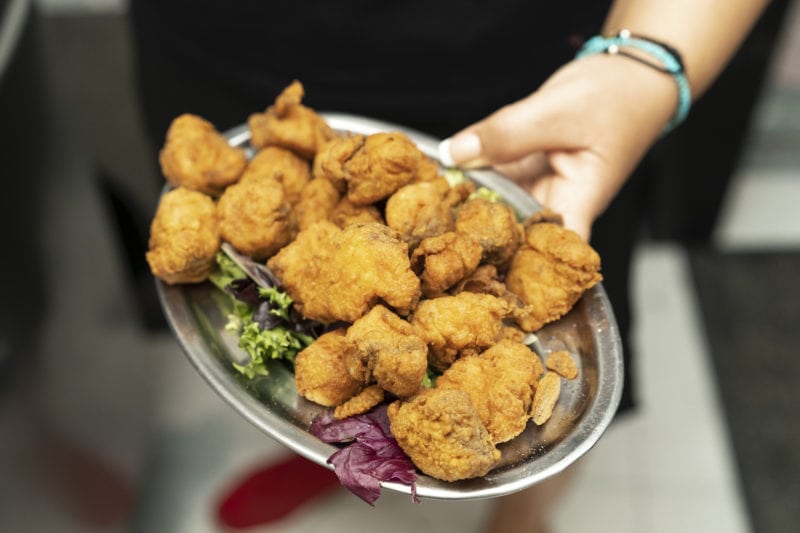 Cazón = dogfish, also known as sand shark. Originating from Cadiz, cazón en adobo is a really typical food in Seville and throughout Andalusia. Small chunks of this tender white fish are marinated in a mix of spices which hint at the region's Moorish history, then deep-fried.
Where to Try: I got mine from Freiduría Cervecería Monte-Sión (22 Feria) and loved it! It's a small, super local fish bar with a hatch for takeout.
Solomillo al Whisky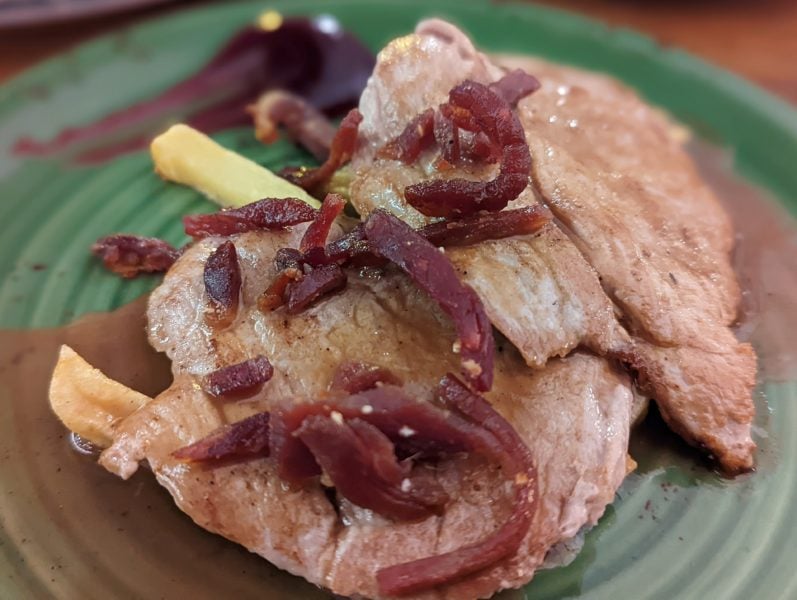 Solomillo al Whisky is pork in a whisky sauce, a simple dish that packs a lot of flavour. The sauce is made with whisky, lemon, and garlic, served over browned pork loin – usually with fried potatoes or chips.
Where to Try: For a modern take on this classic Sevillano dish, try La Malvaloca (20 Plaza de la Encarnación), where you can sit outside with a view of the iconic Las Setas.
Albondigas de chocos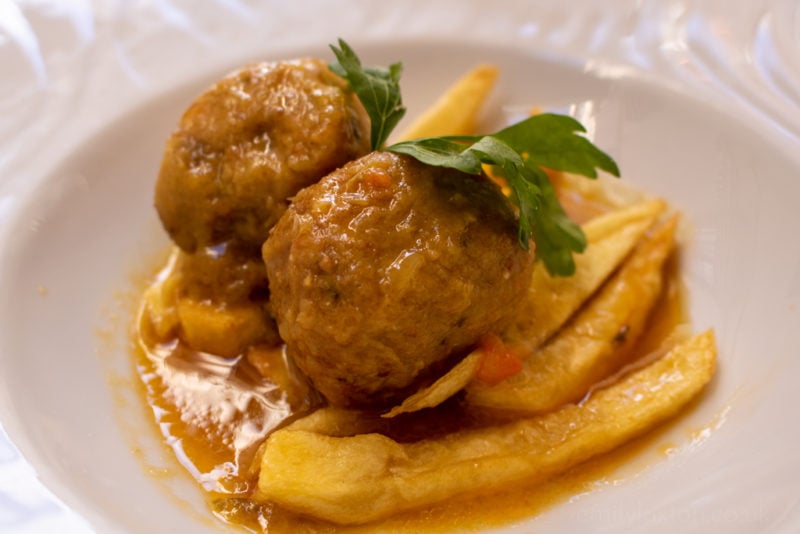 Another Andalucian food you have to try in Seville is albóndigas de choco, or cuttlefish meatballs. Originating on the Costa de la Luz, these deliciously fishy meatballs are a popular tapa throughout the region – especially in Seville.
Chicharrónes
You've probably already worked out that pork is a pretty big part of the diet in Seville! Chicharrónes are YET another pork dish.
In fact, chicharrónes generally means any kind of pork fat dish. But the ones to look out for are pieces of fatty pork belly, which might be slow-roasted and served cold in slices, or fried and served hot in chunks. Either way, they're delicious!
Rabo de Toro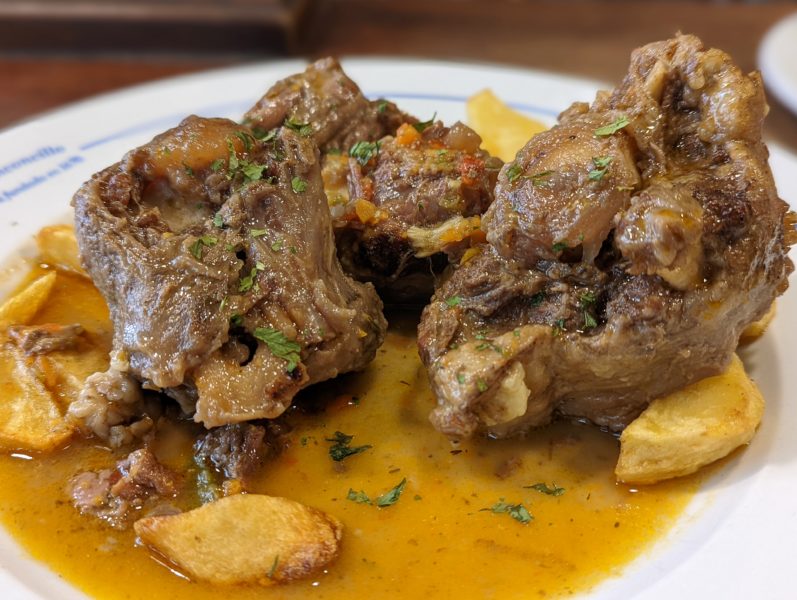 Rabo de toro, aka cola de toro, is bull's tail. Whether you agree with it or not, Seville has a long tradition of bullfighting, and it's left its mark on the local cuisine. Rabo de toro is a hearty dish of slow-cooked stewed bulls tail, usually served with a big portion of french fries.
Be warned, the tail is a surprisingly big cut of meat – I couldn't finish mine! I recommend splitting this dish with someone else as it can be quite filling.
Where to Try: El Rinconcillo (40 Calle Gerona), the oldest bar in Seville and something of an institution. The rabo de toro, when it's on the menu, is one of their specialities.
Breakfast in Seville
Tostadas con Tomate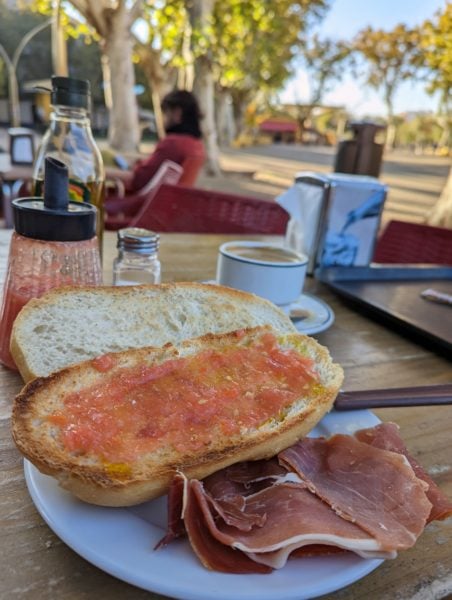 The most typical breakfast in Seville is the simple tostada. Tostada literally means toast, but these are generally slices of lightly toasted baguette. It's most commonly served with garlic, olive oil, and tomato – and you can also add serrano ham if you fancy it.
You might have tried pan con tomate elsewhere in Spain, usually made by rubbing a piece of tomato into the bread. In Seville, they serve the tostadas with a big helping of pureed tomato flesh instead for a really delicious, fresh taste!
Where to Try: You can find tostadas at almost every cafe in Seville. I loved the ones at Cafe Piola (55 Alameda de Hércules), order at the bar and grab a seat outside on the Alameda de Hercules plaza to watch the world go by. I paid 3.40 for two slices and a coffee.
Churros con Chocolate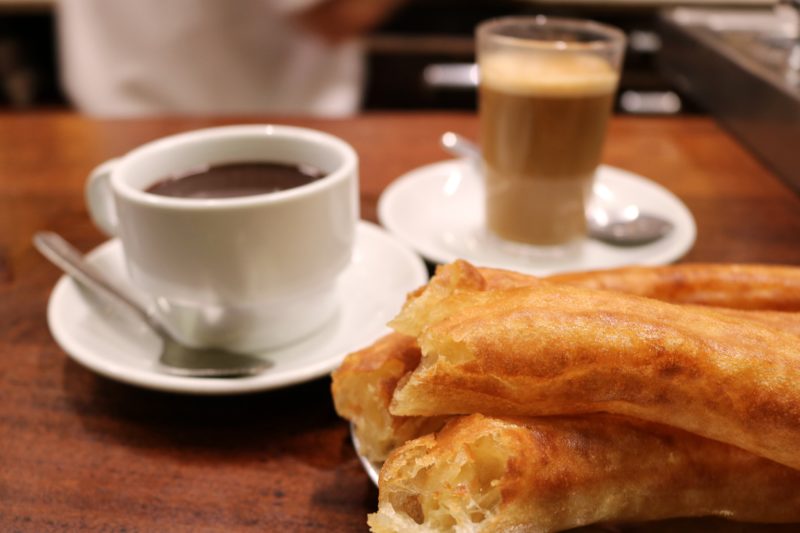 If you have a sweet tooth like me, the best breakfast in Spain is churros con chocolate. Churros are sticks of deep-fried sweet batter, served with a pot of thick hot chocolate for dunking. It's a pretty typical breakfast across Spain, and Seville is no exception.
Where to Try: Bar El Comercio (9 Calle Lineros). Most sources agree these are the best churros in Seville – in fact, they're probably the best churros I've ever had!
Drinks to try in Seville
Orange Wine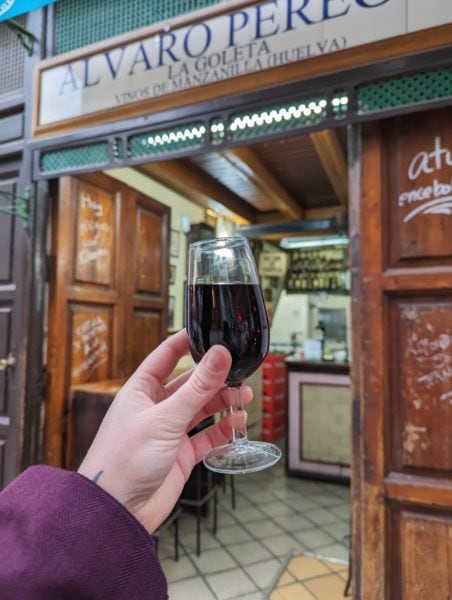 If you only try one new drink in Seville, make sure it's orange wine (vino de naranja). It's a sweet fortified wine made using the peel of Seville's iconic bitter oranges. It's more of a dessert wine, but it's perfect paired with some tasty cured cheeses.
Where to Try: The most famous one comes from Taberna Alvaro Peregil (22 Calle Mateos Gago) – a tiny little bar in the Old Centre named after the owner, a famous local singer.
Sherry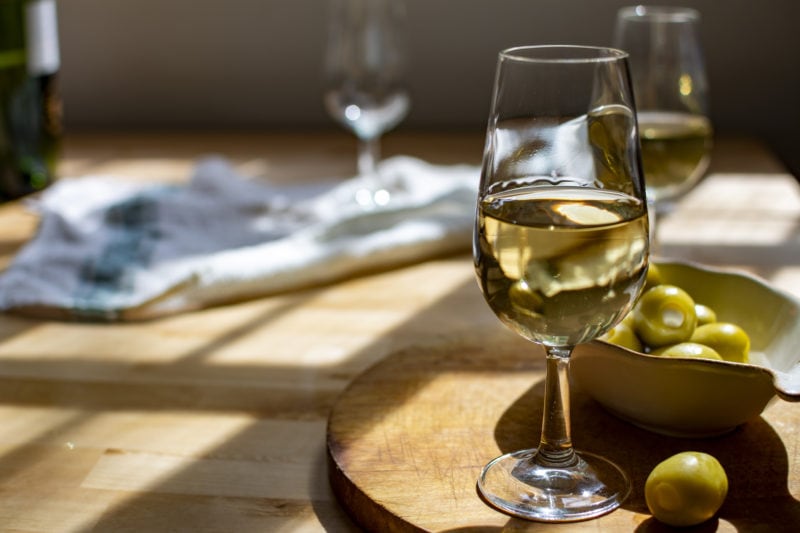 Did you know sherry comes from Andalusia? If it didn't come from the "sherry triangle" just outside Seville, it isn't sherry! There are lots of different sherry wines to try while you're visiting Seville. Among the most popular are Mazanilla, Fino, and Amatiago.
Recommended Tour: Wine and Sherry Day Tour from Seville (from £194.97pp)
Vermouth
Although originally from Italy, vermouth has become an intrinsic part of Spanish culture. It even has its own time of day: la hora del vermut (vermouth hour). Spanish red vermouths tend to be sweeter, and are usually served on the rocks with an olive and an orange slice.
There are a few Andalcian vermouths to look out for while you're in Seville, including Lustau Vermut Rojo and La Copa Rojo from Bodega González Byass.
Hope you enjoyed my Seville food guide! Are there any drinks or dishes you tried there which I've missed from the list? Share in the comments!
More in and Around Seville
How to Spend 2 Days in Barcelona