Some posts on this site contain affiliate links. If you book or buy something through these links, I earn a small commission (at no extra cost to you). Take a look at my privacy policy for more information.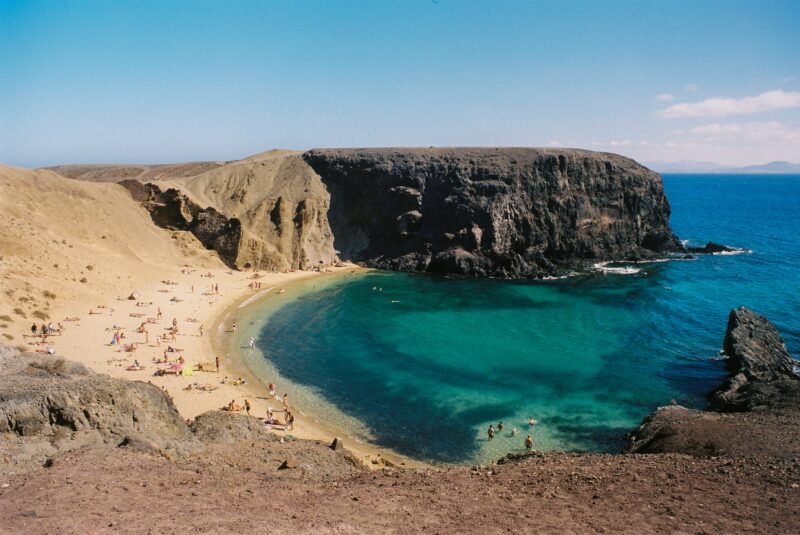 If you're a water enthusiast and looking for your next diving adventure, Lanzarote should be at the top of your list. This beautiful Spanish island in the Canary archipelago is a haven for divers, offering crystal-clear waters, vibrant marine life, and captivating underwater landscapes.

In this guide, I'll walk you through everything you need to know about diving in Lanzarote….
1. Learning to Dive in Lanzarote
Lanzarote is a fantastic place to learn how to dive, and it offers several advantages for beginners looking to get certified. Here's why Lanzarote is a great choice for novice divers:
1. Warm Waters: The waters around Lanzarote are relatively warm throughout the year, with temperatures ranging from 19°C to 24°C (66°F to 75°F) during the prime diving season (April to October).
2. Clear Visibility: The island boasts excellent underwater visibility, often reaching up to 30 meters (98 feet). This clarity is ideal for new divers, as it helps build confidence and allows for better navigation.
3. Diverse Dive Sites: Lanzarote offers a variety of dive sites suitable for all levels of divers. Many sites have calm conditions and shallow depths, perfect for training and skill development. Playa Chica, in Puerto Del Carmen, is particularly well-known for its beginner-friendly conditions. Schools like Native Diving offer a range of experiences as Sea trekking (unique in Europe) and courses, from trial sessions and beginner qualifications to speciality lessons for experienced divers looking to up their game. 
4. Professional Dive Centers: Lanzarote is home to numerous reputable dive centers with experienced instructors who are certified by recognized agencies like PADI and SSI. These professionals can guide you through your certification courses and ensure your safety throughout your learning journey.
5. Comfortable Learning Environment: The island's pleasant climate and stunning landscapes above water make for a great backdrop to your diving adventure. After your lessons, you can enjoy the beauty of Lanzarote's unique volcanic landscapes and beaches.
2. Where to Go Diving: Best Lanzarote Dive Sites
Lanzarote boasts a plethora of dive sites that cater to divers of all skill levels. Here are a few of the standout locations that will make your diving experience unforgettable:
Museo Atlántico: Dive into an underwater art gallery at Museo Atlántico, Europe's only underwater museum. This unique site features sculptures created by artist Jason deCaires Taylor, with thought-provoking installations that add an extra layer of excitement to your dive.
Playa Chica: Ideal for beginners, Playa Chica is a sheltered bay with calm waters and shallow depths. It's perfect for honing your skills or just enjoying a relaxed dive. Look out for the charming marine life, such as damselfish and trumpetfish. The beach is within Puerto del Carmen, one of the best places to stay in Lanzarote.
The Cathedral: Advanced divers, don't miss the Cathedral at Playa Blanca. Its underwater lava tunnels and dramatic archways create a mysterious atmosphere that will leave you in awe.
The Blue Hole: For the thrill-seekers, The Blue Hole at Puerto Del Carmen offers a vertical cave with an impressive drop-off. You'll encounter large schools of fish and might even spot some eagle rays.
3. When to Go Diving in Lanzarote (Best Time of Year)
Lanzarote enjoys a pleasant climate year-round, making it a suitable destination for diving any time. However, for the most optimal diving conditions, plan your trip between April and October. During these months, water temperatures range from 19°C to 24°C (66°F to 75°F), and visibility can extend up to 30 meters (98 feet).
4. What Marine Life Can You See When Diving in Lanzarote?
Lanzarote's underwater world is a treasure trove of marine life, and what you encounter can vary depending on the time of year. Here are some highlights:
Angel Sharks: These fascinating creatures are a common sight, and they're often spotted year-round. However, the best time to see them is from November to March when they come to the shallower waters for mating.
Loggerhead Turtles: These gentle giants can be spotted around Lanzarote, with the peak season for sightings from June to September. Keep your eyes peeled for these incredible reptiles gracefully swimming by.
Colorful Fish: Lanzarote's waters are teeming with a vibrant array of fish, such as parrotfish, wrasses, and trumpetfish. You can enjoy their presence all year long.
Manta Rays: If you're lucky, you might spot manta rays during your dive. The best time to encounter them is from May to October when they come to Lanzarote's waters for feeding.

Common dolphins: Dolphins are a common site year-round in Lanzarote. You can see them on boat tours and RIB rides, as well as whilst diving.
5. Wrecks to Dive in Lanzarote
For those with a fascination for underwater history, Lanzarote has some impressive wreck dive sites:
a. The Telamon: This British cargo ship met its fate in 1981 off the coast of Arrecife. Today, it's a fascinating wreck that rests in shallow waters, making it accessible to divers of various experience levels.
b. The Rabat: The Rabat is another shipwreck off the coast of Playa Blanca. Divers will be thrilled by the diverse marine life that has made this ship its home.
6. Sea Trekking in Lanzarote
If you're looking to explore Lanzarote's underwater world without getting wet, consider sea trekking! Sea trekking is a unique experience that allows you to walk on the ocean floor with a specially designed helmet that provides air, allowing you to breathe comfortably as you explore the underwater realm.
Lanzarote offers fantastic sea trekking opportunities, providing an up-close look at the island's marine life and fascinating geological formations. It's an activity suitable for all ages and a great way to experience the beauty of the ocean without the need for diving equipment.
Final Thoughts
So, there you have it – a comprehensive guide to diving and sea trekking in Lanzarote. With its incredible dive sites, year-round favourable conditions, and abundant marine life, Lanzarote is a must-visit destination for any water lover. Pack your gear or simply your sense of adventure, and get ready for an unforgettable underwater and sea trekking experience in Lanzarote!