Some posts on this site contain affiliate links. If you book or buy something through these links, I earn a small commission (at no extra cost to you). Take a look at my privacy policy for more information.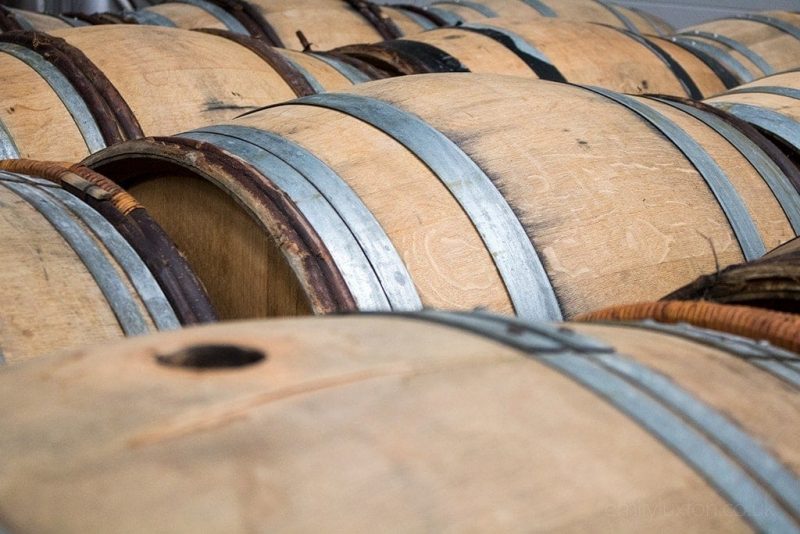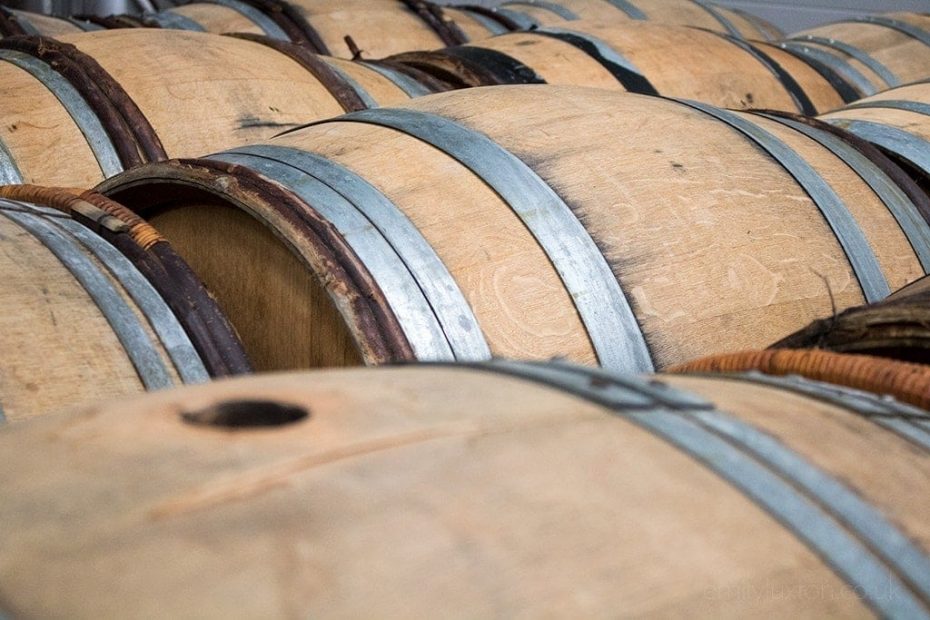 "I'm not the boss. My boss is him."
Montse points at an antique barrel, hundreds of years old, coated in thick dust and cobwebs.
We're standing in the dimly lit cellar of Mas Molla, her family's beloved and ancient bodega just outside of the Calonge, surrounded by dozens of these old wooden barrels. This beautiful, tumble-down property of stone buildings, leafy orchards, and extensive vineyards, is the first stop of a wine tasting tour in Emporda, Spain. A tour that contrasts the old with the new, tradition and nature with modernity and science.
Emporda Wine at Mas Molla
Tradition and History
The air is cool, smelling of damp, wood, and wine, and the age of the place – of the barrels, the cobweb-strewn wooden beams overhead, the stained and dusty stone floor – is palpable.
In fact, we're in what Montse calls the most modern part of the house: this part of the cellar was built in 1884, while Mas Molla itself dates from 1338.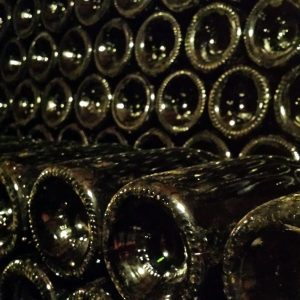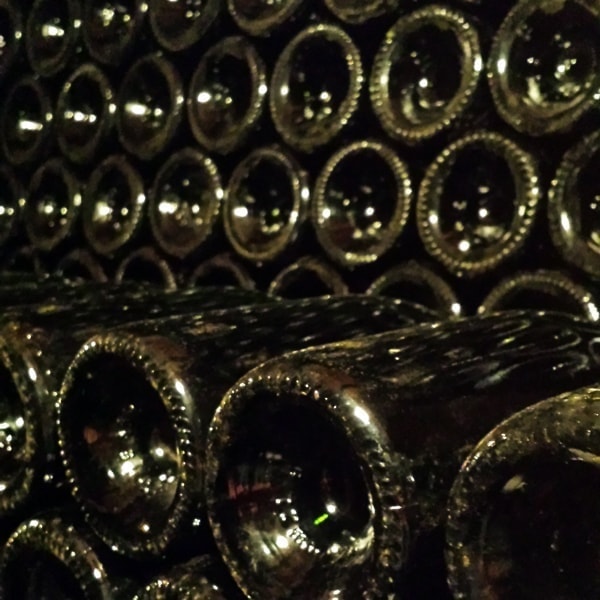 Since it's foundation, this vineyard has been owned by the same family, with generation after generation working here, and every generation adding to the house, creating the sprawling property it is today. But in the stone-walled cellar below the house, it's easy to be transported back to the medieval ages.
Wine Production – the Old Fashioned Way
With the exception of the property overhead, things haven't changed much since the days of Montse's ancestors. In a world of technology and mass production, she still runs her vineyard the old-fashioned way, making what she calls "farmer wine", continuing with the same production techniques and same kinds of grapes that have been used since Mas Molla was started in the 14th century.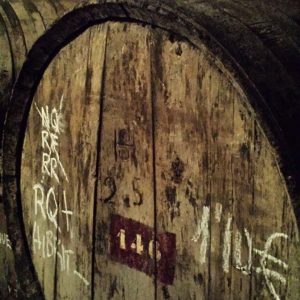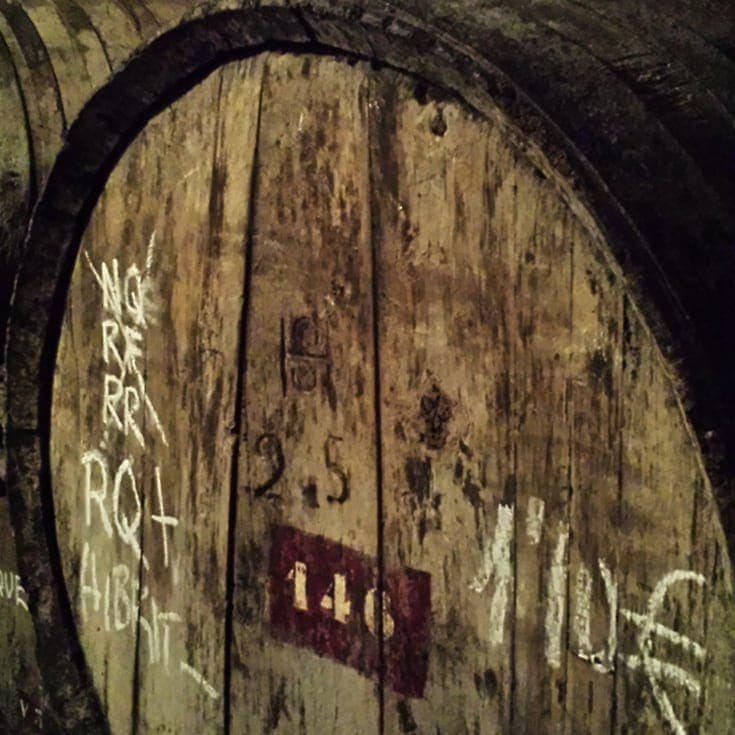 "If I don't continue this," she tells us, "these flavours, these tastes will disappear".
But traditional practices aren't without their complications; where more modern vineyards can control every step of the process, and know exactly what they're producing, here at Mas Molla the barrels really are in charge.
"We make natural wine" explains Montse, which means everything is done by hand and without chemicals. The grapes are picked by hand every September and brought straight to the cellar for pressing, then placed in barrels for fermentation. The whole process is completely natural, without any intervention. Even the mosquitoes, which are prolific in summertime, are controlled by natural means; every surface is thick with cobwebs, and huge spiders scuttle about in the darkness.
Every Barrel is Unique
All that naturalness is unpredictable. Wine takes between 25 to 30 days to ferment, and each barrel takes a different amount of time. So every barrel, every year, is unique.
"One is more dry, because it finished all the sugars [during fermentation], and the one that stopped before has a little quantity of residual sugars… [each] barrel has a different taste. And barrel for barrel, every year has a different wine."

Montse
This unpredictability can have even more surprising results on the white wines. In summer, if there are particularly hot conditions, some of the bottles can experience a second fermentation, creating what Montse terms "accidental champagne", an unexpected sparkling wine which won't be discovered until opening the bottle.
"For me," she says, "it's interesting, it's a good thing. Because there aren't two sunsets equal, and there aren't two bottles equal". This, says Montse, is what gives the wine soul.
Luckily, Montse's clients, who she describes more like family than customers, tend to agree. The bespoke wines would be tricky to sell to large corporations and restaurants, who need to know what every bottle will taste like for labelling, but Mas Molla's clientèle value the fact that each barrel is different; the uniqueness of the artisinal process is all part of the appeal.
Every year in March, all the clients come to taste from each barrel, and they can place their orders for their favourites. Every barrel has names and orders written on its face in chalk, and every barrel has already been reserved.
Emporda Wine Tasting at Mas Molla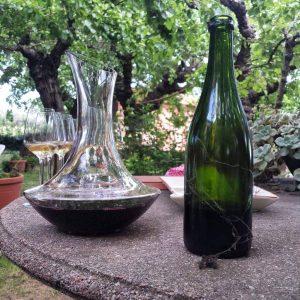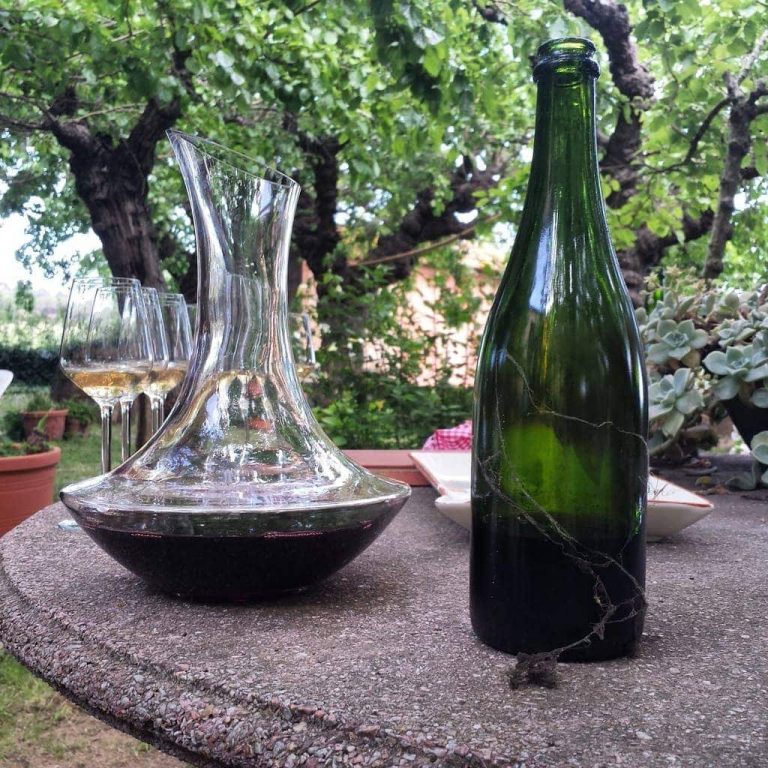 Montse's enthusiasm for her craft is infectious, as is her passion for wine and the traditional, natural processes she's upholding so preciously.
As we sit down in the leafy garden behind Mas Molla with glasses of red and white wine, she tells us that the vineyard surrounding the house is growing between 40 – 50 different grape varieties, and she's kept all of them because these are the same grapes that her grandfather used.
Tradition and ancestors are hugely important here at Mas Molla, which is what gives this beautiful vineyard its charm.
"Here you can't find the smells of cocoa, of vanilla, of toast, all the famous smells of wine. Here you have the history of this barrel, and all the wines that have been inside this barrel… Perhaps with more technology I do my best wine, but I lose my special flavours."
Bespoke, all-natural wines produced by hand in a traditional, artisinal way. You'd be forgiven for assuming that such bottles would set you back a small fortune, but here the most expensive bottle of wine costs just seven euros.
And this is where I really fell for Mas Molla, because Montse told us that the only reason she keeps her prices so low is that she believes everyone should to be able to enjoy a traditional cup of natural, healthy wine, no matter what their budget.
It's a beautiful notion, and one that keeps her customers returning again and again to beautiful Mas Molla for unique artisan wine.
Emporda Wine at Clos D'Agon
Modernity and Sophistication
At the other end of the spectrum, the super modern Clos D'Agon vineyard, also in Calonge, was a whole world away from the ancient stone farmhouses of Mas Molla, with regimental lines of grapevines and sleek, sophisticated architecture.
Originally founded by a Frenchman who planted a French grape variety here in Emporda simply because he loved it, this contemporary winery produces a handful of wine varieties – all exceptionally high quality. "A French vineyard in the Costa Brava, says manager Miguel as he shows us around, "it's very singular."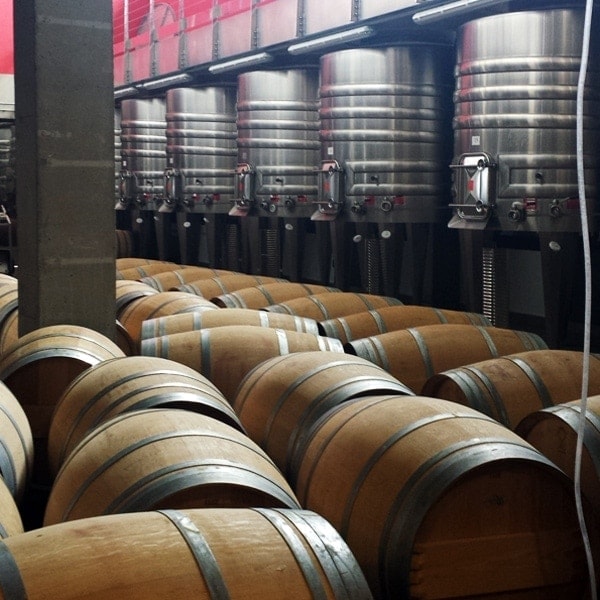 The most immediate difference here is the light. Instead of a dark and dingy cellar, Clos D'Agon's interior is light and airy, with huge windows opening up to the bright blue Costa Brava skies.
Bought by a group of Swiss wine enthusiasts in 1999, the building was completely renovated before reopening in 2005. Facilities were totally modernised to allow for the very best quality wine, with temperature-controlled stainless steel vats and air-conditioned cellars to meet the highest standards.
"The philosophy of the cellar is to make the most natural and controlled wine" explains Miguel, who is as passionate about his wine as Montse, despite the dramatic differences.
Modern Wine Production
With production rigidly controlled, famous winegrower Peter Sisseck overseeing the wine creation, and incredibly high standards in all elements of the winemaking process, sleek and clean Clos D'Agon feels like the polar opposite of Mas Molla. But here, the technology that Montse lacked is, as she put it, allowing them to produce the very best wine, albeit at the cost of losing those special flavours and ancient traditions that made her bodega so unique.
The result here at Clos D'Agon is a little less special perhaps, but more predictable and still very, very good. The wines, particularly the vineyard's newest wine, the Amic (in white, red and rose varieties), were superb, enjoyed on the roof terrace of the winery with an exceptional view across the vines to the coast.
Discover Emporda Wine for Yourself
Emporda, a landscape of beautiful contrasts, is the region tucked between the mountains of the Pyranees and the Mediterranean Sea, and has been growing wine since around the 6th century BC.
It's the ideal place to tour vineyards and try wine tasting; the huge variety of landscapes, grapes, and wines produced means that there's something in the region for everyone.
Both Mas Molla and Clos D'Agon are found near Calonge, two hours from Barcelona. This picturesque coastal town is particularly well known for its wines; even holding a New Wine Festival every year in November. So it's the perfect place to start discovering the wine of Emporda for yourself.
Location, Location, Location
As Miguel explains, the location is the special thing about the breathtaking Clos d'Agon: the surrounding hills are like an amphitheatre for the vineyard, providing shelter, while in front lies the Mediterranean, which has a very important influence on the area's climate and nature.
The low average rainfall and refreshing sea breezes keep extreme temperatures at bay, the chalky soil is perfect for growing grapes, and the dry climate of Emporda means that fewer chemicals have to be used to dust the vines. All in all, conditions are almost perfect.
Miguel won't let us leave until all five bottles are empty, a fair challenge for our small group. Sighing, I settle against the wall of the roof terrace with another glass of rich and fruity Clos d'Agon white – my personal favourite – and watch the slowly setting sun cast a warm, golden light over the valley before me. Conditions here, whether controlled or natural, truly are perfect.
Many thanks to the Costa Brava tourism board and to both wineries for hosting me.