Some posts on this site contain affiliate links. If you book or buy something through these links, I earn a small commission (at no extra cost to you). Take a look at my privacy policy for more information.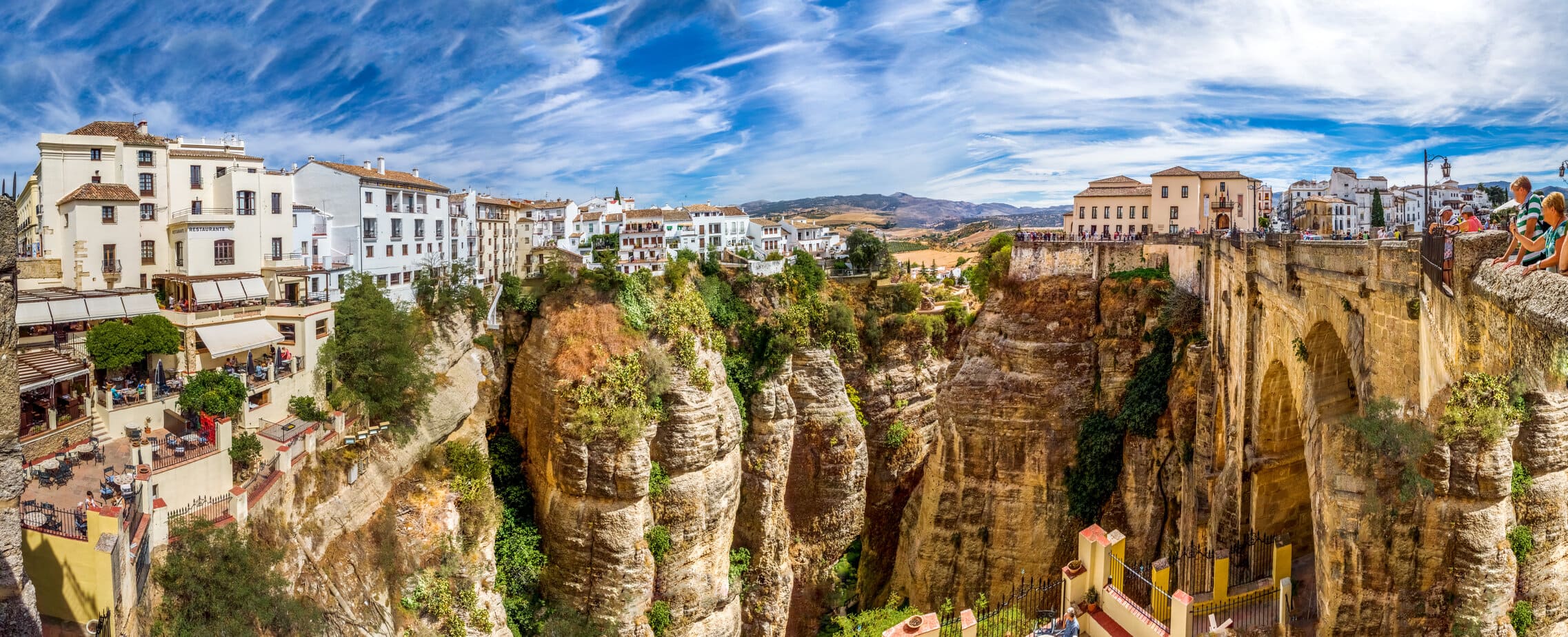 A round-up of the very best day trips you can take from Malaga, Spain – brought to you by a local expat!
If you're staying in Malaga, you found yourself in the perfect location that will allow you to explore much more of what Southern Spain has to offer.
Malaga is the main travel hotspot on Costa del Sol. It offers a convenient distance to the airport and is well-connected with the rest of the country via trains, buses and motorways. Even if you're not planning to rent a car, there are lots of different options to plan wonderful day trips.
If you're looking for some interesting places to see, this article will show you some of the best options available from Malaga.
Best of all? I have been living close to Malaga for over three years now, so I am very familiar with all the day trips on the list. I'll only recommend places that are really worth your time.
Shall we dive in?
Choosing and Planning your Day Trips from Malaga
Before you randomly pick a place from the list, you should first consider how much time you want to spend in the destination, and how you want to travel there.
If you don't want the hassle of navigating in the local traffic and renting a car, the great news is that almost all of the places on my list can be explored by train or by local bus. Local transport options are generally also very affordable and convenient. So you may thank yourself that you didn't bother paying extra for car rental.
If you do decide to drive, that's pretty straightforward too. You'll head out of the town on one of the main highway junctions, and the streets in Malaga are pretty easy to navigate. Apart from the city of Ronda, none of the other destinations present any challenging terrain for driving.
The destinations I selected are all within a short reach from Malaga. The furthest ones are Seville and Gibraltar, while the closest are Benalmadena, Antequera, Fuengirola and Nerja.
I tried to keep the maximum travel time either by train or car up to two hours, so you have plenty of time to see the destination and don't have to spend most of your day trip commuting.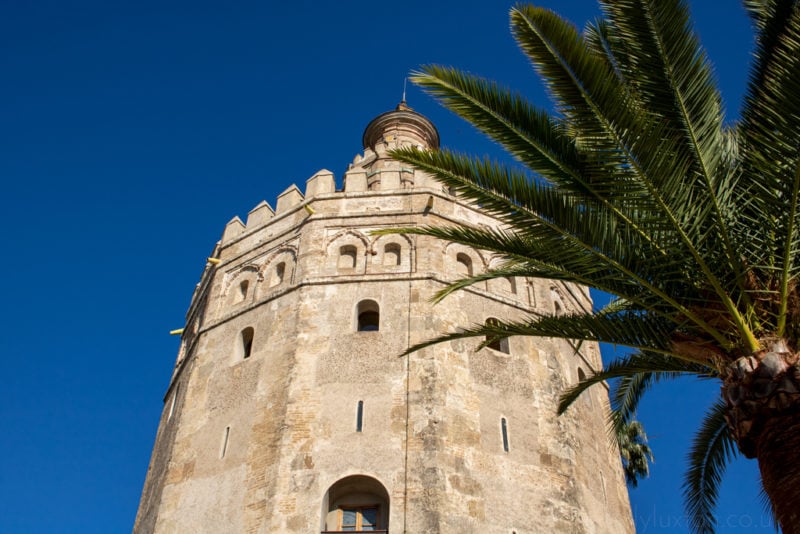 9 Best Day Trips from Malaga
Here is an overview of the top day trip destinations that made it on the list. You'll find a detailed description and highlights for each destination below.
Benalmadena
Fuengirola
Granada
Nerja
Marbella
Ronda
Antequera
Gibraltar
Seville
1. Benalmadena – close, interesting & family-friendly
Benalmadena is only a short drive from Malaga (about 35 minutes), but also accessible with the local commuter train C1 which runs every 20 minutes (journey around 30 mins).
Benalmadena has three main parts – the coastal area where you will find the award-winning marina, the Sea World park with its huge aquarium and a long stretch of beach lined with restaurants and shops.
Up in the hills above the coastline is Arroyo de la Miel, the older historic part of Benalmadena. The most charming part is further up in the hills called Benalmadena Pueblo.
The Pueblo is a typical Andalusian white village with cobbled roads, charming houses, local tavernas and beautiful views all around. If you stroll to the end of the village to Jariden de Muro, you will find an old church with pretty cascading gardens and stunning views of the coastline.
Below the garden is La Cupula Lounge with live music, cocktails and the best views in town. Further down the road is Castillo Colomares, a castle monument built in the honor of the travels of Christopher Columbus, a truly unique place to see.
If you want to explore further, at the edge of the Pueblo you will find Mariposario, the butterfly park where you can walk amongst hundreds of butterflies and see them hatching in their own nursery. Right next to the park is a huge Buddhist temple with a viewing platform and spectacular views of the whole coastline.
2. Fuengirola – family trip or day on the beach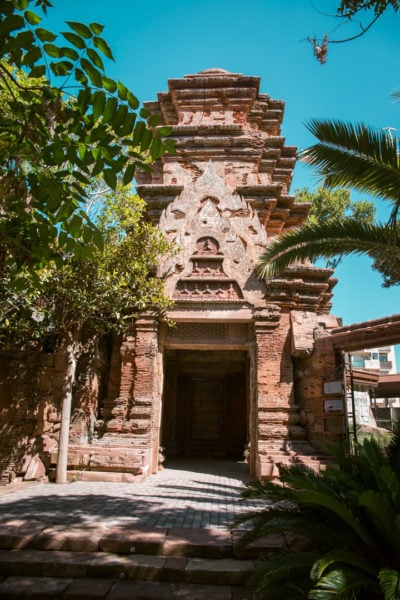 Fuengirola is my home town, so perhaps a bit of a biased addition to the list. But I wanted to offer an option for those who would like to have a day on the beach, or do something special with kids.
In Fuengirola, you will find 7 km of well-equipped sandy beaches, a long beach promenade that stretches from the start of the town until Castillo Sohail (worth a visit for the views, entrance is free), and plenty of options for water sports too.
If you're coming with kids, they will love a visit to the local Bioparc, which allows them to experience different animals in their natural habitat, without tall fences and depressing enclosures. A baby gorilla is the latest addition to this park, which feels much more like a lush jungle than a standard zoo.
For those who like even more adventures, you can also play 18-hole minigolf right next to the huge Miramar Shopping Centre (close to Sohail Castle), or try go-karting available on top of the mall.
3. Granada – for history enthusiasts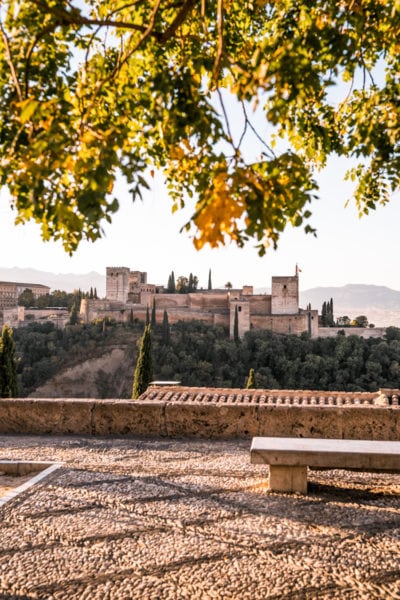 Granada is by far my favorite Andalusian city, as it doesn't feel as crowded as the other ones, and still has a lot of charm that you would expect to see in a small village. Granada is not far from Malaga and with so much to see, it makes a perfect day trip destination.
Famous for the Moorish palace complex of Alhambra, which was part of the Nasrid Kingdom, it draws millions of tourists every year. If you're planning a trip here, you really need to book your tickets online asap as they tend to sell out weeks in advance, and yes – you might have an issue getting a ticket even in off-season months.
Further down from the Alhambra complex – which also contains the fortress of Alcazaba and the beautiful gardens of Generalife – you will find Carmen de los Martires, a beautiful well maintained park and garden with peacocks running freely.
Visiting Granada is not complete without taking a stroll through Albaicin, the historic old town with its narrow streets leading up to the hills, with the best views of Alhambra. Talking of the views – the best spot for taking in the beauty of Alhambra is at the Mirador of St Nicholas in Albaicin.
If you're traveling with kids, they will love to visit the Parque de las Ciencias, a local science museum with very cool exhibits dedicated to space, the human body, a planetarium and a biodome – with freely running monkeys. I've been twice already and would still go back!
4. Nerja – unique blend of views, nature and sights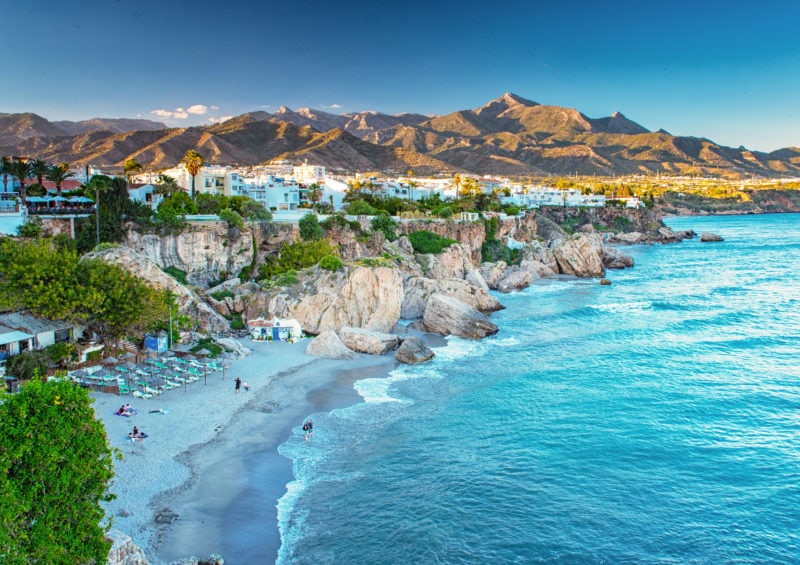 Nerja is a local's favorite spot on Costa del Sol. It's completely different to the sun-bleached resorts and all-inclusive hotels you would normally expect, Nerja is much more classy and traditional.
Known for a pretty coastal platform called Balcony of Europe, in Nerja you will find a charming old town with a maze of streets leading you to restaurants with pretty sea views, local shops selling artisan products, and beautiful beaches framed by rocky hills.
Nerja is also known for its caves located on the edge of the town. If you have some spare time, you can drive 10 minutes up to the hills and reach the pretty white village of Frigiliana, voted a number of times as the prettiest white village of Andalusia.
5. Marbella – flashy resort town with charming old town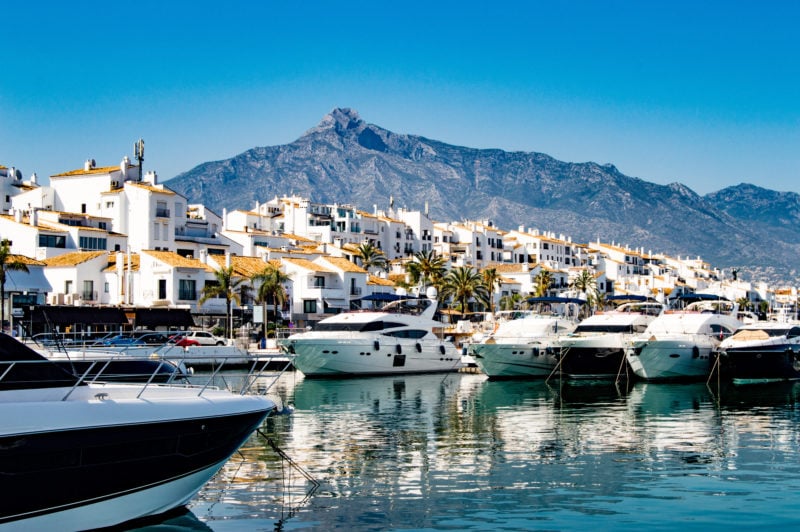 Marbella has an interesting mix of old and new, flashy and traditional. The coastal area is very well maintained with a beautiful lush promenade displaying the statues of Gaudi, and if you follow up through Alameda Park, you will find the traditional old town, the prettiest ones I've seen.
The old town of Marbella is a maze of coloured houses, flowers climbing on old walls, immaculately presented plants and traditional tavernas. Head to the Plaza de los Naranjos, the central square where you can dine or enjoy a drink under the blooming orange trees.
If you want a taste of luxury, continue further down the 'golden mile' to the flashiest district of all – Puerto Banus, known for luxury shopping, multi-million-dollar yachts, supercars passing the streets and the most spectacular beach clubs.
6. Ronda – a bucket list experience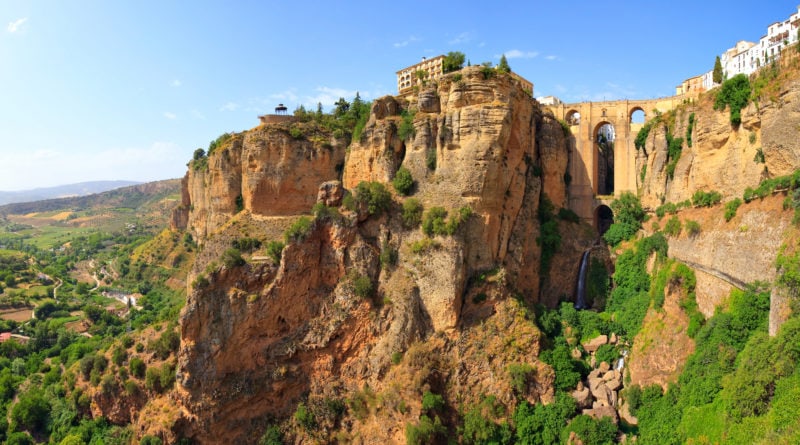 The ancient town of Ronda is hidden away in the mountains, divided in a half by the el Tajo gorge. Connecting the two parts of the town is the famous Puente Nuevo bridge with its beautiful arches, a bridge of historic importance that was once a home to the smallest prison in the world.
Further down the el Tajo Gorge, you will find well-preserved remains of traditional Roman baths. But Ronda is mainly known for its bullfighting history. It has one of the oldest bullrings in Andalucia which is well worth a visit.
Ernest Hemingway among many other authors were huge fans of Ronda and spent extended periods of time here, soaking in the views and finding inspiration for their work.
If that wasn't enough to get you excited, Ronda has spectacular views all around, stunning sunsets and plenty of hiking opportunities too.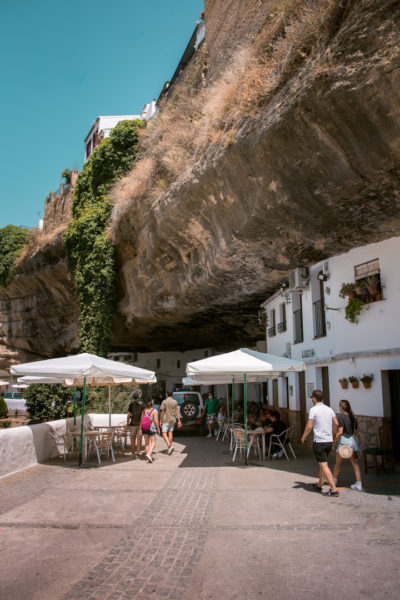 If you have a bit of extra time on your hands, you can drive a further 15 minutes to reach the village of Setenil de las Bodegas, where you will find homes and restaurants carved into a mass of solid rock, providing for a pretty unusual dining experience, with a huge rock formation hanging over your head.
7. Antequera – historic natural park and hiking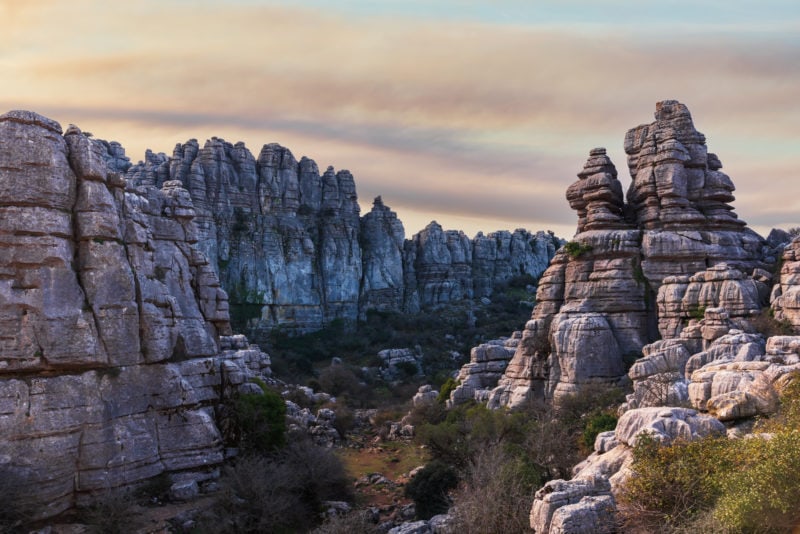 Antequera is a short drive away from Malaga, or you can also use the local buses or trains to get there pretty fast.
It's one of the least touristy towns on this list, and one that's home to the famous Dolmens of Antequera and Torcal de Antequera, a historic natural park where you can witness some of the most impressive limestone rock formations of all time.
The city itself is also worth exploring. It's a traditional white Andalusian town with a central square, even an old Alcazaba fortress. 
Nearby, you can also visit Sierra de las Nieves National Park – one of the best national parks in Spain and a haven for outdoor adventures.
8. Gibraltar – hopping over to the UK for fish & chips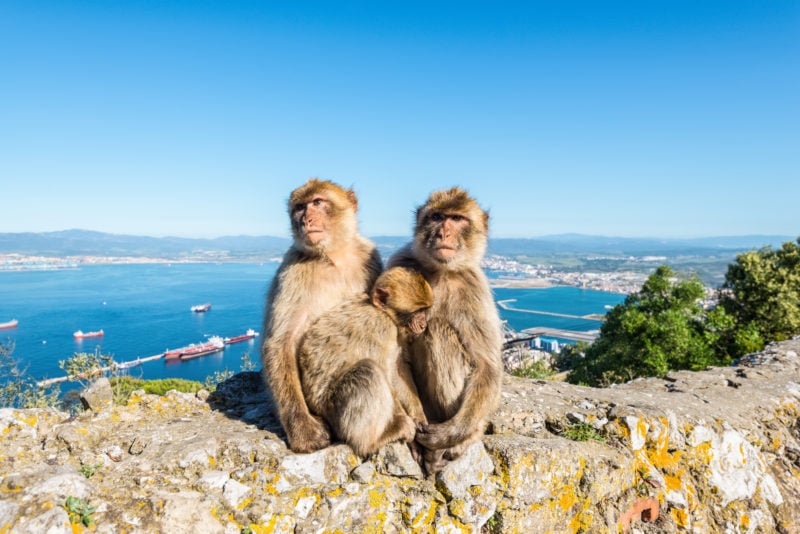 Fancy a change of scenery? Experience British hospitality while in Spain!
From Malaga, you can drive to Gibraltar in around 2 hours. Here, you can and enjoy a day of duty-free shopping, discovering the local natural park offering spectacular views of the sea and saying hello to the local monkeys running freely in the reserve. On a clear day, you can see Africa in the distance, and can also book a dolphin watching excursion.
Just a bit of practical advice – it's not possible to get to Gibraltar without a car. You can only get a local bus to La Linea, which is at the borders, and then cross on foot.
Even if you're travelling by car, I highly recommend parking at the borders and crossing on foot as the crossing times for cars are much longer than for pedestrians. From the crossing, it's about a 15 to 20 minutes walk to the central part of the town.
9. Seville – Andalusian capital city with so much to see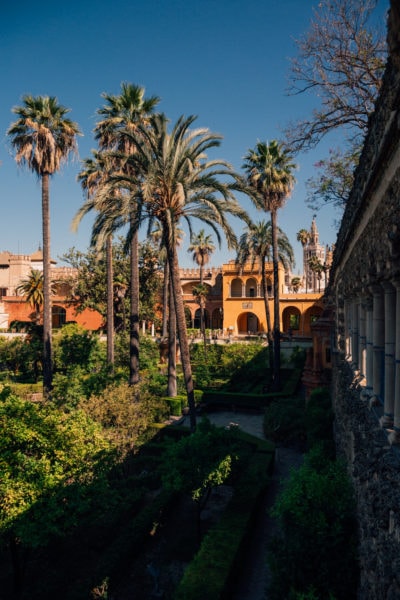 Seville is one of the most impressive Andalusian cities and has so much to offer.
You can get lost in the charming old town, visit the Royal Alcazar (used as movie location for Game of Thrones), and admire the Andalusian architecture at Palacio de Duenas or Casa de los Pilatos.
Seville is a true beauty, with such a range of different experiences. Admire the historic old building of the Seville Cathedral with the burial tomb of Christopher Columbus. Climb up to the platform of Giralda tower within the cathedral for incredible city views.
Be sure to hop over to the world-famous Plaza de Espana, which will allow you to experience a bit of Venice in Spain. There's a boat canal around the plaza decorated head to toe with stunning ceramic art.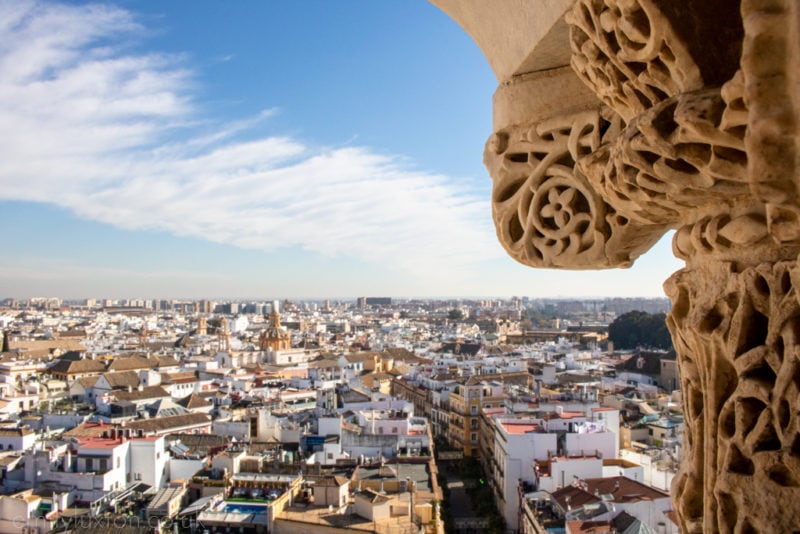 There is so much to see in Seville that you could easily stay for a week! If you're doing a day trip, the travel time from Malaga is a little longer. So, I would suggest focusing on the three main highlights: the Royal Alcazar, the Cathedral with Giralda Tower and the Plaza de Espana.
READ MORE: What to Eat in Seville
Bonus Travel Tips from a Local
Here are a few tips that will make planning your day trip much more enjoyable and hassle-free:
If you're planning to travel by train, I recommend getting your tickets early as you will have more connection options available and will also save some money on the tickets
If you're driving, some of the highways are toll roads. They usually have the word P in the name, such as the AP-7. So you need to have some spare change ready as you're passing the toll gates
Most of the historic sights around Andalusia get pretty crowded in the summer months. So if you want to enjoy them in relative peace and away from the scorching sun, try to get there as early as possible in the morning, or get the first available ticket slot for the day
On that point, buying tickets to most of the monuments in the summer can be tricky. It's well worth doing it in advance to make sure you can still get in. Even if you can't get tickets, most of the places on this list – like Granada and Seville – are an experience in their own league. So while you might not see the main attractions, it's still well worth your time to visit.
I hope you enjoyed this list of the best day trips from Malaga and found lots of interesting places to discover. Let us know in the comments which one is your favourite!
More on Southern Spain
Reasons to Visit Seville in Winter
About the Author
Lucia is a Slovak expat living in Southern Spain. On her blog, Viva la Vita she shares her discoveries about beautiful locations, hidden gems and authentic experiences from Costa del Sol and beyond.