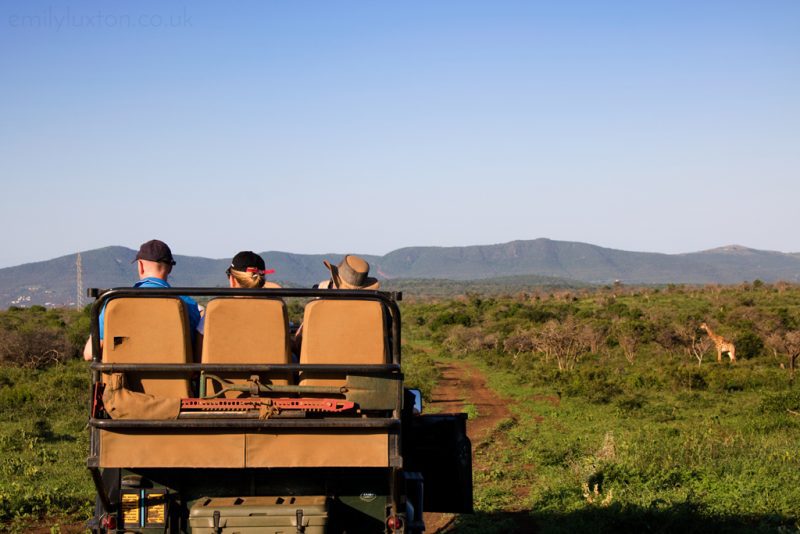 Looking for the best things to do in KZN? From towering mountains, to dazzling beaches, to a staggering array of wildlife, KwaZulu Natal has a mind-blowing array of things to keep even the most hard to please traveller busy.
I visited at the end of last year and found it to be the perfect South Africa holiday. There's culture in the cities, beauty in the nature, and no end of gloriously luxurious hotels for the more discerning tourists out there. These are my top places to visit and things to do in KZN….
READ MORE: Check my KZN Itinerary for tons more information!
7 Things to do in KZN South Africa
Take a Safari at Thanda
You can't visit South Africa without hitting the bush at least once. Kruger National Park may be the best known place for a safari in South Africa, but KwaZulu Natal has it's fair share of reserves, as well as the impressive Hluhluwe-Imfolozi Game Reserve.
If you're looking for the ultimate safari experience, I loved my time at Thanda Safari. It's a private game reserve with a luxurious lodge, and a beautiful park full of wildlife. You can see all of the big five, and so much more, on a tour with the knowledgable game drivers here.
Explore Downtown Durban
The largest city in KwaZulu Natal, Durban often gets overlooked by tourists. But this chaotic city is a fascinating melting pot of cultures and is one of the best places to visit in KZN. Blending Indian, Zulu, and post-colonial influences, downtown Durban is filled with a diverse display of architecture, food and culture – from the traditional medicines at Muthi Market, to the infamous dish "bunny chow", there's a lot to discover here.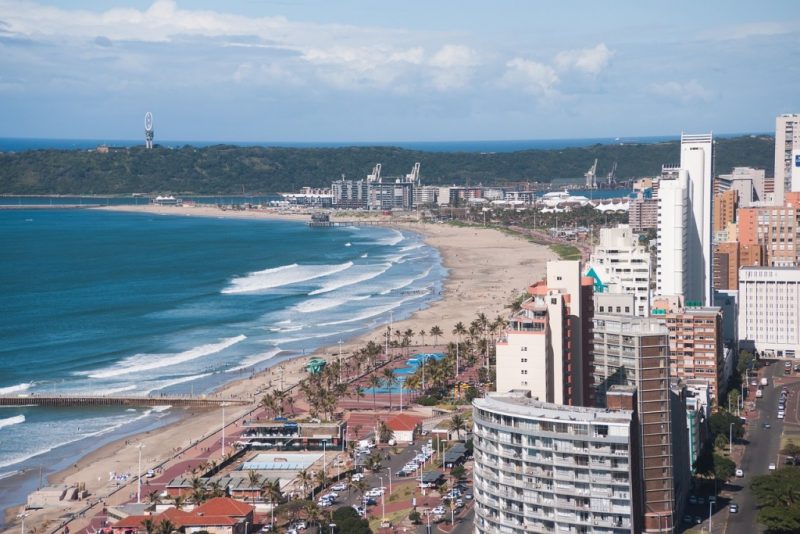 Unwind at Umhlanga Rocks
Just down the road from Durban lies the enticing coastal retreat Ukhlanga Rocks. A popular seaside destination, the area boasts luxury hotels, golden sandy beaches, and almost year-round good weather. You can easily see why it's one of the most popular things to do in KZN.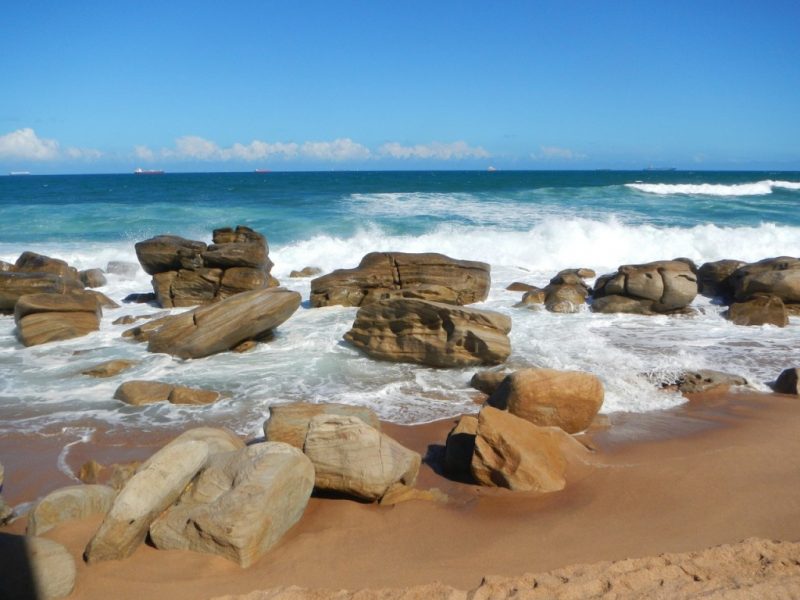 Hike in the Drakensberg Mountains
Hugging the border with Lesotho, the Drakensberg Mountain Range is the tallest in South Africa. This region is a hiker's paradise, with trails to suit all ages and abilities. One of the most popular places to visit in KZN is Catherdral Peak in the northernmost reaches of the park. If you don't fancy the challenging hike to the peak itself, there are plenty of other trails to choose from. Don't miss the san rock art found here!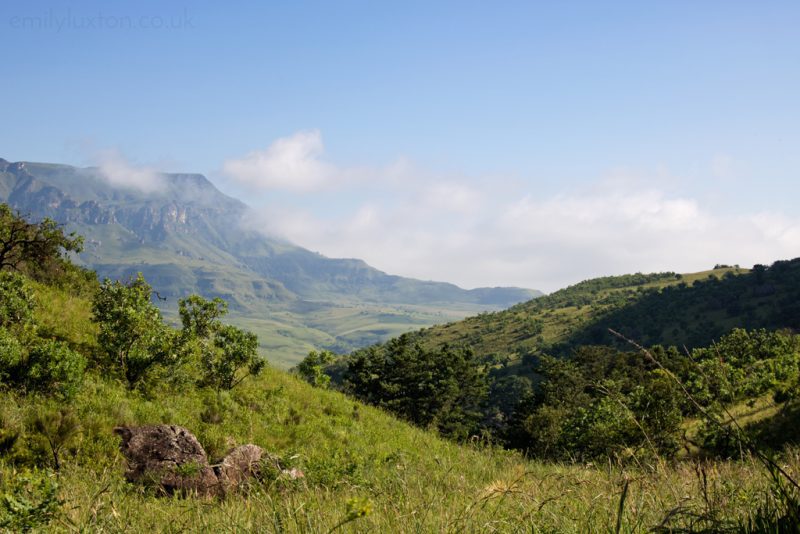 Visit the Mandela Arrest Site
Just north of Pietermaritzburg lies the exact site where Mandela was arrested in 1962. At the Mandela Arrest Site, you can visit an impressive sculpture of the man himself, and visit the Apartheid Muesum to learn more about Mandela's life and the history of apartheid in South Africa. This should be a must-do on every KZN itinerary.
Tour the Zulu Battlefields
One of the most intersting things to do in KZN is to visit the Zulu Battlefields. The Anglo-Zulu war in 1879 is one of the most famous events in Zulu history, made all the more famous by that 1964 Michael Caine Movie Zulu.
Visit Isandlwana, the site of the first battle, and the Fugitive's Trail along which the British fled in retreat. Finally, take a tour of Rorke's Drift, where a British garrison of just over 100 soldiers, aka the "heroic hundred", repelled 4000 Zulu attackers.
Recommended Tour: Full Day Battlefield Tour from Viator (one of my affiliate partners)
Spot Hippos and Crocodiles at Lake St Lucia
Last but by no means least, Lake St Lucia in the iSimangaliso Wetland Park is easily one of the best places to visit in KZN! This is the largest esturary in Africa, and is home to 800 hippos and 1200 crocodiles. In the surrounding wetlands, you can also see zebra, antelope, elephants and rhino. It's a perfect place to spot wildlife and a great addition to your KZN itinerary.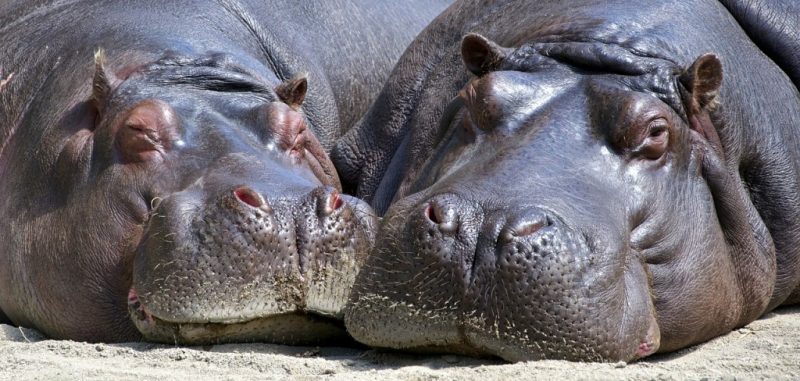 This post was brought to you in collaboration with Flight Centre, but all words and thoughts are completely my own!