Some posts on this site contain affiliate links. If you book or buy something through these links, I earn a small commission (at no extra cost to you). Take a look at my privacy policy for more information.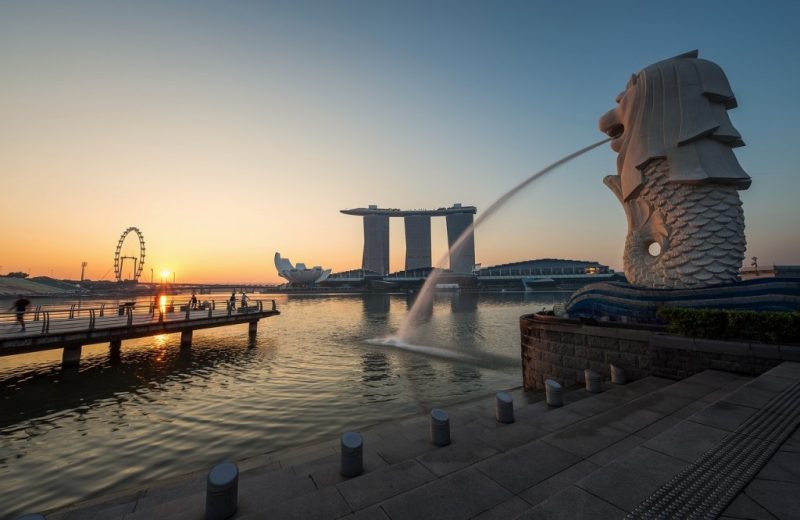 Looking for the ultimate Singapore 3 day itinerary? I have you covered! After spending several days there, I've compiled a bumper list of all the top things to do in Singapore. That includes the best places to eat, and the coolest bars in the city centre. Perfect if you only have a few days and want to see as much as possible!
Skip Ahead:
Getting There
Where to Stay
3 Day Itinerary – Top Things to Do
Where to Eat
This post contains a few affiliate links. So if you book something I've recommended, I might make a small commission. This won't affect the price you pay at all!
How to Get There
We flew direct to Singapore from London Gatwick with Norwegian. This is a new route of theirs, on a fleet of brand new Boeing 787 Dreamliners. With fares starting from as low as £309 return, this is the UK's cheapest direct flight to Asia. Ideal if you're on a budget.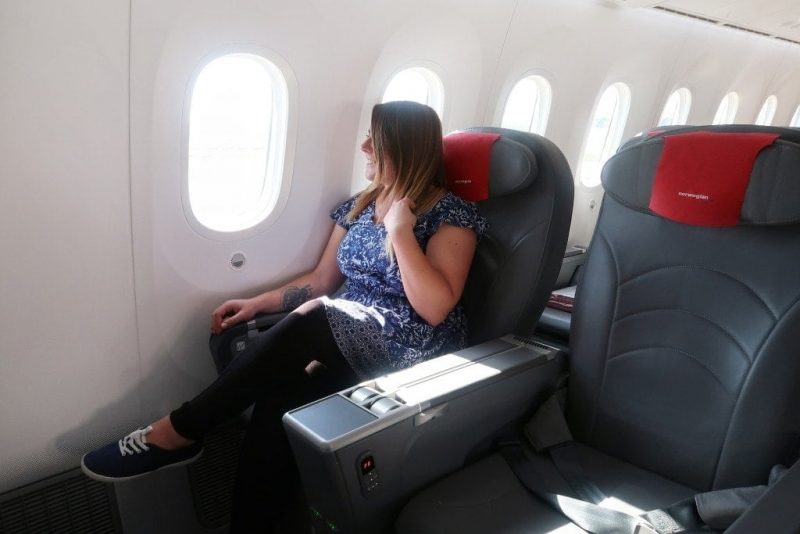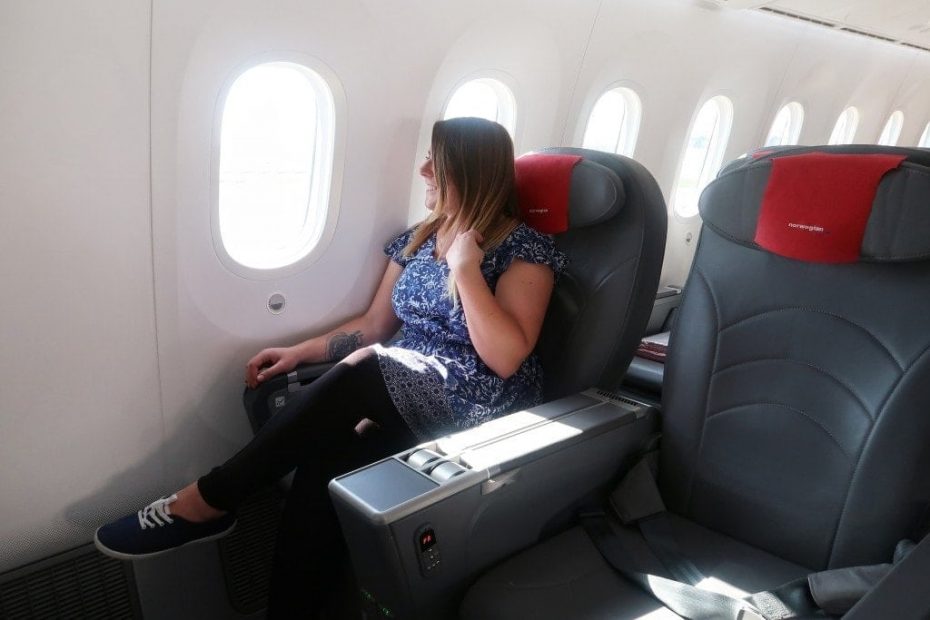 If you have more to splurge on an upgraded trip, Norwegian also have a Premium cabin. This is how I travelled and it was definitely a lot more comfy than economy usually is. You get over a meter of legroom and big comfy seat. Plus there are complimentary drinks and a Premium meal service included,. AND you get fast track security and lounge access at the airport! That's a lot of reasons to upgrade – especially on such a long trip as this one!
Once you've landed, getting around Singapore is easy. Both Uber and Grab (ride-hailing apps) are plentiful and cheap, and the public transport system – especially the metro – is easy to use. It's also a very walkable Singapore. Check out these tips for travelling Singapore for more information.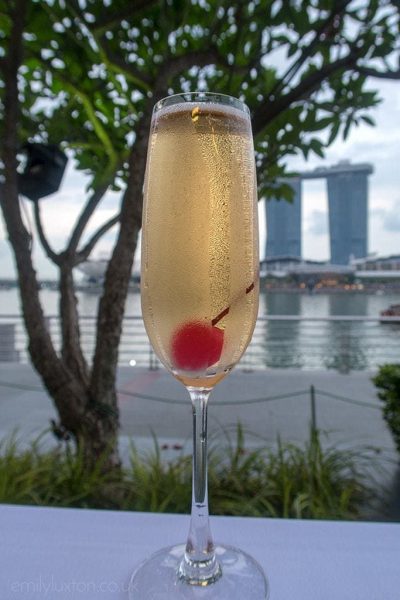 Where
to Stay in Singapore
If you're looking for a great boutique hotel in Singapore, I can wholeheartedly recommend Naumi Hotel, which is where I stayed. It's right across the road from the famous Raffles Hotel, so the location is fantastic. The beautifully designed rooms are super spacious and contain everything you need for a comfortable stay! Plus there's an amazing rooftop pool with some epic views.
TOP TIP: Check the prices on booking.com here or hotels.com here to compare and find the best rate!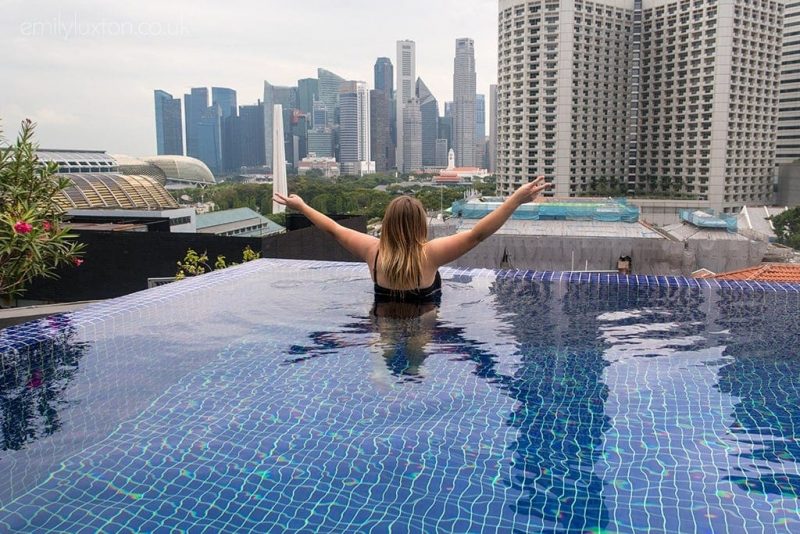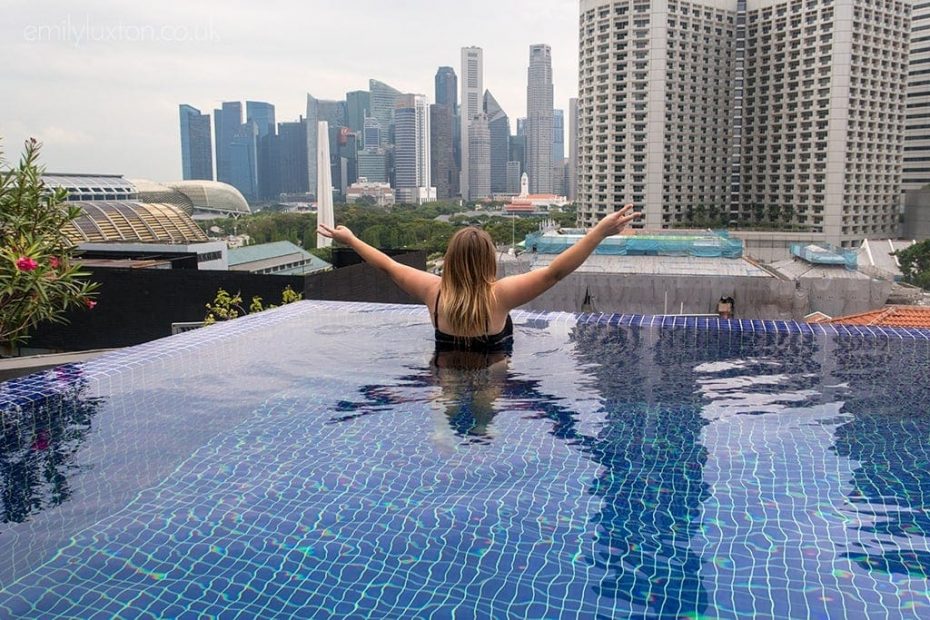 Budget
If you're on a budget, there are loads of great hostels to choose from in Singapore – and I've put together a list of the 12 best hostels in Singapore to help you find one. From capsule dorms to social backpacker hostels perfect for making friends, the list is full of recommendations from REAL travellers. I love the look of TRIBE hostel. And it's in a fab location right by Chinatown. Check out this list of budget hostels in Singapore for a few more ideas.
On a budget but can't face a hostel? Singapore also has several capsule hostels. I spotted The Pod in Kampong Glam and thought it looked fab from the outside. It's definitely in a great location at the heart of Kampong Glam, and it comes very highly recommended.
Luxury
Finally – if you really want to splurge there are two pretty famous hotels in Singapore that you might want to consider. First is the historic Raffles Hotel, which opened in 1887 and is the birthplace of the Singapore Sling. Second is the iconic Marina Bay Sands hotel – the three towered structure that dominates the marina skyline. Hotel guests get exclusive access to the stunning infinity pool on the 57th-floor roof terrace! Check out this Marina Bay Sands review for all the details!
Singapore 3 Day Itinerary
Day One – Top Things to do in Singapore
Kick start your 3 days in Singapore with a few of the must-do attractions, soaking up the modern culture of the city centre whilst surrounded by staggering skyscrapers.
Marina Bay Bumboat Tour
One of the best things to do in Singapore is to take a traditional Bumboat cruise around Marina Bay. This makes a great first stop, as you can get your bearings, and soak up some views of the most iconic sites in the city centre. Head to the pier in Clarke Quay to buy tickets and hop on a boat. Or book a Singapore walking tour with a river cruise here.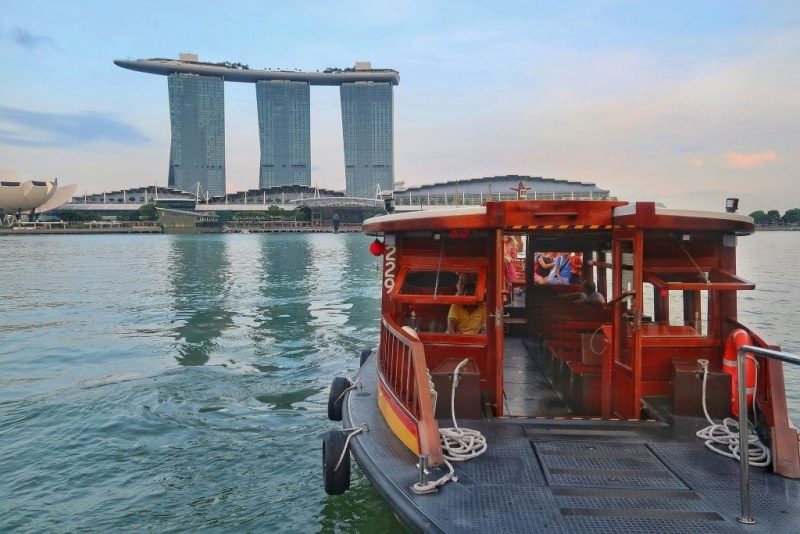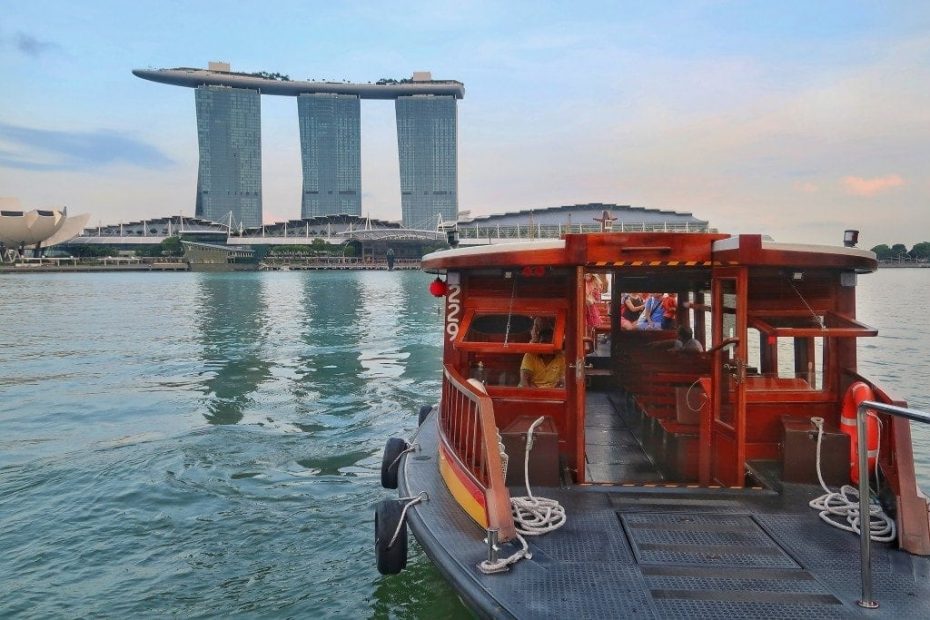 ArtScience Museum
Reminiscent of a Lotus flower, the inverted dome shape of the ArtScience museum is a familiar part of the landscape around Marina Bay. But the inside is also well worth a visit. With a focus on the point where science becomes art, the museum features a huge variety of temporary exhibitions. Think interactive art exhibits, moving light installations, and works that play with the senses. There was also a street art exhibition on when I visited, while coming soon is a Marvel Studios exhibition. Check the list to see what's on and plan your visit.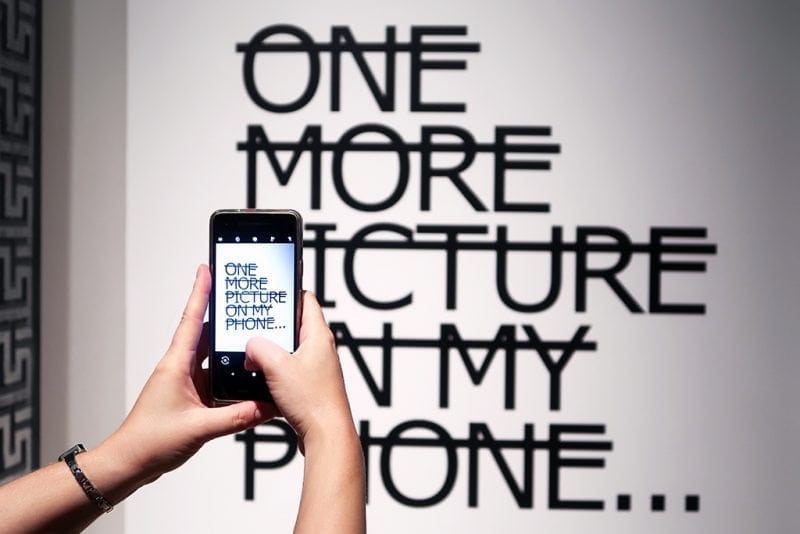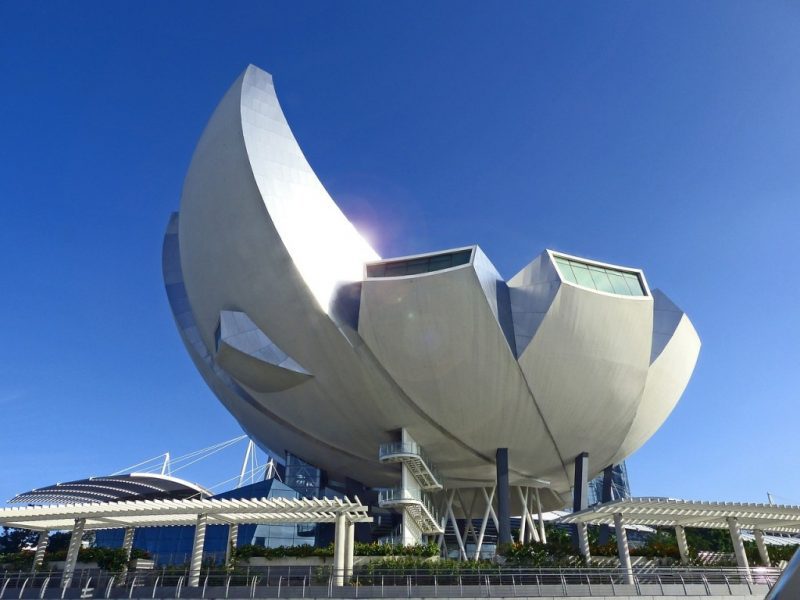 Gardens by the Bay
No trip to Singapore itinerary is complete without a visit to the famous Gardens by the Bay. This is not the kind of garden centre you're used to. Instead, it's an enormous project spanning 101 hectares of reclaimed land covered in the most incredible, imaginative gardens and horticultural designs.
Most of the main area is free to enter, and you can also catch the nightly lightshow free of charge. Plan to visit around mid to late afternoon so you can catch this show as it's definitely one of the top things to do in Singapore. Every night, the enormous "Supertrees" at the heart of the gardens perform a lightshow to music – and it's dazzling! Get there about fifteen minutes early to reserve a spot on the grass near the trees. Then lie back and watch the show.
You do need to pay to enter the two observatories at Gardens by the Bay, but they're worth it. (Book online here). The Flower Dome features both Mediterranean and tropical climates, and have a constantly changing schedule of flower exhibitions. But for me, the highlight was the Cloud Forest. The focal point of the dome was a towering mountain draped in greenery and laced round by winding pathways. And plunging down once side is a 35-metre high waterfall, filling the air with spray.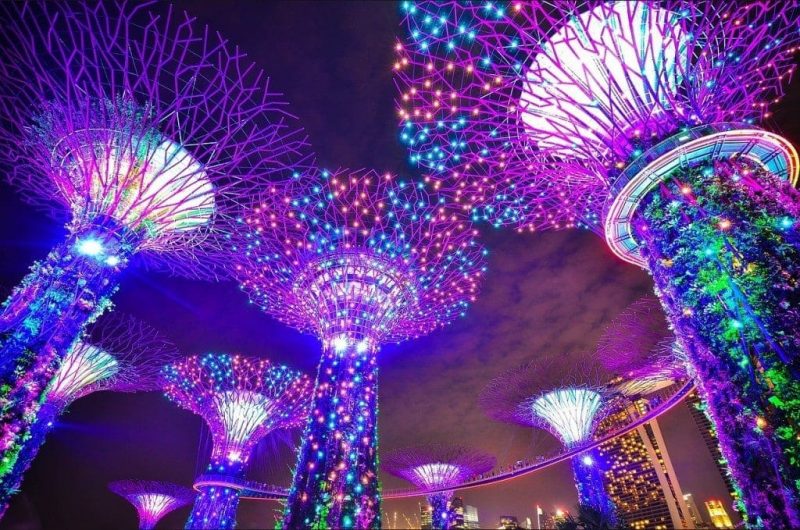 Day Two – Explore the Districts of Singapore
If Singapore has become synonymous with modernity and incredible architecture, that doesn't mean the country has forgotten its routes. Once part of Malaysia, Singapore is a pretty young country with a strong multicultural population thanks to a long history as a seaport.
Day one of my Singapore 3 day itinerary focused mostly on the modern culture of the city centre. So on day two, why not spend some time getting to known the country's history and traditions by exploring some of the cultural districts? There are multiple ethnic groups living in Singapore, and some – like China and India – have left a very strong mark. Just like in other major cities, the minority populations clustered together in Singapore – resulting in several ethnic districts that feel totally different to the rest of the city.
Little India
Colourful, chaotic, and bursting with tasty smells… Little India feels exactly like a condensed (and much calmer) version of the real thing. This is one of the best places to see in Singapore and an absolute must in my opinion.
Immerse yourself in the life and vibrancy of this area; browse the sari shops, explore the markets, and hunt down the spectacular street art murals that are dotted around Little India. Don't miss the various Bhuddist and Hindu temples dotted through the area – Sri Veeramakaliamman and the Temple of a Thousand Lights are two of the most popular. The brightly coloured House of Tan Teng Niah is another must-visit in Singapore. A Chinese colonialist townhouse, the building has been reclaimed by the community of Little India and painted a rainbow of colours. It's an Instagrammer's dream and an icon of the area, so don't miss it.
Finally – when you visit Little India you mustn't forget to eat! There are dozens of fab restaurants around, but for a cheap and interesting experience head to the street food stalls at the Tekka Market (more on that later).
Where to find Little India: Serangoon Road and neighbouring streets. Just take the MRT to Little India station! Book a walking tour of Little India in Singapore here.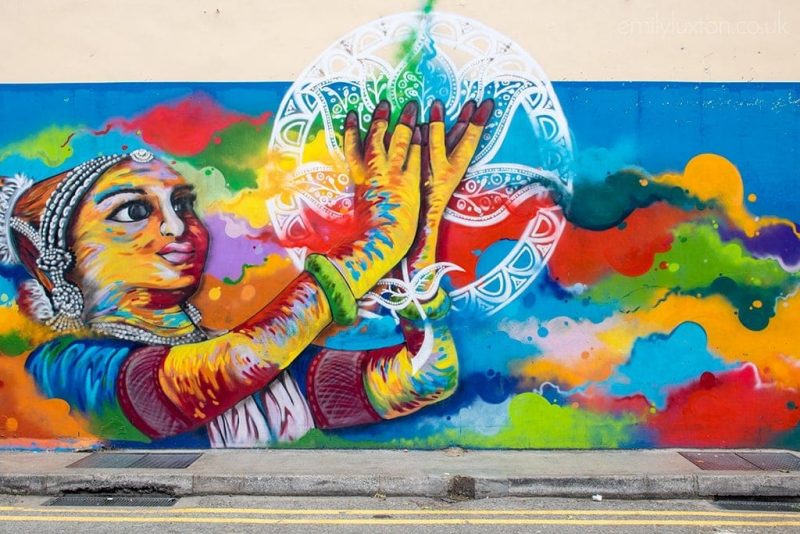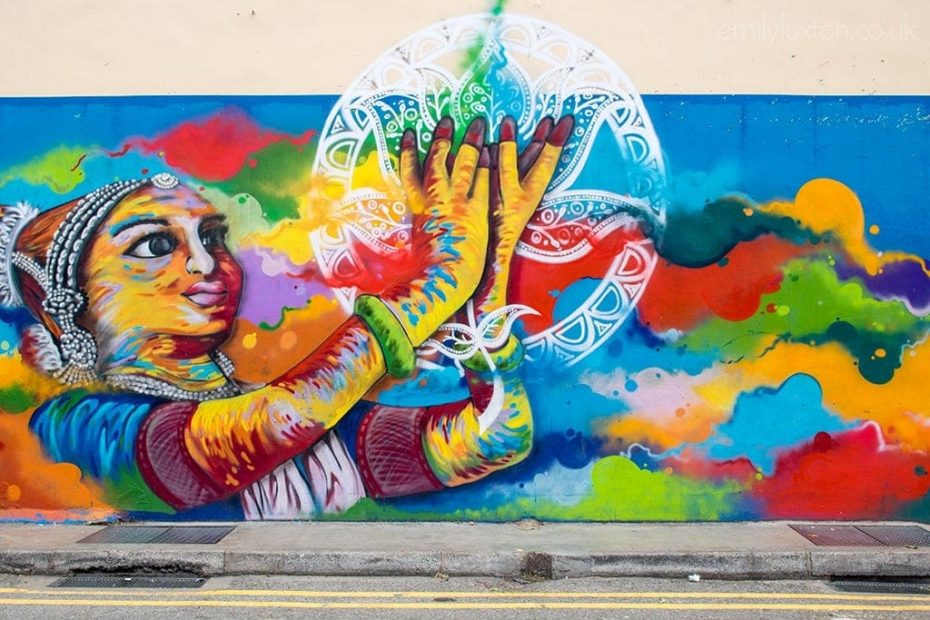 Chinatown
Next up is Singapore's Chinatown. Chinese make up the majority of the population in Singapore, so it's no surprise that Chinatown is a pretty large neighbourhood. This is where the old traditions of Singapore live on, and it's a fascinating place.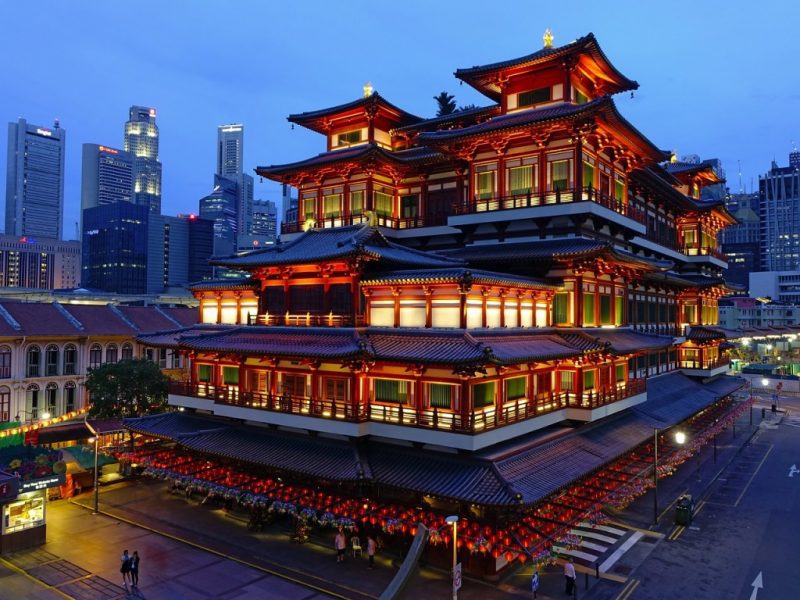 Again, there are some beautiful – and historically significant – temples in this area. Sri Mariamman temple is the oldest shrine in Singapore, while the striking, four storey Buddha Tooth Relic Temple is one of the newest, established in 2002 to house the sacred tooth relic of Buddha.
Chinatown is known as a fantastic place for shopping and bargain hunting. Head to the super popular Chinatown Street Market for everything from tacky souvenirs to exquisite handicrafts and antiques. This is the place to come if you're in want of a cartoon character chopstick topper or a set of paper lanterns… but you'll also find some fab clothes and plenty of interesting handmade wares.
This is also a really popular area for food and nightlife. As well as restaurants to suit all budgets, you can head to Maxwell Hawker Centre for genuine Singaporean dishes, or to Chinatown Food Street (yep, that really is its name) for cheap, authentic cuisine. Book a food tour of Chinatown in Singapore here.
Where to find Chinatown: the easiest way is to take the MRT to Chinatown station, which is right by the Street Market.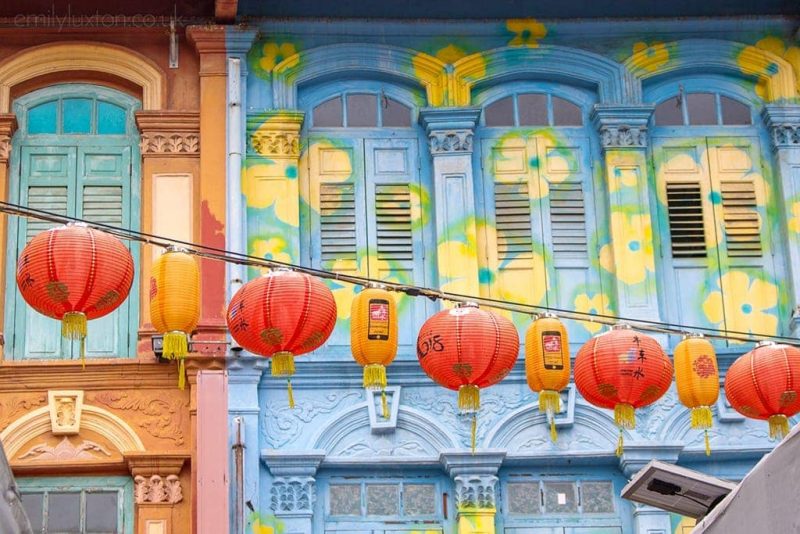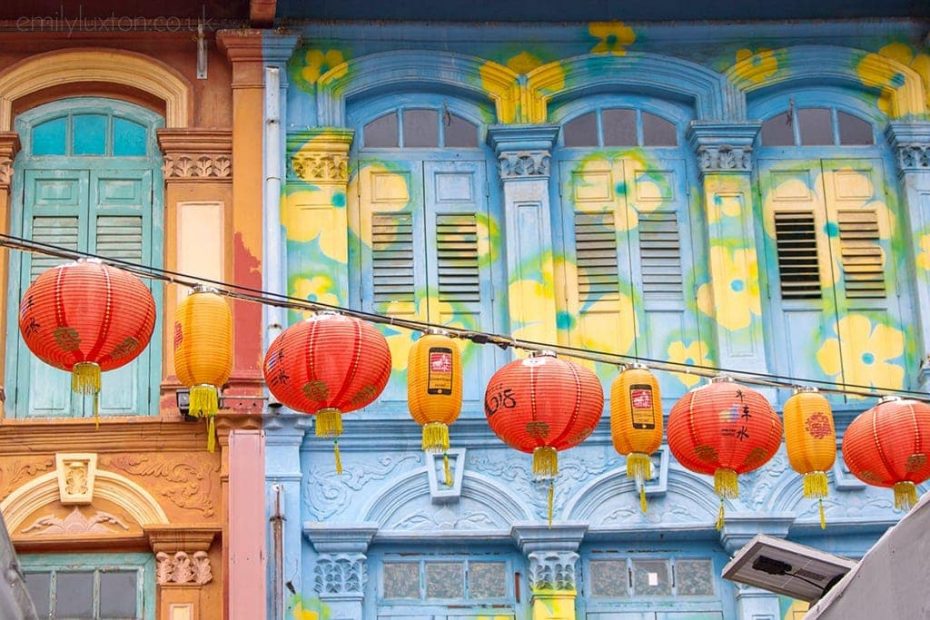 Kampong Glam
Finally, there's Kampong Glam, one of the most popular and well-known districts in Singapore. Home to the Muslim Malay population, Kampong Glam feels totally different again and is a whole new side to the city. Today, it's also a bit of a hipster neighbourhood – coated in street art and filled with trendy cafés and boutique shops. There's a very cool vibe here and the neighbourhood is full of life.
To delve a little further into the history and culture of the area, head to the stunning Sultan Mosque. It's the largest in the city, topped with a glinting gold dome. You might also want to swing by the Malay Heritage Centre for some more insights – as well as a nosy around a traditional Malay palace.
Malay and Middle Eastern cuisine are the main forces in Kampong Glam, so take some time to eat your way around one or two of the area's restaurants, or maybe stop for a smoke of shisha after dinner which can be found everywhere. For more modern culture head to Haji Lane for quirky boutiques, bars, and lots of street art.
Where to find Kampong Glam: Kampong Glam centers around the Sultan Mosque, while many of the best bars and shops can be found on Haji Lane and the surrounding streets. The nearest MRT station is Bugis. Book a walking tour of Kampong Glam here.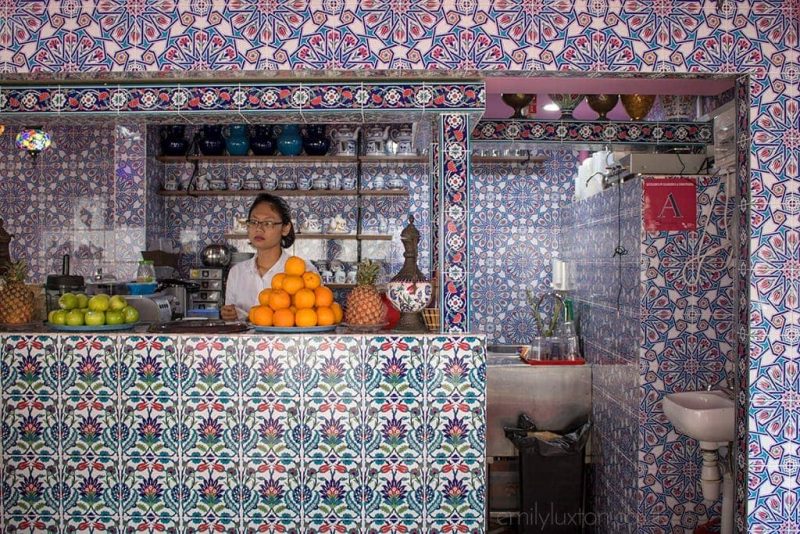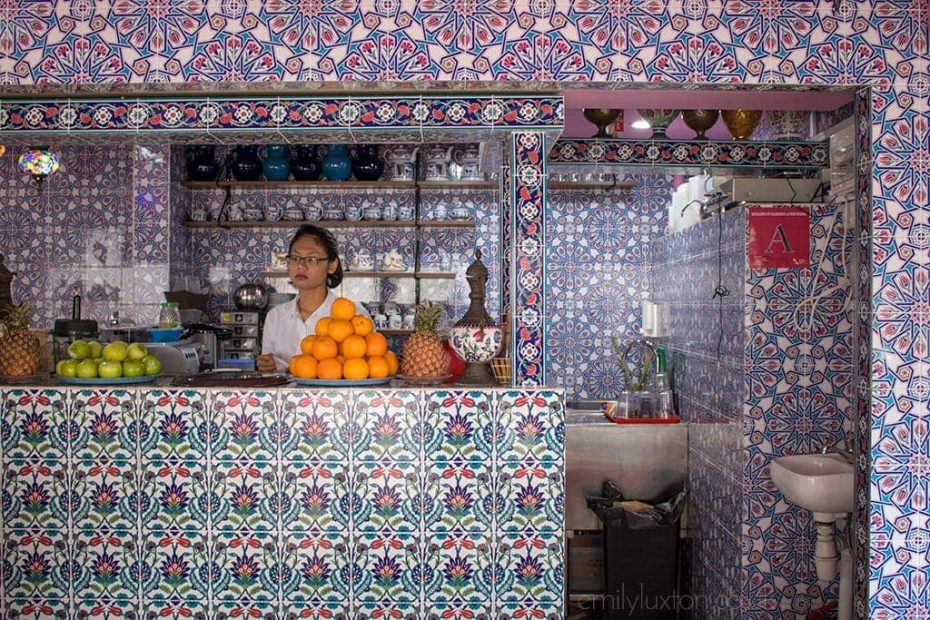 Day Three – Pulau Ubin
After a day or two marvelling at the impressive architecture and soaking up the country's culture and history, it's time to discover yet another side on my Singapore 3 day itinerary. A short, ten minute ferry ride will take you to Pulau Ubin, a small island just off the coast from the city. You can still see the glinting skyscrapers of the city skyline, but this jungle-covered island feels like a world away.
There's a distinctly different pace of life here, from the timetable-less ferry schedule (it goes once there are twelve passengers, and that's that), to the sleepy village that greets you as you step off the boat… this is nothing like the ultra-modern city centre you've just left behind.
The best way to explore the island is by bike – and there are loads of shops renting them fairly cheaply in the village. Hop on and follow the island signs to get around. You'll pass several abandoned quarries, now filled in with startlingly blue water and home to various wildlife; we spotted what might have been a small crocodile or a large iguana (it was hard to tell at a distance). Book a bike tour of Pulau Ubin here.
For nature, head to the Chek Jawa Wetlands, which are the island's star attraction. There's a long boardwalk circling the nature reserve, running through mangrove forest and out over the wetlands. You can spot crabs in the mud, and maybe even the Asian small-clawed otters that feed on them. Climb the Jejawi observation tower for views over the lush green landscape. And keep your eyes peeled for the local birdlife – including kingfishers and white-breasted sea eagles.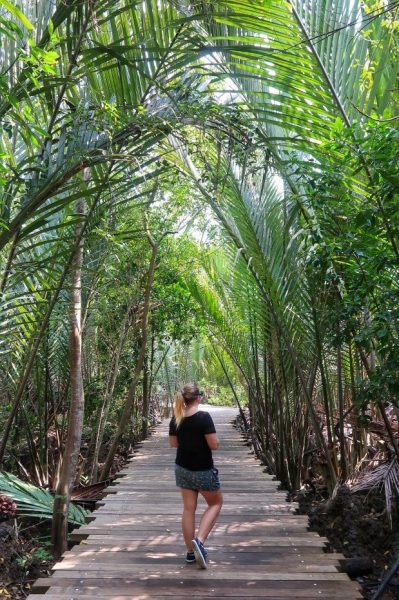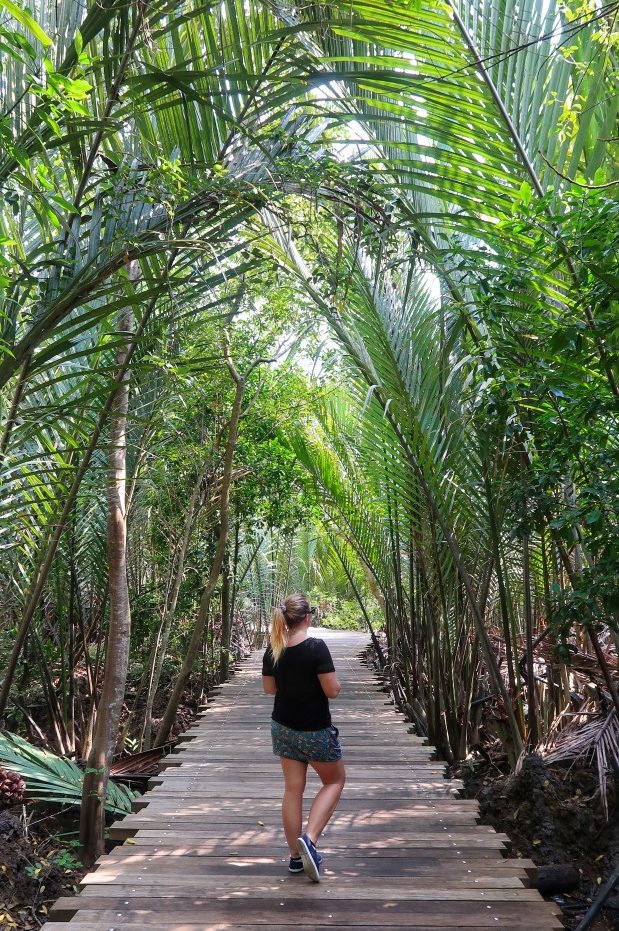 How to get to Pulau Ubin:
The ferry to Pulau Ubin leaves from the Changi Point Ferry Terminal. To get there on public transport, take the MRT to Tanah Merah MRT station, followed by Bus 2 to Changi Bus Interchange, which is a three-minute walk from the ferry terminal. Book a kayak adventure on Pulau Ubin here.
Where to Eat in Singapore
A very brief guide to some of the best Singapore dining experiences. From markets and street food, to fancy restaurants, to some of my favourite bars in the city. Enjoy…
Street Food, Markets, and Cheap Eats
Tekka Market, Little India
One of the best places in singapore to find cheap, authentic Indian food in Singapore is the Tekka Centre market in Little India. Alongside the traditional food market is a food court section filled with stalls. I explored the marked with Wok n Stroll, a local food tour company, and it's something I'd really recommend. This was a great way to learn a little more about the food and culture, and find the best eats in Little India.
Bukit Timah Road, Singapore
Satay Street
Singapore's food scene is heavily influenced by the countries around it, so there's no surprise that the popular Indonesian dish of satay can be found almost everywhere. The simple street food snack of chargrilled meat skewers in a peanut sauce is a must-try. Head to Boon Tat street in the evening to find the best. Nicknamed Satay Street, every night the road is closed to traffic and filled with dozens of satay stalls. The atmosphere is great, and the food is even better!
Boon Tat Street, Singapore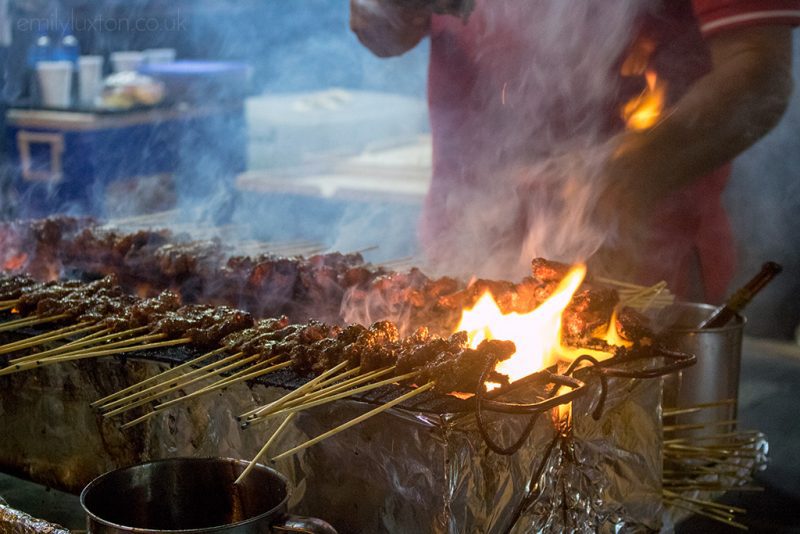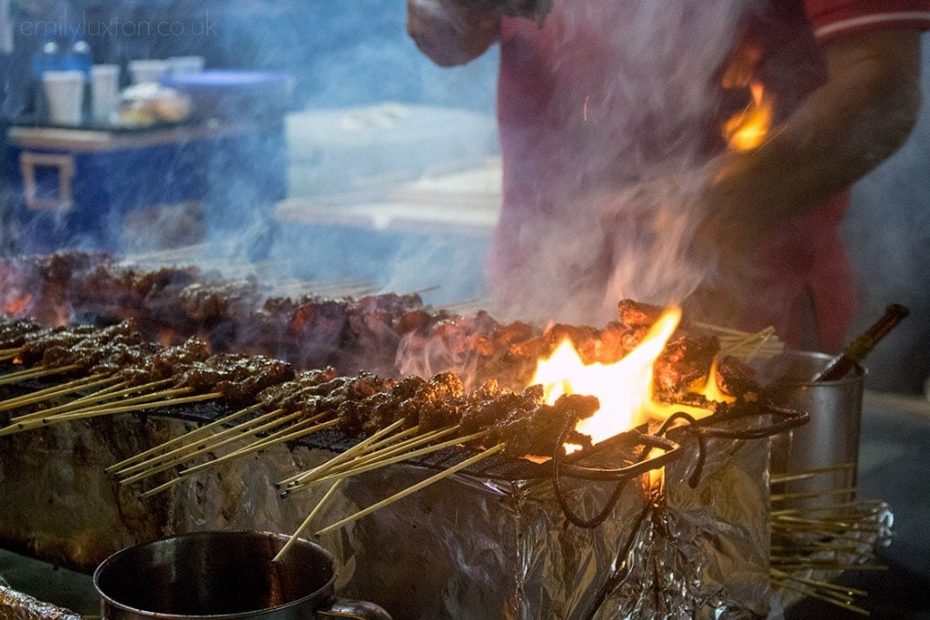 Best Restaurants for Singaporean Cuisine
Folklore Singapore
In Singapore, you need to try some Peranakan cuisine: a blend of Chinese and Malay food born from a merging of the two ethnic groups. Folklore restaurant is one of the best places to find it!
Run by local chef Damian D'Silva, Folklore's menu is filled with dishes that preserve the artisanal cooking methods of times gone by. The setting is contemporary, but the food has its roots firmly in tradition. So this is a great place to get some insight into Peranakan cuisine.
700 Beach Road, Singapore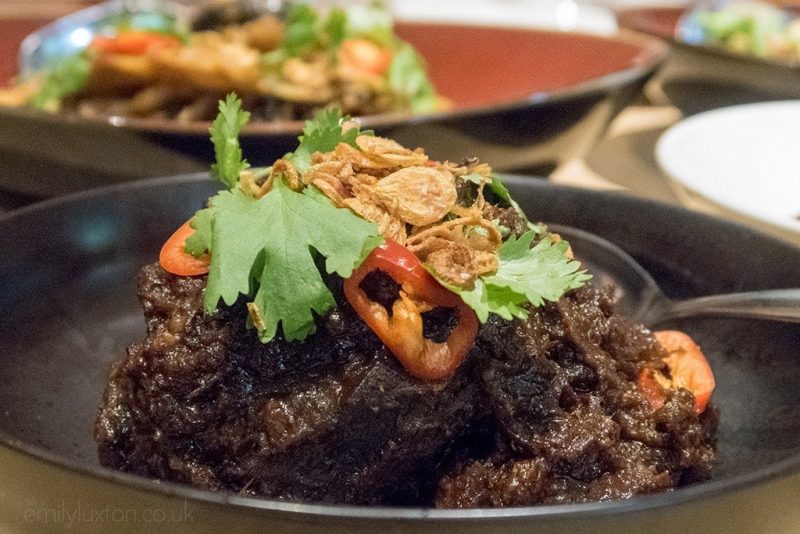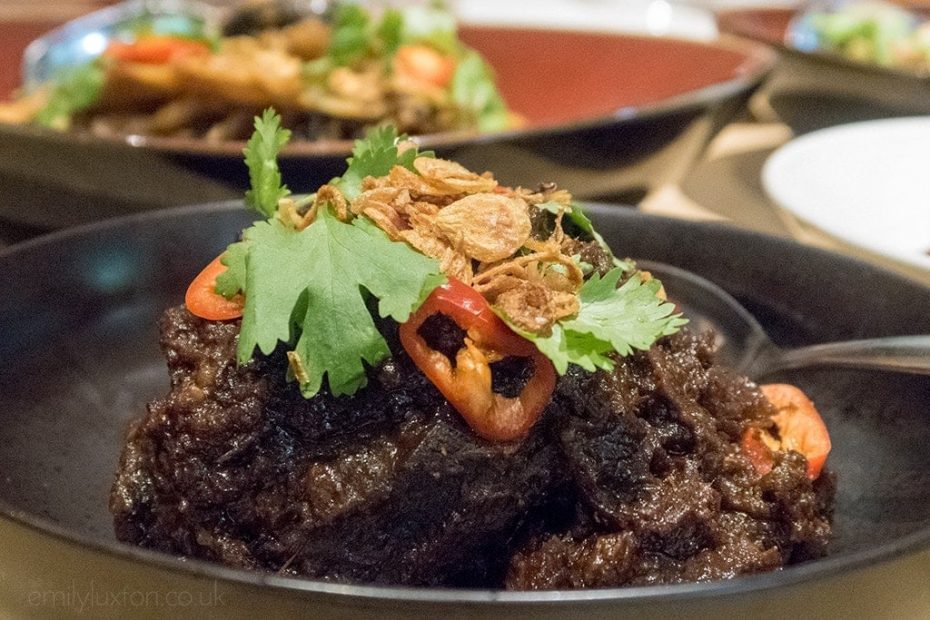 Candlenut
For more great Peranakan dishes head to Candlenut, the world's first Michelin-starred Peranakan restaurant. Another beautiful, contemporary setting, Candlenut's head chef Malcolm Lee uses an authentic approach to cooking, but with a contemporary twist. The menu focuses almost exclusively on traditional Peranakan dishes using fresh, seasonal produce. The food here is divine, so don't miss it!
17A Dempsey Road, Singapore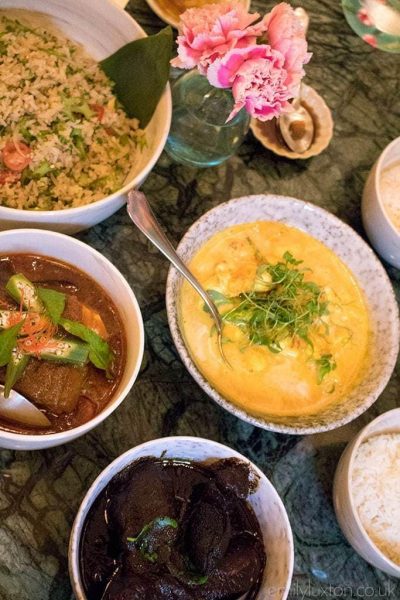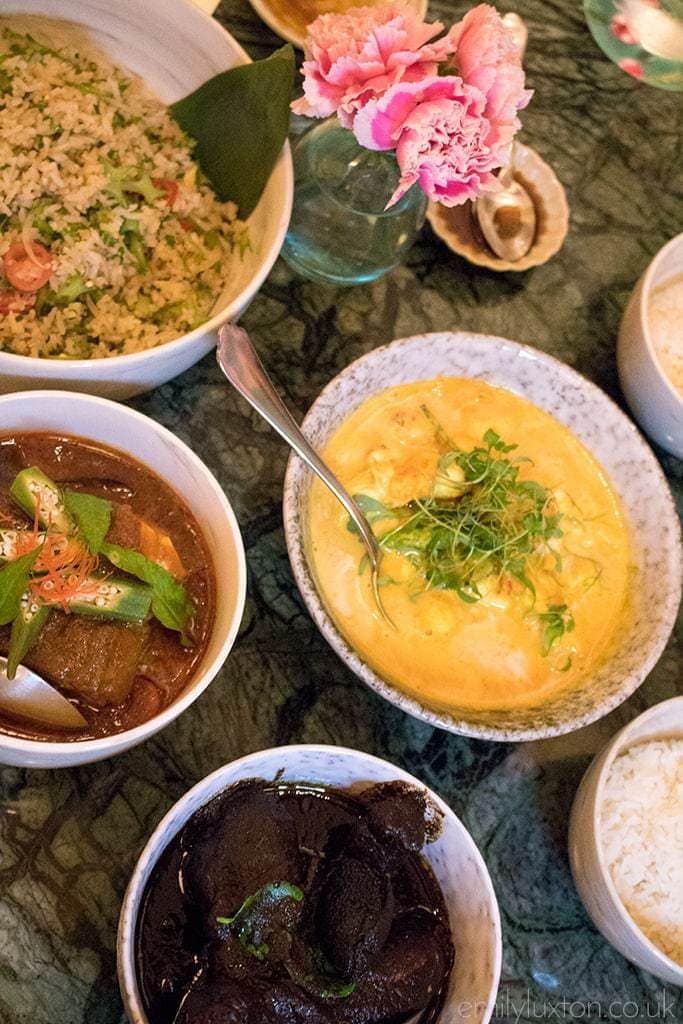 Palm Beach Restaurant
One of the most famous Singaporean dishes is Chilli Crab, and the best place to try is it Palm Beach Restaurant on the Marina. Chilli crab was invented in 1956 by local lady Madam Cher Yam Tian. She initially sold her stir-fried crab from a pushcart along the Kallang River, but did so well that she and her husband were able to open a restaurant. Today, Palm Beach is one of the most popular restaurants in Singapore, with gorgeous views across the marina. The seafood menu is fantastic, and the extra-messy dish of Chilli Crab, floating in a lightly spicy sauce, is a must. Be prepared to get mucky!
#01-09, One Fullerton, 1 Fullerton Road, Singapore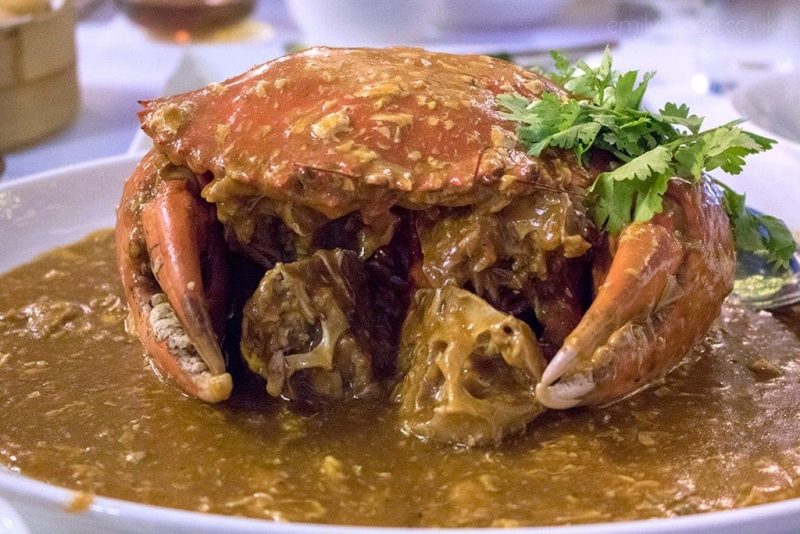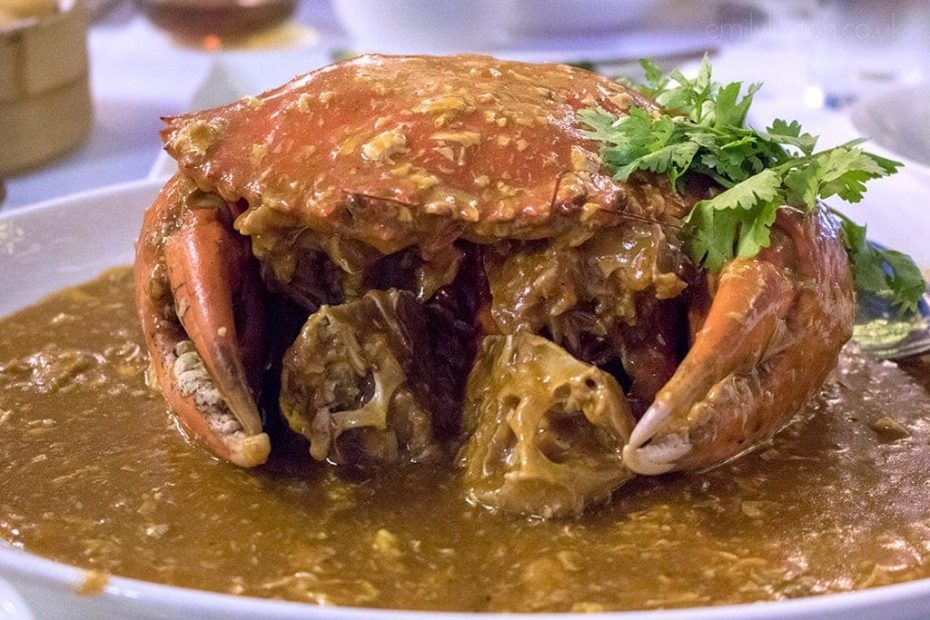 Awesome Bars in Singapore
Singapore has a loads of great bars and clubs to choose from! Here are a few of my favourite discoveries, to get you started…
Potato Head
One of the coolest bars in Chinatown is Potato Head. It sprawls over four floors of an iconic heritage building in what was once the area's red light district. Each level has a different vibe. On the third floor is the quirkily decorated, antique-stuffed Studio 1939 cocktail bar. And upstairs again, you'll find the tropical vibes of the rooftop bar, dotted with fairy lights and colourful tiles.
36 Keong Saik Road, Singapore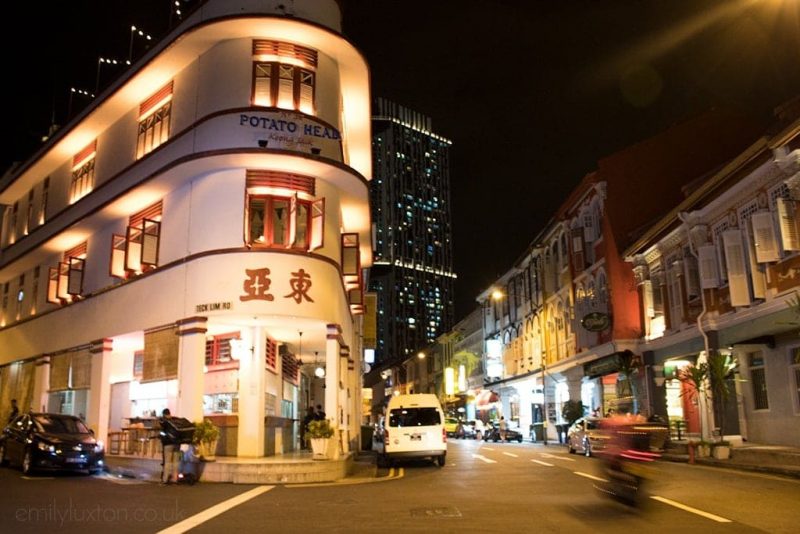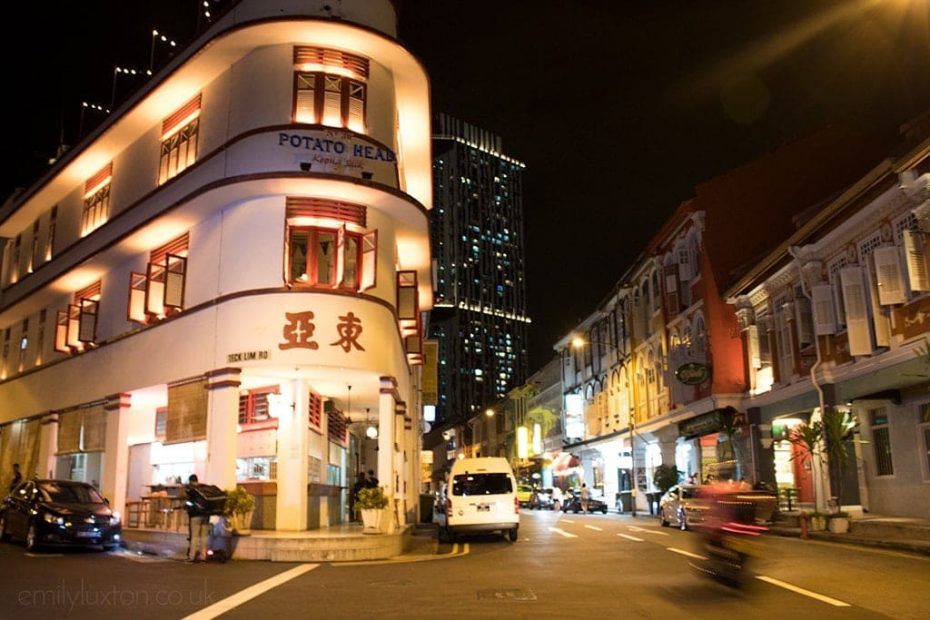 Operation dagger
Operation Dagger is a "secret bar" found underground at basement level in the Ann Siang district. Ann Siang Road and Club Street are known for their party atmosphere and bustling bars, but from the outside you'd never even know that Operation Dagger was there. It feels pretty exclusive!
This is a very cool bar with a mysterious drinks menu where you choose your tipple based on a list of flavours rather than ingredients. Drinks are a bit pricier than normal but it's worth popping in for one or two. Especially if you're in search of something a little different.
7 Ann Siang Hill, Singapore
Spago
Last, but definitely not least, it's one of the best known bars in Singapore. Right at the top of the iconic Marina Bay Sands hotel, Spago boasts some of the most spectacular views in Singapore. This might be the best rooftop bar in the city! Again, the drinks menu is a little pricey because you're paying a premium for those views. But it's such a cool setting that it's worth it. And the cocktails are gorgeous!
10 Bayfront Avenue, Level 57, Sands Skypark Tower 2, Singapore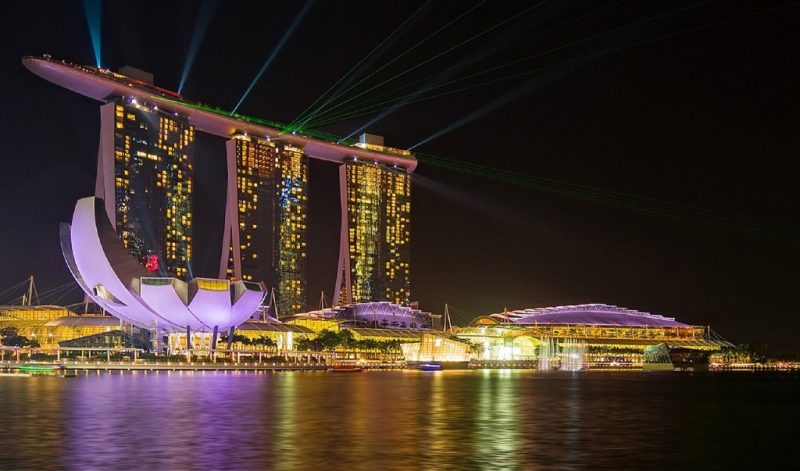 Have you been to Singapore? What would you add to this Singapore 3 day itinerary?! Share your top tips in the comments below.
My trip was kindly supported by Norwegian Airlines and the Singapore tourism board. As always, all words and opinions in the post are my own and unbiased.
Pin this Post!