Some posts on this site contain affiliate links. If you book or buy something through these links, I earn a small commission (at no extra cost to you). Take a look at my privacy policy for more information.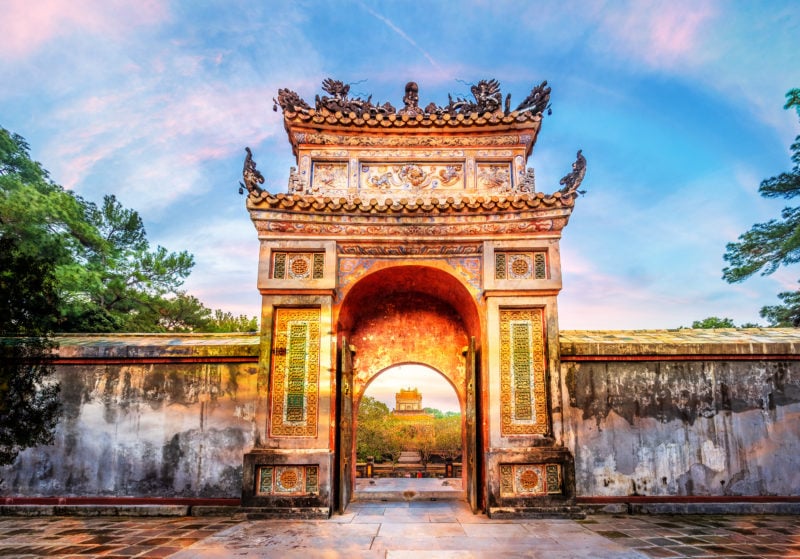 A review of the I Love Hue motorbike tour in Hue, Vietnam. Although this was first written a few years ago, I am still in touch with Lien and can still confirm these are the BEST tours in Hue… 
"I LOVE HUE!"
After having this drilled into me over three days by Hue's most patriotic citizen Lien, I can honestly say that I too love Hue.
It's infectious. Not least because she says it over and over again – all throughout our I Love Hue motorbike tour, and every time we met up with her afterwards – but also because this small and often overlooked city is actually genuinely awesome.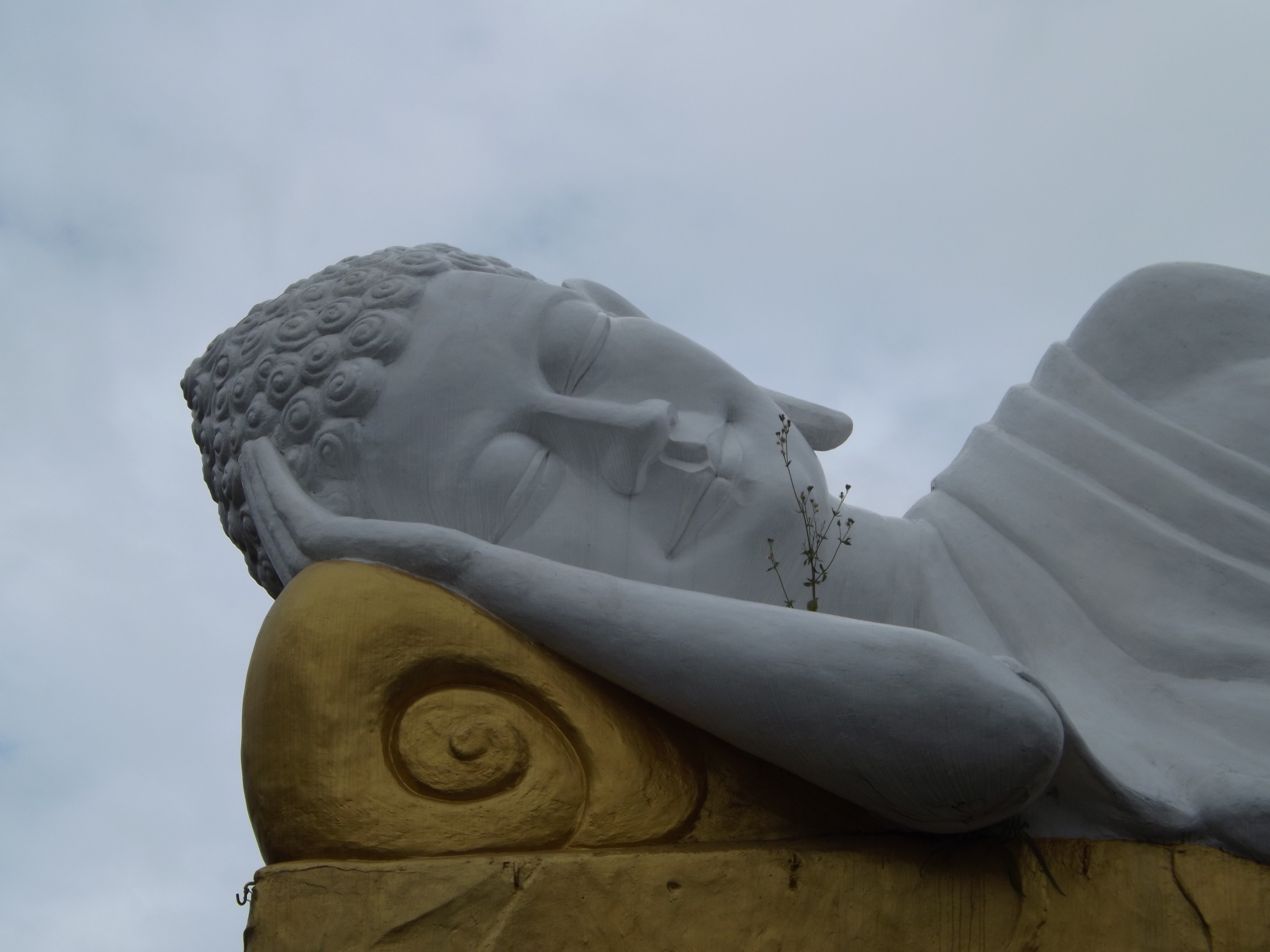 I'm pretty certain that "I love Hue" was Lien's catchphrase long before she dreamed up the idea for her wonderful tour company. She may have only lived here a few years, but she loves her adoptive city as much as any local – maybe more.
And it's easy to see why. Spend an hour in Lien's company and you're sure to fall for this quiet, laid back city at Vietnam's halfway point, too. That's the idea behind I love Hue; Lien says she wants to encourage tourists to spend longer here, rather than doing a whirlwind daytrip before heading on to more popular Hoi An. Not a bad idea considering that Hue is bigger than it's southern neighbour, is home to some incredible local cuisine, and offers so much to do.
I Love Hue Tour with Lien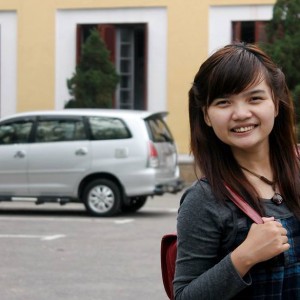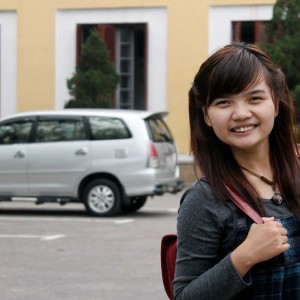 I would like to change people's minds about Hue so I created I Love Hue Tour. This is a special tour to explore everywhere in Hue by motorbike with lady riders… I want to show the local things so that customers can understand Vietnamese life." Lien
Lien started her tour company to bring that idea to life, and now employs 20 "lady riders" – mostly English students sourced at the university, where Lien is still studying full time alongside running the tour company. She's a busy woman; between studying at university, teaching English, fundraising for local communities and projects, and studying French, it's hard to see how she ever found the time to launch a new tour company.
It's been tough, particularly because, she says, in Vietnamese culture businesses have a tendency to overlook young people, giving preference instead to people with plenty of experience. But Lien has two years of experience working as a tour guide, an in-depth knowledge of her favourite city, and a whole lot of passionate determination.
I believe young people like me can do everything, so I will try to keep this tour until it's successful."

Lien, I Love Hue Tour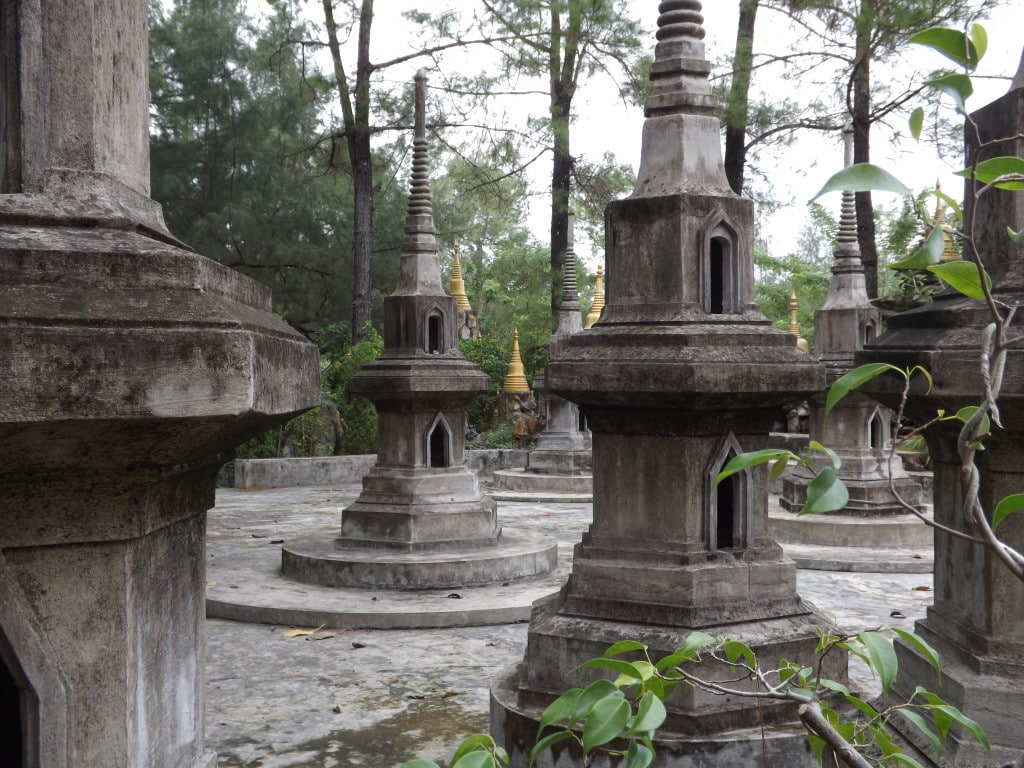 Exploring Hue
The I Love Hue tour, a motorbike tour designed to take in some of the less-popular (and therefore much quieter) sights in Hue, was unlike any we've ever experienced – in a good way. It felt a lot more like an old friend taking us out to see her city, rather than another scripted tour on a tight-kept schedule.
Lien and Arnauld – a French expat and friend of Lien's – were both absolutely lovely, making us feel relaxed and welcome straight away, and soon we were chatting away like old friends over some delicious Vietnamese cà phê đá (iced coffee, served super strong with condensed milk) at a sidewalk cafe.
The cafe was an unnamed, unmarked arrangement with low plastic stools out on the pavement – something that I'd never have assumed was open to the public and would never have stopped at without Lien. The best tours are ones which give you an insight into the local culture and cuisine, which is precisely what the I Love Hue motorcycle tour does.
Thailand Temple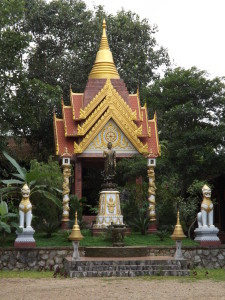 Having readied ourselves for our day of fun with a nice strong caffeine hit, we were off. Lien took us away from the city centre to one of the less frequented pagodas in Hue, which was completely deserted when we visited but which is easily one of the nicest temples I've seen in Vietnam. On the way up the tree-lined driveway to the temple, Lien asked if I've ever been to Thailand, which I haven't. "Well, you're here now: welcome to the Thailand Temple".
This beautiful temple is on a hill overlooking the city, providing some great views and a bit of glorious peace and quiet. We explored the grounds, where a series of colourful statues tell the story of the first Buddha, from birth till death. It was really interesting to have the history of Buddhism explained to us, and Lien talked very passionately on the subject – as she does on all subjects, particularly those related to her beloved Hue.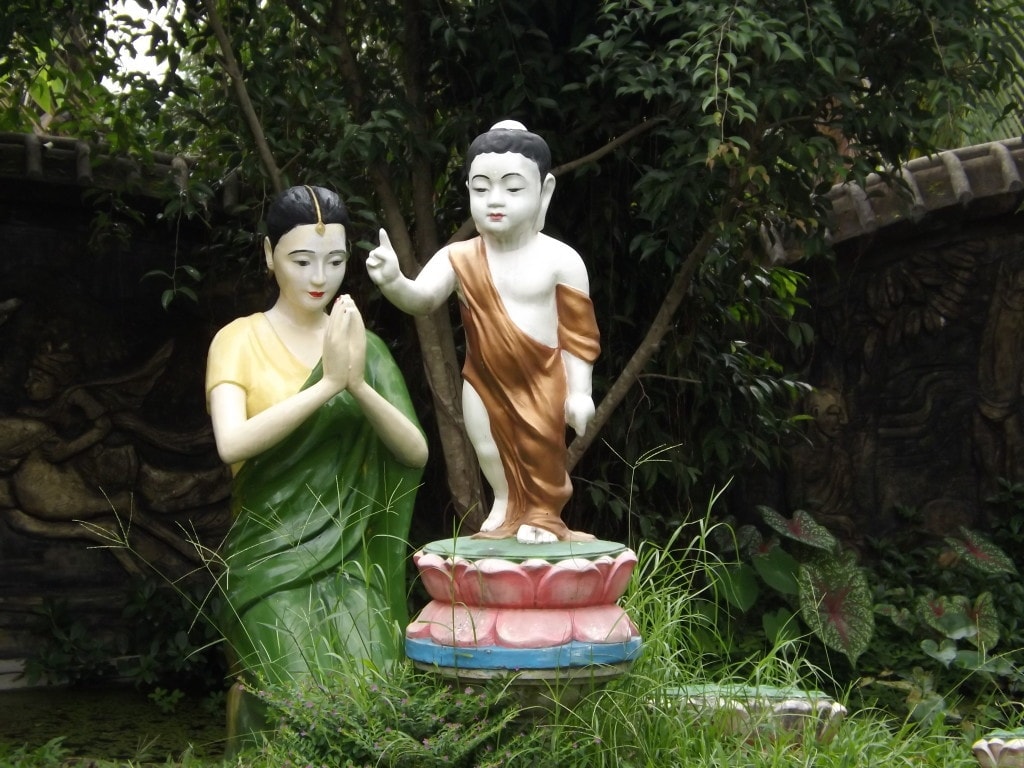 Villages and Fortunes
Next, we headed to Thanh Toan, a small village about 8km east of Hue. The scenery out there was amazing, waterlogged paddy fields and semi-submerged grey buffalo, and the quiet roads of Hue's outskirts made for a much more relaxing tour than in bigger cities like Hanoi.
Although some locals we met complain Hue is too quiet, that's exactly part of its charm: the roads are less busy, the atmosphere is chilled, and the pace of life seems slower, making this city the perfect place to stop and relax in the middle of a trip through Vietnam. That's why Lien loves Hue, and why I really think that others will, too.
I love everything in Hue – the food, people, landscapes… I found my heart is here"

Lien
At the village, we visited the Thanh Toan bridge, a covered Japanese-style bridge built in the mid-18th century and funded by Tran Thi Dao, the wife of one of the emperor's high-ranking courtiers.
The bridge is really picturesque, but the real highlight here was the fortune teller, a 79-year-old woman who materialised shortly after we arrived and who told our fortunes for 25,000 VND each.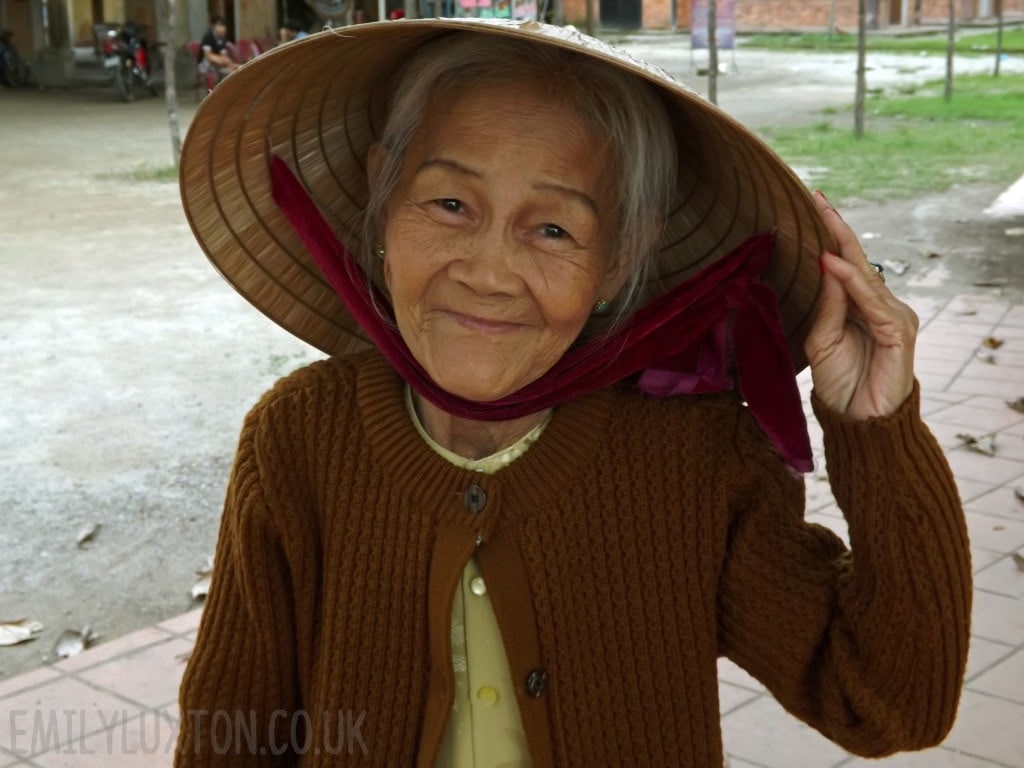 Apparently, Sam will finally put a ring on my finger next year, and we'll start having babies in three years, as we need to work hard first and save money – always sage advice. But, I think some wires got crossed between the two fortunes, as she assured Sam he'd have three babies, then told me to expect five. However, we will have a very happy life together, so that's nice*.
*Update: We actually broke up a year later... and I've yet to start popping out my 5 babies!
Agricultural Museum
Fortunes told, we headed to a small Agricultural museum run by local ladies, one of whom showed us around the exhibits and gave life – and frequently humorous – demonstrations of how farming was done by hand in the old times, although in some areas of Vietnam I think these methods are still in practice.
My personal favourite was the fishing demonstration, which involved not only some clever techniques using a wooden trap but also the magical appearance of a well-concealed plastic fish. The museum was small, but very interesting, and worth visiting just to meet the ladies who make a trip there really good fun.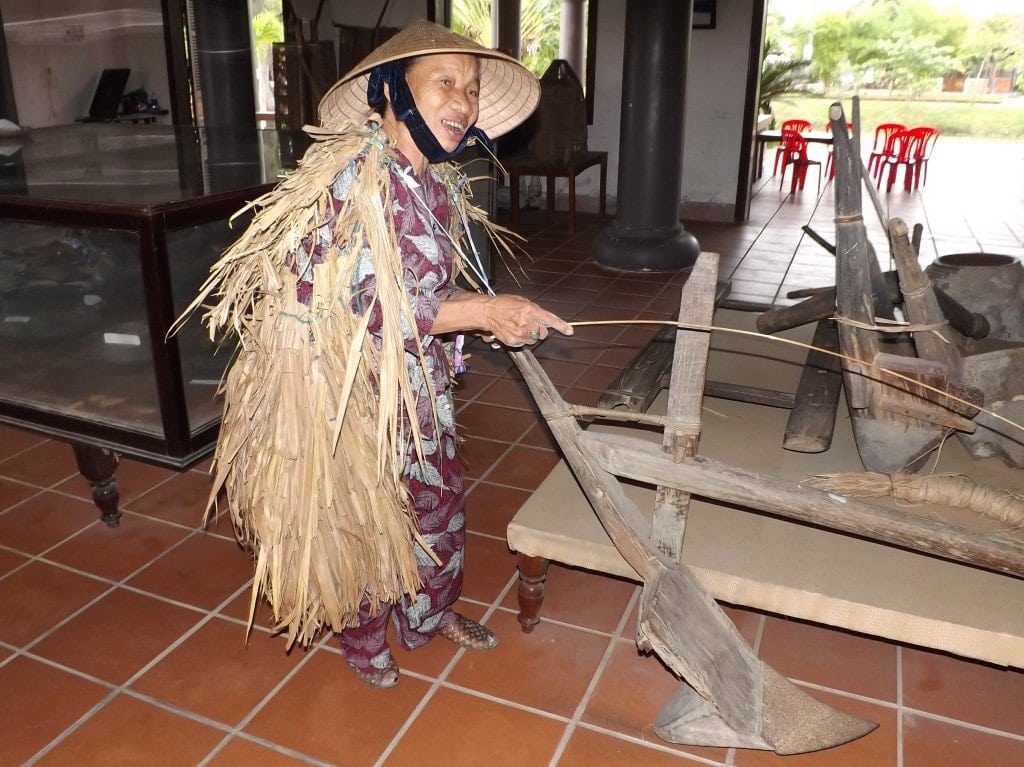 Dinnertime with I Love Hue To
Finally, we hopped back on the bikes and drove to Hue Lagoon for dinner. This was a really special place which I doubt any tourists ever visit – unless they come with Lien! The restaurants were stilted wooden constructions built over the lagoon itself. Some are connected to the mainland by a bridge but others, including ours, employ boats to ferry customers back and forth.
With open walls inviting in the cool breeze and the salty smell of the nearby sea, and fishing boats purring past, this was the perfect setting to eat some delectably fresh seafood – including some iconic Hue cuisine. No English menus or jacked-up tourists prices here; so Lien ordered everything.
A mound of my favourite, water morning glory sautéed with garlic, was followed by fried rice with shrimp, and a huge bowl of clams. The best way to discover Vietnamese food is with a local, and Lien makes for a great guide. Her passion is infectious, with food as tasty and cheap as this in the most peaceful and beautiful setting, it's very difficult not to fall in love with Hue.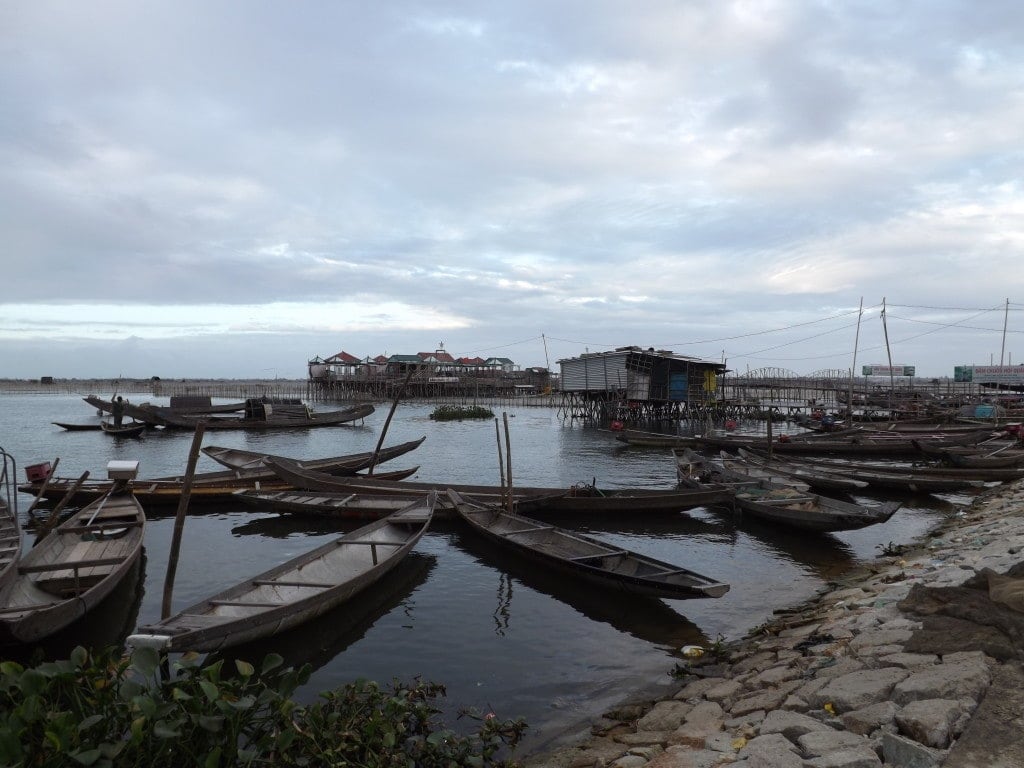 About the I Love Hue Tour
I Love Hue may be a relatively new tour company, but it's fast-growing and is easily one of the best in Hue – if not just for the chance to meet Lien. As we joked over dinner on our last night in Hue, perhaps the tour ought to be renamed "I Love Lien". She's fantastically funny, hugely passionate, and completely crazy; making for one of the most fun city tours I've ever taken in my life.
Like I said, it was exactly like being shown around by an old friend, and not at all a dull or strictly-structured tour. We headed off the usual tourist paths and had a glimpse into ordinary Hue life, especially the culture and cuisine, and had the most amazing fun.
If you only do one tour in the whole of Vietnam, I urge you to make it an I Love Hue tour – you won't regret it!
Information
Contact: tel (+84) 394323030 – Ms. Lien –  [email protected]