Some posts on this site contain affiliate links. If you book or buy something through these links, I earn a small commission (at no extra cost to you). Take a look at my privacy policy for more information.
The first time I visited Marrakech, I was keen to try out a traditional hammam experience, but as I was travelling with just my boyfriend – and hammams aren't usually a unisex affair – I was a little too nervous to go for the authentic public hammam. Instead, I headed for a swish hotel in the Nouvelle Ville and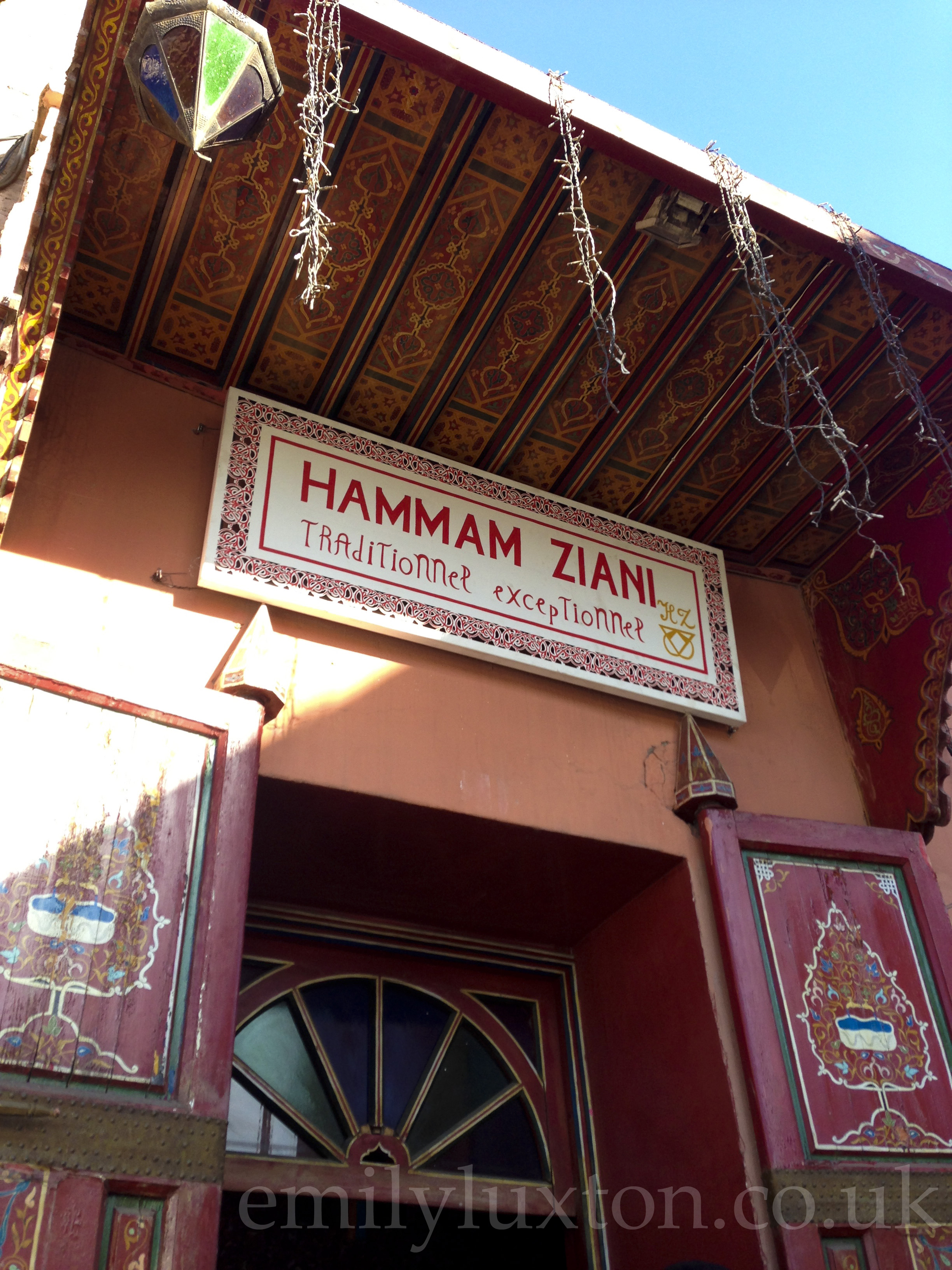 treated myself to a pricey, private, hammam and massage. But, lucky for me, I recently got the opportunity to travel back to the Red City with a group of work colleagues – which meant I could head bravely into a public hammam with a group of girls surrounding me.
Be warned: if you're not a fan of public nudity, this kind of experience isn't for you. On arrival at the Hammam Ziani – an unassuming looking building on the edge of a crowded square in the Medina – we were ushered into a small, brightly lit changing room and ordered out of our clothes. The attendants, laughing at the shock on our faces, handed us tiny paper g-strings and sent us behind a curtain to change. Luckily, I had my bikini bottoms with me and was able to keep them on (I didn't really want to hang out in a see-through thong with colleagues!) although as the briefs were constantly in the way it might have been better to just grin and bear the paper pants!
After we'd gotten over the initial surprise of our sudden, intimate knowledge of one another, the public nudity really wasn't so bad. We all had a laugh as we were splashed down with hot water by the bucket-load, and pretty quickly we were led through into the steam room, which was filled with a mist so thick that I genuinely couldn't see further than a foot in front of my face – so there was no need to worry about covering my wobbly bits! The domed roof was studded with tiny windows filtered by coloured plastic, filling the room with a gloomy but colourful light, as the noise of our giggling and gossip echoed around. The air was so hot and wet it felt heavy; I was sweltering within a few minutes, dripping with a mixture of sweat and condensation.
I nearly drifted off, and felt very dozy by the time an attendant took me by the hand and led me back into the washroom for the ghassoul. Thanks to my last experience, I was ready for this; a lady armed with a scratchy exfoliating Hamam Mitt
and a bar of African Black Soap
scrubbed me from head to toe with unwavering enthusiasm. Looking down, I saw big bits of what looked like soggy grey couscous coating my arms and legs: dead skin coming off in clumps. As before,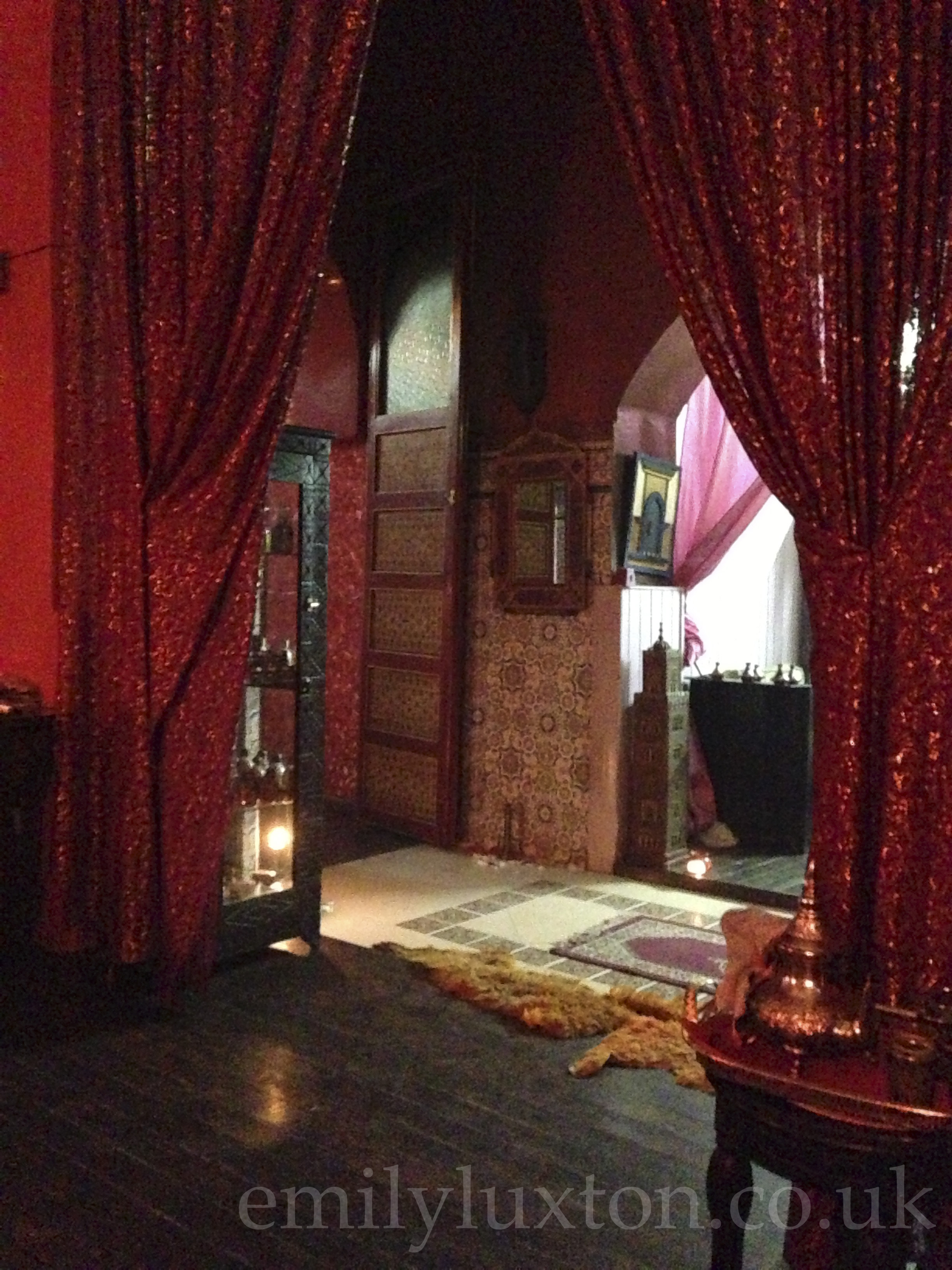 I was surprised how much skin I was shedding, but not as much as the lady scrubbing me; she was nearly in hysterics and showed my arms proudly to all the other hammam girls that came through. Apparently, I'm extra flaky, even for a Westerner!
Feeling I'd shed about a stone of weight, I slipped back into the hammam room to let the heat and steam unclog my newly opened pores. It was another long wait, which left my head stuffy and my senses dulled, before I was led out with two other girls for a massage. We lay on beds covered with plastic mats which were wet from the condensation in the air, and coated with a generous layer of Argan Oil
. Each move threatened to send me shooting ungraciously off the slippery bed and onto the wall; I wondered if the masseur would send me on my way at the end by simply tapping my head and firing me through the door! But the massage has to be the best I've ever had. The young, friendly girl seemed to know just by looking exactly where I ached; she spent ten minutes working on my left ankle, which is always stiff, but only a few seconds on the right. The term 'full body massage' usually means back, arms, legs, and a little on the tummy, but not in Morocco. Every inch of my body was massaged: between my toes; my neck, face and head; my boobs; my bum; even my armpits! But when she reached my upper back, that's when I fell in love with the massage. The girl, clearly angry at my stress, attacked my shoulder blades with aggressive force. I nearly asked her to stop, when suddenly something clunked in my back and… it felt like a weight had been lifted. I hadn't even known I'd had a problem, but whatever it was, she fixed it, and I left the hammam feeling like a new woman!
When the massage ended, which I had been wishing it never would, I was led by the hand again back into the wash room. I was still so lubed up that I genuinely couldn't stay still on the stool, and when the girl set about washing me I slipped forwards with each motion. In the end, I had to balance myself using the table next to me and grip for dear life with my slippery fingers. You might think it would be awkward, sitting on a stool in just a pair of pants – which had been hoisted up into a thong shape to make washing easier – getting washed by another woman who couldn't even speak my language. But by this point, I was so dozy with the heat and so relaxed by the massage that I was beyond caring. I felt like a baby. It helps that the girls at Hammam Ziani are so friendly and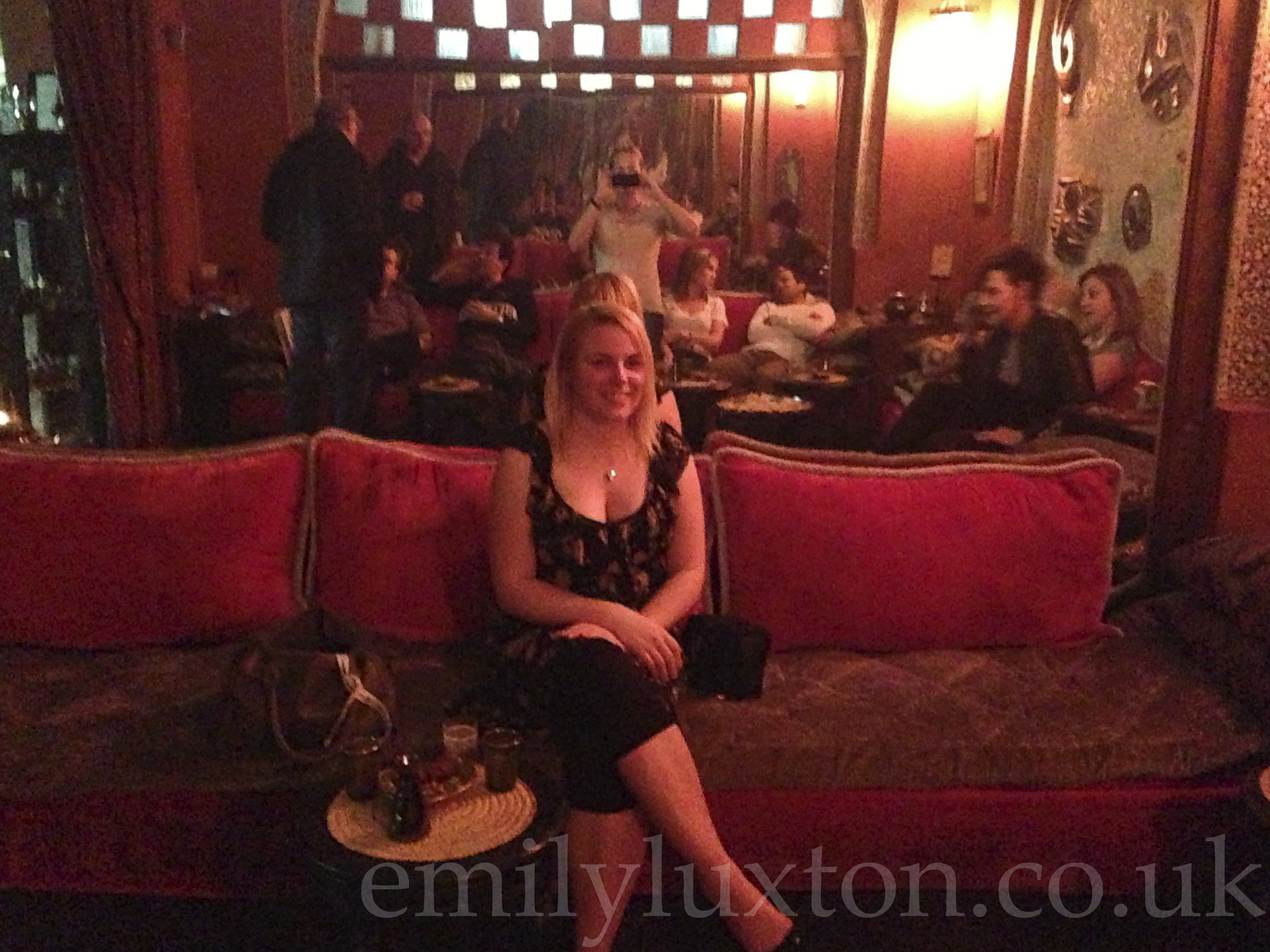 welcoming as to seem almost motherly. As I sat with my eyes tightly shut, having my hair shampooed, in a warm, dark, safe room, I felt so cosy and looked after. It was just one of the nicest experiences of my life, not awkward, not sexy, not unpleasant, just nice!
Once I'd had what seemed like all the water in Morocco slopped over me by the bucket-load and had been deemed thoroughly rinsed, I was slipped into a fluffy gown and shooed back to the dressing room to change. Then I wandered into the opulently decorated reception room, where the rest of my group have gathered to lounge of comfy sofas and sip deliciously sweet mint tea. The room was still dimly lit, but just a little brighter than the hammam's dark interior, as though to give us time to readjust back to the light before heading out into the brilliantly sunny city. Which I felt I never wanted to do. When I eventually had to head back out into the real world, I did so with indescribably softer skin and zero tension in my back; making me wish I could head back to Hammam Ziani every Friday to rid myself of the stress of a week's work!
Don't forget to compare my experience at Hammam Ziani with my first hammam experience at the super swish Ryad Mogador Menara.
Information
Open 7 days a week 7am – 10pm, prices starting from 50Dh.
hammamziani.ma 0662-71-55-71
14,Rue Riad Zitoune jdid, Marrakech Medina (next to Bahia Palace)
You can recreate the hammam experience at home with some rhassoul/ghassoul clay, like this Organic Natural Rhassoul Clay
, a tub or bar of African Black Soap
and a bottle of high-quality Argan Oil
. Grab your exfoliating mitts and treat yourself!