Some posts on this site contain affiliate links. If you book or buy something through these links, I earn a small commission (at no extra cost to you). Take a look at my privacy policy for more information.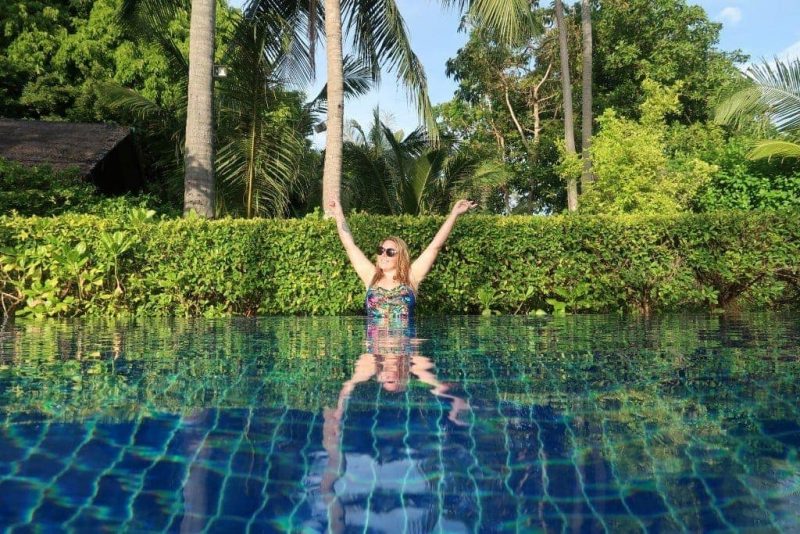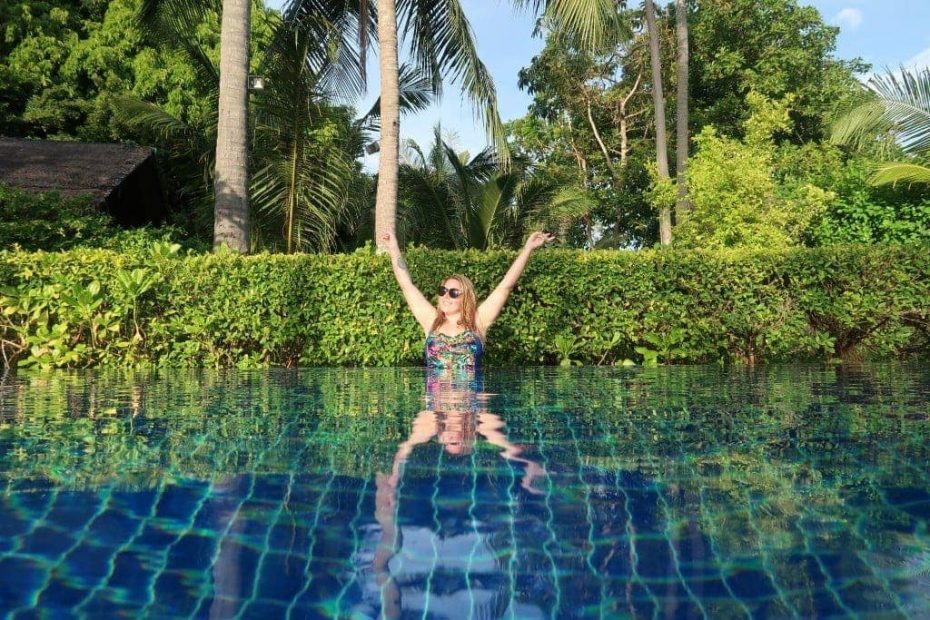 Looking for the best resort in Koh Phi Phi? With a stunning location, the luxurious village-style Zeavola resort on Laem Tong Beach could be the one.
I stayed here for two nights with my brother during my trip to Koh Phi Phi at the end of last year, and absolutely loved it. Our room was huge, and I loved being totally surrounded by nature. The pool was about twenty steps from the veranda of our garden suite, and the hotel's restaurant was one of my highlights of the island.
My stay was complimentary, but the following Zeavola Resort review is totally honest. I'd recommend the resort to anyone looking to get away from it all for a few days!
Zeavola Resort Review
Zeavola Resort is part of the Small Luxury Hotels of the World collection, which is an exclusive collection of around 500 handpicked luxury hotels. These are small, independent hotels and little hidden treasures that are often completely one-of-a-kind. And Zeavola is no exception!
The resort is designed to echo a traditional Thai village. Bungalow rooms are dotted amongst the forest along winding, sandy pathways. It's a peaceful, boutique resort that allows you to get fabulously close to nature – whilst still enjoying the luxurious experience you'd expect from SHL.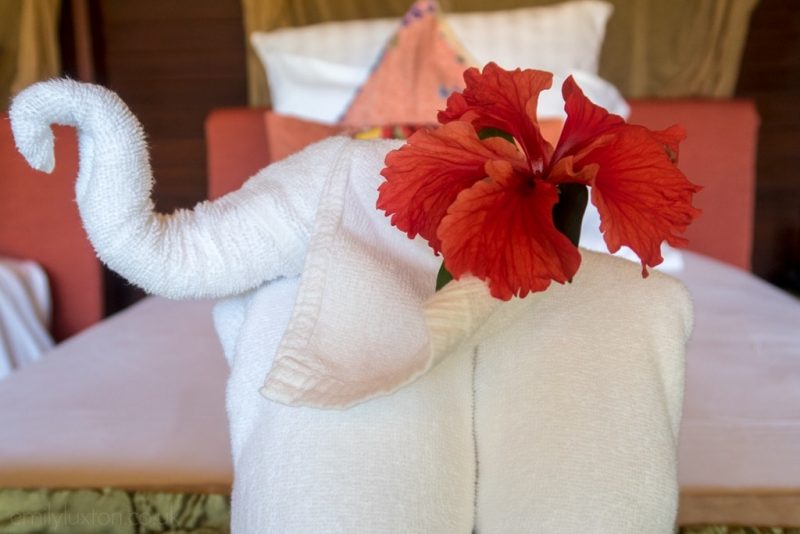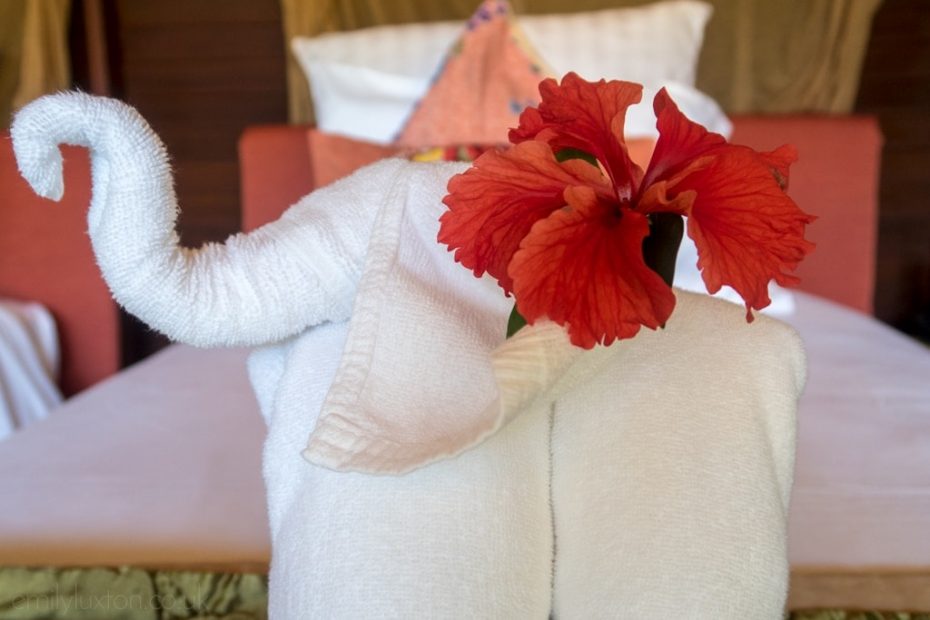 Location: Disconnect on the quiet side of Koh Phi Phi
Even getting to Zeavola Resort was an adventure. We met a resort rep on the pier in Koh Phi Phi's busy, backpacker-filled main town, and were led to a wooden long-tail boat, which sped us around to the Northern tip of the island.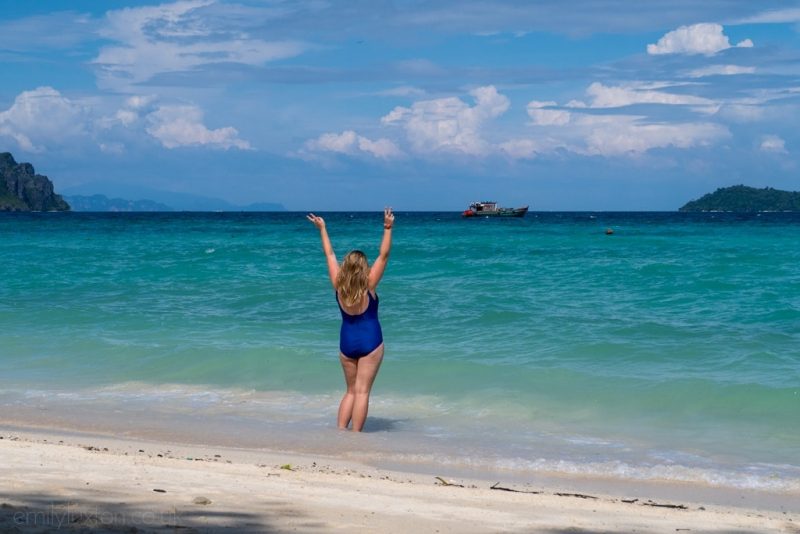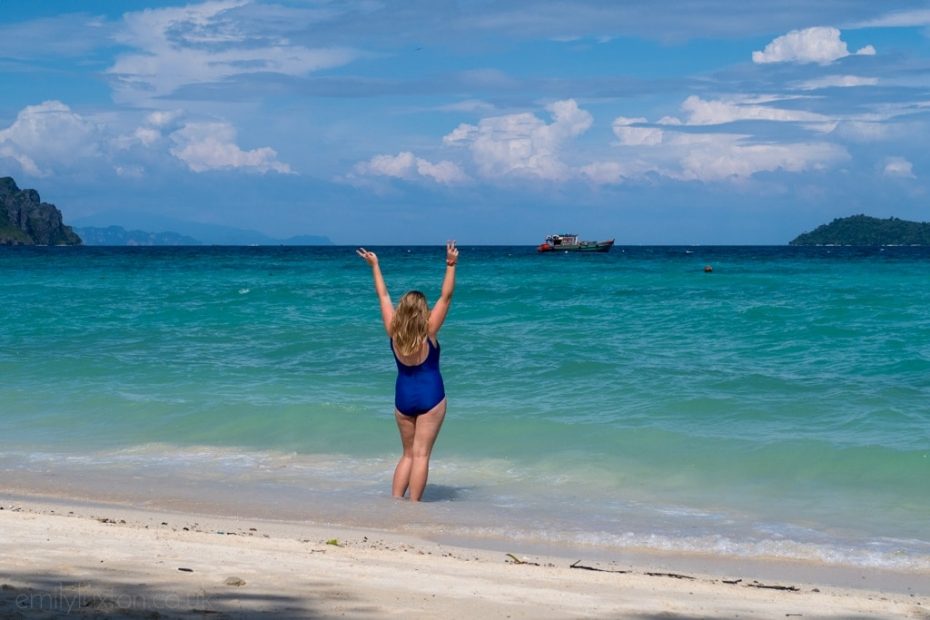 In the north, far from the beach bars and backpacker parties, Koh Phi Phi has a much more tranquil pace. Relaxation was in the air immediately, and after a few days in the south of the island trying to avoid persistent tour touts and ads for boat parties, we felt right at home. After a few weeks on the road, on separate trips, my brother and I had met up in Thailand in search of some R&R, so Zeavola was exactly what we needed.
The resort lies on the beautiful Laem Thong beach, a long stretch of pristine white sand dotted with a handful of resorts and restaurants. It feels brilliantly cut off, which is perfect if you want to get away from it all.
But, the main town and the other beaches of Koh Phi Phi are all just a short taxi boat ride away, so you're not completely isolated. And there are plenty of tours around the island to keep you busy, too. Whether you want to relax for a week, or explore as much as possible, this is an ideal holiday destination.
If you don't have much time, though, you can also visit Phi Phi Island on a day trip from Phuket or Krabi – so you can easily experience this stunning island no matter how long you have in Thailand.
Character: Barefoot luxury
Although it's a luxury hotel in every sense of the word, at Zeavola Resort relaxation comes first every time. When we checked in, the welcoming staff told us we were now in a barefoot zone, so we could walk around the resort barefoot if we wanted. Which we did immediately! All the pathways leading around the resort are made of sand, and even in the restaurants you leave your shoes at the door. It's a great way to embrace the back-to-basics vibes of island life, and feel even closer to nature.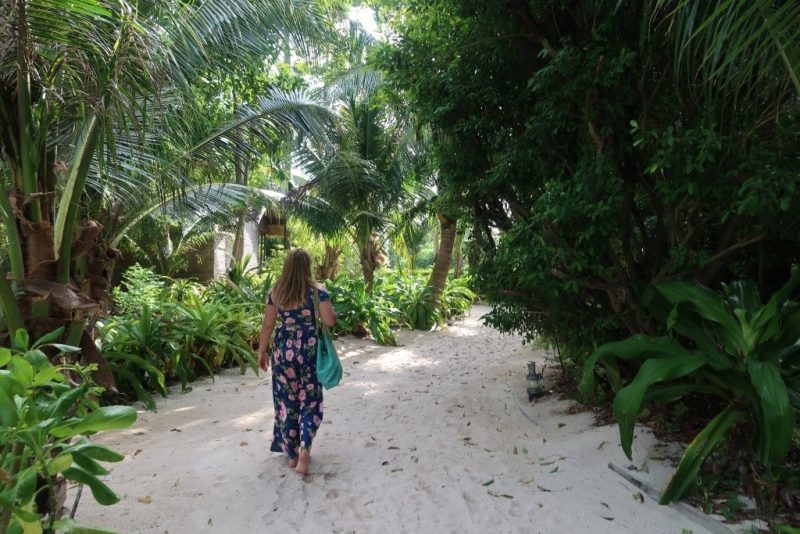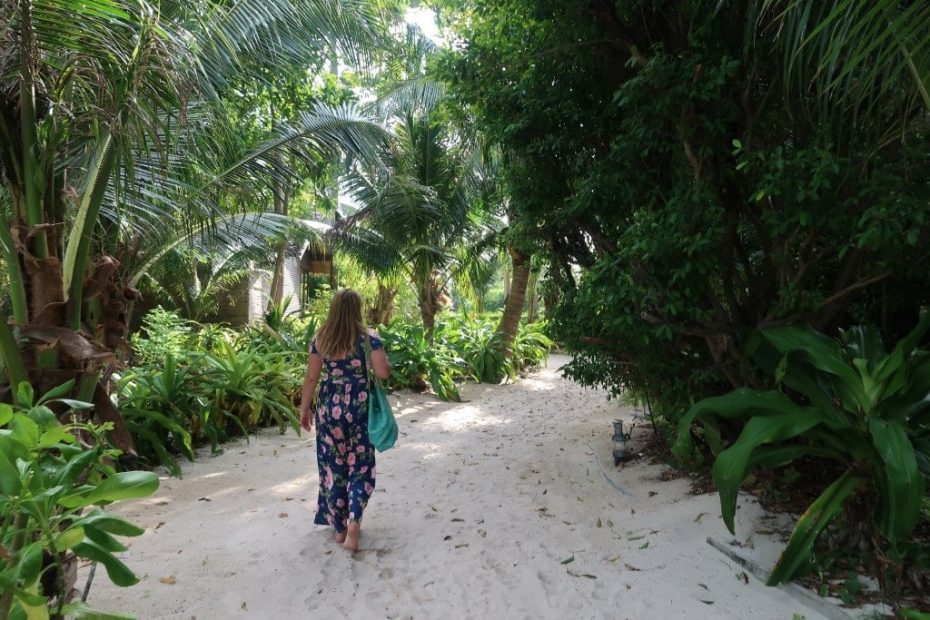 As mentioned above, the inspiration for Zeavola's design is a traditional Thai village. Each suite is a stilted teak bungalow, tucked into a sandy clearing amongst the trees, behind a wooden gate. You find your way around the resort along winding sand paths, and it's not uncommon to see cats and chickens meandering along the path as well! All the trees were filled with exotic birds, so this resort truly is a nature lover's paradise.
Rooms: Homes away from home in the midst of nature
We had a garden suite right by the pool. It was stunning! I loved the rich teak structure, which had a huge veranda outside the glass doors, complete with drinks cabinet and comfy chairs. The thatched roof and wooden walls gave it a lovely, rustic feel – while the floor to ceiling windows added to the feeling of being surrounded by nature.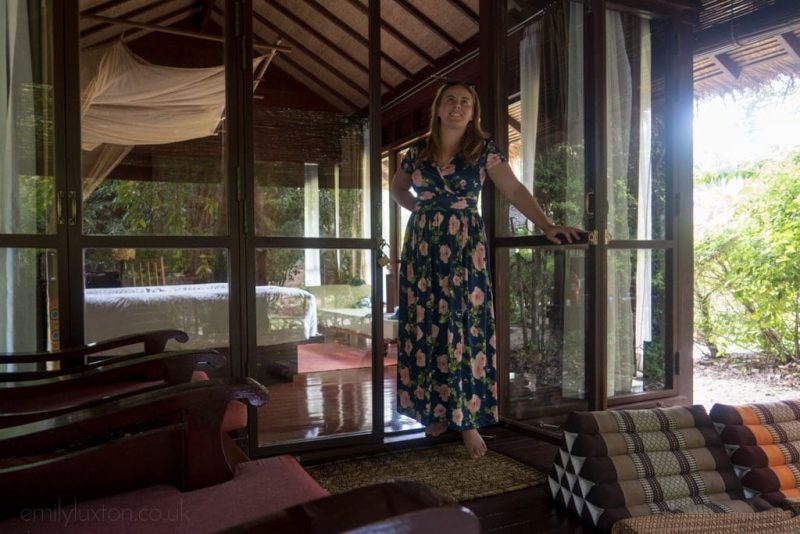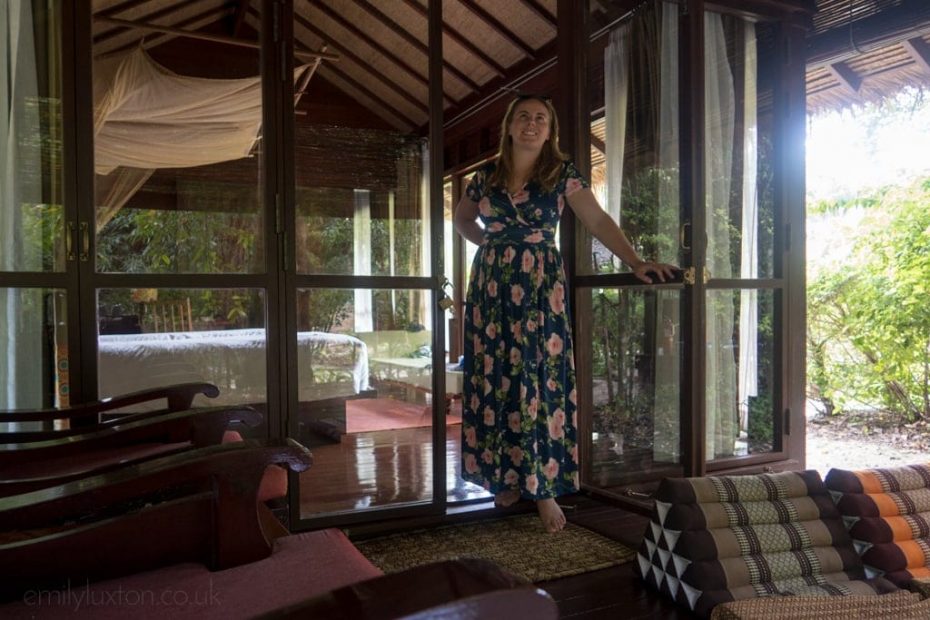 Inside, though, the room was decadently luxurious and comfortable. We each had a large single bed, with billowing mosquito nets and fresh white linen. The Thai village feel fed through the design, with colourful local fabrics and beautiful wooden furnishings. Everything was so pretty – and so comfy. But my favourite thing was the glorious rainforest shower – which had folding doors opening onto a private outdoor shower as well. Nothing beats the feeling of showering outdoors with the smells of the forest all around you!
Our garden suite was the perfect setting to relax and enjoy nature. But, if you're on an extra special trip and you want to splurge, opt for a pool villa suite. These bungalows are clustered onto the nearby hillside, offering amazing ocean views, and they each have private pools for those days when you really want to get away from it all.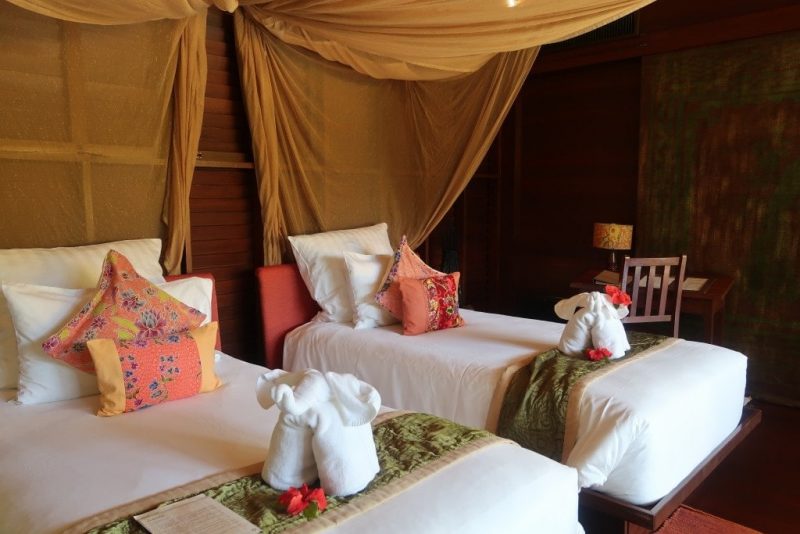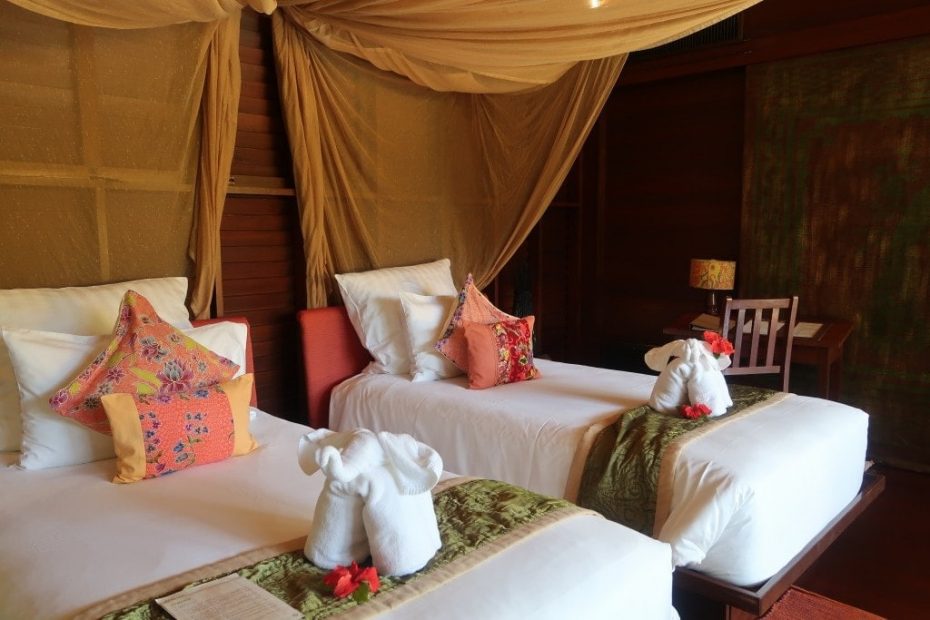 Food and Drink: Thai cuisine and gourmet seafood
One of my highlights at Zeavola resort was the food. The casual beachside bar and eatery was great for cocktails and light lunches! But it was the stunning Baxil restaurant that blew me away. Headed up by a newly appointed chef, the menu focuses on traditional Thai cuisine and Thai fusion dishes. Both rustic local food and Royal Thai cuisine provide the inspiration, and all of it is given a unique Zeavola twist. We had some really delicious meals there and I loved it!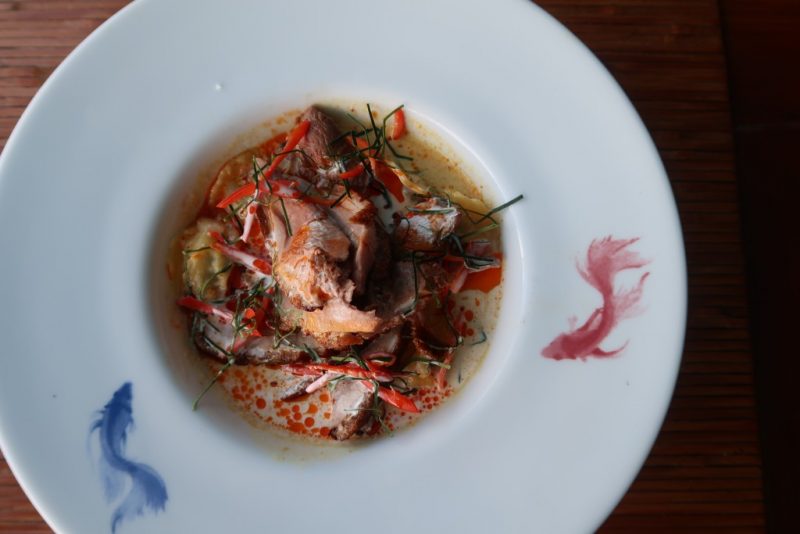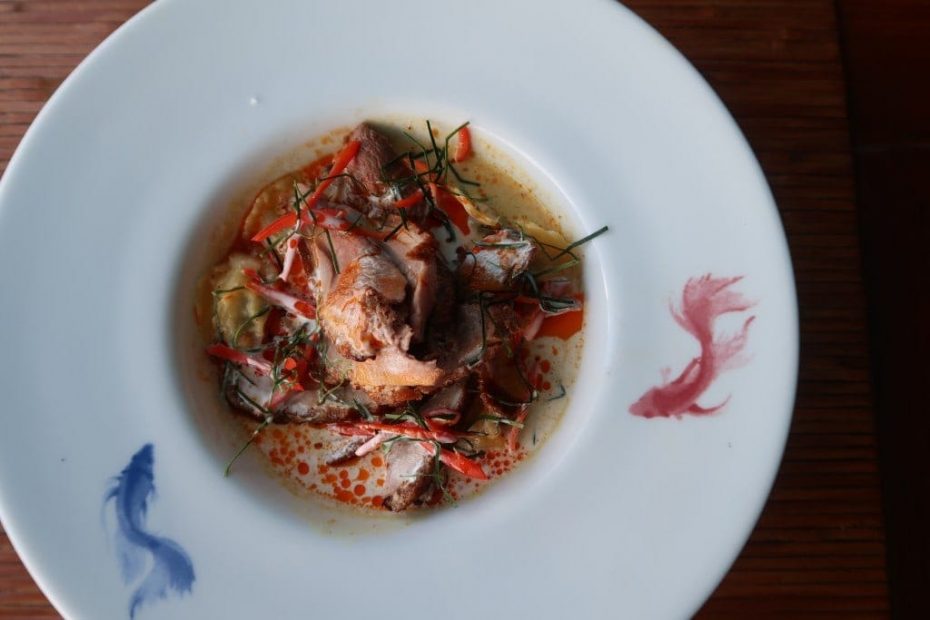 Facilities: Everything you need for a relaxing stay
For a small resort, Zeavola has plenty on offer to keep you busy. There's a pool, a spa, two restaurants, and a beach bar. Perfect for those days when you don't really want to leave the resort! Plus, the beach just outside is decked out with loungers and beanbags for guests. Zeavola also offers a range of tours around the island, including PADI diving courses and diving tours.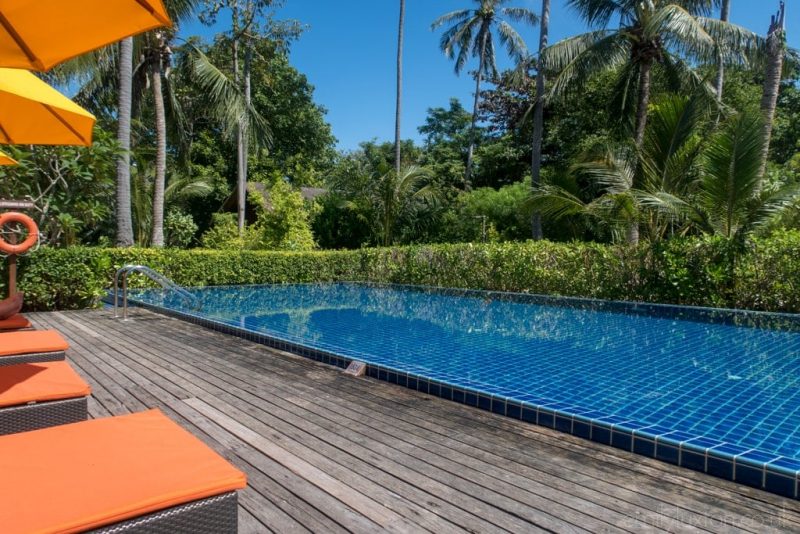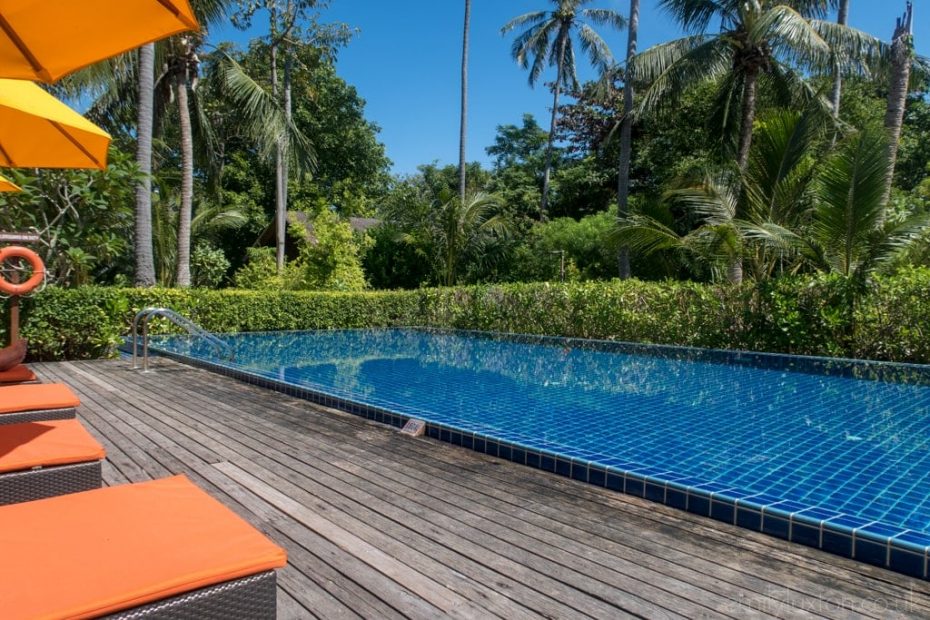 The pool is a little small, but with such a stunning beach right outside you hardly need it. Plus we never shared it with more than a handful of other guests. It's a really beautiful pool, surrounded by wooden decking and comfy beds. All around the pool, the swaying palm trees and colourful tropical flowers created a little bubble of tranquility. I loved lazing on my back in the pool, watching the birds flit around the trees. The perfect way to unwind and switch off from it all!
Amazing service, great food, and a quiet beach miles from the raucous parties Phi Phi is known for. What more could you ask for from a beach resort? Truly, Zeavola was the perfect setting for a relaxing holiday.
Zeavola Resort Details
Zeavola Resort
11 Moo 8 Laem Tong,
Koh Phi Phi, Ao Nang
Krabi 81000, Thailand
Phone: +66 75 627 000
Email: [email protected]