Some posts on this site contain affiliate links. If you book or buy something through these links, I earn a small commission (at no extra cost to you). Take a look at my privacy policy for more information.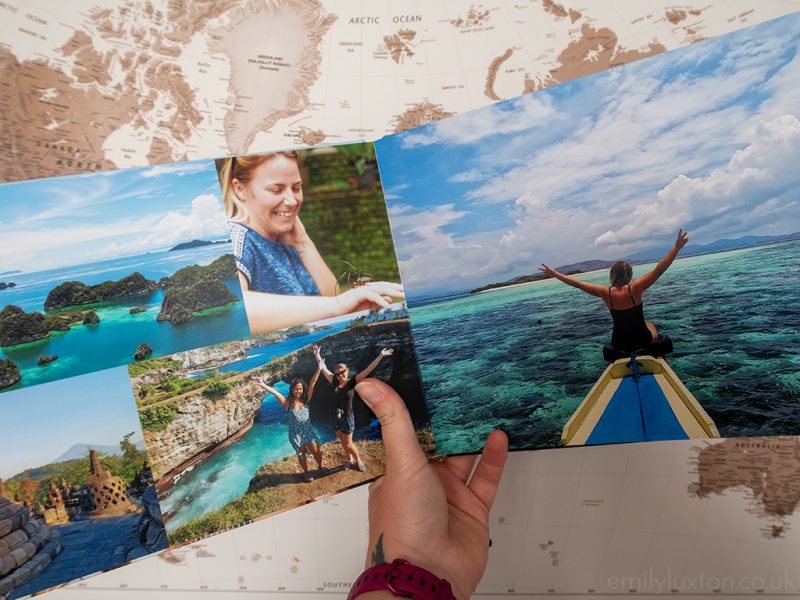 Looking for the ultimate photo book for your travel memories? In my opinion, Bob Books is the very best – and I'm writing this review to show just how high-quality their photo books are. 
If, like me, you're finding yourself with a lot more time on your hands at the moment – spending some time going through your old travel snaps to create a beautiful, personal photo book is the perfect way to while away an afternoon. Especially if you miss travel as much as I do! Spending a day making my Bob Books photo book gave me an excuse to relive some of my favourite travel memories.
Now is the IDEAL time to make yourself a photo book of your travel snaps. It's a great little project, and Bob Books give you so many customisation options that you can make something totally bespoke and personal. AND you can get 15% off for the next 3 months with my discount code, which you'll find at the end of this post.
My photo book from Bob Books was provided free of charge in order for me to write this review. However, this is an honest write up of my experiences with the products.
Bob Books Review – Creating my Photo Book
My original plan was to create a book filled with photos from every trip of the past four years. But it turns out that was WAY too many photos for one book! So instead I focused on my travel photos from 2016-2017. I'll have to make a second book for 2018-2019!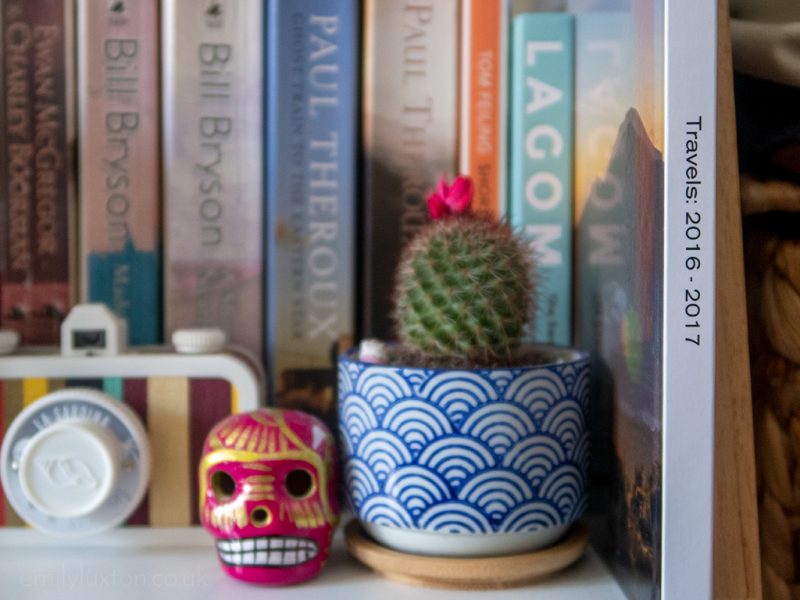 Once I'd picked all the photos I wanted to use, I uploaded them to Bob Books. You can either use their Online Book Creator – which is all done through the website – or download the Bob Designer Software and create your book offline. The Designer Software has more options, and allows you to edit and enhance your photos within the software as well.
Online Book Creator
I've already edited all my images in Photoshop, so I opted for the Online Book Creator. It's very simple to use: you upload your photos, then use the pre-set layouts to design the book. Alternatively, you can create your own layout on each page – although this will take longer!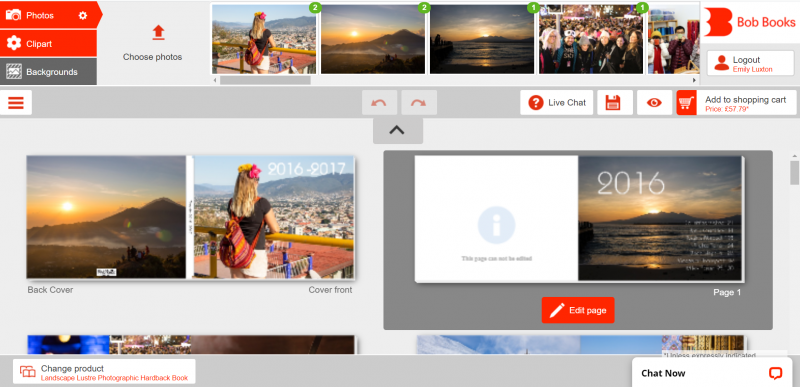 If you don't have a lot of time you can use the "fill empty pages" function and it will automatically fill up the book using all your images. However, I wanted more control than that so I took my time.
A Labour of Love
It took a long time! I was making a 40-page book using 80+ photos, and I was being pretty fussy about the order and the layout. In the end, I spent the best part of a day working on my book! In fairness, you don't need to spend that long working on it – I'm just indecisive and fussy! I really recommend trying the "fill pages" function first, then tweaking the layout to get it looking how you want.
Although it can be time-consuming, creating a photo book using the Bob Books Online Book Creator was really straightforward and easy. What slowed me down was selecting my photos and fussing over the layouts! It was a real labour of love, though, and I had a lot of fun building my perfect photo book.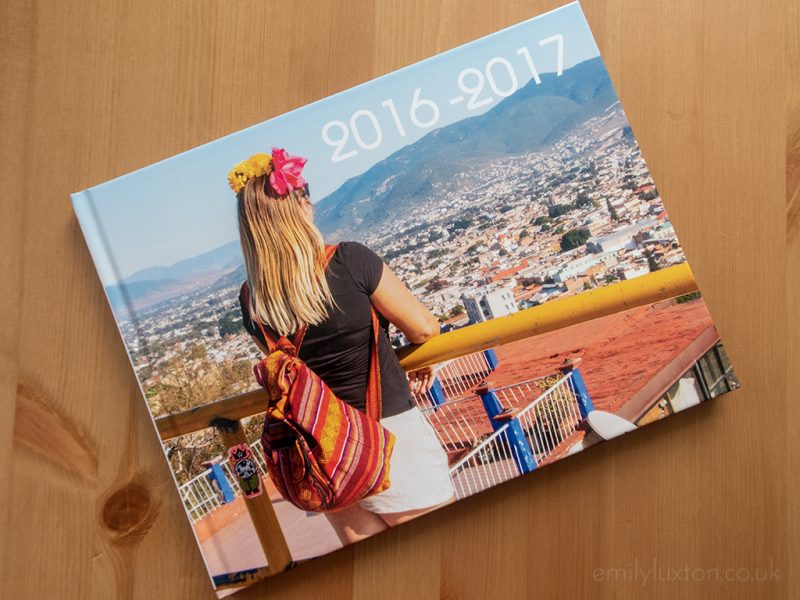 Total Control
I love how much control you get over the book – as much as you want, really, especially if you download the Bob Designer Software. You can add text pretty much anywhere, so you could write a caption for every photo, or even make it like a diary with longer text sections either over or next to the images.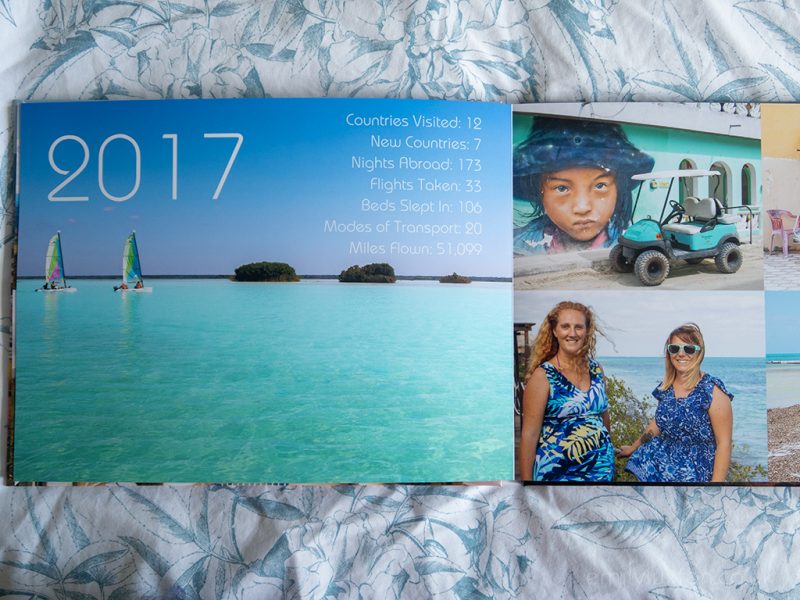 I wanted to keep it simple and photo-heavy. So I filled every page with photos, with no margins, using a mixture of grid layouts and full-page photos. In the end, I only had three pages with text. Before the start of the 2016 and 2017 sections of photos, I made a sort of cover page using the year as a heading, and added a few of my "travel stats" for the year – like how many countries I visited. At the back, I made a little index with which trip/s were on each page, just for my own reference.
The Online Creator tool has limited fonts, so next time I'll probably download the Designer Software in order to get more options.
My Photo Book
My book arrived REALLY quickly after I'd ordered it – I was so impressed. And more importantly, the book is GREAT.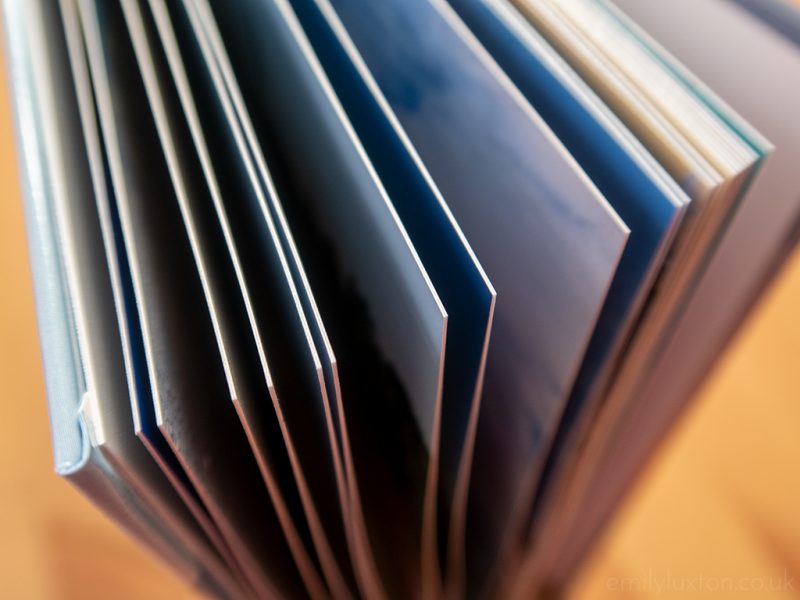 I made a hardback landscape book, using the lustre photographic paper. This costs more but it's honestly worth it for the quality. If you're just showcasing your phone snaps and you're not too fussy about the quality, the cheaper papers are probably OK. But if we're talking high-quality DSLR photos, then the lustre paper is the best way to display them.
It's lovely thick, rich paper with perfect colour reproduction. Importantly, the lustre paper is also lay-flat – so you don't get the sides of your photos disappearing into the fold of the book.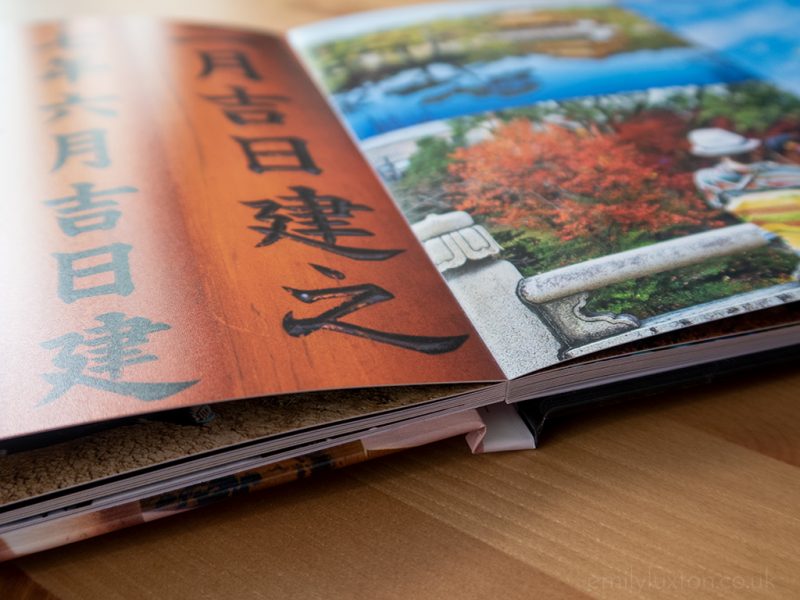 The whole book is really high quality and feels very high-end. It feels more like a shop-bought book of photos than my own personal photo album – except that it's full of my own snaps and shots of my grinning face!
It really is beautiful – and it's so nice to have a physical, lasting reminder of the highlights from two of the best years of my life. I mixed in snaps of me and my friends amongst the destination shots I'm most proud of, so I know that in years to come I'll look back at it and smile at all these incredible memories.
OK – But Would I Buy it Again?
It's all very well me writing a review of Bob Books when they sent me the photo book for free. Hard to know how honest a blogger is being in these cases, isn't it?
And at £40.99 for a landscape book with lustre paper (or £57.79 if you add a ton of extra pages like I did) it feels like a pretty big investment. I think Bob Books cost a little more than some competitors, but the quality is better than any others I've seen from other companies. And the cheapest books start from just £14.99 so there's something to suit all budgets!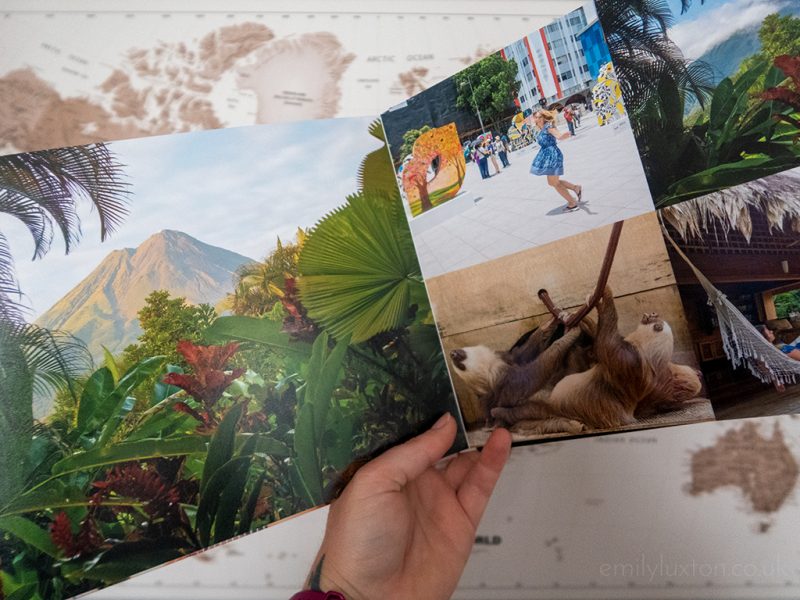 But YES, I will 100% be ordering from Bob Books again. In fact, I've already started selecting the photos from my 2018-2019 travels to make a second book. I'm planning on asking for vouchers for my birthday (looking at you, dad) so I can order a book in exactly the same style and put the two together on my shelf!
Spending £60, like I did, might seem a bit hefty. But if you consider that this is something that will last forever, and will be a permanent, physical reminder of your travels for years to come, I think it's worth it. Honestly, I doubt I'd order a photo book from anywhere else now that I've used Bob Books.
Bob Books Discount Code
Ready to give Bob Books a try after reading my review? If you use my Bob Books discount code you can bag yourself 15% off your next order. It's valid for the next three months, so get going…
Here's the 15% discount code: EMILYLUXTON
Easy, right? Visit www.bobbooks.co.uk, enter the code at the checkout, and you'll get 15% off all products. Full disclosure: I'll make a commission on your order, but it won't affect the price you pay at all, so we're all winners! 
Terms and Conditions: Not in conjunction with any other offer and cannot be applied retrospectively. Offer valid on photo books, calendars, wall art and cards only.
If you order anything from Bob Books after reading this review, be sure to let me know in the comments! Better yet, send me a pic on social media so I can check it out!