Some posts on this site contain affiliate links. If you book or buy something through these links, I earn a small commission (at no extra cost to you). Take a look at my privacy policy for more information.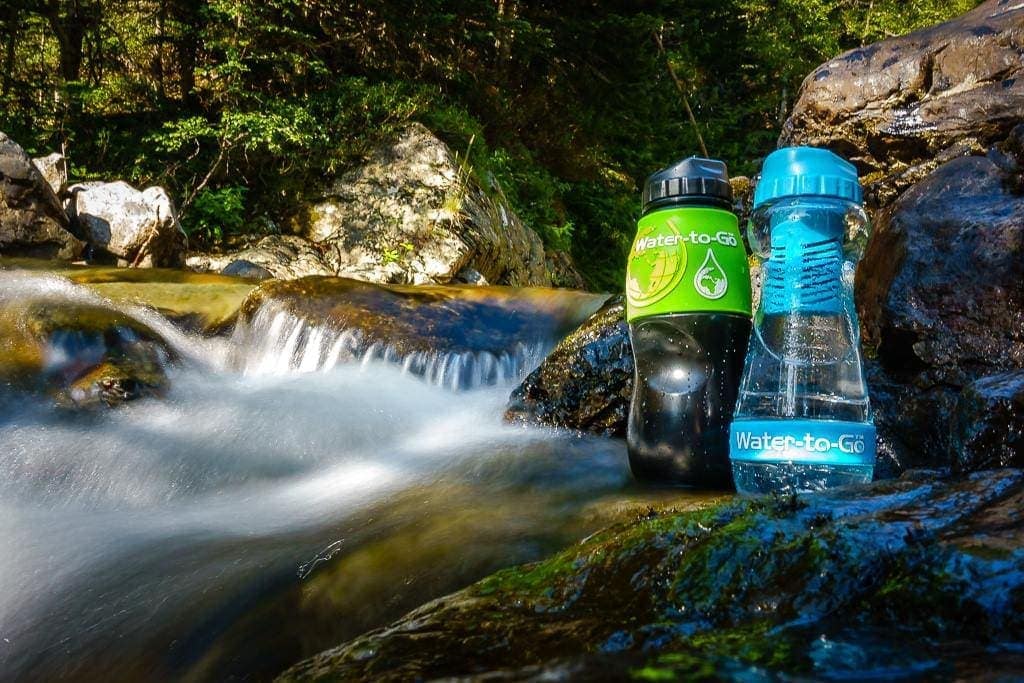 It's not often than I describe a product as a must-have for backpackers. But, after YEARS of using my trusty Water-To-Go Filter Bottle, it definitely has a top spot on my must-pack list. Which is why I wrote this Water to Go review – and why I keep recommending the bottle to anyone who's off travelling!
This 75cl water bottle might just be the best water filter bottle for travel. It instantly filters over 99.9% bacteria, viruses and more harmful content from water – providing safe, refreshing drinking water anywhere in the world.
In many popular backpacking destinations, it's not safe to drink the tap water. So until I found the Water-to-Go I had to rely on purchasing bottled water. Which is not only an added expense and inconvenience – it's also terrible for the environment! Read on for my Water to Go review and more info about what makes this bottle a backpacker's best friend!
Update 2021: My exclusive Water-To-Go discount code is still available! Use ELUX15 when you check out to save 15%!
Contents:
How Water-to-Go Works
Why Buy a Water to Go Bottle?
My Experiences
Water to Go Discount Code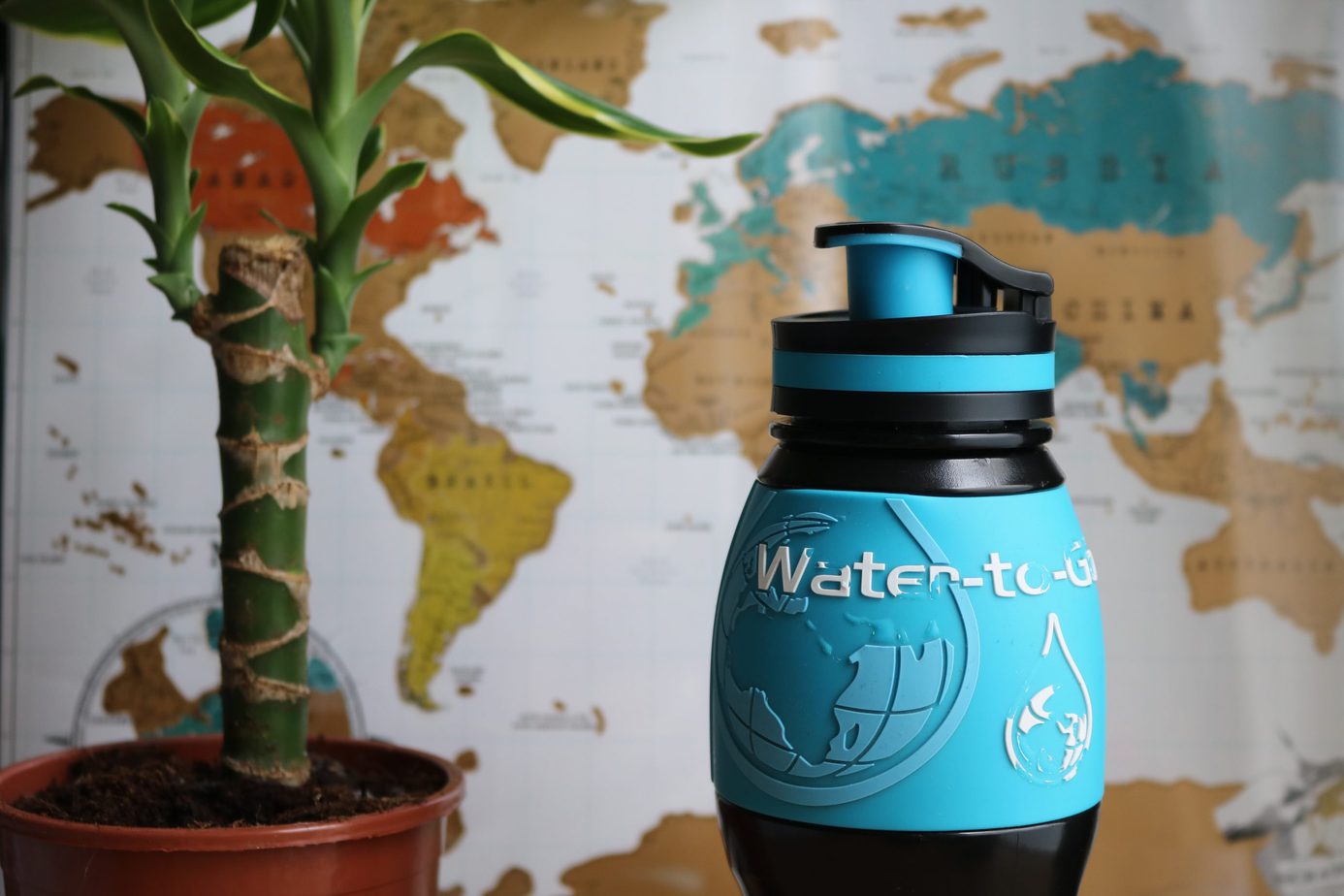 Disclaimer: Water-to-Go are one of my chosen affiliate partners. If you buy one using my discount code, I'll make a small commission. As always, absolutely all opinions in this Water to Go review are my own. I've been using my bottle for several years and genuinely love it.
Water-to-Go Review – How it Works
Basically, a fancy carbon filter developed from NASA is attached to the cap of the bottle. This filters out contaminants such as fluoride and chlorine, metals including lead and mercury, Hepatitis A, Typhus, Dysentry, and tapeworms.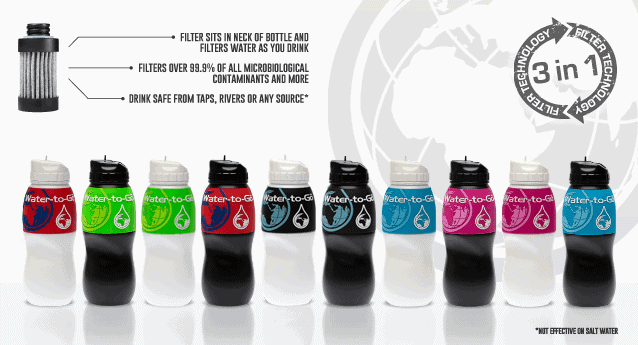 You can check out the full list of exactly what the filters remove on the Water-To-Go website.
The filter works instantly to clean water as you drink it, removing not only bacteria, diseases and chemicals, but also the bad taste – meaning that you really can drink from pretty much any water source (except sea water) safely!
Why Buy a Water-to-Go Bottle?
So, it's a bottle that filters water from any source. But why do you need that? There are so many reasons that the Water-to-Go bottle is a backpacker's best friend. It's also an awesome eco-friendly travel product! Here are my top 4 reasons to buy this brilliant water filter bottle…
Save Money
Reduce Waste
Save the Planet
Safe Drinking
1. Save Money!
No more buying bottled water! This can often account for a significant amount of your daily spend. Even in the cheapest countries, a few bottles a day still add up over time.
Take Thailand as an example: the average price of a 0.33l bottle of water is 19p. Six of those (2 litres) a day is £1.14 a day, which equates to £102.60 over three months. A Water-To-Go filter lasts three months when used to filter 2 litres a day*, and filters start from just £12.
*FYI – the filter lasts for 200 litres of usage, which is three months if you're using it for two litres a day, but it won't die on you after three months if you've only been using it for 2 litres a week.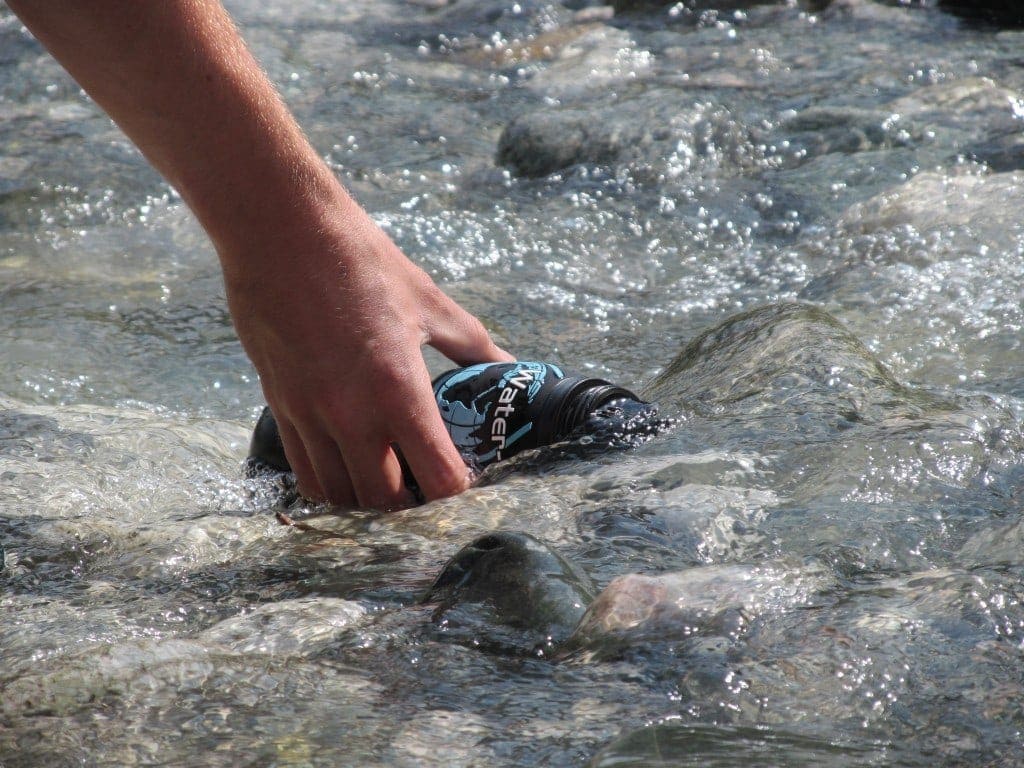 2. Reduce Waste
No more wasting plastic bottles by disposing of them in countries which have no or limited recycling. In 2016, 480 BILLION plastic bottles were bought around the world*, and while the plastic can be recycled it rarely is. Plastic bottles and bags are the most common form of pollution found on our beaches and oceans. Reusable bottles like the Water to Go bottle can dramatically reduce the unnecessary use of plastic bottles.
*Startling fact – that's enough to reach halfway to the sun if they were placed end to end.
3. Save the Planet
It's not just six bottles a day you'd be saving. In a 2009 study, researchers in the Pacific Institute in Oakland, California estimated that the energy required to produce bottled water is between 5.6 and 10.2 million joules of energy per litre. That's 2,000 times the energy required to produce a litre of tap water. So reusing one bottle and filling it from the tap is a far greener way to get your daily drink.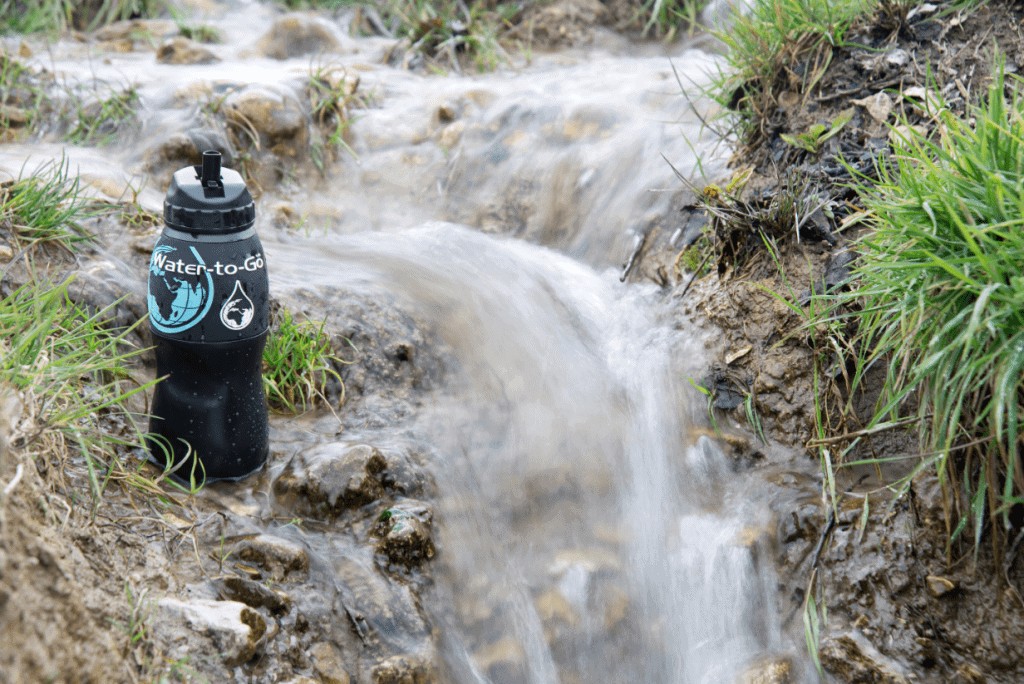 4. Safe Drinking
In many popular backpacking countries, waterborne diseases are still a very real threat. Even drinking from tap water can carry dangers. The Water-To-Go Filtration System eliminates over 99.9% or waterborne diseases, bacteria, and viruses – so you can fill it up from the bathroom tap in your hostel, at a river or pond, or from any other water source, and have clean, safe drinking water, instantly.
My Experiences with the Water to Go Bottle
Throwing around statements like 'space programme technology' and 'developed by NASA' is all well and good, but it's still easy to be dubious of such an amazing sounding product.
Luckily, the Water-To-Go bottle has been independently tested by three different laboratories and all of them confirmed that the filters eliminate over 99.9% of harmful contaminants in water. I've been using my bottle for several years since I first wrote this Water to Go review – and it definitely works for me.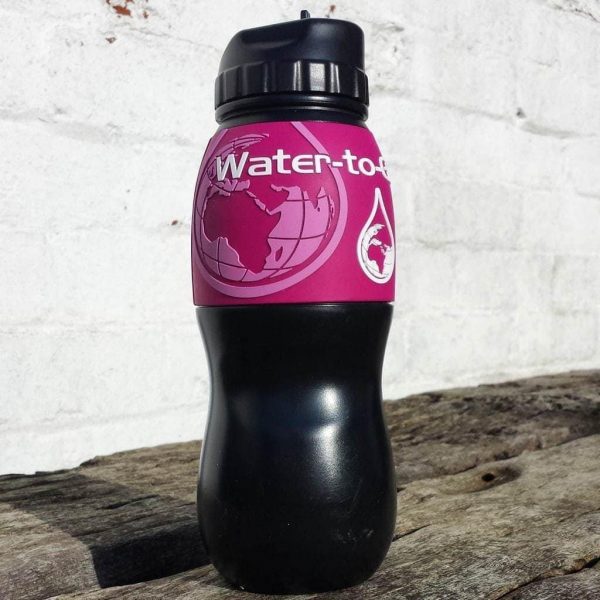 It really works!
Since first writing this Water to Go review I've taken my filter bottle all over the world with me. When I lost it I immediately got myself a replacement! I've used it in the rainforests of Nicaragua and on Thai islands. I took it to the Parthenon in Athens and around the temples of India. It's even come to the gym with me a few times!
All the water I've filtered through my bottle has tasted as clean as bottled water. Normally, I fill it up from taps and take the bottle out with me for the day. Once or twice, though, I've filled it from rivers or dodgy-looking pools. There was no bad taste, and I've never gotten a bad tummy from the water I've filtered in this bottle.
This water filter bottle is a great size, and I like the shape and design. Plus it's available in a range of funky bright colours. The flip-out drinking spout is a good design, and water comes out in a fairly constant stream. Generally, it works like a decent, sturdy, water bottle – with the incredible added benefit that it's filtering water on the go.
New Cap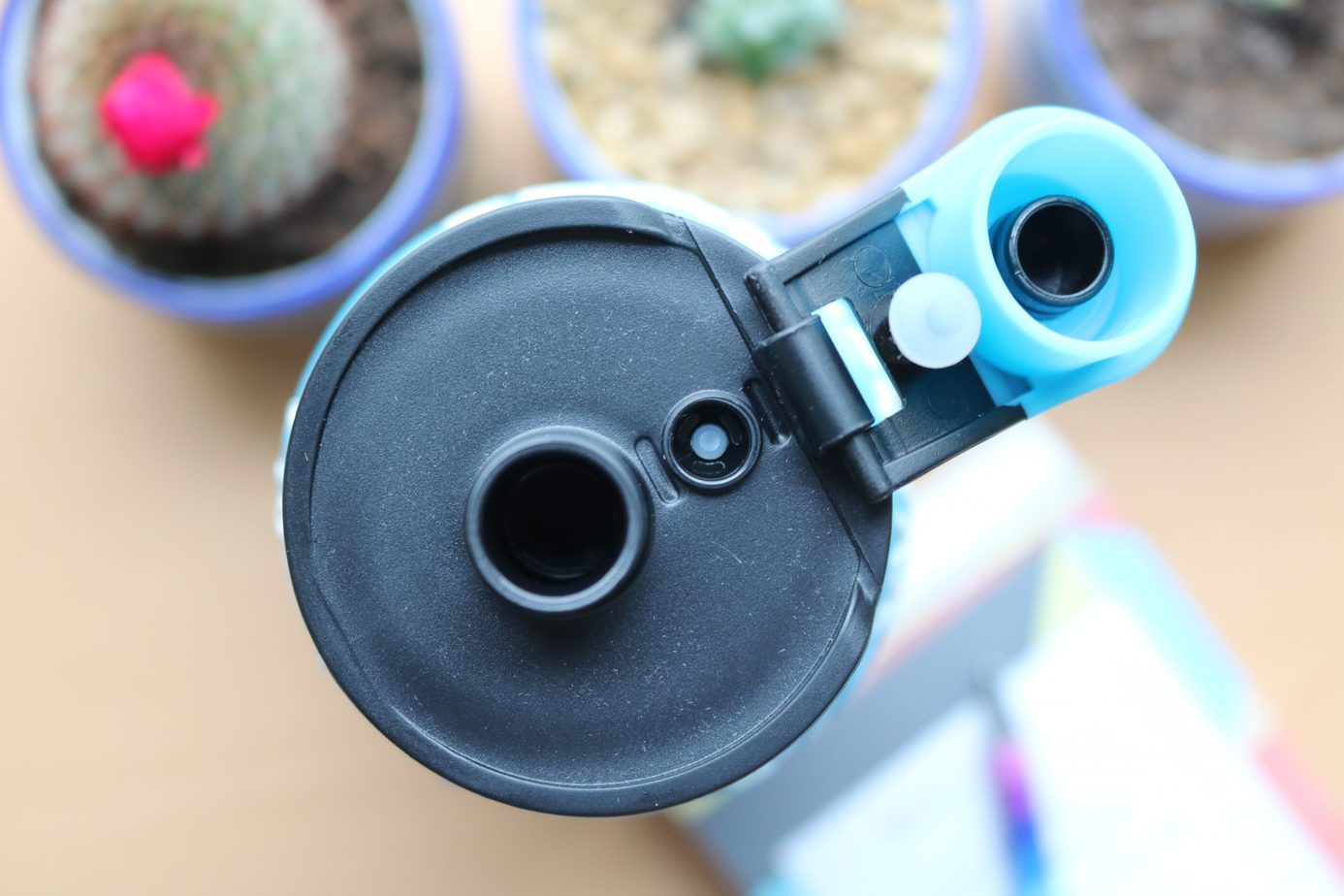 Update Feb 2020: Water to Go have released a new range of sports caps which are SO much better than the old ones. The spout part is wider and easier to drink out of. And the cap clicks over, instead of a spout that bends out.
These new caps fit the existing bottles, so you can replace the cap without replacing the whole bottle!
Perfect Size for Travellers
The Water To Go bottle is the perfect size for travellers. It's super lightweight and the fits into my backpack's side pocket. In fact, it's no bigger or bulkier than a standard plastic bottle. I also like the simple design, which doesn't look out of place in my daypack as I wander around a European city or hike up a mountain.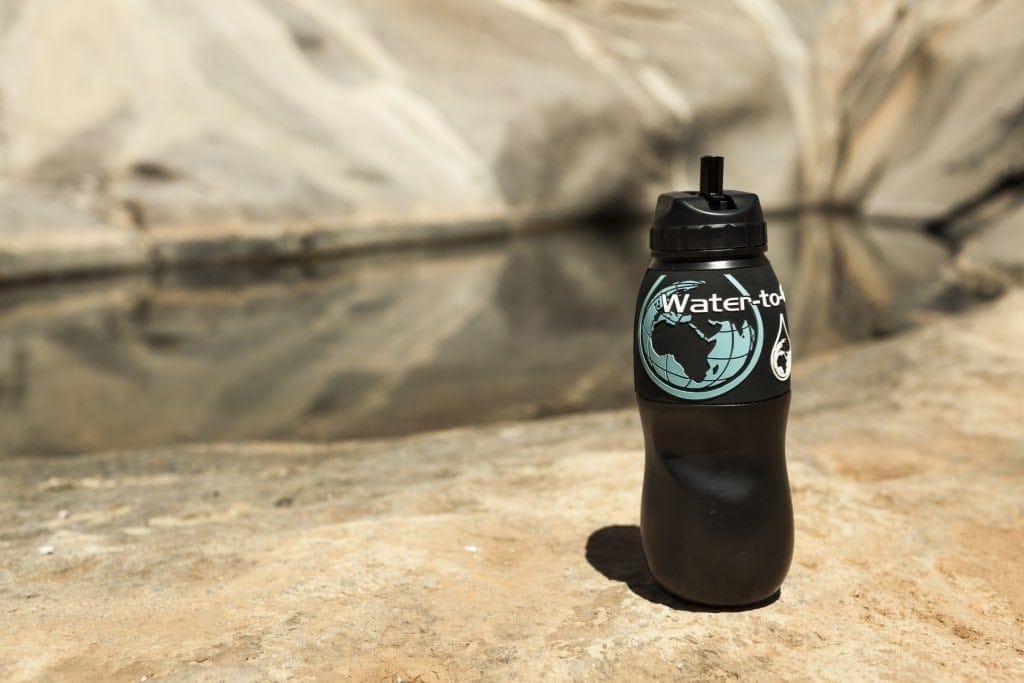 Water to Go Discount Code
Get an awesome 15% off your purchase by using my exclusive Water-to-Go discount code. Enter ELUX15 at the checkout to save 15%. Don't miss out!
As mentioned above, I'll make a small commission – but it won't affect the price you pay at all.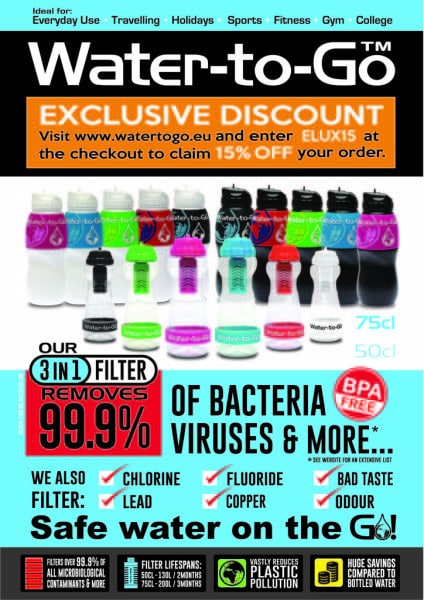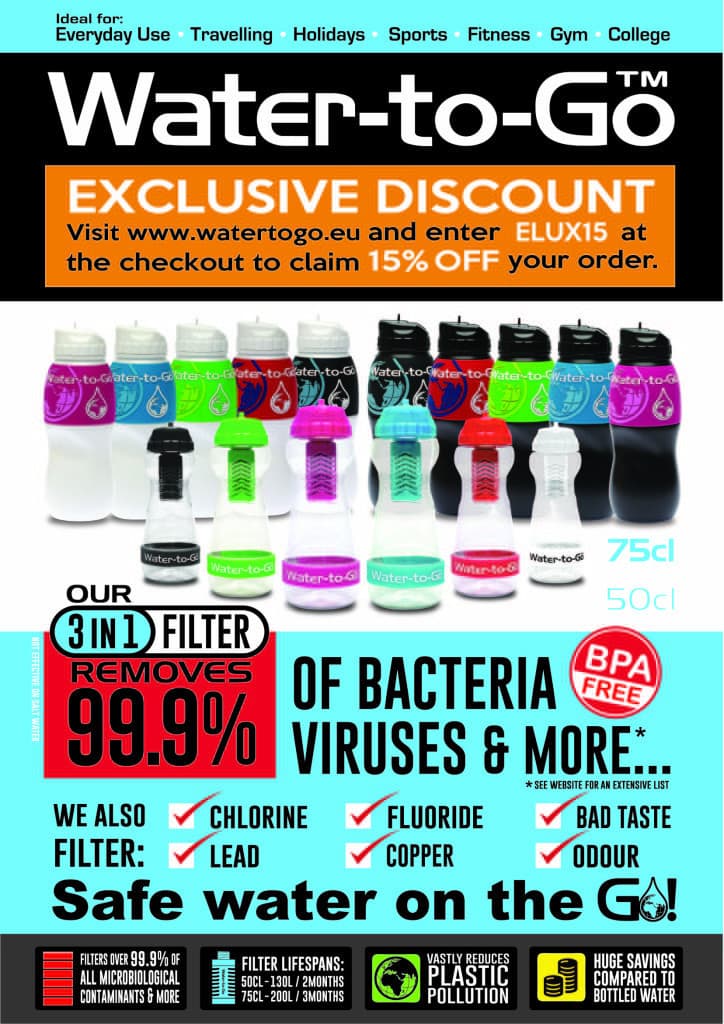 More Info
A Water-to-Go bottle really is a must-have item for travellers and backpackers. Safe, clean drinking water on the go, filled up from any source without worrying. Plus no wasted money or wasted plastics. It really is a fantastic addition to your kit.
Water to Go 75cl Bottles start at £32 including one filter. Replacement filters cost £25 for a twin pack.
Head to watertogo.eu to browse, and use code ELUX15 for 15% off!
Filters last 200 litres, or an average of three months based on drinking two litres a day.
Pin This Post