Some posts on this site contain affiliate links. If you book or buy something through these links, I earn a small commission (at no extra cost to you). Take a look at my privacy policy for more information.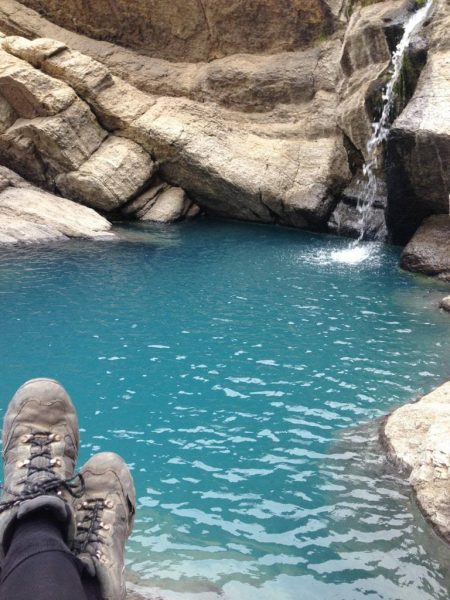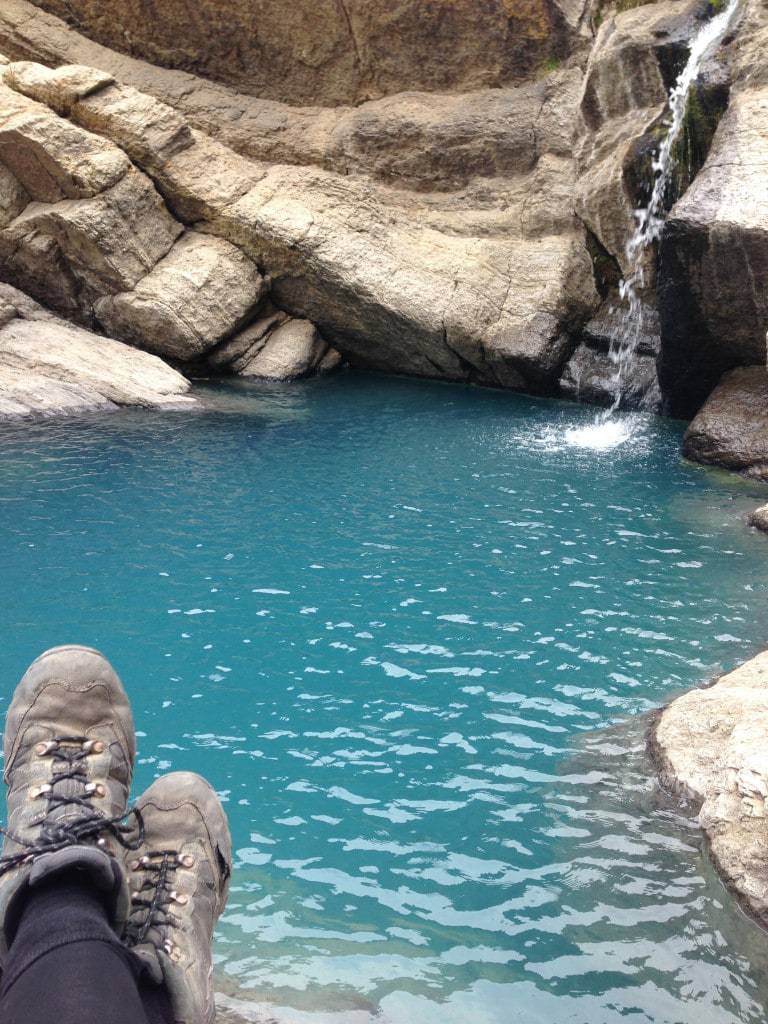 Last week, I took part in an interview for Just A Pack travel blog, and they asked me what was the one thing I took on my trip with me that I couldn't live without. For me the answer was simple: my hiking shoes. Neither me or Sam had really hiked before our trip, nor were we planning to do much hiking, so we really only took the shoes for our Machu Picchu trek. But they turned out to be indispensable; in fact we both wore ours so much that we pretty much destroyed them!
Following five months with the boots, I not only learned how important they are for a trip to South America, but I also learned a few tips about what I did and didn't need from a pair of walking shoes – so I've now managed to find the perfect replacements! I thought I'd share my tips with you…
Do I Really Need Walking Shoes for South America?
Well, that all depends on the type of trip you're planning to have. If you're not venturing much further than beaches and bars, of course you don't need to take walking shoes. But sturdy footwear isn't just important for long hikes.
Across South America we encountered such a mix of climates – from baking hot equatorial sun, to humid rainforest, to pouring rain and even snow – and terrain that varied from rocks to mud to sand. Sam's shoes even got coated in sludgy sulphur at one point, and were frozen for about three days during our Salar de Uyuni trip. No ordinary pair of trainers would have survived all that, so the walking boots really were the most useful items in our backpacks.
Boots or Shoes?
We both took big hiking boots with us, thinking that these would serve us better for our Inca Jungle Trek. But, since the trek didn't involve any serious mountain climbing – and we didn't do any other mountain treks, either – these weren't really necessary. Hiking boots are pretty bulky, and took up a lot of extra space in my backpack.
If you plan to take on some more serious mountain trekking, perhaps in Patagonia or on the Salkantay trek to Machu Picchu, then you might want to consider a pair of boots. But otherwise, a smaller pair of sturdy walking shoes will do the job perfectly and will help you travel light.
It's all in the Sole
We both walked our boots so hard in South America that the soles were almost worn away – in fact by the end of the trip Sam's pair actually had holes in the outsole. Look for shoes with thick, durable outsoles that will not only last, but will give you the most comfort when you're tackling some of the more extreme terrains the continent has to offer, too.
Sam's replacement, the Field Waterproof Men's Shoes
from Mountain Warehouse
, come with a Vibram outsole: a world-leading high-performance rubber outsole which gives traction and stability – perfect for those varied and difficult terrains. And they should last a good long time too; my dad actually has the exact same pair and they've been serving him well for his frequent hikes for over a year. Here's a 'before and after' shot of Sam's new shoes and my dad's old ones: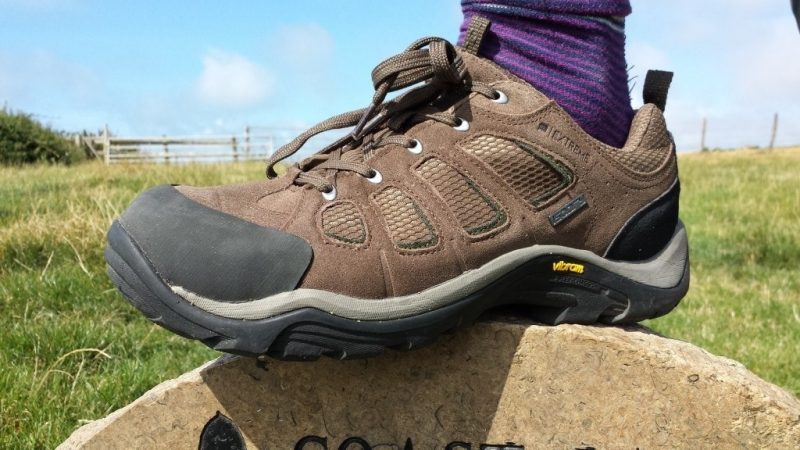 For me, the IsoGrip outsole on the Pebble Extreme Womens Waterproof Shoe
, also from Mountain Warehouse, sounded perfect: a long-lasting outsole guaranteed to last at least 5000 miles under the IsoGrip 5000 Guarantee. At the weekend, I tested the shoes out on a walk in the lake district (the loop from Swinside Inn) and I was so impressed with the grip from the high-traction outsoles as we descended a pretty steep, rubbly mountain path in the rain. I just wish I'd had these in South America – especially for the descent on the Colca Canyon trek!
What do I need from my walking shoes for South America?
As I mentioned above, a trip across South America can take you across all sorts of terrains and into really extreme climates. You want to look for a pair of shoes that will be durable, hardwearing, breathable and waterproof.
Both our new pairs of shoes were selected with South America in mind, so we picked Extreme walking shoes from Mountain Warehouse which we knew would survive anything; as the description says they "won't let you down whether you're hiking up a mountain or trekking through a jungle". Both the Pebble Extreme Women's Shoes and the Field Men's Shoes have all the things you need to look for, like:
Materials
Materials like suede and mesh, which are breathable (perfect for humid and hot climates), lightweight (perfect for backpacks) and hardwearing. You just need to look at the above pic of my dad's old shoes next to Sam's new ones to see just how well the shoes will last!
Waterproofing
The climates vary so much across South America that you're bound to encounter a rainy season at some point, and even if you don't there's the Amazon, the Andes, Patagonia, the Pantanal … plenty of places where you'll encounter rain, snow, or boggy ground. Both the Pebble and the Field shoes from Mountain Warehouse have IsoDry technology to keep your feet nice and dry… in fact my feet were the only dry part of me after our three hour walk through the rainy Lake District on Sunday!
Comfort
A cushioned midsole, like the Phylon midsole in my new Pebble Extreme shoes, is equally as important as a decent outsole; giving you comfort and added support, as well as additional cushioning from impact for those really tough terrains. Since I have weak ankles and pretty bad balance, I also looked for shoes with a padded tongue and ankle, for optimum support. Sam is more active than me, so the rubber bumpers on the toes of his Field shoes provide additional reinforcement against impact.
If you're packing for a South America trip, I really can't recommend taking a pair of walking shoes enough. I only needed three pairs of shoes in my backpack; flip flops, a very lightweight pair of plimsolls, and my walking boots. If you're not sure what to opt for, you can't go wrong with the Extreme range from Mountain Warehouse – it's all designed to survive the harshest elements, combining comfort with high-quality technical performance. You don't get much more extreme than the difference from one side of South America than the other!
Disclaimer: Mountain Warehouse are one of my chosen affiliate partners, which means I make a small commission on any sales generated through my site. This doesn't affect the price you pay at all, nor does it bias my opinion (I chose to partner with MW because they're a brand I genuinely use myself). So, if you decide to buy anything based on my recommendation, please help me out by using the links in this post to reach the Mountain Warehouse site. Thank you!