When you're heading on a long journey with nothing but a 60L backpack to hold five months' worth of your life, every cubic millimetre of space in that pack seems to count. Among the bulkiest items to pack are towels; however you roll or fold them they take up too much space and they take all day to dry, leaving you with a lovely damp patch on whichever items happen to be squished up against it in your pack. A travel towel is the perfect solution; small and super lightweight, these can make a huge difference to your pack and make life so much easier when you're on the road.
After a little research, I opted for an XXL Personal travel towel from PackTowl. At 59×35 inches, this is as big as a bath towel but it weighs just 10.5 ounzes and folds down to much less than half the size of my normal beach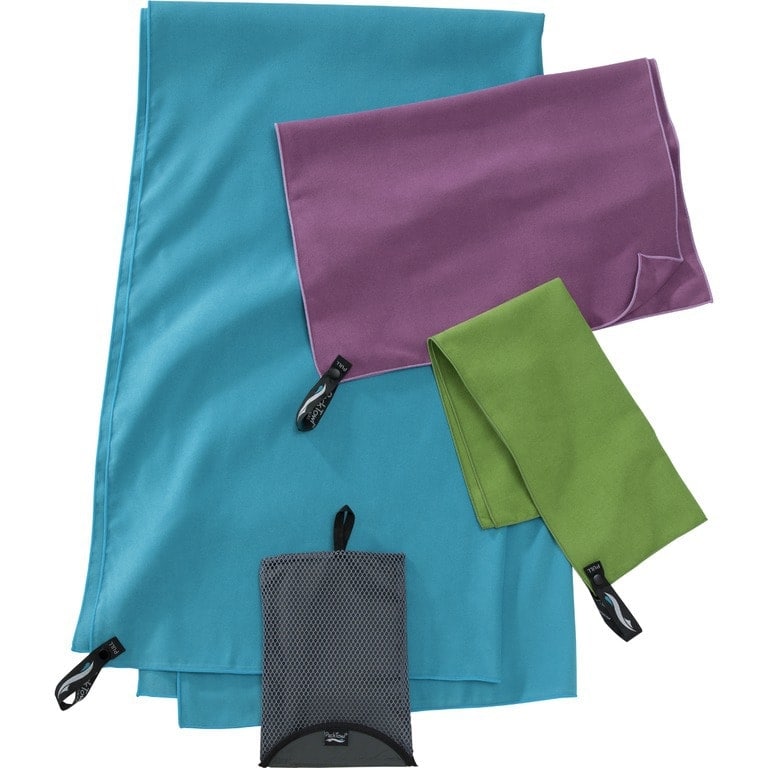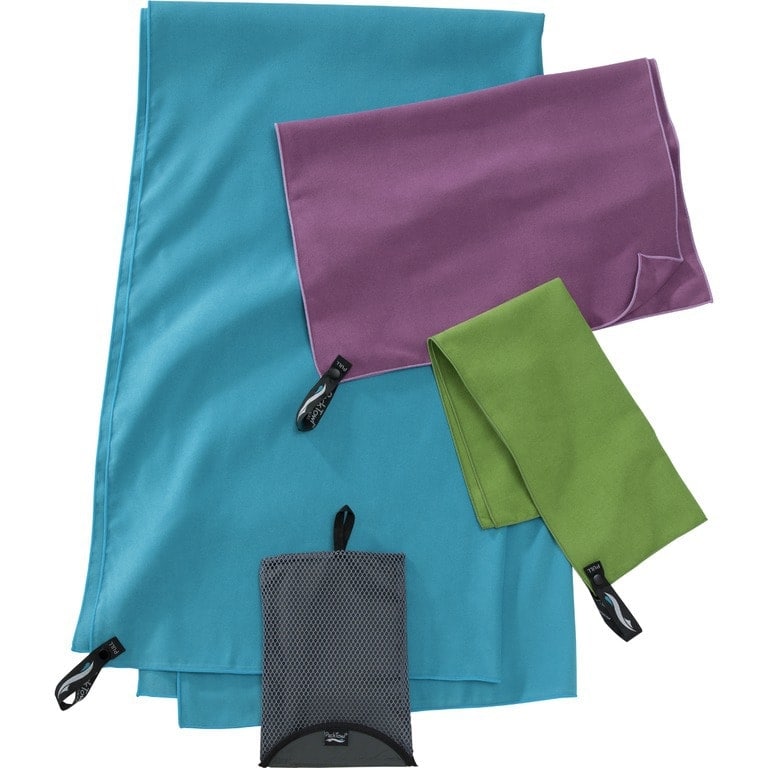 towel. Although it's very soft, the material is so thin that I simply couldn't believe that it would be as comfortable as my normal towel – or dry me as much!
But after using it after my shower all this week, I have to say there's almost no difference! The ultra-soft microfibre blend is really comfy on my skin, and the towel – which absorbs up to four times it's weight in water – dried me almost instantly! It's certainly not as thick or warm as a fluffy bath towel, and being so lightweight it's a little lacking in the cosiness department, but it's practical and hopefully I won't be needing a thick, warm towel on the beaches in Brazil! I've heard other travellers say that they have to pat-dry rather than rub themselves down (my preferred drying method!) with their travel towels, but I was pleased to find that the PackTowl works brilliantly however it's used.
Better yet, it works really well when drying my hair. I gently squeezed my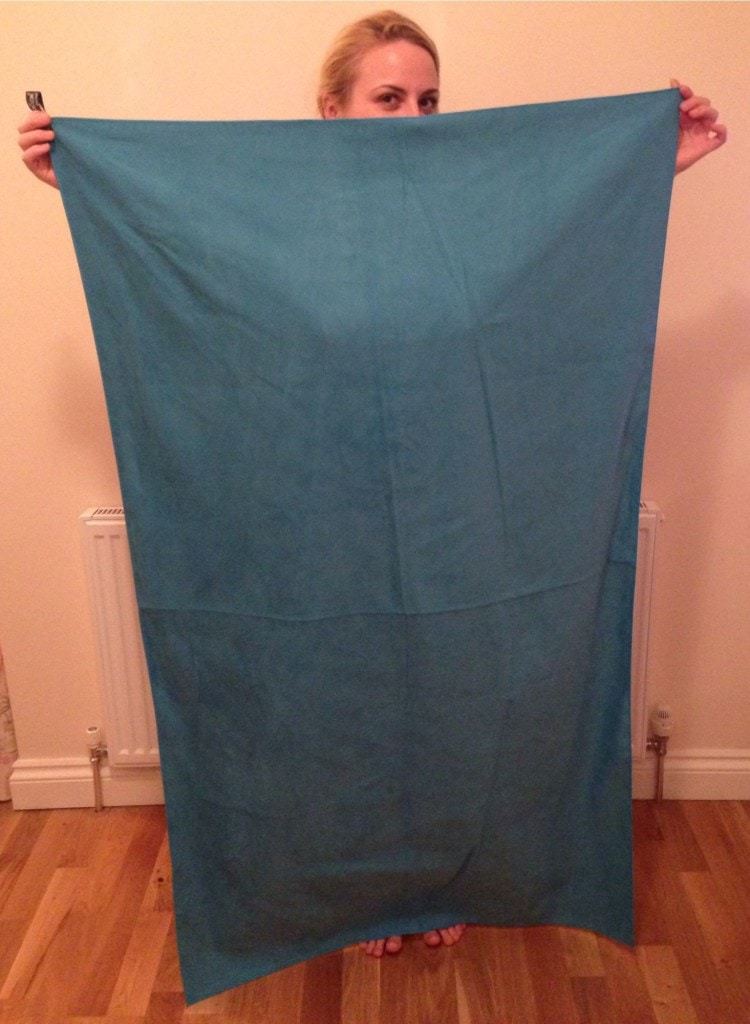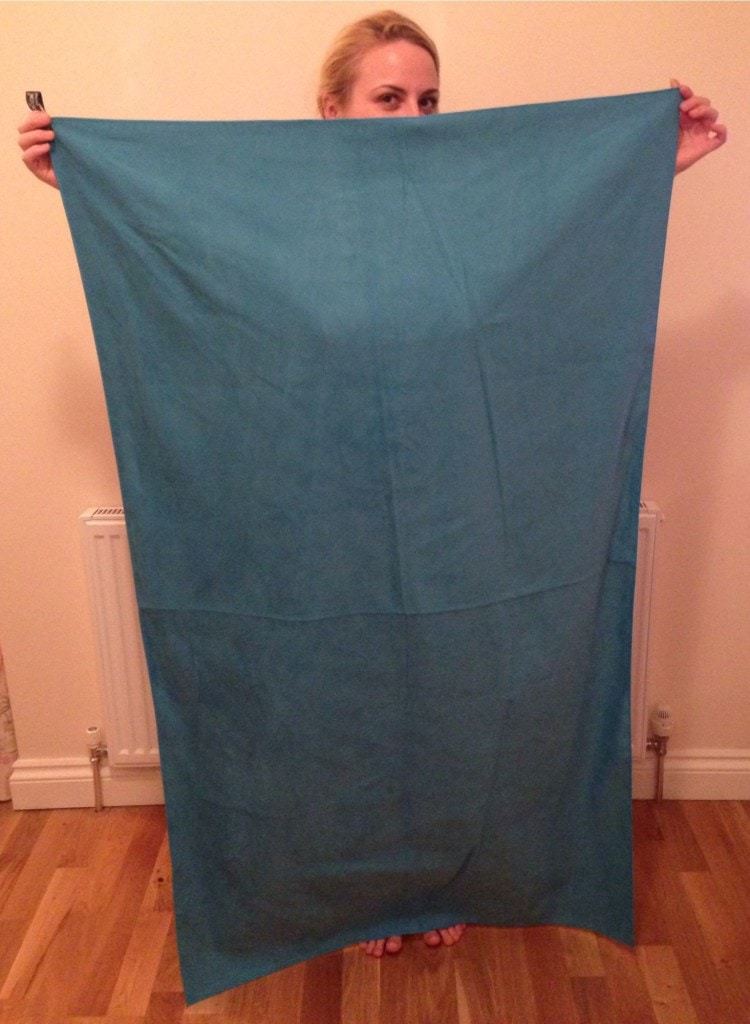 just-washed hair using the ultra-absorbent PackTowl and it dried it at least as thoroughly as my normal bath towel, if not  a tiny bit more.
The XXL Personal PackTowl is more than enough fabric to wrap around me after I've showered – plus it's big enough to double as a lightweight blanket, a beach towel for sunbathing, or even improvised bunk curtain in a hostel dorm. I love oversize towels as I like to feel properly wrapped up – I don't want to accidentally flash anyone between the bathroom and my dormitory! 
But PackTowlhas a great range of sizes and types, including the even lighter Ultralite and Nano options, so you're bound to find your perfect travel companion on their site! 
The towel is machine washable and can be dried on a line or by machine. There's a clever little snap loop which means you can easily hang the towel up to dry – which it does super quickly, meaning that you can fold it up and stick it back in your bag in time for that early morning bus journey without worrying about that nasty wet towel smell!
The Personal PackTowl is fantastic for me because:
It's super lightweight and folds up teeny-tiny, saving a ton of
space in my backpack! Even though its 59×35 inches, it folds to about 5×7 inches and is no more than half an inch thick, plus it weighs
just 10.5 ounces

. 

It's quick drying – it wrings out almost completely dry and when I hung it up after showering, my towel was dry before I left for work about 3o minutes later.
The Antimicrobial Treatment reduces odour retention, meaning that it's great for frequent use – perfect for my five month trip!
I'm not sure how my PackTowl compares to other brands, but I have to say I'm dead impressed with it! The amount of space and weight it'll save in my pack is a godsend, but it also works great and doesn't compromise on comfort or absorbency. I'd definitely recommend it as a long-term travel companion!
Pick up your own XXL PackTowl Personal Towel
from Amazon now, or browse the other size options on their Amazon store
.