Some posts on this site contain affiliate links. If you book or buy something through these links, I earn a small commission (at no extra cost to you). Take a look at my privacy policy for more information.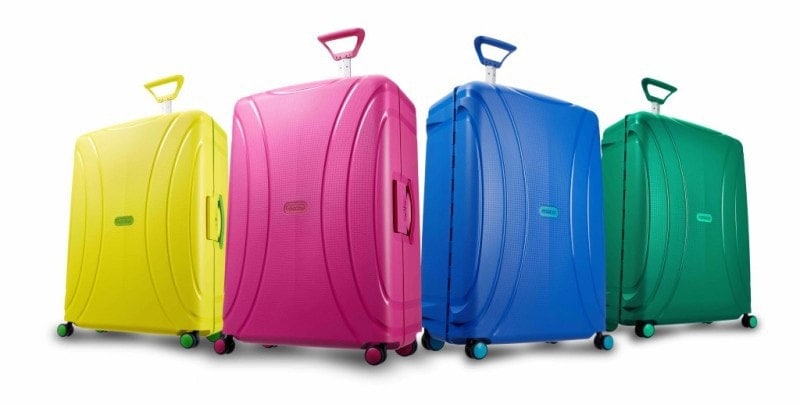 After my latest cheap suitcase – pinched on the sly from my dad's attic a few months ago – died a premature, hole-ridden death last month, I've been in the market for some "proper luggage". Something a little bigger, so I can't stretch it through zealous over-packing, something much more durable than a budget-priced soft case, and something easy to get around.
So when the folks at American Tourister asked me if I'd like to take their new Lock n Roll Spinner suitcase, I leapt at the chance! This brightly coloured bad boy has been manufactured in Europe by market-leaders Samsonite, but at £129* it has a much more affordable price tag.
CLICK HERE to check the latest prices in GBP – or click HERE if you're in the US.
After momentarily considering a sensible black, I opted for the uber bright Dynamic Pink case – finally putting an end to my struggles at baggage reclaim because it's officially impossible for me to not recognise this case! At first glance, the specs and features of the Lock n Roll suitcase look perfect; lightweight, super durable with a five-year warranty, with four 360° spinning wheels for easy manoeuvring. So, I put it to the test last week to see just how good the case is…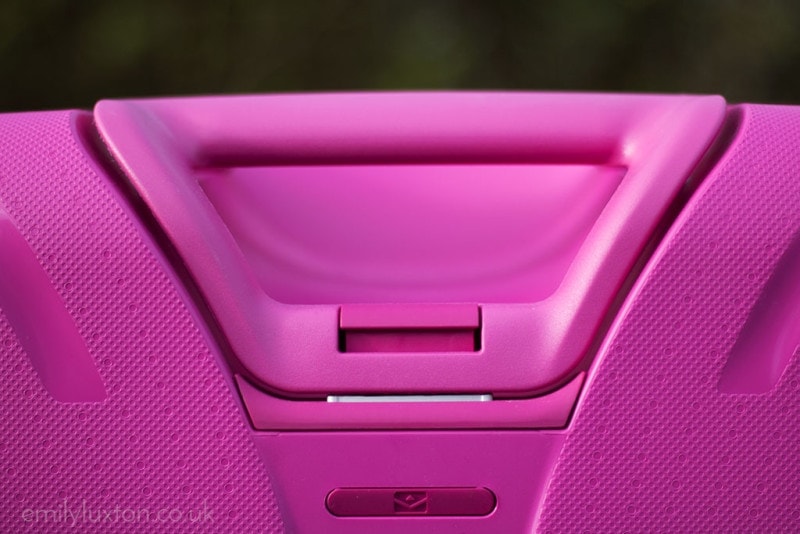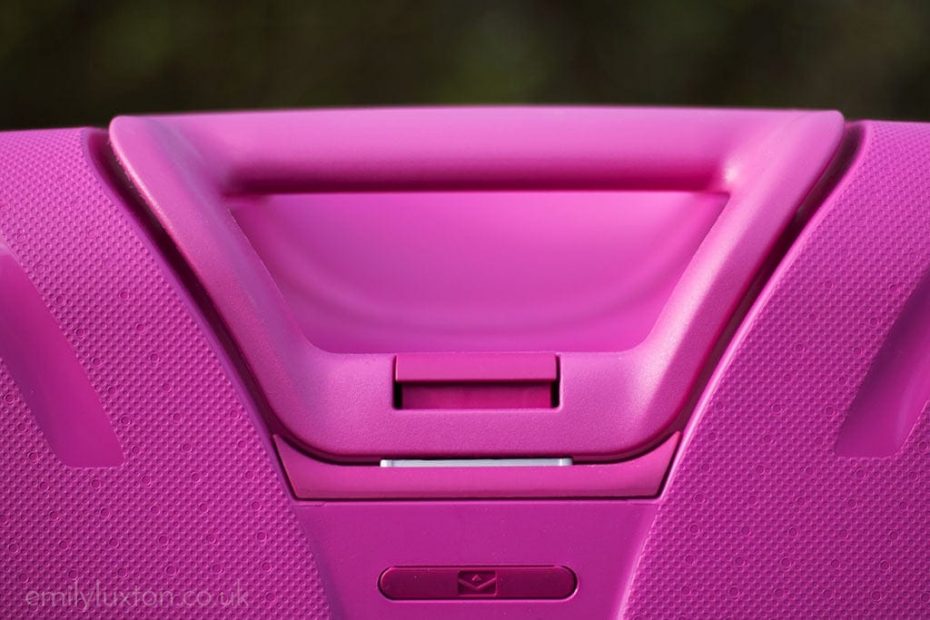 American Tourister gave me the Lock n Roll Spinner in exchange for this review. However, all words and opinions are my own.
Size and Weight
Perfect for one or two weeks!
At 69 x 50 x 29 cm, the medium size Lock n Roll suitcase is a fair bit bigger than my previous "medium" case. In fact, this is closer to what I'd call a large – although perhaps I've just become a ridiculously minimalist packer over the years! But, it doesn't feel too big. The case comes up to just below my bum (I'm 5'4″ or 1.64m), and the nice sleek design means it doesn't feel bulky.
How much will the Lock n Roll suitcase fit inside? With an 83L capacity, the answer is a lot! On their site, American Tourister describes this size as "ideal for a week". They don't specify how many people that's for, but I'd say that two people could easily fit a week's worth of stuff – or more – into this case. For me, there's enough room for a couple of weeks, including all my travel blogger gear.
How much does the Lock n Roll suitcase weigh? American Tourister's specs put the weight at 4.20 kg (9.26 lbs), but I'd say it's possibly lighter than this. It certainly feels it; when empty it's very easy to lift and extremely light to pull alongside me. Considering that this is a tough, hard suitcase (and a big one at that), I'm very impressed with how light this thing is!
FYI – there's also a cabin baggage size (55 x 40 x 25 cm) and a large size (75 x 52 x 31 cm – perfect for families) available in the Lock n Roll range.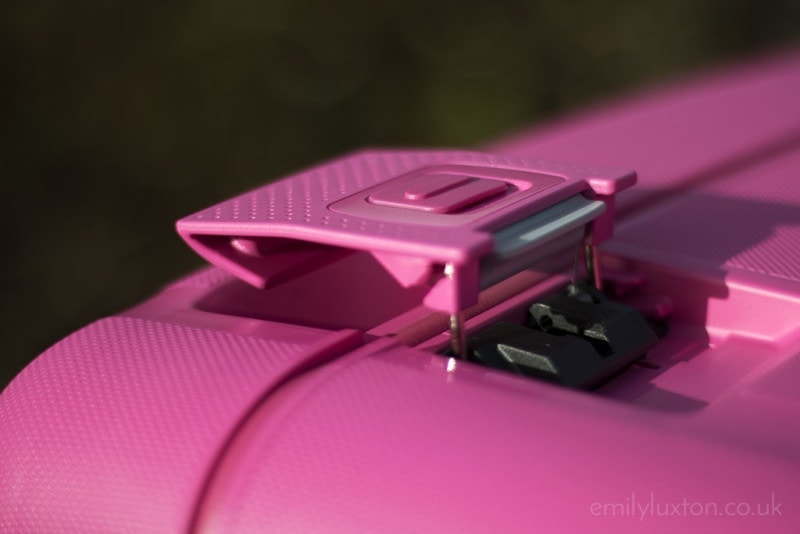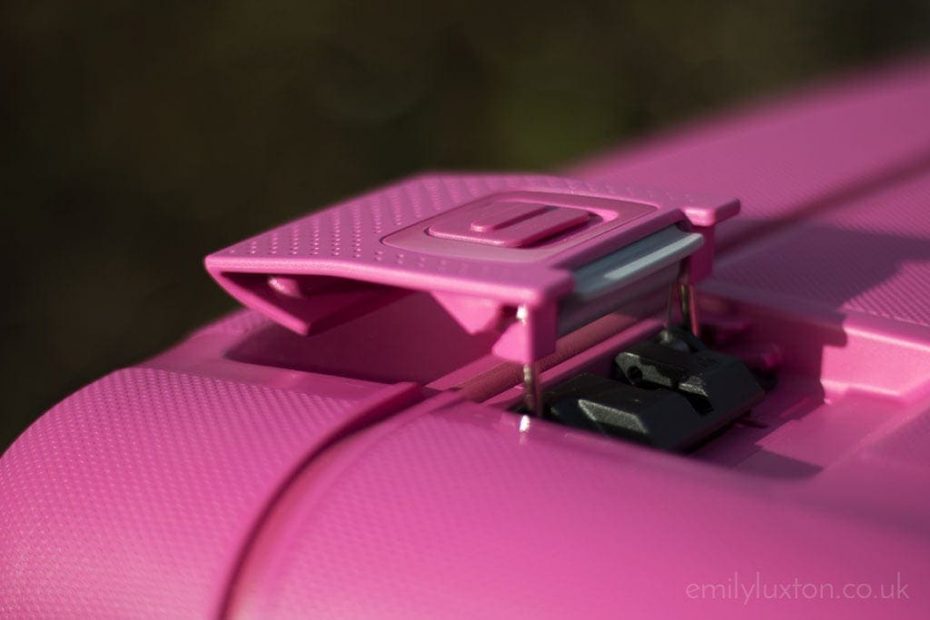 Functionality
Made in Europe from 100% Polypropylene, the Lock n Roll is supposedly a super strong and damage resistant case. But, it feels so lightweight that this is hard to believe – it's almost like a toy suitcase. So, I put it to the test. Just in case the rigorous tests from American Tourister's quality control team weren't enough. I've put it through all the normal stuff a case might go through, and accidentally bashed it into a few walls, and it's held up fine. It's even survived me sitting on it – so I guess I have to concede that the lightweight material is indeed as strong as American Tourister say it is. Hence the five year warranty!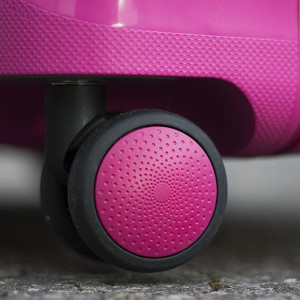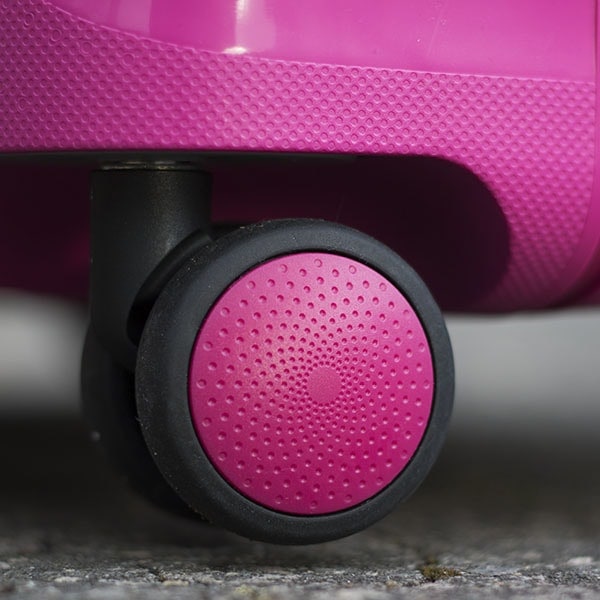 How easy is the Lock n Roll suitcase to manoeuvre? I can't believe I put up with a two wheeled suitcase for so long! The four spinner wheels on the Lock 'n' Roll make such a difference. It glides smoothly alongside me, and spins effortlessly on any surface. You could choreograph a dance with this thing! Plus, the rear wheels are slightly larger which allows for smoother rolling and means that you can easily return to the olden days of dragging your case behind you if you so desire. One thing I don't like is that the wheels make a bit of a racket when they're moving over pavement, but indoors and on smooth surfaces, they're smooth and very quiet.
What is it like to pack? The clever design means that the full volume of the Lock n Roll suitcase can be used, with barely any space wasted on the handle arch. Both sides of the case have space for packing, and the top compartment – which is slightly shallower – has a fabric divider pad that zips all the way around, keeping this space completely separate from the other half. The bottom compartment has elastic cross ribbons to secure packed items, and the height can be adjusted, which means that these actually work, unlike the ones in most cases I've tried!
Packing the Lock n Roll is really easy – but I recommend using packing cubes (read my review here) to keep everything together.  I've used the bottom compartment for large items and clothing, pinning them down with the cross-ribbons to stop everything rattling around inside the fairly big space. The zipped top compartment is perfect for loose smaller items, like my phone charger, makeup bag, and plug adaptor.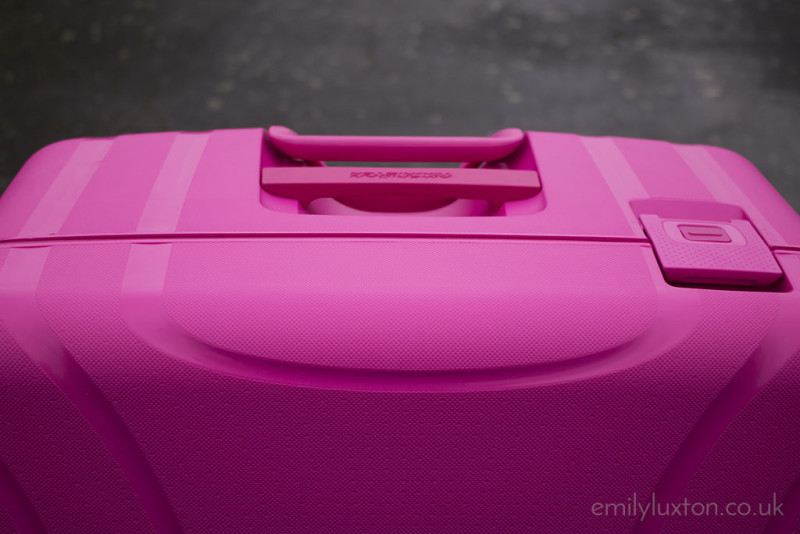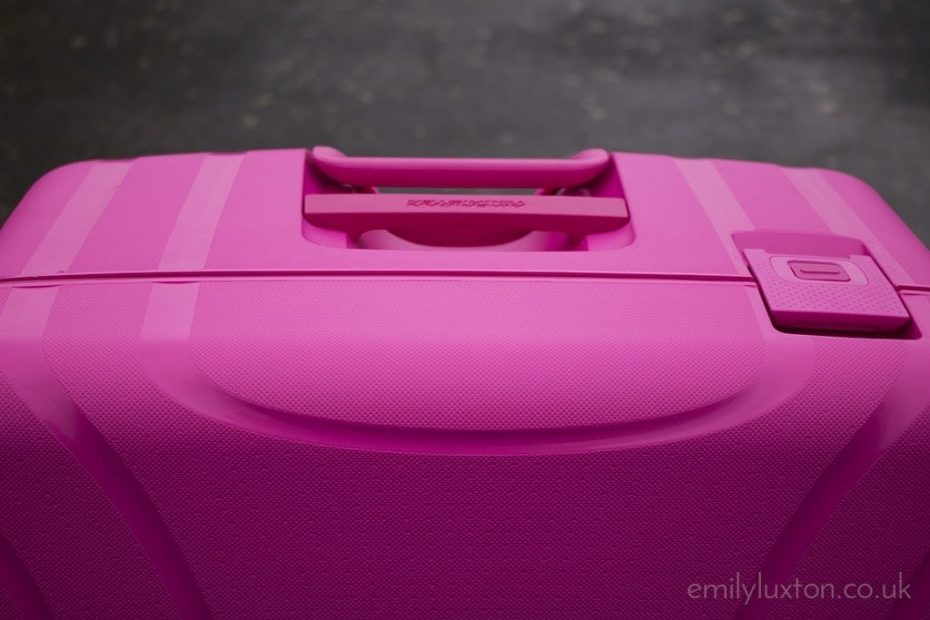 Lock n Roll Suitcase Features
Just a quick run-through of the other features mentioned on the product description:
Top and side carry handle. They don't stick out from the case which means the whole thing is nice and neat.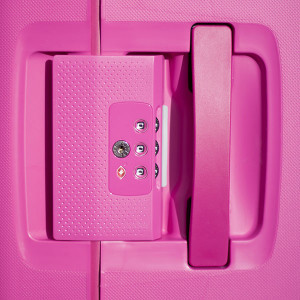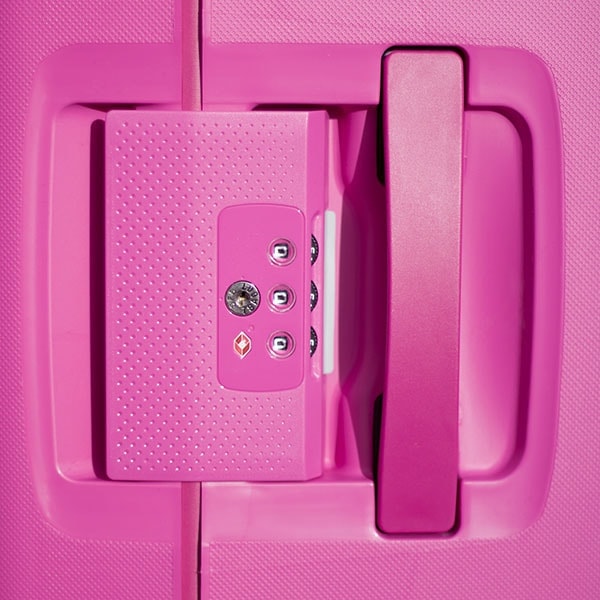 Wheel Handle. Slides out easily and comes with ID tag stickers which can be placed on the side. Whilst stowed it stays flush to the case, again keeping things neat. It's a tiny bit fiddly to slide back in though, as you have to press the button whilst pushing down on the handle.
Three-Point Locking System. Instead of a zip, there are clip fasteners on the top, bottom and side of the case. They unclip easily and can be locked into place. The downside here is that it'd be a bit more fiddly to open and shut the case than a zip might be, but it's a small price to pay for security I suppose! The large central clip also has an integrated TSA combination lock which means that you can securely lock your case whilst meeting security standards.
Final Thoughts
I love how easy it is to move around, and while the inside of the Lock n Roll looks quite bare and flimsy, this is an easy compromise in exchange for such a lightweight suitcase.
CLICK HERE to check the latest prices in GBP – or click HERE if you're in the US.