Some posts on this site contain affiliate links. If you book or buy something through these links, I earn a small commission (at no extra cost to you). Take a look at my privacy policy for more information.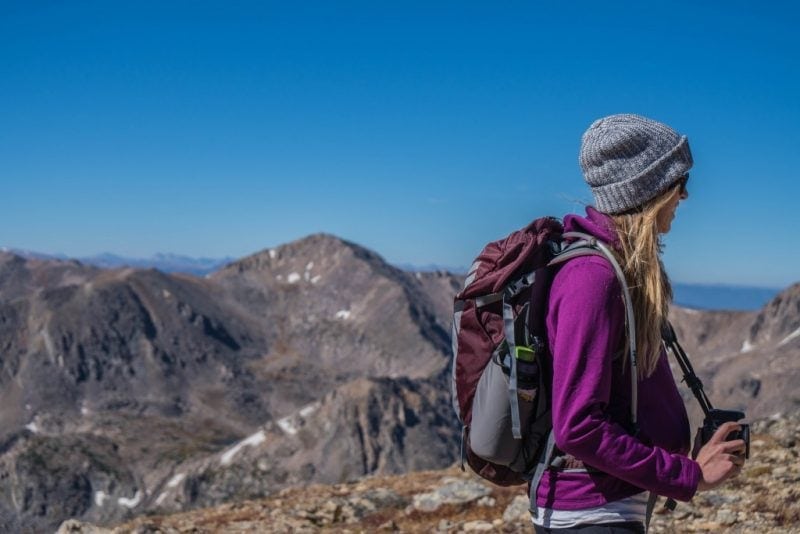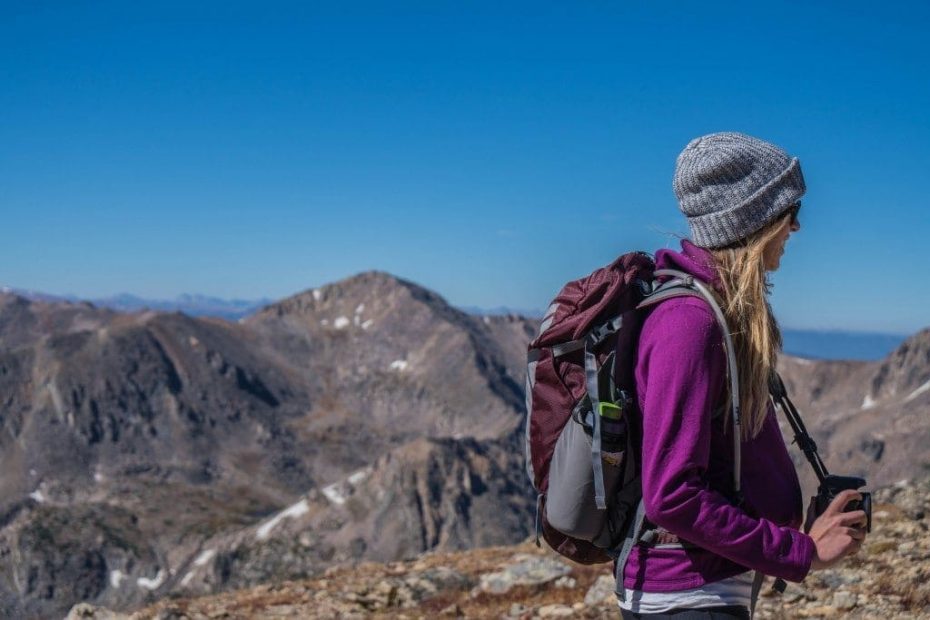 In this honest Mountain Warehouse backpack review, I'm sharing my love for my trusty Traveller 60+20-litre Rucksack.
This was my pack of choice for many years, and is still going strong despite being several years old. I genuinely think the Traveller 60+20-litre Rucksack is the perfect backpack for first-time travellers! 
Choosing the right backpack for long term travel or a Round-the-World trip is a serious decision. Your backpack can be your best friend while you're away – or your worst enemy. An uncomfortable, heavy or poorly made one could genuinely ruin your trip!
Before I left for my first backpacking trip several years ago, I did a ton of research. I also asked lots of other travellers in order to find the best backpack for me. Several years and multiple trips later, it's still serving me brilliantly…
READ MORE: Best Backpacks for Female Travellers
Disclaimer – Mountain Warehouse sent me this bag free of charge in exchange for an honest review.
Mountain Warehouse Backpack Review
This post is all about the Mountain Warehouse Traveller 60 + 20 Litre Rucksack. The pack has been around for several years, and remains one of the store's most popular backpacks. Designed specifically with travellers in mind, rather than for use by hikers and campers, this pack is PERFECT for long term travel.
At around £60*, this is a really reasonably priced backpack and perfect for those whose budgets are tight.
Hopefully, this Mountain Warehouse backpack review will help you decide if the Traveller Rucksack is right for you…
*Check the latest prices HERE!
What Size Backpack do I Need?
Deciding on the right size was the hardest part of selecting my backpack. Lots of travellers I know travel light, with a carry-on sized backpack at 35L or less. It sounds fantastic in theory, but in practice, travelling with only hand luggage just doesn't work for me.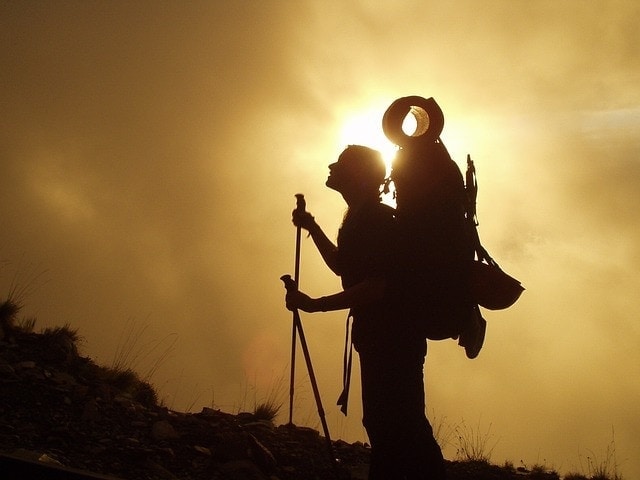 The best travel backpack size is around 50 to 60L. This should be large enough to carry everything you need, but not so big that it'll make life impossible for you on the road! I settled on 60L, which has suited me fine over the years. It's not carry-on sized, but it's also not so big that I turn into a turtle. And I can fit everything I need for any trip length in a 60L backpack.
Mountain Warehouse Traveller 60 + 20 Litre Rucksack
The aptly named Mountain Warehouse Traveller 60 + 20 Litre Rucksack
instantly stood out to me. I've been using this rucksack for years now, and it really is the perfect backpack for me!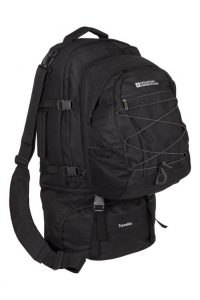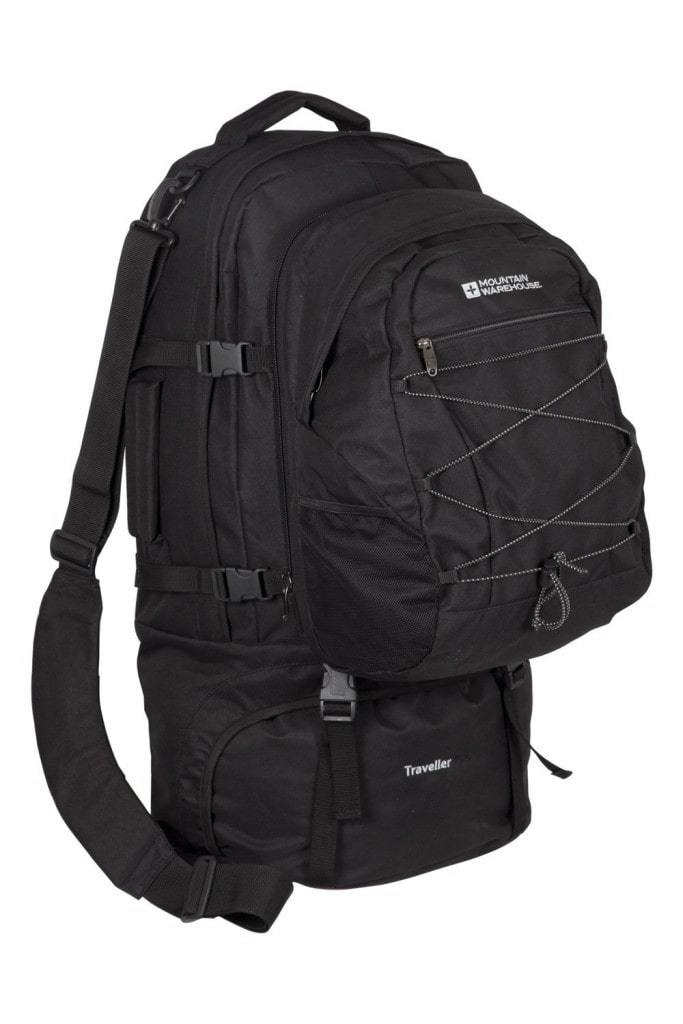 Capacity and Size
The traveller is a 60+20-litre rucksack. That means that the main bag has a 60L capacity, but also comes with a detachable 20L day-pack. In total, you have the option of 80L storage space.
I rarely use both bags together, because a whole 80L of stuff on my back turns me into a snail! But it's nice to be able to attach them together when I'm checking the luggage in for a flight. The day-pack can also be clipped on to the straps so that it can be carried on the front if needed. "Double-turtling" is a great way to even out the load!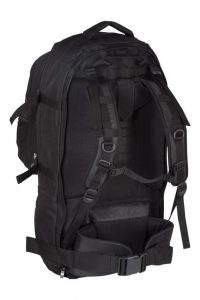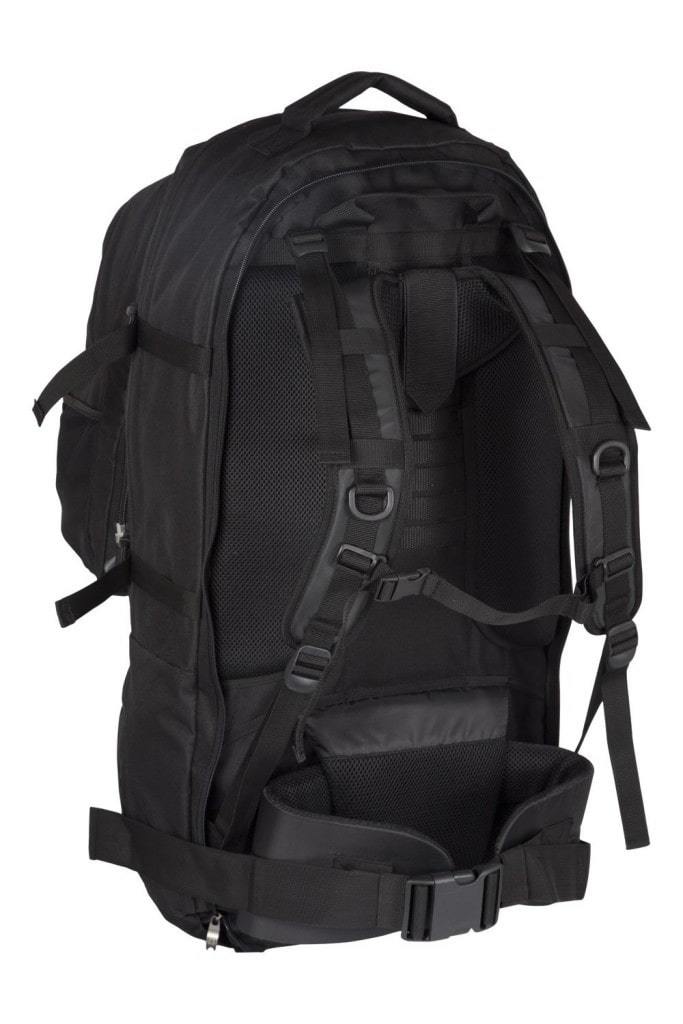 What I love about the Mountain Warehouse Traveller Rucksack is the comfy hip belt and the adjustable, padded shoulder straps, which mean that the bag fits me perfectly and the weight is spread across my whole body. It's a surprisingly comfy backpack – as long as you're sensible about weight distribution and don't fill it with more than you're capable of carrying (something I learnt the hard way).
Unzips all the Way Round!
But here's what makes the Mountain Warehouse Traveller 60 + 20 Litre Rucksack the perfect backpack for long travel. It unzips all the way around, instead of opening just at the top.
Sounds like a small detail, but it's one that makes a huge difference. Remember that sinking feeling when you realise that what you need is right at the bottom of your backpack? Not any more! A bag that opens all the way around, suitcase-style, is a backpacker's best friend and genuinely makes life so much easier on the road.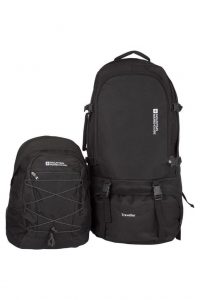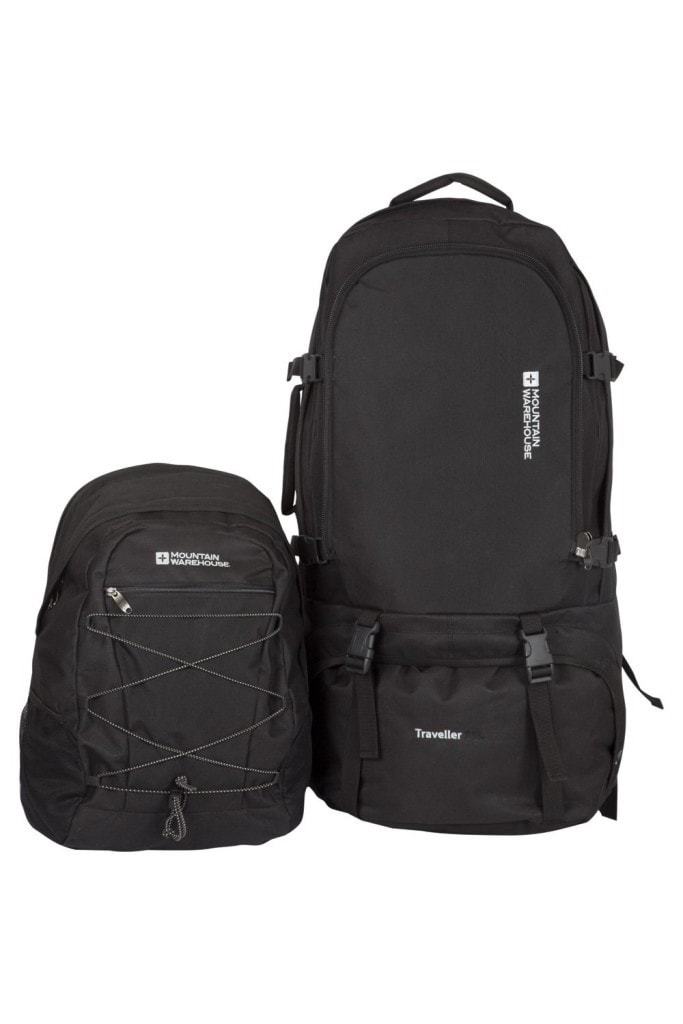 Other Awesome Features
Another great feature is the free rain-cover, tucked away into one of the many pockets the Mountain Warehouse Traveller Rucksack has to offer.
Shockingly enough, rain isn't a phenomenon exclusive to England, and wherever you travel on your RTW trip you're bound to encounter a downpour at least once. The rain-cover has come in handy time and again, not just when it rains but also as a handy protector for the outside of my backpack when it's in the hold of a bus on long journeys.
As I said, there are plenty of pockets, plus a separate zipped compartment at the bottom of the bag.
Better yet, there's a zippable cover that tucks all the straps neatly out of sight, for ease when checking the bag in for a flight. Airlines usually ask you to tighten and tuck in all the straps when you check in a bag – which can ruin your perfectly-set-up strap adjustments – so being able to zip them all away ready to fly is a fantastic option.
Mountain Warehouse Backpack Review – an Update
The Mountain Warehouse Traveller 60 + 20 Litre Rucksack is seriously durable. It's had to be, to keep up with me as I've lugged it all over the world.
My backpack has been dragged up steps and thrown onto buses, kicked under dorm beds and dropped, squashed, and taken out into all weathers from dry desert heat to jungle humidity. It's even served as a seat MANY times. After 7 years of use (as of 2021), I really am happy to recommend this fabulous backpack as the perfect choice for long-term travellers with a lot of stuff to carry.
I'm convinced that this is the best budget travel backpack out there – it certainly ticks all my boxes! The Mountain Warehouse Traveller Rucksack
has clearly been designed with backpackers and long-term travellers in mind. There are so many thoughtful additions that make this a lot more suited to RTW trips and travels abroad than backpacks which are initially aimed at hikers and campers.
I hope this Mountain Warehouse backpack review helped! If you have any questions about the Traveller 60 + 20 Litre Rucksack