Some posts on this site contain affiliate links. If you book or buy something through these links, I earn a small commission (at no extra cost to you). Take a look at my privacy policy for more information.
This post is all about my Inca Jungle Trek to Machu Picchu. This is the easier route when compared with the better-known Inca Trail, and it involves a lot more stopovers and fun activities. Essentially it's the fun version of the Inca Trail!
You can find out more in my post about what to Expect from the Inca Jungle Trek. It includes a very handy packing list, which is useful as things like the right footwear and jungle clothes are important for this trip! 
Inca Jungle Trek: Day One
Day one of our trek started bright and early with a 7 am pick up at our hostel. We'd been up since about 5:45 am, so we were pretty tired, but once in the bus we started chatting to the other members of our group and perked up pretty quickly. Our group was relatively small, just six of us, but on the first day we were combined with the group doing the three day option of the jungle trek so there were a lot of us. Of the four other members of the four day group, we had a slightly mixed bag: Cynthia and Denise, two lovely Dutch girls travelling together, were awesome; Michelle and Sassy, two spoilt little rich English girls travelling together, were not. Fortunately, the two Dutch girls more than made up for 'the brats'.
We drove for about three hours, stopping for breakfast just outside of Ollantaytambo, and eventually found ourselves winding up a curled mountain road alongside an ever-increasing drop. Soon, the drop, along with the cliffs, the road and almost everything else, had completely vanished from sight; we were driving though the 'Zona de Neblinas' as a wooden sign proudly declared: the cloud zone. Everything was grey. Outside the bus windows, almost nothing was visible, and we ploughed on blindly along the curving road through thick, damp mist. Inside the bus, everyone was silent, with the exception of occasional tense jokes and awkward laughter, and I'm pretty certain most of us were sending up quiet prayers for protection.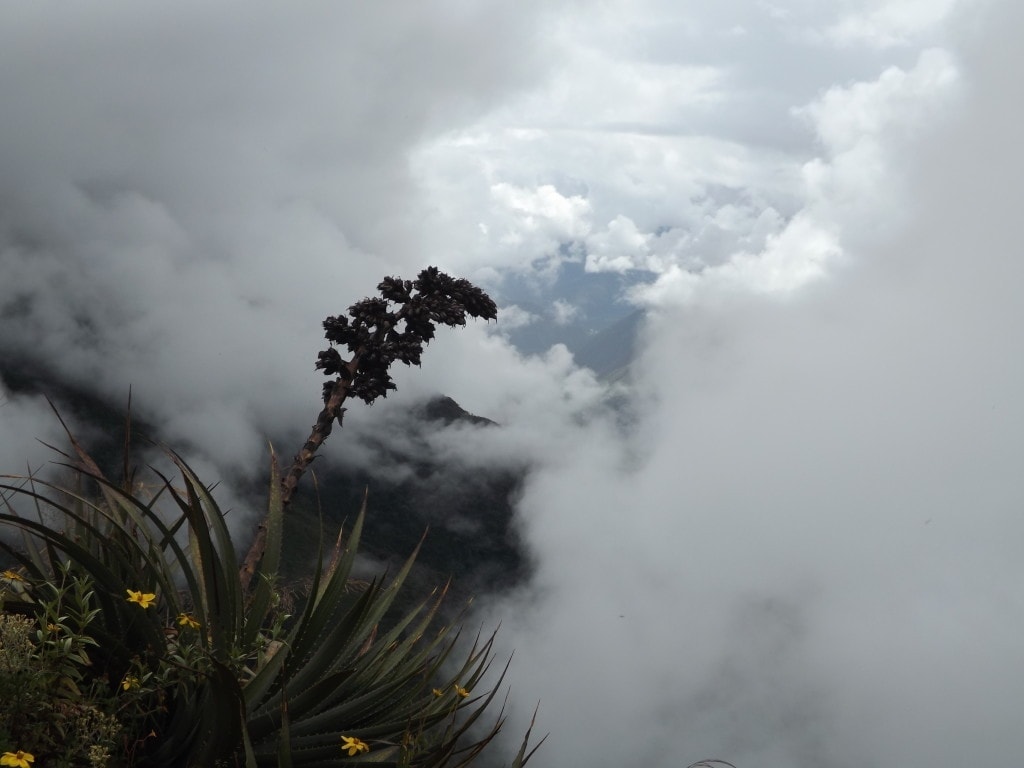 Mountain Biking near Cusco
After that slightly nerve-racking bus ride, the first stage of our adventure-packed jungle trek didn't seem so scary: mountain biking back down the other side of the mountain we'd just climbed. There was a long wait while everyone was fitted with safety equipment (including plastic-padded, Power Ranger style jackets which were irresistibly sexy) and bikes were adjusted, then our guides gave us a thorough and forceful safety briefing (stay on the right, ride single file, don't go too fast, etc.).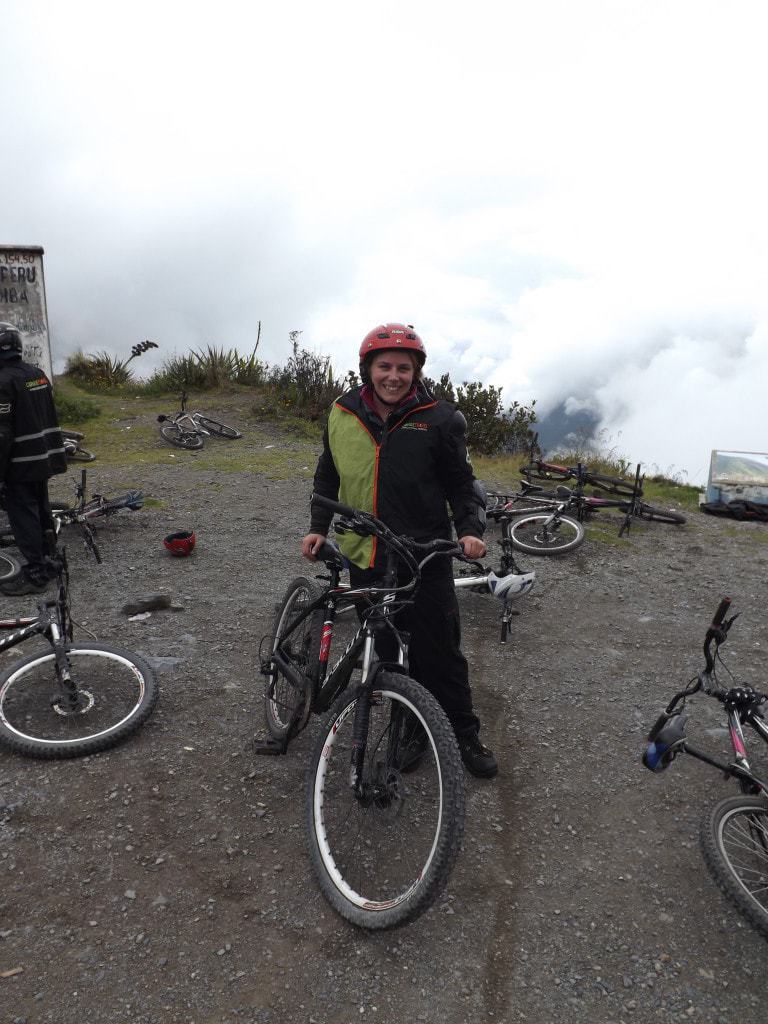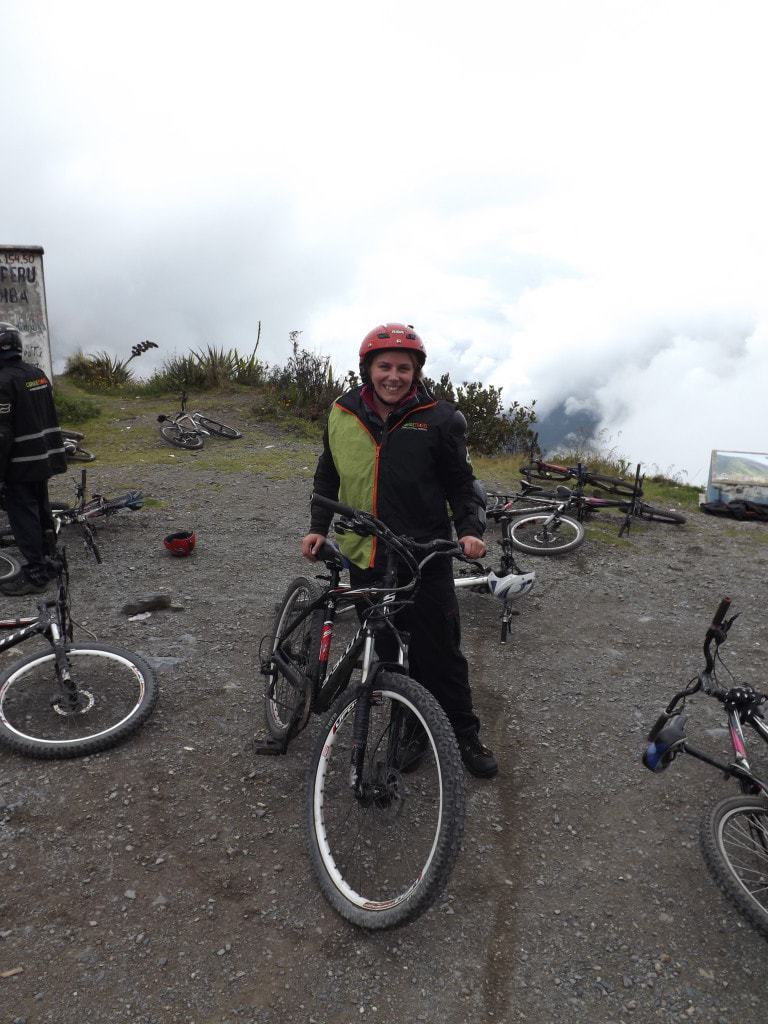 Finally, though, we were off, cycling through a thick, wet, grey mist that meant we could barely see the bike in front of us, let alone the horrifying drop on the far side of the road. The mist cleared pretty quickly as we descended, though, and before long we could see the long, dark grey snake of road, shining with damp, stretching out below us, and the dark, rocky hills on the far side of the valley.
The air was pretty cold – after all we'd started at 4,300m above sea level – and the mist got us wet quickly, but we were flying downhill on our bikes and I was reliving the sensation of being ten years old and cycling as fast as I could, and the experience was absolutely amazing.
We had a brief rest stop after about forty minutes or so, and immediately after it started raining. In my sports bra, two tops, fleece, raincoat and armoured cycling jacket, I was about as prepared for the rain and cold as it was possible to be, but that didn't stop my trousers and hiking boots getting soaked though as we cycled through the many streams that cut across the road.
We were wet, but not too uncomfortable, and I was having the time of my life. When I was younger, I loved cycling, but I've only been on a bike once in the last eight years, so it was a sudden thrill to be back on one and speeding downhill as fast as I could comfortably go. Sure, there were plenty of people going much faster than me – Sam included – but I was going as fast as I wanted to and loving it.
The further we descended, the more the mist and rain cleared, until eventually we were cycling in bright sunshine, with the water visibly evaporating from the tarmac. After the last rest stop, my bike got a flat tyre and skidded out from underneath me – luckily I managed not to fall off – so I had to wait for the van to catch me up to swap bikes, meaning that I was right behind the group in a very sorry last place. Sam sped off ahead of me, and I trundled along in front of the bus, feeling pretty sorry for myself, until suddenly I caught sight of the slowest member of the group not far ahead of me.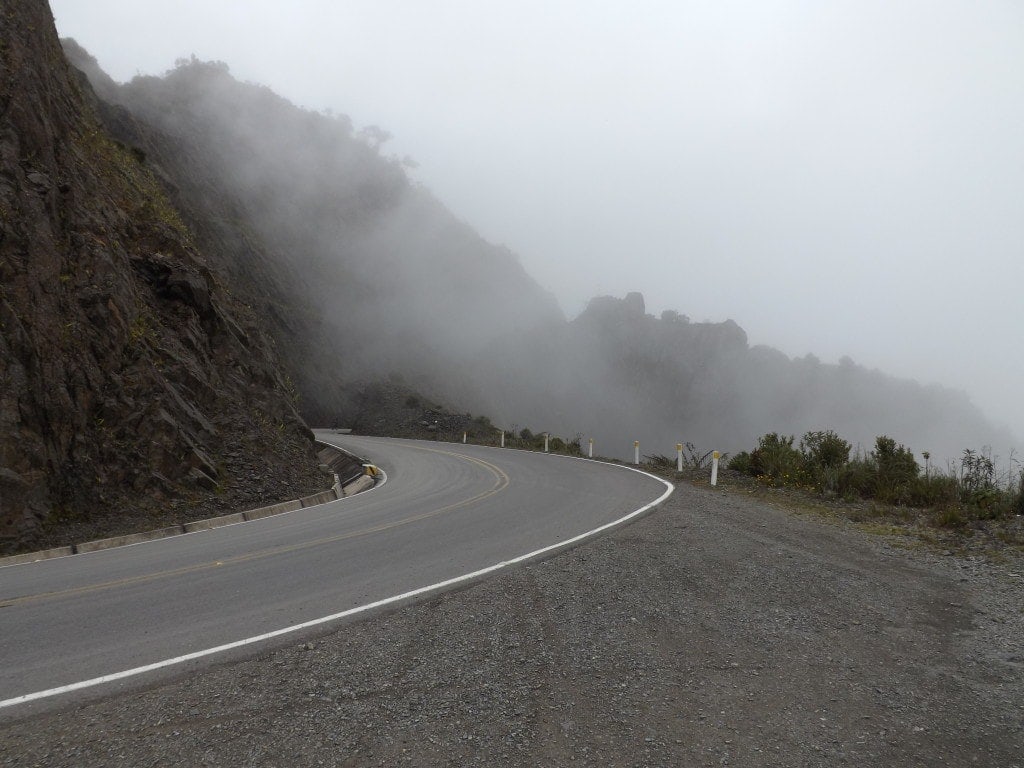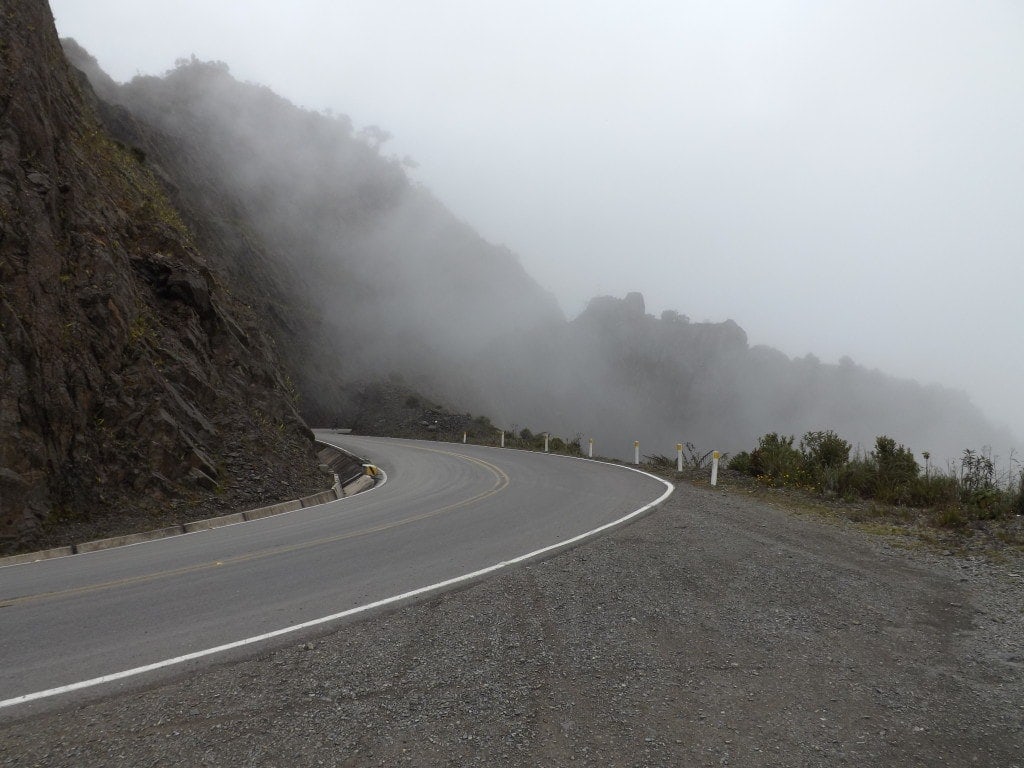 The road was more or less flat, now, rather than an easy downhill, so I had to peddle as hard as I could to catch up with her, inwardly chanting to myself 'don't be last, don't be last', so when I caught her up and whizzed past I almost whooped out loud from elation. After her, I also passed Michelle and Sassy, although I had to peddle so hard I was almost wheezing, meaning that even with my flat tyre I still managed to finish a long way from last place.
White Water Rafting
After the bike ride, there was time to change into dry clothes and have a big, three course lunch (the first of many similar meals involving quinoa soup followed by rice with meat and veg), before we were whisked off to our second activity of the day: white water rafting. There were only three other people, all from the three day group, joining us as this was an optional extra (with an additional fee), but it was so much fun that it was well worth the extra $30 USD or so we paid for it.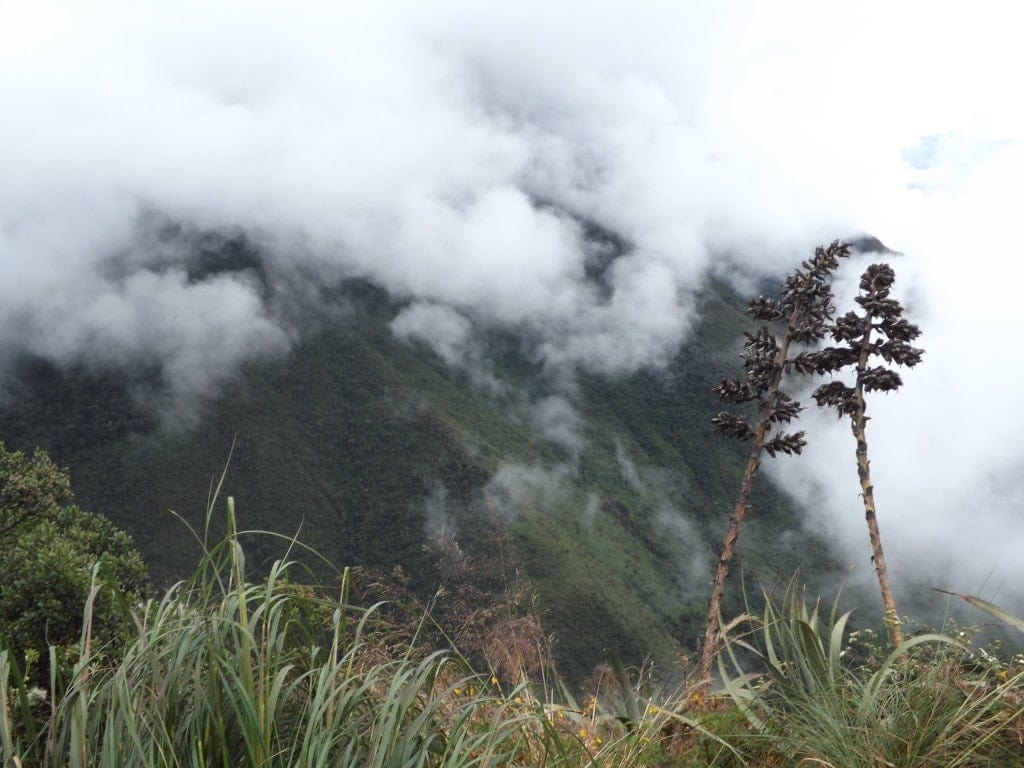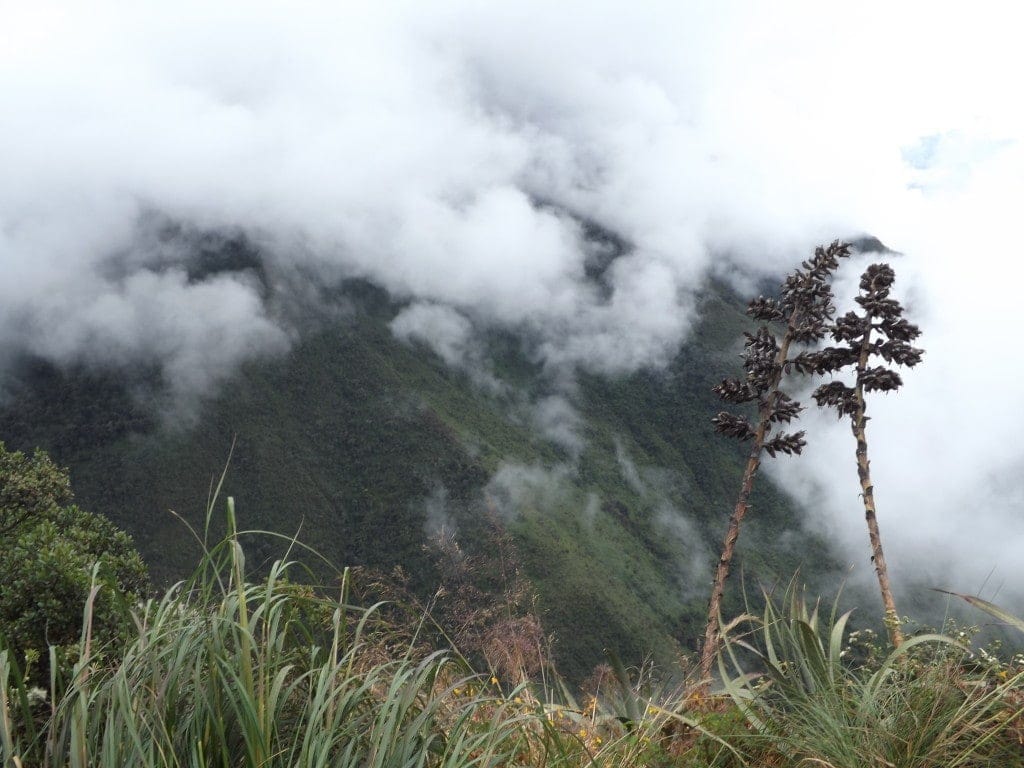 The rafting is run through a separate company, who drove us down to the river in Santa Maria, gave us a briefing (which was much longer in Spanish than the English translation which pretty much finished with, "just copy the others") and fitted us with some very attractive plastic yellow tops, life vests and helmets.
The white water rafting was amazing. We plunged into the fast, choppy water of the river and instantly started leaping over huge waves, with all of us struggling to follow the rapid, barked instructions from our guide and ploughing through the water with our oars. Every time we stopped for a momentary break, I turned to Sam with a huge, goofy grin from under my plastic helmet and shouted "this is awesome!".
I've not really done anything so fast, so adventurous or so adrenaline fuelled for a long time, and the whole experience was incredible. Although it lasted about 45 minutes, it's hard to describe the rafting session in detail as most of it is quite similar; we were in a big, plastic raft, we were sweeping down a churning and rock filled river at a startling speed, and we were either crashing through or flying over huge white waves as we went.
At one point, the guide offered us the chance to 'body raft' by floating alongside the boat and holding onto the rope. Two people, not me or Sam, volunteered, but within about thirty seconds the girl on Sam's side had let go of the rope and gone under. Luckily, she was only under for a moment or two before she floated back up behind us, already in the safety position (lean back and poke your toes up), and the current carried her to the edge of the river, where she had to wait for the safety boat to pick her up.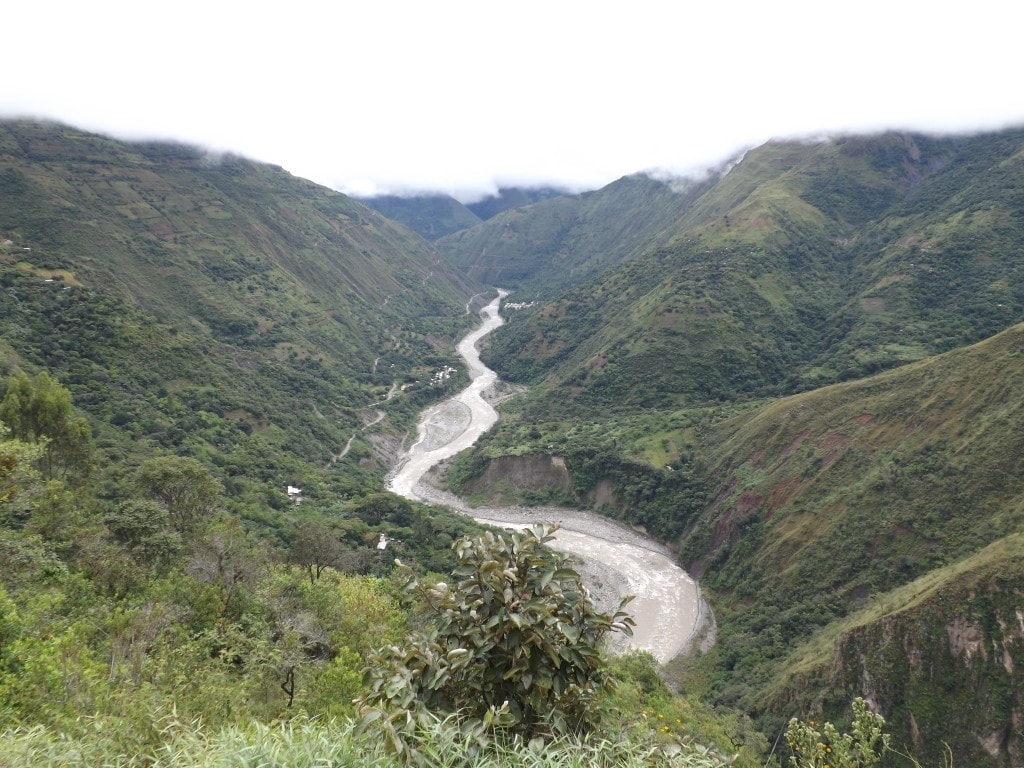 That small mishap aside, no one else fell out, and we made it down river accident-free. We finished on a total high, wishing that we could have spent longer on the rapids, and headed back to the rest of the group in a fantastic mood.
The Actual Jungle Trek
The last part of the first day was not my proudest moment, so I'll relay it in brief. After the rafting, we had a short hike of one hour up through the jungle outside Santa Maria to our lodge. It was night and very dark already by the time we set off, so we were walking through a hot, dark jungle surrounded by rustling trees and ominous noises. We were also walking very steeply uphill, I was tired and walking uphill at altitude is really, really difficult for me. Soon , I was making the noise of a pig, wheezing and panting uncontrollably, and had to fall behind the group out of embarrassment (and because I simply couldn't keep up). It wasn't a pretty sight, and I didn't deal with it well – in fact I acted like a total baby and pretty much cried my way to the jungle lodge, something I'm totally ashamed of now.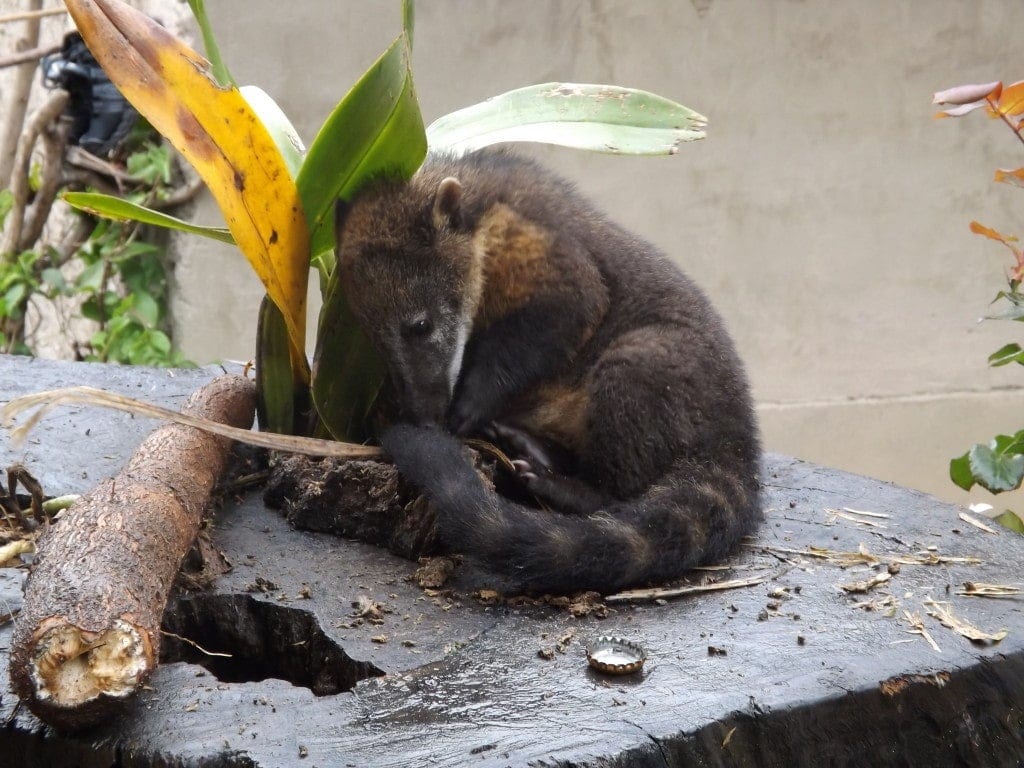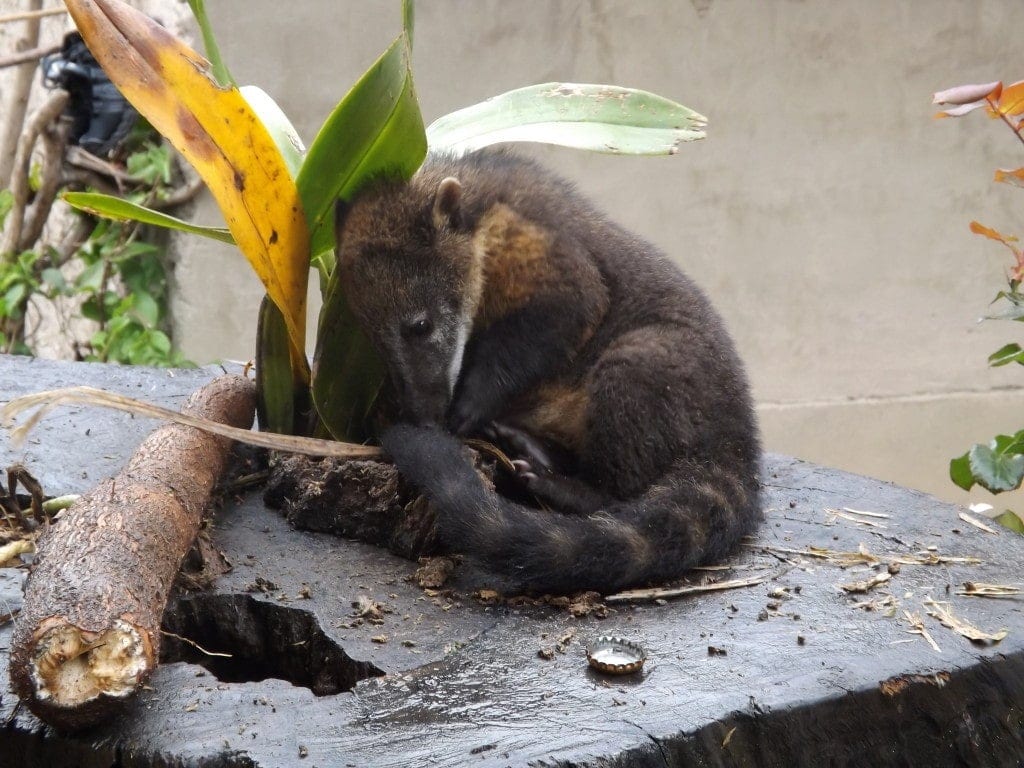 Still, we made it to the lodge, had another big meal almost identical to our lunch, showered quickly in icy cold water, and fell asleep at about 8:30pm, completely exhausted. The first day of the jungle trek had been a real challenge; taking on my fear of heights, my chronic unfitness, and the terrifying white waters of the Santa Maria river, but it had also been one of the best days of our trip so far.
Inca Jungle Trek: Day 2
We woke up on the second day of our Inca Jungle Trek to find ourselves surrounded by huge hills coated in lush, green jungle. We'd arrived at our jungle lodge, overlooking the valley behind Santa Maria, in darkness the previous night, so the view when I stepped outside our room the next morning was pretty staggering. With a deadline to keep, though, there wasn't much time for enjoying the scenery, as we had to pack, fuel ourselves up with a hearty breakfast of eggs, bread, and coffee, and get our faces painted Inca warrior style before heading out for our trek.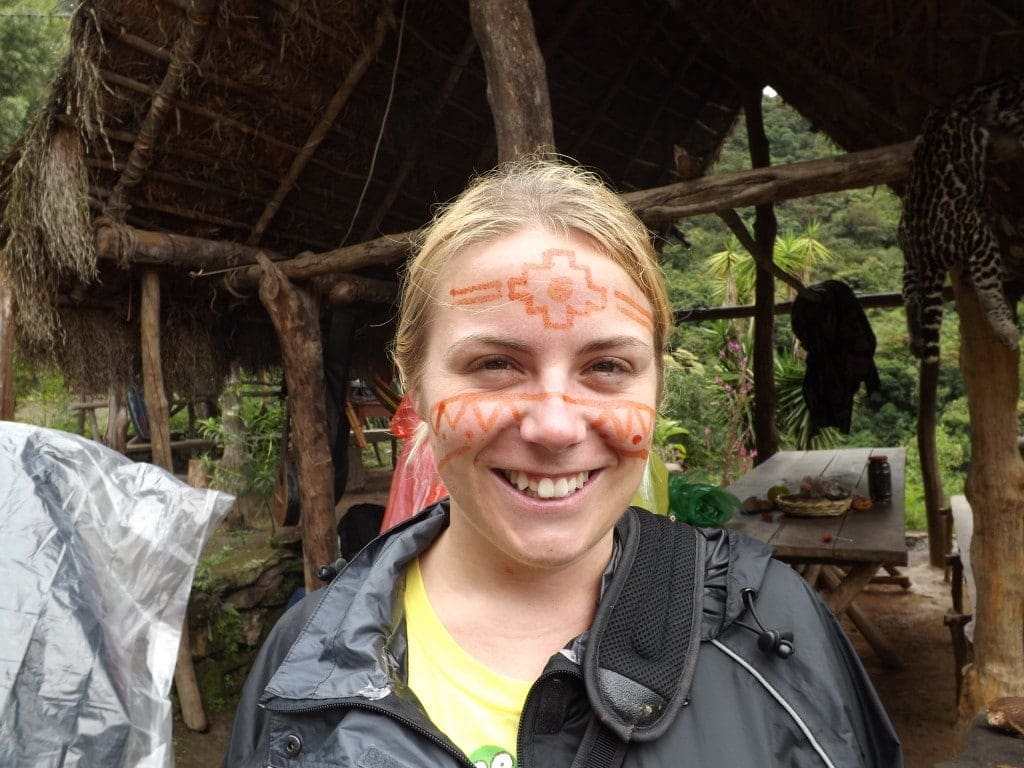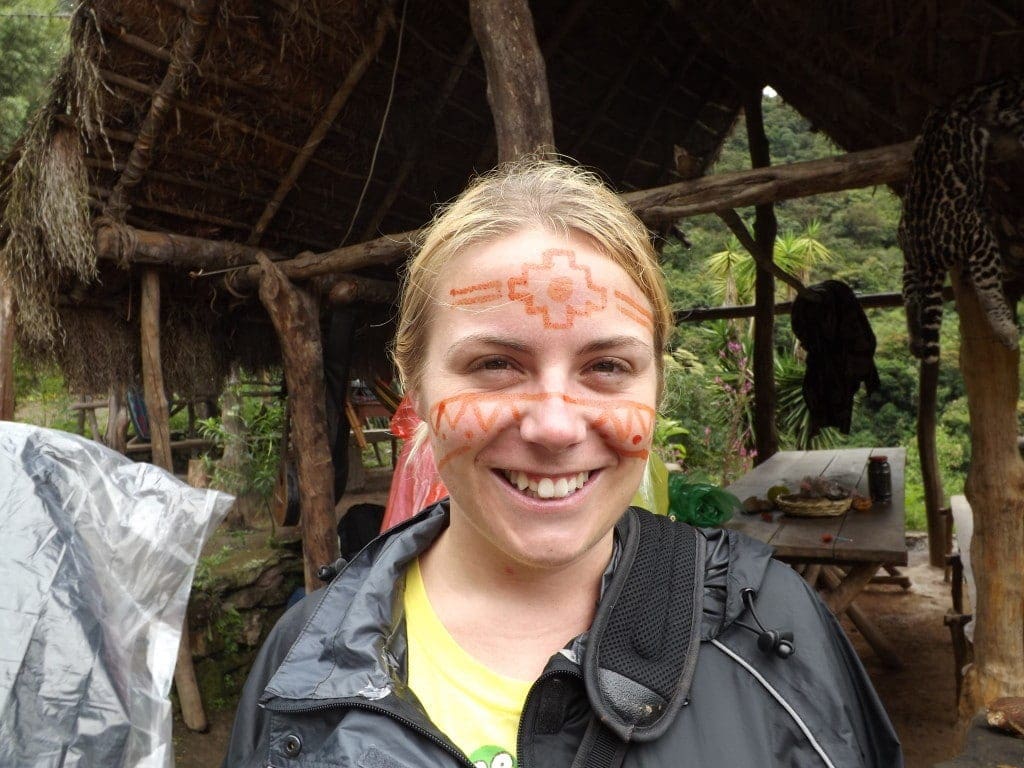 This started with another short uphill climb, but luckily we'd already hiked most of the way up the hill the night before, so there was only about fifteen minutes left. At the very top of the hill, the path met up with an old Inca trail, so the first part of our day was spent trekking along this narrow, uneven rock path. Our guide, Heberth, pointed out a small cave alongside the path which used to be used for sacrifices, and which is still full of coca leaves left for Pachamama by locals and superstitious travellers. The path teetered on the very edge of a sharp, horrifically high cliff that plunged down towards a skinny, silver river, and as we walked along the thin path I was pretty overwhelmed by fear. Having a fear of heights is so frustrating; the whole time I wanted to be enjoying the incredible views and having fun with Sam, and instead all I could do was concentrate on the path beneath me and worry about the huge drop to my left.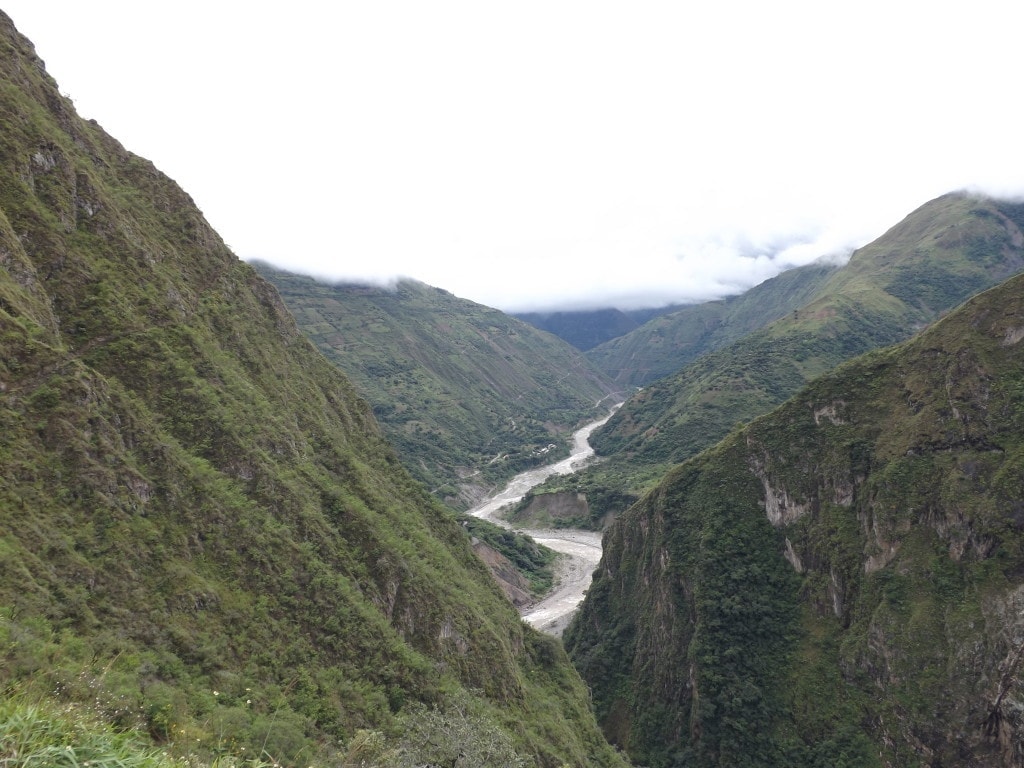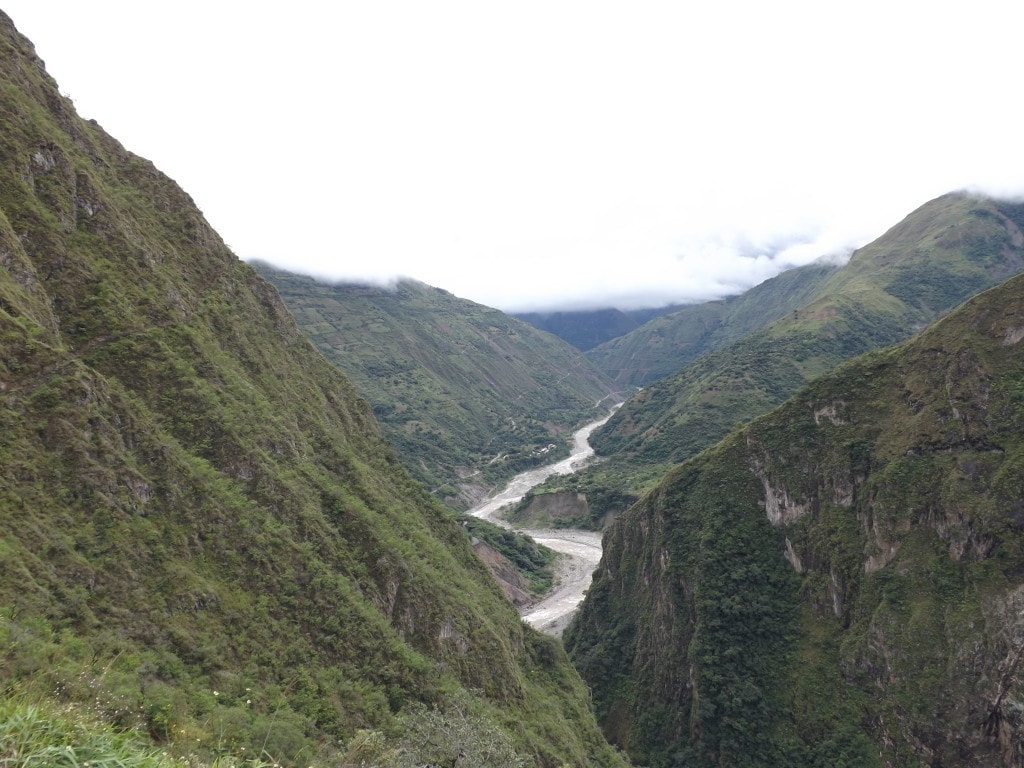 Fortunately, it wasn't too long before we'd made our way down into the valley, and were walking along through rich, green jungle. We passed – or walked through – a few farms, with thick forests of fruit trees, where Heberth pointed out avocados, banana plants, and many more I instantly forgot the name of. On one farm, we stopped to use the bathroom and buy more water, and the owner showed us into her kitchen, where about fifty or more guinea pigs were being kept. Females and babies were kept in a large hutch in the corner of the kitchen, while the males just ran about the stone tiled floor as they pleased; they can't be kept in with the others as they might eat the babies. In the Peruvian Andes, guinea pig is something of a delicacy, so this kitchen scene is typical of every farm in the area. Heberth said Andean families roast a guinea pig every time there is a celebration or special occasion, "sort of like a birthday cake".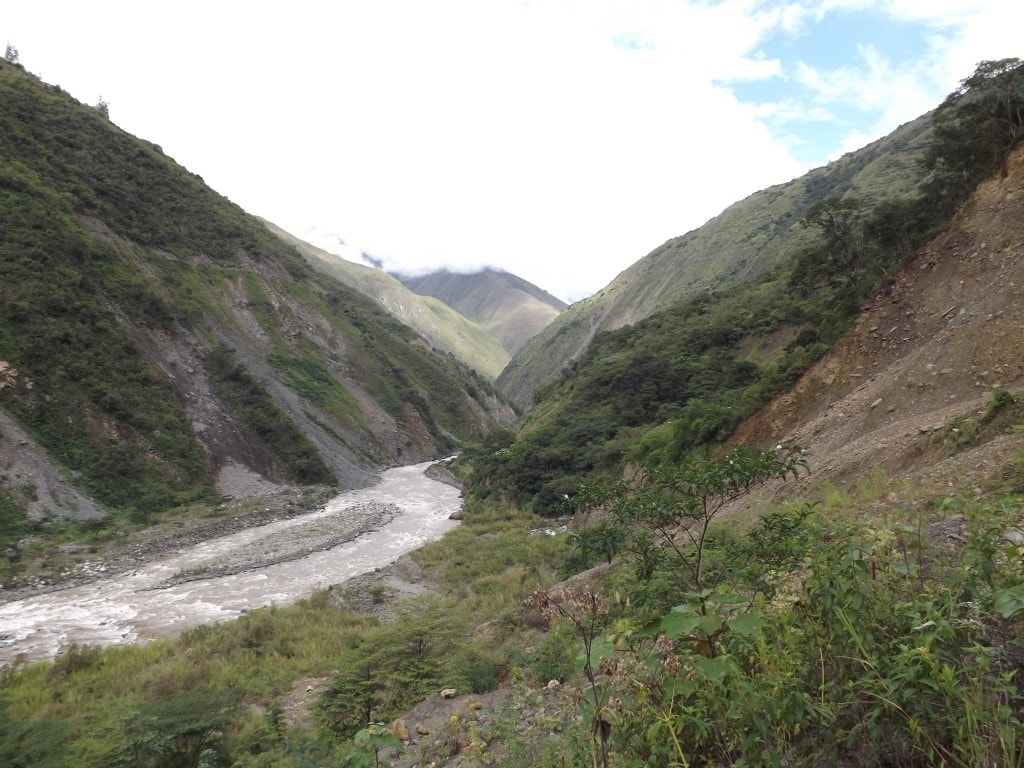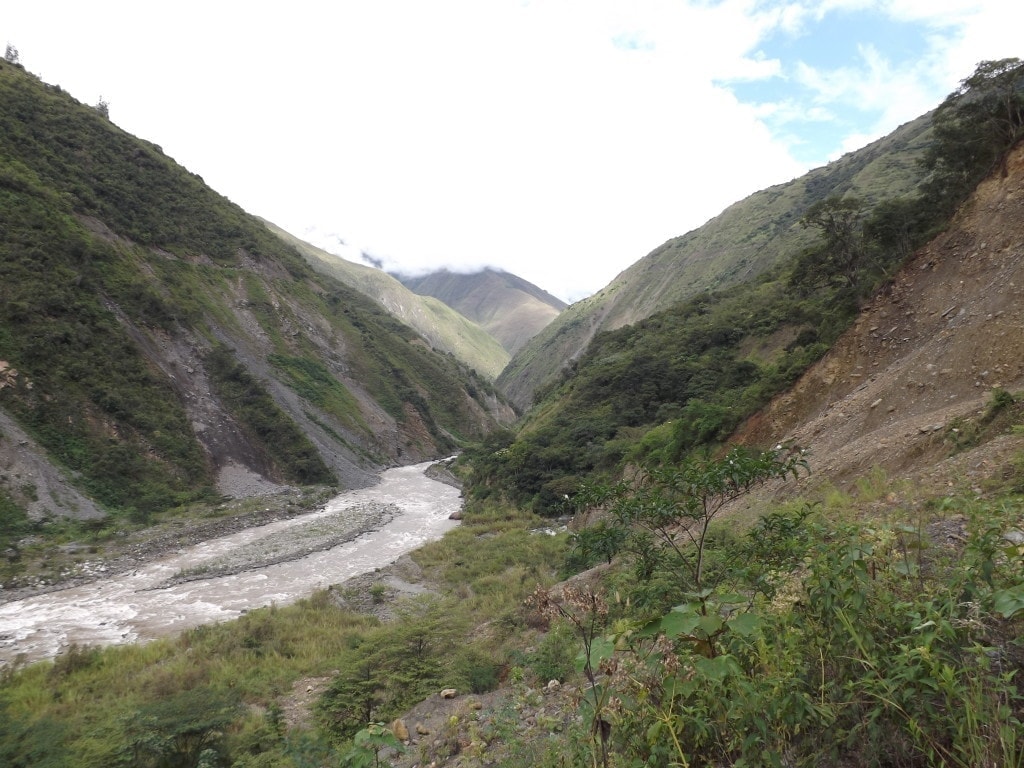 Once we were right down in the valley, and had put all thoughts of roast guniea pigs out of our minds, we stopped for lunch at a small restaurant near the river. Nachos with freshly made guacamole, followed by spaghetti bolognese, made a welcome break from the meat and rice we'd had for both meals the previous day, and once we were stuffed Heberth gave us an hour-long break to digest, sleep, and laze about in the sunshine as we pleased; so we spent the whole time playing with an adorable ginger kitten which lived in the restaurant with its mother.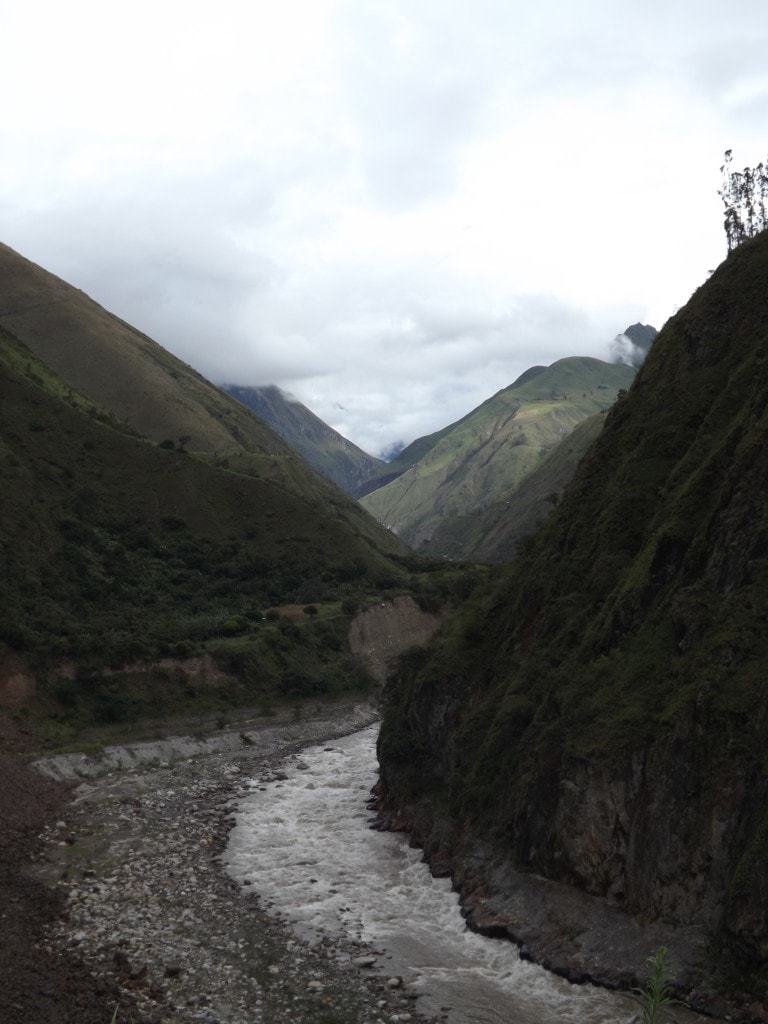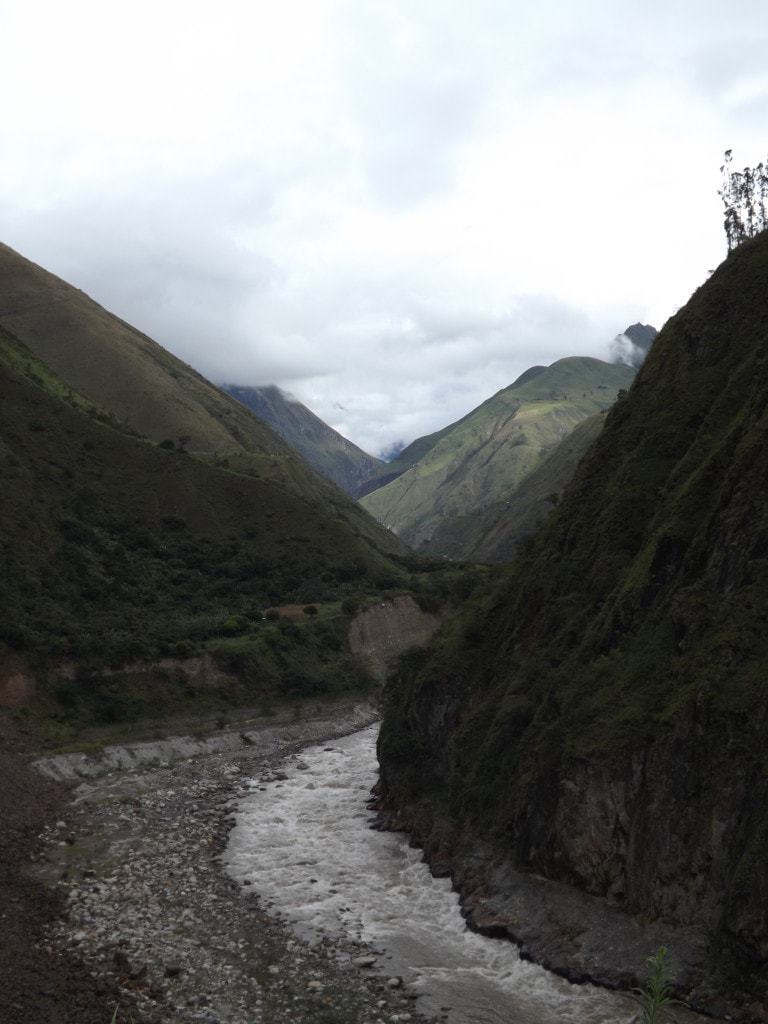 The rest of the hike more or less followed the river, crossing it at one point on a huge antique bridge. There was one more steep uphill session, this time only about fifteen minutes, and the rest of the walk was flat or downhill. Things got a little tricky on the other side of the river, where the paths bore traces of recent mud and rock slides and we had to negotiate our way over piles of loose rock, but the path here was much wider and thankfully, I wasn't too afraid.
The fear came around pretty quickly, though. Heberth had told us we would cross the river a second time on a cable car. This turned out to be slightly more basic than I was expecting; literally a wooden crate that looked just like the kind bananas come packaged in, suspended from a solid metal cable and pulled by hand across the river using a rope. The picture isn't fantastic, but that tiny wire looking thing at the top is the 'cable car'. Sam and I went last, with Heberth standing on the back of the crate, and my legs dangling over the white river surging over sharp rocks below. I was terrified, gripping the metal bars attached to the crate so tight my knuckles turned white, and visualising over and over the thin wooden bottom of the crate falling out beneath us.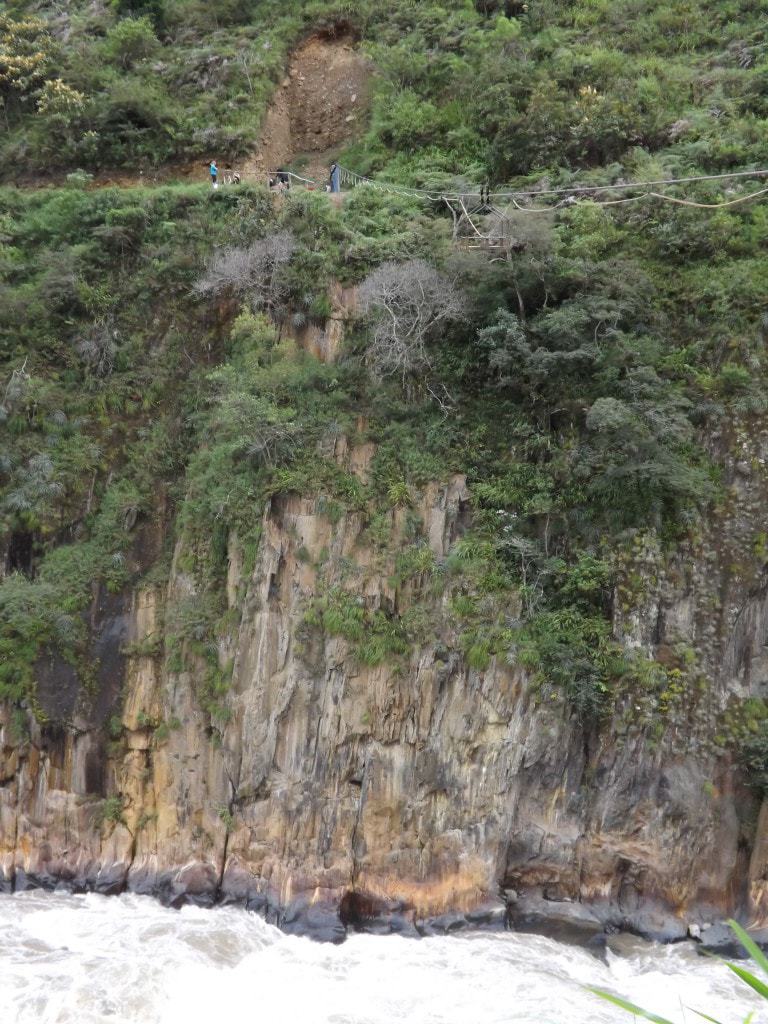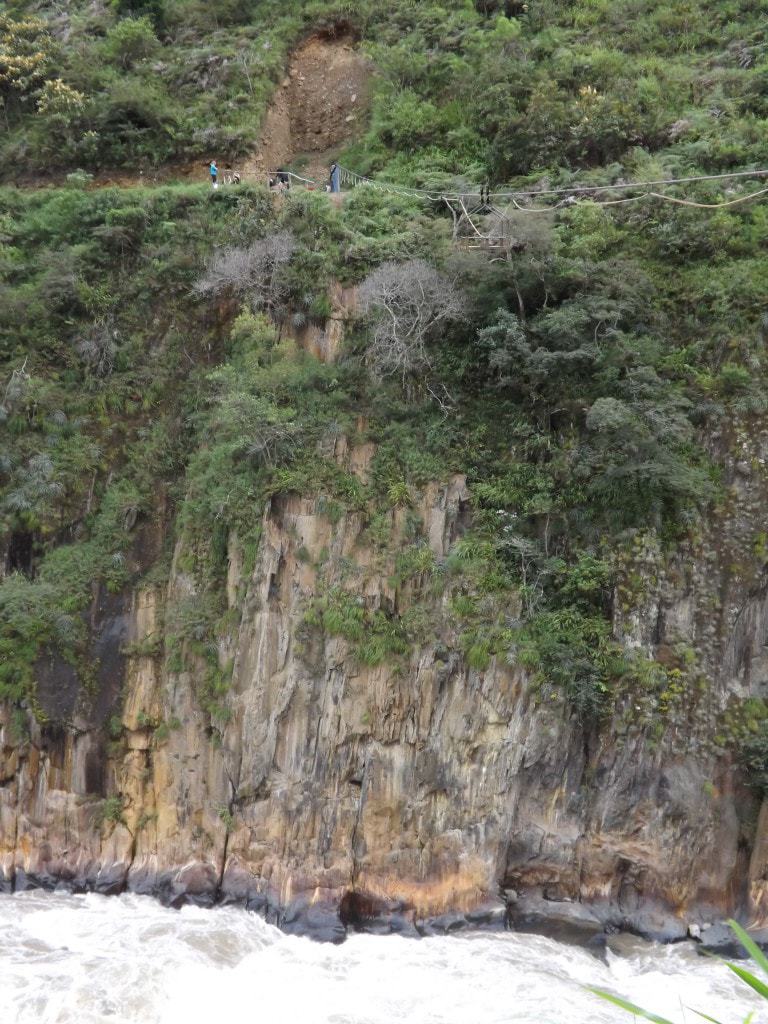 Thankfully, we made it to the other side in once piece, if a little shaken, and walked the last hour or so to the end point of the trek. We finished at the Santa Teresa hot springs, and had made such good time on our hike that we had two whole hours to relax there. I changed out of my smelly clothes as fast as I could, and, after a quick shower in a warm waterfall to rinse off the day's grime, slipped into the bathlike water of the pool. We bathed and chatted and generally relaxed surrounded by an incredible, Jurassic-Park-like scenery of green forested mountains and stark grey cliffs, until the light had dissolved from the sky and left us beneath a shower of beautiful stars.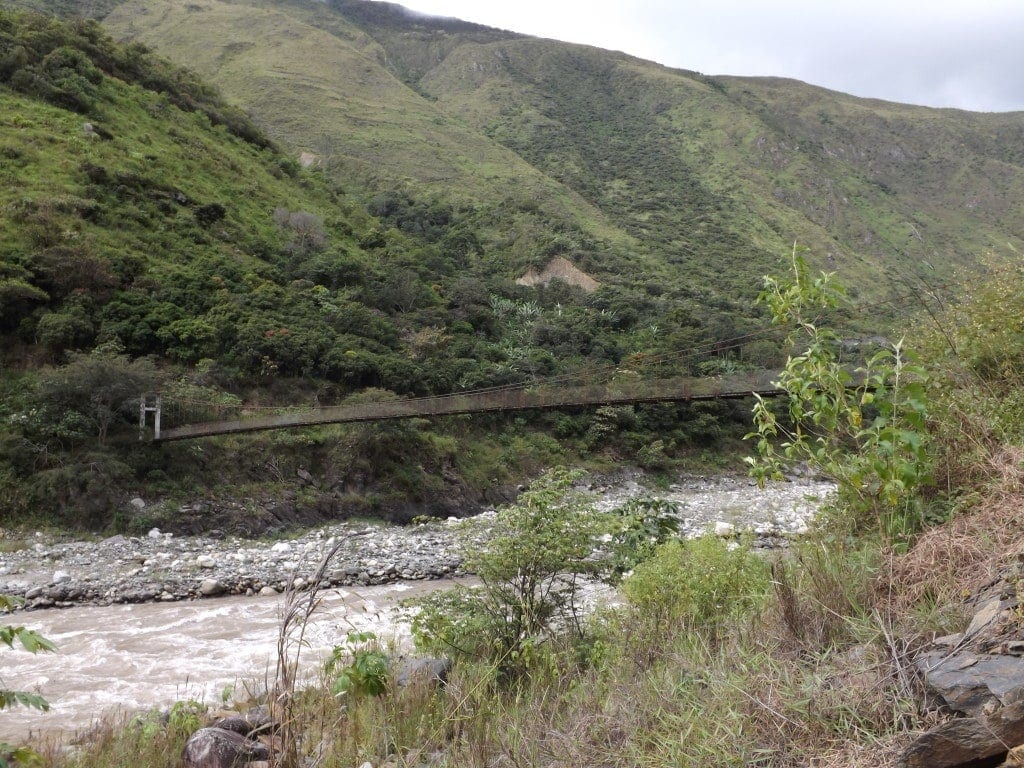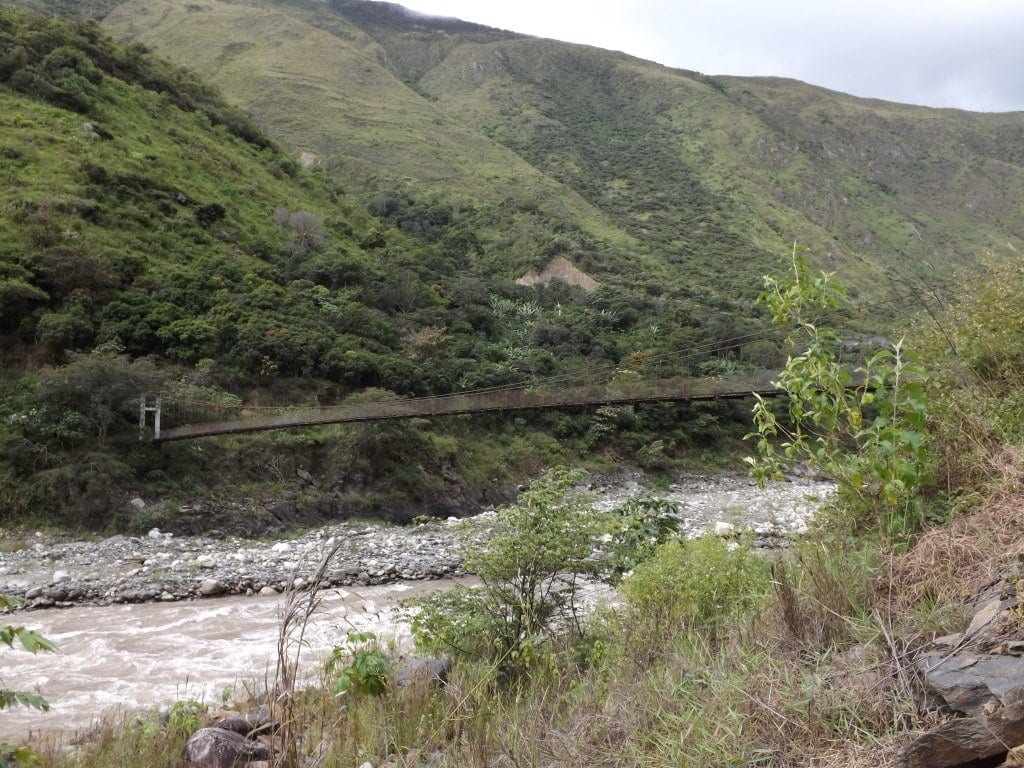 A short bus ride later and we were in Santa Teresa, where we checked into our hostel, had dinner at a restaurant, and popped into the completely deserted local nightclub (the manager had to un-padlock the doors to let us in), which we abandoned in favour of bed after less than a minute. The second day was less adventurous than the first, but pretty actioned pack, and left me feeling pretty proud of myself once again for battling my fear of heights!
Inca Jungle Trek Day 3
If the first two days of the Inca Jungle Trek had been an assault on my fear of heights and a serious challenge for my fitness and inner strength, that was nothing compared to the first activity of Day Three. Bright and early, we munched down a big breakfast and headed to the zip lining office to get fitted up with harnesses, helmets and thick, leathery gardening style gloves. From there, we bundled into minivans with several other Inca Jungle groups from other companies, and drove ten minutes outside of town to the canyon for zip lining.
After a quick safety briefing, teaching us how to break using our gloved hands on the wire, we were off. A few people from another group went first, giving us an agonising wait to build up our nerves, so that my heart was racing by the time Sam and I stepped up. The guides fixed out harnesses to the wire, counted to three, and shoved us out over the canyon.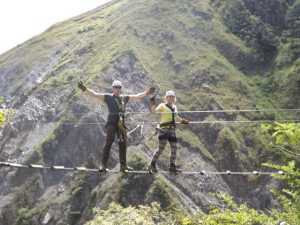 It was amazing! We flew across the cavernous valley, surrounded by breathtaking mountain scenery, and all my fear seemed to instantly evaporate, with a rushing sensation of joy taking its place! Of course, it being me I had to have a slight hiccup on my first go, and when I saw the signal to start breaking I shoved my hand down way too hard on the cable, meaning I stopped too early and had to pull myself the rest of the way.
Fears conquered, the lines got easier and easier, and on my second go I let go of the harness and leant back in a sitting position as we zipped across the canyon. Below was a racing white river lining a deep, rocky valley, above was bright sunshine and blue skies, and in between was a landscape of green forested mountains disappearing into white clouds. It was spectacular.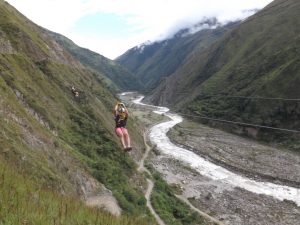 By the last line, I was feeling particularly brave, and volunteered to go across in a new position. Heberth, our guide, helped me turn my harness round so that the clip was on my back, then hooked us both up to the cable so that I was hanging from my back, facing the ground, and he was behind me ready to break for both of us. We swung out over the valley, my face pointing straight down at the ground and the tops of trees, my eyes stinging from the wind, and one of my arms pointed out in front of me, fist clenched, in the Superman pose. It was the biggest rush, even more fun than the other zip lines and much faster, and I leapt off at the end full of excitement and energy.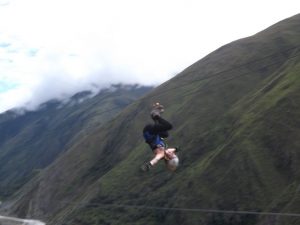 After the zip lines came something far more challenging and no where near as fun. Most people really enjoyed the super bouncy, 200m suspended bridge, but even with my harness clipped firmly to the cables on either side I was still close to being petrified by fear. Every fifteen meters or so, we reached the suspension cables of the bridge and had to unclip the harness, step through, and reclip on the other side. Unclipping required both hands, and standing on the thin wooden board above the staggering drop I found it impossible to let go of the reassuringly thick metal cable even for a few seconds. Luckily, Sam was on hand to save the day and unclipped my harness for me, meaning I made it to the other side, which for me was the best part of the bridge!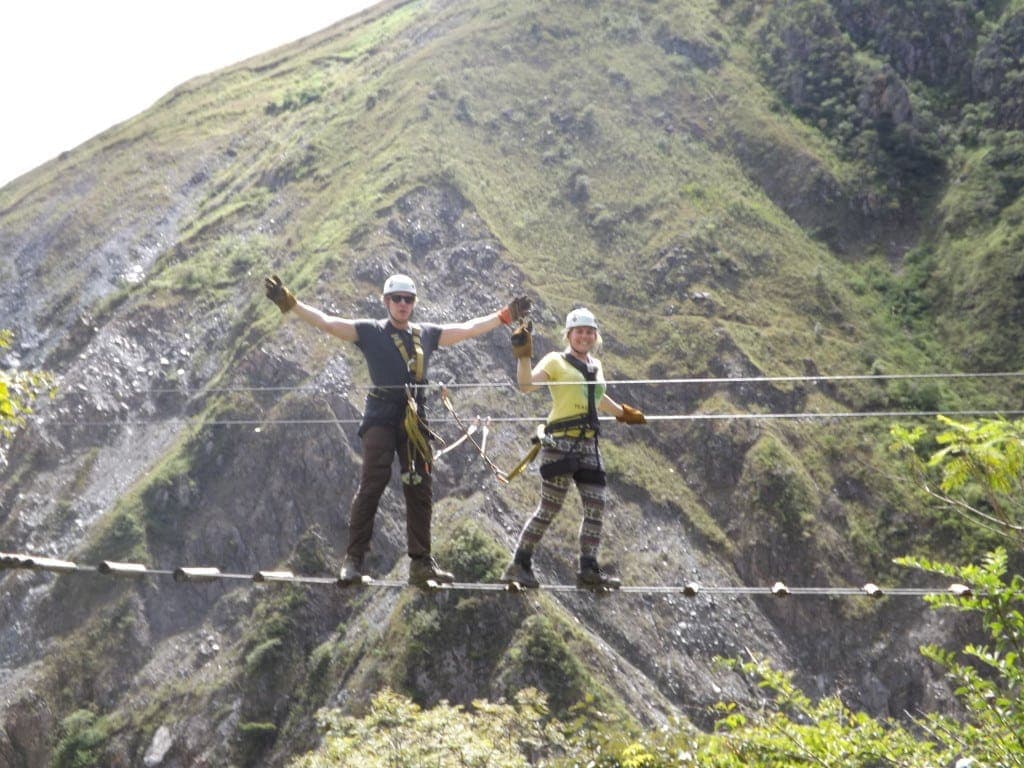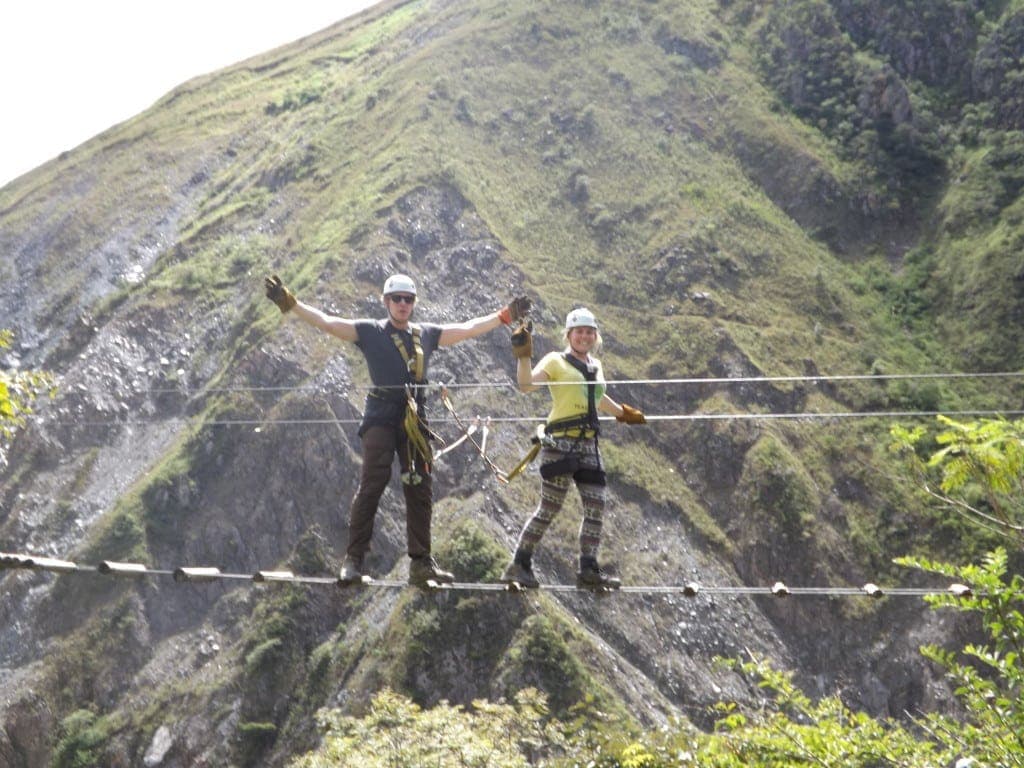 From the zip lining session, we drove in minivans to the Hydro Electrico, and after another ridiculously hearty lunch (fresh trout this time) and an hour lazing in hammocks in the jungle, we set off on the traditional route from the hydro electric plant to Aguas Calientes. The hike follows the railway lines, so it was flat all the way, and surrounded by incredible mountains, not least of which was the ominous looking Machu Picchu Mountain which shelters the Inca city. The walk took around three hours, alongside a river through some beautiful, jungle scenery, passing occasional bright blue and yellow Peru Rail trains, and we managed to get good weather the whole way, except for a light bit of rain for the final twenty minutes, so it was a really pleasant hike.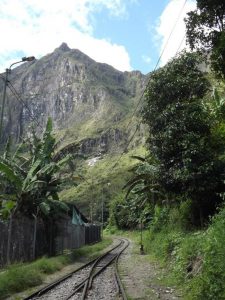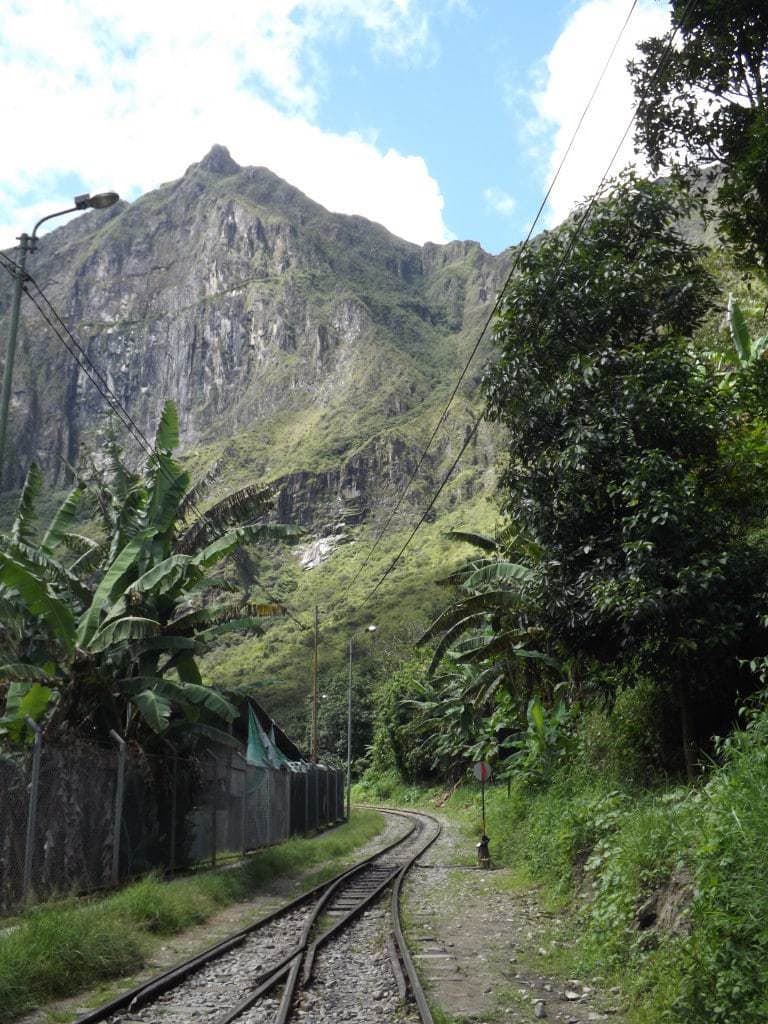 The hardest part came when we reached Aguas Calientes and had to walk uphill to reach our hostel, all completely shattered after three very full days! We had hot showers (finally), ate a big, carb-heavy dinner nice and early, received our tickets, briefing and packed lunch for the next day from our lovely guide, Heberth, and went straight to bed at 8pm, falling asleep immediately. With an alarm set for 4am, I was grateful to be so tired out that I fell straight asleep and didn't wake up once in the night.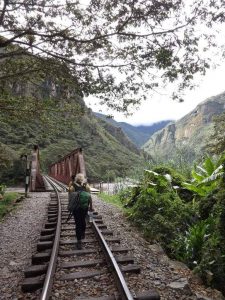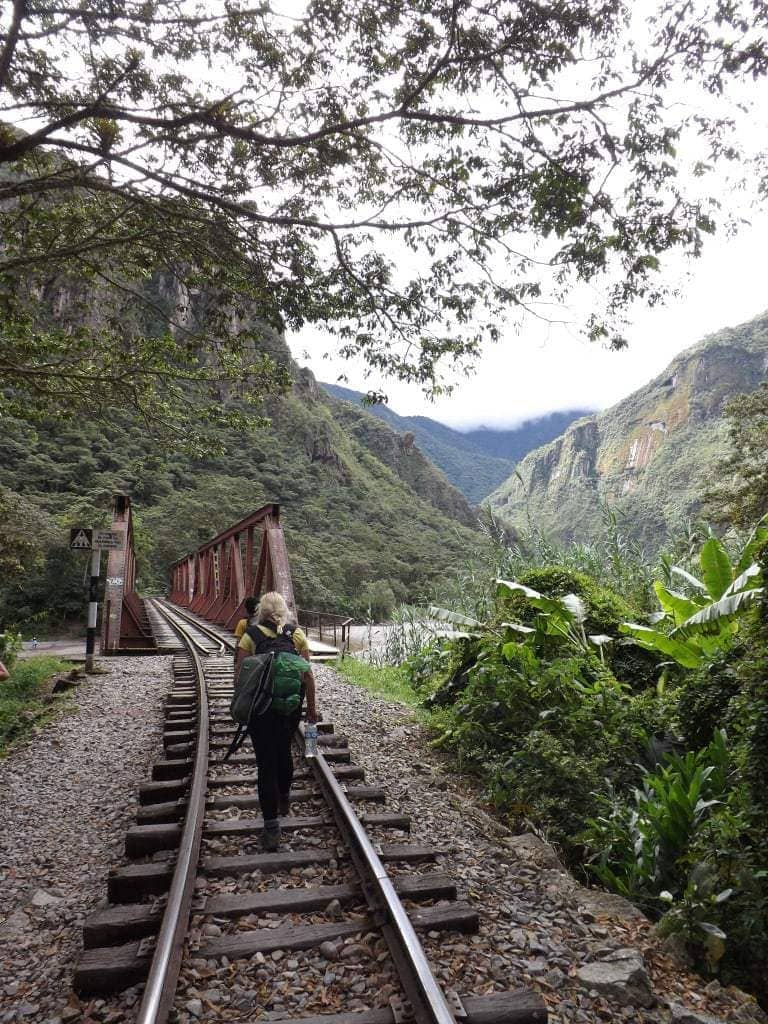 The action packed three days that led us to Machu Pichu were among the best we had in Peru. I faced numerous fears and conquered them (if a little noisily) every time, tired myself out, and tried loads of new experiences, all the time surrounded by incredible scenery. Although it would have been nice to complete a 'serious' challenge like the Inca Trail or Salkantay trek, I'm pretty sure it would have been too much for me, whereas the Inca Jungle Trek was still a huge challenge for unfit, scaredy-cat me and was the perfect route to reach Machu Picchu!