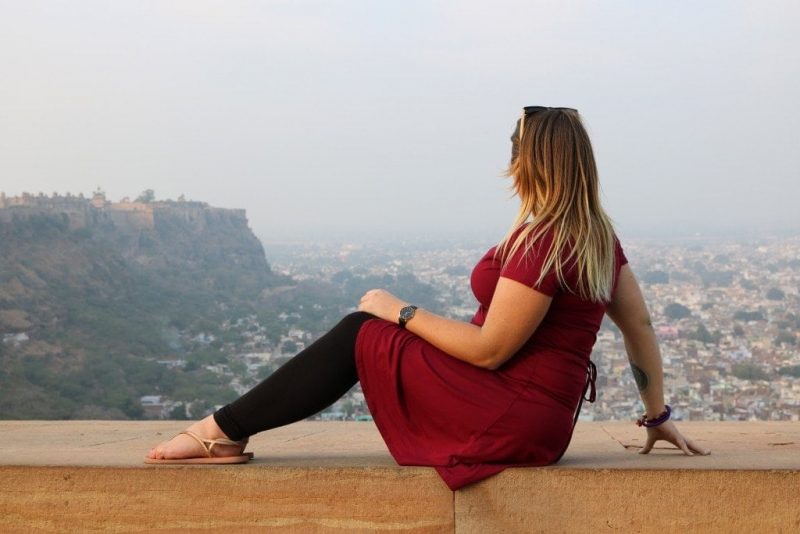 Namaste folks! Time for yet another monthly travel round up (which I'm pretty sure only my dad reads at this stage)!
February was another awesome month for travel. I got to go back to one of my favourite countries in the world, and this time see a whole new side of it – on board a luxury train. Can't wait to tell you all about it in a mo, but first – a moment of CELEBRATION!
Blogversary
Six years ago yesterday, I started my little ol' blog on WordPress and got writing. I was terrified to put myself and my words out there on the internet! But I'm so glad I did. Since then, I've worked so hard and learnt so much… and for the last few years I've been a full time travel blogger. I don't think a single day goes by where I don't thank my lucky stars for the job I get to do. Don't get me wrong – it's bloody hard word and it's rarely all fun and games. But the fun and games outweigh the hard work tenfold!
Seriously, I say it a lot – but if you've ever read my blog posts or clicked like/retweet/share on any of my social posts… THANK YOU. I couldn't do it without you!
And now without any more gushing, here's what I got up to last month. (I can't promise there won't be more gushing!)
Maharaja's Express
So…The Maharaja's Express. Eight days on board one of the world's most luxurious trains, touring the very best of India. Can I just say "it was incredible" and we'll all agree that's descriptive enough? Because I don't know if I have words!
Delhi – Jaipur – Ranthambhore – Agra – Gwalior – Khajuraho – Varanasi – Lucknow – Delhi
The route took us through some of India's most amazing tourist hotspots, and between sightseeing we were able to completely relax on board what is easily the best train I've ever been lucky enough to go on. With two restaurants – served by the incredible chef John Stone – and two bars on board, plus gorgeous landscapes outside the window, and a beautiful little cabin to relax in, there was plenty to keep us busy.
There's a lot more about our Maharaja's Express experience to come in a separate blog post. And there may be a video coming too – I just need to watch all the footage and make sure there's nothing too drunk/embarrassing/inappropriate in it.
If you're too impatient to wait, watch my train roomie and favourite luxury travel blogger xAmeliax's video over on YouTube to see my dorky face making multiple awkward cameos.
Solo in India
When the Maharaja's Express ended, I wasn't quite ready to go home… so I didn't! I stuck around in India for an extra week, all on my tod!
From Delhi I headed to Udaipur, which was the perfect city for me. Small, peaceful, and absolutely beautiful. I just wanted a place to spend a few days unwinding, eating curry, and getting to know India. And Udaipur was perfect for that!

A couple of years ago, I would never have considered booking a solo trip to India. But after my first trip there in 2016 I realised India wasn't quite the terrifying, difficult to travel country I'd always thought it was. That was the inspiration for my latest blog post – 21 of the best places in India for solo female travellers. Travelling solo in India can be tough, but it's also really rewarding – which is what I wanted to show with the blog post. So please check it out if India is somewhere that's on your radar. Or even if it's not – maybe I'll convert you!
Where's Next
India is a seriously tough act to follow. But I'm super excited about my next trip – not only because I'm heading to a city I've wanted to visit for ages, but also because I get to see one of my FAVOURITE travel friends in the world!
I'm heading to Berlin for a really exciting three day trip that's all about my favourite hobby; eating. And while I'm there I'll be meeting up with Marcela, the Brazilian-Wonder-Woman behind Fotostrasse. I met her in Nepal last year and we had the most fun running around acting crazy there. So I can't see any reason why Berlin should be any less crazy. Bring it on!
If you've travelled Berlin and have some top tips for me, especially relating to food, I want to hear from you. Please drop me a comment below or shoot me an email and tell me where I should go!