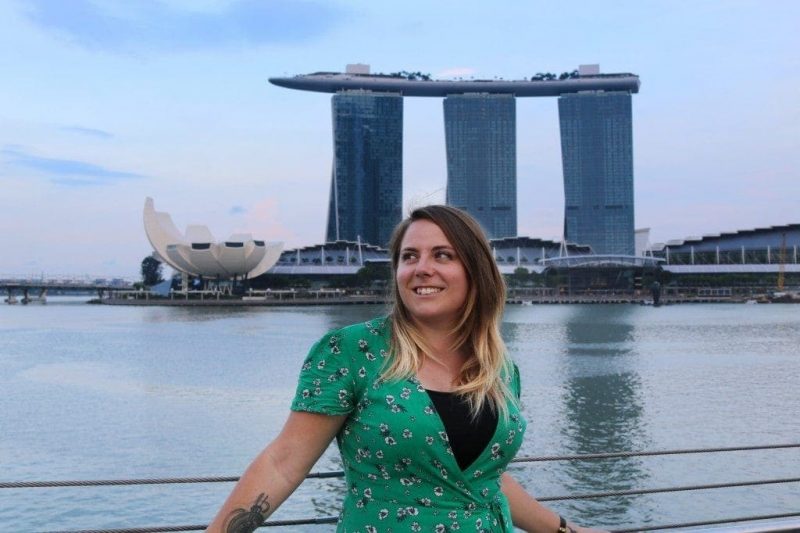 It feels like I say this in every round up – but April has just been YET another mega month. I've hardly been home for the past couple of weeks, and while it's been great fun, I'm also shattered. I'm writing this up from the sky; on board my flight home from Singapore (although it'll be published in a day or two). Just been watching the clouds out the window and thinking how excited I used to get about flying when I was young. Not sure if it's just getting older, or flying too much, but it rarely feels that exciting any more!
This month I've taken three trips, eight flights, and explored four countries. Talk about packing a lot in! Beyond travel, the big news is that I PASSED MY THEORY TEST (woohoo). That means I'm one step closer to my goal of learning to drive this year. Lessons are going well(ish) and I think I'll be booking my test for summer. I'm still finding it all so scary – learning new things is really hard as an adult, and I've kind of always thought that driving was somehow a bit beyond me. So send me all the luck for the next few months and hopefully I'll be planning my first road trip before we know it!
Mallorca
In the first week of April, I booked a lastminute trip to Mallorca as part of a campaign with Vouchercloud. The whole thing was planned about seven days before I flew and I loved the spontaneity of it all. I also loved renting a car with Victoria (Pommie Travels) and exploring a bit of the island beyond the resort towns. Lot's of stunning mountain roads and pretty villages – plus wine tasting, amazing tapas in Palma, and dazzling sunshine. I wasn't really expecting much from the trip if I'm honest, and I was actually really pleasantly surprised. There's a lot more to Mallorca than I discovered on my last trip there, aged 18, when I didn't venture beyond the bars and foam parties of Magaluf. God, I do not miss being a teenager!!
Surprise Trip to Dusseldorf
The next trip was another complete surprise – literally. My sister and I headed on a "confidential trip" with ATO tours. It's been booked in for a couple of months, but our destination was only revealed the day before we flew. A brown paper envelope arrived in the post and I opened it to discover our tickets – such a fun way to do things. Almost like being a spy. Almost!
Our trip was to Dusseldorf, which is probably not somewhere I'd have booked for myself – but which actually turned out to be a really nice city. It was fun to discover a bit more of Germany, as my recent Berlin weekender was my very first trip to the country, and it was also nice to hang out with my big sister for a couple of days.
READ MORE: Find out more about the surprise trip experience in this post!
Singapore
And so, back to Asia. Before I decided to move back to Southsea and live in Vicky Flip Flop's new house, I was planning to head to Asia for another multi-month backpacking trip. In the end, I realised that wasn't quite the right move for me – but I've really been missing Asia ever since. So when the chance to try out Norwegian's new route direct to Singapore came up, I couldn't say no. Especially because some of my favourite blogger gals were on the trip too.
Over the three day press trip we crammed A LOT in. From exploring the city's colourful ethnic districts – my favourite was Little India – to stuffing our faces with as much food as possible, we covered a lot of ground and managed to experience quite a lot of the culture. When I think of Singapore, I think of skyscrapers and crazy architecture – so it was nice to discover a lot more cultural aspects of the city.
Malaysia
Partly because it seemed pointless to fly all that way for just three days, and partly because I just wanted to soak up as much of Asia as I could, me and Wanderlust Chloe extended our trip for a few days of travel under our own steam. Much as I love the press trips which are a massive perk of my job, I think it's important to balance them out with self-funded travel because it just means my writing and content stays real – and that I retain the true love (forward-slash obsession) for travel which is why I started blogging in the first place.
So, we hopped on a flight to Langkawi in Malaysia – just an hour from Singapore – for a couple of days of chilled out beach time. Or so we thought! My plan had been to relax, sleep, drink cocktails, and maybe sleep a bit more. But I'm terrible at relaxing, and we actually had a really busy couple of days seeing as much of Langkawi as possible. We still found time to drink a lot of cocktails and laze about on the beach a bit though. Which was made especially fun when we found a beach bar directly opposite the warm-up pitch for the World Beach Volleyball tour. Lying on a beanbag chair with a mojito watching topless men play volleyball and humming the Top Gun theme song… that really is the dream, isn't it?
Loved hanging out with my fave lady Wanderlust Chloe for a few days!
Where's Next
At the moment, I only have one trip planned for May – and I'm pretty happy about that after the last few weeks of intense travel! Plus, it's going to be an AMAZING trip, with a group of some of my favourite blogger pals. We're headed on a cruise through Scandinavia and Russia with Princess Cruises and the itinerary looks genuinely incredible.
Highlights include watching the Russian Ballet in St Petersburg, an on-board balloon party, and a champagne waterfall on the ship's formal night! This really is the one to watch, so if you're not already following me on Instagram make sure you do to see all the behind-the-scenes action on my stories!
How was your April this year? Let me know if you explored anywhere cool!