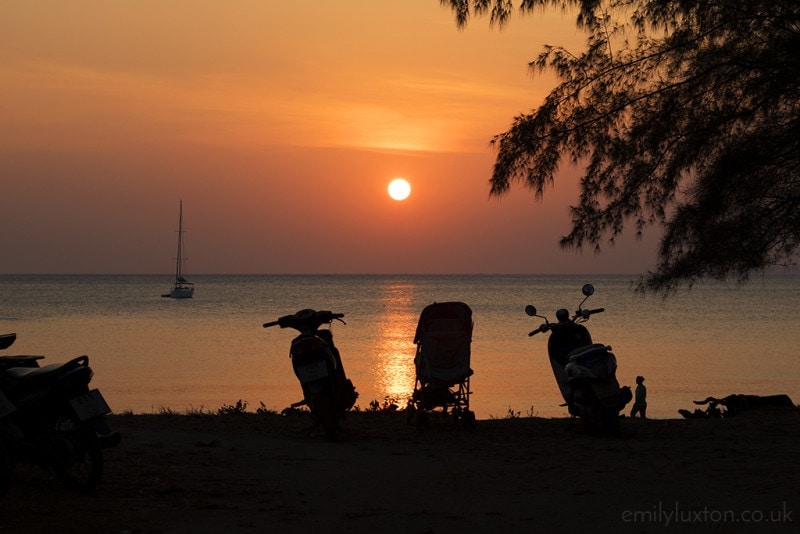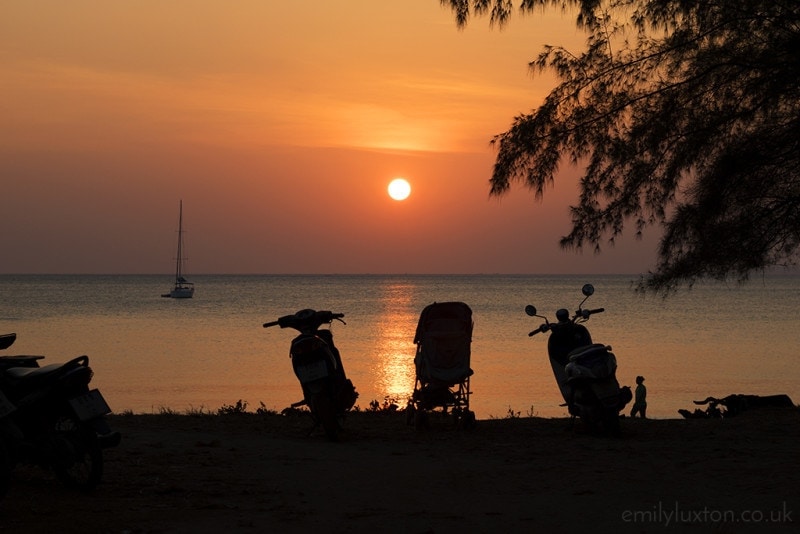 At the beginning of March, I was on the island of Koh Lanta in Thailand – but those six days in paradise seem like a lifetime ago now. Time warps during long term travel. On the one hand, days go impossibly slowly, and things done last week seem forever ago, while on the other time seems to be moving absurdly fast, and the looming deadline of the trip's end draws closer ever more rapidly.
In just a month, things have changed an absurd amount for me. At the start of the month, I made a spontaneous and fairly last minute decision to abandon my original plans entirely and head instead to India with fellow travel blogger Brendon (Nerd Travels). We got a fair bit done in three weeks, but given how enormous and varied India is, it's safe to say we didn't even scratch the surface!
Here's everything I got up to last month…
Twelve Months Twelve Fears
As you may know by now, I set myself a challenge at the start of the year to do one thing a month that scares me. This week, I wrote a long-overdue introduction to the Twelve Months Twelve Fears challenge, explaining exactly why I'm doing it and what this whole crazy challenge means to me. Which is a lot, so I really hope you'll read it!
Last month, my big terrifying challenge was a particularly hard one; bungee jumping. I'll be posting about it separately, because it was one amazing adventure, so this is just a brief update. Keep an eye out for the blog post which will come later this week and include a pretty funny vidoe of the jump.
Last Days in Thailand
Way back at the start of March, I'd just arrived in Bangkok where I posted my February round-up. I didn't enjoy Bangkok quite as much as the rest of Thailand. It was a little too crowded and overwhelming for my liking. I did have some great food, and I loved my day of sightseeing with fellow travel blogger Vicky Flip Flop, when we explored the glittering, golden Grand Palace and discovered the giant reclining Buddha statue at Wat Pho. I even enjoyed, in a morbidly curious sort of way, the bizarre Museum of Death at Siriraj Medical Museum, which Vicky led me to; a stuffy room in a medical school, full of skeletons, deformed fetuses in glass jars of formaldehyde, and even slices of human brain suspended between glass sheets. It was weird, it was gross, and it was terrifyingly fascinating!
Better than my unofficial tour with Ms Flip Flop (sorry Vicky) was the tour I booked through Showaround. Two local girls, both students at university, showed me around their home town – taking me to some of the less known places as well as popular tourist spots like the Golden Mount. Don't miss my write up of the tour. It was the perfect way to explore.
In Bangkok, I met up with Brendon – who I already knew from TBEX last year – at a party for a digital nomad conference, and when I left for Koh Lanta he decided to tag along. Six days on a beautiful Thai island, watching the sunset over the sea every night, exploring on a moped on some pretty dodgy roads, and gorging ourselves on delicious seafood… you can see why he was tempted! It was in Koh Lanta that Bredon convinced me to head to India for Holi, so from there we flew to Kuala Lumpur for one night and then on to Goa.
Three Weeks in India
Psst! Read my post India So Far for an insight into how I was feeling around the mid point of my time there, and how my trip through Asia has left me feeling like a different person. I poured a lot into that post so I'd love to hear your thoughts!
We arrived in India on the tenth, and spent the three weeks travelling from south to north, stopping at a handful of places. The first six days we spent at Vagator Beach in Goa, where the relaxed pace of life and ease of travel were nothing like my expectations of India. We got a lot done in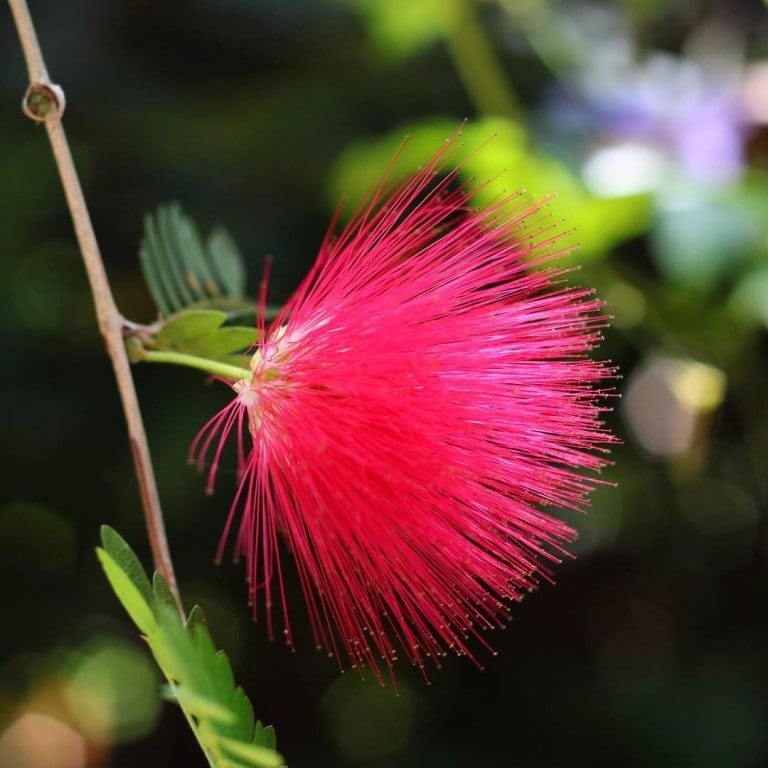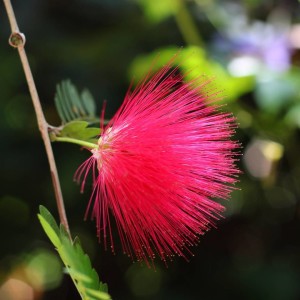 six days; exploring the colonial churches of Old Goa, swimming in the natural pool beneath the staggering Dudhsagar Falls, touring a spice plantation surrounded by lush green jungle, partying with backpackers at Jungle Hostel, and taking a cooking class to learn more about "real" Indian food. It was a jam-packed few days, but at the same time it felt like we hadn't done all that much, because time in Goa really did seem to move slowly. In between sightseeing and packing ourselves full of some incredible local cuisine – I'll never forget my first fish thali on the beach – we spent a lot of time being lazy, snoozing or reading in hammocks and generally soaking up the chilled atmosphere of Goa.
All that relaxation was much-needed, because after Goa we had a bit of a whirlwind week of travel. Normally I like to travel slow, savouring each stop and really getting to know each new place. But we had a deadline, as both of us wanted to spend Holi in Rishikesh, so we had to get up north pretty quickly. First, though, we took an overnight bus south to Hampi – which broke down for five hours by the side of the road and arrived about seven hours late, resulting in one thoroughly miserable Emily. Three nights in Hampi gave us just enough time to tour the famous ruins and temples, but it wasn't really enough time for me to make the most of this beautiful little town. Hampi was unreal; to me it looked like something out of a film, but I suppose that's simply because it was nothing like any place I'd seen before. The town is surrounded by huge piles of boulders, dotted in between dusty plains and rich, green forests – making it look like the setting for the Flintsones movie – and in between all that lie dozens of amazing ruined palaces and temples from the Vijayanagara Empire (1336 – 1646).
Although I wasn't quite ready to leave Hampi, the heat there – around 40° most days – was killing me, so the temptations of cooler northern weather were pretty strong. We left Hampi and took an overnight train to Bangalore (in non a/c sleeper class, which was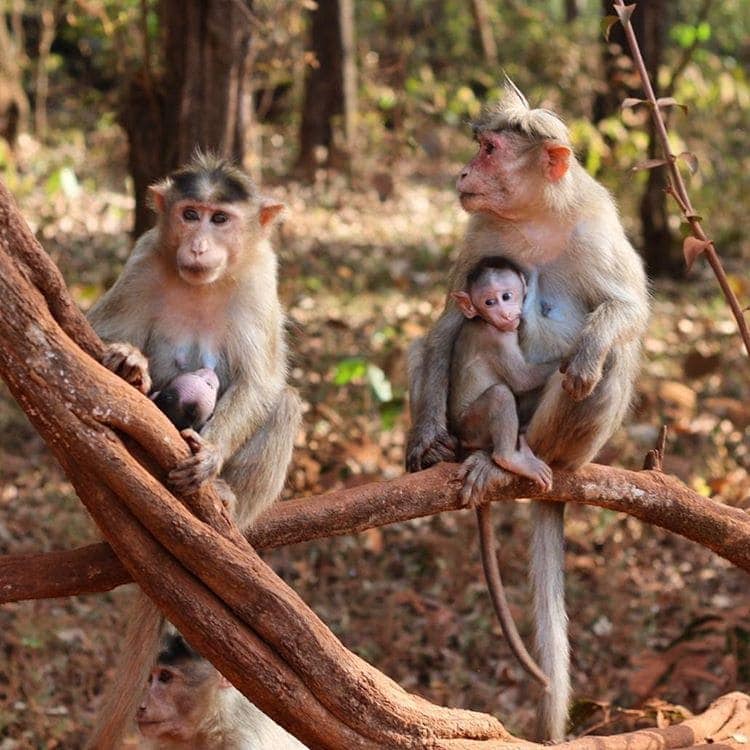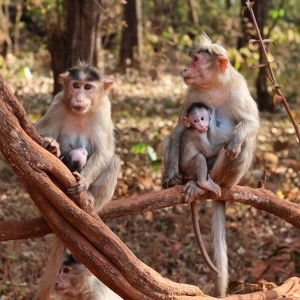 an interesting, intense, and very uncomfortable experience), then headed straight to the airport in a cab and flew to Delhi, where we spent one night. We did almost no sightseeing, except to walk through the park around India Gate, but I don't feel bad about it really. Delhi isn't somewhere I'd been excited about visiting, and what I saw of the city put me off coming back; too busy, too dirty, too crowded, too intense. I dislike big cities generally anyway, and Delhi was far too much for me; I love India for it's natural landscapes and the warm, welcoming people I met in the smaller towns.
So, after less than twelve hours in the capital, we hopped on board a day train all the way to Haridwar, then took a taxi to Rishikesh, and finally we'd made it. In the space of six days we'd travelled over 1200 miles on ten different modes of transport. 
Rishikesh was absolutely stunning, and by far my favourite stop on my India trip. The bright, blue-green Ganges cut through the city, and all around were the rolling green and brown foothills of the Himalayas. Temperatures were a little lower, too, more like a hot summer day in England, and it actually got a little chilly at night.
Holi in the holy city of Rishikesh was an amazing experience. I've already written about it, so please don't miss that post for some really cool photos (if I do say so myself) and to read about how I found it all. The rest of the time in Rishikesh was made up of relaxation and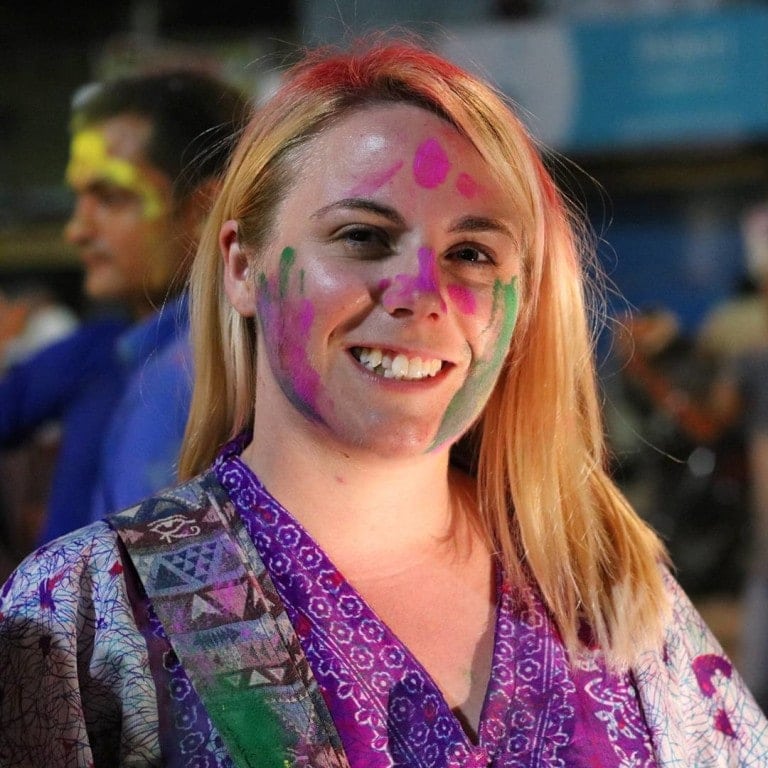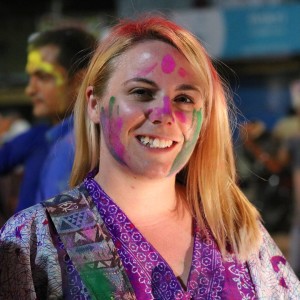 slow, lazy exploring. We visited Maharishi Mahesh, the so-called Beatles Ashram, a crumbling and beautiful ashram which I personally think should be famous in it's own right and not just because the Beatles went there to learn transcendental meditation. We went white water rafting on the Ganges, and I spent two days enjoying "Goa Beach" on the bank of the river, despite a slight brush with the police. Their only reason that we shouldn't bathe there was this: girls in bikinis might attract Indian men, who might not be able to swim and might drown trying to get a glimpse of us, for which the police would get in trouble. Feeling rebellious and deeming this illogical advice ridiculous, I went ahead and bathed in the shallows anyway. India continues to baffle and delight me!
Finally, my time in India was over. On the last day of March I took a nasty, shaky bus all the way back to Delhi, spent a night there feeling grumpy about all the things that had gone wrong in my journey (I'll spare you the details), and flew back to Thailand on the 1st April ready for the last two weeks of my Asia trip.
So, that was March! Stay tuned for more posts about  my time in India – especially the bungee jump post later this week! And don't forget to follow me on Instagram (em_luxton) to see all my best travel photos live from the road. What did you get up to last month?