Some posts on this site contain affiliate links. If you book or buy something through these links, I earn a small commission (at no extra cost to you). Take a look at my privacy policy for more information.
For several years, I used to publish a travel/life round-up at the end of every month. These are all super old and irrelevant now, and only interesting to me. But it made me too sad to delete them.
So instead, I've condensed them all into one giant post. This way, I get to keep them for posterity. And if there's anyone out there who wants to know what I was up to in April 2016, they can still find out! Enjoy…
January 2016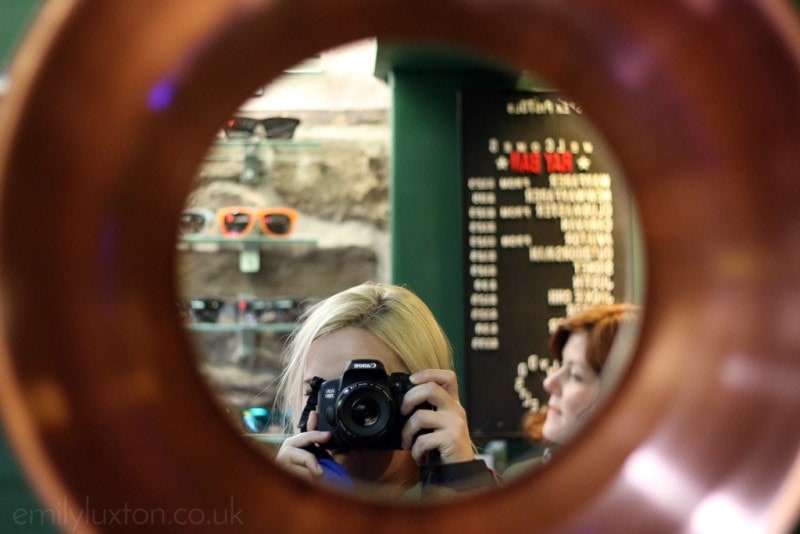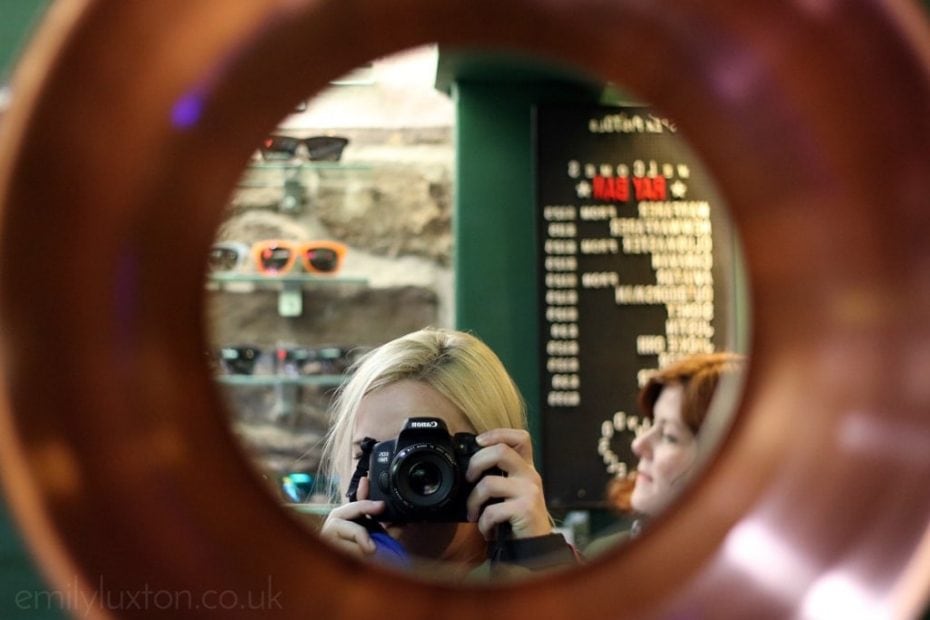 Earlier this month, I published my round up of 2015 in which I promised that this year I was going to be a little more personal on this blog. I want you guys to get to know me a little better – and that means I have to talk about myself sometimes as well as travel. So, I thought I'd commit myself to writing a post every month about what I've been up to – in terms of travel, blogging, and life in general.
In my look back post, I talked about how I've decided to make 2016 the year of me. By that, I don't mean that I want to spend all year being completely selfish and indulging my every whim. What I mean is, after being in two long term relationships back to back for the past nine years, I want to spend some time on my own, figuring out my own life and future without depending on someone else's opinion (as I usually do), and reviving my very bruised ego.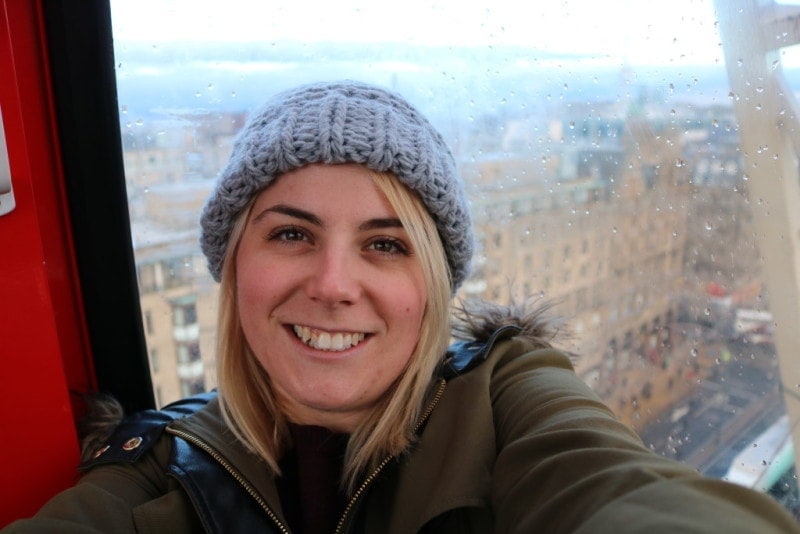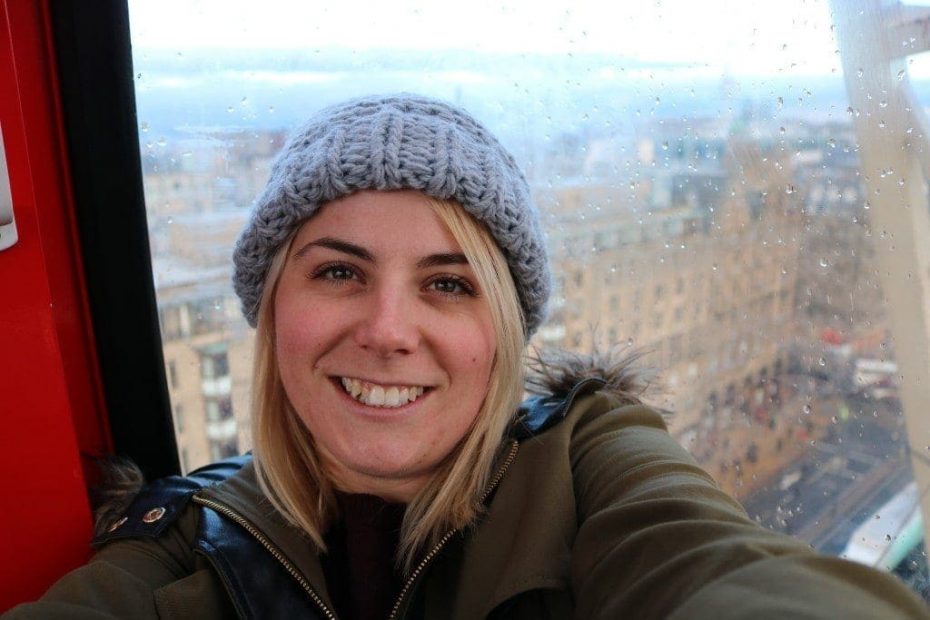 My self esteem and I have a pretty rocky relationship. Internally, I spend most of the time flailing between a fiercely positive self belief, and the more constant feelings of doubt, anxiety, and self hate. At the end of last year, with my personal life falling apart and nothing but uncertainty in my future, I'd pretty much hit rock bottom. I felt like I wasn't good enough; not just for my failed relationship, but for the world in general. It wasn't a nice place to be, and I've been really lucky to have some great friends and family around me to buoy me up. Then, January came along and was absolutely awesome, bringing success, good news, and vital amounts of distracting fun. These past few weeks have actually been brilliant, and I'm exceptionally grateful…
Last week was a particularly big confidence boost, when I won not one, but two blogging awards. First, I found out that I'd won the Travel category of the Trespass Blog Awards 2015 – with a fabulous prize of outdoorsy winter goodies. It was a really good feeling to discover that I'd won, and gave me a much-needed ego boost. Then, last Wednesday I headed up to London with my little sister Jess for the Blogger's Lounge awards party. I was thrilled to be a finalist for Travel Blogger of the Year 2015 – but I had absolutely no expectations of winning. So, I was completely shocked when my name was called – and I think I possibly made a bit of a fool of myself as I tipsily gushed my thanks into the mic after being handed my trophy! It's just such a lovely feeling to receive positive reinforcement that my blog is doing well and that people like it – and it really has left me feeling wonderfully proud of myself.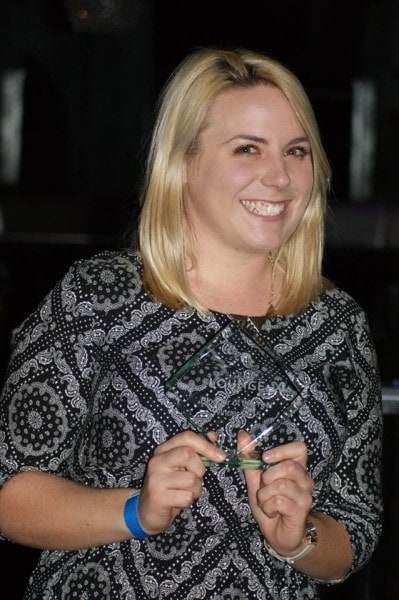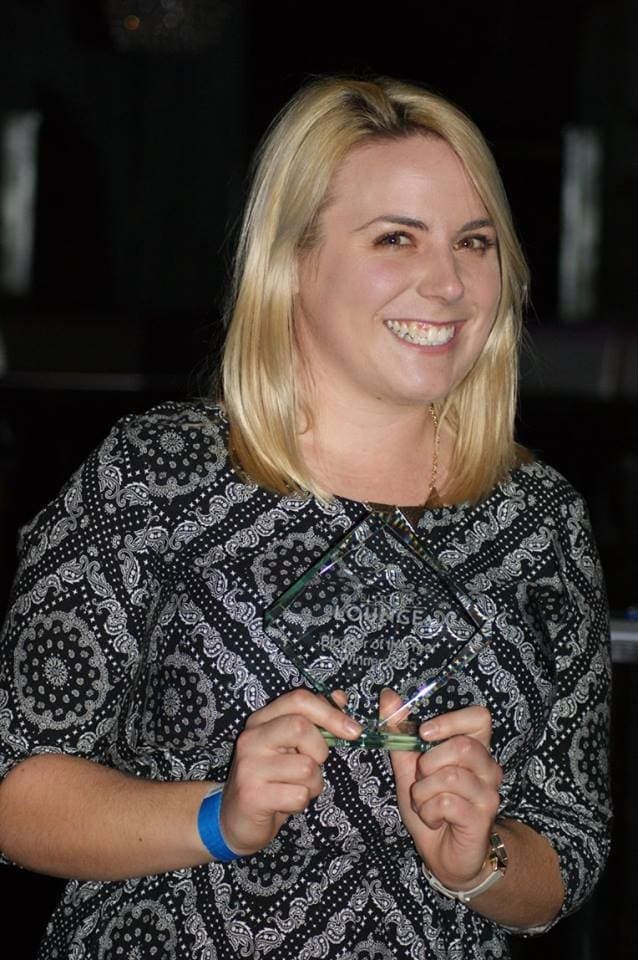 Speaking of confidence boosts, this month brought them in serious force. Not only did I get some wonderful recognition for my blog – and have my best month yet in terms of blog traffic, followers, and income – but I also got a serious personal confidence boost in a fairly unexpected form. In the middle of January, I headed to Tignes with a group of travel bloggers to try my hand at skiing – something I'd never done before. This was part of my 2016 campaign to do one thing a month that scares me (I'm still working on a catchy title for that, something like "Twelve Fears in Twelve Months". Suggestions on a postcard!). Before the trip, I was terrified; after it, I was in love with skiing and daydreaming about my next ski holiday. Read more about that turnaround in my write up! Learning a new skill and triumphing over my own fears gave me a serious injection of confidence and I'm so glad that I took the chance and hit the slopes.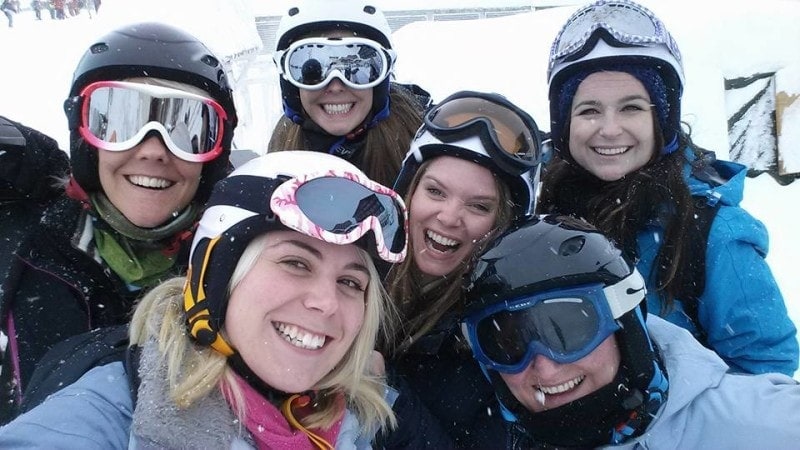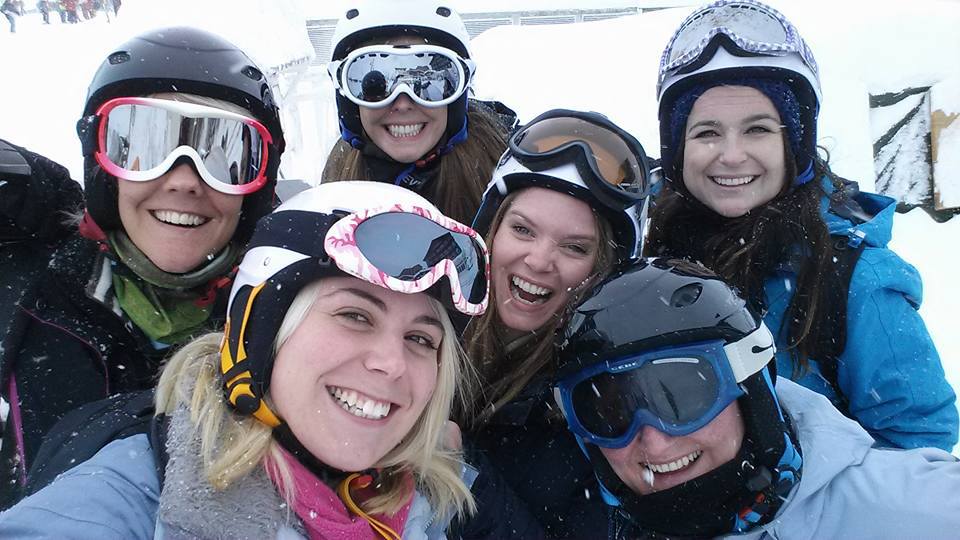 This month, I also committed to another challenge for the year ahead. I want to continue exploring more of my home country and see as much of the UK as possible. So it was completely fitting that I began 2016 in one of my favourite British cities, Edinburgh, partying with the #Blogmanay team for the three day Hogmanay event. We closed 2015 in style with an incredible torchlight procession through the streets of the city, went wild with our inner party animals on New Year's Eve – singing our way into 2016 with our second trip to a karaoke bar in four days – and spent the first day of the new year enjoying music, poetry, and art around Edinburgh at the absolutely breathtaking Scot:Lands festival.
My visit to Scotland was rounded off with a few days touring some more of this gorgeous country. Windswept castles, famous golf course bridges, and film-star sand dunes in St Andrews, plus art, innovation, and design in creative Dundee – not to mention some absurdly good food, wine, and cocktails. It was a brilliant trip with some fabulous memories: dancing a traditional ceilidh (badly) on board the H.M. Frigate Unicorn, exploring the awesome vintage sunglasses shop Spex Pistols, and finally learning that I actually do like gin at Eden Mill brewery and distillery.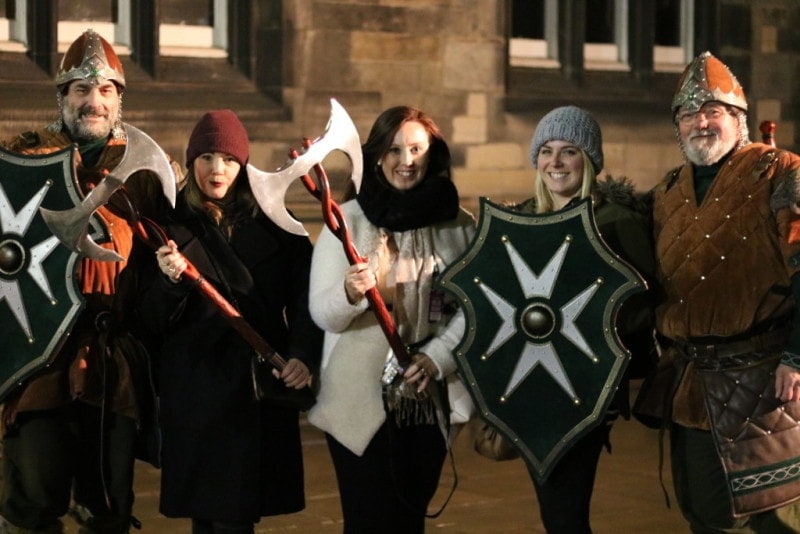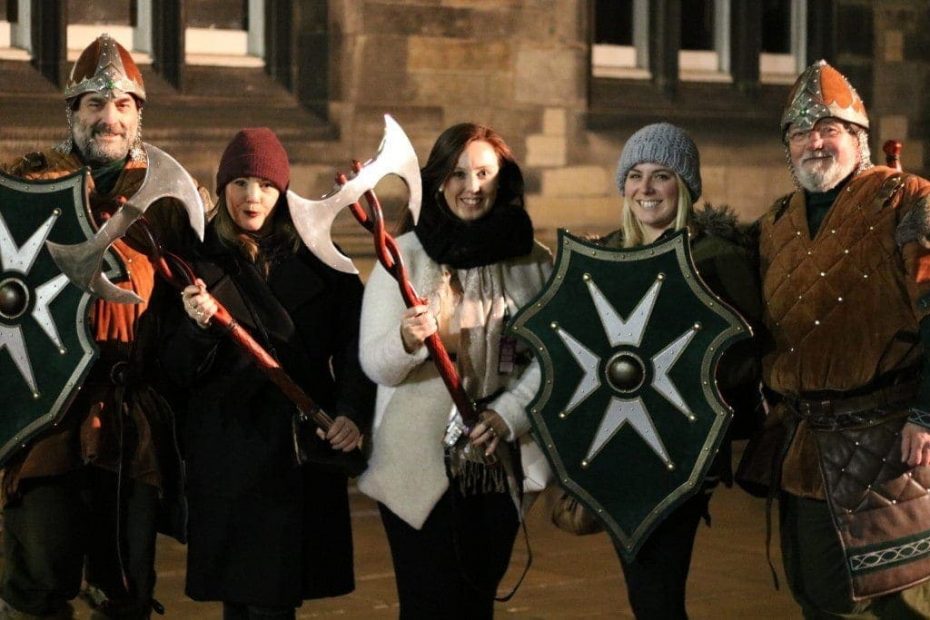 There have been a lot of highlights this month! But the absolute best was the feeling I had when I (sort of) managed to complete a blue slope in Tignes and realised that I'd not only conquered my fear of skiing, but that I wasn't actually too bad at it either. I went home buzzing with a sense of achievement and feeling really, really proud of myself. Whenever I do something scary and find myself enjoying it, I rediscover the feisty, adventurous, tree-climbing little girl I used to be before life came along and smashed down my confidence. I love that girl, and I'd like to get her back for good – or at least become a version of me that closer resembles her.
So, as soon as I got back from Tignes I took the next step on the road to self rediscovery and booked the solo trip that I'd always been too afraid to take. On the 10th February, I'm setting off for two months in Thailand! It will be my first long-term backpacking trip alone (I'm used to travelling as a couple), and I'm really frightened – making it February's challenge. Wish me luck, and stay tuned on Instagram (em_luxton) for lots and lots of photos!
February 2016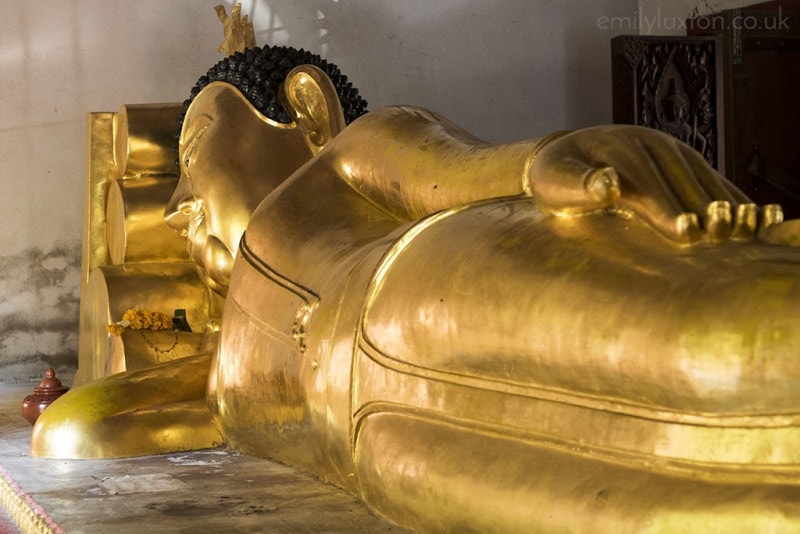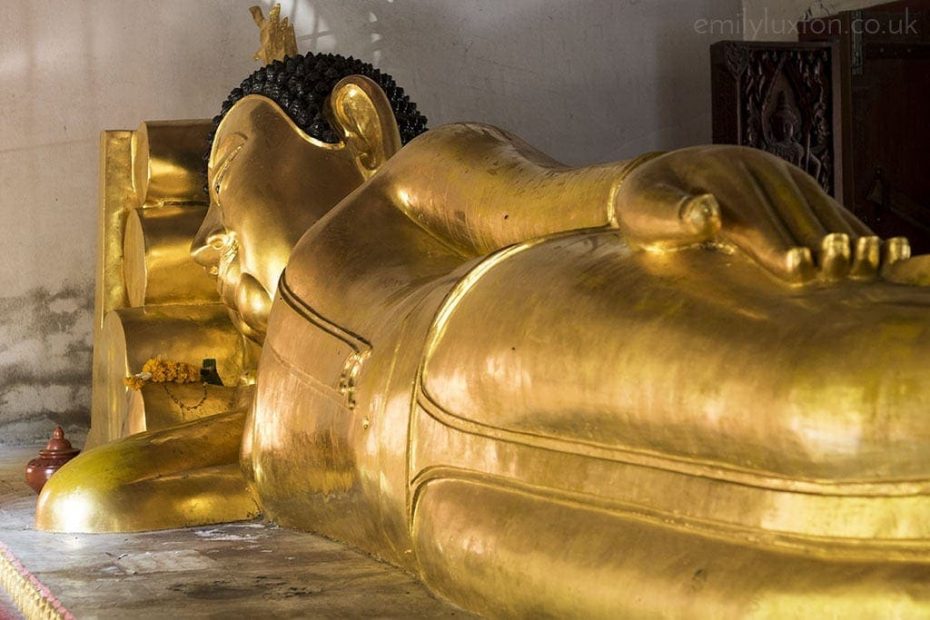 It feels a lot longer than a month since I posted my January round up; so much has happened since then! I spent most of February in Thailand, where I'll be travelling for the next few weeks. So far, I've explored Chiang Mai, Pai, and now I'm in Bangkok for a few days – with plans to escape to an island very soon. Don't forget to follow @em_luxton on Instagram to see regular pictures from my trip!
Twelve Months Twelve Fears
As I announced in January, this year I plan to do one thing every single month that scares me. It can't be a cop out, either, it has to be something that I'm genuinely scared to try and that I've not done before! In January, it was skiing for the first time in Tignes with Mark Warner, but this month it was something a little less action packed. In February, the big fear I faced was getting on the plane to take my first ever solo backpacking trip – and I was honestly more scared about this than anything I can remember doing before.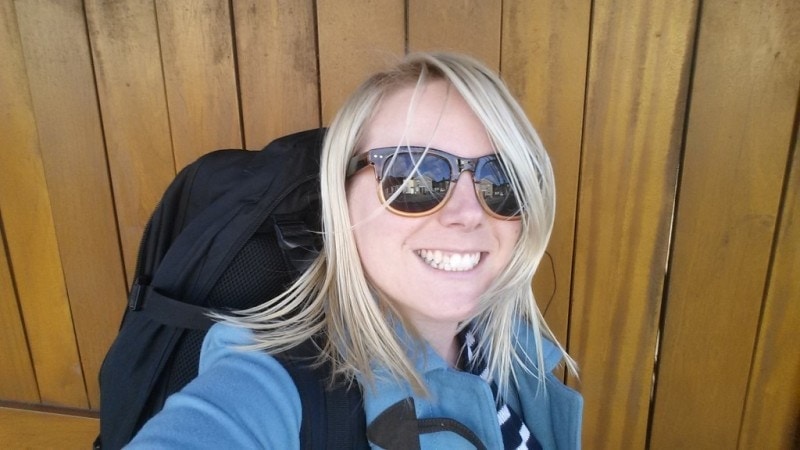 I've now been on the road a little over two weeks, and it's been amazing already. Almost as soon as I arrived, I felt a lot better – writing this post about my fears helped exorcise them a little – and within a few days I was back in the swing of the travel lifestyle and absolutely loving it. It helped that I spent the first week with fellow blogger Vicky, but even if I'd been on my own I would have been fine. Chiang Mai had a chilled out, slow pace of life which is perfect for a first stop – not too stressful or overwhelming. After a week, I struck out completely on my own for Pai, a beautiful little town in the countryside a few hours from Chiang Mai.
Spending time alone in a hostel was a pretty scary experience. I've done it before, but only on short trips for work – like to WTM last year – so I'm usually just there to sleep rather than make friends. This time around, I wanted buddies – and for someone as introverted and socially uncomfortable as me, making friends in a hostel is a very intimidating experience. Everybody's been there, though, and luckily most travellers are really friendly. Beer pong and sangsom (Thai rum) are also especially conducive to new friendships, so in the end I spend an incredible few days in Pai. Again, it all just shows that when you leave your comfort zone wonderful – and crazy – things can happen. Which is exactly why I decided to dedicate this year to challenging myself, facing my fears, and trying new things!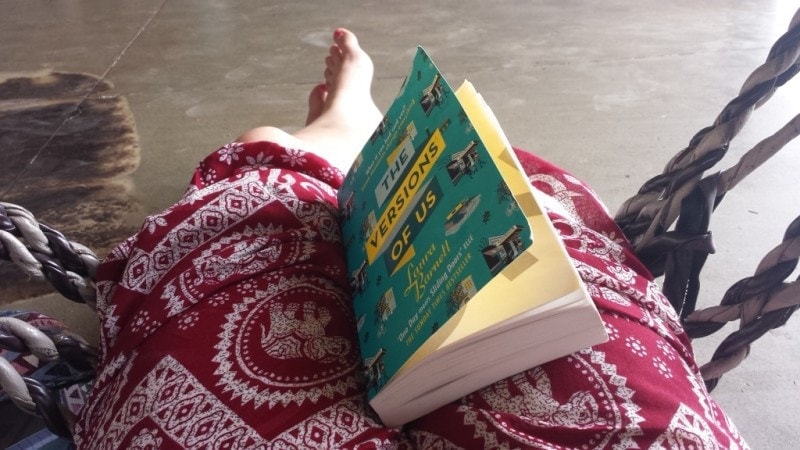 Thailand So Far
As mentioned above, I spend the first week or so in Chiang Mai, right up in the north of Thailand. This chilled, cool city is hugely popular with Digital Nomads (people who work online and have no fixed homebase), so on our first day in the city Vicky and I headed to a Digital Nomad Summit in the hopes of seeking out some travel buddies. The problem we hit was that a lot of the so-called Digital Nomads in Chiang Mai are more like expats, people who have made Chiang Mai their homebase, and already had their own friendships and cliques.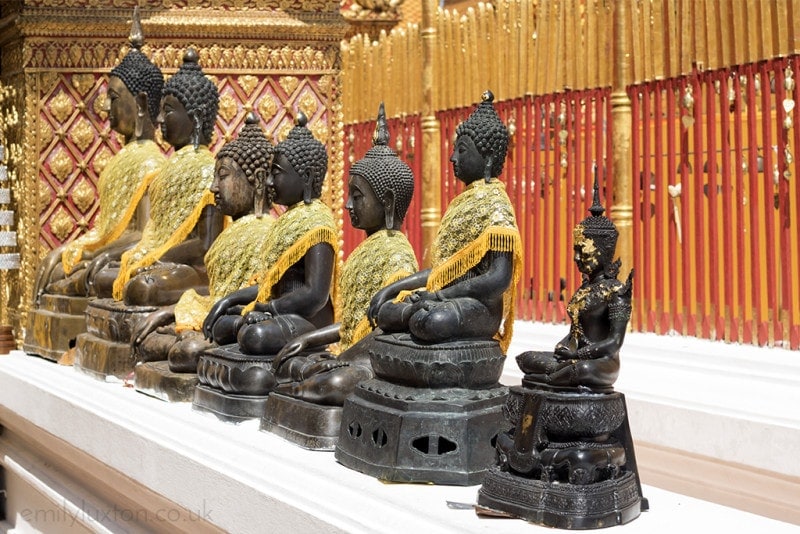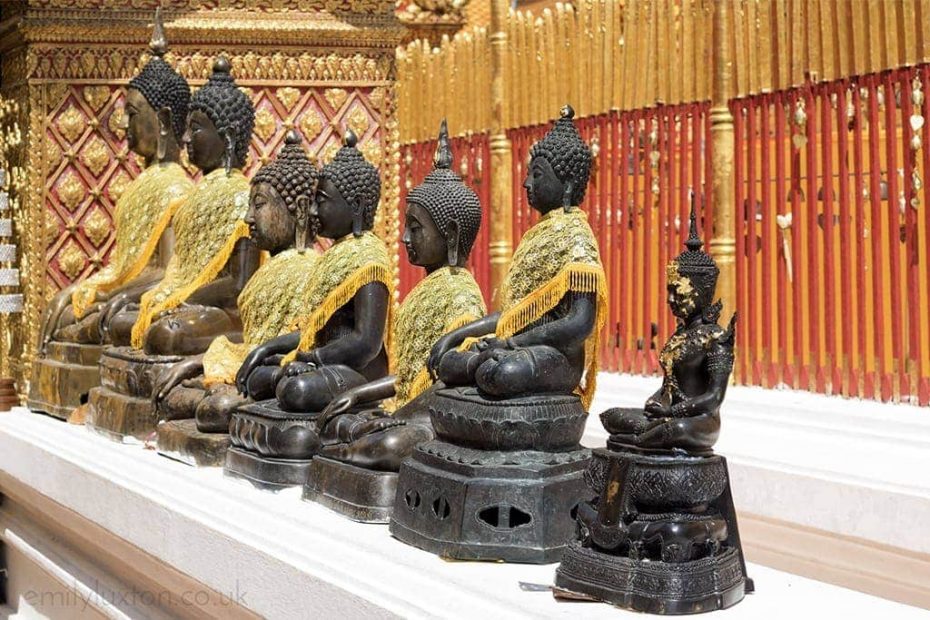 I loved Chiang Mai. Slow and relaxed, but modern and exciting, with about six hundred million amazing coffee shops – it's a really fun city and I can see why a lot of people wind up living there. In my eight days there, I had three massages – including the slightly bizarre experience of a traditional Thai massage, which involved being stood on, rolled around, and folded into a neat, knot-free little parcel – and by the end of the week I was very relaxed, despite having spent a lot of my time hunkered down in cafés catching up on work. There were a few adventures, though, including a visit to the completely weird and absolutely wonderful Insect Museum, with it's hilarious signs and thousands of bugs, and a day of fun exploring the countryside by moped. My Chiang Mai highlight, though, was the food – which was amazing. We ate at street food stalls and night markets, at some amazing restaurants, and even took a food tour – during which I'm pretty sure I ate more food in one sitting than I ever have before. A foodie post is coming very soon, so stay tuned!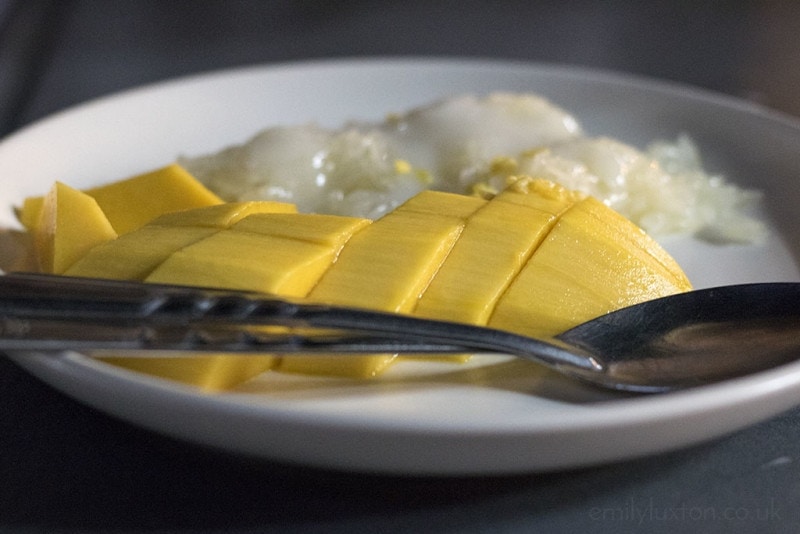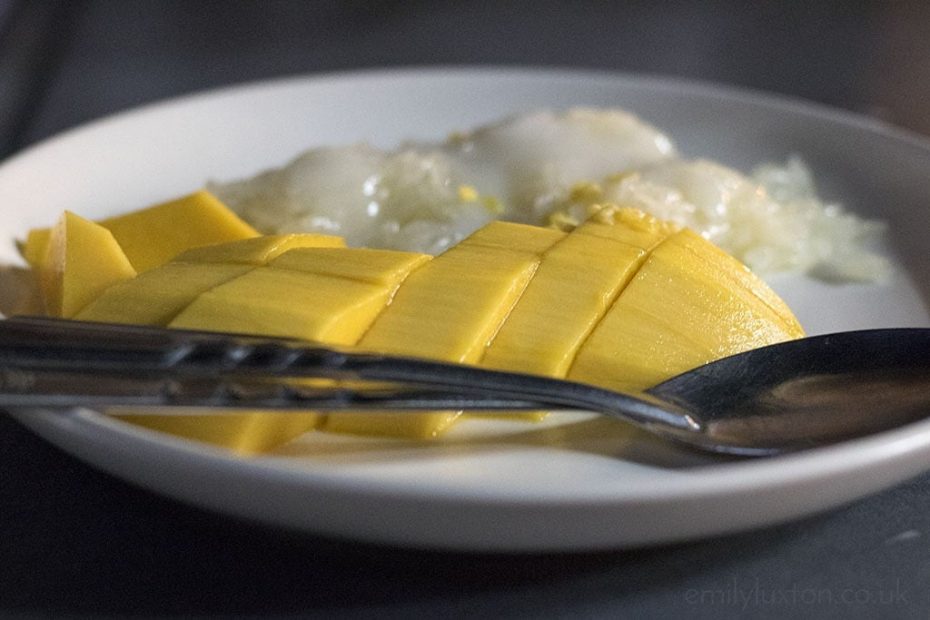 My time in Pai was significantly less eventful. For a few days, I did very little other than laze in a hammock and read. It was bliss! I was staying at Spicypai Backpackers, a sleepy little hostel of simple wooden huts in the fields outside of town, and it was the perfect place to disconnect and unwind. I did make it into town on one occasion, a cute and colourful little place with a distinctly hippy vibe, and I also climbed up to the White Buddha at the temple on the hill, Wat Phra That Mae Yen, to watch an incredible sunset despite the haze that's currently smothering northern Thailand. Oh, and I also got roped into my first full moon party. That memory is pretty blurred, for some reason, so I won't go into details.
PS – the book I read was Laura Barnett's The Versions of Us
, which was a fantastic read and one I highly recommend!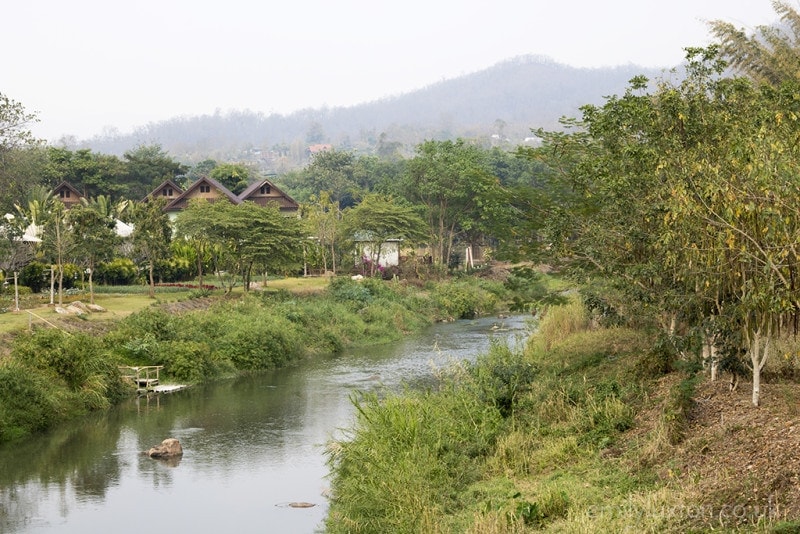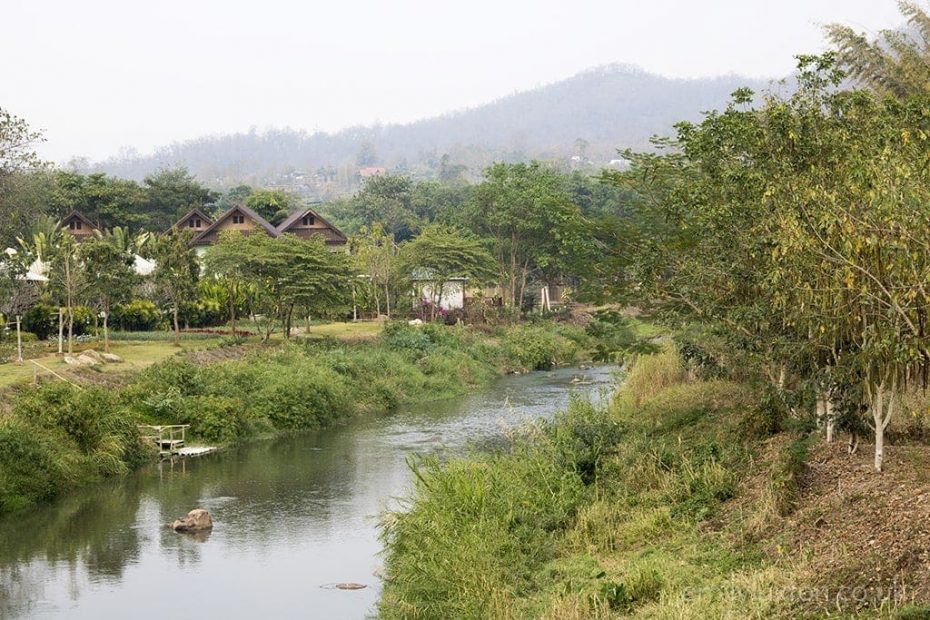 After Pai, I had one more night in Chiang Mai to catch up on some work, get my laundry done, and – of course – swing by the amazing Lila Massage parlour for a nice relaxing mani-pedi. Then, I flew to Bangkok, where I'm currently writing this post after a day of shopping. I was feeling a bit like a scruffy traveller as I significantly under-packed, so I hit the shops in Bangkok, starting with the truly epic Chatuchak Market on Saturday, which is apparently one of the biggest in the world. It was enormous, with so much to browse – I loved exploring the art section which was essentially a brilliant outdoor gallery – and had an amazing selection of clothes. I definitely spent a tad too much money, but on the plus side my haggling skills are improving!
March 2016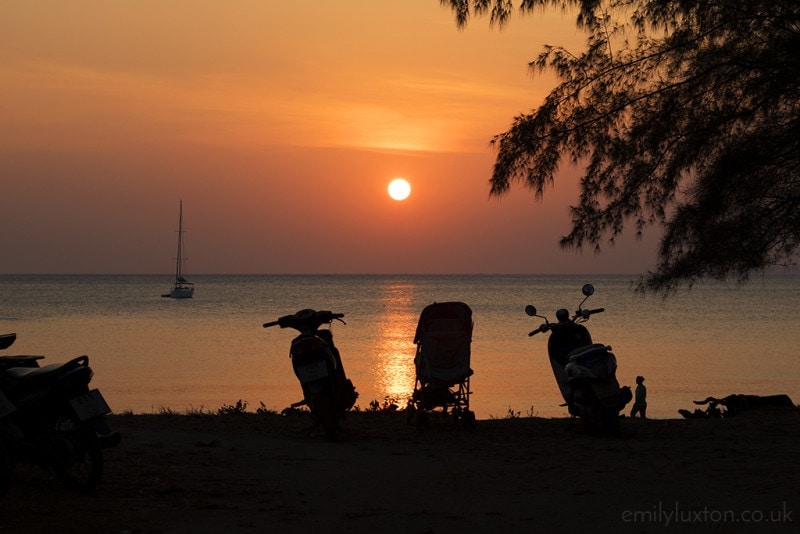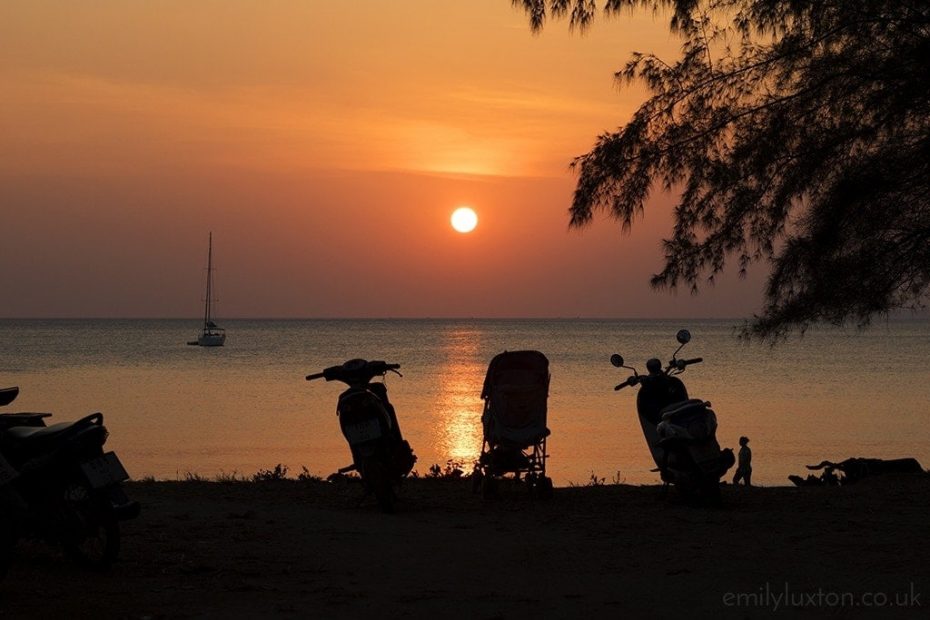 At the beginning of March, I was on the island of Koh Lanta in Thailand – but those six days in paradise seem like a lifetime ago now. Time warps during long term travel. On the one hand, days go impossibly slowly, and things done last week seem forever ago, while on the other time seems to be moving absurdly fast, and the looming deadline of the trip's end draws closer ever more rapidly.
In just a month, things have changed an absurd amount for me. At the start of the month, I made a spontaneous and fairly last minute decision to abandon my original plans entirely and head instead to India with fellow travel blogger Brendon (Nerd Travels). We got a fair bit done in three weeks, but given how enormous and varied India is, it's safe to say we didn't even scratch the surface!
Here's everything I got up to last month…
Twelve Months Twelve Fears
As you may know by now, I set myself a challenge at the start of the year to do one thing a month that scares me. This week, I wrote a long-overdue introduction to the Twelve Months Twelve Fears challenge, explaining exactly why I'm doing it and what this whole crazy challenge means to me. Which is a lot, so I really hope you'll read it!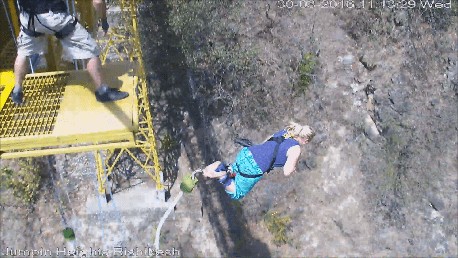 Last month, my big terrifying challenge was a particularly hard one; bungee jumping. I'll be posting about it separately, because it was one amazing adventure, so this is just a brief update. Keep an eye out for the blog post which will come later this week and include a pretty funny vidoe of the jump.
Last Days in Thailand
Way back at the start of March, I'd just arrived in Bangkok where I posted my February round-up. I didn't enjoy Bangkok quite as much as the rest of Thailand. It was a little too crowded and overwhelming for my liking. I did have some great food, and I loved my day of sightseeing with fellow travel blogger Vicky Flip Flop, when we explored the glittering, golden Grand Palace and discovered the giant reclining Buddha statue at Wat Pho. I even enjoyed, in a morbidly curious sort of way, the bizarre Museum of Death at Siriraj Medical Museum, which Vicky led me to; a stuffy room in a medical school, full of skeletons, deformed fetuses in glass jars of formaldehyde, and even slices of human brain suspended between glass sheets. It was weird, it was gross, and it was terrifyingly fascinating!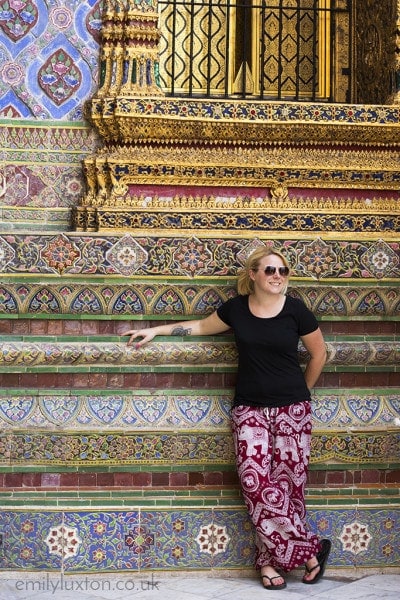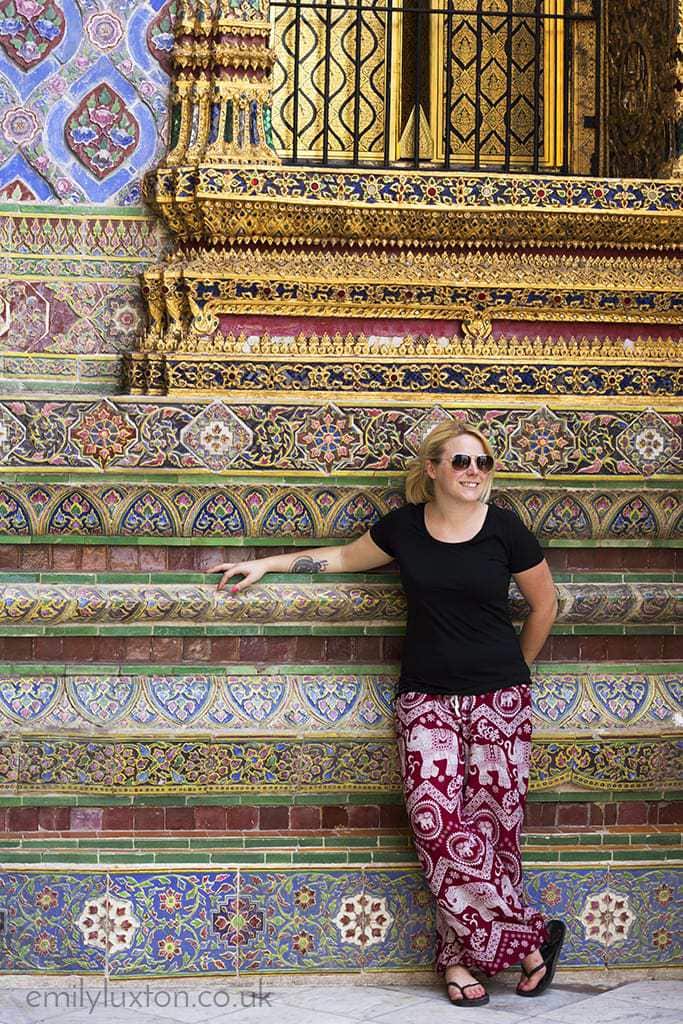 Better than my unofficial tour with Ms Flip Flop (sorry Vicky) was the tour I booked through Showaround. Two local girls, both students at university, showed me around their home town – taking me to some of the less known places as well as popular tourist spots like the Golden Mount. Don't miss my write up of the tour. It was the perfect way to explore.
In Bangkok, I met up with Brendon – who I already knew from TBEX last year – at a party for a digital nomad conference, and when I left for Koh Lanta he decided to tag along. Six days on a beautiful Thai island, watching the sunset over the sea every night, exploring on a moped on some pretty dodgy roads, and gorging ourselves on delicious seafood… you can see why he was tempted! It was in Koh Lanta that Bredon convinced me to head to India for Holi, so from there we flew to Kuala Lumpur for one night and then on to Goa.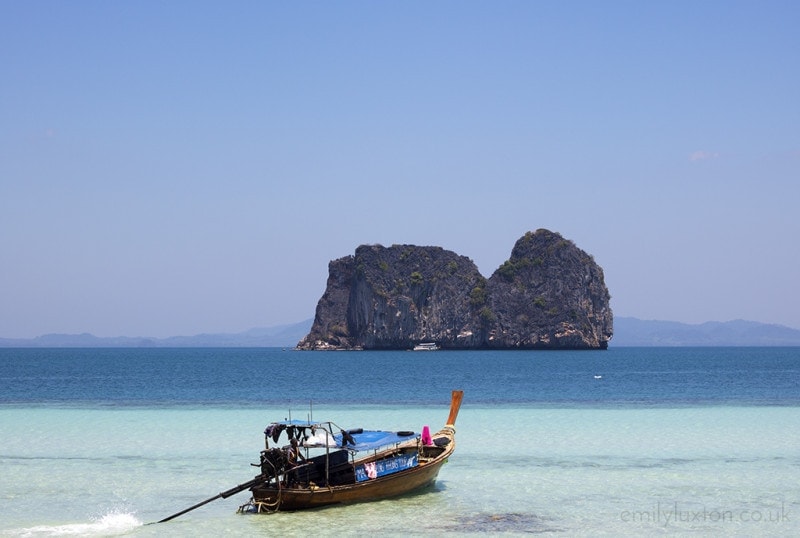 Three Weeks in India
Psst! Read my post India So Far for an insight into how I was feeling around the mid point of my time there, and how my trip through Asia has left me feeling like a different person. I poured a lot into that post so I'd love to hear your thoughts!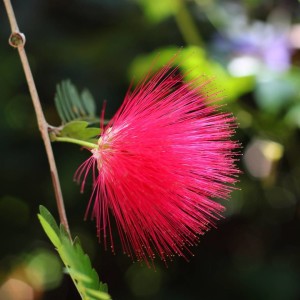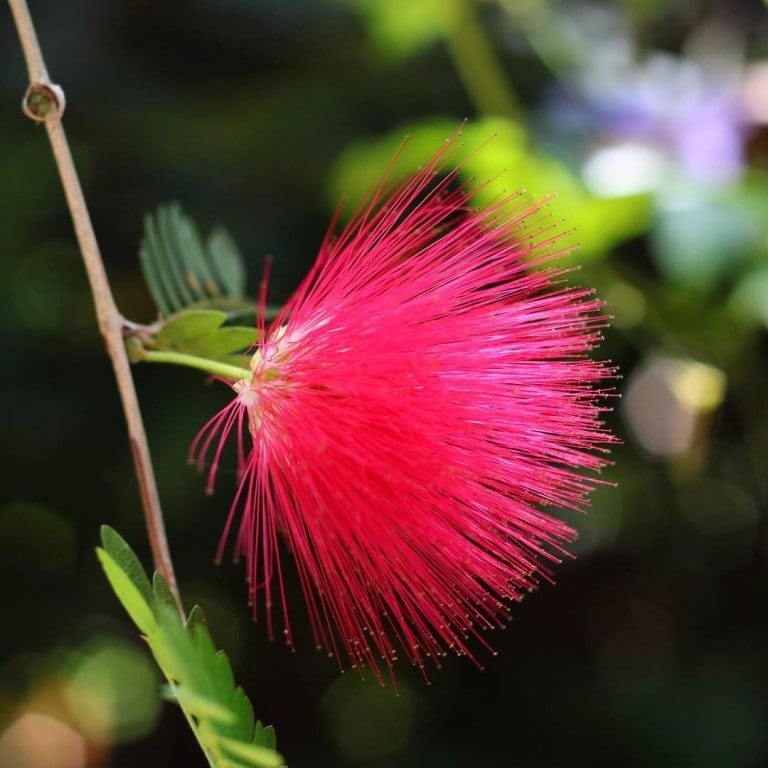 We arrived in India on the tenth, and spent the three weeks travelling from south to north, stopping at a handful of places. The first six days we spent at Vagator Beach in Goa, where the relaxed pace of life and ease of travel were nothing like my expectations of India. We got a lot done in six days; exploring the colonial churches of Old Goa, swimming in the natural pool beneath the staggering Dudhsagar Falls, touring a spice plantation surrounded by lush green jungle, partying with backpackers at Jungle Hostel, and taking a cooking class to learn more about "real" Indian food. It was a jam-packed few days, but at the same time it felt like we hadn't done all that much, because time in Goa really did seem to move slowly. In between sightseeing and packing ourselves full of some incredible local cuisine – I'll never forget my first fish thali on the beach – we spent a lot of time being lazy, snoozing or reading in hammocks and generally soaking up the chilled atmosphere of Goa.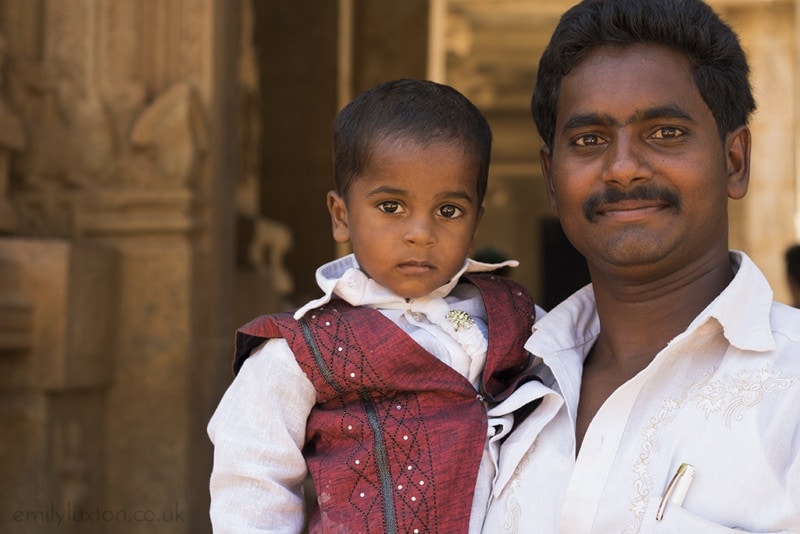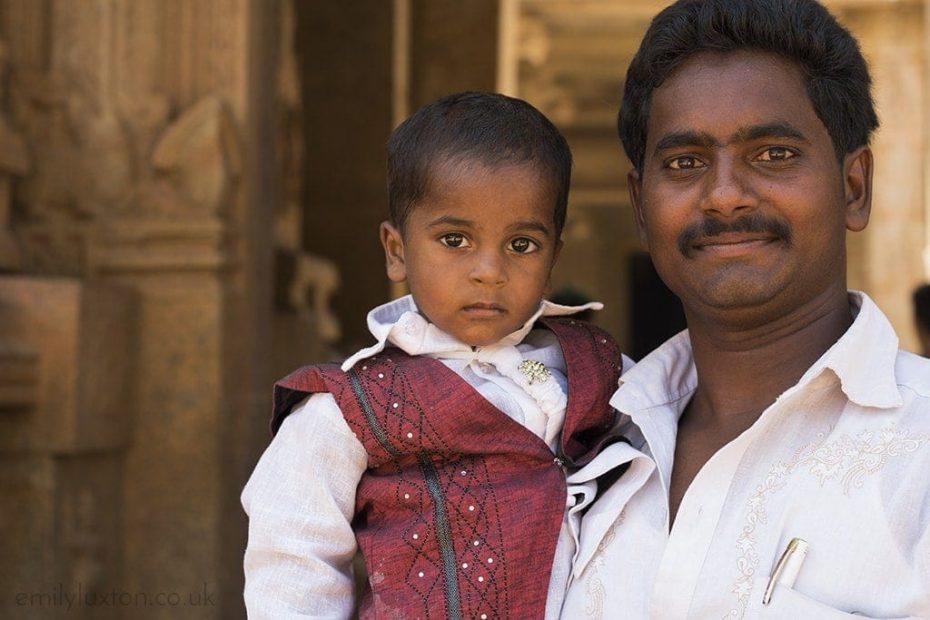 All that relaxation was much-needed, because after Goa we had a bit of a whirlwind week of travel. Normally I like to travel slow, savouring each stop and really getting to know each new place. But we had a deadline, as both of us wanted to spend Holi in Rishikesh, so we had to get up north pretty quickly. First, though, we took an overnight bus south to Hampi – which broke down for five hours by the side of the road and arrived about seven hours late, resulting in one thoroughly miserable Emily. Three nights in Hampi gave us just enough time to tour the famous ruins and temples, but it wasn't really enough time for me to make the most of this beautiful little town. Hampi was unreal; to me it looked like something out of a film, but I suppose that's simply because it was nothing like any place I'd seen before. The town is surrounded by huge piles of boulders, dotted in between dusty plains and rich, green forests – making it look like the setting for the Flintsones movie – and in between all that lie dozens of amazing ruined palaces and temples from the Vijayanagara Empire (1336 – 1646).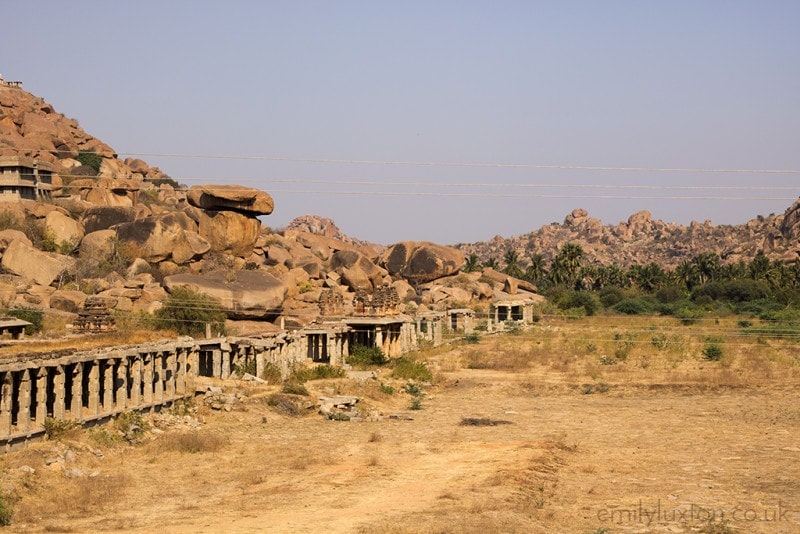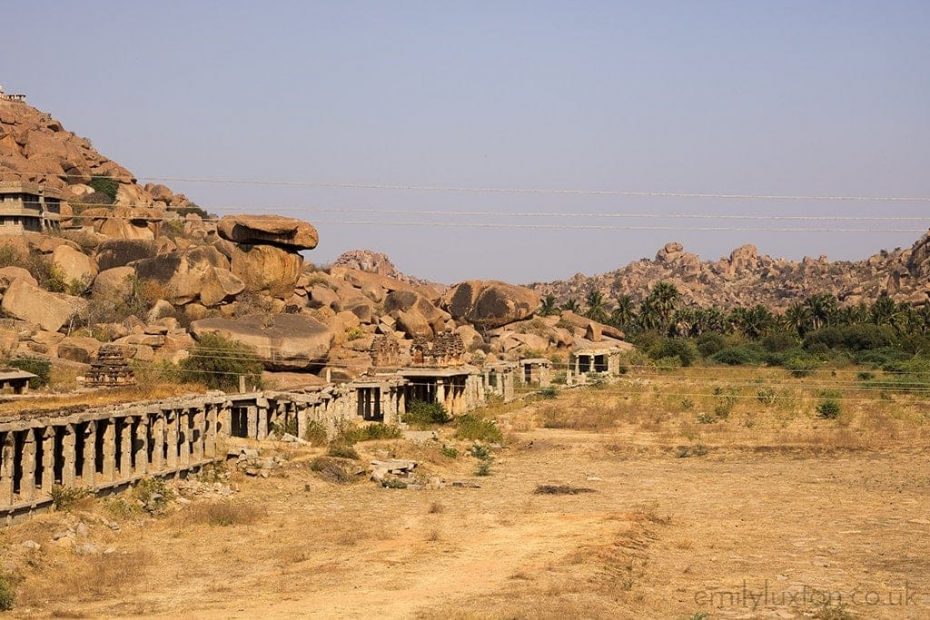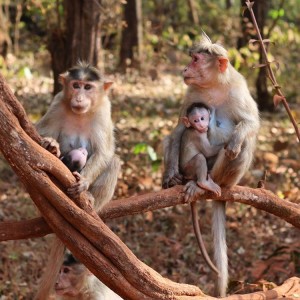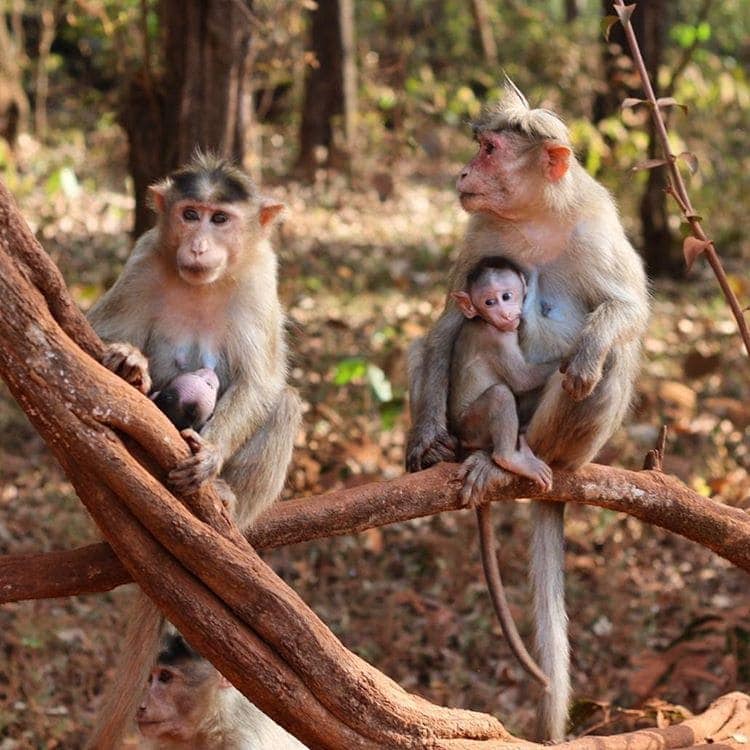 Although I wasn't quite ready to leave Hampi, the heat there – around 40° most days – was killing me, so the temptations of cooler northern weather were pretty strong. We left Hampi and took an overnight train to Bangalore (in non a/c sleeper class, which was an interesting, intense, and very uncomfortable experience), then headed straight to the airport in a cab and flew to Delhi, where we spent one night. We did almost no sightseeing, except to walk through the park around India Gate, but I don't feel bad about it really. Delhi isn't somewhere I'd been excited about visiting, and what I saw of the city put me off coming back; too busy, too dirty, too crowded, too intense. I dislike big cities generally anyway, and Delhi was far too much for me; I love India for it's natural landscapes and the warm, welcoming people I met in the smaller towns.
So, after less than twelve hours in the capital, we hopped on board a day train all the way to Haridwar, then took a taxi to Rishikesh, and finally we'd made it. In the space of six days we'd travelled over 1200 miles on ten different modes of transport.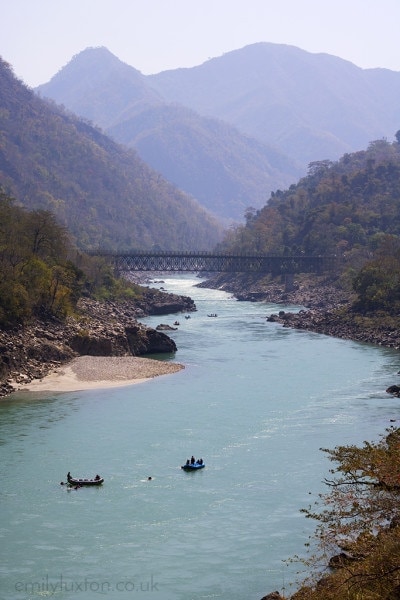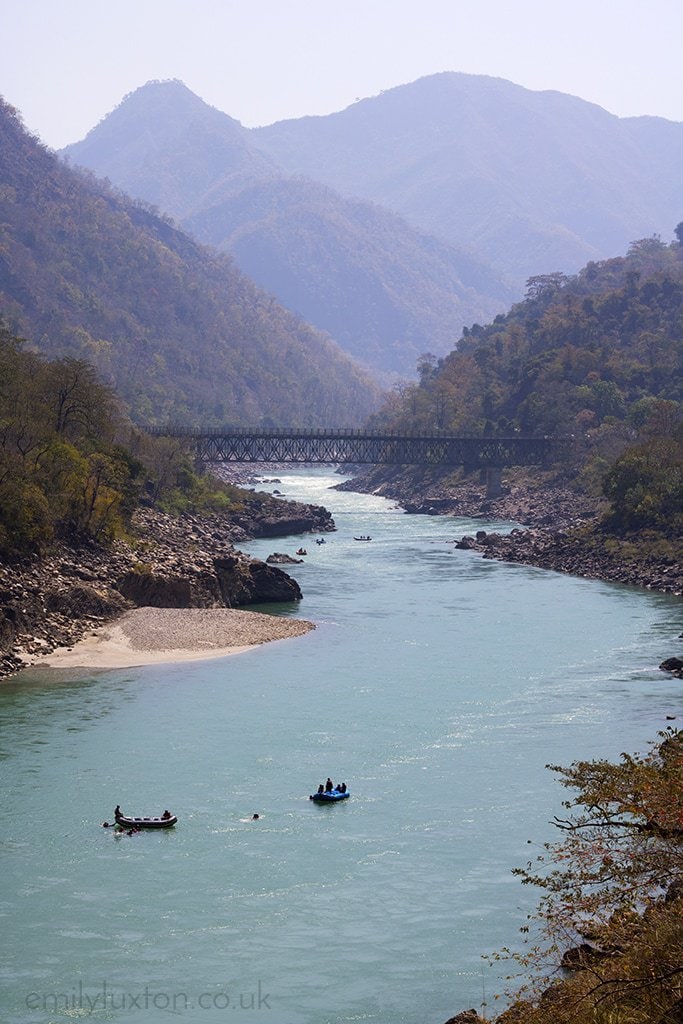 Rishikesh was absolutely stunning, and by far my favourite stop on my India trip. The bright, blue-green Ganges cut through the city, and all around were the rolling green and brown foothills of the Himalayas. Temperatures were a little lower, too, more like a hot summer day in England, and it actually got a little chilly at night.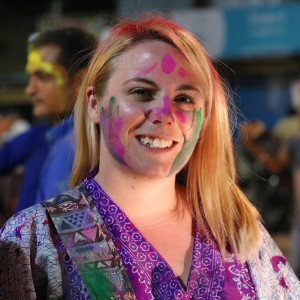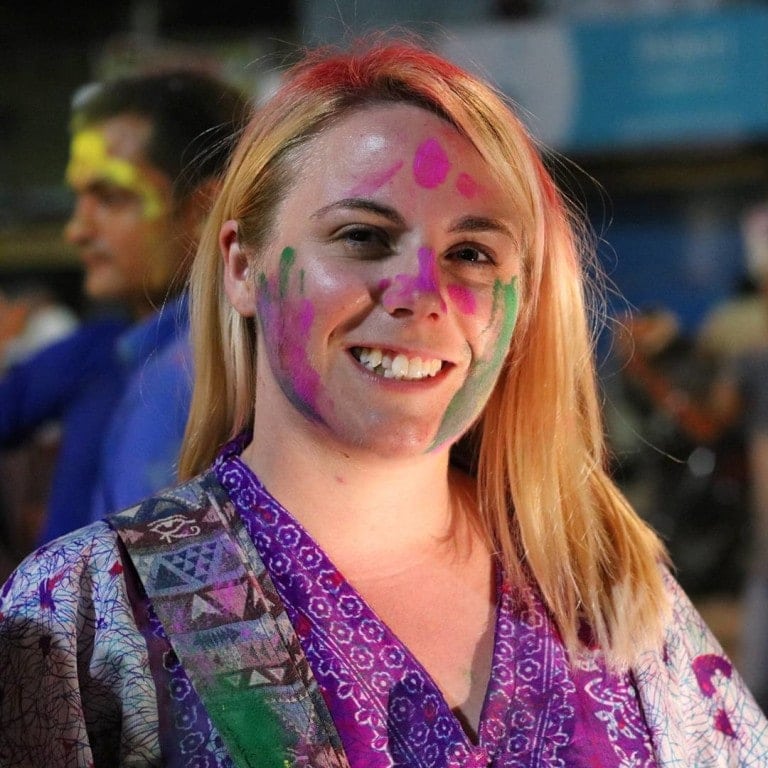 Holi in the holy city of Rishikesh was an amazing experience. I've already written about it, so please don't miss that post for some really cool photos (if I do say so myself) and to read about how I found it all. The rest of the time in Rishikesh was made up of relaxation and slow, lazy exploring. We visited Maharishi Mahesh, the so-called Beatles Ashram, a crumbling and beautiful ashram which I personally think should be famous in it's own right and not just because the Beatles went there to learn transcendental meditation. We went white water rafting on the Ganges, and I spent two days enjoying "Goa Beach" on the bank of the river, despite a slight brush with the police. Their only reason that we shouldn't bathe there was this: girls in bikinis might attract Indian men, who might not be able to swim and might drown trying to get a glimpse of us, for which the police would get in trouble. Feeling rebellious and deeming this illogical advice ridiculous, I went ahead and bathed in the shallows anyway. India continues to baffle and delight me!
Finally, my time in India was over. On the last day of March I took a nasty, shaky bus all the way back to Delhi, spent a night there feeling grumpy about all the things that had gone wrong in my journey (I'll spare you the details), and flew back to Thailand on the 1st April ready for the last two weeks of my Asia trip.
April 2016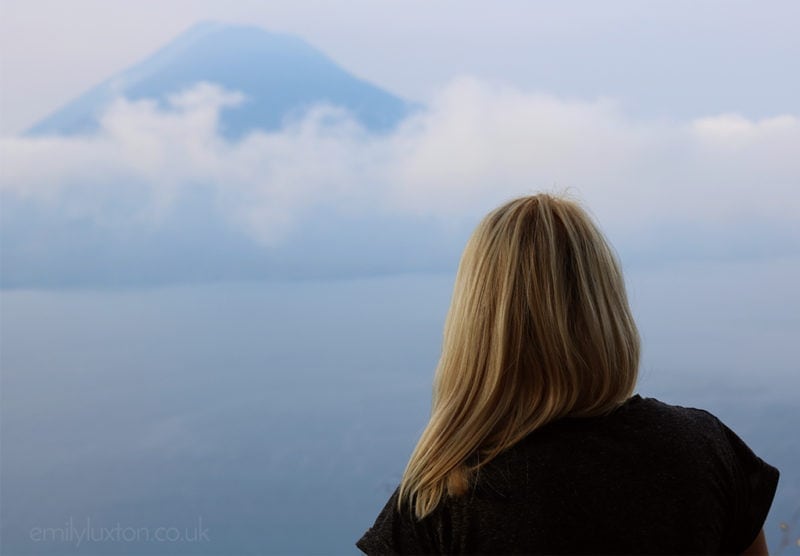 Phew! April has been the busiest month of the year so far for me by miles – with four countries and a whirlwind of so much travel I have a headache looking back at it. I can hardly believe how much I've done since writing my March Travel Round Up; it's been crazy!
My big thing this month has been Snapchat! I'm now officially hooked, and I'm also talking on video for the first time ever. Which means that you guys can get to know the real, unedited me (Snapchat filters aside). Did you know that I have a lisp I'm super embarrassed about, or that I'm secretly hilarious? No? That's because you're not following me on Snapchat! Get to know the real me, see behind the scenes (and the Instagram filters) of my life as a travel blogger, and get LIVE coverage of my trips… just add me on Snapchat: username emluxton or screenshot the Snapcode below.
If you haven't added me already, you're missing out on such treats as following me around Mayan ruins as I hum the Indiana Jones theme song, watching me tipsily water fight at Songkran in Thailand, and hearing me grumble about my hangover whilst snorkelling in Belize. I also occasionally make jokes. If that doesn't sell it to you, I don't know what will!
If you weren't following me on social media, here's everything I got up to last month…
Songkran in Thailand
I started the month in Thailand, where after three weeks of dodgy internet in India I had a lot of catching up to do. So, I spent the first week of April on the beautiful island of Koh Phangan– where I did absolutely nothing but work and swim all day. After a few busy weeks, it was sheer bliss. I headed to the beach-side Coworking space BeacHub for a week, and started most days with a swim before sitting at my desk in front of the most beautiful blue water I've ever seen. After work, a sunset swim and some amazing seafood rounded off the days nicely… honestly, I could live like that forever!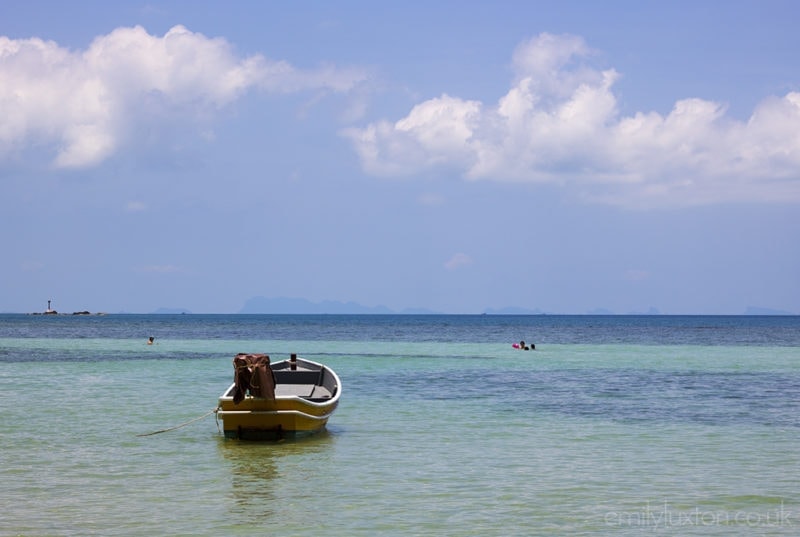 From my island paradise, I flew back to Chiang Mai, where my Thailand trip started way back in February. On my first trip there, I'd liked the city, but I hadn't thought it was all that special. Arriving back there, though, genuinely felt like coming home – and I realised that Chiang Mai had gotten under my skin a lot more than I'd thought. When it was time to leave, I actually burst into tears at the airport, something I've never done before. I'm so glad I went back there!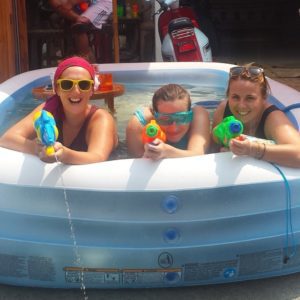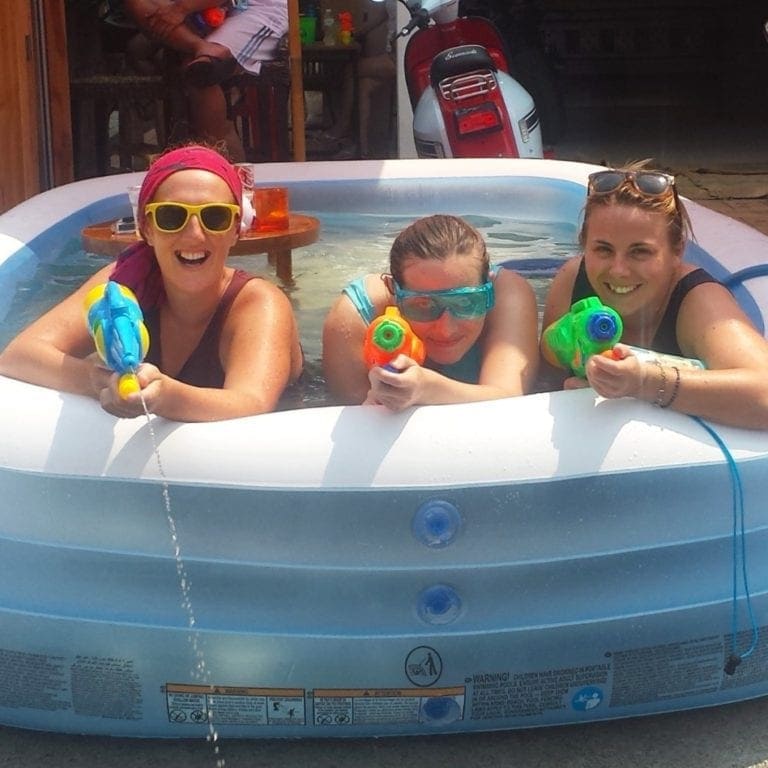 I was in town for the Thai New Year festival of Songkran. In Chiang Mai, the festival lasts from the 12th to the 15th of April, and for those few days the entire city centre basically descended into chaos. Essentially, the festival has evolved from the practice of pouring water on the hands of respected elders (a mark of respect and of purification for the new year), into a giant water fight. The phrase water fight doesn't really do the whole thing justice; this was four days of all-out war. Shops were closed, businesses were shuttered, and everyone – locals and tourists alike – hit the streets for the biggest water fight I've ever seen. I threw myself into the fray – along with fellow bloggers Janet (Journalist on the Run) and Claire (Curious Claire) – with serious enthusiasm. A real highlight was spending the second afternoon hunkered down in a paddling pool on the pavement outside our hostel, pretending to be in a trench, and attacking anyone who ventured to walk or drive past us. Songkran turns everyone into kids!
We did make sure to understand the more traditional side of the insanity too; spending a morning observing the more serious, but no less colourful, festivities at some of the temples in town. Songkran is a beautiful event involving lots of symbolic rituals, like pouring water onto the Buddha statues to represent washing away sins and bad luck. It was a really colourful festival, and the main temple in Chiang Mai, Wat Phra Singh, was filled with brightly coloured paper flags and garlands of vivid orange marigolds. Being able to witness that spectacular even felt really special, and I'm already planning next years trip.
Central America
After the chaos of Thailand and an insanely longhaul flight, I spent a week back at my dad's in sunny Weymouth (my hometown on the South coast of England) catching up on work and battling through jetlag. Not even a week later, though, I was flying back around the world in the other direction, this time to Central America.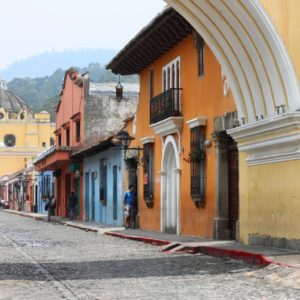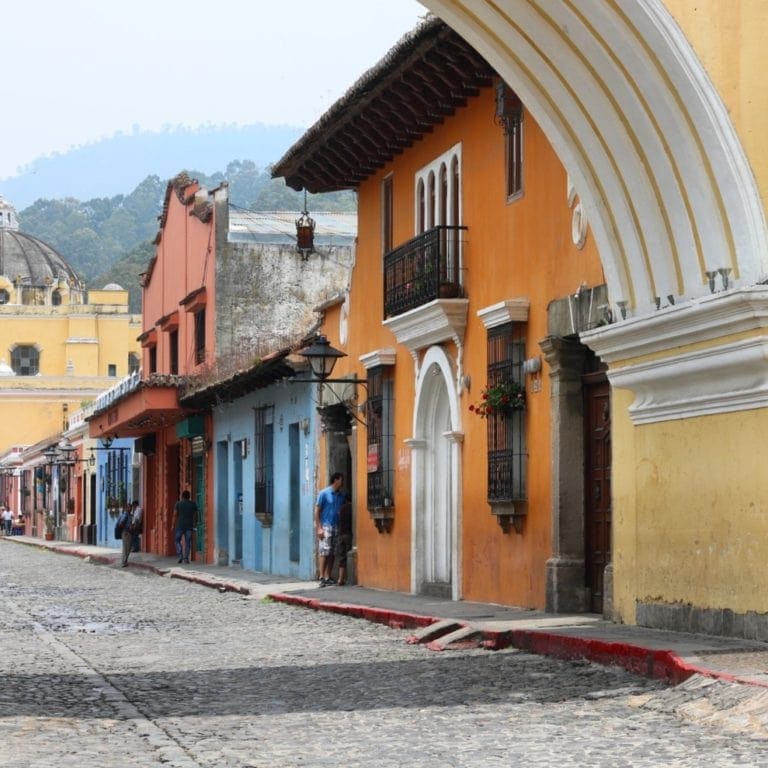 Moving from Asia to England to Central America takes its toll, and my first two days in Guatemala City were mostly spent recovering from the worst jetlag I've ever experienced in my life. I did manage to see a few of the sights, though, and I was lucky enough to catch a festival of culture on my first day in the city which was a really cool event. Plus I stumbled across a genuine dance off in the middle of the street! After two days alone in Guatemala City, I spent a week on a press trip in Guatemala and Belize with Visit Centroamérica and four other bloggers.
There's a lot more to come about that trip, so I'll spare you the details, but in seven days we managed to explore the towns and volcanoes around Lake Atitlan, the colours of Antingua, and the jungle-strewn Mayan ruins at Tikal in Guatemala, before heading to Belize to check out more Mayan ruins at Xunantunich, snorkel with nurse sharks and sting rays, and zip line through the jungle canopy. It was a seriously cool, action-packed week and I loved every second: stay tuned for my post about the trip to find out more.
Twelve Months Twelve Fears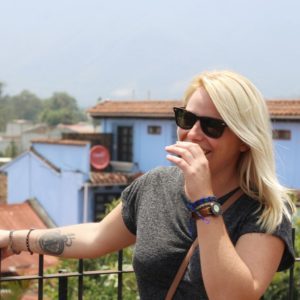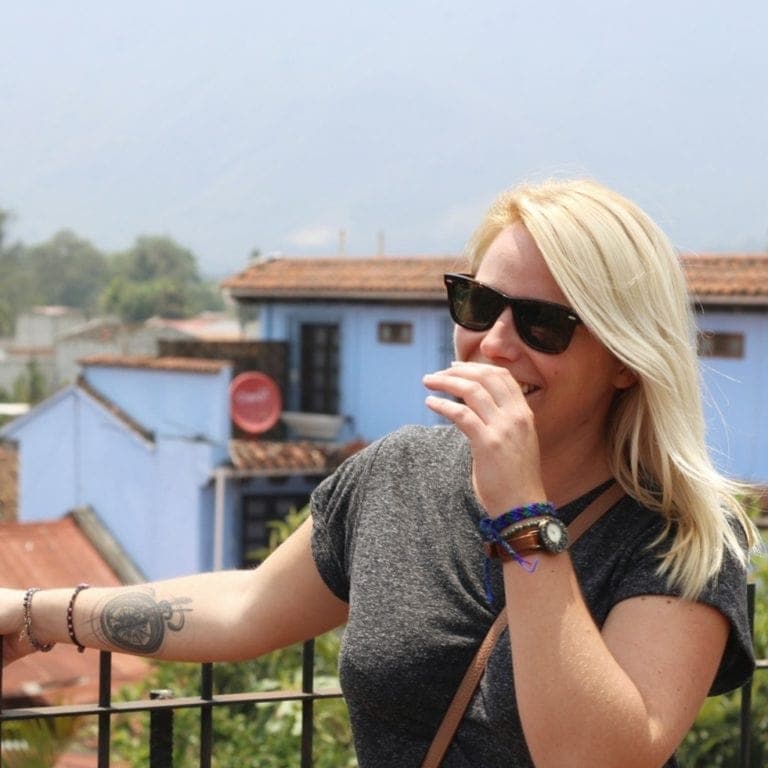 If you've been following me this year, you'll probably know that I'm doing one thing a month that scares me for my Twelve Fears 2016 Challenge. But I have a terrible confession to make now. Last month was so hectic that I actually failed miserably, and never found anything terrifying to do. There were a few scary challenges, including speaking on Snapchat for the first time (a big deal for me) and spending two days in Guatemala City on my own. But, none of them were big enough to really count. I know I've let you all down – but please forgive me! I promise to do two REALLY scary things in May to make up for it. If you want to suggest a suitably punishing challenge for me, drop me a comment below. I will try my best to do everything that gets suggested!
May 2016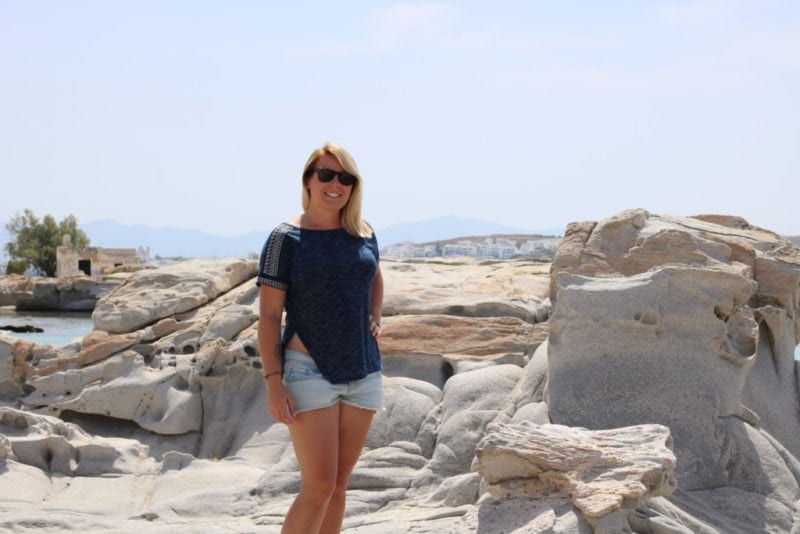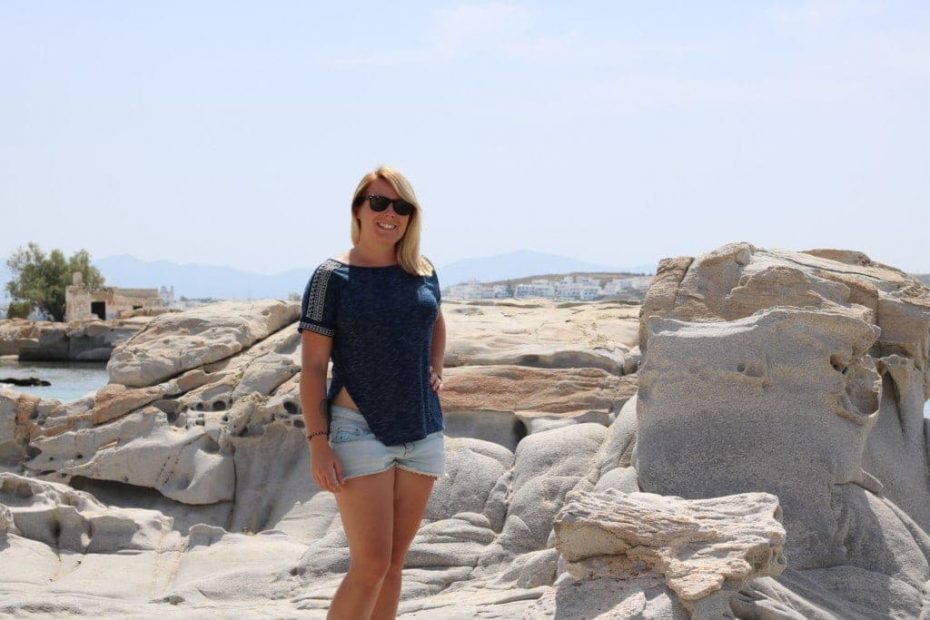 May was an intense month; hectically busy, and very up and down. My life feels a little bit ridiculous at the moment; it's so packed with almost non-stop travel and press trips that I'm starting to feel a bit strung out. Particularly because, as I write this round up, I'm sitting in a pub in Newquay having breakfast after an eight hour overnight bus from London.
Travel Sucks
It's rare that I blog about the negative sides of my travel lifestyle, or even about the travel side of things – mostly because I think of that stuff as boring, and prefer to focus instead on the good stories and the destinations themselves. But in the interest of being more honest (and to prove to certain friends and family that my life isn't one big holiday), here's an idea of my week: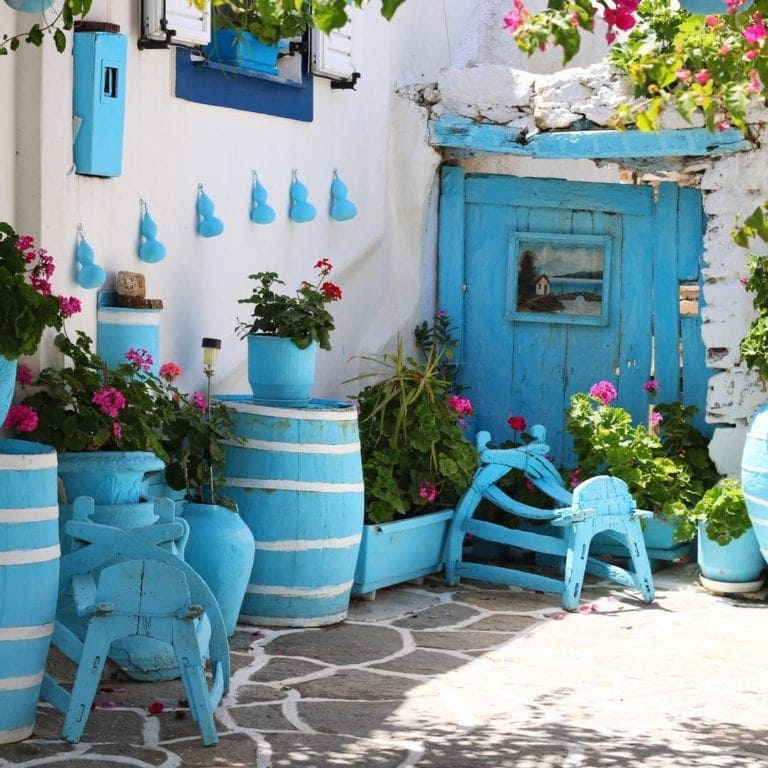 In the past seven days I've taken four flights and an overnight bus, slept in five different beds, and managed an average of around six hours sleep a night. Yesterday, I left Paros early in the morning (after a stupidly late night) and flew back to Athens, where I had to kill several hours at the airport before flying back to the UK. I landed around 4pm and took a tube into central London with my massive suitcase, now ridiculously laden down with local wines. I had to drag my case around Primark because I needed to replace my ripped leggings, but after that I was left with almost six hours to kill in the capital – whilst feeling beyond tired. Just to get off the street, I went to the cinema (with a massive bag of Maltesers to cheer myself up), then sat in a pub on my laptop, the screen swimming before my exhausted eyes. Finally, at half eleven I hopped on a crowded and uncomfortable overnight bus to Newquay, arriving before 7am this monring. I had to sit shivering on a bench, feeling pretty hobo-esque and very sorry for myself, until things started opening.
It's been a painful 24 hours, and I'm so tired now I feel a bit dizzy. But, weirdly, there have been a few nice moments. This morning on the bus, I woke up to find us crossing a bridge in the golden light of a spectacular sunrise. Later, we descended into a valley that was rolling in so much mist it looked like a special effect, the sunrise flicking through wet oak leaves onto the dewy grass. It was beautiful, and it reminded me that travel is all about balance; the best things in this world often come hand in hand with some really bad things.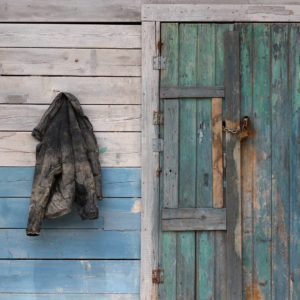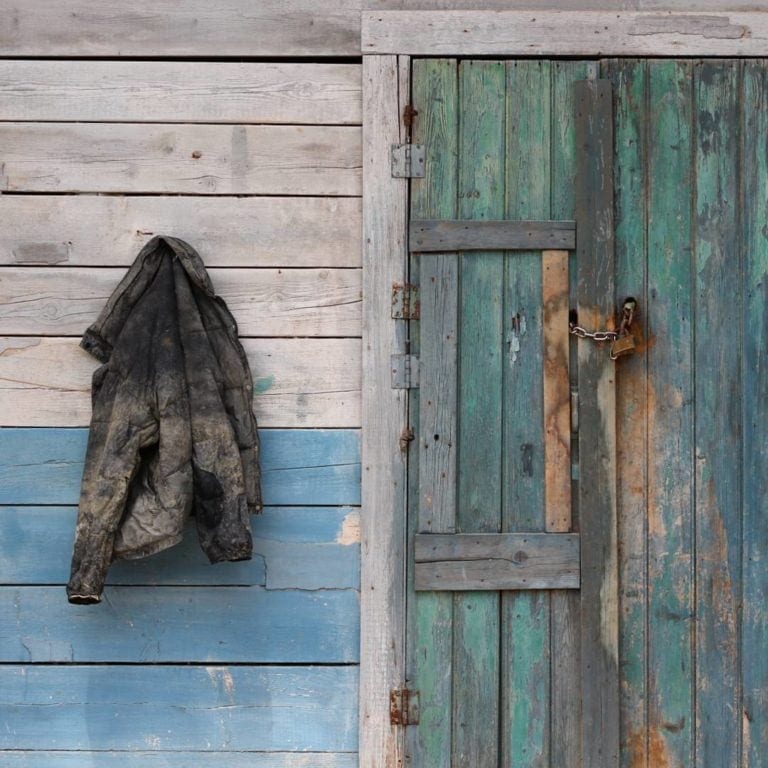 This month has involved a monstrously delayed overnight flight from Belize, among several other seriously sucky journeys. I also lost my passport on my way to a press trip and had to miss it. But there was a good side here too; staying in the country unexpectedly meant I had time to catch up with some friends I've not seen in ages, with trips to Southampton and Bournemouth for reunions with old uni friends. The good news is that a stranger found my passport in the street, looked me up on Facebook, and sent me a message – so I got my passport back safe and sound, restoring my faith in the general goodness of humanity.
This Month in Travel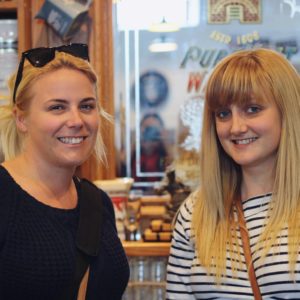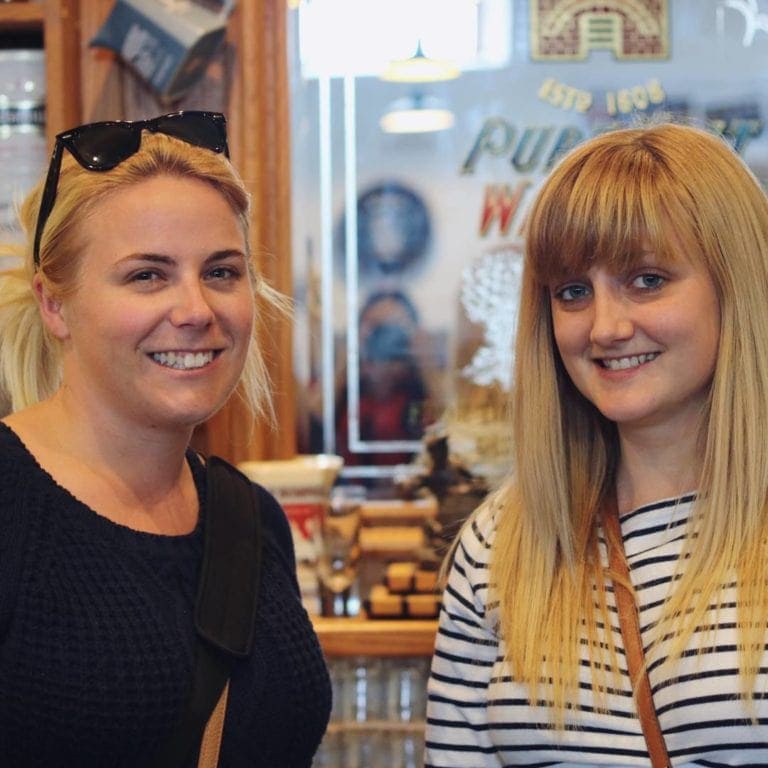 At the start of May I was in Belize, just rounding up my seven day trip exploring Central America. There were volcanoes, lakes, unexpected rainstorms, zip lining, snorkelling, Mayan ruins, and quite a lot of rum – and it was awesome. From there I headed home to Weymouth for a couple of days, before taking a long weekend to Northern Ireland with one of my best friends, Ruth – who I've known since our first day at secondary school! So far, I've only written about my first day in Northern Ireland, but a second post is coming soon, so stay tuned. After Northern Ireland came the drama with the lost passport and the missed press trip, so I slunk back to Weymouth for just over a week to catch up on work.
Next stop was Italy for a press trip with Time to Log Off; a company who arrange amazing digital detox retreats. I handed over my phone and laptop and spent a full seven days with absolutely no internet access, or screens of any kind; and it was total bliss. We stayed at a beautiful Masseria in Puglia, and every long, lazy day was filled with yoga, walks, swimming, reading, and relaxing. Because my job is my blog, and my blog is pretty much my life, I haven't actually taken a full day off – or even a half day off – since maybe August last year, so this opportunity was wonderful. It reminded me of how important it is to put my phone down sometimes and actually enjoy reality – and I loved the chance to switch off completely! Blog post coming soon.
Finally, from Puglia I flew to London for a night before retreating once again to sunnier climes; this time Greece, where I rounded off the month on the gorgeous island of Paros. White-and-blue buildings galore, pristine flagstone streets, crystal clear seas and the most amazing Greek food I've had yet – this was the perfect place to chill out after a pretty busy May.
Twelve Months Twelve Fears
Throughout 2016, I'm doing one thing every month that scares me, in an effort to boost my confidence and raise my self esteem, which took a big knock last year when I broke up with my boyfriend. Six months on, I'm doing a million times better – and I have to say that both travel and, in particular, trying new things for my 2016 Challenge, have really helped me pick myself up and move on.
Last month, I ran out of time, so this month I had to find two things. The first was quite small, but it was actually a huge step for me: I shared a post about my mum's death and how it affected me. It's taken ten years for me to be able to comfortably talk about that with friends and family, let alone strangers, so posting about her death was really difficult for me. I was particularly afraid that it might come across as attention seeking, or that I was trying in some way to cash in on a really emotional topic, which wasn't the case. I just wanted to do something to mark the ten year anniversary of my mum's death and also to put into words what I've been feeling this year about travel and life in general.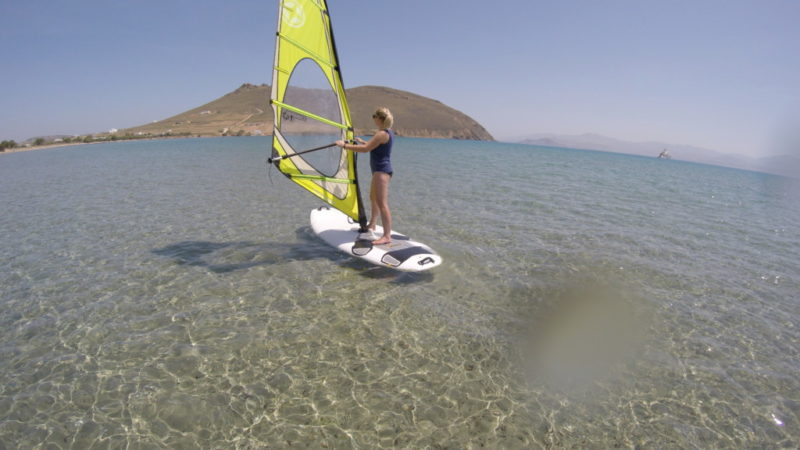 The second thing was less emotional, and quite a bit less scary (for me). In Paros, I tried windsurfing for the first time ever. I know that isn't the scariest thing in the world, especially not on the shallow, calm waters I was blessed with, but for me trying something new – especially something physical – is always a personal challenge. And whilst it wasn't a terrifying experience, it was pretty tough, and I felt really proud of myself after the lesson. There will be a blog post soon to share more details, and maybe some of the footage from my new GoPro.
What's Next?
So that was May! It was full, it was busy, it was awesome, it was awful – and I loved it. Sometimes, when things go wrong or I'm overtired, I start to wonder why I'm living this life when I could be doing some easy job in an office, and spending my weekends with friends and family instead of stuck in airports or on buses. But in reality, I love my life, and I really can't give it up now. It's who I am: even the bad bits.
This month, I have a less hectic schedule planned, with just two longer trips instead of lots of little ones. Today, I'm heading to the Scilly Isles for nine days, and at the end of June I'm going back to Spain to experience the Camino de Santiago. Add me on Snapchat (emluxton) to follow the adventures live, and don't forget to follow @em_luxton on Twitter and Instagram.
June 2016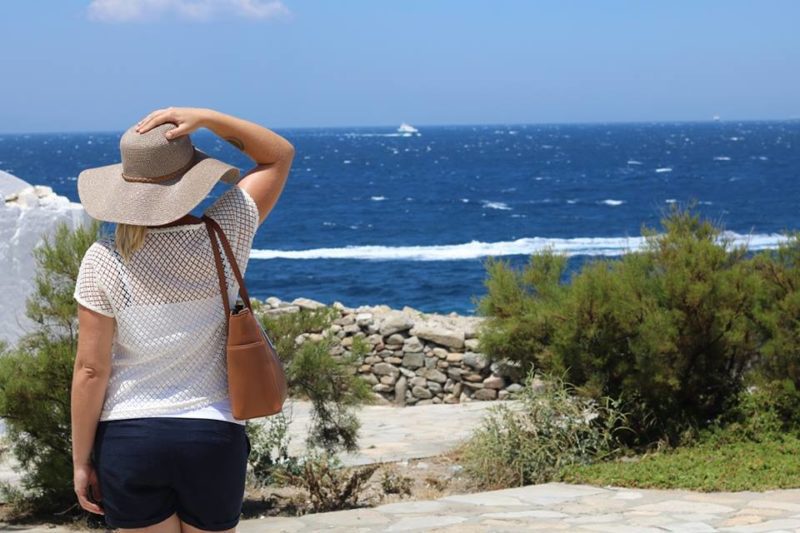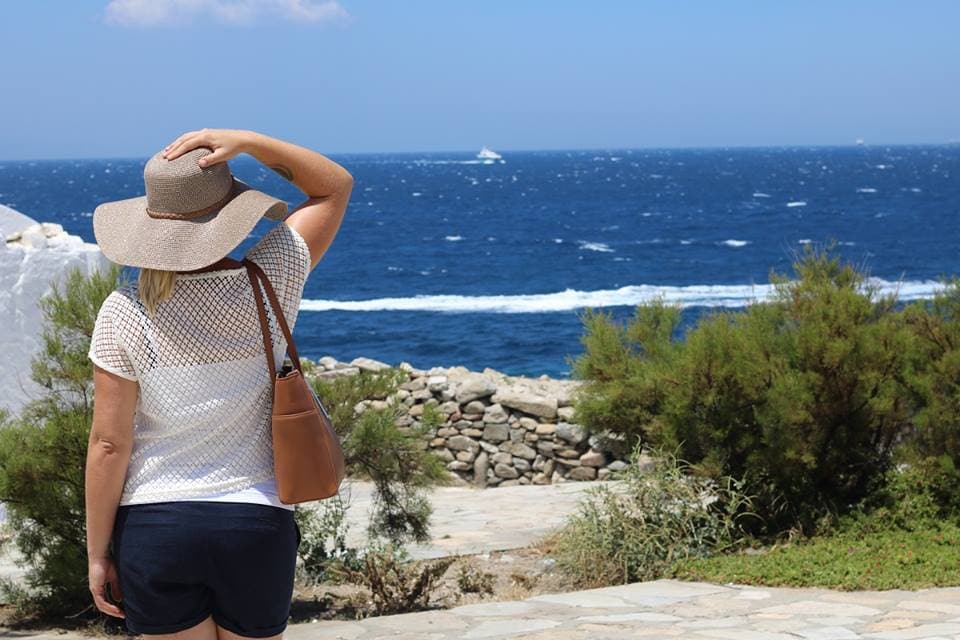 Bloody hell, how is it halfway through the year already? The last six months seem to have disappeared – swallowed up by a vortex of travel, discovery, and more work than I've had in my life. Anyone who thinks travel blogging is an endless holiday should come and spend a few days with me!
So far this year, I've slept in more than sixty beds, taken thirty six flights, and been in eleven different countries across three continents. I've been to Holi in India and Songkran in Thailand. I've partied in Belize, skied in the alps, and right now I'm cruising in the Aegean. And finally, after seven months, I feel like I'm getting over the break up that sparked this year of intense travel in the first place. I feel like a happier, healthier version of myself, and I can see that the relationship I was in wasn't the right thing for me. There's a much brighter future than the one I thought lay ahead of me, and I'm so excited to see where this new path in my life takes me.
June Travel Round Up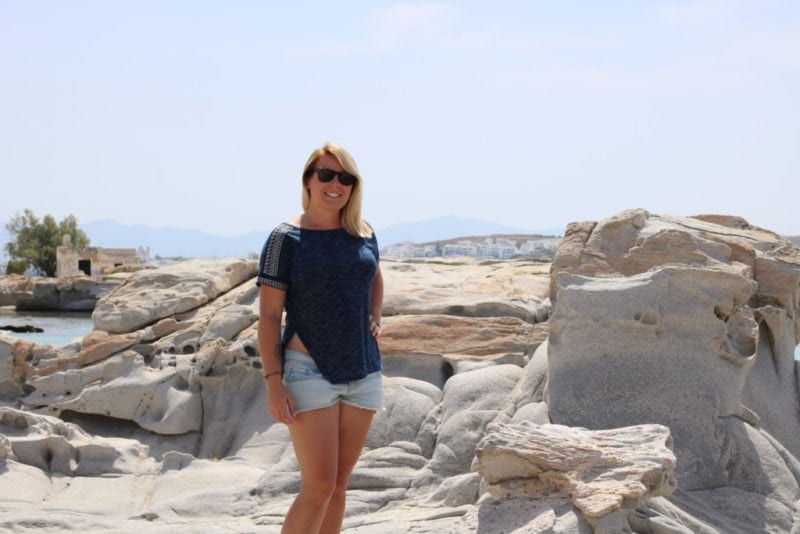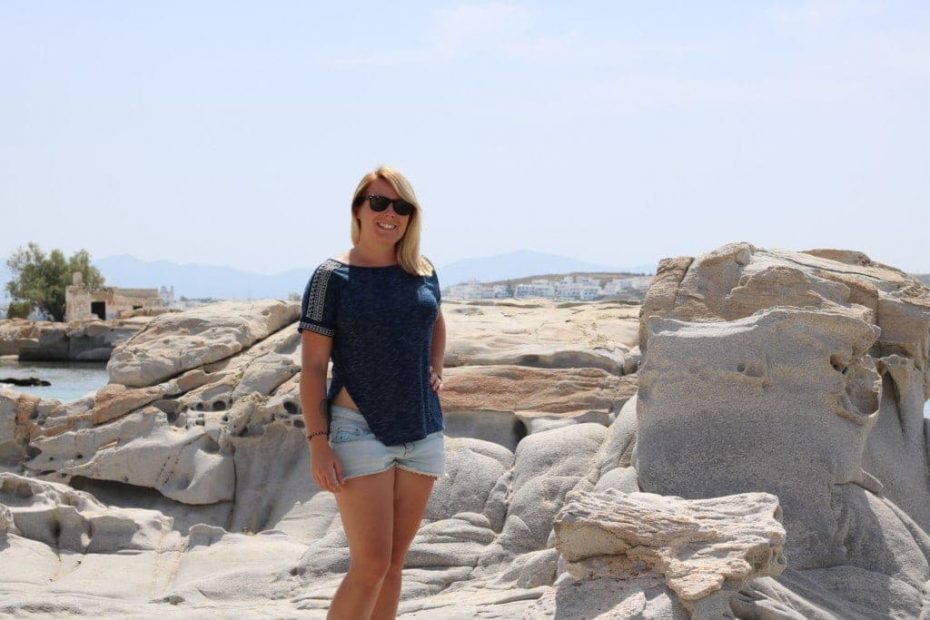 So, what did I get up to last month? I started in Paros, where I was on a fleeting solo press trip courtesy of Discover Greece. That trip was already covered in the May round up, but there's still one more post to come – so stay tuned. Being on back to back trips with not much time to get online has left me sorely behind on blog posts but they are a-coming, I promise!
After Paros I headed straight on to Corwall and flew to the Isles of Scilly, where I stayed for about nine days, exploring Tresco, Bryher, and St Martins. Blog posts are still to come (as always!), but I absolutely adored this gorgeously rugged archipelago off the coast of Cornwall. Between the white sand beaches, clear turquoise seas, and fantastically mild weather I could hardly believe I was still in the UK. Highlights included the Crab Shack dining experience on Bryher, where I gorged myself on amazing fresh-caught seafood, and pretty much all the food and drink across the islands. I also loved the stunning Abbey Gardens on Tresco; flowers aren't usually something that excites me, but those serene gardens were absolute bliss.
After Tresco, I had a few days to recover at home in Weymouth before jetting off again, this time to my favourite European country of Spain. I was exploring a whole new side of the country, following the northern route of the Camino Santiago through four regions: the Basque Country, Cantabria, Asturias, and Galicia. We bussed, biked, hiked, and walking-toured our way through some stunning landscapes, fog-drenched gorges, pretty fishing villages, and postcard-perfect beaches – not to mention dozens of churches, monasteries, and cathedrals – finally finishing up in Santiago de Compostela at the end of the Camino. One of the biggest highlights of the trip was having lunch at the lovely Albergue de Güemes, a hostel for pilgrims walking the Camino. We had a chance to chat to some volunteer staff there who were taking the pilgrimage, or had just finished it, and it was great to get bit more of an insight into what the journey is like.
The last day of June was spent in London, where I spent about eight hours powering up and down Oxford Street (yuk), before flying out to Athens on the 1st July to start my cruise. I'm on board right now, so follow me (emluxton) on snapchat to keep an eye on what I get up to.
Twelve Months Twelve Fears
As you probably know, this year I've challenged myself to do one new thing every month that scares me. But June was so incredibly busy with work commitments that – for the second time this year – I didn't have time. It's so annoying as I really want to keep up with this challenge, and I know that doing these scary and sometimes stupid challenges has been really good for me so far. To make up for missing June's, I plan to do two things in July. One is already planned and it's set to be awesome, as for the other – I'm taking requests. Scroll down and leave a comment at the end of this post to suggest a challenge for me!
What's Next?
This month is already shaping up to be another whirlwind. I'm cruising from Greece to Croatia until the 7th, and then I have a couple of days back home to catch up on what's now a mountain of blog posts and other work before flying to Stockholm for TBEX. It's a massive conference and networking event for bloggers, and I can't wait to explore Stockholm – especially the food scene there – and to reconnect with some of my favourite fellow bloggers. After Sweden, I'll be heading to Finland for a FAM trip with the tourist board there, and then I have the last week or so of July back home in the UK to celebrate my birthday. I'm turning a reluctant 29 this month and have something pretty exciting planned for the big day to ease the pain of getting ever nearer thirty.
As always, don't forget to follow the action on social media and especially on Snapchat, which is where you'll find live, behind the scenes, and often ridiculous videos of my travels. Search for the username emluxton or screenshot the code below to find me!
So that was June, which as you can see was pretty full. I am loving how much I've been able to travel this year, and I really feel fantastically free after what was such a low point last year. Massive thank you to everyone who's been following along so far this year, and stay tuned for even more adventures to come.
July 2016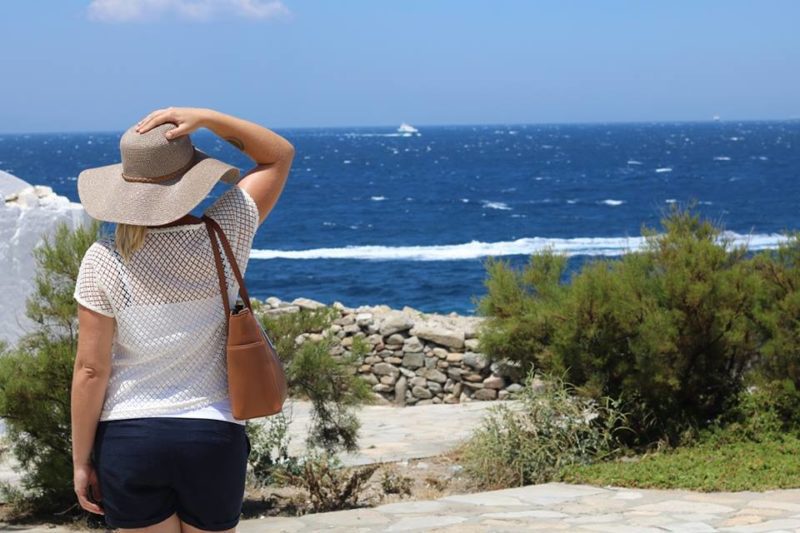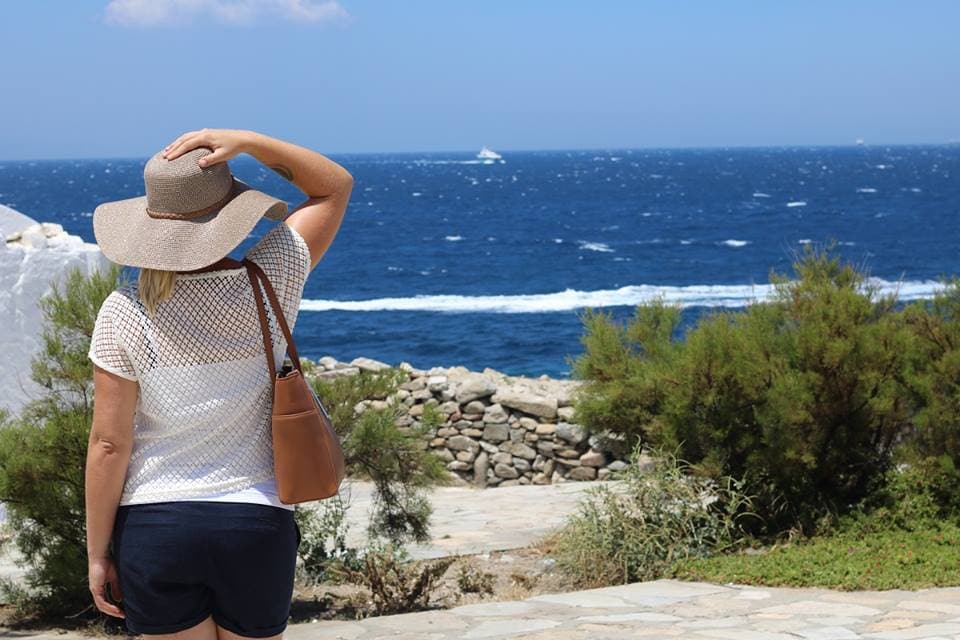 July has been a bit of a mega-month for me. As ever, there's been a ton of travel. These were the last few of a run of almost back to back trips, which have left me more exhausted than I can remember being in my life.
You may have already read the post I wrote last week about my travel burnout. I wrote it on the train home from Gatwick after my 39th flight of the year, and it sounds just a little… manic. It's also quite rambling, but the overall point is that too much travel, too quickly, is not my thing. I'm all about slow travel and deep travel – taking time to actually experience the places I visit. And that's not been reflected in the way I've been travelling lately.
Still, if you did read it, and you've in any way mistaken my overtired and insanity-laced rant about tiredness for ingratitude, I want to clear that up. My job is awesome. I love it! And I've done some really amazing things thanks to it. Tiredness aside, the trips have been incredible. Read on to see what I got up to last month…
Ultra Luxury at Sea
The first week of July was spent experiencing the high life on board a Silversea Cruise. Along with three other bloggers, I hopped on board the stunning Silver Spirit cruise ship for a week of ultra luxury. Honestly, the cruise was so overwhelmingly luxurious that I felt a little out of my depth! Thankfully, I had my favourite luxury lifestyle Vlogger xameliax with me, so I really enjoyed the experience. We've been on a few trips together before and she's one of my best blogging buddies, so it was great to be able to hang out together for a week. After having such busy few months, it was great to get a chance to laze about in the sunshine indulging myself. Which is precisely what an ultra luxury holiday ought to be!
We did explore a few of the stops, like gorgeous Mykonos, as well. But whirlwind sightseeing tours aren't my thing, and most days I opted to make the most of the ship instead. After all, it's not every day you find yourself surrounded by such stunning luxury. Champagne on tap, all kinds of amazing cuisine to try, and a private butler catering to my every whim. So this is how the other half live! The major off-ship highlight came when Silversea took us on a speedboat tour around the coast of Montenegro. I felt like a Bond girl, except slightly less svelte and slightly more dorky. Still awesome though!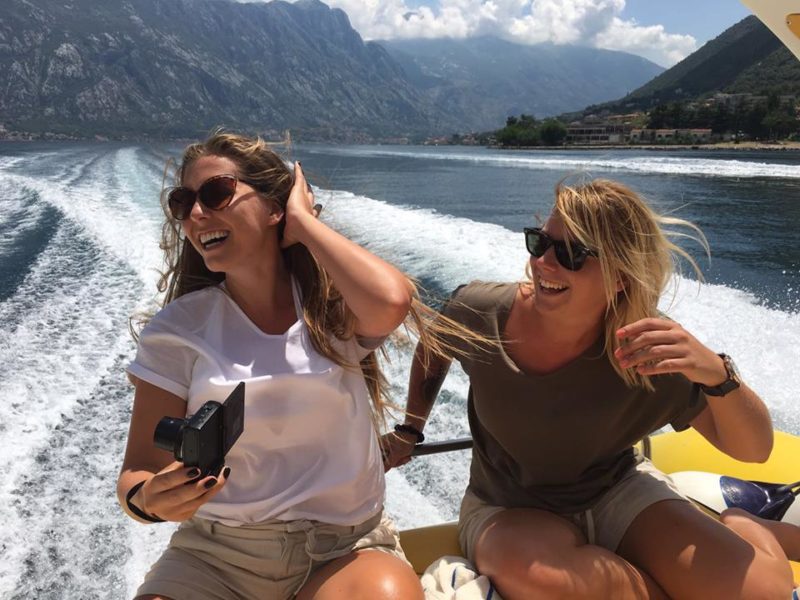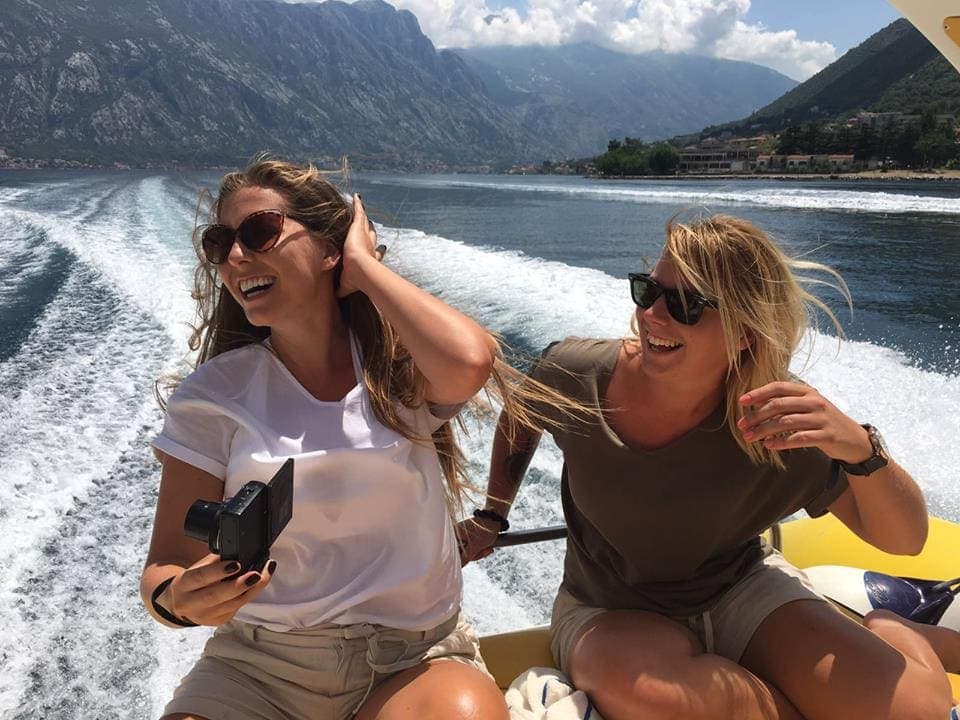 Sweden and Finland
Just a couple of days after my cruise, I flew off again, this time to Sweden. I was in Stockholm for TBEX – the Travel Blogger's Exchange, which is a huge conference and networking event for travel bloggers. Since a lot of the folks I work and chat to online are based all over the world, events like this are a great way to get to meet up in real life. It was awesome to hang out and party with some of my favourite people in the world, but it was also exhausting. In between networking and seminars, we darted all over the city. We karaoke-d at the ABBA Museum, hit the Gröna Lund funfair, drank our body weight in champagne at the opening night party, took over a dance-floor at an almost-deserted gay bar, and basically had a ton of fun. On the downside, I got about twelve hours sleep over four nights, and probably pushed it too hard. Worth it though.
I left Stockholm absolutely knackered (England-speak for very tired) on a ferry bound for Finland. Visit Finland took me and a group of bloggers from all over the world to explore some of the Finnish islands. We started in the Åland islands, an archipelago between Sweden and Finland, before heading to Turku and some of the islands closer to the Finnish coast. It was a week of outdoor adventure; biking, kayaking, outdoor yoga, even foraging for herbs in the forest. We also ate a lot of amazing food. The region has a great food scene with lots of local, seasonal, and sustainably-sourced produce. And, of course, there was sauna! It may have been baking, sunny weather – with the summery white nights meaning that the sun didn't set until after 11pm – but you can't visit Scandinavia and not sauna.
Home Again
After getting home tired out and stretched almost to breaking point, I was half in the mood to quit travel forever (as if!). So, I've spent the past week at home in Weymouth with family. My sister Cheryl is down for the summer too, with her four awesome kids, so we're all bundled into my dad's house. It's noisy and ever so slightly uncomfortable, but it's great to get to spend some real quality time with my lovely family. I travel so much that it doesn't happen often, so this is really nice. The more I travel, the more I learn how important it is to make time for my loved ones – and the more I appreciate them, too! I'm also slowly getting caught up on work, and have tons of great blog posts on the way, so stay tuned!
Once again, though, I missed a month for my Twelve Fears 2016 Challenge – putting me two months behind. I'm going to find three things to do in August to get myself back on track, starting with a 200ft abseil down Avon Gorge next weekend. I'm raising money for Cancer Research so please sponsor me if you can. And let me know if you have any suggestions for things I can try – I need inspiration.
I'm going to be based in Weymouth for the rest of August, but I'll also be travelling around the UK visiting friends and family. I have a few adventures and staycations planned, and I can't wait to explore more of my beautiful home country. As always, don't forget to follow the action on social media and especially on Snapchat, which is where you'll find live and usually idiotic videos of my travels.
August 2016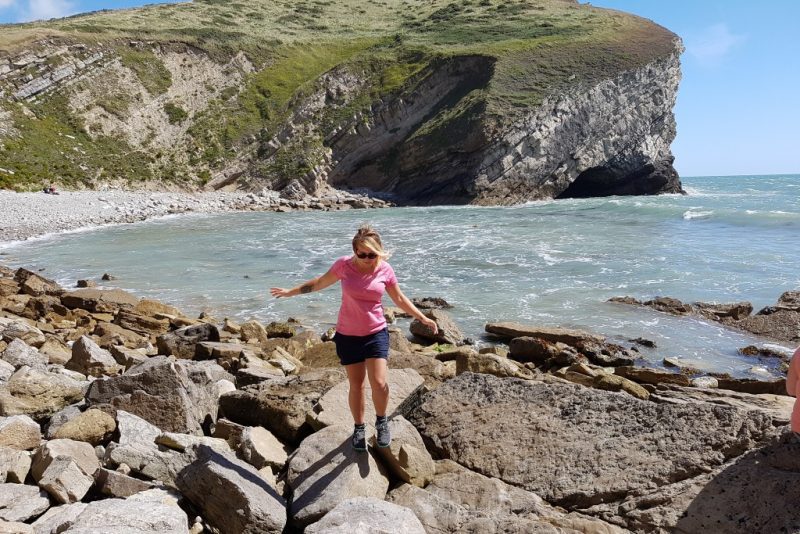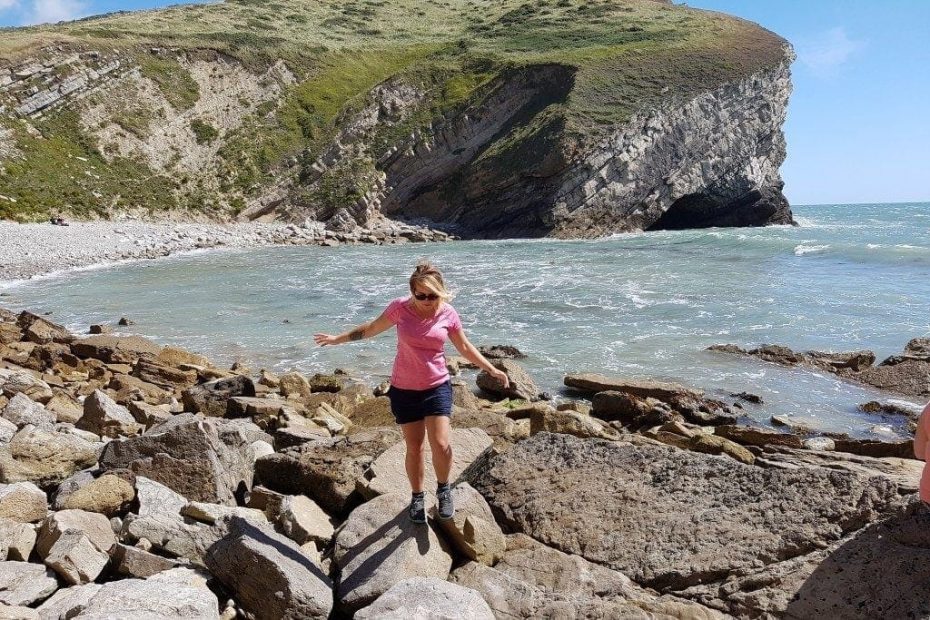 This is the first time since I began these monthly round ups that it actually feels like a month has passed since I wrote the last one. August has been a bit of a month off for me. I came home to Weymouth for the summer, and I've spent the last few weeks catching up with friends and family. It's been a serious joy just to sleep in the same bed for more than three nights in a row!
You might remember that the first half of 2016 was pretty horrendously busy for me. And yes, I had a bit of a grumble in last month's roundup. Again, I just want to stress that I do actually love my life. Being a travel blogger has brought me some amazing opportunities. But still, sometimes it's lovely to slow down a little, catch up with loved ones, and take stock…
Living in Weymouth
It's been so nice to spend the summer in my hometown. No matter how far I travel or where in the world I live, I always miss Weymouth a little bit. The scenery around here, and the beautiful beach, are just amazing. I really count myself lucky to have grown up here.
Psst! Don't miss my recent post Why I Love Weymouth to hear my favourite things about my hometown.
This month I've been taking things really slowly. My older sister Cheryl came to stay for three weeks with her four kids, so I've been doing lots of lovely family stuff and being Favourite Aunty Emily. My other two sisters have both visited too, so for the first time in ages I've been able to spend a good amount of quality time with (most of) my family. We've been to the beach, been kayaking, and revisited some of our favourite childhood spots.
I also cajoled my dad into taking me on a few days out to some of my favourite places in Dorset. We've been to Durdle Door on the Jurassic Coast, which is always stunning. And we went to Tyneham, an old village which was abandoned in 1943 after the military took it over for testing. I've always been obsessed with that place and it's semi-ruined houses, which have been the backdrop to many an awesome game straight from the imagination of ten year old Emily (man that girl was cool!).
12 Fears 12 Months Challenge
As you may already know, I suck at my 2016 challenge! I set myself the challenge of doing one thing a month that scares me this year, but I've been terrible at actually doing it! Having missed both June and July, I was due to do three things this month to catch up.
Well, I managed two, so I'm getting there!
First up last month was my biggest challenge yet. Honestly: I found it harder than the bungee jump. In the name of charity (fundraising for cancer research), personal growth, and simply celebrating my glorious self *, I did a 200ft abseil down a sheer cliff face in Avon Gorge. It was terrifying, so I was really proud of myself for doing it.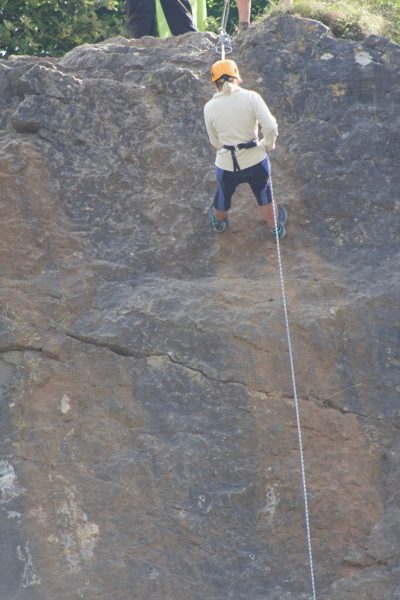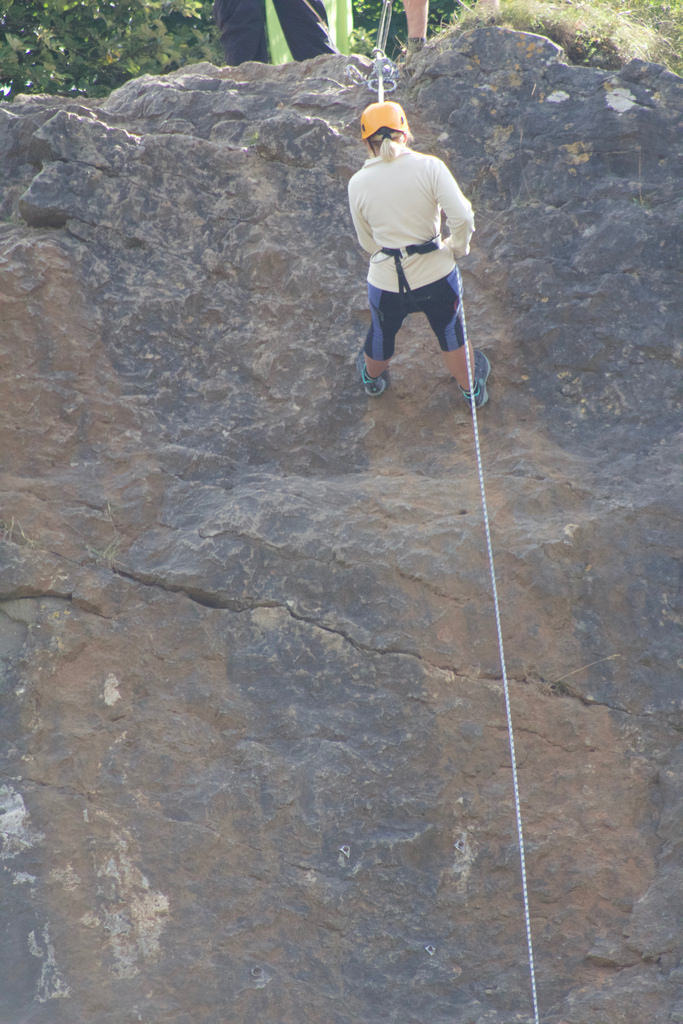 Read more in my Abseiling Avon Gorge write up, complete with Snapchat footage from the day.
The second thing was way smaller but very nearly as scary. I did my first ever radio interview! Honestly, I was so scared I almost blacked out. I hate my voice, and I HATE public speaking. I used to get shaky and anxious just answering "yes" to my name in register at school. And I still get nervous answering the telephone to people I don't know, or talking to strangers, or talking in front of a group. So doing a radio interview, even a pre-recorded one, was horrendously nerve racking for me. I have no idea what I babbled on about for twenty odd minutes, and I'm pretty sure I made a massive fool of myself. But I'll let you guys be the judge; when it goes live I'll share the whole embarrassing mess for you!
*Joking. Sort of!
Travelling in the UK
August wasn't completely without travels. One of my other goals for this year was to explore more of the UK. So, this month I headed to a few places around England to get to know a bit more about my beautiful country.
Before my abseil, I spent the day in Bristol, one of my favourite English cities. I mostly spent the day hunting for street art, catching the odd Pokemon (yes, I'm that cool!) and walking along the river in the sunshine. After the abseil, I hopped on the train to Bath to meet two of my old university friends. Bath is probably my absolute favourite city in England, it's seriously gorgeous and I'm hopelessly in love with it. But even better was being able to catch up with two of my favourite people in the world – especially since we so rarely get together these days. (There are real downsides to this full time travel blogger malarkey!)
Last up was York. I've not spent much time in the north of England so I was really excited to head up to Yorkshire for the first time. I also got shamelessly excited about eating an actual Yorkshire pudding in Yorkshire. Small things! York was really pretty, and I spent a fab weekend there getting to know the chocolatey side of the city. And eating cake. A LOT of cake.
Don't miss the full story about my weekend in York!
What's Next?
Although spending the summer at home has been lovely, I'm itching to hit the road again soon! Luckily, I'm in the process of setting up a really exciting few months of travel – can't wait to share more details with you when I can. What I can say is that I have one more UK based adventure coming up, and then I'm off to Indonesia. I'm still ironing out the details for the trips after, but one of them is an actual travel dream come true for me so I can't wait.
Indonesia looks set to be seriously amazing. I have six weeks out there, starting in Jakarta and ending in Bali. As yet I have no fixed plans so please send me your best tips if you've been (scroll down to leave a comment). And as always, make sure you're following along on social media and especially Snapchat (emluxton) to see live travel updates as I go.
September 2016

Hello from Wonderful Indonesia guys! I've been here about two weeks now and I have to say I am completely in love with this gorgeous country. What's that, Emily loves somewhere? That's new! (I know I throw that word around a lot, but I've never not loved a country I've visited).
Anyway, this month saw me end my six week stint at home and head off into the big wide world again. Although that summer "off" was exactly what I needed, and it was absolutely lovely to spend more time with my family than I have in a couple of years, I was itching to get back on the road again by the time Indonesia came around. I set off with my backpack, feeling that same bubble of nervous excitement in my chest that I always feel, and felt like I was finally back to myself again. I don't know if I could ever explain it to anyone who doesn't feel this way, but I just feel more like myself and more, well, at home, when I'm away from home and travelling. No matter how much I love Bake Off and cosy nights in, no matter how much I miss my family and friends, I still just can't seem to settle. I worry that I'll never stop (but then, who says that's a bad thing?).
Where I've Been This Month
Before my grand return to Asia, I had one last adventure in the UK, visiting Swansea with my little sister. It was such a nice few days of pampering, eating, and hanging out with my sister, and I absolutely loved it. There's a whole separate post coming this week about exactly what we got up to, so stay tuned.
In the middle of the month, though, I hopped on a flight to Asia and got myself back on the road with glee. I spent the first two nights in Jakarta, muddling through the jet lag and meeting a fellow travel blogger for lunch, before making the very last minute decision (11pm the night before) to fly to Bali and head to Ubud for a few days.
Ubud is a small town in central Bali, known for it's laid back hippy vibes and "digital nomad" community. There are coffee shops and co-working spaces galore, veggie cafes and yoga studios, and a really relaxed pace of life. This is the kind of place I love to get stuck. I initially booked two nights in Ubud, thinking I'd have a couple of days to see the sights before heading off to the coast in search of beach life. Instead, I stayed more than a week. I fell in with a couple of lovely new friends at my hostel and very quickly got sucked into the lazy, chilled out life of a backpacker. In fact, after months of press trips and a summer of staying in one place, this was exactly what I needed. Ubud reminded me what I love about travel, and really got me seriously thinking about booking the Big Trip I've spent most of this year considering. Stay tuned, as there may very well be more updates on that shortly.
Trip Of Wonders
After a week in Ubud lapping up the sleepy vibes, it was back to Jakarta to start the Wonderful Indonesia blogger trip which is the whole reason I'm here in the first place. This huge trip with the tourist board has brought together 27 bloggers from around the world for a two week trip around some of the country's biggest highlights. We're about halfway through right now, and as I type this we're waiting in the airport for a late-night flight up to Raja Ampat. By all accounts this is a massively underrated and absurdly beautiful part of Indonesia, so I can't wait to see it.
The first week of our trip took us through the island of Java; across Jakarta, Bandung, and Yogyakarta. We've seen sunrise at Borodubur Temple, eaten our body weight in nasi goreng (fried rice), and raced along bumpy off-road tracks in a 4X4 whilst singing along to Queen at the top of our lungs (thanks Bandung Offroad). We've tried our hands at Batik making in Yogyakarta, playing traditional games with Komunitas Hong in Bandung, and learnt to play the angklung at Saung Angklung Udjo. It has been an absolute blast so far, so I can't wait to discover Raja Ampat and the Gili islands next.
We have also recorded some pretty hilarious Snapchats (if I do say so myself) featuring some often questionable but always entertaining facts from my favourite Snapchatter Wanderlust Chloe – so make sure you're following me (emluxton) to see each day in Indonesia as it unfolds live!
Also make sure you're following the hashtags #TripOfWonders and #WonderfulIndonesia across Twitter, Facebook and Instagram to see some of the amazing photos from this incredibly talented bunch of bloggers. We'll have you booking a flight to Indonesia in no time.
12 Fears 12 Months
This year, I made the somewhat questionable decision to attempt to do one thing a month that scares me. September's challenge was a little different, and it came in two parts. I learnt to ride a moped! Part one was taking a CBT test in England, while for part two I rented and rode a moped around Ubud while I was there. It might not sound like much, but after falling off the back of a moped in Vietnam a few years ago I've always had a big fear about giving it a go – despite desperately wanting to try it. Read more in my post about the experience to find out why this was such a big deal for me.
What's Next
I'm delighted to say that I'm going to be staying in Indonesia for one more whole month! I'm here until the end of October, on the Trip of Wonders for another week and then on my own for about three. So make sure you keep on following across social media to explore this beautiful country with me.
October 2016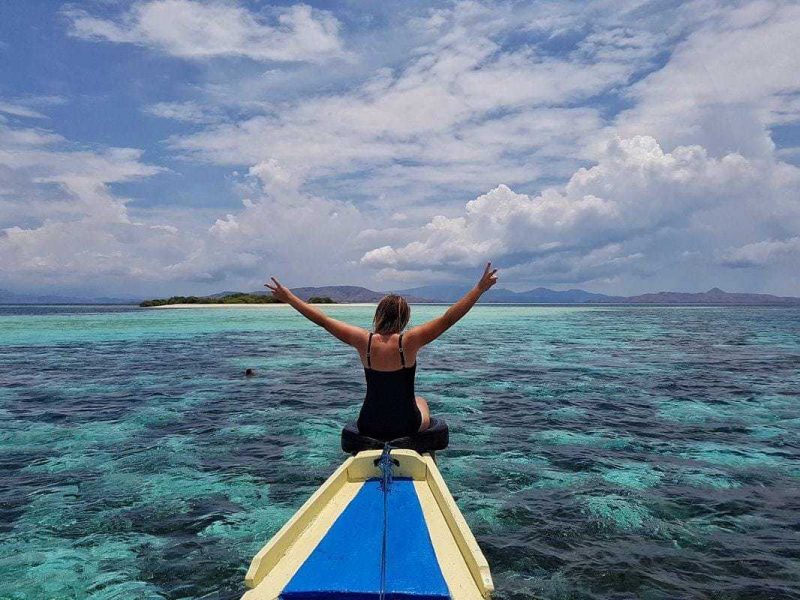 Well, that's going to be hard to top! October has been the best month of 2016 so far – in fact it's probably been one of the best months of my life so far. I was in Indonesia for the whole month – a country that's easily become one of my favourites. And yes, I say this every month about a new country, but I am in love! This time with Indonesia. It's just such a beautiful, varied, friendly, happy, wonderful country. The food, the landscapes, the people… I loved it all.
These monthly round ups have a tendency to get a bit long, so in an effort to keep things brief this month I'm going to stick to a list of the highlights. Here's everywhere I went this month…
Yogyakarta
Temples, culture, great food, and that incredible Borobudur sunrise… Yogyakarta was full of highlights. I loved exploring Prambanan temple, pictured above, the biggest Hindu temple in Indonesia. I also loved chilling by the pool in the stunning, colonial Phoenix Hotel and drinking a few cocktails with some of my favourite bloggers in the world.
Raja Ampat
After an almost hellish journey to reach it, in Raja Ampat we found the closest thing to paradise on Earth that I've ever seen. Snorkelling, relaxing, sunbathing, and swimming in the most beautiful landscapes I've found so far – it was bliss.
Lombok

A beautiful hotel on the beach, cocktails in the pool with my favourite people ("Team Fun"), watching a surfing lesson over cocktails with Wanderlust Chloe, partying it up on a boat in Gili T with around 30 amazing bloggers and photographers from around the world, and finally watching the sun rise from my beach tent on Gili Meno… Lombok was a bit of a whirlwind, but a fantastic one.
Ubud
After the Trip Of Wonders ended and (almost) everyone went home, I spent a week back in central Bali in my new favourite town of Ubud. It's quiet, small, chilled out, has some of the best restaurants in Bali, and is surrounded by beautiful green landscapes, what's not to love? Macca (A Brit and a Broad) and Chloe joined me there and we had a couple of days of serious fun – exploring rice terraces, waterfalls, and awesome burgers. And we climbed Mount Batur in time for sunrise. Which is genuinely the hardest thing I've ever done – and one of the most rewarding. Post coming very soon!
Nusa Lembongan
Finally travelling on my own again, I headed to Nusa Lembongan – a small island between Bali and Lombok. Without planning it, I discovered that a girl I met in Bali back at the start of my trip was also going to be there, so got to hang out with Pam for a couple of days. Snorkelling with manta rays was a huge highlight, as was spending the day exploring neighbouring Nusa Penida, which sees far fewer tourists than Lembongan and is one of the most rugged and beautiful places I've ever seen.
Don't miss my post about solo travel as a shy person, which I published yesterday, if you're thinking about travelling solo but feel nervous about taking the plunge.
Komodo National Park
Ah, the final highlight of Wonderful Indonesia – Komodo National Park. I flew to Labuan Bajo in Flores, met a girl at the airport who wanted to do the same tour as me, found a boat tour (thanks to the adorable Eman at Christopher's Tours) and headed out on a one night cruise in the gorgeous, paradisaical group of islands that is Komodo National Park. We did a one night cruise, but you can also do a liveaboard scuba cruise in Komodo if you want to dive! 
On Rinca and Komodo, we got up close to the huge, dangerous, and fabulously lazy-looking komodo dragons in the only place in the world you can see them in the wild. I also had a second chance to swim with manta rays – so amazing – and got to stop on a teeny tiny little desert island in the middle of nowhere. Just a dot of white sand surrounded by swimming-pool clear blue water – it looked like a cartoon drawing of a desert island!
We got so lucky. Not only did we have a fab tour group (we all clicked straight away), but we had the best boat crew in the world! I loved our Captain, who was hysterical, and the three guys working on the boat were amazing. In the evening, they took us ashore in Komodo village to buy beers, and then cracked out a karaoke machine on the boat for us. Singing to a boat full of eight strangers I'd just met that day, surrounded by the silence and blackness of the ocean at night, knowing that there were other boats within hearing distance – that's definitely a highlight of my six weeks in Indonesia!
12 Fears 12 Months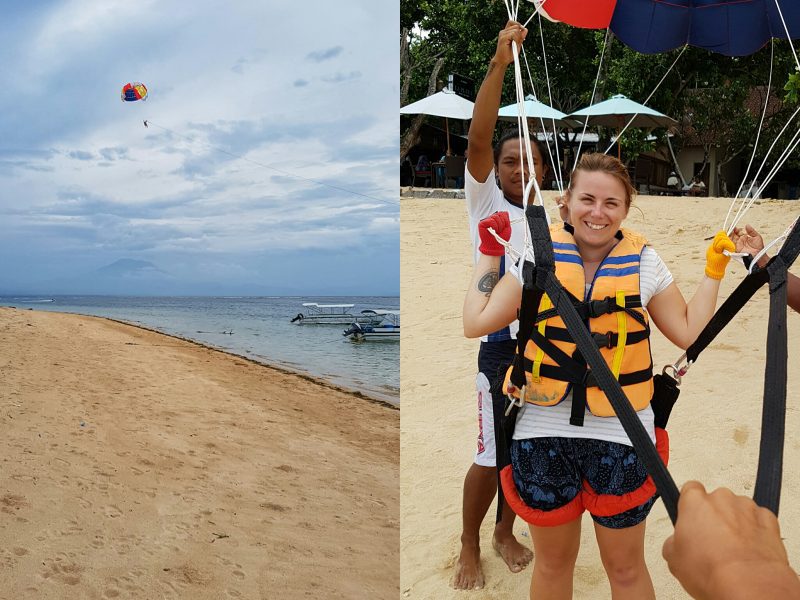 This month, I managed not one, but two things for my 2016 Challenge to do one thing a month that scares me. First up was parasailing on Sanur beach in Bali. One morning I just decided to give it a go. So, I headed to the beach, paid a few hundred rupiah, and within minutes I was attached to a huge parachute at the waters edge. A thirty second safety briefing later and I was in the air, trailing behind the speeding boat below and whooping! It was such a rush – not the scariest thing I've ever done by far, but a real thrill.
Next up came the komodo dragons in Flores. These big bad reptiles are reportedly pretty dangerous – they can run up to 20km an hour, single-handedly take down a fully grown buffalo for lunch, and their spit is so full of bacteria that if you don't reach a hospital soon after being bitten, the infection will kill you. And yet, when our guide suggested we hop on a log behind a sleeping dragon for a photo, I was the first one up there. It wasn't really until I was squatting inches from the beastie's head that I realised what I was doing and started bricking it. But the photo is a pretty cool one!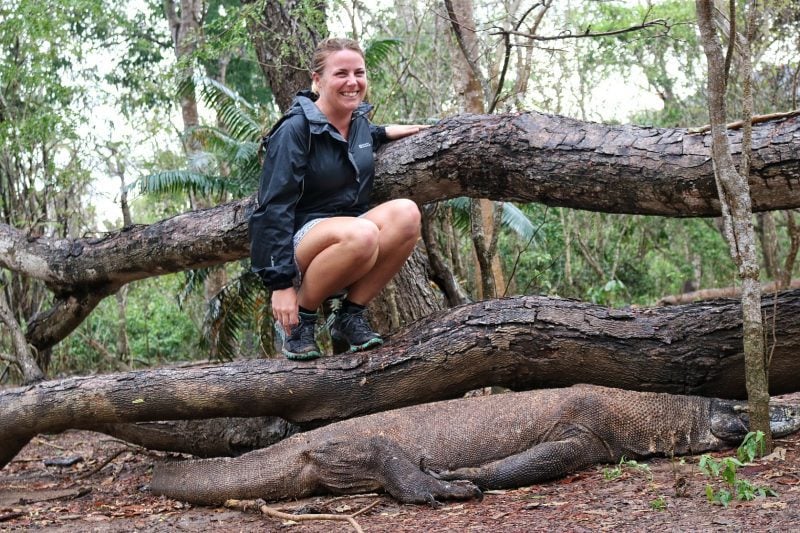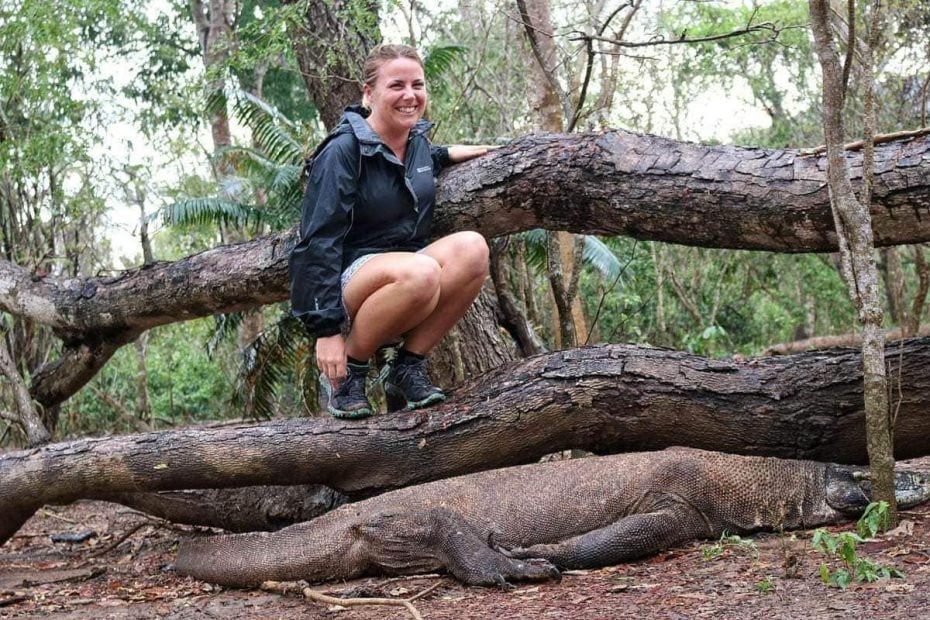 What's Next
November is set to be jam-packed with even more travel! Tomorrow, I head to London ready for WTM – a week of networking and catching up with some of my favourite bloggers and friends.
Then, I'm heading to Prague for two nights for The Money Shop's £200 Challenge (stay tuned for that), followed by Japan (a travel dream come true) and finally South Africa for safari and adventure. It's going to be tough, busy, tiring – and completely epic. Make sure you're following!
November 2016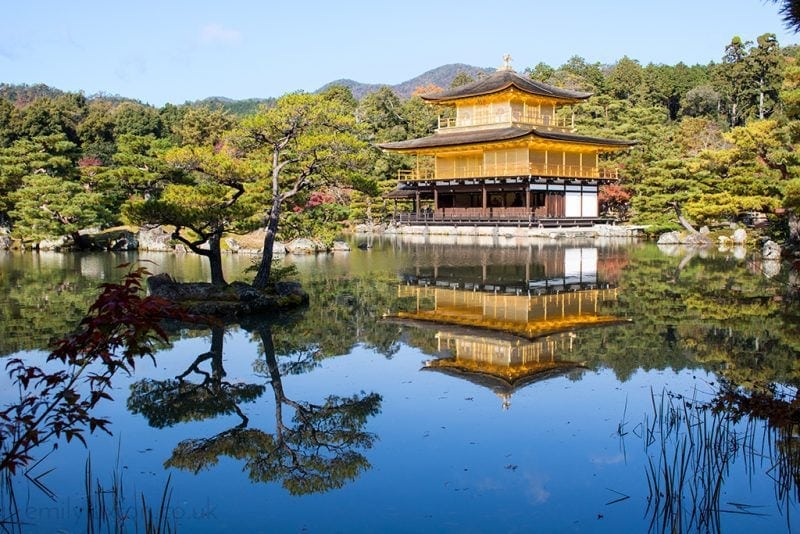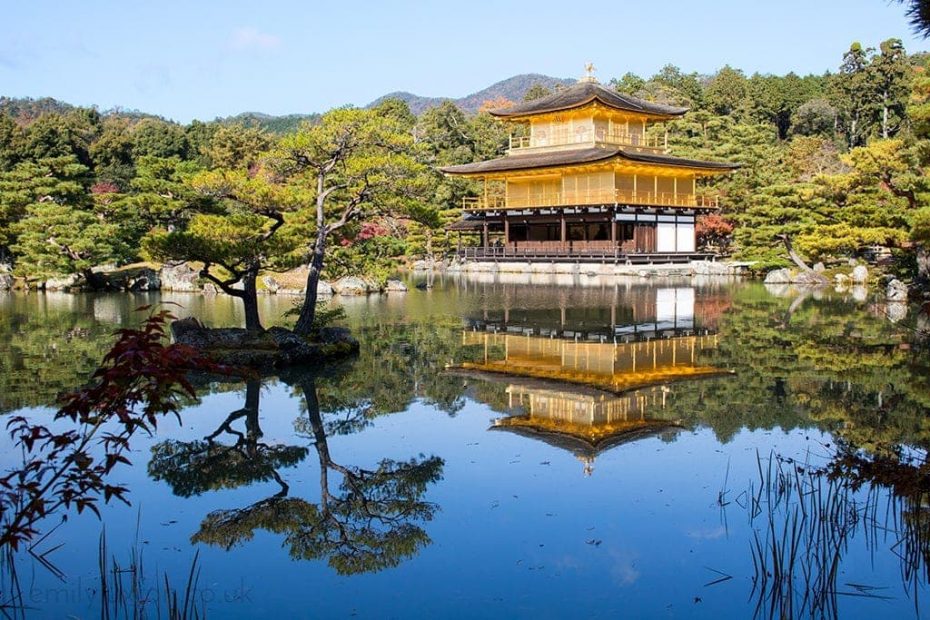 Hard to believe that this is my second to last round-up post of the year! Normally, by November I'm talking about how fast the year has gone… but 2016 has been SO full of travel, fun, work, and change that it actually seems to have gone pretty slowly. The trip that started it all, Blogmanay in Edinburgh, seems forever ago. So much has changed since then!
November was a seriously busy month for me. It all started with the World Travel Market in London, which was a week of catching up with old friends, partying, and hustling brands. A lot of people ask me how I do my job, how I find work, and how I get invited on all the wonderful trips I do. The answer is networking, and that's where events like WTM come in. My job is much harder work than most people think! From London, it was a whirlwind three weeks visiting three new countries – the Czech Republic, Japan, and South Africa. Below are the highlights…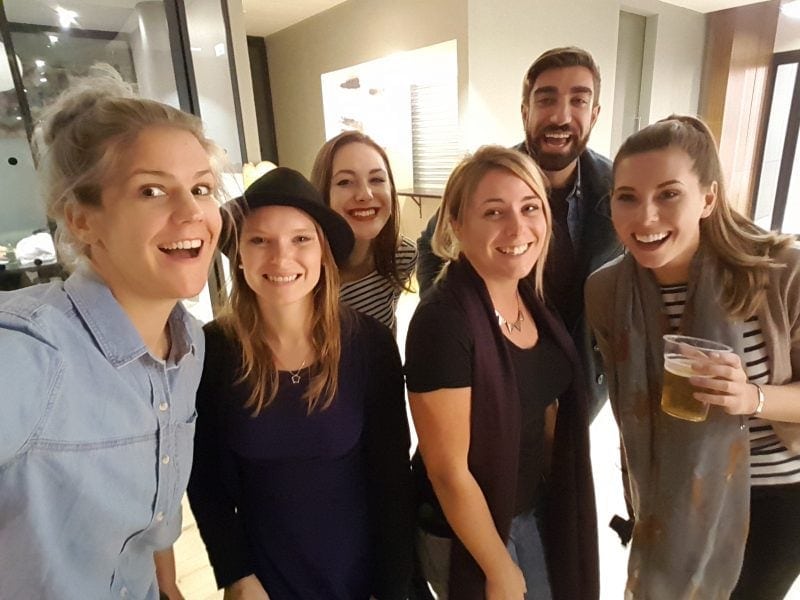 PS – I'm thrilled to have been featured on this round up of the best UK travel blogs. Thanks Urban Travel Blog!
Prague
First stop was a weekend in Prague for the Money Shop's £200 Challenge – read more about it here. Freezing cold, totally beautiful, and wonderfully festive.
Highlights included discovering Trdelník, aka chimney cake, my new favourite winter dessert, and visiting the colourful John Lennon wall. I adored the messages of peace, love, and hope that covered this free art wall – so lovely.
Japan
Japan has been at the very top of my travel wish-list for the longest time, so my trip there was a genuine dream come true for me. If I wasn't heading for another dream trip straight after, there's a strong chance I'd never have left.
First stop was Wakayama City, where I was totally off the beaten path. This isn't somewhere too many western tourists visit, so it was really cool to discover a more "authentic" side to Japan. Highlights: the stunning Wakayama Castle, Kimiidera Temple, and getting my first ever onsen experience at the gorgeous Kyukamura Hotel in the Kisyu-Kada national park. Sitting in a natural hot spring bath beneath the stars, overlooking an inky black ocean… that's a moment I'll never forget. Especially since I was stark naked and feeling just a tad awkward!
Next up was Osaka, where I hung out with Pam – a friend I originally met back in Bali. I love how travel works out sometimes! We basically spent two days eating and partying our way around the best restaurants bars in Osaka. Especially Space Station, the video game bar where I was reunited with one of the first games I ever played: the Lion King on Sega Megadrive. So many memories! My highlights of Osaka are all food based: takoyaki, Okonomiyaki, conveyor belt sushi, ramen, gyoza, melon bread ice cream sandwiches, more ramen… I love Japanese food so much!
Pam and I headed to Kyoto together for my last few days. This is one of the most beautiful cities I've ever seen, especially in Autumn with all it's gorgeous golds and reds. Again, we ate a lot – munching our way through various street food markets around the city. But there was also time for sightseeing! Highlights: Fushimi-Inari shrine, the Golden Pavillion, and discovering a little Studio Ghibli shop near to Kiyomizu-dera. The Susuwatari (soot sprite) keyring bought there is my favourite souvenir from any country, ever!
South Africa
From Japan, I headed almost straight to South Africa. I was supposed to have a day in between, but then Lufthansa went and had a strike so my flight got cancelled and it took me something like 36 hours to get back to Heathrow, just in time for an overnight flight to Johannesburg.
Luckily, South Africa was worth it. I can't wait to write my posts about that trip! We were exploring KwaZulu-Natal, unofficially known as Zululand. From Durban, to the zulu battlefields at Isandlwana, to safari at Thanda Private Game Reserve, to the Drakensberg mountains, and finally to the Nelson Mandela capture site and apartheid museum in the Midlands.
The biggest highlight of the trip was the safari. Across four game drives at Thanda, we spotted kudus, nyala, buffalo, zebra, giraffe, white rhino, cheetah, elephants, warthogs, and a lioness with her three cubs. We got really close to some of the most beautiful wild animals I've ever seen thanks to our awesome guide Pieter and tracker Winneth. The most memorable moment was probably getting this close to a mummy rhino with her baby…
12 Fears 12 Months
This month's challenge took me by surprise! I had something else planned, which fell through, but I was saved at the last minute by an activity on our South Africa itinerary. I did not think quad biking in the Drakensburg mountains was going to be scary. But I'd never done it before, and suddenly I found myself hurtling along with a pretty huge drop to my left. After messing up multiple times in the first ten minutes, I was feeling very close to giving up.
It's scarier than you'd think; especially when you're doing it on puddle-strewn, rocky mountain paths. But, I blinked back my stroppy I-can't-do-this tears*, and forced myself to keep going. Once I got the hang of the bike, it was actually quite fun – yet again, I proved to myself that it's important not to quit!
*In my defence, I was pretty overtired!
What's Next
I'm back in the UK for the rest of the month, and will mostly be spending time with family. And making the most of the Christmas season – I regress into even more of a child at this time of the year. Time for lots of cookie-baking, present wrapping, and Christmas movies. I also recently took on a freelance writing gig as a hotel reviewer for The Telegraph (probably my most notable career achievement to date), so I will be staying at a lot of local hotels this month for work. So exciting to be progressing in my freelance writing career at last!
In other news – voting opens this week for the UK Blog Awards and I'm in the running. I'd LOVE for you to vote for me. Voting is open now, so head over to give me a vote. Please and thank you!
December 2016
Well, it's been one hell of a year! Since I've already published not one but two posts looking back at 2016 (links below), I won't be doing a particularly long December round up post. Especially because I didn't actually do very much in December! After 21 countries, 65 flights, and 128 different beds this year (read more travel stats here) – December was my final month off. Family, Christmas, work, local hotel reviews, and escaping into Fallout 4 have taken up most of the month. For a while, I've been totally over travel.
Of course, that didn't last long. I'm itching to be on the road again now. As I mentioned a few times lately, I'm planning to slow things down a little this year, spend more time in fewer destinations, rather than whizzing from country to country. I want to get back to that style of travel that I love; travelling more deeply, and really getting to know each new place. Let's hope I can stick to that resolution!
2016 Round Ups
Check out this post for a little look at my travel highlights of 2016:
A Year in the Life of a Travel Blogger
Last month, I was luck enough to enjoy a surprisingly sunny December at home in Dorset. The weather was gorgeous most days, and I got out to some of my favourite spots on the Jurassic Coast – including lovely Lulworth Cove and Durdle Door. It's still been flipping freezing despite the sunshine, though, so I've been loving my awesome new North Face TNF Sangro DryVent® Jacket which was sent over by the awesome folks at Blacks and Millets. It's lightweight, waterproof, and really warm – perfect for winter walks in the unpredictable British weather!
It's been lovely to be at home for a whole month, doing Christmassy things with the family like baking and sending holiday cards. Although it's starting to feel a little bit like I've officially moved back! Which is why I'm very excited about my latest exciting announcement (keep reading to find out).
12 Fears 12 Months
On this final month, I forgot the 2016 challenge. It's pretty hard to find anything scary to do in my fairly sleepy little home town, and I lost a bit of time to Christmas… but there are no excuses. The fact is, I got lazy, and I didn't try very hard.
I did do one thing that scared me, but I'm not sure it counts. I booked myself a one way flight to Mexico, leaving 12th Jan. This is the first time I've ever left on a trip that's so open-ended, without any plans or fixed set return date.
It's also the first time in a long time that my travels have been completely my own idea. Throughout 2016, most of the travel decisions I made were because of other people. Where I went was dictated by the trips I got invited on. Even when my travels were self-funded, I tended to drift to places I knew other people were going to be. To tag along with friends. So to make my own decision about where to go suddenly seemed pretty scary – especially when I know that by going, I'll be missing out on a lot of work opportunities.
But I feel like this is the right thing for me right now, and after working really hard all year I realise it's time to put me before my blog. I'm terrified. But I'm totally ready for this next adventure and excited to see where it'll take me.
2017 Resolutions
1 – Slow things down a bit in terms of travel. Stick to my travel values and take less flights! Travel less, move less, but do more and see more – that's my goal.
2 – I want to take fewer photos. This year I took nearly 20,000 across my phone, camera, and GoPro, and frankly that's ridiculous. I know it's my job, but still! Sometimes I find myself spending so long trying to get the perfect photo (or worse, selfie) that I forget to actually experience the place I'm in or the thing I'm doing. That has to stop!
3- Keep on pushing myself and growing through travel and trying new things. I don't want to keep up the 12 fears challenge exactly, since it's actually surprisingly difficult to find new and exciting things to do every month. But I do want to keep on doing something… because this year I've discovered an awful lot about myself and it's been a fantastic journey. I want to keep on trying new things, testing my limits, and saying yes when I'd normally say no – and just see where that takes me.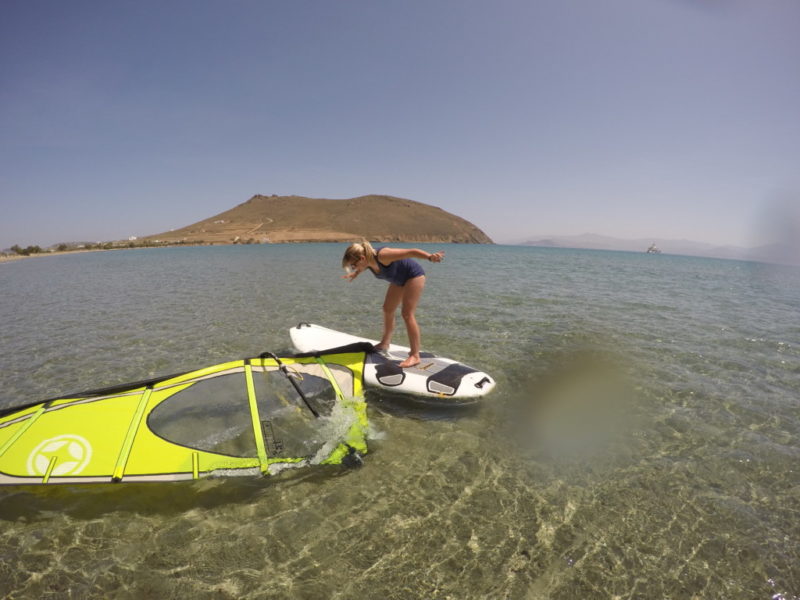 So, what should my challenge be this year? Anyone got any great ideas for what I could try? Should I say yes to everything à la Danny Wallace? Or only make decisions using a magic eight ball? If you have a great idea for a unique 2017 challenge let me know – and I might just do it!
Your Input
Speaking of your suggestions, I want some feedback from you guys. If you've been following my blog or social media this year then I'd love to hear your thoughts and opinions. What do you want to see more/less of? Is there anything you think I should do differently? Should I stop Snapchatting when I'm drunk? Or start ONLY Snapchatting when I'm drunk? Do you want me to post more, brag less, scare myself more… Tell me!
Share your thoughts in the comments below, or drop me an email at [email protected] Feel free to share anything. Literally. A piece of feedback or a random thought. Or your birthday list. Or what colour your socks are! But mostly feedback. I'd love to hear it!
Scroll down to leave me a comment – whether it's to tell me what to do, or just to tell me how your Christmas was. I want to hear from you!
Happy new year everyone – here's to a cracking 2017!